In This Article
Loading table of contents …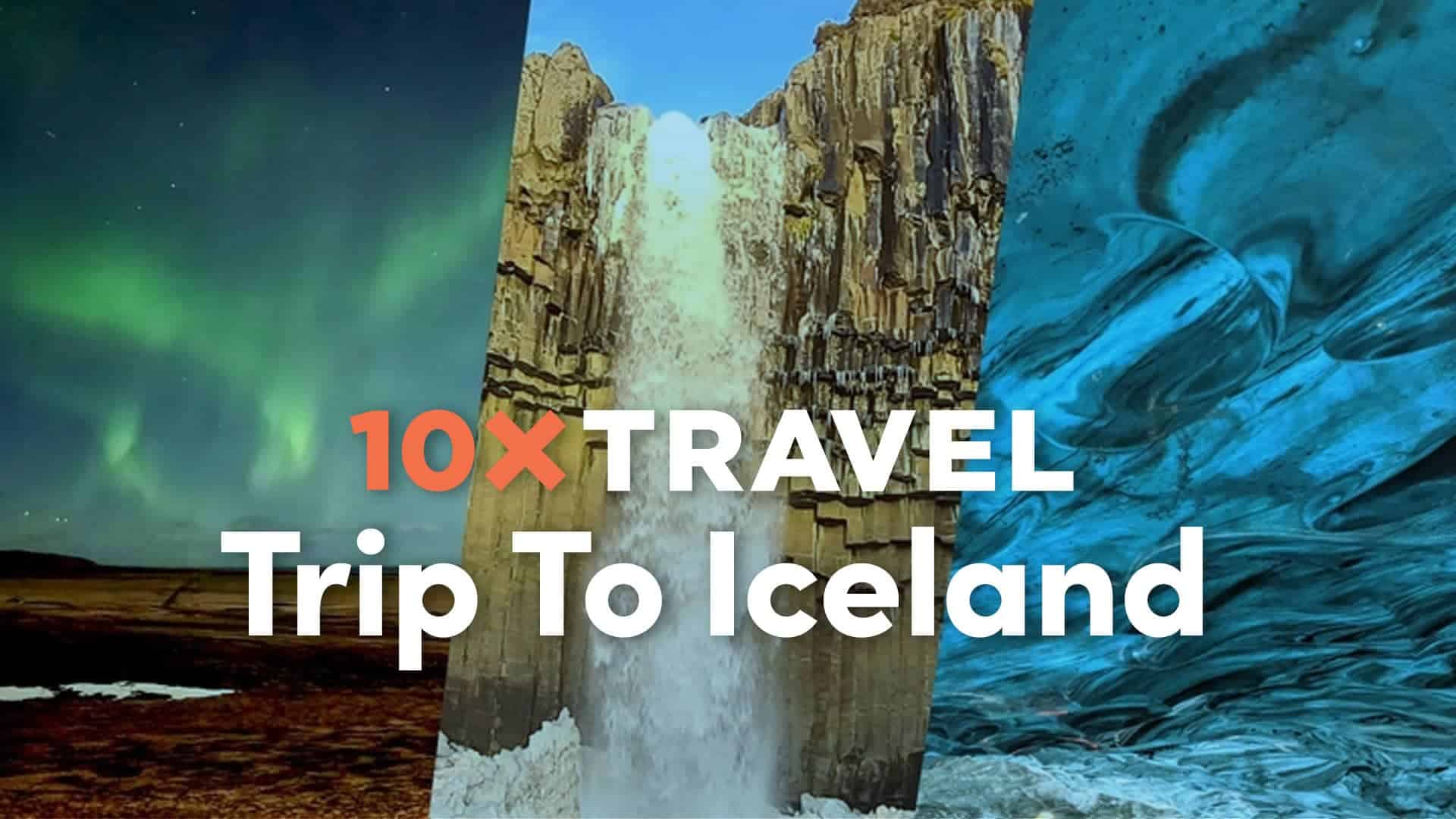 Note: Some of the offers mentioned below may have changed or are no longer be available. The content on this page is accurate as of the posting date; however, some of our partner offers may have expired. You can view current offers here.
Editor's Note: This article contains photos courtesy of those who attended the 10xTravel Trip to Iceland
Hi Travel Junkies,
Neither omicron nor limited testing availability nor craziness in flight operations was able to keep eight 10xTravel readers, myself included, from spending seven wonderful days in Iceland on the first ever 10xTravel Trip.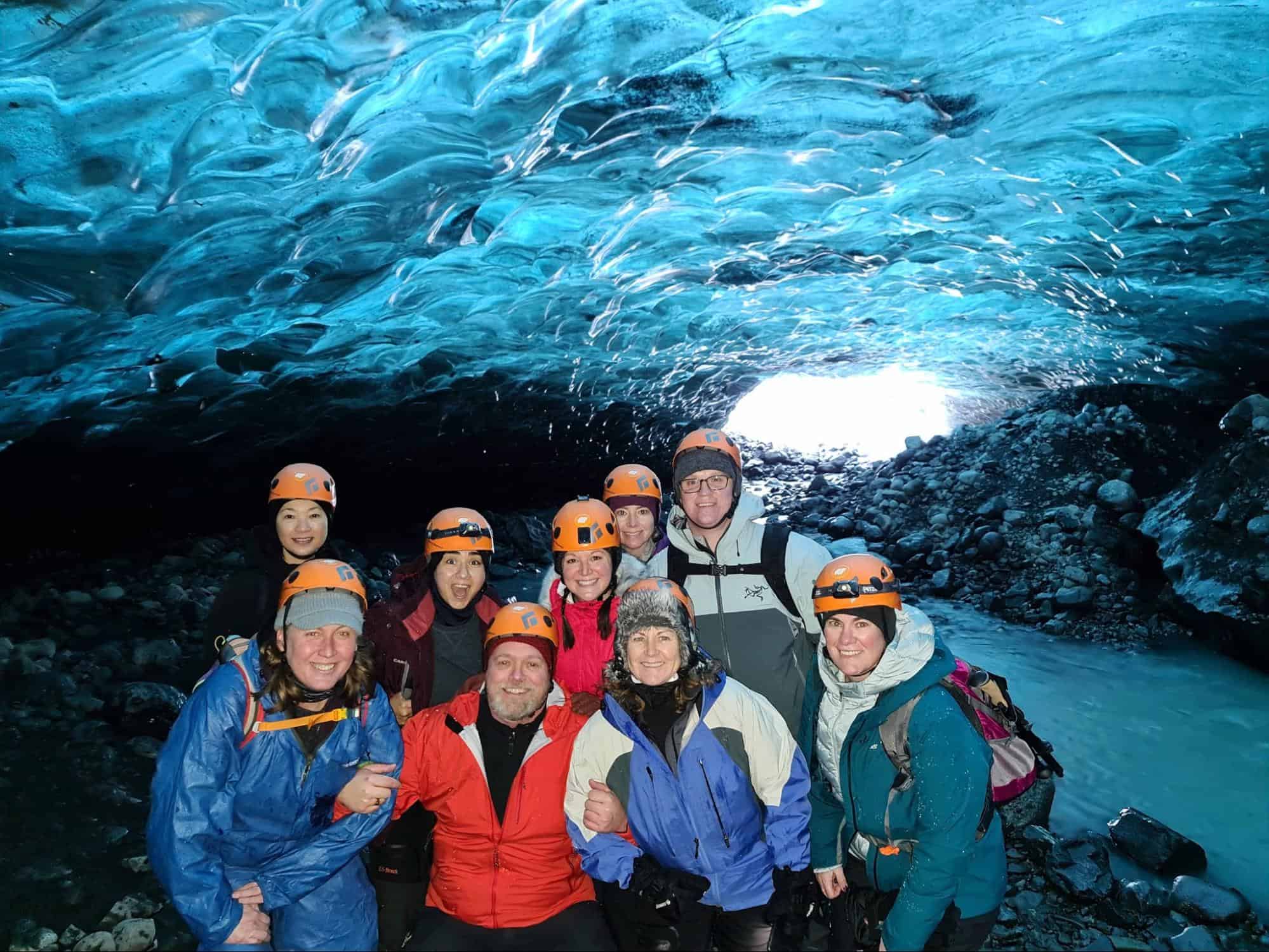 That's right. Somehow, we were able to pull off an international trip consisting of dozens of different flights and local tours without having to make a single schedule change because of COVID-19, flight cancellations or any of the dozen other issues going on in the world of travel right now.
Today we are going back to the second grade with a little bit of show and tell about the trip. Mostly show, little bit of tell.
Because Iceland is just too damn beautiful not to let the pictures do most of the talking.
Day 1 – Reykjavik
Our trip officially started in Reykjavik, the capital of Iceland, with a welcome dinner and a few cocktails to try to combat jet lag.
Yes, we all know that you are supposed to avoid alcohol if you want to adjust more quickly.
No, we didn't care.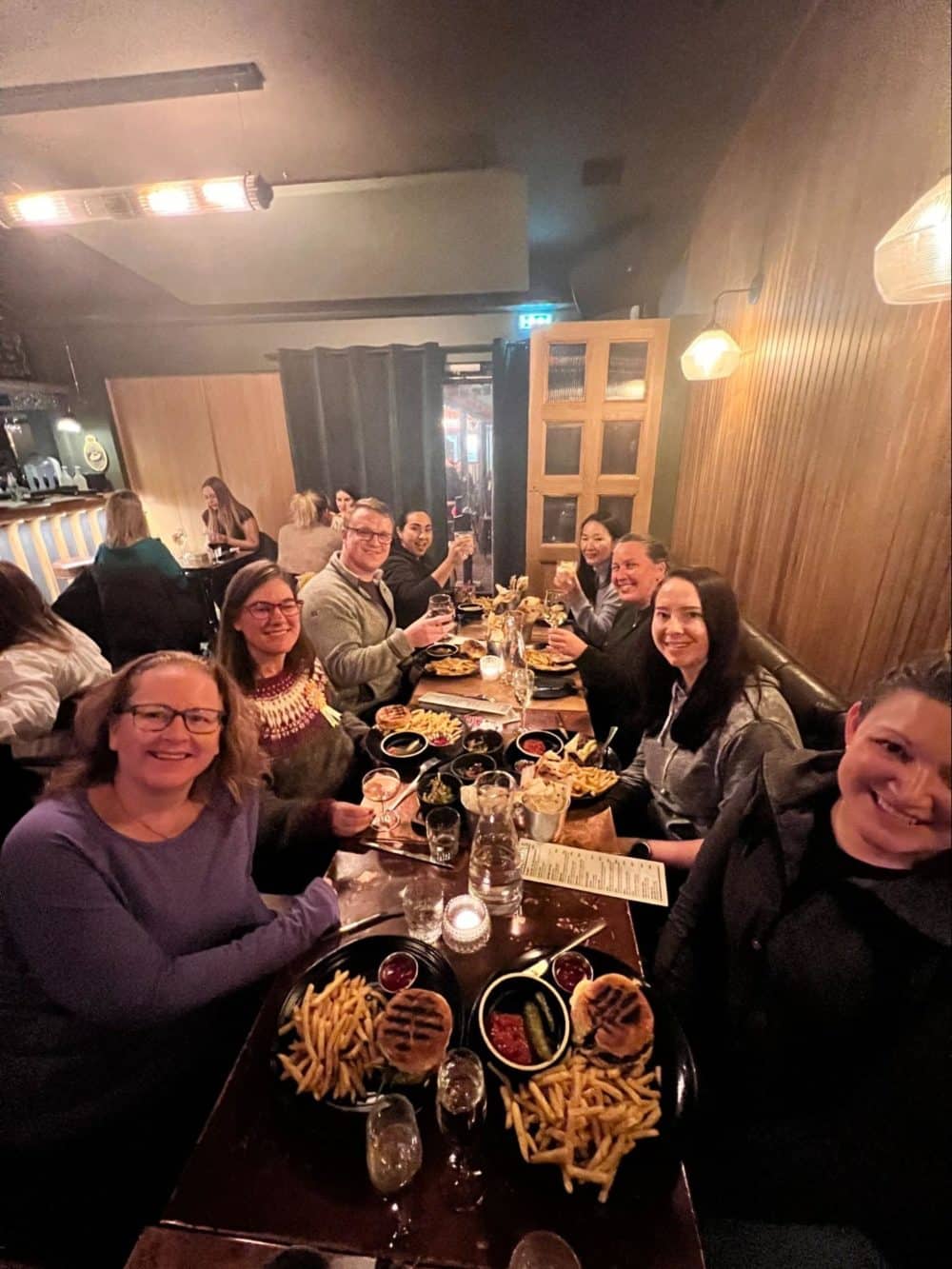 This is where we were introduced to Baddi, our host for the week.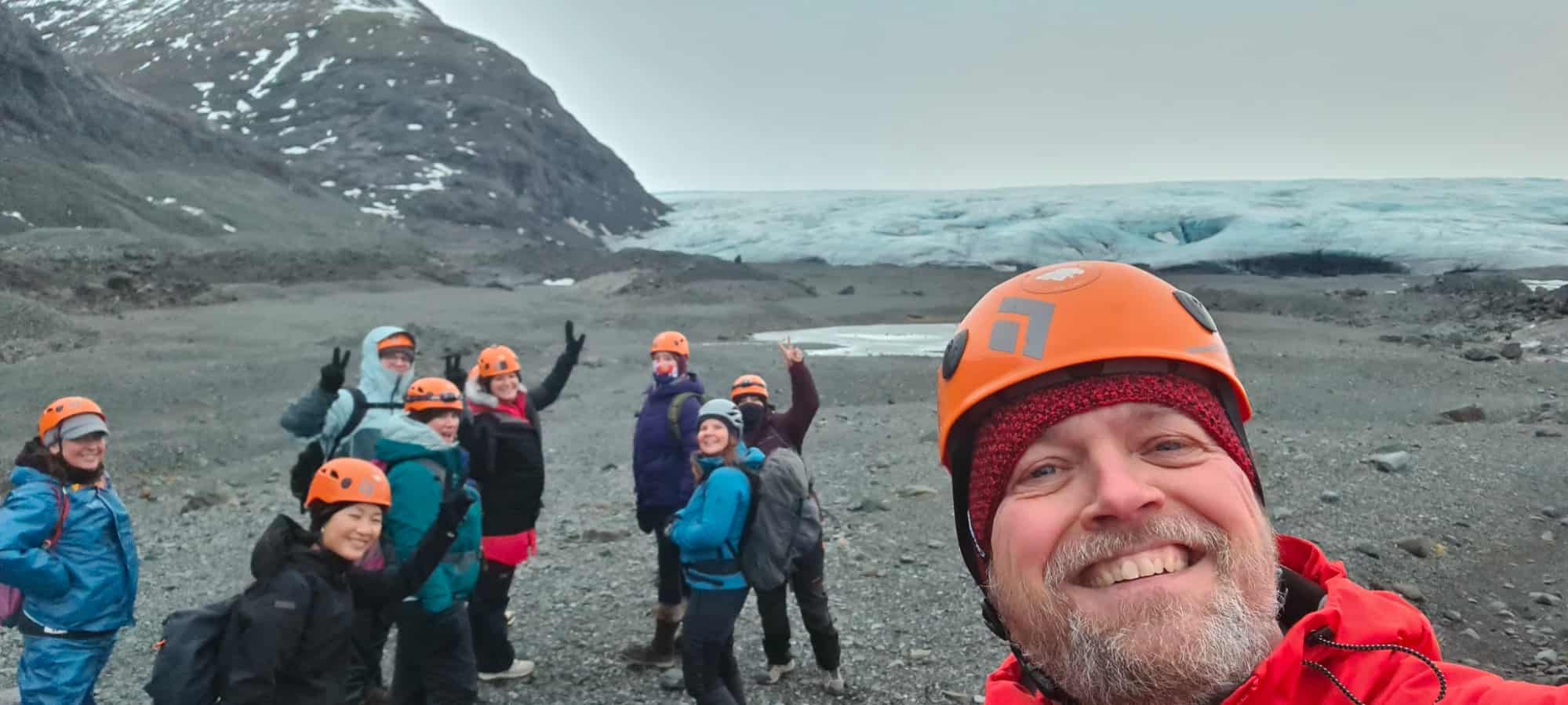 Baddi spent the entire week with us, playing the role of driver, tour guide, photographer, storyteller, northern lights tracker and expert in all things Iceland.
He stayed in the same hotels as we did. He ate every meal with us. And by the end of the trip, it felt as if we had known him for years.
Baddi was simply incredible. Should I ever return to visit Iceland, he will be the only person I will call for any and all touring needs.
Day 2 – Golden Circle
Day 2 was to be spent checking out the Golden Circle, a popular route that goes through some of the best natural beauty that you will find anywhere in Iceland.
Think waterfalls, volcanic activity, geysers, lava fields, etc.
Our ride for the duration of the trip was perhaps the most badass Mercedes Sprinter van ever created. Comfort on the inside, utility on the outside. I am convinced that there is no better vehicle in which to explore Iceland.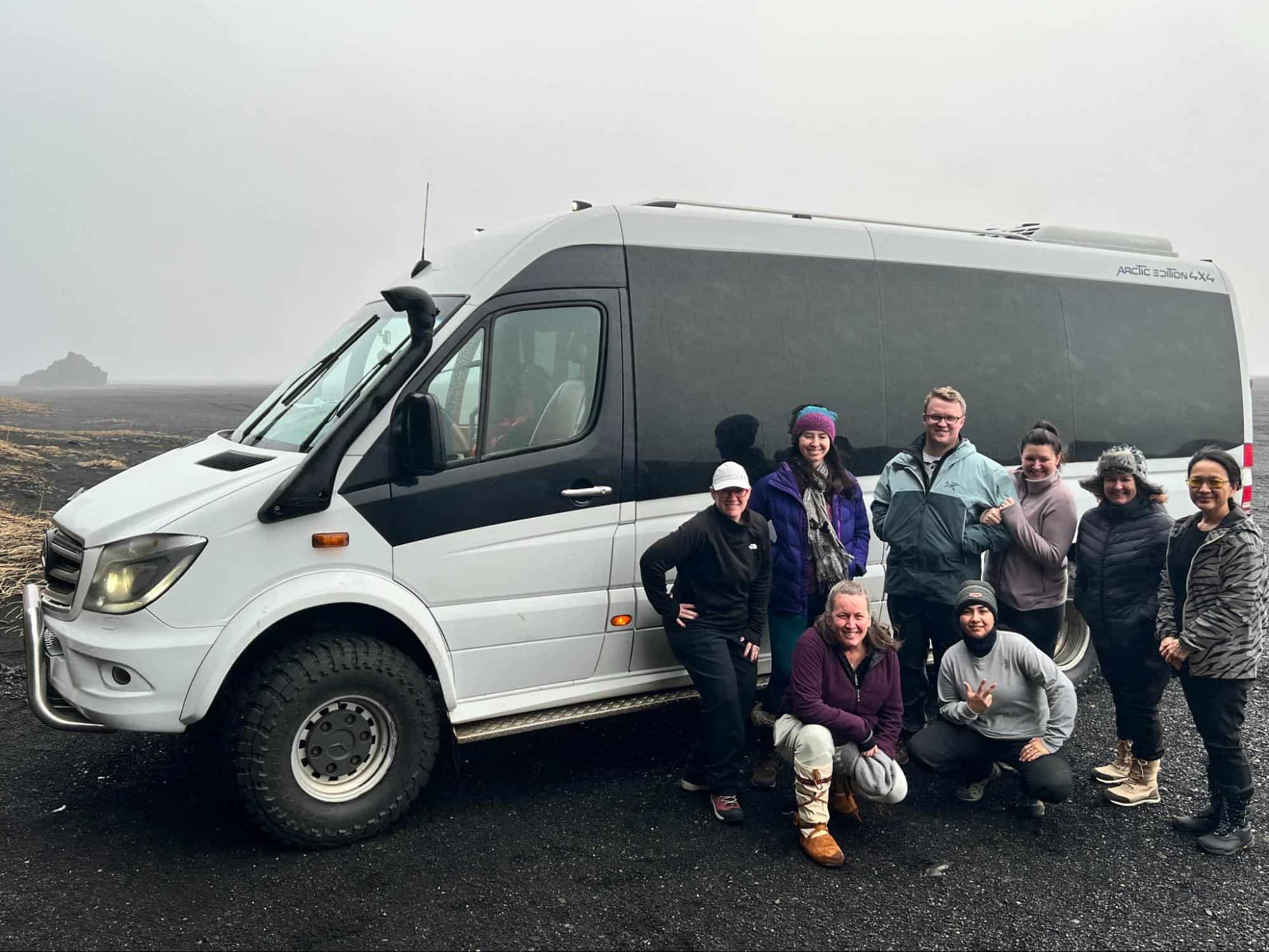 The first stop on our Golden Circle route was Þingvellir National Park, where we hiked to a frozen waterfall and learned more about the incredible history of the area—both the human history and the incredible geological history that was happening right beneath our feet.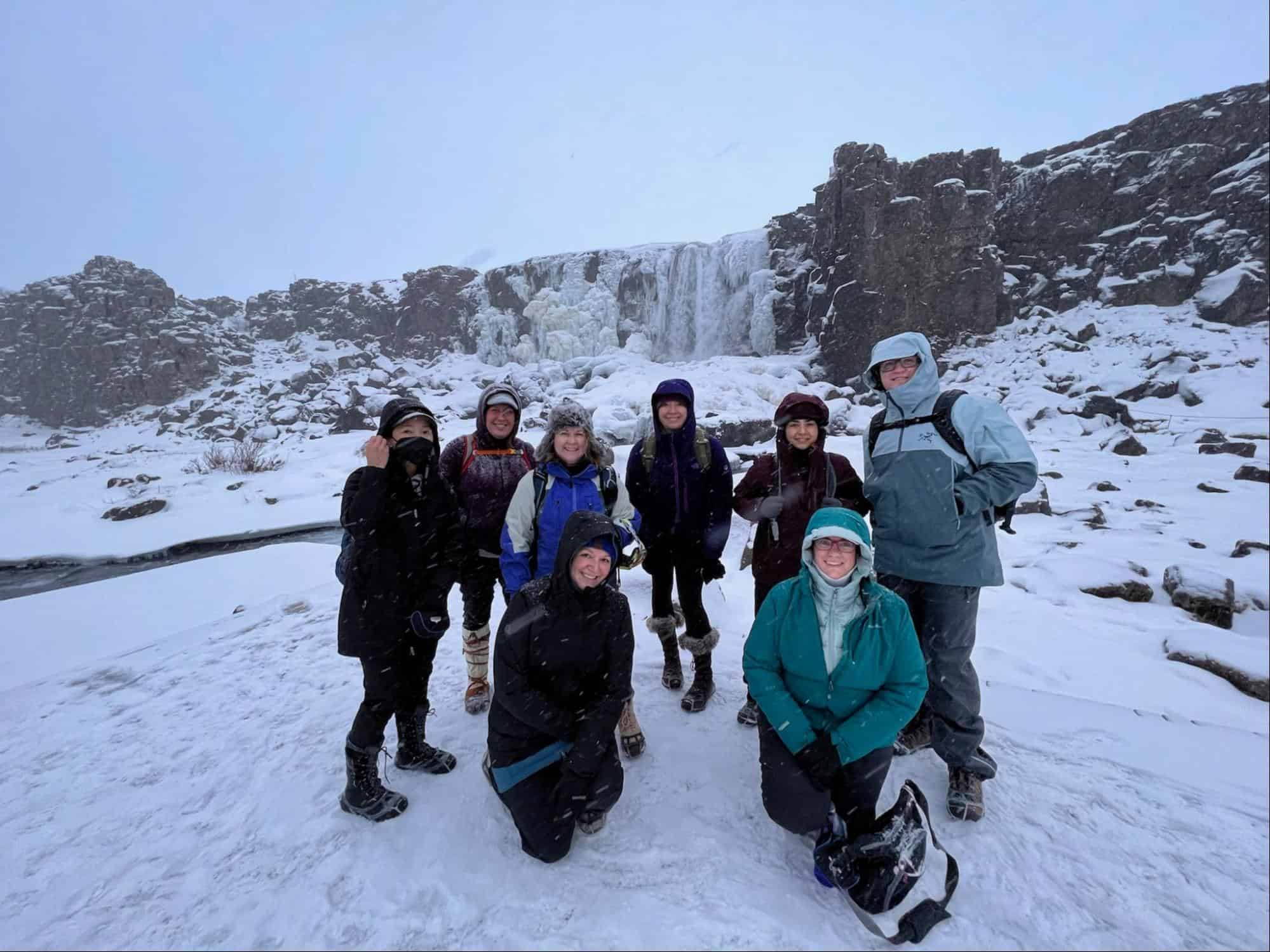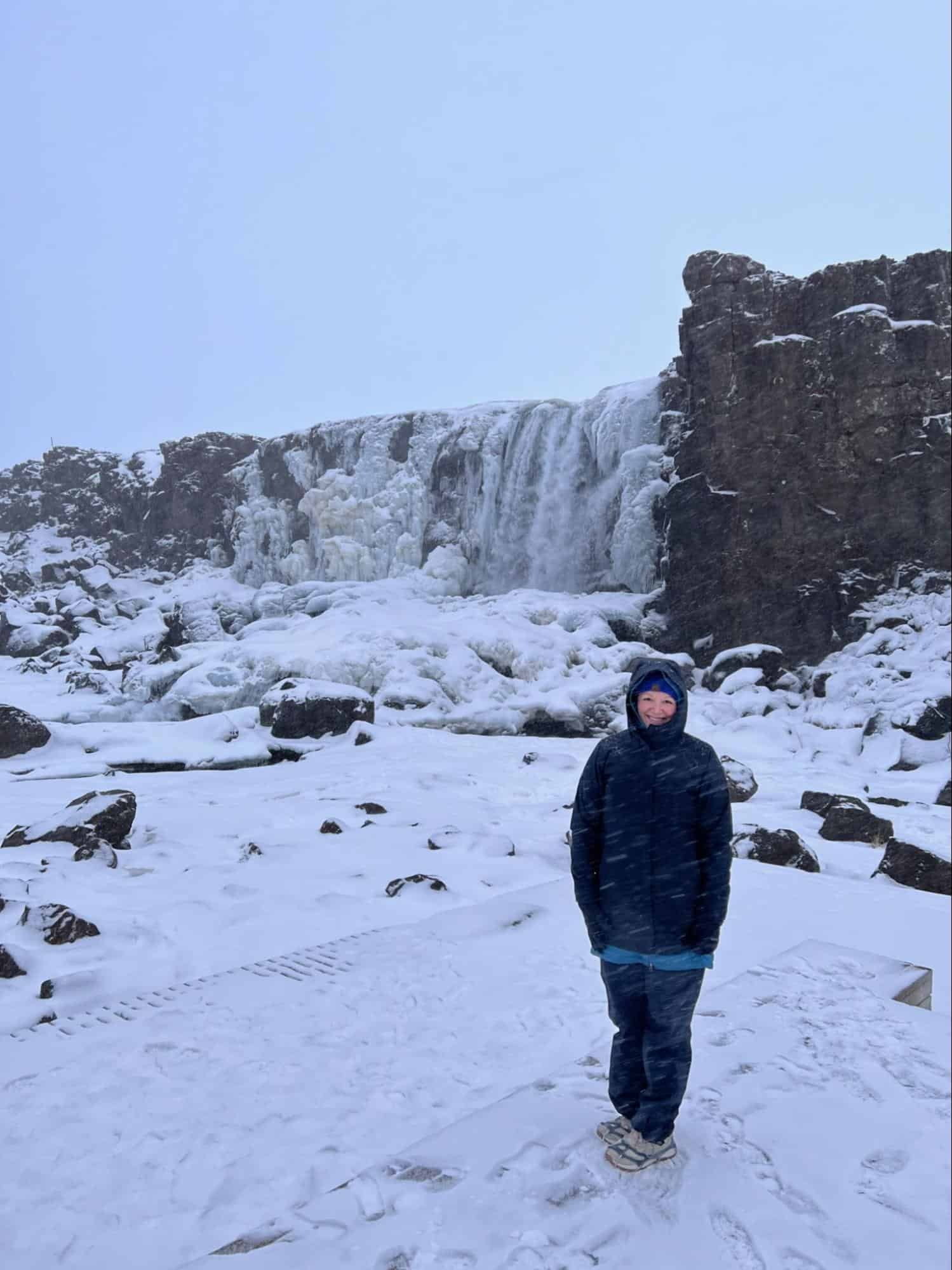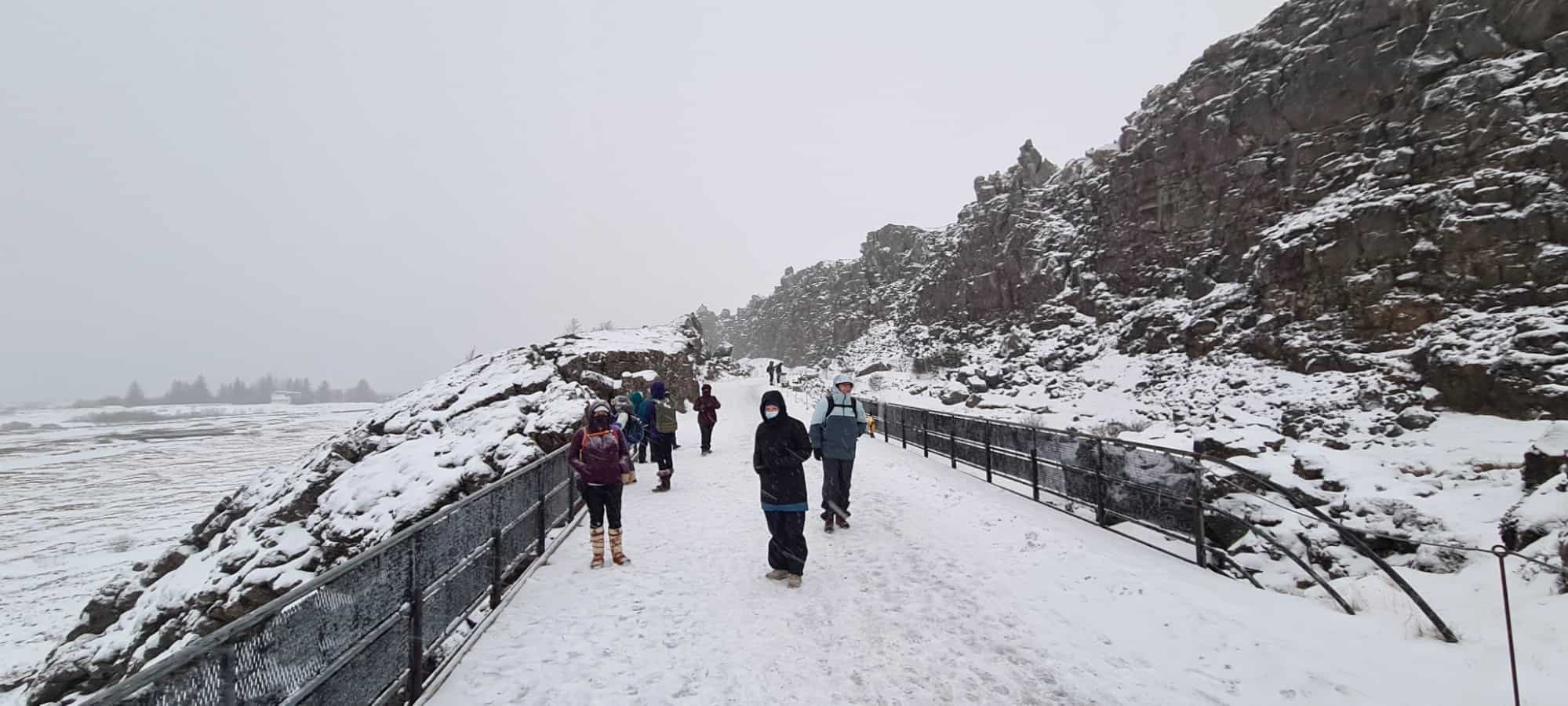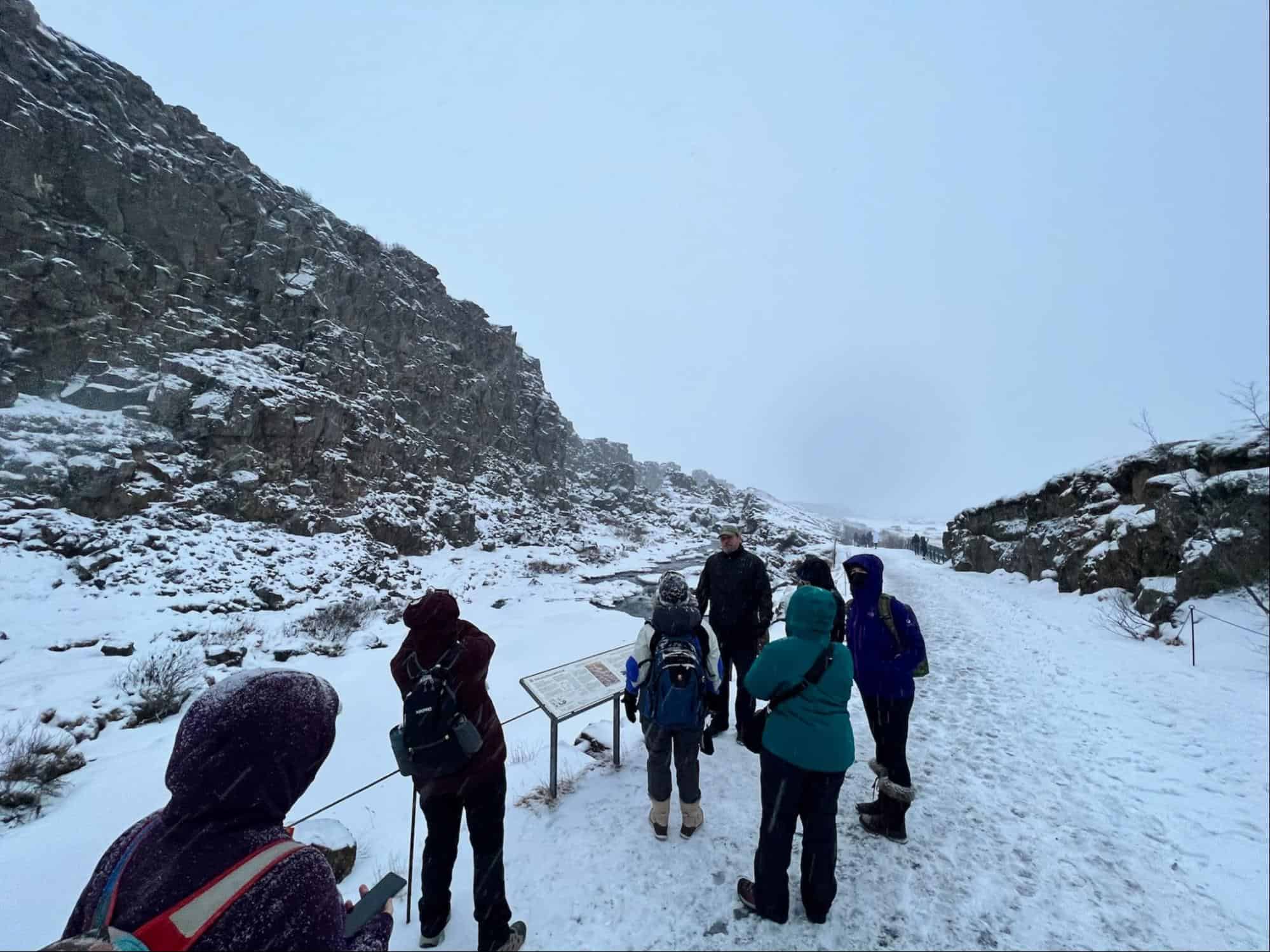 From there, we hopped back on our badass bus and headed for the Geysir geothermal area.
Geysir is basically Yellowstone's Old Faithful…but cold. Cold Faithful, if you will.
It erupts every 10 minutes or so. But the timing is a bit unpredictable, so one has to have quite a bit of patience and cold tolerance to get a video like this.
#WorthIt
We made one last stop at Gullfoss Falls before calling it a day. Like many things in Iceland, Gullfoss was incredibly beautiful and incredibly cold.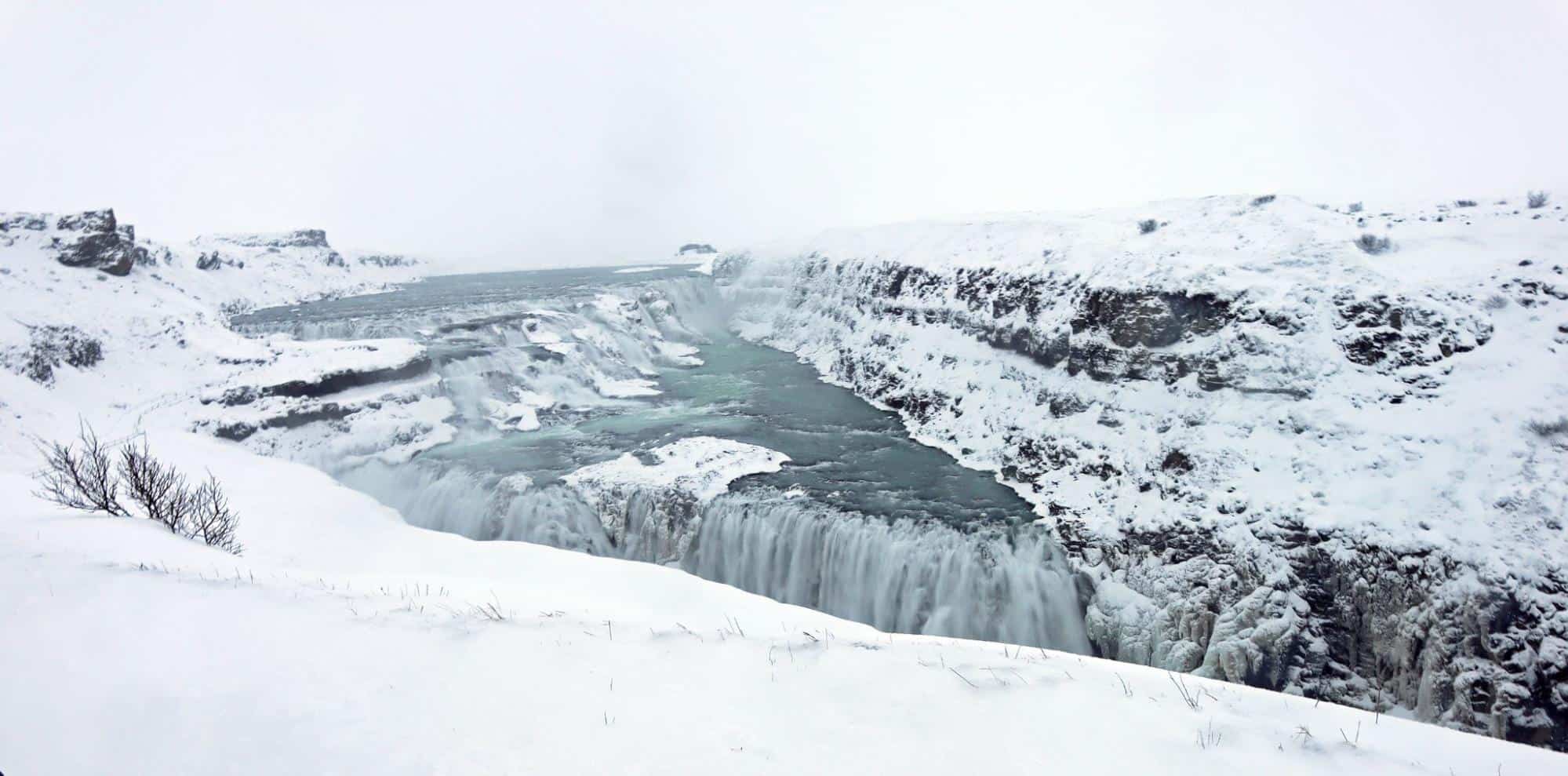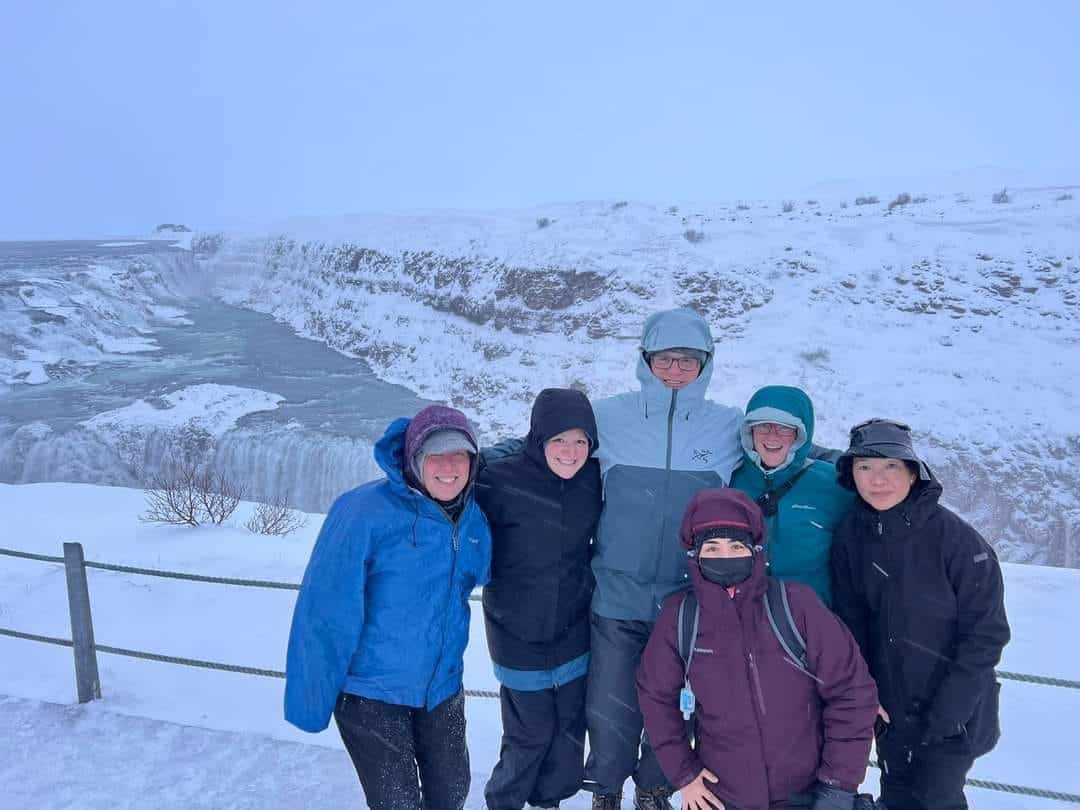 We then made our way to the Land Hotel, which was comfortable and very, very remote. I loved it.
Day 3 – Waterfalls, Black-Sand Beach and Hiking Along the Southern Coast
Day three was spent journeying across the southern coast of the country toward the glacier area with a handful of stops along the way.
The first was at Seljalandsfoss, a series of beautiful waterfalls not far from the coast.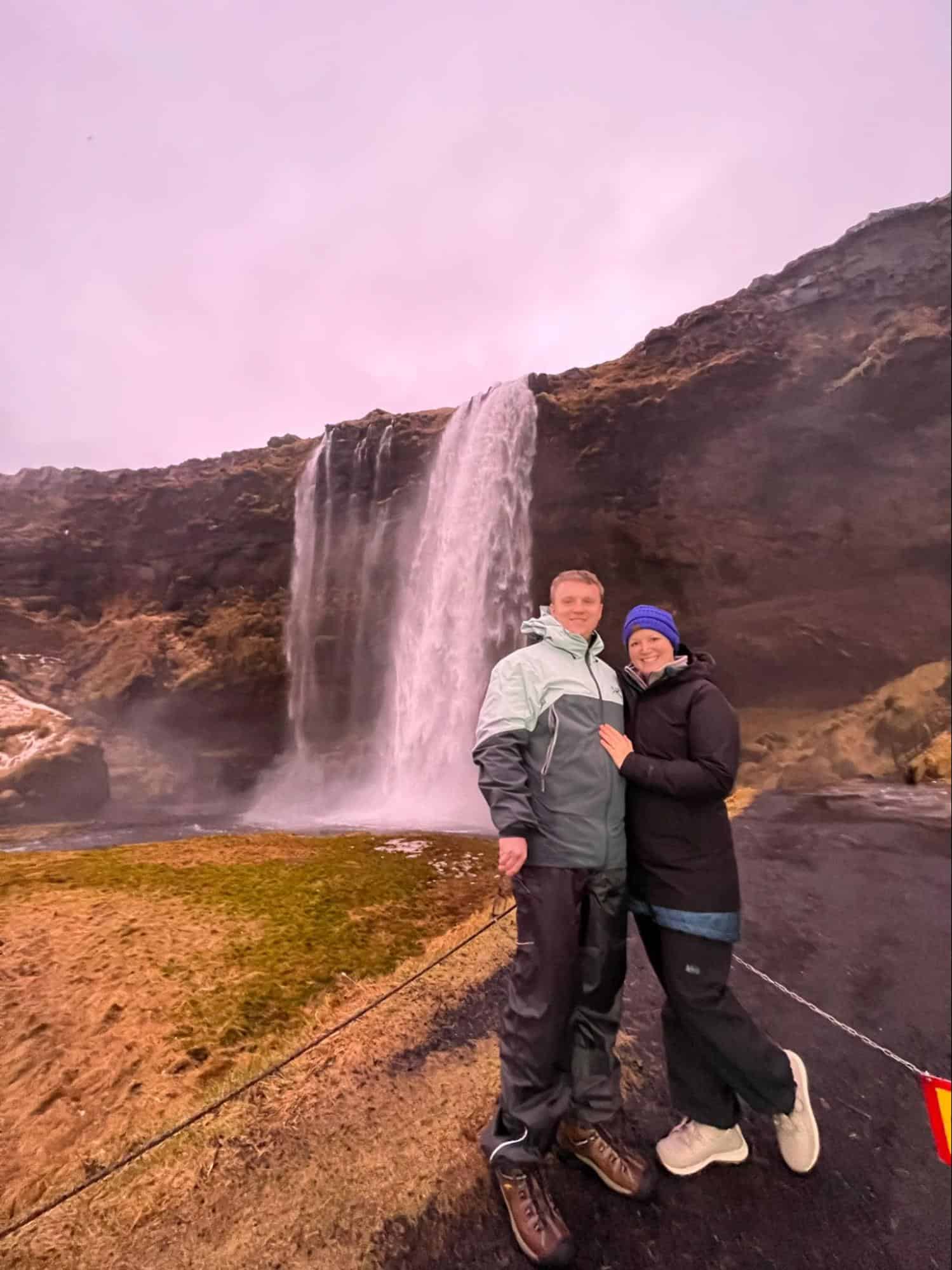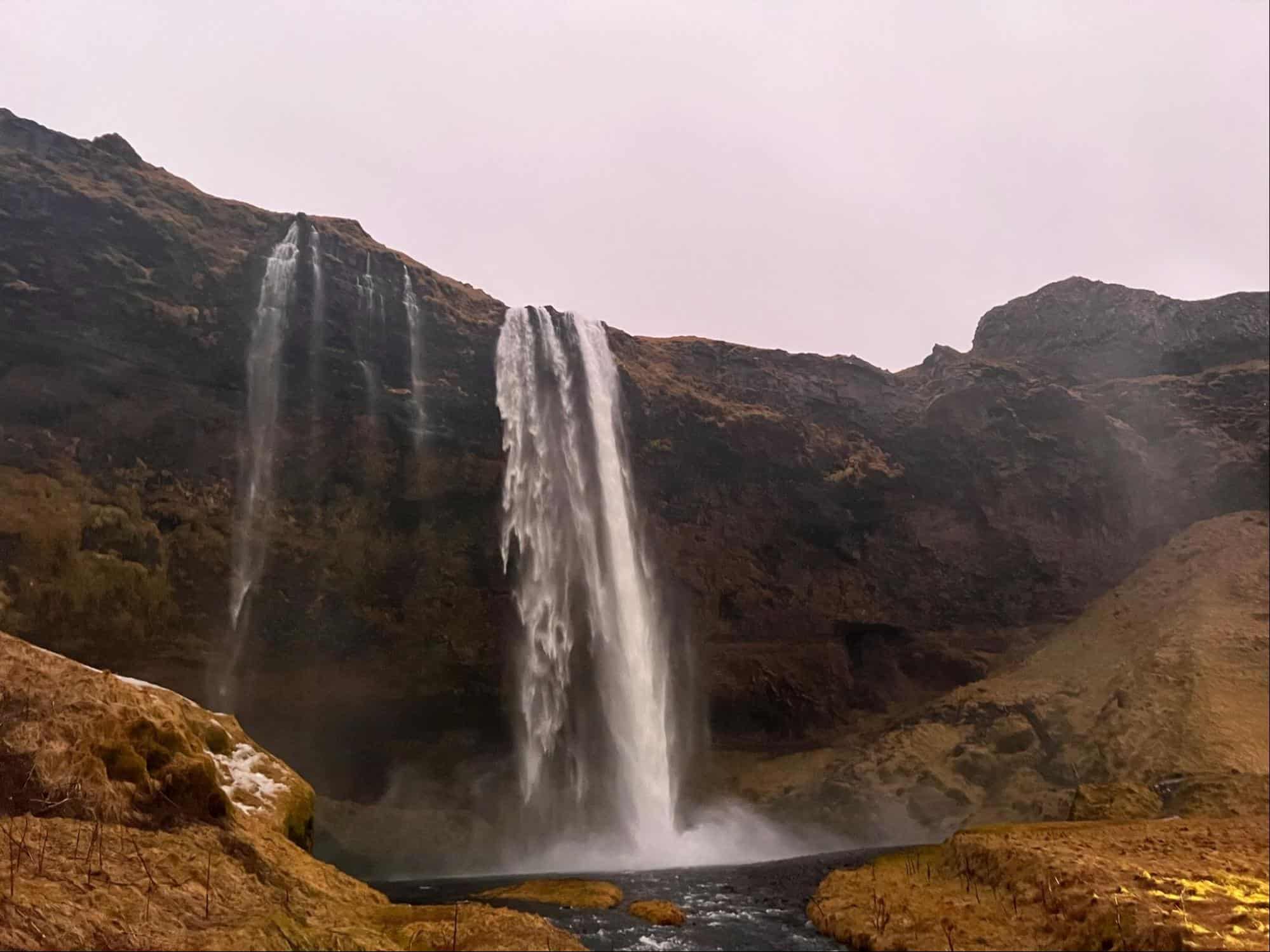 Next up was a stop at Skógafoss.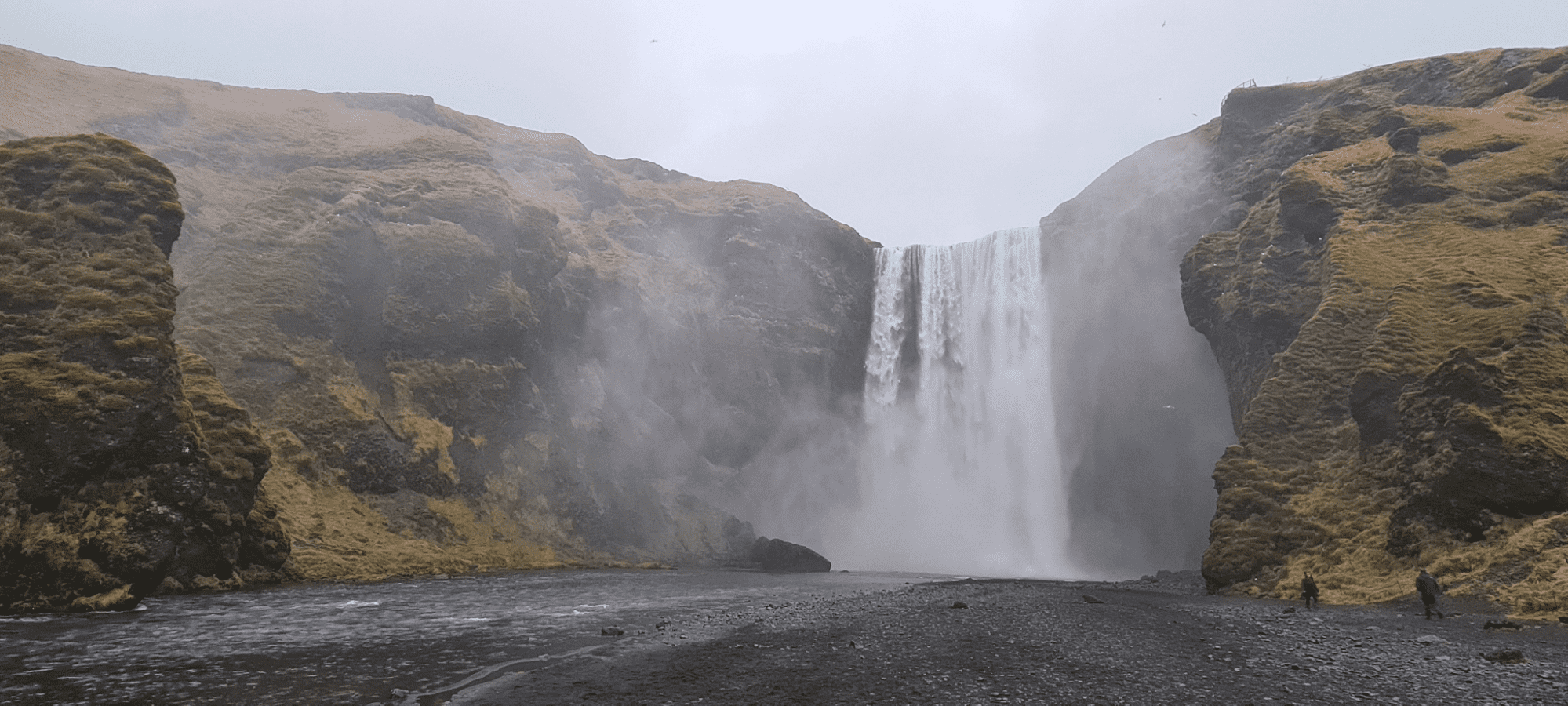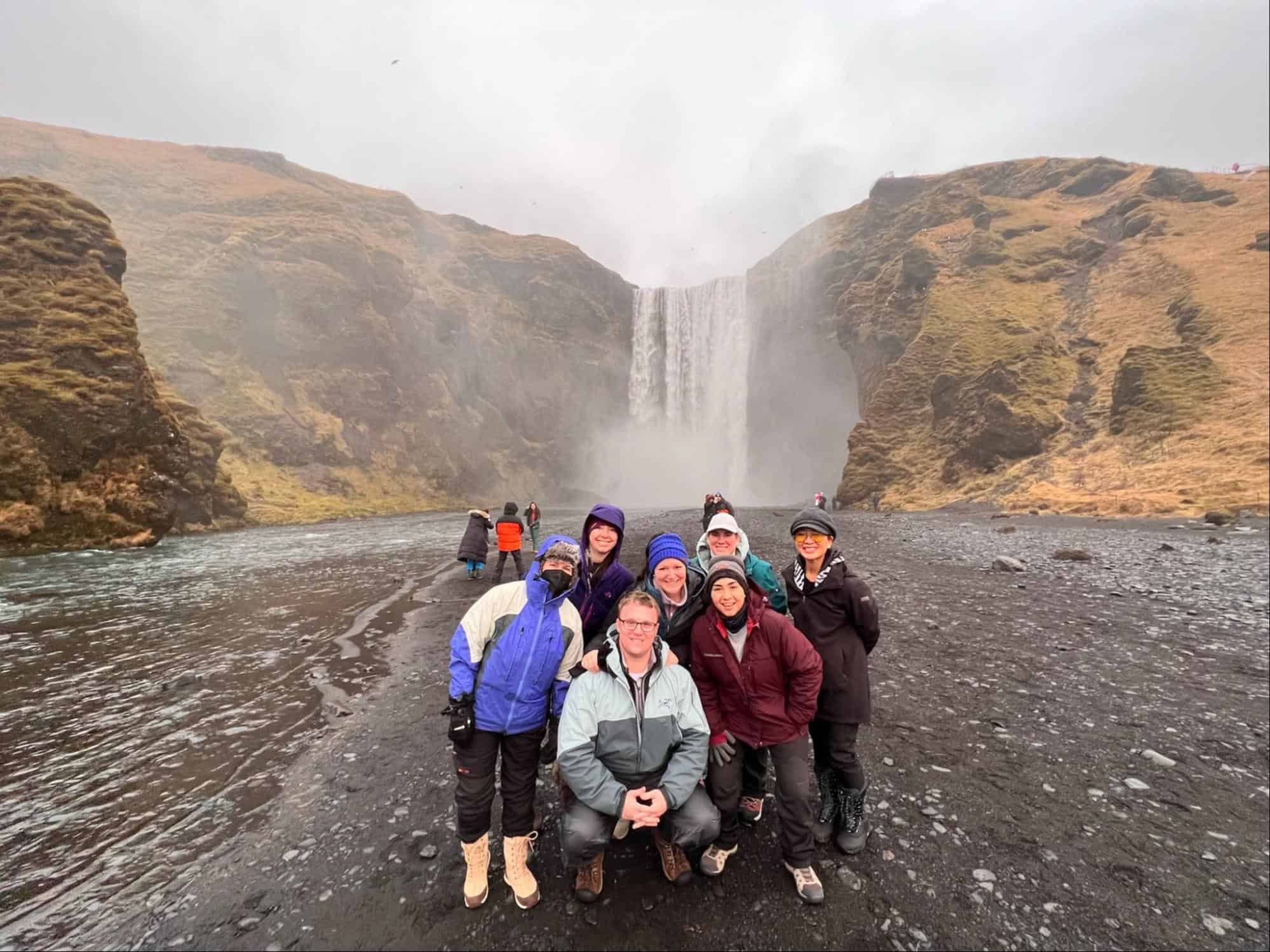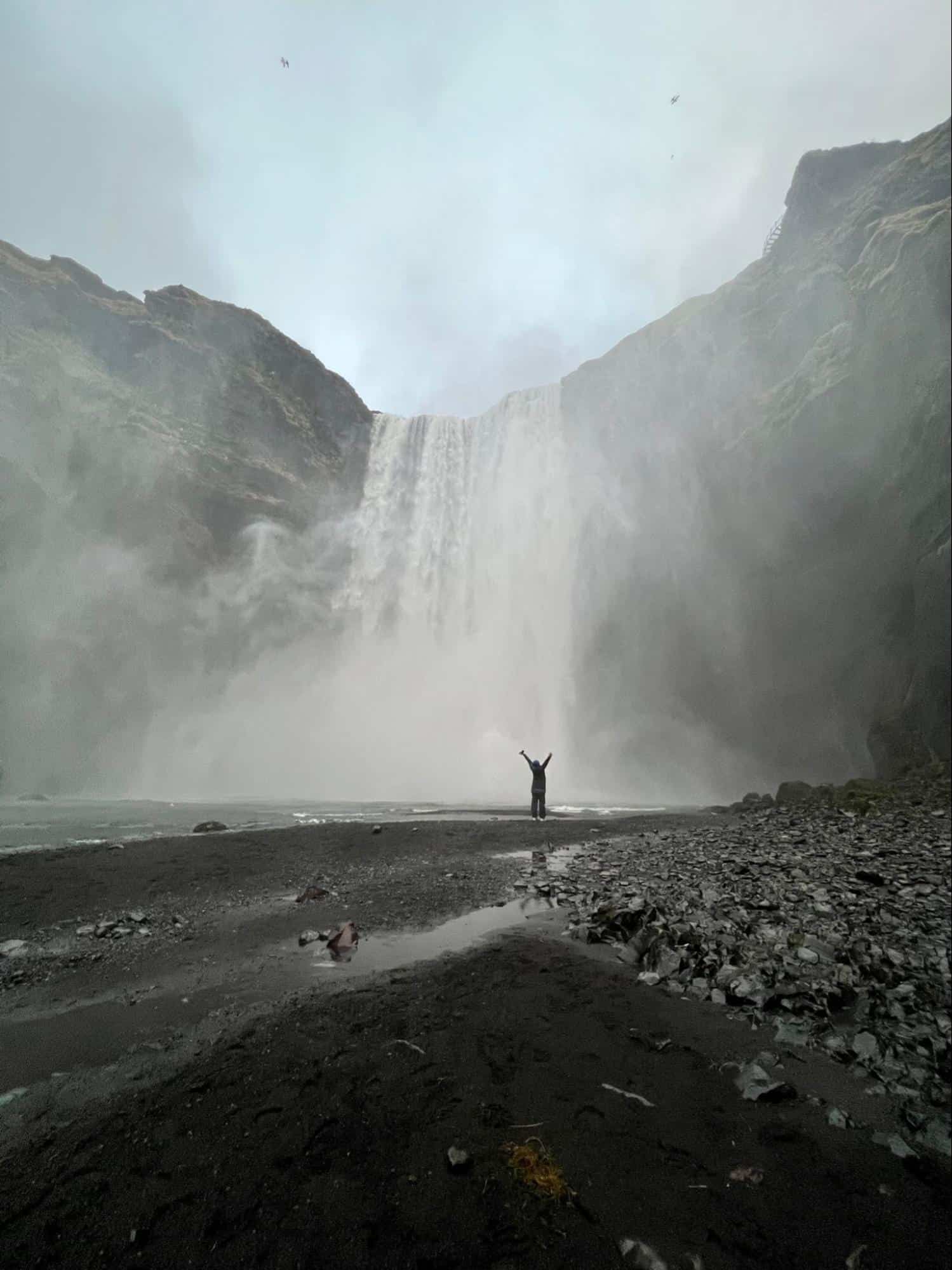 Next, we made our way to Reynisfjara, a black-sand beach straight out of a "Game of Thrones" set.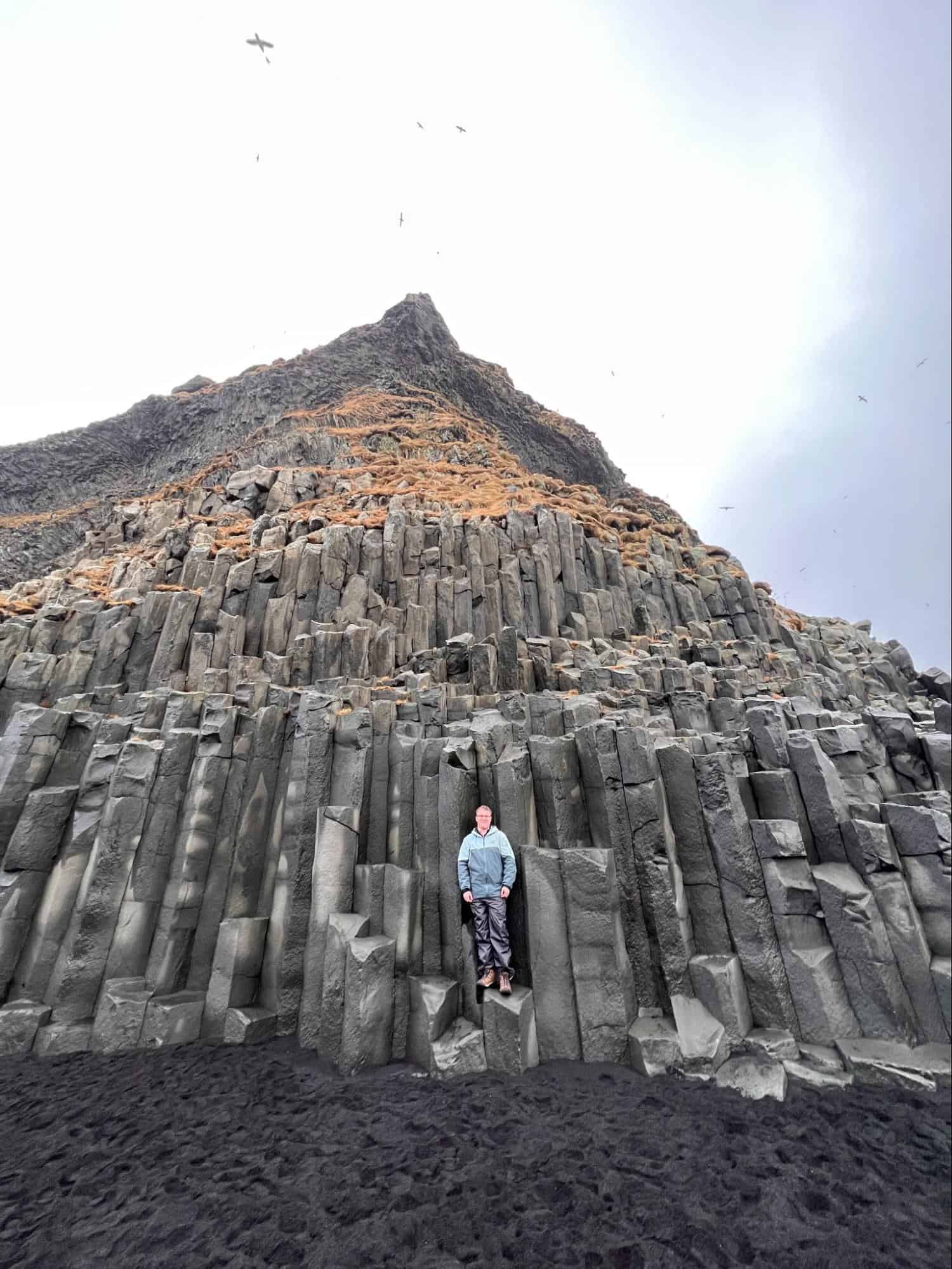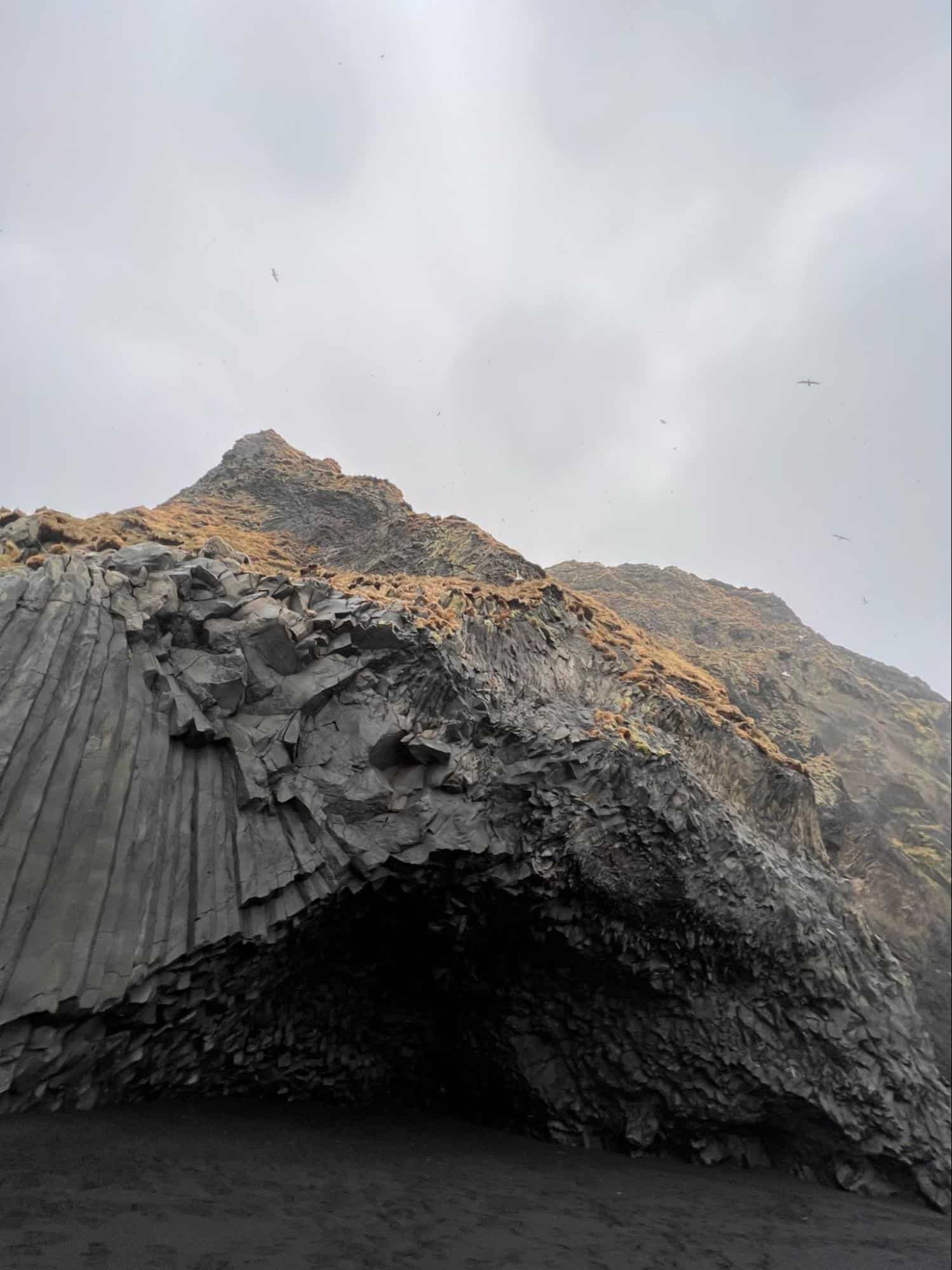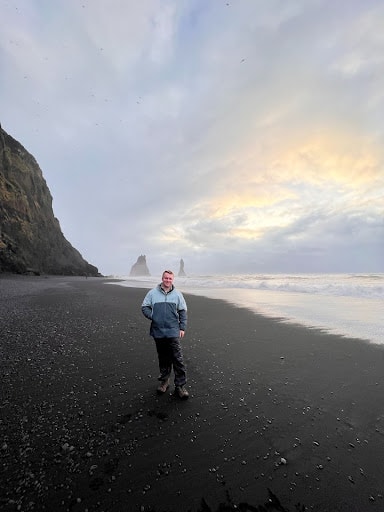 Next up was a quick stop at Yoda's cave. Wait, let me try that again. Stopped at Yoda's Cave, we did next.
From there, we made our way to Fjaðrárgljúfur Canyon, where we did an incredible 1.5-mile hike along the cliffs overlooking the canyon.
Fun fact, this is where Justin Bieber filmed his music video for "I'll Show You."
We then headed to our next hotel, Fosshotel Glacier Lagoon, had dinner there and called it a night.
Day 4 – Ice Cave, Diamond Beach, Glaciers and the Northern Lights
Day 4 might have been the most anticipated day of the trip because we were headed to explore an ice cave on Vatnajökull Glacier, the largest glacier in Iceland. I'll let the pictures do the talking for this one.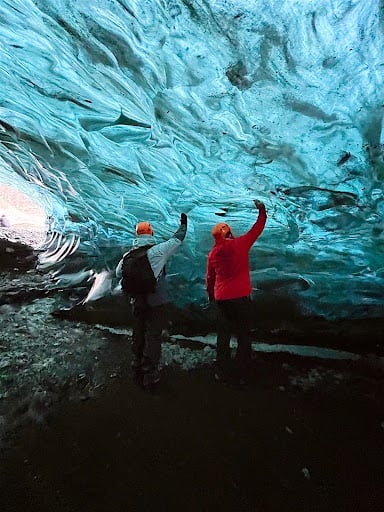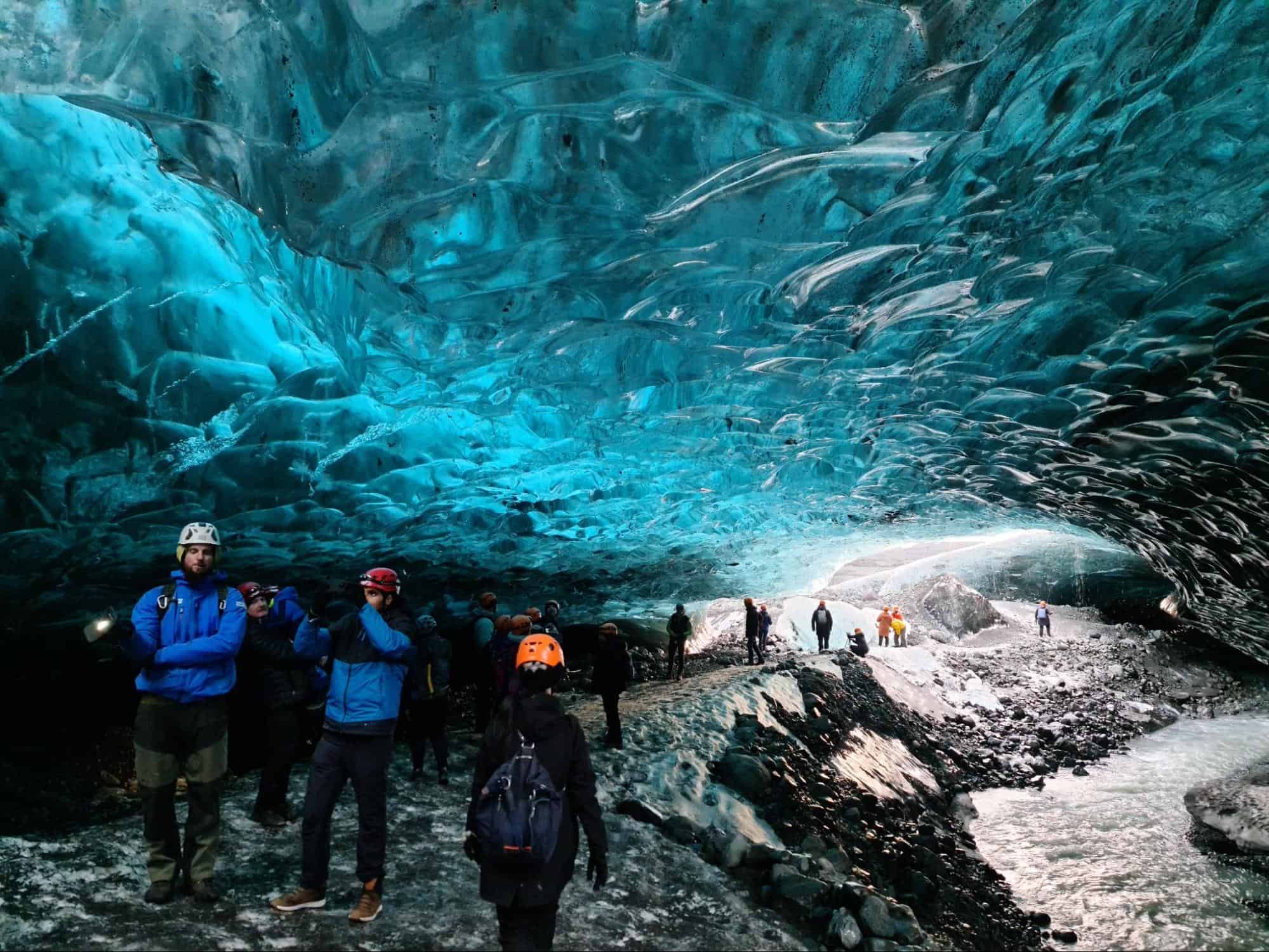 My wife wanted to get a picture of her standing on a chunk of ice as a wave approached. It went exactly as you would expect, and now she is a meme.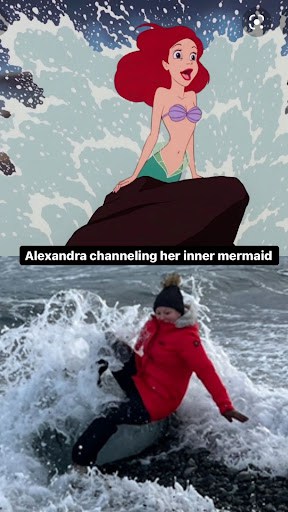 From there, we headed to Fjallsarlon glacial lagoon to catch a sunset. 
Once again, pictures tell the story here. This might be the most beautiful single location I have ever visited.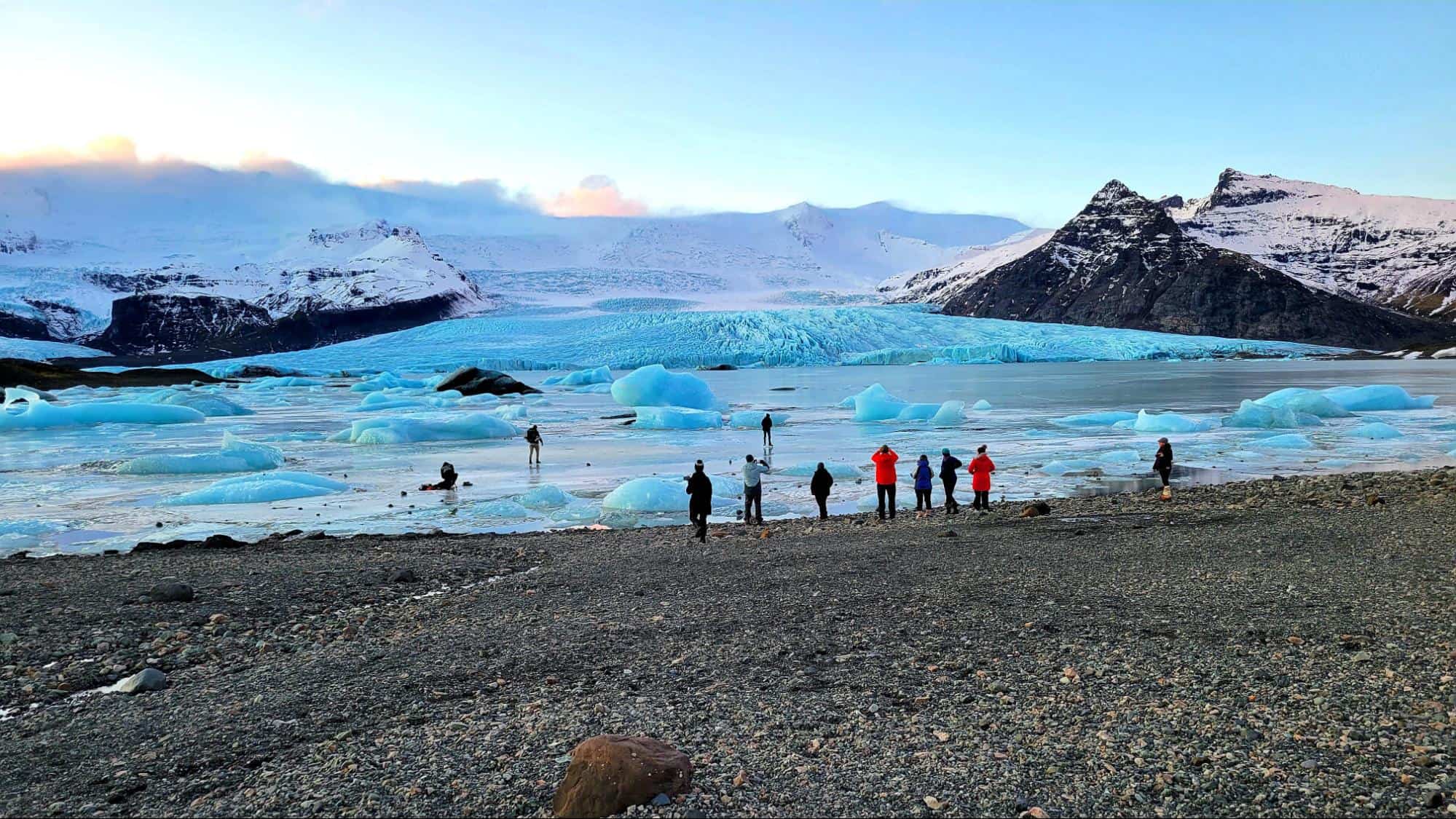 We headed back to Fosshotel to call it a day, but nature had other plans. 
Shortly after dinner, our fellow traveler Patricia noticed that the northern lights were visible from right outside our hotel. Naturally, we all ran outside like a bunch of children who were just told that Santa Claus was on the roof.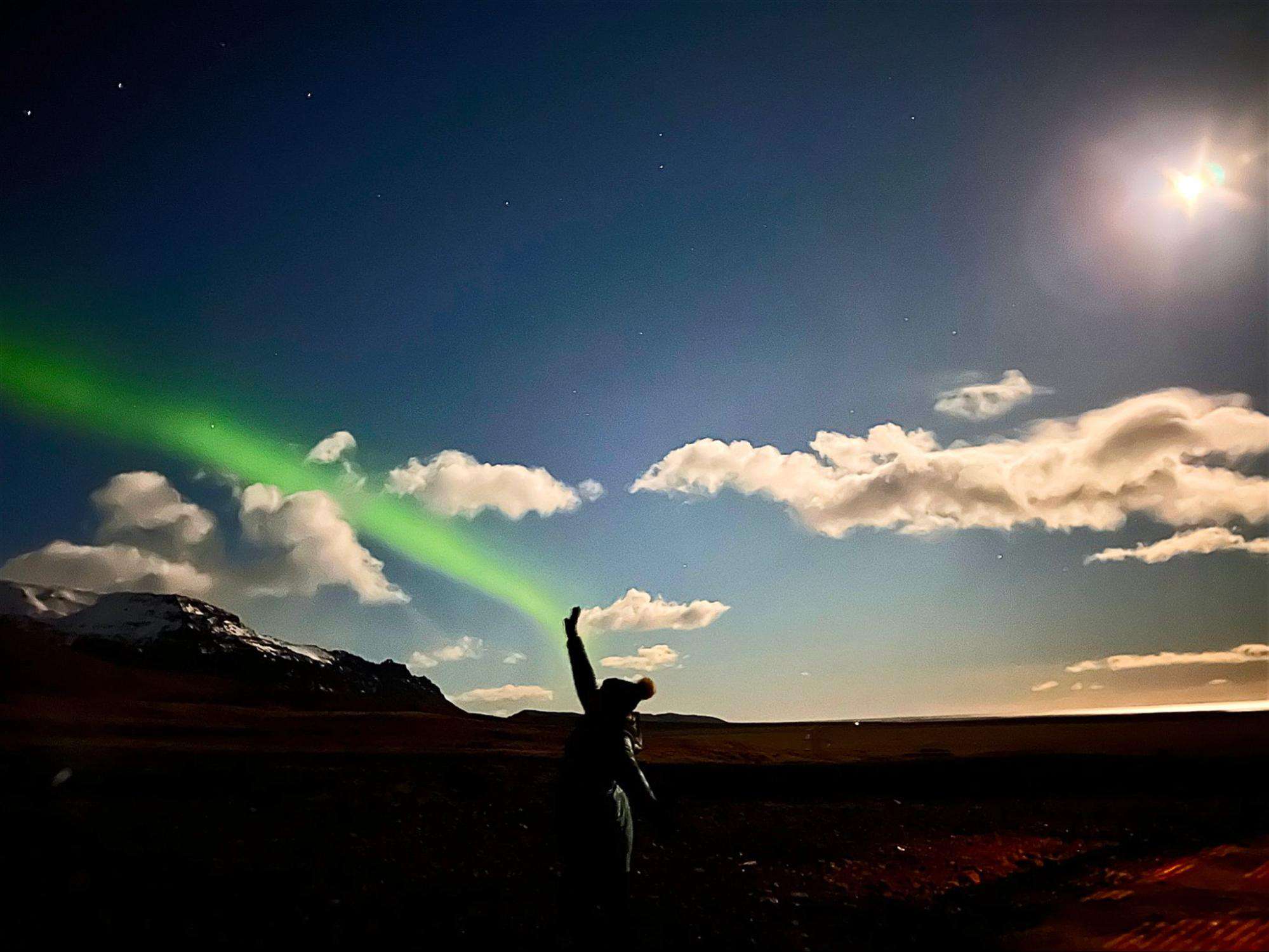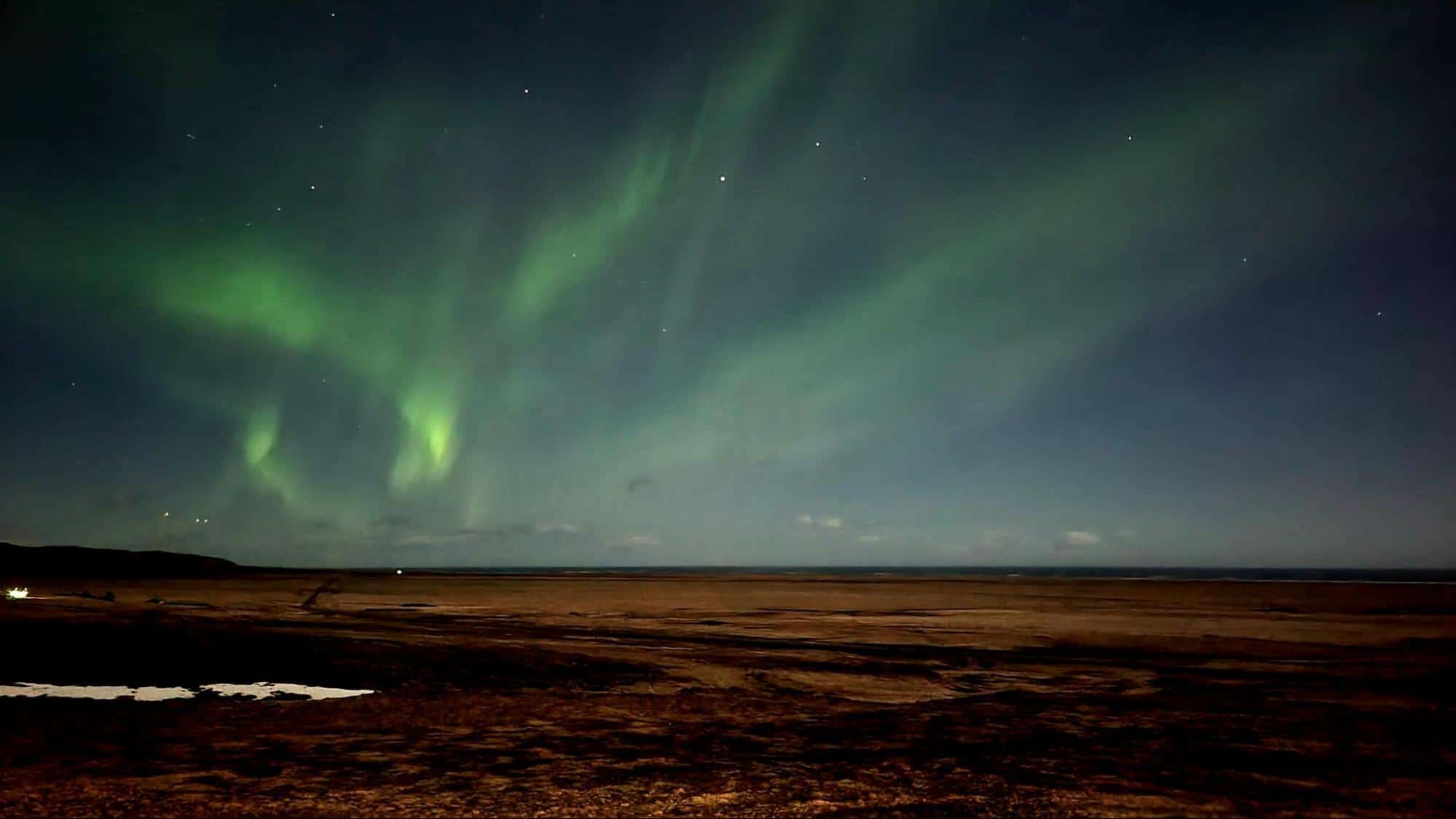 So we returned to the hotel around midnight and went to bed, convinced that Day 4 was easily going to be the best day we spent in Iceland.
And we were right, until Day 5.
Day 5 – Svartifoss, Night Hike to Hot Springs
Day five started with a 2.5-mile hike to Svartifoss, which is perhaps the most unique waterfall in Iceland.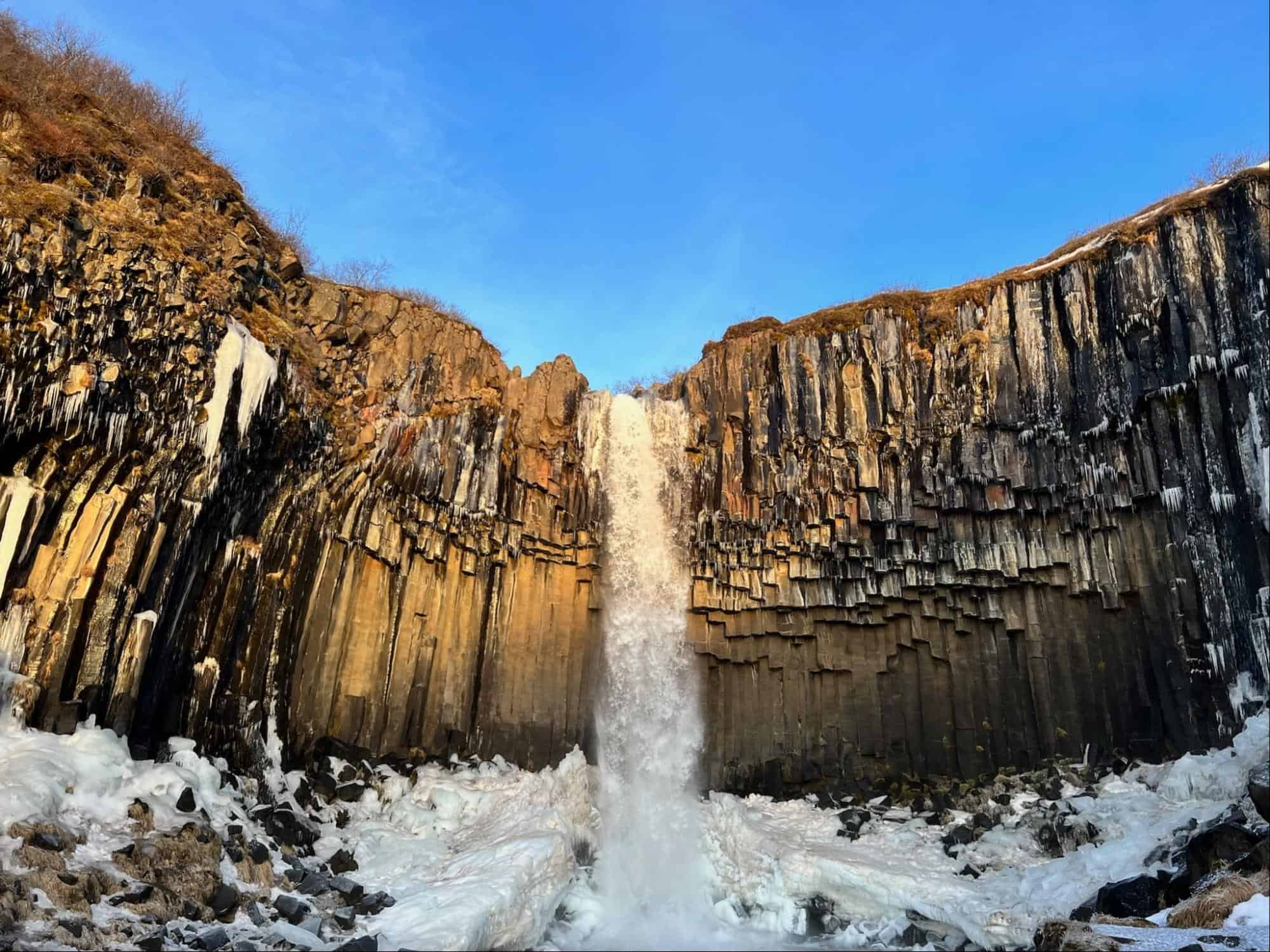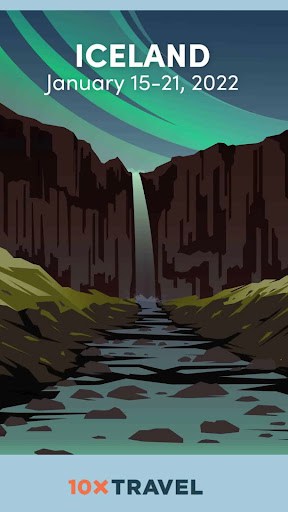 Oh hey, that looks familiar. This is the waterfall from our trip poster.
We then made our way to Grotta Island Lighthouse to check out the beautiful coastal scenery and elephant rock.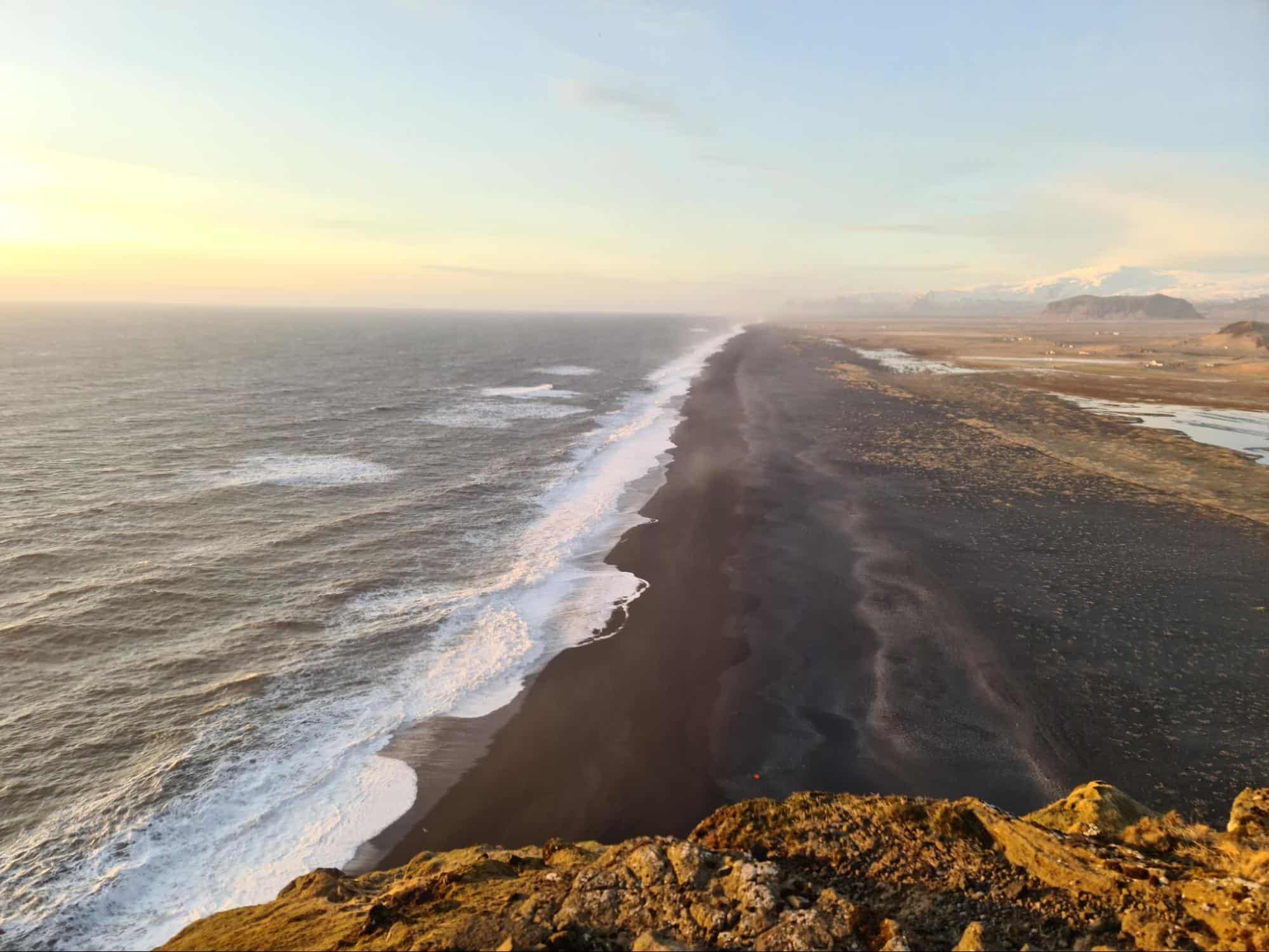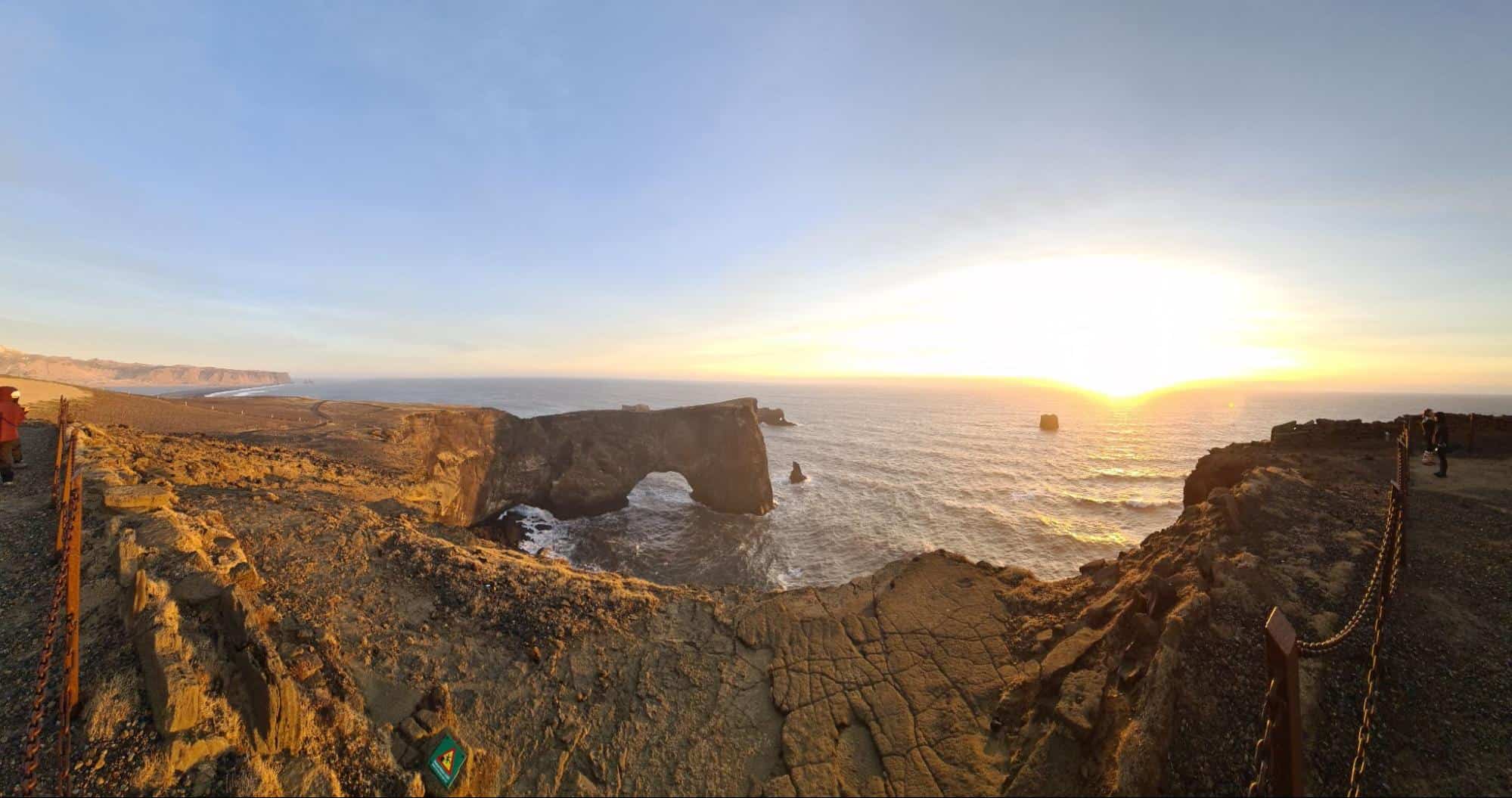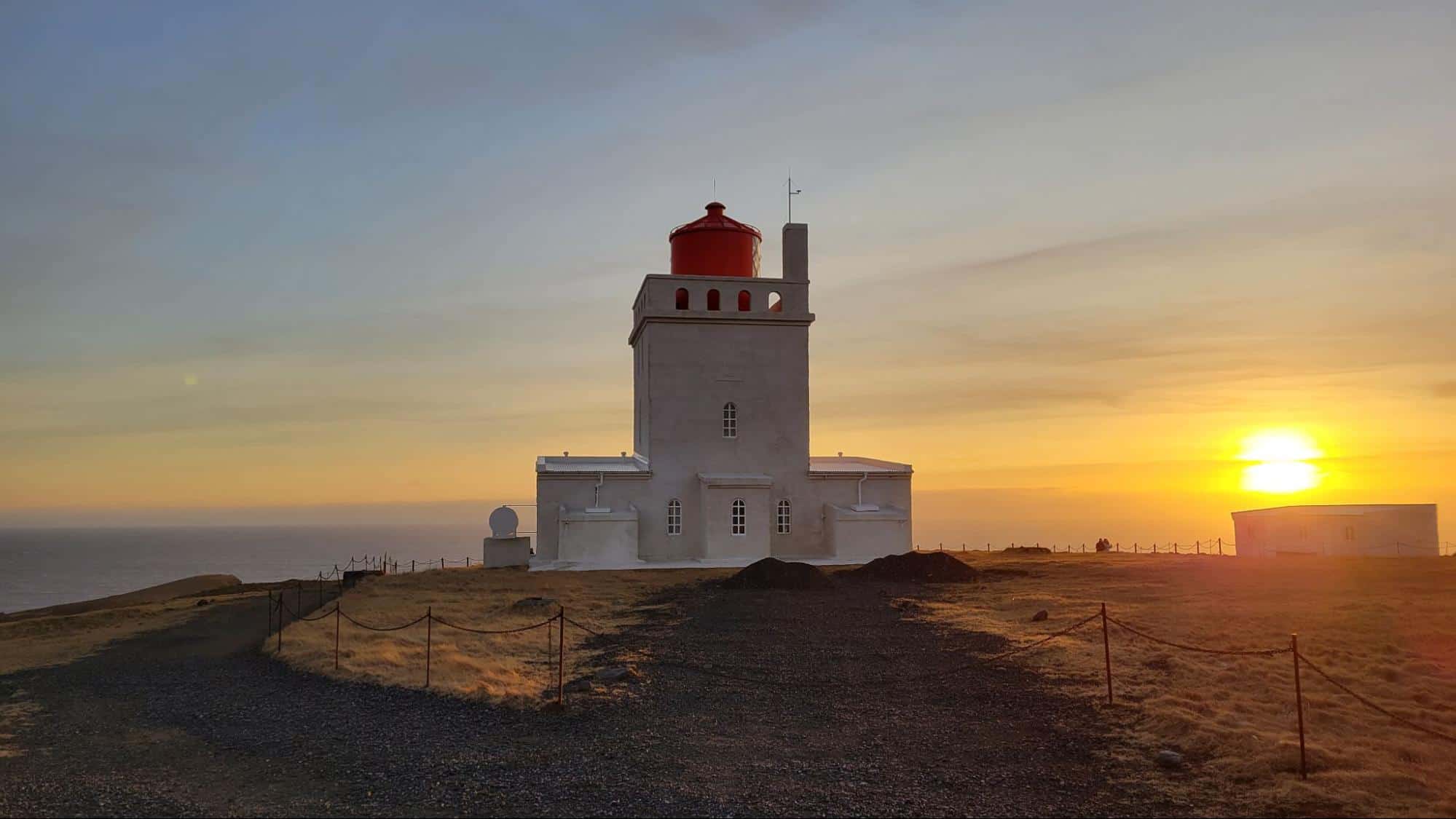 Normally, this is where our day would end, but Baddi had other plans.
Thanks to his encouragement, we decided to do a nighttime hike through the Reykjadalur Valley to bathe in a hot spring on top of Mt. Hengill, an active volcano.
So we grabbed a quick dinner, promised the hotel desk clerk that we were not insane on our way out the door (he asked) and made our way to the trailhead.
What came next was, at least in my opinion, the highlight of our trip. Unfortunately for you and this trip report, it was the most difficult part of our trip to capture on camera because it was pitch black out. This show and tell is about to become less show and more tell.
We departed our hotel at 10:30 p.m., drove to the trailhead and hiked for about one hour up the mountain and across a valley to reach the hot spring.
Upon reaching the hot spring, we all changed into swimsuits and bathed in the warm water for about 30 minutes. No sounds, no light other than the moon and no other humans for miles.
Just a group of new friends taking in the beauty of nature and enjoying the polarities of being comfortably warm on top of a frozen mountain, completely relaxed in the midst of a physical challenge, hardly clothed in a place where clothing and gear is a matter of survival and enjoying moments of silence and solitude despite being in the presence of other people.
It was one of the most moving travel experiences of my life. One of those moments when you don't even care to reach for your camera, not that you could hope to capture it anyway.
Time seemed to stand still for a few minutes before the realities of the physical world reminded us that we needed to make our way back down the mountain. So we did, each of us returning with a memory we won't soon forget.
We knew we'd sleep well that night, repeating yesterday's mantra that "this is the best day we will spend in Iceland" the entire ride home from the trailhead to the hotel. Except this time, we were right.
Day 6 – Blue Lagoon
Day 6 was all about recovery.
We slept in a little later than normal, grabbed breakfast at the hotel and made our way to the Blue Lagoon for a few hours of rest and relaxation.
Sure, the Blue Lagoon is pretty touristy. At this point it's fair to say that the lagoon is more man-made than natural. But there are worse ways to spend a final day of travel than with silica masks, warm water and Prosecco.
After a couple of hours of relaxing, we made our way back to Reykjavik and enjoyed one last dinner together before most of us headed home the following day.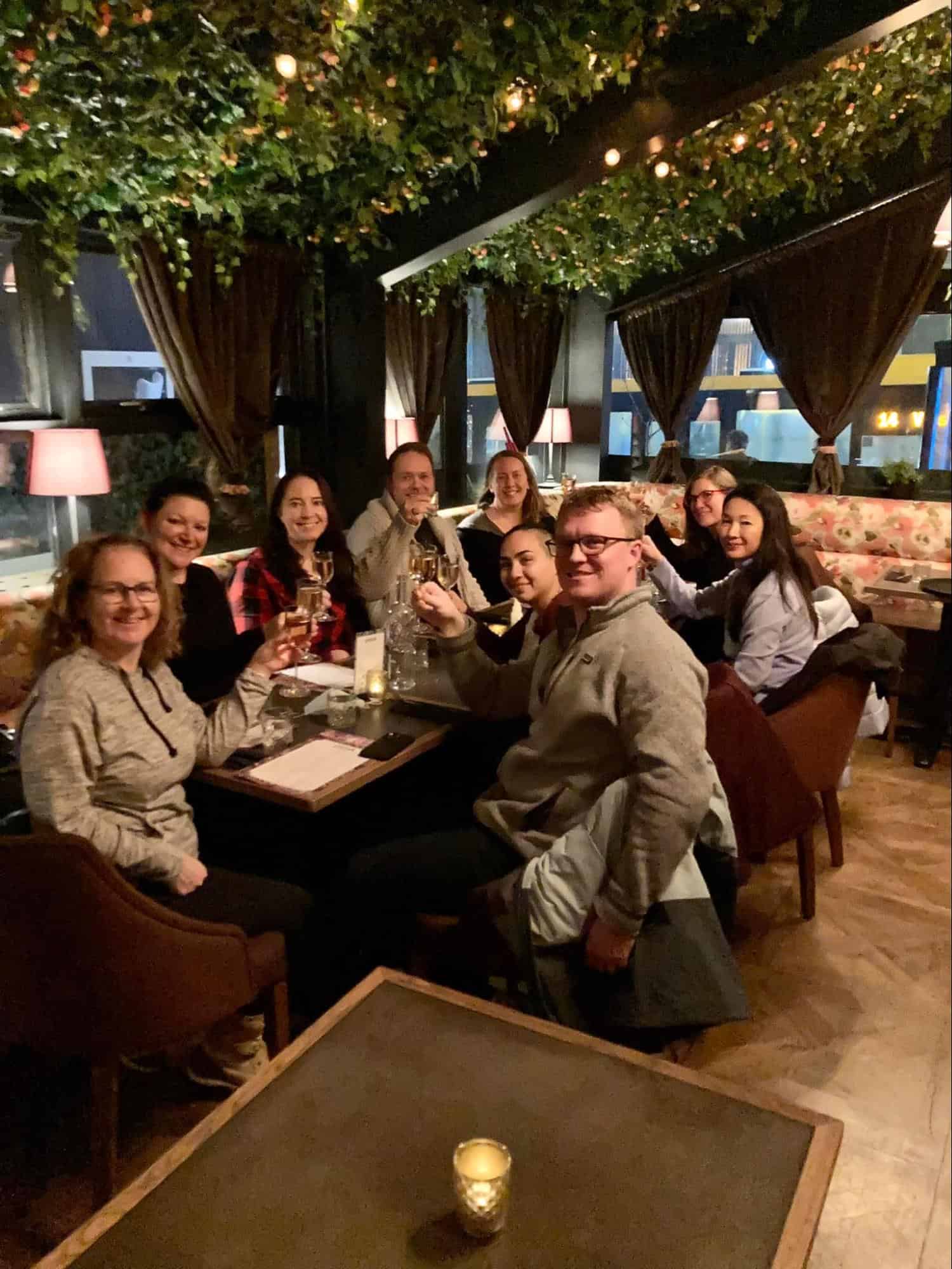 Bottom Line – Bryce
The first 10xTravel Trip went as well as any of us could have hoped. We had a great group; our itinerary somehow went entirely according to plan despite the current state of travel; and Iceland was simply spectacular.
I will forever share a bond with the seven other readers who joined us on this adventure, and I look forward to sharing similar experiences with many of you on future trips!
And now, a few words from a couple of others who joined me on this wonderful journey!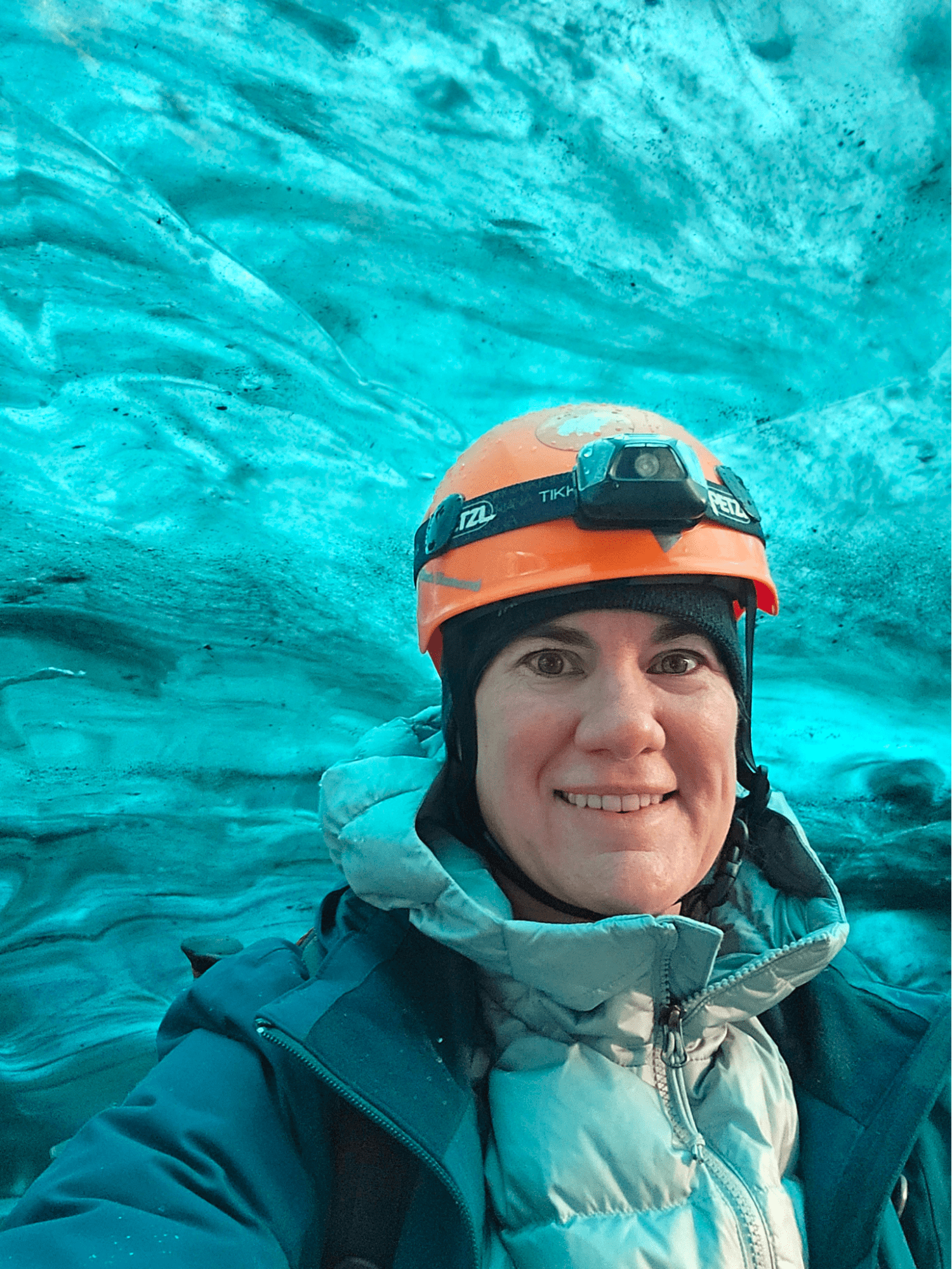 When 10xTravel posted the first round of 10xTravel Trips last November, I jumped at the chance to knock Iceland off my bucket list.
I signed up the first day, without giving thought to Icelandic weather in January (I hate the cold – ha). So glad I didn't hesitate. It was everything I hoped for and more.
I booked Icelandair flights with Alaska miles from Salt Lake City to Reykjavik via Seattle (SLC-SEA-KEF) for 30,000 miles + $108 in taxes, each way. There were no Saga class fares available booking with points, so I upgraded to an extra-legroom seat for $80. I had the entire row to myself both there and back, on all four legs. Icelandair was great, and we even saw the northern lights from the plane!
Now for the good stuff. I came solo, slightly worried I would be the oldest, not in the best hiking shape and possibly get a weird roommate.
I'm new to the points game, and this was my first time out of the country in decades.
As a mom to a special needs child, I can rarely get away for more than two or three days at a time, so this trip was much needed. Bryce and his wife, Alexandra, were waiting for the group to arrive at the hotel and instantly put my anxiety at ease.
I adored the 10xTravel group and was so happy I wasn't truly traveling solo. (And my roommate was great, too!) Most of the group explored Reykjavik that first day, getting to know each other and enjoying the amazing sights in this cozy, walkable city.
Highlights of the trip include exploring a sapphire blue ice cave, hiking to roaring waterfalls and jagged canyons, and sitting on huge glacier ice chunks spit up by the sea onto the black-sand beach.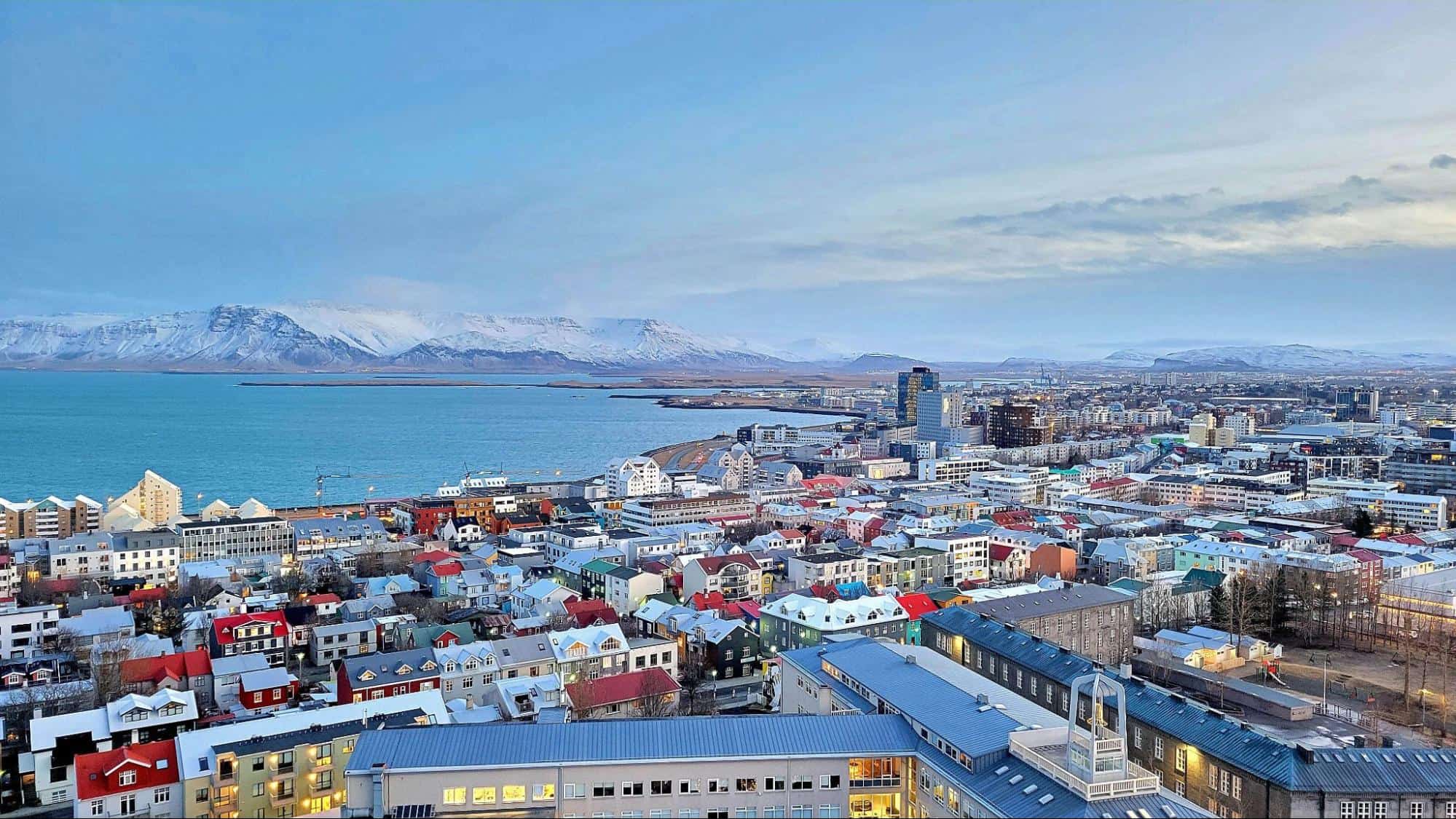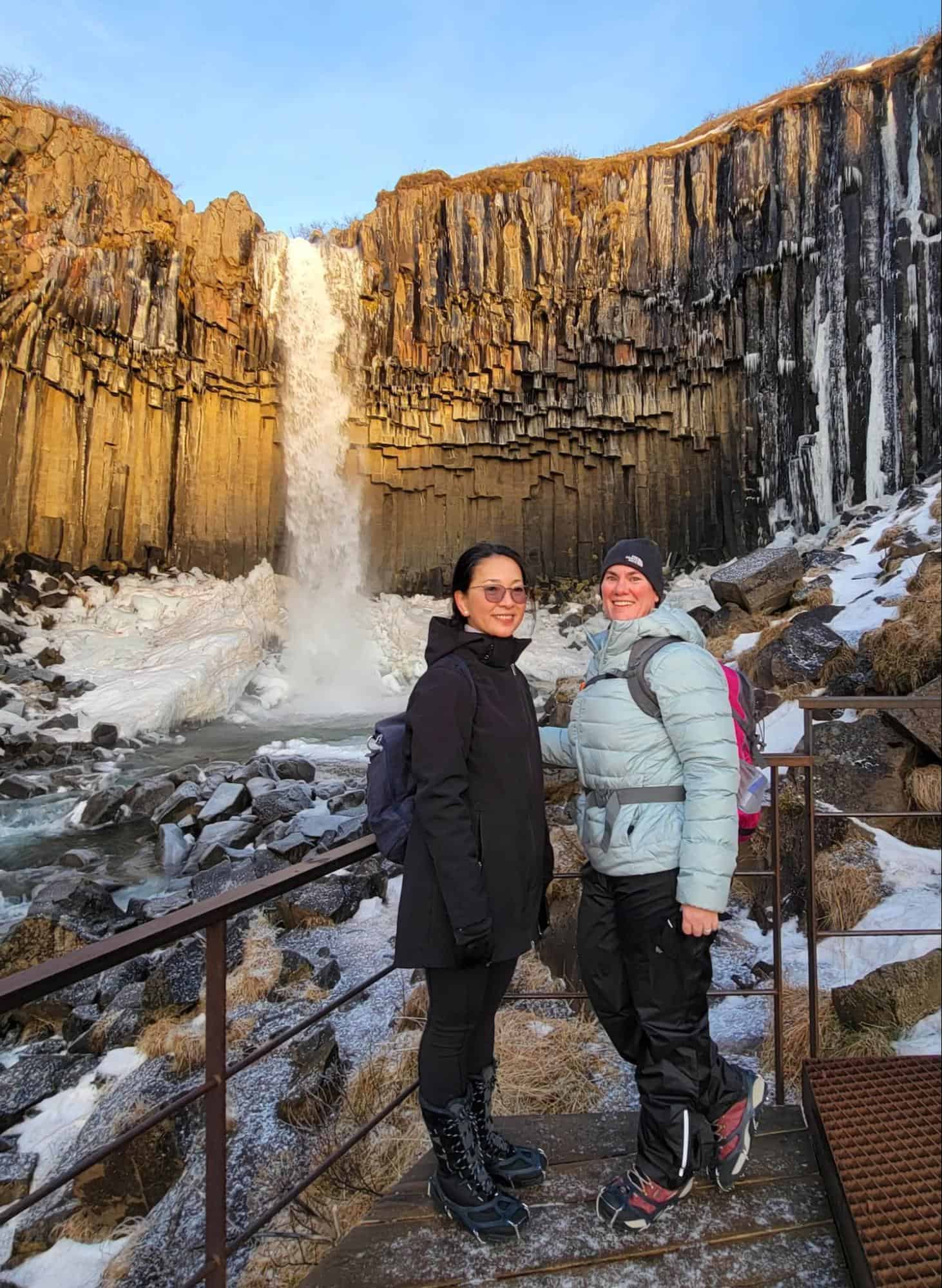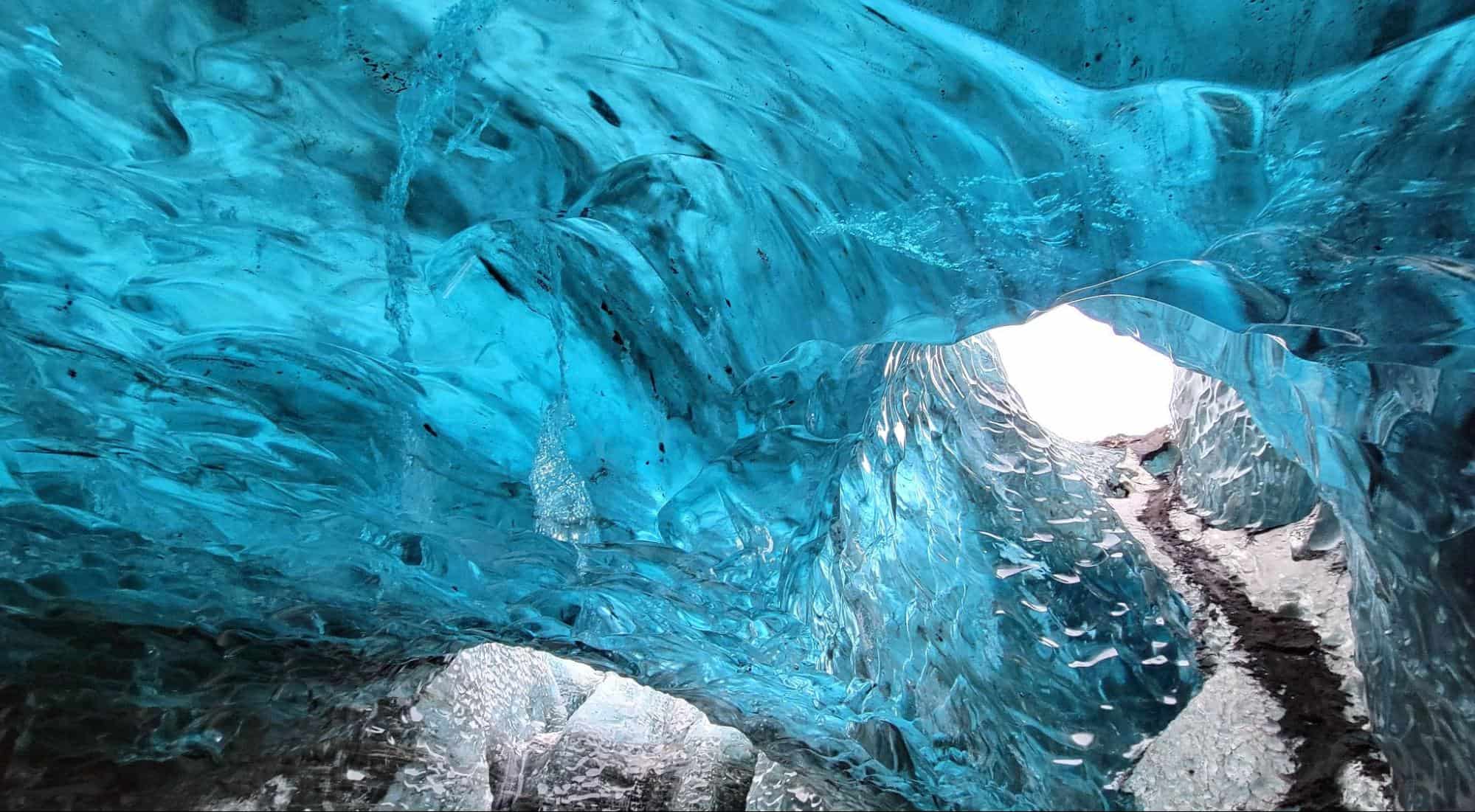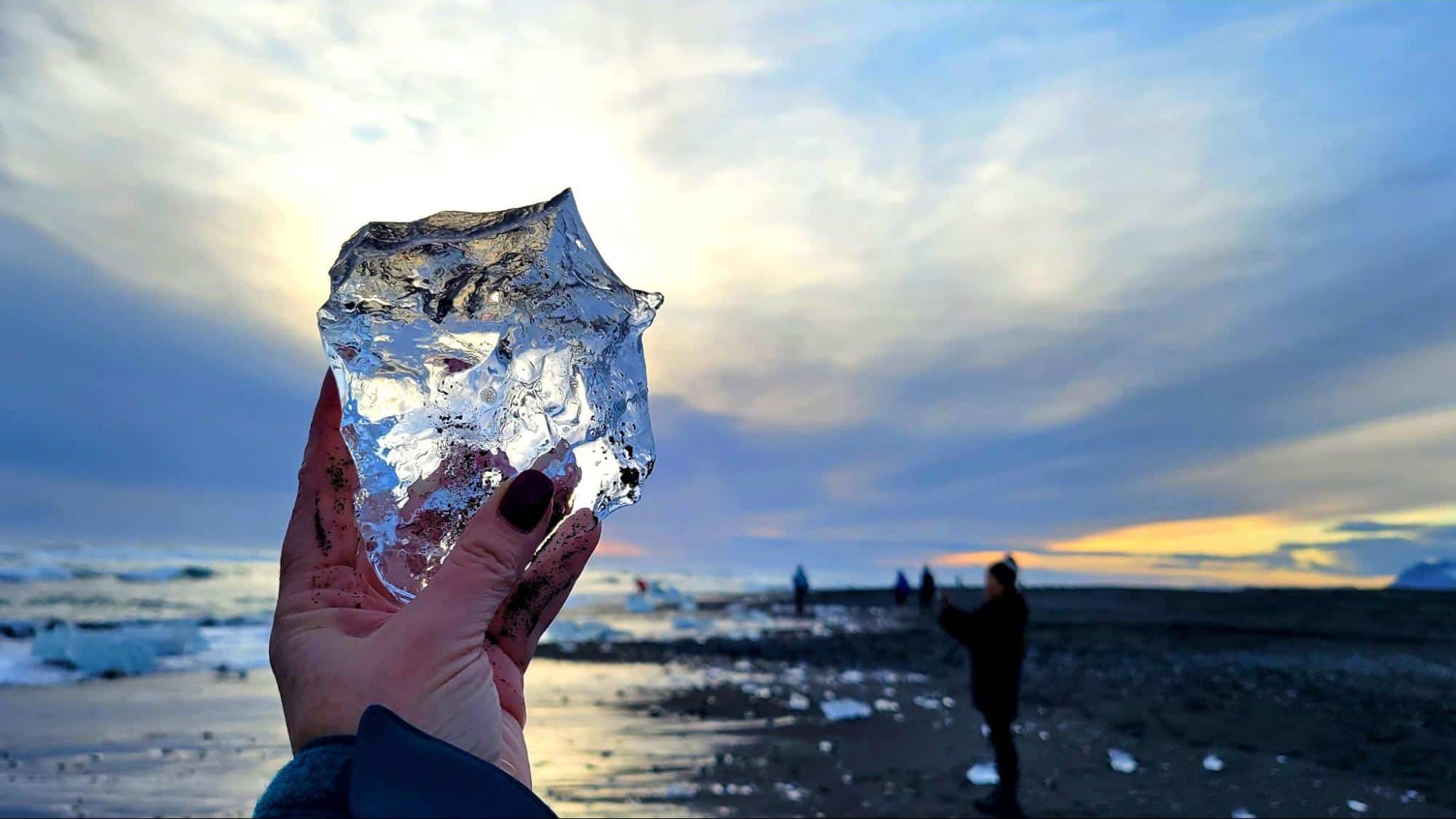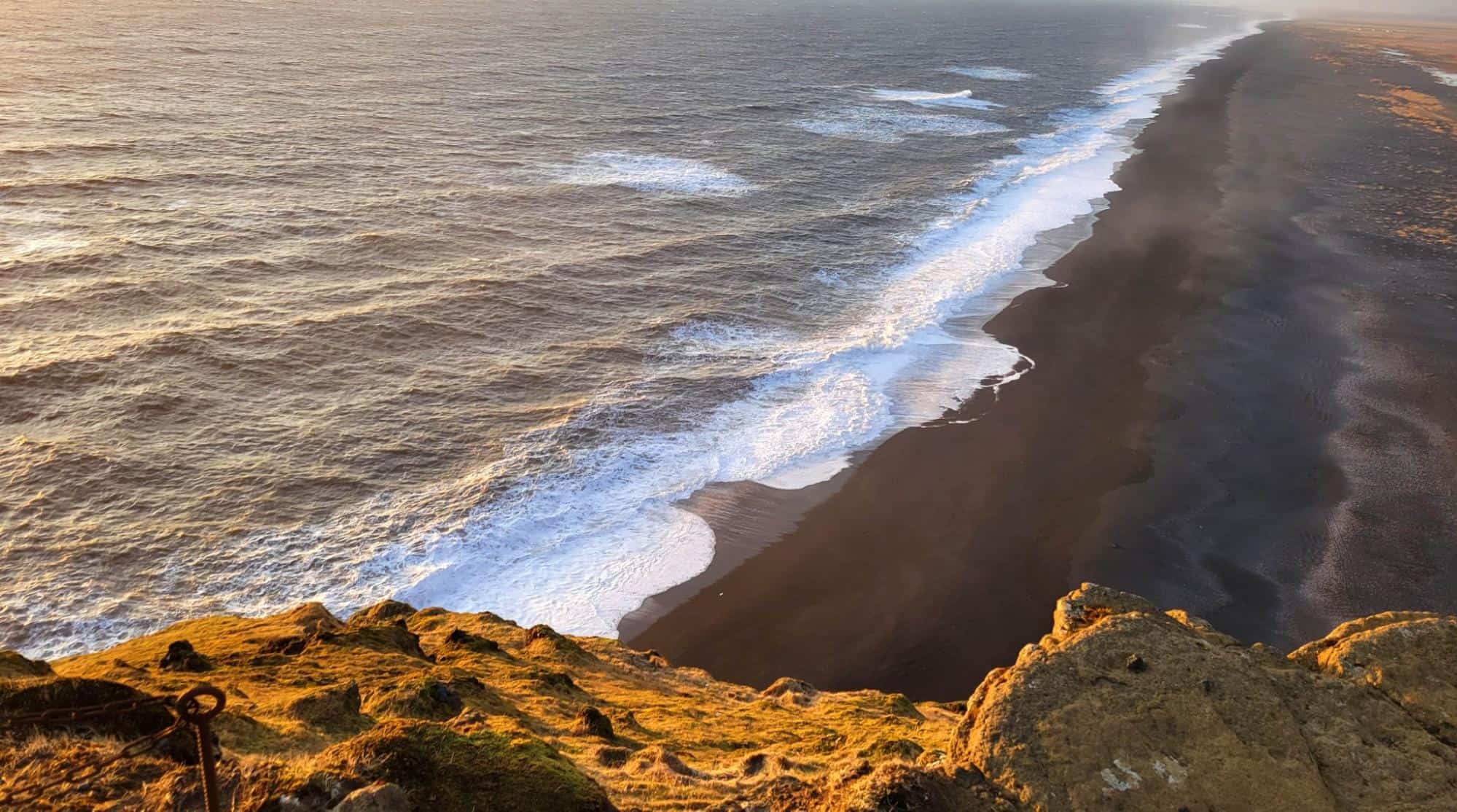 I thoroughly enjoyed our phenomenal local guide, Baddi, who was not only a remarkable storyteller, but was able to rearrange the itinerary on a whim, based on the ever-changing weather forecast.
My favorite memory will be the night hike our guide suggested we do after dinner to avoid a storm the next day. We hiked more than 5 miles round-trip to a geothermal river, wearing crampons and headlamps. After changing into our swimsuits in the cold night air, we soaked in the toasty river for a bit, threw our hiking gear back on and hiked back down at midnight. It was challenging, loads of fun, so unexpected and so rewarding.
This trip had it all. We laughed. We hiked. We saw the northern lights. We stalked a herd of reindeer, ate really great food, soaked in geothermal spas and just marveled at the amazing country of Iceland and all her beauty. But best of all, we made new friends and fed our souls with lasting memories. And isn't that what travel is all about?
Thank you, 10xTravel, for organizing this fantastic adventure!
Trang Nguyen
If you enjoy nature and majestic landscapes, you must go to Iceland. The 10xTravel Trip to Iceland taken in January 2022 was one of the best trips I had taken.
Originally the trip was designed for eight to 20 people, but anxiety about the omicron variant dwindled down the group to eight people. The small group was a blessing since it was more manageable and allowed for easier interactions. The 10x-ers melded together well and with Baddi as our capable and charming TrovaTrip tour guide, we saw the "greatest hits" of Iceland and had a wonderful time.
There were a lot of firsts for me: traveling with 10x Travel Insiders, seeing northern lights, a visit to an ice cave, a dip in man-made and natural geothermal lagoons, a night hike, experiencing a snowstorm and a first taste of horse meat.
Baddi is the ultimate tour guide, full of funny stories, folklore and colorful commentaries to make information about Iceland more interesting. We saw and learned about Iceland from an Icelandic perspective. He adeptly adjusted our activities to fit with the ever-changing weather and introduced us to authentic Icelandic activities and foods.
The one activity that had me in awe was the visit to the ice cave. The hour of off-roading on a trail that had me rocked and bounced in my seat was thrilling, and seeing the blue cave was a surreal experience. It was like being enveloped in crystalized blue waves of ice.
Another trip highlight was our crazy night hike to dip in a natural hot spring. I'll never forget the sound of the crampons crunching the ice. We city slickers got a taste of the rugged life Icelandic people live.
So yeah, I wholeheartedly enjoyed the 10xTravel Iceland trip! Iceland's landscape is truly majestic, and a camera alone cannot capture the essence of the country. You need all your senses to experience Iceland.
Come and see the beautiful geography, listen to the Icelandic natural soundtracks, the roaring of the falls, the winds, the crunch of the ice under your feet and taste the wonderful foods and drinks.
New to the world of points and miles? The Chase Sapphire Preferred® Card is the best card to start with.

With a bonus of 60,000 points after $4,000 spend in the first 3 months, 5x points on travel booked through the Chase Travel Portal and 3x points on restaurants, streaming services, and online groceries (excluding Target, Walmart, and wholesale clubs), this card truly cannot be beat for getting started!
Learn More
Editors Note: Opinions expressed here are author's alone, not those of any bank, credit card issuer, hotel, airline, or other entity. This content has not been reviewed, approved or otherwise endorsed by any of the entities included within the post.