In This Article
Loading table of contents …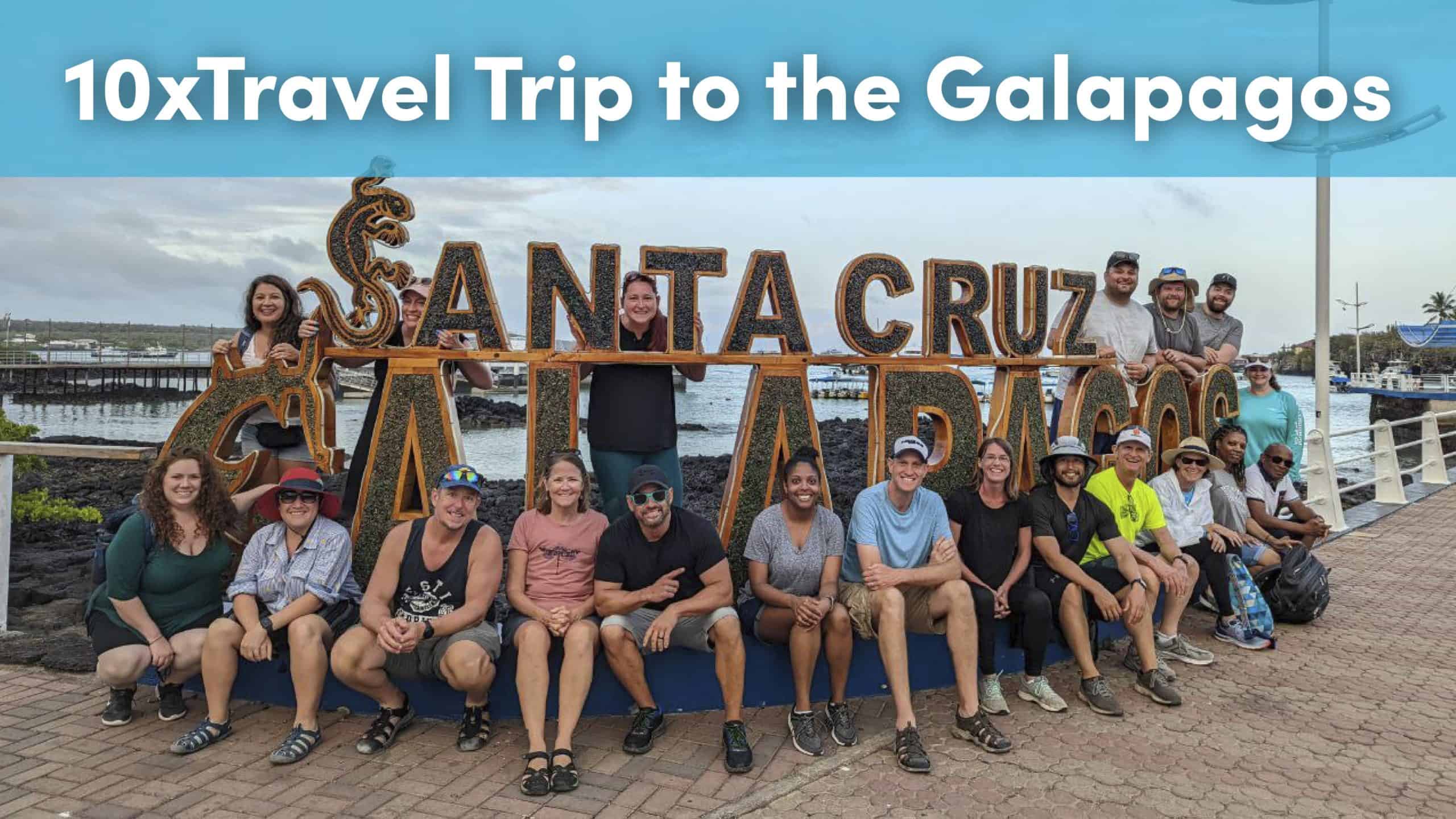 In May of 2022 we took our first 10xTravel Trip to the Ecuador and the Galapagos. The Galapagos were quite a magical place. There was so much that I expected, and so much that I couldn't have anticipated.
We had so many people interested in the Galapagos that we ended up having two trips go together. Although our itineraries were slightly different, the activities overlapped but just happened at different times. One group was led by our FaceBook community manager, Megan, and myself. The other group was led by Matt Brown and his wife.
The trip was extraordinary, I keep telling so many stories about the Galapagos that it felt about time to put pen to paper (or, keyboard to screen really) and share our trip.
If you want to join us, we're going back again in May of 2023. More details can be found on our trips page.
Day 0: Exploring Quito Awaiting our Travelers
I arrived a bit early in anticipation of our travelers, so I decided to do a few touristy things before the group arrived the next day.
If there's one thing you absolutely must know about Quito before arriving in Ecuador, it's that it is the second highest capital in the world at 9,350 feet above sea level. As a resident of Houston, which is very much at sea level, this difference definitely took some time for adjusting. I was glad to have arrived a few days early, and so were some of the other travelers in my group who decided to arrive early as well.
The day before we were all meeting up, I spent the morning doing some work in our hotel. I really didn't mind the view, as the hotel had a ton of plants adorning the interior.
After completing my work, I decided that the best thing to do while adjusting to the elevation was to simply go higher up! Logical, I know.
Quito is situated in a valley, surrounded by gorgeous mountains and volcanoes. You can take an Uber ride or cab to ​​the TelefériQo cable car. One of the highest lifts in the world, the cable car takes you up to nearly 13,000 feet above sea level. At the top you can view the entire city from the mountains above.
More adventurous travelers can choose to mountain bike down the nearly 3,500 feet of elevation, while those seeking something a bit less exhilarating can hike around (slowly if you're not used to elevation like myself) and catch various glimpses of the city.
You can even swing out over the edge of the city, which makes for great pictures. Some of the travelers in our group who arrived early ventured out a bit earlier in the day than myself and got some great shots from the swing.
One of the best things you can see from so high up is incoming rain storms. You can see them crossing the mountains in the distance, raining on parts of the city, and then realize that they're moving towards you… rapidly. If you're in this situation, despite the beauty from above I'd recommend going to the cafe because you will soon be the victim of the rain, and that rain might include some mild hail. Plus, the cafe has some incredible hot chocolate as a way to warm up from the rain.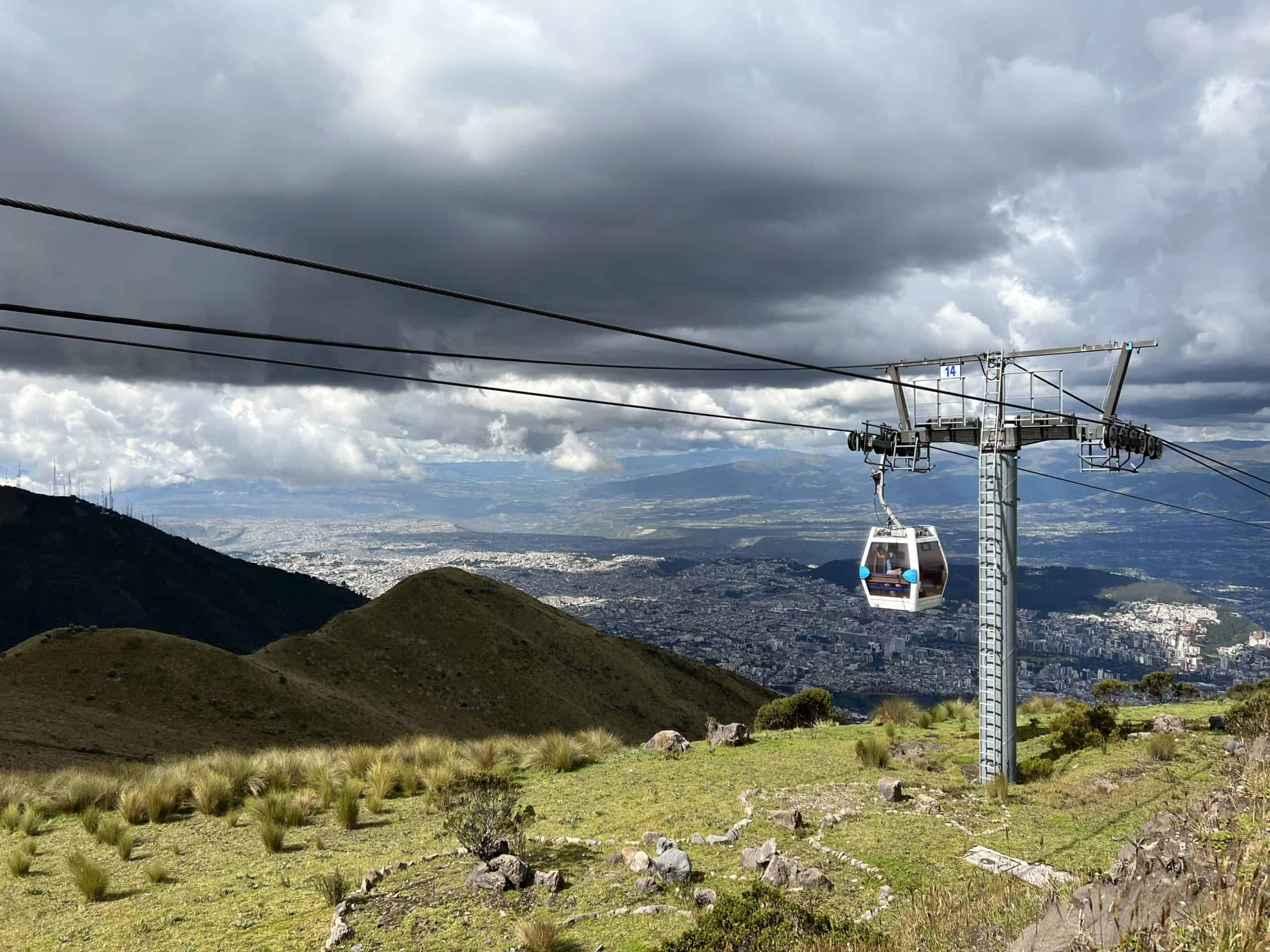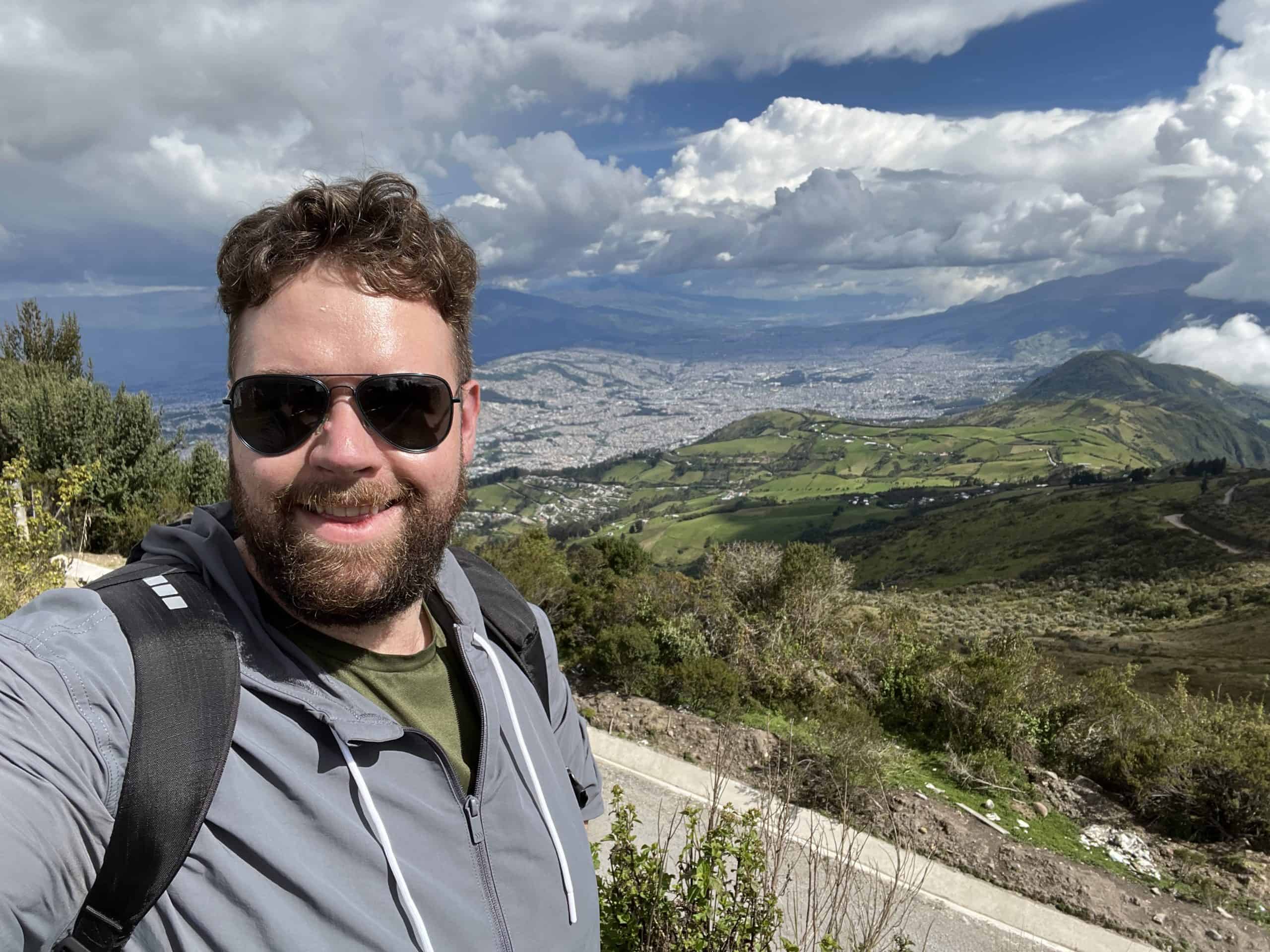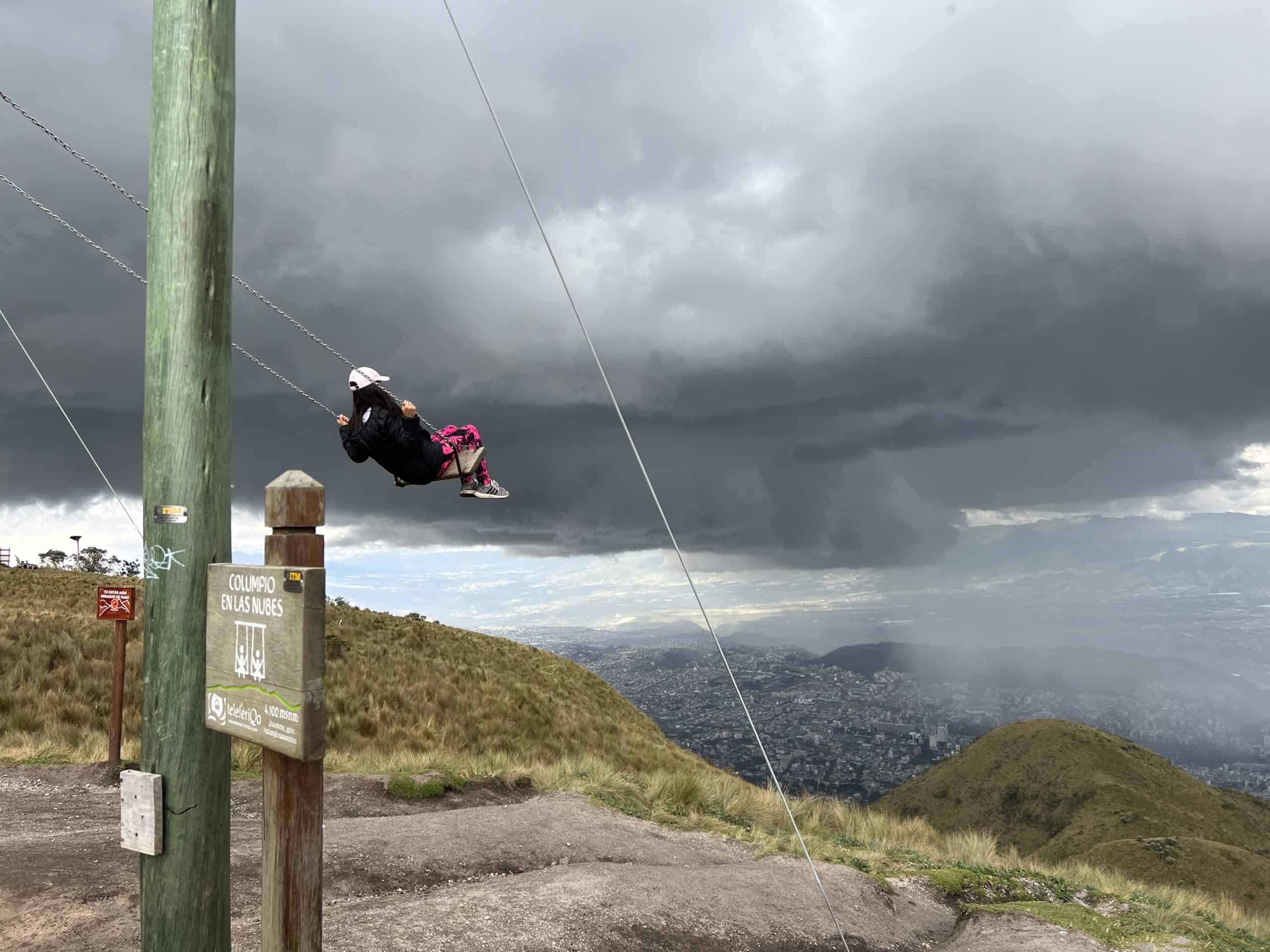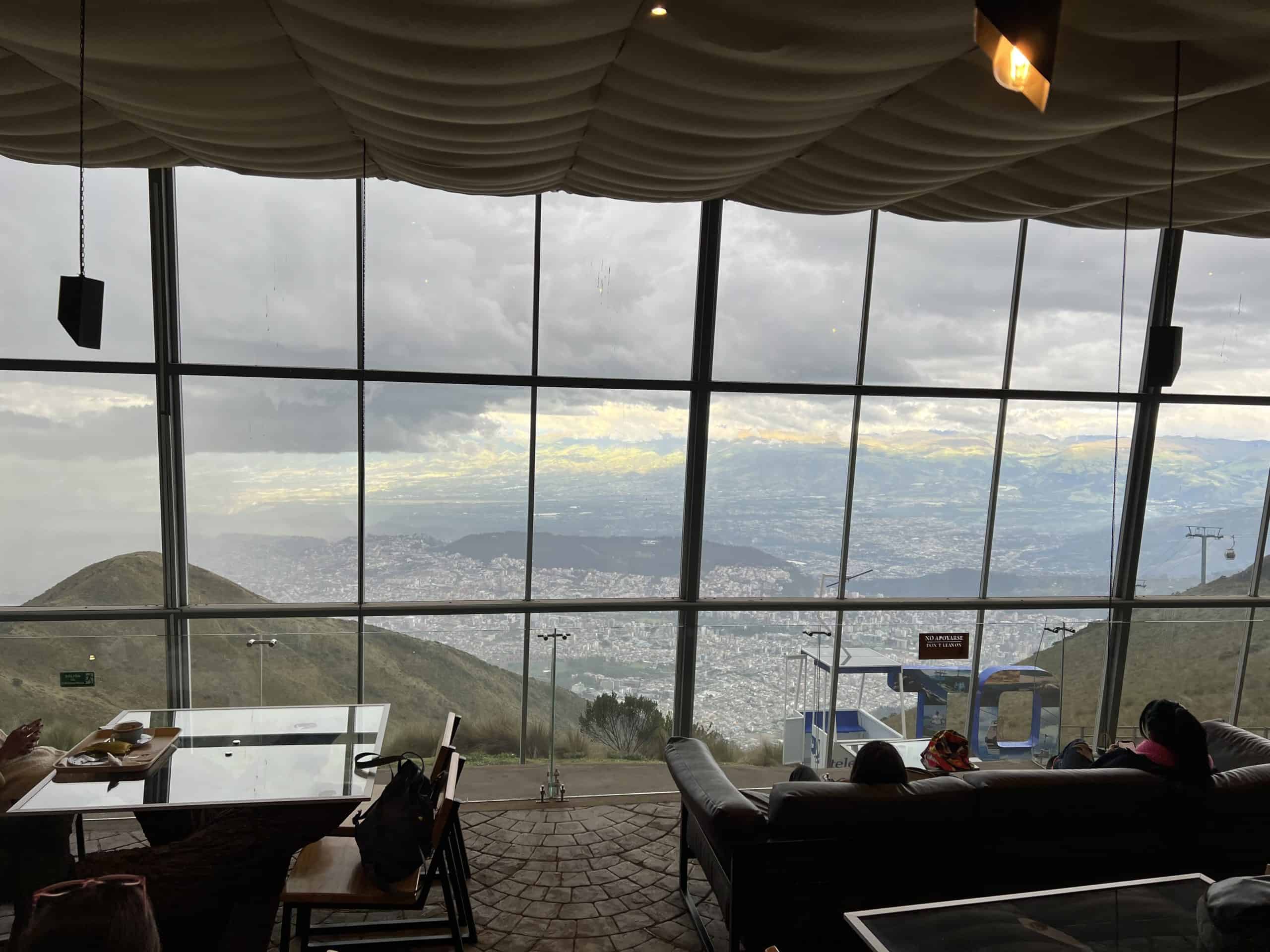 After the rain passed, I grabbed some photos and videos of the clouds rolling across the mountains and volcanoes, made my way down and back to the hotel to meet our group for our first meal together in Ecuador. This provided a needed opportunity to rest, recover, and get to know the people I'd be spending the next few days with.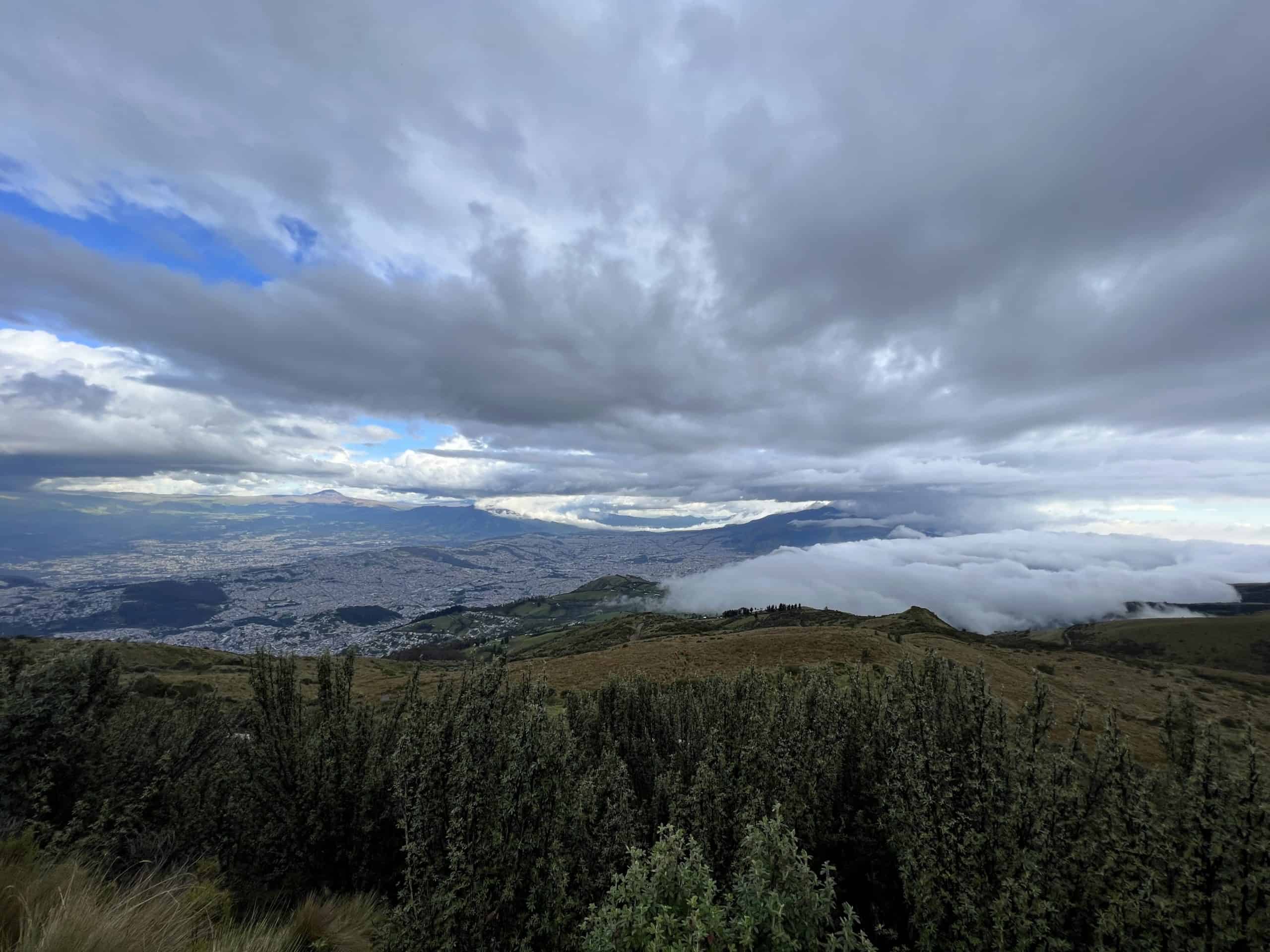 Day 1: Walking Tour of Quito and the Equator
Our first official experience as a group was to take a walking tour of old Quito. We started the day by waking up and having breakfast, regaling in the tales of our evening. Unfortunately, we had some not so courteous guests sharing the hotel with us. While it sounded like they were having a jubilee, it meant lack of sleep for many of our guests. Nothing that some coffee couldn't solve, but it unfortunately did mean we weren't off with our freshest selves.
After draining the hotel of its coffee supply, we headed out on our walking tour of Quito. Quito is quite hilly, so combining the elevation with hills meant we were taking frequent breaks, but it was well worth it. We learned a lot of history of Quito, and really the highlight was Basílica del Voto Nacional (Basilica of the National Vow).
This is a really unique church, and despite dreading the idea, we climbed the stairs to the top to get a phenomenal view of the city. There's some very unique parts of this church that make it stand out. The first is that the stone used in building it has a green hue to. You won't notice it with the naked eye, but with light hitting the stone on the inside your camera will definitely make it noticeable.
An additional feature are the "gargoyles" on the exterior of the building. Look closely, as you won't see the traditional gargoyles that you'd expect. These ones embody the biodiversity of Ecuador, the Amazon and the Galapagos. You'll see birds, lizard, and more adorning the church.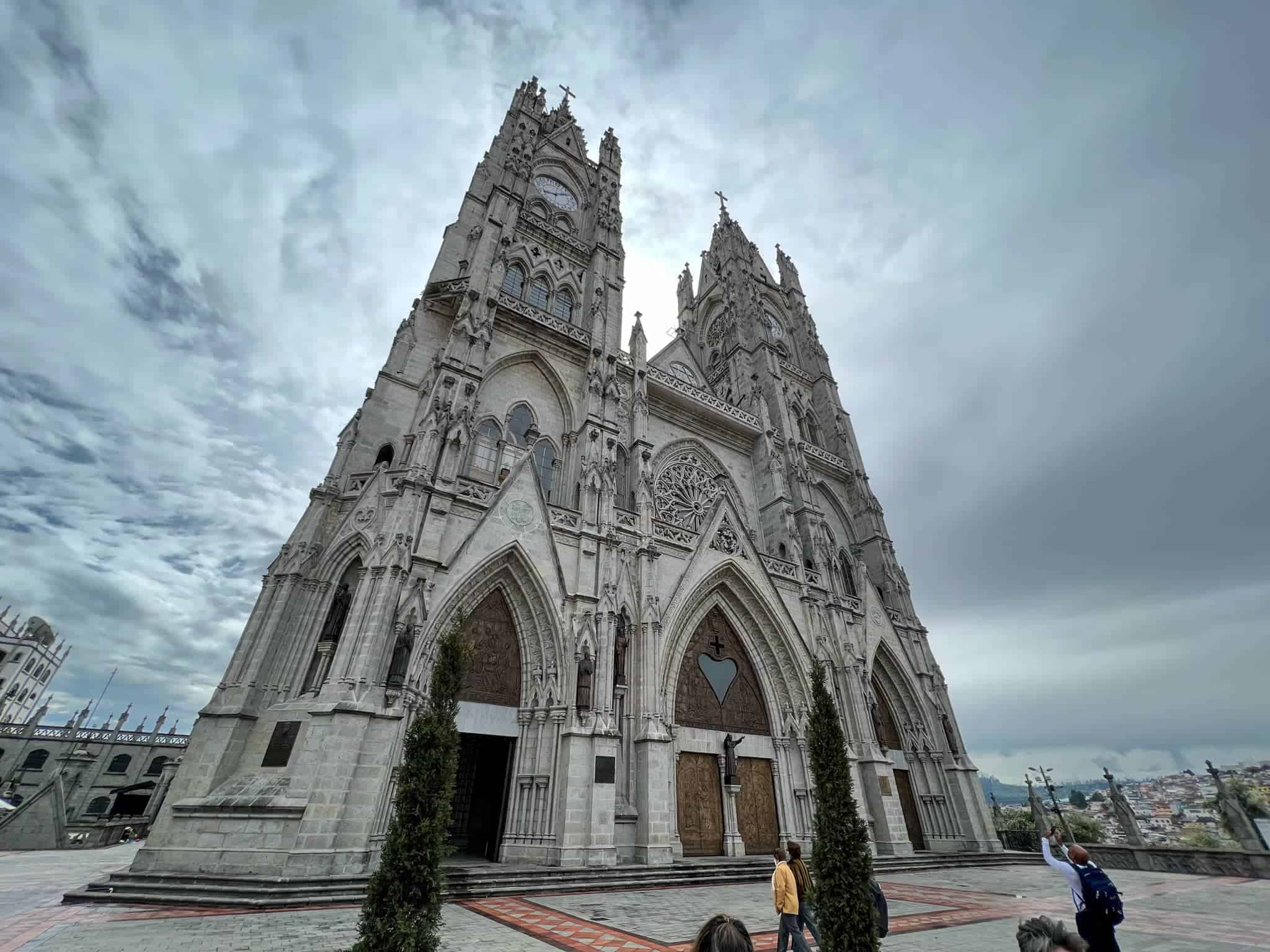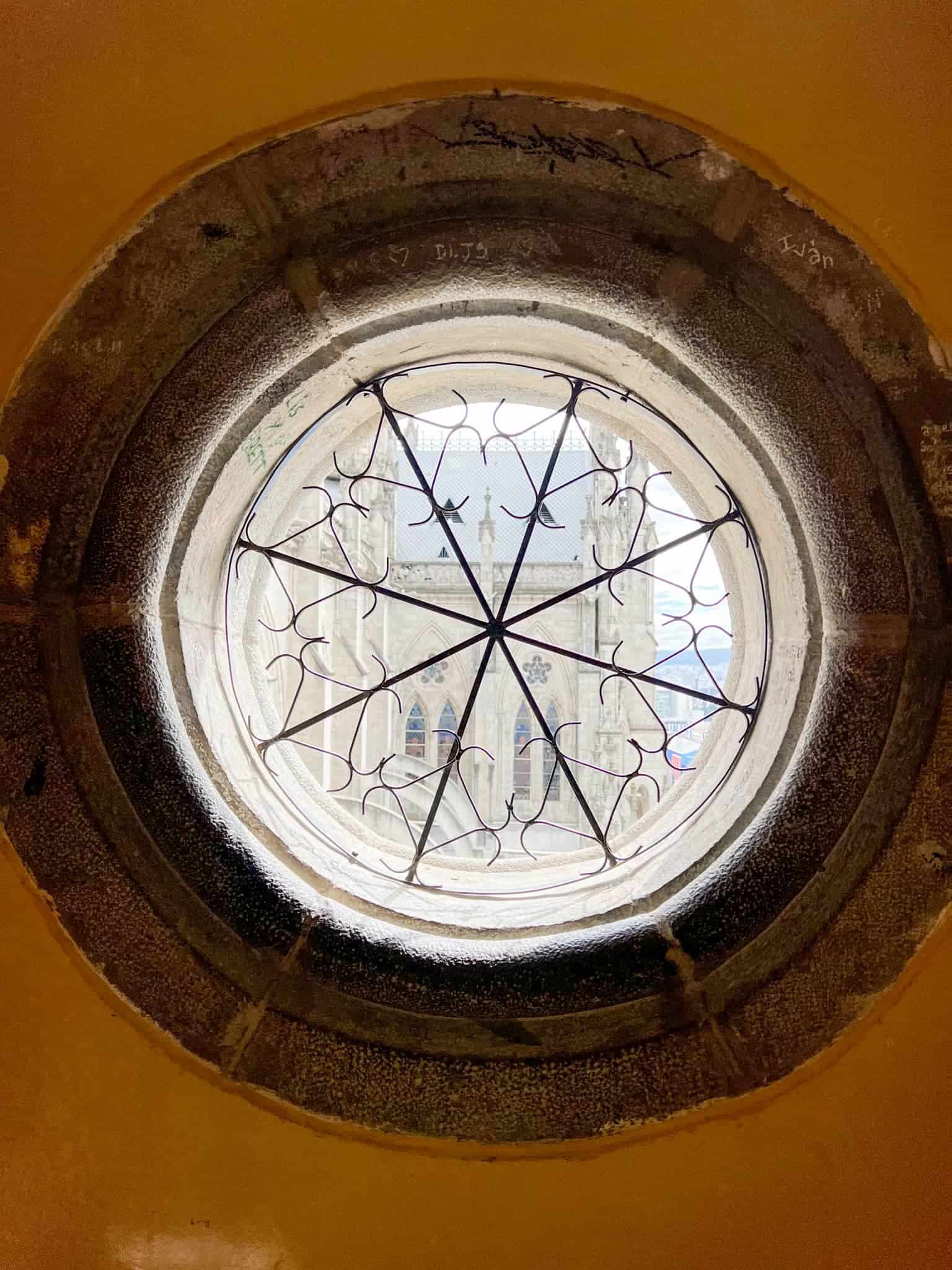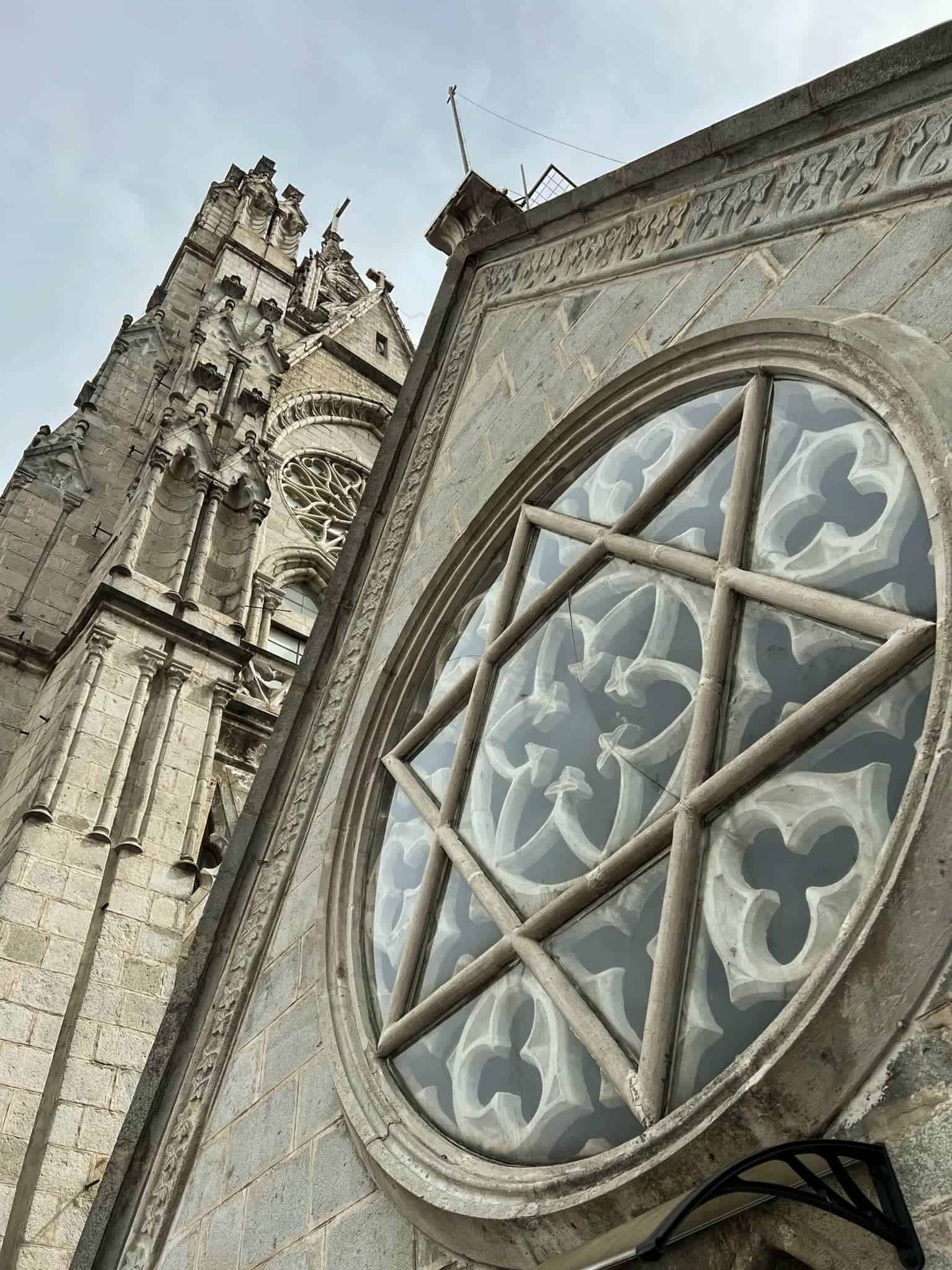 After finishing at the church, we walked the city a bit more. Stopping by a chocolate store en route to our cooking class where we prepared a variety of traditional Ecuadorian dishes for lunch. We split into teams to tackle it, and edited the spice level down just a tad from how the locals might have enjoyed it. It was nice to get to sit and enjoy a good meal after spending the morning walking around the city.
Following the conclusion of our meal, we headed off to the equator – both of them!
Yes, both of them. There's two spots marked in Ecuador as the official equator. One is inside a private park where you pay admission to get in and play some games to show the interesting impact that being on the equator has. It might be a bit gimmicky, but it is definitely good fun amongst the group – especially balancing the egg on the nail. Over half of our group managed to do it, and everyone had a good time trying.
The second equator is at an official public park with a beautiful statue that you can climb to the top of. I'd estimate from memory that it was about five stories, but I definitely recommend it even if you're coming off a full day of walking around (I recorded about 12,000 steps for the day, and at 6'5'' I have long steps). You'll be tired, but it provides some unique views of the surrounding mountains and volcanoes.
Which one is the official equator? All I'll say is that the GPS at the private park was nearly spot on at 0° 00.0064. That's practically at zero. And our guide corroborated that the marked equator there was more official than the one at the large statue. The statue was built at a site that was marked as the equator by French explorers in 1736 that simply marked the wrong spot by about 750 feet.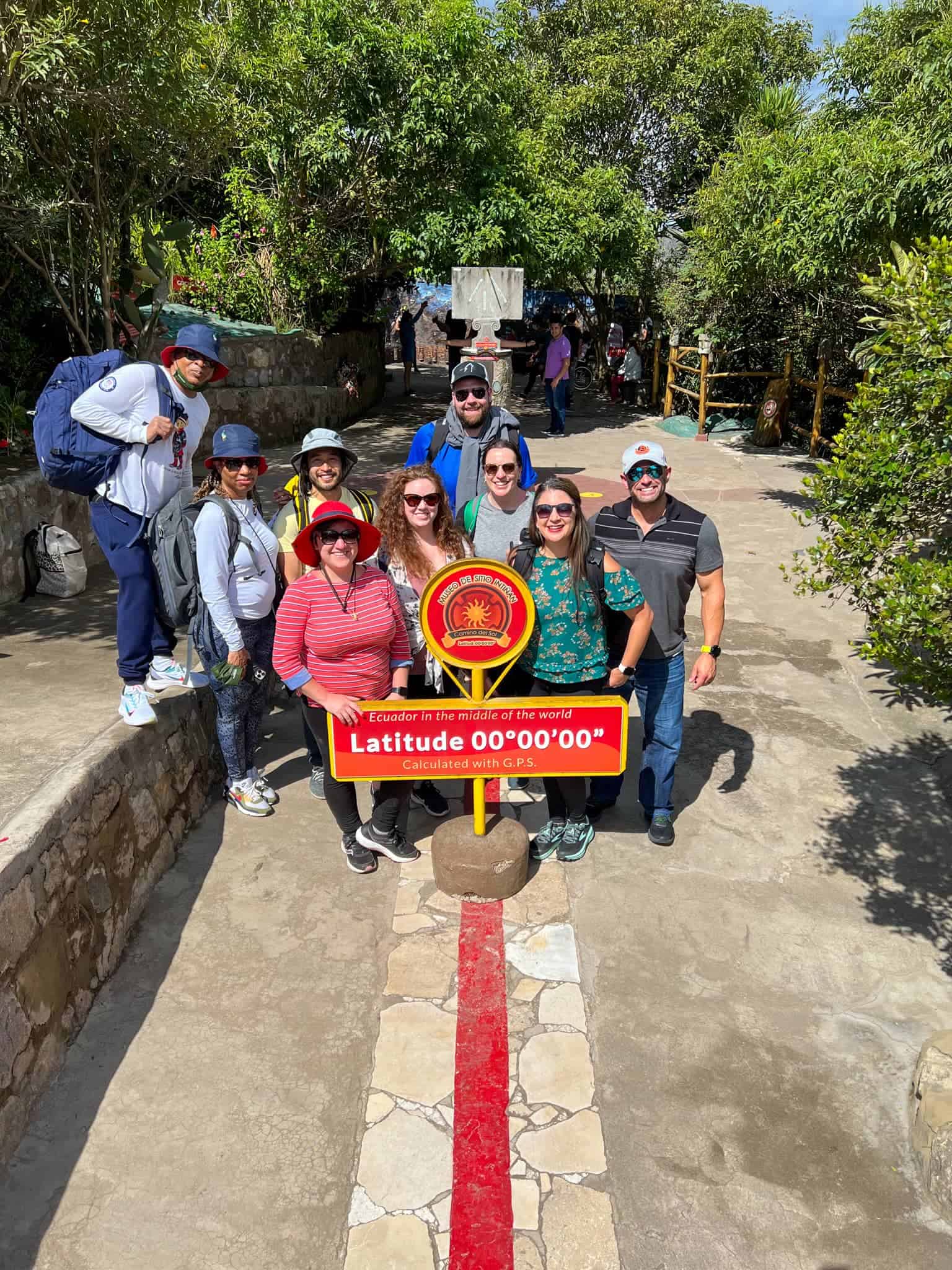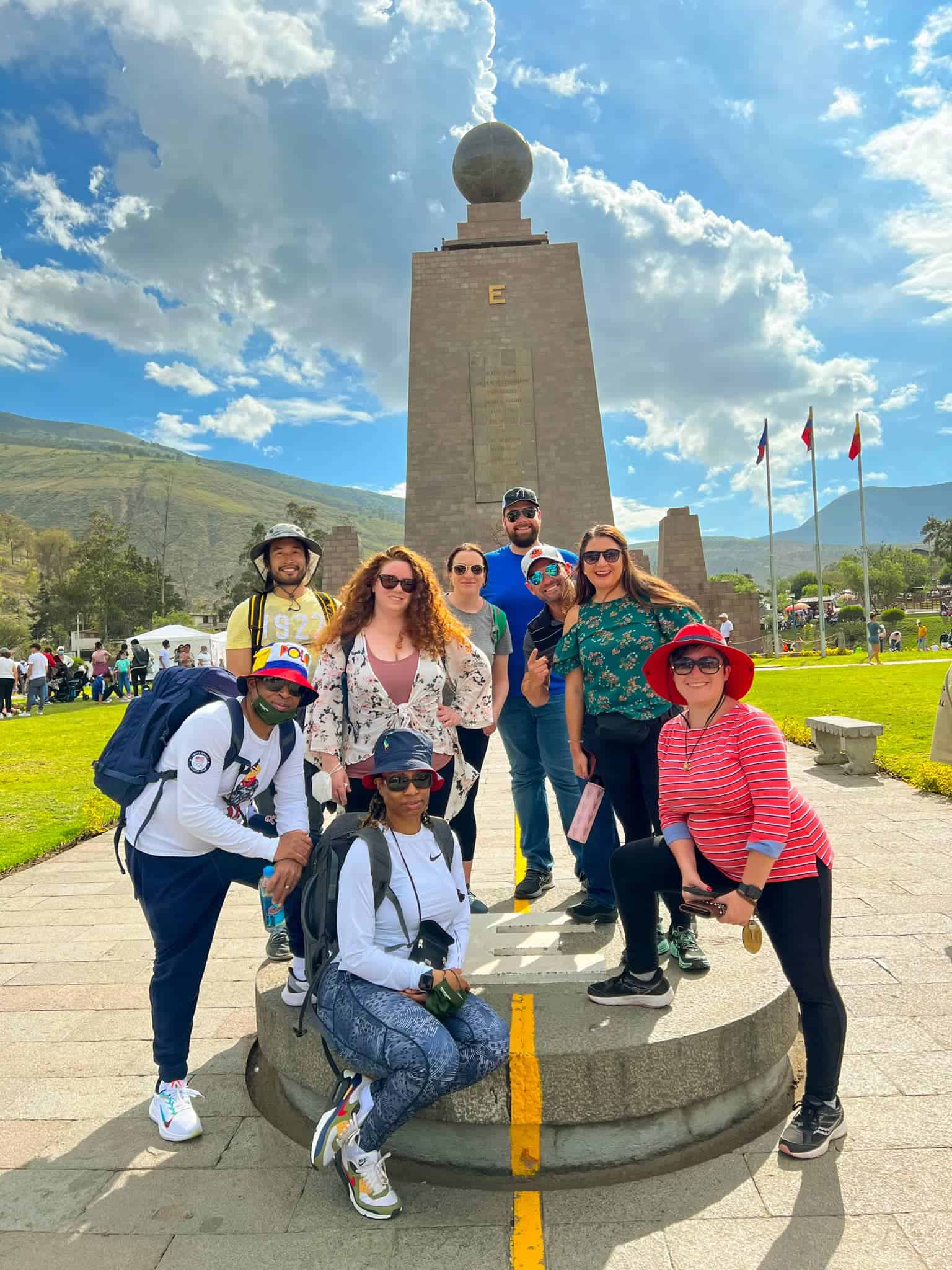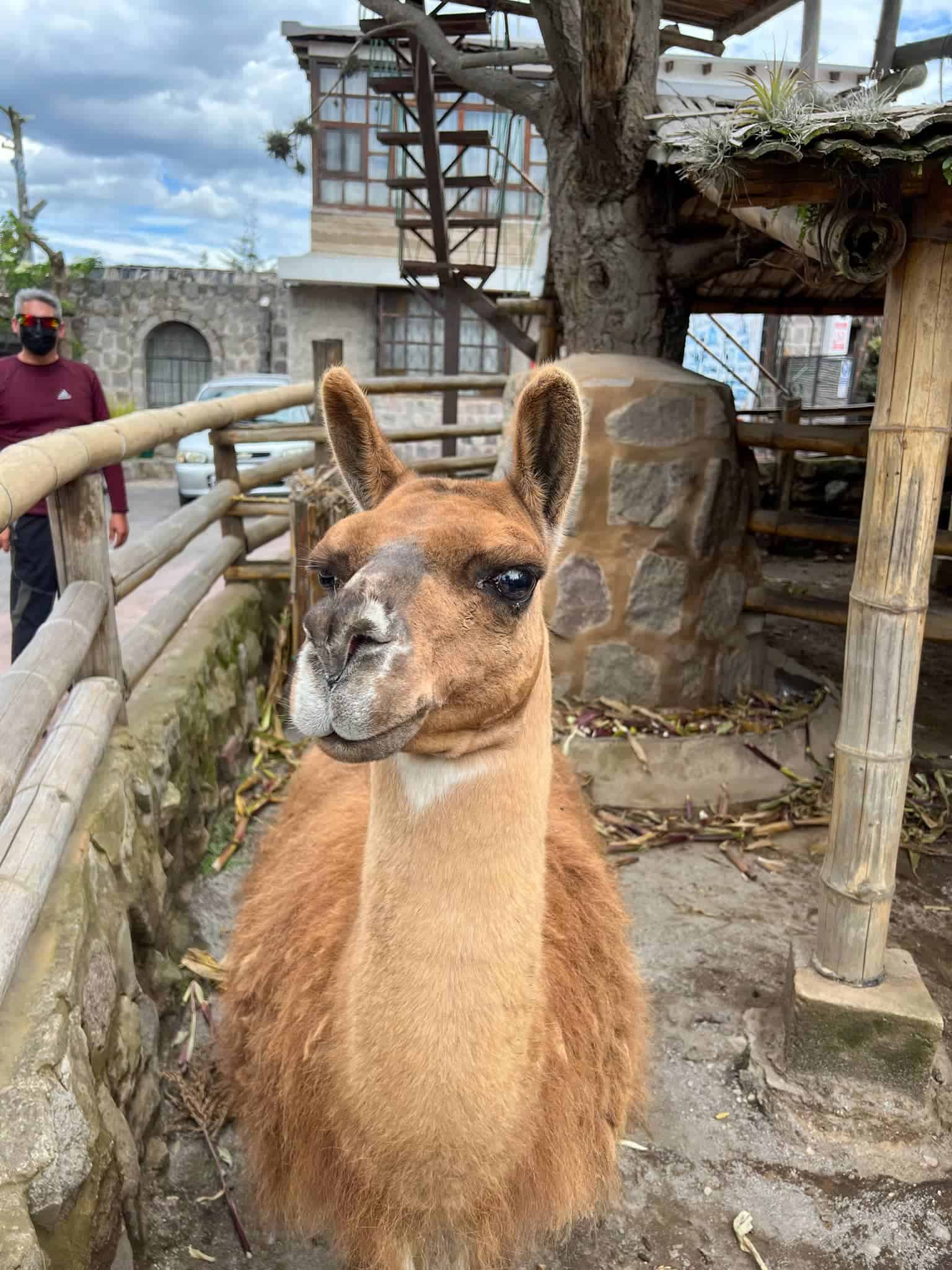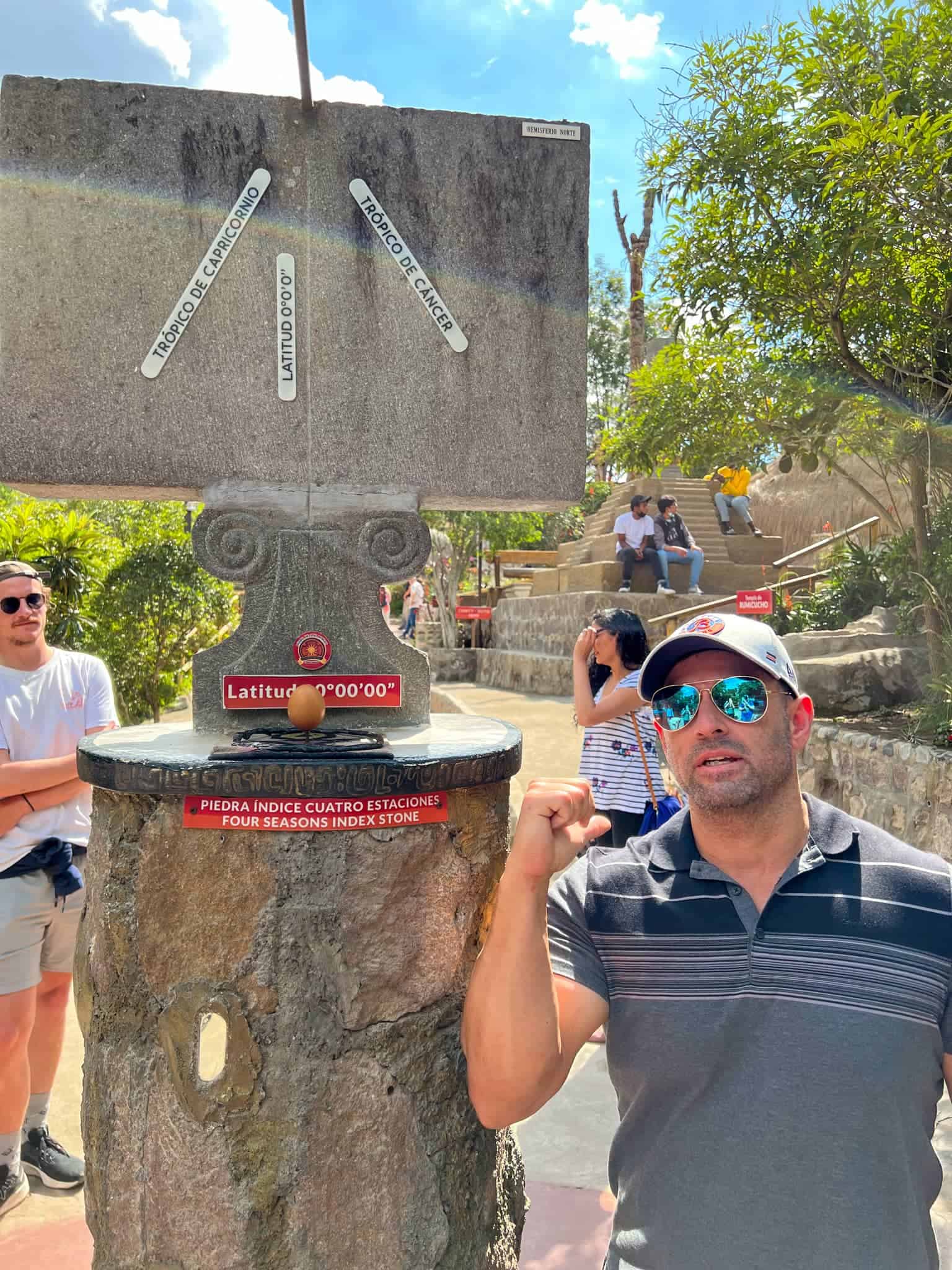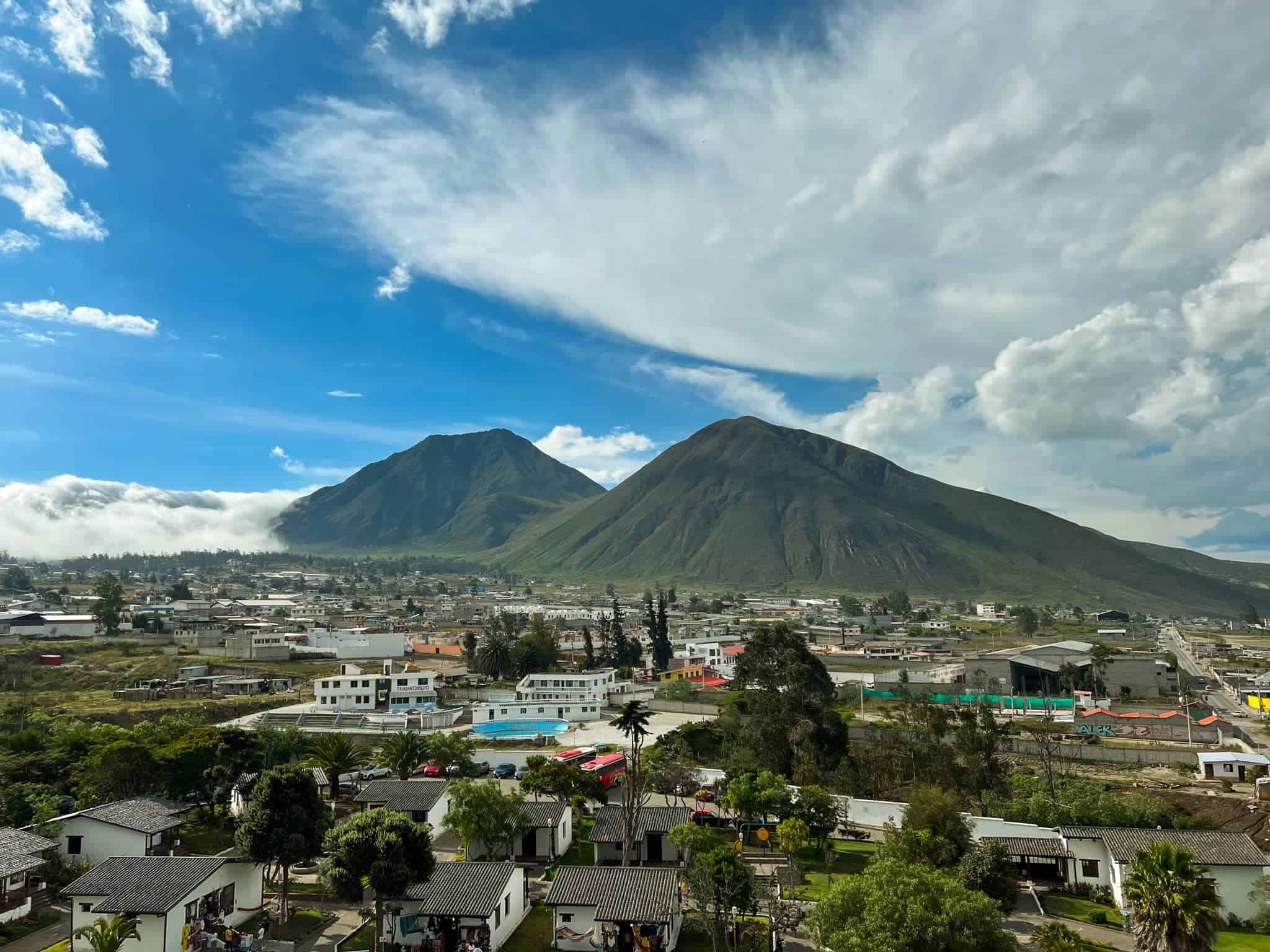 If that doesn't sound like a full day already, we weren't done yet. We had one last stop – the Virgin of the Panecillo. The statue is the highest statue in all of Quito, and one of the highest in all of South America.
Getting there proved to be quite an adventure for our group, as our van broke down. Really, it was Megan (our community manager's) fault, as she was asking us earlier what our worst travel experience was. Curse #1.
Thankfully our group took it all in great stride, doing our best to joke about how our guide pointed out about 5 minutes earlier an area that he advised us to avoid as it is a relatively dangerous part of Quito. Nothing happened to us (or else I wouldn't be writing this!) and we never felt unsafe. We walked to a nearby bus stop, but another van came to our rescue before the bus did to take us up to the statue which provided some additional great sites of the city.
That sounds like a lot for one day, and it was. Over 5 miles of walking around the city, up and down hills, at elevation took its toll but it was really a great way to pack in a lot of the city in one day.
After getting back to the hotel, we rendevouzed with the other group. After consulting with Trova Trip and the hotel about the group from the night before, we decided to move everyone to another hotel in Quito to be sure we all got a good night's sleep before venturing off to the Galapagos the next day.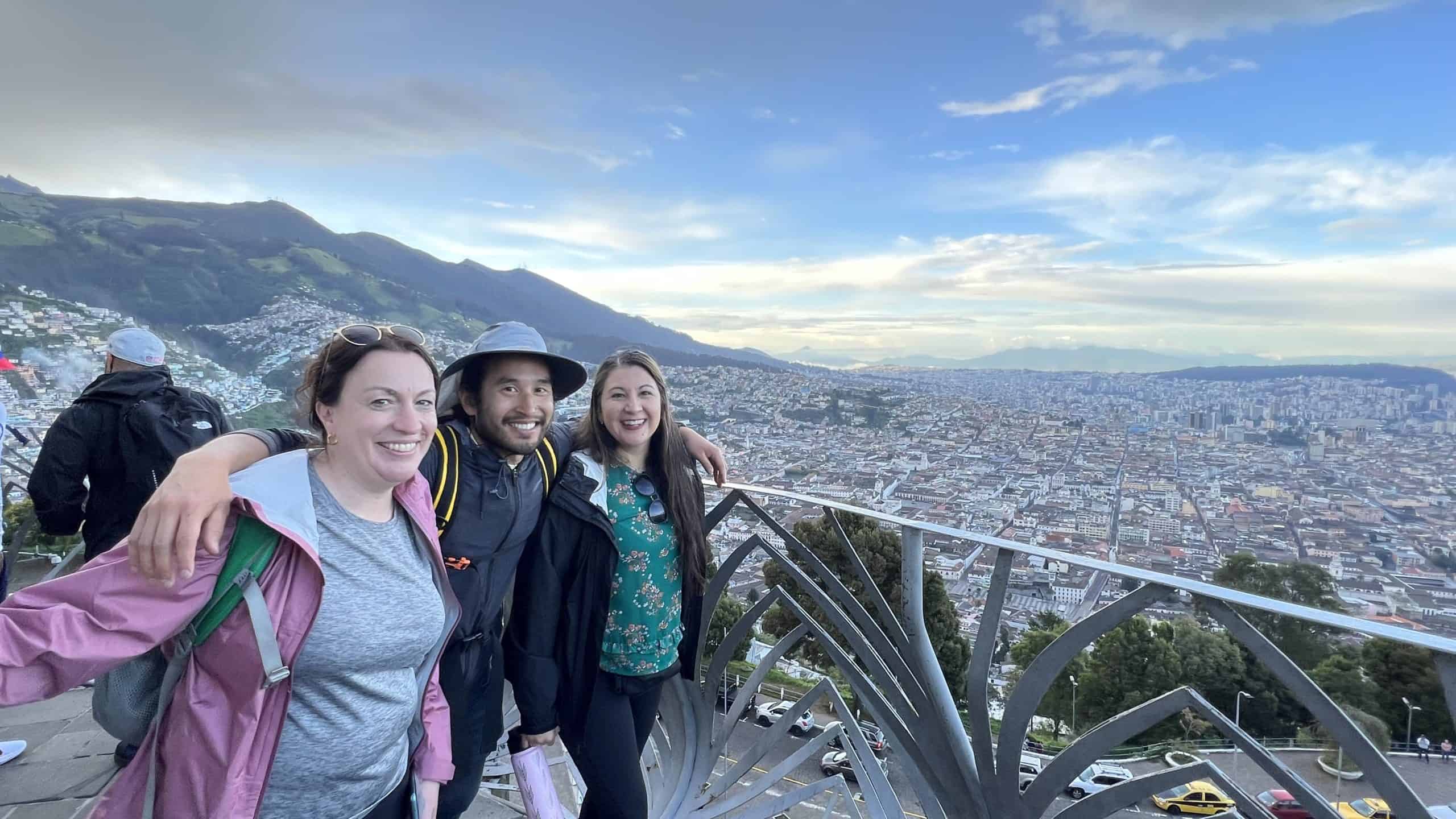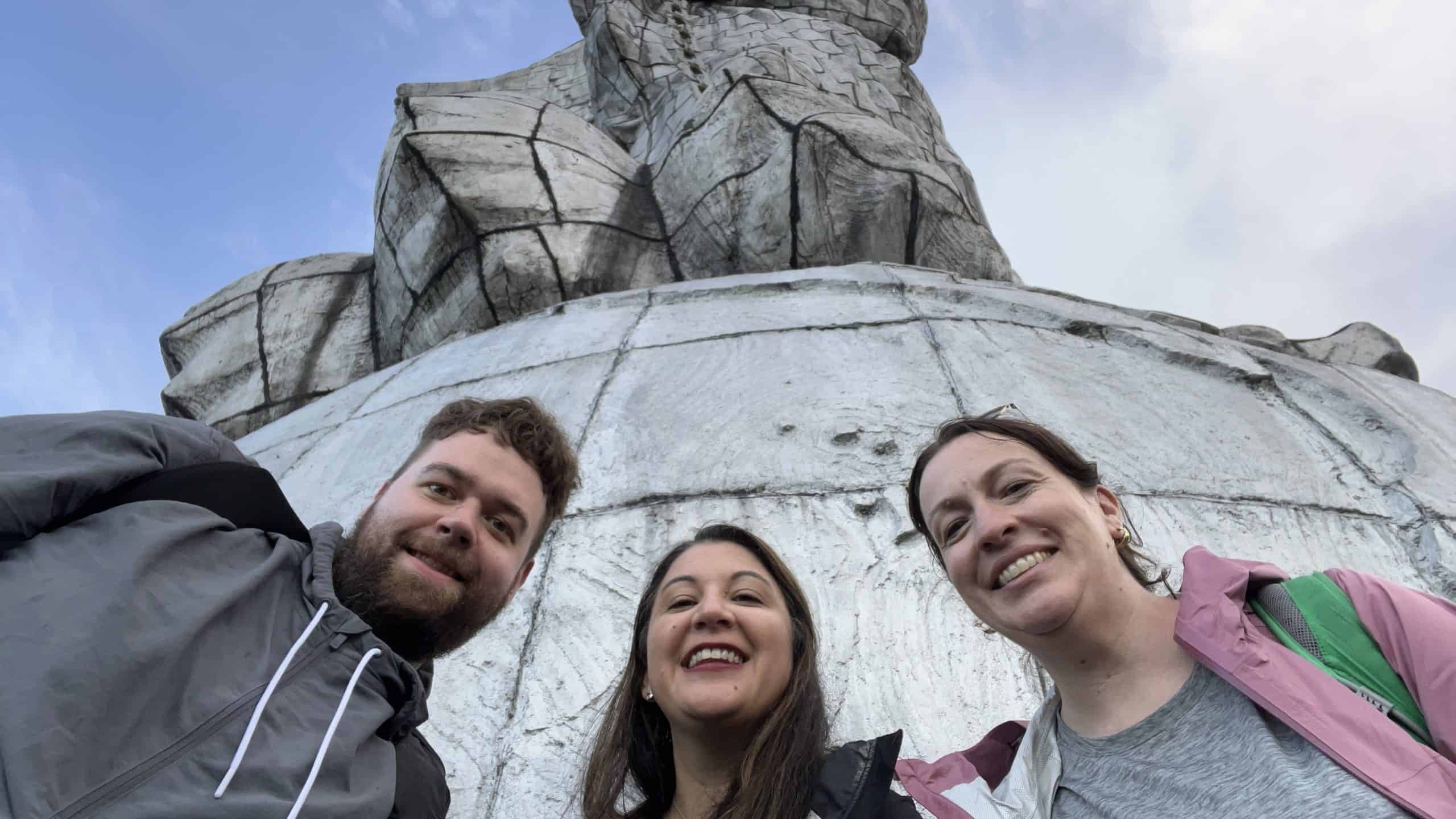 Day 2: Off to Santa Cruz and the Tortoise Sanctuary
Day two was not nearly as packed as our first day in Quito – primarily because it was spent getting to the Galapagos.
When flying from Quito, most flights have a layover in Guayaquil. The other group had a layover, but we had a schedule change putting us on a direct flight from Quito to Seymour airport in the Galapagos.
Since we were all points and miles nerds, we had plenty of priority passes to go around. After clearing security, we had a short time before our flight which we spent in the lounge getting caffeinated and nourished.
We were a tad scattered across the plane, often near other travelers. Some of us were lucky enough to get exit row seats, others had middle seats for the approximate 3 hour flight. Overall, the flight was uneventful and fairly comfortable in getting us to the Galapagos.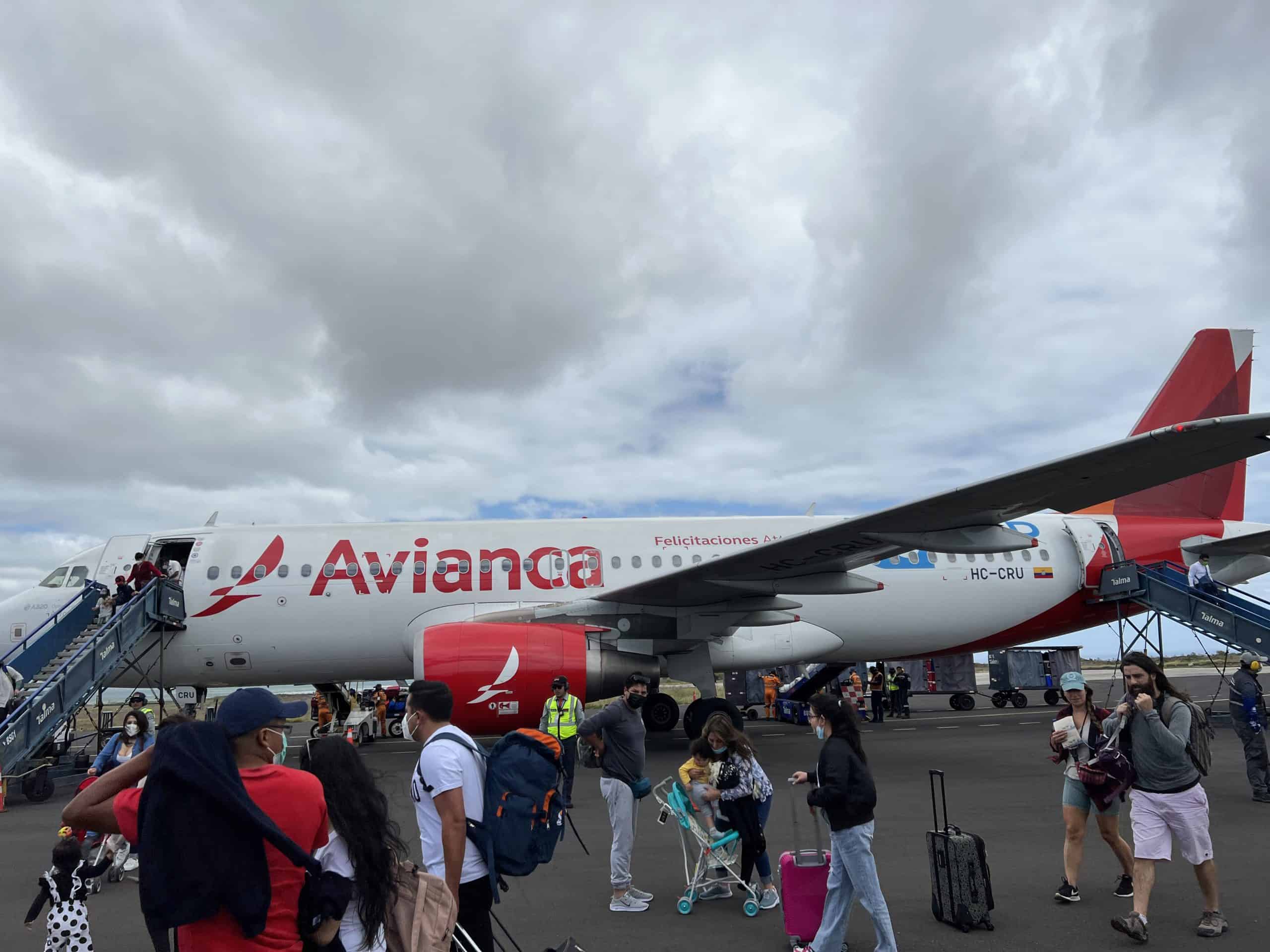 The Galapagos has its own immigration, which we all cleared with no issues. On the other side, we met our guide Katty who ushered us onto a bus which took us down to our first of many boat rides for the trip. This was a quick hop from Baltra island, where the airport is, to Santa Cruz island. We were already snapping so many pictures of the flora and fauna, blown away by the interesting difference of the islands. Baltra, which was more like a desert compared to Santa Cruz which was much more lush. Little did we know how much of an introduction this was.
Our first stop was supposed to be our hotel, but Katty advised us to go to the tortoise sanctuary first. It was on the way to the hotel, and we would get more time before the sunset to see the tortoises. Sold!
Thankfully, we started with lunch as we were arriving around lunch time. The other group's flight arrived in the Galapagos earlier, so they started by walking the sanctuary grounds. After eating lunch and seeing how many push ups we could do in giant tortoise shells, we were instructed to don some boots to avoid biting insects, and we began hiking around the sanctuary.
We were truly blown away by the majesty of these creatures. Basking in mud, enjoying a meal, and just wandering around the sanctuary were these massive tortoises! Some were even kind enough to stop and let us pose for some photos. It's extremely difficult to put into words how amazing it is to be in this one place where these giant tortoises exist and to see them with your own eyes for the first time.
After about an hour and a half walking around the sanctuary, we got back, boarded the bus, and headed to Puerto Ayora where we checked into our hotel, hopped into the pool and enjoyed a few brews to cool down out of the sun, before heading off to a local restaurant for dinner.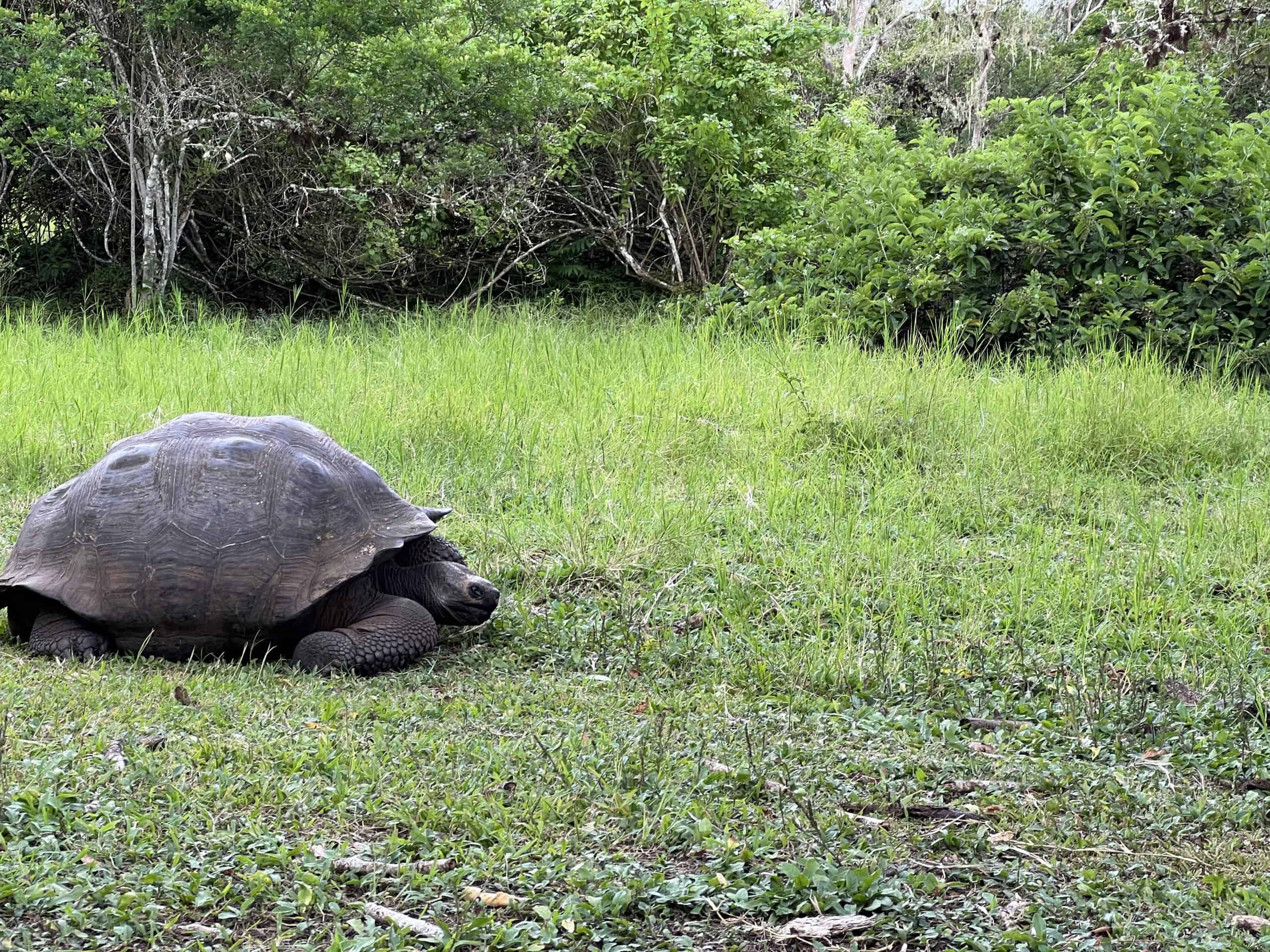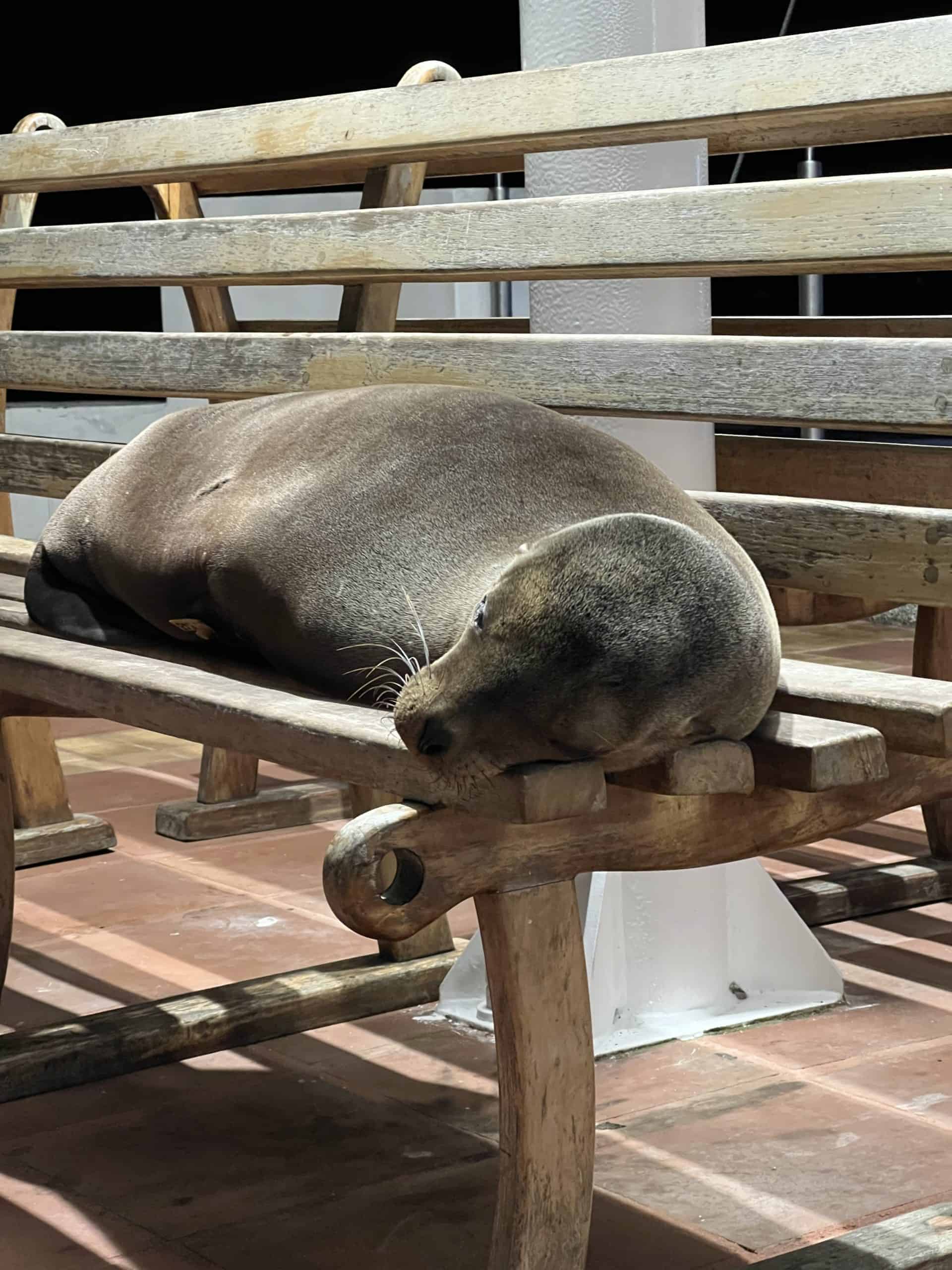 Day 3: Boats, Birds, and yes… Boobies
On our third day, we met for breakfast in the hotel lobby where we eagerly anticipated our first full day in the Galapagos. This day was what I was really looking forward to on this trip – a boat tour to North Seymour island where we would get to see none other than the infamous Blue Footed Booby.
We departed the hotel and took the scenic drive across Santa Cruz to the dock on the north side of the island where we would board our boat for the day. Boat felt like a bit of an understatement, which was reflected in our guide Katty informing us that she believed our boat to be one of the most luxurious day cruisers in the islands.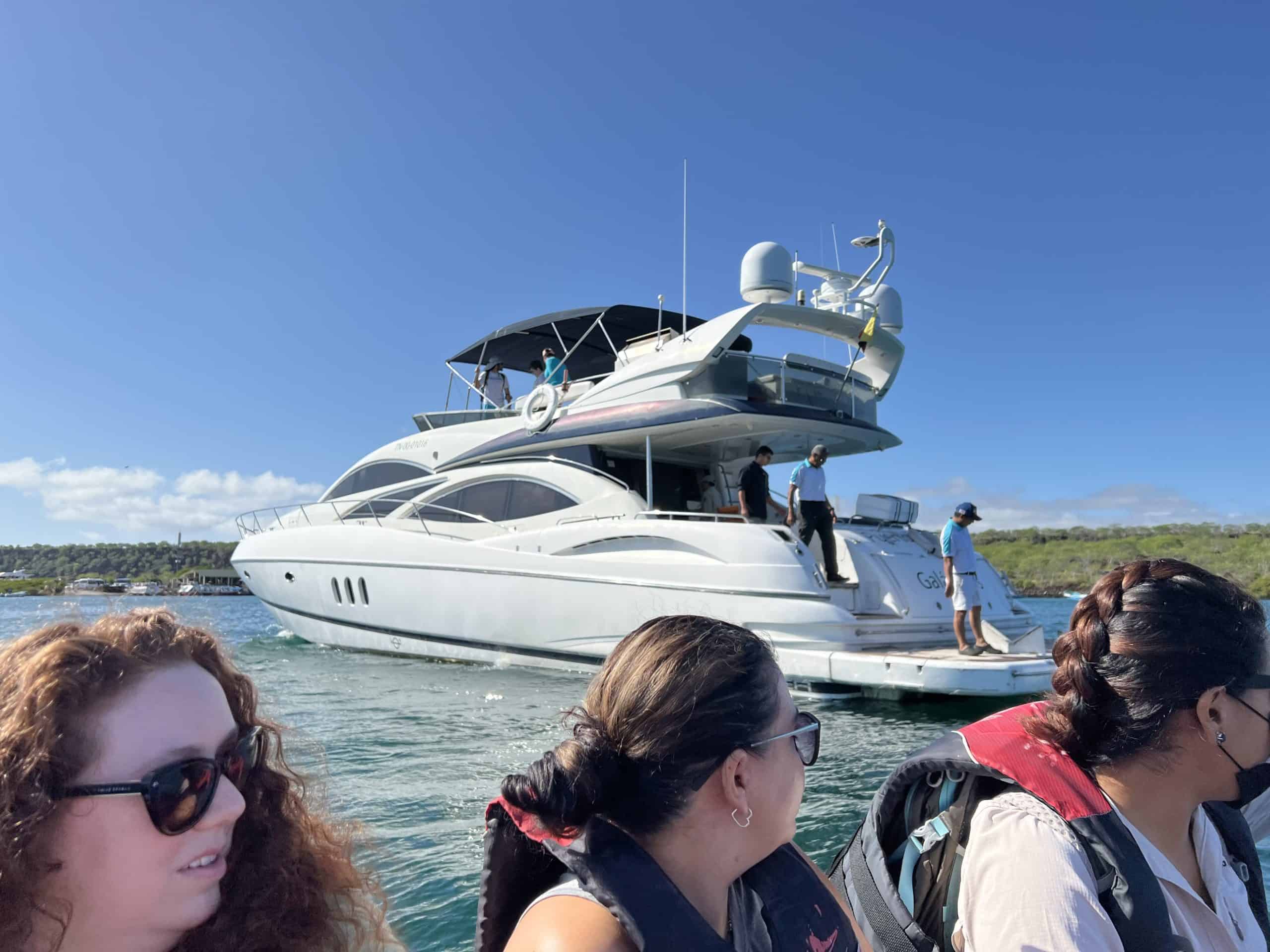 The boat had drinks and snacks, but many of us chose to sit outside on the bow for our approximate hour boat ride to North Seymour. This is where Megan regaled us with tales of her last trip to the Galapagos where she told us about getting a sunburn so bad that the tan lasted months. (Curse number 2!).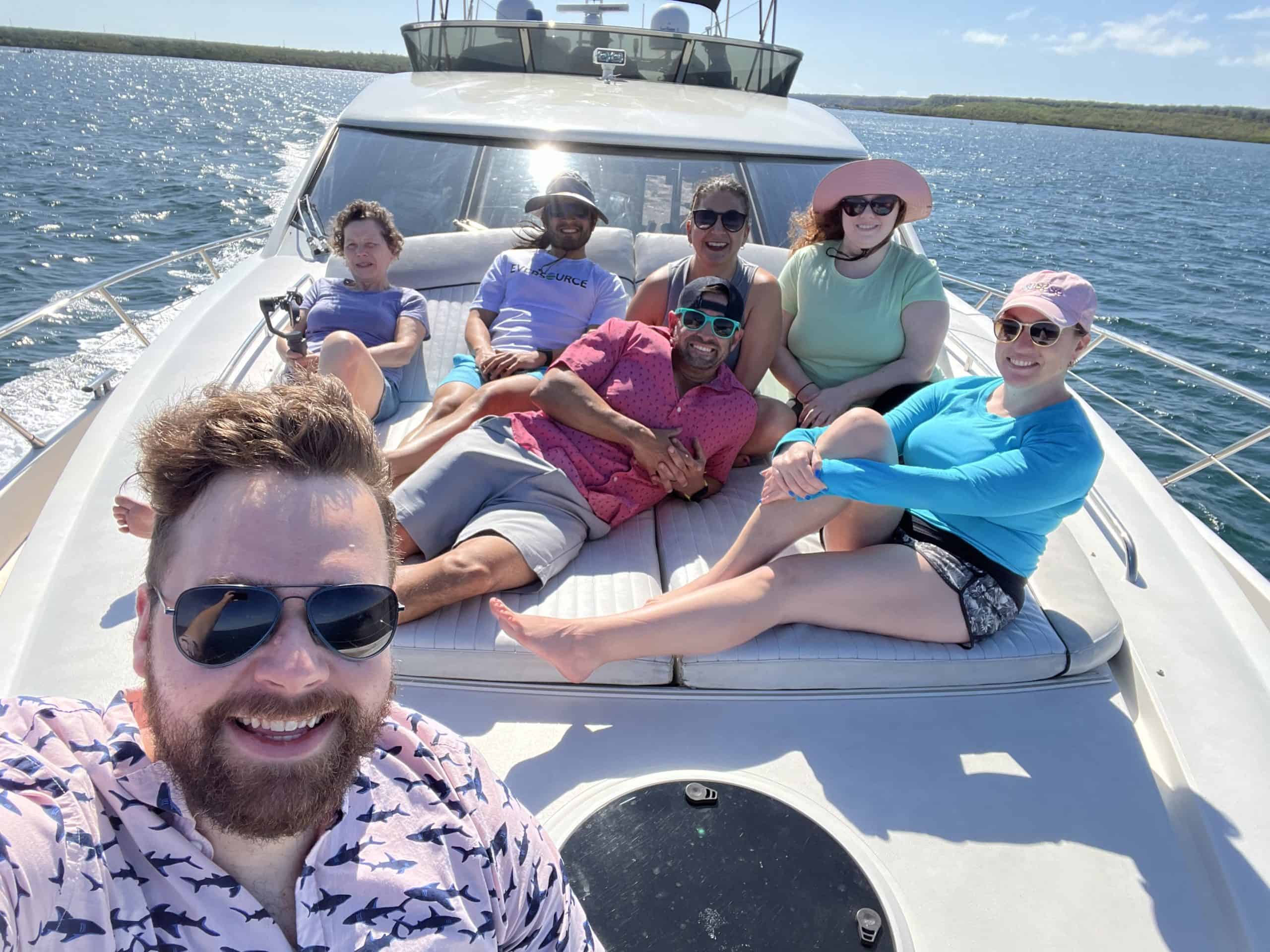 After some time at sea, seeing a variety of islands and wildlife from the boat, we arrived at North Seymour where our walking tour would begin. The wildlife on the island was nothing short of spectacular. We were introduced to the Frigate Bird – with a puffed red chest. While they may seem majestic, we noticed quite a few using their puffed chest as a convenient pillow for naps.
There were tons of iguanas and lizards, and we learned through witnessing that the iguanas climb cacti to eat them. Meanwhile, some of the smaller lizards did push-ups, which we learned was them trying to intimidate us. All it actually did was make them look cute doing their workout!
And of course, the blue footed boobies. It's amazing to see them in person, and how bright blue some of their feet really are! Having such a knowledgeable guide really made a big difference. Rather than just looking at the animals, she gave us a lot of information, such as how the color of their feet is an important sign of the quality of their diet, and a way for potential mating partners to identify healthy birds.
We even got to see a male bird attempting to mate with a female. They do this slow walking dance with their feet and make noises at each other. The female decided she was not interested in the male, so he flew off and returned with a stick for her. But alas, the stick would not convince her to change her mind.
It was so delightful to get to see these creatures in their native habitat. The island was uninhabited, and there was a marked path so that the island was mostly for the animals living there.
Eventually, made it back to the boat – after passing by some marine iguanas and sleeping sea lions. Back on board we ate lunch and slowly made our way to another island where we would do a short walking tour and then go snorkeling. We shuttled to the island, and walked a short distance to a lagoon where we saw… flamingos? I was surprised as I didn't know that flamingos lived in the Galapagos. This wouldn't be the last animal to surprise me that it makes the Galapagos its home, but it definitely was the first.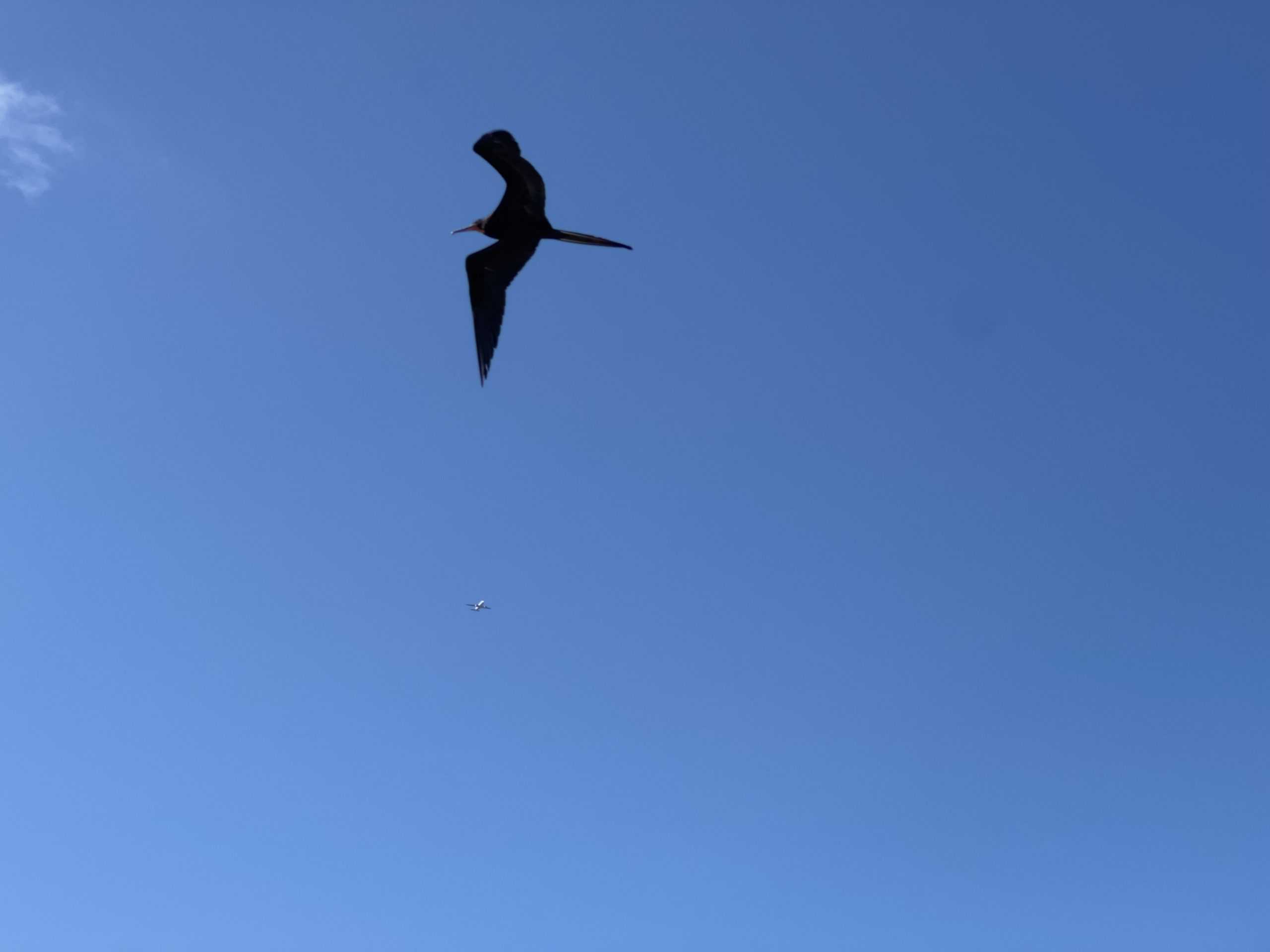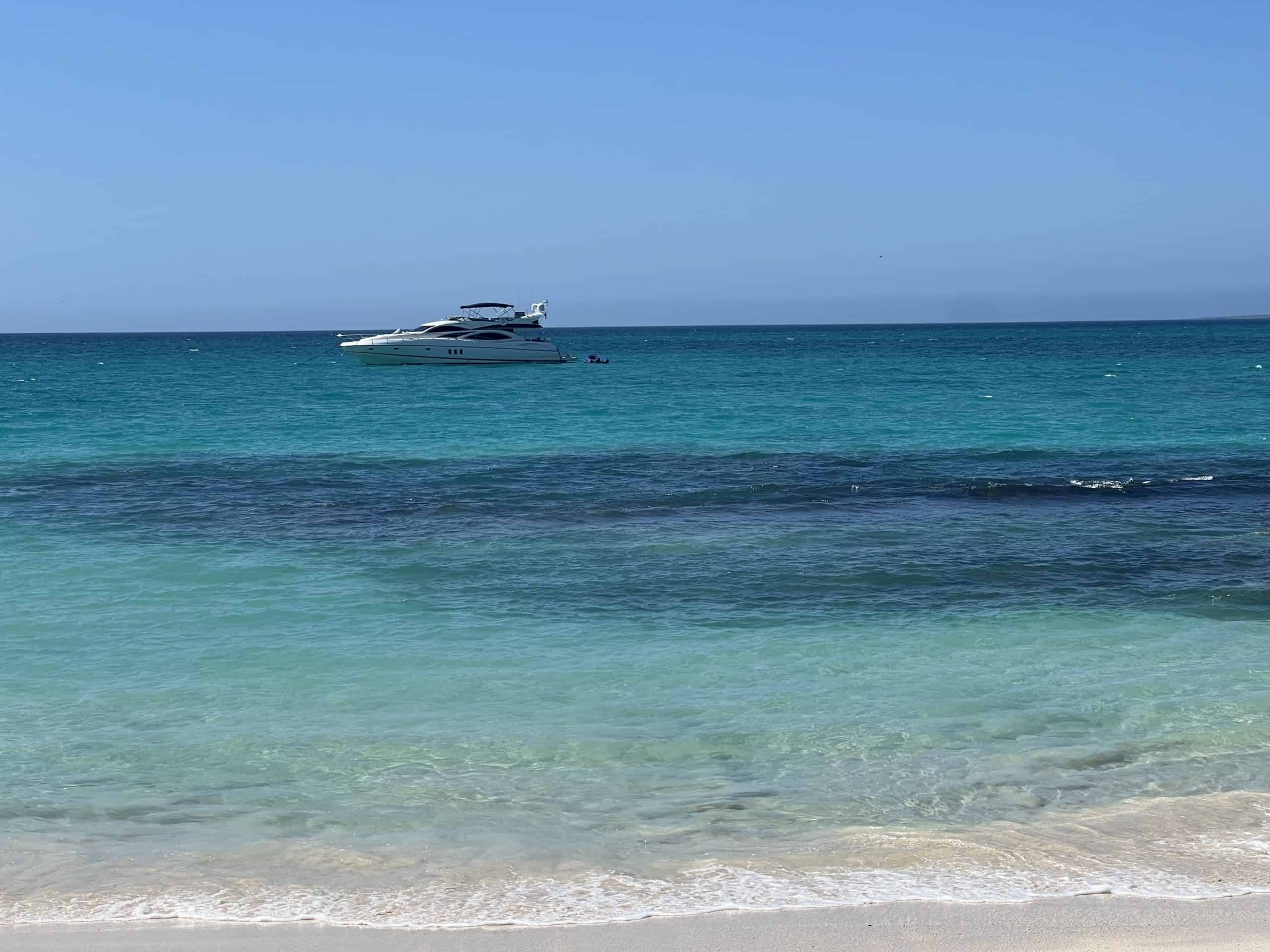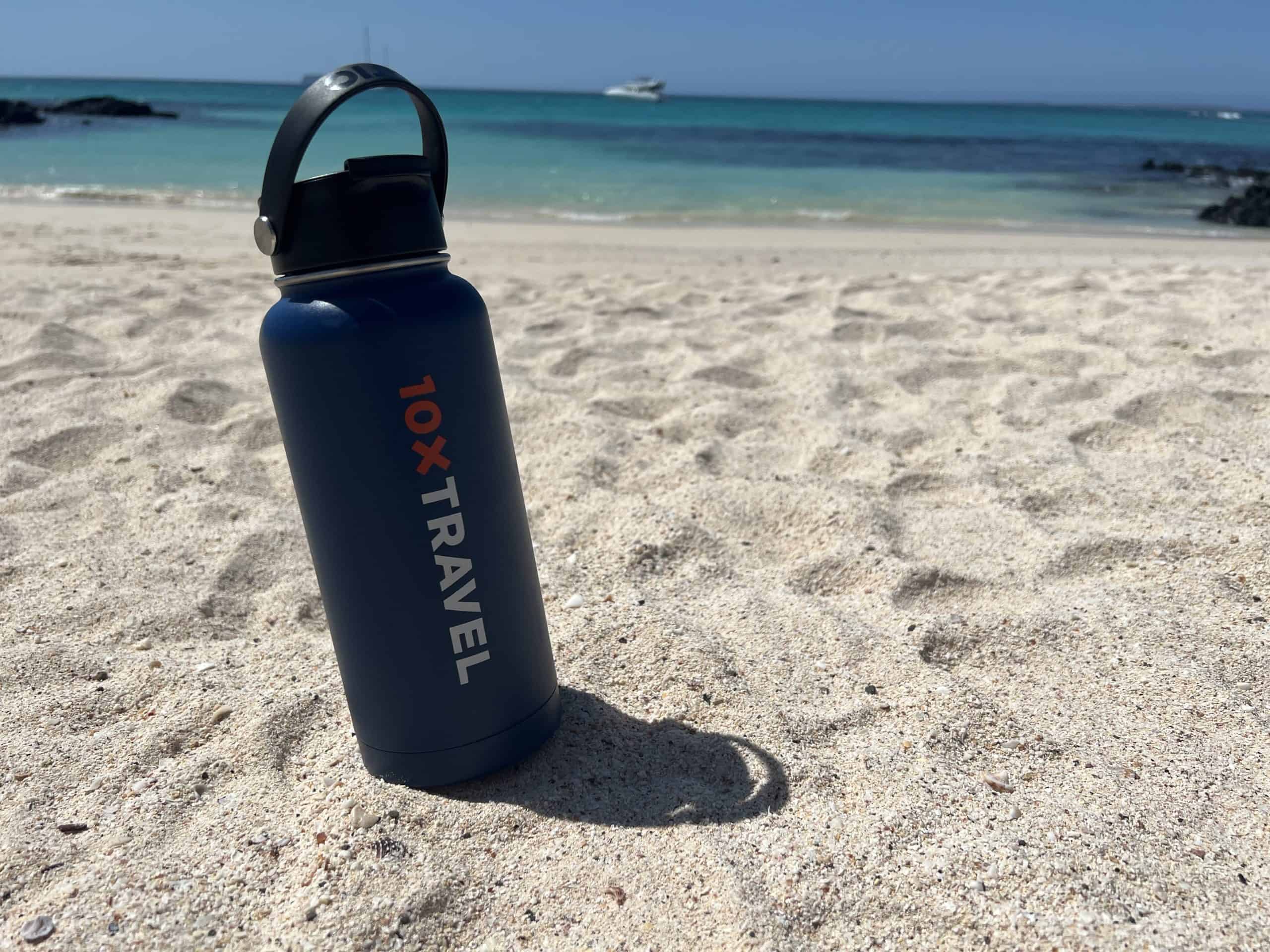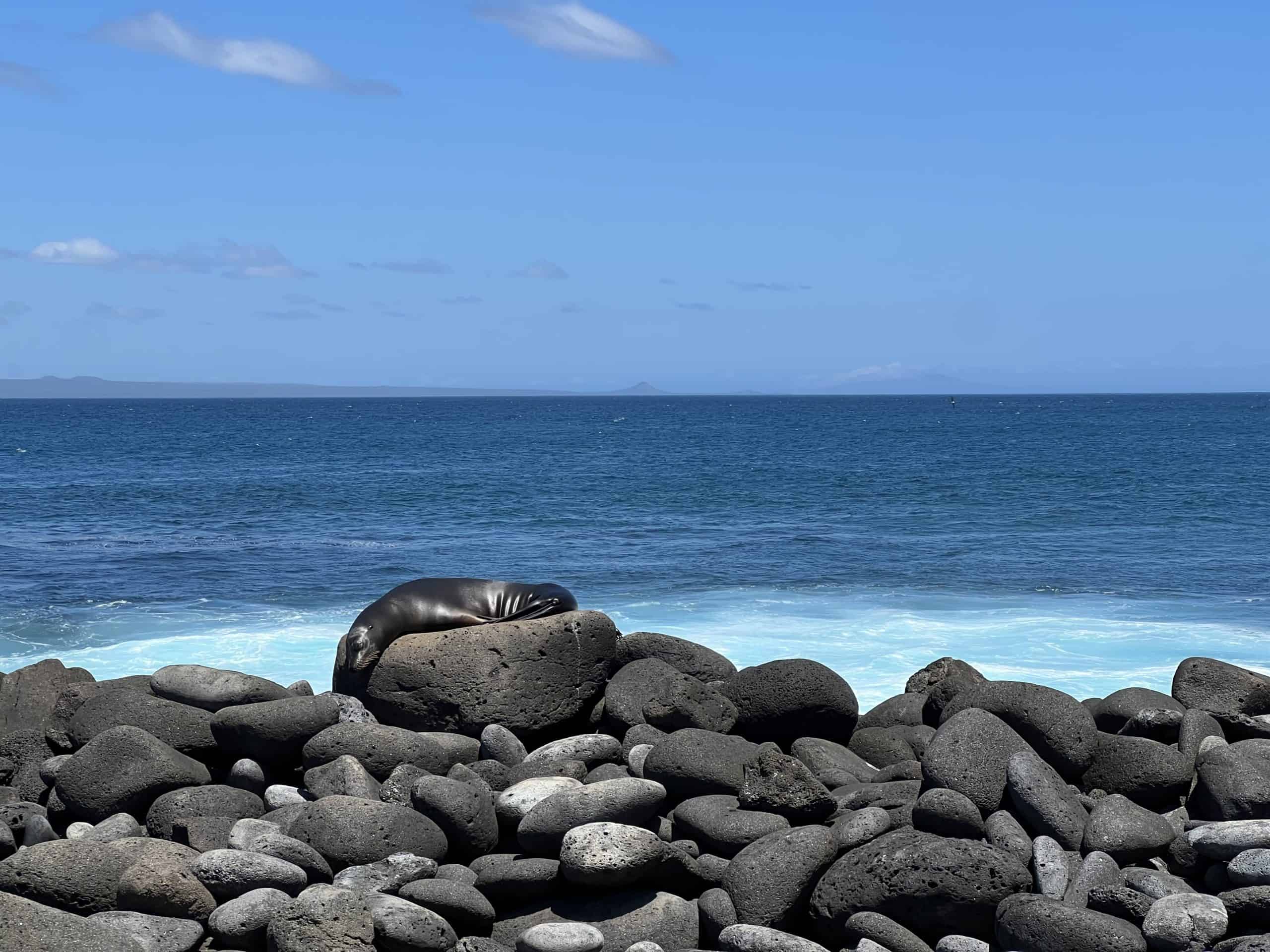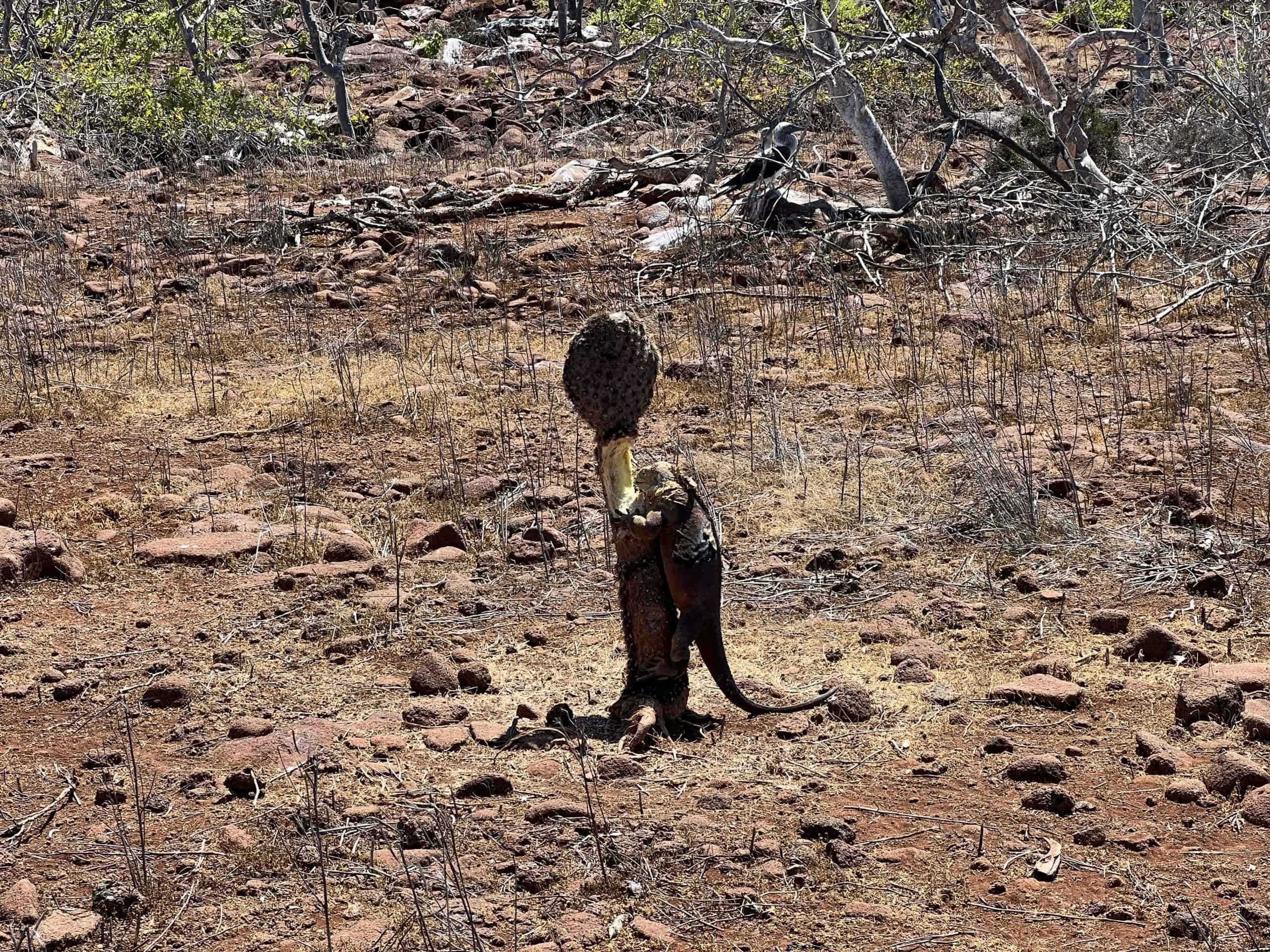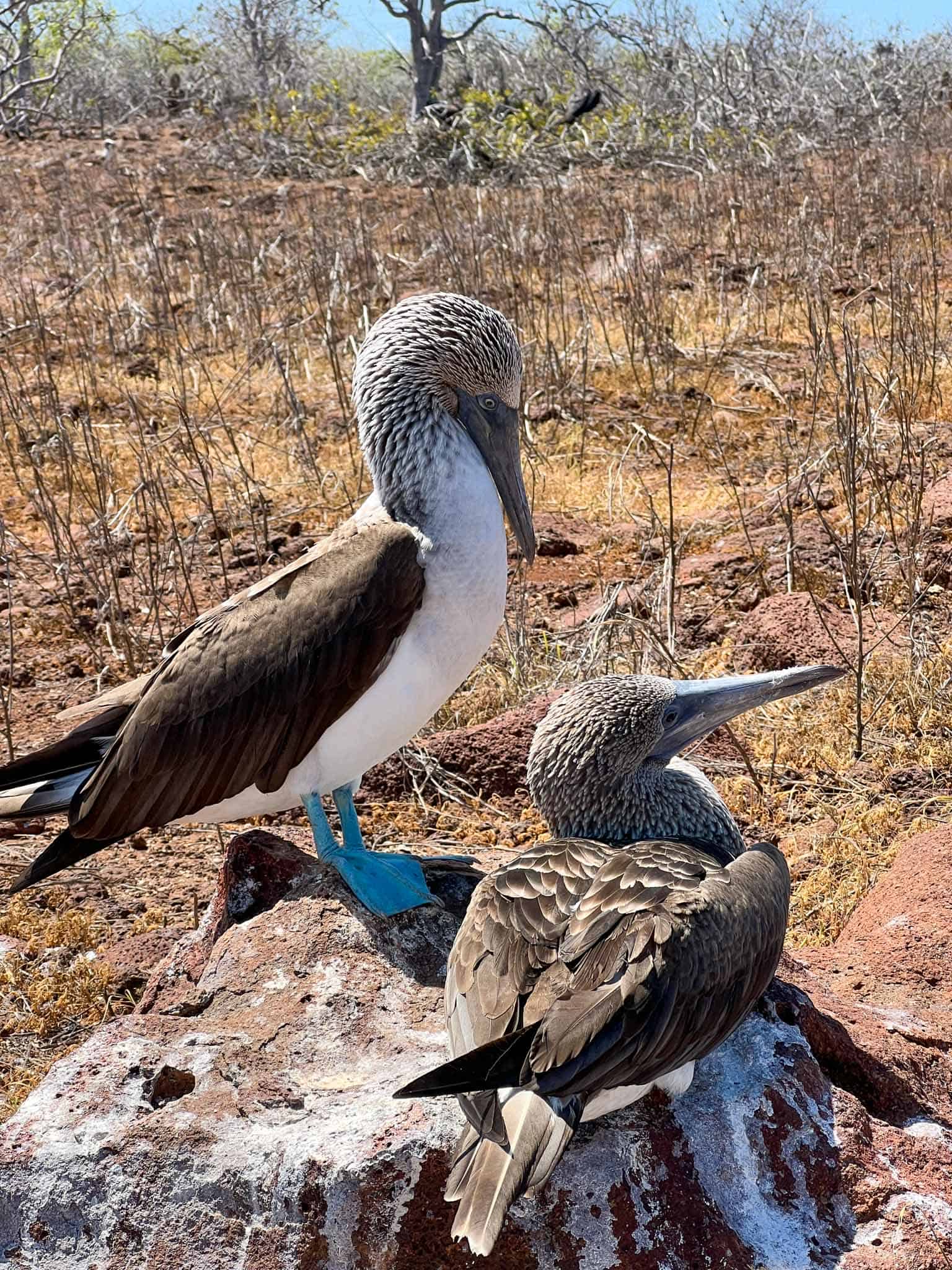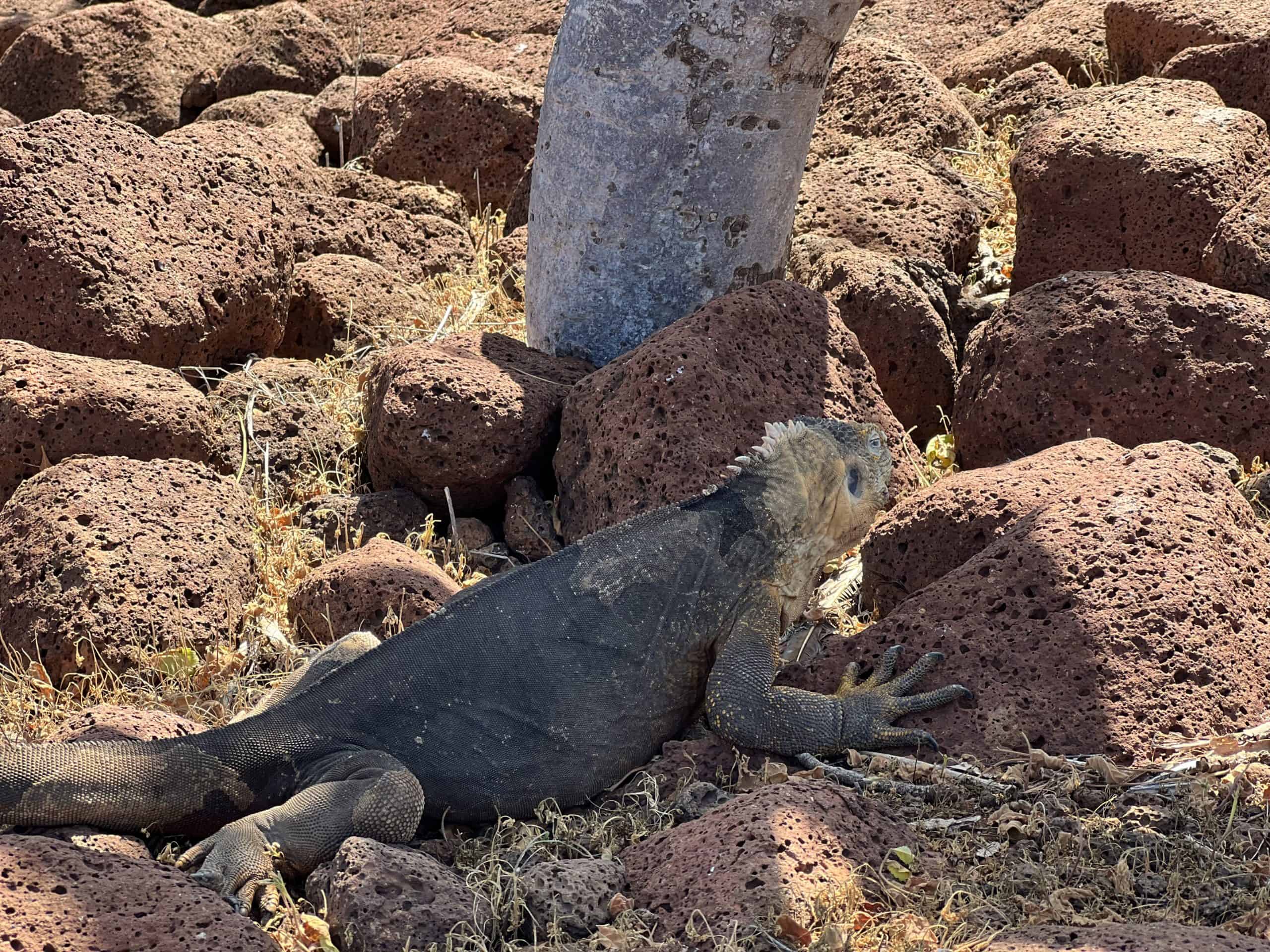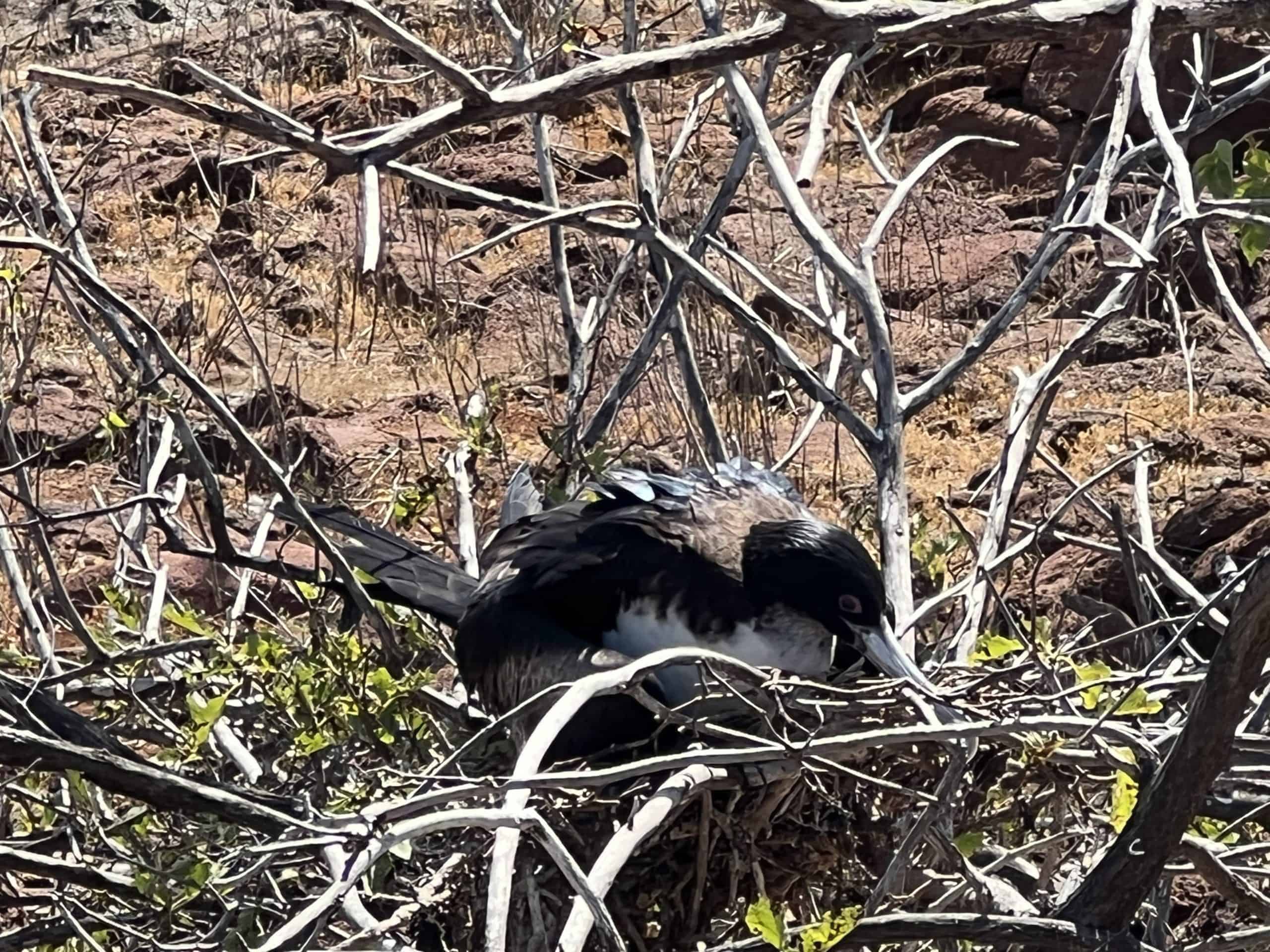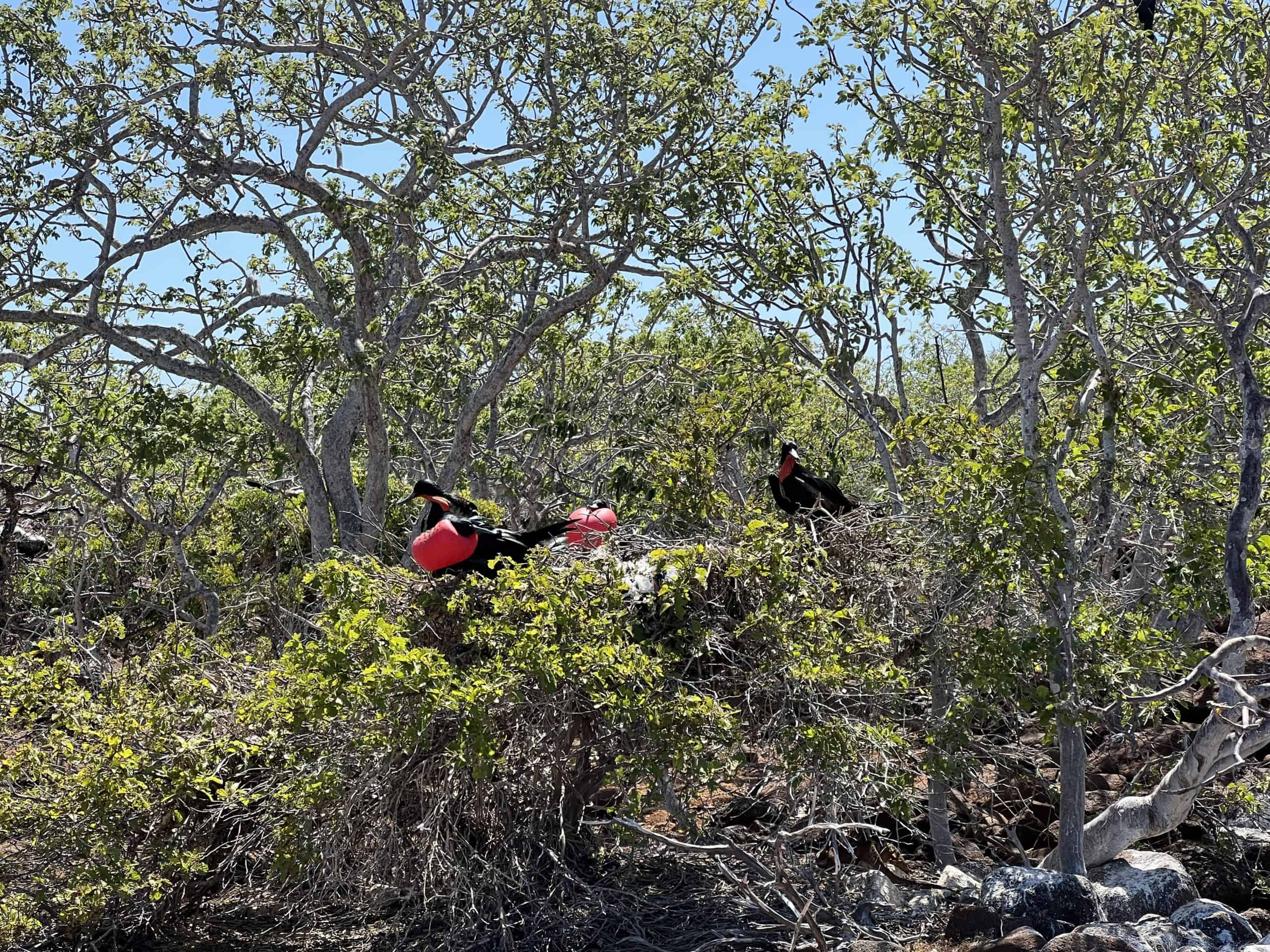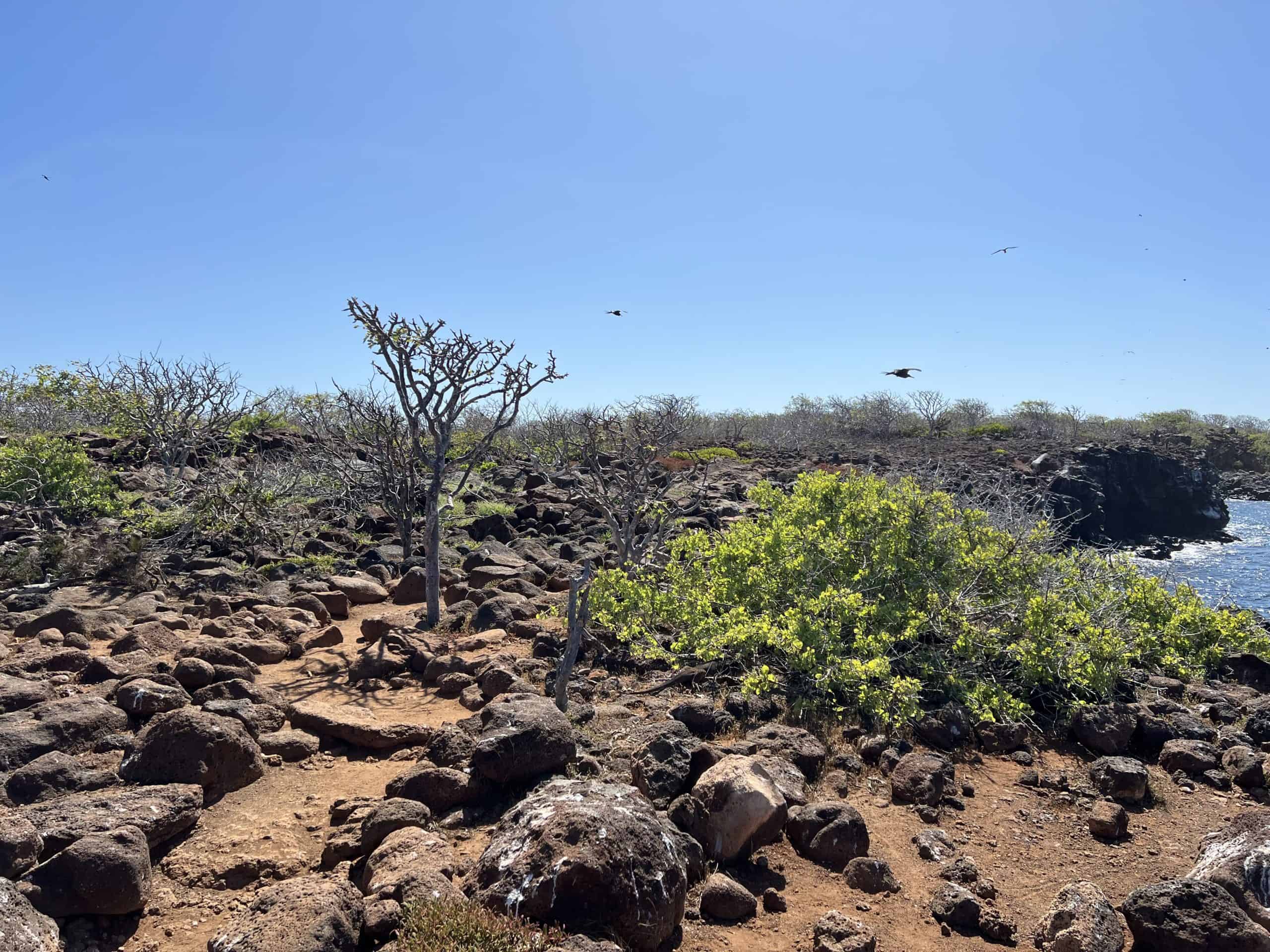 Unfortunately the tidal change meant that the snorkeling water wasn't the clearest. We managed to see one sea turtle and some small fish, but not much else through the murky water. Still, the water was refreshing after a day out in the blistering sun. We headed back to Santa Cruz where we stopped by a chocolate stand, grabbed some chocolate, and went back to the hotel.
Dinner was on our own that night, but most of our group still chose to go out together. Despite Megan cursing me with a sunburn by mentioning it before our time on the island, we had a great time in Santa Cruz, and it was nice to get off our feet for a bit.
Day 4: Moving to Isabela, Hiking and Boat Tours
On day four, we moved from Santa Cruz to the island of Isabela. It takes about two hours by speedboat to get to Isabela, so we were up a bit early to board.
If you're taking boats between islands in the Galapagos (the only way to access some islands), I'd definitely recommend bringing some dramamine or other sea sickness medicine. The rides can definitely be rough, especially if you're closer to the front of the boat. Taking medicine and sitting at the back will help tremendously. I speak from experience as I sat at the front, with no medicine. I typically have no issues on boats, and I'm on them often. I had no actual issues, but definitely would have been more comfortable with some medicine.
We boarded the boat, and many people did their best to sleep. That is, until we had the unfortunate issue of hitting what the captain believes was a whale and our boat stopped in its tracks. This was about an hour into the trip, so we were right in the middle of the ocean with a damaged engine.
Thankfully, the boats travel in groups of four, so it wasn't long before another boat was with us, and the crews were working to repair the engine. They were able to get it fixed, and we were back on our way to Isabela. Everyone was in high spirits once we realized we would be alright, and reflecting on it was a bit of a highlight regarding the absurdity of the situation.
If it isn't evident, I do believe that Megan said something about getting stranded as we boarded the boat. Even if she didn't, she probably thought it and that's what cursed us!
We made it to Isabela without further issue, and deboarded our boat. We were quickly whisked away to our hotel, not even a half a mile away from the harbor where we got into our rooms and settled in before leaving for a hike through the mangroves. It was nice to get out and stretch our legs after some time on the boat. What really shined on the hike was how different the ecosystem seemed, which was also reflected in the different biodiversity that we encountered.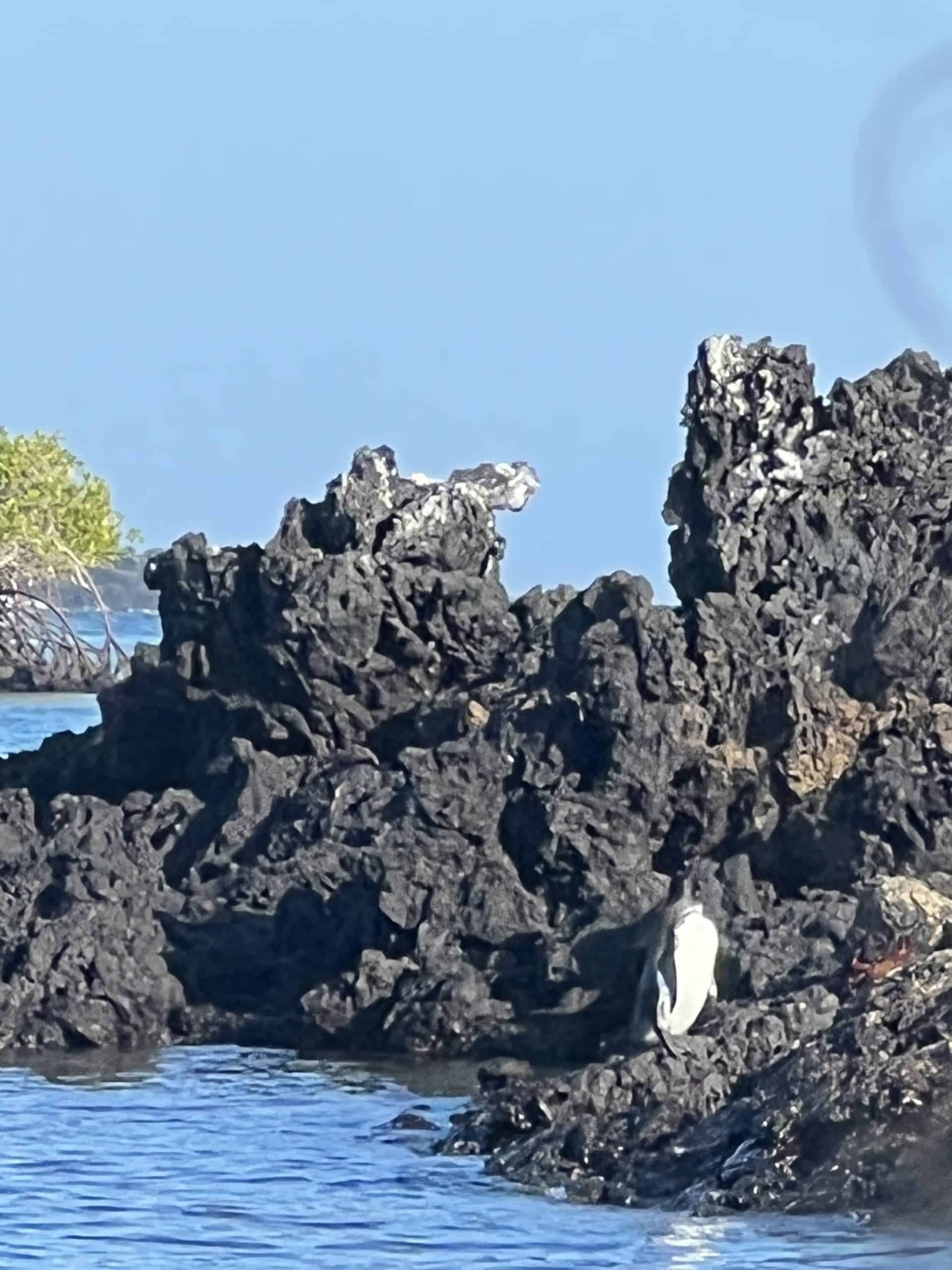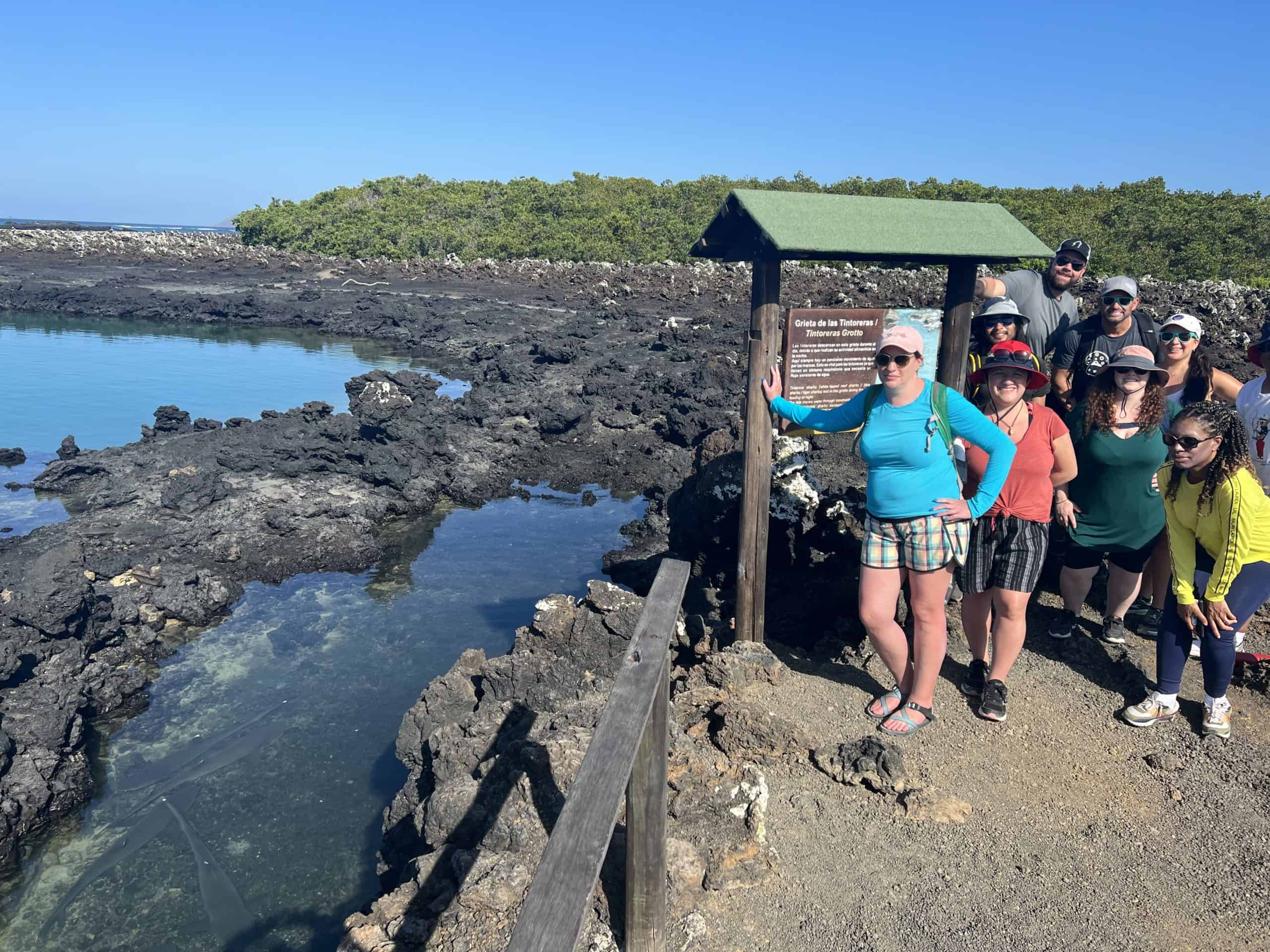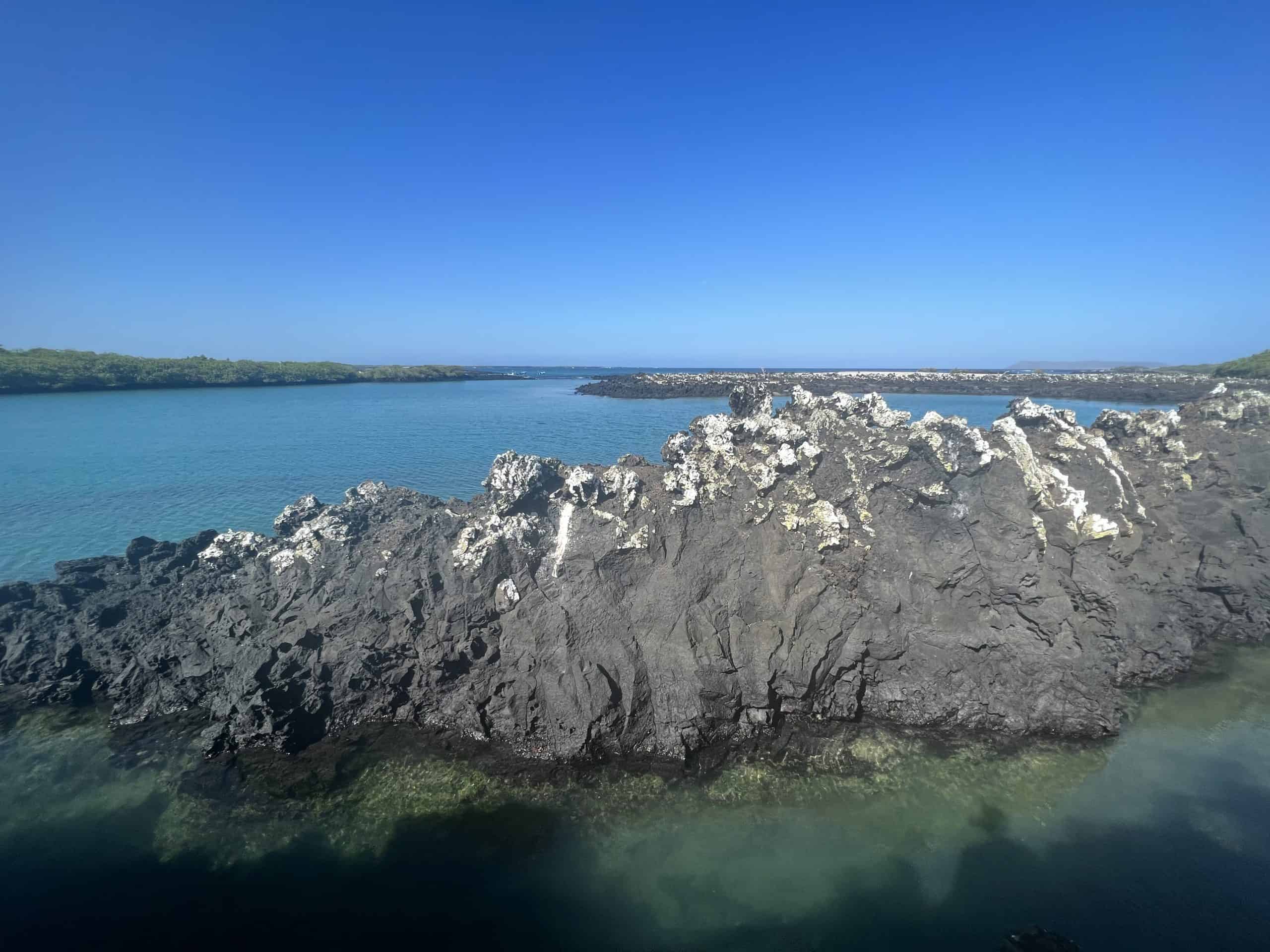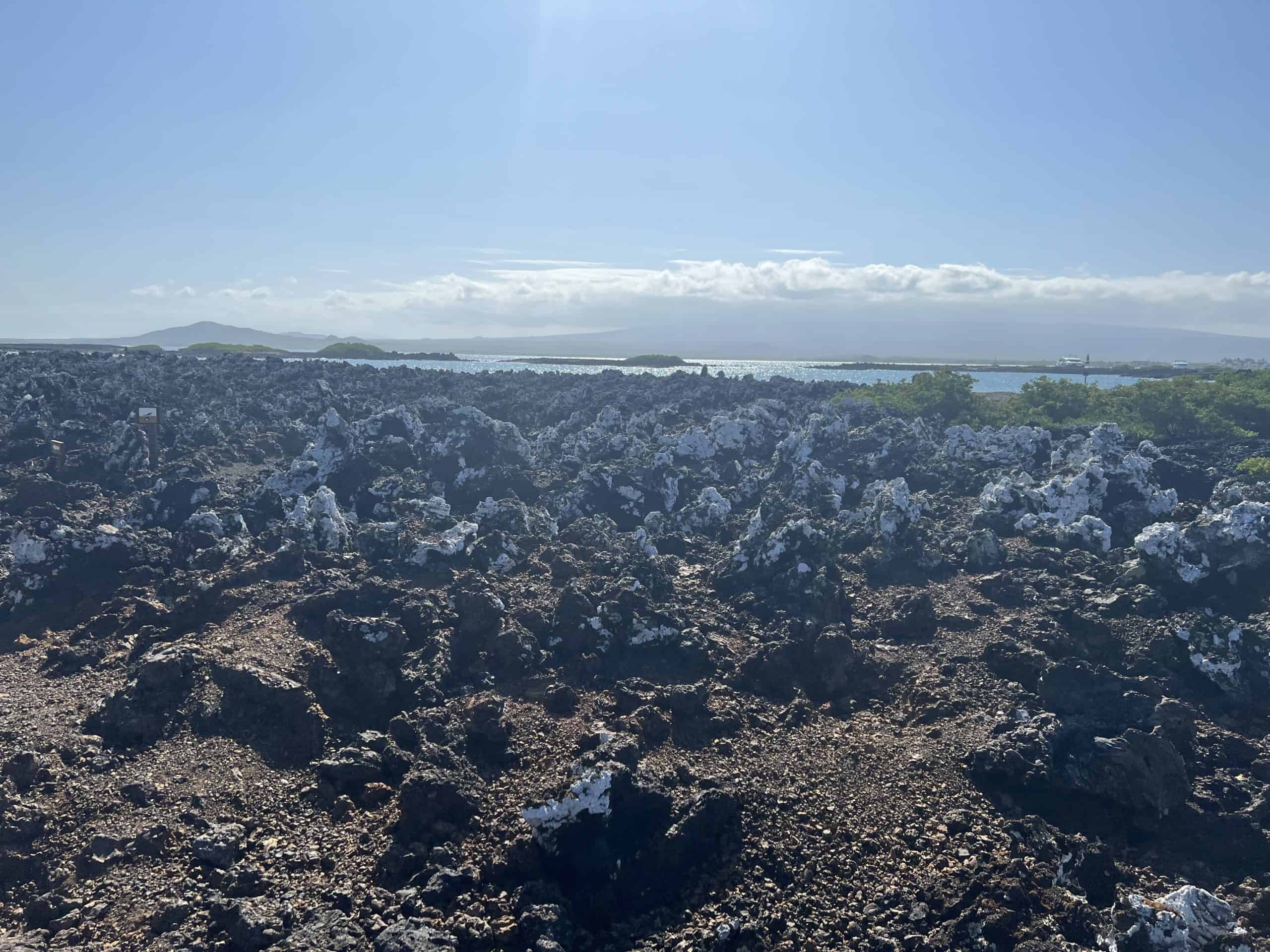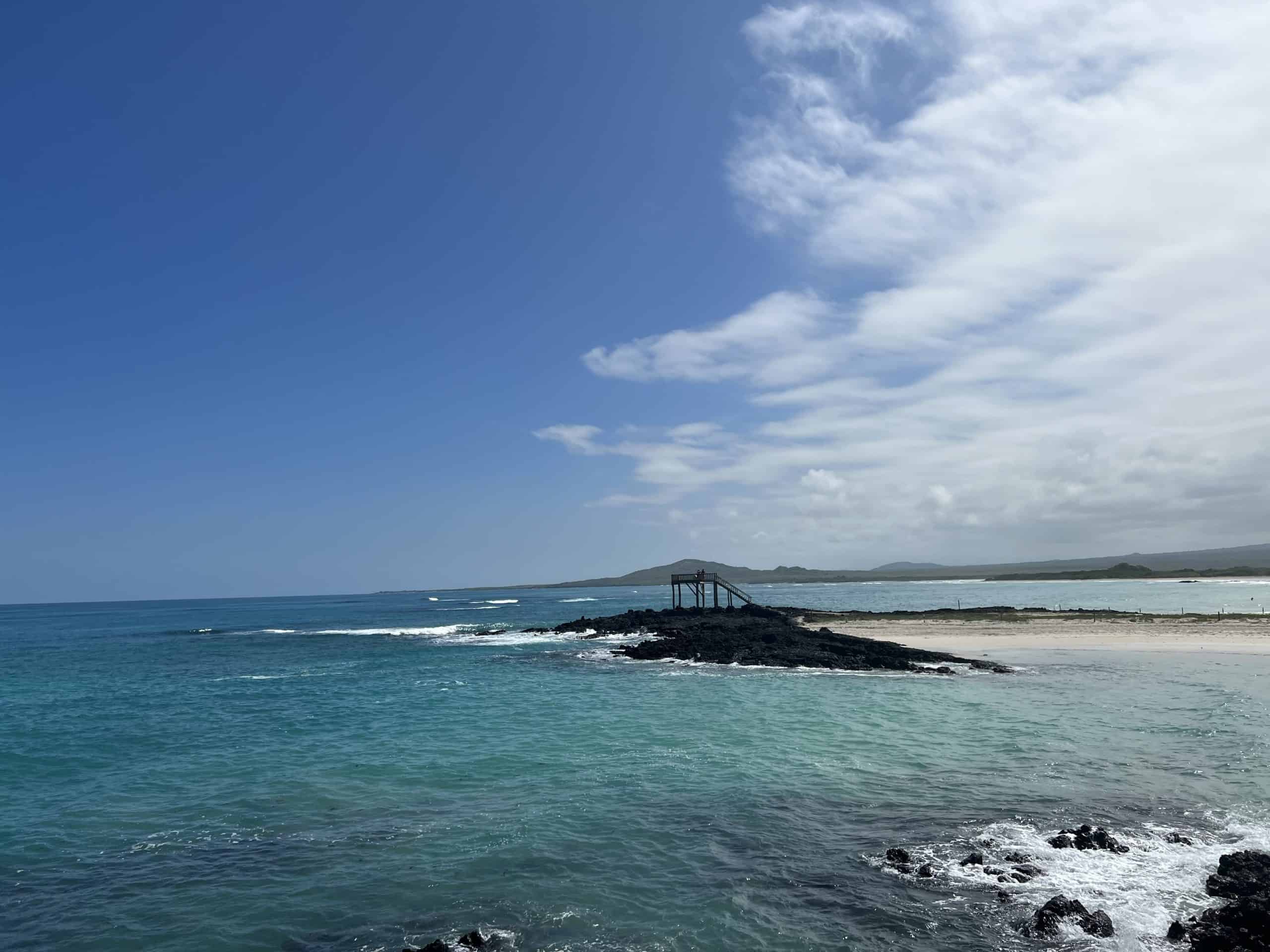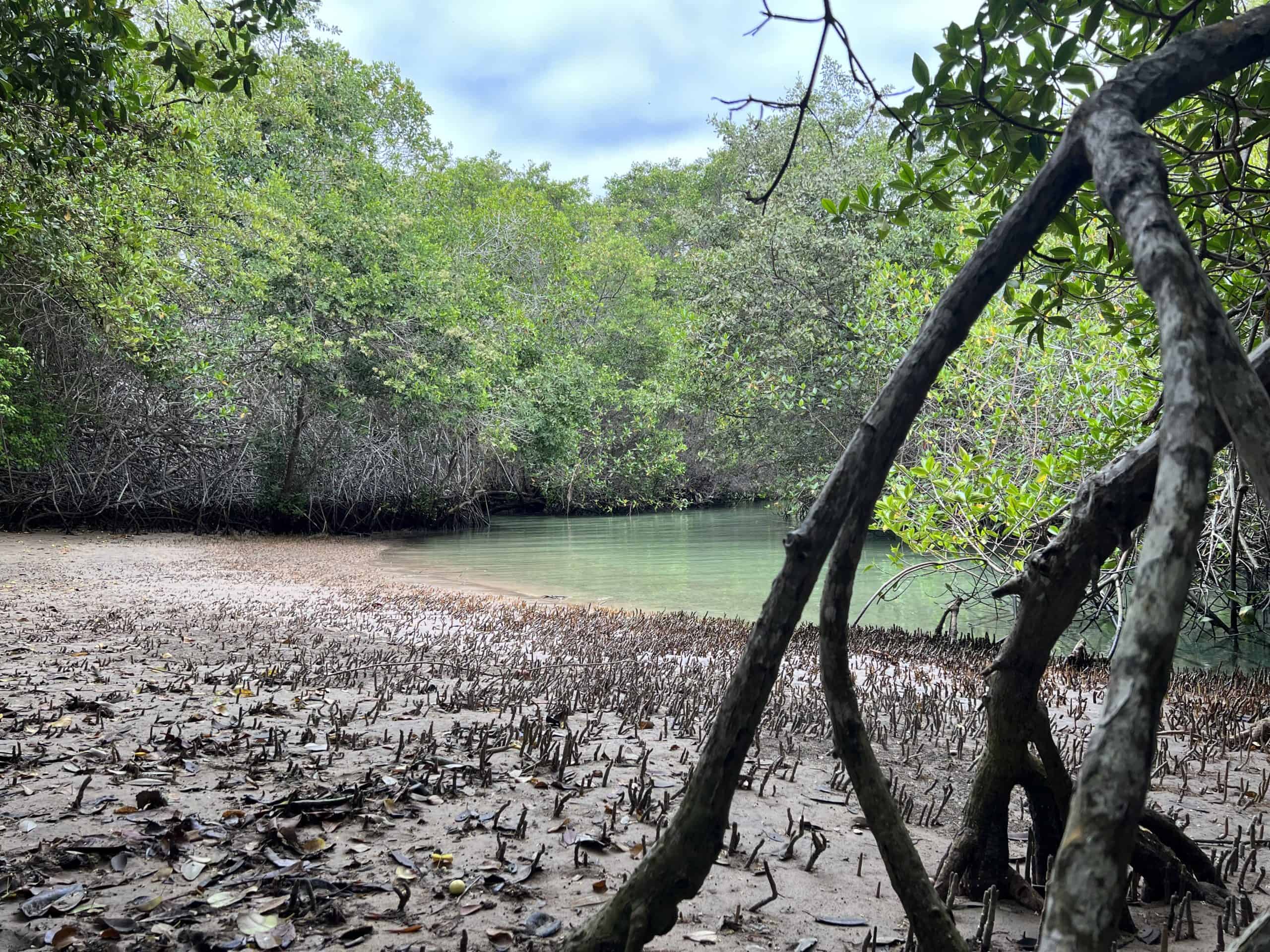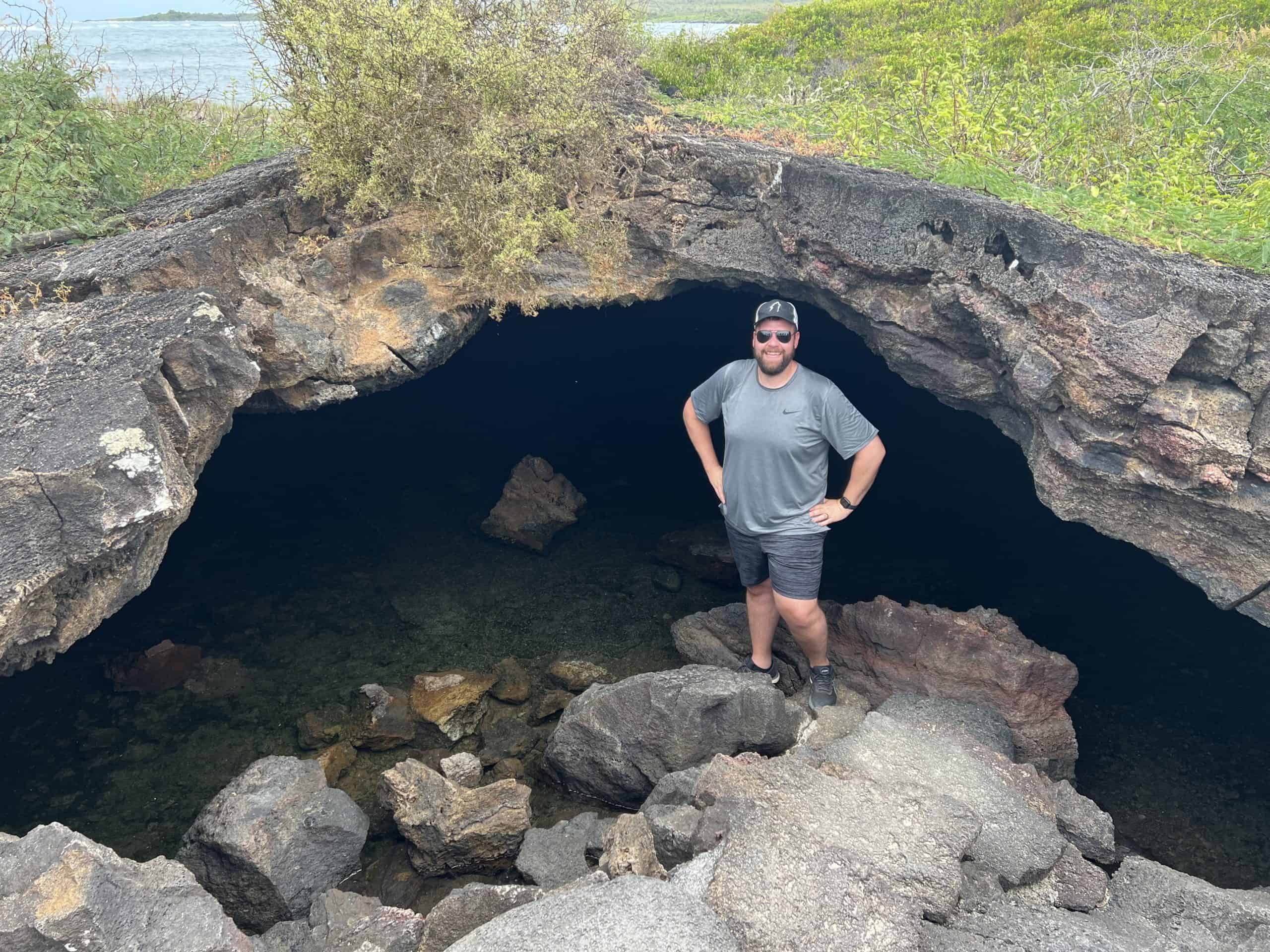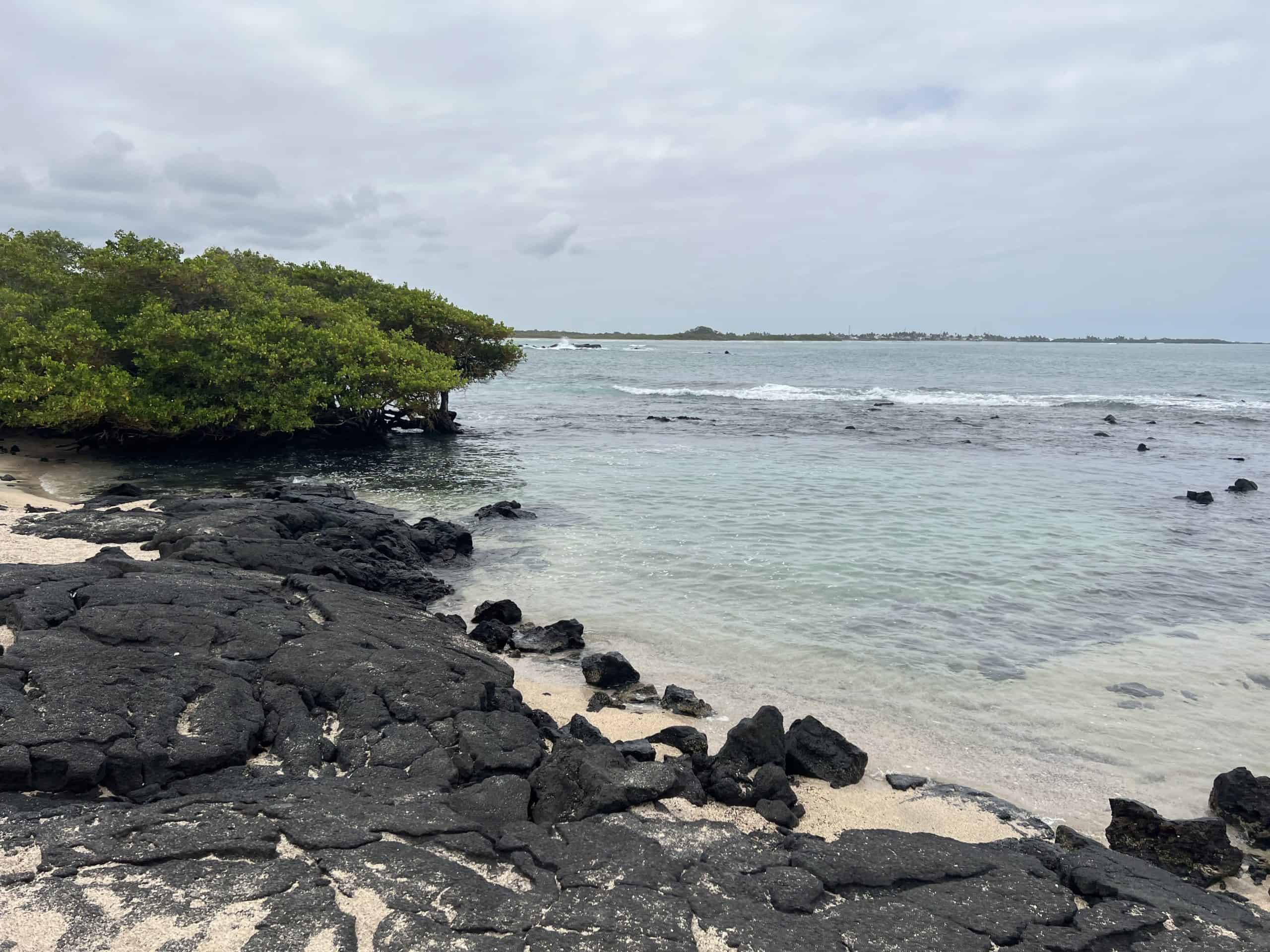 While on Seymour we saw a large amount of large birds, in Isabela there were many more smaller birds, and a lot of iguanas. I mean, lots. It seemed as though they just slept in piles when they weren't out swimming in the ocean. Did I mention that these were marine iguanas?
Marine iguanas are unique to the Galapagos and have the ability to swim in the ocean and hunt for food. It was very interesting to be looking into the water and see an iguana just swimming along! More common, though, was spotting them napping in the middle of your path.
After a brief hike, we went back to Isabela to grab a late lunch. Isabela might be the largest island in the Galapagos, but it's population is relatively small at less than 2,000 people. Most of the town is concentrated within walking distance – depending on how much hiking you've done that day – and there aren't a lot of restaurants to choose from. That makes it a bit easy though, as you're deciding what type of food you want and that will often dictate where you eat.
Most of us were pretty hungry, so lunch was a fantastic reprieve from the hike, but when in the Galapagos the days are long with lots to do, so we didn't slow down either. Following lunch, we went back to the hotel to rest for a bit and fill up our water before heading out on a boat tour and some snorkeling.
The boat took us to one of the younger islands nearby – it wasn't a large island but it was distinct from Isabela. It only took about ten minutes to get there, an easy ride in the lagoon. As we walked along the island, we saw sharks trying to nap in some smaller and calmer waterways in the island. Although some friendly sea lions were hoping the sharks would play rather than nap.
What made the younger island so unique was how much less vegetation there was, and instead it was covered in sharp rocks. We stuck close to the trail to avoid the sharp areas, and enjoyed the different views from what we experienced as we embarked upon our fifth, and completely different, island of the trip.
After about an hour on this island, we headed back to the boat to do some snorkeling. We didn't travel too far to another lagoon where we donned our snorkeling gear and jumped into the water. Although it was a bit cold, it was definitely refreshing after being out in the sun all day. We snorkeled through a small inlet that was full of sleeping sharks at the bottom. It was such a fun experience to just snorkel through with what are typically seen as these aggressive creatures, but they were just sleeping so delicately which gave quite an opposite perspective from what you would anticipate.
We boarded the boat after snorkeling and did some more exploring around the islands, where we were lucky enough to spot a Galapagos penguin! I didn't even know there were penguins in the Galapagos, let alone how the rising water temperatures are impacting their population with only about 1,200 left in the wild, making them the rarest penguin species out there.
Between waking up early to get on the transport boat, to hiking the mangroves, to an exploratory walk on another younger island, snorkeling with sharks and penguin spotting. Let's just say we had a full day, with a full one planned ahead. We were on our own for dinner that evening, but we headed to a local brewery as a group and then went to eat in town. We got full stomachs and headed to bed early for an even more active day tomorrow.
Day 5: Volcano Hike
The volcano hike. This was the only day that we had a single item on our itinerary, and for good reason. Today was the volcano hike. Twelve miles of hiking. We started by picking up lunch, as this would be an all day adventure. After grabbing our lunch, we drove about 30 minutes into the highlands. As our elevation increased, the temperature dropped and fog started to fill the skies.
As we arrived to the park, we got a quick brief for the hike and off we went! Although we were at higher elevation, I feel our time in Quito helped prepare us for starting off the hike heading uphill.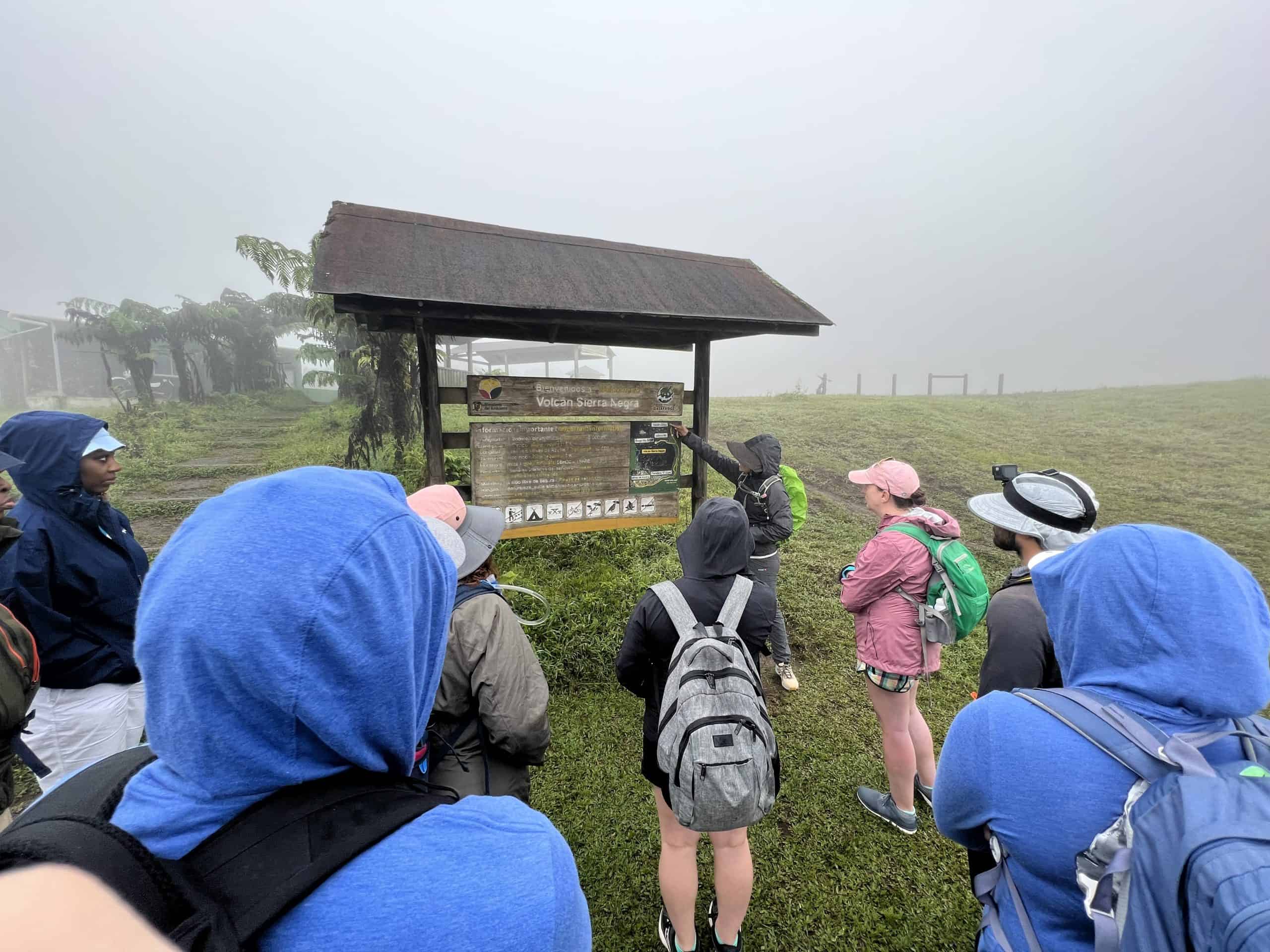 What really made the volcano hike so special was our guide, Katty. She has a keen eye and ear for birds, particularly the finches. She spotted several birds for us that were quite rare. I really wish I had a better knack for remembering what type they were, but it was so enthralling for the entire group to pause just to spot birds. Some of which, Katty informed us, had less than a few hundred in existence in the wild.
While the fog did block our view of the Sierra Negra Volcano, it didn't feel like we were all that let down given the wildlife that we saw as we hiked to the top.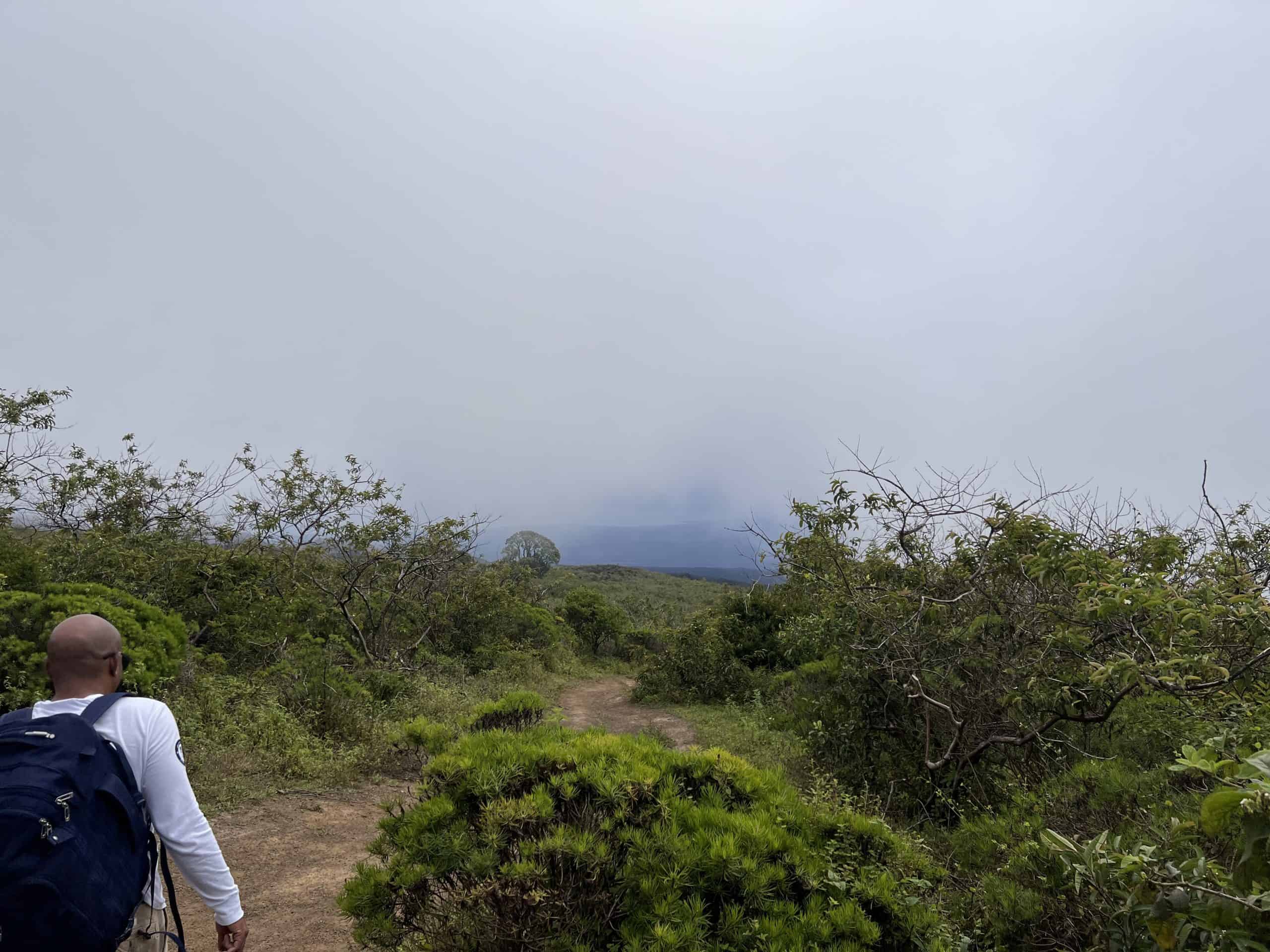 After about three miles, we reached the top. At this point we had a choice to continue hiking through the lava fields, or wait for the other group (who started their hike a bit earlier than ours) and head back with them. Most of us chose to continue on to the lava fields, doubling the length of the hike that we had already completed.
As we continued on to the lava fields, the landscape changed dramatically. From lush and green to rocky and deserted. Katty informed us to not stray too far off the trail, as there were hidden lava tubes that may have fragile ground above them. She didn't want us to fall in!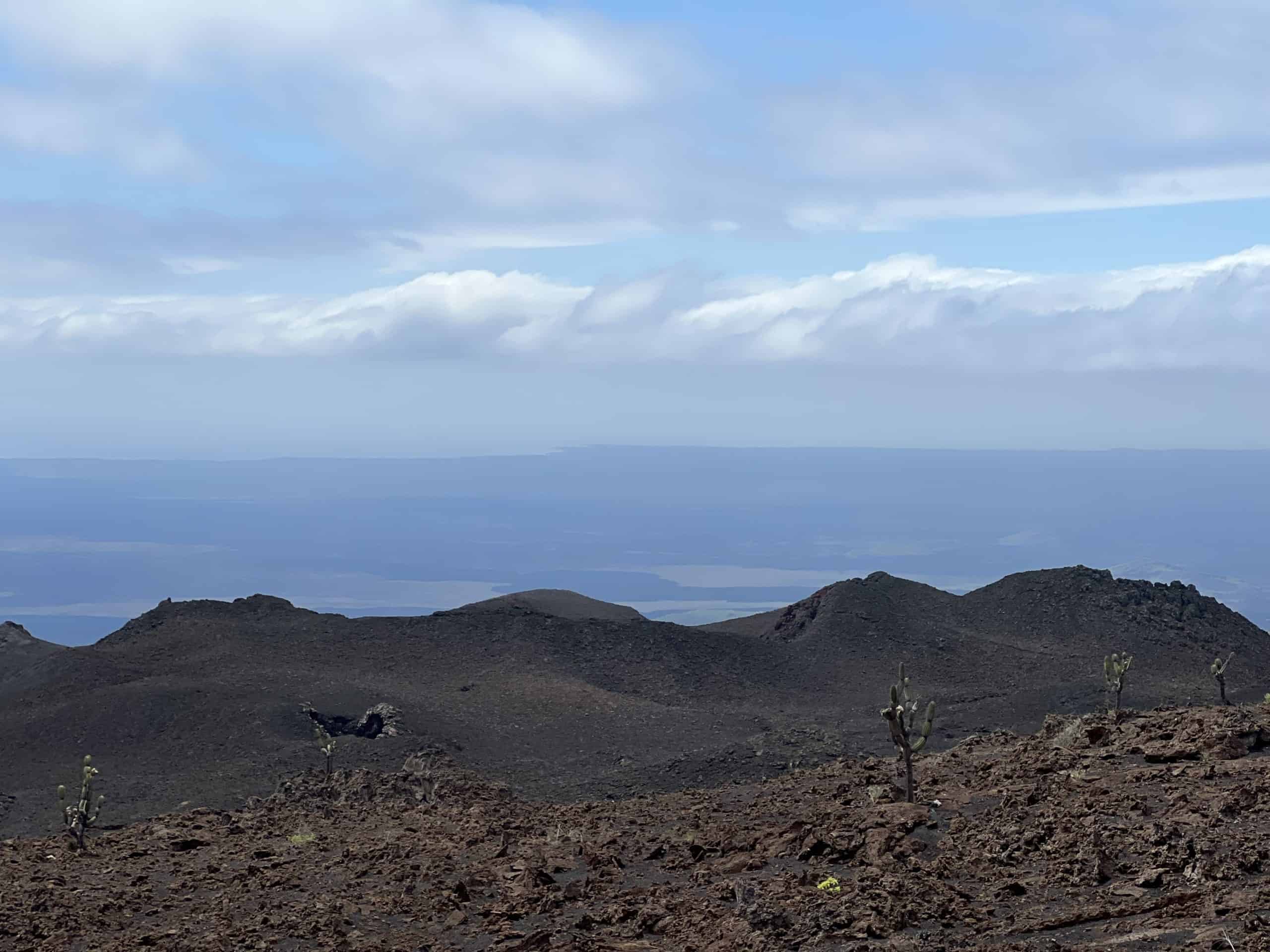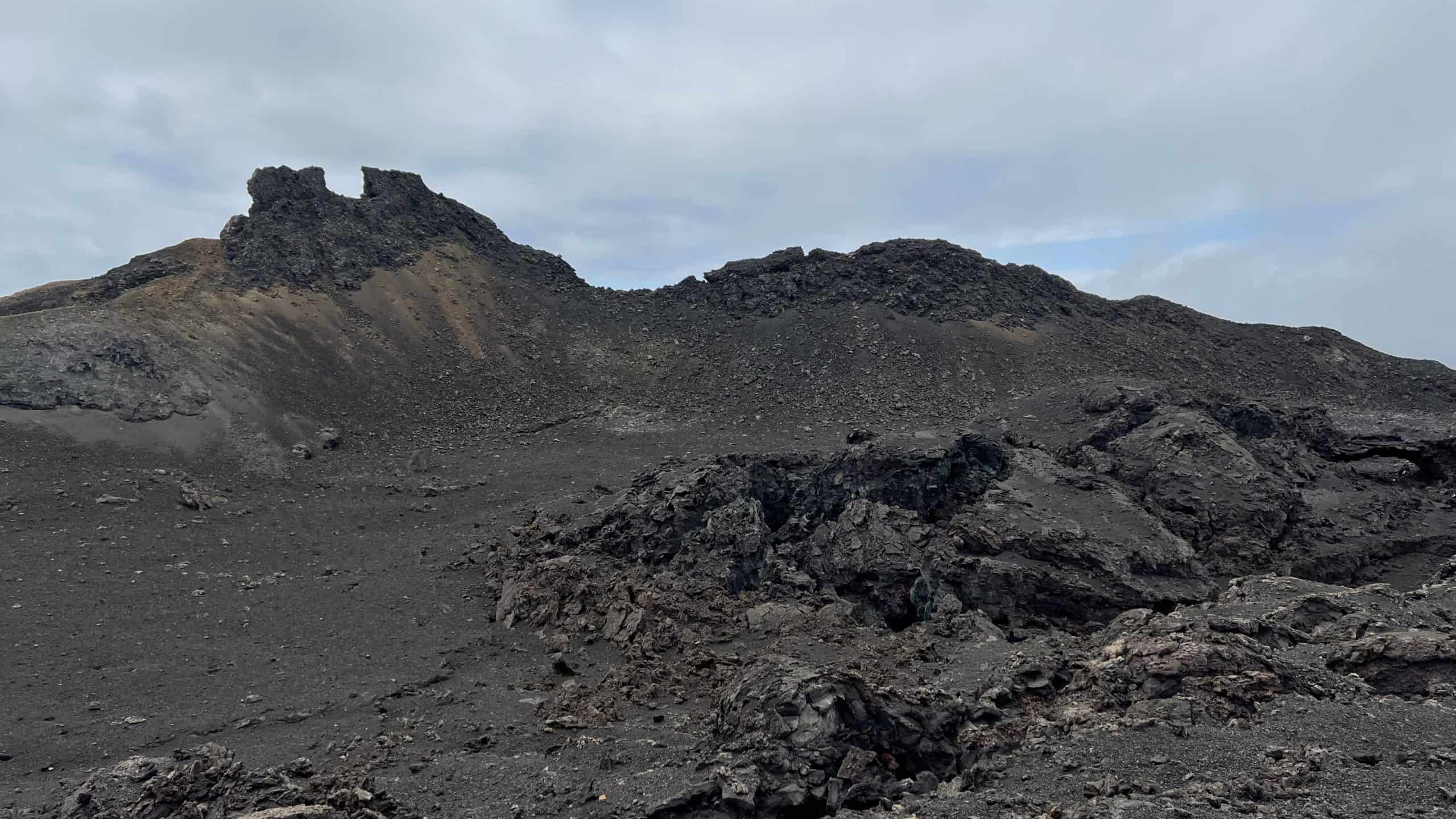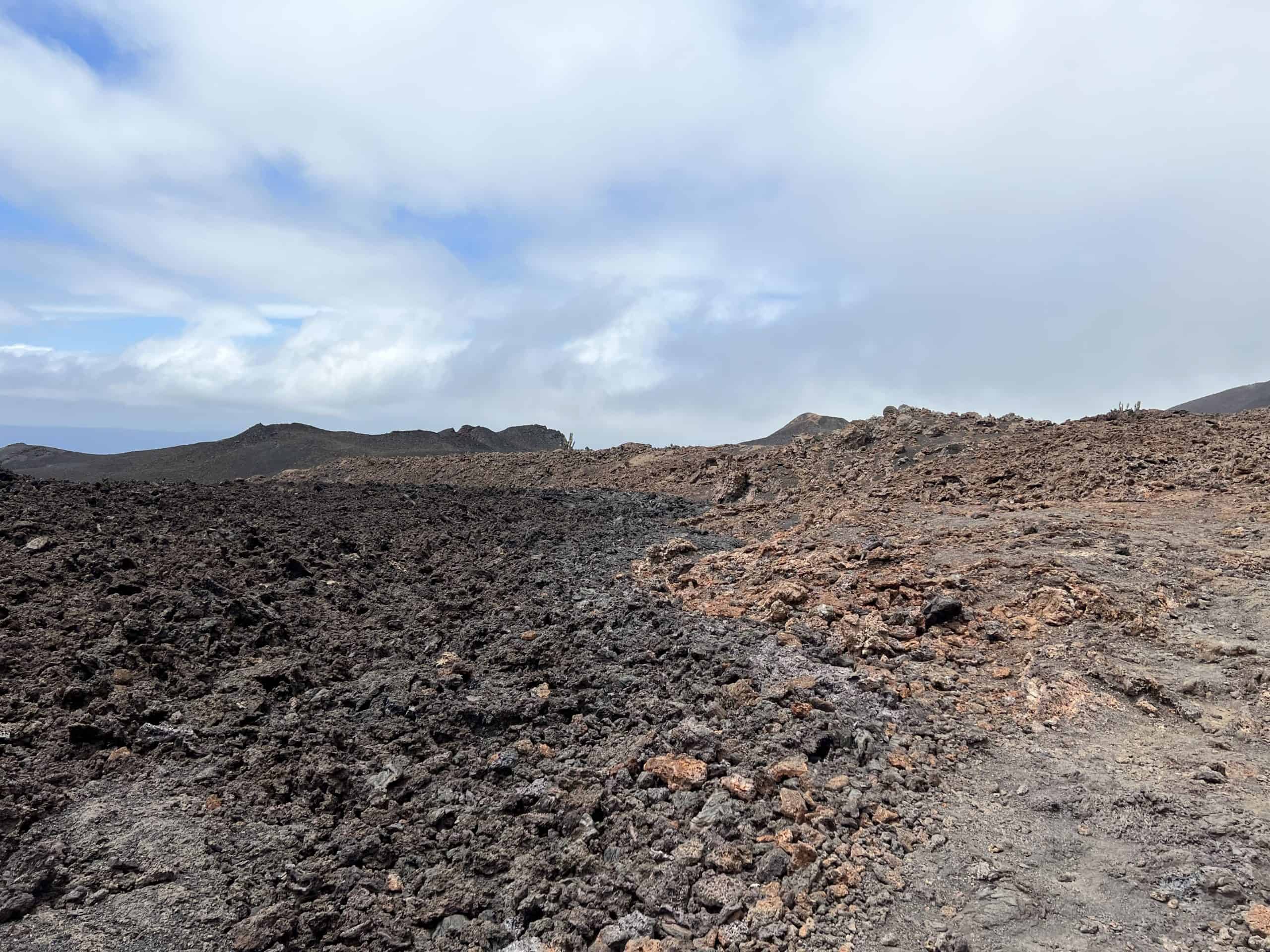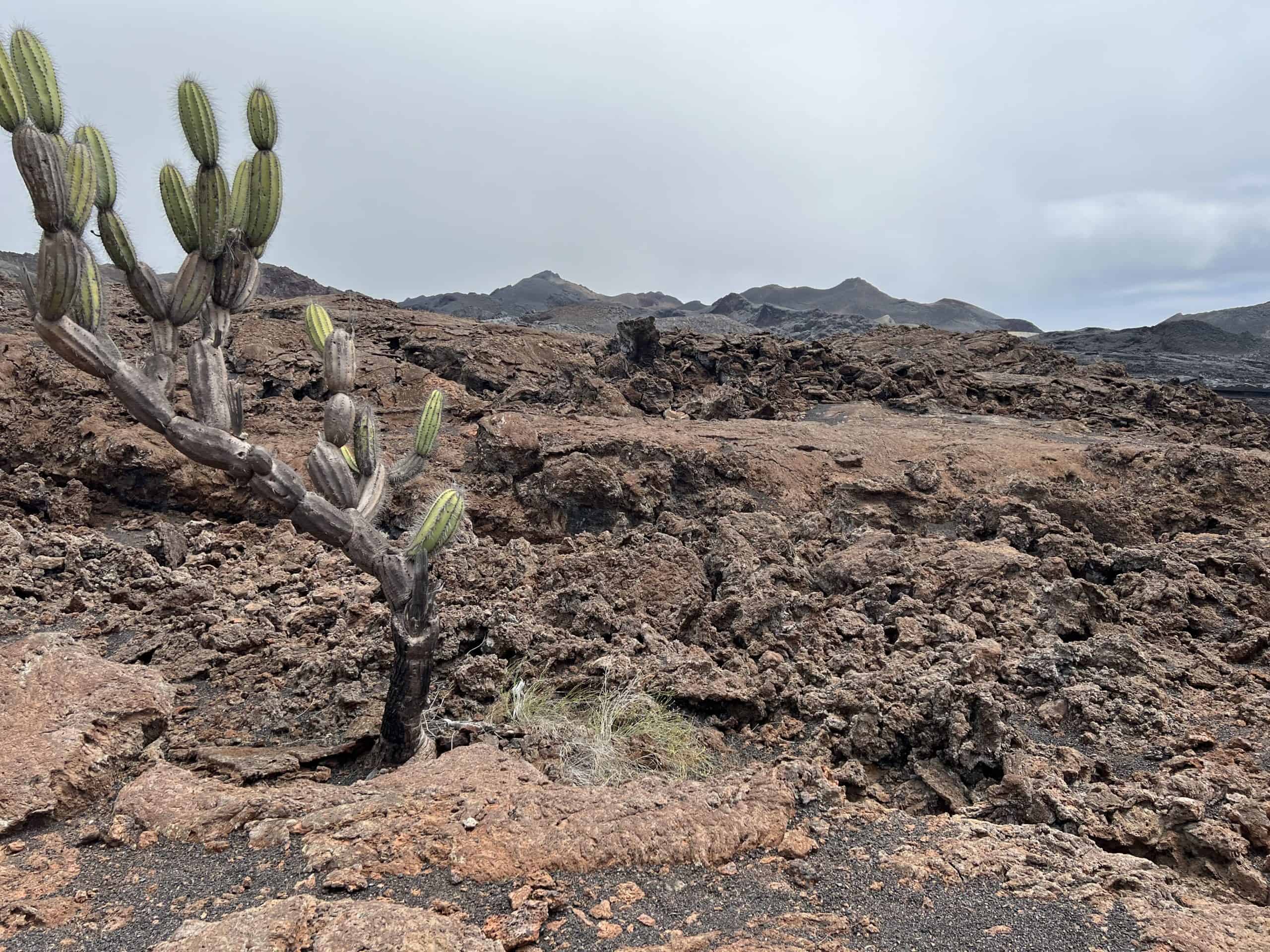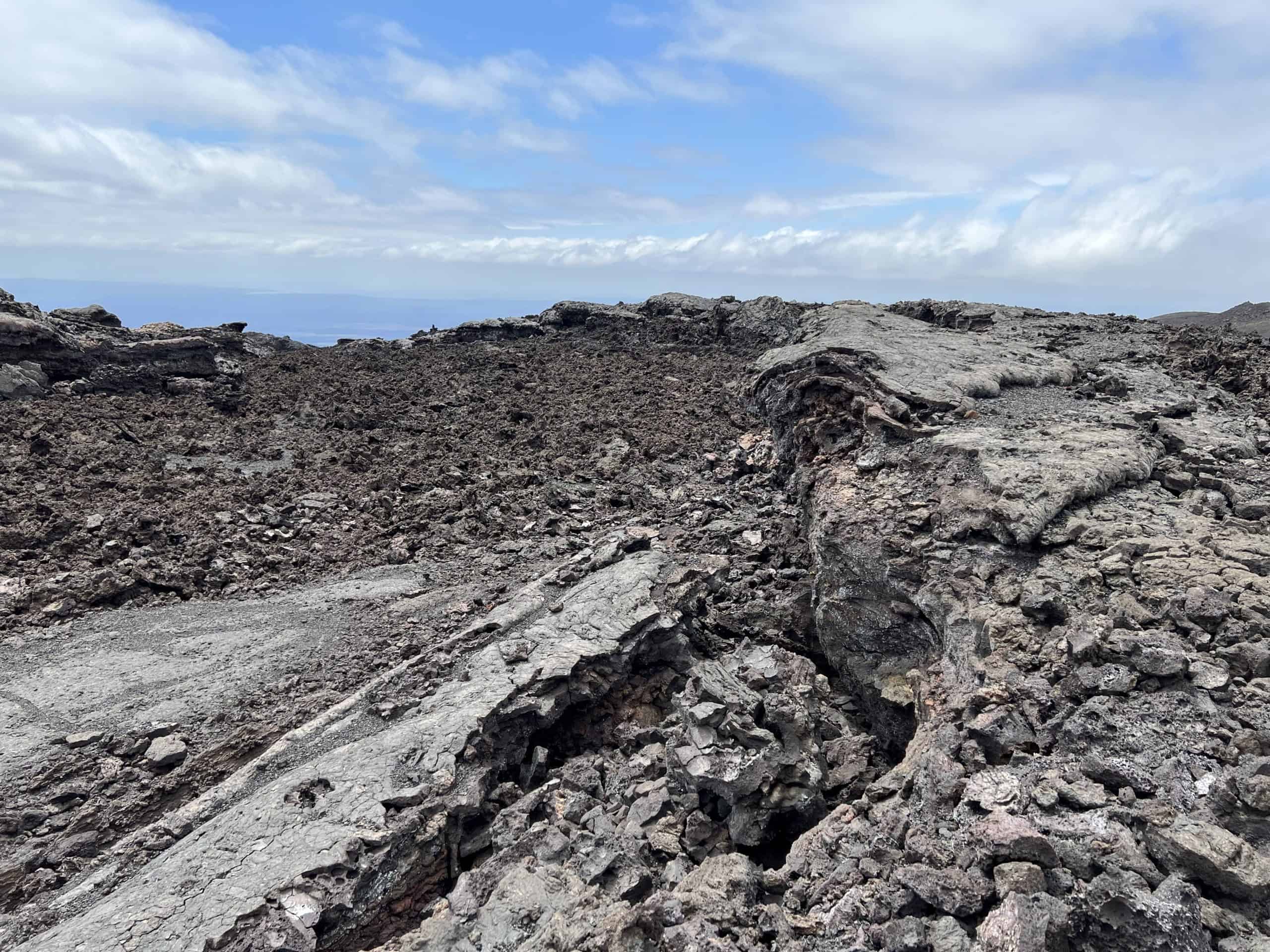 The rocky landscape changed from red to black with a distinct separation about half way through. Katty informed us this was due to the black being a more recent eruption of the volcano, where the iron in the rock hadn't had as much time to oxidize. We marched on, reaching volcan chico, another volcano with impressive color differences in its rock, marking the turnaround point of our hike. Thankfully, as we reached this point, the clouds temporarily cleared, giving us much better views of the island beneath us that we bathed in as we rested before continuing back.
On the return the fog rolled back in, blocking our view more, but we were thankful that it cleared out at just the right time. After 13 miles, one lunch, a few snacks, and lots of sunscreen along the way we made it back to the van. Thankfully, Katty had recommended that we eat half our lunch on the trail and save half for after the hike. This was a fantastic recommendation, and one I'd definitely pass on to anyone else taking on the hike.
The volcano hike was all we had scheduled for the day, and for good reason. While it wasn't the world's hardest hike, 12 miles is still a lot of hiking. However, when we got back to the hotel, Katty told us that she was going to go snorkeling and that we were invited. Her favorite snorkeling spot in all of the islands was only a 5-10 minute walk from our hotel. A few of us were convinced, and we rented some snorkel gear from the hotel and made the quick walk down to the lagoon to snorkel.
Despite being tired, I was glad to have chosen to go snorkeling. The refreshing water felt great, and we saw turtles, eagle rays, and tons of fish!
Overall, day five was really an unexpected highlight of the trip.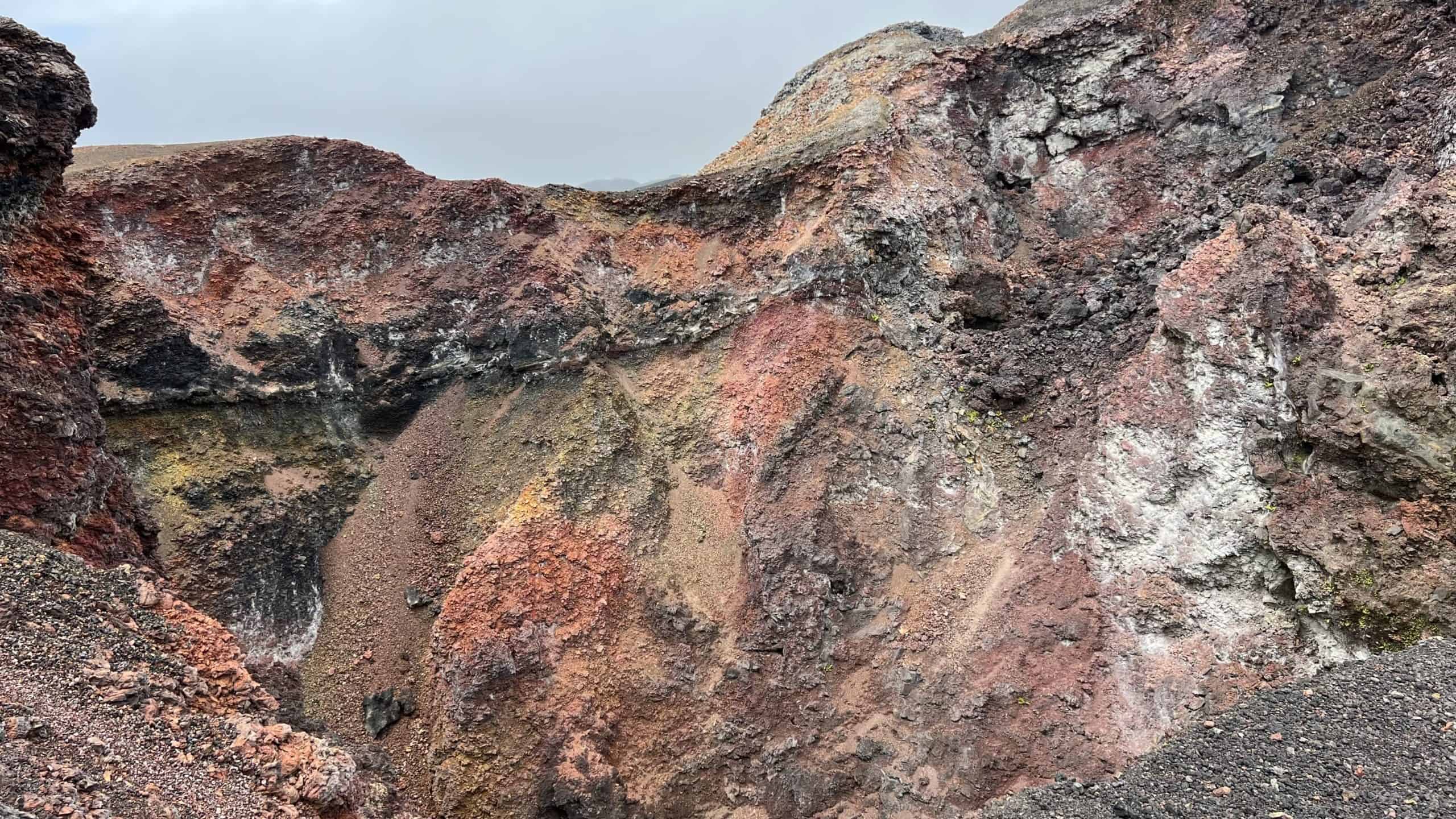 Days 6, 7 and 8: Tortoise Hatchery and Back to Santa Cruz and the Darwin Research Center
Days six and seven started winding down the trip. No more long days of hiking, but still some interesting activities were on the radar. We visited a tortoise hatchery and learned about the risks and dangers that the tortoises face, and got to see everything from little baby tortoises to those that are fully grown and more resilient ready to be released into the wild.
Following the hatchery, we boarded the transport boats to head back to Santa Cruz. After some pretty big waves on the way out, it was smooth sailing. We arrived back at Santa Cruz along with the other group of travelers from 10x, and took some pictures with the Santa Cruz sign before heading back to our hotel. As it was our last night on Santa Cruz, we were on our own for dinner, but most of our group chose to go out for sushi and to do some souvenir shopping.
The following morning, we went to the Darwin Research Center before heading to the airport to head back to Quito. We were glad we got to visit the center, where we got to see more variety of tortoises than we had seen anywhere else on the trip.
We headed back to the Galapagos airport, said goodbye to Katty, and of course went to the Priority Pass lounge. Yes, there is a Priority Pass lounge at the Galapagos airport. It wouldn't be a 10xTravel Trip without getting all of us into the lounge before our flight back to Quito!
On our flight back we had a stop in Guayaquil, but got back to Quito and met up with our original guide before heading to a farewell dinner. Some of our travelers had late night flights back this night, or early flights the next morning. So they headed to the airport while the rest of us went to our hotel for the night where we stayed up playing pool, having a few drinks, and just enjoying everyone's company one last time before going our separate ways.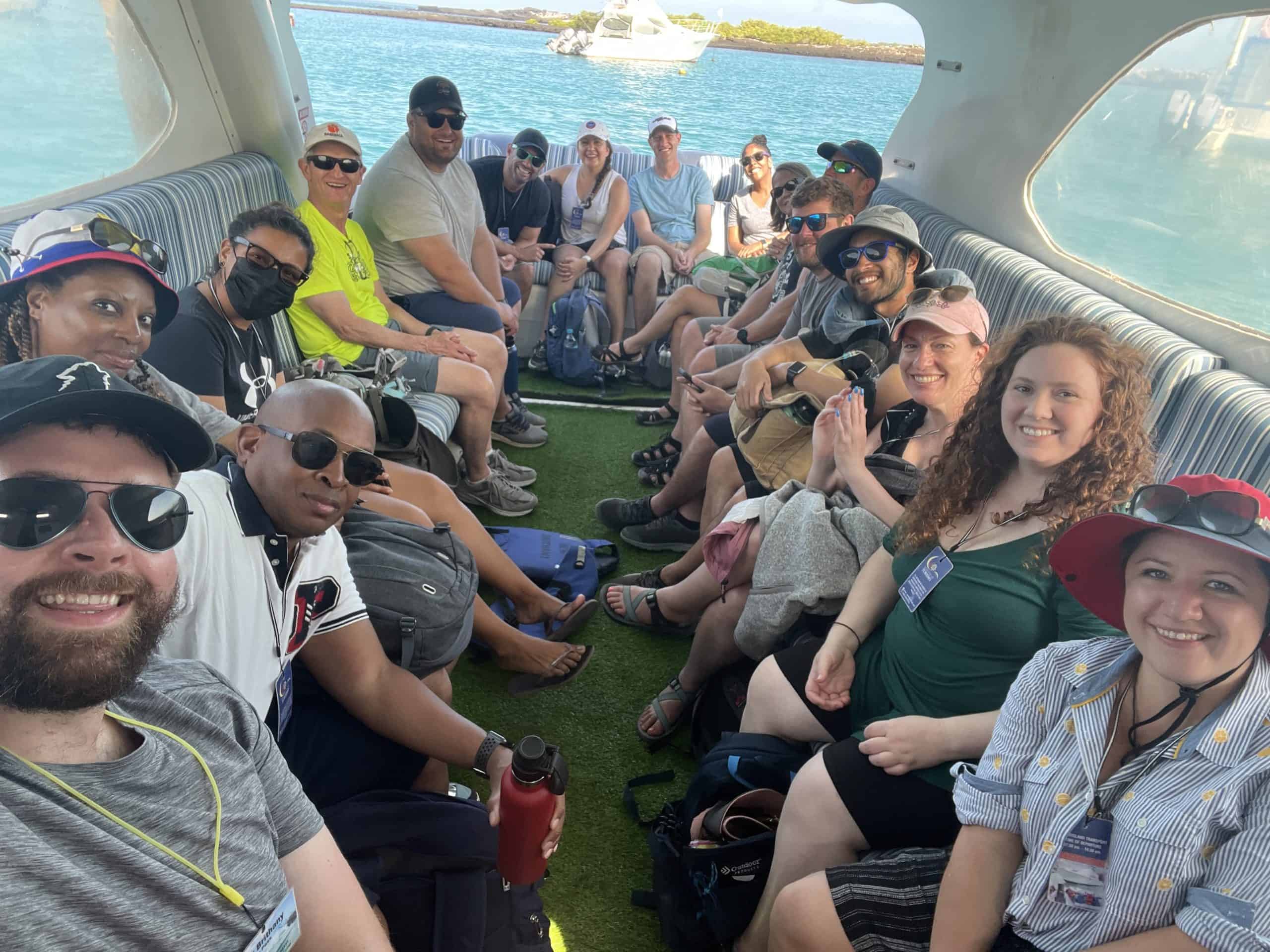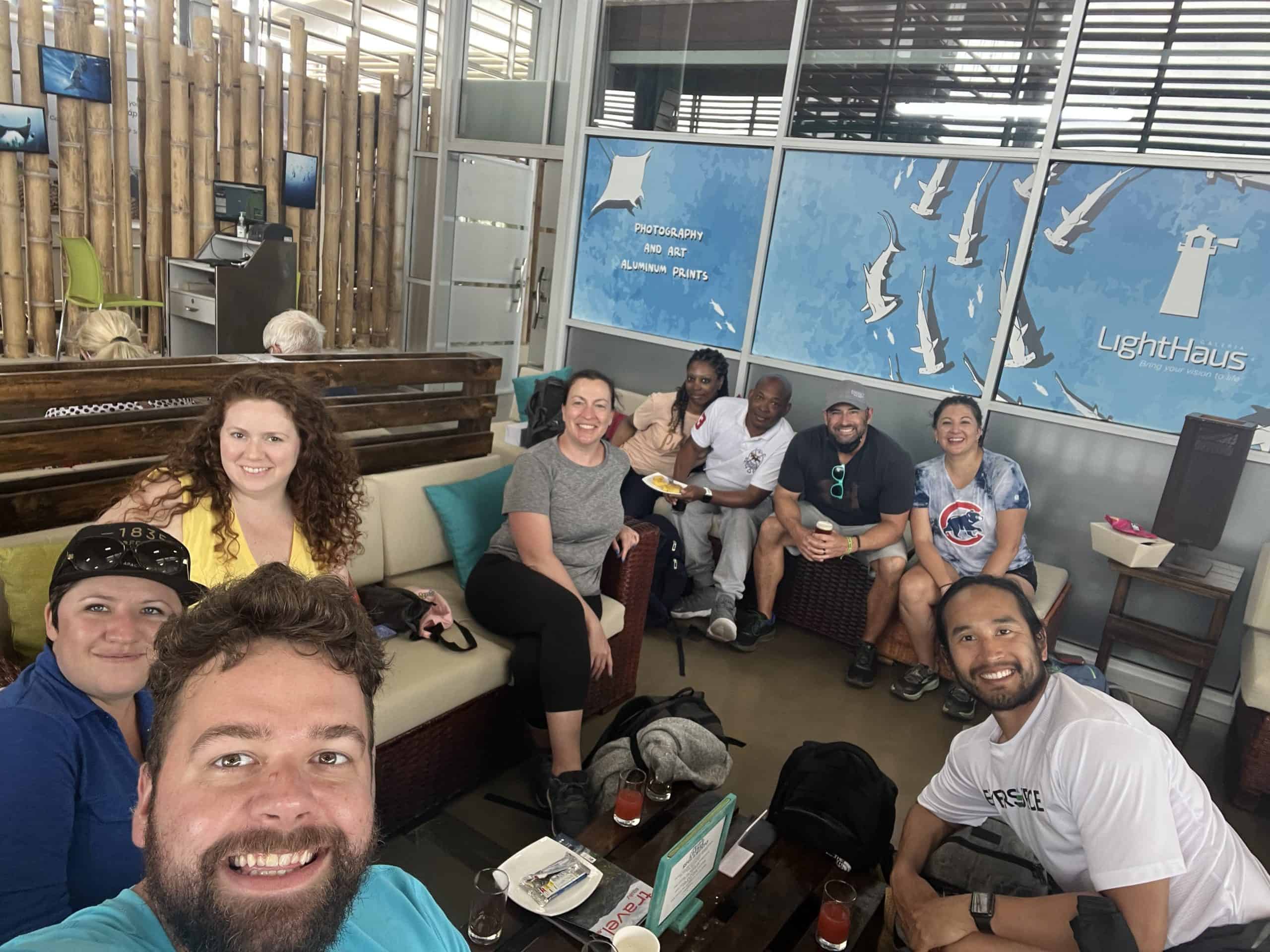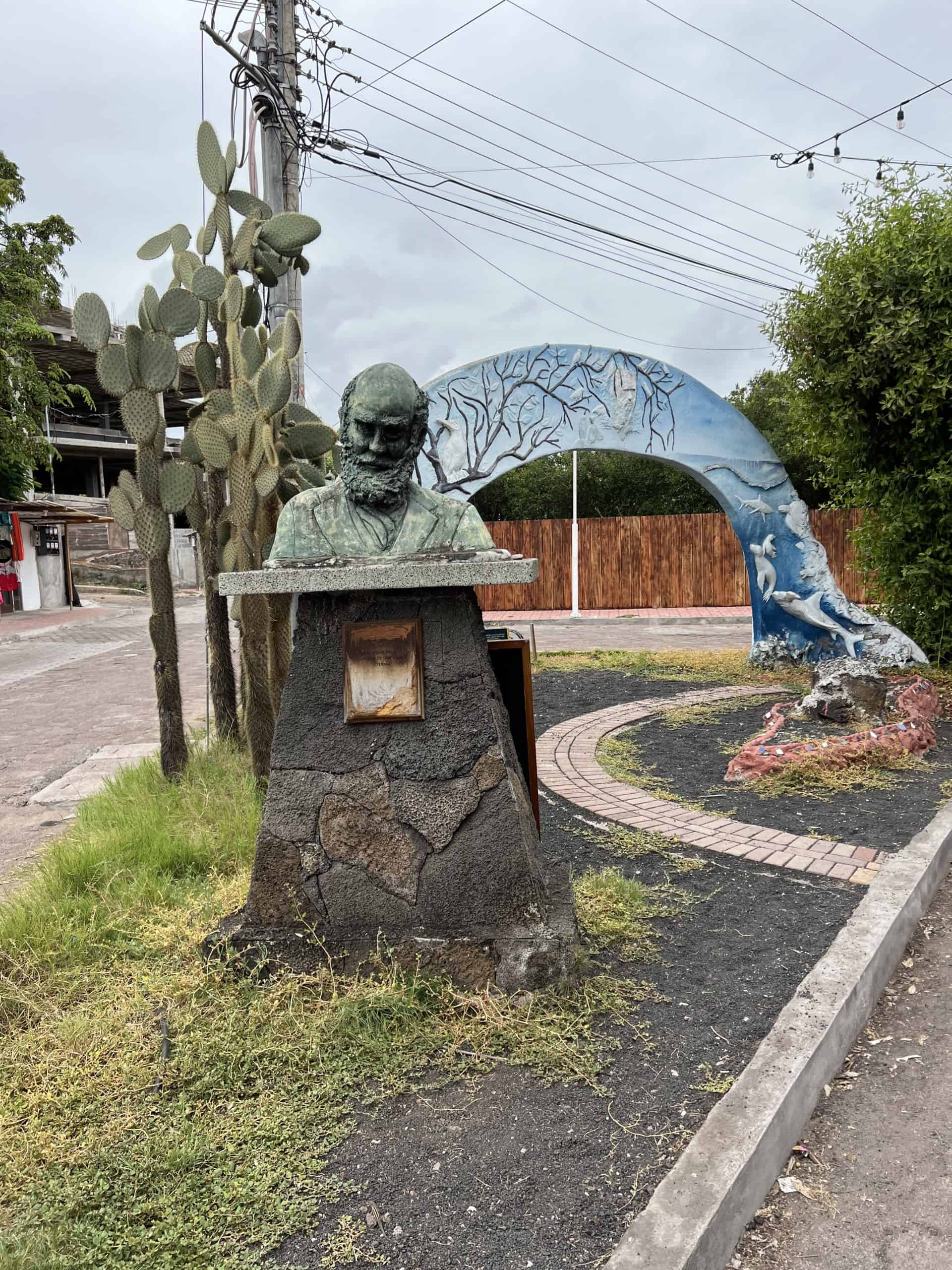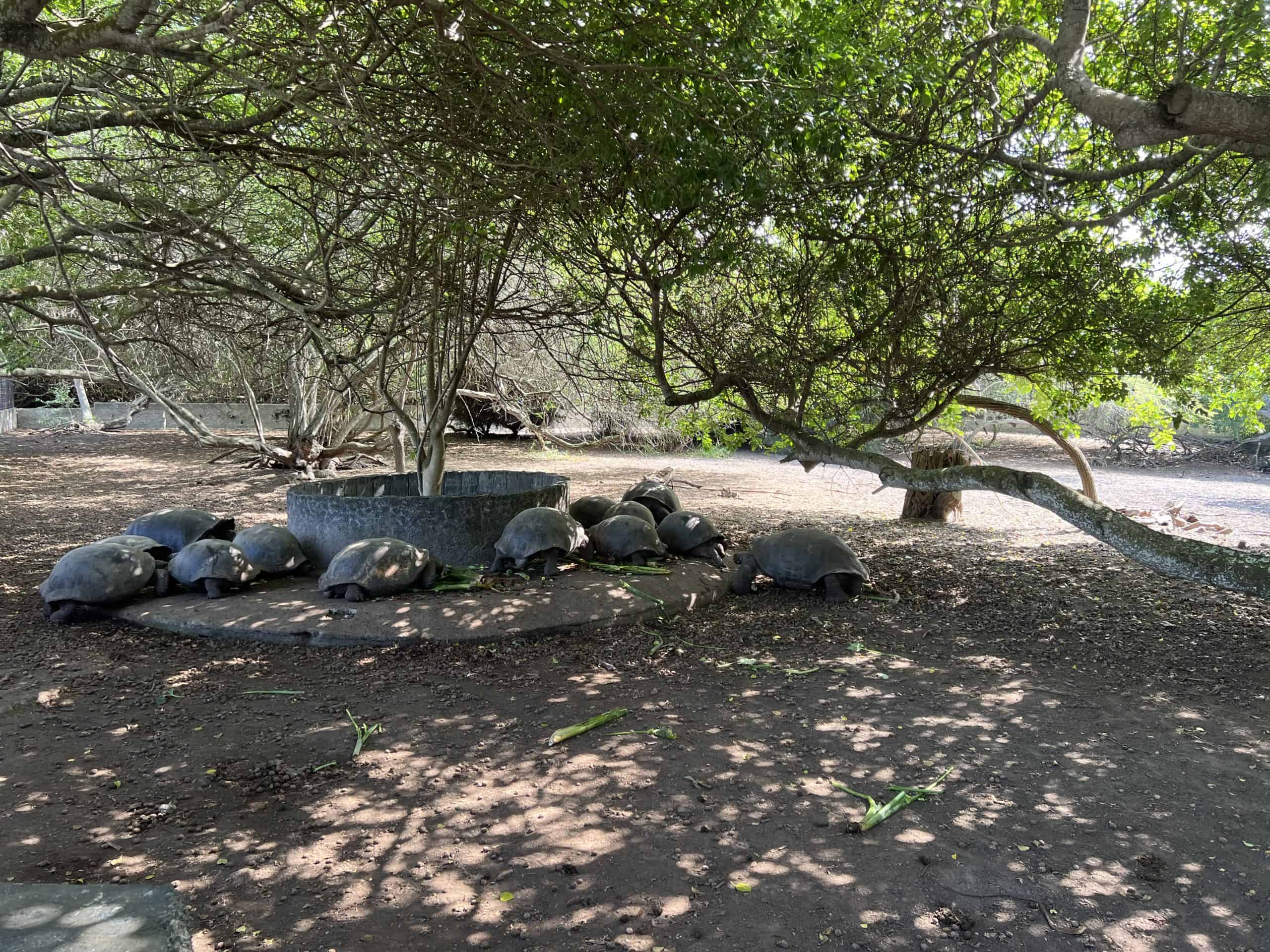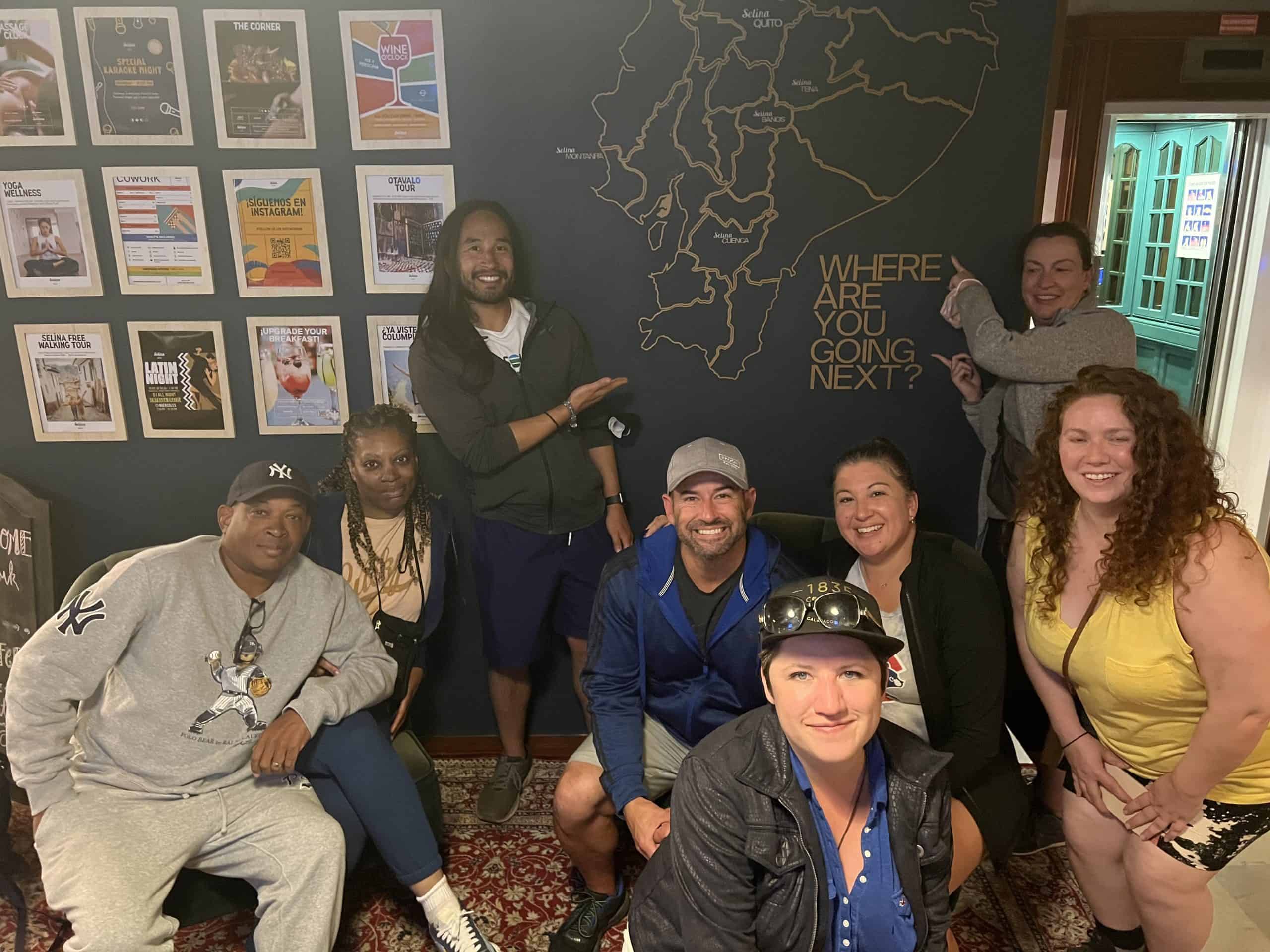 Final Thoughts
I was truly excited going into our trip to the Galapagos, and the experience far surpassed my expectations. The Galapagos are truly such an incredible place to visit. I greatly enjoyed our group, everyone got along so well, which really made the trip even more special.
Would I hesitate to return to the Galapagos? Not at all – in fact I'm hoping to get to go back in the near future to add in some diving, but even if I couldn't dive I wouldn't hesitate to go back. If it isn't evident, the trip was absolutely packed with stuff to do. While I could have chosen to take some time off and skip some activities, I decided to power through and rest when I got back.
Want to join us? We're going back next year to the Galapagos, and would love to see you there!
New to the world of points and miles? The Chase Sapphire Preferred® Card is the best card to start with.

With a bonus of 60,000 points after $4,000 spend in the first 3 months, 5x points on travel booked through the Chase Travel Portal and 3x points on restaurants, streaming services, and online groceries (excluding Target, Walmart, and wholesale clubs), this card truly cannot be beat for getting started!
Learn More
Editors Note: Opinions expressed here are author's alone, not those of any bank, credit card issuer, hotel, airline, or other entity. This content has not been reviewed, approved or otherwise endorsed by any of the entities included within the post.