Note: Some of the offers mentioned below may have changed or are no longer be available. You can view current offers here.
Upon landing at Chicago O'Hare (ORD) on a recent return from Europe, I went to the Global Entry kiosk, took a stunning (at least in my mind) customs photo, answered the declaration questions and waited for my printed receipt that would indicate I declared I was carrying food.
Instead, I got big "X" on the form, with the instruction to "Report to Passport Control". Immediately, my heart began to race.
What did I do wrong?
Was my Global Entry invalid?
Was I going to be denied entry?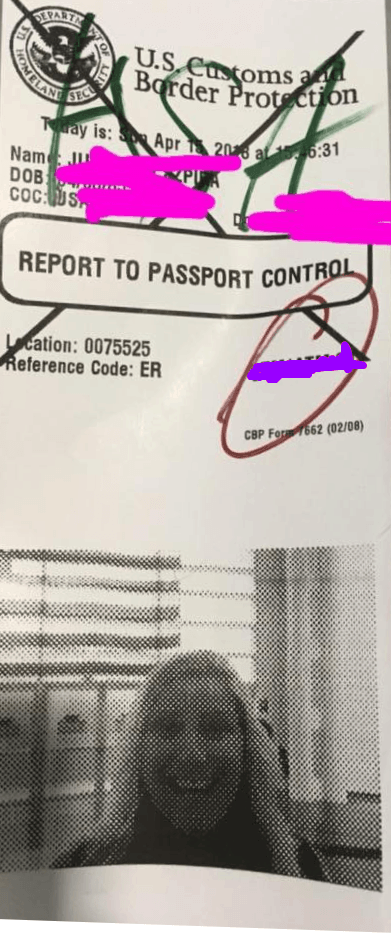 Okay, maybe it isn't THAT stunning of a photo
I showed my receipt to the nearest Customs and Border Protection (CBP) agent, and he asked me a couple questions. The first was regarding when I received my Global Entry, and the second was if I had been arrested since joining the program.  My jaw dropped and I said "Are you being serious, or just trying to mess with me? I've never been arrested".
He walked me over to a workstation and sat down at the computer to check my file.  He asked "Have you had any issues at Customs in the past?".
I replied "Yes, it was last year at this airport and I didn't declare I was carrying food. I was carrying chocolates and vacuum sealed hard cheese which are permitted, so I didn't think it was a problem. When I told the agent I had food, but nothing fresh, he pointed out that the customs form specifically points out "food" and since I had chocolate but didn't declare it, I needed to go through a secondary screening. Could that be a problem now?".
The agent looked at the computer, looked at my passport, looked at my Global Entry receipt, slightly nodded his head and handed my items back to me, saying "Okay, you're good to go. Have a nice day".
I stammered, "But, but..um…what was the problem?"
He replied "I can't really tell you why your entry was flagged, but what did you just tell me you did in the past?". I said "I made a bad customs declaration. Is that it?"
He answered "I'll just give you some advice. In the future, make sure you always check the "yes" to the food box on the form. That way if you are carrying food that you forgot about, or even items that aren't allowed, you won't have an issue with the declaration, the agents will just confiscate anything not permitted."
What Do You Need To Declare?
When entering the United States, each traveler, or one responsible family member, must provide a customs declaration form that details the traveler's name, address, purpose of trip, and the items they are bringing into the US.
The information regarding the items to be declared are to be answered in "yes" or "no" format.
Many of the questions are straight-forward, such as "I am carrying currency or monetary instruments over $10,000 U.S. or foreign equivalent". Most of us will check "no" because we know that using credit cards instead of cash is the way to go. Also, most of us will check "no" because we simply don't have $10,000 in cash.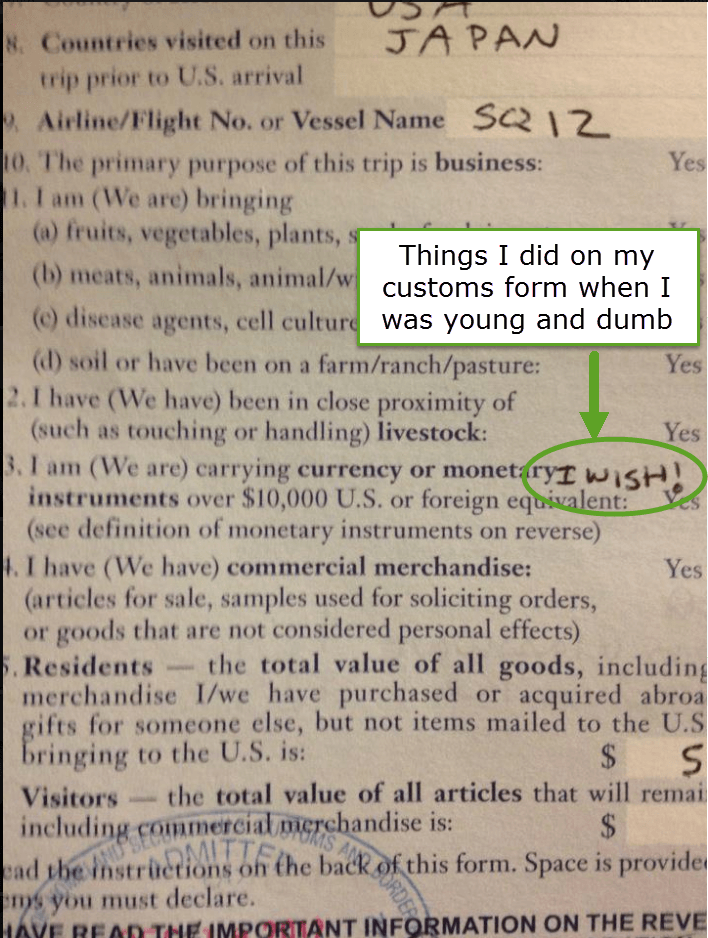 This is my Customs Declaration from when I returned from Japan in 2012.
After writing about my recent re-entry saga in 10xTravel Insider's Facebook Group, many readers stated that they will carry chocolates, candy or spices into the US, but not declare they are carrying food.  However, Customs and Border Protection makes clear that all food items must be declared, and provides a list of items are generally admissible.
The question regarding what is considered "food" can be confusing. While it's pretty obvious what is considered a fruit, vegetable, or meat, what does US Customs and Border Protection consider "food"?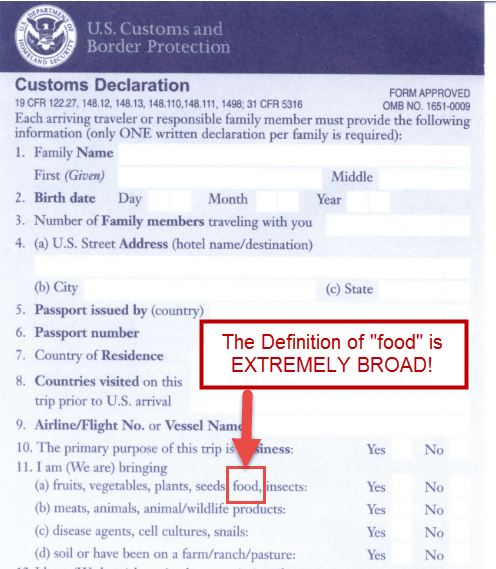 As it turns out, pretty much anything that you would put in your mouth is considered food.  When I read the list of items that needed to be declared, my mind was blown. There are many items on the list that I would never had thought to declare, and those items could potentially give me an issue re-entering the US.
Here are some of the items that are permitted, but need to be declared:
Condiments: ketchup, mustard and mayonnaise
Oils: olive and other vegetable oils
Bread, cookies, crackers, cakes, granola bars, cereal and other baked and processed products
Candy and chocolate
Hard Cheese and Dairy: Solid cheese, that is hard or semi-soft, that does not contain meat; butter, butter oil, and cultured milk products such as yogurt and sour cream are not restricted.
Soft Cheese: Feta cheese, Brie, Camembert, cheese in brine, Mozzarella and Buffalo Mozzarella.
Canned goods and goods in vacuum packed jars, as long those items do not contain meat or poultry
Fish: fish, shrimp, abalone and other seafood are allowed and can be fresh, frozen, dried, smoked, canned or cooked
Dried Fruit: apricots, dates, peaches, prunes, raisins etc.
Liquid milk and milk products intended for use by infants or very young children are admissible if in a reasonable amount or small quantity for several days' use.
Powder drinks sealed in original containers with ingredients listed in English.
Juices: provided the juices are commercially canned
Tea: commercially packaged and ready to be boiled, steeped or microwaved in liquid.
Coffee: roasted or unroasted if there is no pulp attached
Spices: most dried spices are allowed.
Honey: comb honey, royal jelly, or bee bread
Noodles and ramen: The spice packets must be egg and meat free
Rice: white rice, basmati rice, brown rice, husked rice, polished rice, rice flour and other products provided they do not have the hull attached
Flour: wheat, rice, oat and cornmeal
Mushrooms: fresh and dried- above ground parts that are clean and free of soil
Nuts: All nuts are allowed if they have been boiled, cooked, ground, oven dried, pureed, roasted, or steamed. Other nuts may be allowed if they are free from their husks (the shell remains), such as almonds, betel nuts, Brazil nuts, cashews, coquilla nuts, filberts (hazelnuts), Java olives, kara nuts, gingko nuts, macadamias, pecans, pili nuts, pine nuts (pinon nuts), pistachios, and walnuts.
Bakery items, candy, chocolate, and dry mixes containing dairy and egg ingredients [such as baking mixes, cocoa mixes, drink mixes, instant cake mixes, instant pudding mixes, liquid drink mixes containing reconstituted dry milk or dry milk products (including those that contain sugar), potato flakes, and infant formula] commercially labeled and presented in final finished packaging are generally admissible.
The list above is not comprehensive, however it is important to note that the some items that you would have never thought about declaring can potentially create an issue if they are found in your baggage.
People generally remember if they purchase food to take home for gifts, and remembering to declare the cheese and fruit spread gift basket you bought your grandmother is not a problem.
However, I am guilty of snagging an extra tea bag from the Priority Pass lounge, loading up my purse with free chocolate samples, and I often carry single use Tabasco packets (you never know when you need to give your meal a spicy kick!), and all those items are considered food, and would need to be declared.
What If You Have Food and You Forget to Declare It?
I admit, I used to always check "no" to carrying food. I didn't want to deal with Customs and Border Protection going through my bags, and I figured if I was selected for secondary screening and they found something, I would just say, "Whoops! I forgot, you can just throw it away!"
You might have heard about the woman who received an apple on a Delta flight, forgot it was in her bag, and when it was discovered in a random search, was fined $500. She tried to explain to the agent she received the apple while in flight, and forgot she received it, and asked if she could eat it or just have it thrown away. The agent didn't budge, and since the woman committed a customs violation, her Global Entry status was revoked as well!
Obviously, that's a "worst case scenario", but any fines or status revocations are it is at the discretion of the Customs and Border Protection agent that you are dealing with.
Perhaps, that agent understands that people forget things, and reminds you of the declaration rules and gives you a free pass. Maybe, you remind the agent of the third grade teacher they hated and it brings up horrible repressed memories and you get a $500 fine! Since each agent is allowed to use their judgement, it's hard to know what will happen if you forget to declare a food item, and the item is found in your bag.
How Can You Avoid Declaration Issues?
Since my "cheese and chocolate" incident last year, I have always checked "yes" to "I am bringing fruits, vegetables, plants, seeds, FOOD, insects" on my customs form, and I recommend all travelers do the same.
If you declare that you are carrying food, you have met the requirement as set forth by U.S. Customs and Border Protection, and any non-admissible items will simply be confiscated.
The Global Entry receipt will print with a circle on the top, with the phrase "Proceed to Baggage Control".  At Immigration, the officer will look at the receipt and pass me through without a second inspection, as declaring food is a Customs issue, and not a Passport Control issue.
After I collect my baggage, I proceed to the Baggage Control area. The agent will ask something along the lines of "What did you declare?".
On my way home from Mexico with re-entry at Dallas-Fort Worth (DFW), my response was "I have food, but it's Skittles and Cheetos, and nothing fresh like fruits or meats."  The agent kind of smiled and rolled their eyes, because it's pretty ridiculous that an adult has a bag full of Skittles and Cheetos, but they said "You're good to go", and passed me through.
Declaring I had food added less than 15 seconds of conversation to my Customs process. More importantly, I saved myself a huge headache and a potential fine if I was selected for a random screening and food that I did not declare was discovered.
Global Entry and Customs Declarations
The Global Entry program is a designed to pre-screen low risk travelers and provide those travelers expedited re-entry into the United States after traveling abroad. Those who hold Global Entry status are held to a higher standard than other travelers, as it is expected that Global Entry members are familiar with customs and immigration rules, and will follow the rules without exception.
Therefore, if there is an incident where the Global Entry member does not abide by customs and immigration law, the Global Entry status can be revoked. Attempting to bring a passenger who is not Global Entry approved through the Global Entry line, copping an attitude with a Customs and Border Protection agent or forgetting to declare goods or food can result in your Global Entry being revoked.
I was incredibly fortunate to receive a stern warning when I didn't declare my cheese and chocolate, but since that warning is now on my passport record, I am acutely aware of following the rules perfectly.
Family Travel and Customs Declarations
If you don't have Global Entry and are traveling as a family, only one (1) customs declaration is needed for the entire family.
While it's helpful to not have to fill out separate forms for each child, remember that the declaration is applicable to all family members. So while Mom was filling out the form and indicating that the family has no food to declare, Toddler Tommy was stuffing the remainder of his in-flight sandwich into his tiny backpack.
If the family is randomly selected for secondary screening, BOOM, that half eaten sandwich constitutes a customs violation. In any event, Mom should have indicated that the family had food, because what family doesn't travel with snacks when flying with kids?!
Bottom Line
Customs declarations are not likely something that keeps most people up at night. For the most part, the process of re-entering the US from abroad is pretty simple, and Global Entry can make that process even easier.
However, mistakes related to food declarations have cost many members their Global Entry status, and sometimes result in fines.
As the Customs and Border Protection definition of "food" is quite broad, declaring that you have food everytime you enter the US is the best way to avoid any issues. If you declare you have food, you have met your legal requirement, and then an agent can decide if the food you have is permissible or if it needs to be confiscated.
It might be a bit overkill to declare your Snickers bar, but rules are rules, and declaring is much easier (and cheaper!) than paying a fine!
---
10xTravel is part of an affiliate sales network and receives compensation for sending traffic to partner sites, such as CreditCards.com. This compensation may impact how and where links appear on this site. This site does not include all financial companies or all available financial offers.
Editors Note: Opinions expressed here are author's alone, not those of any bank, credit card issuer, hotel, airline, or other entity. This content has not been reviewed, approved or otherwise endorsed by any of the entities included within the post.