Note: Some of the offers mentioned below may have changed or are no longer be available. You can view current offers here.
During the busy summer travel season, airports can be chaotic. One of the worst feelings while traveling is the stress of arriving at the airport with plenty of time before your flight, seeing a mass of people jammed into the TSA security line, and having to sprint to the gate to board just before the door closes.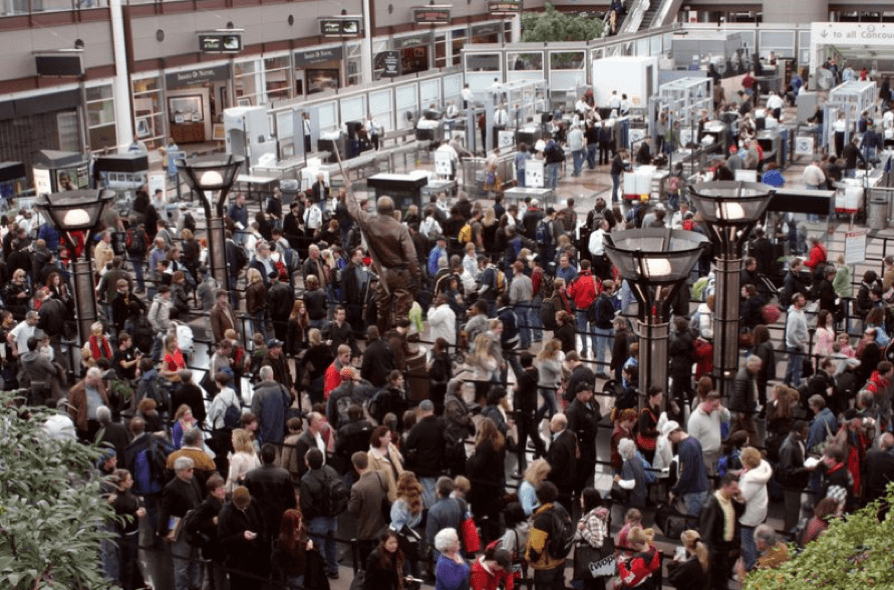 An unpleasant sight at Denver International Airport
One of the best feelings while traveling is the triumph you feel from walking up to a TSA PreCheck line and breezing through security in under 5 minutes.

An empty line is my favorite line
If you thought that expedited security lines were only for elite frequent flyers, or those traveling in business or first class, you thought wrong.
There are a variety of different Trusted Traveler programs which provide travelers with easier security and immigration clearance.  The most common programs used by US based travelers are TSA PreCheck and Global Entry.
TSA PreCheck is a program which requires an application and pre-screening to identify travelers as low risk, and allows for faster screening at security lines at airports in the US.
Global Entry is a program which also requires an application and pre-screening, and allows for a faster immigration process when a traveler is re-entering the United States from international travel.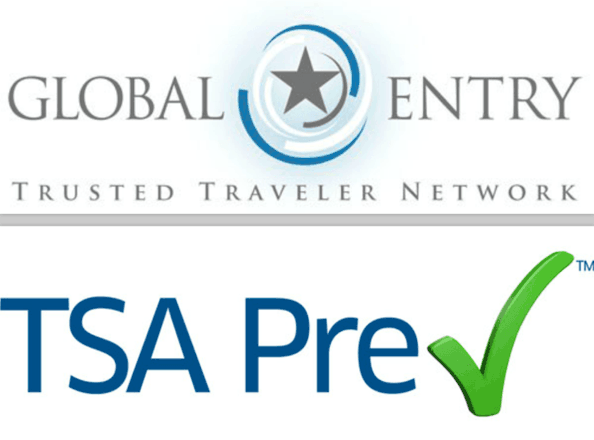 Applying for TSA PreCheck and Global Entry
Applying for TSA PreCheck or Global Entry involve similar steps. You need to apply on the TSA PreCheck website or the Global Entry website. Both applications will require you to enter standard information including:
Name, address, phone number and email address
Addresses used over the past 5 years
Date and place of birth,
Height, weight, eye and hair color
Alias names (if you have been married, divorced or had a name change)
Country of citizenship
You will also have to certify that you have not committed a felony or been denied entrance to the US in the past, as either of those instances would be cause for denial of your applications with both programs.
TSA PreCheck: What does the program include?
TSA PreCheck provides access to expedited security screening lanes at airports within the US and US territories. With TSA PreCheck, you won't be required to remove shoes, belts, and light jackets when you utilized the designated PreCheck lanes. This certainly reduces some of the stress of airport security.
When using TSA PreCheck screening lanes, liquids and laptops also do not need to be removed from carry-on bags, which can reduce the likelihood of forgetting something at the security checkpoint.
For TSA PreCheck members traveling with children aged 12 and under, the member and their children are able to use the PreCheck lanes, without having PreCheck membership for each traveler.  For travelers age 13 and up, each traveler must have their own PreCheck membership.
A TSA PreCheck membership requires the online application, an in-person interview and an application fee of $85, but it last for five years. The in-person interview needs to be completed at a TSA PreCheck enrollment center.
There are 380+ centers across the country in locations ranging from airports to strip malls.
For travelers that only travel domestically, TSA PreCheck is a great program to reduce the hassle of long security lines.
Global Entry: What does the program include?
Global Entry provides expedited Customs and Border Protection processing into US following international flights. When many international flights arrive at the same time, immigration and customs lines can become extremely crowded. Global Entry allows a traveler to use kiosks to clear immigration and eliminates immigration wait time.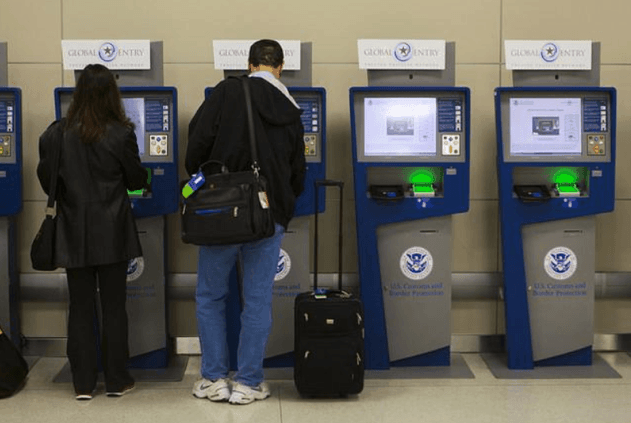 Global Entry immigration kiosks
Global Entry also provides the member with a Known Traveler Number (KTN), which is the same number that you receive when you are approved for TSA Pre-Check. Global Entry also provides access to TSA PreCheck!
To use Global Entry, every traveler must have their own membership. If a parent is traveling with a child that does not have Global Entry, the parent must use the standard immigration lines with the child, or send the child through immigration alone (Pro-Tip: Don't send your child through immigration alone).
Like TSA Precheck, Global Entry requires an online application, an in-person interview, an application fee of $100, and is good for five years. Once the initial online application is approved, an in-person interview needs to be completed at an enrollment center.
There are fewer Global Entry enrollment centers than TSA PreCheck enrollment centers. Most Global Entry enrollment centers are, unsurprisingly, located at international airports.
Click here for a table detailing each Global Entry Enrollment Center, as well as the hours of operation.  There are a couple surprising locations that you wouldn't expect to have enrollment centers, such as centers in Montana and North Dakota.  These states utilize the border control stations located near the Canadian border to process Global Entry applications.
There are also enrollments centers at airports across Canada, as well as a location in San Juan, Puerto Rico, and even at Doha International Airport in Qatar.
The appointment has to be made within 30 days of the online application approval, but the appointment does not have to completed in that time frame. You can adjust your appointment time after the initial scheduling, but you have to make an appointment during the 30 day time period, or your application will be cancelled.
Some Global Entry enrollment centers are booked solid for months. If you have a hard time getting an appointment at  your home airport, look at airports where you will be in the near future. You may see better appointment times at different airports, and you can even book an appointment to coincide with a layover.
Some airports will even allow walk-ins. If you have time to wait at the enrollment center for an available agent, they may be able to fit you in without a scheduled appointment.
Should I Choose TSA PreCheck or Global Entry?
For most travelers, Global Entry is by far the better choice. Global Entry is slightly more expensive ($100) than TSA Pre-Check ($85), but includes all the benefits of TSA PreCheck as well as the enhanced benefit of expedited immigration and customs processing.
Global Entry in-person appointments are more difficult to make, as there are less Global Entry enrollment centers than TSA PreCheck enrollment centers, but the extra benefits of Global Entry make the extra effort worth it.
You can also get reimbursed by a number of credit cards for the Global Entry fee.
Paying for TSA PreCheck and Global Entry Memberships 
Paying $100 for a Global Entry membership that provides five years of front of the line passes to airport security and immigration is a great deal. The deal is even better when you realize that many credit cards now offer a TSA PreCheck or Global Entry application fee credit.
The following credit cards offer Trusted Traveler Program reimbursement:
| | |
| --- | --- |
| Credit Card | Global Entry or TSA Pre-Check Reimbursement |
| Chase Sapphire Reserve | $100/$85 |
| American Express Platinum Personal | $100/$85 |
| American Express Platinum Business | $100/$85 |
| Citi AAdvantage Executive World Elite | $100/$85 |
| Ritz-Carlton Reserve | $100/$85 |
| US Bank Altitude Reserve | $100/$85 |
The credit cards above will reimburse your application fee as a statement credit. You must use the credit card that has the fee credit to pay for the application.
If you have signed up for more than one of the above listed cards, you may have multiple application fee credits. Those application fee credits are useable to pay for the applications of friends and family.
The fee credits are applied when a charge from the TSA PreCheck or the Global Entry application appears on your statement, so it doesn't matter who is applying, just that the application is paid for with the appropriate card.
Bottom Line
Using TSA PreCheck and Global Entry are fantastic ways to make the travel experience better. Without them, you're bound to get stuck in long lines before and after long flights. Who wants that?!
Make your life easier by signing up for Global Entry or TSA PreCheck (if you truly won't ever leave the states). With the application fee being reimbursed by so many credit cards, there's no excuse to not have a stress-free security experience!
---
10xTravel is part of an affiliate sales network and receives compensation for sending traffic to partner sites, such as CreditCards.com. This compensation may impact how and where links appear on this site. This site does not include all financial companies or all available financial offers.
Editors Note: Opinions expressed here are author's alone, not those of any bank, credit card issuer, hotel, airline, or other entity. This content has not been reviewed, approved or otherwise endorsed by any of the entities included within the post.