In This Article
Loading table of contents …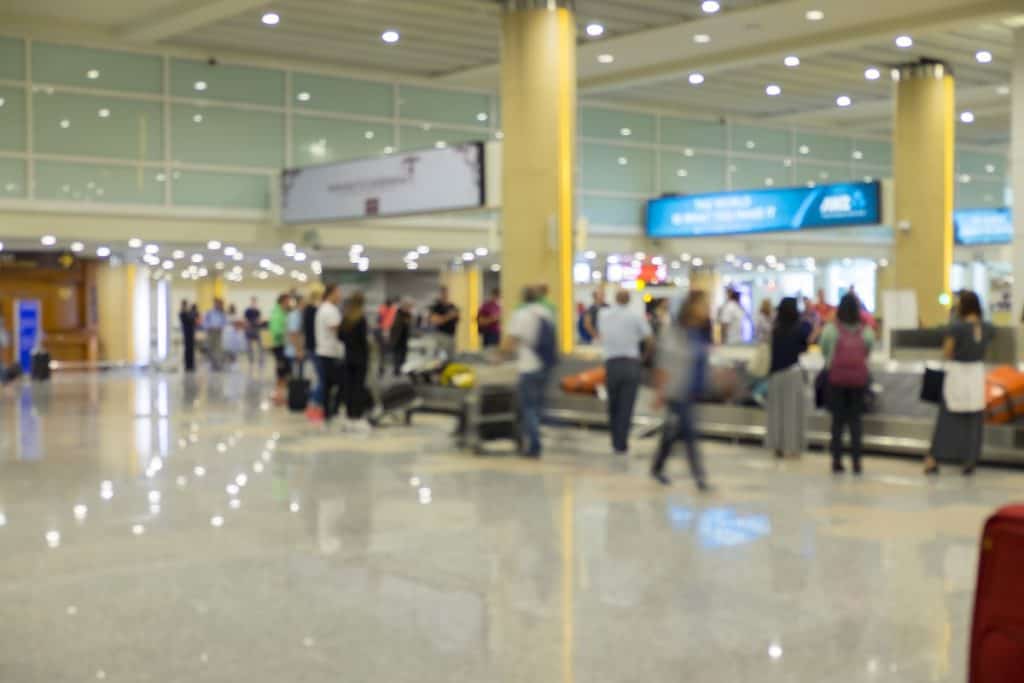 Note: Some of the offers mentioned below may have changed or are no longer be available. You can view current offers here.
In September, I spent two weeks exploring Europe. I booked a flight on Aegean Airlines from Amsterdam (AMS) to Rhodes, Greece (RHO), with a connection in Athens (ATH).
The connection time was about 55 minutes, but since Aegean Airlines offered that connection time as acceptable, I wasn't worried about missing my flight. Well, the flight from Amsterdam was delayed. I started to get a little antsy and thought, "What if I don't make my flight to Rhodes?!"
Luckily, the pilot made up some time in the air, and I was able to quickly transit through the Athens airport to arrive at the gate for the next leg of my trip just as boarding started.
I landed in Rhodes and waited at baggage claim, watching bag after bag arrive and be happily reunited with their owners, until no bags remained. No sight of my bag. "This is not good," I thought.
I approached an airport employee with my baggage claim ticket, and she replied "Oh, yes. I am so sorry, Miss Szpira, but your luggage did not get transferred correctly. We will put it on the first flight in the morning and have it delivered to your hotel."
It turns out my bag was not as good at navigating the Athens airport as I was, and it didn't make it onto the flight.
Fortunately, I booked my flight with the Citi Prestige Card, which provides baggage delay insurance.
Baggage Delay Insurance
There are many credit cards that offer trip delay insurance and those benefits are often used by flyers when weather or mechanical issues delay flights.
Due to enhanced technology being implemented by airports across the world for baggage handling and tracking, baggage delay insurance is a less commonly used benefit.
Airlines will reimburse a traveler if checked baggage is completely lost, however, a delayed bag usually comes with a "sorry" and maybe a toiletry kit. Airlines also have different definitions of what is considered a reasonable baggage delay.
For the major US carriers, Delta is the most generous. They provide $50 per day for up to five days if your baggage is delayed. United does not offer anything for a baggage delay, however if the bag is still missing after three days, they will consider the bag lost, and compensate you $1500. American rings in dead last, with compensation only being provided after the bag has been missing for five days.
If you and your checked luggage don't make it to your destination at the same time, that can leave you without a change of clothes, shoes, or essential toiletries. While the airlines will work to locate your luggage, any replacement items you purchase in the interim would be out-of-pocket expenses.
Unless, of course, you booked your trip with a credit card that provides baggage delay insurance.
The credit cards that offer baggage delay insurance are detailed below: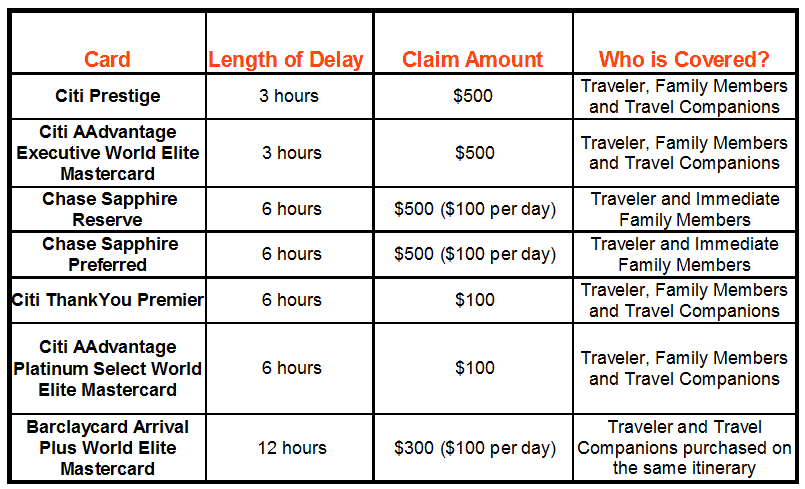 There are a few important things to note regarding baggage delay benefits.
For Citi cards, the term "family members" is extremely broad, including children, spouse, fiancée, domestic partner and their children, including adopted children or step-children; legal guardians or wards; siblings or siblings-in-law; son-in-law or daughter-in-law; parents or parents-in-law; grandparents or grandchildren; aunts or uncles; nieces or nephews. Pretty much, if you spend the holidays with them, they're covered!
For Chase cards, only "immediate family members" are covered, including spouse or domestic partner, children, siblings and parents.
"Travel companions" are defined as those who are traveling on the same itinerary.  If you are traveling with a group of friends, and everyone purchases their tickets separately, only your ticket would be covered for delay insurance, as the credit card would not recognize your friends as "travel companions."
What is Covered?
Reasonable expenses for clothing and toiletries are covered. What is considered "reasonable" is very subjective, and the terms and conditions for the benefit are fairly vague.
As long as you are making clothing and toiletry purchases that make sense for your location (i.e. don't purchase a fur coat in Hawaii), you should have no problems getting your claim approved.
The benefits guides from Chase, Barclaycard and Citi actually focus more on what is NOT covered.
When using Chase or Barclaycard Arrival Plus Baggage Delay benefits, items such as contact lenses, prescription glasses, hearing aids, tickets, documents, money, securities, checks, traveler's checks, valuable papers, jewelry, watches and electronics are excluded from coverage.
If you purchased your ticket with the Chase Sapphire Reserve Card, Chase Sapphire Preferred Card or Barclaycard Arrival Plus, make sure you carry-on your valuables and contacts!
The Citi baggage delay benefit excludes traveler's checks, tickets of any kind (e.g., for airlines, sporting events, concerts, or lottery), passport, visas, negotiable instruments, bullion, rare, or precious metals, stamps, and coins, currency or its equivalent.
Citi also excludes the baggage delay benefit if baggage is delayed when returning to the city of your primary residence. That means that if you are returning home and your baggage is delayed, you can not submit a claim for your delayed baggage.
My Claim Process with Citi Prestige
The most important part of the claims process is documenting everything! Make sure you keep all receipts from purchases, and receive documentation of your delay directly from the airline.
Since I purchased my ticket with my Citi Prestige Card, and my bag was going to be delayed for 3+ hours, I was eligible for baggage delay protection.
The baggage agent asked me for information such as name, home address, email address and hotel name (for delivery), as well as asked me questions about what my bag looked like so she could correctly enter the bag type and color for location purposes.
Pro Tip: Take pictures of all your checked baggage so if it is missing, you can show the agent what your bag looks like! It makes it easier for them to enter the correct baggage description codes.
I was provided with a "Property Irregularity Report" that looked very generic. I asked if the agent could add more information to the report, knowing that I would be submitting a claim, and she replied, "This is all you need. This is fine."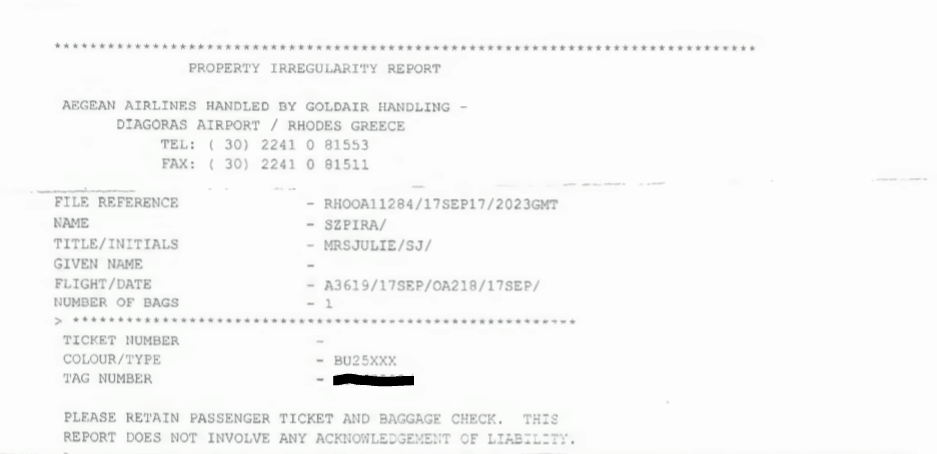 The agent informed me that when the bag arrived, it would be delivered to my hotel. She apologized for the inconvenience and wished me a good night. The process took less than 15 minutes. I got in a taxi and hoped that I would see my bag in the morning.
When I arrived at my hotel, I called the Citi Prestige Benefits hotline, to speak with an agent about my claims coverage. The first agent I spoke with was less than helpful, as she just kept reading the terms and conditions to me verbatim.
I called again and spoke with a different agent. I was specifically inquiring about the purchase of footwear, as I only had running shoes, and since I was at the beach, I wanted sandals.  She was much more helpful, informing me that "clothing" included footwear, and the toiletries definition covered make-up as well as other more traditional bathroom supplies.
Pro Tip: If you don't feel like an agent is able to understand your question or request, thank them for their time and politely end the call. Then call back and speak to a different agent until you feel you have all the information you need.
The next morning, I expected my luggage would be delivered very early, as the first flight from Athens was due to arrive in Rhodes at 6:00am. I waited until almost 9:00am, but I did not hear from the airline. My friend and I were hungry, so we decided quit waiting and go shopping!
At this point, I had been wearing my same clothes for 43 hours, flown from New Orleans to Houston to Amsterdam to Athens to Rhodes, and I needed an outfit change.
I was hesitant to go completely crazy with my purchases, because claims are not automatically approved. I did not want to spend $500, only to find out that my claim was not eligible for reimbursement. I felt confident that my purchases of a few shirts, dresses and a pair of shoes would be covered, but I only purchased items that I would have been comfortable paying for out-of-pocket.
The great part of Rhodes, and specifically Rhodes Town, is that it is full of boutique stores with really unique items. The downside is that all the receipts were in Greek, so I asked the shop owners to write what was purchased on the receipts in English.
I admit, this step was probably overkill, but figured it wouldn't hurt to have more documentation of the purchases for the claims process.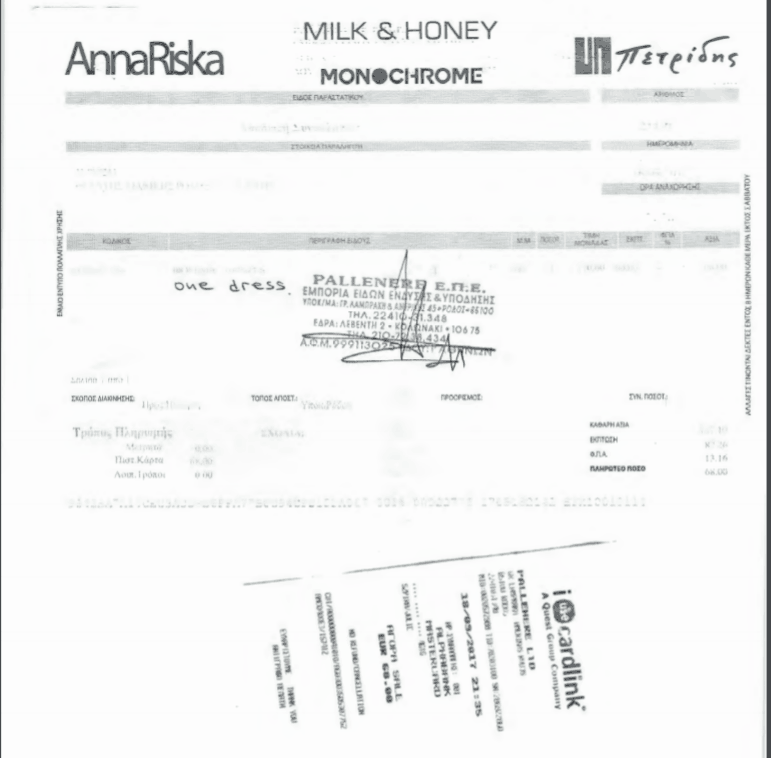 When all was said and done, I spent $412.52 on clothing, shoes and toiletries. I loved all the items I purchased, so even if I wasn't reimbursed, I was still going to be a happy camper.
Pro Tip: Don't worry about immediately submitting your claim! You're still on vacation, so enjoy yourself.  
Citi allows 60 days from the time of delay to submit a claim, and 180 days to provide all documentation.
Chase and Barclaycard allow 20 days from the time of the delay or as soon as is reasonably possible to submit the claim, and 90 days to provide all documentation. The term "as soon as is reasonably possible" allows for some leeway in submitting your claim, if you happen to be traveling for longer than 20 days.
Submitting the Claim and Documentation
When I returned home from my trip, I began the claim process. Citi makes the process very easy, with the claim form being available online. You fill out of the form, attach supporting documentation and then email, fax, or mail the form to the insurance company.
Citi requests a copy of your billing statement showing how much you paid for your ticket, your itinerary, proof of delay from the common carrier, a completed claim report from the common carrier, a benefits statement from other insurance providers and itemized receipts for purchases. The claim form includes a checklist, so it's easy to ensure you have all the necessary items.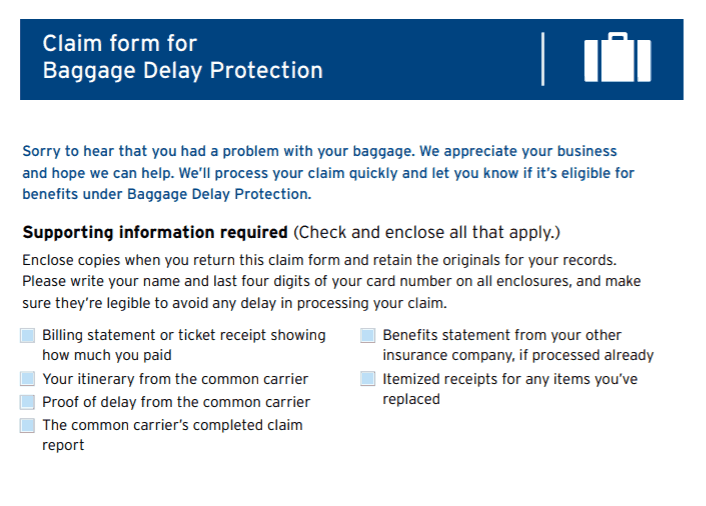 I compiled all of my documentation into a PDF file and emailed the document to Citi on October 13, 2017. I received an auto-reply email that Citi had received my documentation and I should expect to hear back from them within 14 days.
On October 25th, I received the most wonderful email, my claim had been approved!

In my case, the reimbursement was MUCH faster than 1 to 2 billing cycles, as I saw a statement credit on my Citi Prestige account the same day I received the email!

Final Thoughts
Having your luggage go missing while you're on vacation is not fun, but if you booked your trip with certain credit cards, you can purchase some essentials and get reimbursed.
In my case, I ended up with some really cute clothes I likely would not have purchased if my bag was not delayed. The cherry on top was that the claim process through Citi Prestige was very easy, and reimbursement took less than 2 weeks!
Moving forward, I will continue to book my airline trips with my Citi Prestige Card because of the exceptional travel coverage the card provides and the peace of mind that its travel insurance provides.
New to the world of points and miles? The Chase Sapphire Preferred is the best card to start with. With a bonus of 60,000 points after $4,000 spend in the first 3 months and 2x points on dining and travel, this card truly cannot be beat!
Learn More