In This Article
Loading table of contents …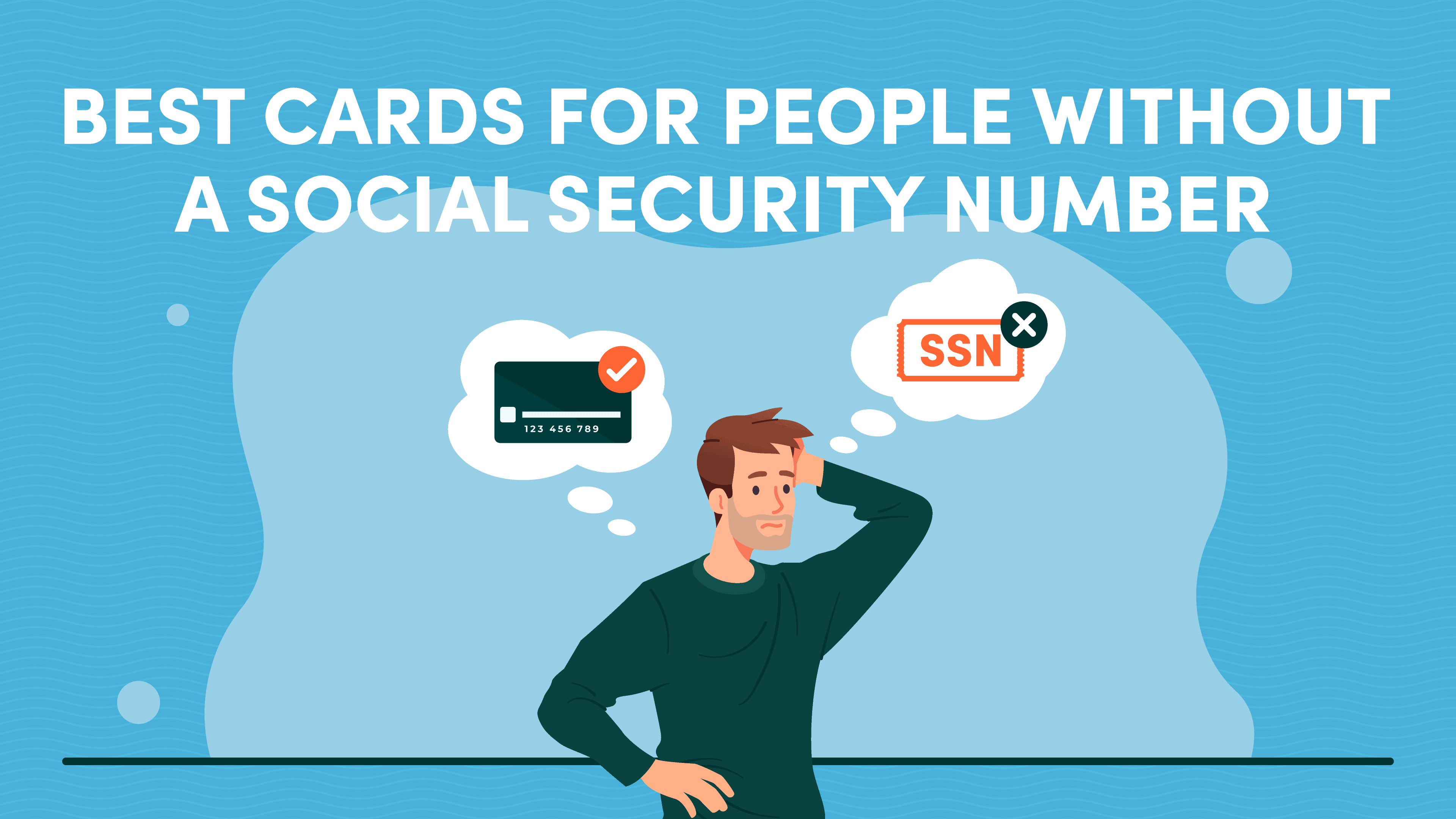 Note: Some of the offers mentioned below may have changed or may no longer be available. The content on this page is accurate as of the posting date; however, some of our partner offers may have expired. You can view current offers here.
The ease of access to credit for United States citizens is envied around the world.
From the ability to buy houses, cars and other assets to the convenience of using credit cards for purchases, most Americans take their approval for credit cards for granted. Add in the benefit of earning points and miles to travel the world, and there's a lot to like about our credit system.
But what if you don't have a Social Security Number (SSN) or an Individual Taxpayer Identification Number (ITIN)? Are you out of luck?
Whether you're new to the country, lived here a while or travel frequently to the U.S, you may have been frustrated by seeing all of the trips your American friends take with points and miles. Luckily American Express's partnership with Nova Credit provides a way for you to access United States credit cards without an SSN or ITIN.
Using Nova Credit is a great path for establishing credit in the United States. Let's take a look at the best credit cards for people without a Social Security Number.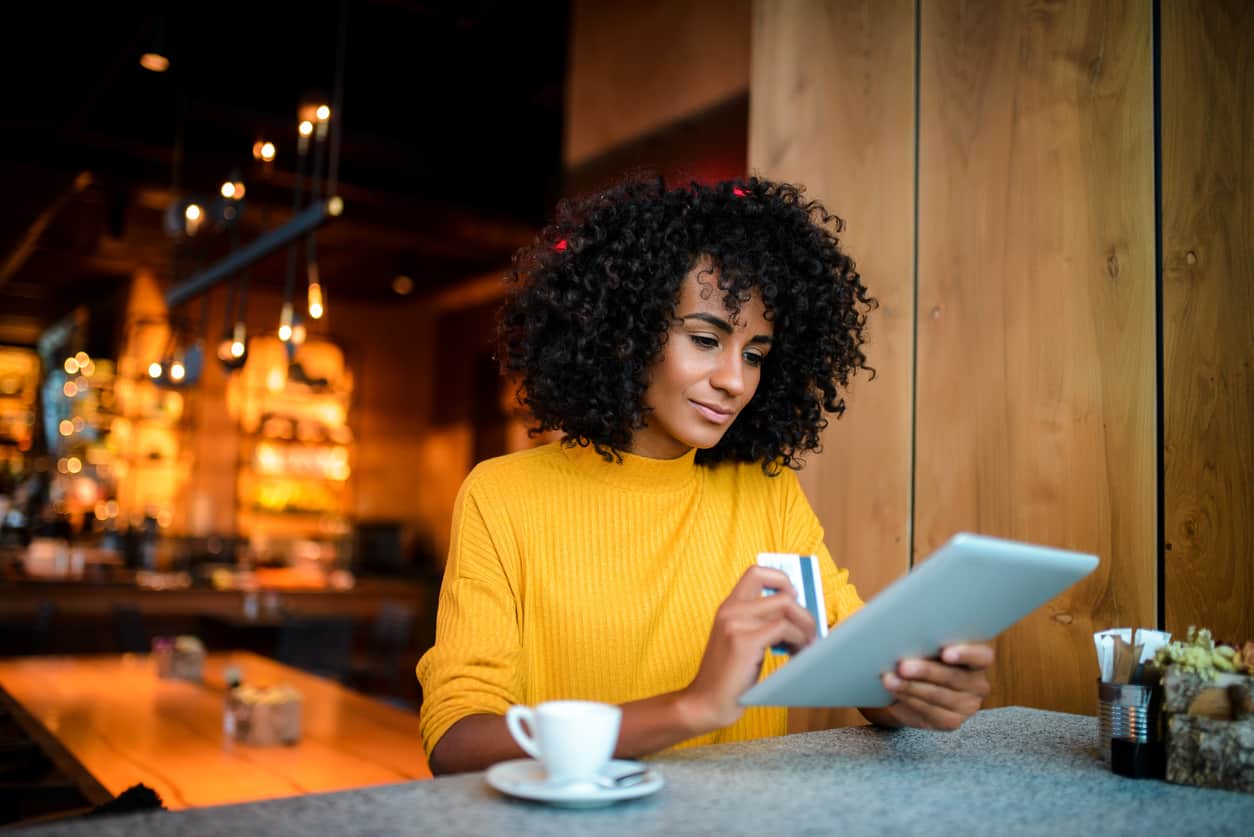 The Difference Between a Social Security Number and an ITIN
Although they're similar, Social Security and Individual Taxpayer Identification numbers are not the same.
A Social Security Number is for U.S. citizens and others authorized to work in the United States. This is a de facto national citizen number that the government uses to keep track of wages you receive to determine Social Security eligibility. Because of its prevalence, credit bureaus use it to track your credit history and organizations, such as cable companies and health insurance providers, use it as a unique identifier.
Only people authorized to work in the United States may apply for and obtain a Social Security Number.
If you're a foreign individual or a non-resident who's in the United States for school, a family visit, or you regularly conduct business in the country, you won't qualify for an SSN, but you may qualify for an ITIN.
An ITIN identifies foreign individuals to file income tax returns for income generated in the United States, including, rents from U.S. property owned, business conducted in the United States or gambling proceeds.
Most U.S. credit card applications will accept an ITIN in lieu of an SSN, but you may not have any credit history in the United States. Your lack of U.S. credit, not the absence of a Social Security Number, prevents you from credit approval.
However, American Express' partnership with Nova Credit now allows individuals with credit history in select countries to use their foreign credit history for U.S. credit decisions. Once you've established a credit card relationship, you'll be on your way to building a U.S. credit history. Once you build a credit history, you'll be eligible to apply for credit cards from other U.S.-based companies.
With or without a tax identifying number (Social Security or ITIN), American Express will use your foreign credit history for credit decisions.
However, you may want to consider applying for an ITIN so that credit bureaus can track your U.S. credit relationships.
Let's take a look at Nova Credit and how to use it.
What Is Nova Credit?
Nova Credit is an international organization that translates foreign credit files into credit scores that can be used by U.S.-based institutions. It's free for consumers. The lenders pay Nova Credit for this service.
The problem with the United States' credit score system is no matter how effectively you've used credit in another country, each country has its own credit agency. These credit systems don't "talk" to each other nor can U.S. lending institutions interpret credit scores from the hundreds of credit agencies across the world.
Nova Credit translates foreign credit scores into a U.S. credit score equivalent so banks can make lending decisions. Nova Credit currently interprets credit scores from the following countries:
Australia
Brazil
Canada
Dominican Republic
India
Kenya
Mexico
Nigeria
United Kingdom
If you've had credit in any of these countries, Nova Credit will provide American Express with a U.S. credit score equivalent, allowing them to make a credit decision without a Social Security Number or ITIN. So far American Express is the only major credit card company partnering with Nova Credit.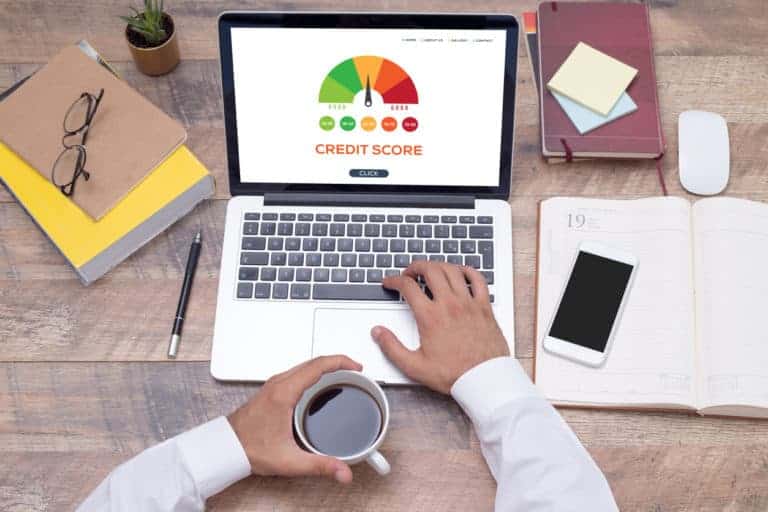 How to Apply for a Credit Card Without a Social Security Number
Applying for a credit card through American Express without a Social Security Number isn't much different than applying for a credit card with one.
Step 1 – Check your foreign credit: Check with the credit bureau or equivalent in your country of origin. Try to gauge your creditworthiness. For instance, in Kenya, you may check Transunion Africa and order a free credit report. Ensure everything is accurate.
Don't expect to be able to translate your report into a FICO score. Just try to get a general idea of whether your credit is good, fair or bad. This will help you know which card to apply for. If you can't obtain your credit history abroad, you likely know whether you paid your accounts in full and on time. However, credit files don't always reflect the truth. Use your best judgment.
Step 2 – Start the application: Once you've determined that you have sufficient credit to apply for a card. Check out the 10XTravel Best Cards page and decide on which American Express Card you'd like to apply for. Click on the card and begin filling out the application. Remember, this only works for American Express cards, but you can apply for any of them.
Step 3 – Check the "I don't have U.S. credit" box: After you fill in your U.S. residence, you'll see a check box that says "I don't have U.S. credit, but I do have credit in the following countries." Check that box and finish the application.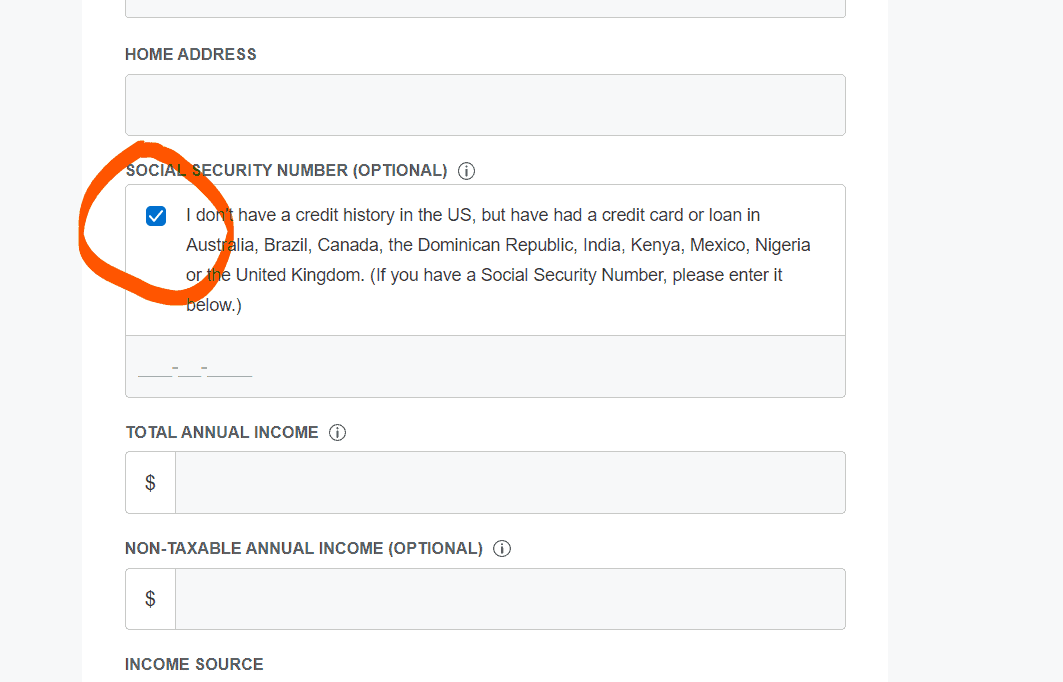 Step 4 – Submit the Application: Once you press submit, everything else happens behind the scenes. American Express will automatically pull your credit file using Nova Credit's Credit Passport®. Often you'll get a credit decision right away. If not, wait for an answer in the mail within 10 business days. If you don't hear anything after 10 business days, call American Express regarding your credit decision.
If your credit in your home country qualifies, you'll have your very first U.S. credit card, regardless of if you have a taxpayer identification number or not. However, since credit bureaus track your credit file by taxpayer identification number, you won't build a U.S. credit history. Acquiring an ITIN can ensure you do.
Why You May Want to Apply for an ITIN
Currently, Nova Credit's relationship with U.S. credit card companies is limited to American Express. There's a chance that'll expand, but who knows how long it will take.
Even if you get approved for an American Express card, American Express won't report your credit history to any of the three major credit bureaus without an ITIN or SSN. Because Experian, Equifax and TransUnion keep credit files by taxpayer-identification numbers, you won't build credit history. An ITIN will allow American Express to report your credit to these bureaus.
To obtain an ITIN, you must provide the following items to the IRS:
An income tax return: You have to earn income in the United States to file an income tax return. This can be difficult if you aren't authorized to work. Think it through. Have you earned any proceeds from a casino? Received a taxable scholarship? Engaged in business in the U.S.? If you report income, you'll have to pay taxes on it.
Form W-7: This is an application for an ITIN explaining why you need one. Hint: The answer is not so you can build credit card points and miles.
Certified proof of identity
Certified proof of foreign status
With an ITIN and a credit card, you'll start building credit right away. It may only be a matter of months before you're applying for credit with other U.S. credit card companies.
Best Credit Cards for People without Social Security Numbers
The Platinum Card® from American Express
The Platinum Card® from American Express is the cream of the crop in the travel card space. It offsets its $695 annual fee (see rates and fees) with a ton of statement credits. You won't pay foreign transaction fees, and you'll have worldwide access to some of the best lounges in the world.
The Platinum Card earns:
5X points per dollar spent on hotels and flights booked through American Express Travel
5X points on flight bookings made directly with the carrier
Up to 10X points on dining and shopping at select retailers up to the first $25,000 of spending within your first six months with the card
1X points on all other purchases
Membership Reward points can be redeemed for travel at a rate ranging between 0.6 and 1 cent per point in the travel portal or transferred to 20 partners. Sometimes American Express will offer bonuses on transfers ranging from 20 to 50% of the transfer amount.
The Platinum Card offers a number of statement credits to help save money on travel and other purchases throughout the year.
Along with all the statement credits, you'll gain access to the most extensive list of lounges of any travel card to date:
Priority Pass Select membership (terms apply, enrollment required)
Centurion Lounges
Delta Sky Clubs (when flying on a Delta-operated flight)
Lufthansa Business Class Lounges (with Lufthansa boarding pass)
Senator Lounges
Escape lounges
As if that weren't enough, the Platinum Card also offers top-tier travel benefits and insurance. You can travel with peace of mind, knowing you have a benefit covering nearly every travel hiccup.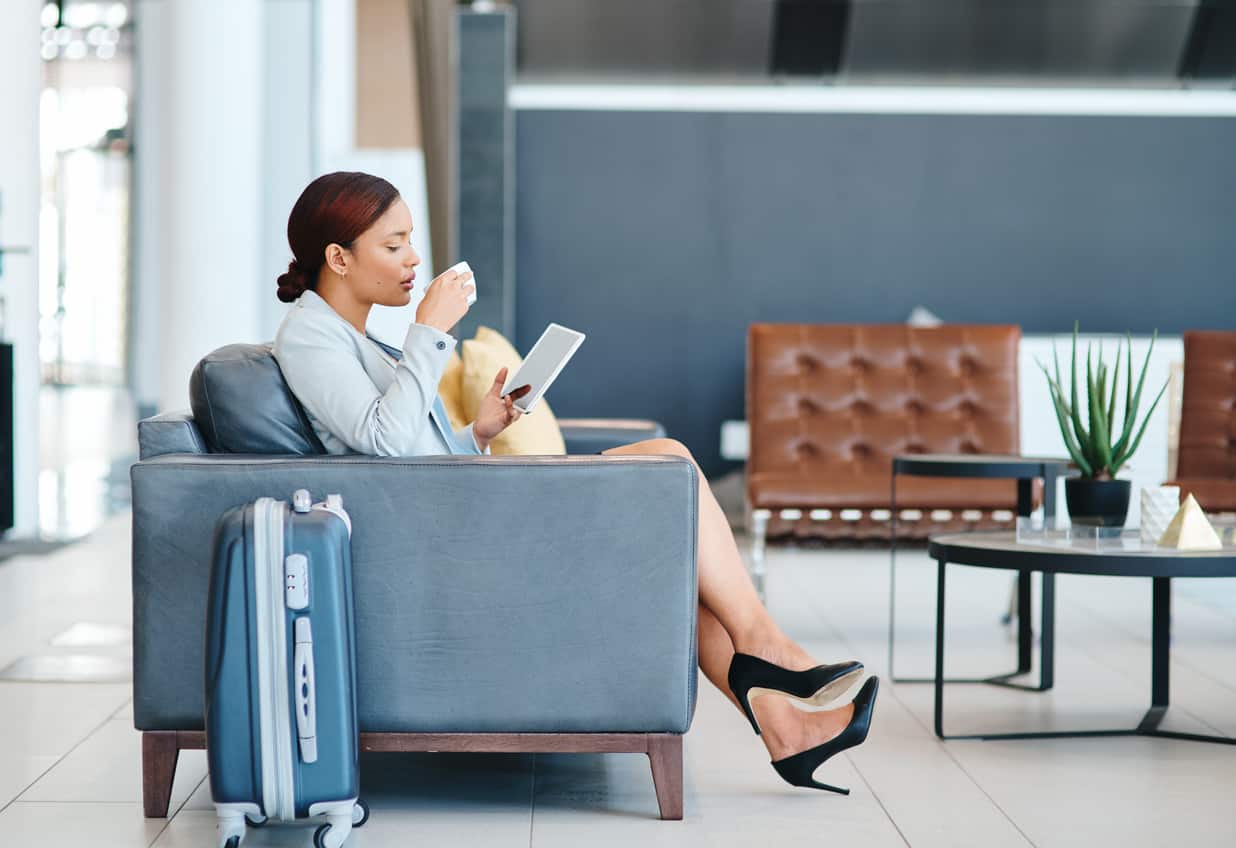 The American Express® Gold Card
The American Express® Gold Card is the next step down. Although it offers far fewer statement credits and doesn't offer lounge access, it still manages to offset its $250 annual fee (see rates & fees).
Purchases on the Gold Card earn 1X Membership Reward per dollar spent, but some spending categories earn more.
Membership Rewards® Points
after you spend $4,000 on eligible purchases with your new Card within the first 6 months. Terms apply.
Annual Fee: $250 Terms Apply. | Rates & Fees.
Here's how many bonus points you'll earn in the following categories:
4X points at U.S. supermarkets (on the first $25,000 spent per calendar year, then 1X after that)
4X points on dining at restaurants, including takeout and delivery in the U.S.
3X points on flights booked directly with airlines or through American Express Travel
2X points on The Hotel Collection bookings through Amex Travel
The following statement credits help offset the $250 annual fee.
Up to $10 monthly Uber Cash Credits (enrollment required)
Up to $10 monthly dining credits when you pay with your card at Grubhub, The Cheesecake Factory, Goldbelly, Wine.com, Milk Bar and select Shake Shack locations (enrollment required)
The Amex Gold Card also comes with a number of additional benefits and perks to serve you while traveling or on everyday purchases.
Blue Cash Everyday® Card from American Express
The Platinum Card and Gold Card both require excellent credit. If your international credit score is only fair, you still have a shot at an American Express credit card approval. The Blue Cash Everyday® Card from American Express is a solid option.
Although the Blue Cash Everyday® Card from American Express doesn't offer fancy travel benefits, it doesn't have an annual fee and still carries solid earning potential and a statement credit or two. You'll earn 1X Membership Reward for every dollar you spend on the card and bonus rates on the first $6,000 of purchases in each category.
3X at U.S. supermarkets
3X on U.S. online retailers
3X at U.S. gas stations
The rate for purchases beyond $6,000 each year is 1X Membership Rewards.
Without an annual fee, the few statement credits the Blue Cash Everyday offers are like free money if you use any of these services.
$15 monthly Home Chef credit (enrollment required)
$7 monthly Disney+ credit (given in statement credit) when you spend $9.99 or more a month with the purchase of Disney Bundle (enrollment required)
The Blue Cash Everyday is a great first card to build your U.S. credit if your international credit is only so-so.
The Deserve EDU Student Card
The Deserve EDU card is offered by the little-known Celtic Bank out of Salt Lake City. It's well outside the bounds of a typical 10xTravel recommendation, but this card was designed with international students in mind. You need neither a credit history nor a Social Security Number to apply. The Deserve EDU card might be the only place to start for some to start their credit journey.
This isn't a card that will turn heads. You should apply for this card only if you don't have a taxpayer identification number, can't or don't want to get one, and can't use Nova Credit. If this is the case, then carrying the Deserve EDU card will at least give you access to credit while you're in the States.
You'll earn 1% cash back on all purchases. Cash back automatically posts as a statement credit once you reach at least $25 in cashback.
You'll also receive:
One year of Amazon Prime Student
Cell phone protection
No foreign transaction fees
There's nothing fancy about this card, but there's no annual fee. If you've given up on credit cards because of your lack of Social Security Number and credit history, give the Deserve EDU card a shot.
Final Thoughts
You don't need to envy your U.S.-born friend's points and miles anymore. If you hail from a country Nova Credit covers, you can obtain credit based on your international credit history. This is exciting for students, immigrants and non-U.S. business people who thought credit cards were out of their reach.
If you're ineligible to use Nova Credit, you can still build your U.S. credit history by obtaining an ITIN and a credit card. The Deserve EDU card might be a good first step in your credit-building journey.
American Express's partnership with Nova Credit opens the door wide for citizens of the world to obtain U.S. credit cards and earn points and miles. Once you build a U.S. credit score, your credit card options become virtually limitless. Opening your first card using Nova Credit could have you booking your next ticket to visit home with points and miles.
New to the world of points and miles? The Chase Sapphire Preferred® Card is the best card to start with.

With a bonus of 60,000 points after $4,000 spend in the first 3 months, 5x points on travel booked through the Chase Travel Portal and 3x points on restaurants, streaming services, and online groceries (excluding Target, Walmart, and wholesale clubs), this card truly cannot be beat for getting started!
Learn More
Editors Note: Opinions expressed here are author's alone, not those of any bank, credit card issuer, hotel, airline, or other entity. This content has not been reviewed, approved or otherwise endorsed by any of the entities included within the post.