In This Article
Loading table of contents …
After a fantastic honeymoon in the Maldives, I just knew I had to return. I couldn't make this "once-in-a-lifetime" trip only once in my lifetime.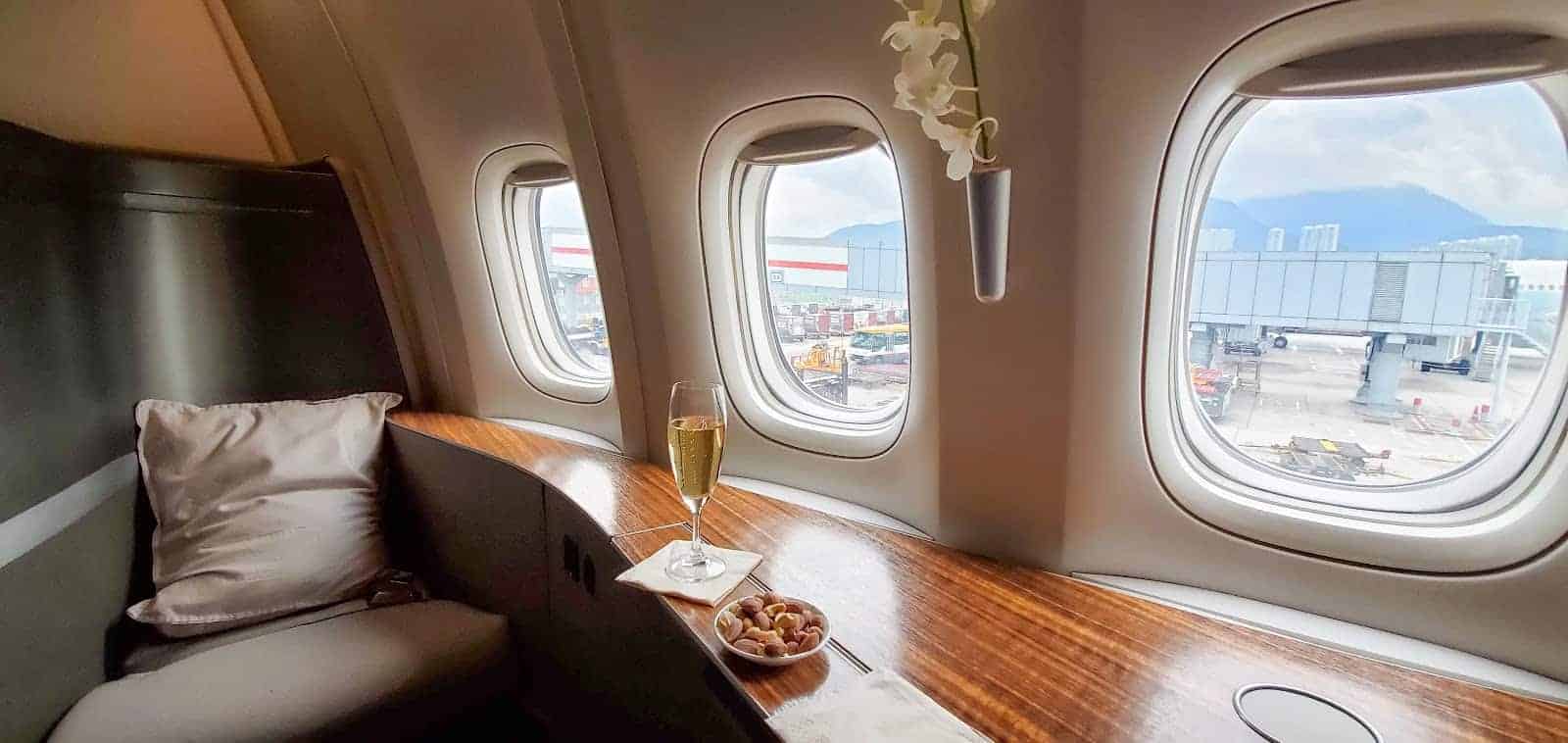 Note: Some of the offers mentioned below may have changed or are no longer be available. The content on this page is accurate as of the posting date; however, some of our partner offers may have expired. You can view current offers here.
After a fantastic honeymoon in the Maldives, I just knew I had to return. I couldn't make this "once-in-a-lifetime" trip only once in my lifetime. Although I expected it to take me a few years before returning, the stars aligned with a few great opportunities to go back just a little over a year later.
While this trip involved several very exciting flights, we're going to talk about my first class flight on Cathay Pacific. I'll give you a hint about what to expect: it's been my favorite first class experience by far!
Let's start with how I booked it.
New to travel? Make sure you grab your passport if this is your first international trip, or get it renewed before traveling! You won't be able to visit another country without it. If you want to save time and you think you'll be traveling a lot, check out the Global Entry program as well.
How I Booked Cathay Pacific First Class
On December 31, 2018 (yes, New Year's Eve), Cathay Pacific listed first class seats for only $850 to New York. The only catch was the round-trip started in Vietnam. For many people this wasn't a feasible option, but I really wanted to make it work.
I was already looking for another trip to take for my birthday in 2019 and Vietnam seemed like a great place to visit. So, of course, I booked this to get home from my birthday trip and to start another trip – this one to the Maldives.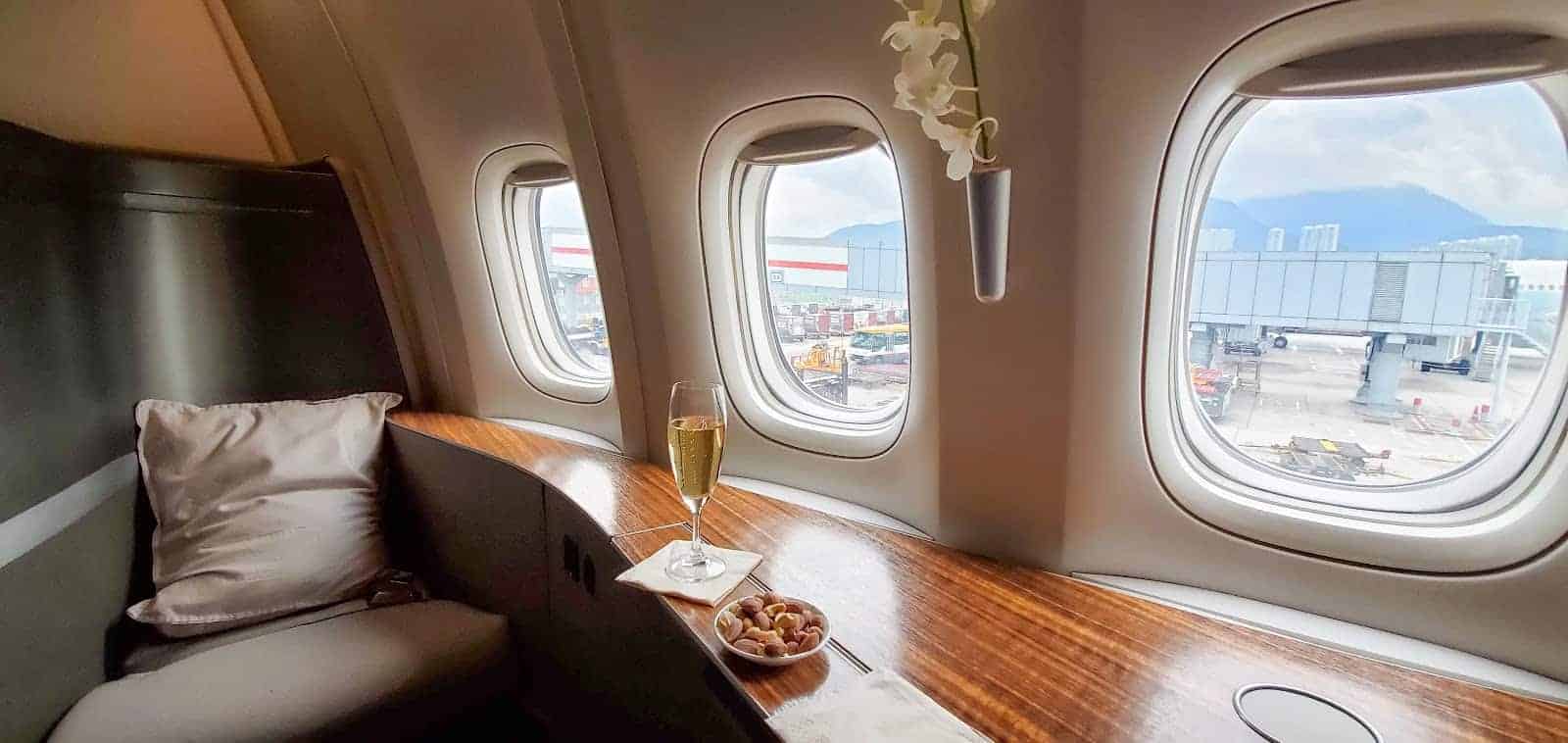 While, I'd typically use points and miles to book this, I decided to pay cash instead of using 57,000 Chase Ultimate Rewards points via the Chase travel portal.
Since this was a cash booking, I was able to earn miles on this ticket. I chose Alaska Mileage Plan as I would earn 350% of the flight miles as redeemable miles. That means, I earned about 56,000 Alaska miles for this trip. That's enough for a one-way business class ticket on Cathay Pacific to Asia.
So, for $850, I got 2 first class flights on Cathay Pacific and enough points for another flight in business class. That's a pretty great deal if you ask me.
Although my return flight was supposed to go to Vietnam, I stopped in Hong Kong to continue on to the Maldives instead. This was a great deal that I'd love to see again, although I'm not getting my hopes up anytime soon.
How to Book Cathay Pacific With Points and Miles
Since it's unlikely we'll see these tickets for $850 again, let's look at how you can book your own Cathay Pacific flight with points and miles.
My favorite way to book Cathay Pacific is with Alaska Mileage Plan miles. You can book a one-way first class ticket for 70,000 Alaska miles. The tough part is that you can only earn Alaska miles via co-branded Bank of America cards or by transferring Marriott Bonvoy points.
You can also add a stopover in Hong Kong when you book with Alaska Mileage Plan which means you can visit Hong Kong for a few days (or longer) then continue to another destination such as Indonesia or Thailand for no additional cost.
If you don't live in a city in which Cathay operates flights, you can connect on Alaska Airlines for no extra miles. However, Alaska Mileage Plan only allows you to include one partner airline on a one-way award ticket. If Alaska doesn't operate flights from your home airport, you might have to book a separate positioning flight.
Here's how Alaska miles stack up to your other options:
| Book With | Miles Required | How to Earn |
| --- | --- | --- |
| Alaska Airlines Mileage Plan | 70,000 miles | Bank of America cobrands; transfer Marriott points |
| American Airlines AAdvantage | 110,000 miles | Citi/Barclays cobrands; transfer Marriott points |
| Cathay Pacific Asia Miles | 125,000 miles | Transfer Amex, Capital One, Citi points |
You can also book a one-way Cathay first-class ticket for 110,000 American AAdvantage miles. Between Barclays and Citi there are multiple co-branded cards available that earn American miles. Similar to Alaska, the only transfer partner is Marriott Bonvoy. You can also connect on American for no extra miles if need be.
Finally, we have Cathay Pacific's own Asia Miles program. Although it requires the most miles of the three options at 125,000 miles for a one-way, they're the easiest for many people to earn. You can transfer Amex Membership Rewards, Capital One miles and Citi ThankYou Points to Asia Miles. Keep an eye out for transfer bonuses from these partners and you might be able to use fewer points for the same booking.
A Positioning Flight to New York (JFK)
The first step to enjoying the flight was figuring out how to get to New York as I'm based in Houston. I've flown most U.S. airlines, but was still missing one that I had been itching to fly: JetBlue. Thankfully, JetBlue had the cheapest tickets from Houston to New York, so I booked our flights.
I had just gotten off a night shift at work and really needed to sleep. We paid a little extra for the "Even More Space" seats. No one ended up booking the middle seat between my wife, Miryea, and me, so I had plenty of space to sleep. Before I knew it, we had arrived in New York!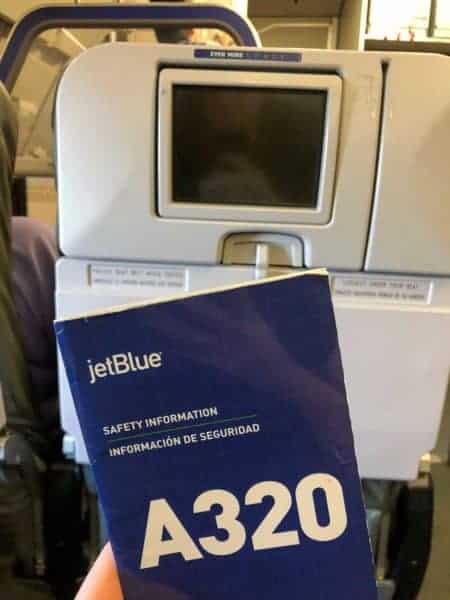 American Airlines Flagship First Dining and Lounge
After landing in New York, we made our way to Terminal 8 where Cathay Pacific departs from. We arrived more than a bit early. Our Jetblue flight landed at 3:30PM while our Cathay Pacific flight was scheduled to depart New York at an extremely early 1:35AM.
Fortunately, we had access to the American Airlines Flagship Lounge as Cathay Pacific is also a Oneworld member. In fact, if you're flying Cathay Pacific first class, you can access the Flagship First Dining section of the lounge.
Access to Flagship First Dining is pretty restricted. Only passengers flying in Flagship First on American Airlines and first-class passengers on Cathay Pacific have access. No other passengers have regular access regardless of status. Even American's invite-only Concierge Key members don't have regular access (although, American has sent out one-time-use passes to them in the past).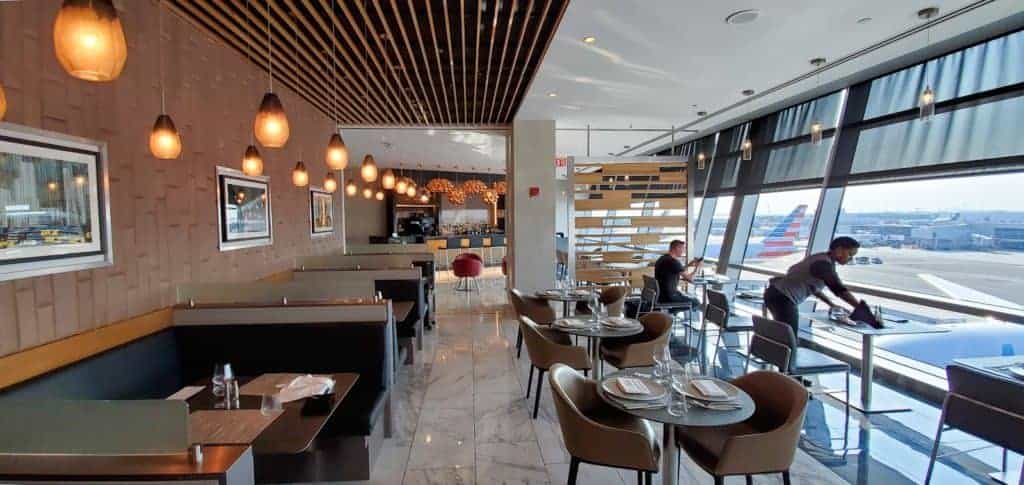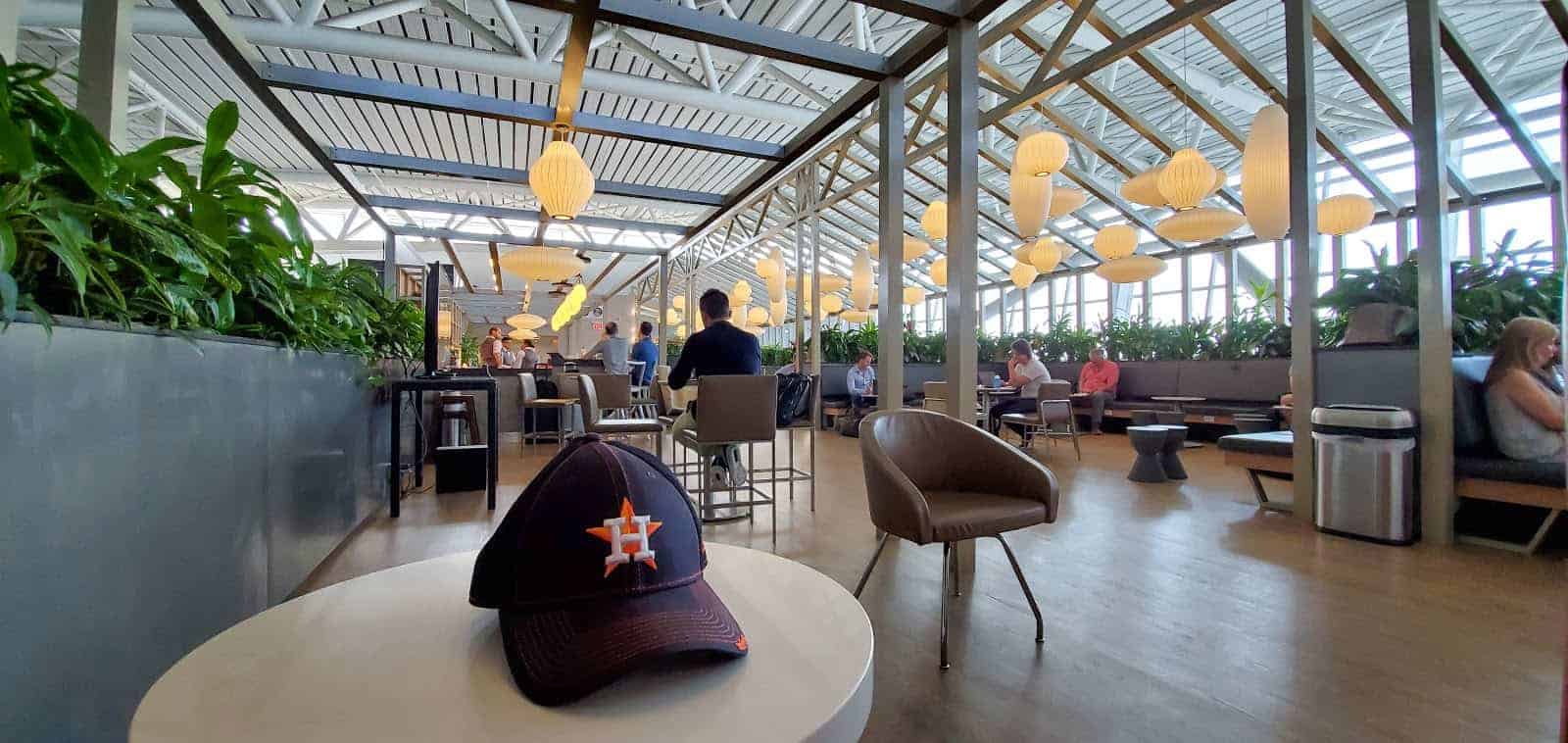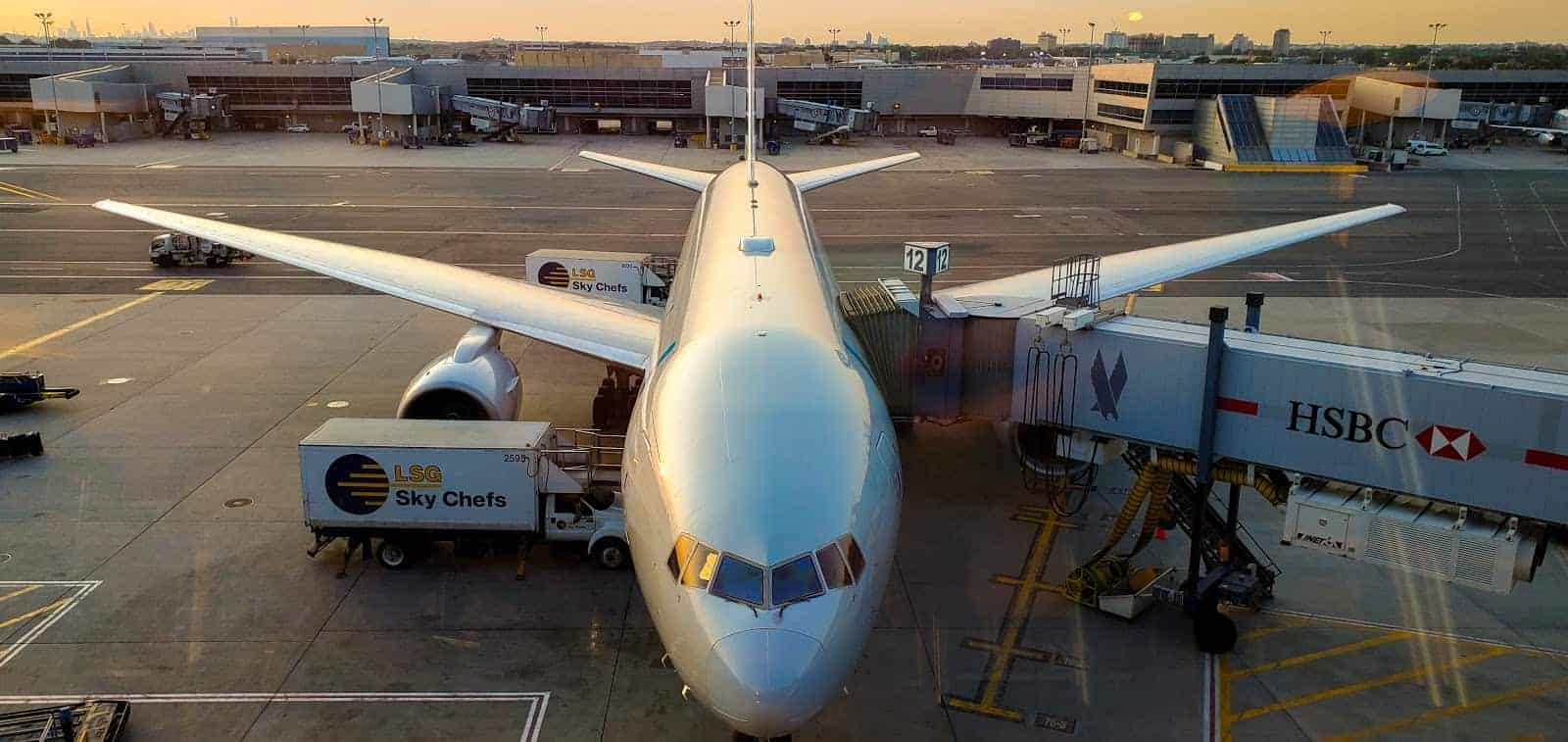 If you have access to Flagship First Dining, it's a must-visit. The food is curated by James Beard award-winning chefs and it really shines. I haven't had food of this quality in any other airline lounge. We sampled dishes such as chimichurri rock shrimp arepa, muscovy duck bacon, lamb porterhouse, and, of course, the signature flagship burger.
In addition to the great food, the wine and cocktail selection is above and beyond what you'll find in your typical business or first class lounge. Krug Grand Cuvee was available, and the wait staff was more than happy to keep it flowing.
Although Flagship First Dining is styled like a restaurant, you're more than free to stay as if it is a lounge. There were multiple people enjoying the premium wine and spirits while working. It is a fairly small space, but we never saw it full, which was another benefit of the tight restrictions on access.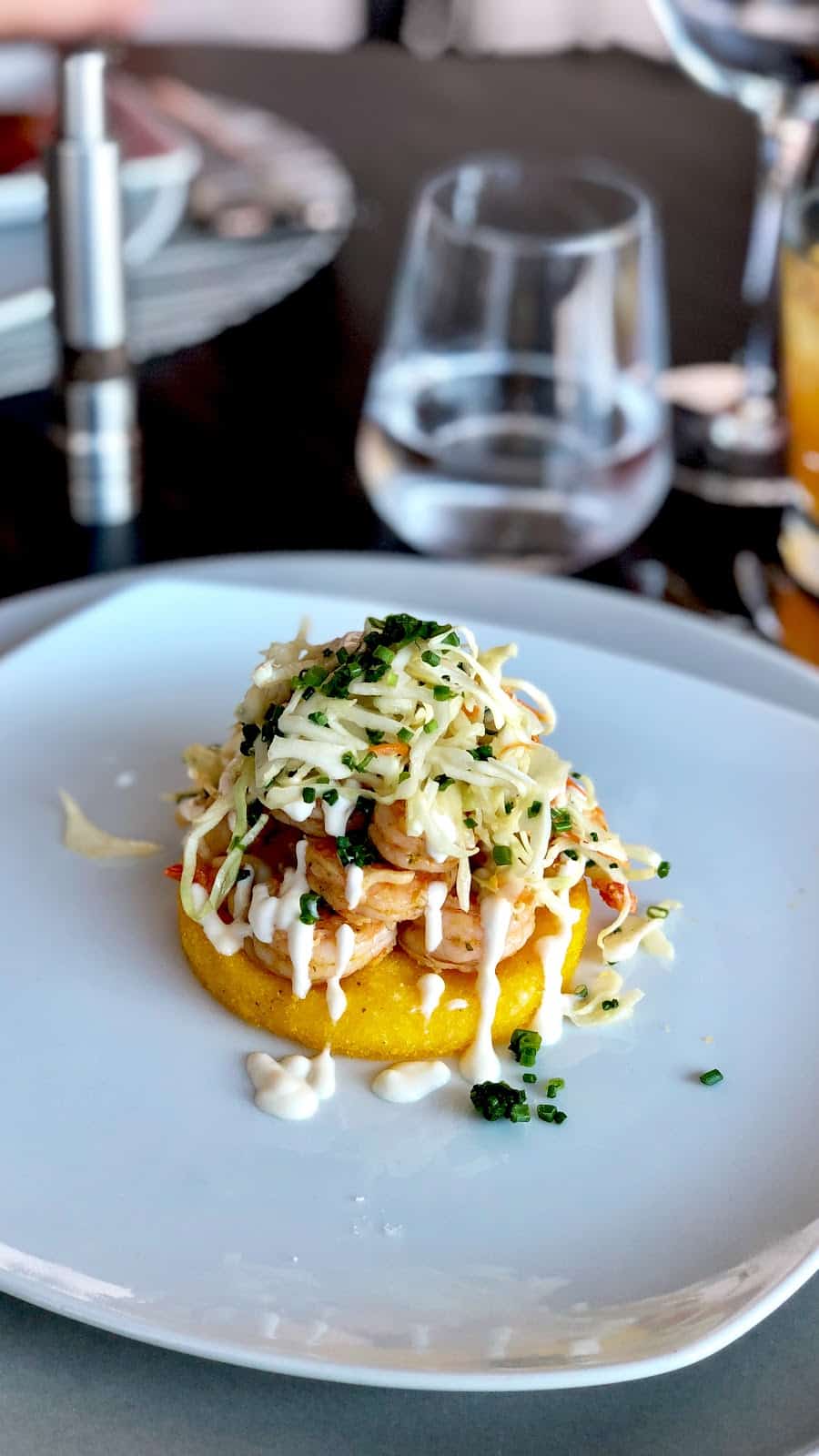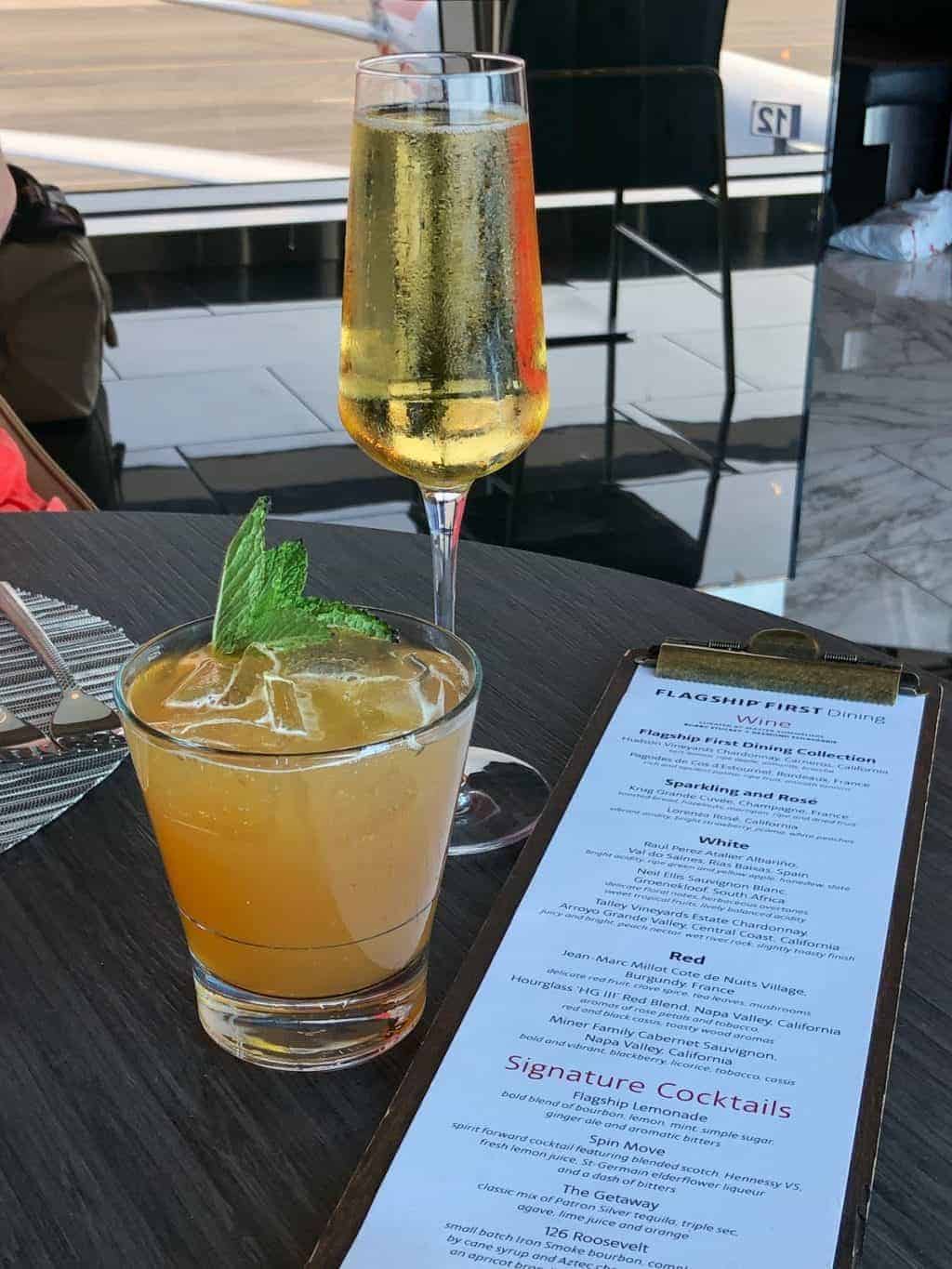 The biggest challenge with Flagship First Dining is not eating too much. Food on the ground is almost always better, but there's nothing quite like eating a restaurant-style meal in the air.
If you don't have access to Flagship First Dining, you will have access to the expansive remaining lounge. While most people end up near the buffet, there's another side to the right of the entrance that guests often miss.
If you don't have access to Flagship First Dining, you will have access to the expansive remaining lounge. While most people end up near the buffet, there's another side to the right of the entrance that guests often miss.
The right side of the lounge is an open-air space, so you can hear the noise of the terminal, but it was practically deserted compared to the other side. There's a bar there too, so you can get drinks while waiting for your flight.
Shower suites are also available. The aesthetic is very sleek, with dark grey tile lined walls and frosted glass on the shower. The showers are stocked with C.O. Bigelow branded soaps. It was late when we showered since it was almost midnight and we wanted to freshen up before being on a plane for 16 hours, so the staff was starting to clean up and close down the lounge.
I'd compare Flagship Lounge to a very spacious Centurion lounge with slightly worse food at the main buffet. But if you have access to Flagship First Dining, you'll struggle to find anything better in the states. Flagship First Dining really holds its own with the offerings from other world-class lounges.
The only change I would like to see implemented is a lounge area reserved for first-class passengers outside of Flagship First Dining. This would help make the entire first-class experience feel more exclusive, and would better align the flagship lounge with offerings made from some of the world's best airlines such as Emirates, Singapore, and Cathay Pacific.
Although it was late, the shower, Krug, and caffeine helped keep us going until our 1:35AM flight. We began to board around 12:30AM to begin the long journey to Hong Kong.
Cathay First Class Cabin and Seat
Cathay Pacific first class is arranged in a 1-1-1 setup with 2 rows. Normally, I prefer window seats, but unfortunately when we booked this flight, those seats were already taken. We ended up in seats 1D and 2D, the two in the middle. We had previously flown Cathay First in seats 1K and 2K, and on the return flight I flew in seat 2A.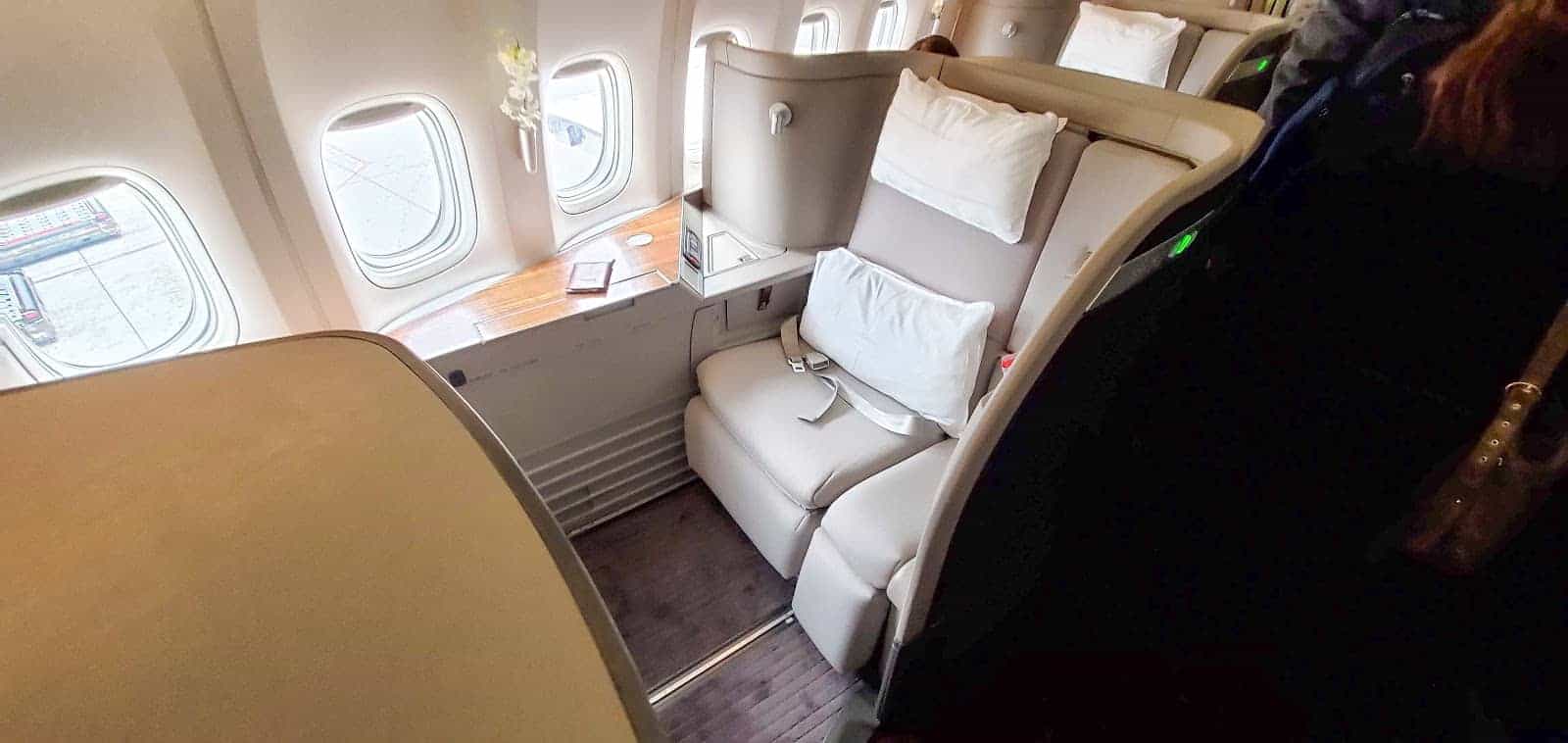 Given a choice, I'd pick one of the two seats in row A. This is because Row A has its own aisle while rows D and K share an aisle, so sitting in row A feels significantly more private.
Unlike some more glamorous first-class offerings, Cathay Pacific's first-class looks very underwhelming. You won't find a bar, a shower, or an on-board lounge that you may find on other airlines, but that doesn't stop Cathay from being a phenomenal first-class product. Even on airlines with those amenities, you'll still spend the most time in your seat. That's where Cathay really shines.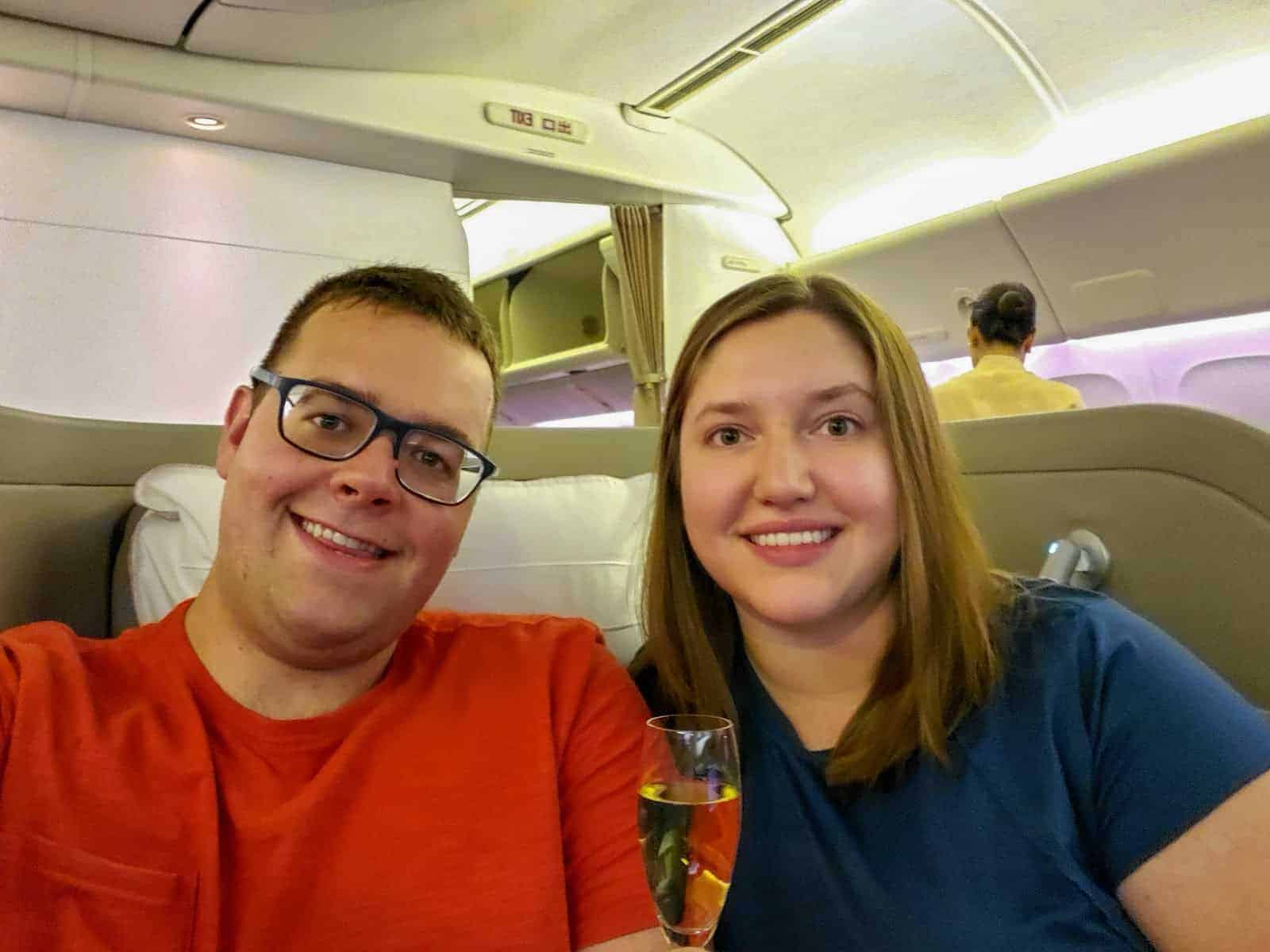 The seat is incredibly spacious, both in length and width. The seats are a full 3 feet wide, and almost 7 feet long. These seats take up a lot of real estate, and you notice it from the first time you set eyes on them. I'm a big guy, and you could still fit two of me in the seat! This isn't an exaggeration. My much smaller wife sat next to me to test it out, and we fit!
The foot rest is wide enough to hold my size 13 feet when lying down. It doubles as a buddy seat where your companion can dine with you if you're flying with someone.
When down in bed mode, I could stretch out completely, and had no issues getting comfortable. As a side sleeper, I usually get stuck in one position without much flexibility on flights. This wasn't the case in Cathay Pacific first class. I was able to stretch out, curl up, and lie on either side. No matter how you sleep, you shouldn't have any issue getting comfortable in this bed.
In addition to the expansive space, the seat is incredibly comfortable both sitting up and in bed mode. I've never slept so well on a flight before. I usually struggle to get more than 4-5 hours of sleep no matter the class of service. In Cathay Pacific's ultra-comfortable bed I completely overshot my sleeping target and slept for 9 hours! Granted, I was a bit tired since I didn't have much sleep before, but it was solid, sound sleep.
It isn't all great though. What Cathay has going for it in comfort, it lacks in terms of being up to date. Although they've had a recent refresh of their amenities on board, the seats feel fairly outdated. You control the seat from a touchscreen that often struggles to respond, and gets stuck sometimes after receiving an input. The in-flight entertainment response is similar, but some planes have been updated recently and feel much smoother.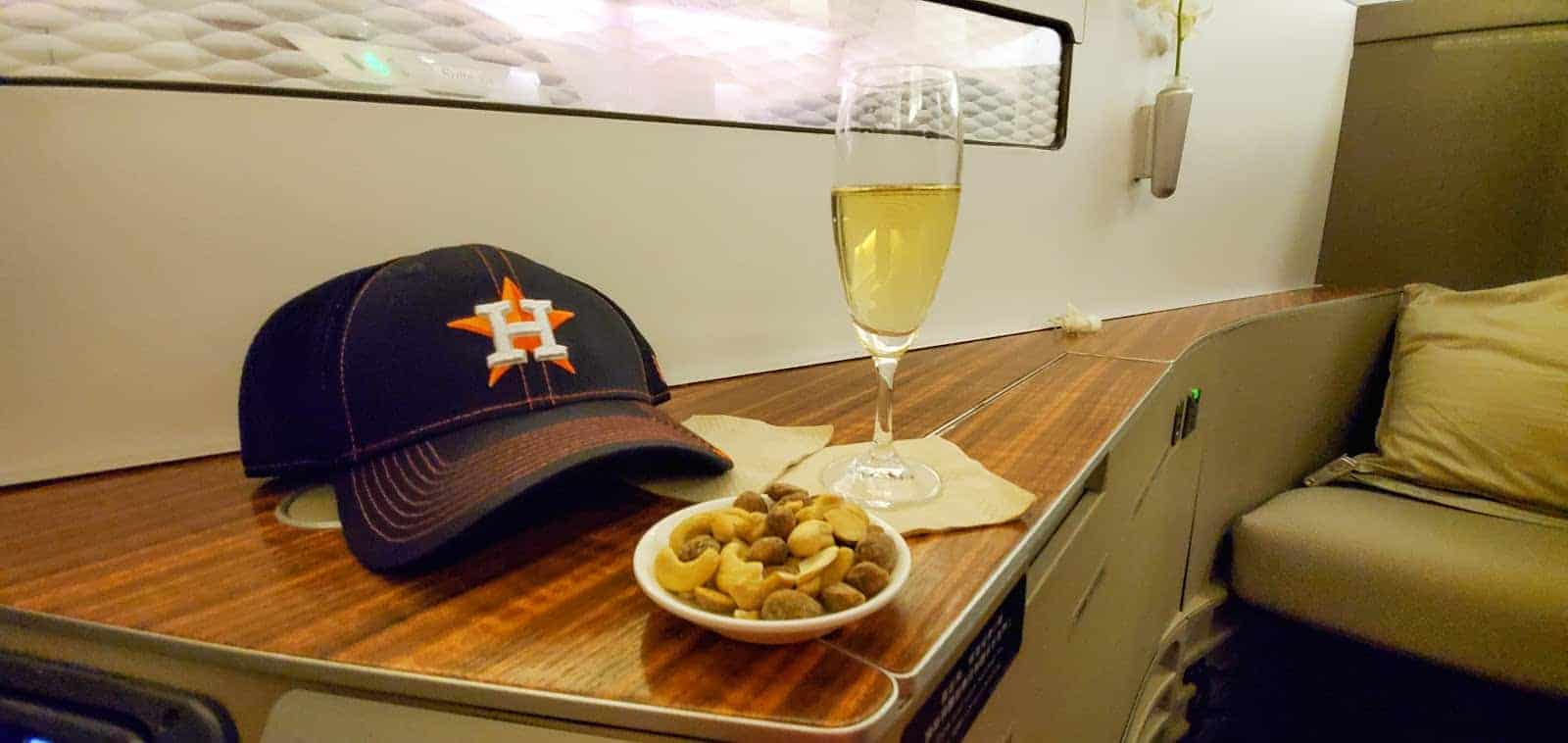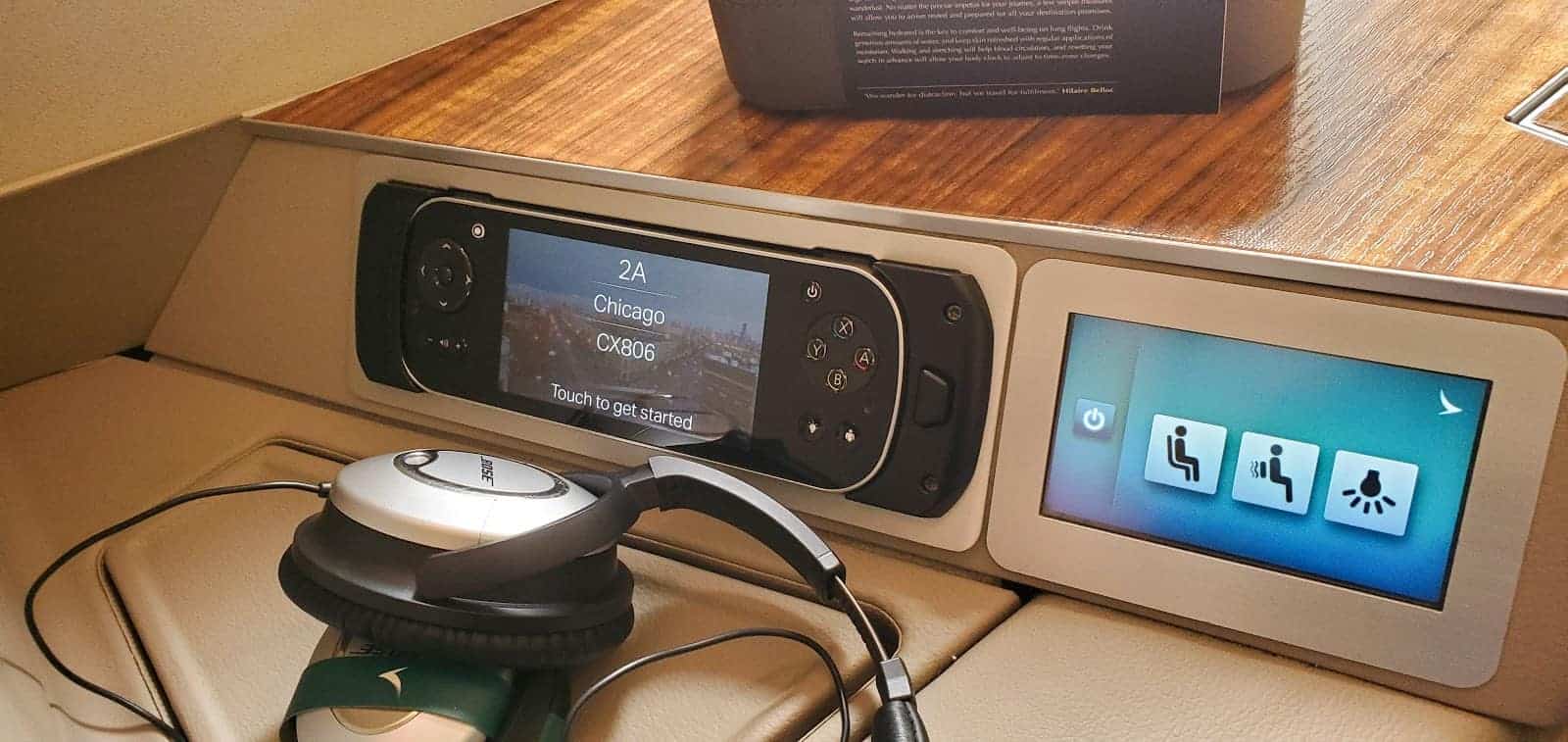 Overall, the tech issues are fairly minor and don't really detract from the experience too much. The screen isn't a crisp 4K TV screen, but you'll still get to enjoy the entertainment. And once you set the seat, you typically aren't adjusting it too much throughout the flight. It's an inconvenience, but the comfort of the seat more than makes up for the shortcomings.
The seat won't make for the most 'grammable trip, but for 16 hours, I'll take extreme comfort over the best pictures, and I haven't found anything that beats the comfort of Cathay Pacific.
The Amenity Kit
Although the amenity kit has been refreshed with new Bamford products, this flight featured Aesop products. I'm a big fan of the Aesop amenity kits from Cathay, and will miss them dearly.
The amenity kits feature your standard products: toothbrush and toothpaste, earplugs, and eye mask. The Aesop amenity kits varied based on gender, but in general you would receive a lip cream, toner, and facial serum. We enjoyed the Aesop products so much, we ended up ordering some ourselves after running out of what we received in flight.
First Class Service
The quality of service you get on Cathay Pacific is so high that I'd give my top 3 crew experiences all to Cathay Pacific. Seriously, the quality of service I received on my best flight experience was absolutely incredible!
I don't have a ton to say about the crew because they were just that good. They were there when you needed them, and absent when they weren't needed. Given the night-time nature of the flight we were sleeping for about half the flight so the crew wasn't needed. Half the remaining time was meal service.
Our crew excelled when needed, and had just the right amount of presence to meet our needs. They performed their jobs with precision, and helped make the total experience exceptionally comfortable.
Food and Beverage
Upon boarding, we were presented with warm nuts and asked what pre-departure beverage we would like. I started with champagne, which was 2007 Taittinger Comtes de Champagne. This retails for about $200 a bottle on the ground. Cathay doesn't go cheap on its champagne.
If you're not feeling a boozy drink, I can also recommend the Cathay Delight. It's a non-alcoholic cocktail made with coconut milk, kiwi, and mint. It doesn't always show up on the menu, and if they don't have it the crews will gladly improvise for you (3 out of 3 times I had success with improvisation or a direct offering).
After take-off, the crew came around to take our dinner orders. Despite being a late flight, most passengers chose to eat. Cathay has excellent catering on their flights, so be sure to experience the dinner service! It is also a good way to help adjust to the time difference. Our 1:30AM departure from New York was only 2:30PM in Hong Kong. Eating an early dinner before sleep helps passengers naturally adjust to the time difference.
Cathay offers either western and chinese menus. Feel free to mix from each menu if you want. For this flight, I chose the western menu. Cathay's meal service is similar to a restaurant where everything is brought individually to each passenger.
Just let your crew know if you want to dine together – but go to the bathroom first! The joint tray doesn't have much flexibility so you may be trapped for about an hour or more during dinner service.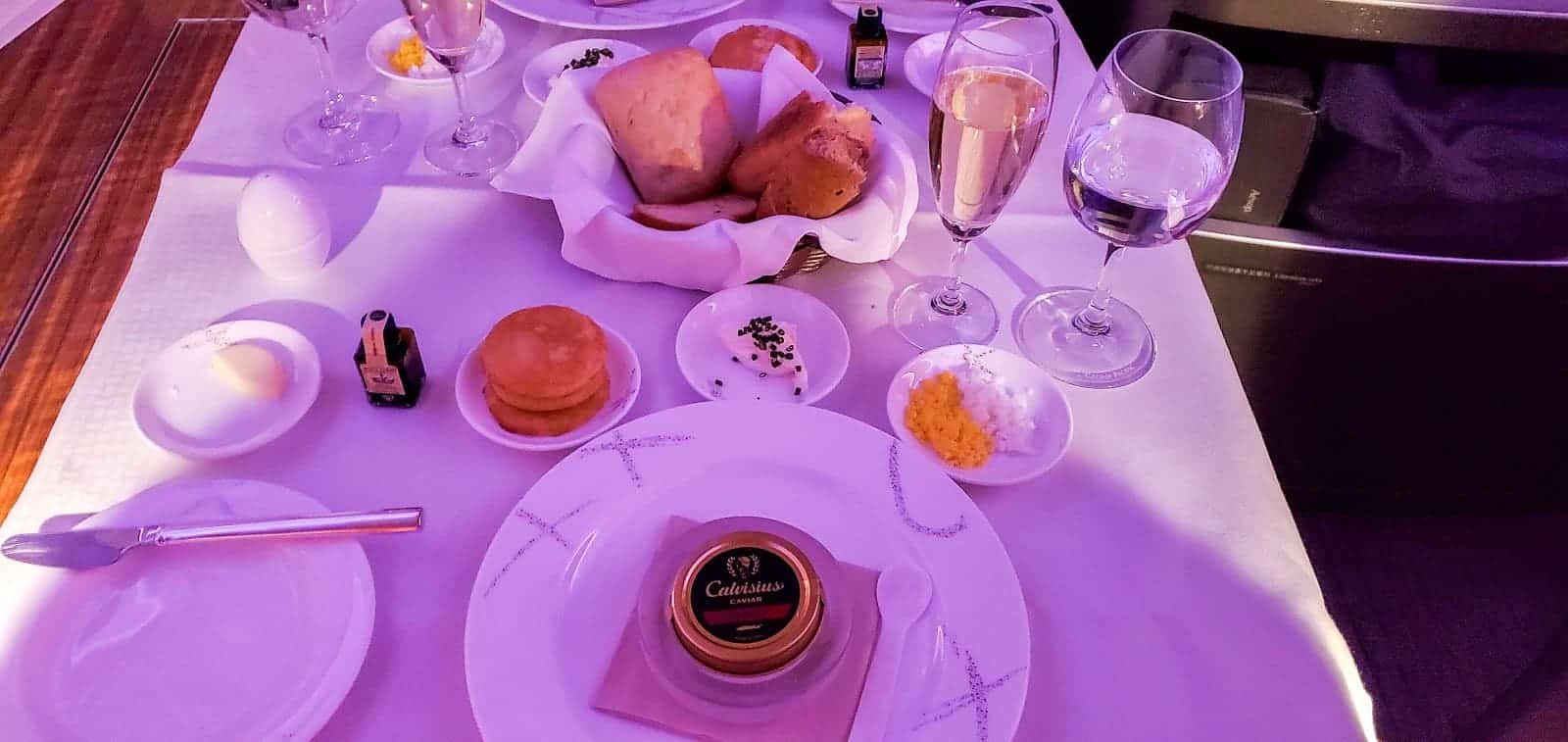 Our dinner started with Cathay's caviar service. I really appreciate the attention to detail that Cathay puts into the service. You're served an entire tin of caviar with a mother of pearl spoon. If you've never had caviar, which I hadn't before my first Cathay Pacific flight earlier that year, the crew will be happy to walk you through the process.
After the caviar, creamy mushroom soup was served. The soup was divine, and better than soup I've had at many restaurants. It had a bit of olive oil on the top, which really helped add to the complexity of the dish.
I really enjoyed the rest of my meal, choosing the tortellini for my main course, while Miryea had the seared US prime filet, gnocchi, and asparagus. Both were good options, but the tortellini was better. Getting gnocchi right is hard enough on the ground, and even harder on an airplane.
After eating so much in the lounge and onboard, I decided to skip dessert and watch a movie. I have a weird interest in watching documentaries about mountain climbers on airplanes. No matter where I'm flying it seems every long-haul flight has a mountain climbing documentary of some type, and I feel obligated to watch it.
After the meal service and my documentary, we were almost 5 hours into the flight. I noticed Miryea had already dozed off about an hour earlier, so I headed to the lavatory to change into the provided pajamas and freshen up for bed. I notified the crew, and when I returned they had my bed all ready for me. I slept for several hours, waking up with about 4 hours left in the flight.
I was a little hungry, but wanted to wait until landing in Hong Kong to eat breakfast at the lounge there. Cathay has a "snack" menu so I ordered the Cathay Burger, which was a very good burger for being in the air but is a bit on the small side which helps it fit the snack menu better.
It wasn't too long before we were approaching Hong Kong. It was a bit early, but thanks to the comfortable bed we were able to adjust fairly well, only feeling off by a few hours from local time.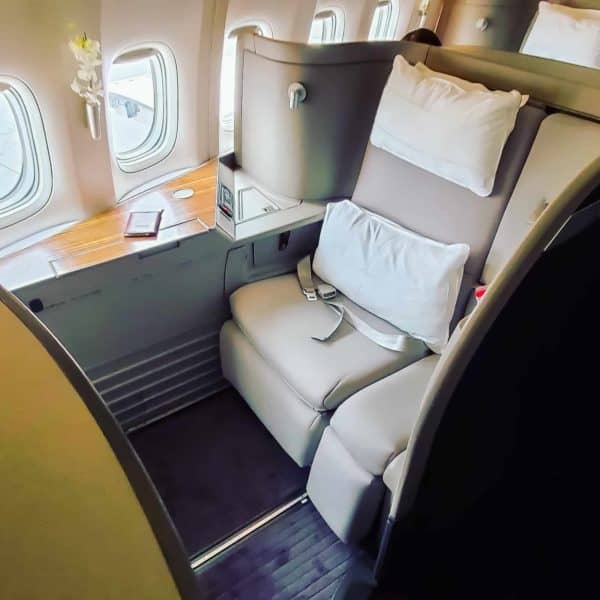 Final Thoughts On Cathay Pacific First Class
Cathay Pacific has a great first-class product. Although it isn't the flashiest, it is currently my favorite way to fly. In first-class I'm looking to be treated with a bit more personal attention than what I would expect in business class with a spacious and comfortable bed with great food. First-class is all about the experience, whereas business class is more about having a comfortable seat.
Cathay really delivers. Although it won't make for the most impressive pictures, it will make for one of the most impressive experiences you'll get in the sky. You'll get a crew that is very well balanced and knows how to provide the right level of service without being overbearing, and you'll be so comfortable you won't want the flight to end!
New to the world of points and miles? The Chase Sapphire Preferred is the best card to start with.

With a best-ever bonus of 100,000 points after $4,000 spend in the first 3 months, 5x points on travel booked through the Chase Travel Portal and 3x points on restaurants, streaming services, and online groceries (excluding Target, Walmart, and wholesale clubs), this card truly cannot be beat for getting started!
Learn More
Cards in This Article
60,000
Membership Rewards® Points
after you spend $4,000 on eligible purchases with your new Card within the first 6 months. Terms apply.
60,000
Chase Ultimate Rewards® Points
after you spend $4,000 on purchases in the first 3 months of account opening.
Editors Note: Opinions expressed here are author's alone, not those of any bank, credit card issuer, hotel, airline, or other entity. This content has not been reviewed, approved or otherwise endorsed by any of the entities included within the post.