Note: Some of the offers mentioned below may have changed or are no longer be available. You can view current offers here.
The chance to see a new place is more than enough to make one excited about jumping on an airplane. However, I find that trips are even better when the flight is a ton of fun too! With than in mind, the 10xTravel team wanted to share some of their favorite flight experiences.
Now, I know what you're thinking. This is going to be stories of non-stop first class experiences about free flowing $100 bottles of champagne and fancy caviar. Well, sure, there's some of that. However, it takes more than drinks and food to make a flight truly special.
Take a look at the 10XTravel team's  favorite flights and you'll see why.
Anna Zaks
One of my all time favorite flights was the 10 hour flight from Seoul, South Korea to Istanbul on Turkish Airlines. I love flying in business class (who doesn't??), but here I want to talk about my experience flying in Emirates economy.
Emirates operates two fifth freedom routes from the U.S. – Newark (EWR) to Athens (ATH) and New York (JFK) to Milan (MXP). Last fall, I came across a great sale, tickets to Milan were only $500! You can find similar low fares during other times of year, but we wanted to travel at the end of March during spring break, when prices are usually much higher. My husband and I love Italy and we couldn't pass this up. We decided we'd fly to Milan and take a train to Florence, a city I'd always wanted to visit.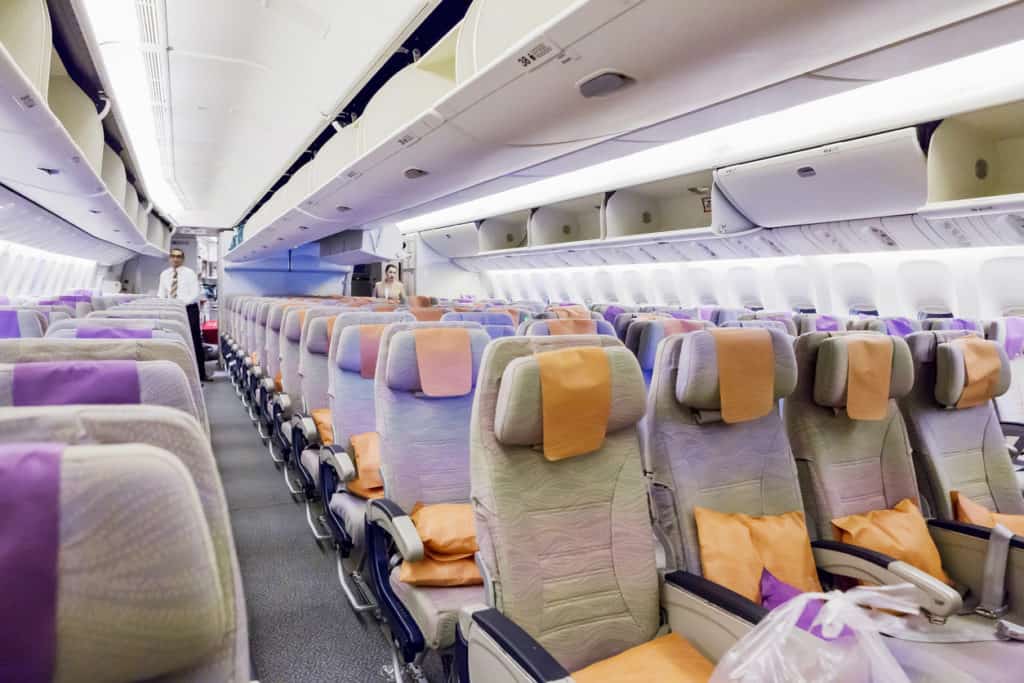 I've heard good things about Emirates economy, including the fact that it more legroom than on the U.S. carriers, and decent food. Both of these were true. The food was good and I was able to get some sleep on this eight-hour flight. This was my first time flying on A380, an amazingly quiet aircraft. And in spite of a huge number of passengers in economy, somehow the bathrooms stayed clean throughout the flight.
Our tickets included seat selection 72 hours before departure, carry on bags and checked luggage. I got to fly Emirates and on an Airbus A380 for the first time and visit beautiful Florence.
Travis Cormier
Points and miles have really spoiled me. I've been able to take a lot of flights in premium cabins, but there is one airline "product" that sticks out above them all: Cathay Pacific's first class.
I'm spoiled, right? Especially when I have to pick from three times I flew on it. However, one time stands out above the rest. I was flying back from my stay at the St. Regis Maldives, a flight I had booked with 70,000 Alaska Miles.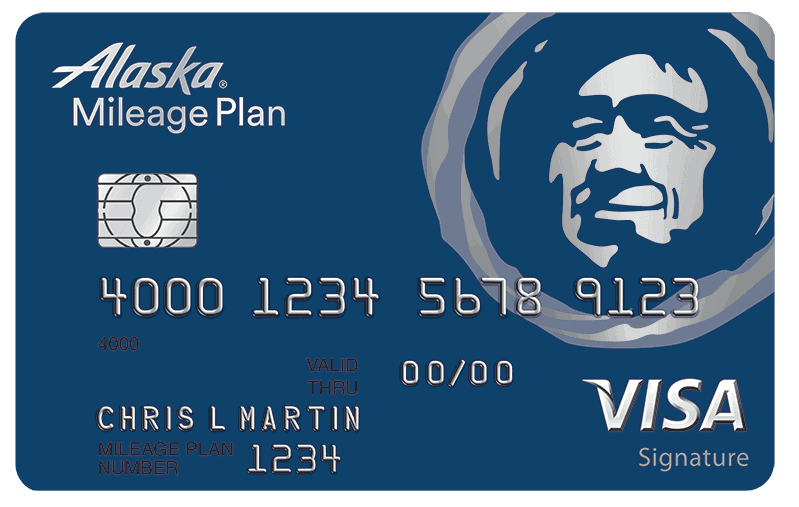 As it turned out, I was the only passenger initially booked in first class. Cathay Pacific's first-class is arranged in a way where the middle and right seats open to the same aisle, so if you're seated on the left you have a much more private cabin. They upgraded 3 elite members, but made sure to seat them on the right and middle so that I had the entire left side of the cabin to myself. It made the flight feel incredibly private.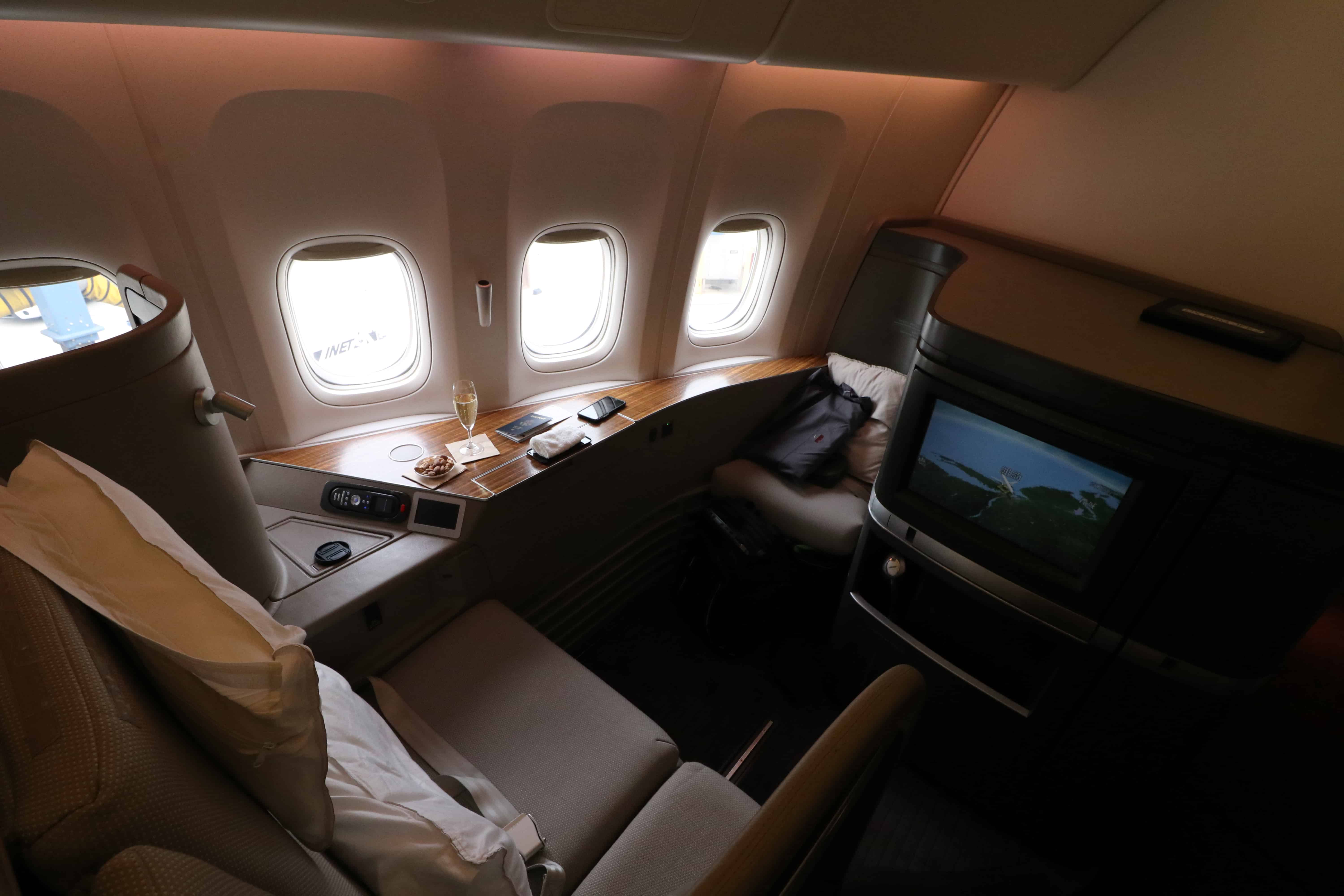 I knew all of this because the purser let me know when she introduced herself. She then did something that was absolutely crazy! She said "Mr. Cormier, as the only passenger initially booked in first class, what temperature would you like the plane?" This really caught me off guard. I kept it at an American moderate – 72 degrees. She told me she would set it and make sure it stayed at 72 if adjusted by other crew members.
The service was incredibly impeccable. I was always served first, never ran out of champagne (except when I asked them to stop), and was offered another seat as a bed so I could go to sleep whenever I was ready. I proceeded to sleep solidly for 8 hours and completely screwed up my adjustment schedule.
It was absolutely incredible service, and I really don't expect to receive that level of spoiling ever again. I was treated far better than I ever anticipated, and I doubt I'll ever be so lucky as to receive it ever again.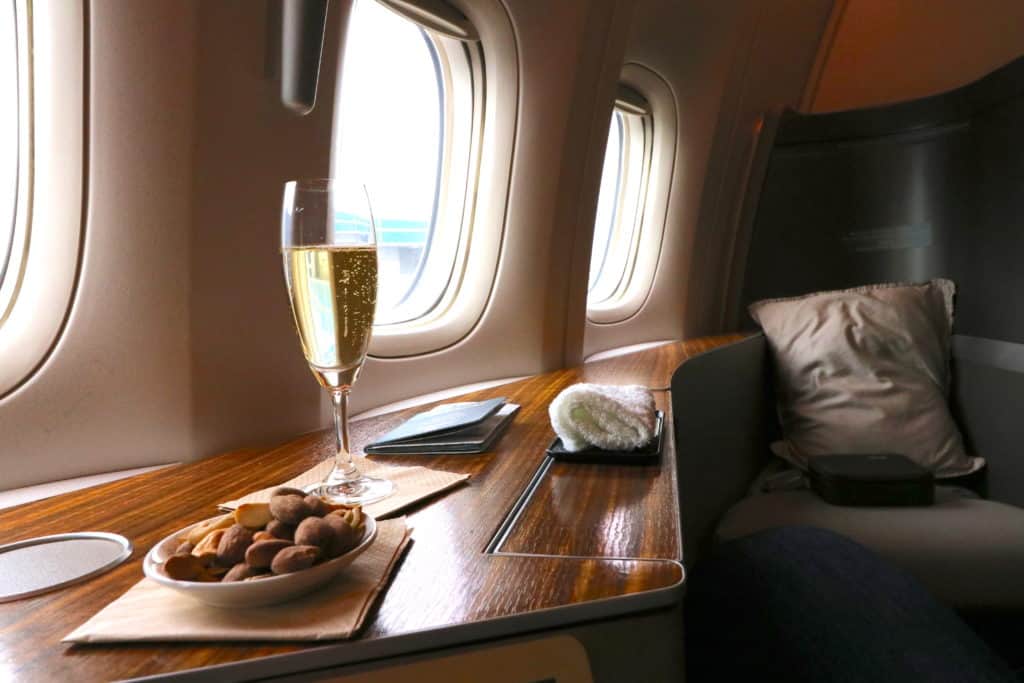 John Tunningley
I'm a little upset to be writing this now since I have two upcoming flights I think will make this list. In February and March of next year, I'm going to get a chance to fly both Qatar Airways Qsuites and the Etihad "Apartment" and if they don't blow all of my experiences to date out of the water, I'm going to be pretty disappointed.
All of that said, one of my favorite flight experiences was my first time flying in a lay-flat seat. I was able to book an amazing fare deal on Air Italy for a business class flight from Cairo to New York City, including a leg from Milan to New York with a lay flat seat.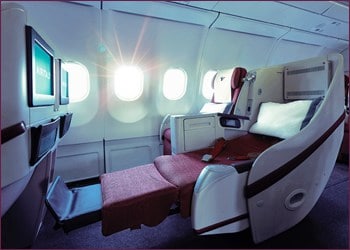 Prior to this, I had always used points for economy flights and utilized the points I saved to splurge on expensive hotels. For better or worse, it really is true: once you fly business class, you'll never want to fly economy again, especially on a longer route. Now I'm not sure if I can fly anything over a few hours in economy.
Looking back, the service was good and the seat was comfortable but there was nothing particularly special about the product itself. It was a 2-2-2 layout and we were sitting at the bulkhead on the left side of the plane and as such, had limited storage and no direct aisle access, but since it was my girlfriend and I, it wasn't a huge issue.
The food and drinks were good but nothing that I remember. What I do remember was being able to sleep for a few hours and not waking up with my neck absolutely killing me or other miscellaneous aches and pains. On top of this, when I arrived, my jet lag was minimal which is the other big reason why this is so high up on my favorite flight experiences list.
While nothing over the top, this single flight changed the way I view and use my points and miles. That, on top of the fact that this was my first truly restful sleep in the sky, makes this one of my favorite flight experiences and one that'll always be memorable for me.
Anya Kartashova
As someone who's never flown in a premium cabin—yes, this points junkie has never experienced first or even business class—it's hard to pinpoint one specific flight that stands out as my favorite. However, just because I don't fly upfront all the time doesn't mean the experience can't be memorable, right?
Several years ago, I was on board a Delta Air Lines flight with three other friends returning from a wedding in Massachusetts. We flew nonstop from Boston to Salt Lake City, a five-hour flight, and one of the people in our group chatted up a flight attendant during snack service. I'm still fuzzy on the details, but our whole group kept receiving premium beverages for the duration of the flight at no cost. As we got off the plane, the friend then slipped him a $20.
Another memorable flight experience was rather recent and funny also includes wine tastings. I flew with Air France in economy class from Paris to Washington Dulles International Airport, and the pre-meal service included Champagne—yes, the real stuff—but the meal service didn't. A couple of hours after dinner, my travel companion and I walked back to the galley where we asked nicely for a refill and continued to socialize with the crew for a good 30 minutes before the turbulence made us return to our seats.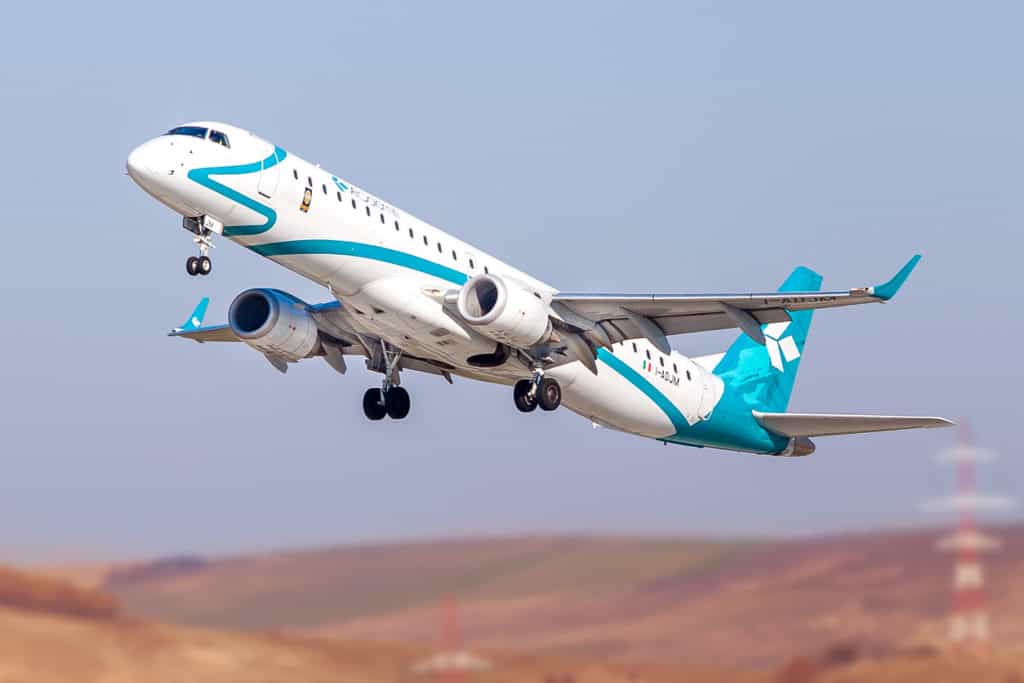 Another trip I fondly recall doesn't involve booze, but rather involves something else I enjoy—food! My then-boyfriend, now-husband flew from Munich to Amsterdam a few years ago on an Italian airline Air Dolomiti. As you can imagine, it's not a long flight—just an hour and a half—but it included a meal service. This was before either of us had Priority Pass membership, and we hadn't eaten in a while. Their delicious sandwiches were a hit, and we even asked for seconds when the friendly flight attendant was offering drink refills. She returned with two more sandwiches and a smile, and her willingness to help made this short flight memorable.
Now that I think about it, all my positive flight experiences involved a friendly crew member, and I think the service is really what makes a flight memorable—not lie-flat seats, amenity kits or even in-flight showers.
Julie Szpira
While I have flown in many premium cabins, those trips have all been while I was traveling alone. Thus far, I haven't been able to share a fancy flight experience with anyone, so my favorite flight experience is from an 18-hour economy flight.
Don't get me wrong, I love sitting in a private cube, watching the Sound of Music while being served Dom Perignon and eating caviar–before you roll your eyes too hard, I understand the absurdity of that statement–but there is just something so dang fun about traveling with a companion.
My favorite flight experience was with my college roommate from Los Angeles (LAX) – Bangkok (BKK) on Thai Airways
It was my first trip to Southeast Asia, and it was before I became fully entrenched in using points and miles. My college roommate said they would do all the planning, and I would just show up. That sounded like a great trip to me. They sent me the itinerary and told me which flight to book. It was a Thai Airways non-stop from Los Angeles to Bangkok, with an estimated flight time of 18 hours.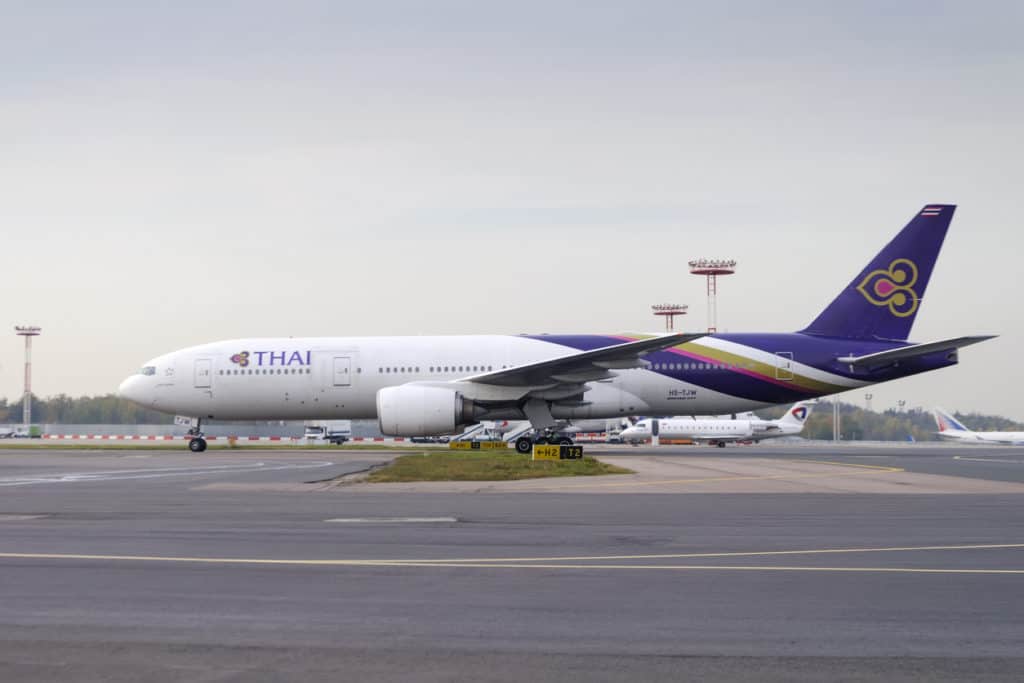 I had never flown on a very long flight, but I was thrilled at the prospect of getting on the plane in Los Angeles and getting off the plane in the city we wanted to visit. It seemed like the trip would be less complicated without a transit through a connecting city. Now that I have transited through various airports on my way to Bangkok, my hunch has been confirmed;  non-stop flights are much easier.
As for the flight, it was a blast. I don't remember a ton of details regarding the food, service or the seats, but I do remember laughing with my friend for HOURS.
Upon boarding, we realized our seats were way in the back of the plane. We marched through premium economy, the first economy section and all the way to the back of the second economy section. We had the last two seats on the starboard side of the plane. We immediately started laughing about how not only we were in economy, we were in the back of the back of the economy section.

We went through the in-flight entertainment and made up a movie schedule. This was so we could watch the same movies at the same time and have our viewings synced up. I vividly remember holding both of the inflight entertainment controllers and hitting play at the same time so the movies would run concurrently.
Sitting in economy next to a stranger can be weird. You're worried about touching them, about them touching you, about making them mad if you have to use the bathroom and a bunch of other stuff you don't want to have to worry about for 18 consecutive hours.
Sitting in economy next to a friend was wonderful. Thai Airways provided each passenger a blanket and a pillow. The items weren't super nice, but we were right next to the galley and the flight attendants had no issues passing us a couple extras. We made the seats as comfortable as possible and cozied up for a nap.
I don't know how long we slept, but it was apparently long enough for the man in front of us to notice that we were passed out with no regard for the other's personal space. How do I know that he noticed? Well, that's because he told us. It was something along the lines of, "You two looked so comfortable sleeping against each other." Somehow we managed to not burst into hysterical laughter until we were off the plane and jet bridge.
To this day, the memories from that flight–and the trip as a whole–bring me a lot of joy. It wasn't champagne and caviar, but I found out that I can survive 18 hours in economy and it spurred me to be more adventurous in my travel.
Joe Cheung
Having an entire first-class cabin to yourself is a wonderful experience that I hope everyone can luck into some day, but my favorite flight experience was even better than that. When my daughter was 18 months old, we took a trip with my parents to Bavaria in Germany.
Back then, flying Lufthansa first class still only cost 70,000 United MileagePlus miles per person each way. So I paid 280,000 miles plus the 10% lap infant fare to fly three of us plus my two parents from Boston to Munich in Lufthansa first class. When we got to the cabin, the flight attendant had the most wonderful news – we had the entire cabin to ourselves as a family.
Lufthansa first class by itself remains one of my favorite flight experiences in the sky. The seat is comfortable, the service is stellar, and the food and wine are excellent. I love the little touches in Lufthansa first class, from the single roses they use for decoration, to the way they set up the bottles of wine in the front, to the chocolates they offer after your meal.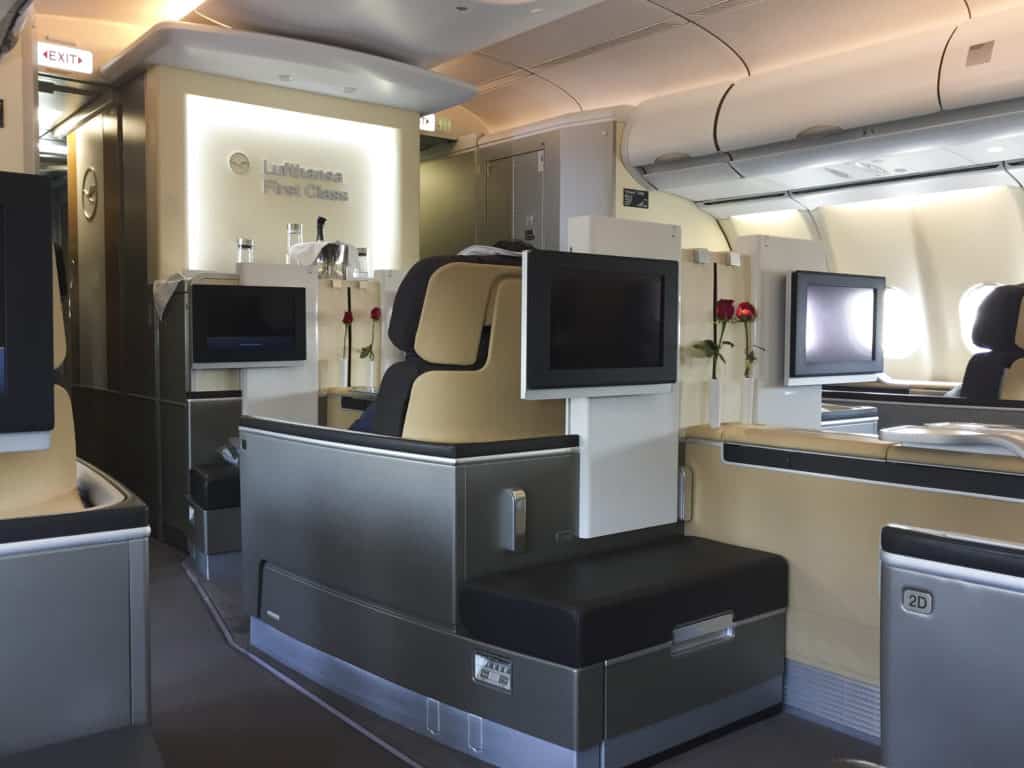 But one of the most stressful things about traveling with young kids, for me, is worrying about disturbing others. Having the entire first-class cabin to ourselves meant I didn't have to worry about that. So I got to enjoy Lufthansa first class in all its glory.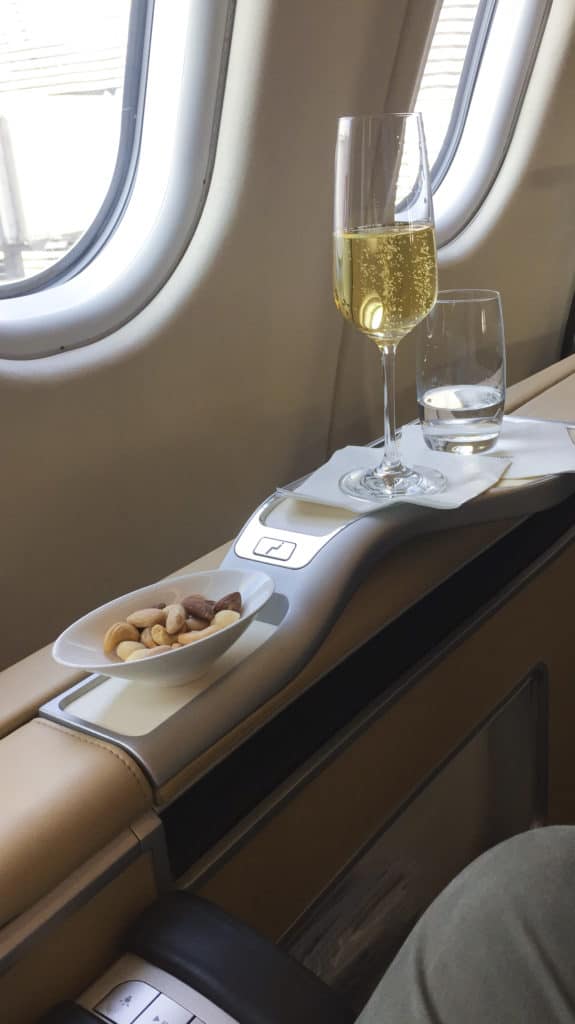 My daughter had a blast on that flight. She got to run up and down the aisle, from grandma to grandpa to mom and dad and back. She got to play with the flight attendants and was able to find food she happily devoured. She did not, however, care for caviar. Which is probably for the best because we can't afford to eat that at home, natch!
The really great thing about having a cabin to yourself is you can spread out and use multiple seats. So we had seats we used as beds and seats we used for lounging and enjoying the flight. And we were able to put my daughter down to sleep while still having a space for ourselves to relax and enjoy the wonderful Lufthansa product.
Getting an entire cabin for your party, aside from booking every seat, is obviously just dumb luck. I like to check Expertflyer to see what seats are taken before a flight just to get a feel for how crowded the cabin will be but there are no guarantees. On our flight home from that trip, my wife and I were the only two seats the night before we flew but we walked into a completely full cabin! (A flight had been cancelled the night before).
I can't overstate how much I enjoyed Lufthansa first class. But experiencing it with my parents, daughter, wife, and nobody else – it'll be tough to have a better flight experience than that one!
Caroline Lupini
You might not believe this, but hands down, my favorite flight experience was a paid first-class ticket with Emirates. Obviously Emirates First Class is spectacular, but why would a points and miles writer pay actual money for a first class ticket? Well, because it was only $3,000.
Yes, $3,000 is a ton of money, but from that $3,000, I took a 10-day trip to Europe and the Middle East with five of my friends, earned 100,000 Alaska Airlines miles, and earned Alaska Airlines MVP status. Not to mention, there are no longer any great methods for booking Emirates first-class flights with miles, so I knew that this was something I couldn't pass up.
As mentioned, I booked this flight with five friends. We started out with a few days in Vancouver, British Columbia, and then flew West Jet to LAX. Our Emirates flights took us from LAX to Dubai (DXB) and onward to Milan, Italy (MXP). We spent a few days in Italy and then a few more in Switzerland before flying back to Dubai for a few days, and finally back to LAX. That means we had four fairly long flights in Emirates First.
Three of the four flights were on A380s, which meant we had access to the shower on the plane. One of the flights was on a Boeing 777, not because it had to be but because we decided we should mix it up.
So, not only was I with five friends, but we also ate caviar on every flight and drank a ton of amazing alcohol (on the last flight, perhaps a little too much). We sang happy birthday to a friend that we met on the last flight (and a video of it was even posted by Emirates), we took a ton of photos, and had great conversations.
Even though I didn't spend any points or miles on this flight, it was the best flight experience I have ever had due to points and miles and this community.
Final Thoughts
See? It's not just about first class flying.
If there's a common thread, I think it's that the people with whom you travel or even the flight crews are a huge part of having an amazing flights. Flying first class is great but it's the personal attention of being the only one in the cabin that really takes it to another level. In economy, it might not be over the top luxury, but it can still be an amazing experience with friends.
As we often find with travel, it's the shared experiences and the people you meet that really shape our impression of a trip. Hopefully, you have some amazing flight experiences just around the corner and have someone to share them with or will meet new friends along the way, or both!
Tell us all about your favorite flights in the comments!
New to the world of points and miles? The Chase Sapphire Preferred is the best card to start with. With a bonus of 60,000 points after $4,000 spend in the first 3 months and 2x points on dining and travel, this card truly cannot be beat! 
Learn more
---
10xTravel is part of an affiliate sales network and receives compensation for sending traffic to partner sites, such as CreditCards.com. This compensation may impact how and where links appear on this site. This site does not include all financial companies or all available financial offers.
Editors Note: Opinions expressed here are author's alone, not those of any bank, credit card issuer, hotel, airline, or other entity. This content has not been reviewed, approved or otherwise endorsed by any of the entities included within the post.