Hawaii is a destination on almost every travel enthusiast's list. I recently had the pleasure of visiting Hawaii with my entire family for a lovely ten-day trip. We spent the first five nights at the Hilton Hawaiian Village Waikiki Beach Resort so I thought I'd share my experience staying at the hotel with a family of five (kids aged 6, 4, and 1.5).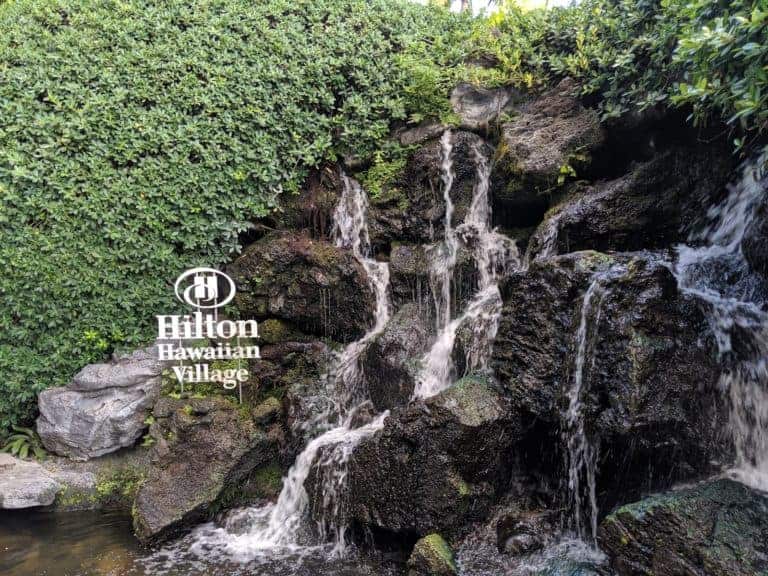 In this post, I'll cover the basics of what you can expect at the hotel and I'll also share about my experience as a Hilton Honors Diamond member here. Like all hotels in Hawaii during high season (the summer), the hotel can get expensive, but we'll talk about how to save some money on your stay as well. Let's dive in!
Booking the Hilton Hawaiian Village Waikiki Beach Resort with points
We picked a five-night stay for a very specific reason. Silver Elite members (and above) with Hilton Honors get the fifth night free when booking standard room awards. Even in July, peak season, the Hilton Hawaiian Village Waikiki Beach Resort cost us 60,000 points per night for a standard room. With the fifth night free, we paid 240,000 points for our five-night stay.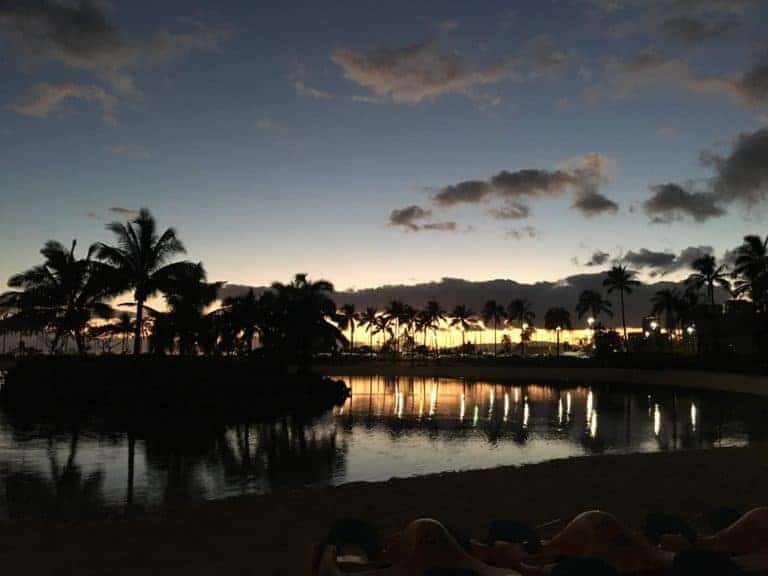 One big benefit of booking Hilton hotels with points is that the resort fee is waived. At $45/night (plus tax), that saved us almost $250. Because of the waived resort fee, I got more value out of my Hilton points than I normally do.
Typically, if I redeem Hilton points at 0.5 cents per point, I'm pretty happy. Rooms were going for about $261/night for our dates (the lowest I've seen this summer is $244). After taxes and the resort fee, the actual cost is closer to $350 per night. When compared to the 48,000 points per night we spent (after the fifth-night free was taken into account), we got a value of around 0.6 cents per point after subtracting out the points I would have earned as a Diamond member using my Hilton Aspire card.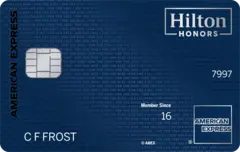 Hilton Honors American Express Aspire Card
Earn 150,000 Hilton points after $4,000 spend in the first 3 months.
Learn more by visiting our
credit cards page.
Check-in
We arrived via taxi from Honolulu airport and a bellman took our bags. We got there around 1 PM and the check-in desk wasn't too crowded. Note that from 2:30-4 PM every day I noticed the check-in desk was very crowded (check-in is at 3) so avoid those times if possible.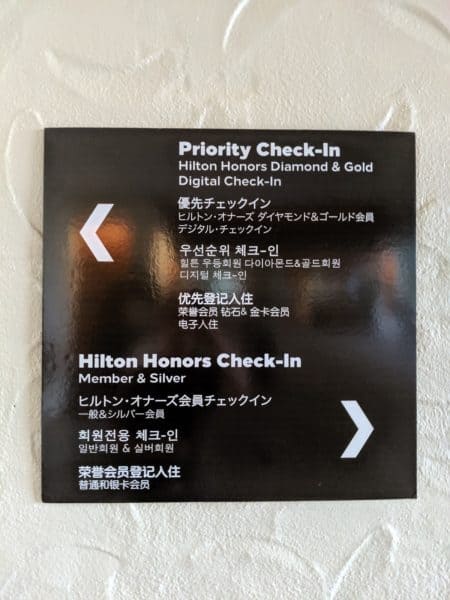 Check-in is a little weird so I will share a few observations. There are multiple lines – one for Hilton Honors members and one for the general public. There is also a separate line for Golds and Diamonds, but it isn't clearly marked. Finally, there is a line for "Digital Check-in", which I observed was consistently the shortest line.
If you have the Hilton Honors app, you can check in digitally. This probably is the way to go, especially if you don't have status. There's another desk in another location in the resort to pick up your keys if your room isn't ready when you first get there. Like I said, it gets a little weird!
Check-in was smooth and we appreciated an upgrade to the Rainbow Tower as a Hilton Honors Diamond. If you're looking for a suite, they'll probably still try to charge you for it. Their suites were completely sold out when we were there so it didn't matter in our case.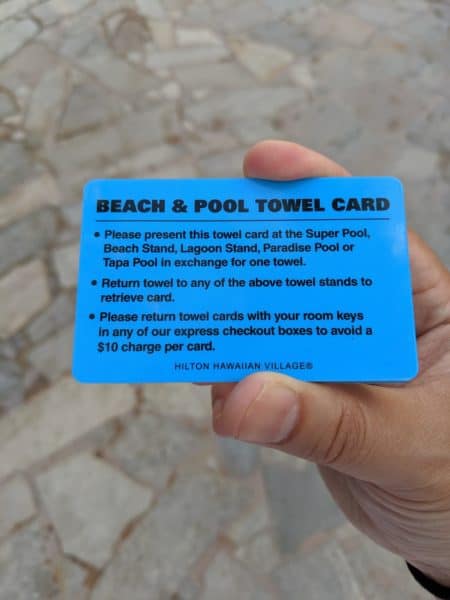 At check-in we were given our keys, a map, and our towel cards (more on that later). We made our way to our room and our luggage was delivered in a smooth and timely manner.
One last quirk – we didn't receive a lei. In fact, I didn't see a ton of guests checking in with them though I might have missed it. This wasn't a huge deal to me but my wife and kids were disappointed they didn't get any.
Rainbow Tower Room Impressions
We got to the Rainbow Tower, a short walk from the lobby, and had our first encounter with the elevators. The elevators use that new system where you type your floor in and they "calculate" the optimal elevator for you to go in – no buttons inside! The system works great when it's lightly to moderately crowded, but it works badly when it's super crowded. The elevators close quickly and more than once they closed before ANYONE got in. Since the elevators are preprogrammed, an empty elevator was completely wasted more often than necessary during very crowded times. Just something to be aware of.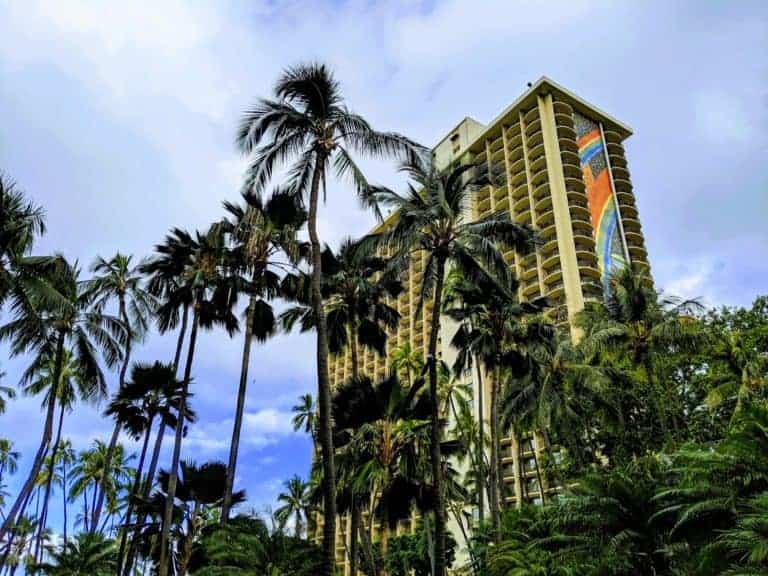 The Rainbow Tower has a slightly nicer view and we were given two queen beds which really helped the sleeping situation. Our friends stayed in the Ali'i Tower which sounded like a small step down. Other than that, I can only speak to the Rainbow Tower in this review.
Our room was decently sized but modest. The bathroom was spacious enough to accommodate our kids and we definitely had enough space in the room to spread out. Even as a family of five, we didn't feel super cramped. The highlight of the room was definitely the view – we had a nice view of the marina and were facing west so we could watch the sunsets.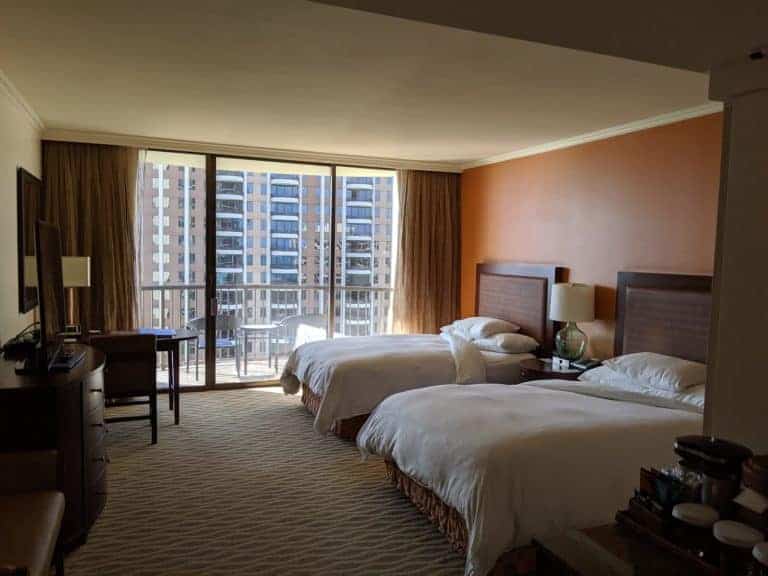 If you have young kids like me or are a sensitive sleeper, note that the curtains didn't completely blackout sunlight. Luckily our kids can nap in low light, but it's easier to get them to nap in the complete dark. Bring eyeshades for yourself if you're a light sleeper.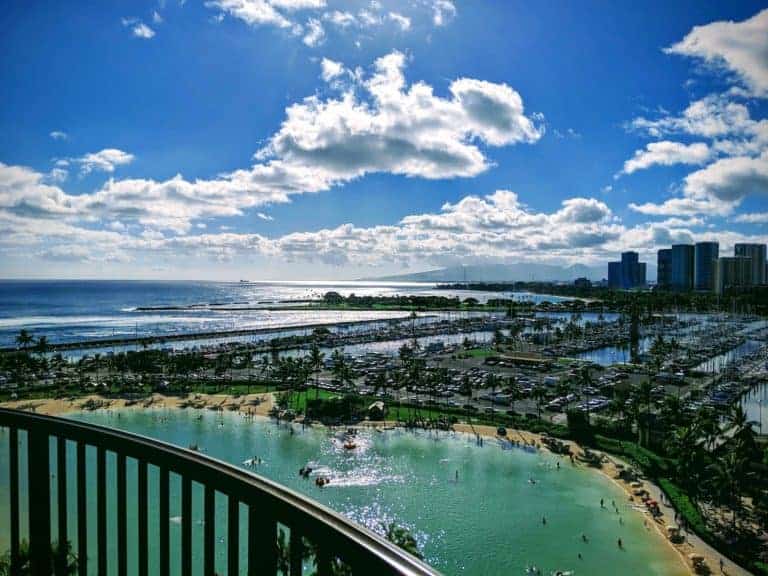 Pools, Beach, and those darned Towel Cards
Let's be honest, a nicer room would have been lovely, but we didn't fly all the way to Hawaii for the room. We were hoping for a resort with nice pools and a nice beach and in this area the Hilton Hawaiian Village Waikiki Beach Resort delivered.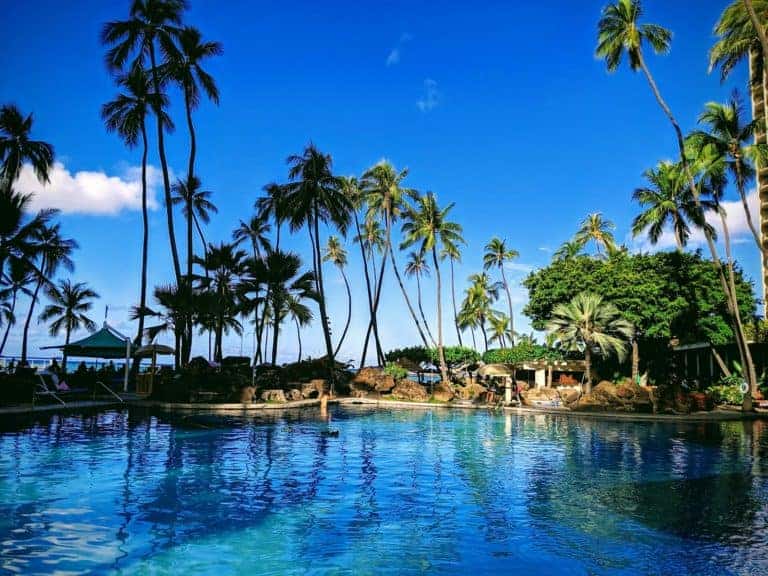 There are multiple pools spread throughout the resort so there are lots of options. Our two favorites were the Super Pool and the Paradise Pool. The Super Pool sits in the center of the resort and is the "big" pool. It's your standard big pool but it's got a lot of space and was a lot of fun for the kids.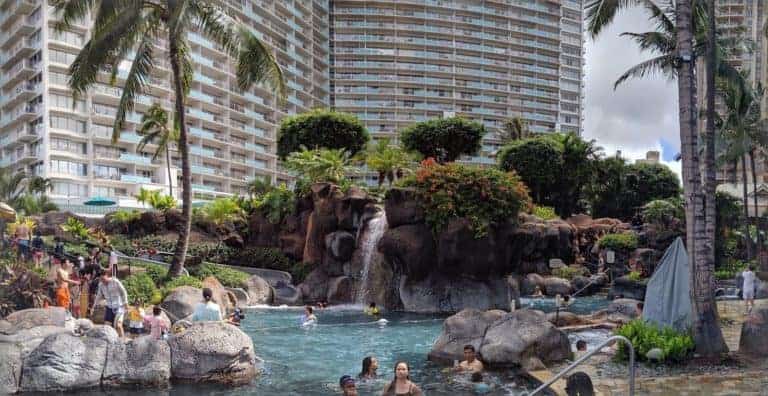 The real winner for the kids was the Paradise Pool. The Paradise Pool features a very shallow section where toddlers can walk a little bit (although it gradually gets deeper via steps). But the real draw of the Paradise Pool are the three water slides. There's a small slide that we even sent the baby down, a medium slide, and a big slide that goes through a tunnel. It was a ton of fun for both the kids and the parents.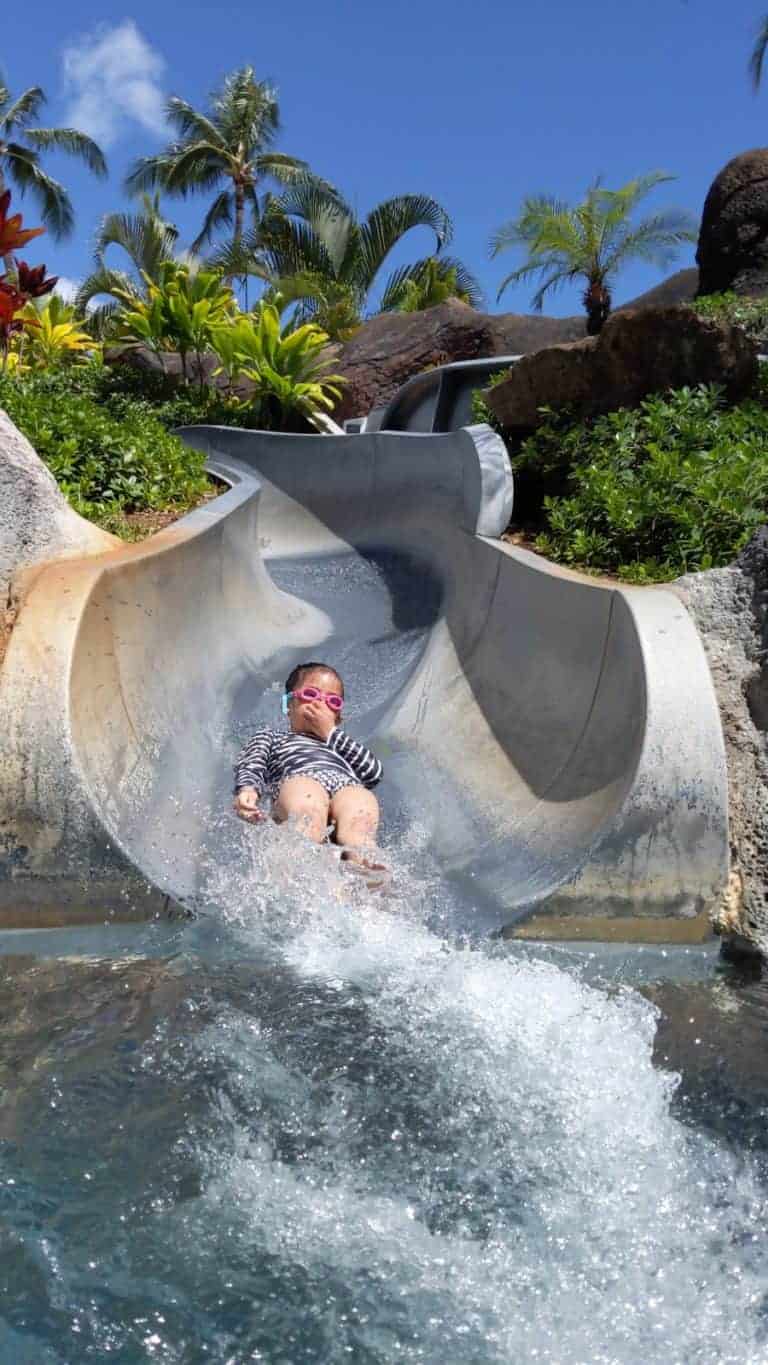 When we were tired of the pool, we'd head to the beach. It's Hawaii, so even in busy Waikiki, the beach was pretty great. You can buy beach chairs and umbrellas, but they were too expensive for our tastes. Chairs are $18 for the day and umbrellas are $30 or so. You do get to keep them for the whole day and there's a ton of sun if you don't rent them, but we didn't spend enough time on the beach to justify them. If you go later during the day you can often find abandoned umbrellas and chairs, so that might be the way to go.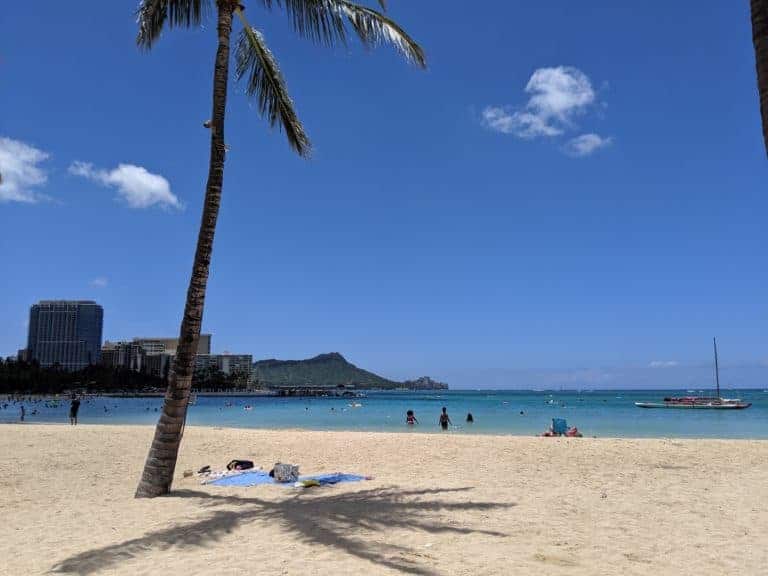 The hotel also has a lagoon with various water sports, but we didn't feel like spending $50/hour on renting a paddle boat regardless of how much our kids begged us! There was plenty of fun to be had without shelling out extra cash.
One note: the Hilton Hawaiian Village Waikiki Beach Resort has this towel card system where you exchange towel cards received at check in for beach towels. When you return your towels, you get new towel cards back. While I'm sure most people don't worry about these too much, I have the personality where I'd get very stressed about returning the towels because of those darned towel cards!
So I made sure we didn't lose any towels. It was a funny (but also not funny) bit of stress added on to the trip. I wasn't going to mention them until I found out our friends who were there with us felt the same way! So keep hold of your towel cards and your towels :). I may or may not have flipped out at my kids for losing a towel card (they were playing with them) before finding it in my pocket. Oops, sorry kids.
Dining
The Hilton Hawaiian Village Waikiki Beach Resort has a ton of dining options. For breakfast, most people grab something from Lappert's, a Hawaiian coffee shop, or Starbucks. There's also a breakfast buffet at Rainbow Lanai, but we did not partake.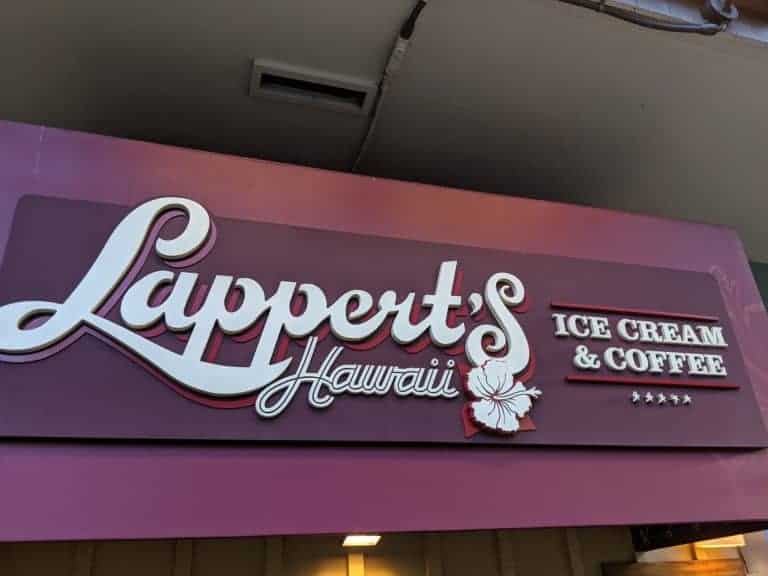 We spent most of our eating on property at Tropics, the beachside restaurant. The prices were typical Waikiki prices (20% more expensive than you'd expect on the mainland), but the food was pretty good. Sometimes resort food is overpriced and bad, so I was glad that our whole family at least enjoyed the food. They had generous portions for kids meals so our 6 and 4 year old could share which also helped cut down on the costs.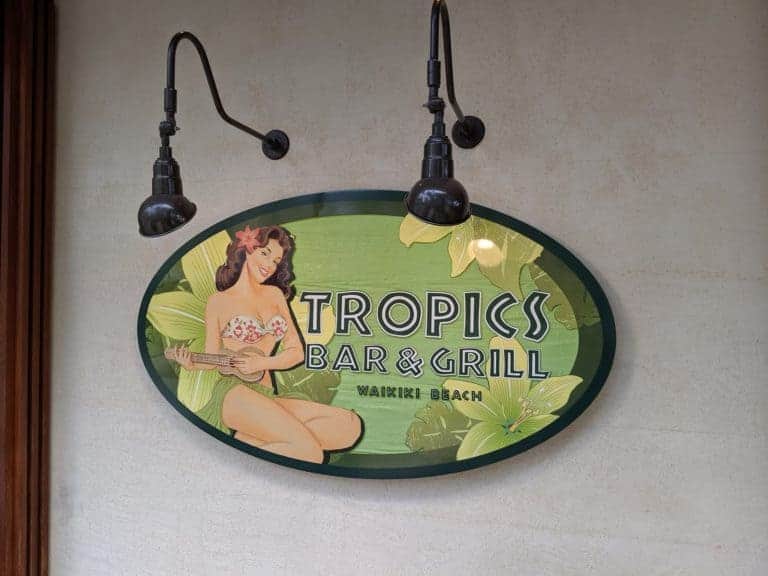 We sometimes grabbed takeaway food from Wiki Wiki Market, a take out place that also served shave ice. The shave ice was so huge, it was enough for five kids (our two plus our friends' three) to split. Wiki Wiki Market also serves breakfast sandwiches, pizzas, and similar to go foods. The food at Tropics was definitely better, but Wiki Wiki definitely had the convenience of being quick.
We didn't get a chance to try any of the sit down restaurants like Bali Steak and Seafood because it just didn't feel worth it with the young kids. Overall, we were happy with the food options at the hotel, but also enjoyed getting out into some of the good food options in Waikiki.
Location and eating off property
We didn't have a car for this portion of our trip, but there were a lot of good places to eat within 15-20 minutes walking distance. Ala Moana Mall has two food courts and a bunch of restaurants, including Jade Dynasty where we enjoyed dim sum. However, the highlight of this mall for us, foodwise, was the Shirokiya Japan Village Walk.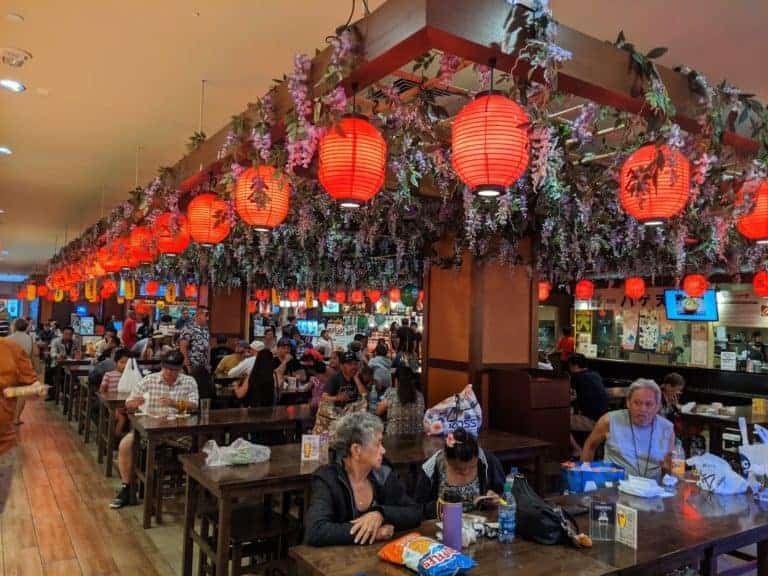 Shirokiya is essentially a large Japanese food court with lots of great Japanese food options. We ate there three times in five days since it was a short Uber or medium walk away and because it had lots of great Japanese food. There were also fun little stores like a stationary store where my wife and daughter bought custom notebooks.
You might want to keep your kids away from the gacha machines though (capsule toy machines that require tokens you need to buy). It's fun but your kids might pressure you to buy more tokens than you'd like.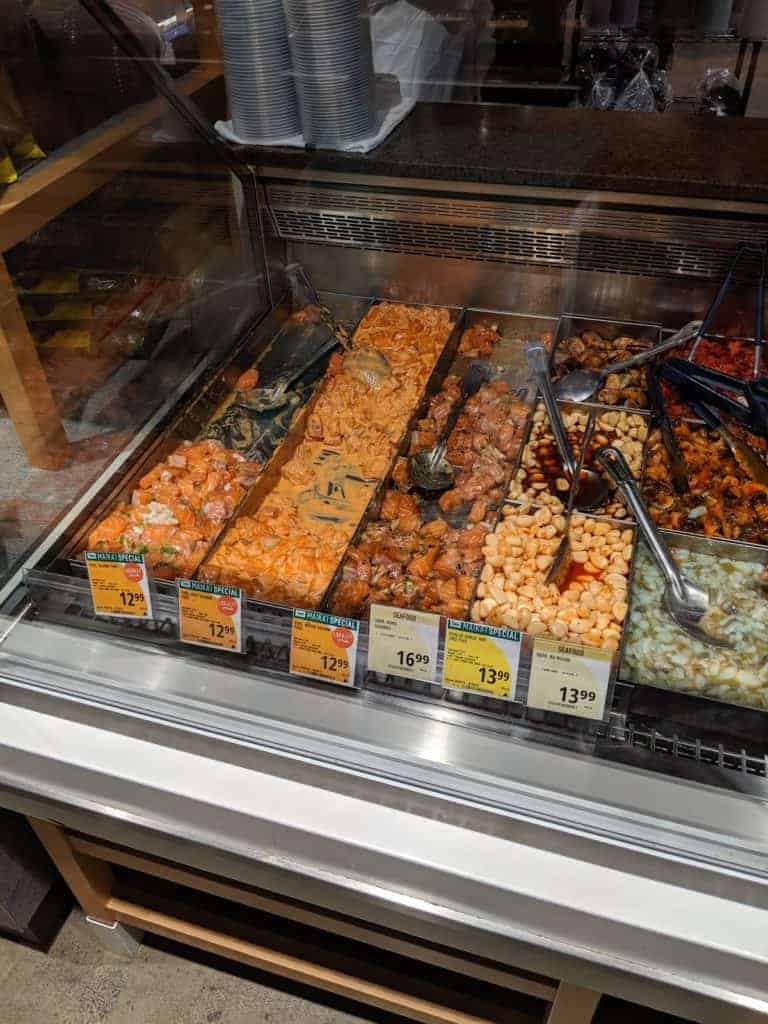 Another fun thing to do is to buy poke from Foodland, a local grocery across the garage from Shirokiya. You can also stock up on supplies there where things are slightly cheaper than ABC Stores.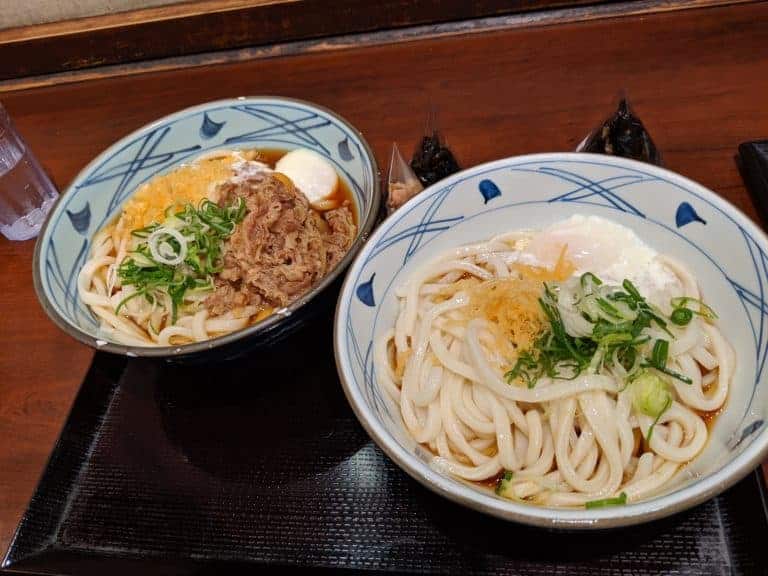 We also ate at Tim Ho Wan for dim sum in the Royal Hawaiian Center and at Marukame Udon, a very well known udon restaurant. Tim Ho Wan wasn't as good as the Hong Kong version, but Marukame was excellent and worth the wait. Don't worry if you see a line, it moves pretty quickly.
With a car, you could venture out much further, but even without one, we were still pretty happy with our food options outside of the hotel.
Resort Shopping
We're not huge shoppers, but potential guests should know that the "Hawaiian Village" referenced in the hotel name is actually a fairly large shopping complex. There are lots of stores to browse, with lots of Hawaiian clothes and products to buy, although I'm not sure if they're overly touristy version or not (probably).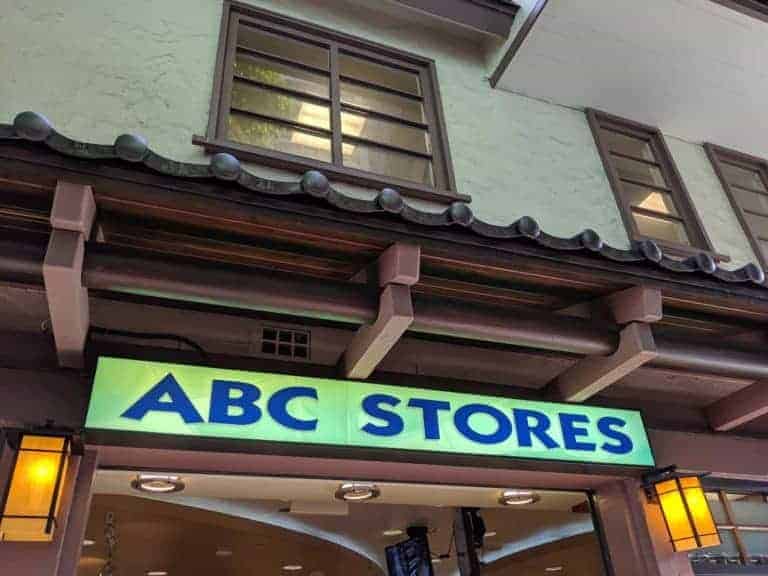 What's important if you're trying to save money is that there are two ABC Stores where you can buy supplies if you don't want to venture too far out. Even though the prices are way more than you're used to on the mainland, things like soda and snacks will cost you way less here than elsewhere in the hotel. I loaded up on Diet Coke and didn't buy any from the hotel at all.
Hilton Honors Diamond Benefits
If the highlight of the Hilton Hawaiian Village Waikiki Beach Resort is its pools, the lowlight is definitely how it treats Hilton Honors Diamond members. Now I'm under no delusions of my "loyalty" to the program (I have the status through the Hilton Aspire Amex card). To be frank, the recognition of Diamonds was mediocre at best.
Instead of offering a continental breakfast or any breakfast at all, the hotel only offers a $10 food credit per person per room per day, up to two people. In practice, that meant I got $20 a day to try to feed my family of five breakfast. For reference, a breakfast sandwich at Wiki Wiki Market costs $13.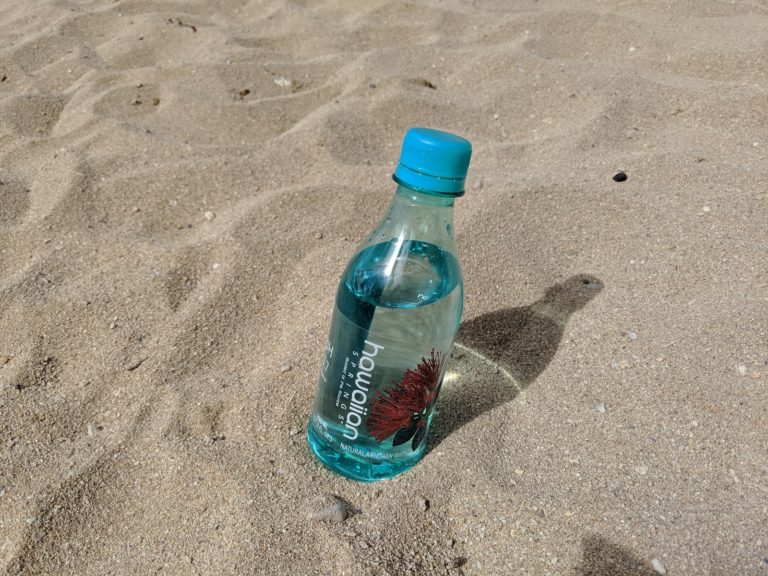 There also isn't an executive lounge and I only received a coupon for two bottles of water. One coupon for my entire stay, and bottles of water were about 12 ounces. I receive more water at Hyatt Places for free as a Discoverist. Needless to say, I didn't feel very appreciated as a Diamond outside of the room upgrade I mentioned above.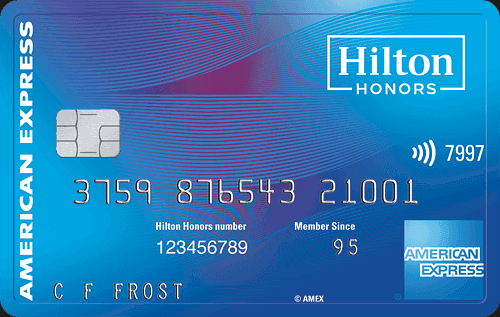 75,000 Hilton Honors points after $1,000 spend in 3 months
Learn more
Did this bother me? No, because like I said, my status is through a credit card. But would it bother me if I stayed 60+ nights a year at Hilton hotels? Almost certainly. I do have a second data point from a friend who also stayed here recently, who texted me, "They don't care about diamonds here." So definitely take note if you have status, and especially if you earned it the hard way.
Is the Hilton Hawaiian Village Waikiki Beach Resort good for kids?
Lots of families like to travel to Hawaii during the summer, so it's important to discuss whether I think the resort is good for kids. Like I said, my kids are 6, 4, and 1.5. They absolutely loved this hotel!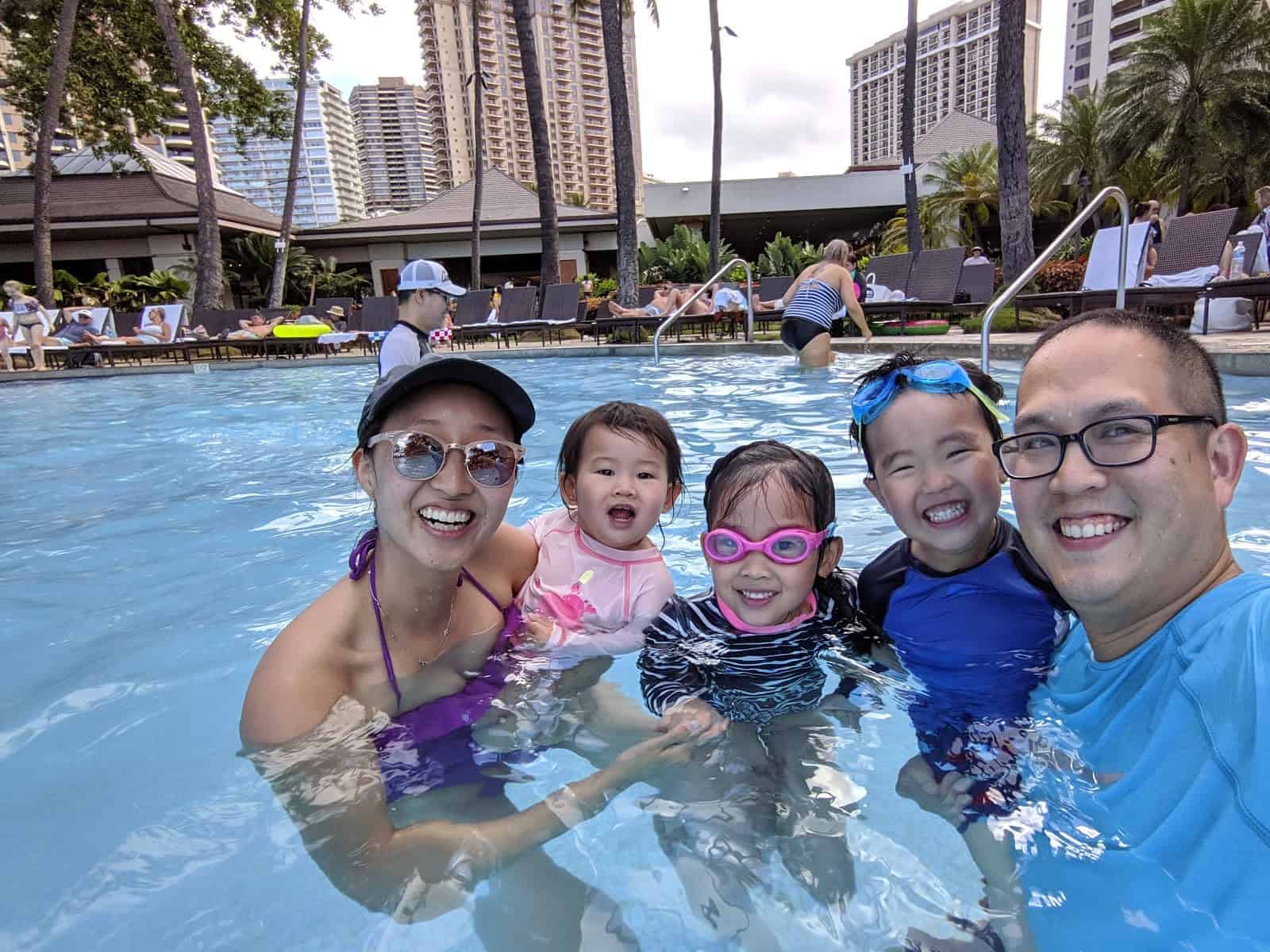 From the beach, to the pools, to the elevators that annoy adults but fascinate them, to the food, and even down to the towel cards – my kids loved every aspect of this hotel. They also loved the little things, like the koi ponds, the random birds patrolling the property, the flip flop making store, and the free DVD rentals. In terms of keeping the kids happy and occupied, this resort definitely checks off all the kid-friendly boxes.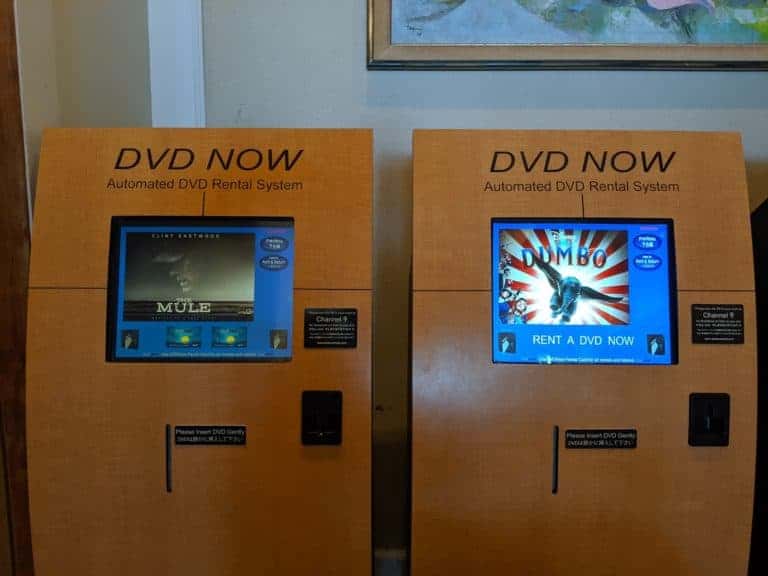 Some minor drawbacks would be the non-blackout curtains that I noted two thousand words ago and also the walking distances. While there are lots of great pools, it does take 5-10 minutes to walk between them (in the hot sun), so that made things a little less kid-friendly. There was lots of fighting between the younger two about the stroller. My wife said the hotel also always felt crowded, which adds to stress when you're trying to navigate with three young kids in tow.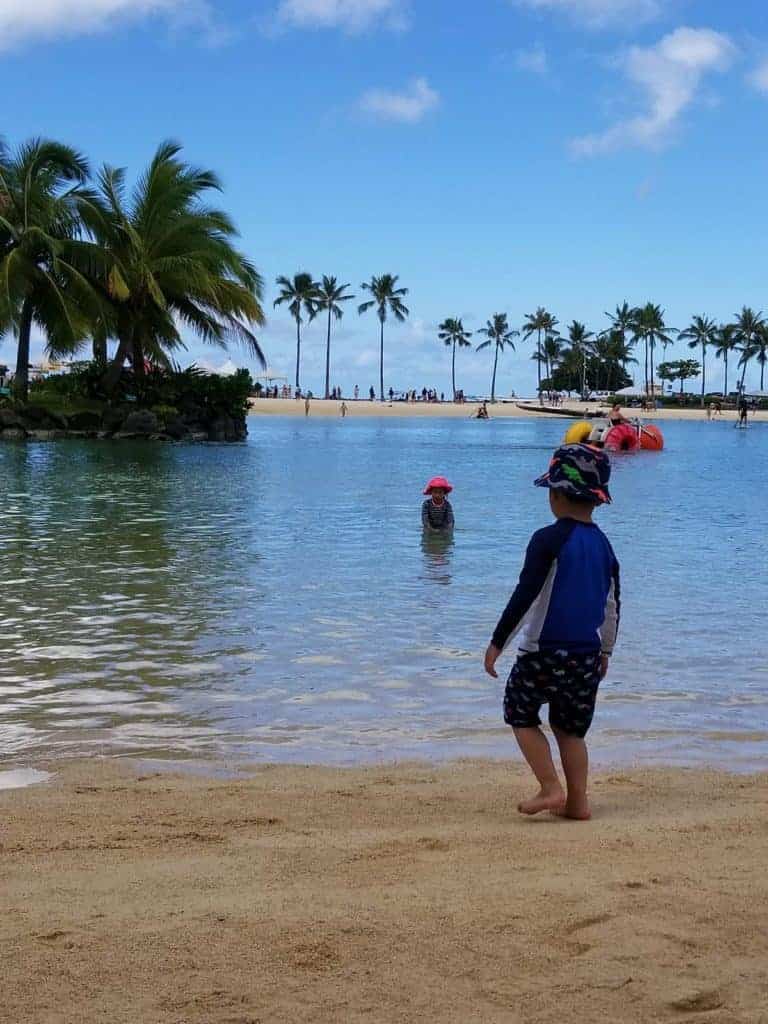 But those drawbacks are minor compared to the overall rave reviews from our kids. Ultimately I think the Hilton Hawaiian Village Waikiki Beach Resort is great for families.
Final Thoughts
I don't always assign grades in my reviews, but since in a rare moment my wife and I agreed, I'll put out there that we both would give this resort a B. The hotel gets the big things right which makes for an enjoyable stay, but falls short in some of the small details that would make for a truly spectacular experience.
I wish they'd fix some of those little things and that they would treat Diamonds a little better, but I'd still happily stay here again. I shared the nitpicks so you would have realistic expectations of the property, but none of them are significant enough to stop me from coming back. In the end, we were in Hawaii, so how upset could we be, really? Aloha!
Have you stayed at the Hilton Hawaiian Village Waikiki Beach Resort? Let us know your experiences and tips in the comments!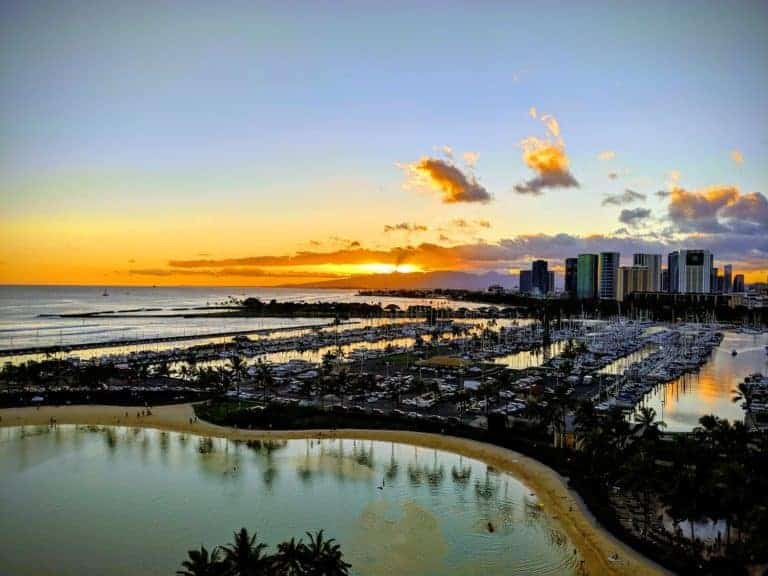 New to the world of points and miles? The Chase Sapphire Preferred is the best card to start with. With a bonus of 60,000 points after $4,000 spend in the first 3 months and 2x points on dining and travel, this card truly cannot be beat! 
Learn more
---
10xTravel is part of an affiliate sales network and receives compensation for sending traffic to partner sites, such as CreditCards.com. This compensation may impact how and where links appear on this site. This site does not include all financial companies or all available financial offers.