Note: Some of the offers mentioned below may have changed or are no longer be available. You can view current offers here.
| | |
| --- | --- |
| Route | New York (JFK) to Amsterdam (AMS) |
| Flight | KLM 642 |
| Aircraft | Boeing 787-10 (Dreamliner) |
| Cabin Layout | 1-2-1 |
| Flight Time | 6 hours 9 minutes |
| Class of Service | World Business Class |
| Seat | 6A |
| Booked With | Delta Vacations Promo |
To kick off the new year, I flew KLM business class on their new Boeing 787-10 Dreamliner. You might even say it still had that new plane smell. Even the crew seemed proud of the new aircraft.
Now, this wasn't the first time I'd flown with KLM. I'd actually flown business class on their 787-9 Dreamliner in 2017 on my way from Oktoberfest to our 10xTravel Vegas Meetup. Great timing on my part.
I had a great flight the first time but it's easy to be excited by something new. The real test would be whether I enjoyed my second long-haul KLM flight (and my third on the return flight for this trip).
Lounge Access at JFK – Delta Sky Club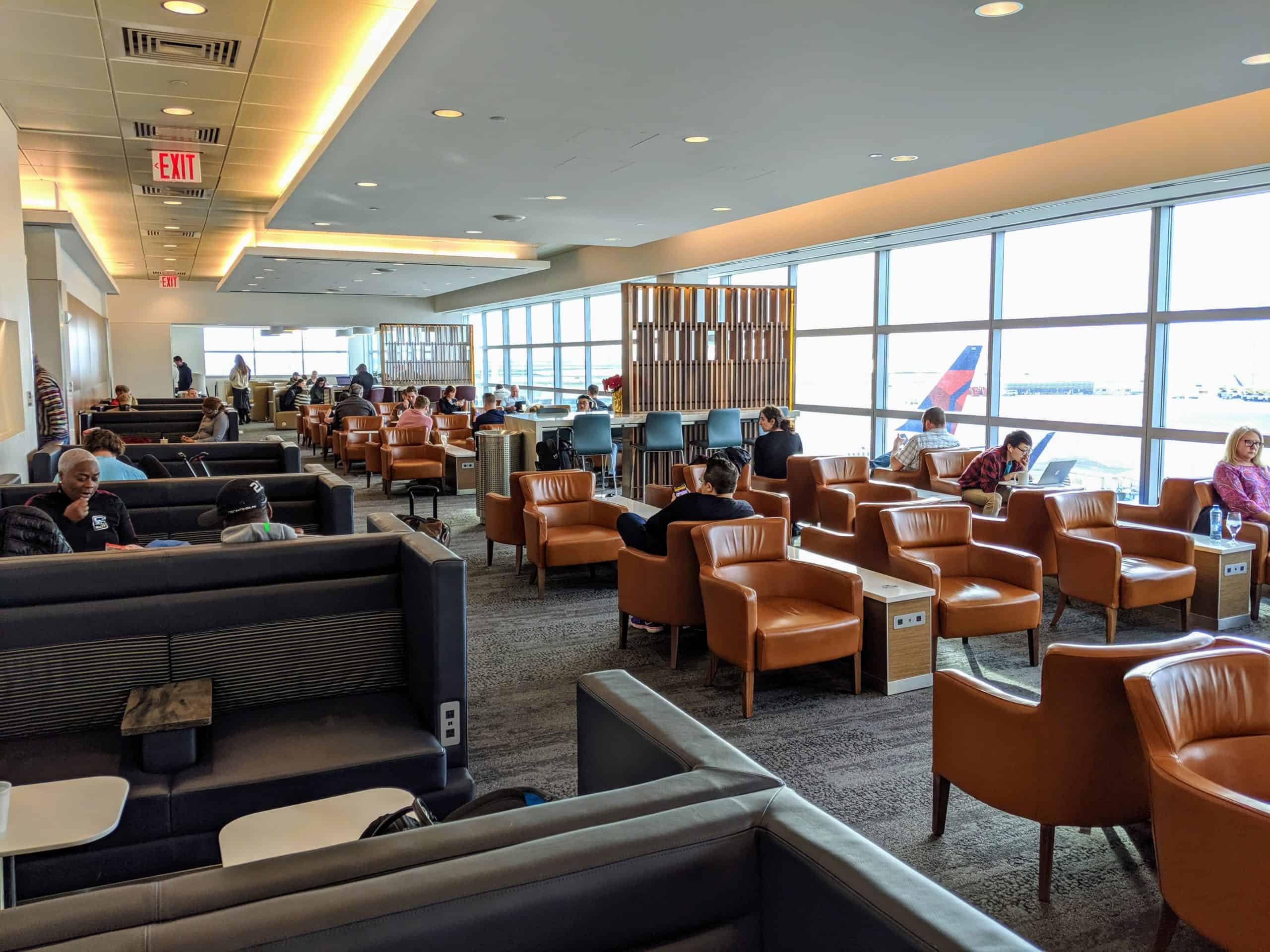 Just in case there was bad weather between DC and New York, I flew up to JFK the morning of my flight even though I wouldn't depart until close to 6pm. Fortunately, there weren't any delays and that gave me several hours to hang out in the Delta Sky Club in Terminal 4.
From the moment I arrived, the Sky Club was very crowded. I was able to find a seat with my friend Tim who was traveling with me, but I could definitely see it being a bit tough for families or larger groups of friends to find space together. Fortunately, there are lots of seats with great tarmac views if you're into that kind of thing – I very much am.
As to the food in the lounge, the buffet was solid but won't blow you away. Still, it's a big step up from American's Admirals Club at DCA where I often find myself. If I'd had some SkyMiles left in my account, I might have used them on a bottle of champagne at a rate of 2 cents per point.
I'm not sure if it's sad or amusing that getting champagne at the lounge with SkyMiles is a good deal. Such is the state of SkyMiles these days.
You can also grab a shower while at the Sky Club. Since I was slow getting ready, I didn't have time to shower and shave before leaving my place in DC so I did just that.
After one more glass of bubbly, I made the 5-minute walk to my gate.
Boarding Process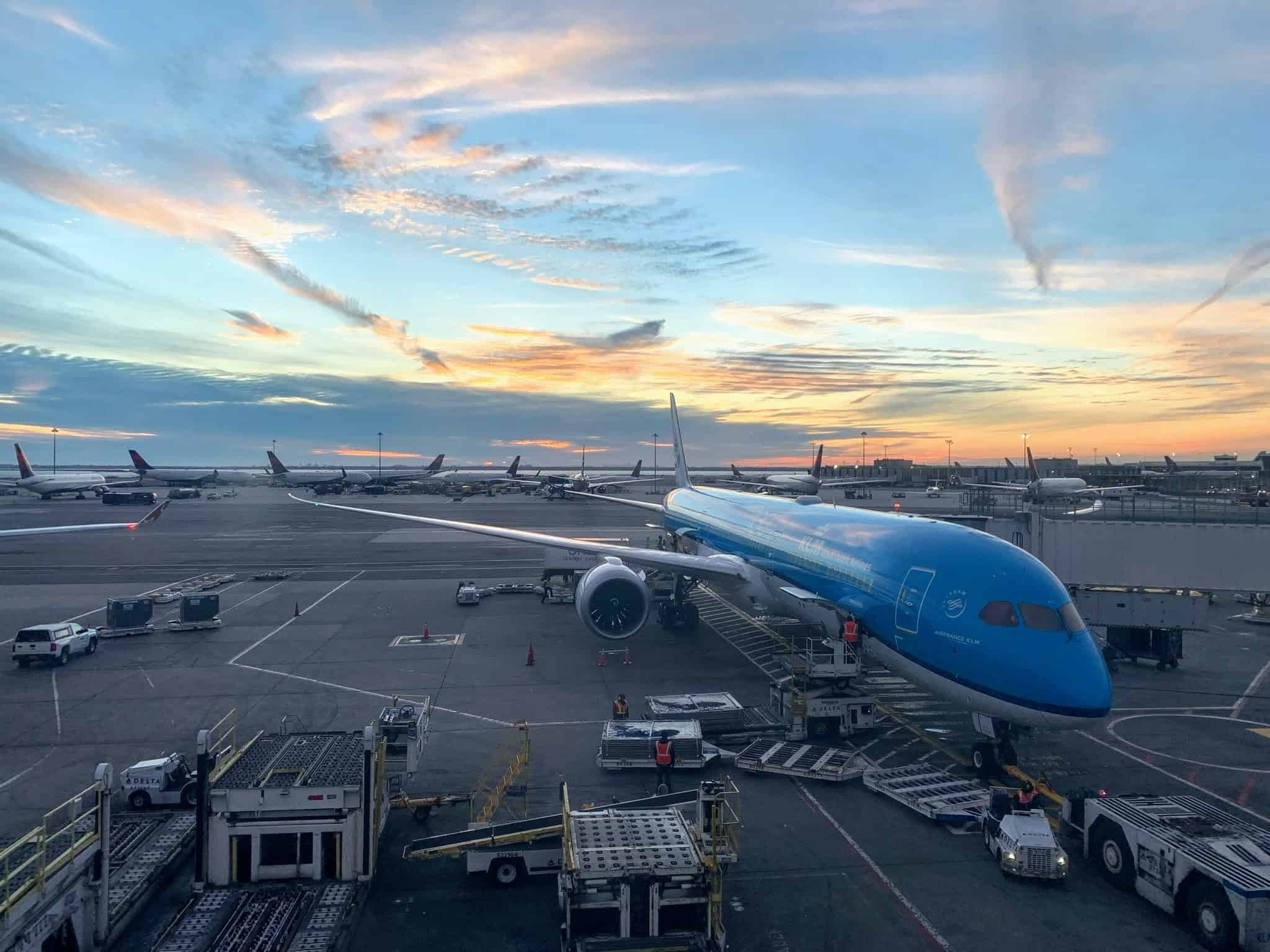 The SkyPriority lane for business class passengers and SkyTeam elites was clearly marked and remained pretty empty until just before boarding. There was a tiny bit of confusion with the boarding process as biometric boarding was being tested.
We boarded our Boeing 787-10 through the doors between the business and economy class cabins. I really like this boarding process as it speeds up boarding a bit and I don't feel quite as rushed to get out of the aisle as others board.
Cabin and Seat on KLM's 787-10 Dreamliner
The Business Class Cabin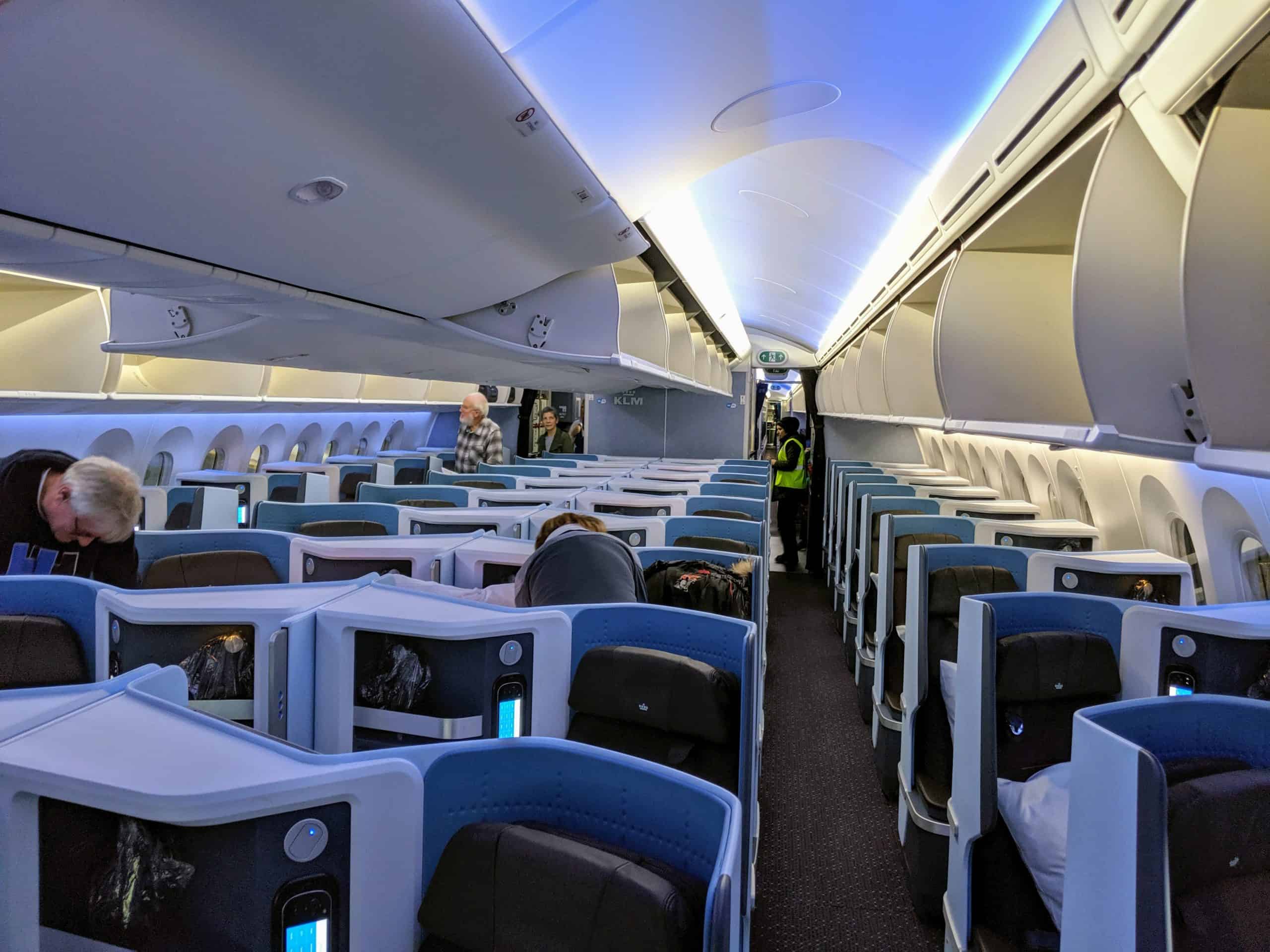 Similar to KLM's Boeing 787-9, the 787-10 has a 1-2-1 reverse herringbone business class cabin layout. There are 38 seats in the cabin which is 8 more than what you'll find on the 787-9.
KLM goes all-in on the blue color scheme and I have to say that I'm a fan. I find the simplicity quite calming. There's a time and place for the over-the-top bling of Emirates, but I'll take KLM most days.
The Seat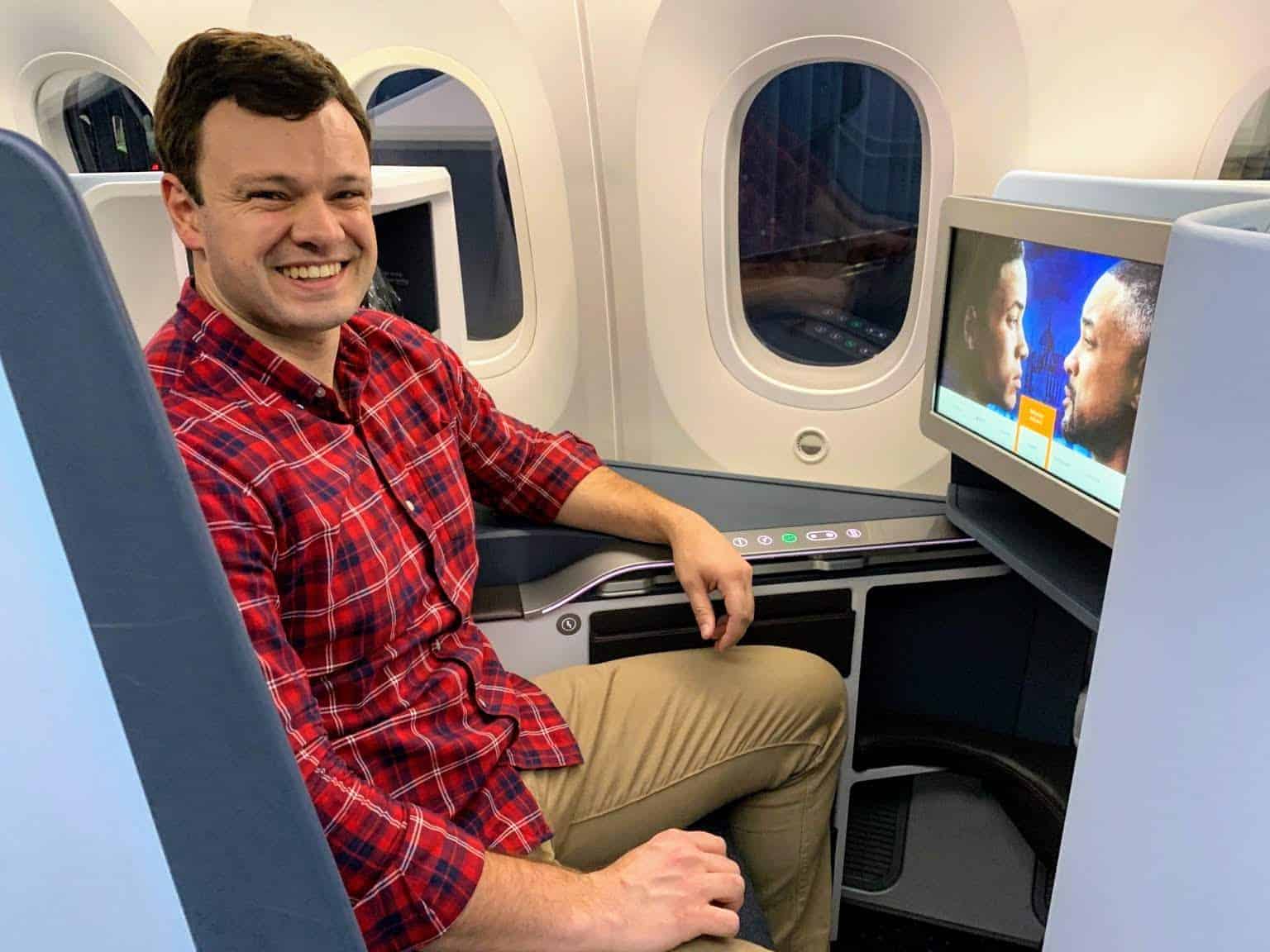 Each seat has direct aisle access so you don't have to crawl over anyone to stretch your legs or use the restroom. Equally important, no one will fall climbing over you. Additionally, seats are lie-flat in bed position so you can enjoy a nice rest on overnight flights or even a little nap during daytime flights.
Personally, I almost always struggle to sleep on flights and this one was no different. If anything, I just closed my eyes for an hour or two while listening to a movie.
One of the nice parts about a reverse herringbone seat is that the window seats are angled away from the aisle so you have a bit more privacy. KLM actually takes this a step further by wrapping the seat's shell around at head/shoulder level to provide even more privacy. You really do feel like you're in a personal pod.
Now, you won't find a ton of storage space in this seat, but I found the small cubby next to me that holds the headphones KLM provides and the shelf below the TV to be more than enough. As I was seated in 6A, I also had a nice space to the left of my seat that almost acts as a table.
While some reverse herringbone seats come with a TV that rotates out from a holding position at the press of a button, KLM has chosen to mount the TV directly in front of you. While I've found this setup to make the foot cubby a bit cramped when sleeping on my side on other airlines, I did not feel as restricted on this flight.
Speaking of the foot cubby, I was impressed with how much space it provides. I'm 6'3" and have clown feet so it's something I'm acutely aware of when flying.
Inflight Entertainment System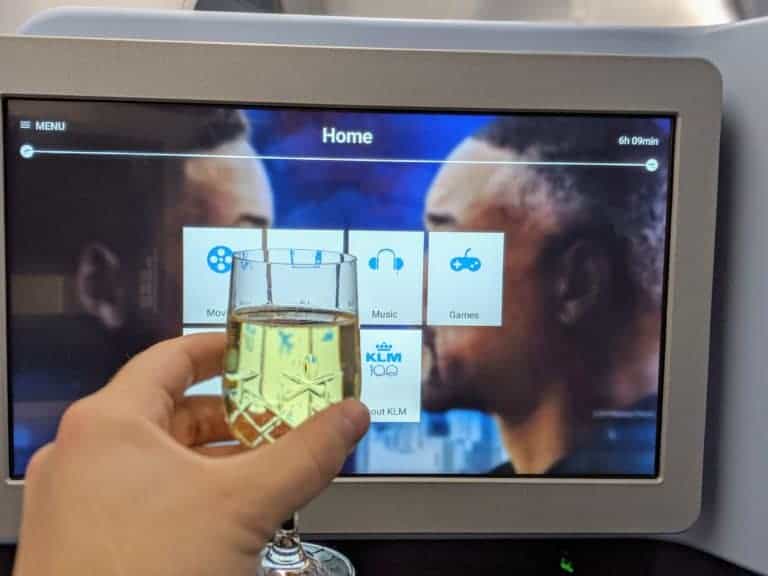 Speaking of the TV, you'll find more than enough movies to enjoy on a flight across the Atlantic – even if you're like me and can't fall asleep. I didn't get into the TV show options very much but the options seemed pretty standard.
You can make your selections via the TV itself as it's a touchscreen or by using the small touchscreen remote next to you – in my case, on the left side of the seat.
KLM also provides noise-canceling headphones but you might prefer to use something a little more high-end.
Service
As someone who is a bit of a social butterfly – even more so when I'm excited to be flying, the personality of a crew really matters to me. If they're not swamped with work, I always enjoy having a chat and hearing about their experiences traveling the world.
On this flight, I had a wonderful flight attendant who managed to serve a full cabin efficiently and take the time to chat with passengers. I could tell she took a lot of pride in both her work and the airline itself.
Perhaps it was just my child-like excitement about flying KLM again – don't judge, we all have our weird obsessions, but she went out of her way to make the flight special when it came time to pass out the famous Blue Delft Houses. More on that later.
If you were to knock KLM for anything, it might be the speed of dinner service on an overnight flight that barely eclipses 6 hours in the air. To be clear, this isn't because the crew aren't working diligently but instead because they're willing to chat with passengers.
Honestly, I didn't expect to get much, if any, sleep so I was fine enjoying a leisurely three-course meal. Besides, I'd much prefer a friendly crew to food being flung at me.
Food and Drink
I chose a glass of champagne as my pre-departure beverage – I almost always do, even on morning flights. Once in the air, I changed things up and tried KLM's Anniversary Cocktail – a take on the negroni – commemorating their 100th anniversary. I found it quite refreshing.
Dinner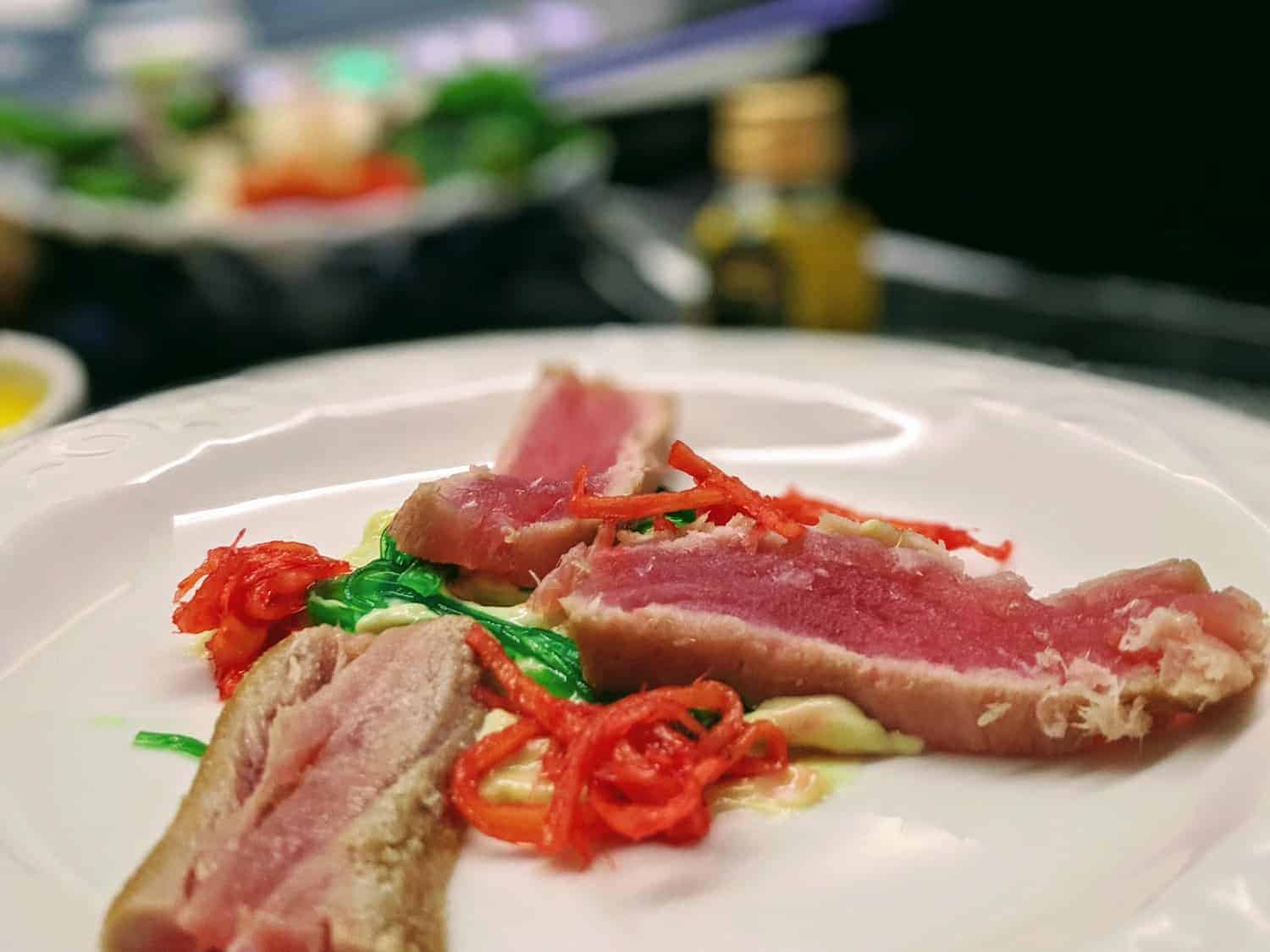 Inflight catering is tough because things don't taste the same in the air, you can't exactly fire up a grill to prepare a steak, and there are a lot of people to feed. With that in mind, I was quite pleased with the KLM meal and drink service.
For my appetizer, I chose the yellowfin tuna tataki with wasabi mayo, pickled ginger and seaweed salad. It was light and really hit the spot. In fact, this might have been my favorite part of the meal.
For the main course, I chose the braised beef with whole grain mustard sauce and garlic potato mash, grilled squash and snow peas. Unlike the many horror stories of overcooked beef on flights, the beef was tender and was complimented nicely by the sides.
While I love cheese, I passed on the cheese plate and tried the sweet bites for dessert. This was my least favorite part of the meal and I probably would have enjoyed the cheese more. The cognac was a nice pairing though.
Anyone else only drink cognac in the air? Honestly, I don't know if I've ever had cognac on the ground.
However, the flight attendant also brought around Belgian chocolates shaped like the blue delft houses – don't worry, we'll talk about the actual souvenir houses in a bit.
Breakfast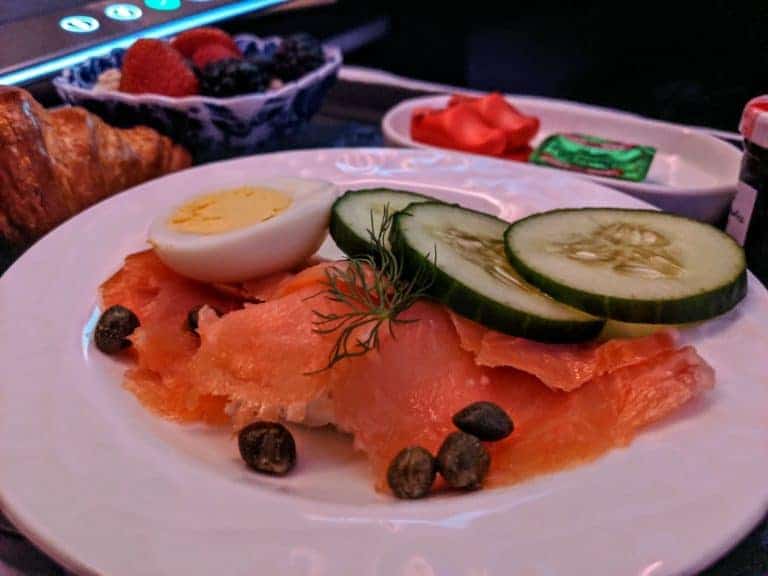 For breakfast, I had coconut chia oatmeal with berries, smoked salmon with cream cheese (basically, lox minus the bagels), a hardboiled egg and a croissant with jam. Considering dinner had just ended a couple of hours earlier, a light breakfast was more than enough. Eggs and sausage would have been too much for me.
KLM Business Class Amenity Kit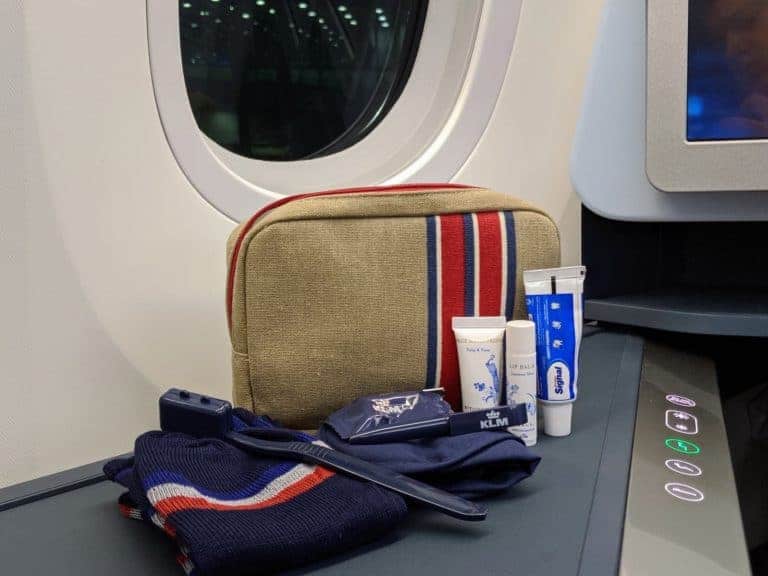 KLM's business class amenity kit was designed by Dutch designer Jan Taminiau. It has the essentials you'd probably expect including an eye mask, toothbrush/toothpaste, pen, socks, lip balm and face moisturizer. If anything, I'd like to see them add hand lotion as my hands tend to get rather dry on flights.
KLM Delft Blue Houses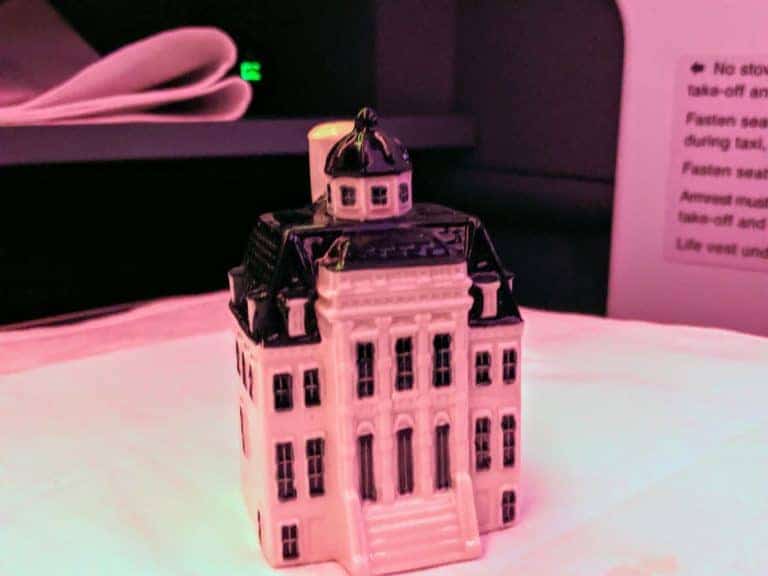 Now, let's talk about the best souvenir in the sky.
KLM gives little Delft Blue houses to all passengers in World Business Class — think international business class. Not only do you get a fun collectible but each one is filled with genever (Dutch gin). Seriously, I don't really collect "stuff" but I love these houses.
It'll take you a bit to collect them all as KLM has one commemorating each year they've been in business. That's 100 years! In fact, there's even an app to help you keep track of your collection (Apple and Android).
On this flight, I struck up a conversation with a flight attendant and talked about the airline a bit. She asked me if I knew about the new 100th anniversary Delft Blue house. Obviously, I did and was hoping to snag one.
Typically, flight attendants come through the cabin with trays of options at the end of the flight but this rockstar of a human checked to see if they had #100 after dinner. She found exactly one and brought it to me. My travel buddy Tim hasn't forgiven me for getting the only one.
How I Booked KLM Business Class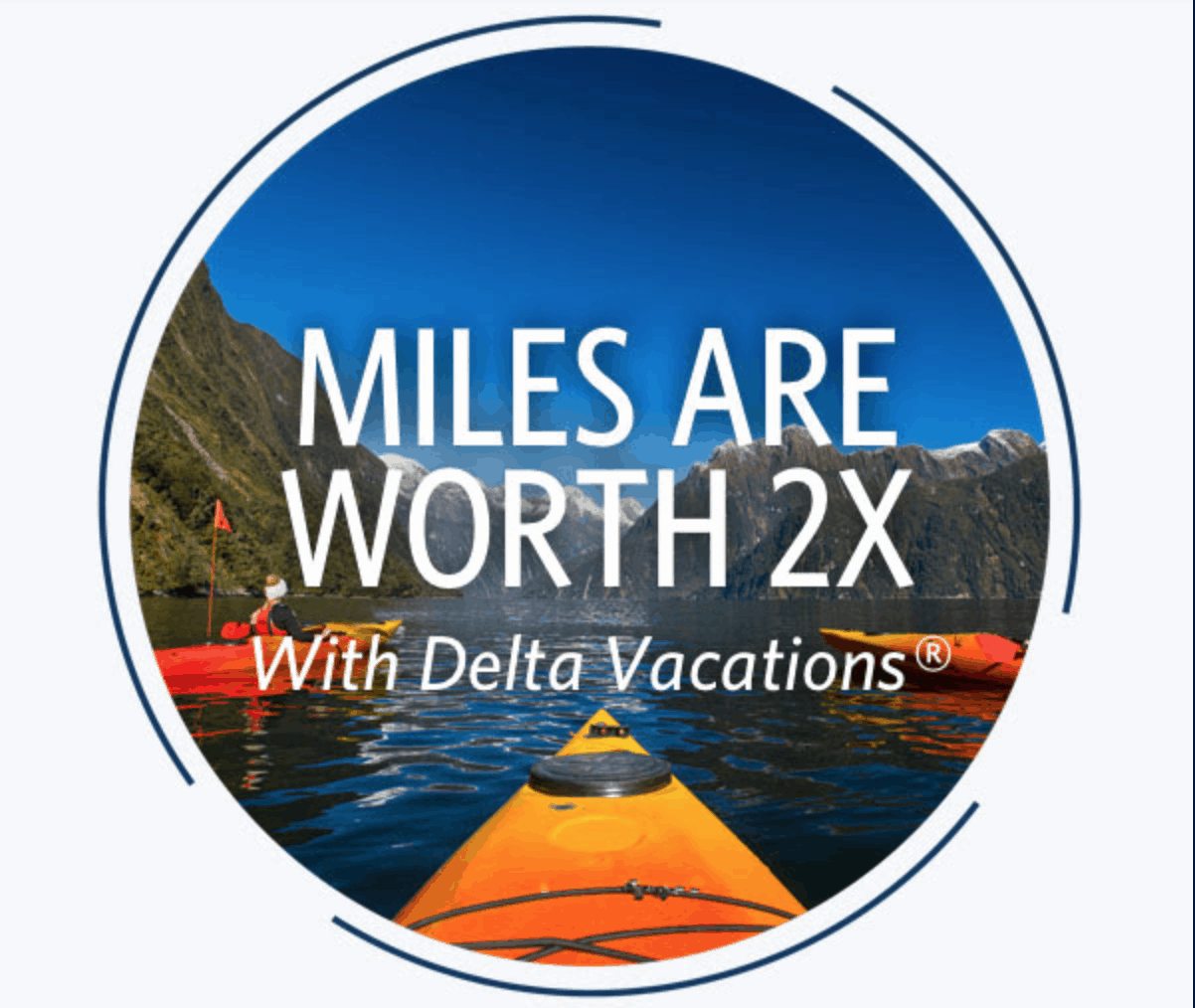 In September 2019, Delta Vacations ran a promotion in which you could redeem SkyMiles toward a vacation package at a rate of 2 cents per mile. That's twice the standard 1 cent per mile value you'd get with Delta Vacations.
While Delta does run some solid flash award sales, it can be pretty tough to get 2 cents per mile in value out of SkyMiles. I had 23,217 SkyMiles just wasting away in my account so I figured this would be a great time to burn my remaining miles.
The package I wanted to book included a 3-night stay at the Renaissance Zurich Tower Hotel (a Marriott property) and cost $2,744.11. Now, I had no interest in paying cash for that, but with this promo, I saw some potential.
I already had an $800 voucher from Delta for taking a later flight on a soldout flight when they needed to get a pilot from JFK to Reagan National (DCA). That knocked the price down to $1,944.11.
I transferred 50,000 Amex Membership Rewards points to my Delta account which gave me a total of 73,179 SkyMiles. That took care of another $1,400+ and brought the total cost down to $480.53. Considering that's roughly the cost of an economy ticket and I'd get a 3-night hotel stay, I was happy to pay cash for the remainder.
So, all in, a round-trip business class ticket to Zurich (returning from Rome) on KLM cost me 73,179 SkyMiles and $480.53 – plus a slight delay getting home on a previous trip to get the voucher.
I booked a separate ticket to get from DC to JFK as a short economy ticket was cheap and booking the Delta Vacations package from DC would have cost over $1,000 more. Hard pass.
How to Book KLM Business Class With Points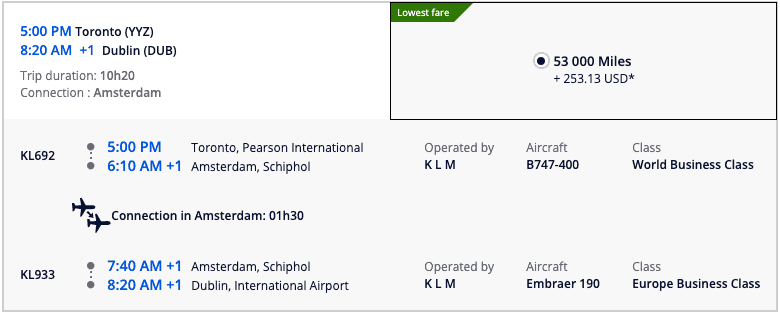 While the Delta Vacations promo was an unusual option, you have a couple of solid ways to book KLM business class with points and miles. Which option you choose depends on your tolerance for surcharges (which can make the taxes/fees steep) and how many points you have.
If you're booking a one-way ticket from the U.S. to Europe, you can book with 75,000 Delta SkyMiles with minimal taxes. If you book with Air France-KLM Flying Blue, you can potentially use 53,000 miles for the same flight but you'll owe ~$250 taxes/fees.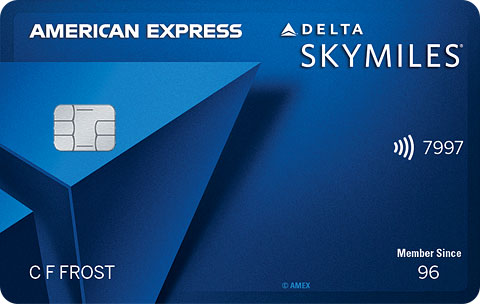 Delta SkyMiles Blue American Express Card
10,000 miles after $500 spend in the first 3 months
Learn more
To find the exact number of miles needed for a saver level award with Flying Blue miles, check the Miles Price Estimator for your specific route.
If you're booking from Europe to the U.S., Delta does pass on the surcharges just like Flying Blue. This means Flying Blue will be your go-to option from Europe since the taxes/fees will be similar but you'll use fewer miles — even more important if you're transferring points to book.
You can transfer Amex Membership Rewards and Marriott Bonvoy points to both programs. However, you can also transfer Chase Ultimate Rewards points, Capital One miles and Citi ThankYou Points to Flying Blue.
Final Thoughts on KLM's 787-10 Business Class
While I didn't sleep on this overnight flight, I genuinely enjoyed the experience. First, it was just fun to fly on a brand new Boeing 787-10. I think it says a lot when even the crew seemed excited about it. Second, the crew really stood out as the star of the show. They really make you feel at home even if you're just with them for 6+ hours.
If anything could be improved, it would probably be the speed of the dinner service and perhaps the dessert. Still, I'd rather the pace remained a little relaxed than to feel like it's an assembly line just throwing food at you as fast as possible.
With the pros and cons taken into account, I have to list KLM as one of my favorite ways to fly business class across the Atlantic. Besides, how can you not love the Delft Blue houses? I feel like I need to book a ton of flights to try to get them all!
New to the world of points and miles? The Chase Sapphire Preferred is the best card to start with. With a bonus of 80,000 points after $4,000 spend in the first 3 months and 2x points on dining and travel, this card truly cannot be beat! 
Learn more
---
10xTravel is part of an affiliate sales network and receives compensation for sending traffic to partner sites, such as CreditCards.com. This compensation may impact how and where links appear on this site. This site does not include all financial companies or all available financial offers.
Editors Note: Opinions expressed here are author's alone, not those of any bank, credit card issuer, hotel, airline, or other entity. This content has not been reviewed, approved or otherwise endorsed by any of the entities included within the post.