In This Article
Loading table of contents …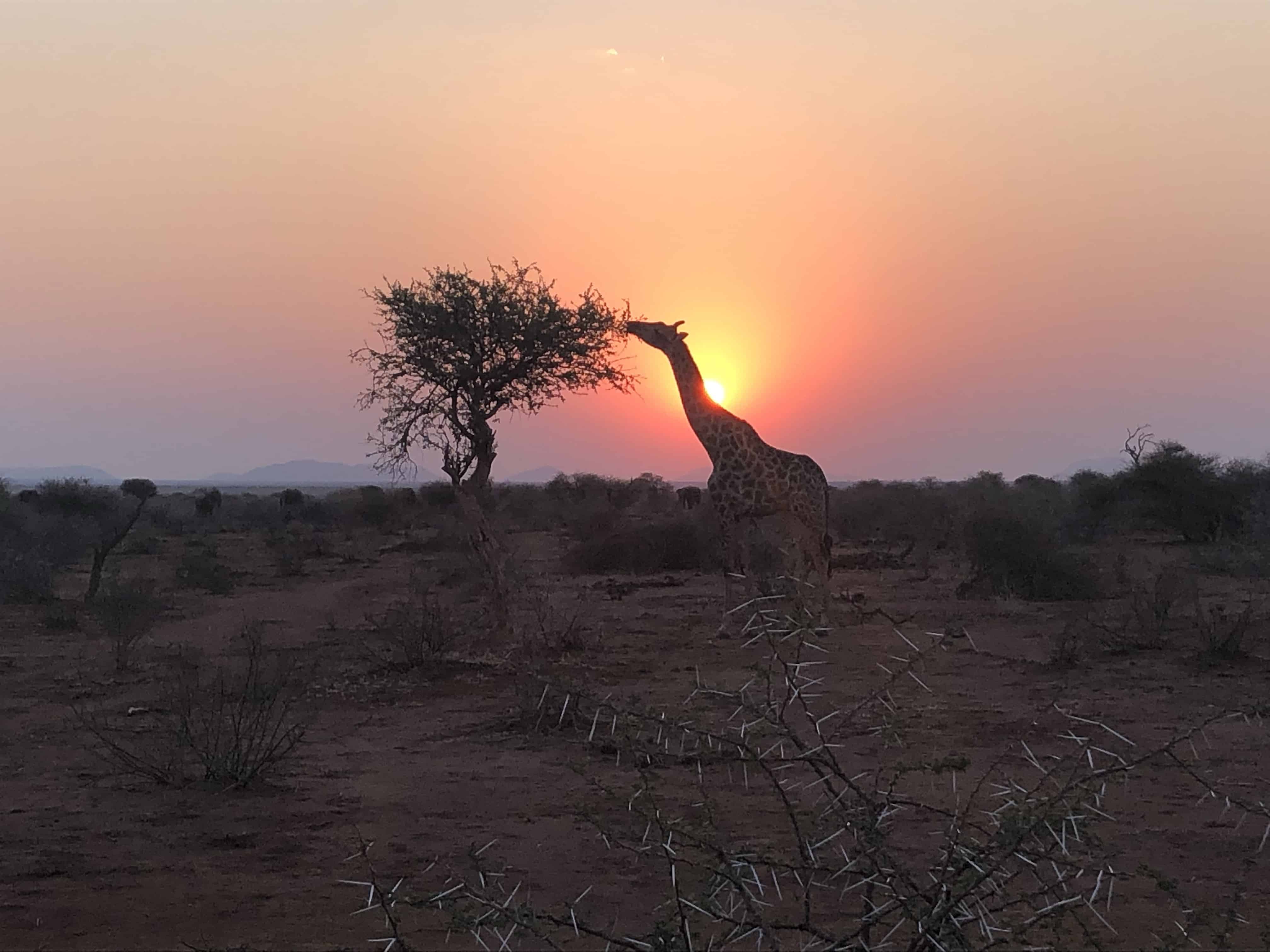 Note: Some of the offers mentioned below may have changed or are no longer be available. The content on this page is accurate as of the posting date; however, some of our partner offers may have expired. You can view current offers here.
Hi Travel Junkies,
My wife and I just returned from a two week trip to South Africa that featured 3 nights at the gorgeous Makanyane Safari Lodge.
I'm normally don't do "hotel reviews" for non-points related hotels but this beautiful safari lodge has forced me to make an exception.
Let's get to it.
Booking
I booked 3 nights at Makanyane Safari Lodge as part of a much larger package with Scott Dunn Travel that included just about everything I did while in South Africa.
Like virtually every other travel agent on earth, Scott Dunn does not break out the price of each piece of your trip so it would be difficult to tell you exactly what I paid per night. Though a quick glance at Makanyane's website will show you that rooms go for 10,115 to 11,900 ZAR per person, per night for the dates we were there. Which would be ~$680 to $800 per person, per night in U.S. dollars.

These are peak season prices, with off-season (particularly from May through August) prices being as low as half of that amount.
Yes, the sticker price looks incredibly expensive at first, but you have to keep in mind that this is an all-inclusive property. Your nightly rate gets you all of your meals and snacks, drinks (including all alcohol except premium wine & liquor), laundry, and twice-daily game drives.
My wallet never left the room during our entire stay.
We chose this lodge mainly due to the fact that it was in Madikwe Game Reserve, which is malaria free. No need to worry about taking the medications, using mosquito nets, and many of the other preventative steps that you would need to consider when traveling to the more popular Kruger National Park.
I was a bit skeptical that Madikwe Game Reserve would provide the same level of experience that one would get at Kruger but I am happy to report that it absolutely did. We saw virtually every type of animal that we hoped to encounter while in the park.
I put the entire charge on my Chase Sapphire Reserve to earn the 3x points on travel.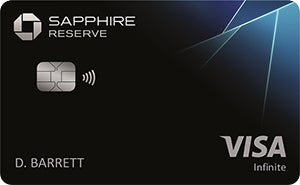 Chase Ultimate Rewards Points
after you spend $4,000 in 3 months
Lodge and Property
Sanctuary Makanyane Safari Lodge is located on a private piece of property within the Madikwe Game Reserve, which runs along the northern border of South Africa.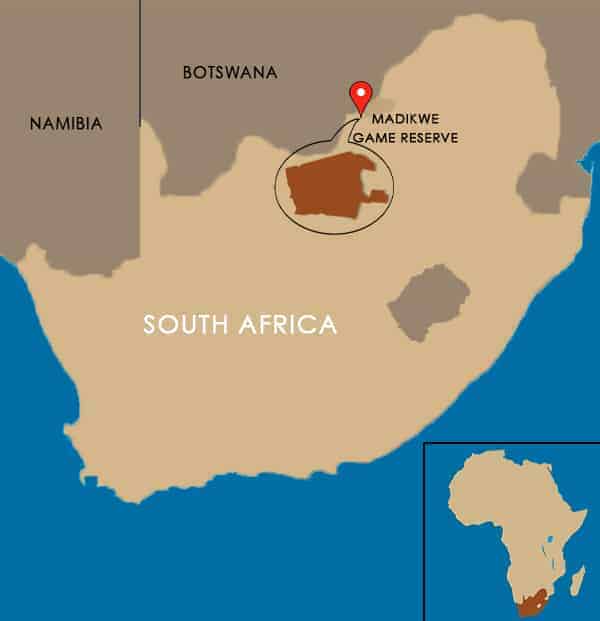 Johannesburg is the closest major city/airport, being about 4-5 hours away by car or 1 hour by plane.
Flights between Johannesburg and Madikwe definitely don't exactly feature first class cabins. Or business class cabins. Or even flight attendants.
They are all operated by Federal Airlines and utilize planes that are best described as "church vans with wings".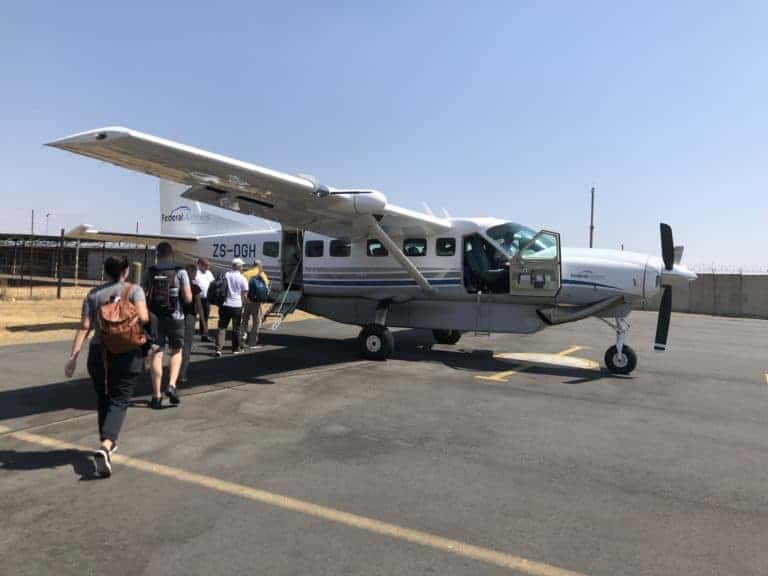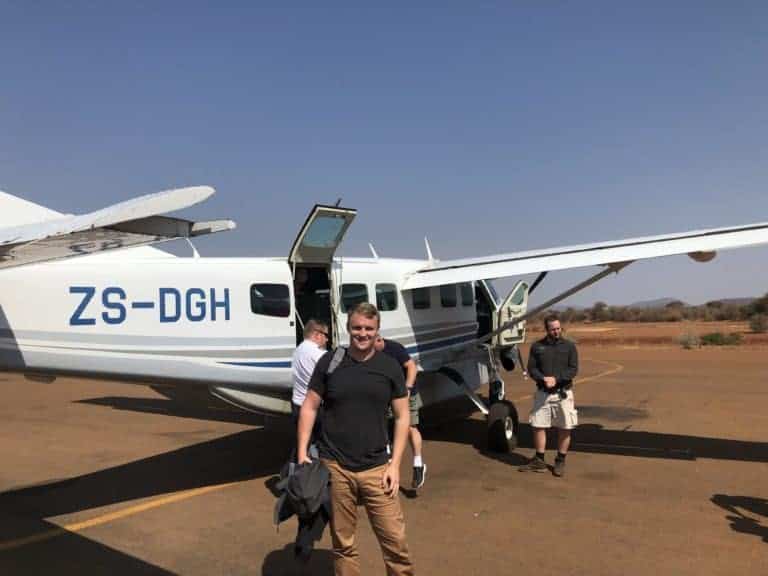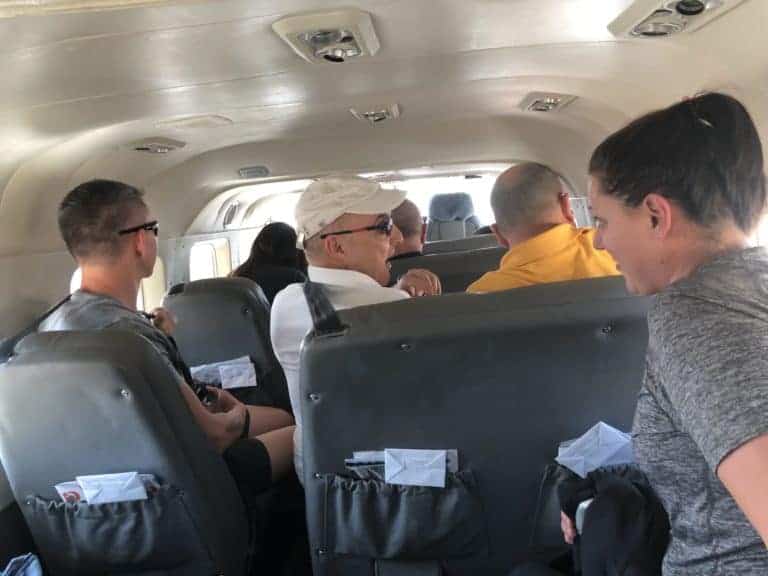 The church van in the sky got the job done though. After a bumpy one hour flight we landed safely and hopped on a truck to take us on the 30 minute ride to the lodge.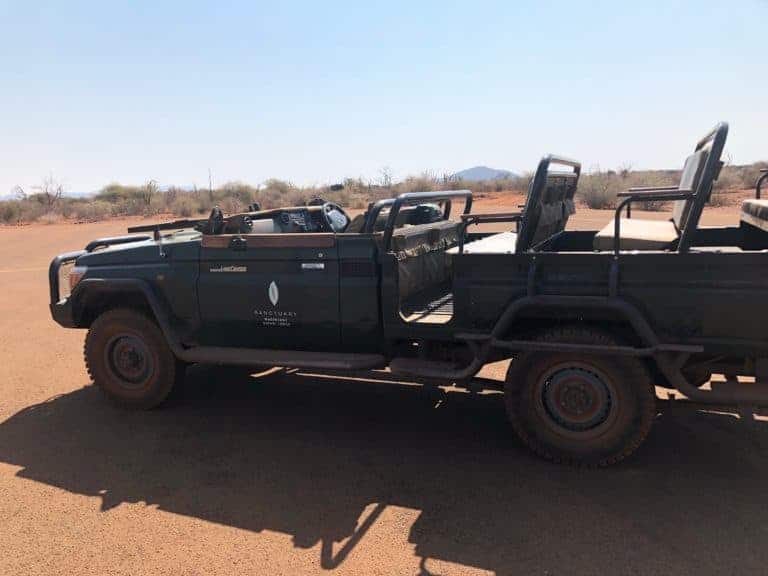 There are only 8 rooms at the Makanyane Safari lodge, though "rooms" is a bit of a deceiving word here.
The more accurate description is "private luxury huts" and each is at least 75 yards from its closest neighbor.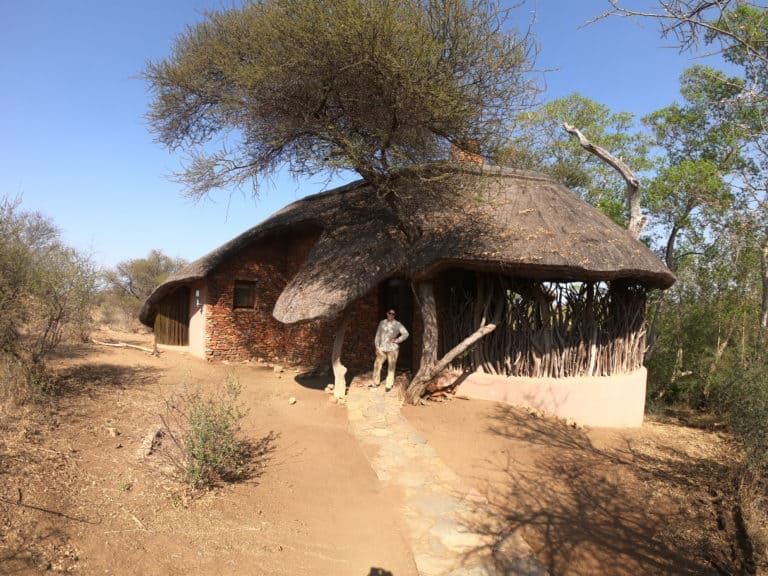 This means that there are never more than 16 people on the property at once, making for a very private and intimate stay. I counted at least that many staff on duty at any given time.
There were only 4 other guests during our entire stay and we got to know each of them well before checking out.
The main lodge was a indoor/outdoor space that featured a large deck and a swimming pool overlooking the African bush. Here is a quick video and a few photos that will describe it better than any words ever could.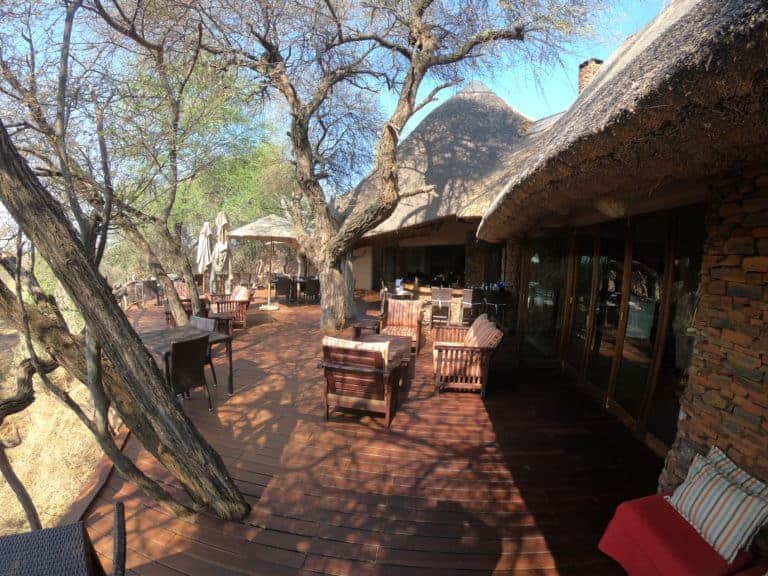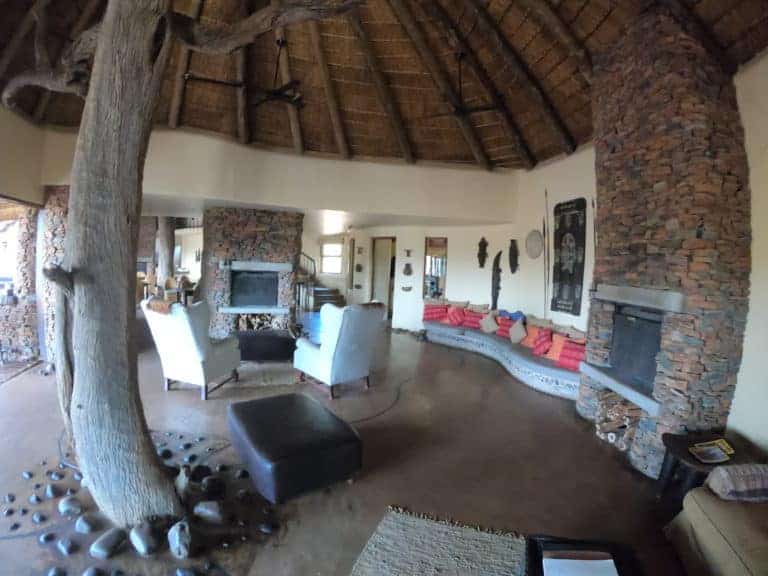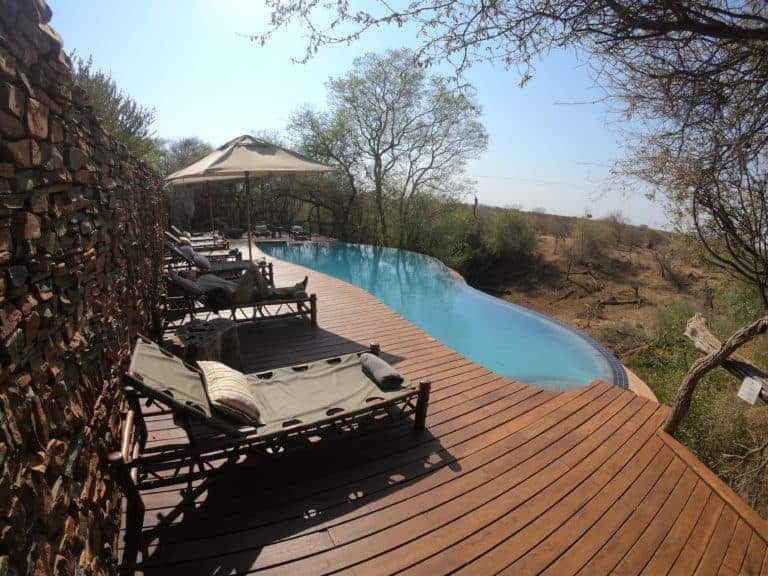 There was a large ravine between the lodge and the bush that made the entire lodge feel almost like a treehouse. And most importantly, it provided separation from the many animals that could potentially harm you while you sunned yourself on the pool deck.
As I mentioned, all your food and drink is included during your stay. I won't go in to a lot of detail on the food other than saying that it was excellent.
Breakfast each morning consisted of a small buffet and table service featuring eggs cooked any way, bacon, sausage, and various options for a starch.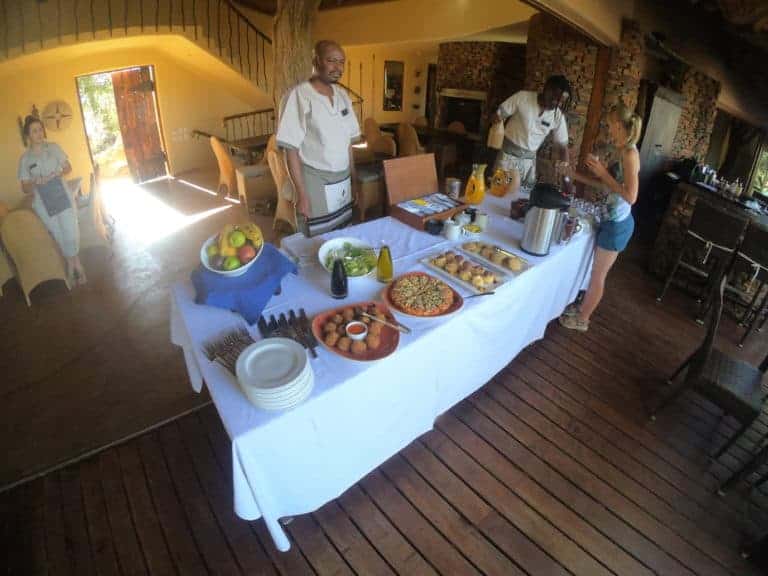 Lunch was also a buffet & table service option with dinner consisting of a couple different choices for a 4 course meal. Everything was fantastic.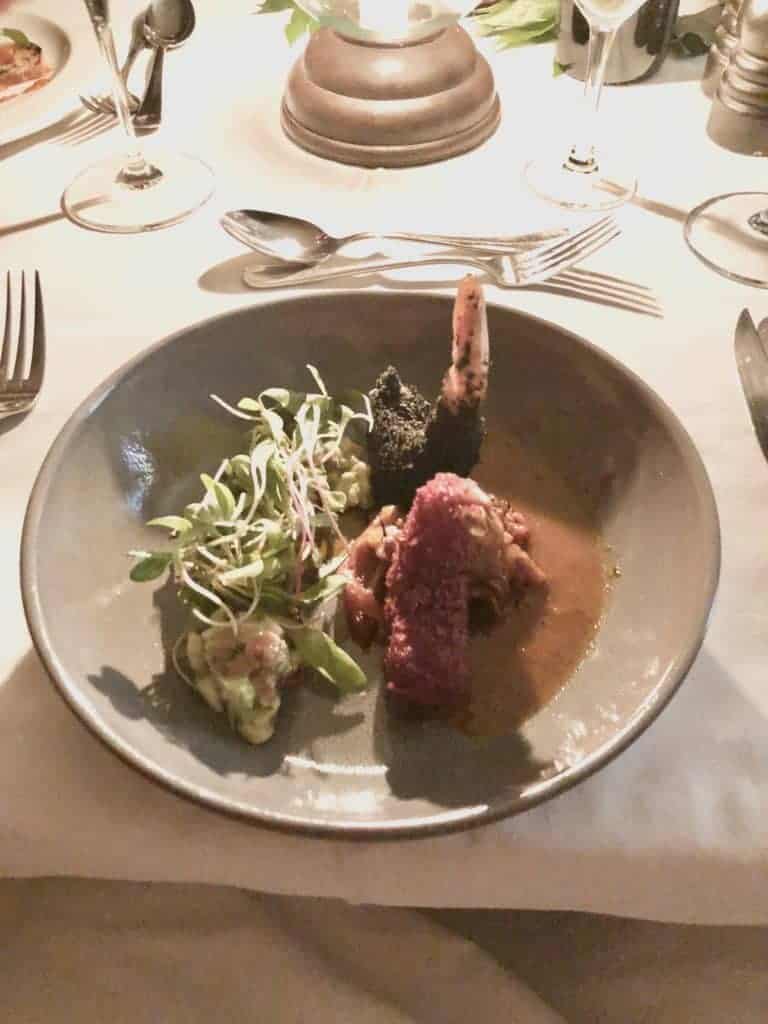 Room
As I mentioned, "room" is a deceiving term here because what we had was more of a stand-alone safari hut.
There are only 8 of these on the entire property and they are approximately 75 yards apart from one another. You truly feel like you are alone in the South African bush when you are in your room.
Particularly if you happen to be in room #8, our room, which was a good 6-7 minute walk from the main lodge. Which you are asked not to do alone at night for your own safety.
I'll take you through the usual details here in a moment, but first have a look at this video walkthrough of the entire room shot on my new GoPro Hero 7 Black.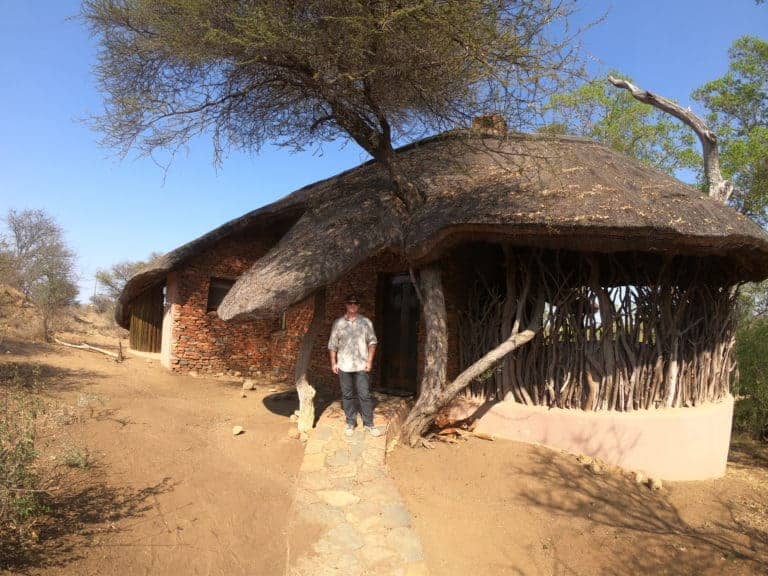 Each room is a studio with a king bed, bathtub, shower, and separate water closet.
The rooms feature large glass windows facing a river, allowing you to see animals walk right past your door. While there we saw a hippo and a handful of impala along the riverfront just outside of our bedroom.
The bathroom area is…. a bathroom area. Nothing particularly remarkable about it other than the outdoor shower, which you are asked to use only during the daytime for your own safety.
Its been thousands of years since naked humans had to worry about being eaten by lions in South Africa and Makanyane Safari Lodge is doing their best to keep it that way.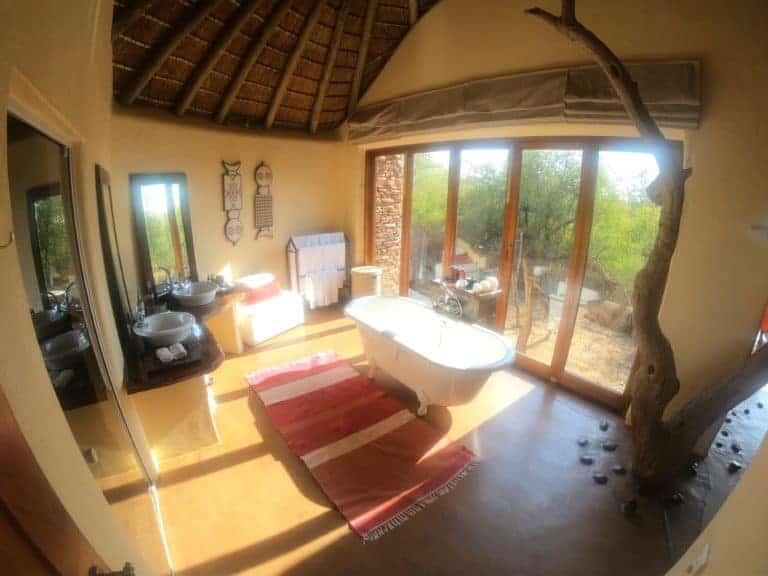 There was an outdoor patio with two lounge chairs that overlooked the river. A perfect place to spend an afternoon sipping champagne while watching for wildlife.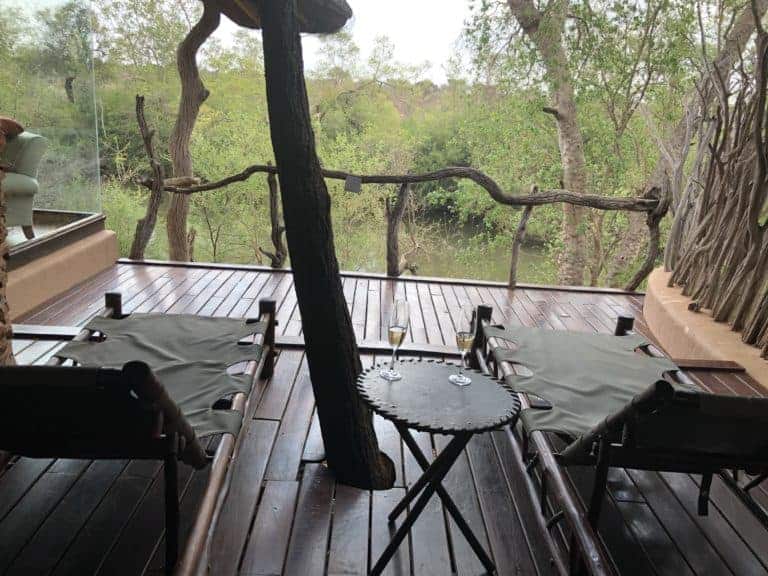 Speaking of champagne, the mini bar is fully stocked with alcoholic and non-alcoholic drinks that are all included in your nightly rate. It was restocked daily with fresh milk, juice, beer, wine, champagne, tonic, soda water, and spirits.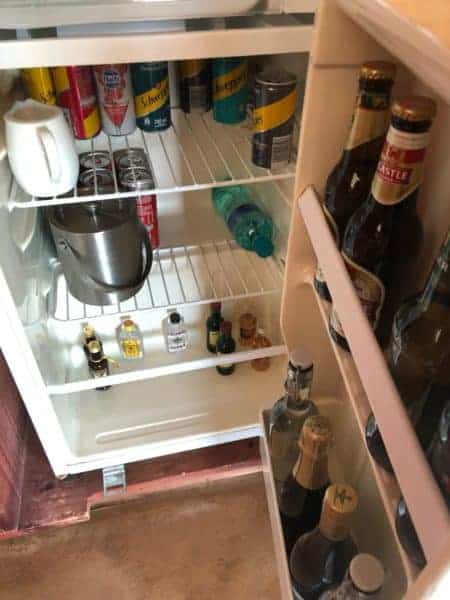 And as I mentioned earlier, daily laundry service is included. Simply put your dirty clothes in the laundry bin and they come back clean and folded the following day.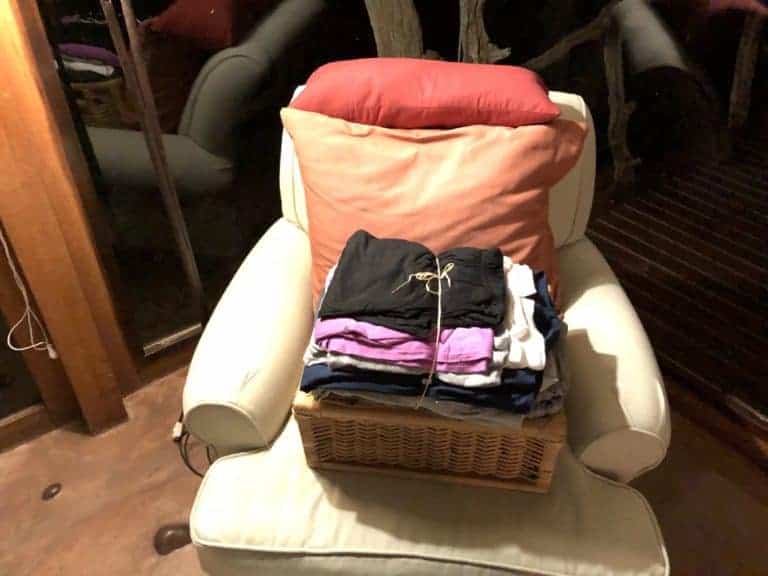 Overall the room was great, though there were a handful of items that were beginning to look worn out and in need of replacement.
The screen doors and front door didn't fully seal when closed and there were holes in many of the window screens.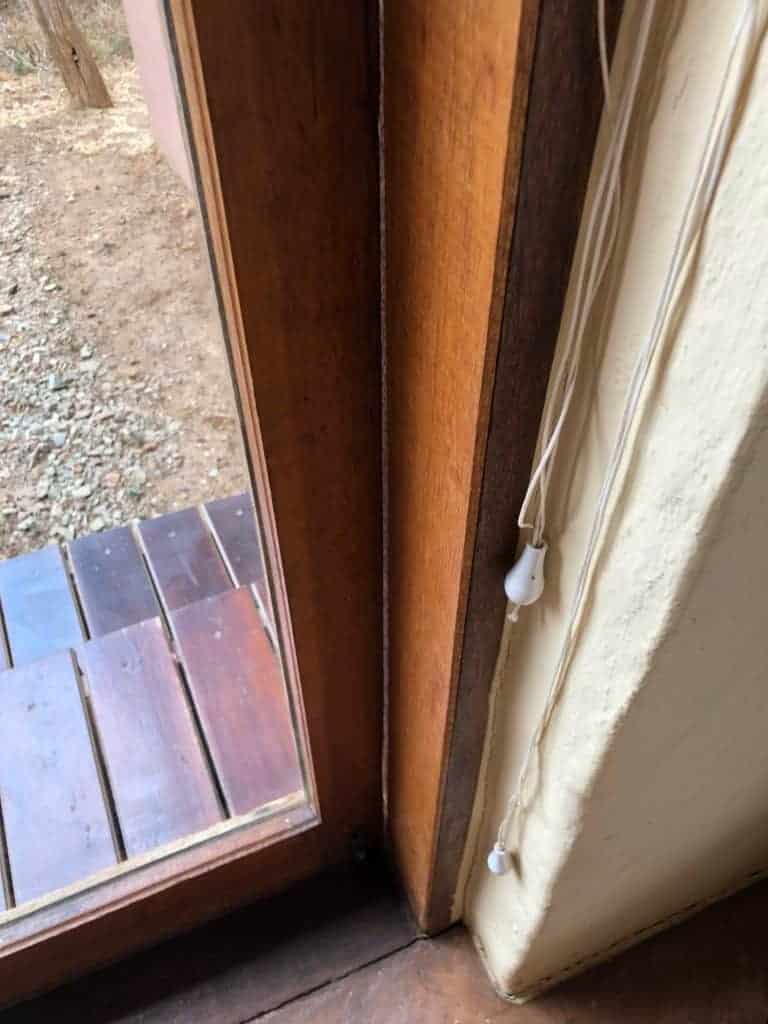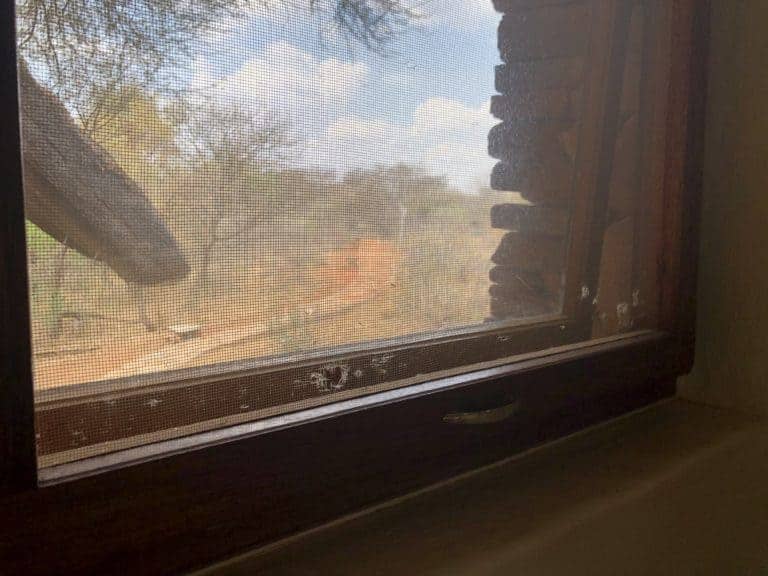 Overall this created the feeling that you couldn't keep the bugs out of the room, even if you tried.
Yes, this is Africa and yes, there are going to be a variety of bugs in your room no matter what you do. But it would have felt more comfortable if we didn't have noticeable gaps in the exterior of our hut.
The room also had river rocks embedded in the floor, presumably just for looks. Problem is you can't see these little devils at night time (or if you aren't paying attention during the day), so I ended up tripping on them a handful of times.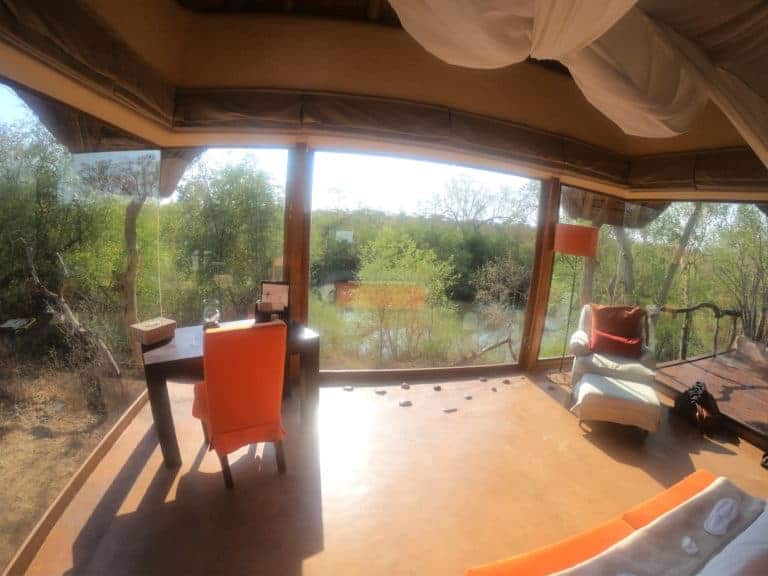 Which is what allows me to tell you definitively that these floor to ceiling windows can withstand the weight of a grown man falling in to them. So that's a plus, I suppose.
Game Drives
Game drives were by far the best part of my Sanctuary Makanyane experience. There were two each day, at sunrise and sunset, and we were able to see just about every noteworthy animal that we had hoped to see.
Game drives are pretty straightforward. Everyone piles in to an open sided safari vehicle and you drive around the bush for about 3 hours looking for wildlife.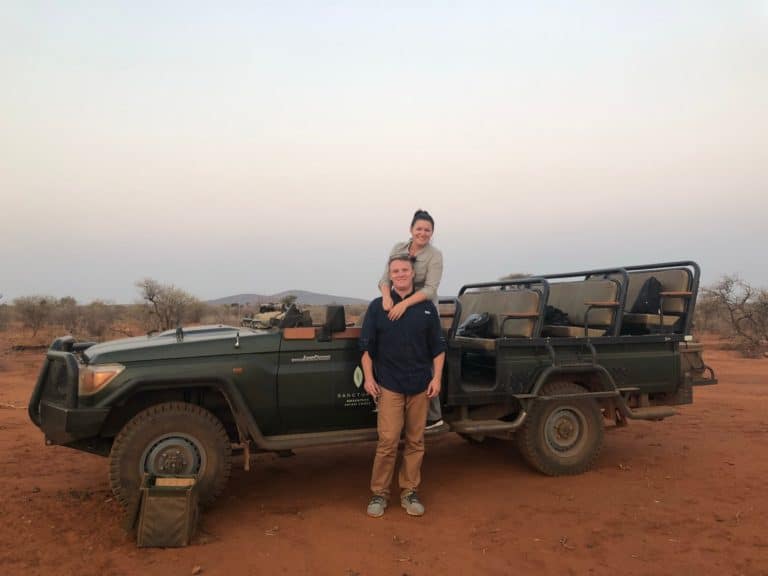 I realize that this might sound boring in writing but believe me, it was a blast. We encountered animals seemingly every 5-10 minutes and the landscape alone is worth the drive.
Here is a quick clip of what a typical game drive looks like.
Our guide Dillon had been doing game drives at Madikwe for 19 years and seemed to know everything that anyone would ever care to know about the animals, Madikwe, and all things South Africa. I found him to be thoroughly entertaining, even when driving around at 6am before having a cup of coffee.
We were fortunate enough to encounter most of the noteworthy animals on our game drives, many times up close.
Nothing can explain that to you as well as videos, so here are a few of the highlights of our game drive.
Starting with a male lion walking just a few feet from our vehicle and a few inches from another.
And yes, I had a brief moment in which I pondered the morality of filming another person being eaten by a lion vs trying (probably in vain) to help. Thankfully I didn't have to make that decision.
Next, the rhino. You know how people say that "birds aren't real" on twitter? I know, its totally ridiculous.
But after being around rhinos there is a very small part of me that is convinced that rhinos are not real. I mean look at them, they look like machines. Their movements are about as natural as the black cherry flavoring in a white claw.
So let's start the movement right now that #RhinosArentReal.
(I'm kidding, please don't @ me on twitter)
Next up we have a den of baby hyenas. We were able to watch them play for about 30 minutes without so much as a second glance from their mother.
The next video features one of many encounters with an elephant. We must have seen hundreds of them in the three days we were in Madikwe.
Here's a fun fact for you, according to our guide Dillon the elephant is by far the most dangerous animal that a human can encounter while on safari. Apparently elephants can be quite temperamental and will occasionally charge a vehicle when they are having a bad day. Which I suppose gives them one thing in common with sports fans from Philadelphia.
And finally, we have a giraffe. Who, from the looks of this photo, has decided to become an Instagram influencer. Like the elephants, we saw dozens of giraffes during our stay in Madikwe. I am happy to report that none of them tried to sell us diet programs or detox tea.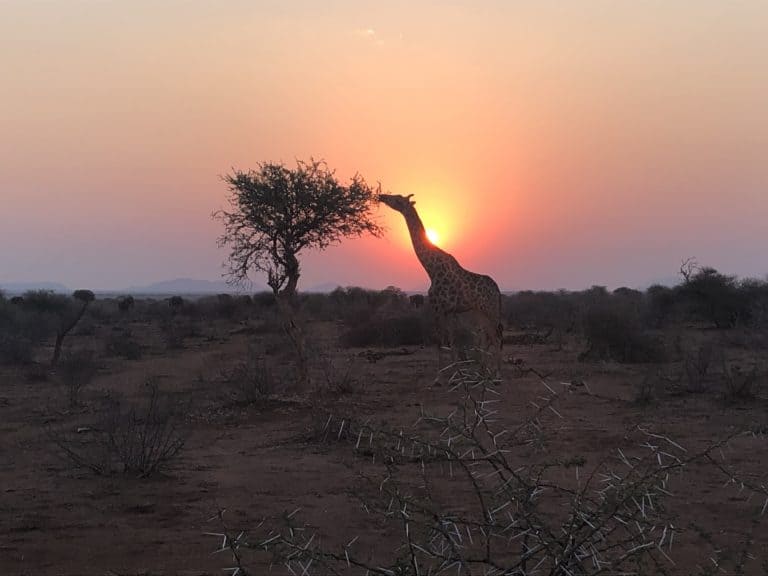 Not pictured in this article are the thousands of impala, warthogs, and wildebeest that we saw as we drove across the African bush. None of whom seeming to feel the least bit of remorse for killing Simba's dad all those years ago.
Bottom Line
In all seriousness, Sanctuary Makanyane was an absolute blast and I can only hope to return one day. The service was impeccable, the resort was gorgeous, and the game drives made for memories that I will cherish for a lifetime.
Sure, its relatively expensive and difficult to book using points/miles. But absolutely worth the money, especially if you are able to fly to South Africa for free using your miles.
Until next time…..
See ya!
Happy Travels,
Bryce
New to the world of points and miles? The Chase Sapphire Preferred is the best card to start with.

With a best-ever bonus of 100,000 points after $4,000 spend in the first 3 months, 5x points on travel booked through the Chase Travel Portal and 3x points on restaurants, streaming services, and online groceries (excluding Target, Walmart, and wholesale clubs), this card truly cannot be beat for getting started!
Learn More
Editors Note: Opinions expressed here are author's alone, not those of any bank, credit card issuer, hotel, airline, or other entity. This content has not been reviewed, approved or otherwise endorsed by any of the entities included within the post.