Note: Some of the offers mentioned below may have changed or are no longer be available. You can view current offers here.
Mauna Kea Beach Resort was originally opened in the 1960s by Laurance Rockefeller as a part of his "RockResorts" concept. At the time, it was the most exclusive and expensive property in Hawaii, and fast forward to today, it's still a luxurious property located on the Big Island's golden Kohala Coast.
In This Article
The northwestern side of the island, where the hotel is located, is known for having the high-end resorts on the island, partially because it gets the most sun and least amount of rain on the island which translates into an ideal place for a beach vacation.
During our stay, we were amazed to overhear conversations time and time again about how people and their families have been coming to the hotel for years. One gentleman and his wife come 3-4x per year and another has been bringing his family there for over 35 years. We were eager to find out just why people loved the hotel during our stay, and how it was so family-centric.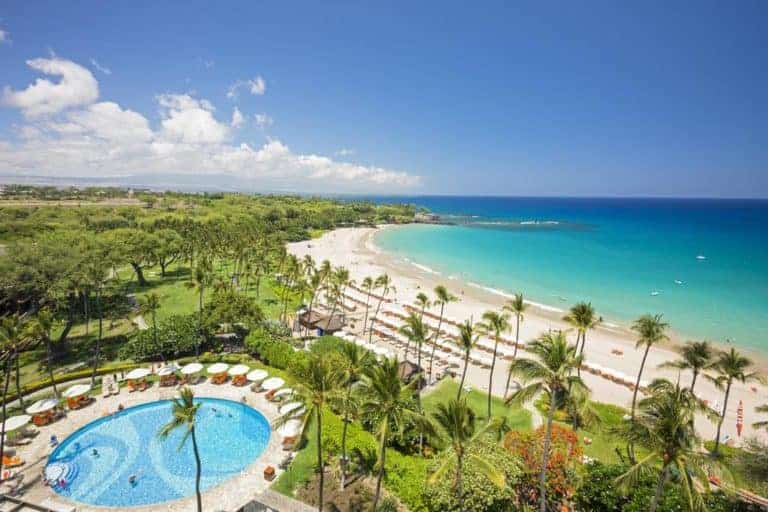 How to Book
Mauna Kea Beach Hotel became an Autograph Collection property when it joined Marriott Rewards in 2015. Unfortunately, this property is classified as a "resort" and not all elite status benefits are extended at Autograph Collection resorts. I heard the staff explaining that to guests multiple times during my stay and explaining why they weren't getting the normal elite benefits that they were accustomed too. However, you'll find that elite benefits like room upgrades and free breakfast are in fact some of the benefits that are honored, and these provide a tremendous value.
Prior to the August 2018 SPG/Marriott merger, I made one final redemption with my beloved SPG Starpoints. I transferred 130,000 SPG points to Marriott at the rate of 1 Starpoint to 3 Marriott points. With my now 390,000 Marriott points, I purchased a Category 9 Marriott Hotel + Air Package. This was good for a 7-night stay at a Category 9 Marriott property plus 120,000 airline miles to the airline of my choosing.
I had Marriott credit the 120,000 miles to my American Airlines account, which would cover our 2 business class flights from North Carolina to Hawaii.
I then applied the stay certificate towards our existing 7-night reservation at Mauna Kea Beach Hotel that we had made just a few weeks earlier as this was the plan all along.
If you were booking a more traditional award stay without a certificate, Mauna Kea Beach Hotel is a Category 6 Marriott Autograph Collection property, meaning that a standard night will cost 50,000 Marriott points. Additionally, your free night award from the Marriott Bonvoy Brilliant would cover one night of your stay at this property.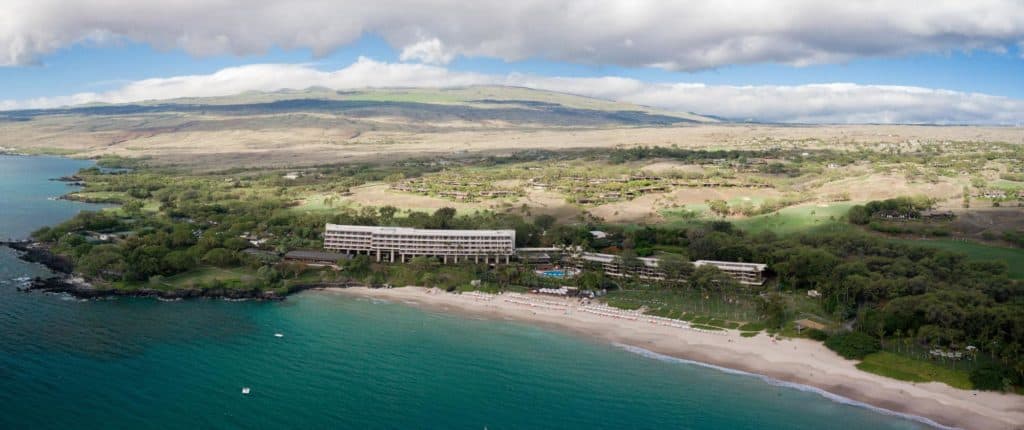 Award stays are automatically booked into the Golf View Main Tower rooms, which is the lowest level of rooms at the resort. They're on the golf course side of the main tower, but appeared to have very little in terms of a view unless you were on a top floor because of the trees in front of the property.
A number of these rooms also overlooked the front entrance circle driveway as well as the valet parking lot in front of the hotel. If I were paying over $4,000 for a weeklong stay at a resort, I certainly wouldn't want to find myself looking at a valet lot or a bunch of parked cars from my balcony.
For the dates of our stay, the rates for the Golf View Main Tower room that we booked into ranged from $499 to $515 per night, with taxes and fees ranging from about $75 per night.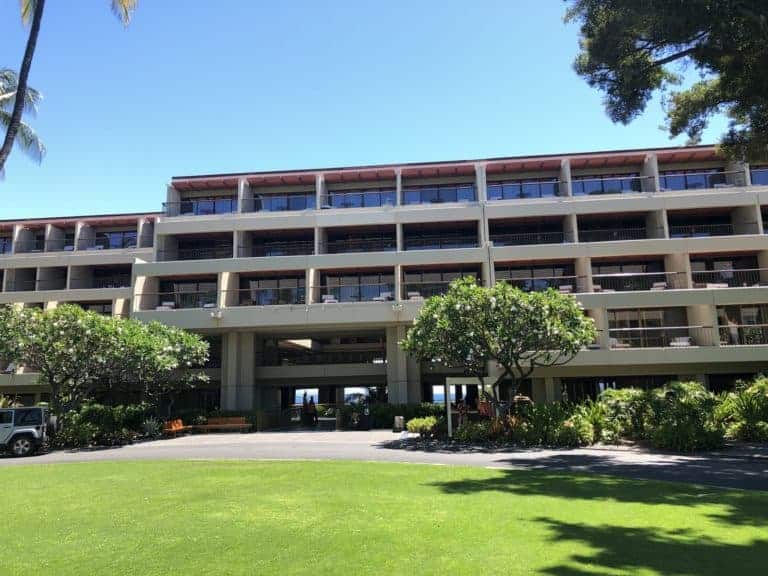 Additionally, on-site self-parking costs $25 per night and valet parking costs $30 per night. We ended up choosing the valet parking for just $5 more per night.
One of the best features about this hotel is that they don't charge any resort fees, which is a bit of a rarity for Hawaiian resorts, as well as destination resorts in general. Often these can run anywhere from $30-$75 per day, sometimes per person. So, it was great to find that Mauna Kea Beach Resort included all of the normal amenities in the base charge.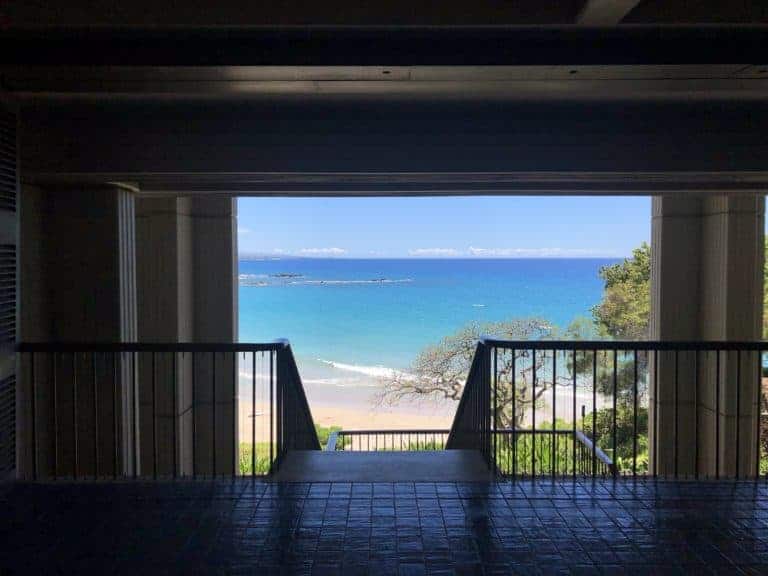 Hotel Location and How to Get There
Mauna Kea Beach Resort is located on the Kohala Coast, the northwest side of Hawaii's Big Island. The resort is about a 30-minute drive north from Kona International Airport (KOA), or about a 2-hour drive west from Hilo International Airport (ITO).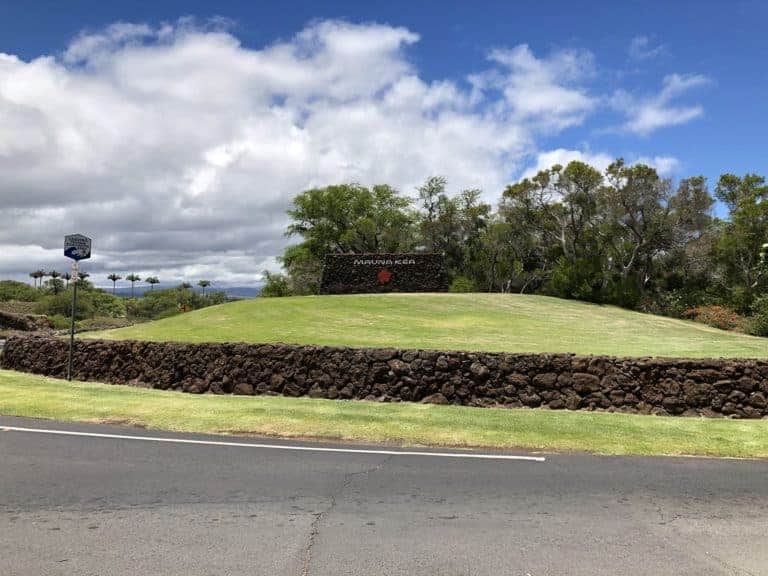 Mauna Kea Beach Hotel is the northernmost major resort on the Kohala Coast. Other than it's sister-property, the neighboring Westin Hapuna Beach Resort, it's a 10-15 minute drive north of the nearest hotel and resort area. Some of these distantly located neighboring resorts include the Mauna Lani and Waikoloa resorts, which both have large shopping and restaurant developments on their grounds that are open to the public and are some of the closest places for shopping, dining, grocery shopping, and more.
Mauna Kea Beach Hotel's serene and isolated location are part of the beauty of this property, but it also means that you almost have to rent a car for your stay. Renting a car not only lets you get out and explore the island, but it also allows you options for food and activities not on the hotel property, which can certainly be a more affordable option if you have an extended stay. There are cabs and Uber on the island, but they are few and far between, and would likely be very expensive as well given the hotel's remote location.
However, don't let its serenity and isolated location discourage you from considering it for your stay – Mauna Kea Beach Hotel is a terrific location to serve as your home base for exploring Hawaii's Big Island.
About a 5-minute drive north of Mauna Kea Beach Hotel is the town of Kawaihae, a small port town with a handful of shops, delicious restaurants, shave ice, and more. It's the most convenient place for food and shopping when you want to get out of the resort for a change of pace and have a more local meal or experience.
Check-In
After our flight landed at KOA around 6pm, we picked up our rental car and started the drive north. We arrived at about 8pm, and it quickly became apparent that this was after the normal check-in time for most guests. The valet seemed to be a little bit caught off-guard when unloading our luggage, as were the front-desk people. However, everyone greeted us with a friendly "Aloha", and were more than helpful and friendly.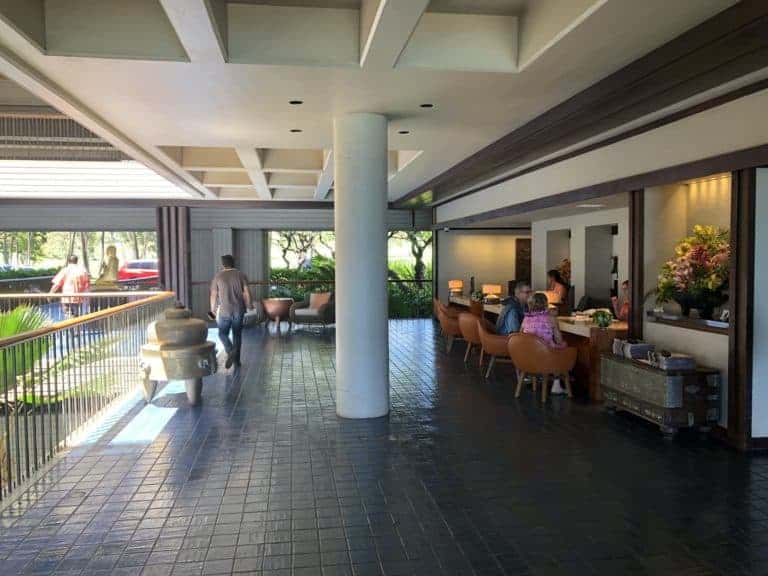 Halfway through checking in at the desk in the open-air lobby, we were presented with the traditional welcome lei, a Kukui nut lei for me and a fresh orchid lei for my wife Ashley, as well as a refreshing glass of one of my favorite drinks – POG (passion fruit juice, orange juice, and guava juice). The receptionist checking us in was very helpful with information about the hotel and answering all of the various questions that we had.
She also offered to walk us to our room, which I initially declined, but then took her up on her offer. This ended up being a great decision because the room was really far away from the check-in desk, and given that it was night and we were in a remote part of the island, it was really dark and things were hard to find and orient by!
Room/Accommodations
There are 2 buildings on the property, the Main Tower and the Beachfront Wing.
We were assigned to room 408, a beachfront guest room in the Beachfront Wing. This was an upgrade from the Golf View Main Tower room that we were originally booked into, thanks to my Marriott Platinum status. Unfortunately for us, room 408 was a room with two queen beds – I inquired at check-in and no king rooms were apparently available during our dates.
We arrived at our room at about 8:30pm after checking in. After a quick tour to make an initial assessment of the room, we dumped our things, quickly changed, and made a beeline for the hotel bar to grab a quick bite to eat. At this point, it had been 22 hours since we checked out of the airport hotel at RDU that morning to start our journey, so we were ready to get some sleep!
After waking up the next morning, we explored more of our room for the next week. The rooms were modern, clean, bright and airy. The wall opposite the beds featured a wall of cabinetry that offered tea/coffee/beverage supplies, a television behind sliding panels, and a large desk area, which was a great place to do some of the work we had to accomplish even while on vacation.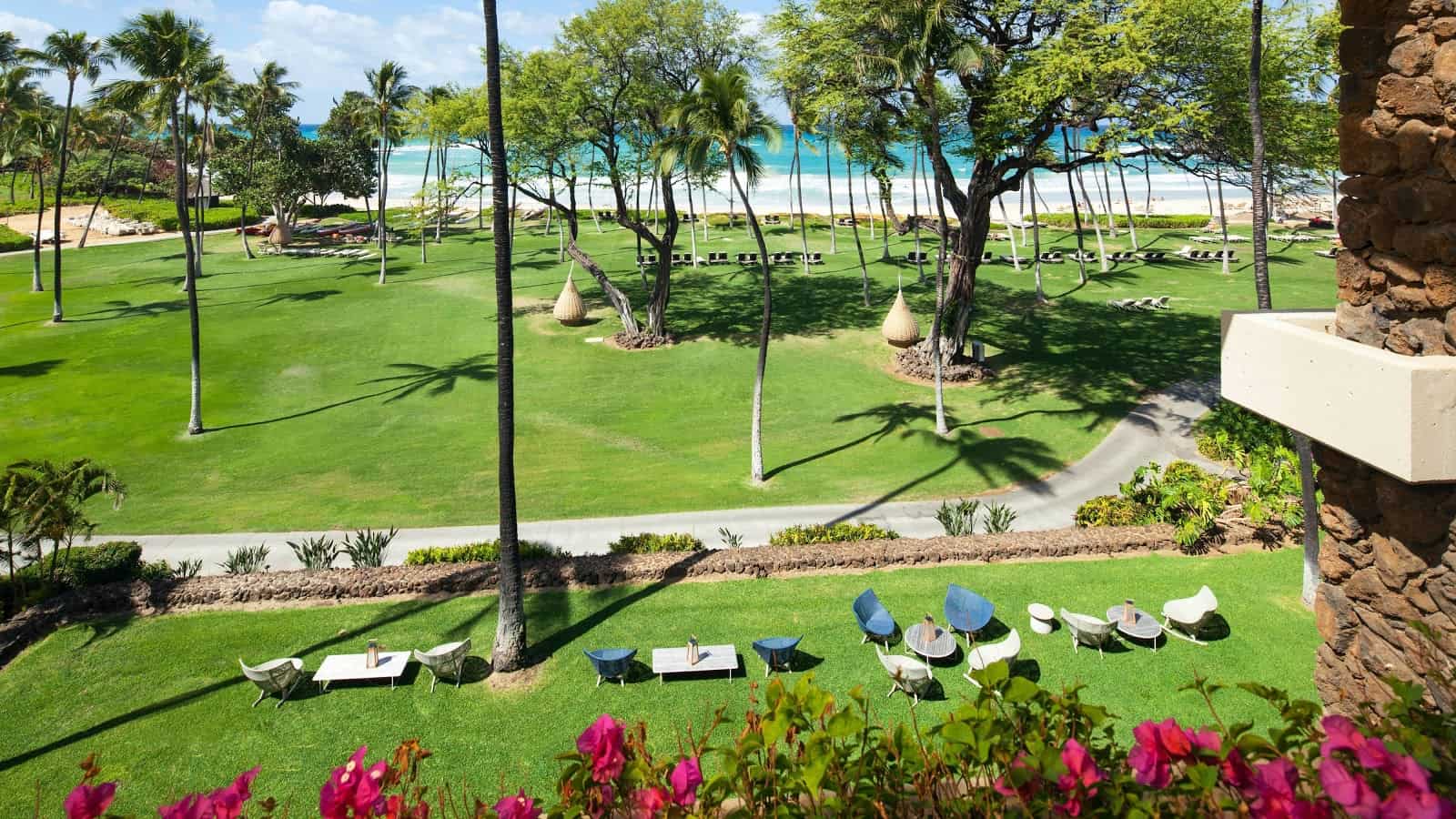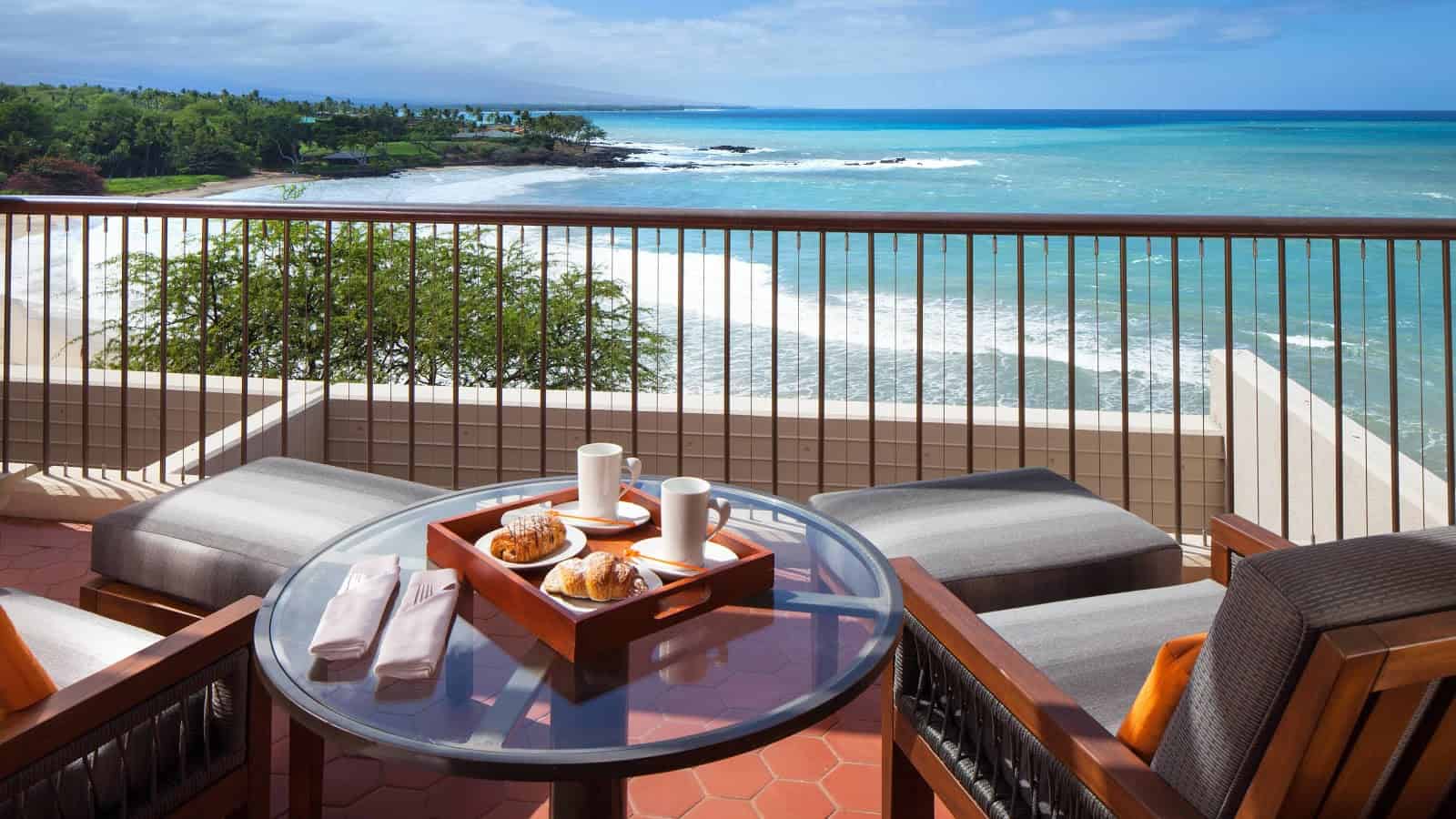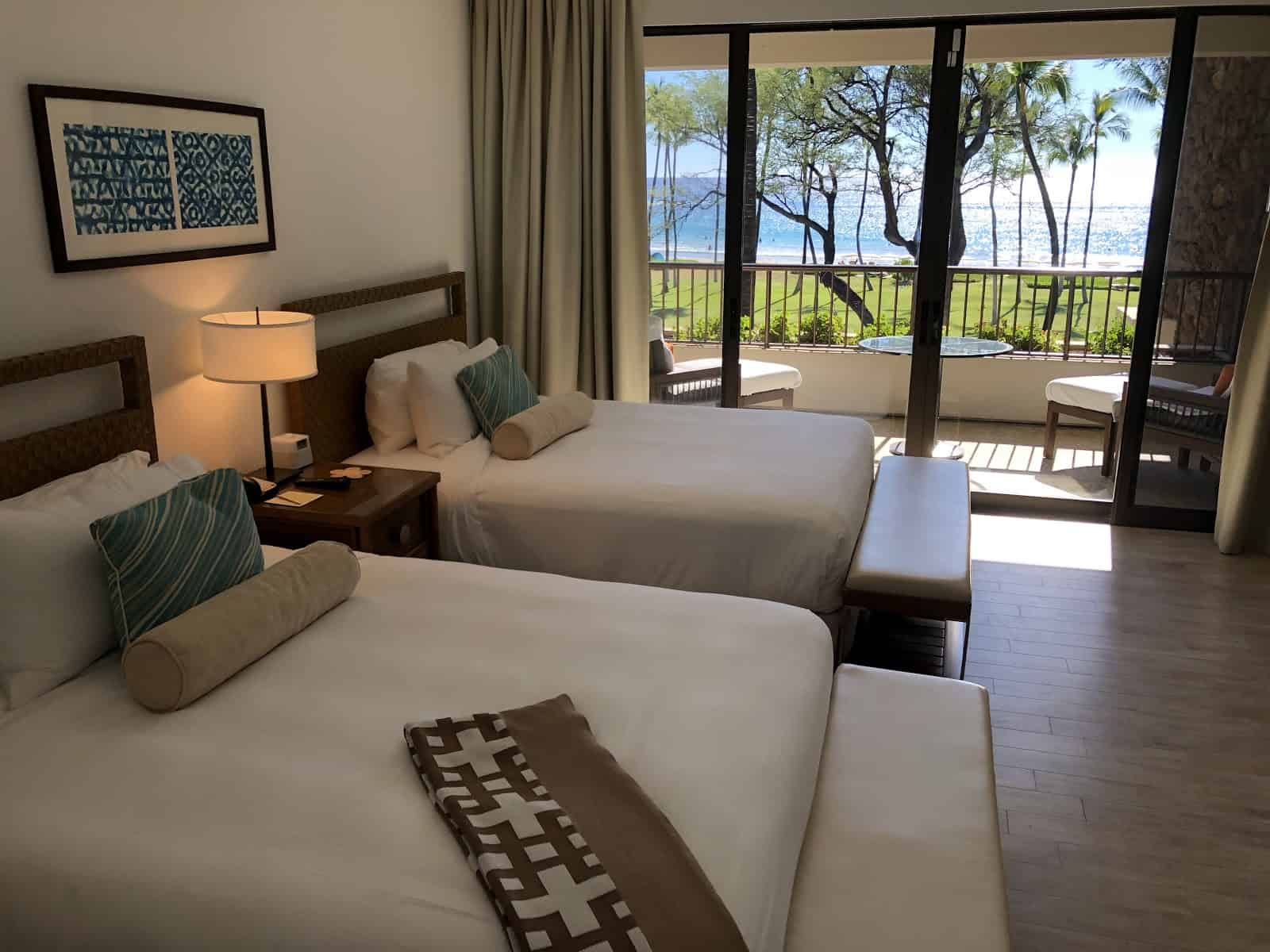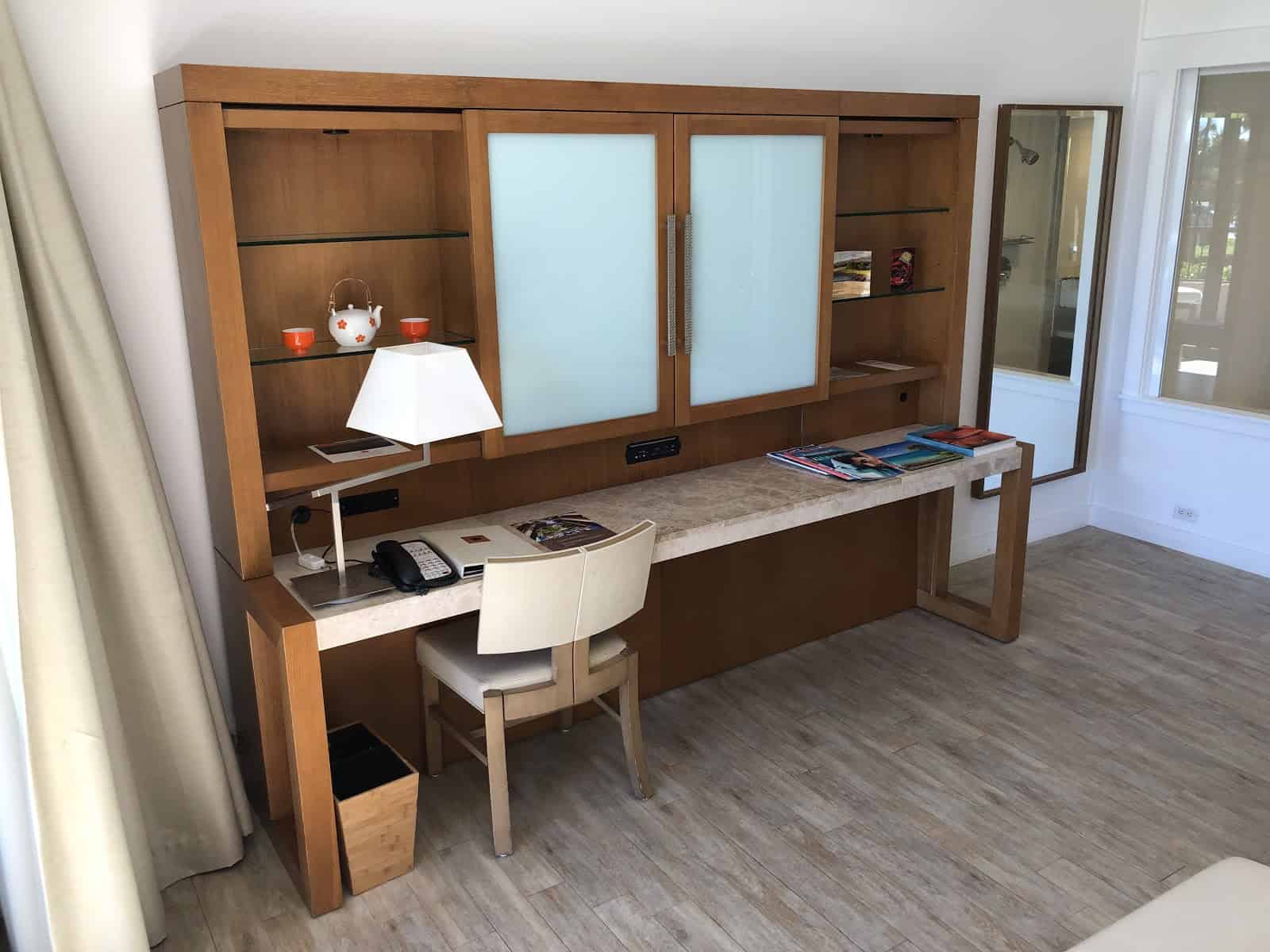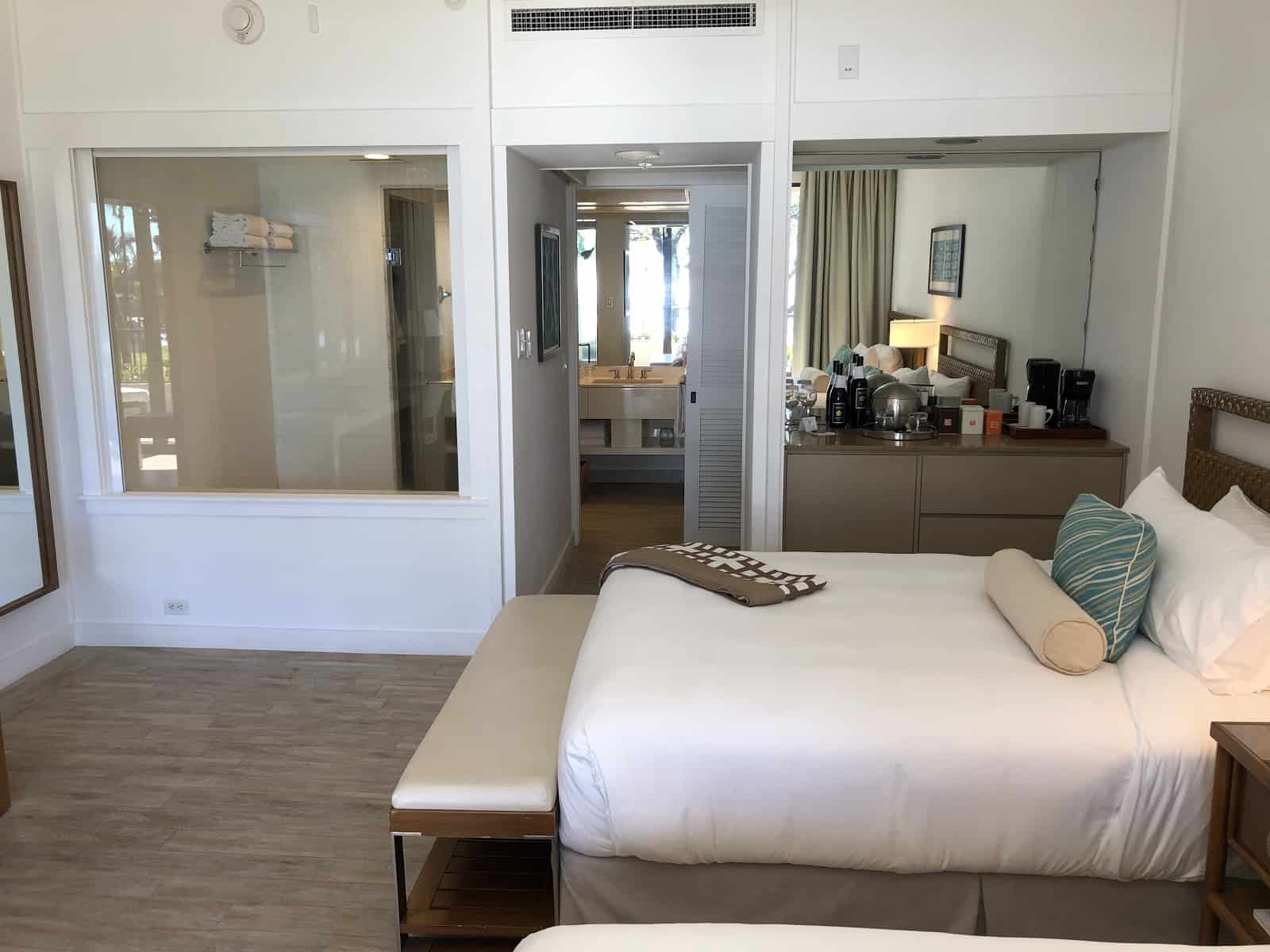 The shower in these rooms is exposed to the bedroom. Presumably, in a room with 2 queen beds this may be an issue, but there are blinds that can be lowered on the bathtub side of the window so that it can't be seen through.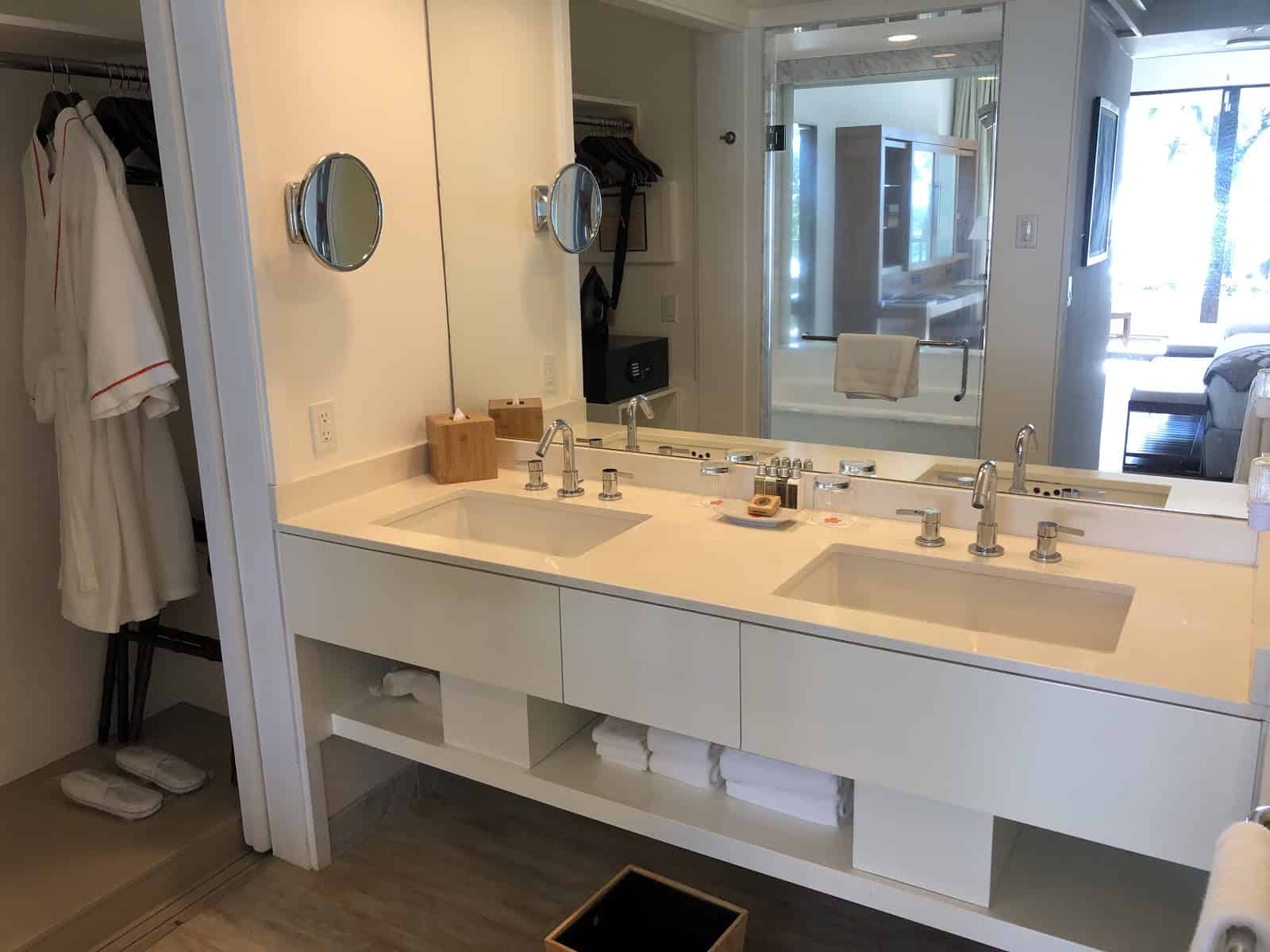 The bathroom has double sinks and a spacious closet. The water closet is directly to the right of this area.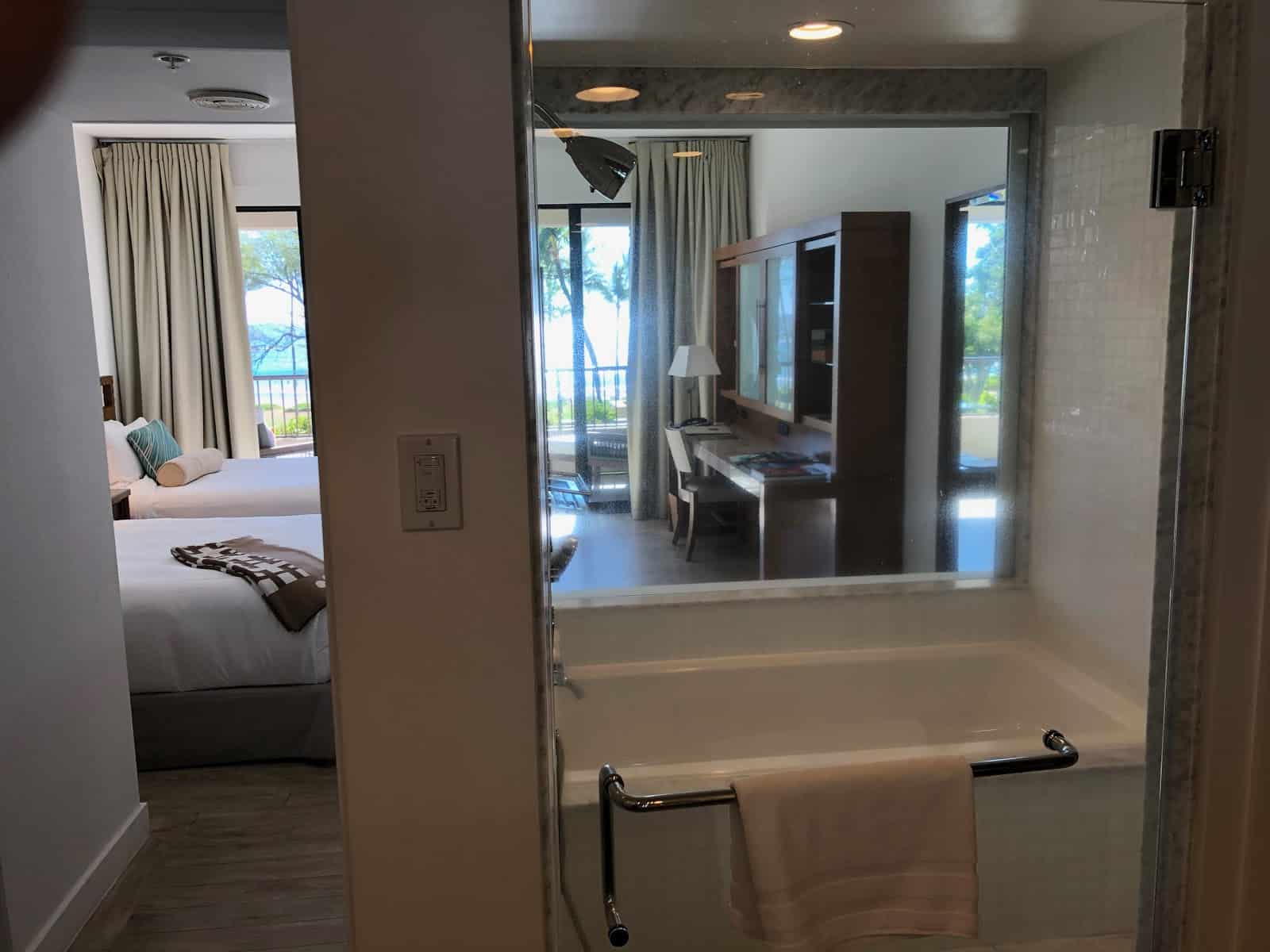 The shower and tub are in a combined area. The shower area was large and included a shelf with a towel rack in it. The water pressure was wonderful, but the overall condition of the shower was a bit deteriorated and in need of a refresh. The grout was consistently dirty, and all of the chrome areas in the shower were dirty and dingy.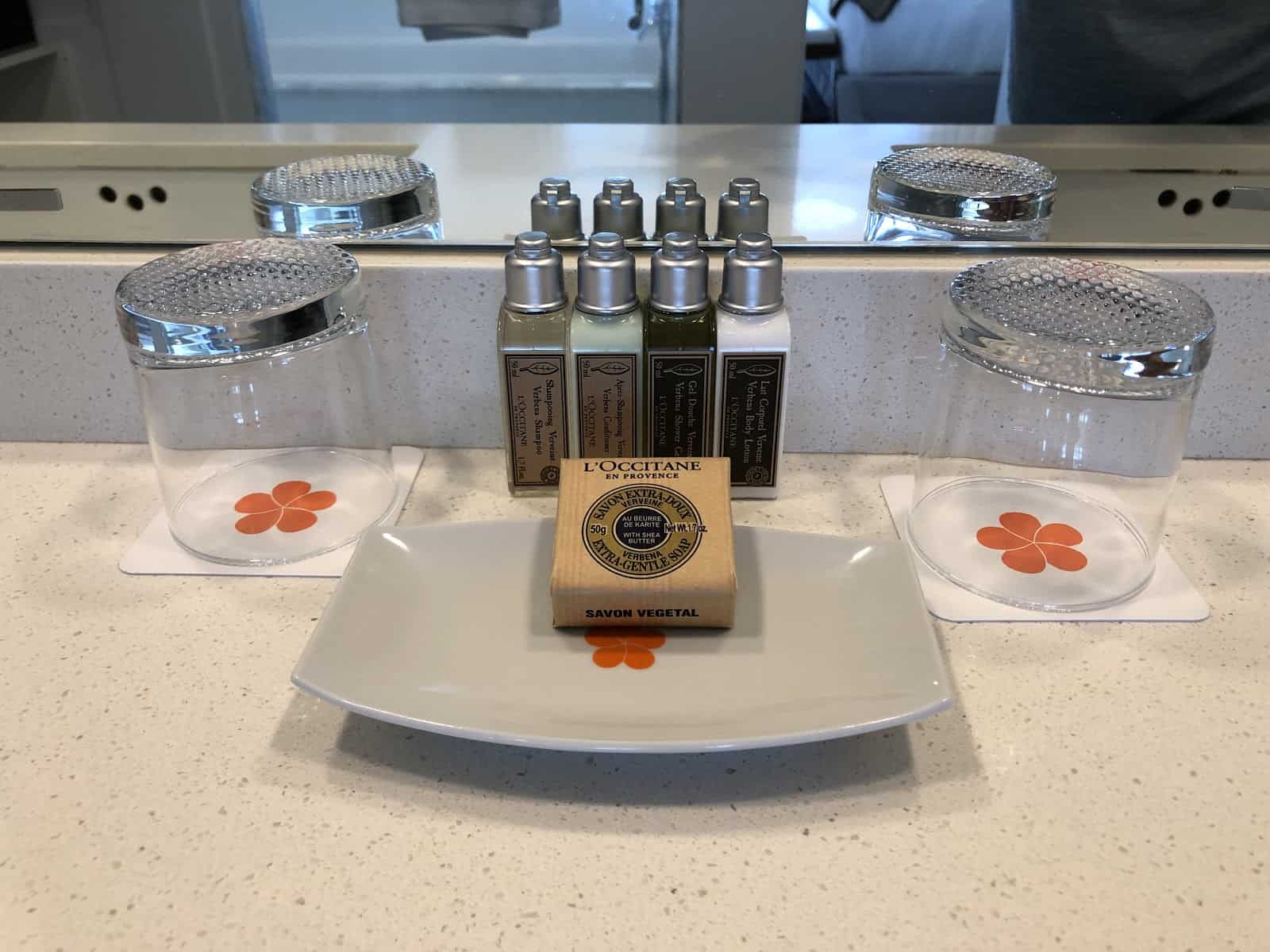 Mauna Kea Beach Hotel stocks the wonderful L'occitane brand of toiletries, one of my favorites.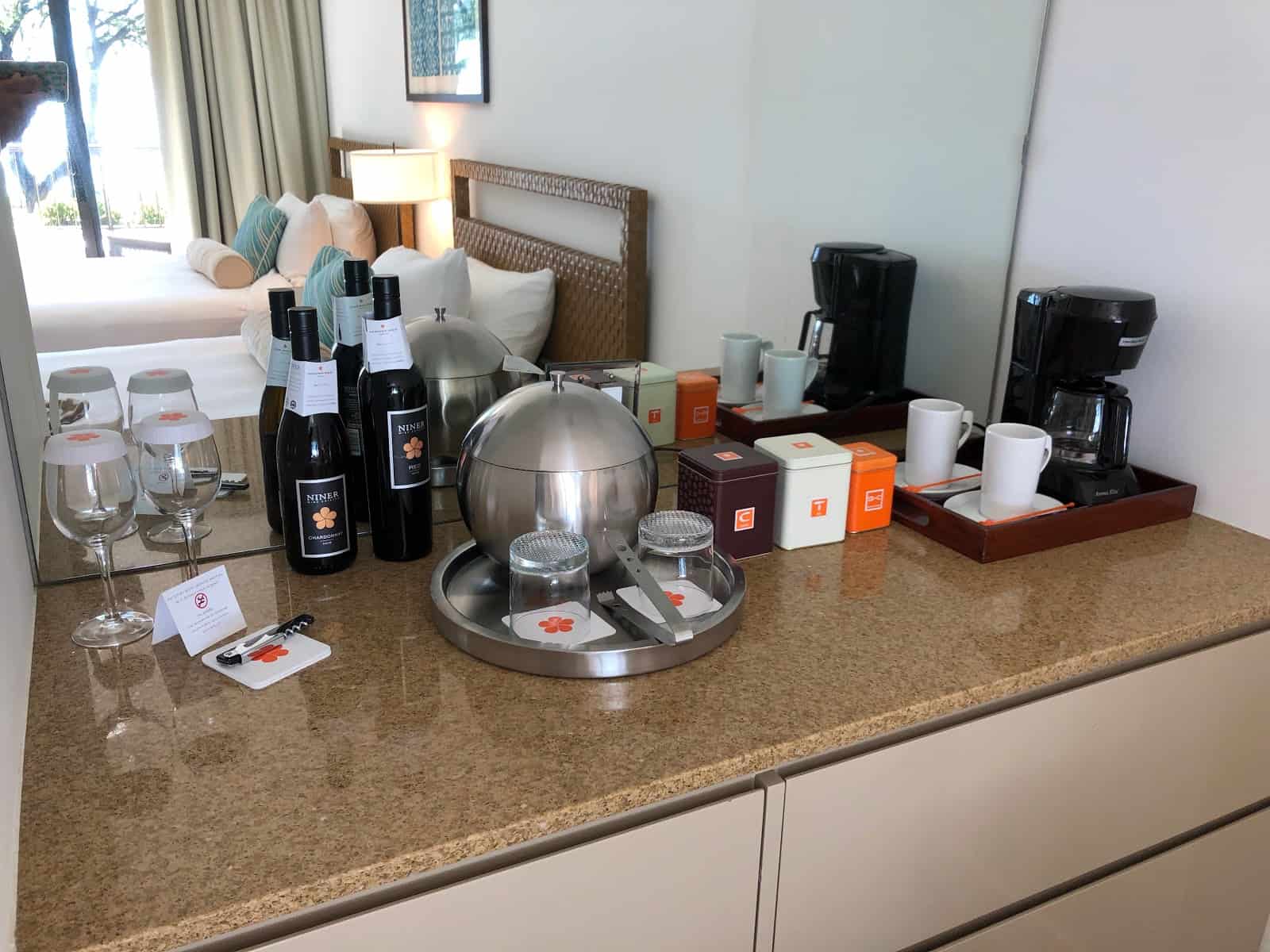 A spacious countertop in the bar area contained the coffee maker, an ice bucket that was refilled 2x/day, tea and coffee, and wine for sale. Bottled water was complimentary, and restocked daily. A refrigerator was included in the cabinet below, but contained no items, which made it great for storing smaller items that we purchased at the grocery store throughout our trip to save on our food and beverage costs.
We quickly realized a day or two into our stay that while our room location was great because it was on the far end of the property, meaning it was secluded and quiet, the walk to and from the main lobby of the hotel day after day got a little old after our weeklong stay. Especially late in the afternoon heat and in the humid evenings on the way to and from dinner. So, if you were to stay in the Beachfront Wing, a room number in the mid to upper 20s, (like 423) might be more ideal option if you have a choice at all.
One shortcoming that we found in the room was the overall lack of storage, especially since we were staying for a week. There were some drawers under the bar area, but the top one was stocked with items for the bar, and the bottom one included an extra pillow and blanket, so this left limited room for storage. There was also a small dresser in the closet, but it included items such as the hairdryer and other bathroom items.
Since we were staying for a week, we would've preferred to completely unpack our suitcases and store clothes in a dresser, but we ended up using the 2nd Queen bed and the bench at the bottom of it to store our suitcases as well as other random items that we needed stored during our stay. This caused the room to feel cluttered and messy during our stay, which could've been solved with another dresser option. I do know that the Oceanfront rooms in the Main Tower are better suited to address some of these issues, so if you were to stay in one of those rooms, you may not experience these same frustrations as we did.
The best feature of the room was the balcony that included 2 chairs, 2 ottomans and a table. We spent multiple nights there listening to the waves crash on the beach while playing card games or reading. It certainly made a great place to unwind and relax after a fun day in the sun.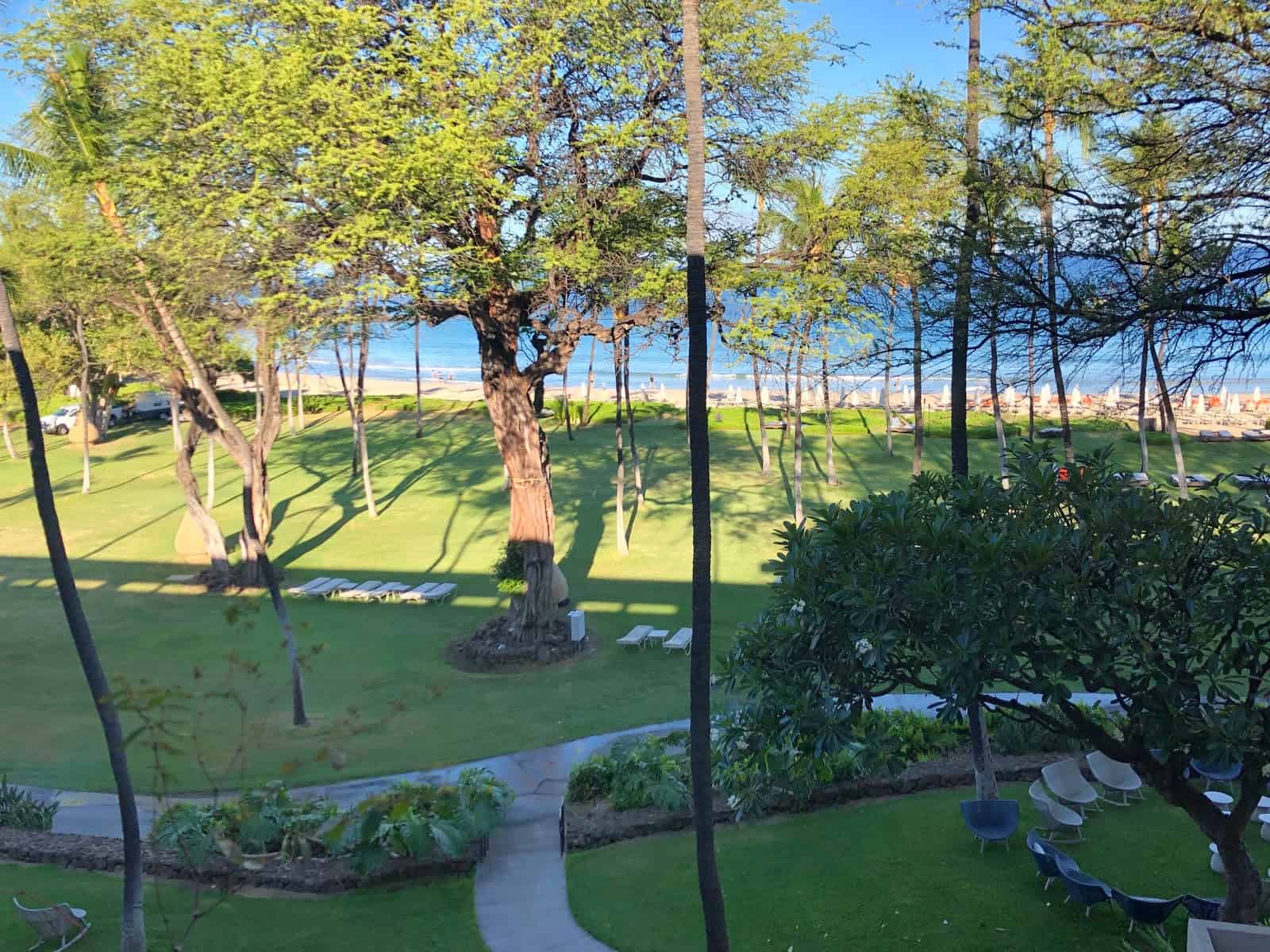 Hotel Dining
The hotel offers a number of dining options:
Manta
Manta serves two purposes for dining at Mauna Kea – it's the site of the daily breakfast for the entire resort, then the ambiance changes at night as it's the nicest restaurant at the resort for dinner.
Thanks to my Marriott Platinum status, we received the full breakfast buffet complimentary, which turned out to be a great option as it runs about $40/person each day. So in theory, we saved over $560 on breakfast alone on just this one benefit alone.
The breakfast buffet is about what you might expect with all of the usual suspects, but just very nice all around. A full omelette station, all of the pastries and delicious Hawaiian delicacies you could imagine, and more. I have to say, as somewhat of a bacon connoisseur, they cook a truly tremendous piece of bacon here – some of the best I've ever had.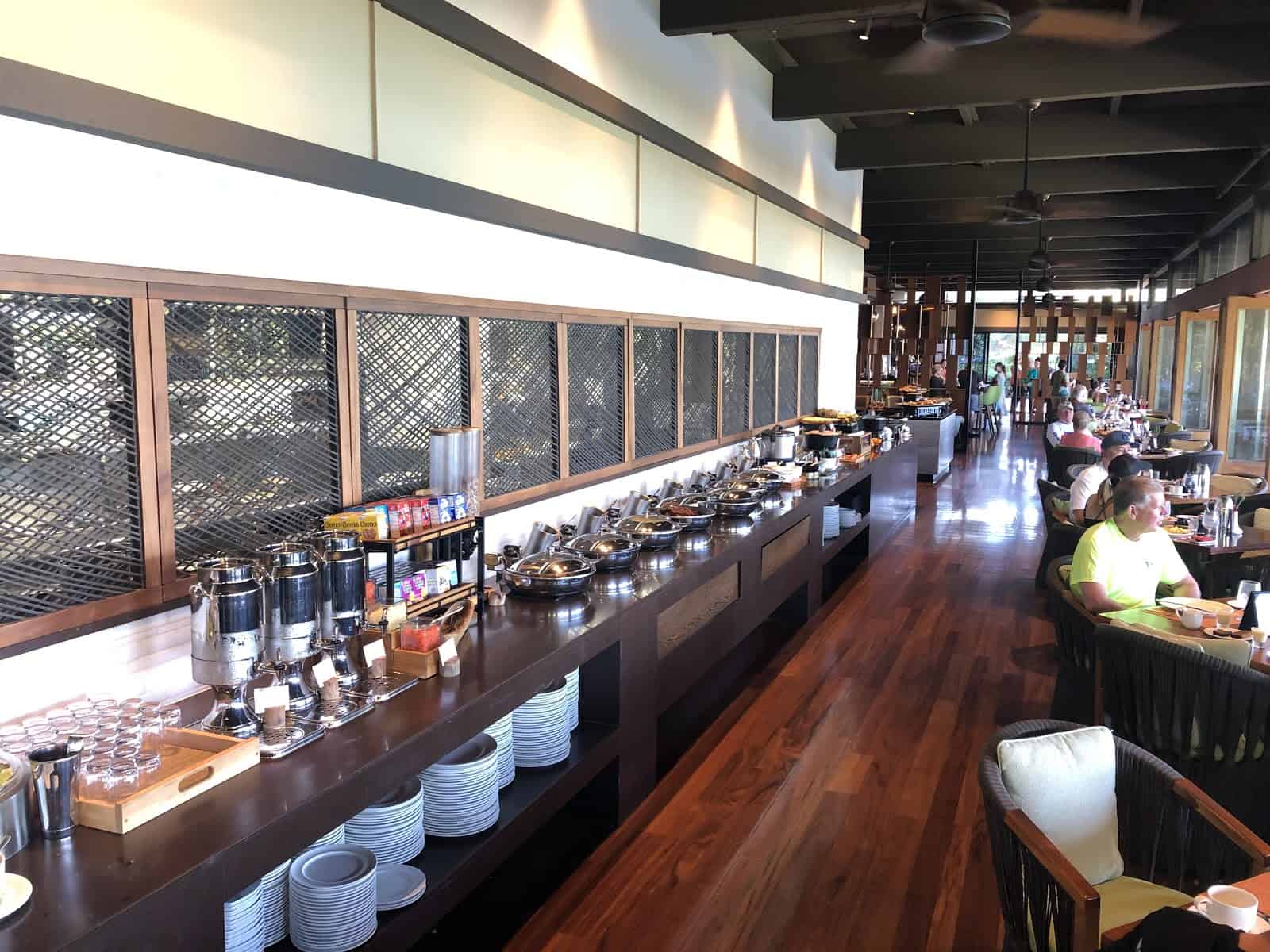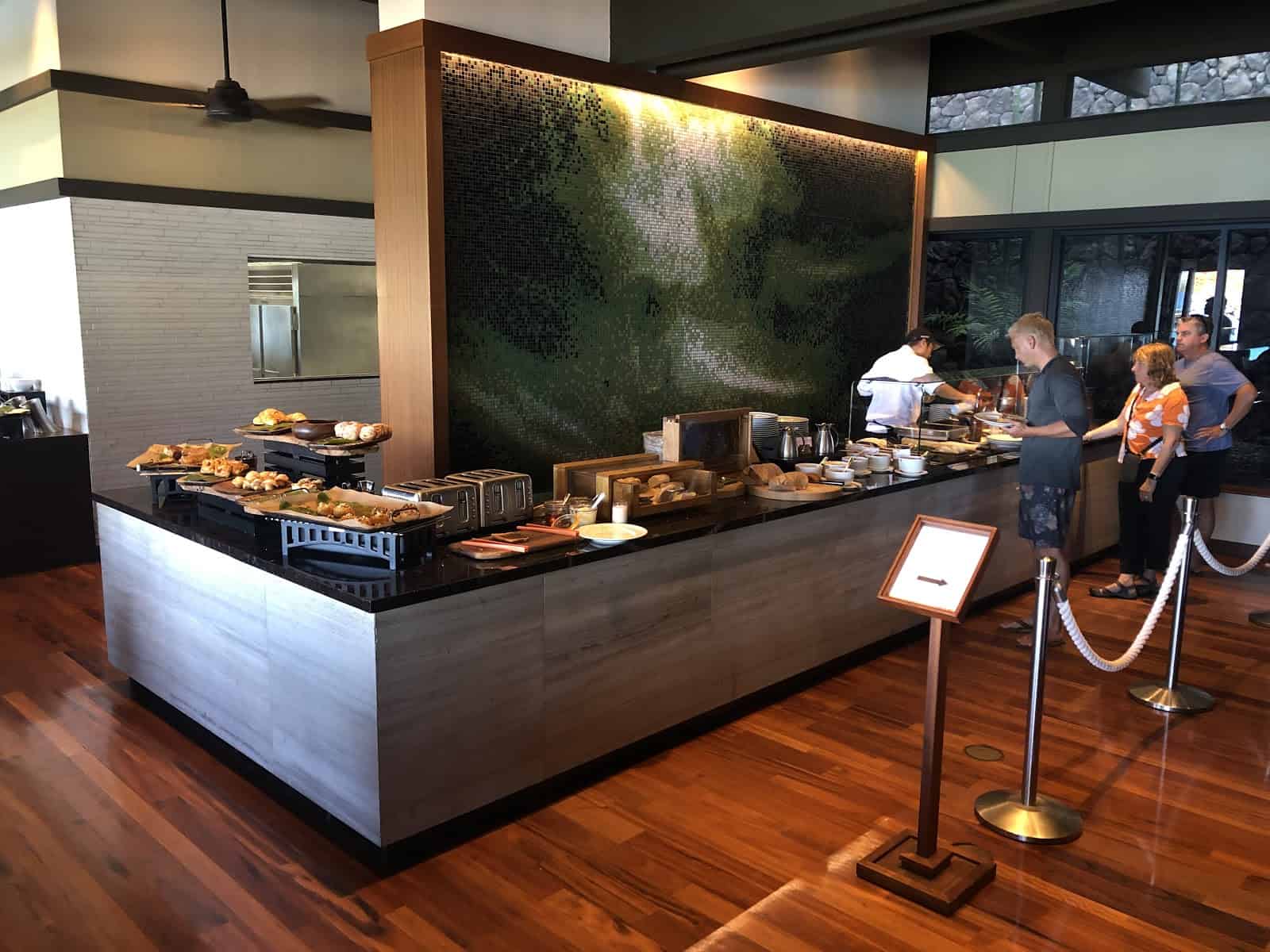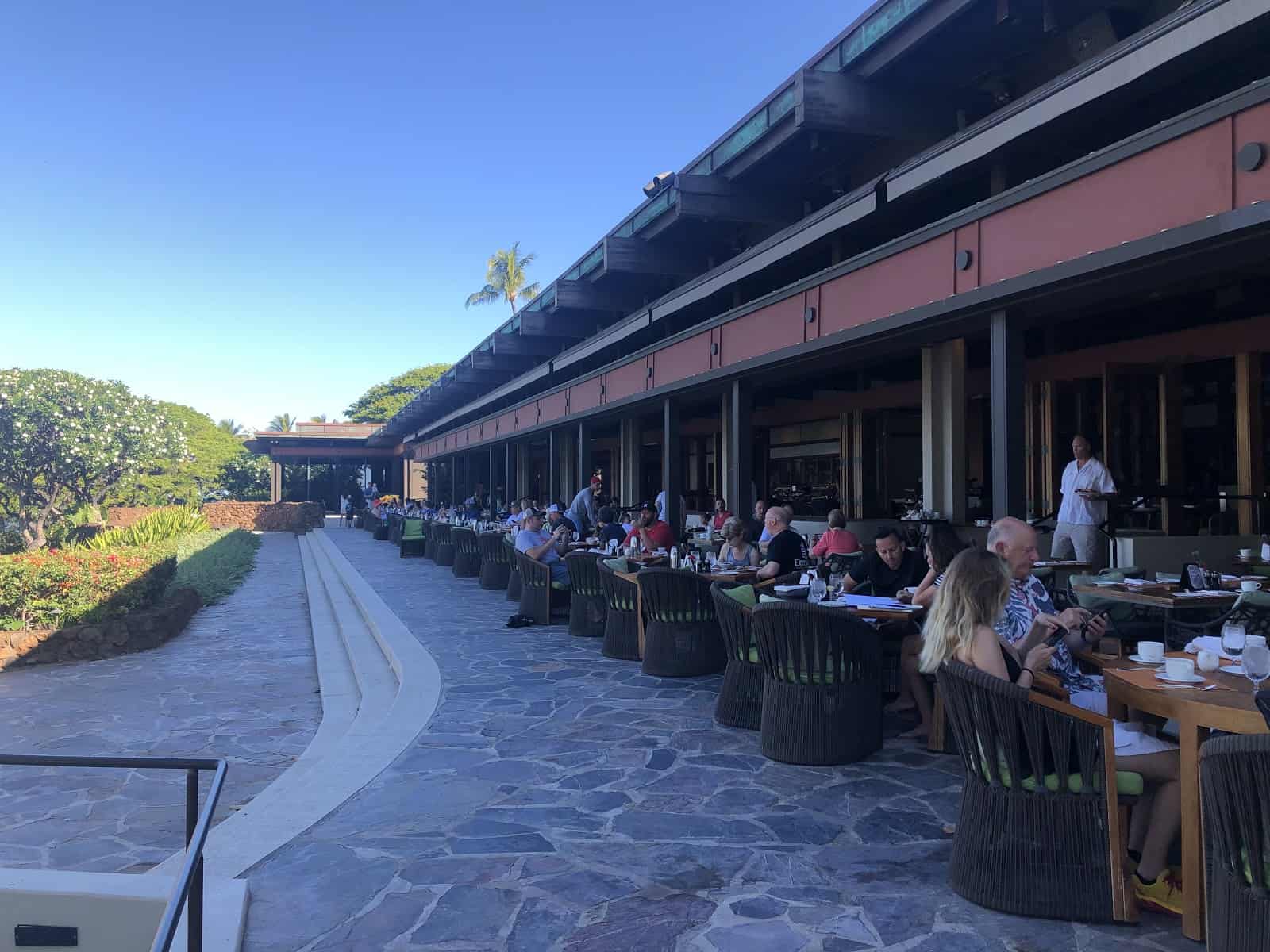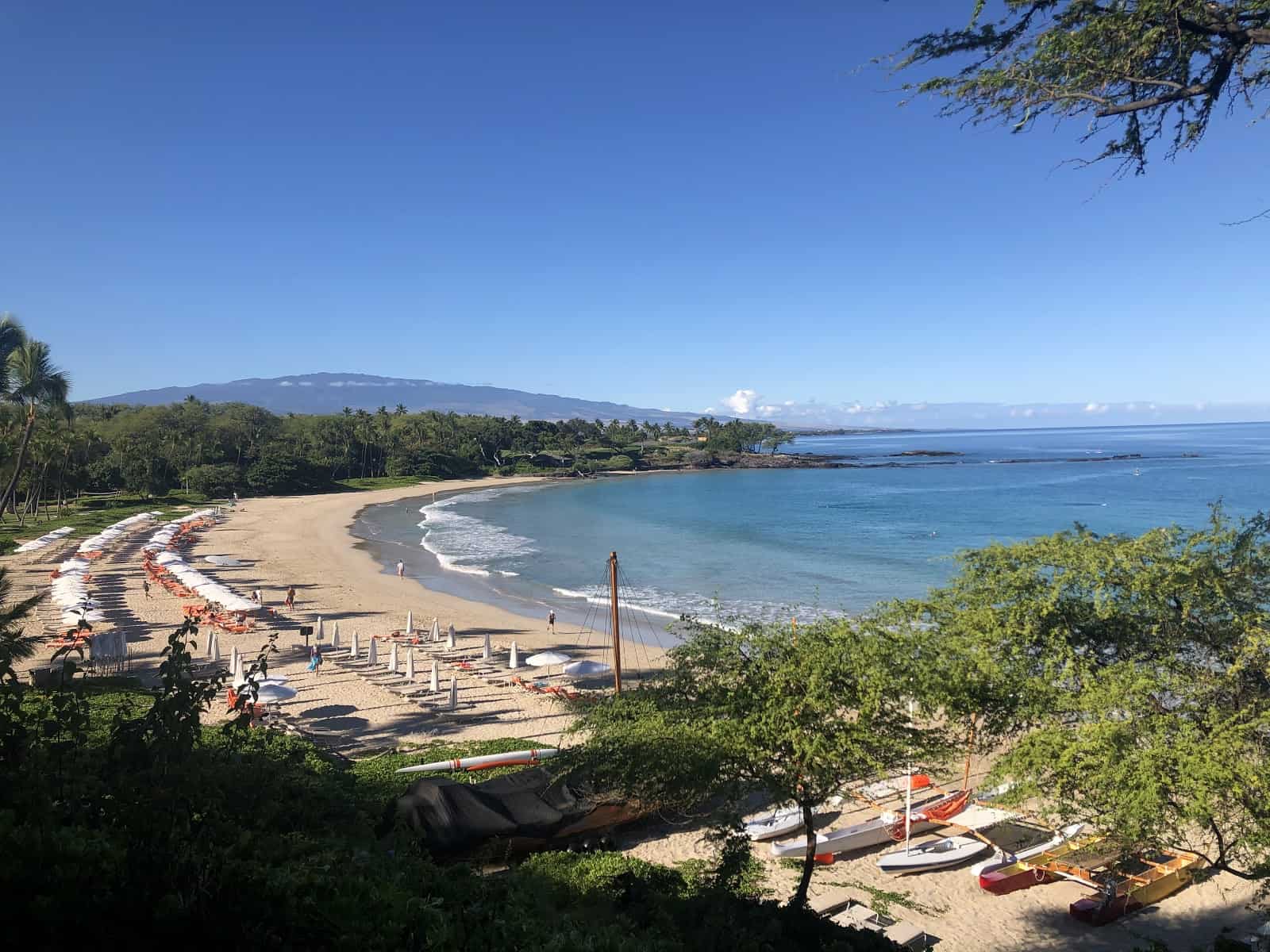 At night, Manta turns into the top restaurant at the resort. We did not eat dinner here during our stay, primarily due to the prices. Entrees start at ~$40 and top off around $85 for the Surf and Turf. While I have every reason to believe the food is tremendous, I did read some mixed reviews as to whether the food was worth the price, so with that in mind, we chose to eat dinners elsewhere.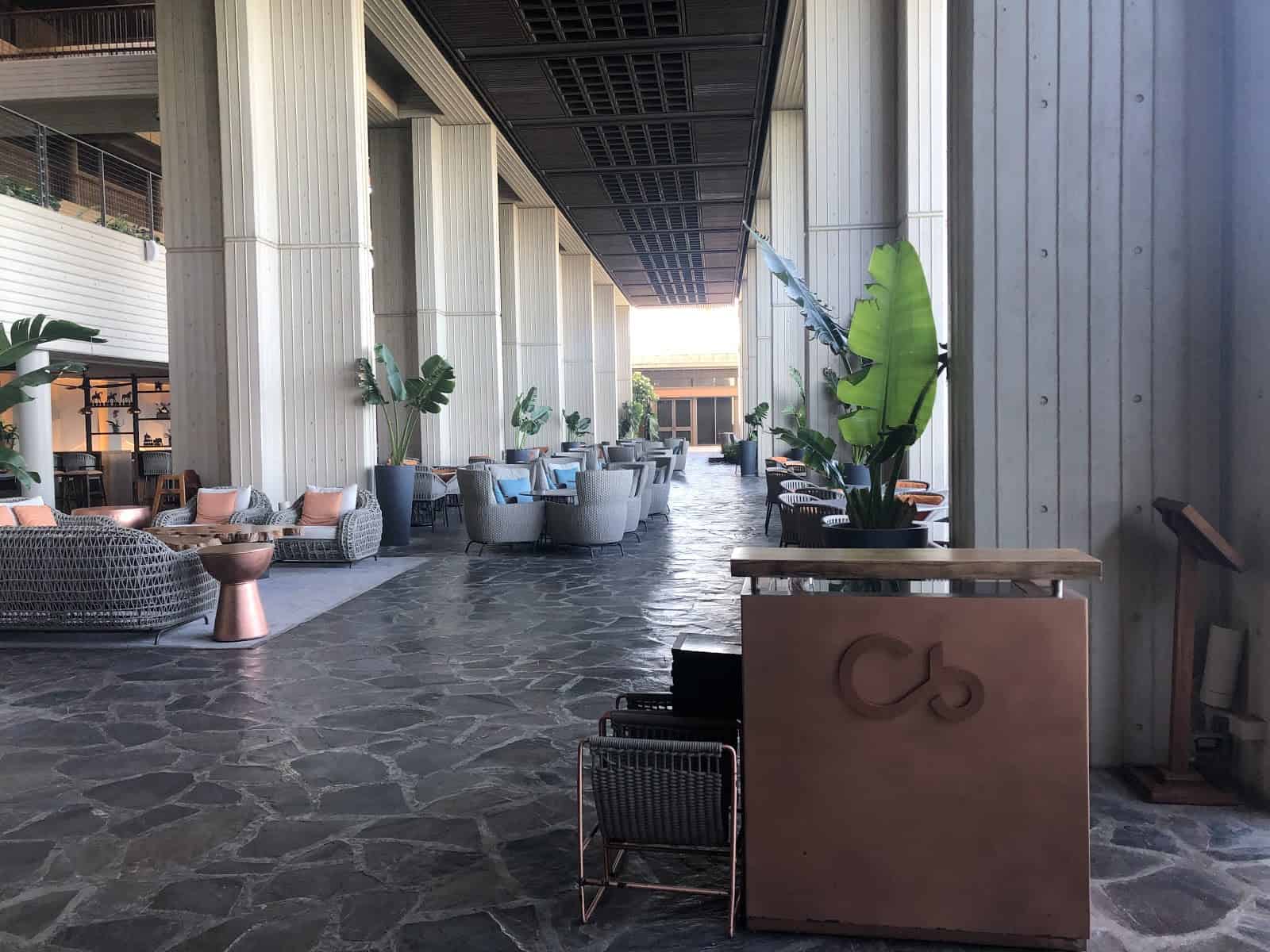 Copper Bar
This is the mid-range restaurant of the hotel, a nice bar offering some good food options as well. We ate here on the night of our arrival, so our review of it is short and sweet as we were looking to eat food as fast as we could so that we could then get to bed as soon as possible.
The menu includes a nice variety of offerings, such as salads, sushi, flatbreads, as well as chicken and steak entrees. The setting was wonderful in the lower lobby of the Main Tower. The restaurant is open-air, and you can hear the waves crashing at night. Every night that we walked by the restaurant, there was live music in the bar, making it a nice place to unwind with a drink after a long day in the sun. And most importantly, the prices were much more reasonable here than Manta, at least by Hawaiian standards.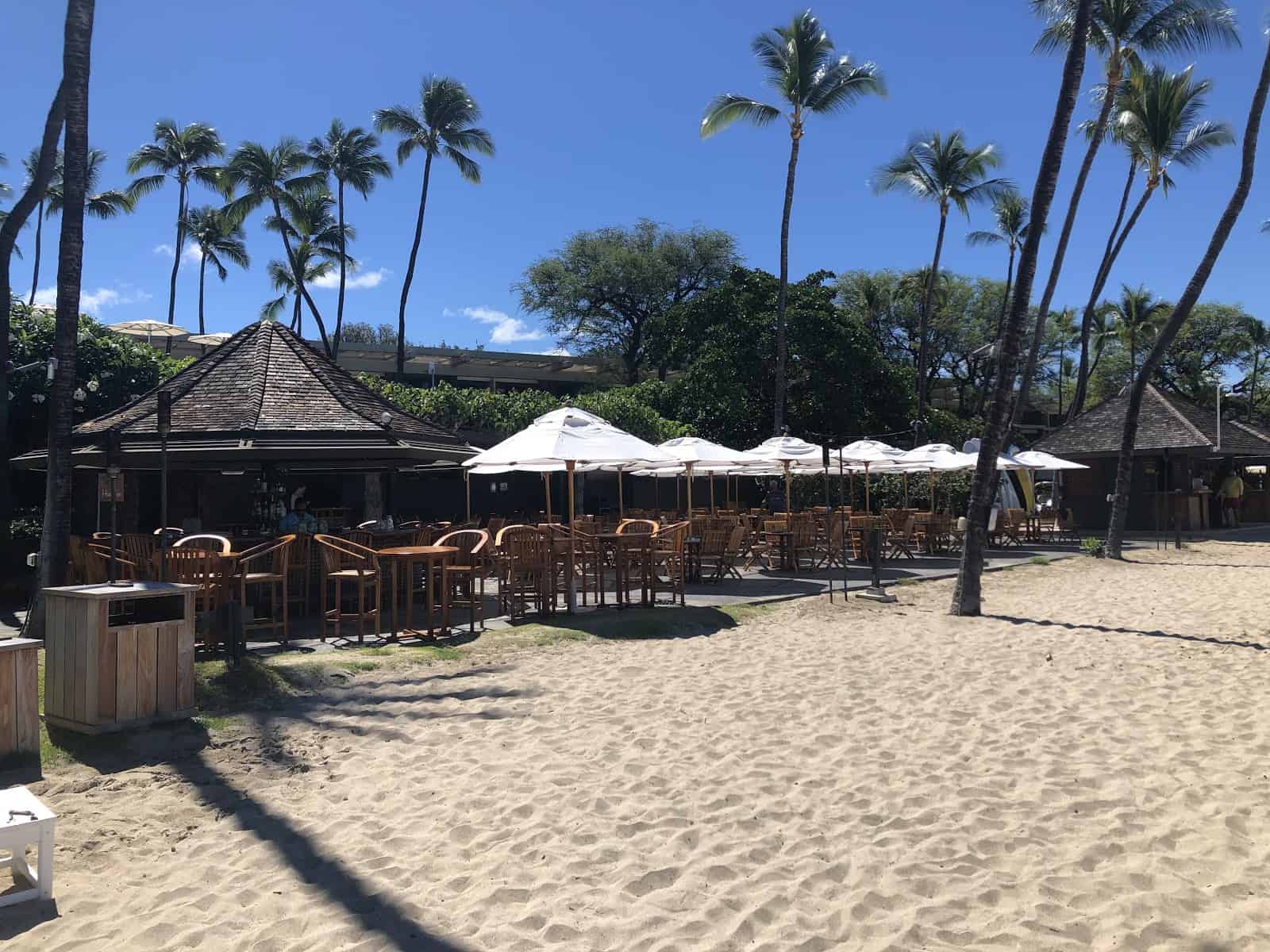 Hau Tree
This beachfront bar was our favorite of the restaurants at Mauna Kea, partially due to its location. Located right on the beach, it's a perfect spot to grab some lunch during your day on the beach, and as many drinks as you need during the day. All from the convenience of the beach.
Number 3
The restaurant on the golf course in the pro shop is open to anyone, but only for lunch. Since we were on the beach most of the day or off the resort, we did not eat here. But the menu looks appetizing as it offers a variety of salads and sandwiches at reasonable prices.
Hotel Amenities
Being the first hotel to be built back in the 1960s on the Kohala Coast, it's a safe bet to assume that Rockefeller had his pick of the litter when choosing properties for his resort, and the Kauna'oa Beach that he selected does not disappoint. Kauna'oa Beach is certainly one of the top beaches on the Big Island, and the views from most of the rooms at the hotel confirm this.

Even though there are no resort fees at this hotel, complimentary beach chairs, towels and umbrellas are provided for all guests. Placement is on a first-come-first-serve basis, but there were always chairs and umbrellas for us every day of our stay.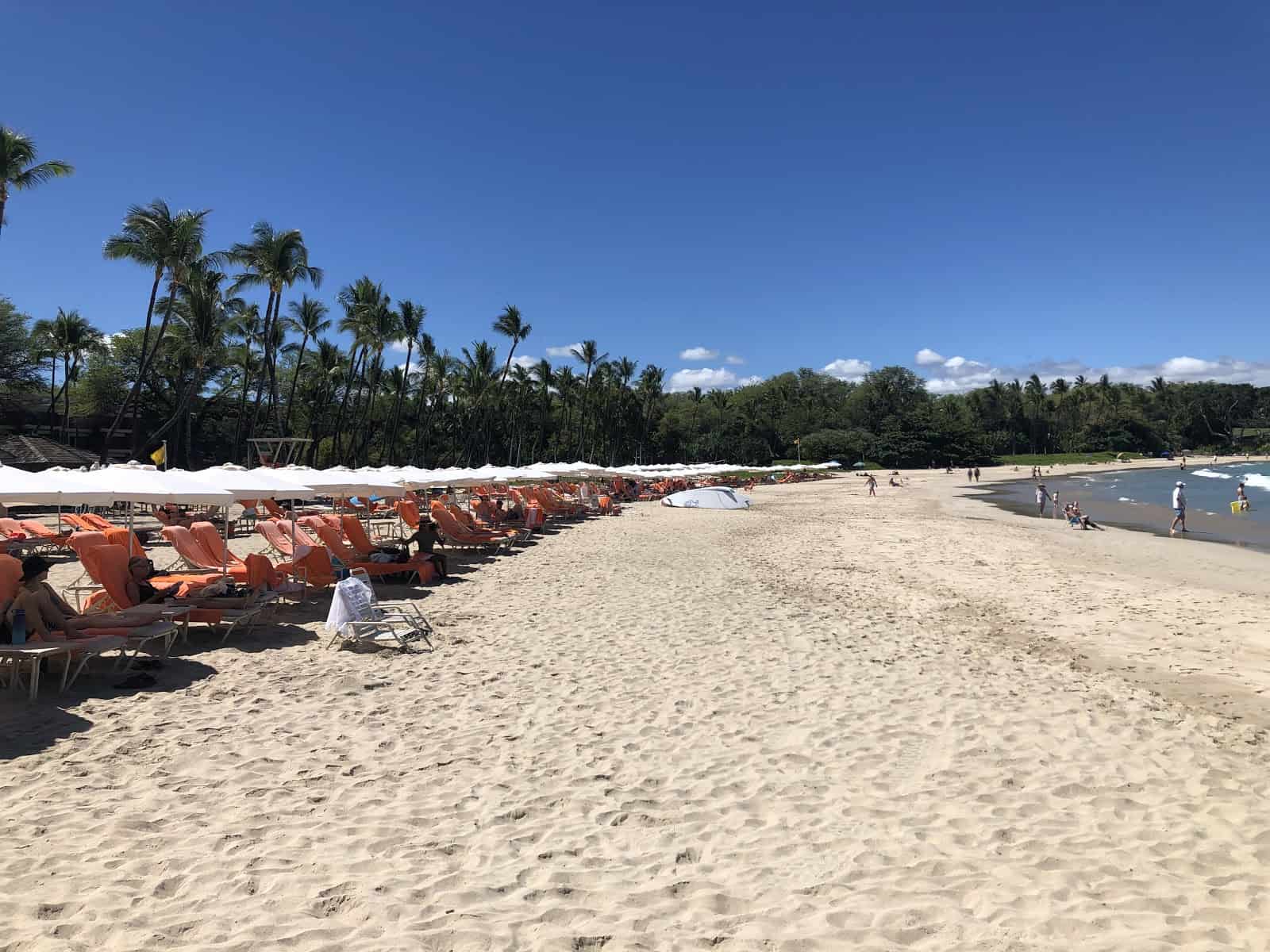 One important pro tip: we've traveled to a ton of beaches all over and never seemed to have experienced just how hot the sand here gets in the heat of the afternoon. So try and get a chair and umbrella on the front row so that you don't burn your feet on the sand like we did trying to make out way into the water! We often saw a number of people running across the beach to the water, so we weren't the only ones caught off-guard!
One nice touch is that the beach hut where you get your towels and such for the day always seemed to have a nice big dispenser of ice water that was constantly replenished throughout the day. This made it easy to stay hydrated, and they also had complimentary platters full of fresh fruit, such as pineapple, mango, and more that was available for anyone and also replenished.
The primary attraction at Mauna Kea is certainly the beach. But if you're looking to also spend time at the pool, there's a nice, albeit very simple and nothing special, pool that overlooks the beach below. We went to the pool 2-3x during our stay, and there were no more than 10 or so people at or in the pool at any time.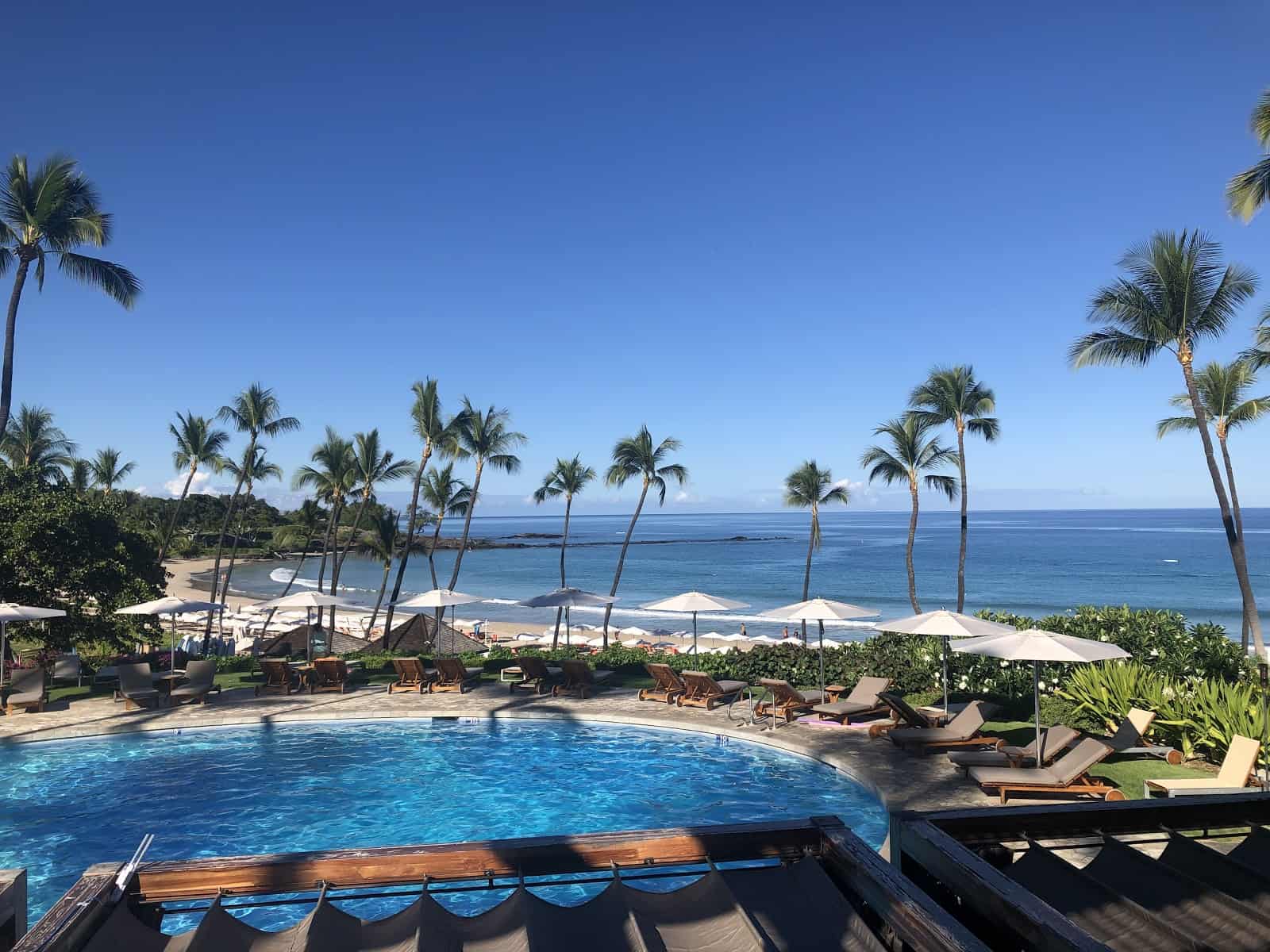 Other than the beach, the other main attraction of Mauna Kea is the signature golf course. It's a Robert Trent Jones Sr. golf course for you golf architecture fans. It truly is a beautiful course, especially when you consider it's built on what was once just a barren black lava field. The 3rd hole is by far the signature hole on the course, and measures 272 yards from the tips over the water. Better hope you're not teeing off into the wind! Rates start at $250 for resort guests, which is on par with some of the surrounding resort courses.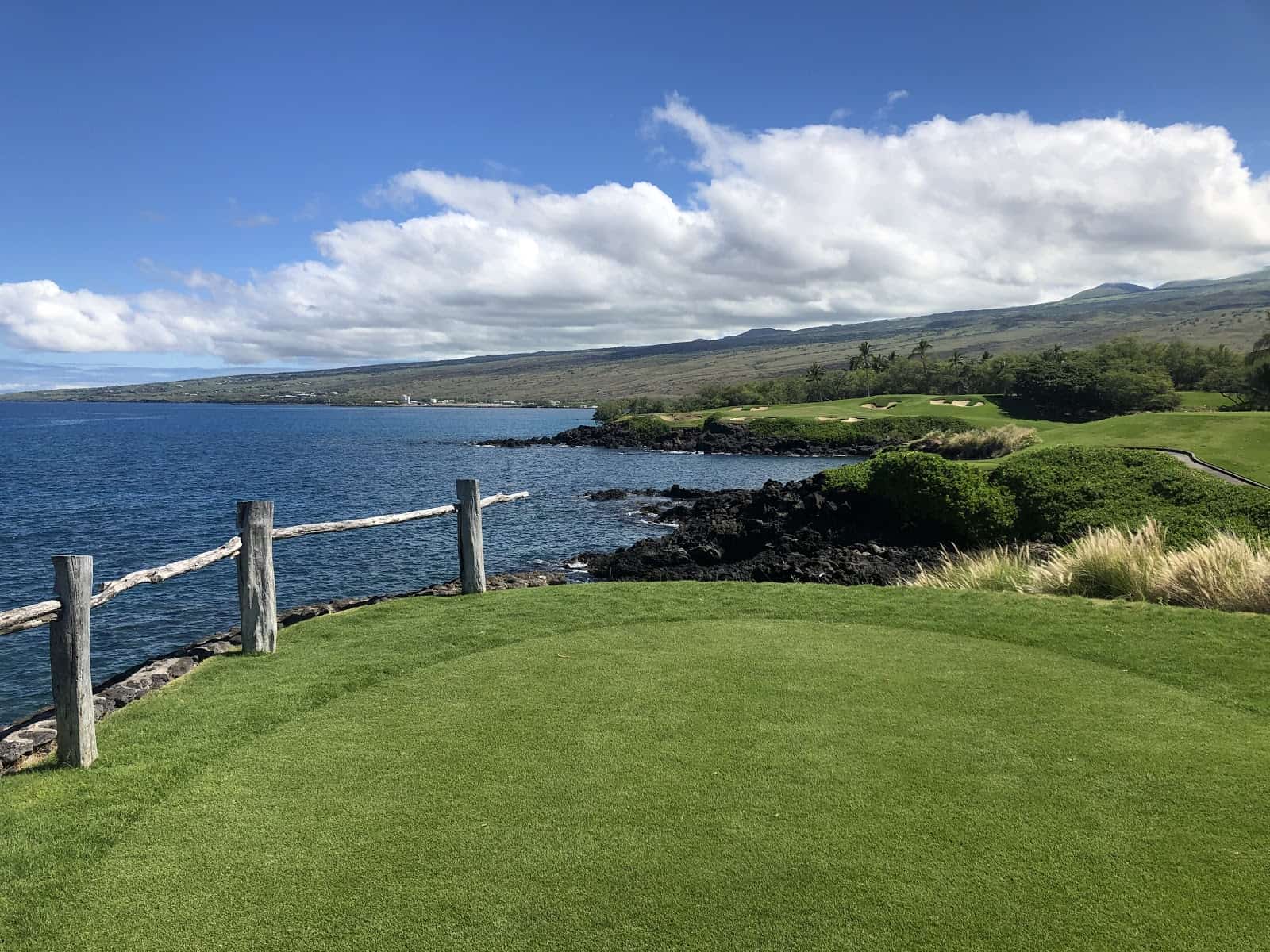 Did you actually go to Hawaii if you didn't participate in a luau? Fortunately, Mauna Kea has a twice-weekly luau for both guests of the hotel and the general public. In relation to other luaus on the island, it was certainly more expensive at about $135/person. It includes an extensive dinner buffet as well as about a 90-minute show. This luau differs from others on the island as it's geared a little more towards Hawaii history, traditions and culture. We enjoyed it, but to be honest, we weren't as interested in the history, traditions and culture component of it as others may be.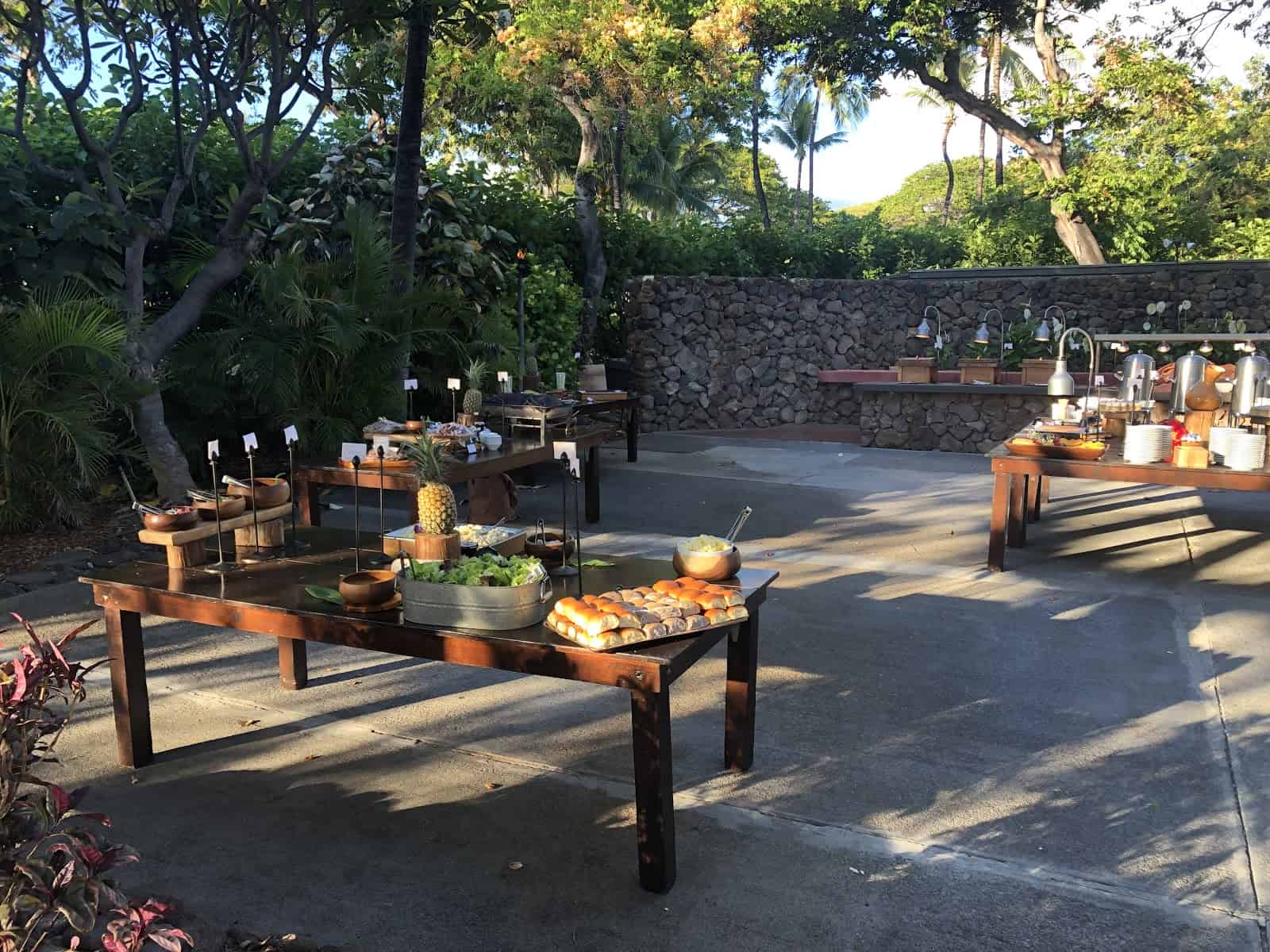 The location of the luau is certainly impossible to beat. There was a wonderful breeze coming off the water, and it made for a beautiful sunset.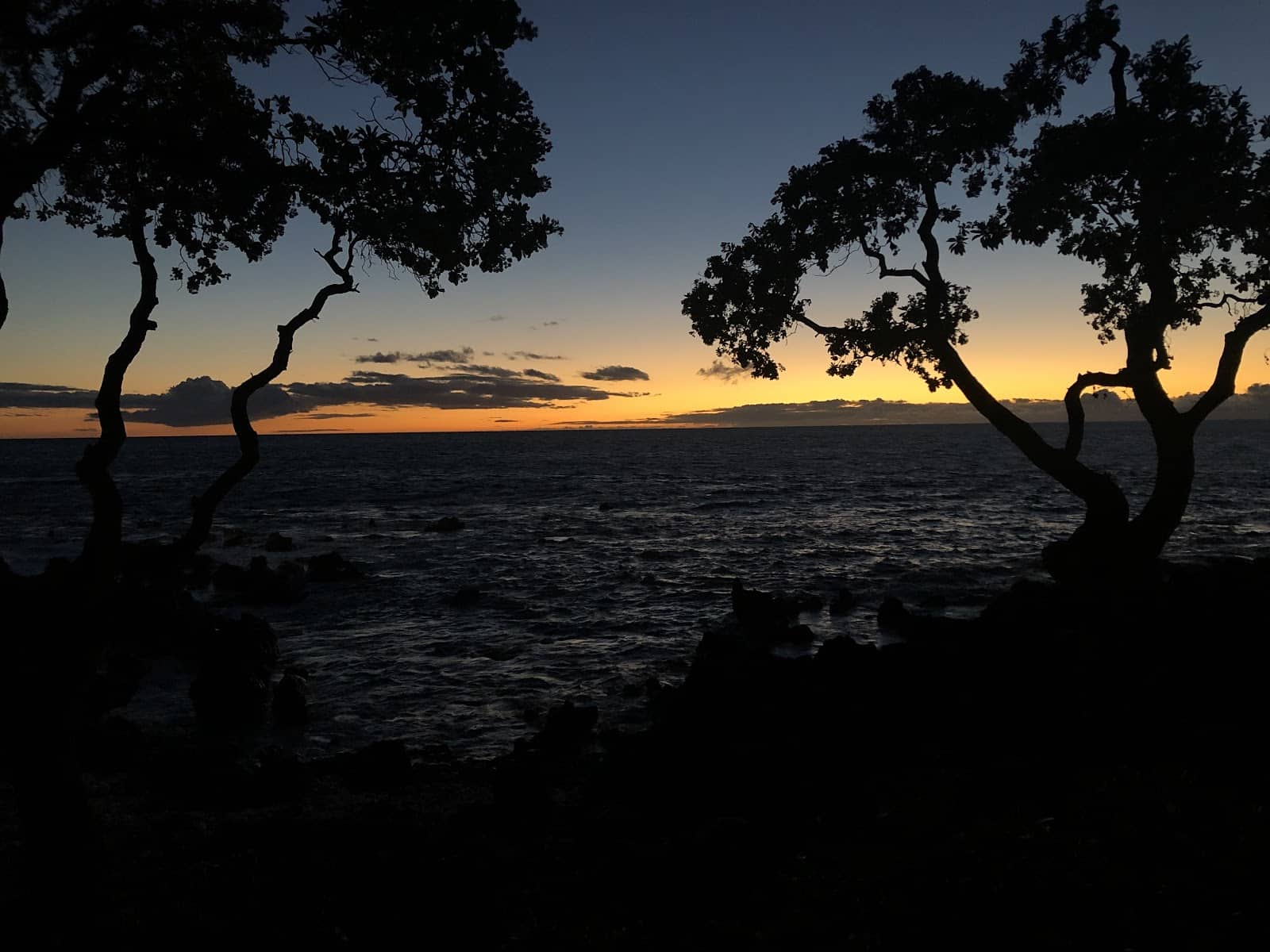 One of the other great outdoor night activities is the hotel's resident manta rays. The hotel has some bright lights setup along the rocky shoreline and, I'm no Bill Nye here but, the lights attract some sort of plankton to them, which is what the manta rays feed on. So this is why they come to the lighted area.
There is a nice observation area along the cliffs that you can watch from, or if you're feeling very adventurous, book an organized trip through the resort and you can strap on your snorkel and flippers and swim alongside the manta rays. As much as we like to snorkel, we just watched from above.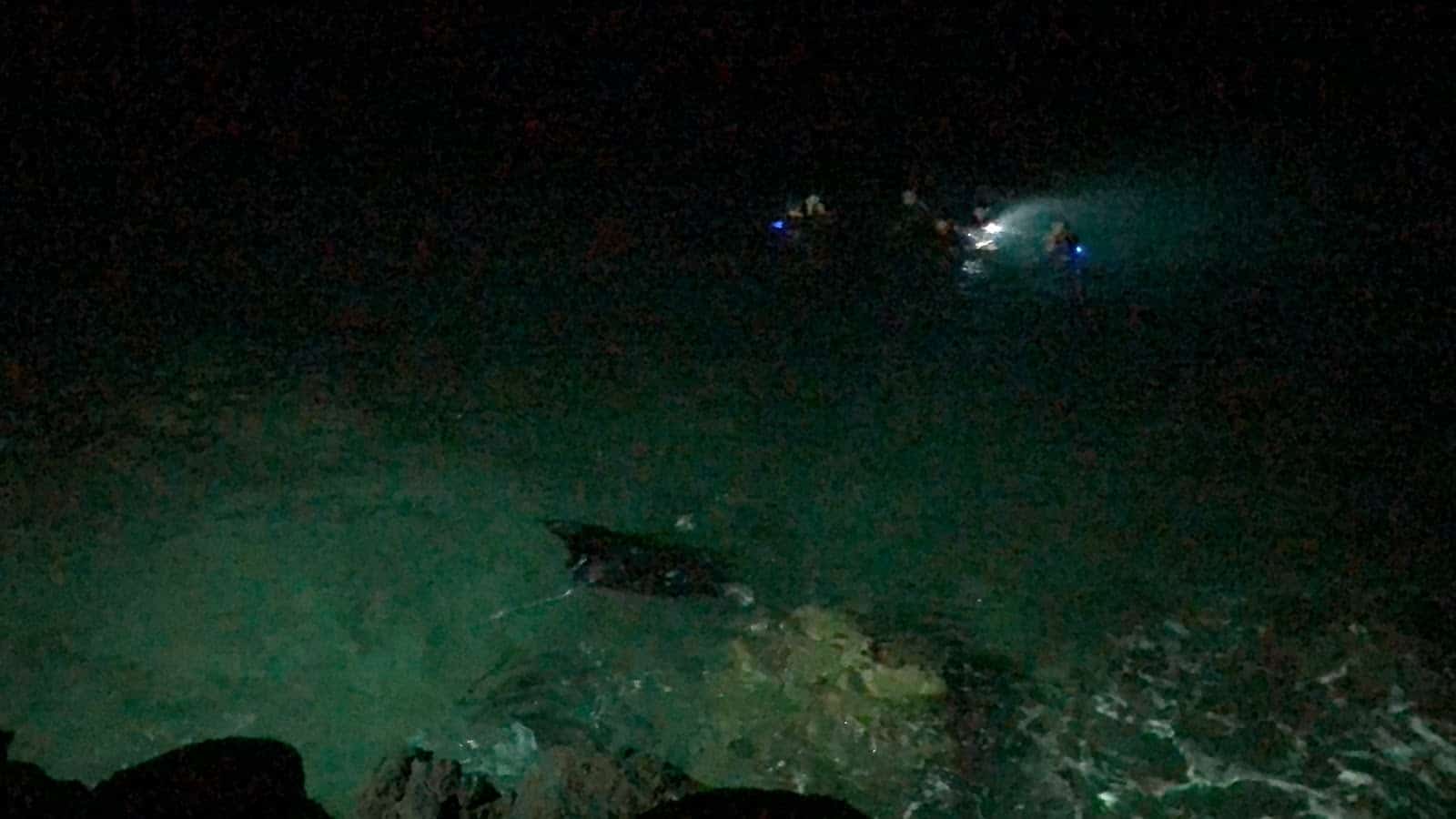 There are a few shopping options on-site at the resort.
Mauna Kea Beach Shop – here they sell not only Mauna Kea keepsakes like shirts, hats, sweatshirts and more, but they also sell beach essentials like sunglasses, sunscreen, swimming suits and more.
Golf Pro Shop – just across the street from the Main Tower, the pro shop sells even more clothing if you're looking to do some clothing shopping, along with traditional golf items you'd find in a normal pro shop.
Accents – this store sells a variety of resort wear clothing and island-inspired gifts.
Mauna Kea Market – probably the best shopping option for a weeklong stay, the market sells the essential groceries on-site. So when you get that late night ice cream craving, you don't have to drive 15 minutes to the grocery store. Be careful though, the convenience matches the price – a 20oz bottle of coke was about $3.50.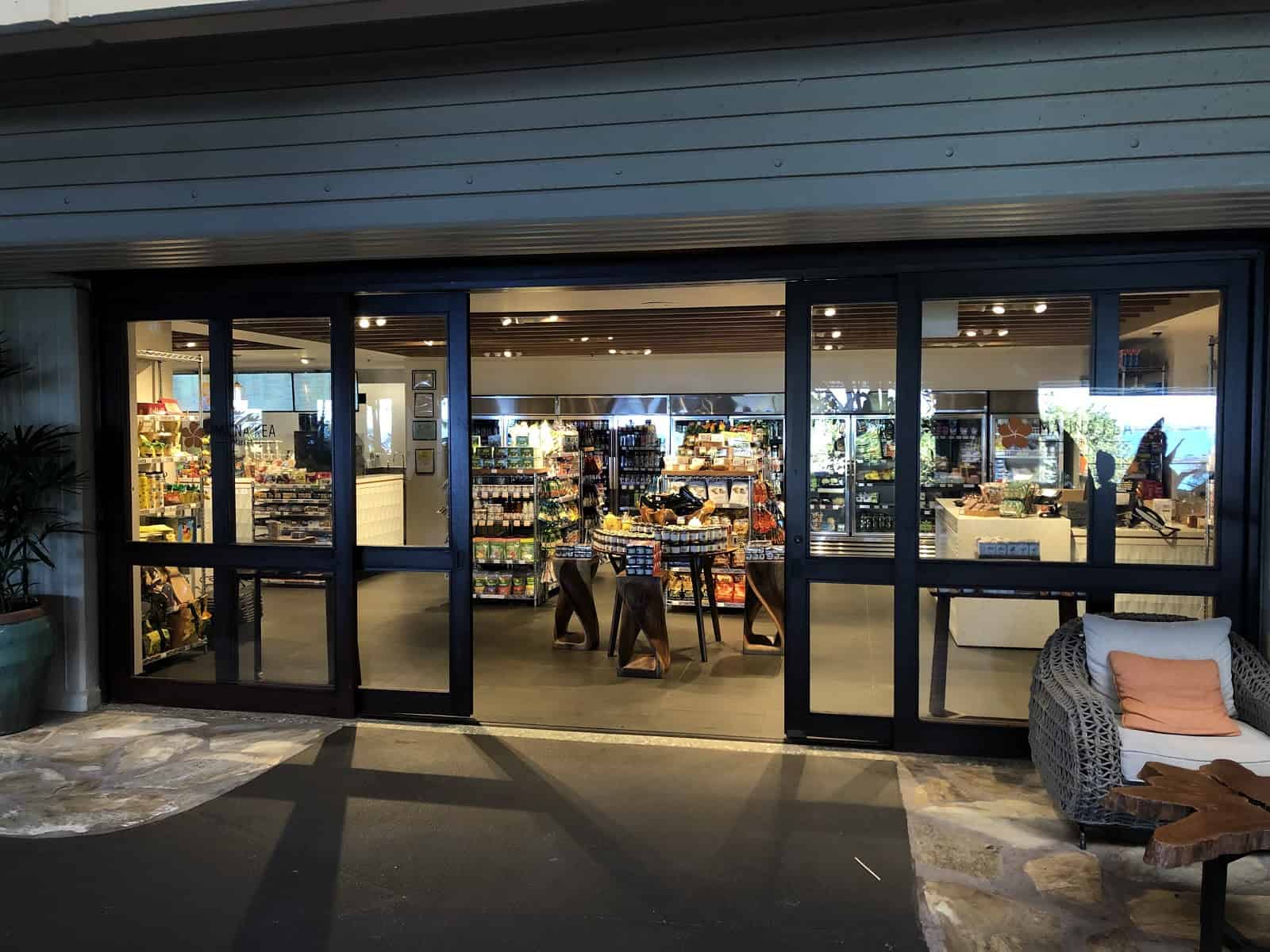 Things to Do in the Area and Off-Site
The resort offers a number of activities on-site for your stay. But in fairness, for a weeklong stay at the resort, it's really worthwhile to get out and explore the surrounding area as well as the entire island. Here are a few of the highlights of some of the activities we did, and this is certainly just a drop in the bucket of all of the options to do on the island:
Kawaihae
The town closest to the resort is the small port town of Kawaihae. Here, you can find a number of bars and restaurants, a gas station, some shopping, and more. We ate at Kohala Burger & Taco twice during our stay, and certainly recommend it if you're in the area. Pro tip: If you order ahead of time online, you can save about 15% and still eat at the restaurant.
There's also a shave ice stand next to Kohala Burger & Taco, which is a must at least once when you're in Hawaii.
Black Sand Beach
One day trip we were most looking forward to during our stay was to Punalu'u Beach on the southwestern side of the island. In fact, this part of the island is the southernmost point of the entire United States, which makes it pretty cool. However, what's even cooler is that it has a black sand beach that also features endangered green turtles that like to sunbathe on the beach.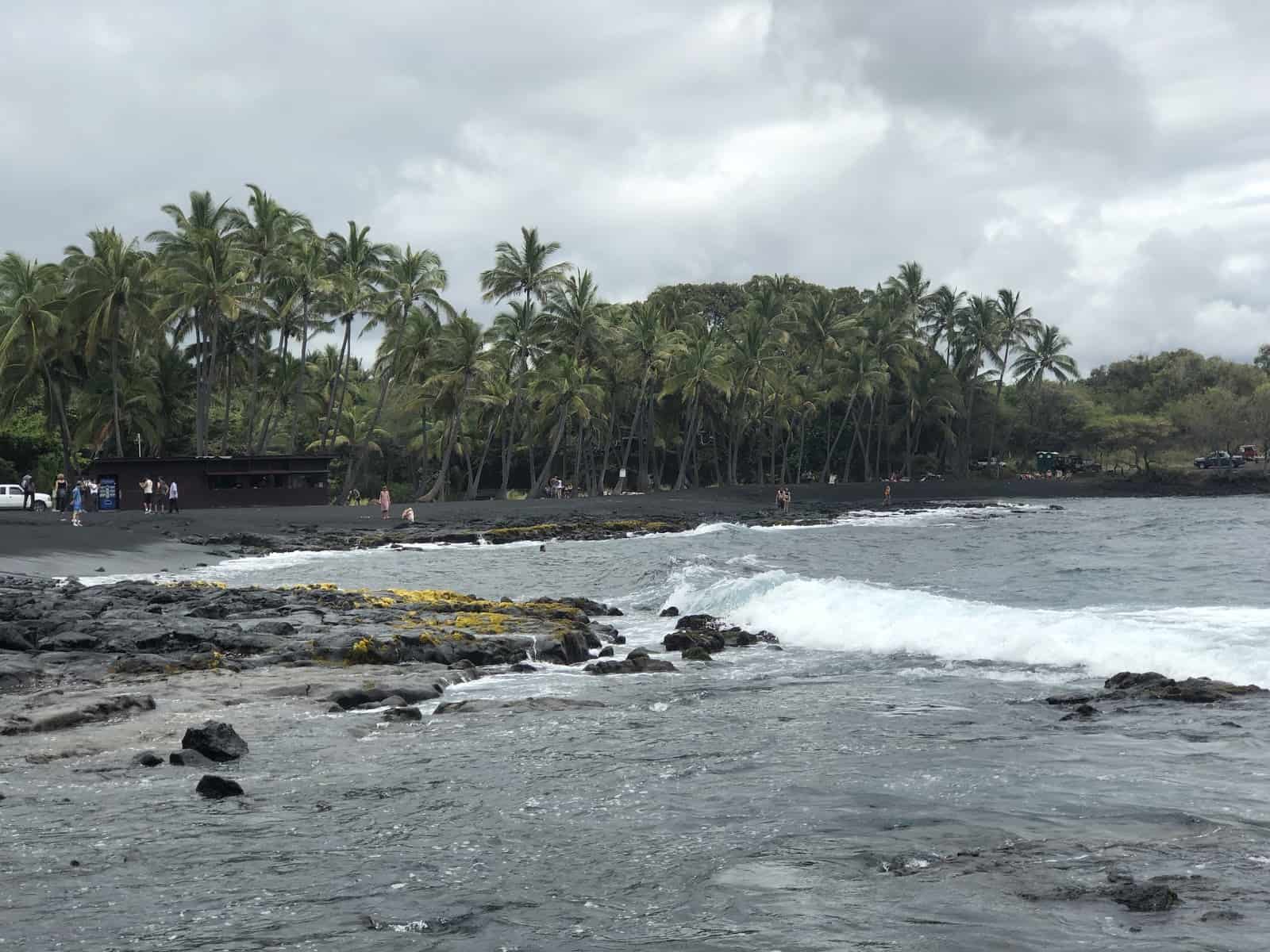 It's about a 2.5 hour drive from the resort, but it's a beautiful drive that allows you to experience some of the various climate zones that makeup the Big Island – it's weird going from the dry desert to the rainforest/jungle to barren lava fields, all in the span of just 20 miles or so.
If you do end up making the drive to Punalu'u Beach, be sure to include a stop at the nearby Punalu'u Bake Shop. They tout themselves as the southernmost bakery in the United States, and it's an excellent place to stop for lunch.
If you like Hawaiian Rolls that you buy in a bag at the grocery store and think those are incredible (which they are), then imagine how heavenly freshly made Hawaiian Rolls are. Well, I'll spoil it for you – they're insane. There's no other way to describe them. And they're even better as a ham or turkey sandwich on a warm and freshly baked Hawaiian Roll. Plus, if you stay for more than 10 minutes, you'll find out later that you still smell like the bakery – and this is a good thing!!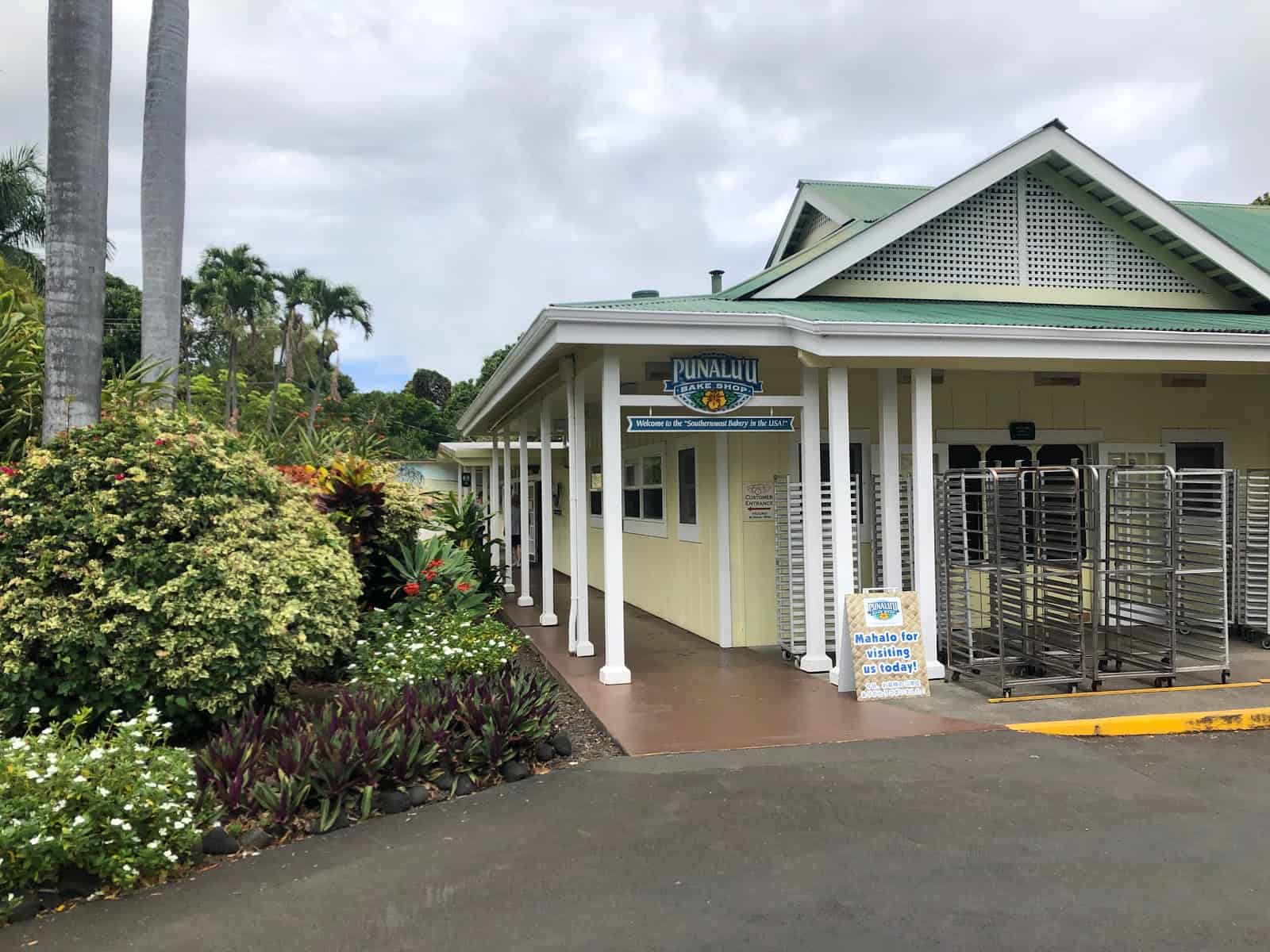 Kona Brewing
This brewery has made a name for itself all across the mainland over the last few years, so it's a must stop to have a flight and food if you're in the area. Their success has allowed them to build a beautiful tasting room and restaurant at the brewery that is absolutely worth a stop.
I've been to a number of breweries over the years, and often times experiencing it in person isn't as good as I had hoped it to be, whether the beer tastings or the food or something else. Kona Brewing is the opposite of that – my wife and I both had truly delicious meals and enjoyed tasting some of the other beers they had to offer, most of which we don't have access to on the mainland.
Highly recommend!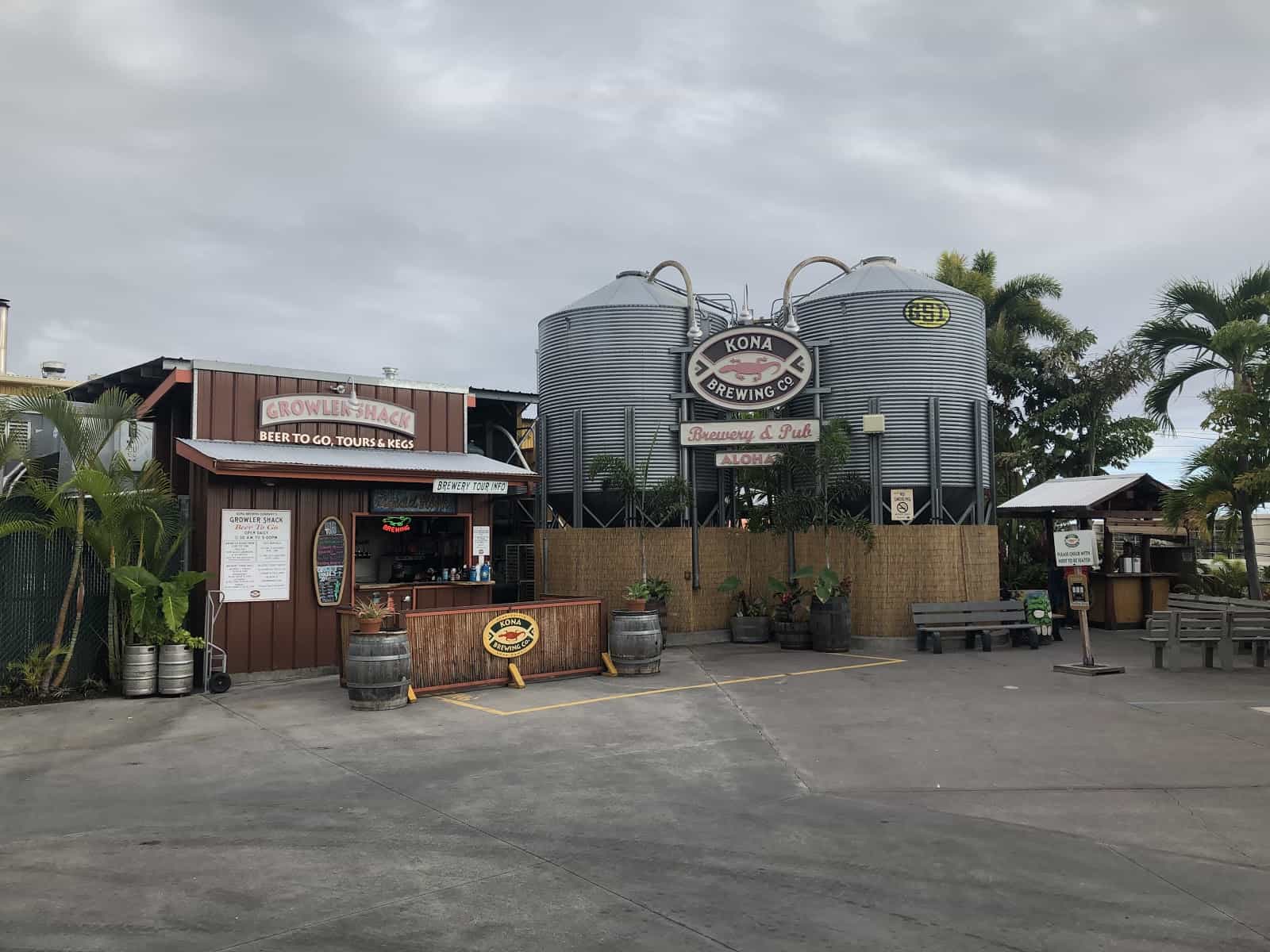 Pro Tip: Kona Brewing is only about an 8-minute drive to Costco, so stop by and fill up your rental car's gas tank here on your way back to the resort or on the way to the airport. It was $.80 per gallon cheaper than the neighboring gas stations, so it was totally worth it.
Drive to Hilo
Another day trip we did was driving all the way across the island to Hilo to explore the Eastern side of the island. From Mauna Kea, we drove across the northern part of the Big Island, and this drive was absolutely stunning. You not only climb up and down mountains most of the way across, but you weave along the coastline and there's a tremendous ocean view at almost every corner. Further, it seems that there are breathtaking waterfalls around every bend. If you do this drive, be sure to plan for time to stop at some of the scenic overviews to take in the views – they're worth it!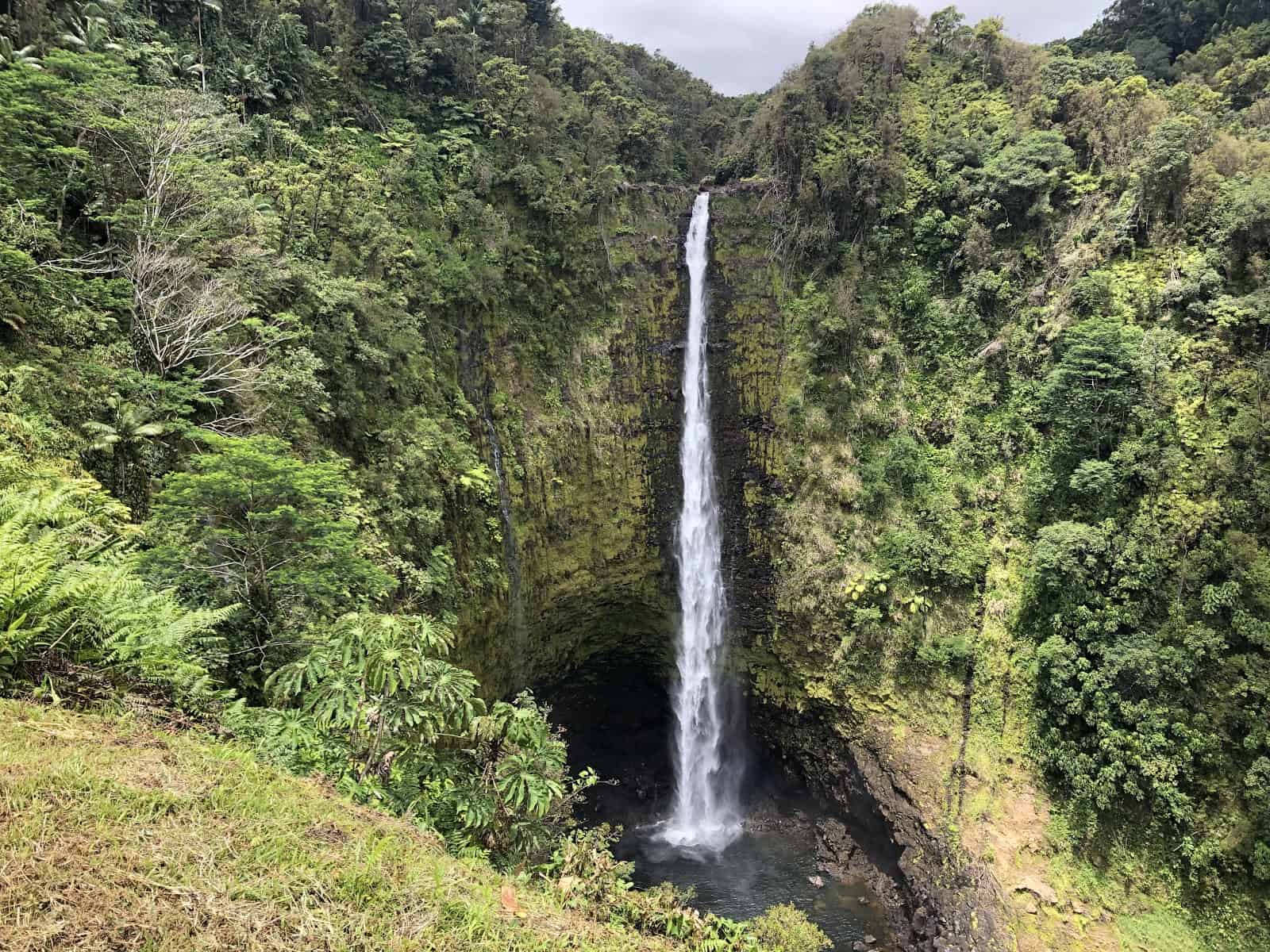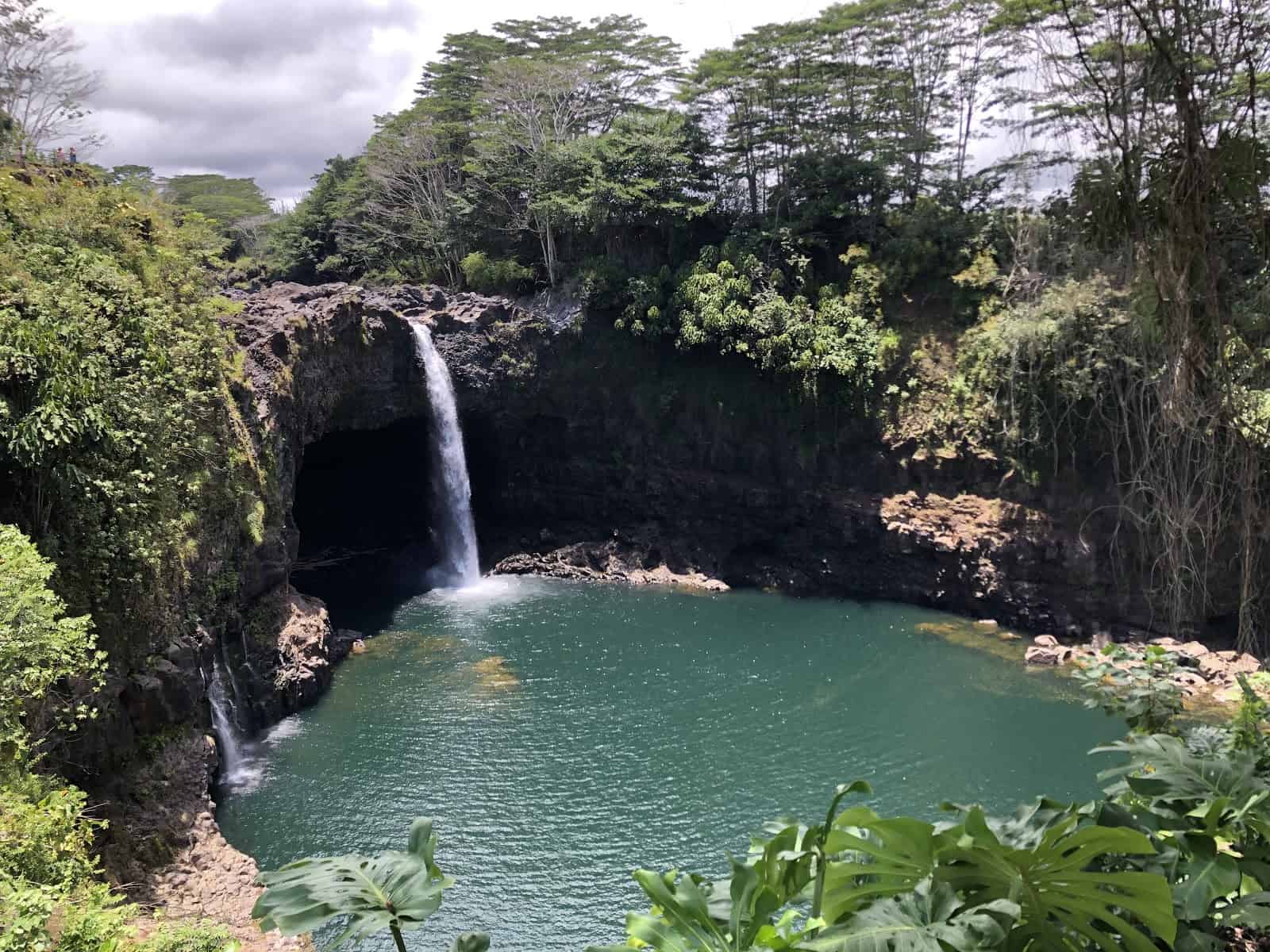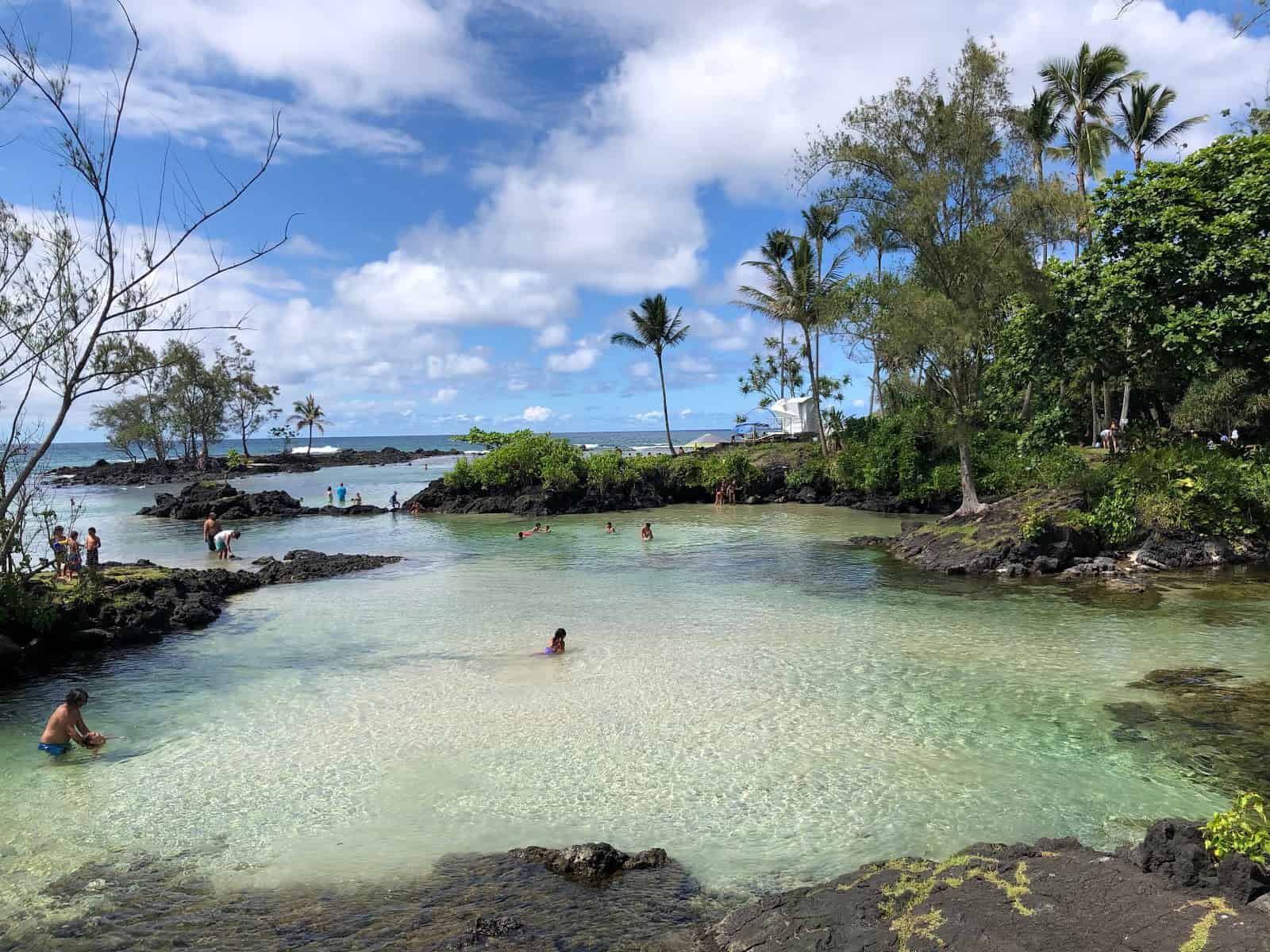 Mauna Kea
On the way back from Hilo, we drove across the middle part of the island so that we could drive up to top of Mauna Kea, (the mountain not the resort). At almost 14,000 feet above sea level, Mauna Kea is one of the only places in the world where you can drive from sea level to 14,000 feet in about a 2 hour span.
Note, this adjustment can be really hard on your body due to the 40% reduction in available oxygen at this altitude, so it's recommended to stagger your climb up. In fact, we only got to the Visitor Station at 9,200 ft.
From there, they recommend making 3 stops along the way up to the top, and waiting at each stop for 30+ minutes to help acclimate. We didn't want to do this, so we took in the views from 9,200 ft (which were incredible), and made our way back down to finish our drive back before dark.
However, given the remoteness and lack of light pollution on the island, the summit of Mauna Kea is world-renowned for its star-gazing. This didn't fit into our schedule, but I'd be very interested in doing this on a return trip!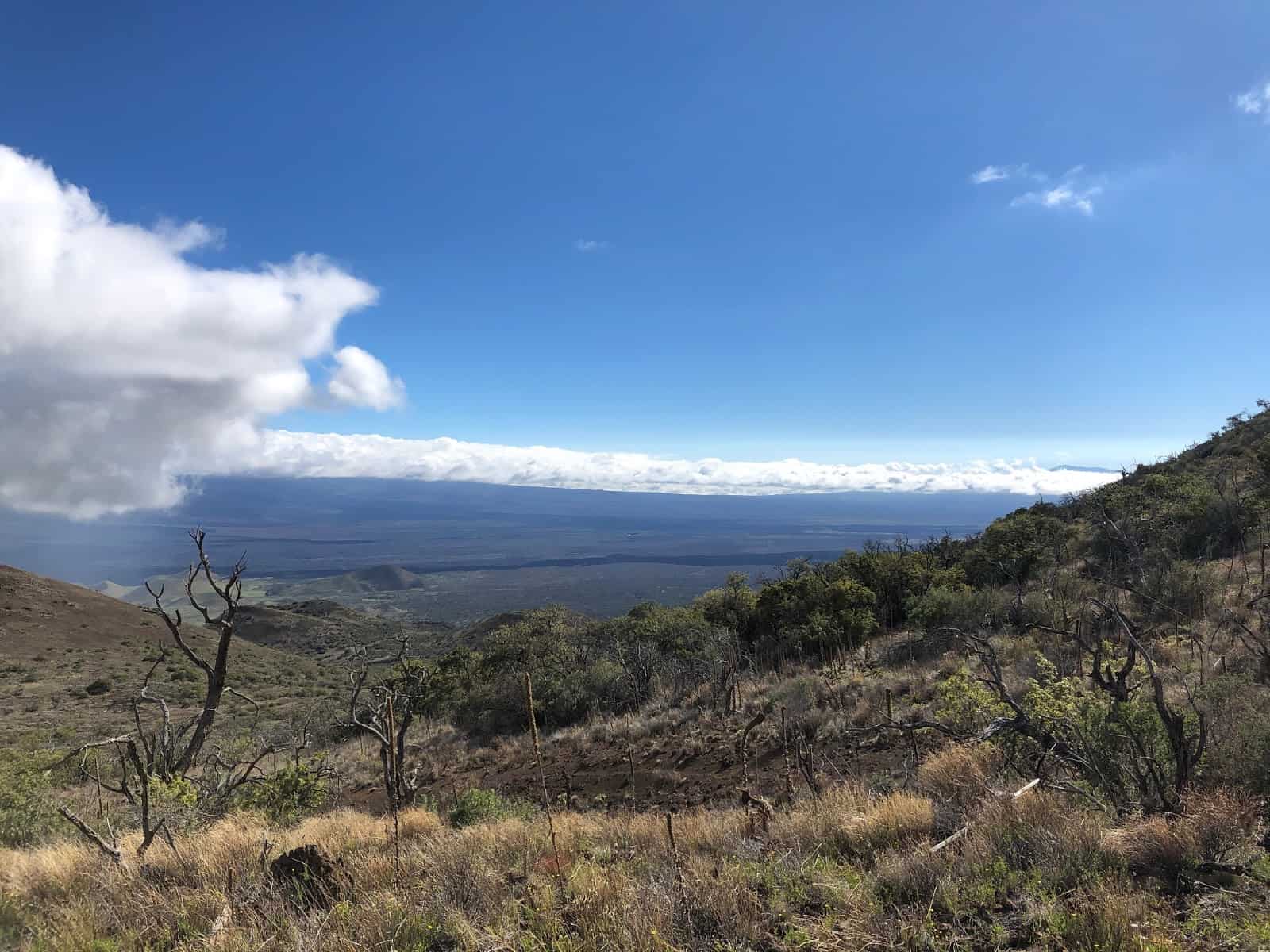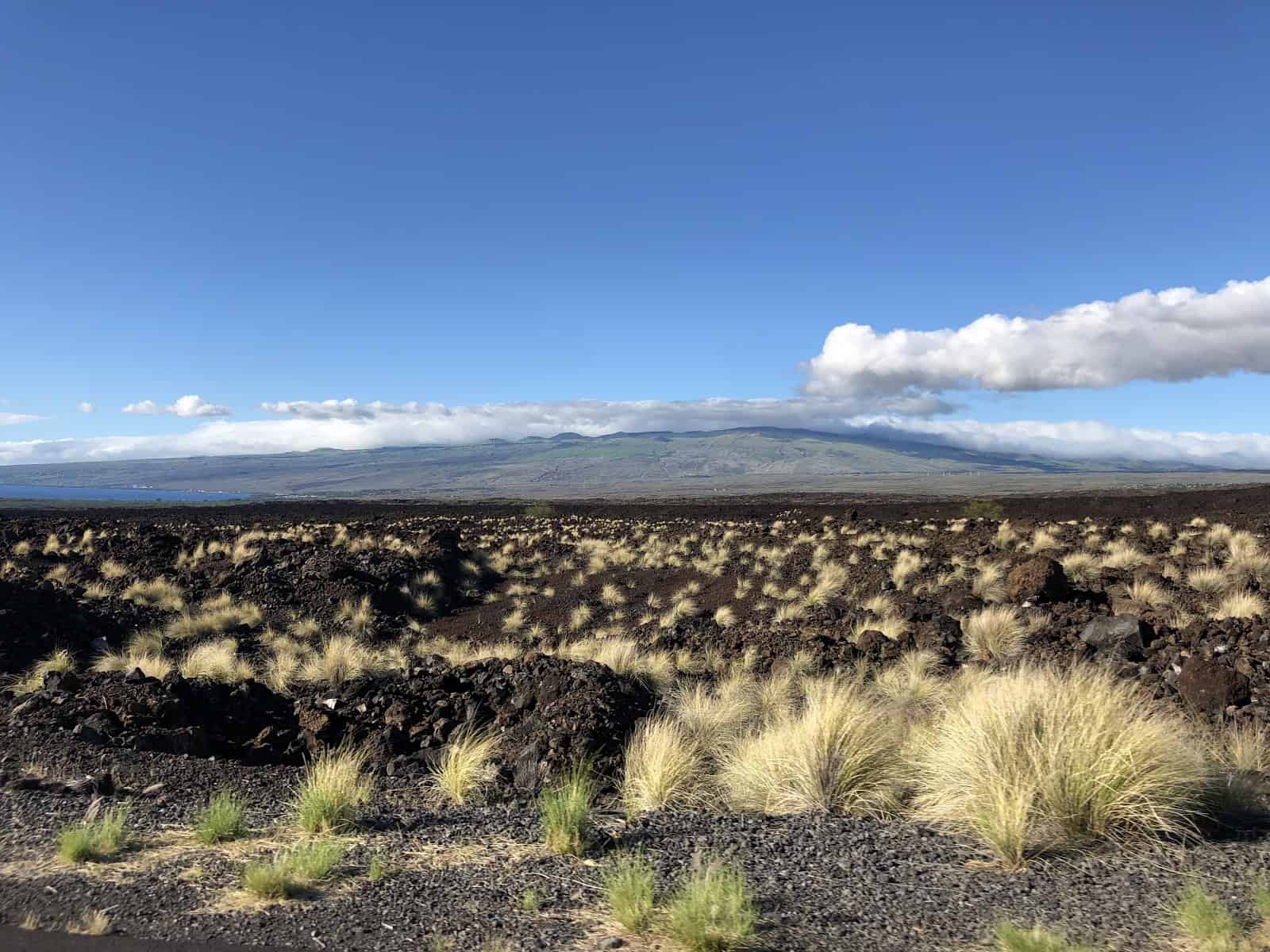 Final Thoughts/Overall Impression
We had a great stay at Mauna Kea Beach Resort. It became obvious to us very quickly that this was a very family-oriented resort, and it was easy to see why. It's luxurious, while not being over the top, and fancy while still catering to the traditional old-school nature of Hawaii. The rooms are all spacious, making it comfortable for couples and families alike to enjoy an extended stay. The restaurants and open areas were all more than accommodating. But obviously, the crown jewel is the beach.
For us, it was a wonderful use of Marriott points. To be honest, I can't imagine staying here if I were paying cash just given how expensive it was. Hawaii by nature is a very expensive place, so to add somewhere in the $4,000-$5,000 range for accommodations meant that this trip would not have happened in the same manner, and we would've looked into other options for accommodations.
Overall, I highly recommend Mauna Kea Beach Resort for your trip to the Big Island. Even better if you can swing it with points!
---
10xTravel is part of an affiliate sales network and receives compensation for sending traffic to partner sites, such as CreditCards.com. This compensation may impact how and where links appear on this site. This site does not include all financial companies or all available financial offers.
Editors Note: Opinions expressed here are author's alone, not those of any bank, credit card issuer, hotel, airline, or other entity. This content has not been reviewed, approved or otherwise endorsed by any of the entities included within the post.