In This Article
Loading table of contents …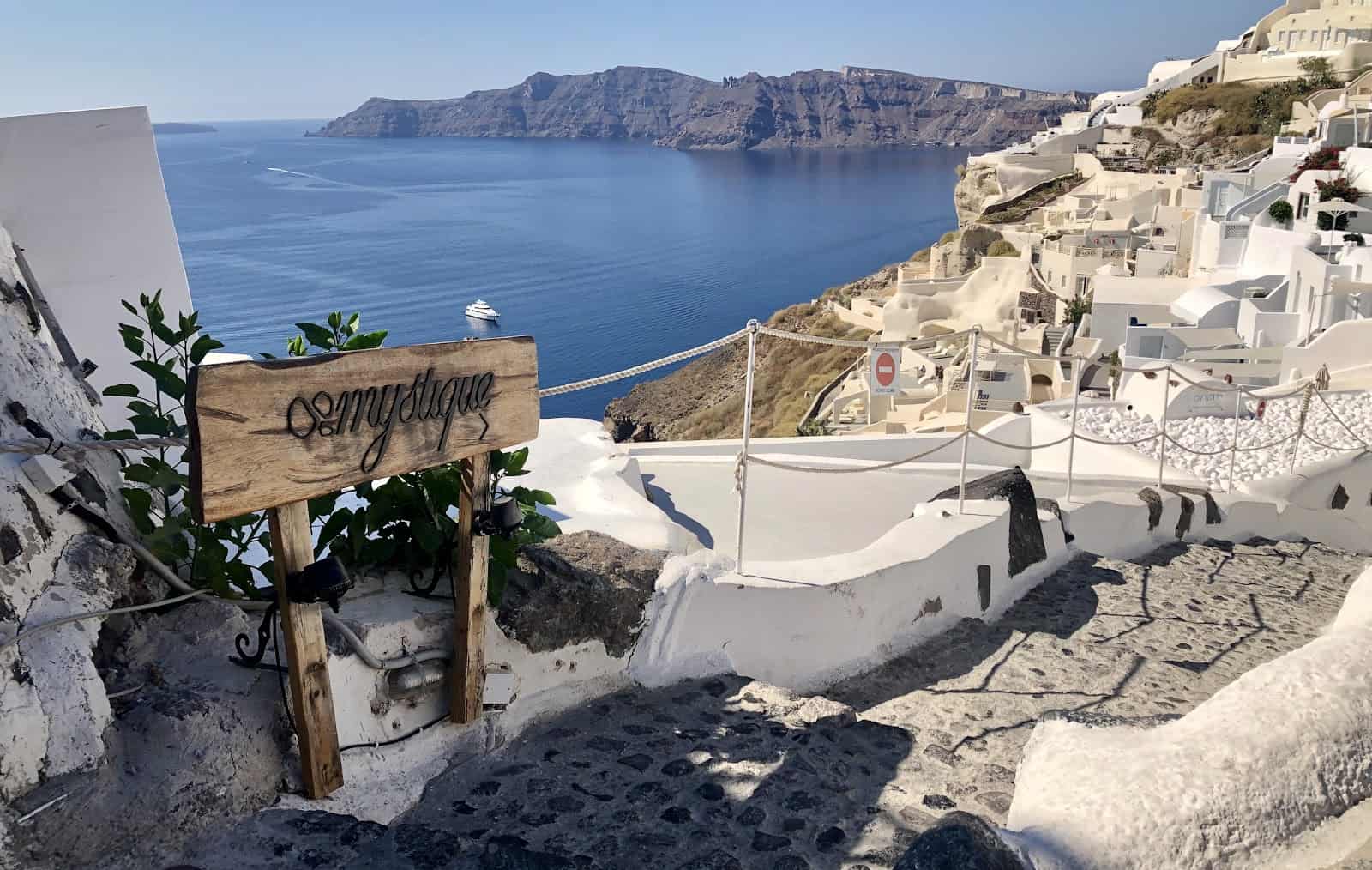 Note: Some of the offers mentioned below may have changed or may no longer be available. The content on this page is accurate as of the posting date; however, some of our partner offers may have expired. You can view current offers here.
I first learned about Mystique, an all suites Luxury Collection Resort in Santorini, Greece, a few years ago when it was prominently featured on the former Starwood Preferred Guest homepage.
The site featured a beautiful photo of this hotel carved into the cliffside that was unlike any property I had ever seen before. After doing some digging, it left quite an impression on me and I knew I had to get there one day. I added it to my mental  list of properties that I'd like to save up some points and miles in order to redeem for a stay one day in the future.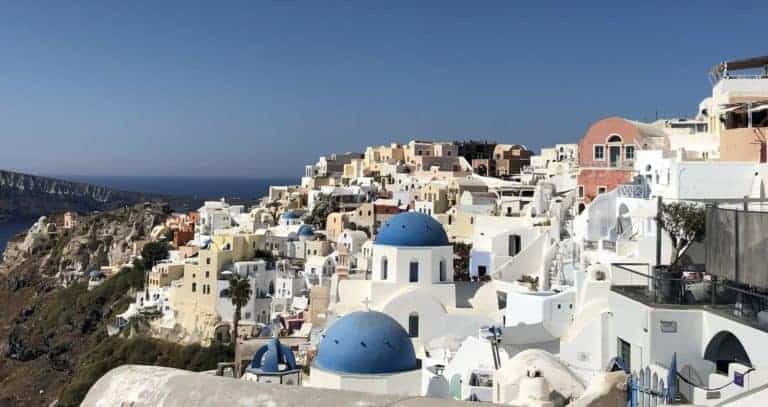 Mystique is located on the picturesque cliffs and hillside of the town of Oía on the island of Santorini in Greece. You've undoubtedly seen the pictures of the white buildings nestled next to the beautiful Cycladic blue roofs of the Greek Churches. It's as beautiful in person as it is in the photos you've seen.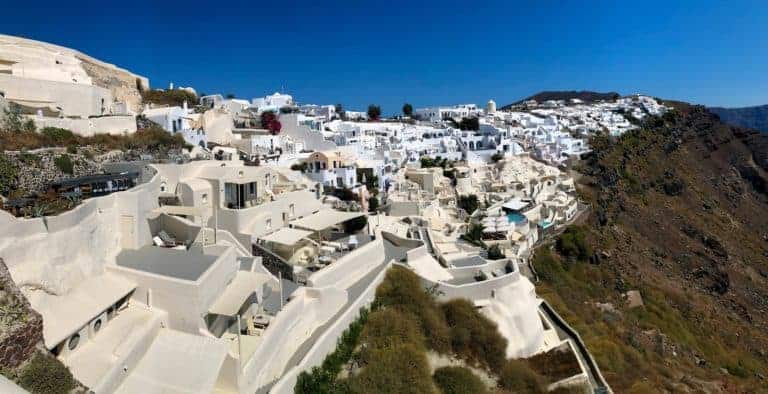 How to Book With Cash or Points
Mystique is now a Category 8 property in the Marriott Bonvoy program. This means that that the Standard rate is 85,000 points per night, the Off Peak rate is 70,000 points per night, and the Peak rate is 100,000 points per night. This is a lot of points to use on a one-night stay regardless of which rate is required for your travel dates.
You'll have to decide if it's worth it to you. This may shock you but I wouldn't spend that many points to stay here again, even though it was amazing. More on that later.
After the merger of Starwood and Marriott, between August 2018 and the end of 2018, the highest category in the Marriott award chart was just 60,000 points per night. Peak and Off Peak pricing hadn't been introduced nor had the 8th award category.
This meant the top-tier hotels across all of the Marriott portfolio could be booked for just 60,000 points per night. I immediately revisited my list of aspirational properties and thought of Mystique. It also helped that my wife and I had already talked about planning a trip to Greece soon, so the timing couldn't have been more perfect.
So for just 180,000 Marriott points, we booked a 3 night stay in the hills of Oía on Santorini at Mystique. For reference on just how good of a deal this was, under the SPG program, Mystique cost an astonishing 60k Starpoints per night, or the equivalent of 180,000 Marriott points per night!
I would've preferred to book a 5-night stay for 240,000 points thanks to Marriott's 5th-night free on award stays of 4 nights or more, but we were also taking advantage of the 2018 Iberia promotion and had already booked our flights to and from Greece.
We had a tight travel window and, on top of that, there wasn't a block of 5 consecutive nights of award availability for the entire month of September, even though we were booking nearly a year in advance.
Oh well!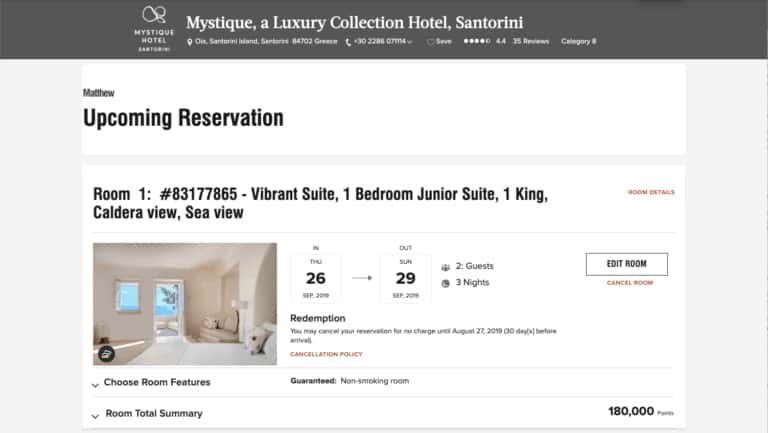 We booked a Vibrant Suite, which is a 1 Bedroom Junior Suite with a King bed. This is the standard room that award bookings at Mystique are booked into. The cash rates for this same room for the same dates of our stay averaged a whopping €1,248 per night, translating into an exceptional value for our points.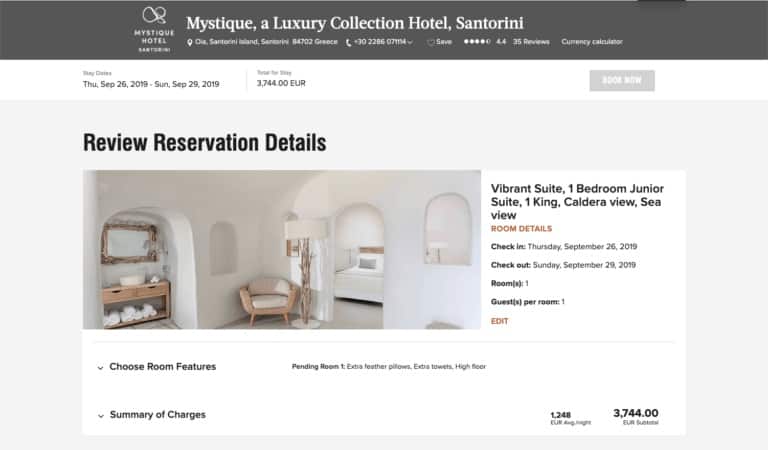 Using these same cash rates (rooms vary throughout the year from €400/night to well over €1,200 per night for the entry level rooms) along with the new Off-Peak, Standard, and Peak rates in the updated award chart still represents a decent value for your points, but if the prices during your stay are more in the €600-800 per night rate, they don't represent nearly as good of a value. So, keep this in mind if you're looking to plan a stay.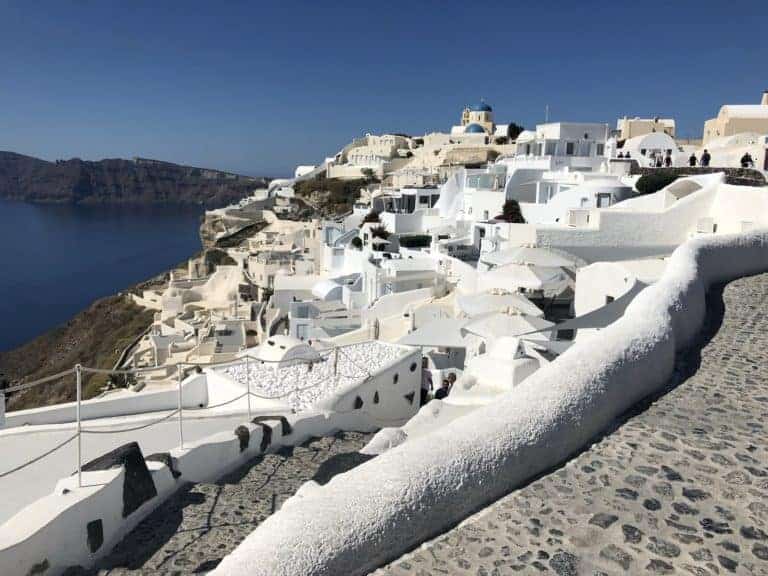 Hotel Location and How to Get There
The town of Oía where Mystique is located is about a 30-minute ride from Santorini Airport (JTR). Upon arrival, you have a few options to get to the hotel. On the island, taxis are certainly the most popular form of transportation, and a one-way cab fare from the airport to Oía would run you €35-45.
There are also buses, but their schedules and routes are complicated. Alternatively, you can rent a car, but parking in Oía is very limited and not convenient, so I would not advise it unless you have plans that require a car.
You can coordinate with the Mystique concierge ahead of time and line up transportation options directly with the hotel. These include a shared transport in a hotel van that accompanies up to 6 passengers for €25 per person each way, or a private hotel van for €50 per person.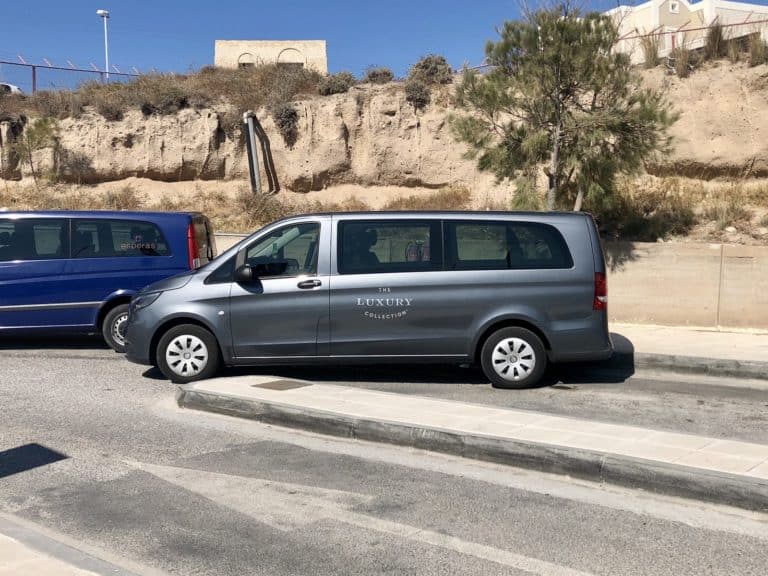 We chose the shared transportation option and paid €50 for the two of us. This ended up working out great as we were the only people on our flight, so we had the van to ourselves. It was nice to be able to sit back and relax, and enjoy the picturesque 30 minute drive to the hotel.
The driver was super helpful in giving us some history of the island, pointing out important landmarks along the way, and answering some of the various questions we had. It was money well spent in our view, and we ended up booking the transport again on our departure a few days later from Santorini.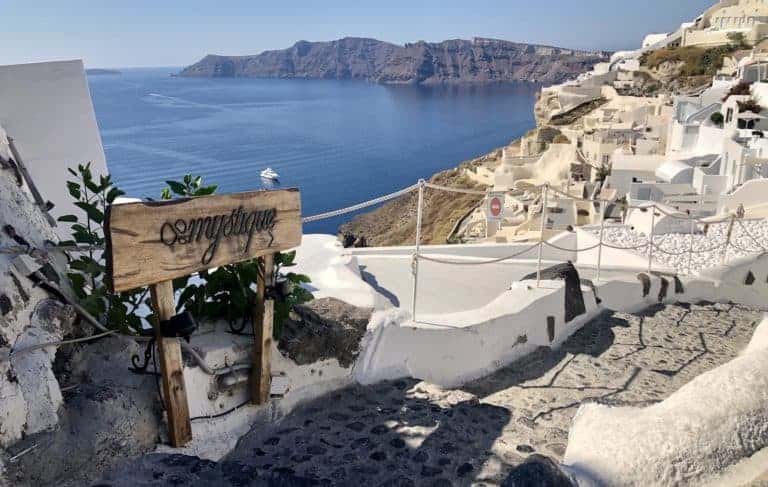 Upon arriving at Mystique, we were greeted by a few things: the beautiful cliffs of Oía that we've so often seen in photos, a quick realization that in order to get to the hotel, we were going to have to climb down a treacherous set of winding and uneven cobblestone stairs for the 3-4 story descent to the hotel, and 2 Mystique bellman who were more than eager to carry all of our luggage down for us so that we could focus on the steps.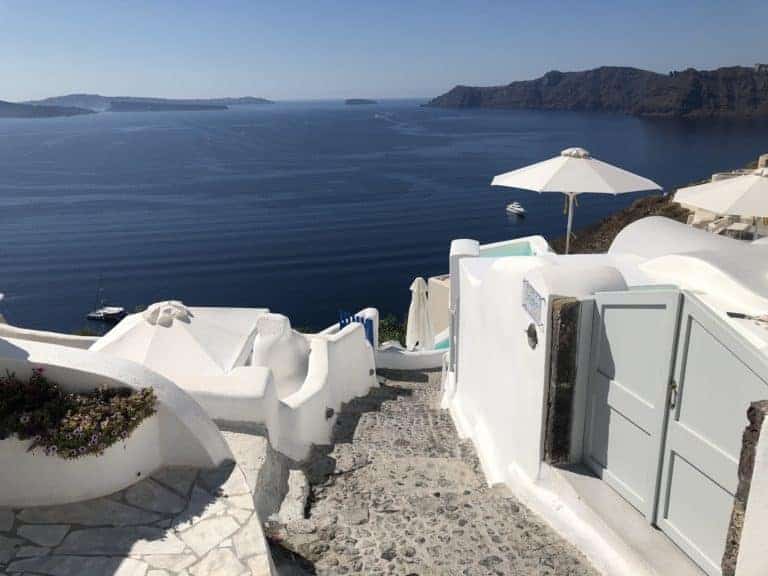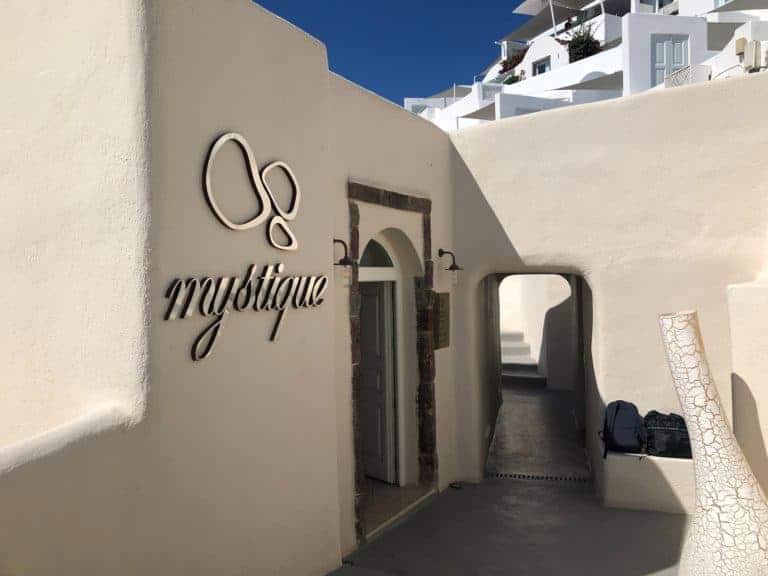 I'm not kidding when I say how difficult these stairs are – they're uneven, not level, and each step is a different size. If you have mobility issues then this likely isn't the hotel property for you. However, it was a great way to wake up in the morning climbing all 100 or so of the stairs to get to the famed Oía walkway to head into town to explore.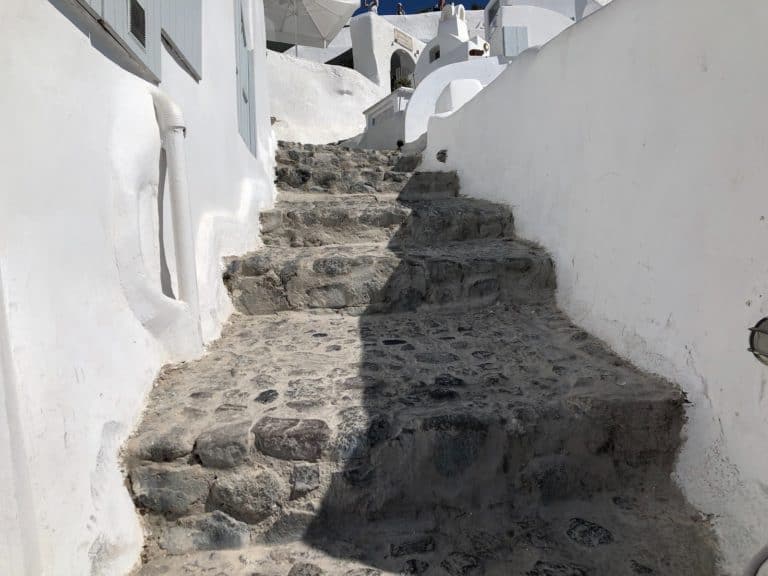 The location on the cliffs is unique, as you find yourself following the walkway right past other hotels and villas, literally right along their small pools and balconies and more. You quickly realize that there isn't much privacy in this area as other people are always either walking by or have a view of your room. It's literally unlike any other place I've been before.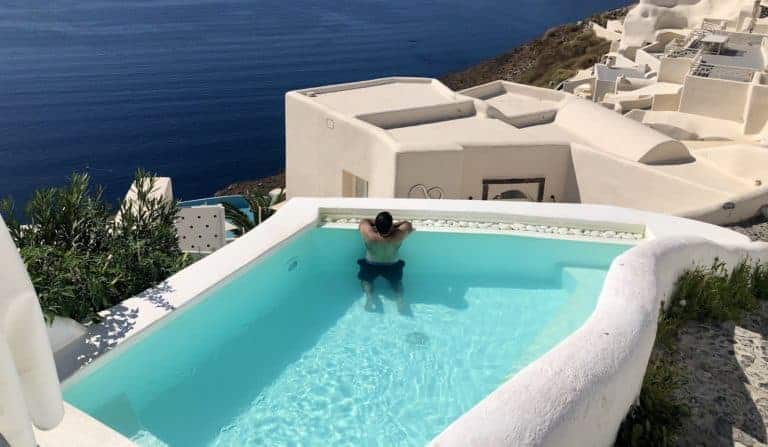 After descending 100 or so steps and winding down the hillside, you find yourself entering the lobby of the Mystique, where you'll be met with a refreshing cold glass of homemade lemonade during your check-in.
You're then given a full tour of the hotel to see where you'll find two pools, three restaurants, and other highlights. It was a nice touch that the hotel staff member checking us in and giving us our tour let us stop a few times to catch our breath some as we worked our way up and down and across the hillside. Even more enjoyable was his commentary about why he has no idea why the hotel has an actual gym since just being at the hotel and moving up and down and across it is a workout enough!
Between the incredible views, our quick tour of the facilities, and the very hospitable staff, I knew our stay was going to be a memorable one.
Room/Accommodations
We were assigned to room 3, a Vibrant Suite located just next to the lobby and right above the pool. At this time, there are 51 rooms at Mystique, and you can see where they are building 3 or 4 more rooms along the lower Western part of the resort.
There are literally no two rooms at the resort that are alike thanks to the physical layout and orientation of the hotel as it was built into the hillside. So our Vibrant Suite may be a completely different setup and arrangement than some of the others.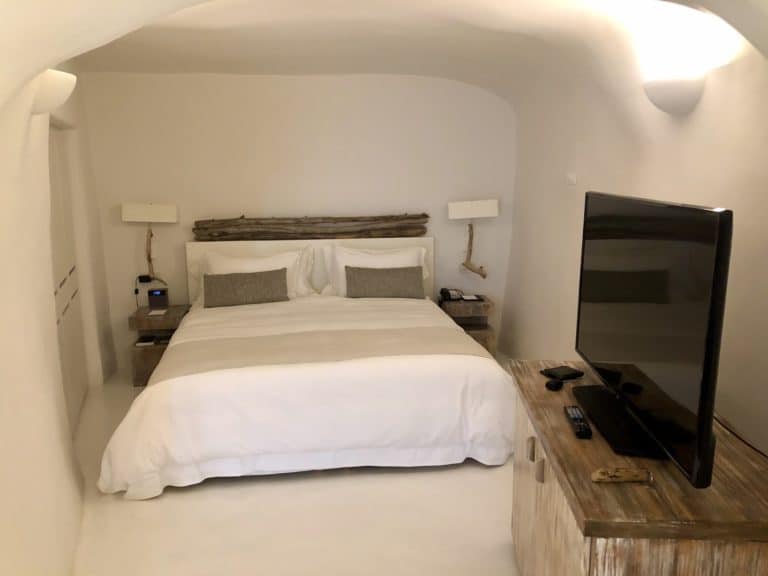 Upon arriving in our room, I noticed a few key features: it felt very much like a hillside cave thanks to the arched ceilings and no windows. There were two windows in the bathroom as well as the dutch door we had for the room door, but other than that, there were no additional windows. This might explain why we slept in until 10am during our first night there. Oops!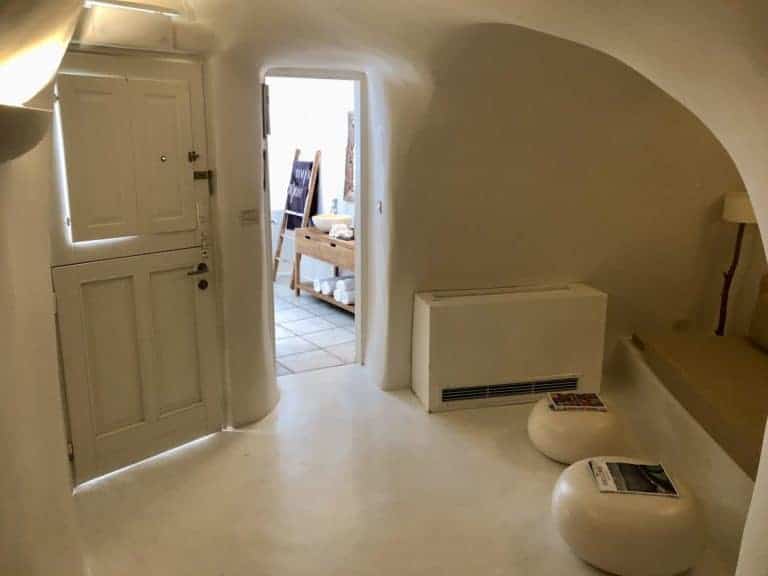 The room was well appointed, but not in a way that you might consider a well appointed room at say a Ritz Carlton. It had an incredibly comfortable couch that was very deep, but looked like it was built directly into the hillside. It also had essentially two stone pediments that served as coffee tables for the couch.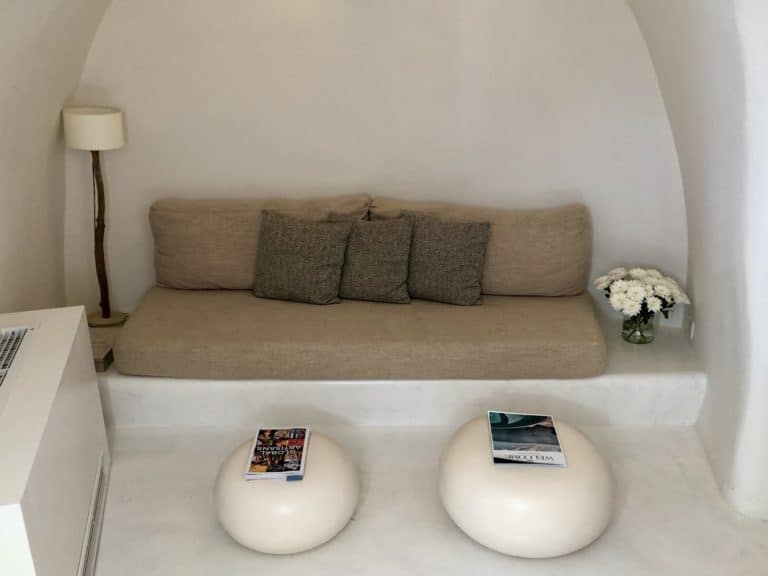 There was noticeably a lack of storage in the room, as there was a closet left of the bed, but it was not spacious and didn't include room to store your suitcases. There was a media console that had the TV on it, but instead of it being a dresser, it in fact only held the small refrigerator as well as the mini-bar and food pantry for sale. So, we ended up just opening our suitcases on the floor, and living out of those.
Fortunately, the room was spacious so they didn't interfere with walking or anything, but it would be nice if there was some more physical storage in our room at least, but I understand the unique architectural limitations.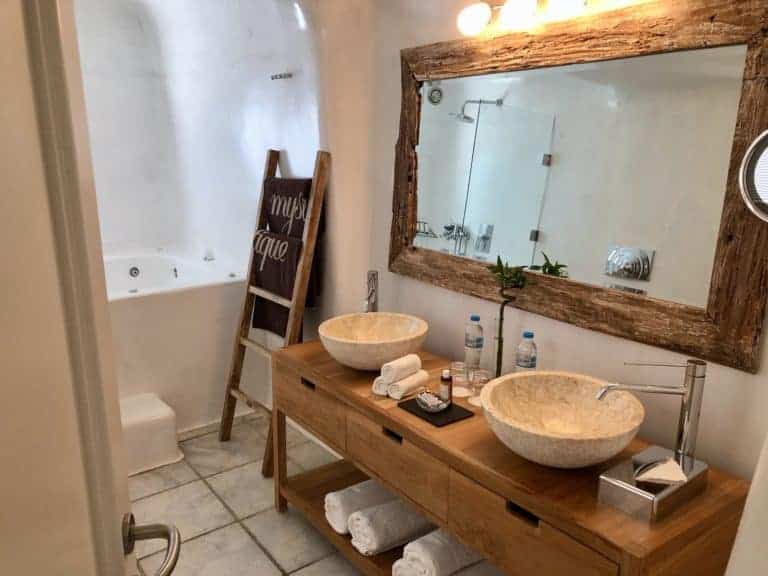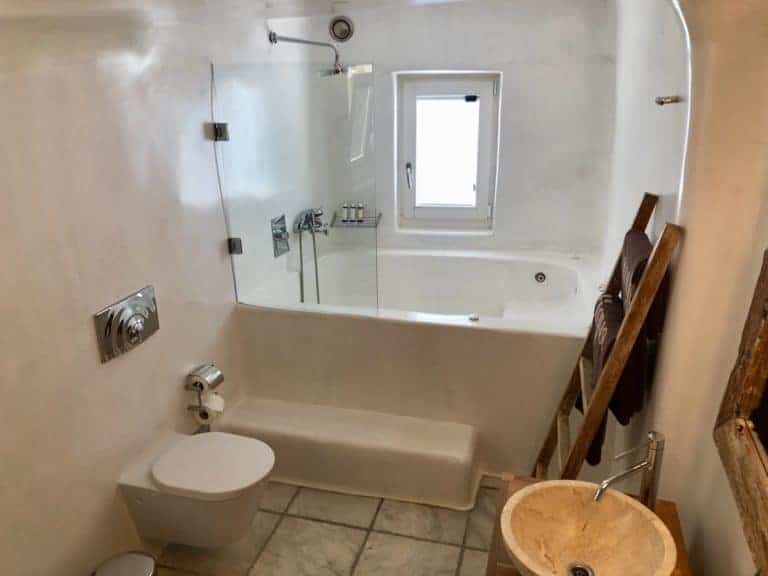 In the front of our room was the bathroom. It was spacious and consisted of a large countertop with double sinks, a toilet, and the largest bathtub shower I've ever seen. My wife took a bath one night and it literally took 45 minutes to fill up the tub. It was more of a swimming pool than a tub. It had a seat in the tub, but the high wall of the tub actually required use of the step on the outside of the tub to enter it. If the steps getting in and out of the hotel were an accessibility issue, then the bathtub at least in our room was even worse.
Having wet feet and trying to climb out of a bathtub/shower using the seat in the tub as a step, and then having to also utilizing the stone step on the outside of the tub proved to be slippery and downright dangerous. Fortunately, neither of us were injured, but I can absolutely see this being a major liability for some people.
The biggest downside to the bathroom was the lack of ventilation. Taking a hot shower or even a bath meant the entire bathroom got damp and even wet. There was a small fan that vented outside, but it was vastly undersized for the room. Even having the windows open didn't help. Further, the bathtub had a swinging glass panel that covered about 50% of the tub wall. This meant that when showering, water got all over the bathroom floor as well as the step, further complicating the safety issues I previously outlined.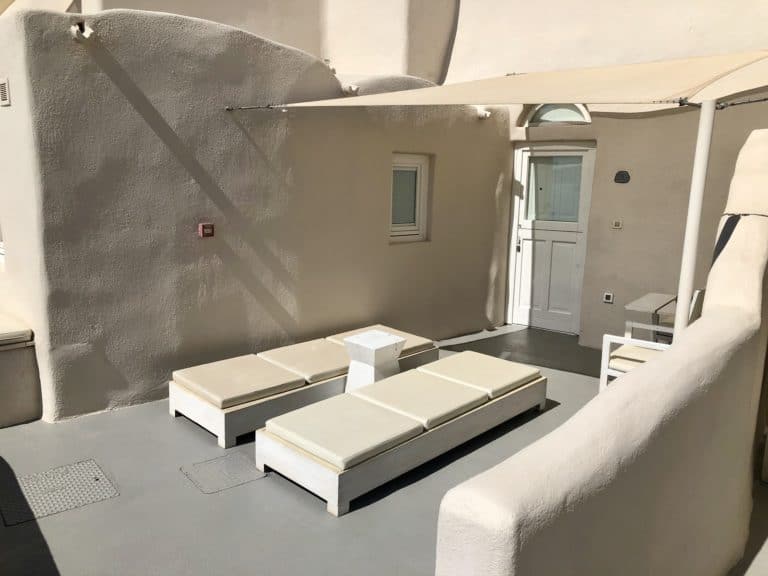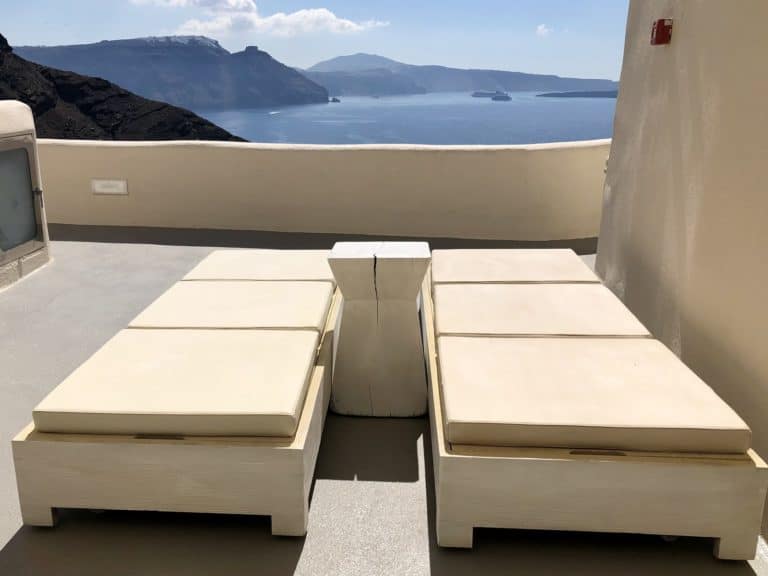 One of the best features of our room was the semi-private patio. I say semi-private since there are often people walking either next to your room or above it depending on where you are in the resort, and someone can always see into your space.
Most patios consist of 2 lounge chairs as well as a table and 2 chairs. We ordered room service for dinner one night on the patio and it was terrific given the amazing weather. I observed countless people sunbathing and reading on their personal patios if they weren't using the lounger's at either of the hotel pools.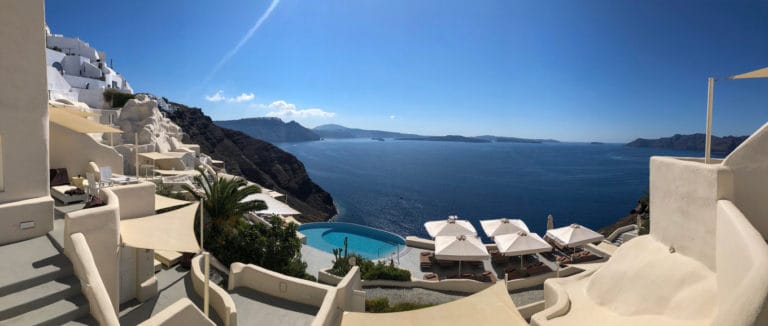 Hotel Dining
There are 3 dining options at Mystique – Charisma, the lower poolside restaurant, the Captain's Lounge, the upper poolside restaurant, and ASEA, which is located at the top of the hotel and has some majestic views of not only the entire hotel property, but the water as well.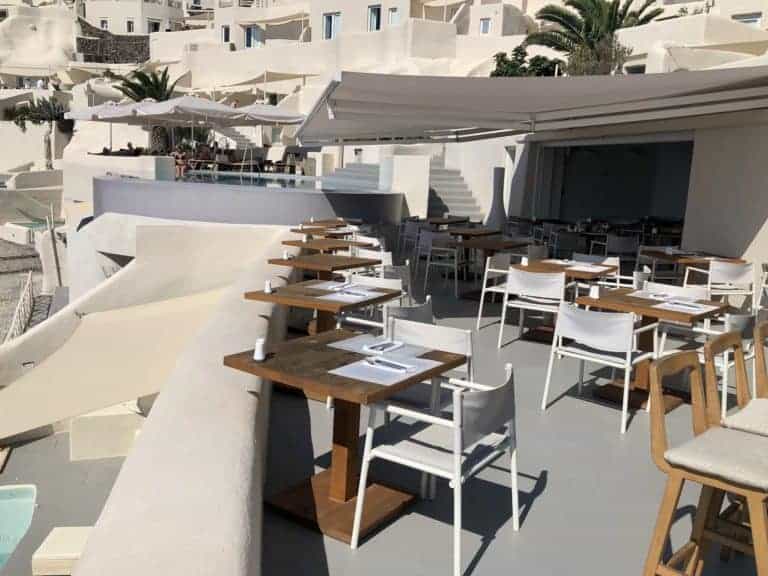 Charisma and the Captain's Lounge are the two breakfast options you have daily. Outside of breakfast hours, Charisma serves Greek/Mediterranean cuisine for lunch and dinner. The Captain's Lounge is open all day, and serves casual dining from the Snack menu after breakfast service is over. ASEA is only open for dinner, and serves sushi.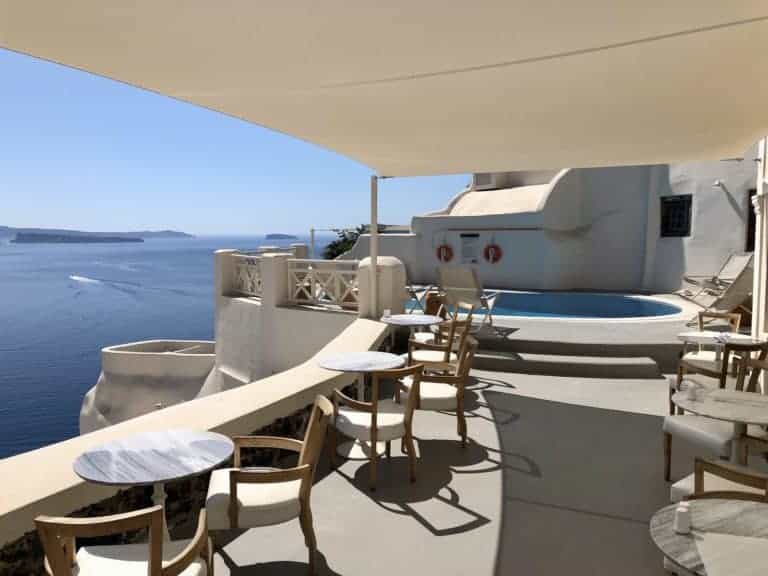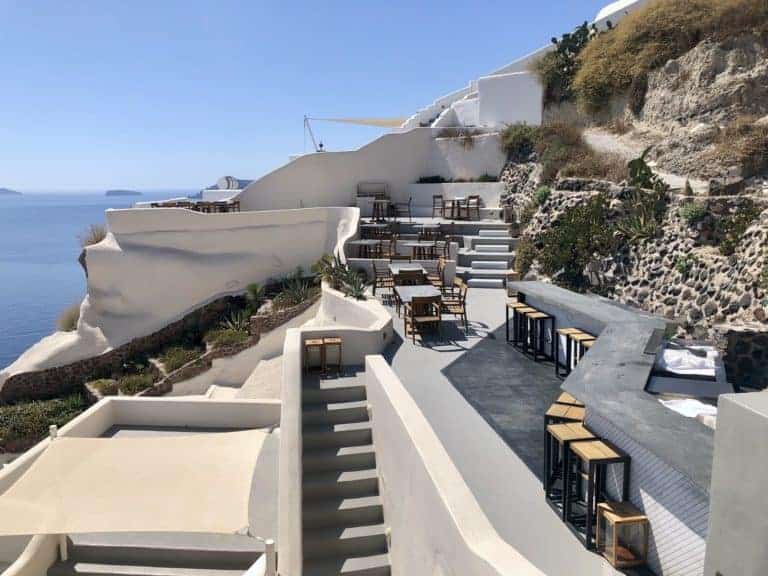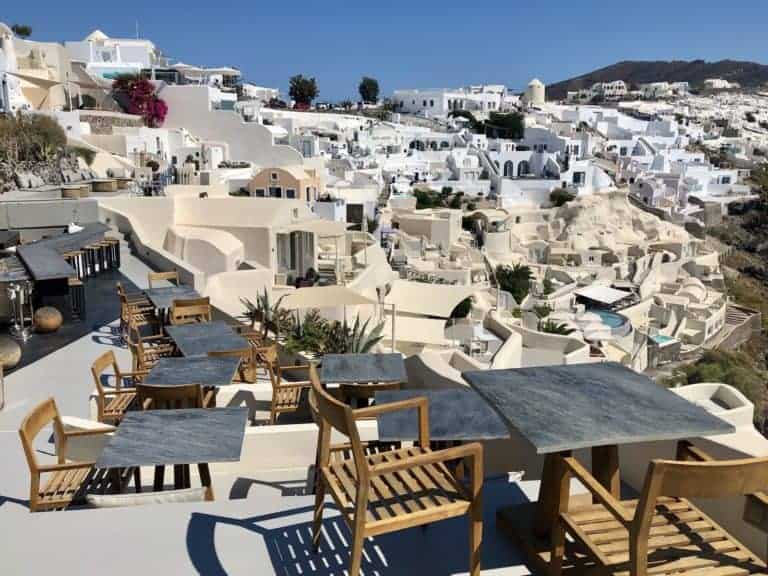 Regardless which restaurant you choose, they all share the same feature – they offer stunning views of the Santorini caldera all day, and the beautiful Santorini sunsets in the evening.­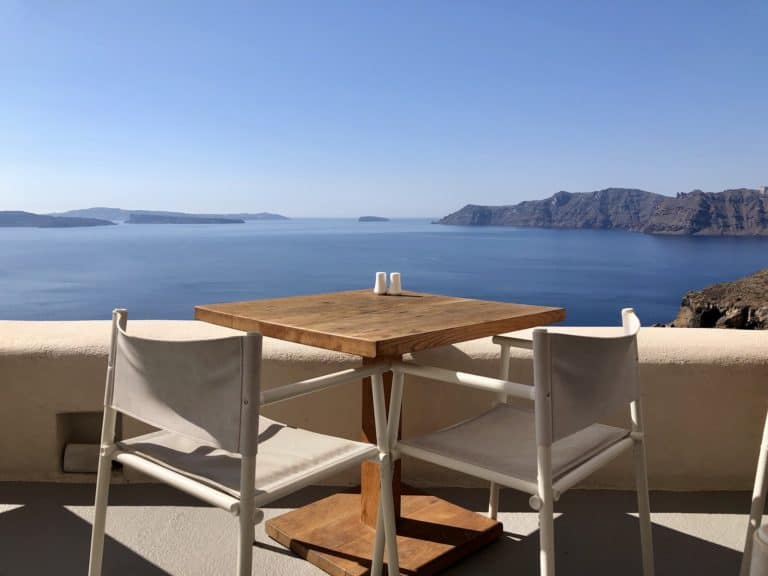 One of the nice features at Mystique that was a bit surprising to me, is that all in-room dining can be done for a very reasonable rate of just €10. One night during our stay, we ordered dinner from Charisma, but paid the €10 to instead eat it on our patio rather than in the restaurant. I thought this was extremely reasonable, as I'm accustomed to most in-room dining charging a fee + a % of your order, making it very expensive. This also applies to breakfast as well, meaning it'll just cost you €10 to have full breakfast in bed.
Another item that was a bit surprising to me was the pricing of the food. Given how expensive the cash rates can be at Mystique as well as how expensive Santorini can be, it's only rational to think that food and drink prices at the hotel restaurants would be expensive. However, I was surprised to find that in my view, the pricing across the board seemed extremely reasonable and not overly inflated or overpriced.
Sure, there were one or two high dollar dishes at Charisma and ASEA, but generally speaking, it was all very reasonable pricing. At Charisma, the average price of the appetizers was in the €10-15 range, and the main entrees was somewhere in the €25-30 range. It's certainly not cheap, but when you factor in the fact that all of the prices include Greece's outrageous 24% VAT, it actually is pretty impressive that they're not charging more.
The only outlier to this theory on the food pricing would be the breakfast option. If breakfast isn't included in your room rate either from the room package you booked or from being an elite member, it costs €55 per person each day. It's a fully a la carte menu where you can order whatever you want and as much of it as you want, and it was very good.
We ate breakfast here 3 times during our stay, and definitely found a few favorite items on the menu. It was a very thorough offering of a variety of delicious breakfast dishes and entrees, and even offered the option of a full Greek breakfast.  It's certainly one of the highlights of staying at Mystique as a Marriott Elite Menu.
If it weren't included in our stay, though, I would never consider paying €110 for it for my wife and I to have breakfast there.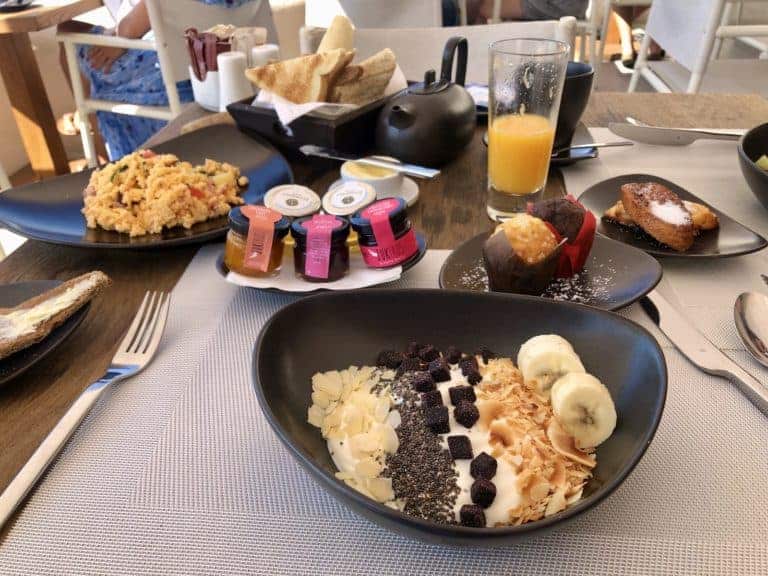 The breakfast menus for Charisma restaurant are: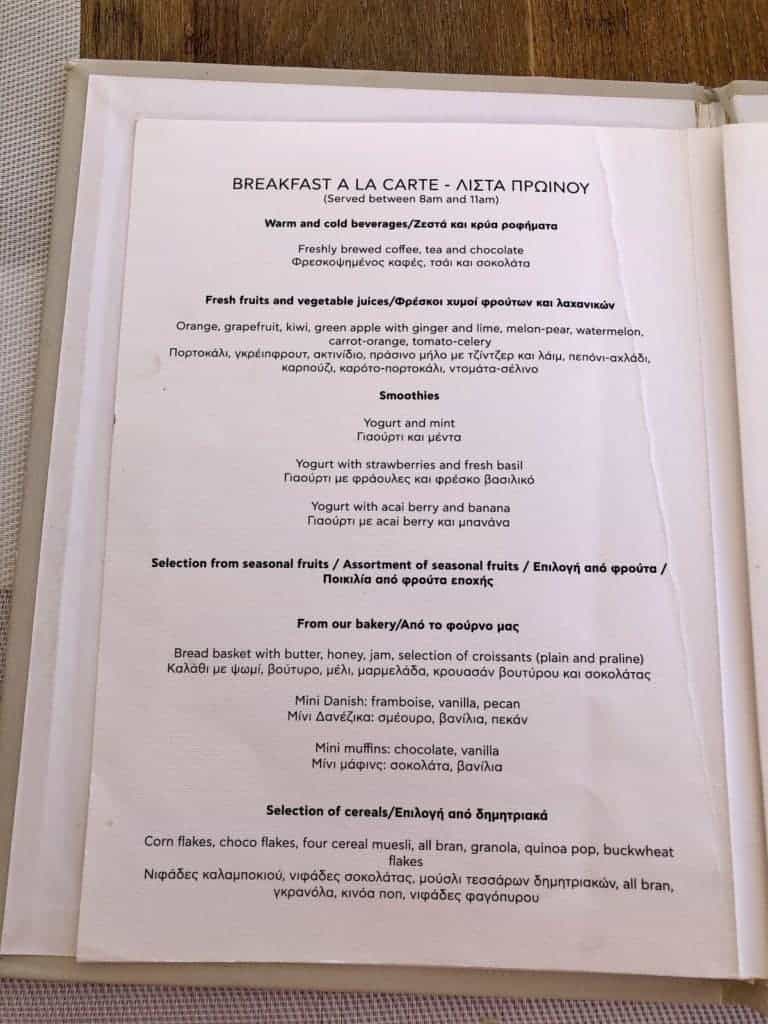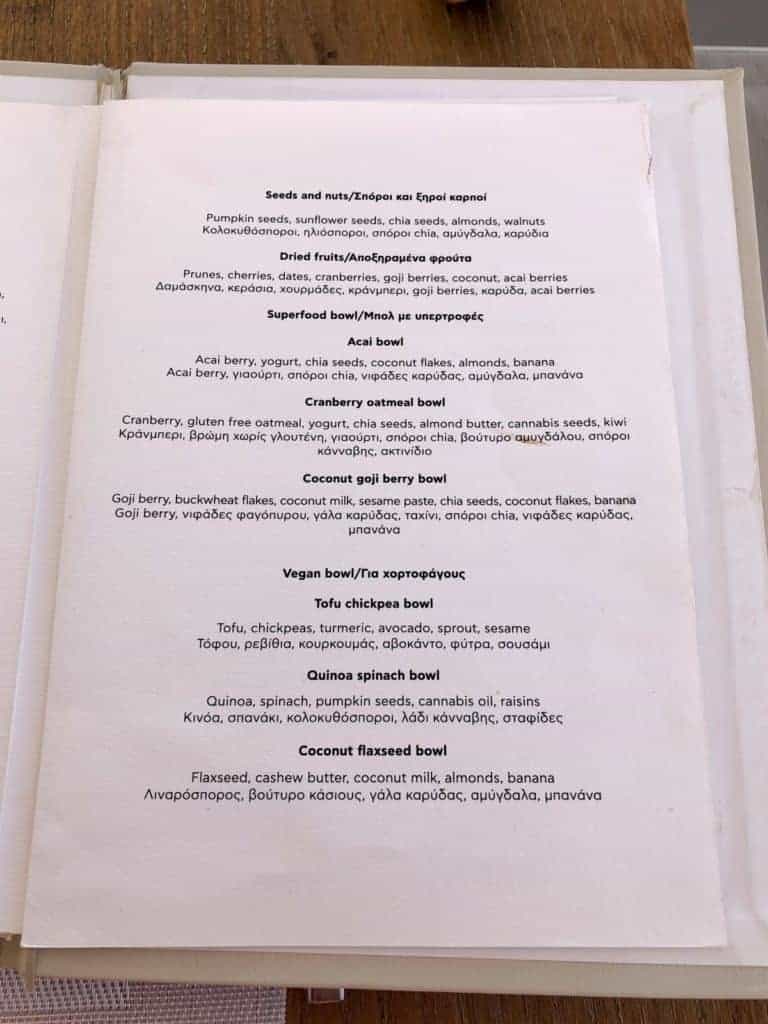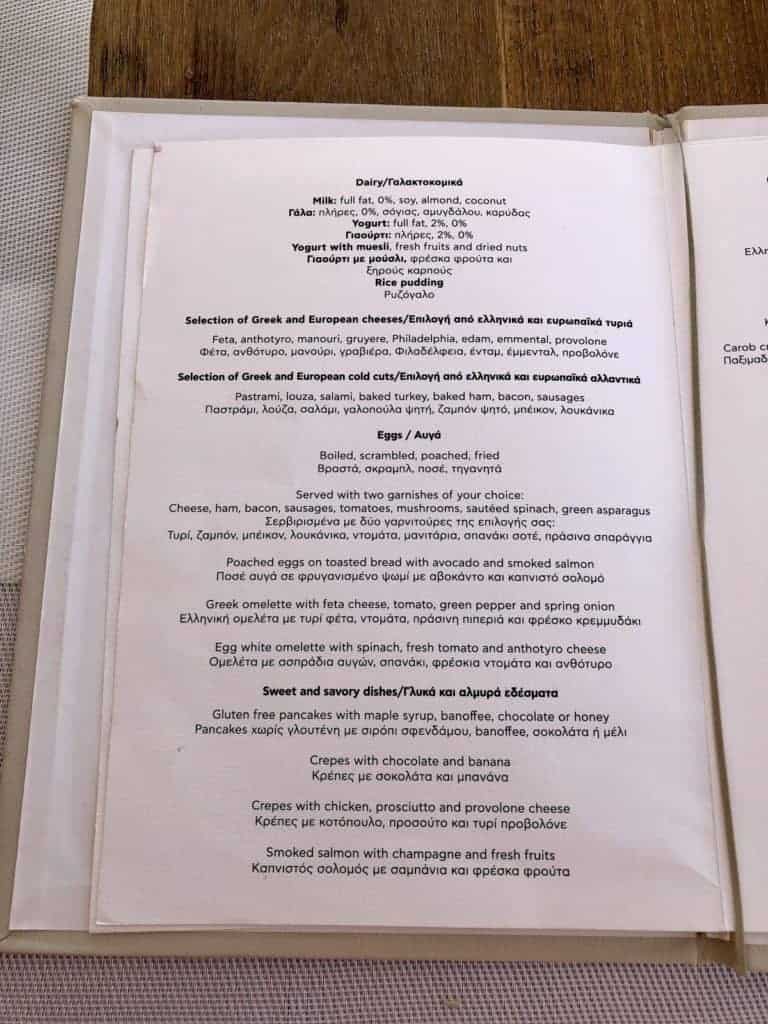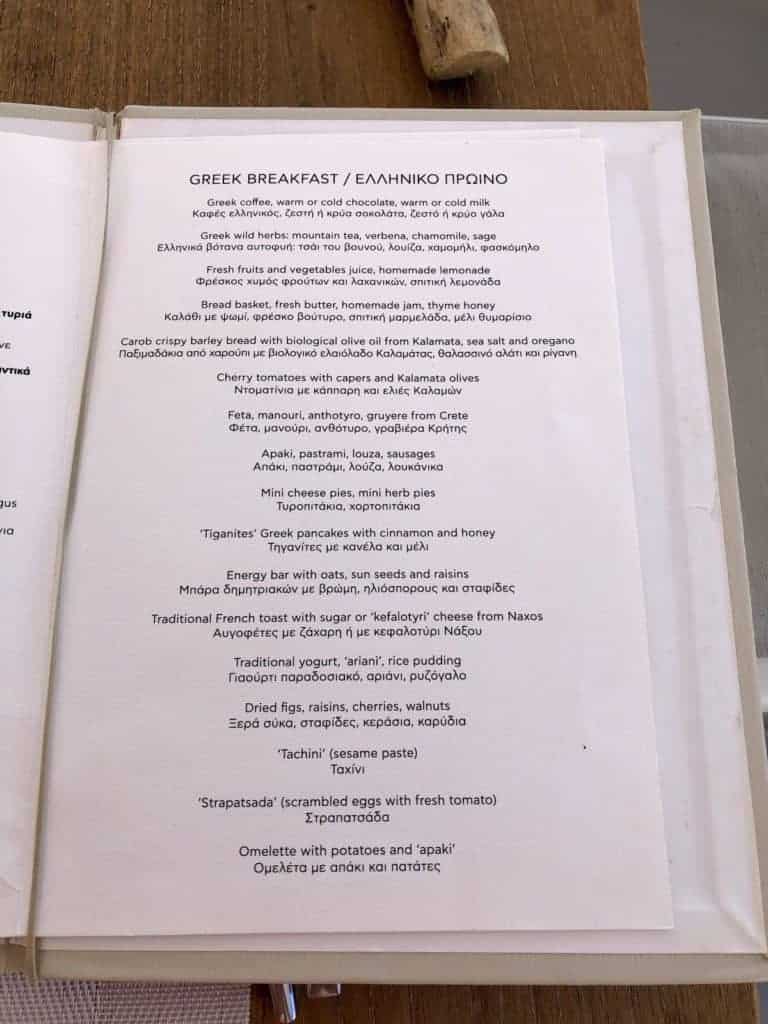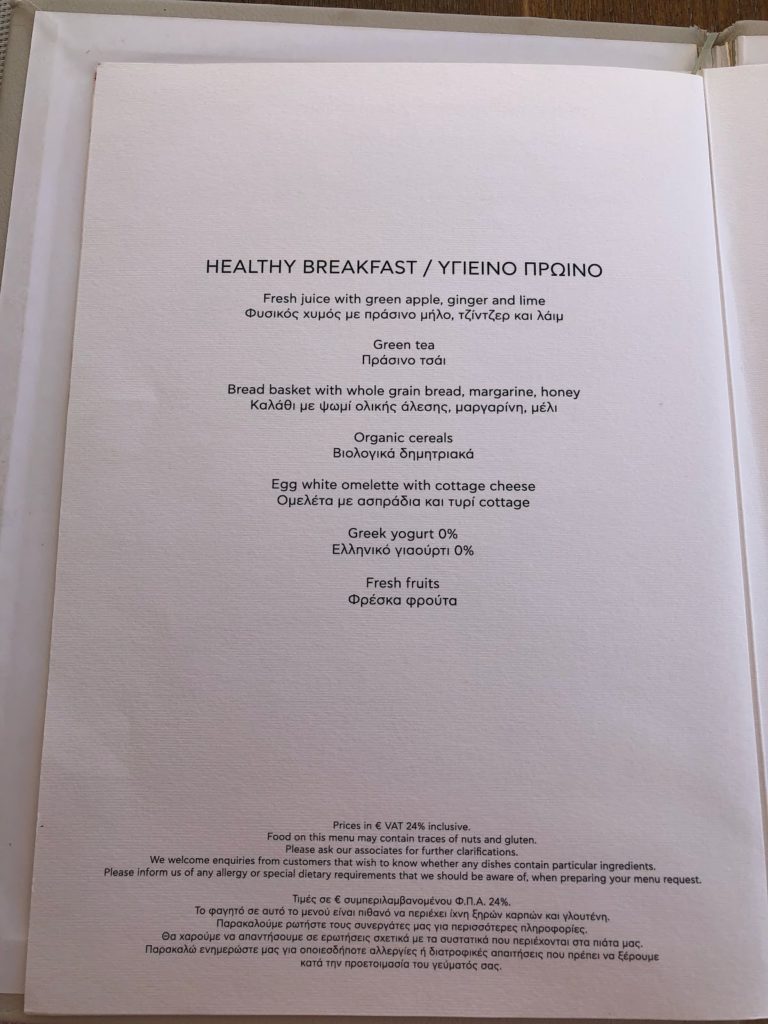 We ate breakfast at Charisma every day, but went off-site for lunch and dinner. If you're looking for an incredible place for lunch, PitaGyro is a quick 15-minute walk and is the most delicious Greek Grill I've ever eaten at. And it's insanely cheap. We splurged and got appetizers, entrees, and drinks each day, and spent like €20 each day. This restaurant was certainly the highlight of our food experiences in all of Greece.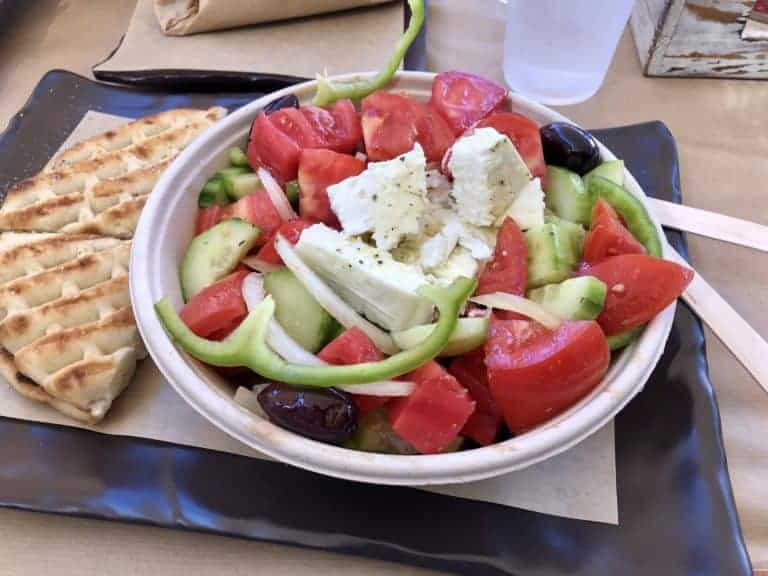 Hotel Amenities
Mystique offers 2 pools on its property – one at the very bottom of the hill directly below the lobby and next to the Charisma restaurant. In fact, the table in Charisma sits right next to the overflow part of the infinity edge of the pool, and is often wet. But it offers a stunning view of the Caldera directly over its infinity edge.
The other pool is further up the hill and further across the hill as well, and is a part of the Captain's Lounge restaurant. It was a deeper pool, but much smaller, and didn't include an infinity edge with views. In fact, it didn't have a view from the pool, and required you to be in lounge chairs to have any kind of view.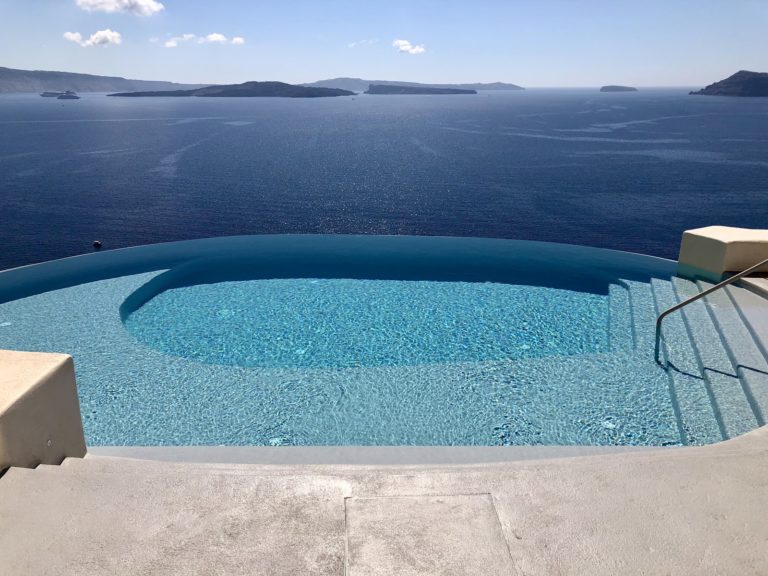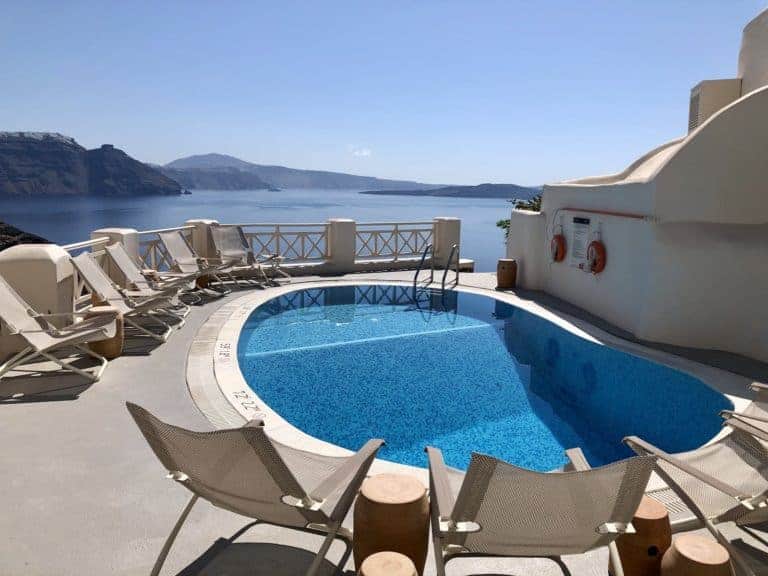 Both pools offer food and drink service for much of the day, and wait staff would make rounds collecting orders frequently, due to the close proximity of both pools to restaurants.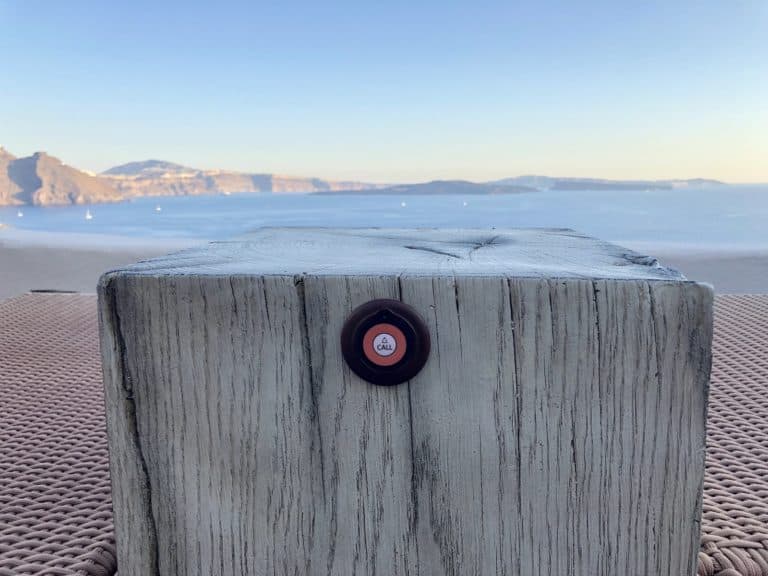 We traveled during mid-September, so the air temperature was on average high 70s/low 80s. While it was absolutely refreshing, it was by no means hot. By my estimate, the water temperature was probably in the low 70s — pretty cold. It was bearable, but it made for a fun game during our entire stay seeing everyone get in the pool for the first time and struggle in most cases with the temperature.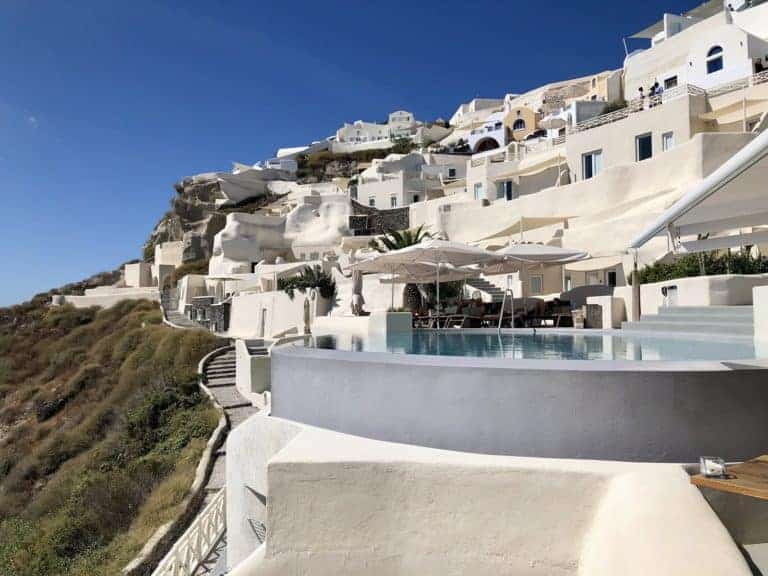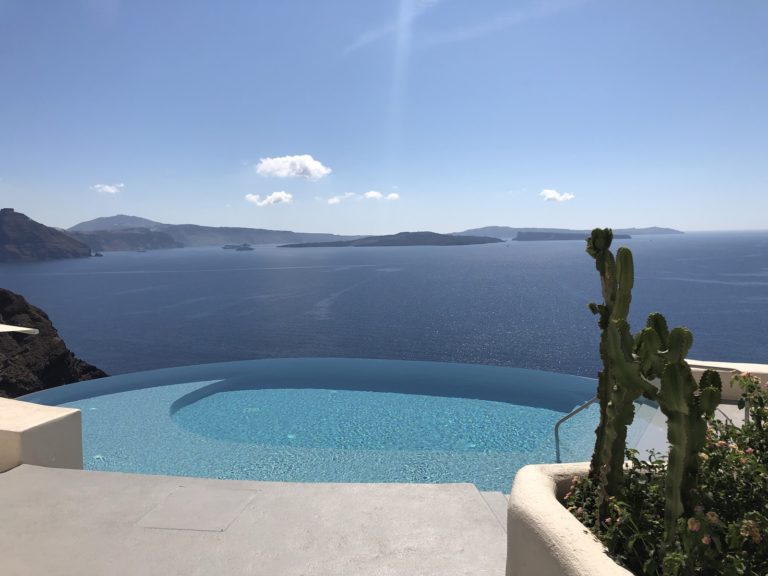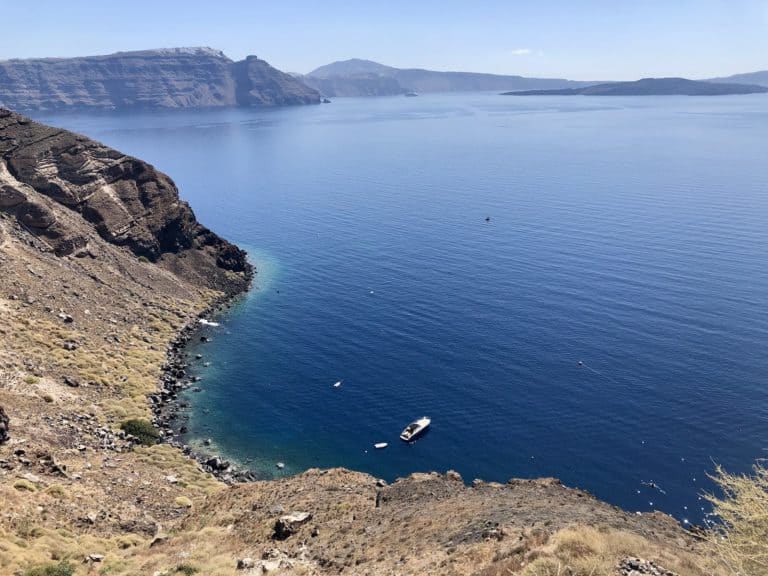 Mystique does offer a small gym for guests to use during their stays, but given all of the physical activity you'll be doing just navigating the hotel, getting up to the road to go into Oia, and other overall island exploration, you'll likely not even need it.
Plus, once you do find it, I think you'll likely be disappointed in it as it is pretty slim in terms of offerings. But I was surprised to see a Concept 2 Rower, Ski-ERG, and Airbike that make up the few pieces of gym equipment that they do offer. One things for sure, the gym at Mystique has some of the nicest views while working out that I've ever seen!
There is a full-service spa at Mystique. While I'm sure it's very nice, we chose to take a pass on it during our stay. An 80 minute massage starts at €155, which was a little rich for our blood.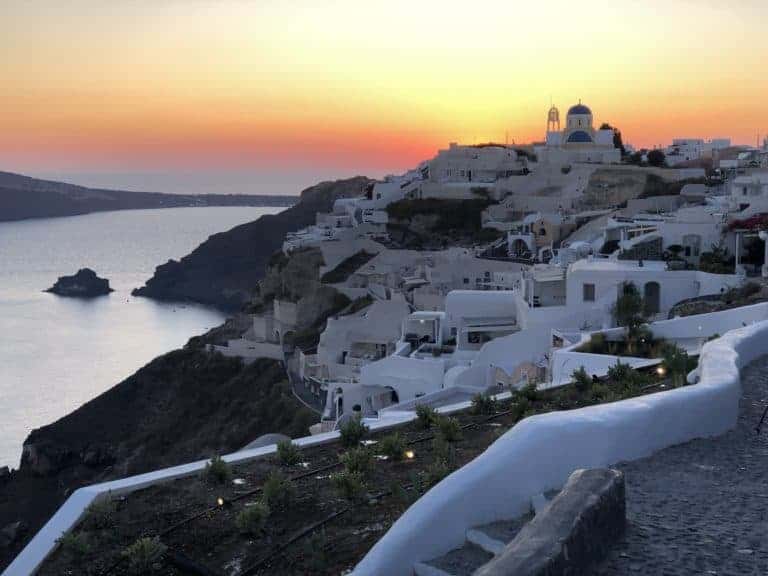 Marriott Bonvoy Business® American Express® Card
Earn three Free Night Awards
Marriott Bonvoy Points
after you use your new Card to make $6,000 in eligible purchases within the first 6 months of Card Membership. Redemption level up to 50,000 Marriott Bonvoy® points for each bonus Free Night Award, at hotels participating in Marriott Bonvoy®. Certain hotels have resort fees.
Annual Fee: $125 Terms Apply. | Rates & Fees.
Final Thoughts
We absolutely enjoyed our stay at Mystique and I'm super glad we were able to take advantage of the Marriott merger and book it for 60,000 points per night. I seem to say this time and time again, but without points and miles, we would've never stayed at Mystique just due to the high cash cost for a stay. This property is unique and made for a truly memorable time on Santorini.
However, given that it's now a Category 8 property, I have a hard time recommending it simply due to the cost in points required per night now. I think if you have a very healthy stash of Marriott Bonvoy points and can snag a few nights at the now Off-Peak rate of 70,000 points per night, then you should definitely go for it. However, the Standard rate of 85,000 points per night and the Peak rate of 100,000 points per night is just too much for me for this property.
The main reason is that the property itself is really just special primarily due to its uniqueness and location on the hills of Oia above the Caldera. Sure, the service was wonderful, but it didn't necessarily stand out to me any more than a number of the other Category 8 properties I've stayed at, even including some lower Marriott category properties. The rooms were nice, but at the same time, they were very basic and kind of boring and bland sans their unique architecture as "caves" built into the cliffside. But for a property that's categorized the same as a number of high-end properties in the St. Regis, Ritz Carlton and JW Marriott brands, it didn't have the same luxurious feel as I often experience at those properties.
So while the Mystique Santorini is a nice property that is likely unlike many other properties, I'm not sure 85,000 or 100,000 Marriott points per night is the best use of points for most people. If I were looking to book a Category 8 property, I'd instead look at a St. Regis or Ritz Carlton over Santorini for a more well-rounded luxury stay. But you'll have to decide that for yourself!
Chase Sapphire Preferred® Card
New to the world of points and miles? The Chase Sapphire Preferred® Card is the best card to start with.
With a bonus of 60,000 Chase Ultimate Rewards® Points after you spend $4,000 on purchases in the first 3 months of account opening. , 5x points on travel booked through the Chase Travel Portal and 3x points on restaurants, streaming services, and online groceries (excluding Target, Walmart, and wholesale clubs), this card truly cannot be beat for getting started!
Learn How to Apply
Editors Note: Opinions expressed here are author's alone, not those of any bank, credit card issuer, hotel, airline, or other entity. This content has not been reviewed, approved or otherwise endorsed by any of the entities included within the post.