Note: Some of the offers mentioned below may have changed or are no longer be available. You can view current offers here.
By 10xTravel Team
There are some flights you just don't forget. Whether it's your first flight, your first flight to a foreign country, a family trip to Hawaii, or your first time in business class, any number of things can stand out.
Unfortunately, some flights stick with us for the wrong reasons. While this might be a little painful for the 10xTravel team members, we're going to have them share their worst flight experiences with you. Hopefully, this won't be too traumatic for them and their memories of better flights will be enough to help them cope.
So, let's get into it!
Travis Cormier
Travel has a good way of catching you off guard, and when it catches you off for a flight, it can lead to a few miserable hours.
As the tallest member of the 10x team (although Spencer and Matt aren't far behind), I can attest to seats with little pitch being a real pain. Last year, I used points I earned from an Iberia Airlines promotion to fly to Europe. I spent a week in France, a week in Italy, and a few days in Spain.
All my flights were on Iberia except for my flight from Nice to Italy. I had a connecting flight in Barcelona and flew from Nice to Barcelona on Vueling, Iberia's low cost subsidiary. Even though the flight is only an hour and a half, it was completely miserable because I couldn't fit in my seat. Seriously.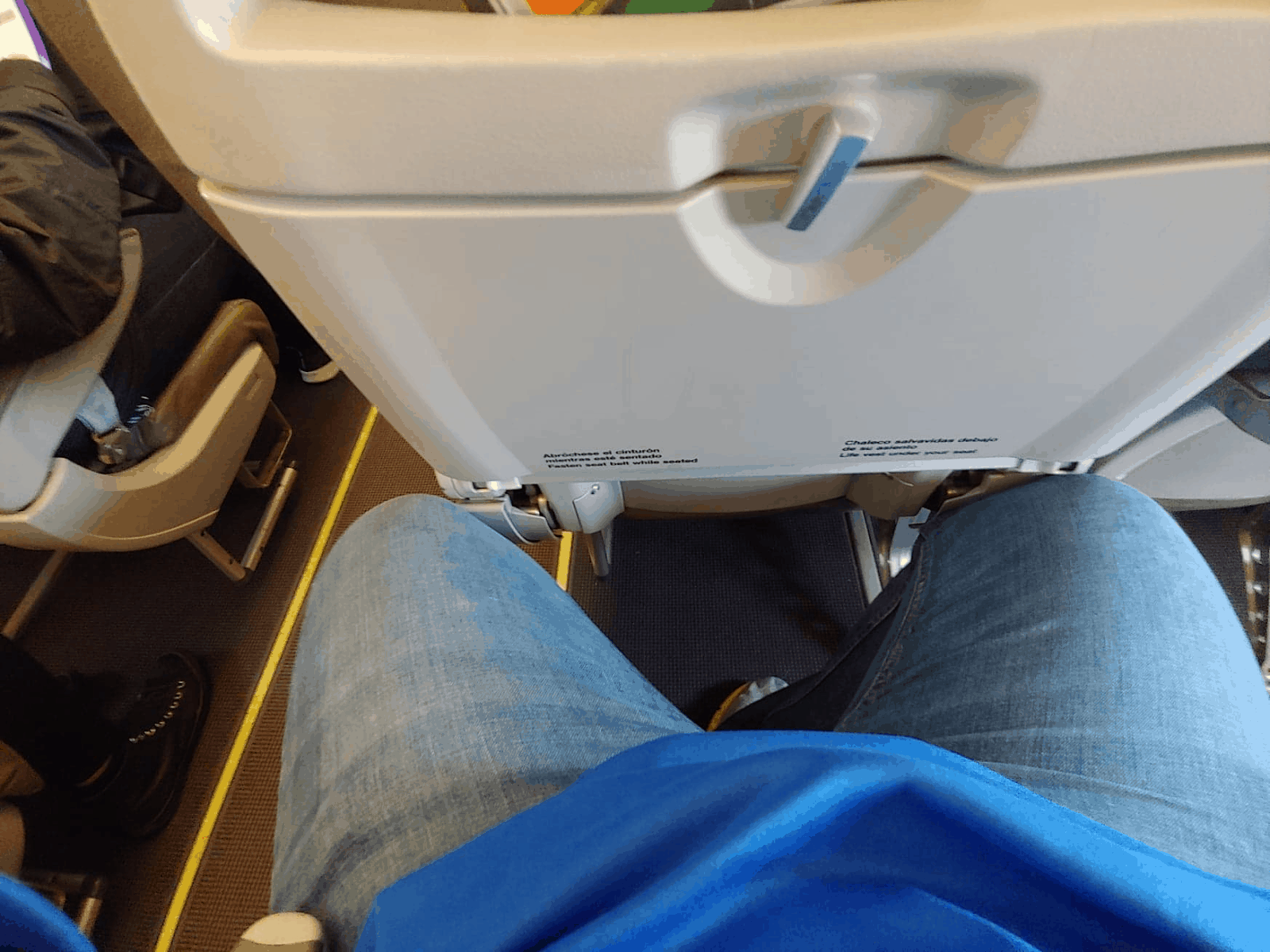 I could not get my left leg in from the aisle, nor could I get my right leg past the bracket for the tray table. Thankfully, no one was next to me, because I would have felt very bad for being in their way.
Being unable to fit in my seat at all was pretty bad, but despite being a short flight, they offered a full drink and snack service. Everytime the drink cart came by, I had to get up out of my seat so the cart could fit by.
I could barely tolerate it, and any longer would have been significantly worse for my comfort. This is the only time I haven't been able to fit in an airline seat properly. It caused my legs to start severely cramping so much that I had to stand up to stretch frequently.
Thankfully, this is the only time I haven't been able to fit in – I have even managed to fit in Spirit. I don't know how they manage to claim their seats are 29 inches of pitch, but it must require some crazy math.
If you're looking for me on a Vueling flight in the future, I'll be the guy just standing in the galley the entire flight.
Anna Zaks
My worst flight experience is similar to Travis' story, even though I am barely 5'4". A couple of years ago, I flew with my nephew to Florida. We were flying on Good Friday, so of course the ticket prices were sky-high. To save money, I figured we could survive 2.5 hours in pretty much any seat, on any carrier.
Boy, was I wrong! I don't know what the official seat pitch was, nor do I care, but I was barely able to fit in there. My knees were knocking the seat in front of me and I could barely shift my weight without bumping into something. To add insult to injury, the seats were thin and hard as cardboard.
My nephew, who was ten at the time, understandably, wanted a window seat, so I was stuck in the middle seat. I could lean into his space a little, and that helped, but I was so miserable, I could hardly wait to get off that flight.
On the way back, on the Monday morning after Easter, Spirit's check-in area at Fort Lauderdale airport looked like an evacuation zone in one of those disaster movies. Huge crowds, long lines, it was loud… Yes, I know, we were traveling during one of the busiest times of year, but more check-in kiosks and a couple more agents could've helped a lot. The scheduling people at Spirit own a calendar, right? They do know that more people travel during Easter than on a random weekend in February?
Ironically, on the way back, we flew on a different aircraft. It looked like one of United's or Delta's older planes with a normal amount of legroom. And the seats were a lot more comfortable! They actually had a normal amount of padding and weren't one of those new thin-profile seats.
I haven't flown Spirit since then, nor do I ever want to. And it's not like other airline's economy seats are state of the art, but it'll have to be a screaming deal for me to consider Spirit again.
John Tunningley
My worst flight experience was actually the flight I took directly before my best flight experience. It was my flight from Rome, Italy to Cairo, Egypt on Alitalia.
This 3 hours and 15-minute flight felt like forever and while the seat pitch wasn't the problem exactly, it was partially the seats that made this flight so terrible.
Unfortunately, the entire flight we had the people in front of us reclined halfway into our laps. For whatever reason, the seats seemed to lean back farther than any US economy product I've flown, and while normally I wouldn't have minded, this it made it almost impossible to utilize the tray table or stand up. Luckily, I never had to use the restroom, but if I did, it may have been easier to go over the seats in front of me rather than try to get to the aisle through my own row.
Now I realize I may be sounding a little like a jerk at this point, but when I say they had them reclined (fully) the entire flight, I mean the entire flight. The couple in front of my girlfriend and I layed the seats back prior to takeoff (as soon as the flight attendants took their seats) and for whatever reason, were never told to put them back up for landing, so beginning to end, I felt like I had someone in front of me in my lap.
While I'm still not sure if they had malfunctioning seats that allowed them to lean back further than they were supposed to or if that particular aircraft just had some great reclining capabilities, I know without a doubt this was the worst flight I've had to take which is saying something since I've flown Allegiant from Cincinnati to Los Angeles more than once!.
Matt Brown
My worst flight experience was a short flight from San Pedro Sula (SAP), Honduras to La Ceiba (LCE), Honduras. It was in September 2008, and I had taken the semester off from college and decided to go volunteer at a missionary hospital on the northern coast of Honduras doing construction work.
I arrived to SAP on a LATAM flight from MIA. I, unfortunately, had an 8 or so hour layover until my next flight, the once-a-day flight to LCE. This was well before I had any idea about any sort of lounges and well before Priority Pass was a thing. So I passed the time watching movies and tv shows that I had downloaded to some sort of device that I had at the time since this was also before the days of Netflix streaming.
That 8 or so hour layover proved to be quite interesting, however, as during that time, a hurricane that was currently passing through the Gulf of Mexico, made a hard 90-degree turn and started heading towards the Northern part of Honduras, right where I was located. By the time the 8 hours had passed, we were now in the outer bands of the hurricane, prior to our flight to LCE.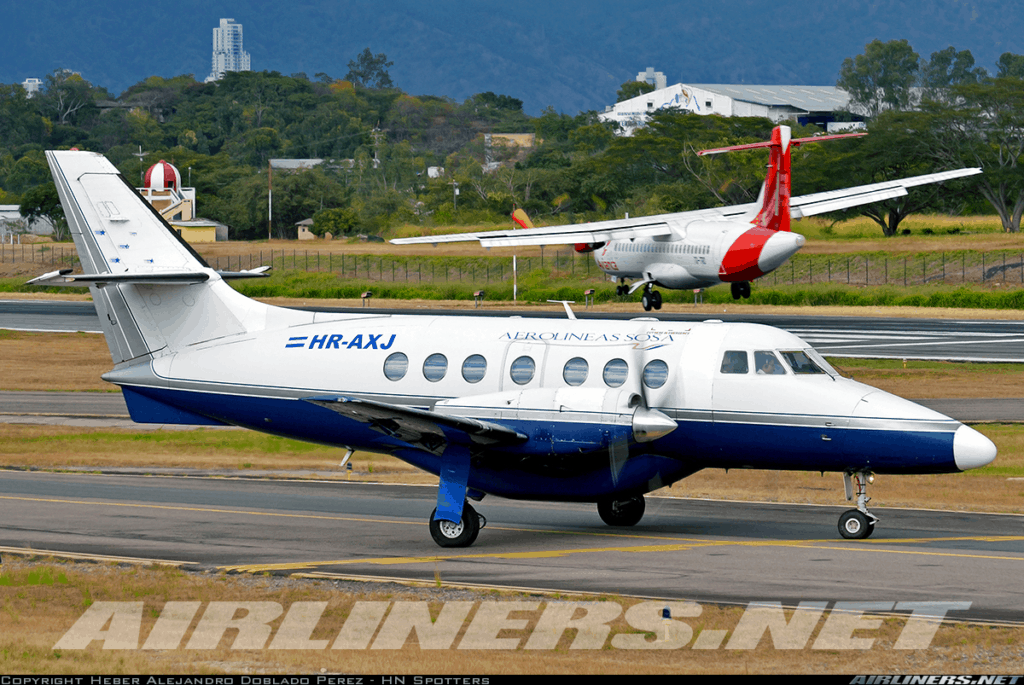 My next flight was on a tiny BAe Jetstream 31 on a very small airline called Aerolíneas Sosa. It was only to be about a 25-minute flight or so, so not long at all. This 12-16 seat turbo-prop plane wasn't exactly what you wanted to be flying through the outer bands of a hurricane!
The flight logistics are a bit fuzzy to me since it was over 10 years ago, but went something like this:
We boarded the plane, then deplaned because of the weather something like 2-3x. All in the pouring rain mind you.
Once we finally caught a break in the weather, we boarded the plane. Once on-board the plane, we had to wait to takeoff though because the pilots were waiting for some major soccer game to finish that they were listening to on the radio. The BAe Jetstream 31 had an open cockpit and I was in the front row, which basically felt like I was in the cockpit with them.
After the game finally ended some 15 minutes later, we finally took off.
We flew for about 15 minutes and the weather worsened, and since it was an open-cockpit, the pilot turned around to inform everyone by yelling, in Spanish of course, that the weather was too bad to land, and that we'd have to turn around and try again. I speak pretty good Spanish, so I understood it enough to receive this unwelcome news.
We turned around, deplaned, waited for another 2 or so hours.
We then boarded and tried again. Thankfully there was no soccer game this time, and the weather had cleared enough for us to be able to land, albeit a very bumpy one to say the least.
So flying into a hurricane in a tiny prop plane that I'm not even sure the hurricane hunters would risk doing is easily my worst flight experience.
Anya Kartashova
This one still makes me super mad when I think about it. Before I was in the points and miles game, back in 2010, my mom and I wanted to visit Europe. She wanted to book an escorted tour with stops in London, Paris and Rome via a popular travel company. Our airport transfers, hotels and some city tours were included in the package.
As part of the service, the company offered to book our flights. We wanted to add a stop in Amsterdam at the front end of the trip on our own dime, and even though I had found similarly priced flights, my mom wanted to be extra careful and handed all the planning off to the agency.
On the day of travel, we had a connection in Denver before jetting off to Europe. However, because of a tornado warning, we couldn't land for a while, which cut really close to our next flight. The plane just kept circling above the city, making us nervous about making our connection.
We finally landed and ran as fast as we could to the luggage area to claim the bags. This should've been a red flag—why would we have to recheck our luggage on a single itinerary—but we didn't travel as much back then and didn't get suspicious.
What we didn't know was that the tour company booked our flights on separate tickets: one to Denver on Frontier and another to Europe on British Airways. By the time we claimed our bags and found the BA counter, we were late to check-in. As much as we begged the agent at the desk, she kept telling us there was nothing she could do despite our names being blasted all over the airport because we weren't on the plane.
There were no more flights to Amsterdam that day, so the agent told us to come back the next day and gave us a discount coupon for a nearby hotel where we spent the night. This made us think that we'd get rebooked. Imagine our surprise when a different BA agent in the morning said we'd have to buy new flights!
We called the tour agency, and they offered to cover one of the two new plane tickets—straight to London this time. We'd gone through a lot of stress by then, and our trip hadn't even started, so we accepted the offer and shelled out a large sum of money for the second last-minute ticket. Needless to say, our two nights in Amsterdam that I prepaid for were gone.
Now that I know more about this stuff, I would've pushed for the travel agency to cover both of our tickets because it was their mistake in the first place, but I didn't know any better.
Julie Szpira
I really wish I could get over this one, but it's been 5+ years and I'm still scarred from my flight experience.
I was flying home from Panglao Island in the Philippines. This was before I was great at travel hacking, so I tended to find the cheapest accommodations and flights. I would always find decent options, but they were not anything to shout from the mountain tops about.
Getting back to the USA required a LONG travel day. I first had to fly a positioning flight on AirAsia from Bohol to Manila. In Manila, I would connect to my United Airlines itinerary and fly Manila-Guam-Honolulu-Denver.
The saga started in Bohol. Due to the president of the Philippines arriving in Manila, all flights to/from the airport were on a ground stop. That meant that the inbound aircraft was on a delay, which meant the outbound flight would also be delayed. Despite leaving myself plenty of time between arriving in Manila and making my connection, I started to get scared. I didn't realize that Bohol Airport did not have runway lights. That meant if the flight did not have clearance for "wheels up" before sunset, the flight couldn't take off.
I nervously watched my watch and the runway, awaiting the aircraft arrival. The ground staff maintained a similar vigilance. When the flight was readying to board, there was an announcement.
"Due to runway restrictions at this airport, boarding must be completed at 5:15 pm or this flight will not be able to depart". It was 5:01 pm.
I have never seen 150 people move faster or more efficiently. Somehow, everyone got on the plane, seated, with doors closed and we still had a couple of minutes to spare.
First disaster avoided.
I arrived in Manila, collected my bags, transited to the international terminal and checked in without any issues.
Then things took a turn for the very worst. I felt my tummy rumble. I thought it was from the stress of my earlier flight. I found a quiet corner and reorganized my passport, phone, book and travel pillow. I figured if I felt more "centered" mentally, I would feel better physically as well.
My efforts did not make me feel better. In fact, nothing short of an exorcism would have made me feel better. I would consider myself an adventurous eater, and I managed to consume something that was very angrily trying to escape my body. It was one of two things; the discounted catch-of-the-day or a risky tooth-brushing-with-the-shower-water incident at my $21 per night motel.
Quick note: This wasn't a sickness that would jeopardize the health of other passengers on the flight. It made me miserable, but it wasn't a public health issue.
All I wanted was to be in the fetal position on the ground. Alas, this was before travel hacking, so I had an economy seat to look forward to.
Upon boarding, I saw that someone was sitting in 8A,  my assigned seat. When I consulted a flight attendant, I was told that I had been moved to 7E, a middle seat in a bulkhead row, in order to allow a couple to sit together.
I put up a weak protest, explaining that I had selected my seat in advance, and I did not want a middle seat, nor did I want a bulkhead seat. The flight attendant stated that seat assignments are not guaranteed and the airline has the right to change passenger's seats.
I was feeling so ill, I consented to the seat change, which made my flight even more miserable. I was sandwiched between two large men, I was unable to find a comfortable sitting position and my sleep was interrupted multiple times by the man in the window seat wanting to move around me to exit his seat. These are all things that my original seat would have avoided.
I will often switch seats when asked, but being told that I must switch seats to accommodate other passengers was very irritating.
When I landed in Guam. I made my way to my departure gate to request a seat change. I was hoping there was an aisle seat near the lavatory, so as not to disturb other passengers if I had to dash to the bathroom. I must have been the only person on the history of airplane seating assignments to request to be placed as close to the bathrooms as possible.
The gate agent checked for options, but informed me that the flight was full and all seats had already been assigned. I asked if it would be possible to move someone to accommodate my request. They informed me that since the seats were already assigned, they couldn't move anyone to a different seat.
Wait. WHAT?
I felt like I was in the twilight zone. Less than 5 hours ago I was told seat assignments aren't guaranteed and the airline had the right to change seats.
The plane was in a 2-4-2 configuration and I had a window seat. The agent suggested I ask the person sitting in the aisle seat to switch with me. That seemed reasonable and I figured I would have no issues with that switch. No one wants to be getting up every 20 minutes to allow someone at the window to get to the bathroom during a long haul flight, right?
Wrong.
My seatmate insisted on keeping their aisle seat. Even when I had to make two trips to the lavatory during boarding. My dozen other requests to get out were each met with an exasperated sigh, dramatic book slamming and major attitude.
After the fifth or sixth bathroom visit, I once again asked my seatmate if they would like to switch. They replied they preferred the aisle and did not want to switch.
I think the white-hot rage I felt when the gate agent told me they weren't allowed to change assigned seats kick-started an immune response for me. After a few hours inflight, I started to feel better and by the time I landed in Honolulu, I felt decently human again.
Lesson learned, close your mouth in the shower.
Joe Cheung
My worst flight experiences probably happened back when I was a kid, confined to a narrow metal tube with a ton of cigarette smoke in economy flying to Asia with my parents. But I don't remember most of those flights except for in bits and pieces, like the time I woke up sleeping on the floor.
So I'll fast forward thirty years to one of my oldest daughter's first flight experiences, a flight in Cathay Pacific first class from Hong Kong to Chicago. Cathay Pacific first class is one of the finest experiences in the sky – so how could it be one of my worst flight experiences?
Well, to understand what made the flight so rough, you need to understand that my wife (and me by extension) really, really hates turbulence. Like many people, she gets really nervous when turbulence hits even though she knows how flight works and how incredibly unlikely it is for something serious to happen.
But sometimes the mind and the heart don't agree and turbulence makes a very difficult experience for my wife. On our 14 hour or so flight, over half the time was spent with the seatbelt sign-on. It wasn't a case of an overeager pilot.The flight was just that rough.
So, one of the benefits of first-class is having a lot of privacy and space to yourself. But that backfires when you want to comfort someone by holding their hand. In our case, I wanted to support my wife and we had an infant with us and it became increasingly difficult to pass her off. (Our daughter was blissfully unaware and had a great time, thankfully).
So what should have been an incredibly pleasant experience turned out to be a stressful and tough experience, through no fault of Cathay Pacific of course. While I got the chance to try the product again later, my wife never has gotten the chance to fly Cathay Pacific first class again and always remembers it as one of the worst experiences she's ever had up in the air. And to tell you the truth, I'd have to agree with her – it's one of my worst flights, too!
Caroline Lupini
This is going to sound pretty crazy, but my worst flight experience is when I flew Etihad Apartments. But, let's back up a bit and I'll tell you the full story.
I booked my Etihad Apartment flight with American Airlines miles before a devaluation and I was originally going to fly from Shiraz, Iran to Doha, Qatar (DOH) to Abu Dhabi, UAE (AUH) to New York La Guardia (LGA) to Washington Dulles (IAD) to Detroit, MI (DTW). Yes, that's a lot of flights.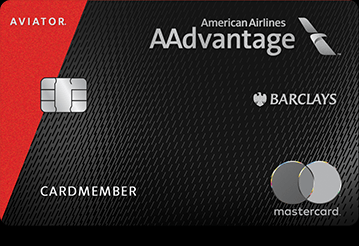 AAdvantage Aviator Red World Elite MasterCard
60,000 AAdvantage miles after first purchase
Learn more by visiting our
credit cards page.
Here's where things got messy.
I didn't end up getting my visa to travel to Iran, and I called American Airlines and convinced them to drop my first segment without re-pricing my award or changing me a change fee, or so I thought. I arrived at Doha to check-in for my flight early because I wanted to spend the whole day in the lounge and Qatar's check-in agents weren't able to get me checked in for my flight due to a missed segment from Shiraz to Doha.
Unfortunately, since it was the middle of the night in the US, there was nothing the American Airlines phone agents could do until the ticketing center opened up in the morning. I waited for around 6 hours, constantly checking in about the status so I could find out if I was going to make my flight. American Airlines finally got everything sorted and I still was able to spend about an hour in the lounge.
But, by the time I got to Abu Dhabi and on my Etihad Apartment flight, I just wasn't excited about flying anymore and I had so much travel still ahead of me.
When I think about it now, I know that I could have spent fewer miles to fly on Qatar Airways in Business Class from Doha to Chicago and a short segment on American Airlines back to Detroit. My travel time would have been less, I would have spent fewer miles, and I likely wouldn't have been absolutely exhausted by the time I arrived at home. That's not to say that I won't go out of my way for a specific award redemption in the future, but I am a lot more cautious about how I plan things.
Final Thoughts
I would imagine many of you can relate to some of these experiences. While you might not have flown through a hurricane, I'd be willing to bet many of you have experienced bad turbulence, customer service fails, and super uncomfortable flights.
If, by some miracle, you haven't. Give it time. You will.
The important thing is to remember that these isolated experiences aren't a reflection on travel in general. We've already talked about our favorite flight experiences so you know there are many amazing experiences waiting to be had.
Hopefully, you don't find these flight experiences discouraging and can laugh them off along with us.
Now, let us know about your worst flight experiences in the comments.
New to the world of points and miles? The Chase Sapphire Preferred is the best card to start with. With a bonus of 60,000 points after $4,000 spend in the first 3 months and 2x points on dining and travel, this card truly cannot be beat! 
Learn more
---
10xTravel is part of an affiliate sales network and receives compensation for sending traffic to partner sites, such as CreditCards.com. This compensation may impact how and where links appear on this site. This site does not include all financial companies or all available financial offers.
Editors Note: Opinions expressed here are author's alone, not those of any bank, credit card issuer, hotel, airline, or other entity. This content has not been reviewed, approved or otherwise endorsed by any of the entities included within the post.