Note: Some of the offers mentioned below may have changed or are no longer be available. You can view current offers here.
Hey Travel Junkies,
There are some destinations that are icons in the travel world. All it takes is one picture and everyone will recognize it. I'm talking about places like Tahiti, the Sydney Opera House, and of course, Atlantis Bahamas.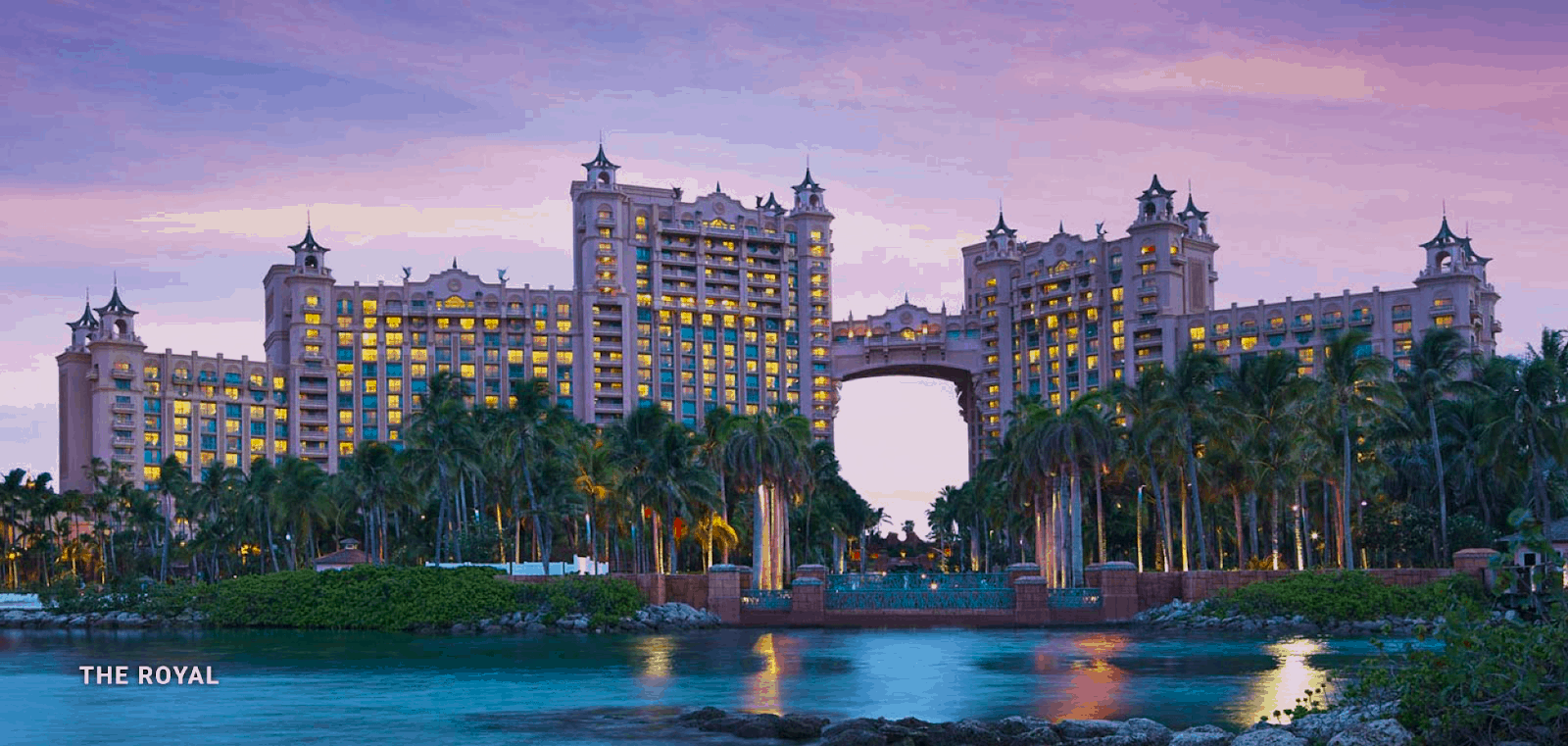 Right now, there's a pretty easy way to get a free stay at Atlantis Bahamas and I'm going to show you how.
The best part?
You won't need to spend any of your points to do it. In fact, you may not even need to sign up for any new credit cards to take advantage of this great offer.
However, there are a few catches (there's always a catch) to this. I'll go over what you should be aware of before jumping into this deal. But first, let's look at how you can take advantage of it.
P.S. Check out the Best Ways to Fly to the Bahamas on Points and Miles to find great ways to book flights.
How to Get a "Free" Atlantis Bahamas Vacation
Earning your free stay at Atlantis Bahamas is as simple as earning Platinum status with Caesars Rewards (formerly Total Rewards).  Once you earn Platinum status, you receive a 3-night stay at Atlantis Bahamas. With a higher status, like Diamond, you earn a 4-night stay.
You might be wondering "what is Caesars Rewards and how do I earn Platinum status?"  While you could earn it through gambling at Caesars casinos or by staying at their hotels, there is a simpler way that won't require you to spend any money out of your pocket.
All you have to do to earn Caesars Diamond status is do a status match. Caesars partners with Wyndham, and if you have Diamond status with Wyndham, you can match it to Caesars.
Personally, I have status with major hotel chains such as Hilton, or Marriott, but not Wyndham. Thankfully, Wyndham is currently offering a status match from these other programs. Currently, Hilton Gold or Marriott Gold and above will match to Wyndham Diamond.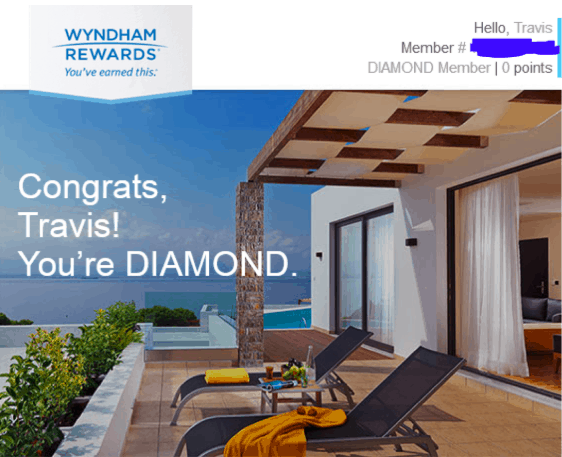 I know that's a lot, so let's break it down step-by-step:
Create a Wyndham account
Take a screenshot of your Hilton or Marriott status (Gold or higher)
Upload it to the Wyndham status match page
Wait for Wyndham to email confirmation of your new status
Create a Ceasars Rewards account
Log into Caesar's status match page
Click the link to match your Wyndham status — you'll need your Wyndham number
Be aware, it can take up to 7 days for Caesar's Rewards to update your profile.
Thankfully, these Marriott and Hilton Gold are both pretty easy to get so this shouldn't be too much of a challenge. Let's dig a bit deeper into how you can easily earn the hotel status level you need to make this work.
How to Earn Hilton Gold or Diamond Status
Hilton Gold or Diamond status will match to Wyndham Diamond. Earning Hilton Gold or Diamond status has become ridiculously easy. How easy? You can get either status level simply by having one credit card.
You can receive complimentary Hilton Gold status with the Hilton Honors American Express Surpass Card. If you find yourself staying at Hilton properties often, you may want Diamond status which you receive with the American Express Hilton Honors Aspire Card.
The annual fee on the Hilton Honors American Express Surpass Card is only $95 which makes it the cheapest option to start this process of getting a free stay at the Atlantis. The Hilton Aspire carries a $450 annual fee, though it does come with quite a few perks.
How to Earn Marriott Gold Status
Just like with Hilton, you can earn Marriott Gold Status from simply having the Marriott Bonvoy Brilliant American Express Card.
Similar to the Hilton Aspire, this card carries a $450 annual fee and comes with a number of other benefits.
How to Redeem Your Free Nights
Once your status match has gone through with Caesars Rewards, redeeming your free nights is easy. Be aware that when you stay determines what kind of room you will get.

Atlantis Bahamas is a massive property with multiple room blocks (referred to as towers) throughout the property. If you travel during the peak months, you'll stay in The Beach Towers. If you travel during the off-peak months of January, February, May, June, September, and October, you will get to stay in The Royal Towers.
I highly recommend trying to travel during the off-peak months, as The Royal Tower is a much nicer part of the resort than The Beach Tower.
Once you've decided when to travel, you'll need to call 1-800-752-9711. They'll check available dates, and you can complete your booking over the phone. Make it clear that you are calling to book a Caesars Rewards complimentary package, as some dates during off-peak months may not be available.
The Catch…
I said there were some catches so let's take a look at what you should expect, and why this isn't the phenomenal deal that it initially seems to be.
Your "free" stay, isn't actually free
This is probably the biggest bummer of them all. We've talked about resort fees before, and at Atlantis, they really are a nuisance. You'll have to pay the resort fee for every night of your stay, plus pay taxes on the room. Oh, and you'll also pay a gratuity for every night you stay as well as the resort fee and taxes.
How much does all this cost? Expect around $65 per night. Not bad, but not really what you expect when you've been told you're getting a free 4-night stay at Atlantis. Considering 4 nights will often cost $1,000 or more, $260 for 4 nights isn't a bad deal. It just doesn't have that same "free" feeling.
If you end up traveling during the peak days you'll be paying $260 for the Beach Towers, and well…
The Beach Tower is pretty outdated and has some bad reviews
If you just went to the Beach Tower website you'd see some pictures that make it look a bit dated, but certainly not that bad.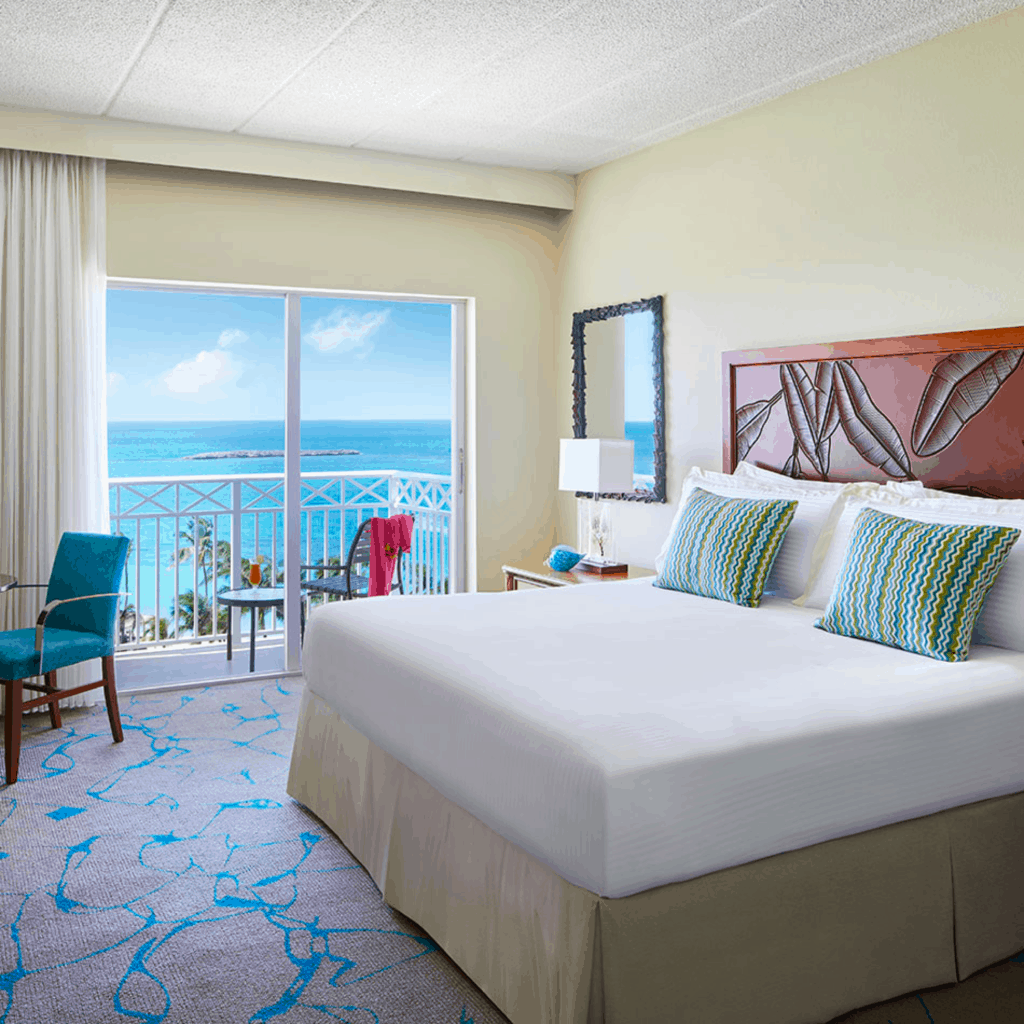 However, a quick glance over to TripAdvisor and you'll see that some rooms haven't even been updated to match what is advertised.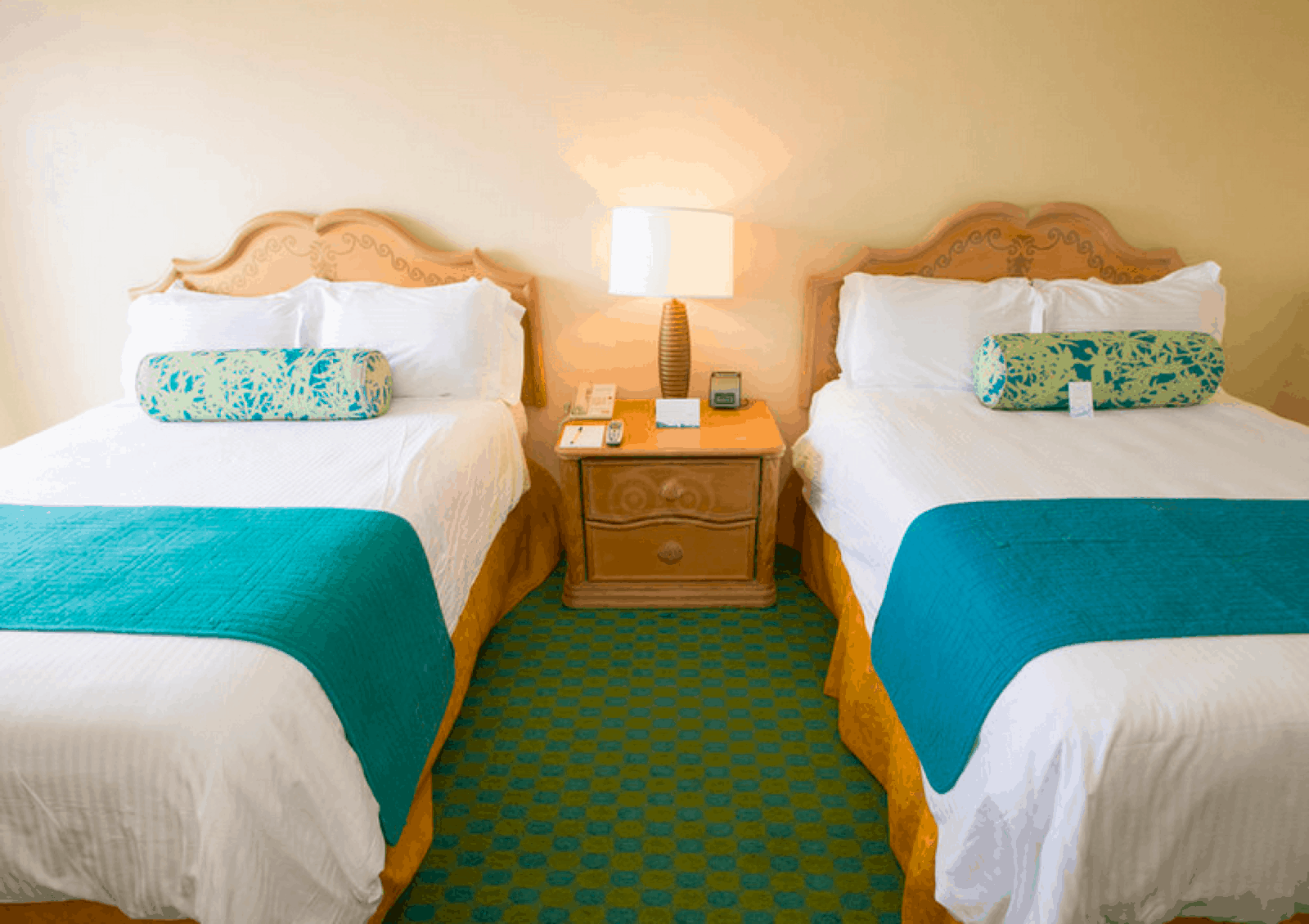 What you also won't know is that the Beach Tower is pretty far removed from everything. You should expect about 15 minutes of walking each way to get to the restaurants, pools, and other activities.
If you travel during the off-peak season, you'll get to stay at the Royal Tower which is more centrally located. When you think of Atlantis, the Royal Tower is what comes to mind.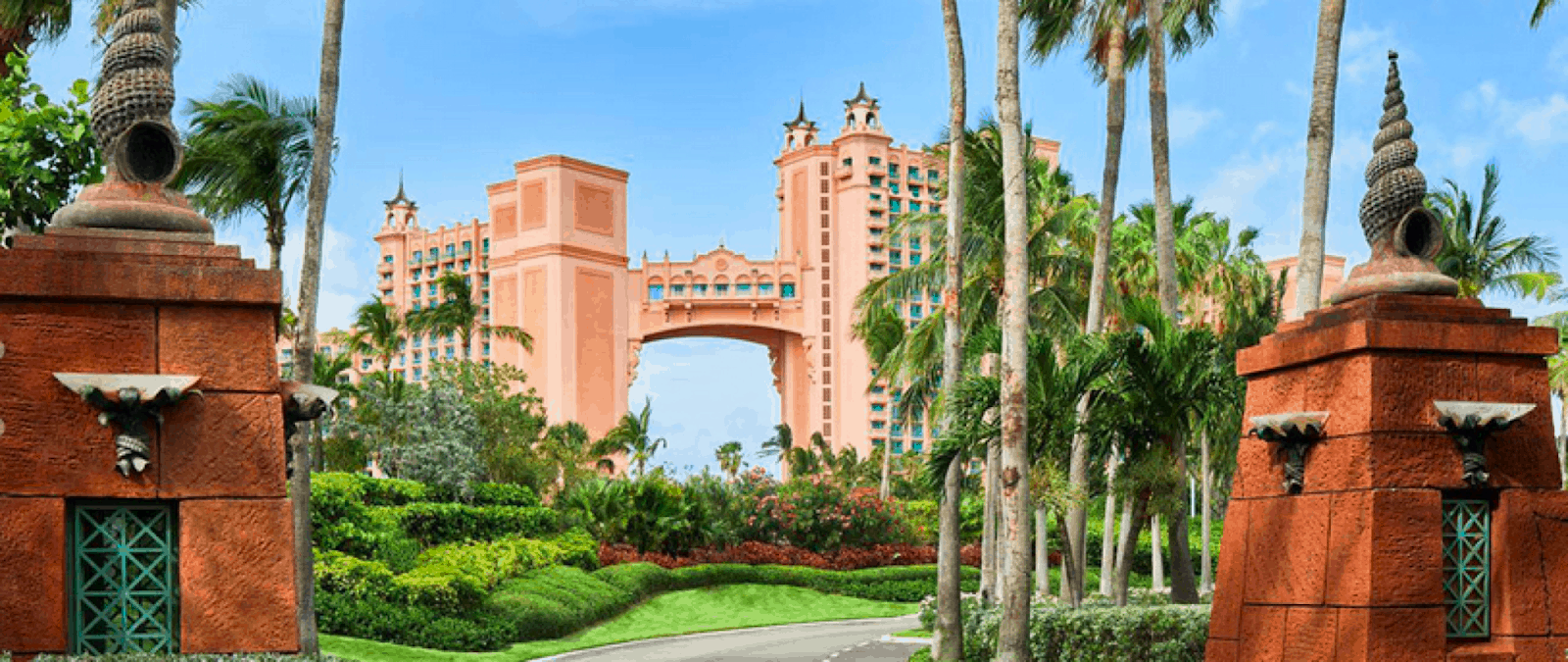 Although rooms in the Royal Tower still aren't quite up to date by modern hotel standards, you'll find them to be more consistent with what you see advertised on the Atlantis website.
Given the fact you're paying about $260 for your 4-night stay, I would try to stay in the Royal Tower by traveling off-peak.
Food at Atlantis is EXPENSIVE
You can expect food and beer to really bump up the cost with beer going for about $10, typical American cuisine (such as burgers) going for $20. On top of the base price, you'll have to pay 12% VAT and 15% gratuity. Your $20 burger just became a $25 burger. If you want a nice meal, you'll pay more, of course.
Unfortunately, the menus with prices aren't published online, so you can't really scope it out in advance and plan. If cost is a concern, bring some snacks with you. There's also a Dunkin' Donuts right outside the property with normal pricing. If you're staying at the Beach Towers, however, that may be a long trip to make for your daily meals.
Atlantis Doesn't Honor All Loyalty Benefits of the Marriott Bonvoy Program
Did you know that Atlantis is part of Marriott's Autograph Collection? Given that it is, you may be thinking you can get by with a big breakfast provided complimentary from your Platinum Elite status or above.
Unfortunately, Marriott exempts Atlantis from extending all Marriott benefits to guests. While you will get a welcome gift if you're Platinum Elite, your status won't automatically get you a free room upgrade or free breakfast.
This doesn't mean you won't get an upgrade, but you shouldn't count on it. Especially if you're traveling during peak season when the resort is busiest, which unfortunately is when an upgrade would provide the most value.
Final Thoughts
By status matching your Marriott or Hilton Elite status — easily acquired via credit card — to Wyndham and then matching Wyndham to Caesars Rewards, you can get a 3 or 4-night stay at Atlantis Bahamas.
Although the stay comes with a few catches, you might still find it to be worthwhile. A stay at Atlantis for only $260 is still a great deal. However, be prepared for some high costs while at the resort.
At the end of the day, the reports I've read often find Atlantis to be an amazing destination. If you were already planning a trip to Atlantis, this is an especially great way to save a lot of money. Those who've shared their trips in our weekly Friday Brags thread in the 10xTravel Insider Facebook group has really enjoyed the stay.
I hope to see your Atlantis adventure in our Friday Brags soon!
Travis
---
10xTravel is part of an affiliate sales network and receives compensation for sending traffic to partner sites, such as CreditCards.com. This compensation may impact how and where links appear on this site. This site does not include all financial companies or all available financial offers.
Editors Note: Opinions expressed here are author's alone, not those of any bank, credit card issuer, hotel, airline, or other entity. This content has not been reviewed, approved or otherwise endorsed by any of the entities included within the post.