In This Article
Loading table of contents …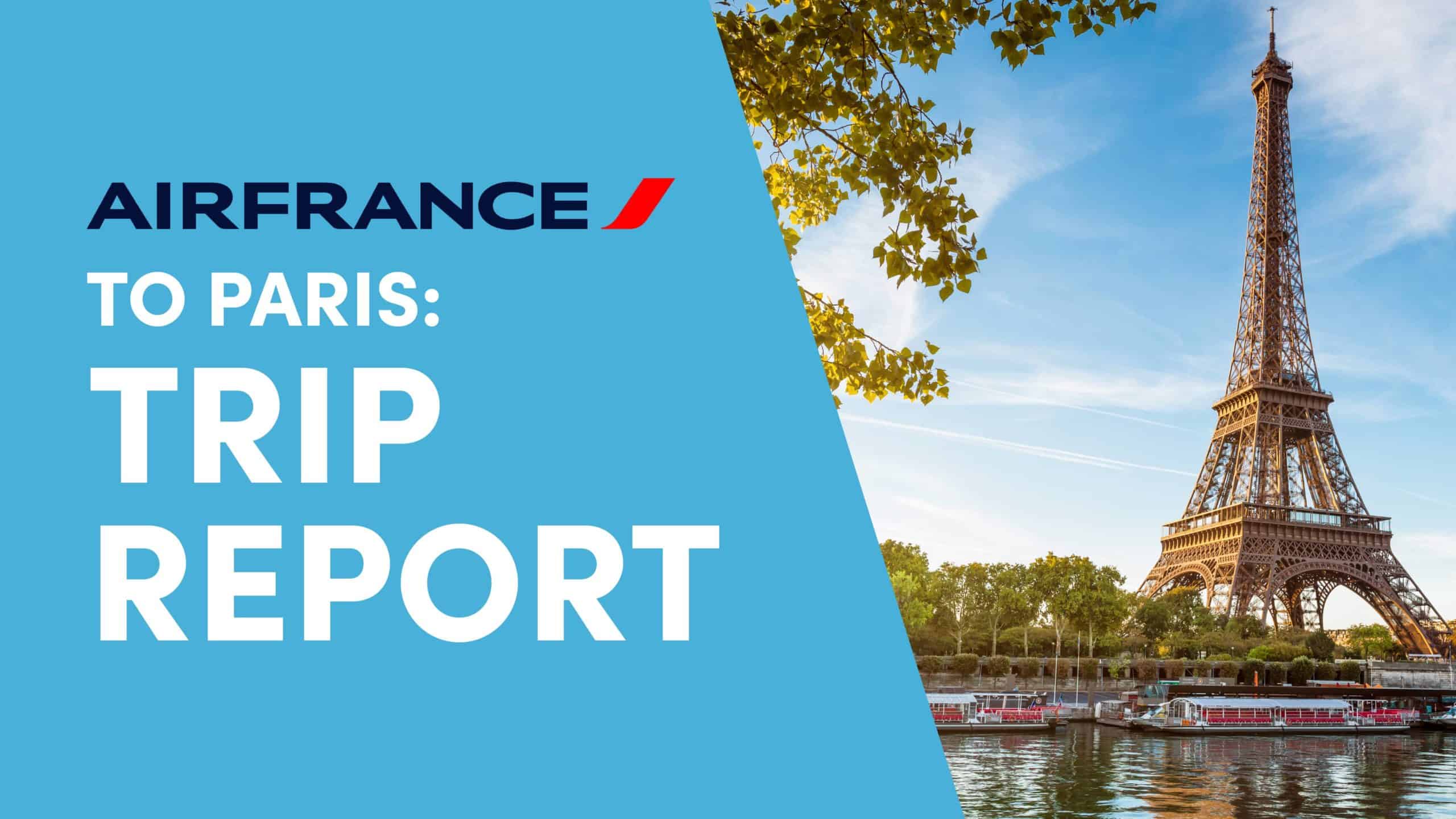 If you've read any of my other trip reports, you probably know that I like to combine my trips to Europe with visiting my family in Israel. This trip was no exception. I flew to Israel first, then headed to Paris with my husband.
It just so happened that I booked both the outbound and the return flights on Air France. I'd never flown Air France before, so I was looking forward to trying out a new (for me) airline. I usually book my award tickets to Israel with United MileagePlus miles or Air Canada Aeroplan points, but nothing was available this time.
Air France did have award space available, but the routing wasn't ideal because I would have had to change airports in New York. However, I was traveling during the popular spring break time, so I decided not to wait for something better to come up and booked my trip.
How I Booked My Air France Flights
Air France doesn't publish an award chart, but thanks to its handy Miles Price Estimator, you at least can figure out the lowest possible award rate.

Flying Blue, the frequent-flyer program of Air France, places Israel into its Europe region, so whether you're flying to Paris or to Tel Aviv, Israel, you'll pay almost the same price. Because the redemption rates vary, it's impossible to say exactly how many miles your award to Israel will cost, but it should be in the same ballpark as a New York-Paris award ticket.
I found an award ticket for 55,000 Flying Blue miles that included a domestic connection on Delta Air Lines from my home airport. After I located the award space, I transferred 55,000 Membership Rewards points from my American Express account to Flying Blue (the transfer was instant) and booked my flights.
I had reservations about this routing because the flight from my home airport arrived in New York-LaGuardia (LGA), and the flight to Paris departed from New York-JFK, but there was ample time to transfer between airports. This was my first time using Flying Blue to fly to Israel, so I decided to give it a chance.
If you're looking to replicate this itinerary, you can do even better than 55,000 Flying Blue miles or 55,000 Membership Rewards points. American Express often has transfer bonuses of 20% to 30% to Flying Blue.
Flying Blue has its own Promo Rewards, or discounted awards announced at the start of each month. In addition to offering up to 50% on select routes, there are often unadvertised award sales on additional routes, both in business class and economy. So if you happen to come across a transfer bonus and a Promo Reward, you can stack the discounts for significant savings.
A few weeks after I booked my ticket home from Paris for 58,000 miles, Air France dropped the redemption rate to 43,500 miles. This is an example of an unadvertised sale. When I saw that Air France announced the new round of Promo Rewards, I rushed to check if I can rebook my ticket home at a lower rate.
Thanks to the limited-time pandemic-related rules, all award tickets purchased prior to March 1, 2022, were eligible for free cancellation. So this is exactly what I'd done—I canceled my original booking and rebooked at a lower price.
Contacting Flying Blue can be a somewhat unpleasant experience, involving long hold times, but I was able to log in to my account early in the morning, during business hours in France, and found a chat option on the Contact Us page. This option seems to come and go, so I might have gotten incredibly lucky.
How I Earned Flying Blue Miles
Flying Blue miles are easy to earn because Flying Blue is a transfer partner of four major transferable credit card currencies. Capital One Venture Miles, Citi ThankYou Points, Chase Ultimate Rewards and American Express Membership Rewards all transfer to Flying Blue at a 1:1 ratio.
A few months ago, I received a targeted offer to open the Business Platinum Card® from American Express with a bonus of 150,000 Membership Rewards points after spending $15,000 in three months. So I already had a nice stash of Membership Rewards points ready to go. Once I found the award space, I transferred the points to Flying Blue and booked my tickets.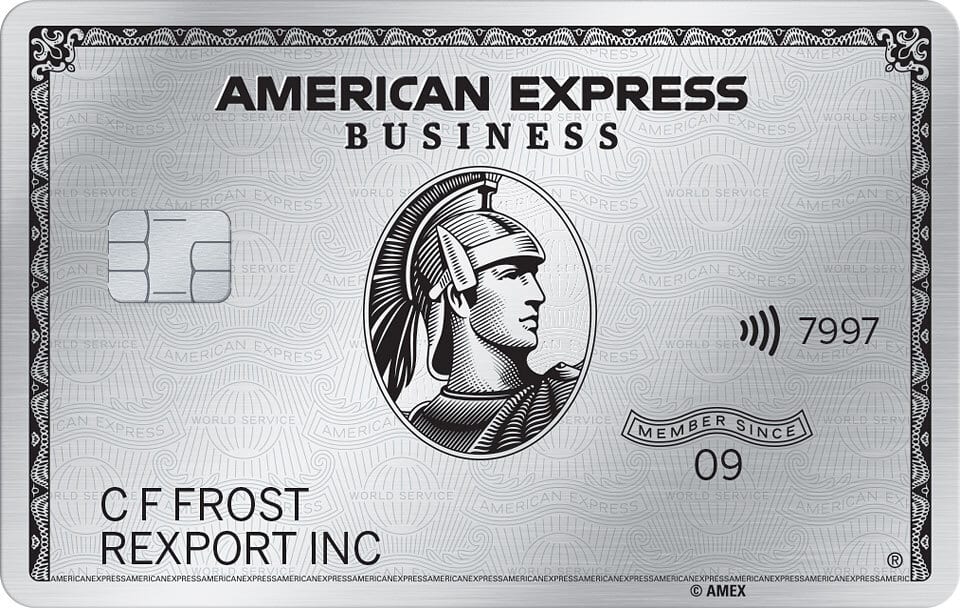 Air France Lounge at New York-JFK
I think a great business-class experience starts with a great business-class lounge. However, the Air France Lounge at JFK is not great. I'd describe it as dated and unimpressive. The lounge is huge, though, so at least it wasn't crowded.
This lounge is part of the Priority Pass lounge network, so economy-class passengers can also use it when flying out of Terminal 1 at JFK.
The furniture is dinged; the carpets are stained, and the food is average. There's a good selection of alcoholic beverages, though, including a few French wines.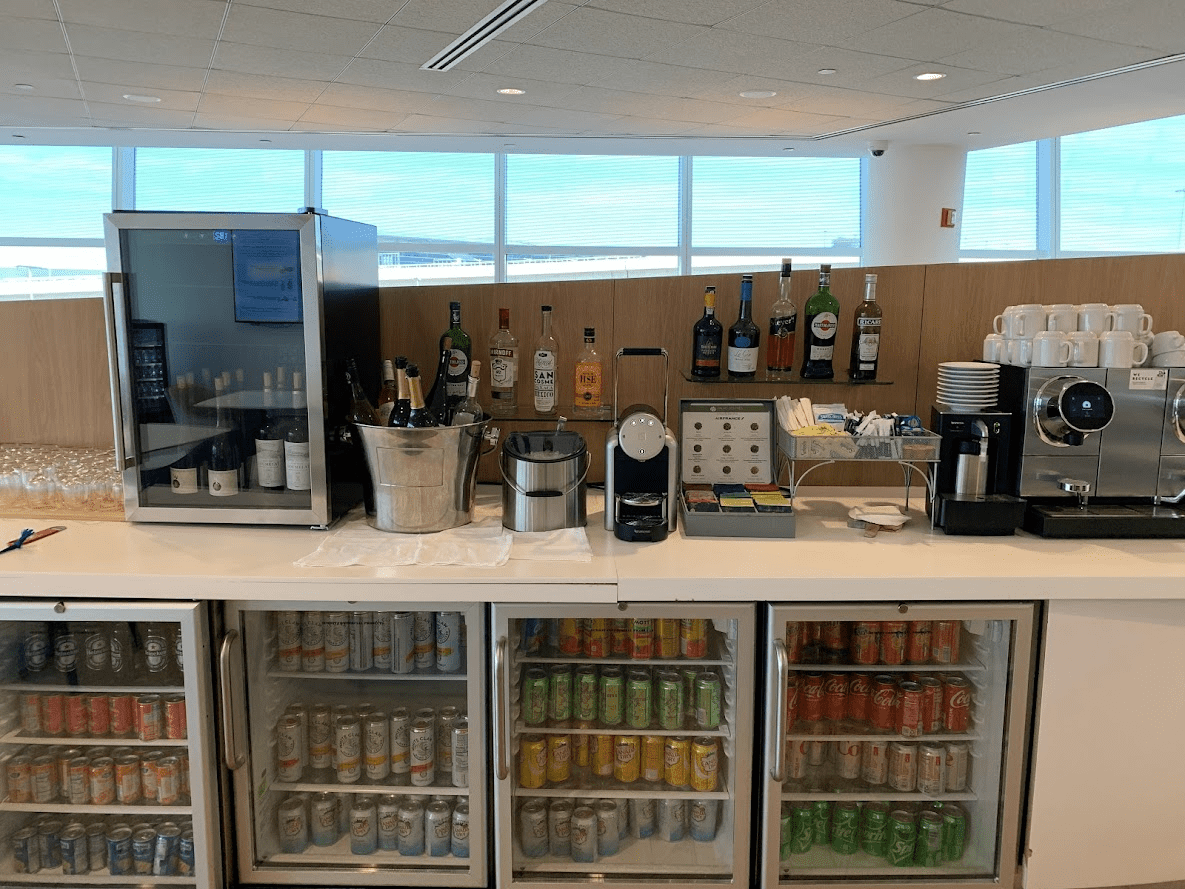 There were showers in the lounge, so I decided to freshen up. The attendant, who's presumably in charge of shower access, handed me a towel without looking up from whatever she was doing. You get one towel (so use it strategically), and the shower is basic and dated, like the rest of the lounge. There's a soap dispenser on the wall, but there's no shampoo or any other amenities.
The website advertises a spa, but it's currently closed and will reopen sometime in the summer of 2022.
If you want more peace and quiet, head upstairs. The food and drink offerings are the same, but fewer people go to the second floor.
The Lufthansa Business Lounge, which you can also access with your Priority Pass, is another option. It didn't have a shower, and it was more crowded, but the food was slightly better in my opinion. You can easily walk between the two lounges and see which one you like better.
My husband was flying separately on another flight that departed at 11:30 p.m. For late night departures, the lounge serves the same dinner you'll get on a flight, so you can eat in the lounge and go straight to sleep once on board.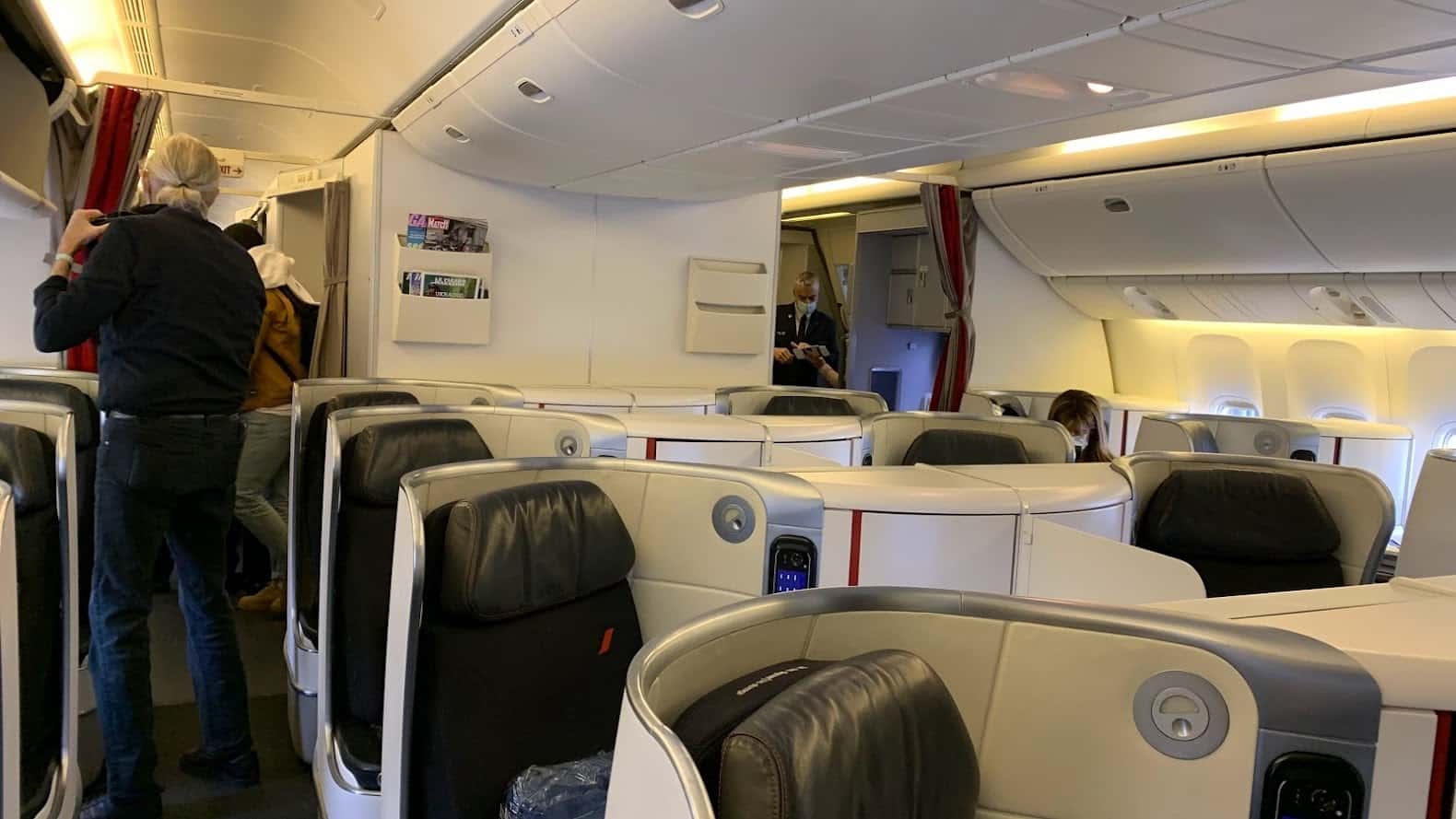 The boarding was done by groups, and business-class passengers got to board in Group 1. I found the seat to be comfortable, and there was plenty of storage for all the little things I needed during the flight.
There was no pre-departure drink service, but after we were airborne, the flight attendants came by with glasses of Champagne and orange juice. The menus were placed on the seats prior to boarding, but I'd selected my meal ahead of time via the Air France website.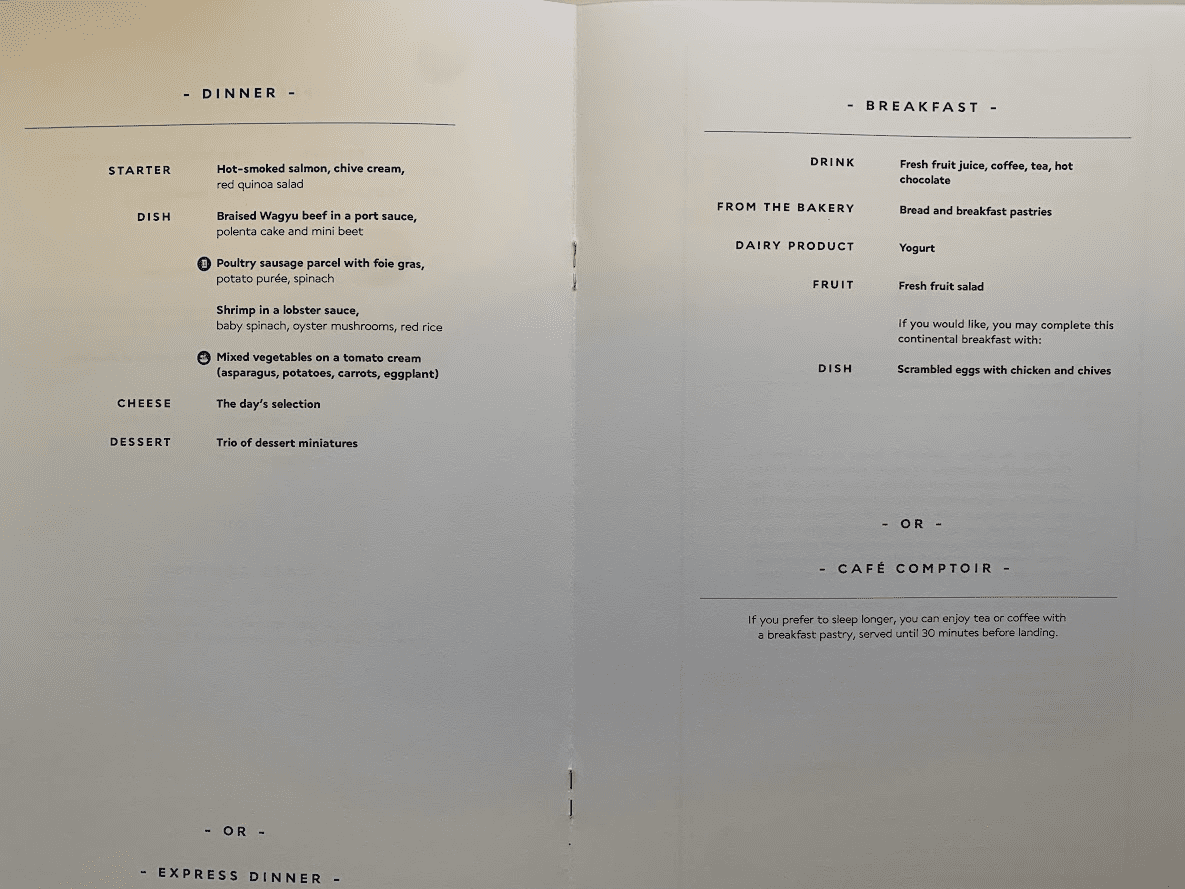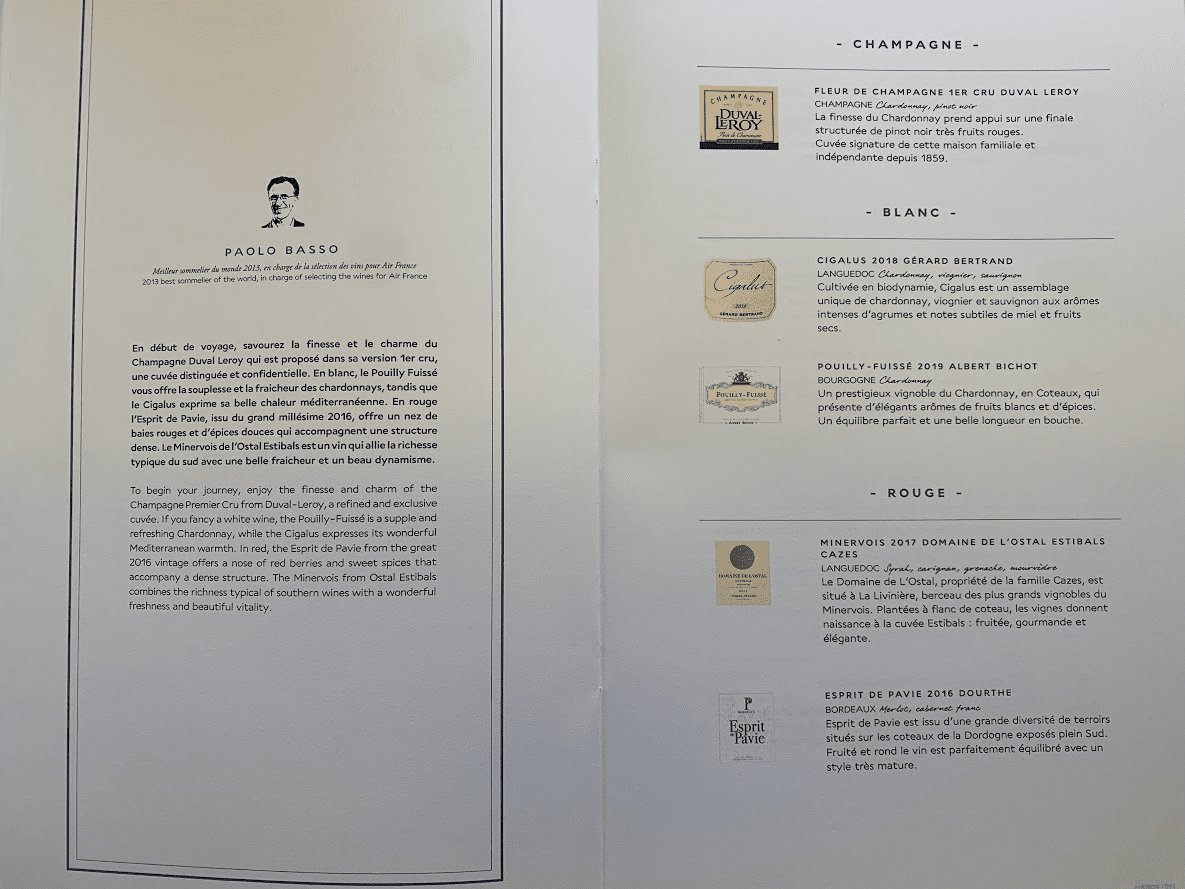 The food was nice— everything tasted fresh and delicious. The food service started quite late and took a long time. I wish they started sooner after takeoff on such a short flight (less than seven hours) to give us more time to sleep.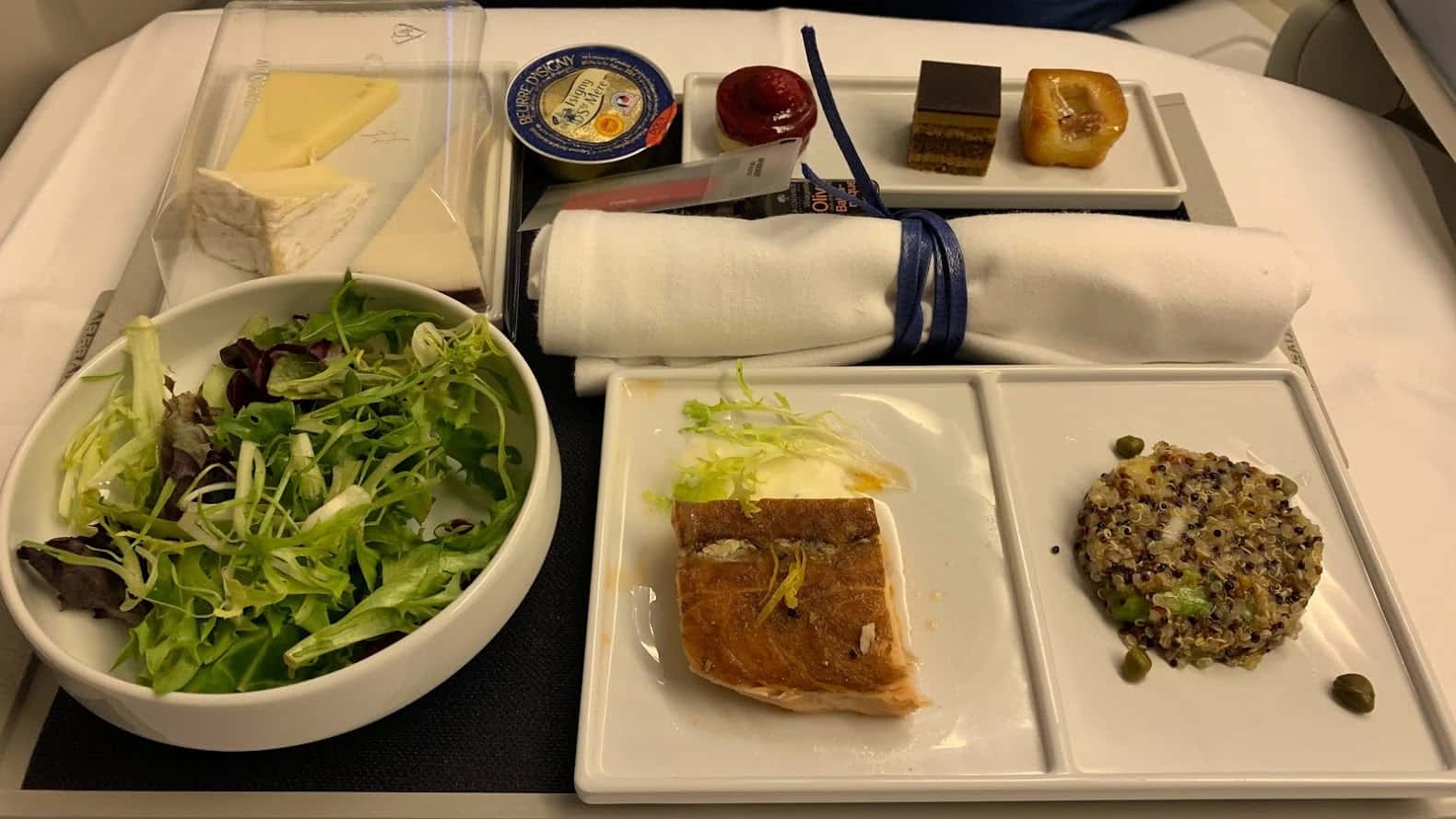 Breakfast was served about 90 minutes before arrival, and it was also quite good.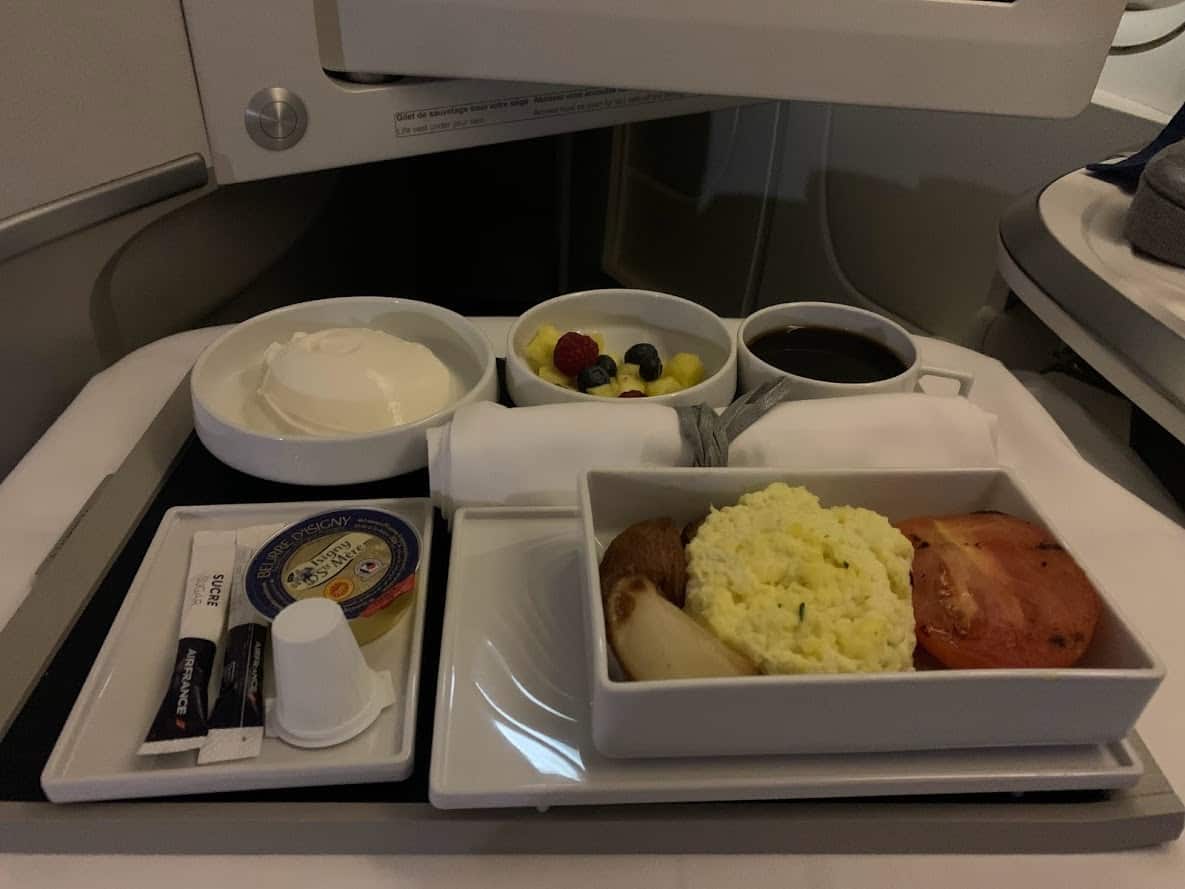 The service overall felt impersonal compared to my experience flying on Star Alliance carriers. The flight attendant serving my area didn't introduce herself, and nobody came around for the second time during the meal service to offer additional drinks.
When a couple hours into the flight I still didn't get the amenity kit, the flight attendant told me that there was a problem in Paris and the amenity kits weren't loaded on this aircraft. He was able to procure some toothpaste and a toothbrush, though, and I always carry an eye mask and a pair of earplugs with me.
The best part of this itinerary was the lie-flat seat on the Paris-Tel Aviv flight. Not all European carriers have the real business-class on flights to Israel. Some airlines, such as Lufthansa and Austrian Airlines, just block the middle seat in a regular economy row and call it "business class."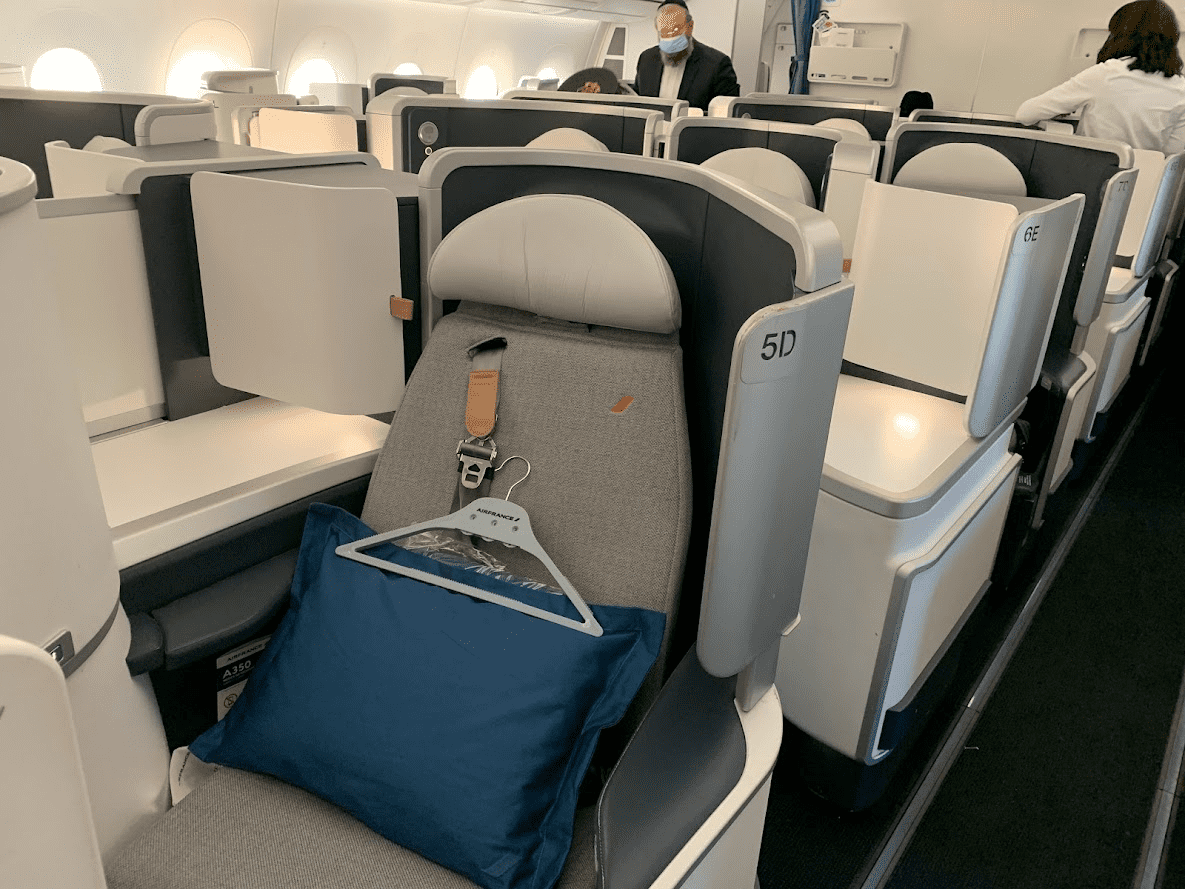 The meal on the Paris-Tel Aviv flight was a brunch, and the service was excellent.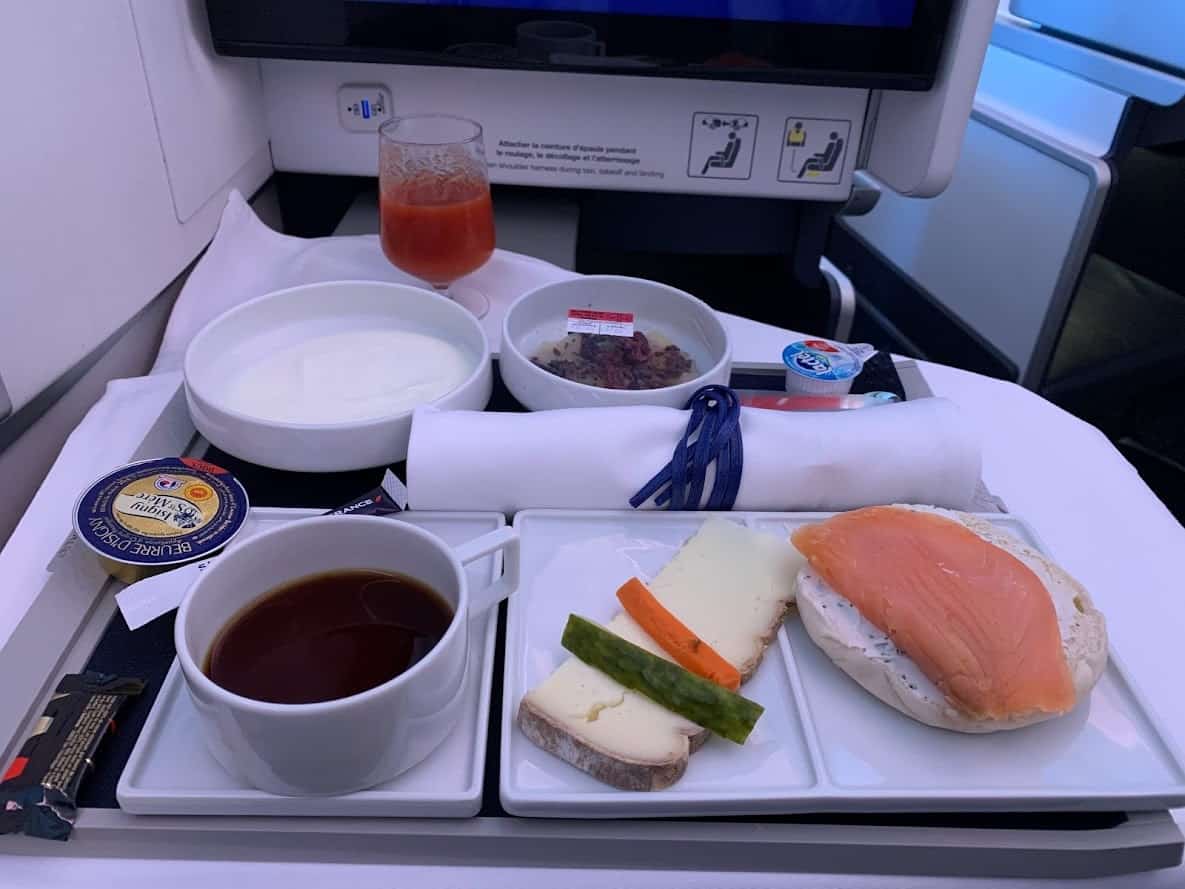 In spite of the great Flying Blue redemption rates to Israel, I don't think I'll be booking the same award any time soon. The long connection times in New York and Paris, combined with the fact that I had to change airports in New York, made for a really long travel day.
My return flight home from Paris (CDG) to Chicago O'Hare (ORD) had similar food offerings and the same aircraft layout.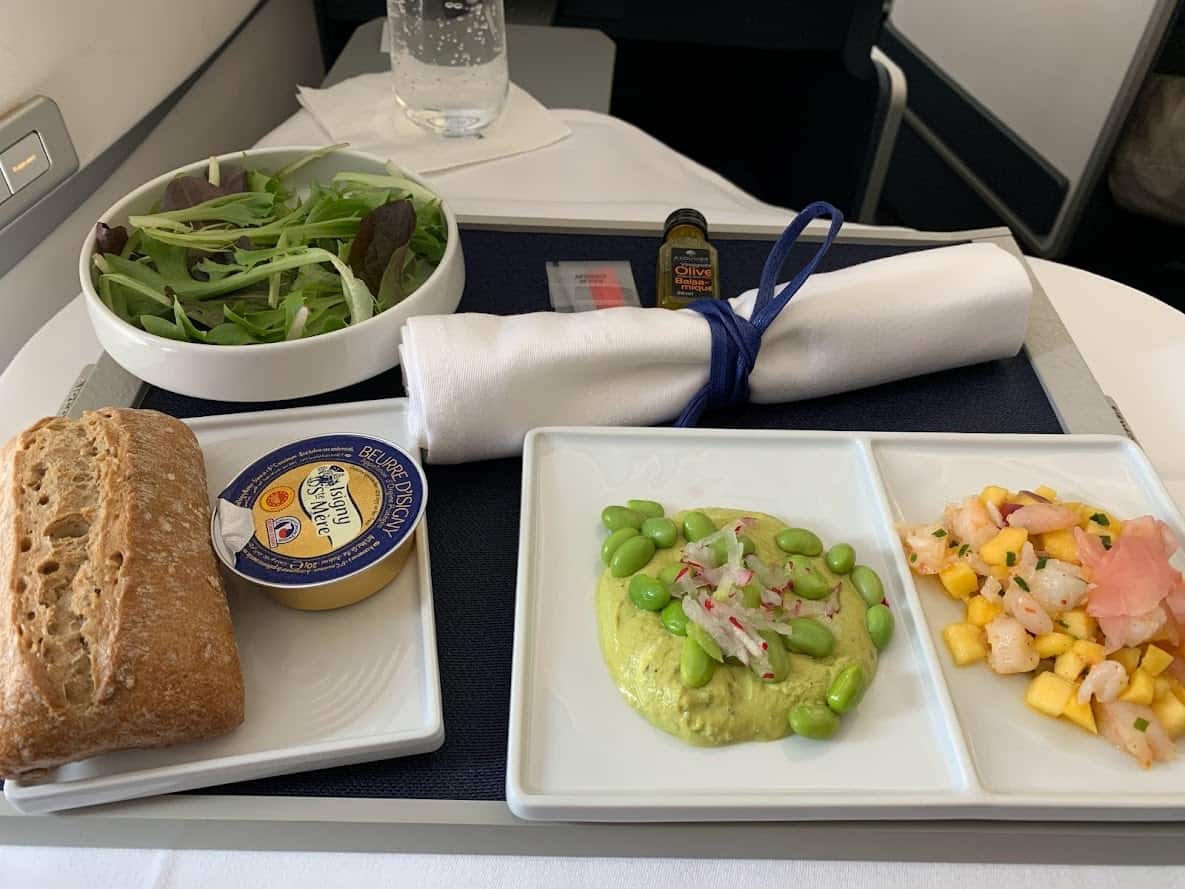 The second pre-arrival meal was also pretty good, if a bit carbs-heavy.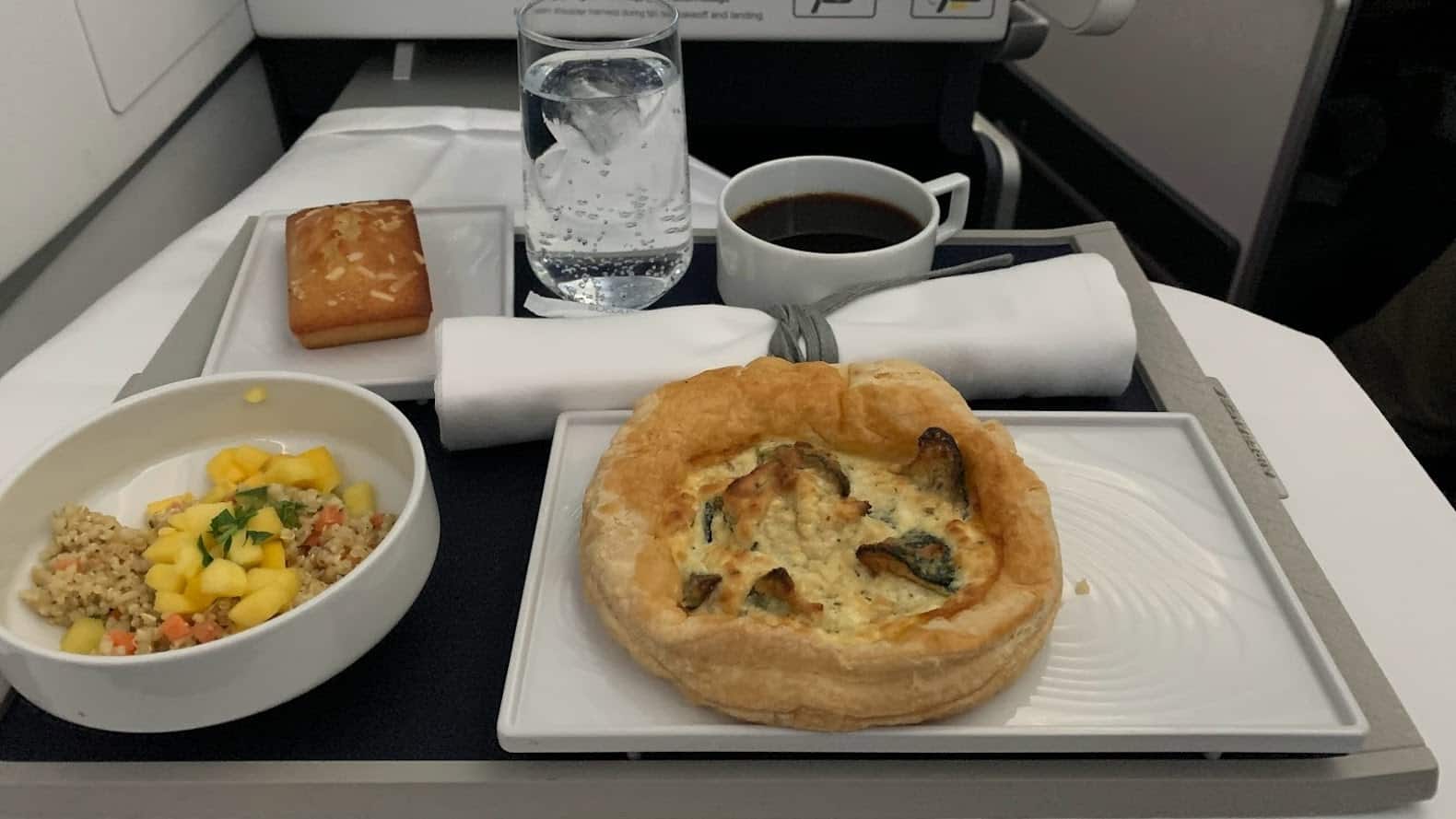 Air France Lounge in Paris-CDG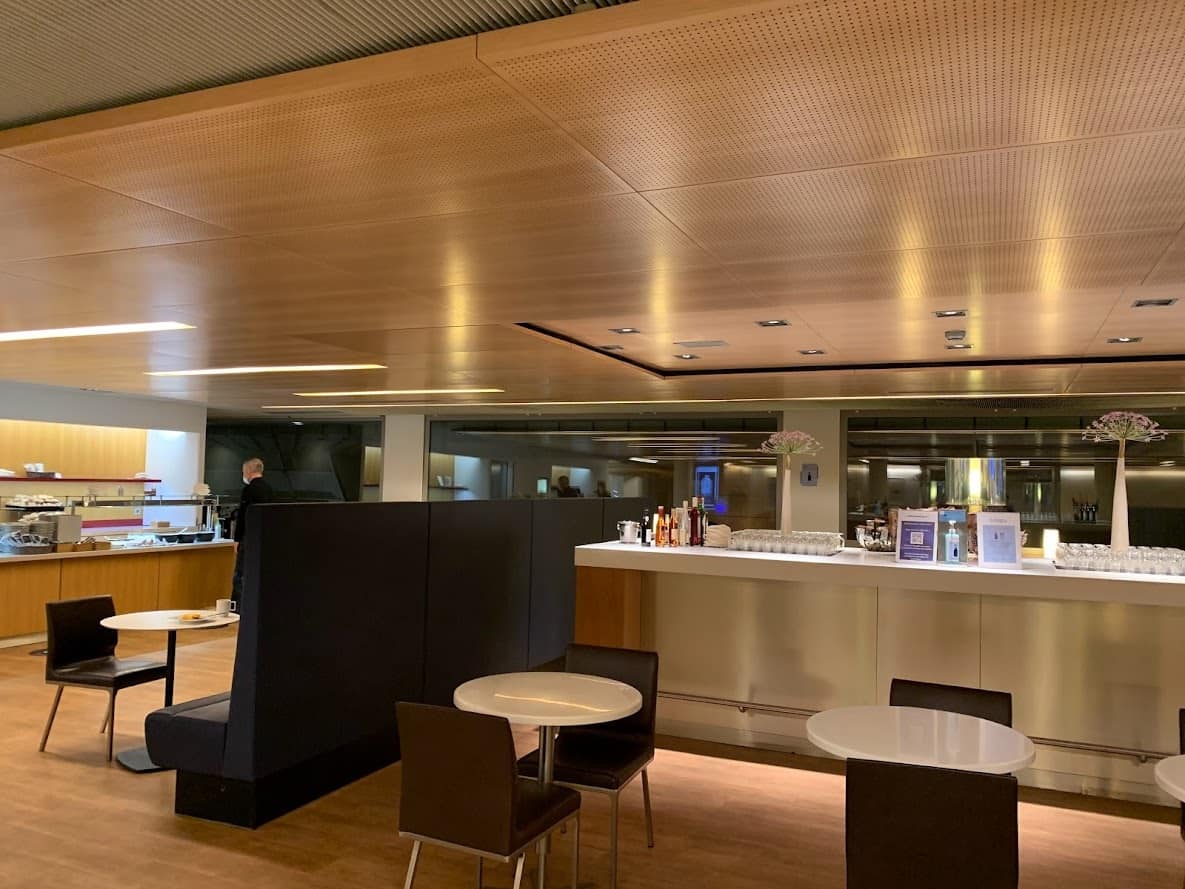 The lounge in Paris is a lot nicer than the one at JFK. It's modern, spacious, and the breakfast served during my visit was delicious. Typical for any European lounge, the alcohol is available starting early in the morning.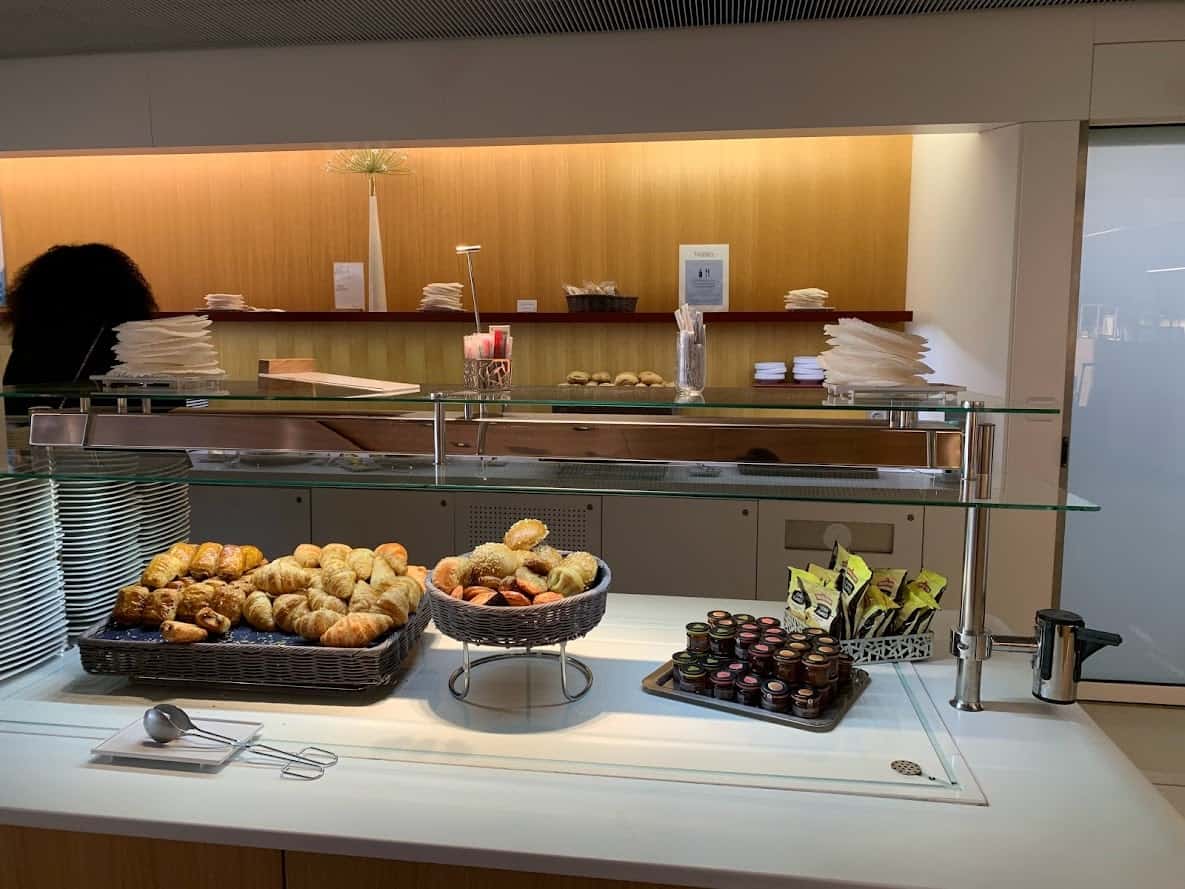 The spa was closed during my visit. The showers were beautiful and came stocked with nice hotel-like amenities.
Charles de Gaulle Airport is huge, so I ended up going to a different Air France lounge before my return flight. I was looking forward to getting a spa appointment, but even though the spa was technically open, no appointments were available.
This lounge was also quite nice, but I wasn't impressed with the breakfast choices. However, the desserts were definitely the highlight.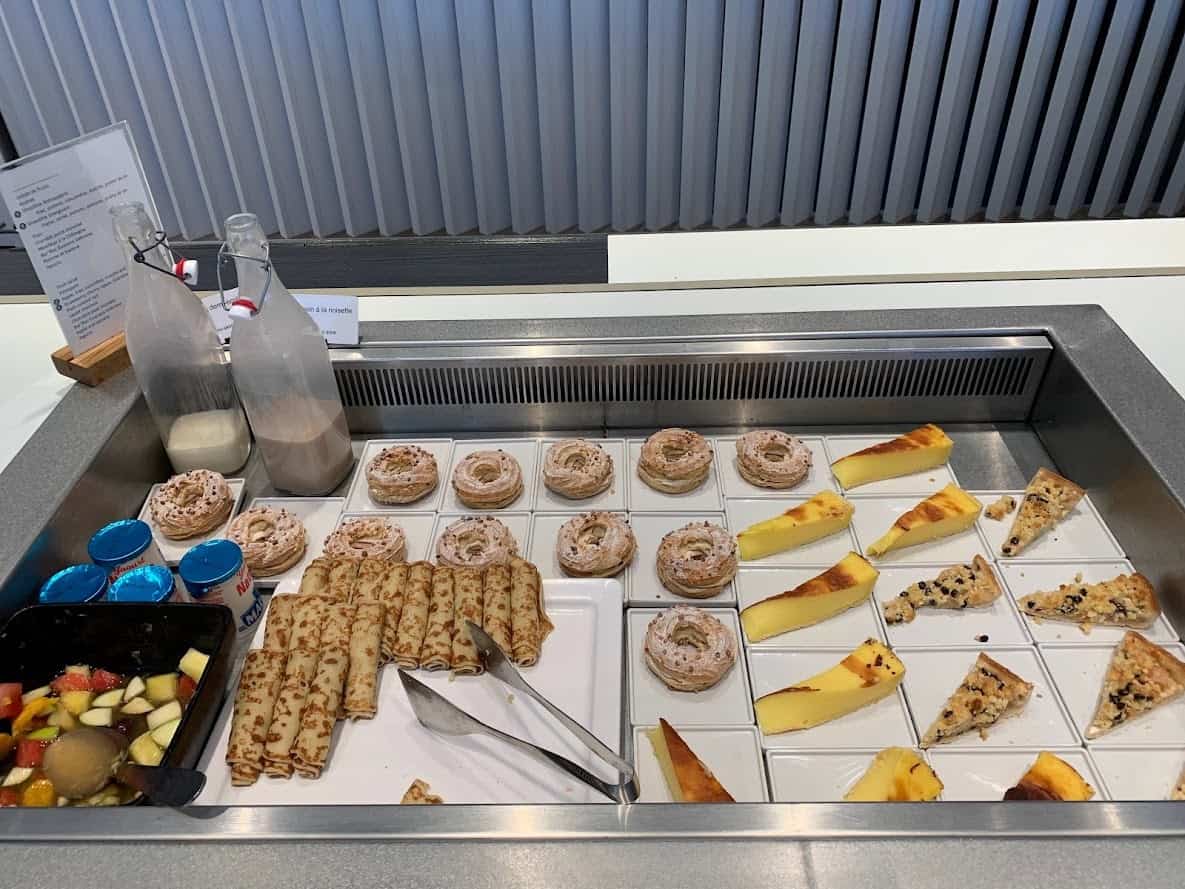 There's a small quiet area, as well as a sauna and a few nice showers.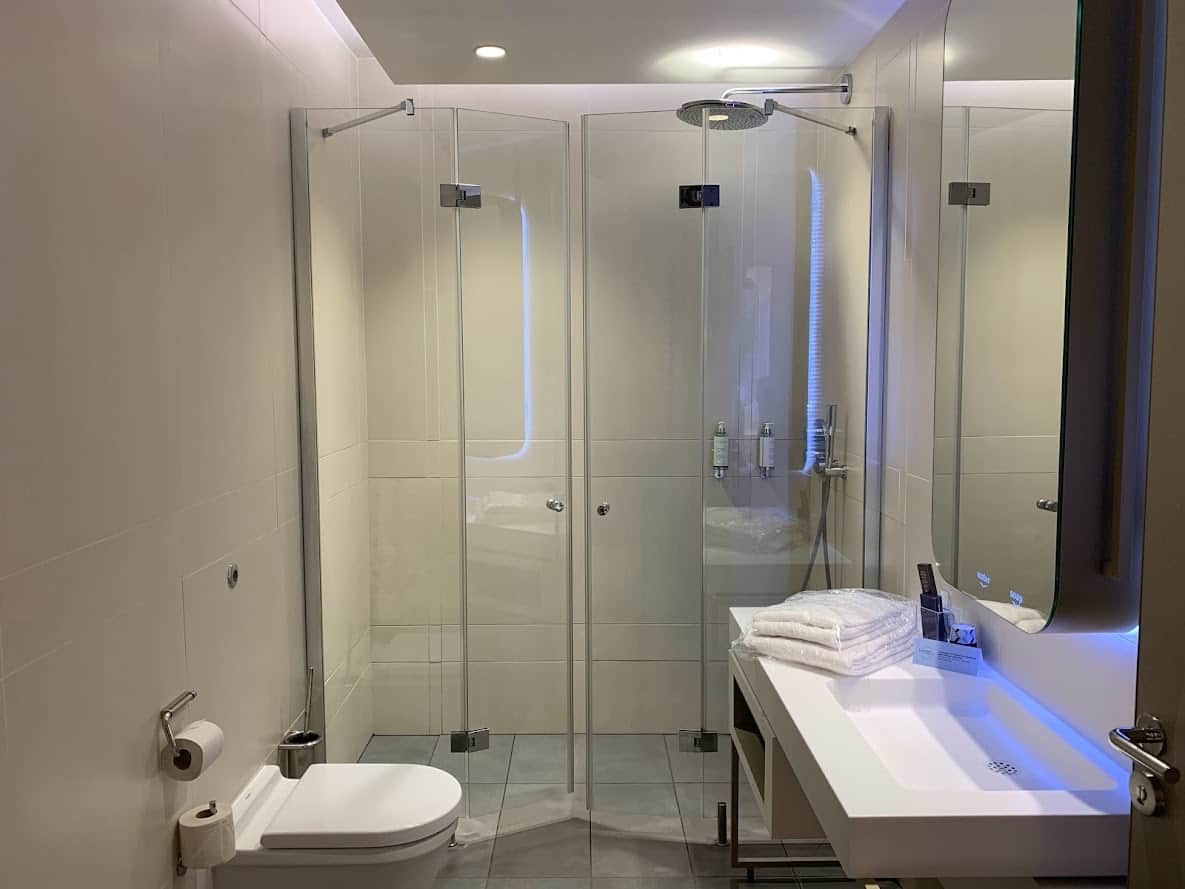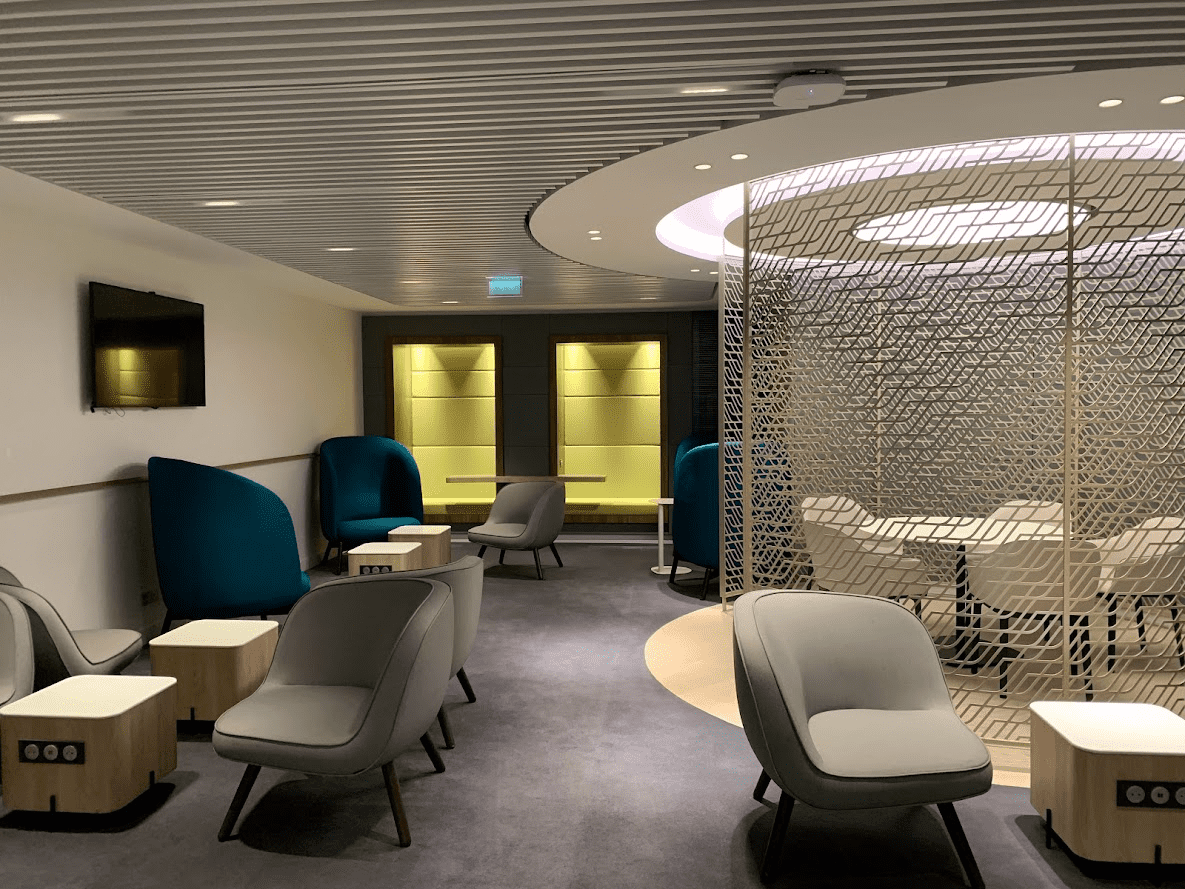 Canopy by Hilton Paris Trocadero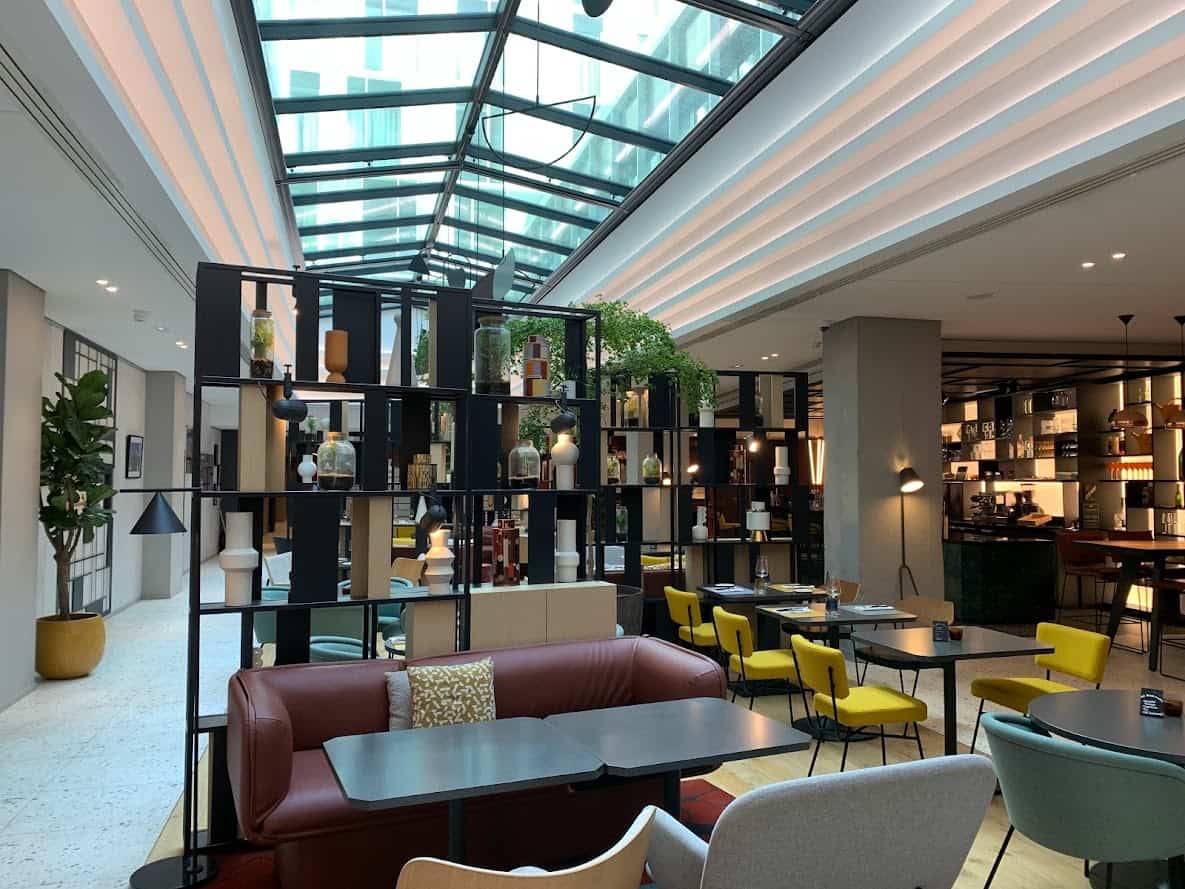 I have Globalist status with Hyatt, so my first instinct was to book a Hyatt property in Paris. A couple of months ago, the ever popular Park Hyatt Paris-Vendôme could be booked with 30,000 to 35,000 World of Hyatt points. Since then, it's gone up in category and is now a Category 8 hotel that costs between 35,000 and 45,000 points.
It's an expensive property, so using points represents a good value, but I didn't want to part with so many Hyatt points. Other centrally located Hyatt properties cost 25,000 points or more, but, based on reviews, I wasn't that impressed with any of them and decided to save my Hyatt points for another trip.
My husband and I had five Hilton free night certificates, so I looked at the Hilton properties in Paris and booked Canopy by Hilton Paris Trocadero. I liked the location, and because the Hilton free night awards are uncapped, I picked the hotel that required the most points at the time of booking.
It's possible to earn Hilton free night rewards in several ways. My husband has the Hilton Honors American Express Aspire Card that, among other great travel benefits, comes with an annual free weekend night award. I have the Hilton Honors American Express Surpass® Card that comes with a free night award after spending $15,000.
We didn't use these certificates last year and decided to use them for this trip. The certificates have an expiration date, but the points don't expire, so I always try to use the certificates first.
Canopy by Hilton Trocadero is a relatively new property located in the 16th arrondissement, close to the Eiffel Tower. In fact, you can see the Eiffel Tower from the rooftop terrace and every time you walk to or from the Trocadero metro station, which is within a two-minute walk from the hotel. The location is great for exploring the city. You can hop on one of the two metro lines (6 and 9).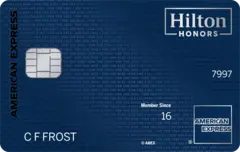 Hilton Honors American Express Aspire Card
Bonus Points
after you spend $4,000 in the first 3 months. All information about The Hilton Honors American Express Aspire Card has been collected independently by 10xTravel. The Hilton Honors American Express Aspire is no longer available through 10xTravel.
Annual Fee: $450 Terms Apply.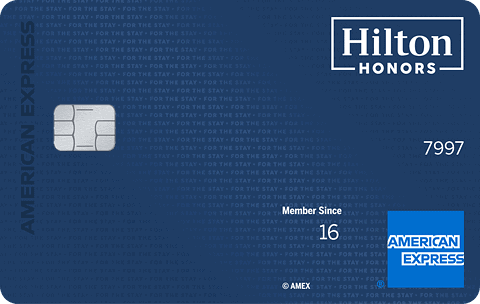 Hilton Honors American Express Surpass® Card
Hilton Honors Bonus Points
after you make $2,000 in eligible purchases within the first 3 months of Card Membership. Plus, you can earn up to $130 in Statement Credits on eligible purchases made on the Card at any of the Hilton family hotels in the first 12 months of Membership.
Annual Fee: $95 Terms Apply. | Rates & Fees.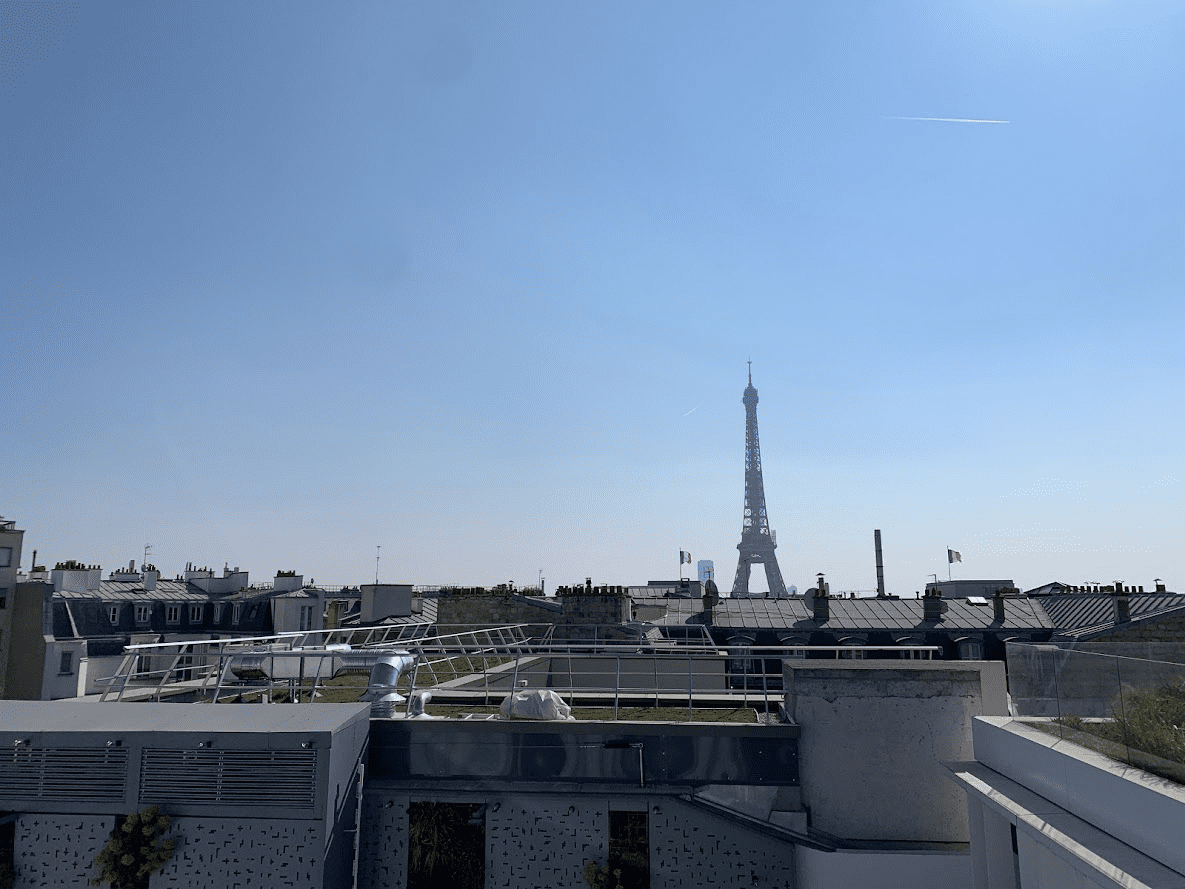 There aren't a lot of shops or restaurants in the hotel's immediate vicinity, but you can find a couple of grocery stores, shops, cafes and restaurants within a few-minute walk.
The check-in process was quick, but my or my husband's Diamond status wasn't acknowledged. We were upgraded to a premium room, which is basically a regular room but on a higher floor. Unfortunately the room wasn't ready, so we had to wait until the official 3 p.m. check-in time.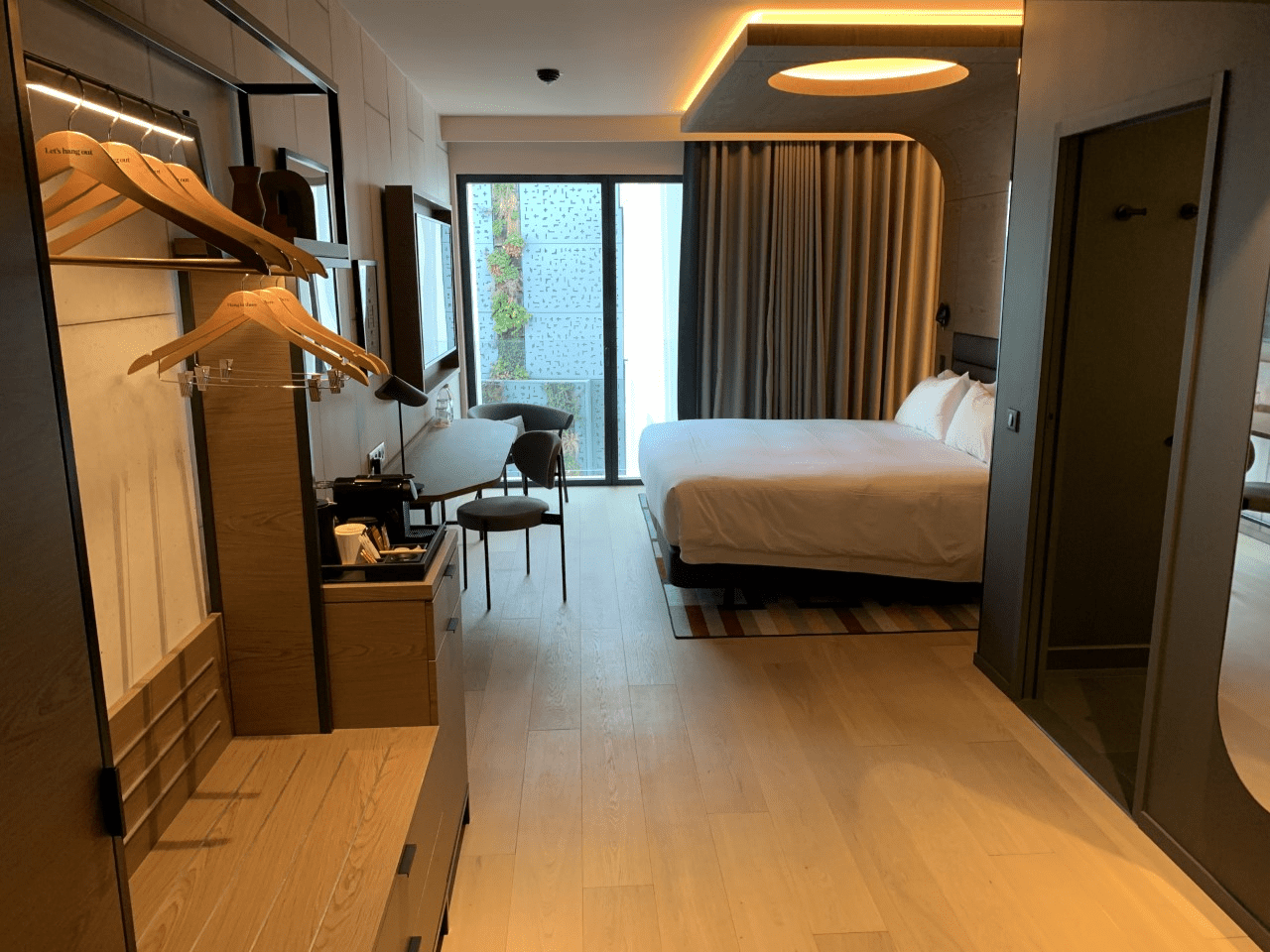 The room felt spacious and airy by Paris, or any big city, standards. Its modern design and minimalist aesthetics are really appealing. I also liked the separate shower and toilet setup.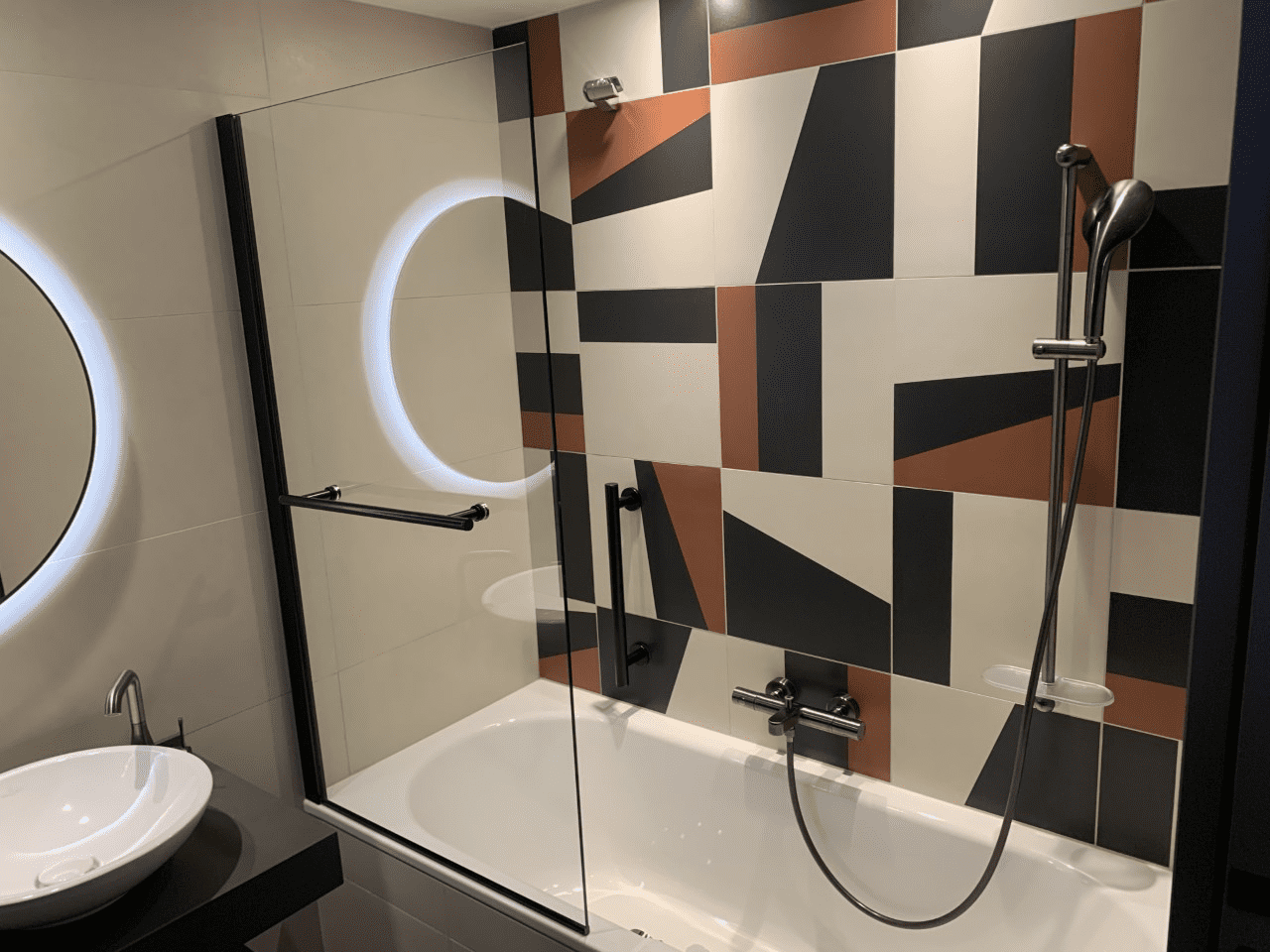 We were first assigned to a room with a bathtub, but after I asked to switch to a room with a shower, we got a room right next door.
The room was bright and sunny during the day. There was ample lighting (I can't stand dark hotel rooms), and the blackout curtains kept out all the light at night. There wasn't much of a view, though—most rooms overlook a small courtyard.
We had a minifridge in the room, perfect for storing snacks and drinks, and a tea kettle as well as a Nespresso machine.
The king bed was comfortable, and the linens and towels were wonderful. Everything felt and looked brand-new and of the highest quality.
Daily housekeeping did a great job of keeping our room cleaned and organized. This is a quiet hotel. The immediate neighborhood is pretty quiet during the day, and we didn't hear any street noise at night. I give the sleep quality five stars.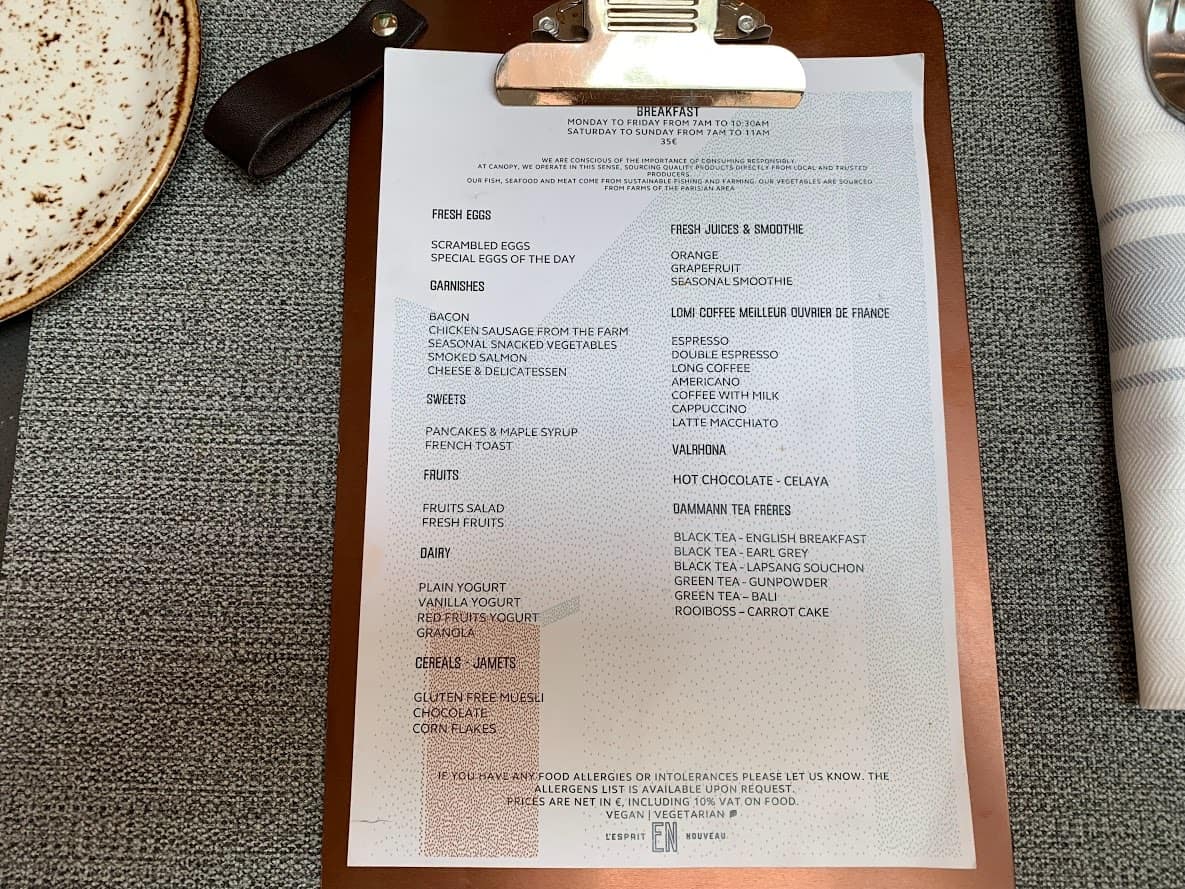 Breakfast is included for Gold and Diamond Hilton Honors members, but otherwise costs 35 euros. There's no big breakfast buffet like I've seen at other Hilton properties abroad—rather you order from a small menu and help yourself from a small bread and pastry station.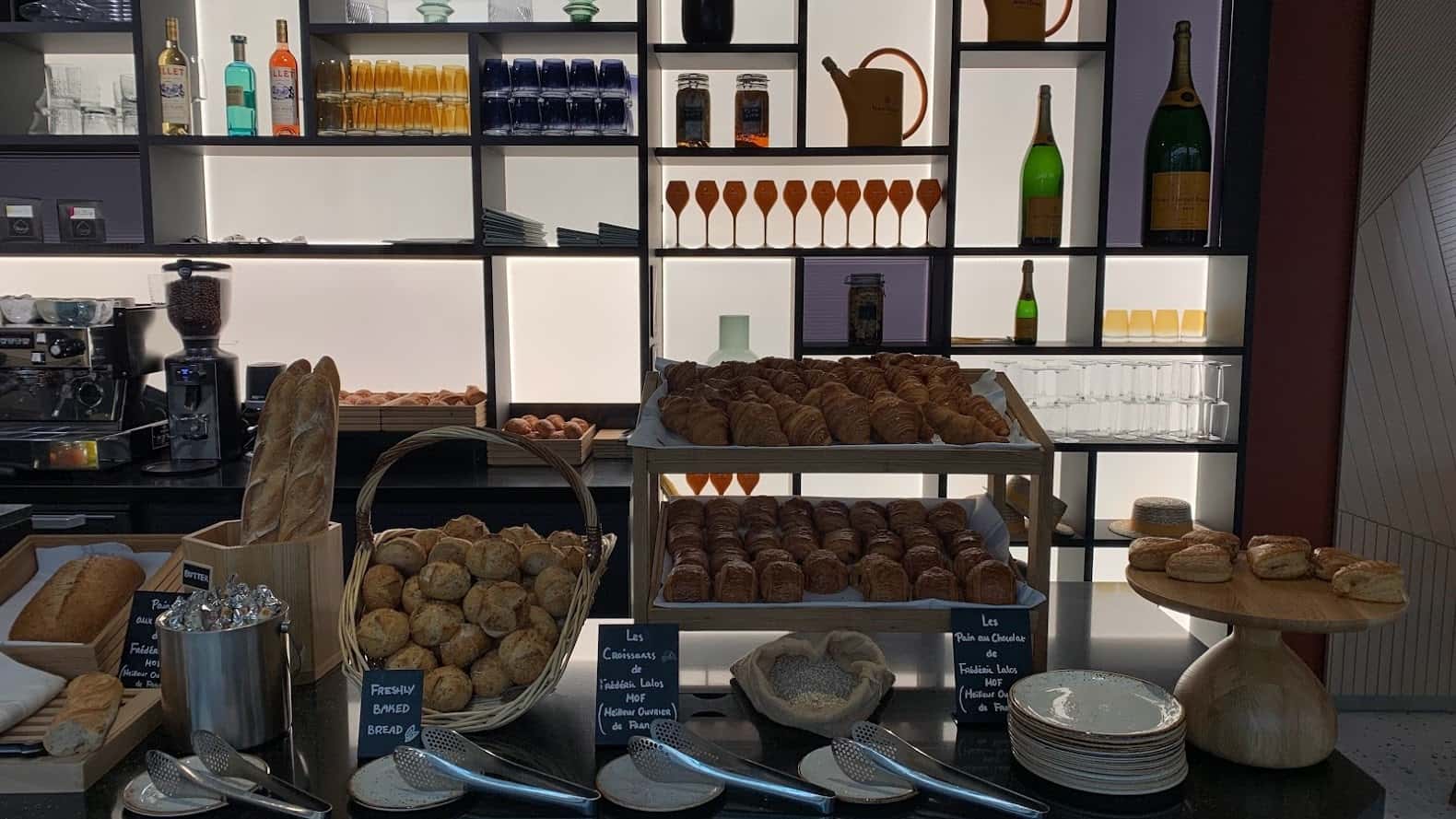 The service at breakfast was spotty and at times painfully slow. All the staff members were extremely nice and welcoming, but nobody, except one person, wrote down our orders. Only one day we got all the things we ordered on the first try, but most of the time we didn't have half the food on the first go and had to flag a server to get the rest of it.
The menu is somewhat limited and pretty basic. I expected better for a meal that costs 35 euros per person. The hotel didn't change the menu during the five nights we were there, with the exception of one egg "special." And I'm sure they could've found more than one type of ham and one type of cheese they served every day.
Gym
If you want to burn off some of the amazing French pastries or you just like to stick to your workout routine even when traveling, there's a small but well-equipped gym.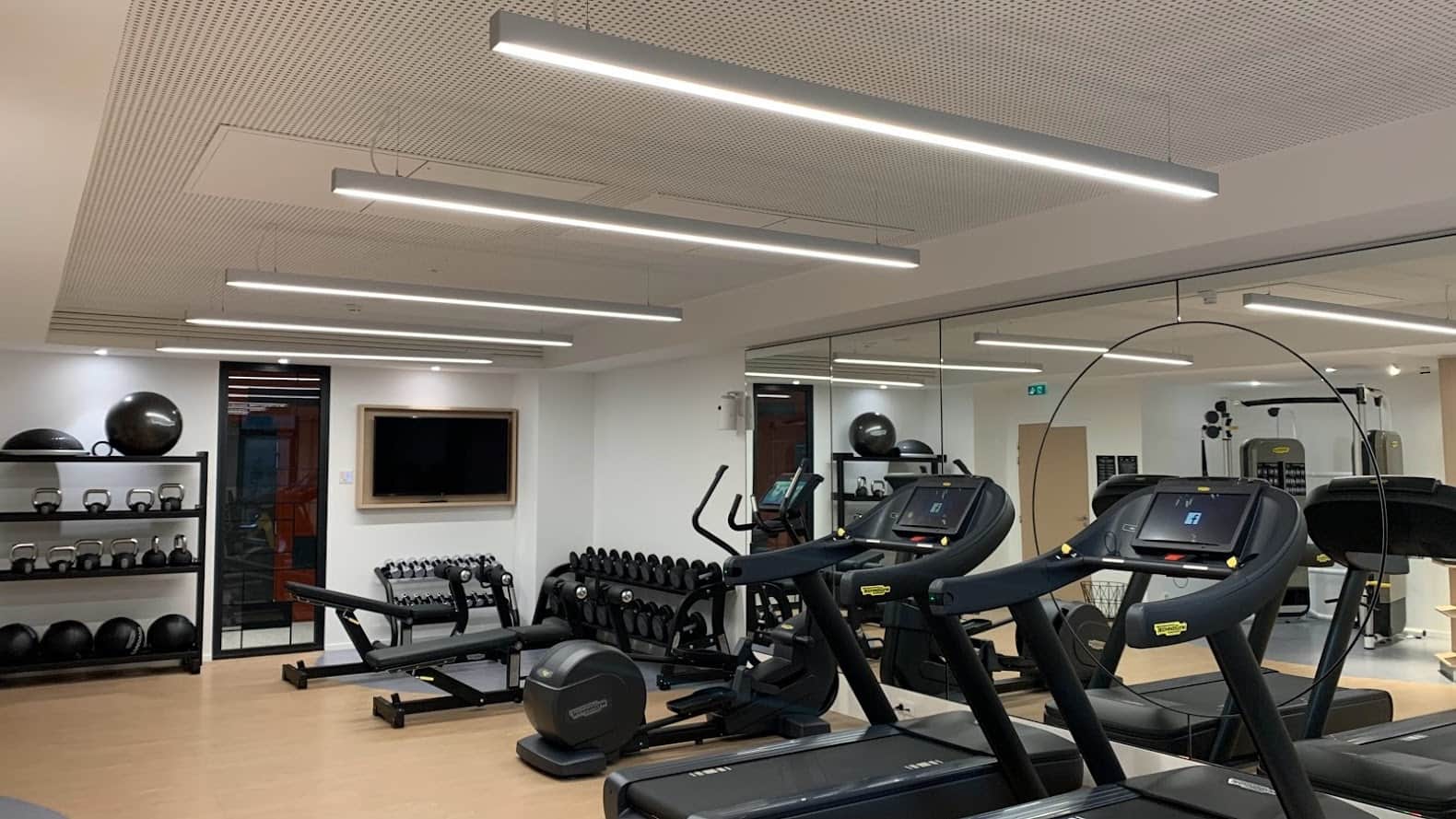 Getting to Hotel and Getting Around Paris
My Transavia flight from Tel Aviv to Paris-Orly (ORY) was uneventful. I really liked the Orly Airport because it's compact and closer to the city than Charles de Gaulle Airport.
A cab from Orly to the center city costs 32 euros. You also can take a train, and the ticket machines are located in the arrivals hall as soon as you exit the secure area.
I had to get some euros from the ATM, and the only ATMs available at Orly are owned by Euronet, not the individual banks. Beware of Euronet ATMs, which are placed all over Europe. In addition to the high fees, the exchange rate is much worse than at a bank ATM. When I saw the exchange rate, I withdrew just enough euros to pay for my cab ride.
I have a Charles Schwab Bank Debit Card, so I'll be reimbursed for the withdrawal fee.
When my husband arrived at Charles de Gaulle Airport, he had to walk around the terminal for some time before he found a bank-owned ATM. I'm going to make sure to bring some euros home with me next time, so I don't have to use a Euronet ATM again or run around looking for a bank-owned machine.
Getting around Paris is easy, you're never more than a few minutes away from a Paris metro station. The cheapest way to commute is to get a pack of 10 single tickets that cost 1.4 euros each. That's a significant savings compared to buying individual tickets for 1.9 euros. There's no need to get a transit card—using the paper tickets that you can buy at any ticket machine is just as easy. A day pass will make sense only if you intend to ride the metro more than five times in one day.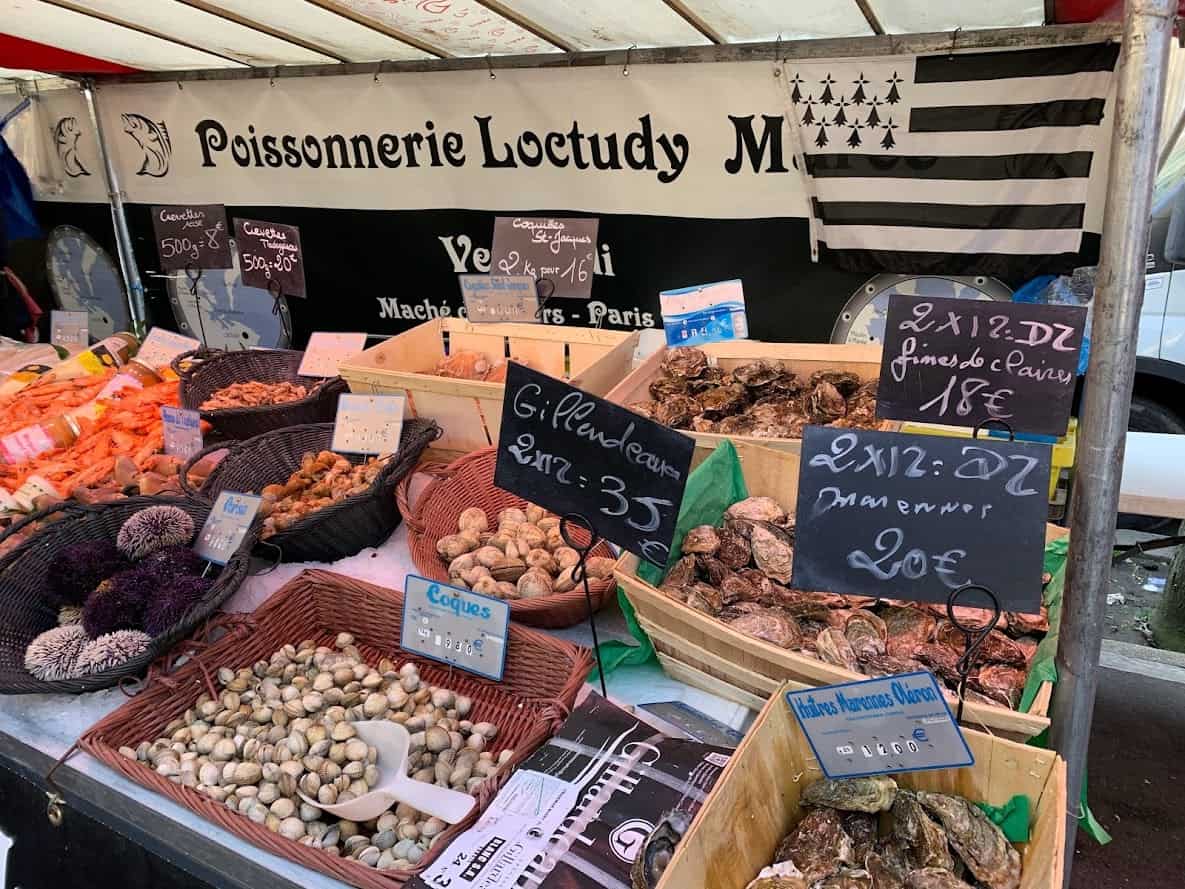 Final Thoughts
Overall, Air France offers a pleasant business-class experience, and it's a great way to get across the Atlantic.
The Canopy by Hilton Paris Trocadero is definitely a Millennials-forward hotel, but even though my husband and I are part of a different generation, we still enjoyed our stay there. We liked the spacious rooms and unfussy, modern streamlined design. The location next to a metro station was fantastic and allowed us to move around Paris easily.
I've noticed that compared to my previous visit many years ago, more Parisians, including those not working in the tourist industry, speak English. This made getting around the city and shopping at the local markets (which I highly recommend) much easier.
New to the world of points and miles? The Chase Sapphire Preferred® Card is the best card to start with.

With a bonus of 80,000 points after $4,000 spend in the first 3 months, 5x points on travel booked through the Chase Travel Portal and 3x points on restaurants, streaming services, and online groceries (excluding Target, Walmart, and wholesale clubs), this card truly cannot be beat for getting started!
Learn More
Editors Note: Opinions expressed here are author's alone, not those of any bank, credit card issuer, hotel, airline, or other entity. This content has not been reviewed, approved or otherwise endorsed by any of the entities included within the post.