In This Article
Loading table of contents …
The longer the flight, the more plane seating for your family matters. Each airline has different rules about seat selection and boarding for families, especially those with young children.
Note: Some of the offers mentioned below may have changed or may no longer be available. The content on this page is accurate as of the posting date; however, some of our partner offers may have expired. You can view current offers here.
There are a lot of extra things to have to consider when traveling with kids. You must pack more bags, keep track of everyone through airports, and rent larger vehicles and accommodations. One aspect that people often ignore until it's too late is plane seating arrangements for your family.
The longer the flight, the more plane seating for your family matters. Each airline has different rules about seat selection and boarding for families, especially those with young children.
Plane seating for families can really make or break a flight.  Between having to reach over strangers to fix a child's electronic device, or ferrying kids back and forth to the lavatories, where you seat your family on a plane can make the difference between a peaceful ride and a stress-fest.
Family pre-boarding is a God-send that allows families a little extra time to settle in before a flight.
Purchasing Plane Seats for Your Family
Southwest's open boarding is the bane of a business traveler's existence but it is a gift for plane seating for families.
Southwest allows families to board the plane between their 'A' Group, which is the first group to board, and the rest of the travelers. This creates plenty of open seats for boarding.
In order to ensure you sit next to your child on most other airlines, you will have to pay a fee or purchase a service above 'Basic Economy'.
Paying for these extras is well worth it.
While sometimes a kind stranger will move seats so that you can sit near your child, and often airlines automatically attempt to assign plane seating for families together when booked on the same reservation, the last-minute surprise of sitting separately from your child while you're trying to board can add a lot of stress to the flight.
Major airlines like Delta, American Airlines and United, cheapest basic economy tickets require you to purchase a seat selection. Discount airlines, like Spirit and Frontier, also charge for seat selection. Because Southwest uses 'open boarding', there is no assigned seating. This is why plane seating for families is so much easier on Southwest.
Having a co-branded card for your airline or travel credits on a premium travel card can offset the fee for that seat selection on some airlines.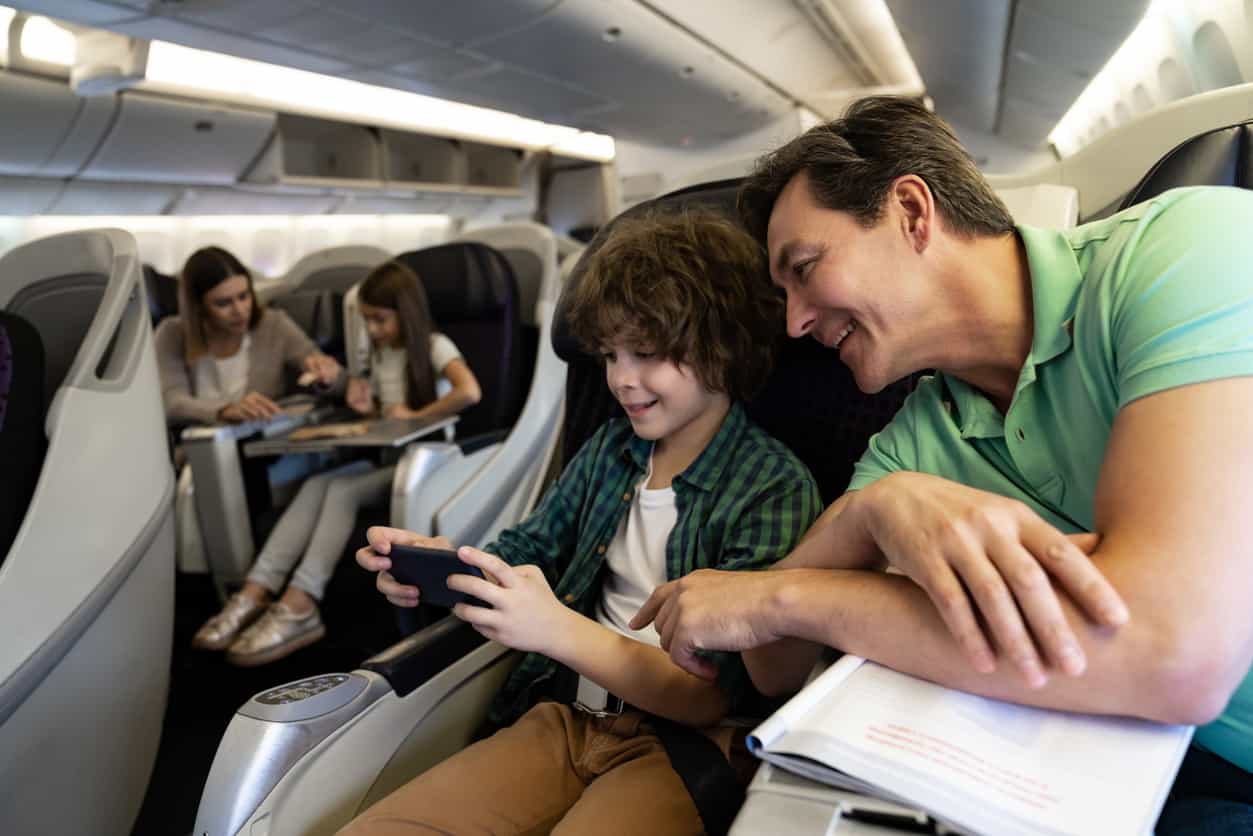 Boarding the Plane With Your Family
If you have kids, you know that even going to a restaurant requires a logistics degree. Getting your family and all the stuff they need to stay occupied in another state or country is a higher level of logistical juggling. Family pre-boarding is a God-send that allows families a little extra time to settle in before a flight.
Most airlines that offer family pre-boarding allow families to board after the first boarding 'group' which is normally after the frequent flyers and people who paid to board first.
For instance, Southwest allows two adults traveling with a child six years and younger to board the plane early.
With Southwest, a family of four with two children under six can board early and select their seats.  However, technically, the gate agent doesn't have to let your whole party board together. For instance, if you are traveling with teenage or adult children along with a child under six only two adults and the child will be able to board early.
With a large family with both young and older children, you can be sure at least two of the adults in your party can sit together next to the child on a Southwest flight.  In practice, most airlines with family pre-boarding seem to let boarding families decide who is in their 'party' within reason, but be sure to know the policy before you board.
Of the major airlines, family pre-boarding is a little elusive.  Some data points suggest that while it isn't routine, you can ask a gate agent for family pre-boarding and they will often accommodate you. It never hurts to ask. Plus, this will clear up any potential miscommunication and help set the agent's expectations.
American Airline's policy states that you may request family pre-boarding if you are traveling with a child under two years of age. Which is a little silly, because it's the five-year-olds that slow you down.
Plane seating for families is an issue discount airlines deal with more often, so you'll find family pre-boarding more popular with discount airlines like Southwest, Frontier and Spirit.
If you plan on family pre-boarding, ignore the 'Zone' or 'Group' on your ticket and stand near the gate waiting for the gate agent to call for 'family pre-boarding'.
Below are some of the available policies on pre-boarding for reference:
| | Delta | United | American Airlines | Spirit | Frontier | Southwest |
| --- | --- | --- | --- | --- | --- | --- |
| Seat Selection | Must purchase Main Cabin or pay fee with Basic Economy | Must purchase United Economy or pay fee with Basic Economy | Must purchase American Economy or pay fee with Basic Economy | Must purchase seat selection | Must purchase seat selection | Open Boarding. Cannot purchase seat selection. |
| Automatic Family Seating Policies | Will prioritize family seating when automatically assigning seats- No guarantees. | Will prioritize family seating when automatically assigning seats - No guarantees. | Will prioritize family seating when automatically assigning seats - Will seat Child by at least 1 adult. | No guarantees. | No guarantees. | Choose seats upon boarding. |
| Pre-Boarding | No pre boarding for families | No pre boarding for families | Upon request traveling with children under 2 | Family pre-boarding after 'Zone 2' | Family pre-boarding after 'Zone 1' | Family pre-boarding after 'Group A'. |
Plane Seating for Your Family
Once you are on the plane comes the key question: "Where should I sit?".
Whether you choose your seats when purchasing the ticket, or you are choosing from open seating, plane seating for your family's air travel can make or break a flight.
An important thing to consider when choosing your seat for kids on the plane is how quickly you will need to deplane. Typically, when flying with my family of seven, I know we aren't going anywhere quickly. I schedule plenty of time between flights and we move as slowly as we need to.
I seat my family in the back of the plane, where we are within easy reach of lavatories and flight attendants should our kids have a need. We also keep the boarding process smoother for everyone else boarding so there's no pressure as we get situated.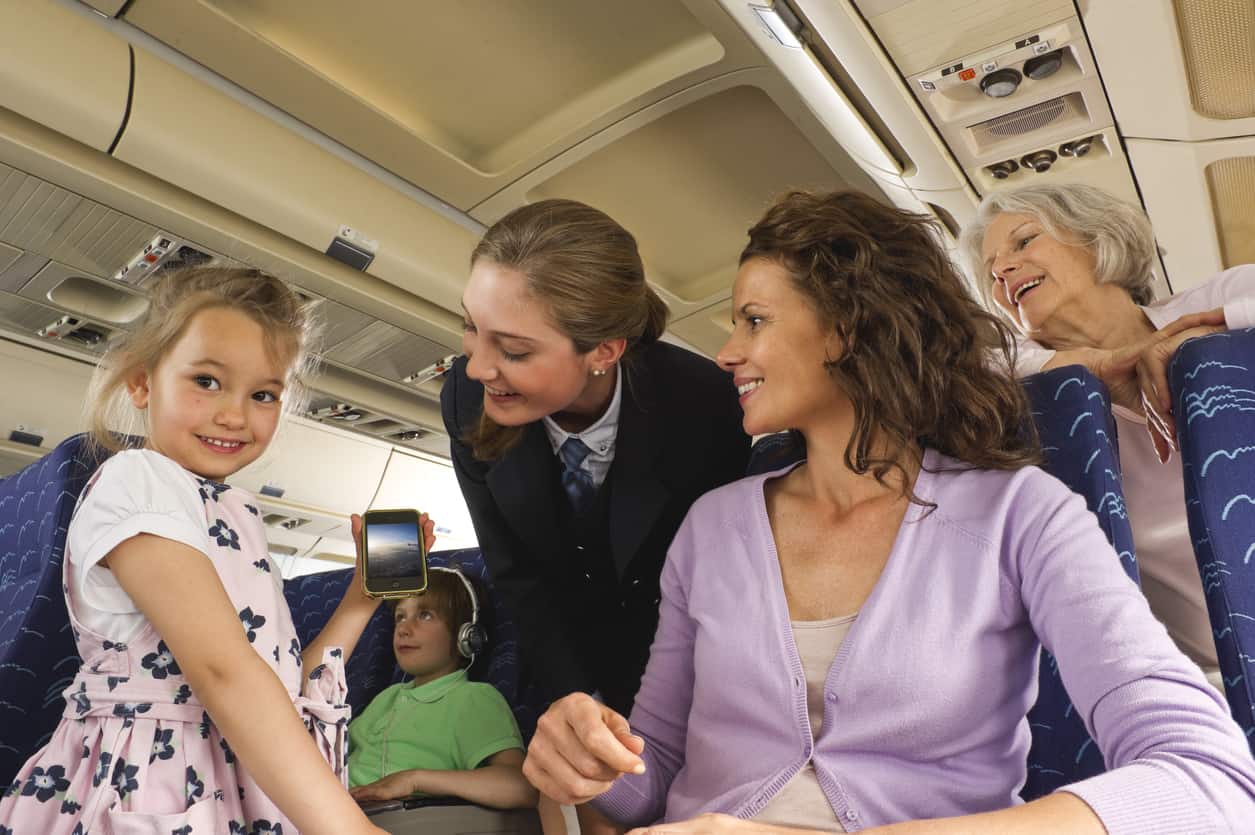 If you are going to need to deplane quickly with your kids, I would suggest sitting as far forward as possible, and potentially asking the flight attendant if they could help you deplane first along with anyone who may need physical assistance getting off the plane.
When your family has to split up between rows, either because your family is a bit bigger than a full row or because your seat assignment prevents you from being in the same row, try to secure seats on the aisles where you are within arms-reach of your child, especially those who will most likely be in need of assistance.
Another, less assured, tactic that helps improve flights is to negotiate with adults traveling alone that might be seatmates with your child in order to prevent any possible problems.
Asking single adults near your children to switch seats can work well, but it can be considered bad form.
Improving that adult's position in exchange for sitting near your child is a great way to approach a seat swap situation.
For example, saying "Hello, I'm on an aisle and you're in a center seat. Would you mind if I sat next to my child?" instead of: "Hey, can I have your aisle seat so I can sit closer to my kid." would improve your odds considerably.
Remember, children can't sit in the emergency exit row as they can't perform the duties in the unlikely case of a crash landing. Although the extra legroom is tempting, don't attempt to seat your family on those rows. The flight attendant will move you.
Flying With Infants
Most airlines consider children under two an infant. You have two main options for how to seat your infant on a plane.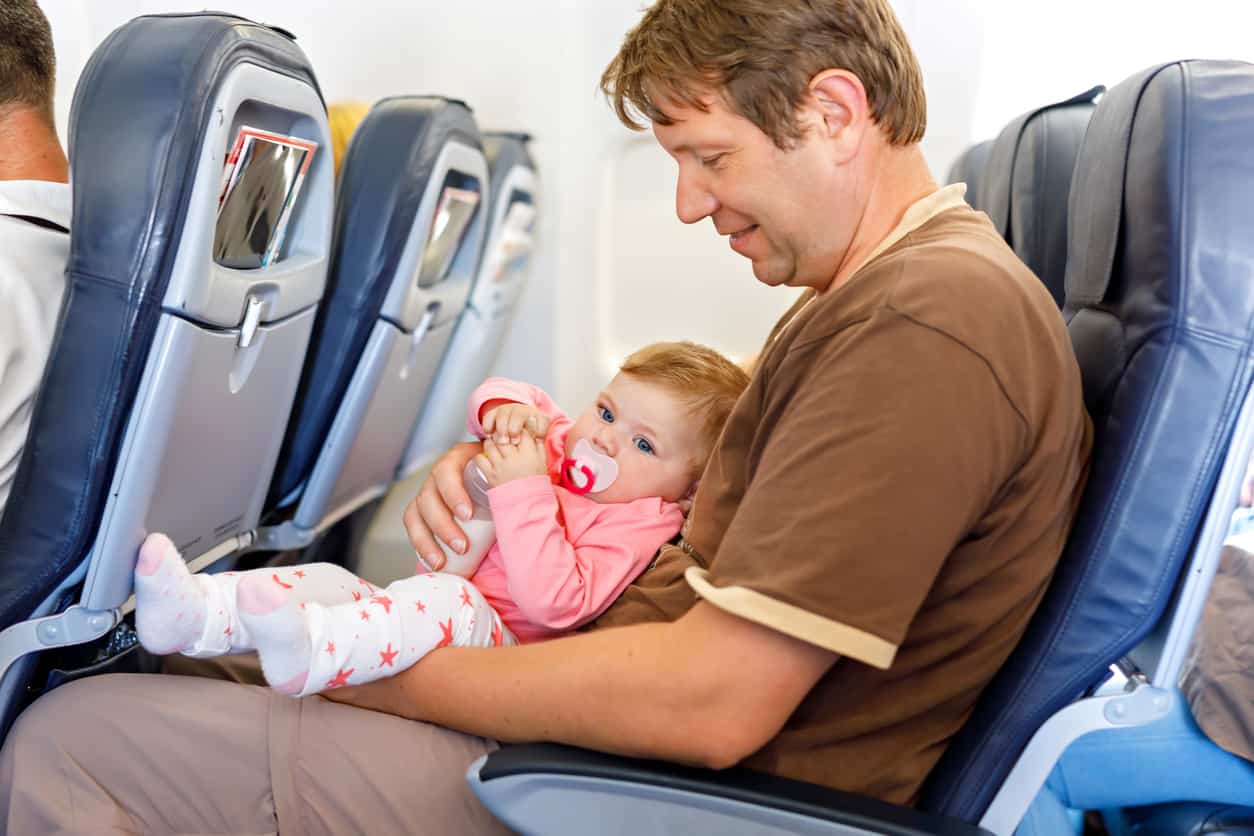 Lap Child
A lap child is an infant without a specific seat on the plane. They will, as the name suggests, sit on the lap of a ticketed adult.
Generally, the infant's ticket is either free, or reduced as a percentage of the adult's ticket. Lap children must be on the lap of the ticketed adult and cannot take up a seat on the plane. Airlines may ask for a birth certificate for proof of child age for lap children, even if it's obvious they are under two, so be sure to keep it handy.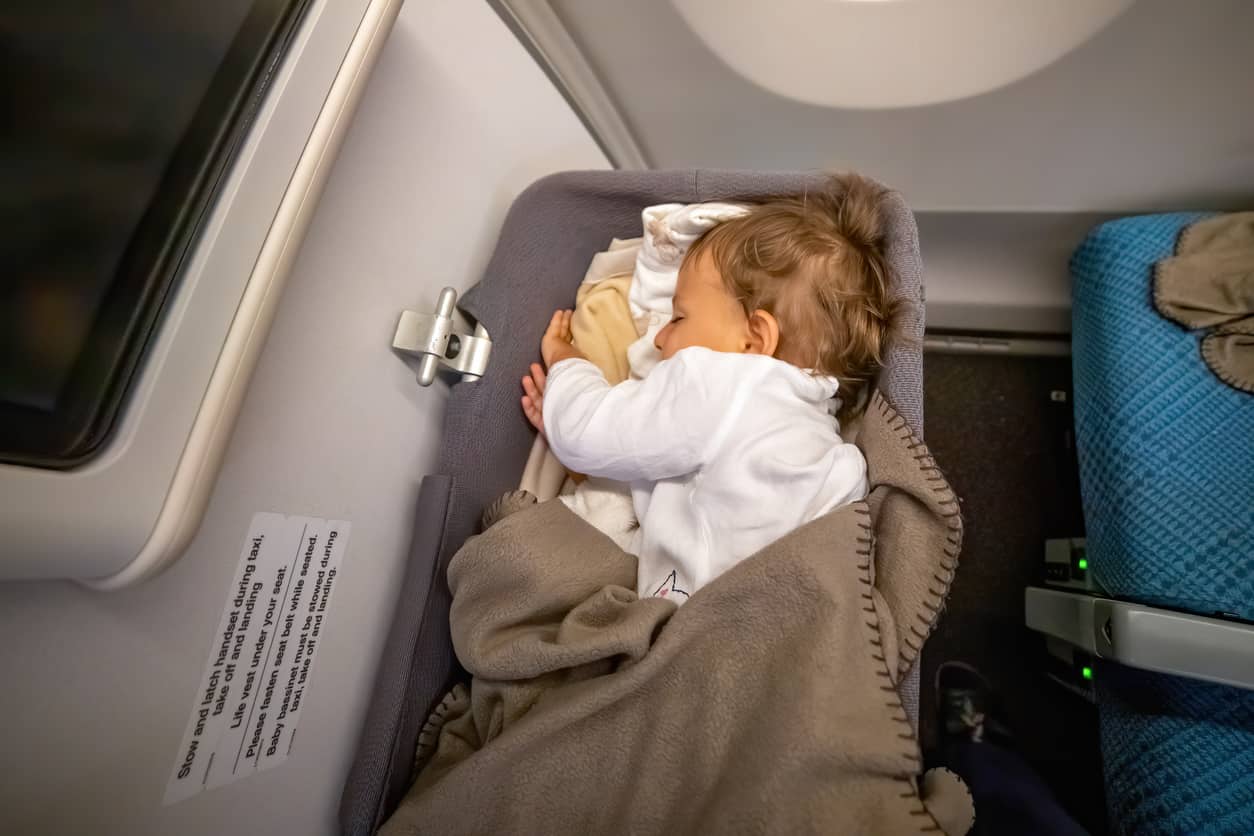 Alternatively, you can purchase a full ticket for your infant and secure them in an FAA-approved car seat. Pay careful attention to dimensions, FAA approval, and expiration date of the car seat. Without meeting these requirements, the child will be unable to fly. Some airlines offer a limited number of bassinets on the plane that you can reserve ahead of time.
Do your best to plan your infant's nap just before or just after boarding, so they will be asleep for as much of the plane ride as possible. Every child is different but in my experience, the roar of a plane engine is not quite the same as the hum of road tires as it comes to lulling your child to sleep.
Final Thoughts
Whether you travel with a large family or just one child, plane seating for your family adds a layer of complexity to your travels, but it can make a big difference on your in-flight experience.
Pay the extra bit to choose your seat with your kids to avoid the uncomfortable situation of having to ask a stranger to switch. Communicate clearly with flight attendants and gate agents about your families pre-boarding needs. Select your child's seat on the plane as close to the lavatories and flight attendants as possible.
Just a little pre-planning and coaching for your child can make you and your family's
travel experience a breeze.
Chase Sapphire Preferred® Card
New to the world of points and miles? The Chase Sapphire Preferred® Card is the best card to start with.
With a bonus of 60,000 Chase Ultimate Rewards® Points after you spend $4,000 on purchases in the first 3 months of account opening. , 5x points on travel booked through the Chase Travel Portal and 3x points on restaurants, streaming services, and online groceries (excluding Target, Walmart, and wholesale clubs), this card truly cannot be beat for getting started!
Learn How to Apply
Editors Note: Opinions expressed here are author's alone, not those of any bank, credit card issuer, hotel, airline, or other entity. This content has not been reviewed, approved or otherwise endorsed by any of the entities included within the post.