In This Article
Loading table of contents …
If a Vienna trip is on your radar, going during Christmas time may just be the best way to experience this classical city.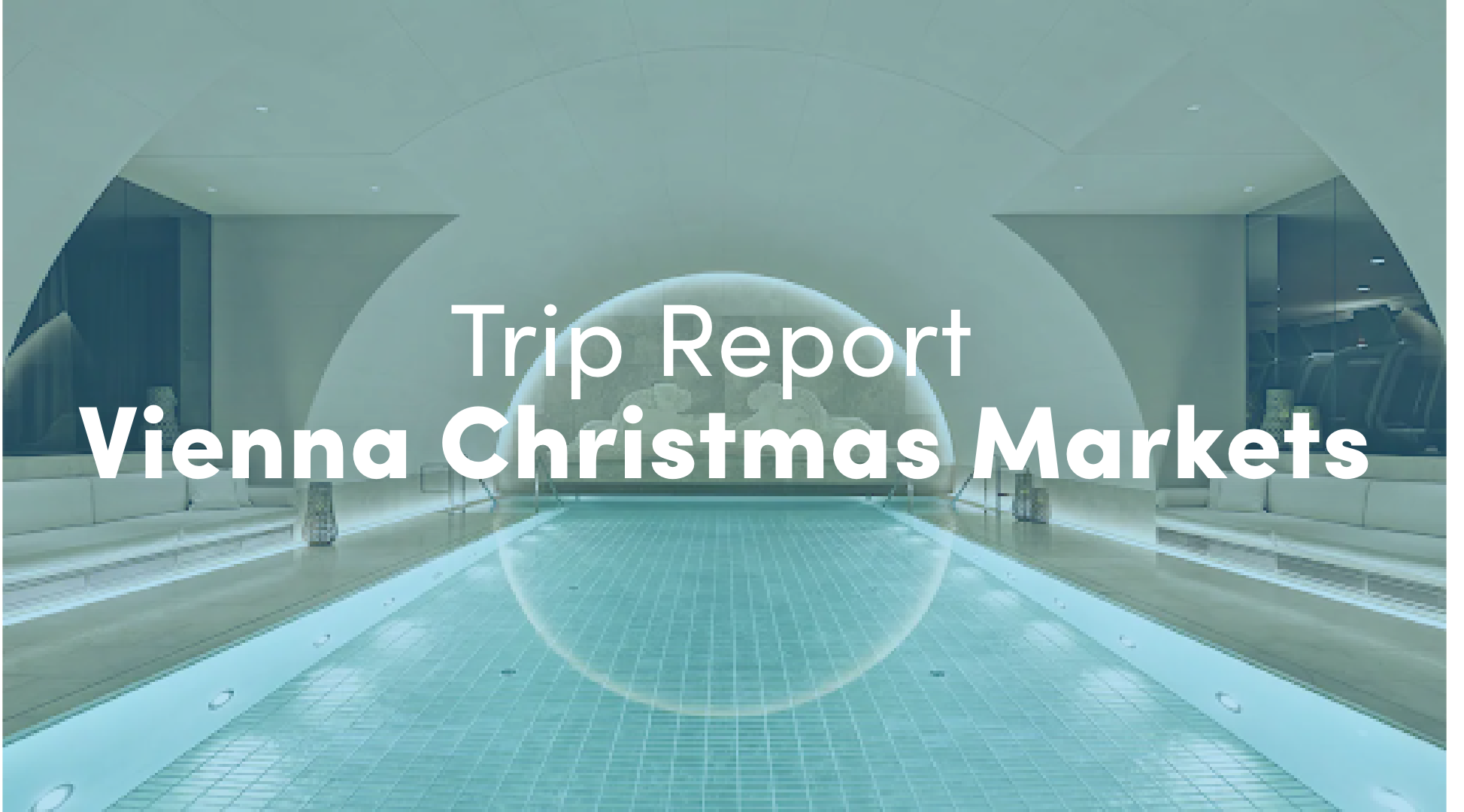 Note: Some of the offers mentioned below may have changed or are no longer be available. The content on this page is accurate as of the posting date; however, some of our partner offers may have expired. You can view current offers here.
Traveling in Europe right now is not for the faint of heart. One should be able to adopt and pivot quickly to the constantly changing travel restrictions. If you don't mind dealing with some degree of uncertainty, your trip could still be as rewarding and as fun as before the pandemic. In return for some inconvenience, you get thinner crowds, fewer tourists and not a tour bus in sight.
My trip to Vienna in November of 2021 had it all, including one of my favorite cities all decked out for the holidays, charming Christmas markets, great shopping and an upgrade to a stunning suite. This trip also included dealing with the airline about my delayed and damaged bag and leaving Vienna on the last day before it went into a full lockdown.
If you've read any of my trip reports before, you know that Europe is my absolute favorite destination. And because I have family in Israel, I often try to combine my European trips with a side trip to Israel.
How I Booked My Vienna Christmas Markets Trip
There's no great redemption story this time. This summer, United had a great business class fare sale, and I jumped on it. The cash price for a business-class round-trip from my home airport of Cleveland, Ohio (CLE), to Vienna (VIE) was just $1,500. Considering that economy fares from Cleveland to anywhere to Europe often hover around $1,000 or higher, this was a no-brainer.
I could've bought this ticket through the Chase Ultimate Rewards travel portal and used Ultimate Rewards points at 1.25 cents each, but I wanted to save my points for a higher-value redemption. So I did the boring thing and paid cash. At the time, there were a lot of targeted spending offers on various Chase co-branded credit cards, including my United℠ Explorer Card.
The card offered 5X miles on spending up to $1,500 on travel, so I checked the travel protections offered by the United Explorer Card, and it was identical to the travel protections (trip delay, baggage delay, etc.) offered by my husband's Chase Sapphire Preferred® Card, so I used the United Explorer credit card. I was happy to earn 7,500 United miles on the purchase plus redeemable miles for the actual miles flown.
I then needed to figure out how to get from Vienna to Israel. Luckily for me, American Express was offering a 20% transfer bonus to Air Canada Aeroplan. So I transferred my Membership Rewards points to Aeroplan and booked a business-class ticket from Vienna to Tel Aviv, Israel (TLV), for 25,000 points. It's a short 3.5-hour flight, and I could've booked an economy ticket with just 12,500 points, but when you factor in the cash price of the checked bag and the seat selection, booking business class made sense, so I decided to splurge.
For my flight back to Vienna, I booked a cash fare on Wizz Air. I've flown on Wizz Air before and was happy with the service and the brand-new, clean aircraft they fly. Because it's a no-frills airline, I always buy a package that includes extra legroom seat selection, a checked bag and a carry-on.
Delayed Bag and Other Misadventures
If you fly enough, having your bag left behind is not a matter of if, but a matter of when. This happened to me a couple of times on the way home when my bag didn't make it on a plane with me. Not a big deal when the airline delivers it the following day and gives you a voucher for your trouble.
However, this time, Austrian Airlines left my bag at Newark Liberty International Airport (EWR). I thought my 90-minute connection was enough, but maybe because my incoming flight arrived at Terminal C, and the flight from Newark to Vienna departed from Terminal B, my bag was left behind.
Speaking of changing terminals in Newark, there's no airside connection between Terminal C and Terminal B, so I had to exit the secure area, take the train to Terminal B and go through security again. Terminal B doesn't have a TSA Precheck line, so it takes a while to go through security using the regular line. A few European carriers depart from Terminal B, so keep that in mind.
If you are reading this and still don't have Global Entry, which includes TSA Precheck, I highly encourage you to get it now. There are many credit cards that come with a Global Entry credit, so there's no excuse not to have one, even if you travel just a couple of times a year.
After seeing how long it took me to get from one flight to another, I didn't have high hopes for my bag making it on the same flight as me. That turned out to be the case, and after filling out the missing bag paperwork at the Tel Aviv airport, I went home.
The airport employee told me that I could buy toiletries and other necessities while I waited for my bag, but she wouldn't specify how much I could spend. The next flight from Vienna wasn't till the following evening, so the next morning I went shopping and bought a few necessities.
Two days after arriving in Israel, I got an email from Austrian Airlines saying that my bag was damaged in transit. When it was delivered, it was obvious that the suitcase couldn't be repaired. I was staying in Israel only a few days, so what does one do in a situation like that? I tried to reach out to Austrian and ask them what my course of action was, but that department wouldn't answer or respond to emails.
I didn't want to buy a new suitcase in Israel, so my mom lent me one of hers so I could fly to Vienna.
Two weeks after I came back, as in almost a month since the first flight, I finally heard back from Austrian. They wanted me to take the damaged suitcase to a local repair shop for an estimate of the repair. And, in case the bag was beyond repair, they wanted a letter from a repair shop to that effect.
After some pushback from me and a couple of back and forth messages, Austrian agreed to compensate me for the old suitcase, as well as refund the money I spent on the few necessities I had to buy in Israel. They also gave me a 50 euro voucher for a future flight on Austrian Airlines for the inconvenience. As I am writing this, five weeks after the trip, I can report that I was reimbursed for the few things I had to buy, but I am still waiting on compensation for the destroyed bag.
The United Explorer Card that I used to book the flights comes with good bag delay insurance. While I was waiting for Austrian's response, I started an insurance claim. The insurance adjuster wanted to see what Austrian pays out first, and as it seems I'll be made whole by the airline, I haven't sent any follow-up documentation yet to the insurance company.
And finally, as if all that wasn't enough to deal with, Austria was going into a full lockdown, à la lockdowns 2020, one day after I was scheduled to leave Vienna. I've got incredibly lucky with my travel dates and was fortunate enough to avoid all the hassle of changing my ticket.
The possibility of this happening was always at the back of my mind, and, luckily, this trip wasn't affected. However, if you are planning on traveling to Europe any time soon, keep in mind that travel rules and restrictions can turn on a dime. Getting in touch with the airlines might also be problematic, and you could be in for long hold times.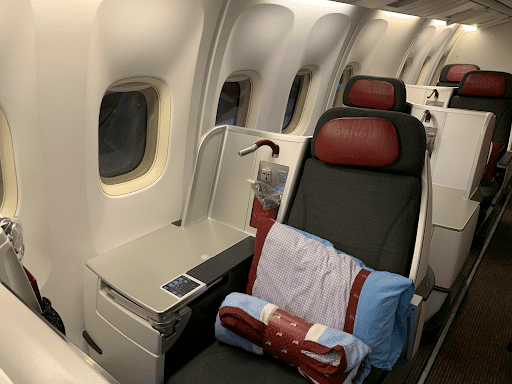 Austrian Airlines Business Class Review
I booked two separate tickets: one from the United States to Vienna and another from Vienna to Tel Aviv. Because both of them were on Star Alliance carriers, I asked the United check-in agent to check my bag all the way through to Tel Aviv. This is not guaranteed and will largely depend on the agent, but I've been lucky every time I asked.
Austrian doesn't have its own business-class lounge at Newark, and Star Alliance passengers flying from Terminal B can use either SAS Business Lounge or Lufthansa Business Lounge. I only had about 15 minutes before the boarding started, so I made a quick stop at the Lufthansa lounge.
The lounge was small, crowded and looked uninviting. The food offerings were limited and just looked sad, and there was no alcohol.
When I approached the gate, I was asked to switch my regular mask for the KN-95 mask. Austrian Airlines has this requirement in place for the foreseeable future, so keep that in mind if you are flying Austrian or plan to transit through Vienna International Airport.
I've flown Austrian Airlines in business class before, and it's a great way to get across the Atlantic. The cabin crew are friendly and professional; the service is great; the food is delicious; and the seat is quite comfortable. I perk up as soon as I hear their boarding music, which, unsurprisingly, is a collection of Strauss waltzes. I think of it as the soundtrack of Vienna.
Pro tip: Whether flying economy or business, bring a pair of disposable hotel slippers with you. You'll be glad to pop off your shoes after takeoff and enjoy your shoeless flight. I always have a pair in my carry-on bag for long overnight flights.
The amenity kit had all the standard items, such as the eye mask, earplugs and socks.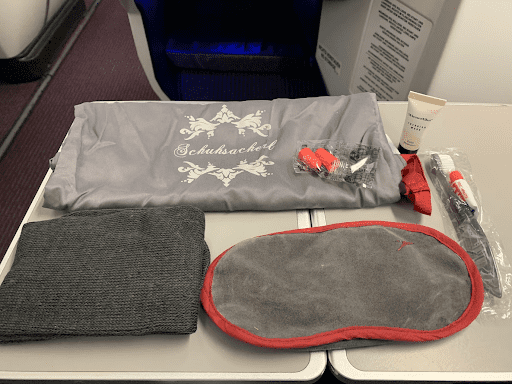 The in-flight menu looked good, but I'd give the quality of the food 4 stars. The pre-departure beverage service is back. However, the two best things about Austrian's catering aspects—the appetizer and the dessert carts—unfortunately aren't back yet.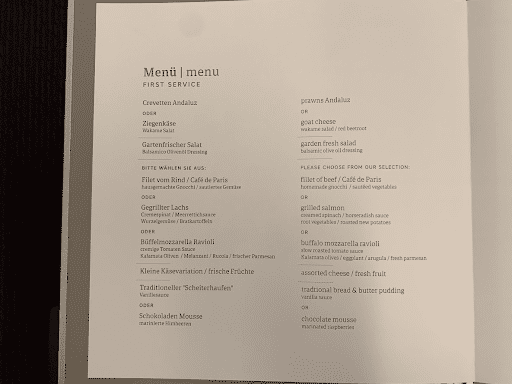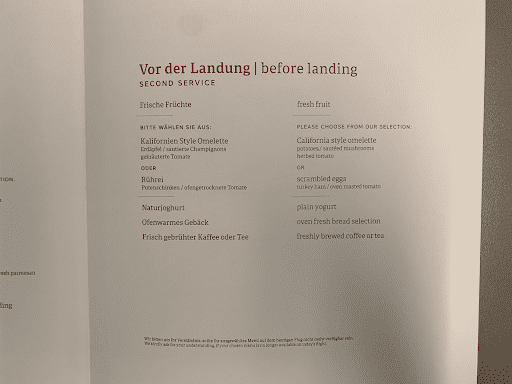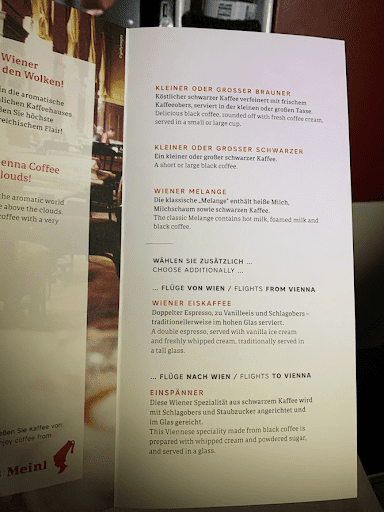 If you like coffee, you'll love the coffee service in Austrian business class, and the melange especially is delicious.
Vienna International Airport
The Austrian Airlines Business Lounge in Vienna in Terminal G was nice but crowded. The food was adequate but nothing special. It does have showers, and you'll have to ask the front desk agents to let you in if you'd like to take advantage of that great lounge amenity.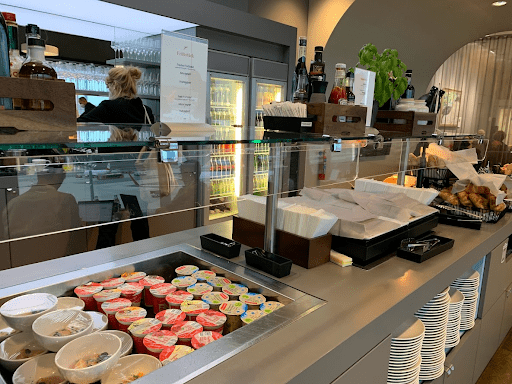 The Vienna airport was pretty crowded indicating that travel is definitely on the rebound. If you've traveled in the last year and gotten used to empty airports and short lines, now is the time to adjust your expectations as the lines are getting longer everywhere.
The first five rows in intra-Europe business class, including flights to Tel Aviv, are actually just regular economy-class rows with a middle seat blocked off. Service, as has usually been my experience when flying Austrian, was impeccable. I am always amazed at the fact that the European airlines manage to serve a delicious meal on a short flight.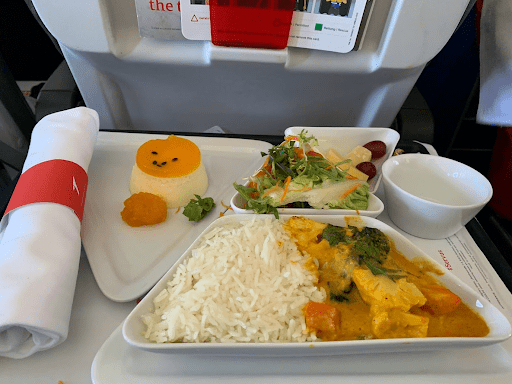 Park Hyatt Vienna Review
I've had my eye on Park Hyatt Vienna for a while, and because I've earned the World of Hyatt top-tier Globalist status in 2021, I decided to splurge. This is a Category 6 property that can be booked with 21,000 to 29,000 points, depending on the season. I booked it for 25,000 points per night just before the new award chart took effect.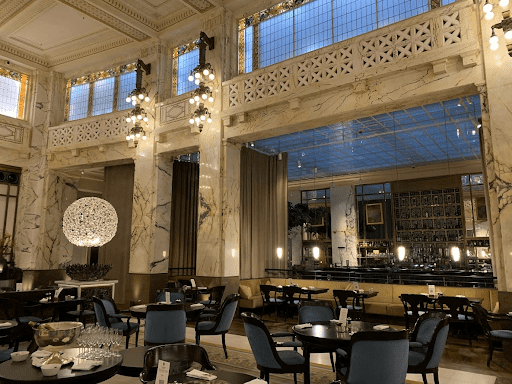 After my four-night stay at this wonderful hotel, I can say with 100% certainty that it was worth the splurge! The hotel occupies the former building of the Central Bank of Austria, and it's just as beautiful in person as the pictures on the hotel's website.
As a Globalist, I was upgraded to a stunning two-room suite and received free breakfast. My choice was either to get the room service or eat breakfast in the absolutely stunning Bank Brasserie & Bar restaurant.
The entire hotel is an exquisite example of the glamorous art deco style, which is evident in every little detail.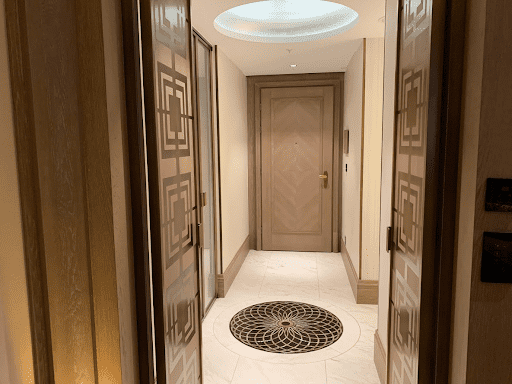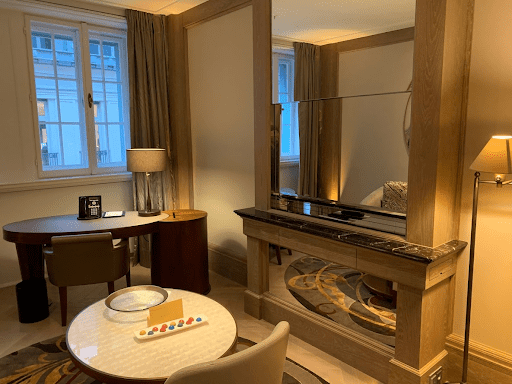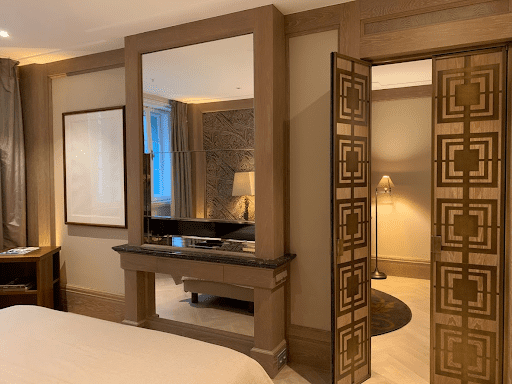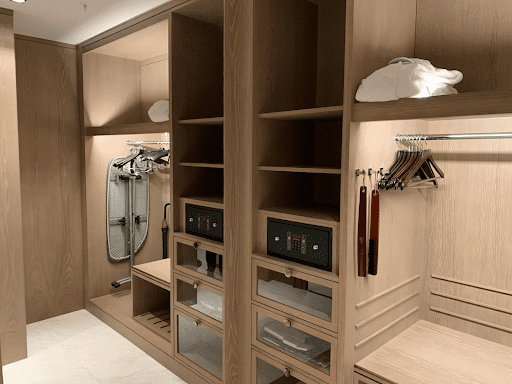 The concierge left some chocolates for us with a lovely, thoughtful note, and this is just one example of the exemplary, unobtrusive service at the hotel. Every staff member we encountered was helpful, polite and smiling.
The suite bedroom was huge; the bed comfortable; and the blackout curtains did indeed block all the light from the outside.
Our suite even came with a huge dressing room.
And the bathroom, of course, was spectacular as well.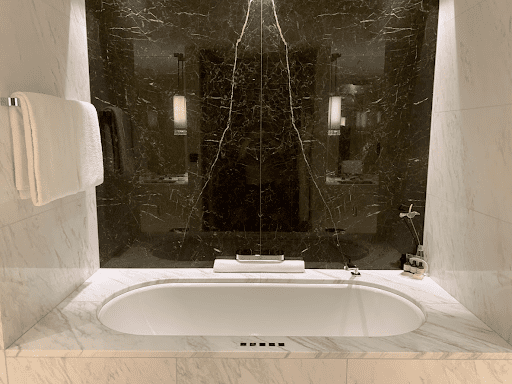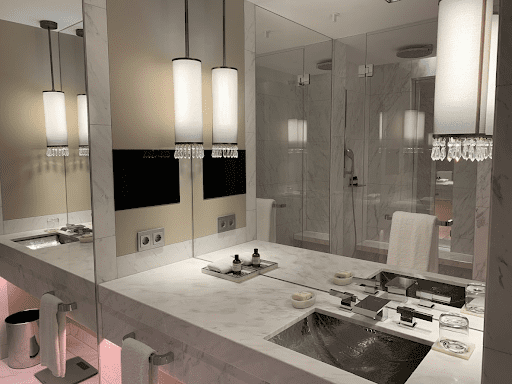 We went down to the restaurant for breakfast, so I can't comment on the quality of the room service. I'd give the breakfast served in the restaurant 4.5 stars because the service was quite slow at times. We had a choice of a few à la carte hot dishes, such as scrambled eggs with truffles, and the buffet had a good selection of cold and hot dishes as well.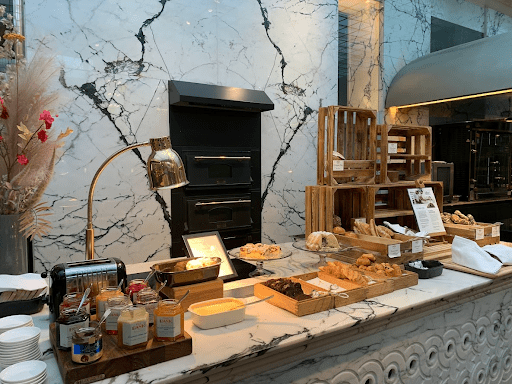 There are also a spa, sauna, relaxation rooms, a well-equipped gym and a pool.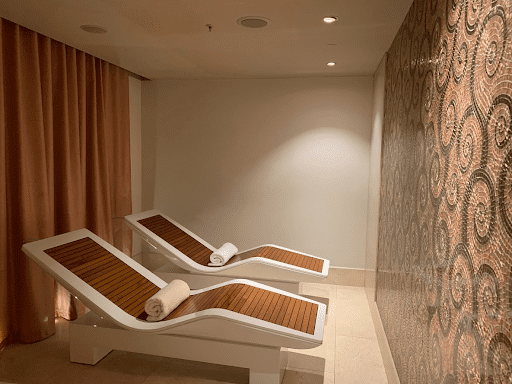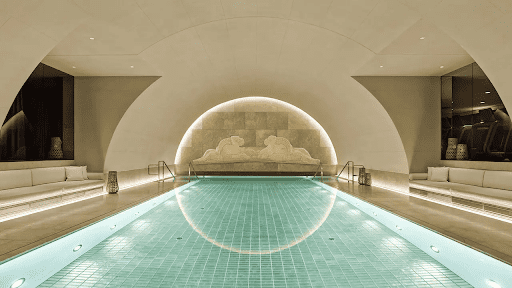 To sum up, this was one of the best hotels I've ever stayed at, and it was definitely worth a splurge. The suite was beautiful and impeccably decorated. The service for the most part was faultless without a hint of stuffiness or unnecessary formality. I would love to go back to Vienna and stay at the Park Hyatt Vienna again while I am still a Globalist.
Vienna Christmas Markets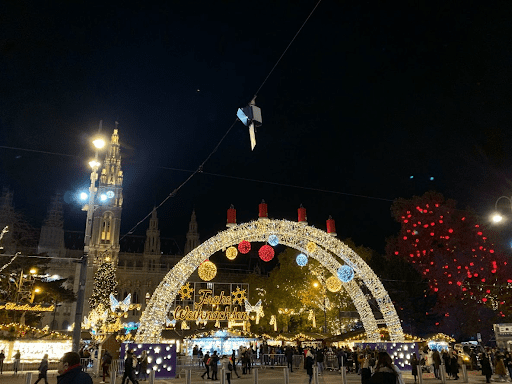 The Viennese know how to put on the holiday cheer. The city was beautifully decorated, and the markets, of course, didn't disappoint. There are so many markets around the city, and there was one right in front of our hotel.
If you've never visited European Christmas markets before, it's definitely a must do, at least once. The atmosphere is so cheerful and special. The vendors' displays are beautiful, and there is a lot of good food and mulled wine.
We were asked to show the proof of vaccination and an ID at the entrance to each market. The U.S. CDC-issued vaccination cards worked perfectly fine everywhere we went, including restaurants.
Final Thoughts
The current uncertainty surrounding travel could be unnerving, and the rapidly changing travel restrictions can put the most carefully planned trips in jeopardy. I am glad I had a chance to visit one of my favorite cities at Christmas. The fact that Austria went into a full lockdown just one day after I left made the trip even more poignant.
Travel well,
Anna
New to the world of points and miles? The Chase Sapphire Preferred® Card is the best card to start with.

With a bonus of 80,000 points after $4,000 spend in the first 3 months, 5x points on travel booked through the Chase Travel Portal and 3x points on restaurants, streaming services, and online groceries (excluding Target, Walmart, and wholesale clubs), this card truly cannot be beat for getting started!
Learn More
Cards in This Article
Up to 70,000
Bonus Miles
Earn 60,000 bonus miles after you spend $3,000 on purchases in the first 3 months. Plus, earn an additional 10,000 miles after you spend $6,000 total on purchases in the first 6 months.
80,000
Chase Ultimate Rewards® Points
after you spend $4,000 on purchases in the first 3 months of account opening.
Editors Note: Opinions expressed here are author's alone, not those of any bank, credit card issuer, hotel, airline, or other entity. This content has not been reviewed, approved or otherwise endorsed by any of the entities included within the post.