In This Article
Loading table of contents …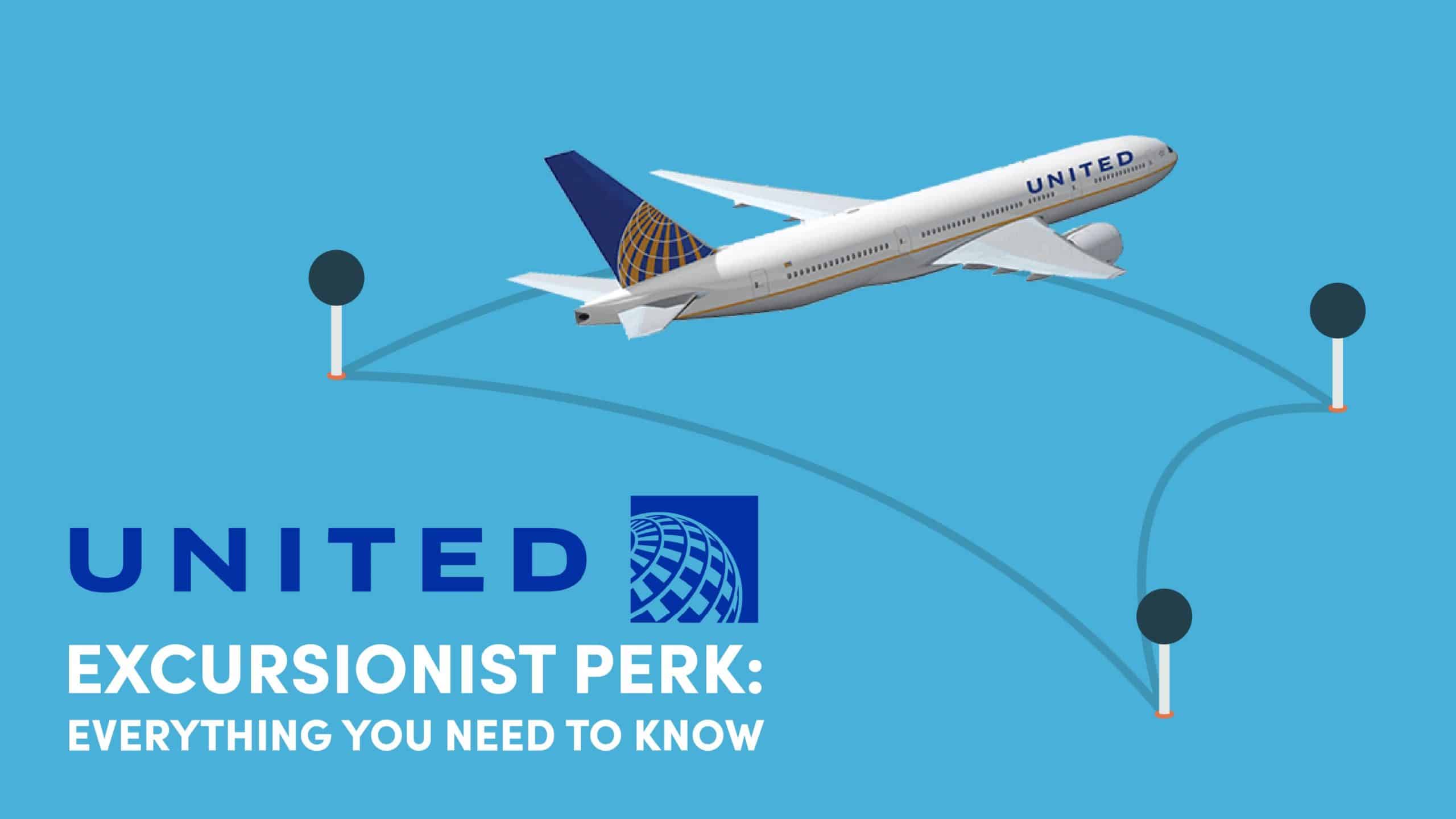 United Airlines has moved to pricing most awards dynamically. However, it's possible to find some awards at the old rates, such as 30,000 miles for a one-way flight in economy or 60,000 miles for a one-way flight in business class to Europe on United-operated flights.
Partner flights cost more than United's own flights, and award rates usually reflect the overall demand. Ideally, we'd look for awards that are marked as "Saver level," but that's becoming more and more rare, especially when it comes to domestic flights.
But even with the mostly dynamic pricing, we can still have a lot of fun with the MileagePlus program. You might have heard the term "Excursionist Perk" thrown around a lot, but what does it actually mean and how can you utilize it to get all the value out of your hard-earned miles?
Let's do a deep dive into the Excursionist Perk and ways to optimize it to get the most value out of a free stopover on a round-trip award.
What Is The United Excursionist Perk?
United Airlines is part of the Star Alliance, the largest global airline alliance. With 26 members, you can get anywhere in the world. We can book award tickets on any of these carriers with United miles.
So when you're traveling to more than one destination, the Excursionist Perk allows you to visit one destination at no additional cost in miles (provided you abide by the routing rules).

Here's how United defines the Excursionist Perk:
The Excursionist Perk is a free one-way award within select multi-city itineraries. Members who book an itinerary with three or more one-way awards will be eligible to receive one of those one-way awards for free, if it meets all of these conditions:
The Excursionist Perk cannot be in the MileagePlus defined region where your travel originates. (For example, if your journey begins in North America, you will only receive the Excursionist Perk if travel is within a region outside of North America.)
Travel must end in the same MileagePlus defined region where travel originates
The origin and destination of the Excursionist Perk is within a single MileagePlus defined region
The cabin of service and award inventory of the free one-way award is the same or lower than the one-way award preceding it
If two or more one-way awards qualify for this benefit, only the first occurrence will be free"
Here's the most simple example of the United Excursionist Perk.
Let's say you want to visit Europe and would like to include England and Germany in your trip. So you'll fly to London on an award ticket, spend a few days there, then take a flight from London to Munich (which will be the free segment), then fly home from Munich. In other words, you are getting a free stopover in London on the way to Munich.
The free segment has to be in the same class of service or lower as the previous flight. So if you book a business class from the United States to London but can't find business-class award space on the flight from London to Munich, you can book a seat in economy class on that flight instead.
Put simply, the United Excursionist Perk let's you add in an extra stop for free when you book a round-trip award ticket.
United MileagePlus Regions
United doesn't publish an award chart anymore, but to understand the utility of the Excursionist Perk fully, we first need to understand United's regions. United divides the world into 17 regions:
Mainland U.S., Alaska and Canada
Hawaii
Mexico
Caribbean
Central America
Northern South America
Southern South America
Europe
Middle East
Northern Africa
Central and Southern Africa
North Asia
Central Asia
South Asia
Japan
Oceania
Australia and New Zealand
To take advantage of the Excursionist Perk, you have to book a multi-city award that must begin and end in the same region, and the free segment must be in the middle of your trip and be in a different region from where you started, and that free segment can't cross regions.
Take a note that we're talking about regions here, which are widely defined.
Your trip doesn't have to have the same origin and final destination. As long as they're in the same region as defined by United, you can start your trip in one city and end it in another city, or even another country.
For example, you can start your trip in Chicago, fly to Japan, book a one-way free ticket inside Japan and return to Los Angeles.
And here's another example. Let's say you'd like to go to South America. Because Argentina and Brazil are both in the Southern South America region, your flight from Argentina to Brazil will be free. But instead of going home, you'd like to visit your friends in Los Angeles. This is a valid routing under United's routing rules.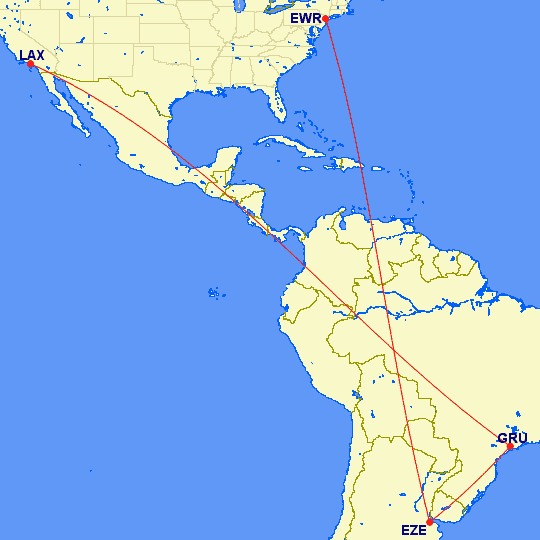 How to Book the Excursionist Perk Online
Let's continue our example of flying from the U.S. to South America to walk through how to book the United Excursionist Perk online.
To make sure the middle segment would price out at zero miles, let's utilize United's Advanced Search feature, click on the multi-city search, and here's the free flight in the middle of my itinerary. Even though we're paying zero miles, we still have to pay taxes.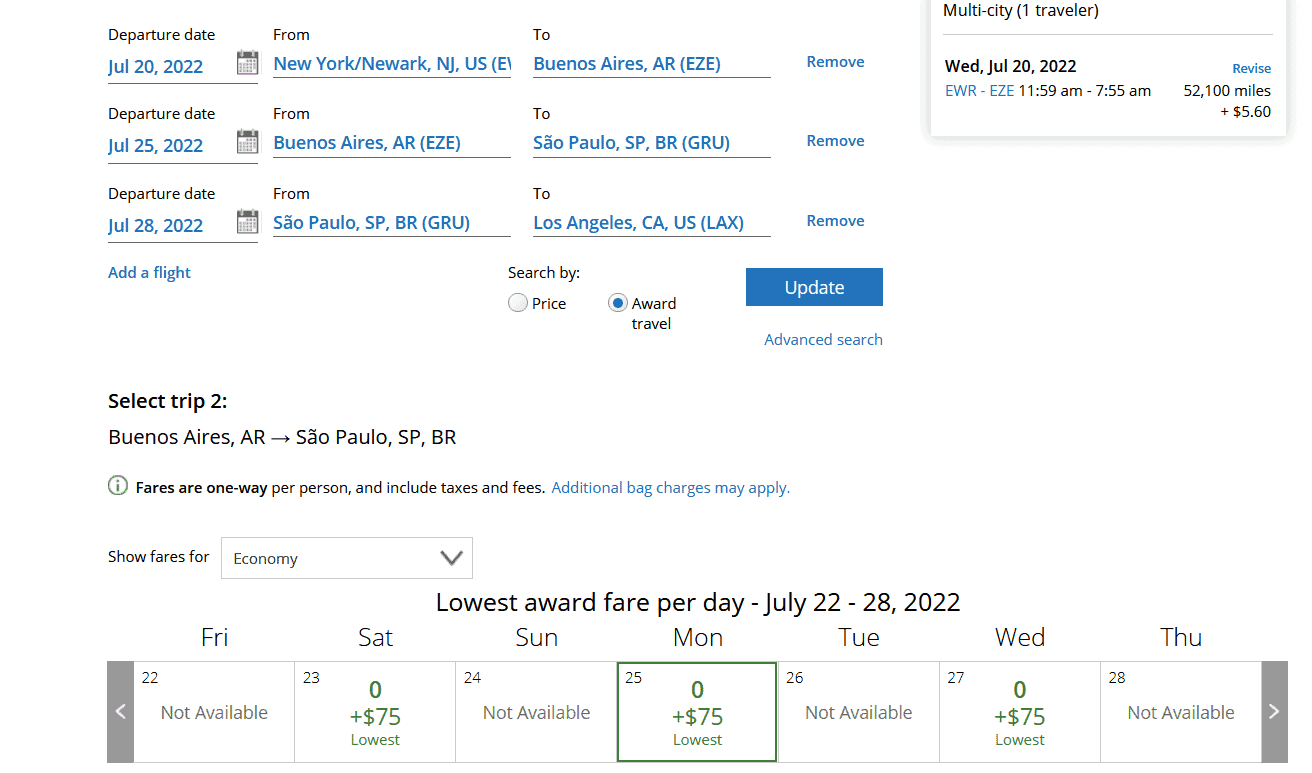 If booked alone, the lowest award from Buenos Aires, Argentina (EZE), to Sao Paulo (GRU) I was able to find for my dates cost 13,800 miles + $75. By booking this flight as an Excursionist Perk, I'm saving 13,800 miles.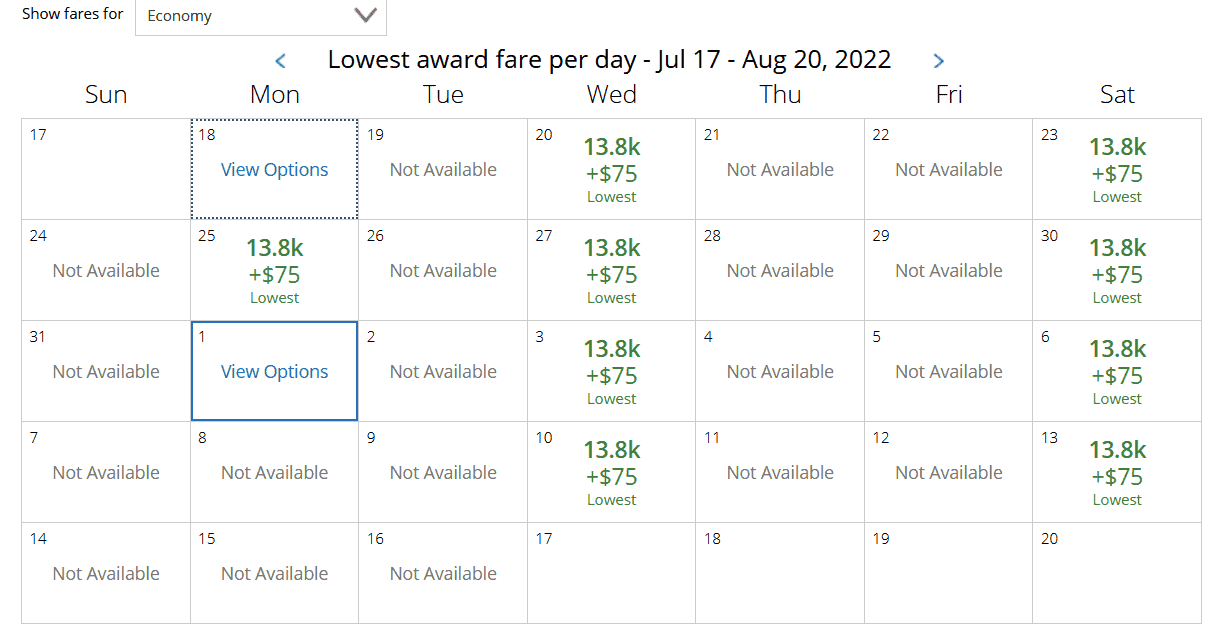 Unique Ways to Use the Excursionist Perk
There's a few clever tricks you can put to use to get more value from the excursionist perk.
End Your Trip in Another City
The first rule of the Excursionist Perks states that travel must end in the same MileagePlus defined region where travel originates. But does that mean that in the example above we must fly back from South America to the U.S.? The answer is no.
The rule just says that travel must end in the same region where it began. Because of the loose definition, it doesn't mean that travel must end in the same city, or even country, where it started.
Let's say I don't want to come back to the United States from my South America trip, but I want to keep traveling to another continent. So instead of going back home, I'll fly from South America to Europe on a separate ticket (perhaps booked with another program's miles).
To get the free Buenos Aires to Sao Paulo segment, I need to find a cheap, short domestic flight sometime later (it can be much later) and get the middle segment to price at zero miles.
Because there's no rule that you have to immediately come back to the region you started in right after you've flown the middle (free) segment, we can safely interpret it as "I need to travel TO or IN the region where I started sometime in the future." Therefore, booking a cheap domestic flight within the origin zone of travel for a later date would still make the middle segment price out at zero miles.
For example, if I book a one-way domestic flight from Chicago to Cleveland, Ohio (CLE), for just 5,500 miles as the last flight of this itinerary, then I'll get the flight from Buenos Aires to Sao Paulo for zero miles.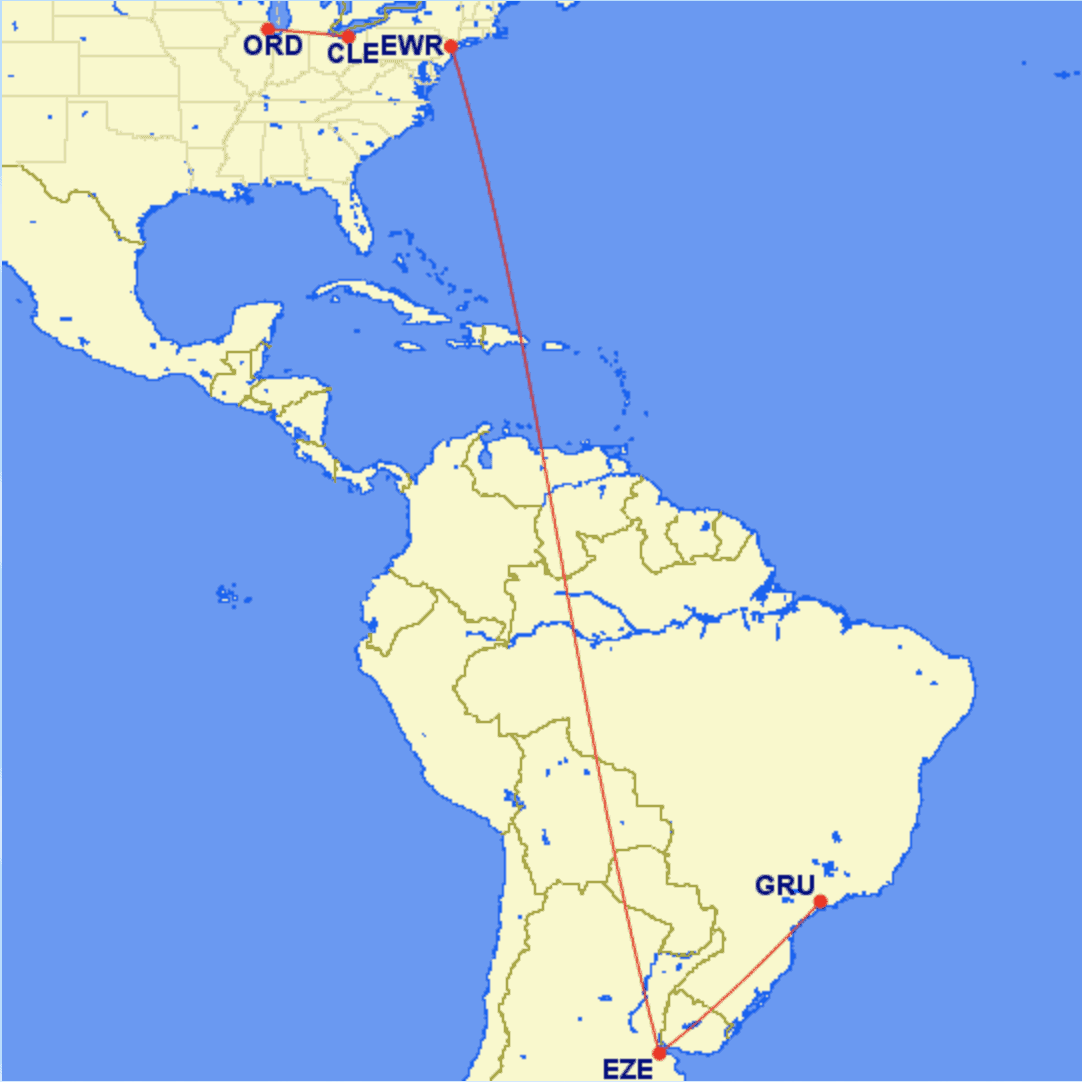 So, by booking the first travel segment from New York to Buenos Aires for 60,000 miles and booking the final travel segment from Chicago to Cleveland for 5,500 miles, I'm getting the middle segment from Buenos Aires to Sao Paulo (that would've cost 13,800 miles) for free.
We can utilize this strategy to save miles on the middle flight if its mileage rate is higher than that of the final segment. In this example, we're saving 8,300 United miles.

That's a great way to save a good number of miles if I really didn't need or want to come back to the U.S. or if I chose to book the return flight with another program. Because the last domestic segment occurs after my free middle segment is flown, I don't need to worry if I'm actually going to take this flight. If things don't work out for me, I won't be sad to lose 5,500 miles if I saved a lot more on the Excursionist Perk flight.
Because all of the flight segments can be separate and don't actually have to connect to one another, the segments can be flown months apart. This could be useful if you can incorporate miles from another program into building these more complex trips.
In my example above, I mentioned that I might want to go to Europe after my South America trip on a separate ticket, so I could use the Air France-KLM Flying Blue miles to book a nonstop flight from Sao Paulo to Paris (CDG).
If you have more than one multi-stop international trip planned, think creatively about how you can "nest" the two trips together to take advantage of the Excursionist Perk. You can plan these trips as far out as the end of the published schedule.
This could also be useful if you can't find award space to your home airport, but can find space to another airport close to where you live.
Double Open-Jaw Ticket with Excursionist Perk
An open-jaw ticket simply means flying from one city to another and returning to the flight origin from a different city. Flying from Los Angeles (LAX) to Dublin (DUB), but coming back from London (LHR) to Los Angeles is an example of an open-jaw ticket.
Double open-jaw means flying between different city pairs. For example, flying from Chicago to London on the outbound and from Paris to Boston (BOS) on the return.
The United Excursionist Perk can also be used with double open-jaw itineraries. For example, you'll fly from Chicago to London, take a train to Paris, then fly from Paris to Vienna using the Excursionist Perk, fly to Madrid (MAD) on a low-cost carrier booked separately, then travel Madrid to Houston (IAH) as the last leg of your trip.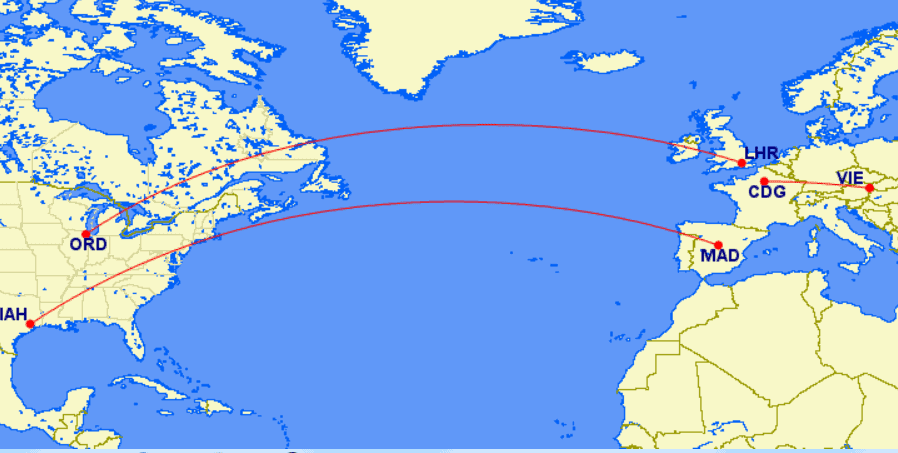 The flight segment from Paris to Vienna will be the free segment.
Why would you want to do this? This itinerary allows you to see multiple European countries with one award ticket. A plethora of low-cost carriers fly within Europe, so it'll be easy and inexpensive to fly from Vienna to Madrid. One intra-Europe trip (Paris to Vienna) is going to cost zero miles, but the most expensive part of the trip, the transatlantic flights, will be covered with miles.
Using The Free Segment in Any Region
Want to combine a trip to Europe with a trip to Africa? If you have a lot of time at your disposal, then you can visit a country in Europe and two destinations in Africa. Here's an example of what's possible:
Book an outbound flight from the U.S. to Europe with United miles. A lot of flights to Africa have a layover in Europe anyway, so you might as well make the best of it and see another country on the way to Africa.
Buy or redeem different program's miles for a separate flight from Europe to one of the countries in the Central and Southern Africa region.
Use the Excursionist Perk to fly from one country to another in the same region (free segment).
Book your return flight home from Africa to the U.S. with United miles.
If you can't find any award space on the return, use another program to book your ticket home and use United miles to book a short domestic flight.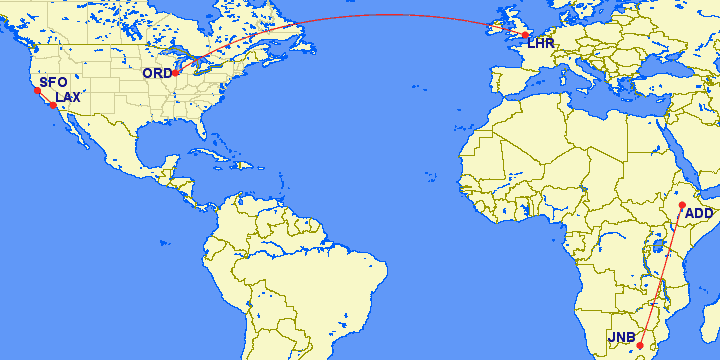 Africa is a huge continent, and United's definition of Central and South Africa is pretty generous. Intra-africa flights are usually quite expensive, so booking the 5.5-hour flight from Addis Ababa, Ethiopia (ADD), to Johannesburg (JNB) as a free segment can save you a lot of money.
Remember that because United allows booking an Excursionist Perk on open-jaw awards, the last segment doesn't have to be an international flight or even a flight to the airport where you started. It just has to end in the region where you began your journey.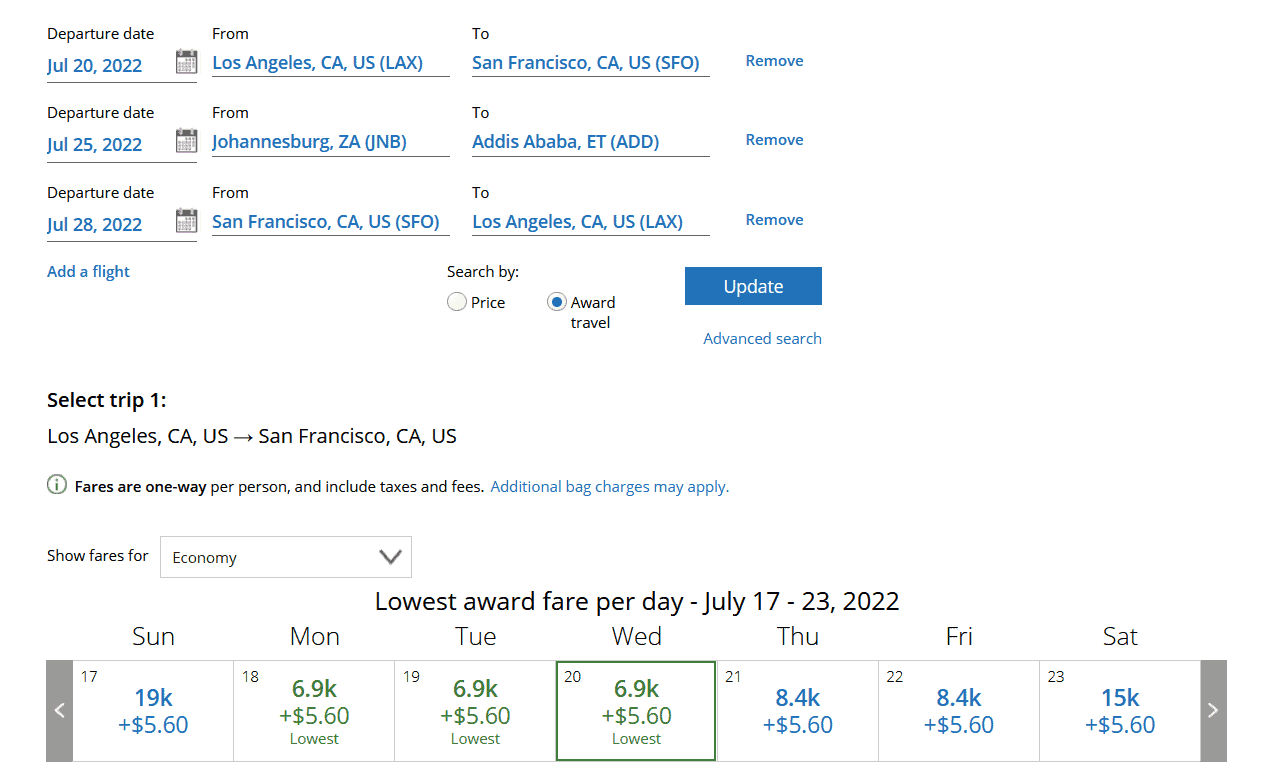 Booking the itinerary this way will force the itra-Africa flight to price out at zero miles.

Booked alone, that same flight from Johannesburg to Addis Ababa would cost 19,300 miles or almost $400, so we're saving 12,400 miles by booking a domestic flight at the end of the itinerary for fewer miles.

As long as a trip starts and ends in the same region, which in this case is Mainland U.S., Alaska and Canada, the free segment in the middle can be on any continent and in any region, as long as it's not in the origin or the destination region.
Keep in mind that you can't skip (or throw-away) the very first flight of this award booking, or your whole itinerary will be canceled. Your last segment, the domestic flight, could be any flight, so it could be one you can take later.
You can book it for any time after your Excursionist Perk flight, so think where else you might like to go. It can be any trip, even a short domestic hop to see friends and family.
Mix and Match Economy and Business Class
If you don't have enough miles to book the entire itinerary in business class, you can enjoy business class on most of your trip. According to the Excursionist Perk rules, the cabin of service of the free one-way award must be the same or lower than the one-way award preceding it.
So you can fly to your first international destination in business class, add the middle segment for free in business class as well and book your final flight in economy.
It won't matter as much when you're doing a short hop in Europe, but if your middle segment is a five- or a six-hour flight within Africa, then the class of service matters very much.
To illustrate, let's go back to our Europe/Africa combo trip.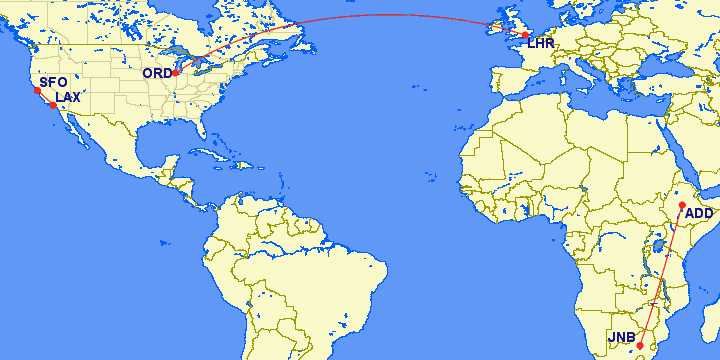 I'd like to fly from Chicago to London in business class. That means that I can book the flight from Adis Ababba to Johannesburg also in business class. But because the last segment from Los Angeles to San Francisco is a short-haul domestic flight, I'm going to book it in economy to save miles.
Limitations of the Excursionist Perk
The United Excursionist Perk is a great benefit, but it does have some limitations. And there are certainly some situations where it doesn't make sense—when it's easier and cheaper to just book two one-way awards.
The first downside is that you have to book a round-trip award. The Excursionist Perk is not available on one-way awards.
The second limitation is that Star Alliance carriers must operate flights between the two destinations, and ideally these flights would be nonstop. If you can't find a nonstop flight, consider booking a separate flight on another carrier to save time.
For example, not a single Star Alliance carrier operates nonstop flights between Paris and Rome, so it wouldn't make a lot of sense to connect somewhere instead of taking a cheap two-hour flight on one of Europe's low-cost airlines.
Finally, award space should be available on all legs of the itinerary, including the free segment, and you still need to pay the taxes on the free flight, which could be quite high, depending on the region. In that case, check alternative modes of transportation, such as trains or even low-cost carriers, that might have inexpensive fares. You might come out ahead and save both time and money.
Here's an example of when it doesn't make sense to use the Excursionist Perk.
Some of the most common examples used to illustrate the Excursionist Perk include flying from the U.S. to London, then from London to Paris, then back to the U.S. If that's your itinerary, consider these factors.
There aren't any nonstop flights between London and Paris operated by a Star Alliance carrier. Do you really want to connect in a third country, such as Germany or Austria, to fly from London to Paris? Instead, you can take a Eurostar train and save lots of time and money.
Traveling by land on the European continent is also easy and cost-effective, so before you book that Paris to Amsterdam (AMS) flight, check the price of the train ticket. The added bonus of traveling by land is not going to the airport and instead traveling from city center to city center.
Bonus Miles
after you spend $4,000 on purchases in the first 3 months your account is open.
Bonus Miles
after you spend $5,000 in purchases on your card in the first 3 months
Annual Fee: $0 for your first year, then $99.

How to Best Understand the United Excursionist Perk
I know, putting all the pieces of the excursionist perk together can be tricky. The best way to improve is to practice. Take the examples above, and run them through United to see if you can price the trip together. Doing it yourself will help to make everything click and help you get the most out of your miles.
Want help booking a trip with the United Excursionist Perk?
Let one of our expert award bookers help!
Book Now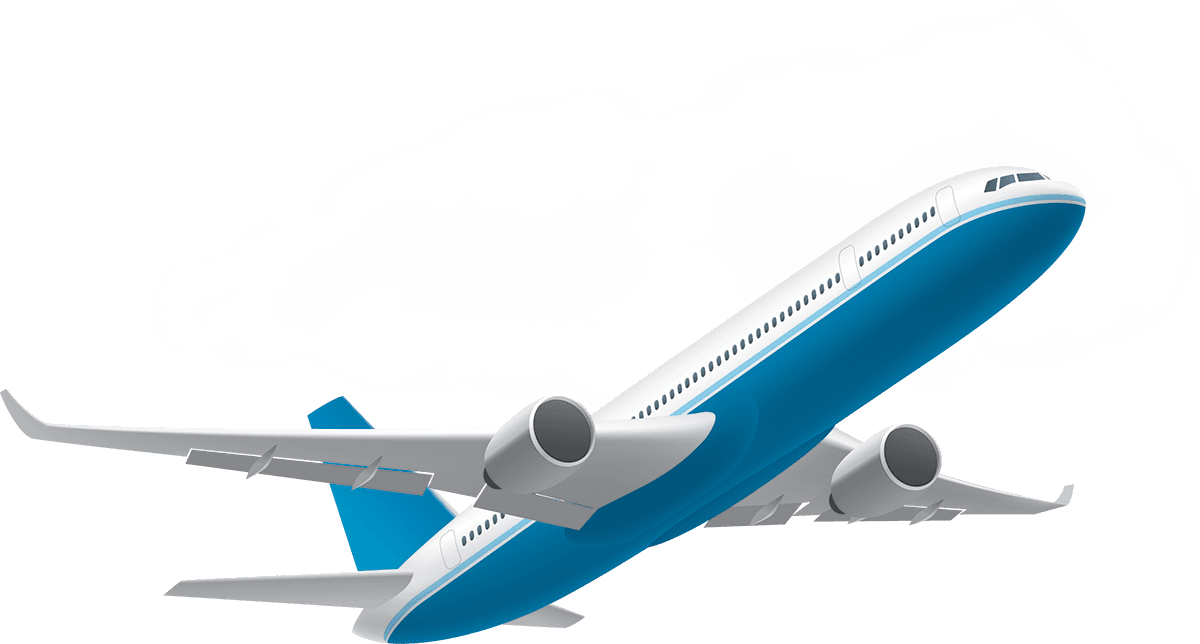 Final Thoughts
The United Excursionist Perk can be used to book simple itineraries, such as a free stopover on your trip to South America or Europe. Or, if you enjoy planning complex trips and like to optimize your miles, there are almost limitless possibilities allowing you to use United's routing rules to your advantage.
The intra-region flights, especially flights inside huge regions, such as Africa or Oceania, can cost hundreds of dollars, but with some planning, creativity and a lot of patience, you can use the Excursionist Perk to book them using no extra miles.
New to the world of points and miles? The Chase Sapphire Preferred® Card is the best card to start with.

With a bonus of 80,000 points after $4,000 spend in the first 3 months, 5x points on travel booked through the Chase Travel Portal and 3x points on restaurants, streaming services, and online groceries (excluding Target, Walmart, and wholesale clubs), this card truly cannot be beat for getting started!
Learn More
Editors Note: Opinions expressed here are author's alone, not those of any bank, credit card issuer, hotel, airline, or other entity. This content has not been reviewed, approved or otherwise endorsed by any of the entities included within the post.