If you have been following the merger between Marriott and Starwood, you know many points' enthusiasts have been having panic attacks over what this will mean for their SPG points.
Well, the merger was finally completed and… everything is okay. In fact, the merger has been handled quite well for those with loyalty to either program.
Let's check out the opportunities the merger has presented us.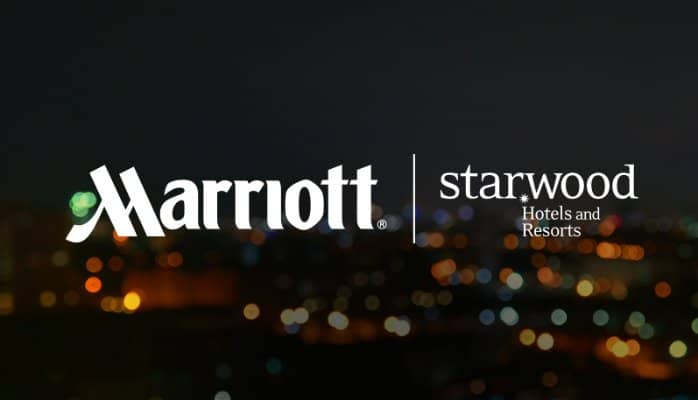 Linking Your Accounts
To get started, you will want to link your Starwood (SPG) and Marriott (or Ritz-Carlton*) accounts. Marriott has set up a site to make this a simple process. Just have your log-in info on hand for the two programs you are linking.
*Marriott and Ritz-Carlton are part of the same program already. The difference between them is mostly in the promotions they market to you. You can only have one or the other, but the points you earn work with both.
Transfer Points Between Programs
One of the great aspects of this merger is that points may now be transferred between programs, and at a fair rate of three SPG points per Marriott Rewards point. This provides some intriguing options for hotel stays in both programs, and possibly some interesting flight options. If you've been wanting to try a Marriott or Starwood property, but haven't had the appropriate points, this could be your chance.
New Way to Earn the Southwest Companion Pass
A creative way to utilize this transfer opportunity is to boost your Marriott Rewards points balance so you can book a Nights and Flights deal. This has long been an easy way to earn the Southwest Companion Pass for those with lots of Marriott Rewards points, and it just got easier with the ability to transfer SPG points to Marriott.
If you are not eligible for the Chase Southwest cards because you have opened more than five cards in the last 24 months, this is a particularly interesting option.
Linking to New Status
If you have status with either Marriott and Starwood, it will be matched to the other once it is linked. Trying out a new hotel chain with status can make that visit just a little bit sweeter. Even better, there are a few credit card options that can give you status before you've even completed one stay.
If you hold an Amex Platinum or Amex Business Platinum card, which give you Starwood Gold status, then you now have Marriott Gold status.
The Chase Ritz-Carlton card provides Gold status during your first year with the card, which will now match to Starwood Gold status.
In subsequent years, putting $10,000 on the Ritz-Carlton card will earn you Gold status. If you want Platinum status with both programs, you can spend $75,000 on the Chase Ritz-Carlton in a calendar year. That's a high bar, but it might be an option for some. The Ritz-Carlton Platinum status will also be matched to Starwood.
Benefits of Status
Let's check out the loyalty program details of Marriott and Starwood. We'll start with Marriott and see what they have to offer: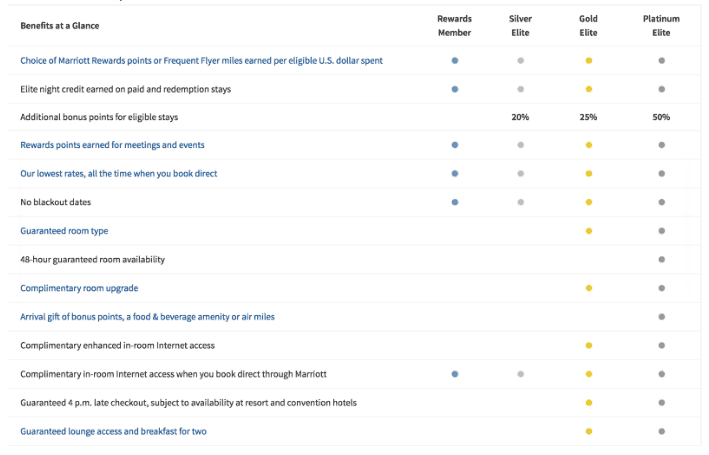 Guaranteed 4pm late checkout, complimentary breakfast for two, lounge access for two, and complimentary in-room internet are just some of the perks with Gold and Platinum status with Marriott. Additionally, Platinum status provides an arrival gift and 48-hour guaranteed room availability.
Now, let's give Starwood's loyalty program a look: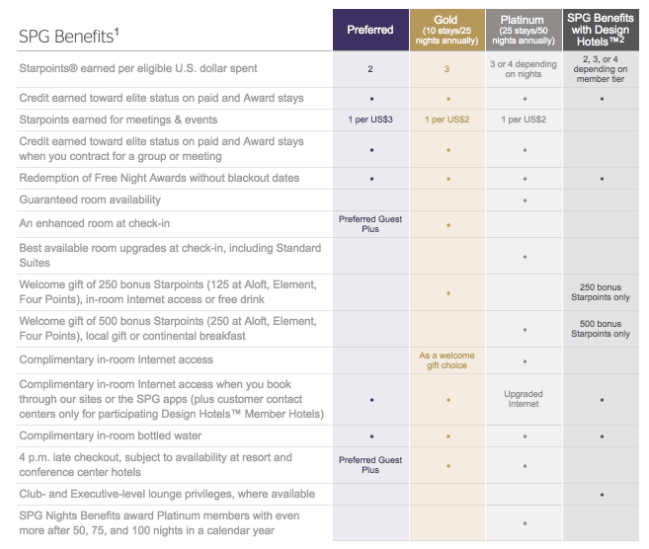 SPG status will get you 4pm late checkout, complimentary in-room internet (upgraded for Platinum members), a welcome gift, and an enhanced room at check-in for Golds and room upgrades when available for Platinums.
Airline Perks from Marriott
Finally, status with either program provides some benefits with airline partners. Marriott Platinum status has the most significant benefit, as it provides Premier Silver status with United Airlines, and now Starwood Platinum members will be able to enjoy status with United.
While this is not a high-status level with United, it does provide several benefits, including complimentary access to Economy Plus seats at check-in and one complimentary checked bag.
United Premier Gold members also receive some good news with this merger. They already receive Gold status with Marriott, and will now receive the same with Starwood
Airline Perks from Starwood
Starwood's partnership with Delta and Emirates (and soon, China Eastern) also provide some perks.
Starwood elite members earn SPG points when flying Delta, while Delta's elite members earn SkyMiles when they stay at Starwood properties. Starwood Platinum members also receive priority boarding, free checked bags, and priority check-in with Delta.
With Emirates, Gold or Platinum status with Starwood allows you to earn SPG points when flying Emirates. Starwood platinum members will also receive priority check-in with Emirates.
Bottom Line
The ability to link Starwood and Marriott accounts has provided some great opportunities for the points community. How you choose to utilize these opportunities will depend on your personal situation and goals. We're happy to help if you have any questions.
See you in the sky,
Spencer
Image: Marriott.com
---
Disclosure: 10xTravel has partnered with CardRatings for our coverage of credit card products. 10xTravel and CardRatings may receive a commission from card issuers.
Opinions, reviews, analyses & recommendations are the author's alone, and have not been reviewed, endorsed or approved by any of these entities. You can read our advertiser disclosure here.