Note: Some of the offers mentioned below may have changed or are no longer be available. You can view current offers here.
As you spend more time earning and redeeming miles and points, there's a good chance you'll start thinking about how credit cards, airline programs and hotel programs could be improved.
With that in mind, we wanted to share some of the changes 10xTravel team members would like to see. From credit card benefits to bank transfer partners to how airlines and hotels handle changes (re: devaluations), we're talking about it all.
With that, let's dig into it!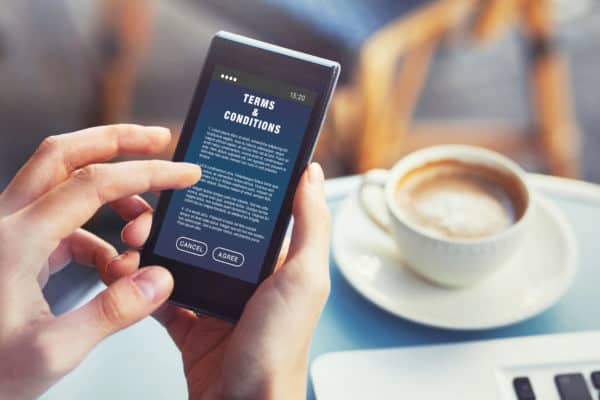 It's so hard to pick just one thing I'd want to change about points and miles! But let's talk about Amex. First, I'd really like to see American Express simplify their airline travel credits. Cardholders of The Platinum Card from American Express can get reimbursed up to $200 a year for "incidental fees" with a pre-selected airline.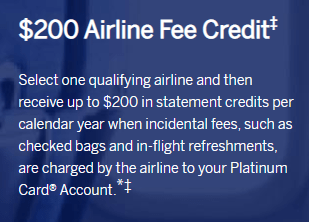 These fee credits aren't easy to redeem and I'd like Amex to switch to a more general travel credit. Amex needs to make it easier to redeem these $200, like the $300 credit that comes with Chase Sapphire Reserve. The travel credit on the Sapphire Reserve covers anything travel-related, even Uber rides.
I understand why Amex puts up these roadblocks (they don't want us to use these benefits), but they need to be more customer-friendly. Give me a $200 travel credit that I can use for anything, and I'd be much more inclined to pay the high annual fee on the Amex Platinum.
Another change I want to see from Amex is the ability to redeem Membership Rewards points for vacation rentals at 1.5X. I can already redeem my Chase Ultimate Rewards points for hotels through the Chase travel portal at 1.5X, so having the ability to book vacation rentals would complement that perfectly.
Some people might think that redeeming Membership Rewards points for anything other than business class flights is an anathema, but I like choices. There are no good options right now to redeem any points for vacation rentals, so someone needs to step up and take a lead on this, so why not American Express?
ALL POINTS SHOULD BE WORTH A DOLLAR A PIECE!!! Okay so I realize that's not realistic however the one thing I would change is the ability to devalue an award chart without notice.
Over the years we've seen both airline and hotel programs make changes to their award charts or eliminate their award charts with little to no notice. This is one of the most frustrating things to me as I've been caught in a situation where I was earning miles towards a specific redemption then the redemption changed.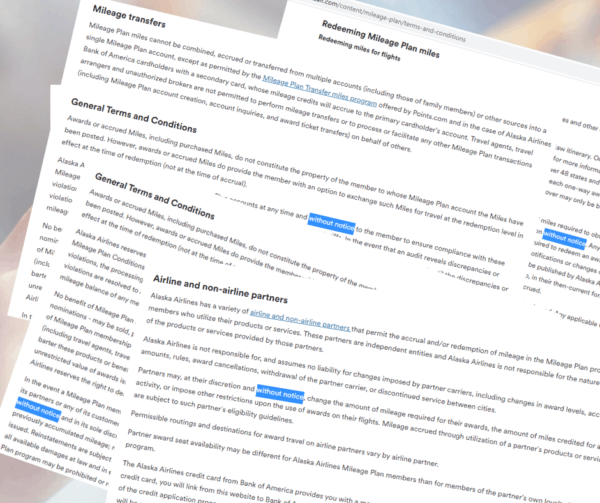 I think that it should be a law that loyalty programs need to give a minimum of 6 months notice before any changes are made that significantly impact the value of their points. This includes the flexible points currencies letting us know when partners will be added or dropped.
The funny thing is one of the best changes I've seen recently is the SPG/Marriott merger. While I too have been Bonvoyed a few times by some technical issues with the application and making reservations, they did at least give everyone a fair warning of how the programs would change. On top of this, they kept point values somewhat intact and rolled out how the programs would be merged over the year and different items that would be changing.
In general, I wish more programs would take this approach and give you ample warning before things change so that you could effectively use your miles and have the chance to plan/book that getaway you've been saving up for before they unexpectedly move the goalpost.
One thing I'd change in the points and miles world? I'd lobby for Chase Ultimate Rewards to add a new transfer partner: Alaska Mileage Plan.
Alaska Mileage Plan is an incredible loyalty program that offers incredible redemptions on partners such as Emirates, Qantas, Korean Air and Cathay Pacific. Similar to AAdvantage miles, the best uses of Alaska Miles aren't on actual Alaska flights – far from it actually.
One of the best uses of Alaska Miles? A flight in first class on Cathay Pacific from New York to Hong Kong for just 70,000 miles one way. Even better, due to Alaska's generous stopover rules and allowances, you could take the New York to Hong Kong flight, explore Hong Kong for a week, and then continue on as far as Cape Town (CPT), South Africa, for the same 70,000 miles in total. That's 28 hours in one of the greatest first class products there is covering almost 15,000 miles in distance, for a cost of just 70,000 Alaska Miles, or just 2,500 miles per hour! The same itinerary booked with AAdvantage miles would cost 110,000 miles, and wouldn't allow for the Hong Kong stopover.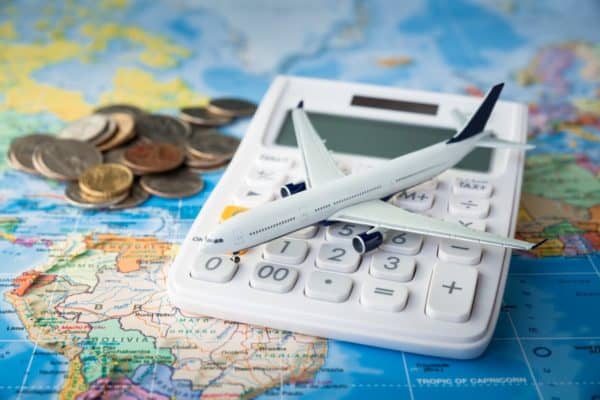 So why would Alaska make a great addition as a transfer partner? Well for one, this would open up a great use of Chase Ultimate Rewards points for getting to Asia and not require you to dip into your Ultimate Rewards stash as much as some other partners would require you to.
For example, United, another Chase Ultimate Rewards transfer partner, charges you 70,000-75,000 United Miles to fly one way in business class on their metal to Asia, and 80,000-90,000 United Miles to fly one way in business class on partner flights to Asia. Under this dream scenario I'm envisioning, you could book the same routing for just 50,000 Alaska Miles in business class one-way, potentially saving you 44%.
Second, the only transfer partner of Alaska is Marriott Bonvoy, which transfers at a pretty abysmal rate of 3:1. Not only would this make Alaska Mileage Plan miles much easier to earn, it would help give Chase a significant edge against other banks such as American Express and Citi. Right now, if Chase Ultimate Rewards were to be a 1:1 transfer partner of Alaska Mileage Plan, in my eyes that would immediately add pressure to the other competitor banks.
But one main reason for adding Alaska as a Chase Transfer Partner is that it would help replace the loss of Korean Air which was a Chase Transfer Partner until August 2018. Not only would you be able to use Alaska Miles to book flights on Korean Air, but some of the other incredible partners Alaska has.
Alaska MileagePlan Miles are extremely valuable for those that know how to maximize them, so to be able to earn them in another form via Chase Ultimate Rewards would be a tremendous addition to not only Chase, but the points and miles community as a whole.
I'm going to go a bit blue sky with this miles and points change, fully understanding that it will likely never happen. But I'd love to see American Airlines become a transfer partner of Citi ThankYou Points.
Citi ThankYou Points have definitely improved for the most part over the past few years. While losing the bonused redemption on Citi Prestige when redeeming for flights, Citi ThankYou points have added transfer partners, Citi has offered great retention offers, and the points in general have just become more valuable.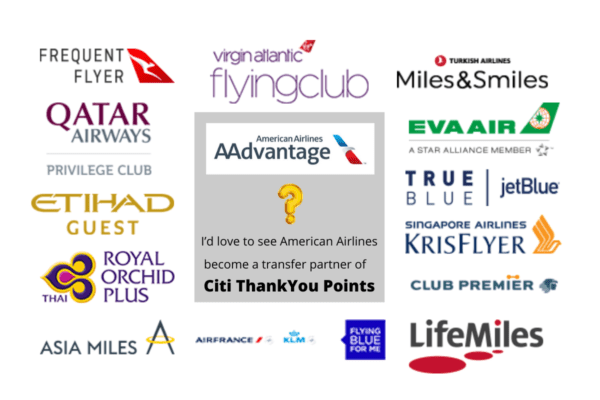 But the one notable transfer partner absence remains American AAdvantage miles. Why, oh why, won't you let us transfer our ThankYou points to American Airlines, Citi!? Well, I know the answer probably has to do with Barclaycard's existing relationship with AAdvantage but I would love to be able to transfer Citi ThankYou points to American AAdvantage.
American AAdvantage miles remain super valuable for my family and many others based here in the United States. My favorite redemption is still using American AAdvantage miles on partners like Cathay Pacific and Japan Airlines to fly to Asia in business class or better. But the introduction of things like economy web specials have made American AAdvantage miles more valuable for domestic travel as well.
But American AAdvantage miles have become harder to earn with Citi's sign up bonus limits. Unless you're interested in accumulating Marriott Bonvoy points, it's getting pretty tough to earn those American AAdvantage miles. So Citi, do us all a solid – open up the transfers from Citi ThankYou points to American AAdvantage miles! I, for one, would be forever grateful.
The one thing I'd like to see is an addition of another bonus spending category to the Platinum Card from American Express. Chase and Citi both offer multiple rewarding categories on their premium cards, and Amex Platinum is the only one in the bunch that features just one bonus category, a specific one at that.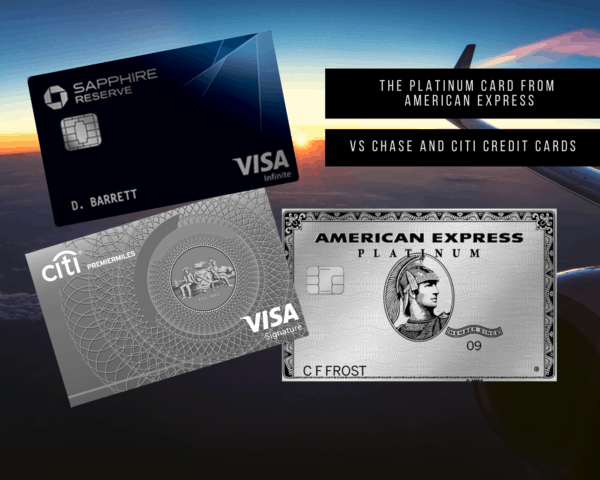 I won't lie, 5X on airfare is nice, but it's not an easy multiplier to hit, especially because the goal is to spend as little on flights as possible. Personally, I think 5X on all travel spend would be nice. Alternatively, adding a 3X bonus on dining worldwide would be a welcome enhancement.
As Anna said earlier, the card's airline incidental credit isn't the easiest to use. For this reason, the American Express Platinum Card is considered inferior to the Chase Sapphire Reserve that offers a user-friendly travel credit and point multipliers on travel and dining. Why not give us an incentive to swipe the card more often and earn more Membership Rewards in the process by adding one or two bonus categories?
Perhaps it's wishful thinking as I'm in the Amex Platinum camp because of its lounge perks, but I'd like to see another multiplier added to the premium Amex card. And no, gym memberships or movie theaters aren't going to cut it.
The number one wish I have to make points and miles better is to have a credit card issuer add rental car liability coverage. I love to rent cars when I travel and I have rental car loss and damage insurance coverage through multiple credit cards, including the Chase Sapphire Preferred which is the card I usually use to rent cars with.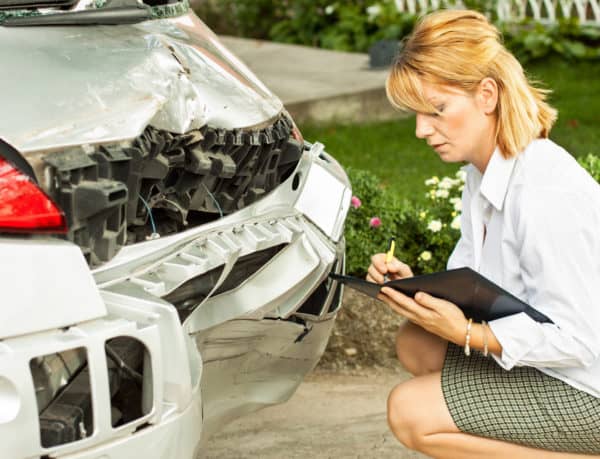 Unfortunately, some countries require liability insurance coverage which often costs a fair bit extra. I'm currently writing this from Costa Rica, one such country, so it might be more on my mind than normal. Even if you have a car in the United States, typically your car insurance liability coverage will not cover a rental car.
While I typically won't purchase liability insurance coverage when I'm renting a car, I would absolutely love it if it was a benefit of one of the (likely premium) credit cards I have. I think that American Express would be most likely to add this type of insurance coverage, and there's even a chance that there would be a surcharge to use it, but it's likely that it would cost a lot less than purchasing additional insurance coverage through the car rental company.
Final Thoughts
Changes to the perks of credit cards such as rental car liability insurance and a simpler travel credit from American Express would be much appreciated tweaks. All things considered, relatively minor in the grand scheme.
On the other hand, if Chase and Citi added Alaska Airlines and American Airlines as transfer partners, respectively, that would be a massive shakeup of the points and miles world. You can bet people would shift even more spend to Chase and Citi.
What's one change you'd like to see to make miles and points better? Let us know in the comments!
---
10xTravel is part of an affiliate sales network and receives compensation for sending traffic to partner sites, such as CreditCards.com. This compensation may impact how and where links appear on this site. This site does not include all financial companies or all available financial offers.
Editors Note: Opinions expressed here are author's alone, not those of any bank, credit card issuer, hotel, airline, or other entity. This content has not been reviewed, approved or otherwise endorsed by any of the entities included within the post.