In This Article
Loading table of contents …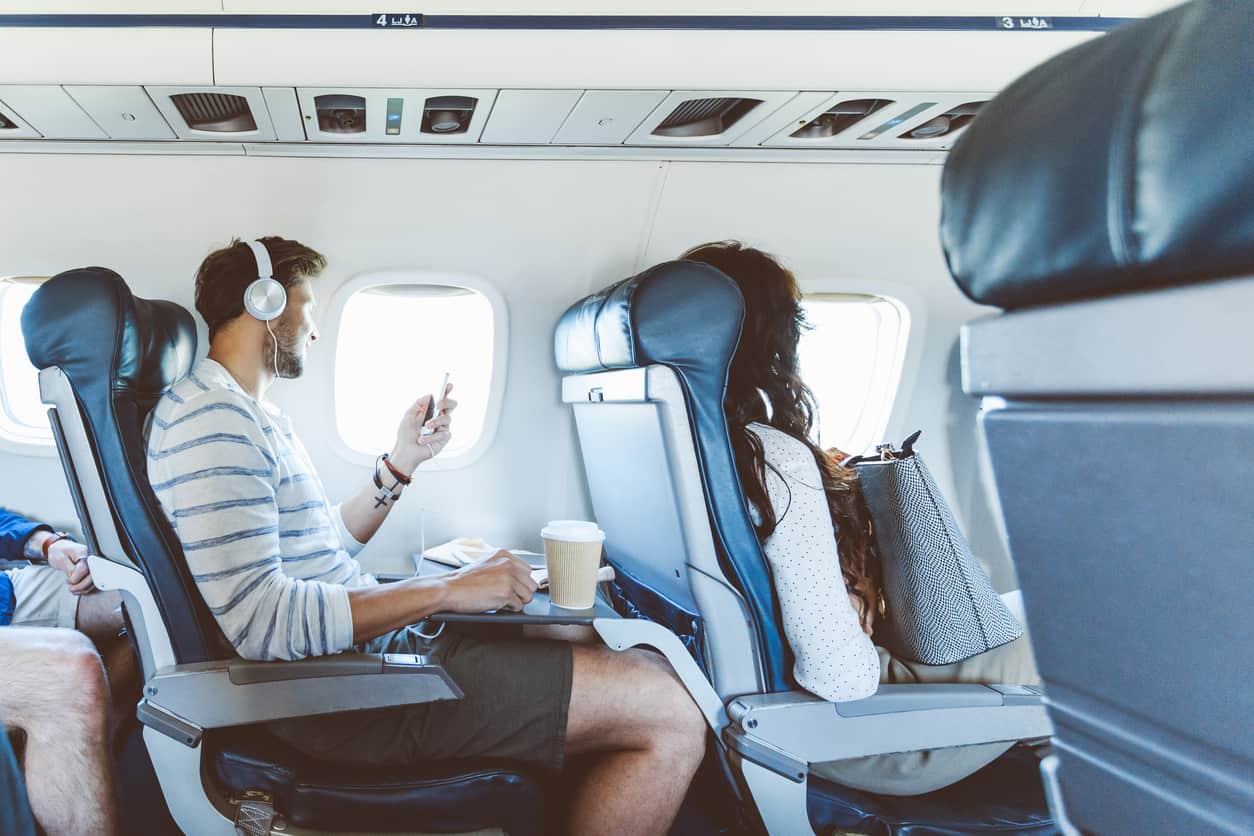 Note: Some of the offers mentioned below may have changed or are no longer be available. The content on this page is accurate as of the posting date; however, some of our partner offers may have expired. You can view current offers here.
Whether you're a road warrior, nervous traveler or someone who takes a few trips a year, there's a good chance you've settled on a routine when you fly. Your routine might involve you boarding early to sanitize your tray table (and seat area) or board last to maximize your time in a lounge preflight.
Today, the 10xTravel crew is going to share how they each prepare for their flights.
---

Not to sound completely pompous (this is a safe space with all of my points and miles friends right?), but my inflight-routines vary a bit based on one important distinction – am I flying first/business class or economy class? Outlined below is my rationale for why I do it differently.
Economy Routine
When I'm flying economy, I have very few routines.
First, I try to board as early in my particular boarding group as possible, especially if I'm one of the later boarding groups. Why is this? Simple – I want overhead bin space as close to my seat as possible.
I'm 6'4" with long legs, so when flying economy, I can't store any personal items under the seat in front of me because my big ole boat feet simply just don't allow it. I want to be able to store my carry-on bag and my book bag (yes, I'm one of those passengers that puts both of my bags up top when I can) in the overhead bin above me.
Not only do I do this for quick access during the flight, but also to make my escape as quick as possible, especially if I have a tight connection. To me, there's nothing worse than having your bag 10 rows behind you and your flight gets delayed and you only have about 20 minutes to make a connecting flight. Been there, done that, and it's no fun.
Once I've gotten situated in my seat, especially if I'm flying with my wife, we get to work disinfecting our seats. Planes are just gross, so we wipe down all surfaces – the seats, the seatbelts, the armrests, the tray tables, the seat back in front of you, and the air vents and light controls.
After we're disinfected, it's time to buckle up, and fire up my iPad and headphones usually and watch whatever movies I downloaded ahead of time, or on a shorter flight, listen to some recent podcasts.
That's pretty much it for my economy routine.
Premium Routine
My first/business class routine starts well before boarding the plane. If I'm flying first/business class, especially international, you can almost certainly find me in a lounge ahead of time.
I like to prepare for my flights, especially long-haul flights, by grabbing a nice long shower as close to boarding time as possible. This might sound strange, but not only are airplanes gross, but airports are also. You often get hot and sweaty lugging your luggage into the airport, going through security, and getting to your gate. Or you've just gotten off of a connecting or positioning flight, and you feel gross.
So grabbing a shower is my #1 priority when it's available. It just completely refreshes you for the long trek ahead. If you've yet to try it, I highly recommend it.
After I've had my lounge shower, I thenboard the plane and get situated in my seat. I'll usually have filled up my big 40oz Hydro Flask in the lounge, especially if they have fruit-infused water, to stay hydrated during the long flight. I make sure my water is relatively accessible in my seat, along with my iPad, Phone, Bluetooth Headphones, and a charger just in case.
If I'm going to be watching TV or a movie on the in-flight entertainment, I'll hook up my a Pro to the IFE, which seamlessly lets me use my Bluetooth Headphones to watch movies or TV from the IFE. No longer do I need to have a cord for my headphones, or better yet a stupid adapter, to connect to the IFE. Bonus: the AirFly allows 2 simultaneous Bluetooth connections, so my wife and I can watch a movie or TV show together if we wish.
Next, after getting settled in my seat, I'll take a look at the in-flight dining menu, and plan my course of attack on that if I haven't ordered my food before the flight. It's almost inevitable that the flight attendants will be around to take orders before I've settled in, so in order to feel less rushed, I try and sort out what I want to eat and drink as soon as possible.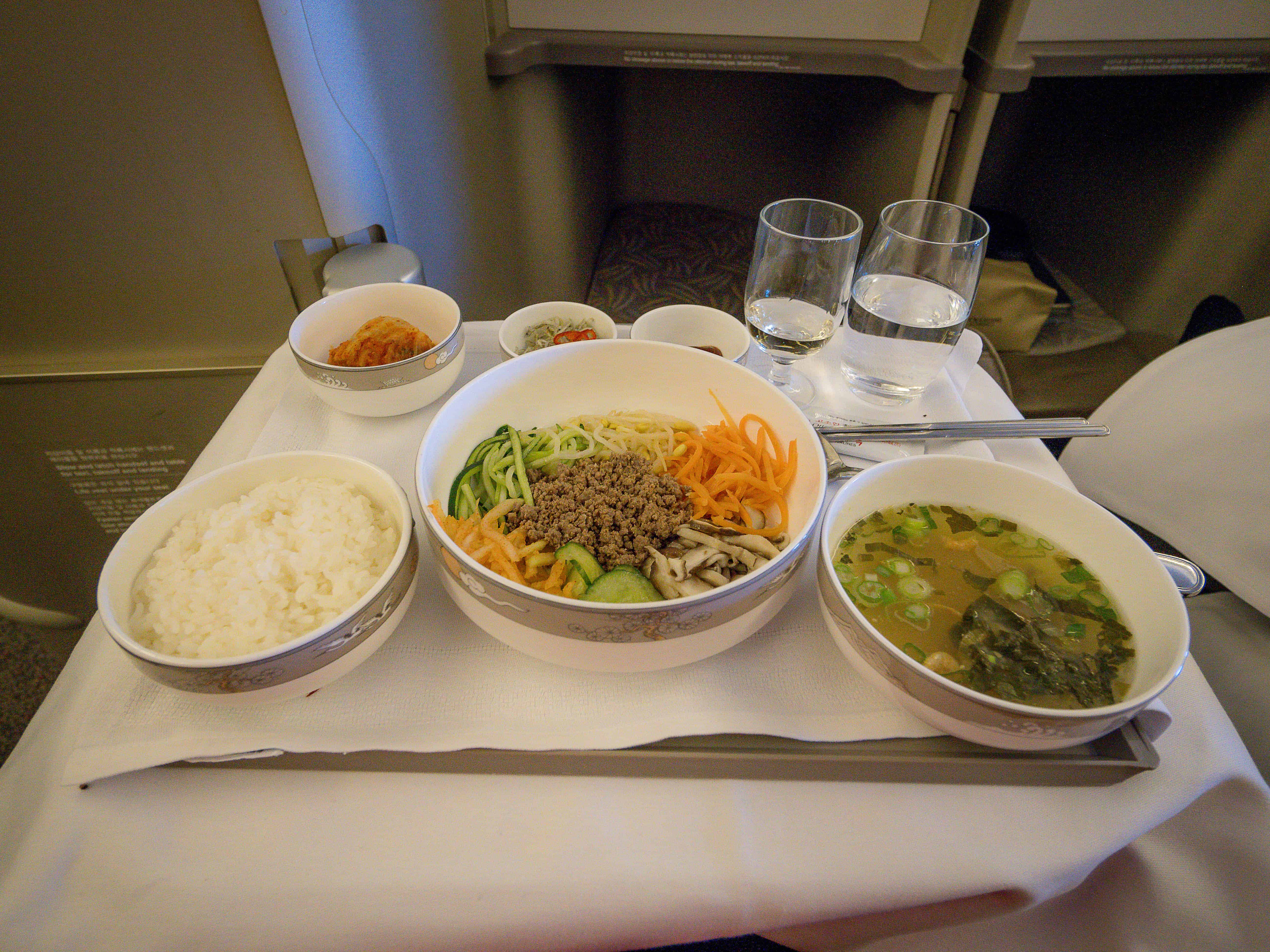 Then it's time to dive into the amenity kit. I'm usually only interested in the hydrating face spray and moisturizers, which I use at least every other hour during the flight; they really makes a difference in helping you refresh and not feel so dirty. I also use the moisturizer a few times to help prevent my hands from getting dry.
I'm hot-natured by birth, so it's almost inevitable that I'll be hot and gross at least at some point throughout the flight. Thankfully, my wife got me turned onto the most incredible things – Burt's Bees Facial Cleansing Towelettes. They're Pink Grapefruit scented, so they leave you feeling clean and refreshed every time you use them. I'll not only wipe my face with them, but then my arms, neck, hands and more during my flight.
Of course, it goes without saying the beer, wine and champagne that are all served endlessly in premium cabin flights are also a part of the routine, but being comfortable, and feeling not so grungy and dirty are certainly my first priorities when flying in a premium cabin.
---

If you went ahead and skipped over Matt's part above, don't worry, because he got it all wrong! While I agree that my routines vary based on class of service, his approach to some (especially economy flights) are way off. I'll show you what the correct in-flight routine is.
Economy Routine
When flying economy, I try to board as late as I can because I want to spend as little time in my seat as possible. Why is this? I'm 6'5'' and even though everyone isn't going to be too comfortable, I really struggle to get into a comfortable position in economy seats. I don't want to subject myself to being on the plane any longer than necessary.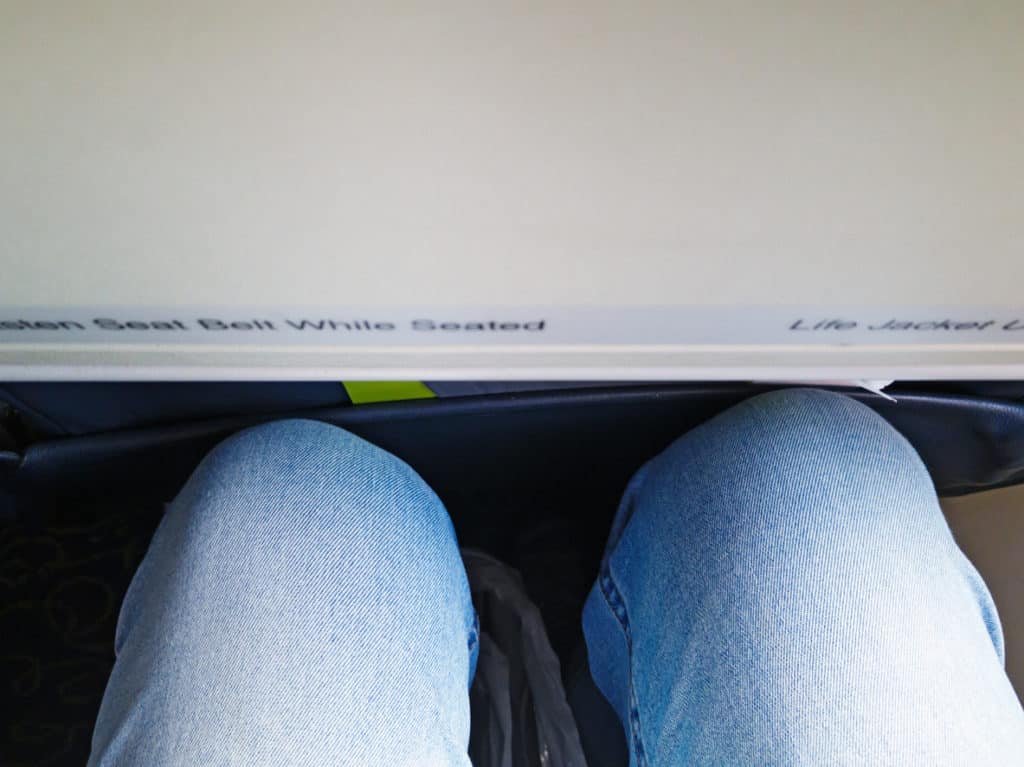 After I board, my first thing I do is put my bag under the seat in front of me and empty my pockets into the seatback pocket or into my backpack. Squeezing into a 19" wide seat is difficult enough, so I'm not looking to make it tighter with my phone, headphones, wallet, keys, etc in my pockets.
I put my bag beneath the seat for easy access. I really hate opening overhead bins in-flight, and most things I need can fit in my backpack. Let's face it, I'm not able to stretch my legs into that space anyway, so keeping my bag there gives me better access and a more secure spot for my wallet and keys.
After sitting down, I'll bust out my Galaxy Buds (I recently switched to team Apple, but can't break up with my Galaxy Buds yet) and put on a show. I always make sure to have some Netflix episodes downloaded to watch before leaving home, so I'll usually tune in to whatever interests me at the time.
You won't find me busting out a laptop because the space is just too cramped to get any meaningful work done. A good hour long show is a good way to pass the time without it dragging on too long.
Premium Cabin
Like Matt, you'll find me in a lounge before my flight. Yes, I'll even get to the airport early to spend more time in the lounge (if it is a good lounge at least).
I'm not going to lie, the perks of a lounge are still so neat to me that I feel like a kid. I like to try to take advantage of as many of them as possible. I'll grab a shower, or a massage, and of course, some food and drink.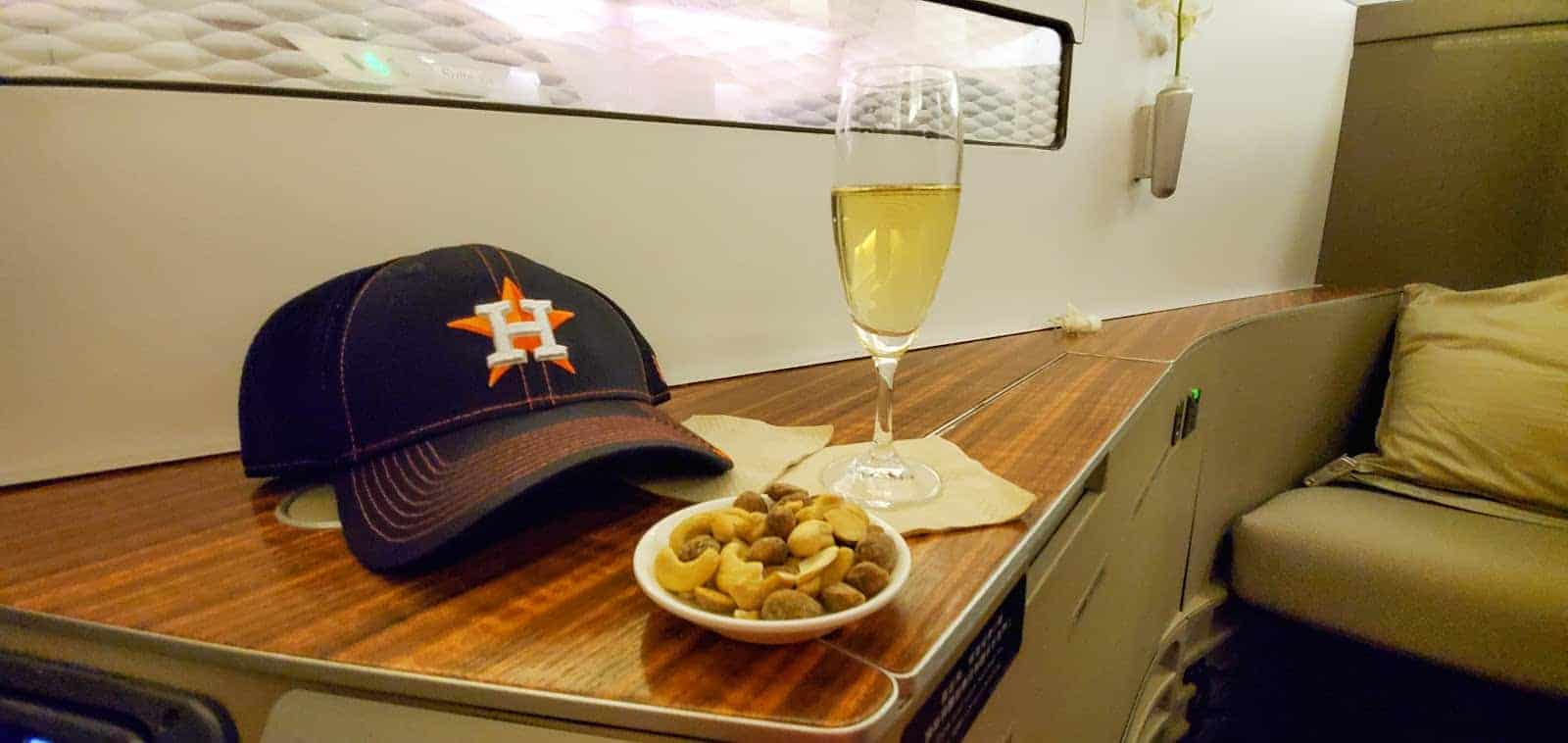 Most importantly, though, a lounge is a place to be sure everything is charged and downloaded. I'll try to find a nook to plug everything in and be sure I've got shows downloaded on multiple devices, just in case.
Contrary to when I'm flying economy, when I'm flying in a premium cabin, I want to board as early as possible. I want to maximize my time on board. I'll try to get to the gate at the proper boarding time, which often leads to me waiting in frustration when boarding is delayed.
After boarding, I'll do the same thing. Bag in the seat area, pockets empty, get comfy. I'll casually look over the food and beverage menu and get a feel for what I want to eat and drink. I'll start off with champagne, and usually finish with champagne. I may squeeze in a gin-based drink depending on how I'm feeling.
I'll then check out the amenity kit. Sometimes I have no idea what the stuff is. "Hydrating Facial Mist." So… water in a bottle with a sprayer? That being said, I will always go for whatever chapstick/lip balm is available and any facial moisturizer. My skin is naturally dry, and even though I have a daily routine, flights still tend to dry my skin out more.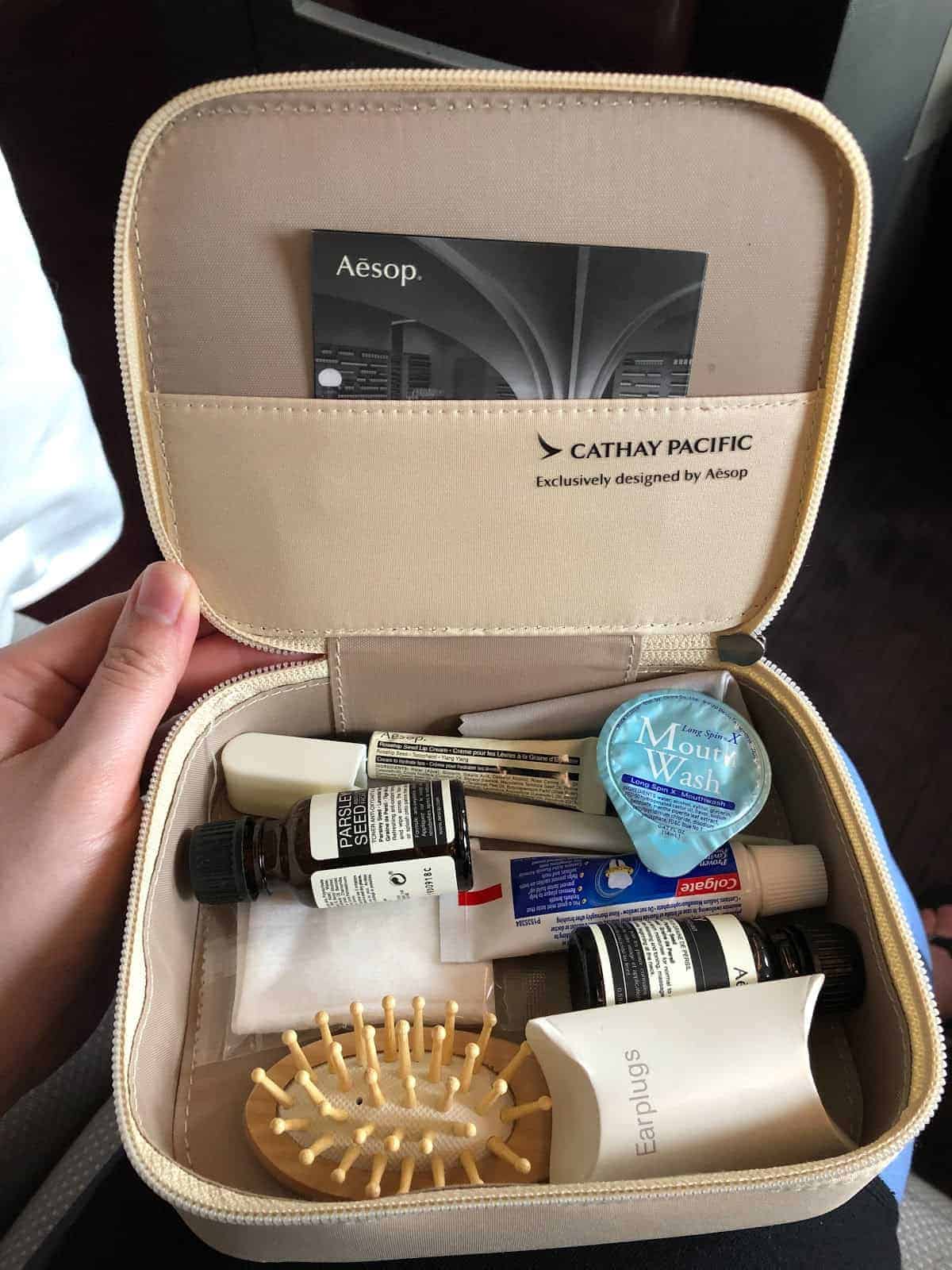 I really liked the Parsley Seed Serum from Aesop  that Cathay Pacific used to have in their first class amenity kits, so much so that I bought some to use at home.
Finally, while settling in, I'll change into pajamas or comfy clothes if pajamas aren't provided. I don't think I should have to dress up nicely for premium cabin. It is a long flight and I'm just looking to be comfortable.
After that, it's free for all! I think the best routine is doing what your body needs at that time. Sometimes, that means lathering your face in moisturizer from the amenity kit, and others it means getting a snack even though you had a 5 course meal only 3 hours earlier. At the end of the day, being comfortable and mostly awake is the goal, so I'll do what is needed to help make that a reality.
---

Economy Routine
My number one priority when flying economy is to get an aisle seat. I hate sitting in the window seat for a couple of reasons. First, I always get cold sitting too close to the aircraft wall and window. Second, I don't like feeling like I am trapped and have one or two people between me and the aisle.
And finally, I drink a lot of water when I fly. I get thirsty and it's good to stay hydrated during the flight anyway. You know where I am going with this, right? If you drink a lot, you, um, have to get up a lot…
"I don't want to climb over other passengers or have to wake them up every time I need to use the lavatory.  So I'll do everything in my power to snag an aisle seat!"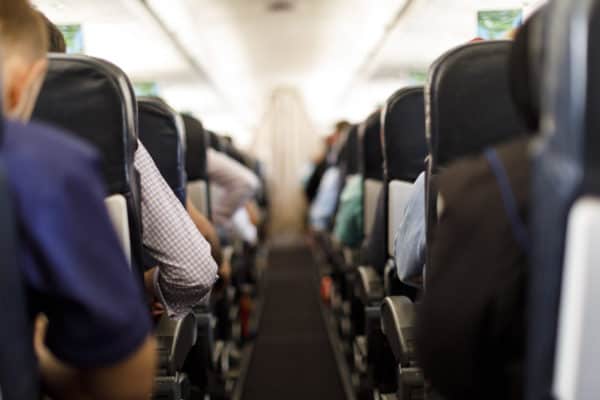 On any flight longer than two hours, I always bring my neck pillow with me. Another product I won't do without on a long economy flight is the leg hammock. It sounds and looks funny, I know. I regret not finding out about this product sooner! A lot of my economy flights could've been so much more comfortable.
I also bring my own food on board. I am not one of those people who can miss a meal, so I always make sure I have enough sustenance for the entire flight.
When I first settle into my seat, I'll only take out the most necessary items out of my carry on bag. I can always go back and get the other stuff after the seat belt sign is off. Because I almost always get cold on the airplane, I'll grab my big scarf and socks (if it's summer and I am wearing sandals).
If it's an overnight flight, I also bring an eye mask and a pair of earplugs. And I'll always have a pair of hotel slippers with me on a long flight and change into them as soon as the seat belt sign is off because they're so much better than wearing shoes.
Premium Cabin Routine
A nice shower before a long international flight is a must, so you'll always find me in a lounge before a business class flight. While I am there, I'll also check out the food but that could be hit or miss, depending on the lounge.
When on board, I'll change into slippers that are either provided by the airline or a pair that I brought with me. I fly in, what may be considered by some, glorified pajamas, i.e. stretchy pants with elastic waist, a roomy t-shirt and shoes that are easy to take on and off. If I am in a premium cabin, that means a long flight, and I want to be comfortable.
I don't wear makeup when I travel except for some lip gloss. And I always bring lip balm with me because the airplane air is so dry.
---
Carly Helfand

Economy Routine
I'm in the board-as-early-as-possible camp, in part for the overhead space, but mainly because it makes my pre-takeoff routine a lot easier. The first thing I do is use antibacterial wipes to sanitize everything on the plane that I will conceivably touch throughout the flight: headrest, tray table (both sides!), arm rests, seatbelt, air vents, in-flight entertainment system and, if I got stuck against the window, the space around that, too.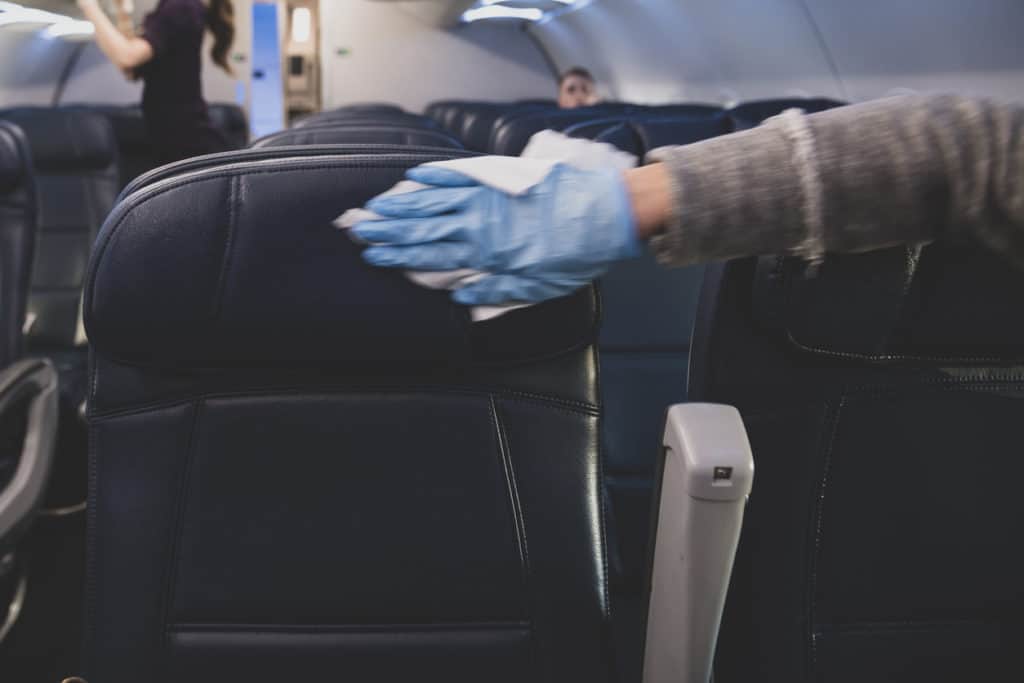 I then head straight to the lavatory to wash my hands, which is where the early boarding comes in handy. I'm usually able to dart there and back easily before people start boarding in droves.
Once back in my seat, I find starting an episode of a half-hour TV show on my phone is the best way to distract myself and keep from getting frustrated if boarding/taxiing drags on, and if there's a delay on the tarmac, I just start another episode.
As soon as we're above 10,000 feet, though, I pull out my laptop and get to work (assuming the plane's Wi-Fi is working). I'm more productive on flights than in most other settings thanks to the natural lack of distractions. My tip for maximizing my working experience? Grab a seat in the second row of exit row seats (typically row 21). Row 20 can't recline!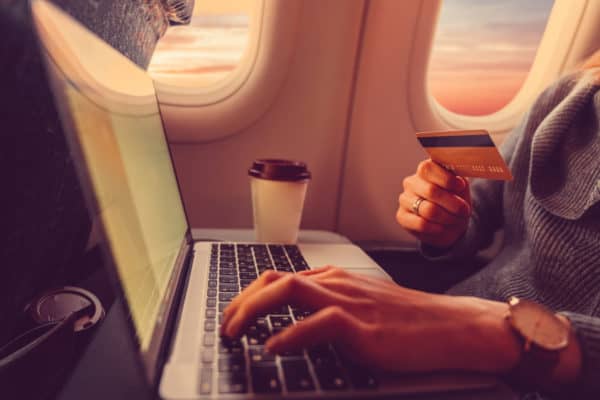 I'm mainly an economy flyer, so my economy routine is actually just… my routine unless I get upgraded. In that case, it stays pretty much the same—just with a shorter walk to the lavatory.
To make the whole economy thing manageable, especially since most of my flights are a few hours or more, compression socks are ALWAYS on. I really like Comrad Socks since they don't look like they're meant for old ladies and they're relatively easy to get on and off. Hydration is also important, and I try to bring a water bottle that can be stored in my bag since my laptop is usually taking up all the real estate on the tray table that a cup or can would occupy.
---
Economy Routine
I too am very much in the "board as soon as possible" camp, with one major caveat.
I do everything possible to stay out of the way of the people who are rightfully able to board before me. "Gate lice" are one of my least favorite things about airports.
@PassengerShame love this

— Josh Mankiewicz (@JoshMankiewicz) April 19, 2016
Photo Credit: unc01ncsu4life
Otherwise, my economy routine is pretty straightforward. I try to get an aisle seat if I can, put on my noise cancelling headphones, never use the seat in front of me as a handle when I need to stand up, and generally just try to zone out for as much of the flight as possible.
Premium Cabin Routine
My premium cabin routine is quite different from my economy routine but begins with the same strategy; I try to board the plane as early as possible.
The difficulty of doing so is positively correlated to the number of amenities offered by the lounge that I am coming from.
Hot showers and bottomless high-end champagne? I'll be sliding through the closing plane door like Indiana Jones in the Temple of Doom.
Well drinks and a cold buffet? Maybe being a gate louse isn't so bad afterall…..
Once aboard, I immediately change into the airline provided slippers and loungewear and locate the amenity kit. Lip balm and lotion are then applied to my face to get ahead of the inevitable drying out that comes with extended time in recycled air while drinking a cocktail or three.
I also make a point to stow the bottle of water that is provided. Better to simply ask for a cup of water and save the bottle later in the flight when service is paused and I am dying of thirst.
And while we are talking about hydration, I make a point of ordering water with any alcoholic beverage I consume. With easy access to bathrooms, there is just no reason not to.
Otherwise my premium cabin flight routine is pretty…. routine. I watch movies, enjoy multi-course meals, and do my best to enjoy the fruits of my points & miles labor.
---

Strangely enough, I no longer split my routines by whether I'm flying in economy or business cabins. As a family traveler, the biggest determining factor of my in-fight routine is whether I'm traveling with my kids or not.
Family Routine
With three young kids, we generally split up boarding. One of us will board as early as possible, generally with the two easier kids (read: the older ones). Whether that's my partner or me, whoever boards first makes sure everything is set up and the older kids are settled. The goal is to have everything as organized as possible: snacks, entertainment, games, before the whirling dervish that is our toddler boards and messes everything up.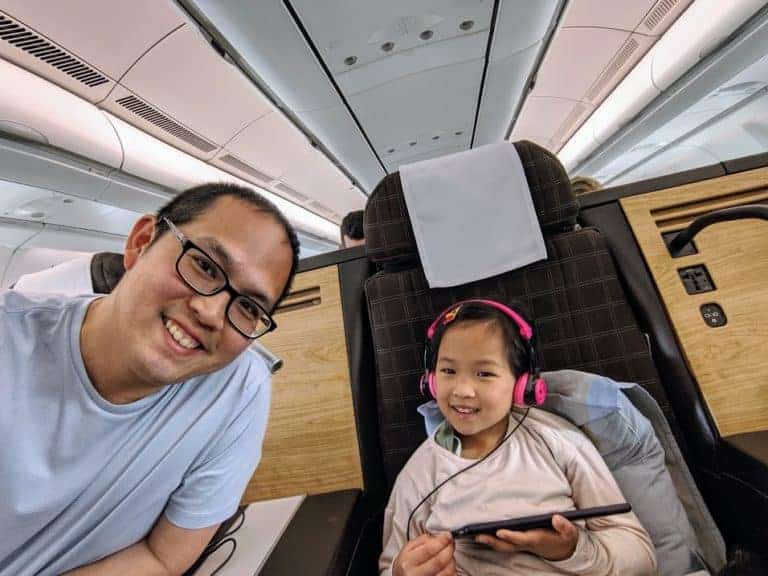 Once the flight starts, we follow the oxygen mask mentality – make sure the children are set before we take care of ourselves. Back in the day, we'd try to spend at least half the flight entertaining them with non-screen based entertainment, but nowadays, our oldest knows how to work the in-flight entertainment herself and we don't have the energy. The toddler doesn't have the stamina to watch television for an entire flight so we always end up having to entertain her anyway.
For meals, especially in business class, the adults generally eat one at a time. One parent makes sure the younger kids aren't spilling food all over themselves while the other parent tries to scarf down food as quickly as possible. This is not generally realistic in economy since you don't have the luxury of asking them to delay your food but we try to stagger things as much as possible.
On longer flights, we always make our younger kids take a nap or at least take some rest time. They're still small enough that they can lay across the seat and use our legs as pillows, but the trick is convincing them to try to rest. Like all good parenting, it generally involves some form of bribery.
At the end of the day, flights with three kids, especially the long-haul ones, are mostly about survival. The kids have a great time but we're generally exhausted by the end! That's why I savor solo travel, regardless of class of service, these days.
Solo Routine
These days, solo travel is to be savored. Like most people here, I generally try to board early but if I get to the gate late because I'm enjoying a lounge, I don't mind boarding last either. Once I'm on board, it's all about the entertainment for me. With kids running around I often have a lot of movies and TV shows I want to catch up on so like my seven year old, I plop myself down right in front of the in-flight entertainment and start watching until my eyeballs fall out.
Since I drink a lot of diet cola on flights (Jetblue, bring back the Diet Coke, please!), I have to use the lavatory quite a bit so I like to sit in the aisle. But other than the in-flight entertainment and drinking plenty of water to stay hydrated (read: more lav trips), I just sit back, relax, and enjoy myself when traveling with just my wife or alone. Every once in a while, I'll take my laptop out to "do work" but that typically results in me just taking a nap.
Have I mentioned I love flying without my kids? 🙂
---

When it comes time for yet another trip by air, I've got a simple routine. I board as soon as my group is called because I typically fly with a carry-on bag. There's nothing worse than having to fight hordes of mouth breathers trying to locate your bag a few rows ahead of you or—the horror!—behind you upon landing.
If the flight is short, I prefer a window seat and select one ahead of time unless I fly on a basic economy ticket. On long flights, I choose an aisle seat for a couple of reasons.
Reason No. 1: I'm the type who likes to try multiple beverages to stay hydrated on the plane and subsequently the type who uses the lavatory way too many times, especially on a long transatlantic or transpacific journey.
Reason No. 2: This one is a little devious because if I take an aisle seat in a row of three or four in the middle section of a plane, and my companion takes the other aisle seat, there's a high probability of flying with an empty seat or two between you and your travel buddy. The plan isn't foolproof, but it's been known to have worked in the past.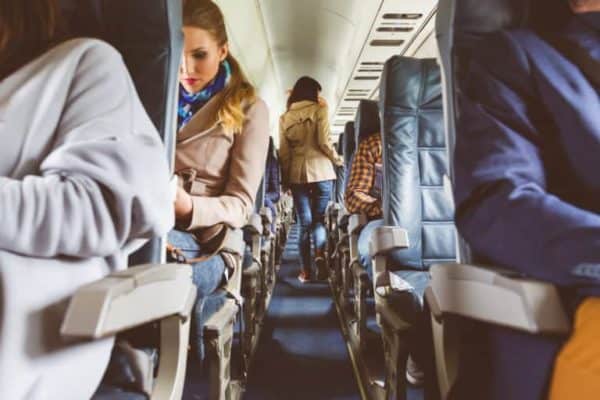 As I reach my seat, I step out of the way with my bag still in my arms. I let the other passengers pass and find their seat without a holdup while I dig through the treasure trove that is my backpack and take out my usual in-flight necessities: a pair of headphones for the movies, the DUO travel pillow for a snooze, a stick of lip balm for my lips (it's not just a necessity, it's an addiction at this point) and a pen for customs forms.
I place all these items, except for the travel pillow, in my hoodie pockets, which I always wear because planes are basically flying freezers, and the rest of my luggage goes in an overhead bin above my seat.
As for personal appearance, I don't wear makeup when I fly and opt for a pair of leggings and a pair of sneakers. You never know how many layover marathons you're gonna have to run if your first flight is behind schedule.
Final Thoughts
Clearly, each member of the 10xTravel team has put in some serious thought to how they want to experience flights. From getting a family settled to lapping up the luxury experience in business or first class to bringing your own inflight amenities, we each have ways to make flying just a little bit easier and more enjoyable.
Tell us about your inflight routines in the comments!
New to the world of points and miles? The Chase Sapphire Preferred is the best card to start with. With a bonus of 80,000 points after $4,000 spend in the first 3 months and 2x points on dining and travel, this card truly cannot be beat!
Learn More
Editors Note: Opinions expressed here are author's alone, not those of any bank, credit card issuer, hotel, airline, or other entity. This content has not been reviewed, approved or otherwise endorsed by any of the entities included within the post.