Note: Some of the offers mentioned below may have changed or are no longer be available. You can view current offers here.
I know I've messed up my fair share of dinners, don't ask my wife about my fried chicken (but if you do, be sure to ask about her pancakes). When things just don't go right in the kitchen, I rely on food delivery to help make it through.
Long gone are the days of just pizza being available for delivery. Thanks to many apps out there, you can order delivery from practically anywhere. Whether you're looking for a sweet dessert, or looking to try the best meal ever, apps like UberEats, DoorDash, or any of the many options will be able to satisfy your palate.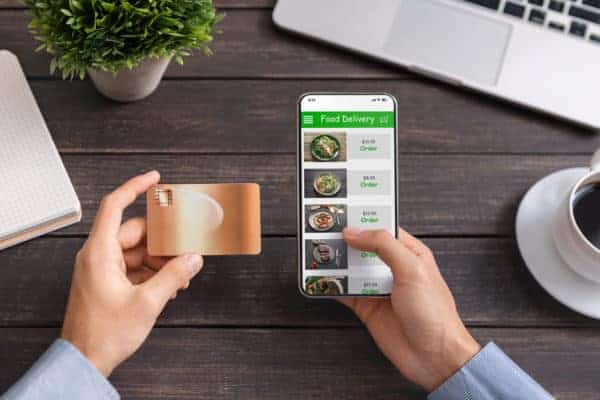 Thankfully, there's a lot of great cards out there for your food delivery service of choice. Unfortunately, the predominant service in an area is very regional. I'm in Houston, and have never used Postmates, but I know plenty of my friends in New York rely on it as their go-to food delivery service.
The card I use the most for food delivery may not be the same one you should. So, I've compiled the best cards for each of the major food delivery services along with some helpful tips to help you earn the most points and miles from each. Let's take a look.
Cards with Food Delivery Credits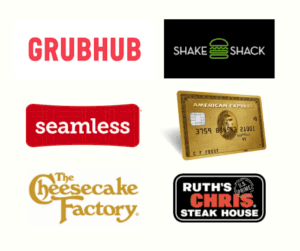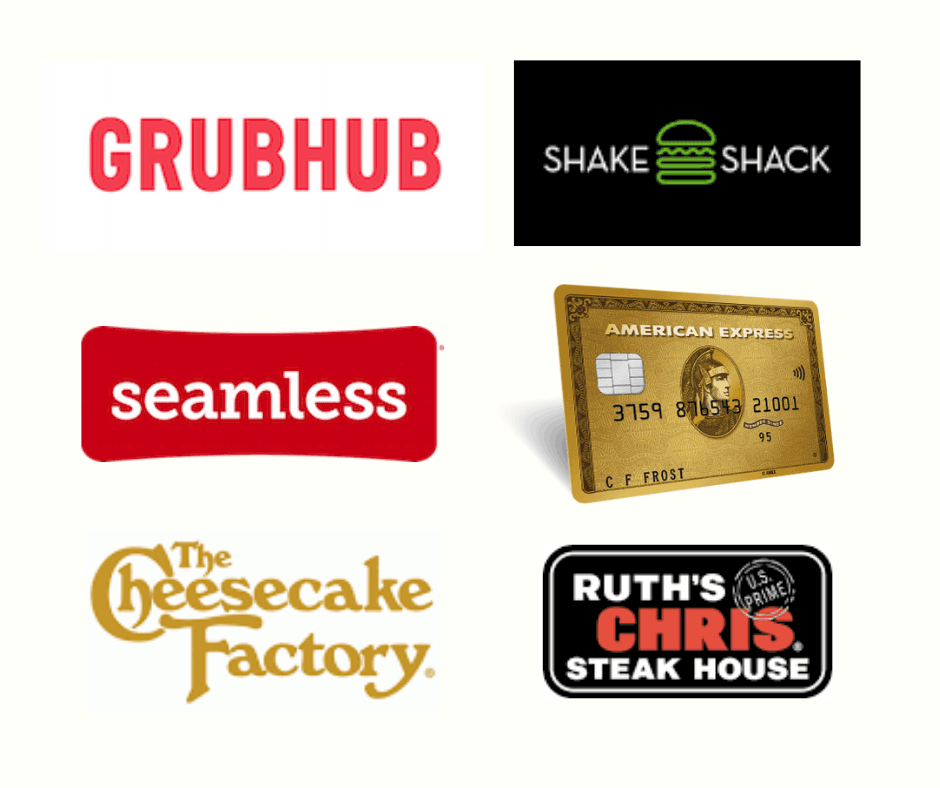 Across mid-tier and premium credit cards a common trend is emerging – food delivery credits. If you have one of these cards, be sure to take advantage of the food delivery credits. They all work differently, so be sure you're getting the full benefits from your annual fee.
The American Express Gold Card offers up to a $10 monthly credit that you can use for Seamless/ Grubhub. You can also use the credit at The Cheesecake Factory, Ruth's Chris Steak House, Boxed, and participating Shake Shack locations. While $10 probably isn't enough to cover your entire tab, it can take a good slice out of your bill. With an annual fee of only $250, this is the only mid-tier card offering a food delivery credit.
If you prefer UberEats, the up to $15 monthly Uber credit from the American Express Platinum Card can be used for UberEats instead of for a rideshare. In December, this credit becomes $35 and can cover some smaller orders. The annual fee is a bit heftier at $550, but if you already have one you should definitely be taking full advantage of the credit.
Earlier this year (boy has it been a long year already!) Chase made some changes to the Chase Sapphire Reserve. Among other changes, Chase added a DoorDash credit. You'll get $60 in 2020 and another $60 in 2021. Since it isn't monthly, you'll likely use it all up on one or two orders, but it will cover your entire bill which many other credits won't do.
Chase Sapphire Reserve – Best for DoorDash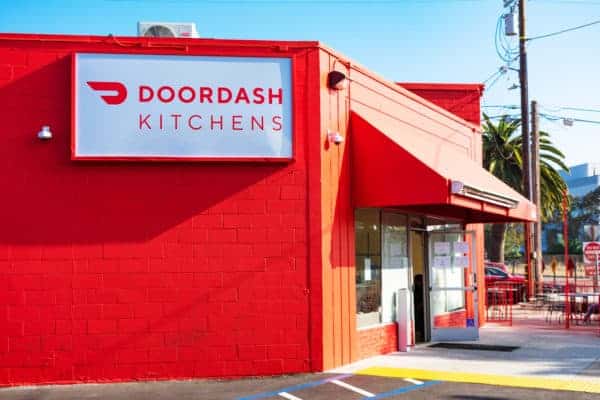 If you're a frequent DoorDash user, you shouldn't be looking at any card other than the Sapphire Reserve. There's some great benefits beyond just the DoorDash credit.
For starters, you'll get complimentary DashPass membership. DashPass gets you $0 delivery fees on many restaurants, and reduced service fees to others. This helps stretch your credits and dollars farther on every DoorDash order. The only downside of the membership is for bloggers like me who find themselves typing DoorPass way too frequently.
On top of the $60 annual DoorDash credit, the Sapphire Reserve earns 3X Ultimate Rewards on all dining. While it doesn't explicitly include delivery services, it doesn't exclude them either. Chase says it depends on what the merchant codes as in their system. Most delivery services code as dining.
The Chase Sapphire Reserve has a $550 annual fee, but don't let this discourage you. You get a lot of benefits beyond the DoorDash benefits. There's some great travel insurance and a $300 annual travel credit to help make this a great card to keep in your wallet for DoorDash and for any travel needs.
Citi Prestige – Best for Postmates

The Citi Prestige Card is hands down the best for Postmates. Citi's flagship rewards card is issued as a World Elite Mastercard. Recently, World Elite Mastercards got a new benefit with Postmates where you'll earn $5 cash back on all Postmates orders of at least $25. Basically, it refunds the delivery fee on most orders.
Although you can get this with any World Mastercard or World Elite Mastercard, the reason the Citi Prestige is the best option is because it earns 5X Citi ThankYou Points at restaurants. Although this is technically supposed to exclude food delivery services, there's some data points out there showing that it does apply to delivery services.
Specifically, it appears to earn 5x on DoorDash, GrubHub and UberEats. This means you can earn up to 20% back on your order plus an additional 5X points on every order.
The Citi Prestige is another premium credit card. It comes with a $495 annual fee. Use Postmates 99 times a year and the $5 discount pays for itself! If you're not quite that heavy of a user, there are other benefits that help make the annual fee worth it, like a $250 travel credit every year.
American Express Gold Card – Best for All Services
If you're not picky about which food delivery service you use and you're looking for a one size fits all card then look to the American Express Gold Card. Yes, its benefits do show some favoritism to Grubhub and Seamless, but what makes it the best card for any service is its earnings rate.
The American Express Gold Card earns 4X Membership Rewards per dollar on dining including delivery services. This is not limited to just Grubhub and Seamless, but across the board to all delivery services. Remember, this is in addition to the $10 monthly credit that you can use at Grubhub/Seamless, The Cheesecake Factory, Ruth's Chris Steak House, Boxed, and participating Shake Shack locations.
This is a mid-tier card with a mid-tier annual fee of $250. The delivery credits and $100 airline fee credit definitely help to offset the annual fee, and earnings 4X Membership Rewards on every dollar spent on delivery services is a great way to rack up a ton of Membership Rewards points for frequent food delivery users.
American Express Green Card – Best Moderate Annual Fee Card
American Express did a complete overhaul on their Green Card last year, making it a solid contender in its class. The Green Card earns 3X Membership Rewards on global restaurants, including food delivery services.
Unlike its older siblings in Gold and Platinum, the annual fee is a bit more moderate at only $150 per year. It does come with some other unique benefits as well to help justify the annual fee, such as a $100 annual credit for a CLEAR membership.
However, if you're under 5/24 you shouldn't be looking at this card yet. Put simply: it isn't worth missing out on some of the great Chase 5/24 cards that are out there.
Chase Sapphire Preferred – Best Moderate Annual Fee Card for Users Under 5/24
If you are under 5/24 and aren't quite feeling the $550 annual fee of the Sapphire Reserve, then look to the Sapphire Preferred. Many people under 5/24 are new to this hobby, and there are a lot of reasons why the Sapphire Preferred is the best travel card for beginners.
For anyone looking to earn some good rewards on their food delivery, the Sapphire Preferred is a great option. You'll earn 2X Ultimate Rewards for every dollar spent on dining, including food delivery. The only hangup is that it requires the delivery service to code as "dining." Most do, however, Postmates typically does not code as dining for the Chase network. Sorry Postmates users.
With a $95 annual fee and a great sign-up bonus, this card has a great long-term position in your card line-up and can help earn a few extra points when using food delivery services.
Capital One Savor – Best Cash Back Card
The Capital One Savor is the best card for food delivery services if you're looking to get the most cash back. With the Capital One Savor card, you'll earn 4% cash back on dining, including food delivery. This is all-inclusive of the major food delivery services.
The card has a $0 annual fee for the first year, and $95 after that. You'll break even on the annual fee if you spend $2,375 in food delivery per year, but that's only in food delivery. You'll earn 4% back on all dining and entertainment. Between all the categories, it can be easy to make up the annual fee.
Wells Fargo Propel – Best No Annual Fee Card
Let's face it, there's not a lot of cards with no annual fee that earn good rewards. Most earn 1%, or 1.5% maximum. That's where the Wells Fargo Propel card shines.
This no annual fee option earns 3X Propel rewards on a lot of different categories: dining in or out (including delivery services), gas stations, rideshare, travel, and streaming services.
Propel rewards can be redeemed for cash back in $20 increments or for travel at 1 cent per point. Right now, you can also get a bonus of 20,000 points after spending just $1,000 in the first 3 months. Like many cards on this list, you should look at other options if you're under 5/24, but for those over 5/24 this can be a good option if you're looking for a card that earns solid rewards with no annual fee.
Uber Visa Card – Good Option for Heavy Uber Users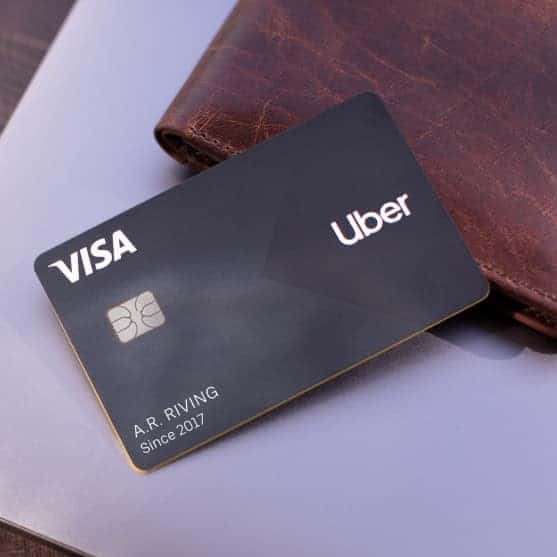 Co-branded credit cards are starting to expand beyond just airlines and hotels. We've seen some new companies partner with banks to issue a new credit card in the last year. One of the better options is the Uber Visa Card.
If you're a heavy Uber or Uber Eats user, this is a good go-to card after you've exhausted any credits you get if you're an American Express Platinum Card member.
The Uber Visa Card earns 5% Uber Cash on all Uber purchases. This includes Uber Eats. If you use Uber often, this can help boost your Uber Cash balance. You'll be hard pressed to get better than 5% return from other options with no annual fee, but again this only applies to Uber users.
Most people would be better off earning rewards at a 4x rate with the American Express Gold Card, but 5% Uber Cash may be compelling to some users who may use Uber a lot for work.
The Uber Visa Card has a $0 annual fee, and a small bonus where you can earn $100 Uber Cash after spending $500 in the first 90 days.
SoFi – Best Debit Card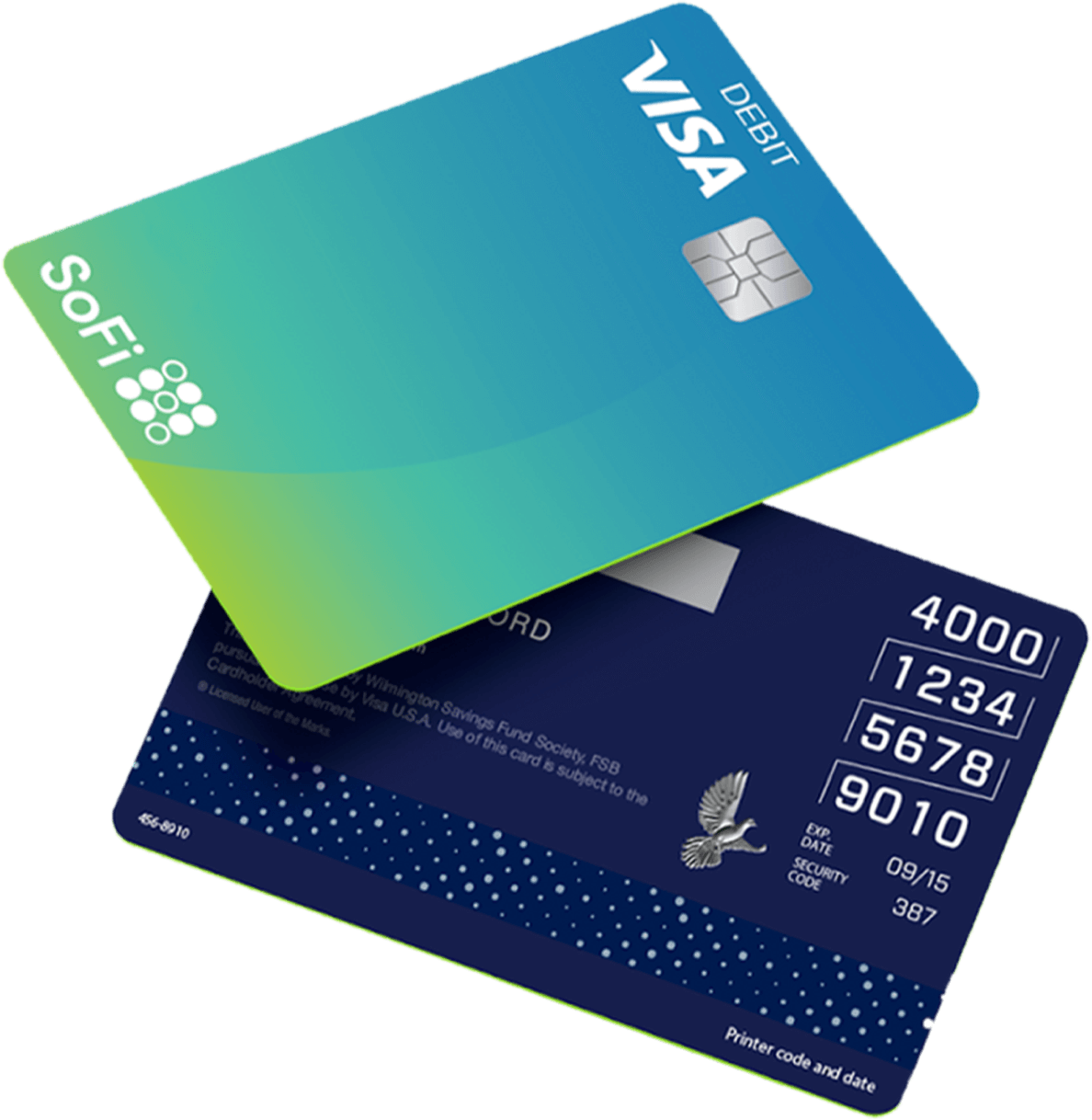 I know, I know. Debit?! You can't earn points with debit.
True, but right now SoFi is running a promotion for users of SoFi Money. You can get 20% cash back when using your SoFi Money card on DoorDash orders. This runs through June 30, 2020. As this is a limited time promo, you'll want to go back to using the Sapphire Reserve for DoorDash once the promo ends.
Final Thoughts
There's a lot of great contenders for the best cards to use for food delivery services. If I had to pick just one, it would be the American Express Gold Card. Earning 4X Membership Rewards, and having a monthly credit really makes it hard to beat, even with its moderate annual fee of $250.
I really like the flexibility of the Sapphire Reserve as well. With DashPass from DoorDash included for a year, I've definitely found myself using DoorDash more. Those delivery and service fees can really add up. Since my membership helps lower or completely eliminate these fees at certain restaurants, and I can earn 10X Ultimate Rewards per dollar spent with food delivery services, I find it a very attractive option.
However, one card doesn't fit all. Some of you may be looking to earn cash back right now rather than travel rewards. If that's you, the Capital One Saver or SaverOne cards are great options.
No matter what you're looking for, there are a lot of great cards out there to get the most from food delivery services. Take a look, and find one (or two, or even three!) that will fit your needs the best.
---
10xTravel is part of an affiliate sales network and receives compensation for sending traffic to partner sites, such as CreditCards.com. This compensation may impact how and where links appear on this site. This site does not include all financial companies or all available financial offers.
Editors Note: Opinions expressed here are author's alone, not those of any bank, credit card issuer, hotel, airline, or other entity. This content has not been reviewed, approved or otherwise endorsed by any of the entities included within the post.