In This Article
Loading table of contents …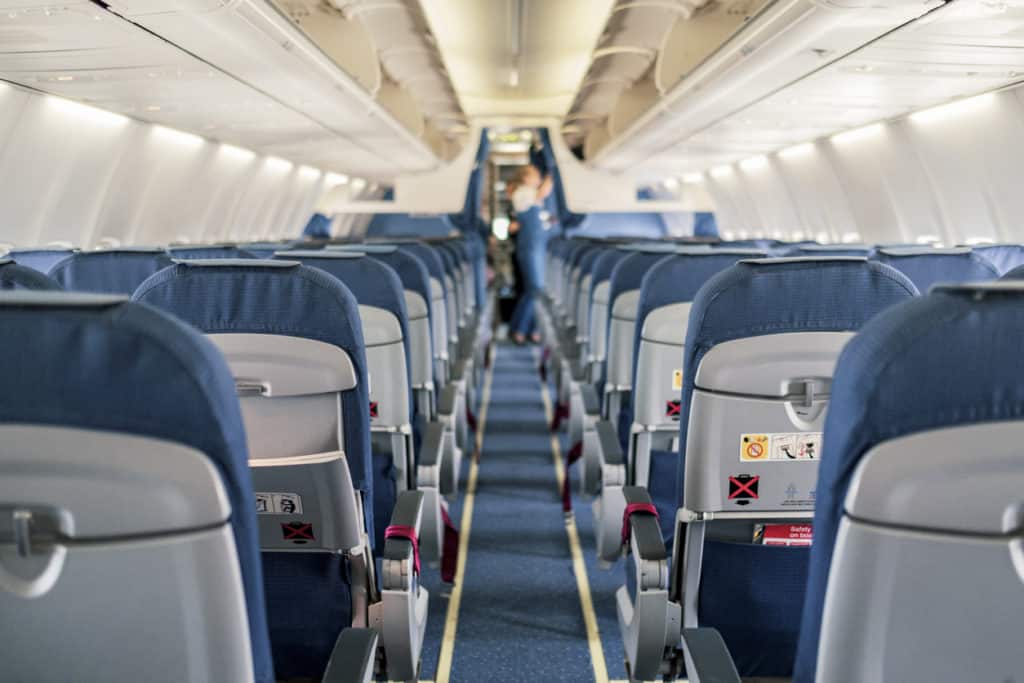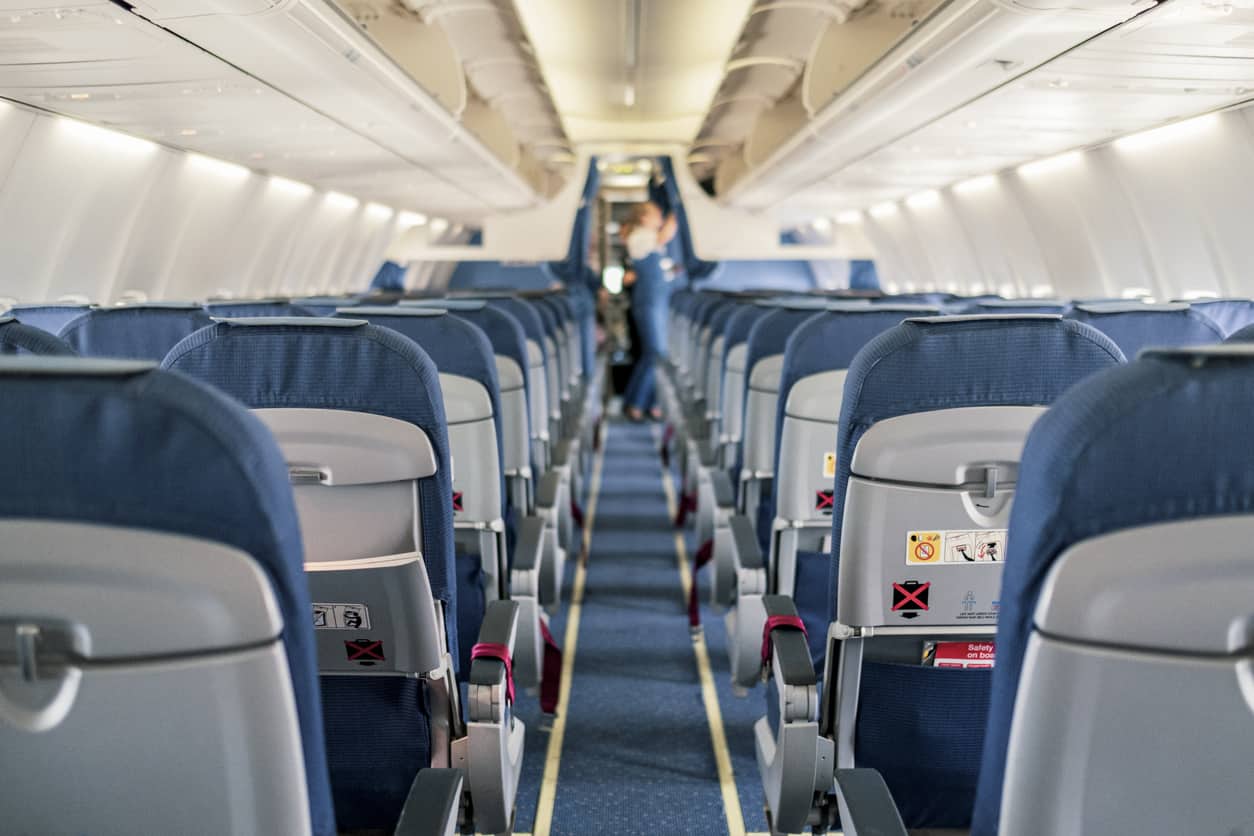 Note: Some of the offers mentioned below may have changed or are no longer be available. You can view current offers here.
With their ease and range of earning and using, Chase Ultimate Rewards are one of the best flexible reward currencies for economy fliers. By strategically using their transfer partners, you can book award flights on any of the three main award alliances (Oneworld, Skyteam and Star Alliance), and take advantage of opportunities for extra value in award charts.
In this article, we're going to walk you through a wide variety of economy redemption options with your Ultimate Rewards points.
How to Earn Chase Ultimate Rewards Points
Chase Ultimate Rewards are a relatively easy rewards currency to earn, thanks in part to the number of credit cards that Chase issues that earn Ultimate Rewards points. These cards include:
With such a wide offering of cards that have not only healthy welcome bonuses, but also lucrative bonus categories for ongoing spend, you can easily rack up a healthy stash of Ultimate Rewards Points.
Chase Transfer Partners
Chase has ten airline transfer partners across all of the major airline alliances plus a few others so you'll have a wide variety of redemption opportunities.
Chase Ultimate Rewards Airline Transfer Partners
Aer Lingus AerClub
JetBlue TrueBlue
Air France-KLM Flying Blue
Singapore KrisFlyer
British Airways Executive Club
Southwest Rapid Rewards
Emirates Skywards
United MileagePlus
Iberia Plus
Virgin Atlantic Flying Club
You can transfer Chase points to all partners at a 1:1 ratio. Just remember that each transfer partner has their own sweet spots for maximizing redemptions. Knowing and understanding how the award charts for these programs work and what their respective sweet spots are will help you get the most out of your Chase Ultimate Rewards.
---
Now, let's get into the meat of it. Below are some of the best ways for you to use your Chase Ultimate Rewards Points for economy redemptions, broken down by transfer partner.
Chase Travel Portal
In most cases, you'll get more value from your points by transfering points to an airline partner if you want to book business or first class – though, you might be surprised how often the portal is good for business class. However, for economy flight redemptions, you'll very often get a better deal in the Chase portal than by transfering points to a partner.
Before you decide whether to book an award ticket or book through the portal, you'll want to run an award search to see what award space is available. Once you've done that, you can check how many points you'd need in the Chase travel portal.
If the cash price is low enough, it can make more sense to book via the Chase Travel Portal than it does transferring to a transfer partner because the total amount of points required may be lower.
For example, if United wants 60,000 United miles for a roundtrip economy award flight to Europe, but you find a cash fare of $550 and are a Chase Sapphire Reserve cardholder, you're better off booking via the Chase Travel Portal since that ticket would cost you just 36,667 points since the points on the Chase Sapphire Reserve are worth 1.5 cents apiece.
For a quick reference guide on how many Ultimate Rewards points various travel items cost in the Chase Travel Portal, reference the chart below to see how your card stacks up:
| | | | |
| --- | --- | --- | --- |
| Cost (USD) | Chase Sapphire Preferred | Chase Sapphire Reserve | Chase Ink Preferred |
| $200 | 16,000 | 13,333.33 | 16,000 |
| $350 | 28,000 | 23,333.33 | 28,000 |
| $500 | 40,000 | 33,333.33 | 40,000 |
| $750 | 60,000 | 50,000 | 60,000 |
| $1,000 | 80,000 | 66,666.66 | 80,000 |
For more info, check out our Guide to using the Chase Ultimate Rewards Travel Portal.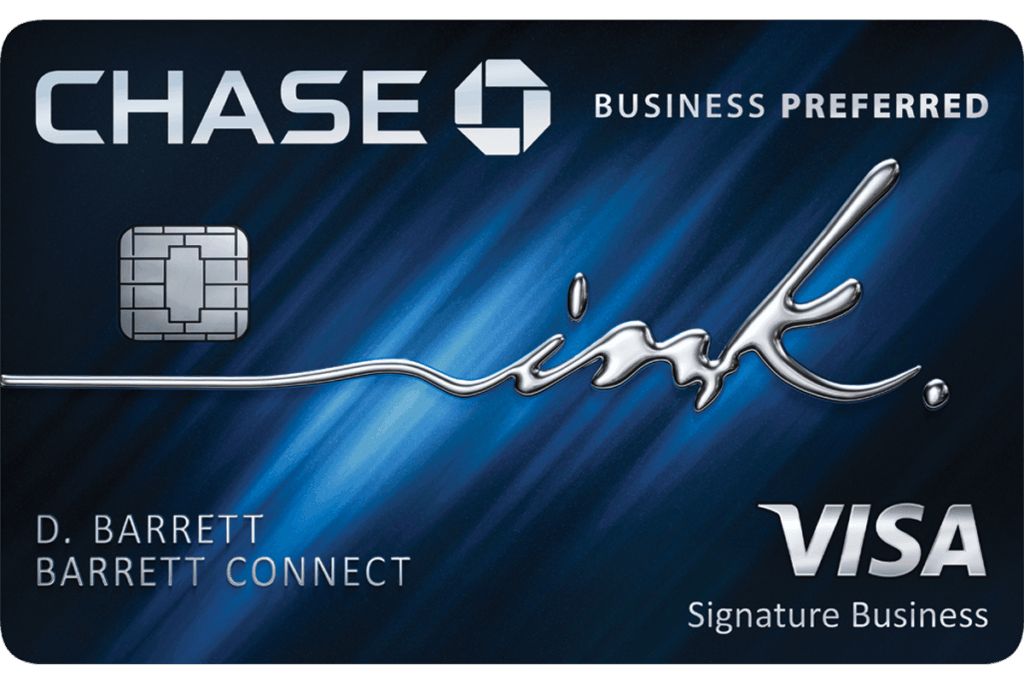 Aer Lingus AerClub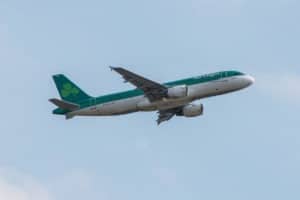 Aer Lingus AerClub prices award flights using the following 3 criteria:
Flight distance per segment
Peak/off-peak dates
Fare class
Whether you're looking for short intra-Europe flights that cover short distances, and in-turn cost very few miles, or taking advantage of some Off-Peak dates to fly from the US to Europe via a connection in Ireland, Aer Lingus is a great option for you to consider flying.
As you're piecing together an itinerary with AerClub, don't forget that awards are priced per-segment based on distance, and also utilize peak and off-peak dates to dictate pricing. They publish their peak and off-peak calendar annually so that you can see what pricing is in effect and when.
Fly to Dublin on Aer Lingus
Flights to Dublin (DUB) clock in at just a little over 6 hours of flying time, and 7 hours from the Midwest, meaning it's closer than you might think.
If you travel to Dublin or Shannon (SNN) are on your radar, you'll be in for a treat if you're able to redeem Aer Lingus Avios for your flights. Even better, if you're able to travel during off-peak dates, you're looking at just 26,000 Aer Lingus Avios for off-peak round-trip economy from several airports including:
Boston (BOS)
Chicago (ORD)
Hartford (BDL)
Minneapolis/St. Paul (MSP)
Newark (EWR)
New York (JFK)
Philadelphia (PHL)
Washington Dulles (IAD).
6+ hours of flying for just 13,000 Avios is a terrific deal. Peak round-trip economy from these destinations will run you 40,000 Aer Lingus Avios.
If you're flying from Los Angeles (LAX), Miami (MIA), Orlando (MCO), San Francisco (SFO) or Seattle (SEA), it's just a wee bit more expensive at 32,500 Aer Lingus Avios for off-peak round-trip economy flights, or 50,000 Aer Lingus Avios for peak round-trip economy
Connect to European Cities on Aer Lingus
With an expansive route map connecting a variety of US locations to Dublin, Aer Lingus also affords you the ability to connect on to a number of their other destinations beyond Dublin or Shannon towards Europe.
Since their award pricing is distance based by segment, and intra-Europe flights are short, this could prove to be a valuable option for you.
Some interesting one-way routing options via Dublin include:
New York to Athens (ATH): 21,500 Avios (off-peak); 30,000 Avios (peak)
Chicago to Dublin to Paris (CDG):  17,000 Avios (off-peak); 17,500 Avios (peak)
San Francisco to Rome (FCO): 24,750 Avios (off-peak); 35,000 Avios (peak)
Washington Dulles to Amsterdam: (AMS): 17,000 Avios (off-peak); 17,500 Avios (peak)
With a quick connection in Dublin, you can save tons of miles, especially if your connecting flight is under 650 miles as that flight will only require 4,000 Avios (off-peak) or 4,500 Avios (peak).
For comparison, many of the peak prices for flights from the East Coast to places like Paris, London, Amsterdam, and Brussels are almost the same price round-trip even on peak dates that one-way saver rates are on other programs – 30,000 American AAdvantage miles for example.
Air France-KLM Flying Blue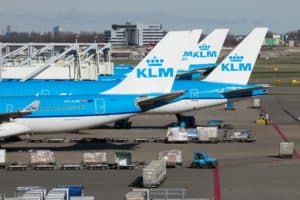 Flying Blue is the loyalty program of both Air France and KLM. There are a number of great ways to use Flying Blue miles for economy flights. While it previously used a region-based award chart, Flying Blue now determines the award rate by origin and destination pairs.
Flying Blue makes it easy to calculate award costs with their Miles Price Estimator. This estimator lets you know the minimum number of miles required for a particular route – basically, this is the saver level for an award and the number of miles you want to use. Please note that partner flight rates aren't always included in the Miles Price Estimator. Fortunately, some routes operated by partner airlines are included.
Flying Blue Promo Rewards
Booking Flying Blue Promo Reward is one of the best ways to use Flying Blue miles. Each month, Flying Blue runs 20-50% off award flights which can be flown in the following two months. These promo rewards are only available on flights operated by Air France and KLM. but they routinely offer some terrific opportunities to stretch your miles.
Fly to Hawaii On Delta
You can use Flying Blue miles to book economy flights from the mainland US to Hawaii onboard flights operated by Delta for just 17,500 Flying Blue miles one-way. This is substantially less than Delta would charge if you were booking with Skymiles.
Fly to the Caribbean On Delta
As you'll notice throughout this guide, you'll often be better off booking flights on U.S. airlines with partner programs. This is no different, so keep Flying Blue in mind if you want to fly Delta to the Caribbean.
Make sure you understand the basics of booking partner awards.
You can use Flying Blue miles to book economy flights from the mainland U.S. to the Caribbean on flights operated by Delta for just 14,500-17,500 Flying Blue miles one-way. This is significantly less than Delta SkyMiles often requires.
Fly from the Caribbean to Hawaii with Flying Blue
Here's a fun one. You can use 12,500 Flying Blue miles to fly from the Caribbean to Hawaii in economy. Yes, you read that right. It's cheaper to fly from the Caribbean to Hawaii or vice-versa than it is from the mainland US to Hawaii or the Caribbean on their own. How awesome is that?!
Explore the South Pacific with Flying Blue
Using Flying Blue as a U.S.-based traveler doesn't only limit you to domestic and Caribbean destinations. You can also fly from Los Angeles to Papeete (PPT) in Tahiti for just 25,500 miles when flying on partner Air Tahiti Nui. Tell me you don't want to stay in an overwater bungalow.
If you're dying to check out Australia, Los Angeles to Sydney (SYD) will run you just 34,500 Flying Blue miles one-way in economy on partner Delta.
Fly to Mauritius, Madagascar or Réunion on Air France, Alitalia, or Delta
Maybe escaping to Africa isn't remote enough or adventurous enough for you. If so, I'm willing to bet the remote islands of Madagascar, Mauritius and Réunion certainly are. Located well off of the eastern coast of Africa, these islands are about as remote as it gets.
Fortunately, it's not too remote for some great Flying Blue redemptions. Here are a few one-way options with Flying Blue miles:
New York to Antananarivo (TNR) via Paris : 46,000 miles
Chicago to St. Denis (RUN) via Paris: 46,000 miles
Atlanta to Mauritius (MRU) via Rome: 46,000 miles
British Airways Executive Club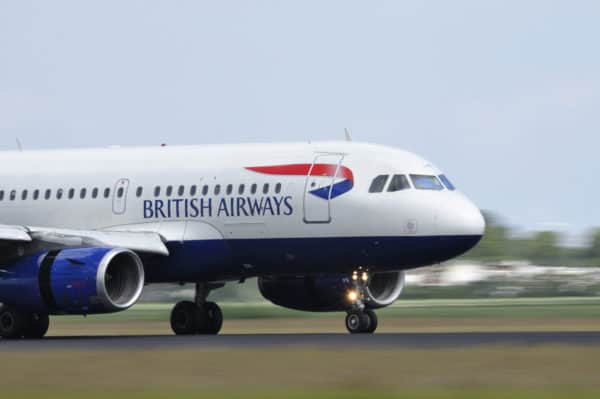 Just like its Avios counterparts Iberia and Aer Lingus, British Airways utilizes a distance-based award chart. Their award flights are set based on the distance of each segment flown, so you'll find your best redemptions will be for nonstop flights.
Fly From the East Coast and Midwest to the Caribbean on American Airlines
If you're looking for a quick and easy getaway and some beach time, American Airlines flies to a bunch of Caribbean destinations. Even better, you can book with British Airways Avios.
You'll find a ton of options out of Miami, but there are also flights from other hubs including Charlotte (CLT), Chicago, Dallas, New York (JFK & LGA), Philadelphia and Washington (DCA).
If you book a nonstop flight from the East Coast or Midwest to the Caribbean, your award will fall under Zone 4 and below, which means you'll need up to 13,000 Avios for a one-way economy ticket.
American's flight from Chicago to Aruba (AUA) might be the best bang for your buck. A one-way journey covers 2,528 flight miles which is the longest flight to the Caribbean that you can book for just 13,000 Avios.
If you're flying out of Miami, then most nonstop American flights will cost you just 9,000 or 11,000 Avios plus minimal taxes/fees.
Fly to Hawaii from the West Coast on Alaska or American Airlines
One of the best uses of British Airways Avios is for flights to Hawaii from the West Coast. With the option of flying on either American Airlines or Alaska Airlines, you have 8 departure cities from the mainland to choose from, for a grand total of 26,000 Avios round trip per person in economy for a variety of routes.
All nonstop flights from the West Coast to Hawaii fall in Zone 4 which requires 13,000 Avios each way. This covers partner awards in the US for flights between 2,001 to 3,000 miles in distance on the British Airways award chart.
Fly to Peru on American Airlines
Looking to explore the gastronomical capital of South America? Lima is just waiting for you. Maybe you'd like to explore the Sacred Valley, the Inca Trail, and Machu Picchu. If you're able to book specific routes to Lima using British Airways Avios, you could score some terrific redemptions.
Let's take a look at a few one-way options on BA's partner American Airlines:
Miami to Lima (LIM): 13,000 BA Avios + $20.60 in taxes/fees
Dallas (DFW) to Lima: 25,750 BA Avios + $20.60 in taxes/fees
New York to Lima via Miami: 22,000 BA Avios + $20.60.
Be sure to also check Iberia Avios if you're connecting since they price award flights based on the total distance flown, not per segment.
If you booked these same flights with the American AAdvantage program, you'd need 30,000 miles for a one-way flight unless you could find a Web Special award.
Fly From Los Angeles to Tokyo on American Airlines
You'll rarely find that using British Airways Avios for long-haul flights is a good idea, but Los Angeles to Tokyo (HND) is an exception. Clocking in at 5,487 flight miles, this route just barely makes it into Zone 6 of British Airways' award chart – 25,750 Avios for partner flights between 4,001 and 5,500 miles.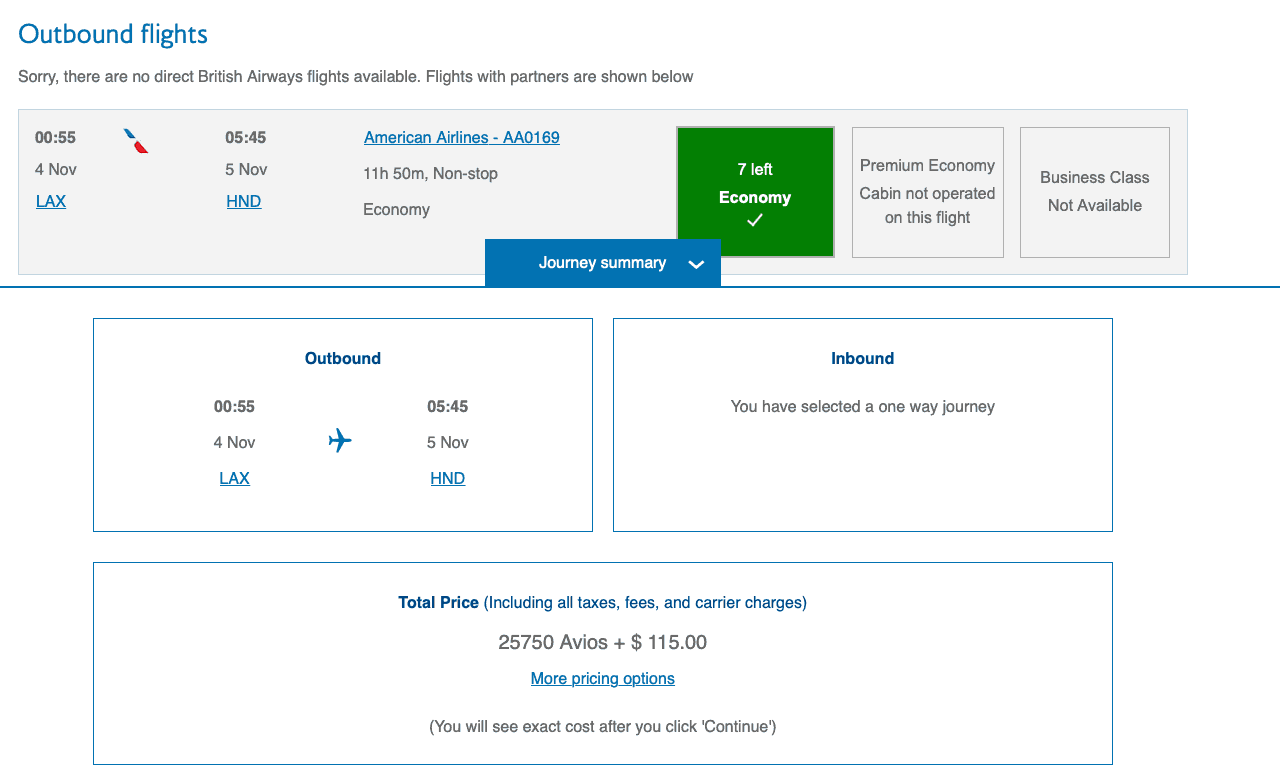 For comparison's sake, American Airlines wants 32,500 AAdvantage miles to book this same flight. It's not a huge difference, but it's easier for most people to earn British Airways Avios than American miles.
Keep an eye on taxes and fees though. While the British Airways requires fewer miles, it does have much steeper taxes/fees of $115. If you booked with 32,500 American miles only, you'd only be on the hook for $5.60 taxes/fees.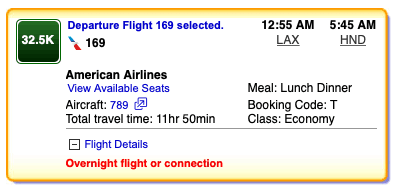 Iberia Plus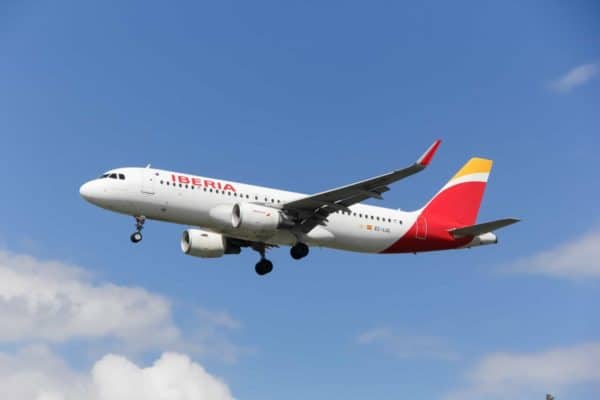 Iberia Plus, like British Airways and Aer Lingus, is part of the Avios program. All three programs have some similarities but there is one aspect of the Iberia Plus program that stands out.
Just like its Avios counterparts, Iberia breaks up their calendar into peak and off-peak dates which gets published annually. Generally, the peak dates include most of the summer season and holidays, and a majority of the remaining dates are considered off-peak.
The main difference is that your award ticket will be priced based on the total flight distance of your itinerary. The number of Avios you need when booking with British Airways or Aer Lingus is based on the distance flown per segment.
Translation: If you have to book an economy award flight on a partner like American Airlines that requires a connection, in many scenarios, it'll be cheaper to book this with Iberia Avios instead of British Airways Avios.
Let's take a look at some of the best ways to utilize Iberia Avios for booking economy flights:
Fly Off-Peak Flights From the East Coast or Chicago to Spain on Iberia
If you live on the east coast or Chicago, Iberia Avios can be a great way to fly to Europe in economy. During peak dates, you can book a round-trip ticket for 40,000 Iberia Avios while that deal is even better during off-peak dates at only 34,000 Avios.
Miami is just a little bit further, and prices out at 42,500 Avios for a round-trip ticket in economy on off-peak dates – or 46,250 Avios on peak dates.
Book Round-Trip Flights with Connections on American Airlines
As I mentioned above, you're often better off booking multi-segment itineraries on Oneworld partners with Iberia rather than British Airways or Aer Lingus. For example, if you want to fly from Charlotte to Miami, but have to take a flight that connects in Tampa (TPA), you'll use 13,000 fewer Avios just by booking with Iberia instead of British Airways based on current British Airways pricing.
If you have questions about the British Airways award chart or want to see more ways to use BA Avios, check out this article.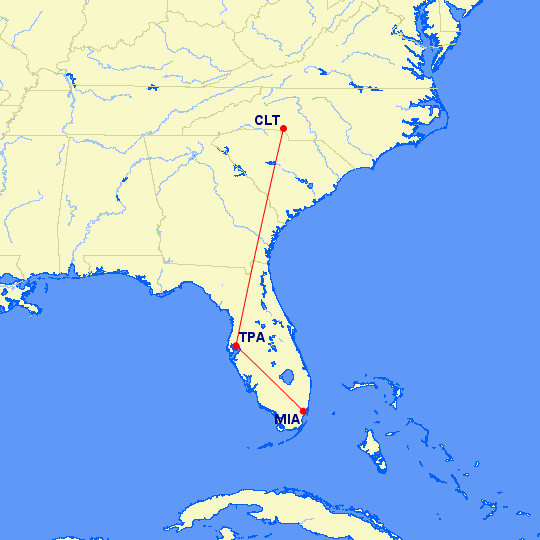 You can use GCMap to calculate the flight distance per segment and a complete itinerary.

If you were to book with British Airways, they'll charge you 30,000 Avios per person roundtrip.

Iberia would charge you just 17,000 Avios for the exact same flights. That's a savings of 13,000 fewer points – that's enough points that could instead cover a few nights stay at a Category 1 Hyatt property if you were paying for this flight with Avios transferred from Chase Ultimate Rewards.
It's worth noting that Iberia Plus requires a round-trip booking when booking flights on American Airlines. So, if you need to book a one-way, nonstop flight, British Airways will be the way to go. However, Iberia Plus could save you some points if you need a round-trip with connections.
Singapore Airlines KrisFlyer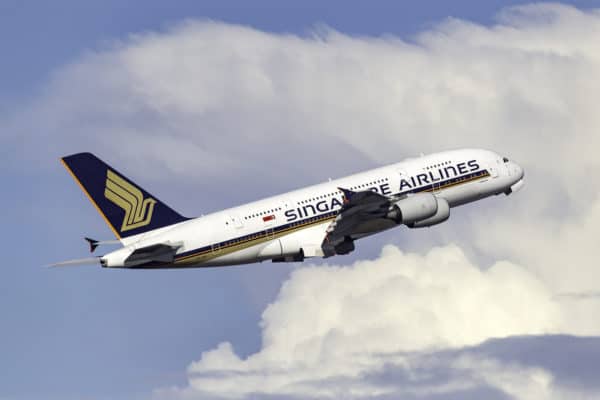 Singapore KrisFlyer has devalued a couple of times in the last few years but it still provides some great ways to book economy flights. Just remember that Singapore Airlines often passes on surcharges which can make the taxes/fees pricey.
Fly United to Hawaii
One of the best economy uses of KrisFlyer miles is for one-way United flights from anywhere in the U.S. to Hawaii. Singapore Airlines requires 17,500 KrisFlyer miles for a one-way flight compared to 22,500 United miles. Same flight, fewer miles.
Fly Alaska Airlines to Hawaii from the West Coast
Singapore KrisFlyer has a separate region-based award chart for flights on its partner Alaska Airlines. The sweet spot in this chart is the ability to book one-way, nonstop awards flights on Alaska between Zone 1 (California, Oregon, Washington) and Zone 5 (Hawaii, Alaska) for only 12,000 KrisFlyer miles.
Fly Singapore Airlines To Europe
Fifth-Freedom routes are one of those quirks that fascinate aviation geeks (AvGeeks). In short, fifth freedom flights are those in which an airline flies from its home country to a second country then onto a third country (and vice versa). In the case of Singapore Airlines, they operate two fifth-freedom flights between the U.S. and Europe that you can book with Krisflyer miles.
Not only are these fifth-freedom flights fun for AvGeeks, but they also provide a great way to get from the US to Europe for fewer KrisFlyer miles than Singapore's Star Alliance partners.
You can fly from New York to Frankfurt (FRA), or Houston Intercontinental (IAH) to Manchester (MAN) for 22,500 KrisFlyer miles in economy one-way on these fifth-freedom flights.
Fly Star Alliance Partners to Europe
Not able to book some of the fifth-freedom routes to get to Europe? No problem – partially due to a number of Star Alliance members being based in Europe, you have a slew of options available. For just 27,500 KrisFlyer miles, you can book a one-way flight in economy on Star Alliance partners.
You'll need to watch out for fuel surcharges and be selective on which Star Alliance partner you choose to book with. Booking flights operated by United Airlines and SAS are going to be your best options since they don't pass along carrier-imposed surcharges so the taxes/fees will be manageable. LOT Polish Airlines is also a good option with taxes/fees of around $70-$80 one-way from the U.S.
But be sure to avoid partners like Austrian Airlines, Lufthansa, Swiss, Brussels and more as they can easily include surcharges or $300+ that gets passed along. In almost all certainty, you'll want to avoid them redeeming Krisflyer miles for flights on these partners.
As a point of comparison, United requires 30,000 miles for a one-way flight in economy from the US to Europe, so you're coming out ahead by booking with KrisFlyer.
Fly from the Caribbean to Hawaii
This one is a little strange, but stick with me.
KrisFlyer's Star Alliance award chart has a Central America region which includes locations such as Bermuda, Hawaii and the Caribbean. So, you can fly one-way in economy from Bermuda or even as far south in the Caribbean as Grenada or Aruba all the way to Hawaii, for just 17,500 KrisFlyer miles.
Maybe you're on vacation in Bermuda, but want to carry that vacation on for a 2nd week in Hawaii, but need to swing through Chicago for 4 or 5 days to visit the in-laws? Booking with KrisFlyer miles, you can book this all as one itinerary for just 17,500 KrisFlyer miles.
Fly Around the South Pacific
Sweet spots for KrisFlyer for US-based flyers aren't limited to just flights to/from the U.S. If you find yourself in the South Pacific looking to do a bit of island-hopping in places like Australia, the Cook Islands, Fiji, New Zealand, Samoa, Tahiti, Tonga and Vanuatu, KrisFlyer miles are going to come in handy.
For just 12,500 KrisFlyer miles, you can fly one-way in economy on Star Alliance partners intra-region from one island to another. Even better, if you get creative and book a round-trip itinerary between these islands with a connection, you could include a stopover for no extra miles.
With it being both expensive as well as logistically complicated to navigate between islands in the South Pacific, being able to redeem such few KrisFlyer miles can provide tremendous value.
Fly Around the South Pacific with Virgin Australia
Singapore KrisFlyer offers a separate award chart for its partner Virgin Australia for traveling the South Pacific. There are a few rules and restrictions, such as not being able to mix itineraries with both Virgin Australia and other Star Alliance partners, but it could be a useful option when cash ticket prices are high.
As with KrisFlyer's other award charts, the Virgin Australia chart is region-based. If you plan your routes properly, one stopover is included on a round-trip itinerary at no-charge, and additional stopovers are permitted, with a maximum of 3 at a cost of $100 each. This could lead to some pretty incredible routings!
Maybe you're in Melbourne (MEL) and are trying to fly up to Cairns (CNS) to explore the Great Barrier Reef. As an Australia 1 to Australia 1 flight, this will require just 11,000 KrisFlyer miles one-way in economy.
Or, maybe you're in Sydney (SYD) and are wanting to explore Western Australia? A one-way flight in economy will run you just 20,000 KrisFlyer miles for the over 2,000-mile flight to Perth (PER).
There are a bunch of options if you're planning a trip through Australia or around the South Pacific.
Southwest Airlines Rapid Rewards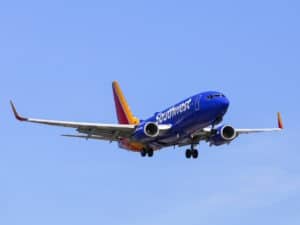 When booking economy award flights, there's a ton to love about the Southwest Rapid Rewards program: no change or cancellation fees, no baggage fees, and tremendous customer service are some of the reasons we often hear.
Since Southwest Rapid Rewards is a revenue-based loyalty program, it doesn't publish an award chart. The number of points required is directly related to the cash price of the published fares, and generally are valued in the range of 1.4-1.7 cents per point.
This also means there aren't really any true sweet spots in the Rapid Rewards program.
When Southwest launched Hawaii flights in 2019, they offered fares as low as 1,950 Rapid Rewards points for a one-way flight. Even though this was a promotion, they routinely offer one-way flights for $179, or roughly 12,000 Rapid Rewards points.
Southwest Companion Pass: Two for the Price of One
If you find a cheap option on Southwest, you can get even more out of your points if you have the Southwest Companion Pass, which basically allows you to book two for the price of one. You only have to pay the taxes/fees for your companion.
With the Companion Pass, that one-way flight to Hawaii that costs roughly 12,000 Rapid Rewards points plus $5.60 per person ends up being only 12,000 points + $11.20 for two people. That's an awesome deal!
When Award Space Isn't Available on American, Delta, or United
Southwest Rapid Rewards points are a great option for booking still when cash fares are high and award availability on American, Delta, and United is limited or nonexistent.
For example, let's look at a sample trip from Miami to Los Angeles. On the dates I searched, United would require 45,000 miles roundtrip.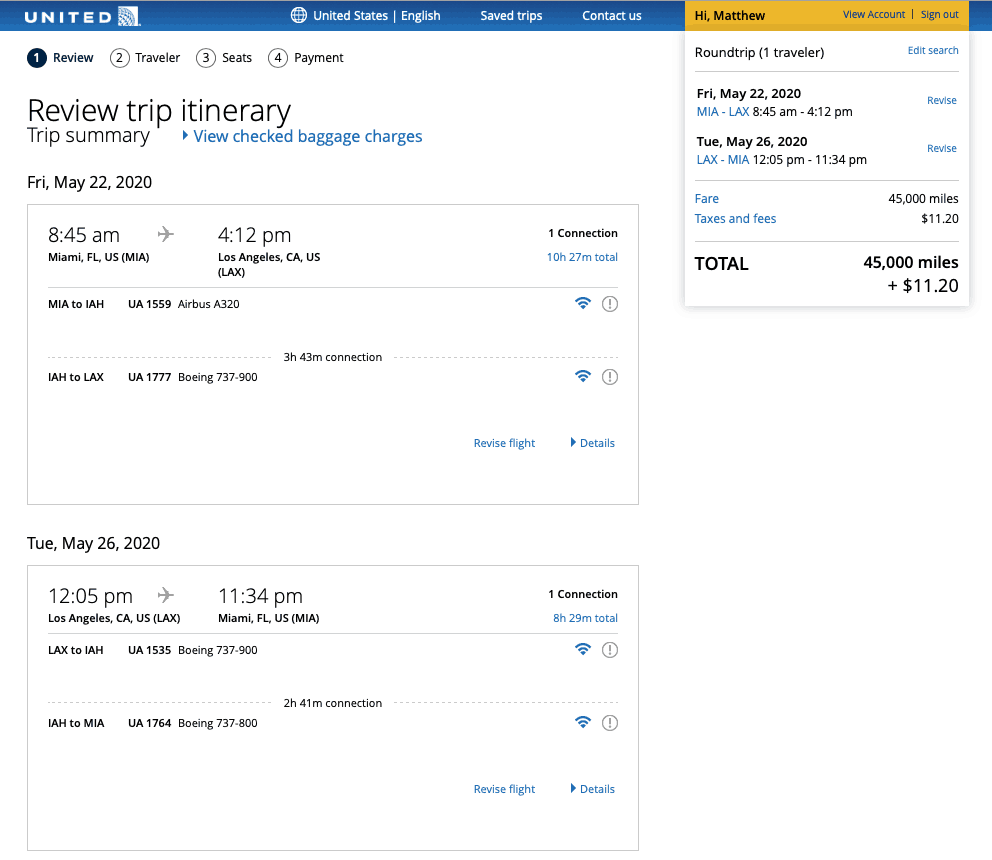 When I checked the same dates with Southwest, even though the fare is about $500, you'd only need 32,797 Rapid Rewards points to book comparable flights out of Fort Lauderdale (FLL) – Southwest doesn't fly out of  Miami. So, we're saving 12,000+ Ultimate Rewards points on this booking. If you have the Companion Pass, you'd save 57,000+ points compared to United when booking for you and your companion.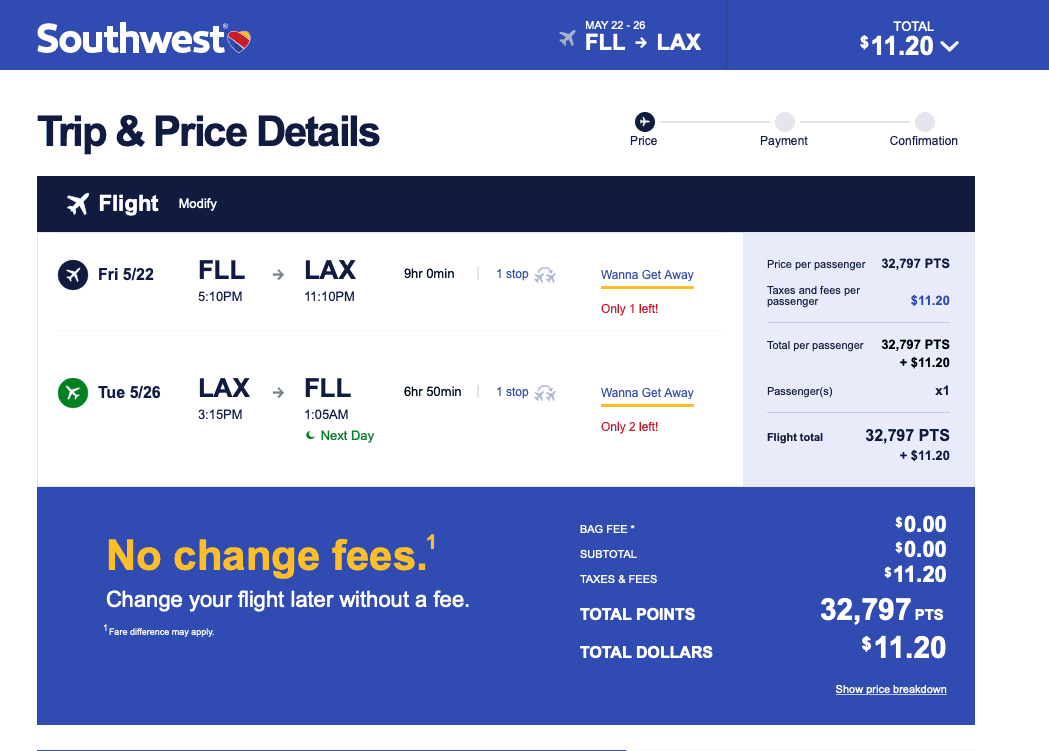 United MileagePlus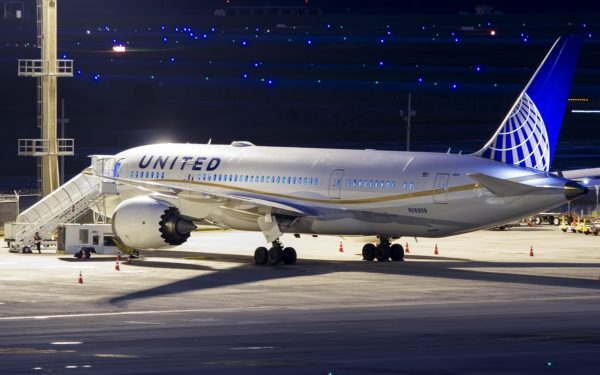 One of the best parts about using United MileagePlus is that it's one of the few programs that doesn't pass on fuel surcharges on any award tickets. This is particularly important because steep taxes/fees can wreck the value of booking an economy award.
Even though United sometimes requires more miles than other options, the lack of surcharges gives it a big advantage over programs that require fewer miles for the same flights. For this reason, we're big fans of using United miles for economy awards.
Fly Around the US
Whether you're looking to go from Scranton to Des Moines, or Miami to Seattle, you can use your United miles to fly for as little as 12,500 miles one-way per person or 25,000 miles round-trip per person in economy.
Even better, if you're making a really short flight under 700 miles in total distance, it'll cost you just 10,000 United miles for a one-way economy ticket.
Looking to stretch your adventure and visit Hawaii or Alaska? You'll have to pay a little more at 17,500 miles for Alaska or 22,500 miles for Hawaii one-way per person, but since since United releases more award space to its own members vs. its partners, United miles are a great way to soak up the sun on Oahu or start your Alaskan adventure in Ketchikan. If you have Singapore KrisFlyer miles, don't forget that many of these same flights can also be booked for just 17,500 KrisFlyer miles.
United's Excursionist Perk
One of the best perks about booking an award flight with United miles is the ability to take advantage of the Excursionist Perk which allows you to include a free one-way flight on a round-trip award.
Make sure you check out our 2-part guide to The Excursionist Perk.
Here's a simple example of what this could look like. If you're flying from Newark (EWR) to London and home from Zurich (ZHR), you could fly from London to Zurich for no extra miles using the Excursionist Perk. It's easy to see how valuable this can be, and there are certainly some advanced uses of the Excursionist Perk that can save you tons of money!
Fly to the Caribbean
Using United miles is a great way to fly from the U.S. to the Caribbean. At just 17,500 United miles one-way per person in economy, many destinations allow you to leave early in the morning, and be on the beach by mid-afternoon.
Don't forget about United's Excursionist Perk and the generous routing rules that this perk provides. Plan your route well, and you can add in another island for no additional miles.
Fly United and Star Alliance Partners to Europe
United is relatively reliable in offering award availability for saver economy flights to Europe from a number of its U.S. hubs. With the freedom of booking one-way or roundtrip award flights, you also won't incur any carrier-imposed surcharges when you book award flights with United miles, so the taxes/fees will be minimal.
For 30,000 United miles, you can book one-way flights to/from Europe on United, Star Alliance carriers, and Aer Lingus.
Fly to Northern South America
Similar to other programs, United splits South America into Northern and Southern regions. In fact, you can travel to Colombia, Ecuador, French Guiana, Guyana, Peru, Suriname, or Venezuela for just 20,000 United miles one-way in economy. If you're itching to head further south, United will charge you 30,000 United miles one-way to the rest of South America.
Fly Around Oceania
Flights to Fiji and other Oceanic islands like Guam and the Marshall Islands always sounds like a good idea, but an expensive one. Fortunately, it'll take just 35,000 United miles one-way in economy class.
While you're in Oceania, don't just visit one island. Given the proximity of most of the islands, many intra-Oceania flights are less than 800 miles, which means you'll only need 8,000 United miles one-way in economy.
Don't forget to consider using the United Excursionist Perk when planning your trip.
Fly United's Island Hopper
For the AvGeeks out there, you might consider United's "Island Hopper." This route starts in Honolulu (HNL) and flies to the Micronesian Islands of Majuro (MAJ), Kwajalein (KWA), Kosrae (KSA), Pohnpei (PNI), Chuuk (TKK) before finishing in Guam (GUM).
Starting in Hawaii, you can fly this entire route for 70,000 miles. Given that cash tickets for this route range from $800-$1,400, it could be a fun way to use some United miles.
Fly to Australia or New Zealand
Australia is a bucket list destination for many travelers. Using United miles can be a great way to get there. With United flights to Sydney from Houston Intercontinental, Los Angeles, and San Francisco, you can soon find yourself on the famed Australian beaches or admiring koala bears in no time.
Alternatively, you could also fly from Los Angeles or San Francisco to Melbourne or from San Francisco to Auckland. If you're okay with taking the long way to Australia, you can also use United miles to fly via Asia.
For a one-way economy ticket to Australia or New Zealand, you'll need 40,000 United miles.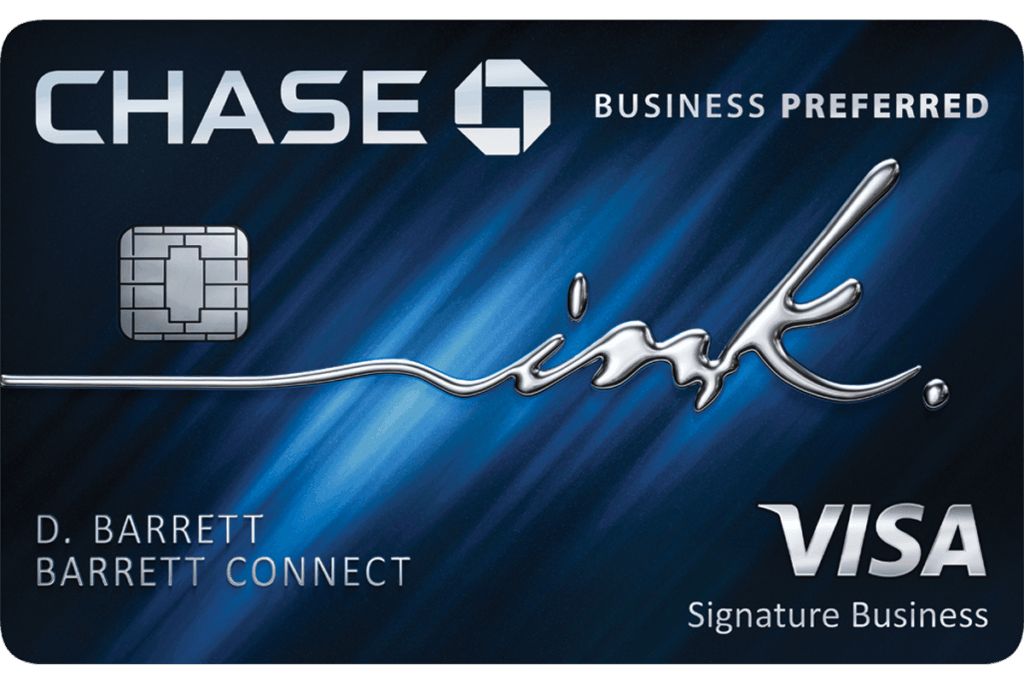 Virgin Atlantic Flying Club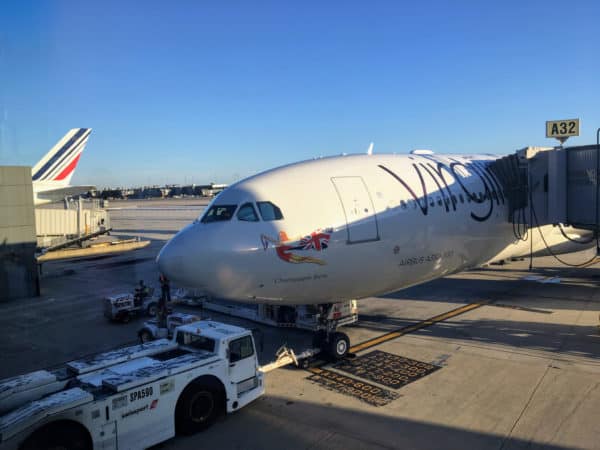 There are a bunch of great ways to use Virgin Atlantic miles but the most talked about options are in business and first class. Don't worry, if you're an economy flyer, the Flying Club program still offers some fun opportunities for you.
[ps2id id='FlytoJapanonAllNipponAirways(ANA)' target="/]Fly to Japan on All Nippon Airways (ANA)
Naturally, your first thought for booking your dream trip to Japan would be to use Virgin Atlantic miles, right? Yes, that Virgin Atlantic, from the U.K.
While it might not be your first though, don't forget this option! You can book a round-trip economy ticket to Tokyo on ANA for just 60,000 Virgin Atlantic miles from the West Coast. If you're on the east coast or in the central U.S., you'll only need 65,000.
Just remember that Virgin Atlantic will require extra miles for connections so this option is usually best for booking nonstop flights.
Fly Delta within the U.S.
For domestic economy flights on Delta, Virgin Atlantic miles could be just what you need. For example, this one-way economy flight from Atlanta to Seattle can be booked for 21,000 Delta SkyMiles. However,  the same flight can be booked for just 12,500 Virgin Atlantic miles.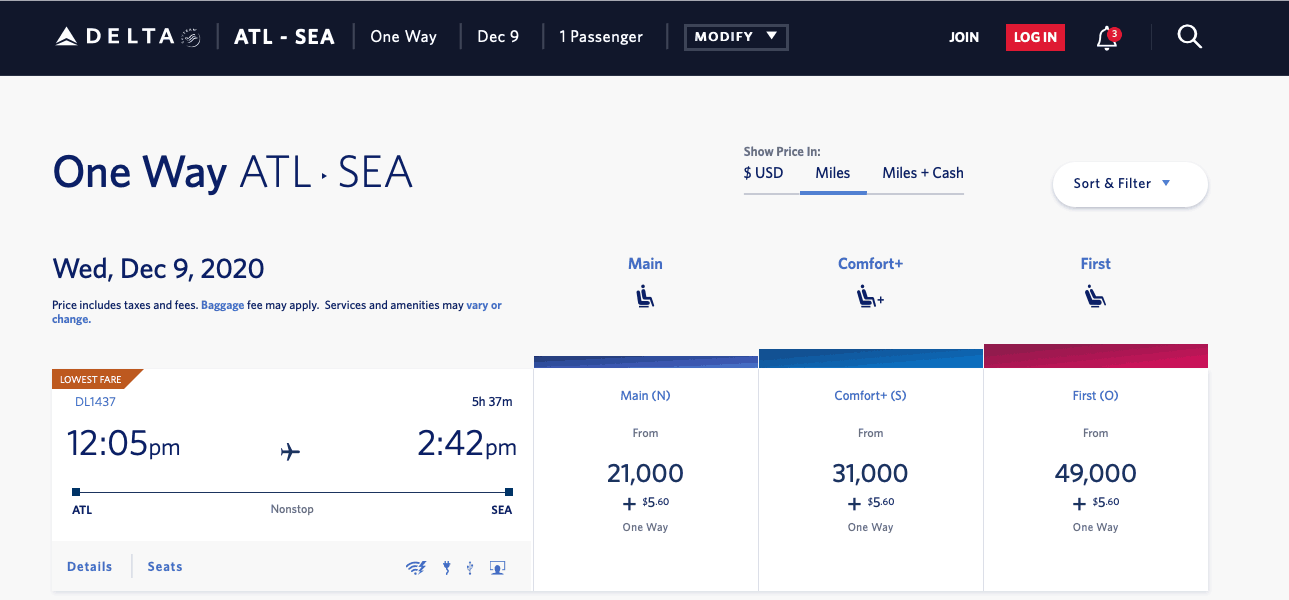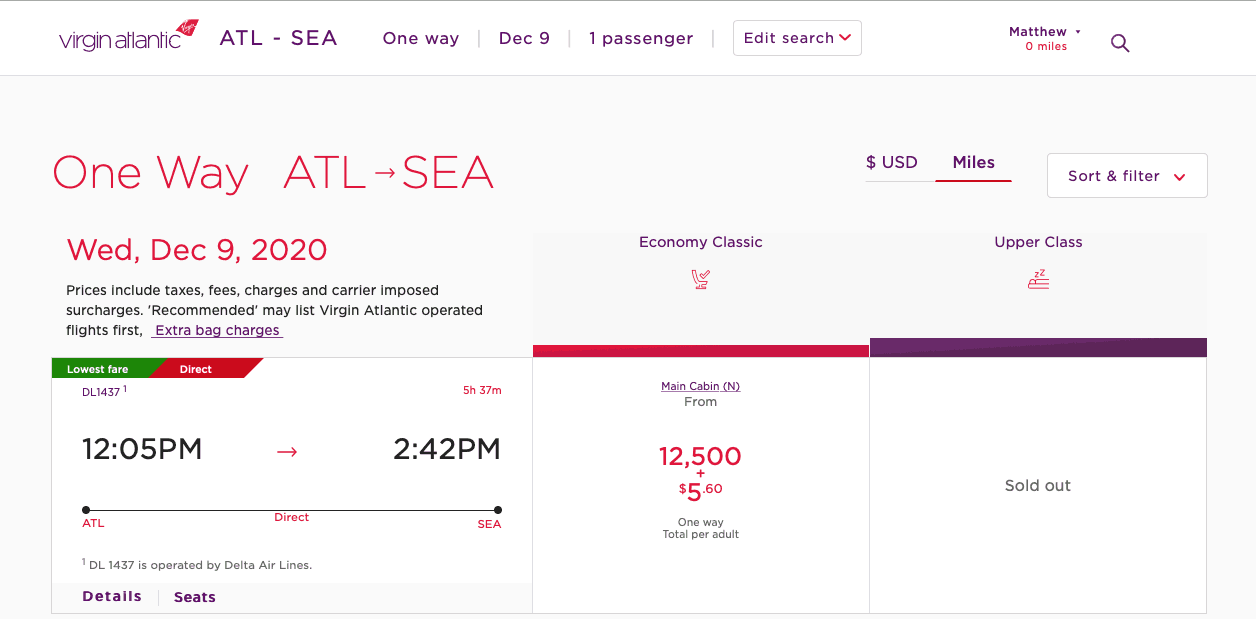 It's not just this route, though. Virgin Atlantic requires 12,500 for domestic economy flights on Delta. Again, Virgin Atlantic does price award by segment, so you'll want to stick to nonstop options if possible.
Fly Delta to Hawaii
If you want to extract max value from your Virgin Atlantic miles, you might consider using them to fly Delta to Hawaii for just 20,000 miles one-way.
Here are the routes Delta flies to Hawaii:
Destination
Origin
Honolulu (HNL)

Atlanta
Detroit
Los Angeles
Minneapolis/St. Paul
Salt Lake City
Seattle

Kona (KOA)
Lihue (LIH)
Maui (OGG)

Los Angeles
Salt Lake City
Seattle
If you wanted to get a little adventurous, you could then use 20,000 Virgin miles to fly from Honolulu to Tokyo, Nagoya (NGO), or Osaka (KIX).
Final Thoughts On Using Chase Points For Economy
Hopefully, it's clear that Chase Ultimate Rewards points provide a bunch of great ways to book economy flights wherever you want to go in the world. Now, all you have to do is figure out where you want to go and start looking for award space. Before you know it, you'll be on your way to a memorable trip!
New to the world of points and miles? The Chase Sapphire Preferred is the best card to start with. With a bonus of 60,000 points after $4,000 spend in the first 3 months and 2x points on dining and travel, this card truly cannot be beat!
Learn More
Editors Note: Opinions expressed here are author's alone, not those of any bank, credit card issuer, hotel, airline, or other entity. This content has not been reviewed, approved or otherwise endorsed by any of the entities included within the post.