In This Article
Loading table of contents …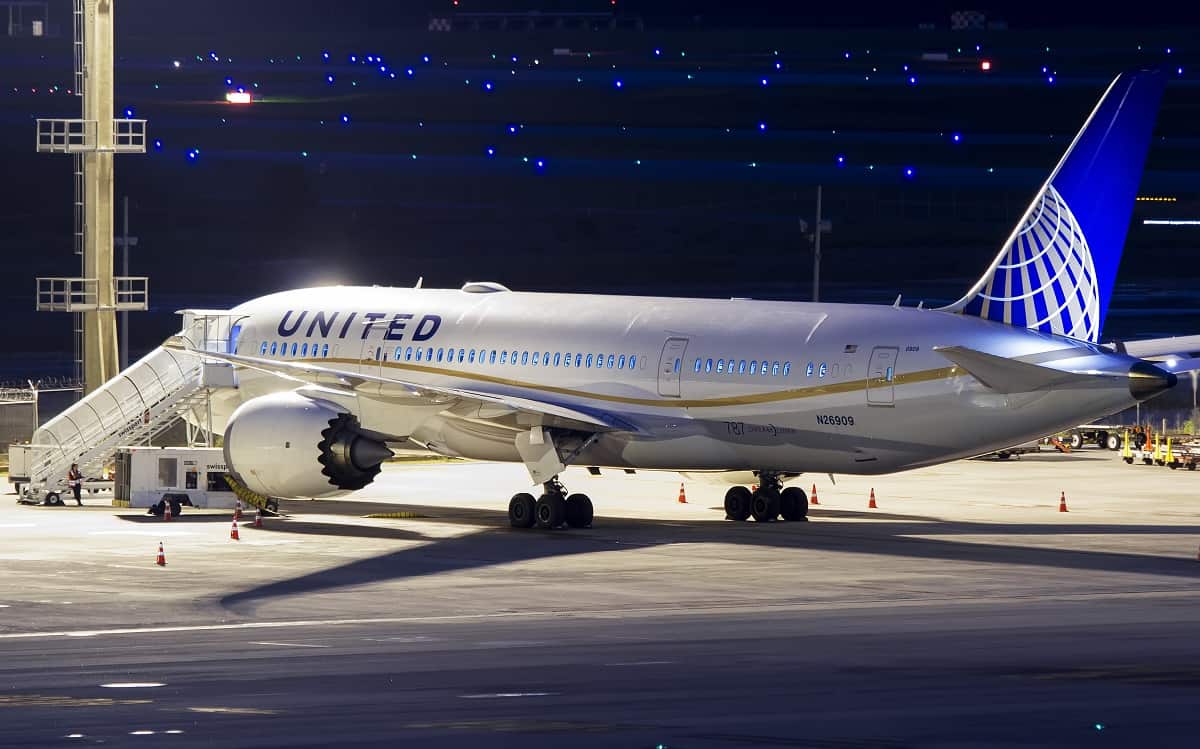 Note: Some of the offers mentioned below may have changed or are no longer be available. The content on this page is accurate as of the posting date; however, some of our partner offers may have expired. You can view current offers here.
(Note: here is The Excursionist Perk Part 2 with detailed examples)
Over the past couple months, we've provided articles detailing the best credit card offers, as well as application bonus rules for Citibank and American Express.
We've talked about how to maximize points by navigating Chase's 5/24 rule, using United's MileagePlus X app and opening cards when they are offering their peak bonuses.
Now that you have put in all the hard work accruing points, it's time for the fun part… booking trips and traveling!!
Today, we're going to detail how to get the most of United miles and help you understand their routing rules.
In Part 2, we'll cover advanced routes and how to maximize your miles.
Earning United Miles
There are a few ways to earn United miles. The quickest way to accumulate a lot of miles is through credit card sign-up bonuses.
The United MileagePlus Explorer card provides many benefits when flying on United, such as earning 2 miles for every dollar spent on United and 1 mile for every dollar on all other purchases. The card has a sign-up bonus that can help you accrue miles to use within the United MileagePlus program.
If you hold a premium card (think, annual fee) that earns Chase Ultimate Rewards, such as the Chase Sapphire Preferred, Chase Ink Preferred, or Chase Sapphire Reserve®, then your Chase points transfer at a 1:1 ratio to United. The points must be transferred in 1,000 point increments and transfer almost instantly.
SPG Starpoints can also be transferred to United, however United is one of the few SPG transfer partners that does not have a favorable transfer ratio.
SPG Starpoints are converted to United at a 2:1 ratio, meaning 10,000 Starpoints would only get you 5,000 United MileagePlus miles. This is not a good transfer ratio. Check that, it's a total disaster. Don't do it.
As with all transferable currency, only transfer points to United after you have checked and confirmed availability on your desired flights.
Additionally, if you have the Chase Sapphire Reserve® and are considering an economy award ticket, remember that you can get a value of 1.5 cents per point through the Chase travel portal. Make sure you check both award flights and the portal to see which will cost fewer points.
This is rarely, if ever, an issue when booking business class and first class awards. Transferring points to United for an award booking is almost always the best choice but remember to make sure award space is available before transferring.
Remember, once miles are transferred to United, they can not be converted back to Ultimate Rewards.
You can earn extra United MileagePlus miles through their United MileagePlus Dining program as well as using the United MileagePlus X app.
United Airlines: Where They Fly
In short, United Airlines flies everywhere.
They are a member of the Star Alliance, which includes 27 member airlines across the globe.  You can fly exclusively on United, fly a portion of your travel on United and then fly on a partner airline, or you can book your ticket to fly exclusively on partners.
United's Award Booking Rules
When booking award tickets, there are a few terms every flyer needs to know.
Tickets can be booked one-way, round-trip or multi-city. The tickets can be non-stop, include layovers or include a stopover.
A one-way is a ticket from an origin to a destination, and the ticket terminates at the destination.
A simple round-trip booking is one in which you fly from an origin to a destination and then return to the origin.
A multi-city ticket comprises multiple one-way segments that together form a complete journey. Multi-city tickets allow for variations of the origin and destination cities within a single booking.
Many multi-city tickets include open jaws, which are tickets in which the origin and destination cities are not the same in both directions.
Non-stop flights fly from an origin to a destination without making any stops.
A flight with a layover flies from your origin to your destination, but includes a stop of less than 24 hours at an intermediate airport before you reach your final destination.
A flight with a stopover flies from an origin to a destination, but would includes a stop of more than 24 hours at an intermediate airport before you reach your final destination.
Last year, United replaced its stopover rules with "The Excursionist Perk"
What is the Excursionist Perk?
All United award bookings are sold as individual one way segments, and all segments are priced based on United's award chart.
In the past, United allowed for a stopover to be made on round-trip bookings.
For example, you could fly from Newark (EWR) to Paris (CDG), enjoy a stopover in the City of Lights for a few days, and then continue on to Tokyo-Narita (NRT) as your destination. You would then fly NRT-EWR to return home. This ticket would price as if it were a round-trip ticket from the US to Japan, and would cost 70,000 miles in economy. The flight from EWR-CDG was essentially free.
These routing rules no longer apply, as United introduced the Excursionist Perk in October 2016.
The Excursionist Perk is a program that provides a free one-way segment within a multi-city itinerary comprising three or more one-way segments, provided certain conditions are met.
As stated from the United regarding MileagePlus Updates, these conditions include:
The Excursionist Perk cannot be in the MileagePlus defined region where your travel originates. (For example, if your journey begins in North America, you will only receive the Excursionist Perk if travel is within a region outside of North America.)
Travel must end in the same MileagePlus defined region where travel originates.
The origin and destination of the Excursionist Perk is within a single MileagePlus defined region. (This is key)
The cabin of service and award type of the free one-way award is the same or lower than the one-way award preceding it.
If two or more one-way awards qualify for this benefit, only the first occurrence will be free.
That might sound like a lot of restrictions, but the Excursionist Perk is actually quite flexible, and you can book all of your award tickets online, using the United multi-city award booking tool.
Let's be clear though, this was not a friendly change by United. You can no longer easily see countries in different regions. Additionally, United will no longer allow you to piece together the route you want. Their system forces you to accept whatever routing you see online.
For example, let's say you want to book a flight on Swiss Air from New York City (JFK) that connects in Zurich on your way to Prague (PRG). The system shows saver level award space on each segment, but not when you search JFK-PRG. Previously, you could call United and piece together your booking but this is no longer the case. You must accept what they give you.
Understanding the Excursionist Perk
In order to take advantage of the Excursionist Perk, it's important to understand the rules.  The language used by United can be somewhat confusing, so I'm going to rephrase their rules into something that is easier to understand.
The Excursionist Perk is triggered when three or more segments are booked as part of a single award ticket.
Travel must start and end in the same region. The Excursionist Perk (or free one-way segment) must be within a single region, but that region has to be different than the first region.
Only one free segment is allowed, no matter how many segments the multi-city award comprises.
With "region" being a major part of the Excursionist Perk rules, you need to know that United has categorized each country or destination that it serves into 17 different regions.
You can see the regions in the chart below: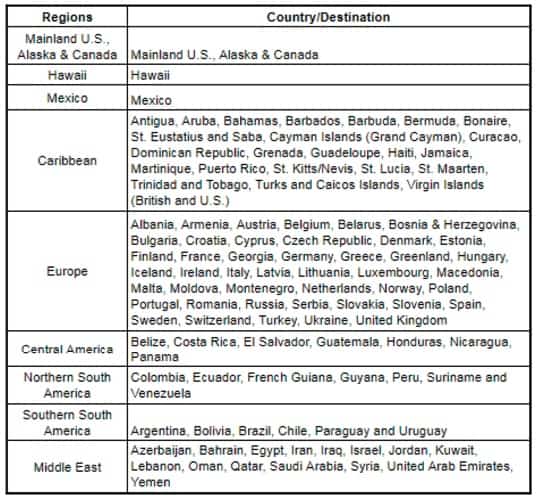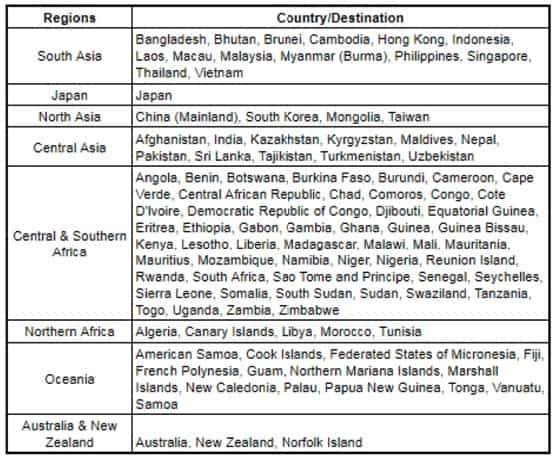 Some of the regions comprise just a single country or state (Hawaii, Japan, Mexico), while other regions cover many different countries (Caribbean, Europe and Central & Southern Africa).
These region definitions allow you a free island hop ticket in Hawaii and the Caribbean, as well as allows you to visit two countries in Europe for the price of one round trip!
Simple Excursionist Perk Examples
Let's take a look at some examples of how you can use The Excursionist Perk to your advantage.
Trip with a Free Stopover
A trip that is the popular for many readers is flying from the US to Europe. Many people want to visit multiple cities while they are in Europe, and the Excursionist Perk provides for a free segment within Europe.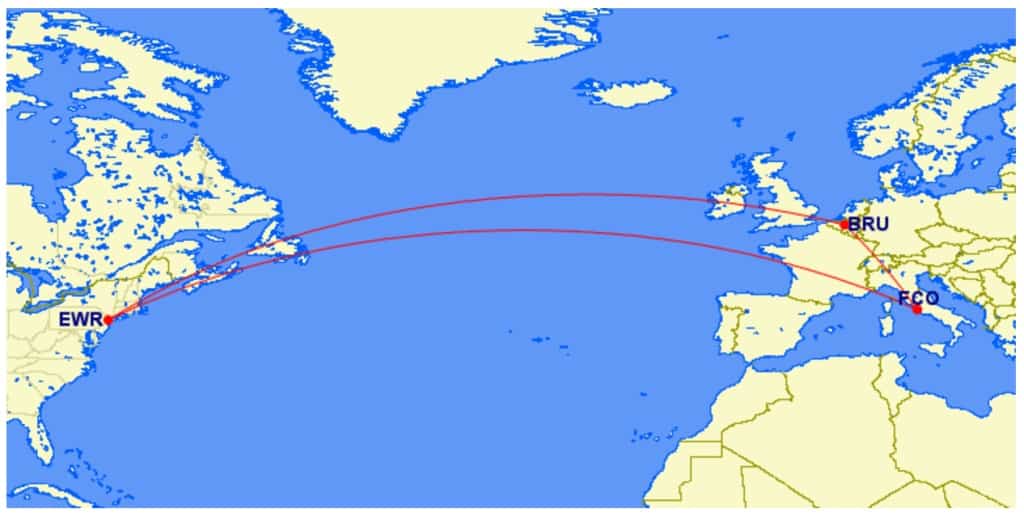 A trip from Newark to Brussels (BRU), Brussels to Rome (FCO) and Rome to Newark comprises three separate segments.
In economy, each segment booked individually would price as follows: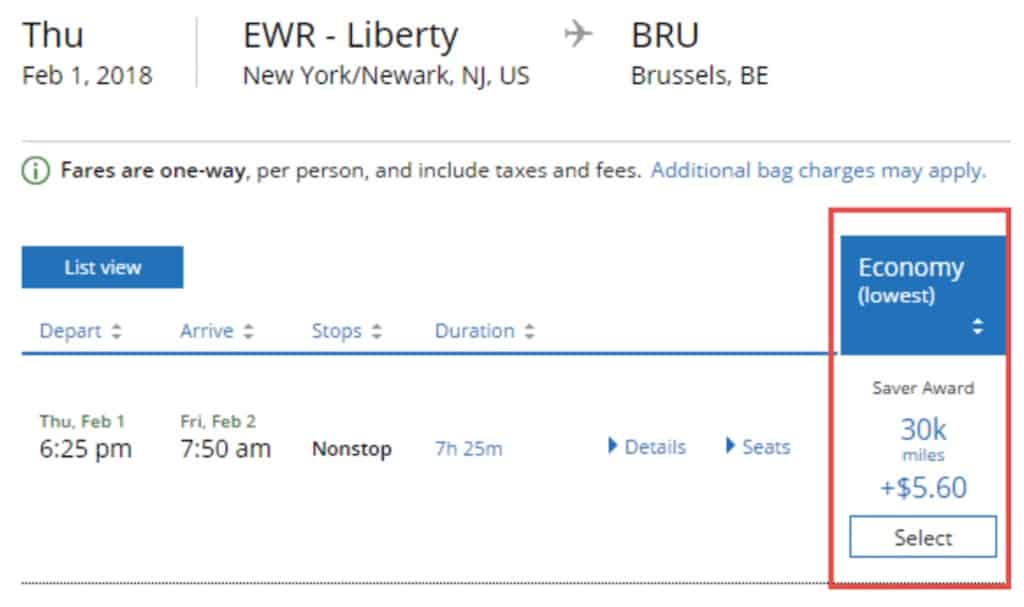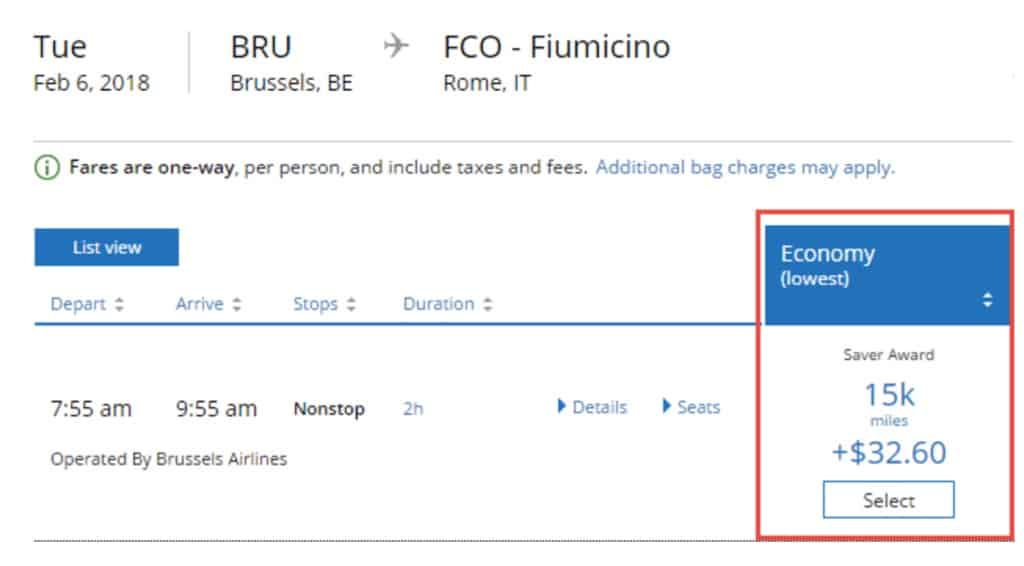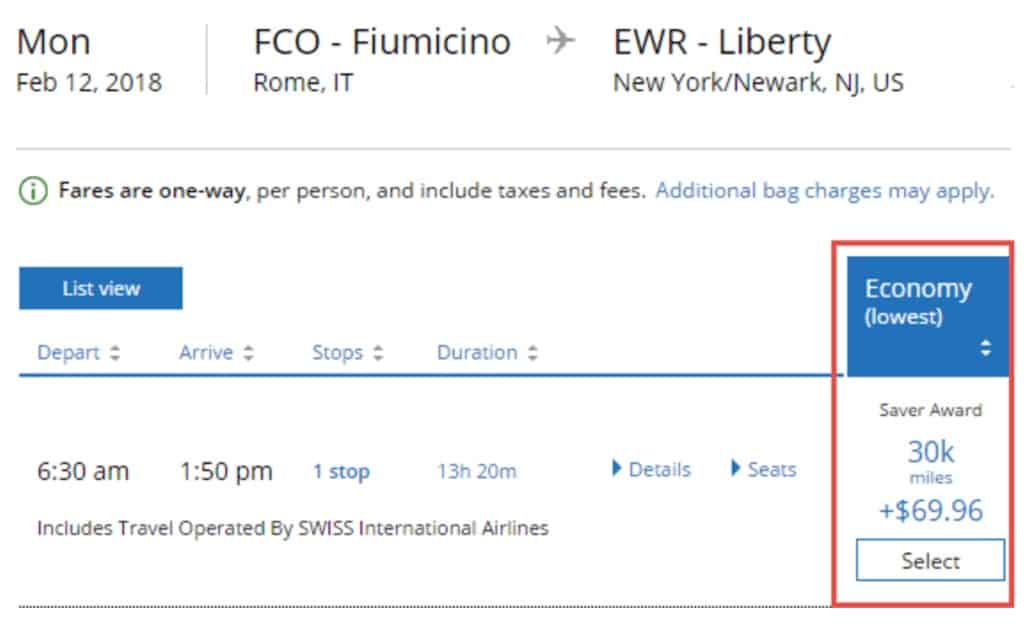 Let's recap this:
EWR-BRU: 30,000 miles
BRU-FCO: 15,000 miles
FCO-EWR: 30,000 miles
The total for this trip would be 75,000 MileagePlus miles, plus 108.16 in taxes and fees.
However, when booking as a multi-city trip, the Excursionist perk is triggered for the BRU-FCO segment.
This is because:
The free segment is within a single MileagePlus defined region (Europe).
The free segment is outside of the MileagePlus defined region where your travel originated (Travel Originated in the US/Alaska/Canada Region).
Travel ends in the same region as where travel originated (Flying in and out of the US/Alaska/Canada Region).
You still have to pay taxes and fees, but no additional miles are needed for the BRU-FCO segment.

When utilizing a multi-city booking instead of 3 one-way bookings, your mileage costs look like this:
EWR-BRU: 30,000 miles
BRU-FCO: 0 miles
FCO-EWR: 30,000 miles
The total price for the trip is 60,000 MileagePlus miles and $108.16 in taxes and fees.  The trip is exactly the same as booking as separate one-way tickets, but when combined into a single itinerary, one segment is free!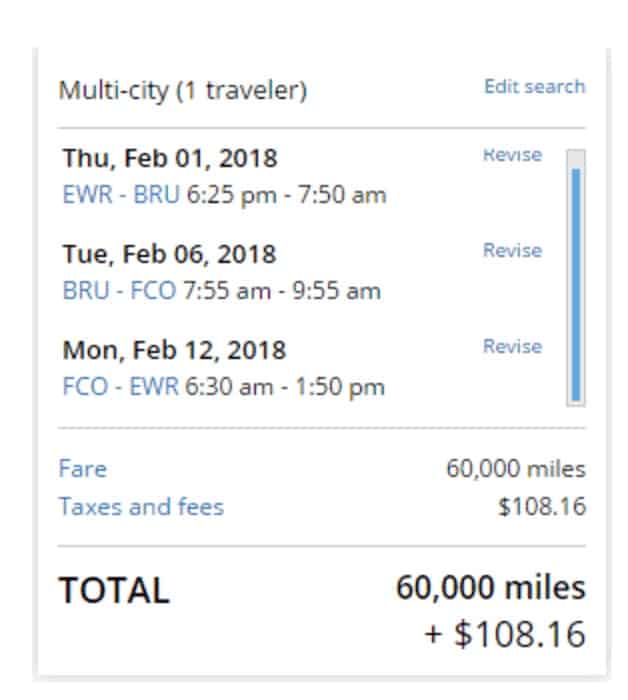 Trip with Free Stopover and Open Jaw
What is great about the Excursionist Perk is that your flight segments don't have to "touch". You can travel from the US to one European city, take a train to a second city, then use your Excursionist Perk free segment to travel from your second city to a third city.
You can then fly back to the US from the third city or even a fourth city. Obviously, the cost to transport yourself by train or another means of transport would be your responsibility, but there are many options for travel within Europe.
Your origin and departure cities don't have to be the same either!! As long as you begin and end your travel in the same region, the cities within that region can be different.
A trip with three segments from Chicago (ORD) to London (LHR), Paris to Rome and Madrid (MAD) to Houston (IAH) will trigger the Excursionist Perk.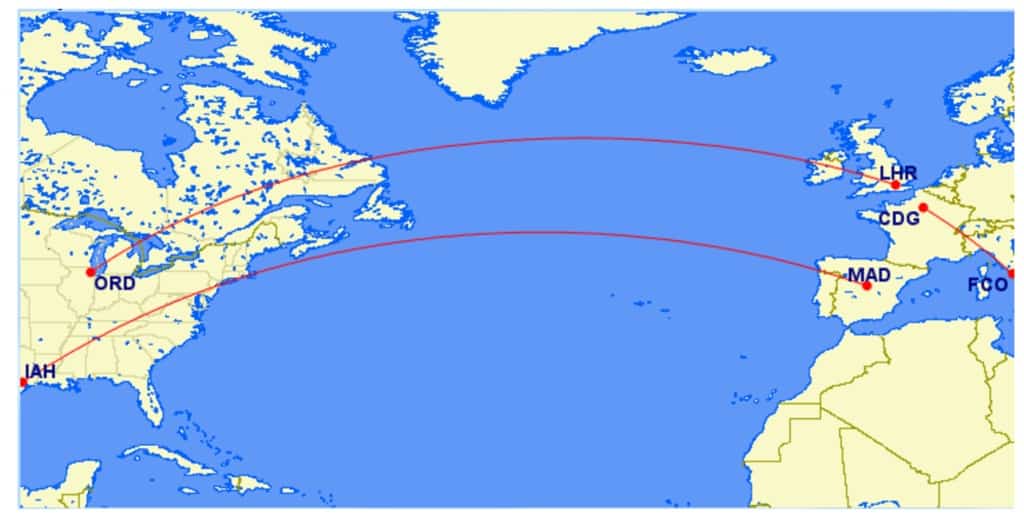 ORD-LHR is 30,000 miles in economy and the flight from MAD-IAH is 30,000 miles in economy. The segment from CDG-FCO is the Excursionist Perk, and costs 0 miles.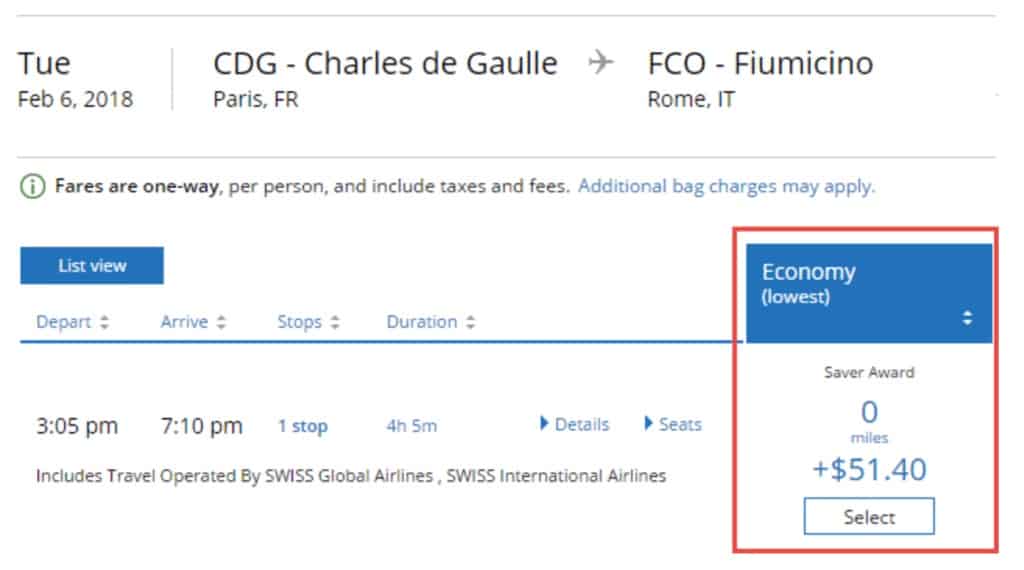 Booking a Trip with More Than Three Segments
The Excursionist Perk will only allow for one free segment, no matter how many award segments are booked. The perk will apply to the first segment that meets the Excursionist Perk requirements.
A multi-city trip with segments from Los Angeles (LAX) to Frankfurt (FRA), Munich (MUC) to Athens (ATH), Barcelona (BCN) to Paris and Paris to Newark, the Munich to Athens segment would qualify for the Excursionist Perk.
That is because MUC-ATH is the first segment within a single region that is different that the region of origin.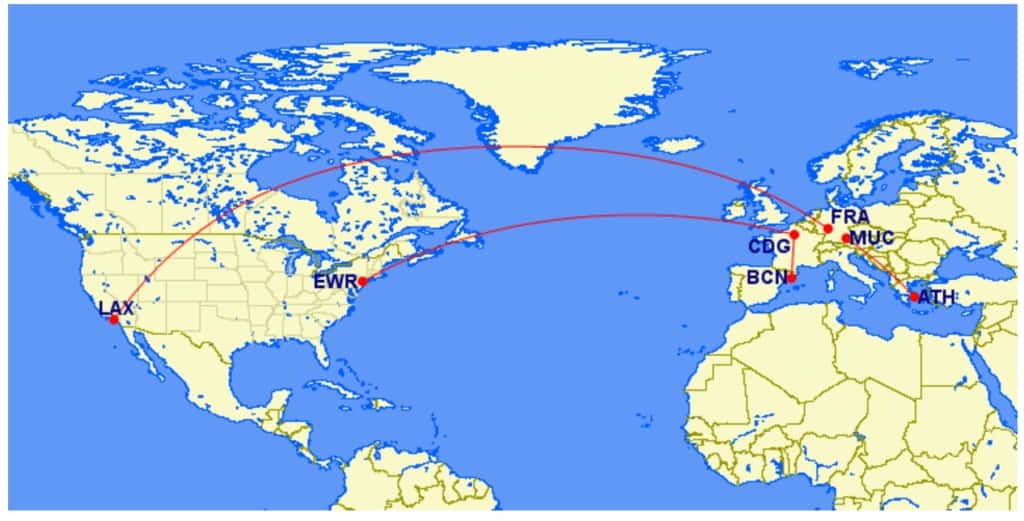 The total price of the trip would be 75,000 MileagePlus miles plus $199.16 in taxes and fees in economy. The LAX-FRA segment costs 30k miles, the MUC-ATH segment costs 0 miles,  BCN-CDG segment costs 15K miles and CDG-EWR segment costs 30k miles.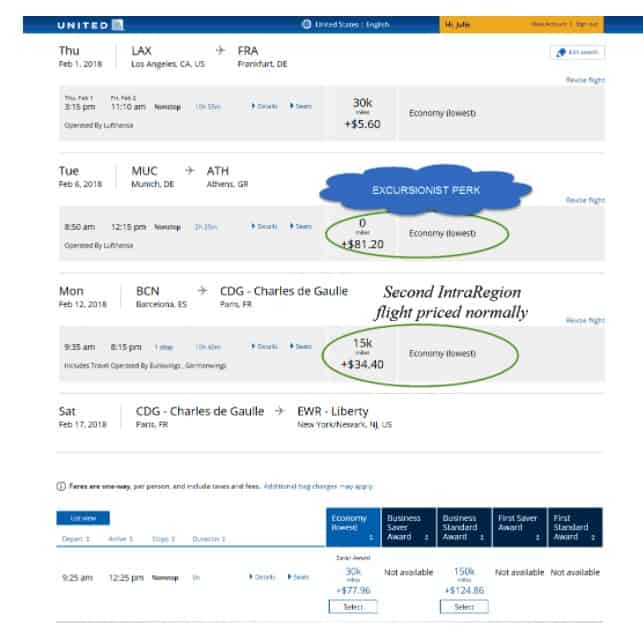 If the intra-Europe trip segments were re-ordered, we see that the BCN-CDG flight is 0 miles, as that is the first flight segment that meets the Excursionist Perk rules.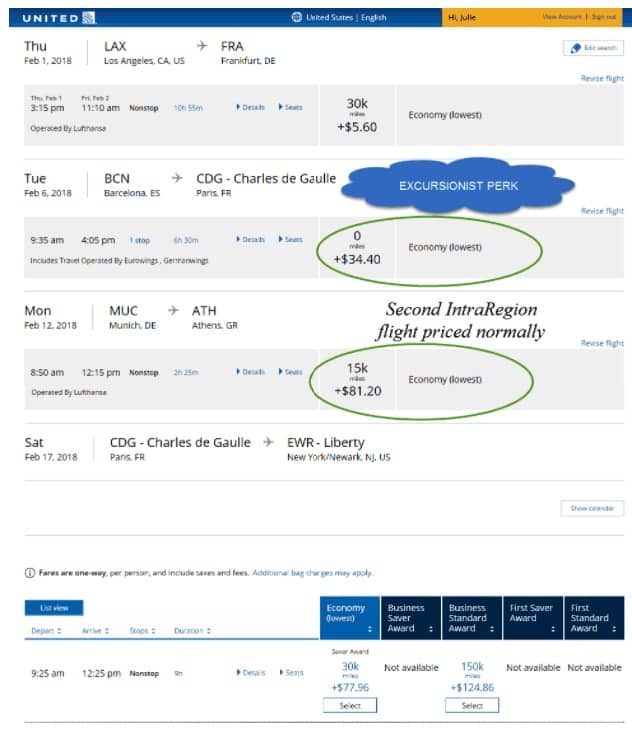 While all of these examples are within Europe, the same rules apply when booking flights in any other region.
Final Thoughts
When booking three or more one way segments, the Excursionist Perk will automatically be applied to your booking, as long as the required conditions are met. The above examples are common uses of the Excursionist Perk.
This perk allows you to travel to multiple countries within a single region, without using any more miles than what a simple round trip award booking would cost!
In Understanding the Excursionist Perk Part 2, we'll provide examples of more complicated bookings and some tricks that will help you get the maximum value out of your United MileagePlus miles.
(Note: here is The Excursionist Perk Part 2 with detailed examples)
New to the world of points and miles? The Chase Sapphire Preferred is the best card to start with.

With a bonus of 60,000 points after $4,000 spend in the first 3 months, 5x points on travel booked through the Chase Travel Portal and 3x points on restaurants, streaming services, and online groceries (excluding Target, Walmart, and wholesale clubs), this card truly cannot be beat for getting started!
Learn More
Editors Note: Opinions expressed here are author's alone, not those of any bank, credit card issuer, hotel, airline, or other entity. This content has not been reviewed, approved or otherwise endorsed by any of the entities included within the post.