Note: Some of the offers mentioned below may have changed or are no longer be available. You can view current offers here.
Air travel is easy when everything goes right. Things like great weather, on-time departures, and early arrivals are what travel dreams are made of.

However, if there are travel dreams, that means there must be travel nightmares. Most travel nightmares begin with flight delays or cancellations.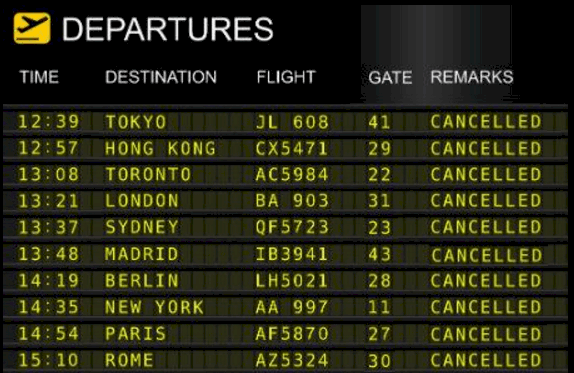 This is definitely an unpleasant sight!
An hour delay is irritating, but when it causes you to miss a connection or results in an overnight stay in a strange city, it becomes a major inconvenience.
Thankfully, there are 10+ credit cards, such as the wildly popular Chase Sapphire Reserve, that offer trip delay protection, so you can enjoy a hot meal and warm bed if your flight is canceled, or the delay becomes extended.
Even if you have a credit card with trip delay protection, you might find yourself wondering "What kind of compensation should I get from the airline?" when you are faced with a lengthy delay or flight cancellation.
Reasons for Flight Delays or Cancellations
Flight delays or cancellations can be caused by a variety of reasons. Common causes include:
Inclement Weather

Natural Disasters

Air Traffic Control Congestion

Airline System Glitches

Crew Delays or Timeouts

Maintenance Problems with an Aircraft
Delays or cancellations caused by weather, natural disasters or air traffic control are generally regarded as being out of the control of the airline. While the airline will help you rebook your flight, it is rare for them to provide compensation.  
The last three causes are generally considered "airline problems", and when flights are delayed or cancelled for these reasons, requesting compensation from the airline would be appropriate.
Airline system glitches are IT problems that range from software outages within the check-in system, to printer issues that prevent the flight plan from being printed (True story, I was once delayed for over an hour because of a broken printer).
If there are glitches that cause extended delays, that can result in what is known as "crew timeouts." 
Crew timeouts happen when the maximum number of hours allowed for a crew member to work is reached, resulting in that employee being barred from flying anymore that day.  If there isn't a relief employee nearby, the flight may continue to be delayed, or even cancelled.
Maintenance problems are pretty self-explanatory. Sometimes cargo doors can't close, toilets don't flush or the engines won't turn on. Those are some pretty important parts of the plane that the airline wants to ensure are operating correctly! If there is a maintenance issue, a flight will be delayed until the issue is resolved, or cancelled if the aircraft is not fit to fly.
What To Do If Your Flight Is Delayed or Cancelled?
All too often when people see their flight is going to have a significant delay, or has been cancelled, they think "What compensation will the airline provide?"
That is the wrong first thought. Your first thought should be, "How am I going to complete my travel?" and you need to jump into travel agent mode to see what options are available to get to your final destination.
Make sure you have downloaded the airline app before you travel. The app will display real-time updates of the delays, so even before the gate agent announces the delay, you can be informed.
This is a huge advantage when it comes to rebooking travel, because if you are the first to realize that your flight is cancelled, you can be the first to grab an empty seat on the next available flight!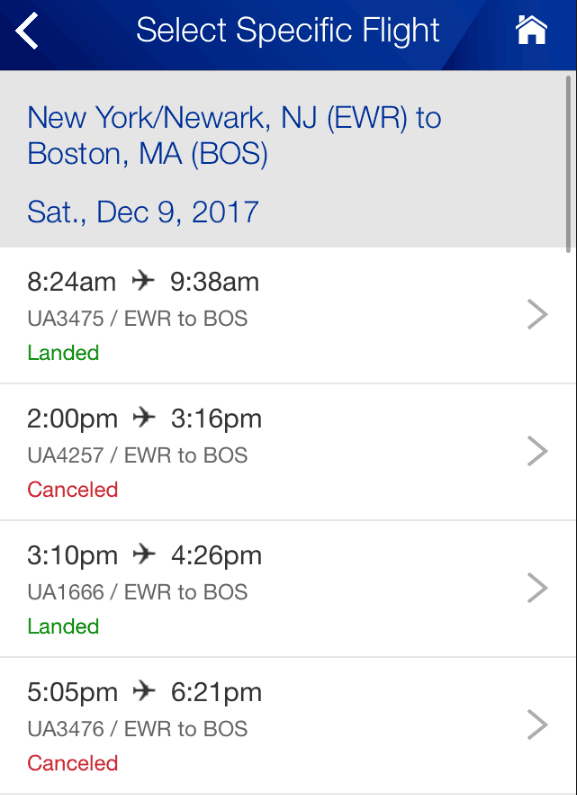 Flight UA4257 was cancelled, but UA1666 was scheduled to depart just 1 hour later.
Flight search tools like Google Flights or Kayak are also helpful, and can give you an idea of other flight options.  
A lesser-known flight rebooking option involves interline agreements.  
Operating much like airline alliances, interline agreements allow an airline to book passengers on different carriers when flights are delayed or cancelled. For example, if a Delta flight from ORD-ATL is experiencing a significant delay, and there are no available seats on other Delta flights departing that day, you may ask to be "interlined" to fly on a United operated flight.  
Not all airlines participate in interline agreements, but it is something to keep in mind when faced with a long delay and no availability on your ticketed carrier.
Once you figure out your desired alternative travel plans, you'll need to talk to a customer service agent to change your flight. At the airport, you can talk to a gate agent, an agent at a customer service desk or an airline lounge agent.  
You can also call the airline customer service phone number and have an agent make a change for you over the phone. Social media, such as Twitter, has become a new way to contact airline customer service, and can be just as effective as speaking to an agent in person or over the phone.
When inclement weather or IT outages cause widespread delays or cancellations, customer service wait times can be extremely long.
I recommend standing in line at the customer service desk at the airport while simultaneously calling customer service and tweeting to the airline as well. That way you are "in line" to be helped by multiple agents, and you increase your odds of being helped quickly.
Once you are able to secure travel plans to your final destination, you can move on to thinking about compensation.
How To Ask for Compensation
Customer service agents deal with hundreds of complaints and requests for compensation every day, so keep your request clear, concise and be polite.
As a friend once quoted, "You catch more flies with honey than you do with being a jerk." I'm pretty sure that isn't how the quote goes, but the idea behind it is true. A polite request is always better received than a screaming demand.
When you are being helped by a customer service agent, it is easy to say, "Due to this delay/cancellation, I feel compensation from the airline would be appropriate."
The agent helping you will already have all the information about your original flight, the amount of time of the delay and your new travel plans, so they should be able to provide a fair and reasonable (more on this in a minute!) compensatory offer.
If you are in a situation where you don't have time to discuss compensation prior to ending your conversation with a customer service agent, contacting the airline through their social media pages, or their online complaint forms would be an appropriate alternative option.
Social media, such as Twitter and Facebook, have recently become popular communication methods for travelers wanting to instantly connect to airline customer service. A simple tweet directed to the airline or post on their Facebook page will trigger a response from the airline social media team.
The airline will request that you direct message your travel details, and then you can explain your situation, and request compensation.  
If you choose to use an online complaint form, the forms can be found on the airline website.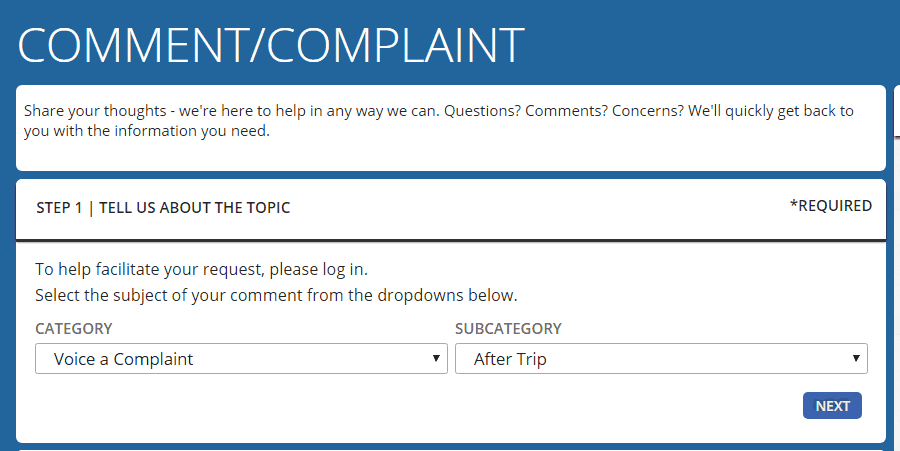 The online forms are a useful resource if you do not use social media, however, the response time from the airline is usually much slower than the other methods of pursuing compensation described above.  

What Kind of Compensation is Appropriate?
If you're delayed two hours or less, airlines usually consider that to still be "on time" and will not provide compensation.
When delays or cancellations result in two or more hours of waiting or require significant re-routings, requesting reasonable compensation is appropriate.
In the U.S., there are no standard policies regarding compensation for delayed or cancelled flights. That means that compensation is at the discretion of individual airlines, and there are no federal requirements imposed on the airlines to assist passengers.  
Given that there are no definitive standards, knowing what is considered reasonable can be murky.
By getting you to your final destination, even if it is after a lengthy delay, the airline has fulfilled their obligation of transportation. Any compensation provided is considered a goodwill gesture on the part of the airline.
If your flight cost $125, and you were delayed 2.5 hours, requesting $125 in compensation would not be considered reasonable.  If your flight cost $1250, and you were delayed 2.5 requesting $125 could be considered reasonable.
The compensation provided by airlines will generally be in the form of travel vouchers for use toward future flights, or frequent flyer miles for use within their loyalty programs. It is rare that an airline will issue cash compensation for a flight delay.
Unfortunately, there is no "one size fits all" answer as to what is considered reasonable compensation.  In my experience, my requests for compensation have resulted in vouchers ranging from $50-200, and frequent flyer mileage compensation from 7,500-10,000 miles.
European Union (EU) Rules
In the European Union (EU), assistance and compensation for delays or cancellations has been standardized under the Flight Compensation Regulation 261/2004. Since the rules are standardized, this policy is fairly straightforward.
Flight Compensation Regulation 261/2004 applies if you are traveling from the European Union (EU) on any airline, or to the EU on an airline based in the EU (think Lufthansa, British Airways, Air France, KLM, etc.).
Under Flight Compensation Regulation 261/2004, flights are defined as three types:
Type I: Flights less than 1,500 km in distance

Type II: Flights

within the EU of greater than 1500 km in distance, or any other flight of greater than 1,500 km but less than 3,500 km in distance

Type III: Flights not within the EU of greater than 3,500 km in distance
Compensation is provided as follows:
Type I: €250

Type II: €400

Type III: €600
The compensation is provided when the delay for Type I and Type II flights exceeds three hours, and when Type III flights exceed four hours. When Type III flights are delayed more than three hours, but less than 4 hours, the compensation provided is halved, for a compensation of €300.

Compensation is also provided if the arrival time of a flight that was rerouted or rebooked due to a cancellation or denied boarding is delayed beyond the originally scheduled arrival time by two hours of a Type I flight, three hours for a Type II flight and four hours for a Type III flight.  
Compensation provided as part of EU 261/2004 is issued as cash, and not as airline vouchers.  
Can You Receive Compensation and Also Make a Claim Through Trip Delay Insurance?
If the delay is long enough to cause your credit card trip delay insurance benefits to be applied, please note that you can not "double-dip" benefits from your insurance with the benefits provided to you by the airline.  
That means if the airline gives you a voucher for meals and a hotel, you can't claim the expense of those meals and that hotel stay through your credit card trip insurance.  
If the airline provides compensation in the form of an airline voucher or frequent flier miles, those are not benefits provided by credit card trip delay insurance. In this case, it would be acceptable to receive the compensation voucher, and also claim a hotel stay and meals under your trip delay insurance.
Final Thoughts
Delays and cancellations are bound to happen when it comes to air travel.  When it comes to airline caused delays, passengers may be entitled to compensation.
When faced with a delay, first ensure you are able to get complete travel to your final destination. After you have been rebooked or rerouted, don't be afraid to request compensation for the inconvenience of the delay.
While there is no guarantee that the airline will provide a voucher or frequent flier miles, it never hurts to ask (politely!) and you may be pleasantly surprised with the result!
---
10xTravel is part of an affiliate sales network and receives compensation for sending traffic to partner sites, such as CreditCards.com. This compensation may impact how and where links appear on this site. This site does not include all financial companies or all available financial offers.
Editors Note: Opinions expressed here are author's alone, not those of any bank, credit card issuer, hotel, airline, or other entity. This content has not been reviewed, approved or otherwise endorsed by any of the entities included within the post.