Note: Some of the offers mentioned below may have changed or are no longer be available. You can view current offers here.
If you're like me you have probably read at least a dozen articles that explain how your credit score works. It's a topic that makes for an attention grabbing headline, so naturally the financial news outlets and blogs love to churn out a credit score article every few weeks.
Coming from a financial background I typically read these articles to see if they have anything new to say.
Spoiler alert: They don't.
In fact, I have found that they all have two things in common.
They contain way too much technical information
They are mind-numbingly boring
No wonder most of us have a hard time understanding how credit scores work.
With that in mind, I am going to try to make this easy for you. First, I am going to walk you through how credit scores are calculated, explaining each section as simply as I possibly can.
Then I am going to introduce you to 4 basic rules that will help you build and maintain a solid credit score.
Let's get started.
---
Your Credit Score
Since the day you turned 18, many of your major financial decisions have been monitored by three credit bureaus (Equifax, Experian, and TransUnion) and compiled to produce a score that reflects your ability to manage money. That score, commonly called your "credit score" (or FICO score), ranges from 300-850 and it is used by creditors to determine how likely you are to repay any debt that you have.
The higher your score, the more likely you are to repay your debt, and therefore the more likely you are to qualify for any sort of credit card or loan.
So high scores = good. Low scores = bad. Pretty simple so far.
Now let's take a look at how your credit score is calculated.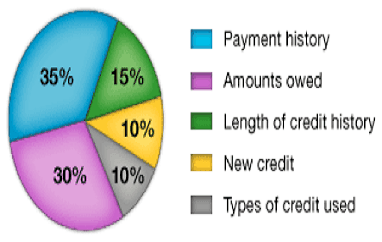 Your credit score is calculated by taking dozens of data points and grouping them into five major categories. Let's take a look at each one individually.
Payment History (35%)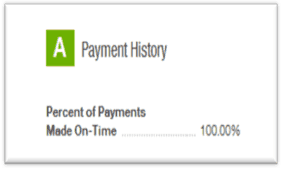 Payment history is the most important factor that goes in to determining your credit score. Naturally, lenders want to know how often you have paid past credit accounts on time.
Not only is payment history the most heavily weighted metric, but it is also the most volatile. Missing just one payment could cause your score to drop by over 100 points (Ouch!), which could easily prevent you from qualifying for any sort of credit card or loan.
The lesson here is simple. Never ever miss a payment on any sort of credit card or loan that you have.
Amounts Owed (30%)
The second biggest factor in determining your credit score is the amount of debt you owe. This metric is broken down into a few subcategories.
Total Amount Owed: This is the total amount of debt that you owe on all of your credit cards, loans, etc. Generally speaking, the less debt that you have the better your score will be.
Total Amount Owed by Account: This is a measure of how much debt you have on each of your accounts. This is commonly referred to as your credit card utilization, which is expressed as a percentage of your credit limit.
For example, if you have a $1,000 limit on a credit card and have a balance of $500, then your utilization for that card would be ($500/$1000=) 50%.
Generally speaking, the lower your utilization, the higher your credit score will be.
How Many Accounts Have Balances: Carrying a balance on a large number of your credit lines indicates that you may be a high risk borrower and can lower your credit score.
Amount of Installment Loans Still Owed: Paying down installment loans (mortgages, car payments, etc.) is a good sign that you are able to manage and repay debt. Like credit card payments, you always want to make your installment debt payments on time and in full.
Length of Credit History (15%)
Length of credit history is a measure of the amount of time that you have had your credit accounts. This metric takes into account the age of your oldest account, the age of your newest account, and the average age of all of your accounts. In general, a longer credit history will lead to a higher credit score.
New Credit (10%)
New credit is a measure of how many credit accounts you have opened recently. By opening a lot of new accounts in a short period of time you are indicating that you might be a risky borrower, which will cause your credit score to fall.
Types of Credit Used (10%)
This factor looks at your mix of credit cards, retail accounts, installment loans, and mortgage loans. You ideally want to have a healthy balance of credit card debt and installment loans to show that you know how to manage both types of debt.
As you can see, even the condensed version can be a bit tricky. Now let's boil it down to the basics.
Here are 4 rules that will help you build and maintain a solid credit score.
1. Understand How Your Credit Score Works
Your credit is one of the most valuable assets that you own and ruining it will have lasting effects on your financial well being. For this reason, it is important that you take the time to learn how it works. This will help you make informed credit decisions and take the necessary steps to maintain a good credit score. It will also prevent you from falling in to the trap of following conventional credit card wisdom.
Congrats, by taking the time to read this post you have already taken this first step.
2. Always Make Your Payments on Time
No amount of credit score strategy will ever be able to make up for the damage that late or missed payments will do to your credit score.  Having just one or two missed payments can drop your score by over 100 points and make it very difficult for you to qualify for any sort of loan.
You absolutely have to make all of your payments on time and in full if you want to maintain a good credit score.
3. Build a Solid Credit History
The more credit history you have, the more evidence there is that you are a responsible borrower. This will help to boost your score and insulate it against minor ups and downs that can be caused by things like new credit inquiries or accounts.
The best way to build a solid credit history is to continually stick to the first two tips that you just read. If you continue to monitor your credit score and make your payments on time you will be able to build a solid credit history of being a responsible borrower.
It is also a good idea to keep your older credit accounts open and in good standing. Although it can be tempting to close credit accounts that you no longer use, keeping them open helps to build your credit history and thus boost your credit score.
4. Keep Your Credit Card Balances Low
The last rule for maintaining a good credit score is to keep your credit card balances low. Generally speaking, the higher your credit card balance is, the lower your credit score will be.
To prevent this from occurring it is best to keep your credit card utilization below 30% at all times (That's $300 on a credit card with a $1,000 credit limit). Going above 30% will likely cause your score to fall, even if you are paying your balance every month.
By understanding how your score works, always making your payments on time, building a solid credit history, and keeping your balances low, you will easily maintain a good credit score.
Over the next couple weeks we will tackle some of the common myths about credit, answer a few questions submitted by our readers, and talk about how you can leverage your credit to earn tons of free/cheap travel (I'm heading to Paris in two weeks for $266).
In the meantime feel free to connect with me via my website, on twitter (@GetFreeFlights), Facebook, Google+, email, or leave a comment below.
Happy Travels,
Bryce
---
10xTravel is part of an affiliate sales network and receives compensation for sending traffic to partner sites, such as CreditCards.com. This compensation may impact how and where links appear on this site. This site does not include all financial companies or all available financial offers.
Editors Note: Opinions expressed here are author's alone, not those of any bank, credit card issuer, hotel, airline, or other entity. This content has not been reviewed, approved or otherwise endorsed by any of the entities included within the post.