I stay in a lot of chain hotels. With programs like Hilton and Marriott having thousands of hotels around the world, it's easy to find one almost anywhere I'm going.
I like staying in chain hotels because the experience is usually pretty predictable. It may vary a bit, and there are some outliers, but in general, when you stay at a Hyatt Place, you get a fairly similar experience whether you're in New York, Germany, or Thailand.
When traveling, I want to be sure I'm going to have a nice, comfortable place to stay, and a chain hotel helps improve the chances of that happening.
Having status with any of the large hotel chains is a great way to get some benefits during your stay. You'll find yourself receiving complimentary upgrades, free breakfast, and the ability to earn more points on paid stays.
The traditional route to earning hotel status is through staying a certain number of nights at each chain's properties. However, you can easily bypass this requirement by earning status via credit cards. Although it isn't always the highest level of status, you'll be positioned to receive a few more benefits than you would receive without it.
Let's take a look at how you can earn status at the major hotel chains around the world with credit cards.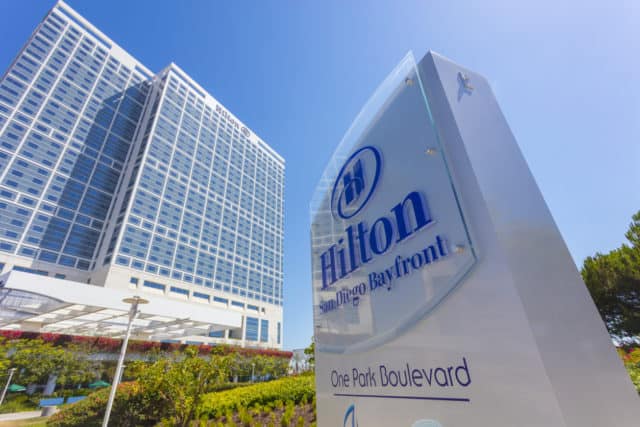 Hilton
Earning elite status with Hilton just takes a single credit card, so it really depends on the level of status that you want. You can even earn Diamond status – Hilton's highest level of status – with one credit card, the Hilton Honors American Express Aspire Card. The card does have a higher annual fee of $450, but frequent Hilton guests can easily offset that with the value of automatic Diamond status.
With Diamond status, you'll receive complimentary suite upgrades, complimentary breakfast, and executive lounge access. Plus, there's a 48-hour room guarantee. If you like to take spontaneous trips, the room guarantee is a big plus.
If you don't always stay in Hilton hotels, but want the opportunity to still get some great benefits such as free breakfast and standard room upgrades (no suite upgrades here), Hilton Gold status fits the bill.
You can get Gold status with a few different credit cards including the Hilton Honors American Express Surpass Card and the Hilton Honors American Express Business Card. You'll lose a few perks being Gold instead of Diamond, but you'll only pay a $95 annual fee rather than $450, and you'll maintain some of the more valuable benefits like free breakfast.
If you don't want a hotel-specific card, but instead would prefer one with more flexibility, you can look to The Platinum Card from American Express. Both the personal and business versions come with Hilton Honors Gold Status. You simply have to link your card to your Hilton Honors account.
The annual fees for the Platinum cards are the highest, but this is just one of the numerous benefits that you can use to get some great value from these cards.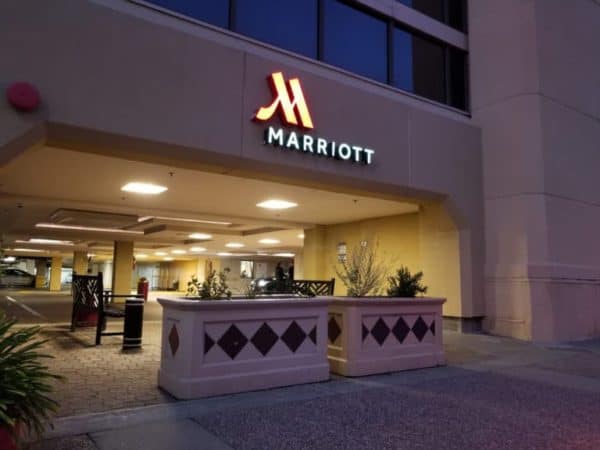 Marriott
Marriott status definitely has its value, but since rebranding to Marriott Bonvoy, the real benefits don't start kicking in until you reach Platinum Elite status. While you can't reach top tier status just by having a credit card, you can get some solid perks and spend your way to Platinum if you so choose.
One card that get help you get to Gold status is the Chase Marriott Bonvoy Boundless Credit Card. This card comes with a $95 annual fee and starts you at Marriott Silver. Some of the perks of Silver Elite status with Marriott include free wi-fi and late check-out. No free breakfast or upgrades as a Silver Elite, sorry!
Earning Gold Elite with the Chase Bonvoy Boundless Credit Card comes pretty easy. You can do it one of two ways. First, you'll earn Gold Elite status when you spend $35,000 on your card in a calendar year. The other is through qualifying nights.
Gold Elite status requires staying 25 nights at a Marriott property. The Chase Bonvoy Boundless Credit Card automatically gives you 15 nights every calendar year. This means you'll only need to stay 10 nights at a Marriott property in a calendar year to earn Gold status. Since award nights count, just a couple of trips coupled with the Bonvoy Boundless Card could earn Gold.
If you wanted to fast-track yourself to higher Marriott elite status, you should start with the Marriott Bonvoy Brilliant American Express Card or the American Express Platinum Card.
These cards come with a $450 and $550 annual fee, respectively. Both cards provide Gold Elite status with Marriott.
What sets the Marriott Bonvoy Brilliant American Express Card apart, however, is that you can spend your way to Platinum Elite status. If you spend $75,000 in eligible purchases on your card in a calendar year, you'll earn Platinum Elite status.
That's a lot to spend and it won't be worth it for many people given the opportunity cost of other sign-up bonuses. However, if you have a specific need for Platinum Elite status with Marriott, it can save you a lot of money. I used mine for free breakfast at the St. Regis Maldives recently which saved me about $120 per day, or about $600 in total during our trip.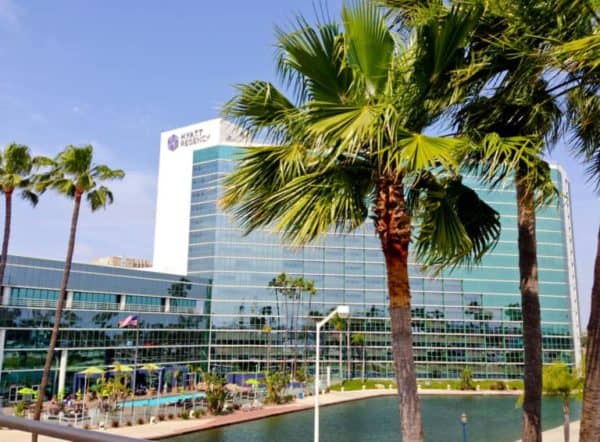 Hyatt
I have a confession to make. While I love the World of Hyatt program for award stays, they aren't the most friendly for earning elite status. There's only one credit card available for the World of Hyatt Program, the World of Hyatt Credit Card by Chase. Thankfully, you do get some status perks by being a cardholder.
You'll start off at Discoverist, which is Hyatt's lowest tier. Discoverist does come with some quality benefits such as free breakfast at Hyatt Place hotels and waived resort fees, but don't expect many upgrades with Discoverist.
If you want to work your way up towards Explorist or Globalist, you can spend your way there. Cardholders will start with 5 elite nights per year, and you will earn 2 additional qualifying nights for every $5,000 spent on the card. Explorist requires 30 nights per year, and Globalist requires 60.
I'll save you the trouble of doing the math. If you don't stay on any paid nights or award nights, you'll need to spend $65,000 to earn Explorist or $140,000 to earn Globalist in a year. Adjust down $5,000 for your first night, and adjust down an additional $5,000 for every 2 nights after that. Remember, award nights do count for Hyatt elite status.  I've received the best elite treatment as a Hyatt Globalist than with any other elite status program, but the difficulty to earn it with a credit card makes it a bit more out of reach for most people.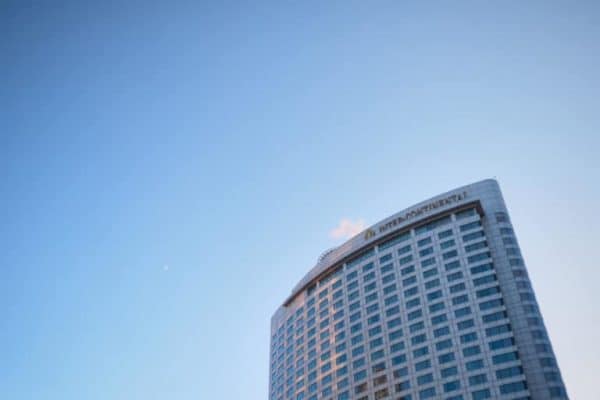 IHG
Finally, IHG. Similar to Hyatt, there's only one credit card available – the IHG Credit Card by Chase. Just for having the card you'll find yourself at IHG Platinum status. IHG Platinum is a mid-tier status that has a few of the benefits that you would expect.
You'll be eligible for room upgrades, but don't expect suites upgrades. Typically you'll get a room with a better view. Overall, IHG Platinum is missing a lot of the key benefits that you would expect from a mid-tier status. You don't even get free breakfast, which is one of my favorite perks of other hotel loyalty programs.
Many of the benefits come outside your stay. If you link your IHG Platinum status to Shell Fuel Rewards, you'll get a discount. Plus, you can get 2 free Kindle eBooks biannually.
There's an often missed benefit of the IHG credit cards: your ability to spend your way to higher status. IHG requires 75,000 elite qualifying points to earn Spire Elite, IHG's highest status tier. Points earned from your Chase IHG credit card spend count towards your status, so you can spend your way to Spire Elite — though, it likely won't be worth it as the benefits aren't impressive.
IHG Platinum status from the IHG Credit Card has a bit of a niche market. Those who travel a lot and stay at IHG can benefit from earning extra points early on. Be sure you have a specific need for IHG Platinum before opening the credit card just for the Platinum status. Although you can earn Spire Elite status, the opportunity cost is pretty significant.
Final Thoughts
It's easier to earn elite status via credit cards with some hotel loyalty programs than others. quality status with than others from credit cards. The easiest way to get top tier status is with Hilton thanks to the Aspire card. Others, such as Hyatt and IHG provide lower-tier status that doesn't get you many benefits.
While hotel status can be worth it, make sure you consider the actual value of it to you. It doesn't make sense to pay the high annual fees for status if you're rarely going to use the benefits.
For most of us, going out of our way to stay with a particular hotel chain doesn't make sense. While I enjoy hotel status, my first priority is to make sure a hotel is a good fit for a particular trip even if I don't have elite status. I think you'll be a lot happier with your trip if you also focus on getting what you want out of a trip rather than chasing elite status benefits.
---
10xTravel is part of an affiliate sales network and receives compensation for sending traffic to partner sites, such as CreditCards.com. This compensation may impact how and where links appear on this site. This site does not include all financial companies or all available financial offers.