In This Article
Loading table of contents …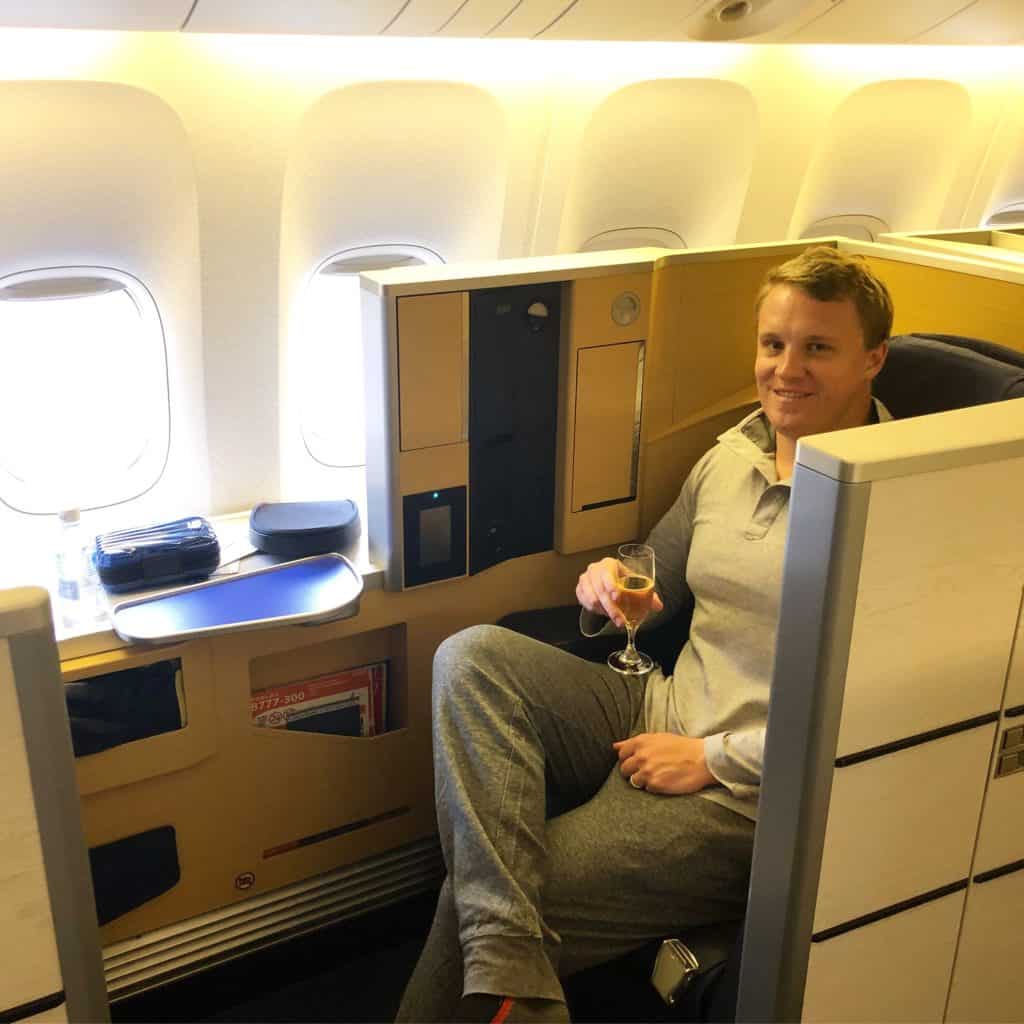 Note: Some of the offers mentioned below may have changed or are no longer be available. You can view current offers here.
Hi Travel Junkies,
I just got back from a 10 day trip to Japan that featured a round-trip flight on ANA in its legendary first class product.
This was not my first experience flying ANA, though my previous trips had all been in the economy. So, saying that I had any idea what I was in for would be like saying I know what to expect at STK because I have previously indulged in a steak nachos box at Taco Bell.
Anyway, the flight was awesome and today I am going to take you through the whole experience.
Let's get to it.
Booking
I booked my First Class flight on ANA using the only strategy that anyone in the points/miles world really ever should when booking this flight; by transferring points and booking through Virgin Atlantic.
Virgin Atlantic uses a zone-based award chart for flights on ANA that requires just 110,000-120,000 miles round-trip for first class flights on ANA between the US and Japan.
This is about half of what many other airlines would charge for the same flight, making it one of the better sweet spots in all of points/miles.
For most folks, the booking process is relatively easy.
Find first class saver space on United.com from the USA (select airports only) to Tokyo (Narita only) on a flight operated by ANA. Must be a round-trip booking, though you can return to a different US airport than the one you departed from.
Call Virgin Atlantic and give them the flight information from #1. Ask them to put a 24-hour hold on the reservation.
Transfer the required points from Chase Ultimate Rewards, Amex Membership Rewards, Citi ThankYou Points, Marriott, or any combination of the four to Virgin Atlantic.
Log in to your Virgin Atlantic account to confirm that the transfer is complete, then call Virgin again to finalize the booking
Though, I was only able to do this after going through one of the craziest booking processes I have experienced since starting in this world 7+ years ago.
Here's the tl;dr:
After more than a week of searching, I couldn't find round-trip saver space (Step #1 above) that worked for my travel dates. So I bit the bullet and booked ANA First Class one-way to Tokyo using 110,000 United miles.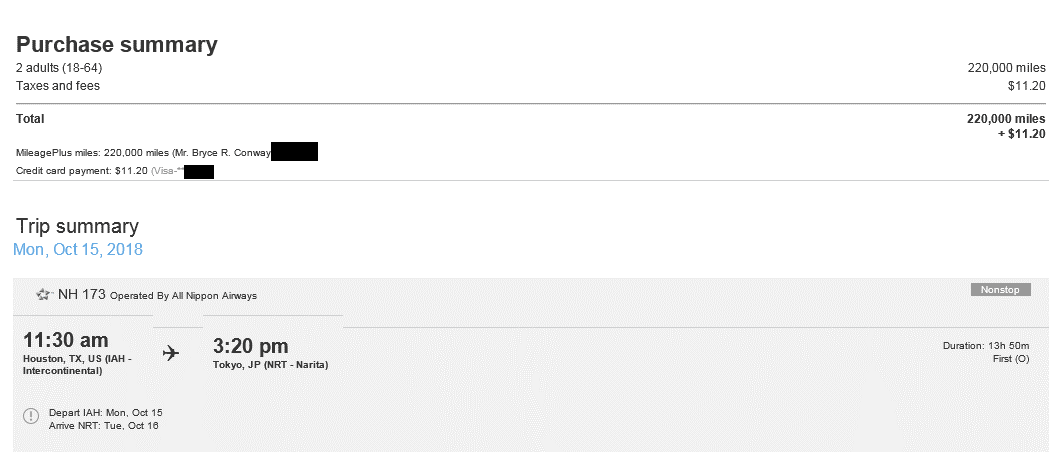 More saver space came available literally hours after I booked with United that did work for my dates. I found it when searching for my flight home from Japan. The moment was captured in a Facebook chat with 10xT Editor in Chief Spencer Howard.
I called Virgin immediately and asked them to put a hold on the flights (Step #2 above). They, of course, couldn't find availability because I had just booked the flight with United miles. But I was in luck because…
My United booking was still within the 24-hour free cancellation window. So I canceled it online while on the phone with Virgin Atlantic and had them run the search again moments later. This time they found the award space and were able to place the free hold.
I transferred 120,000 points from Amex Membership Rewards to Virgin Atlantic and completed the booking.
Which is all a very long way of saying that I booked the flight using 120,000 Virgin Atlantic miles (transferred from Amex Membership Rewards) and $256.51 in taxes and fees.
I did the same for my wife so all of the numbers you are going to see from here on out will be for two round-trip flights.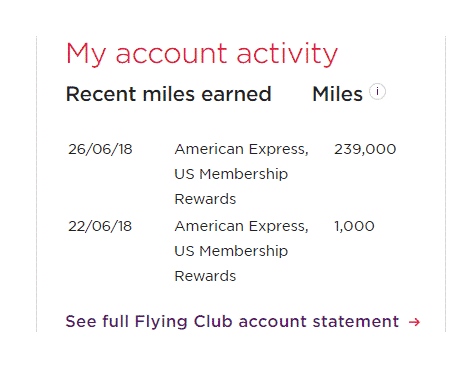 The Amex Membership Rewards points were earned from bonuses and spending on The Business Platinum Card from American Express and Blue Business Plus Credit Card from American Express.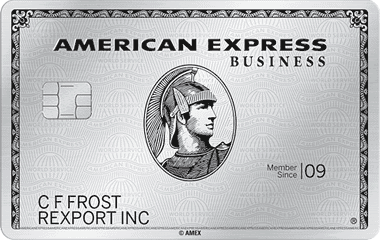 The Business Platinum Card® from American Express
Membership Rewards® Points
after you spend $15,000 on eligible purchases with the Business Platinum Card plus earn 5x points on eligible purchases in 5 select business categories, up to 80,000 bonus points per category, all within the first 3 months of Card Membership.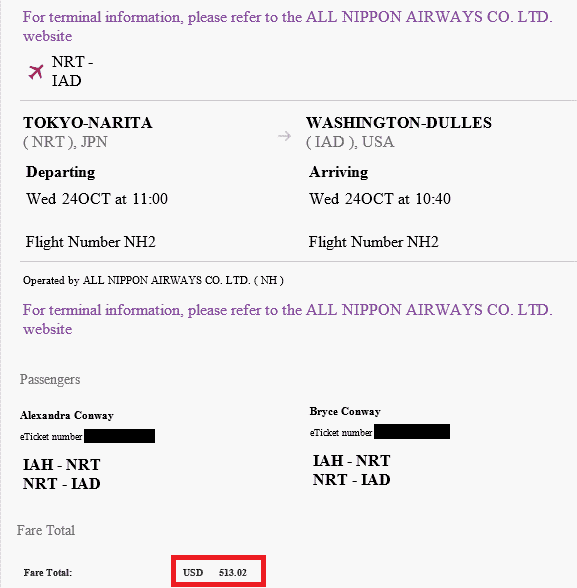 The cash price was $20,281.01 per ticket at the time of booking. Meaning that each one of my Amex Membership Rewards points was worth a whopping 16.9 cents.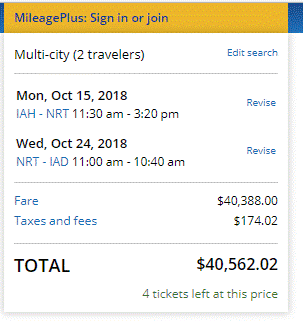 Alternatively, I could have booked this flight with just 2,028,100 Capital One Venture miles. Which continue to trick new points/miles enthusiasts with their "2 miles is always better than 1" marketing pitch.
Sorry, Jennifer Garner.
Back to the trip. Let's talk about the lounge.
Check in and Lounge
Good news, bad news.
Bad news: I had to reposition to Houston (IAH) to make this flight happen because ANA, like literally every other airline on earth, does not find it economically viable to operate a premium cabin product between Columbus and Tokyo.
Good News: Houston has one of the best airport lounges in the country and this gave me the perfect chance to make a visit.
The lounge I am referring to is the brand new United Polaris lounge, which is just a few months old and so exclusive that you can't even buy your way in.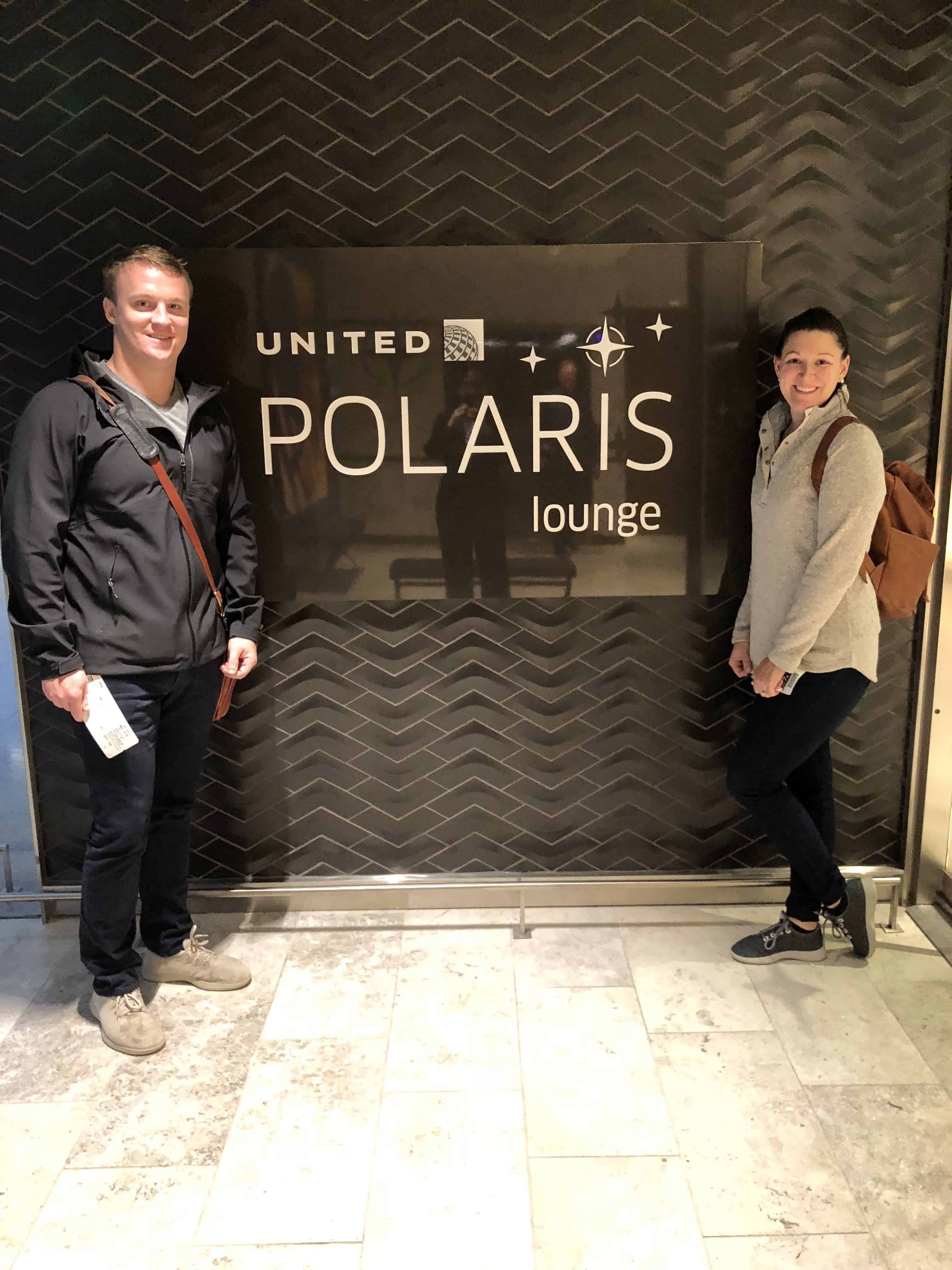 So, don't try to roll in there with one of those paper United Club day passes that everyone in our hobby seems to carry at all times. You'll be turned away faster than a dude in socks and crocs trying to get into an exclusive Vegas night club (though in a much friendlier manner I would imagine).
This airport oasis is only available to travelers flying on a same-day international first or business class ticket on United or star alliance partner flights which, of course, includes anyone flying ANA first class.
I'll spare you the in-depth review and let my pictures do most the talking.
The Polaris Lounge wasn't the largest airport lounge I've ever been to but the layout does a good job of creating long views with a few more private spaces. There are a number of options for both open seating and more secluded working spaces.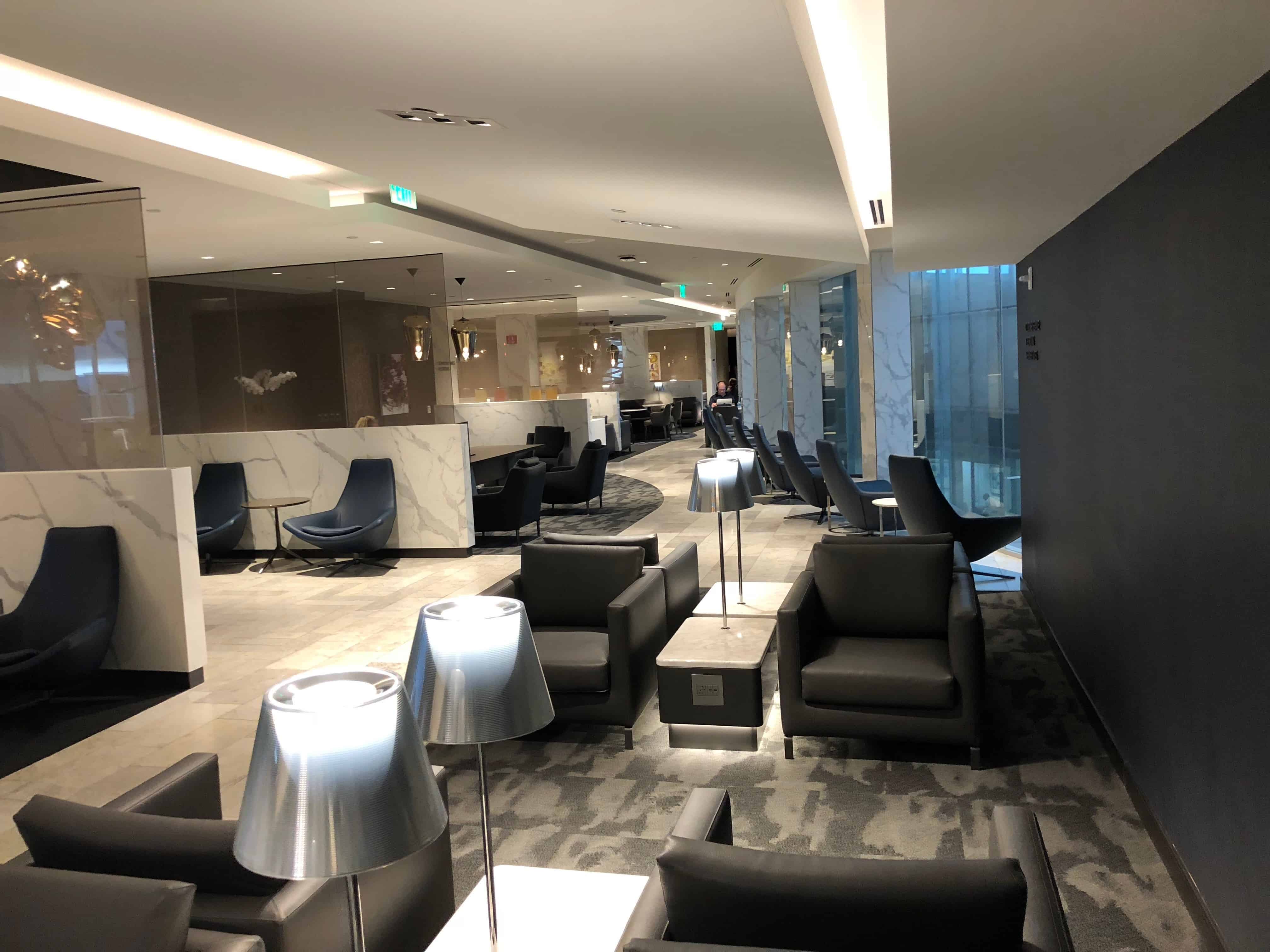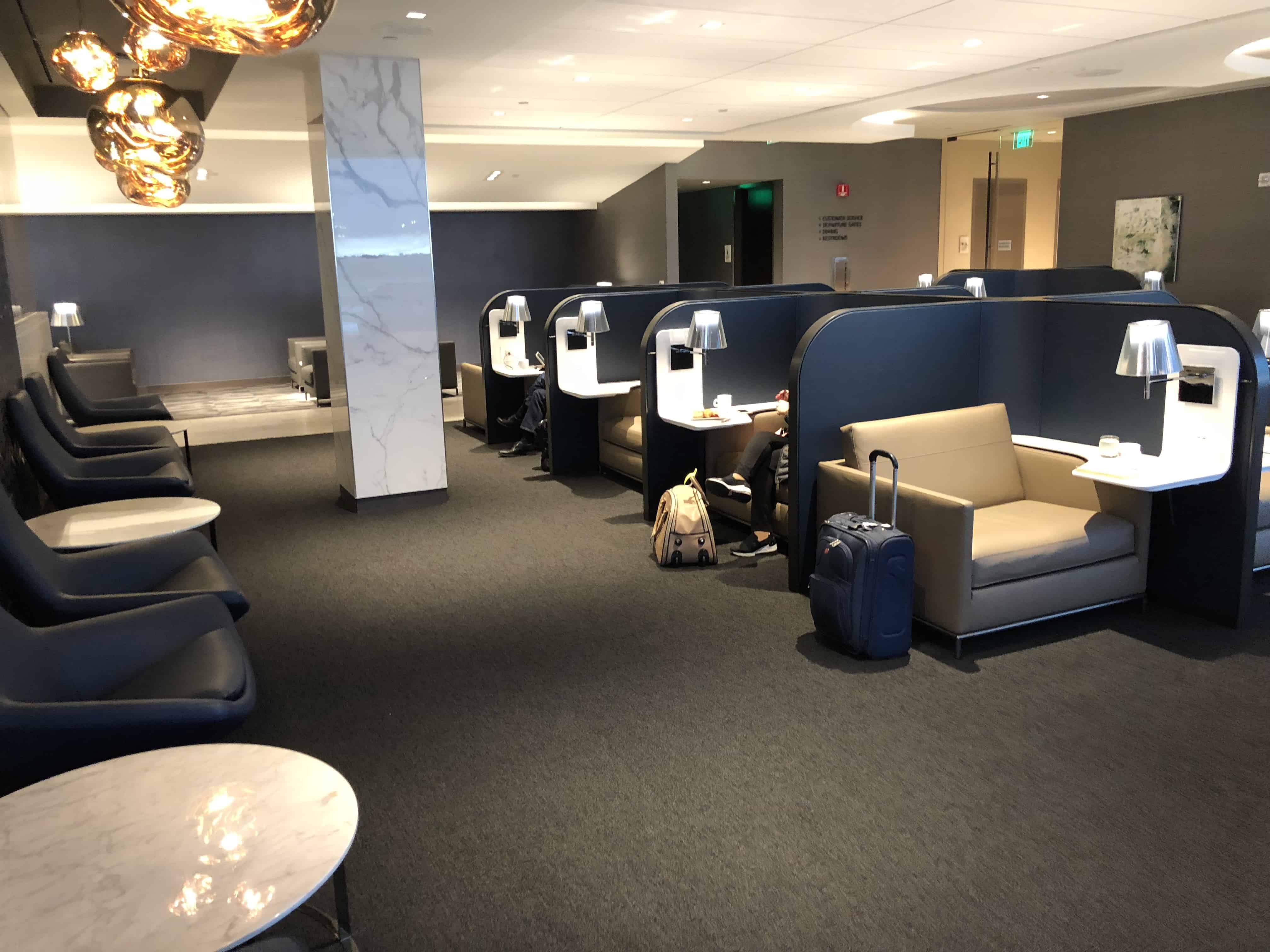 The lounge also has five shower suites, each filled with towels and amenities for anyone in need of a post (or pre) flight shower.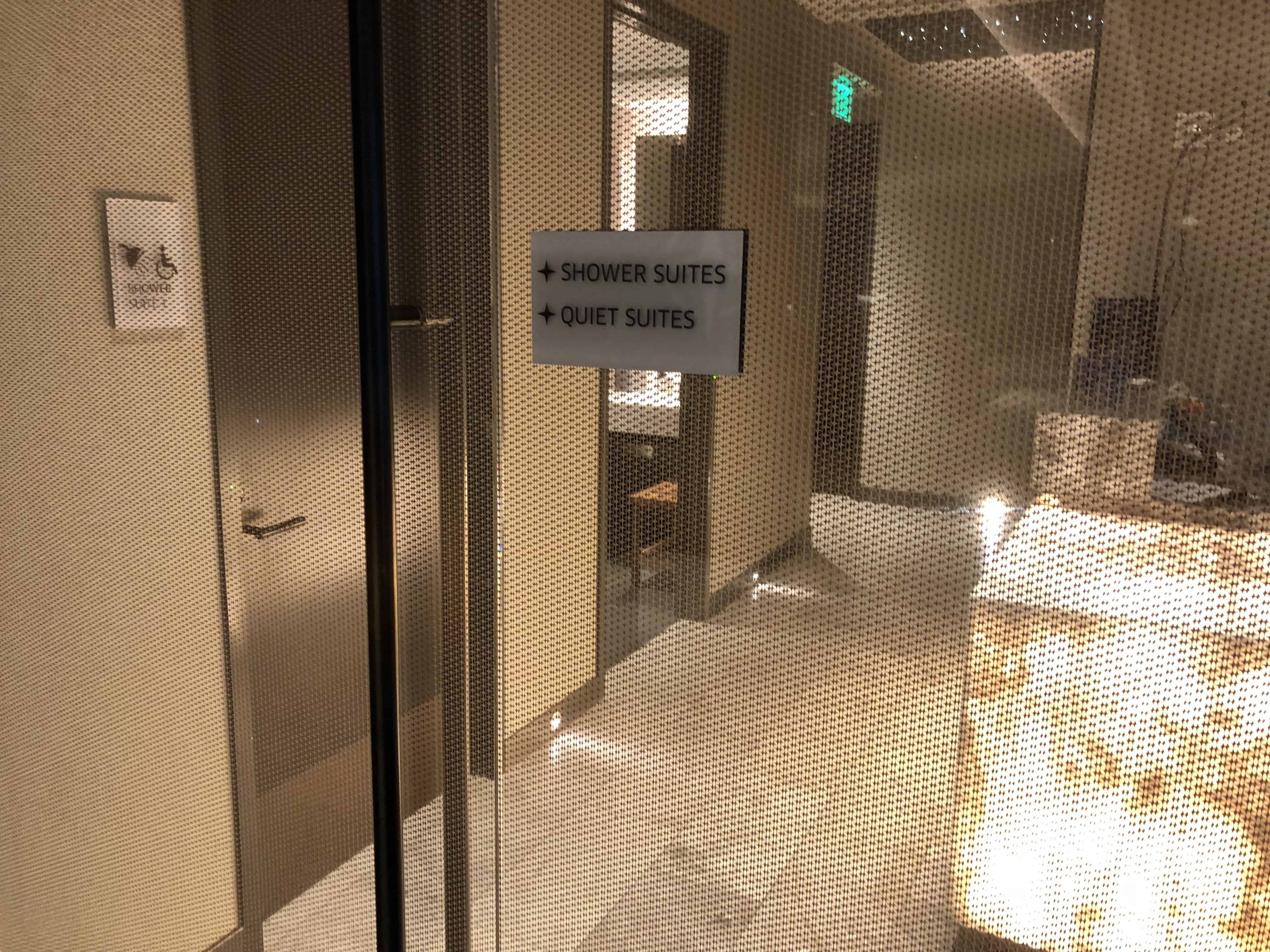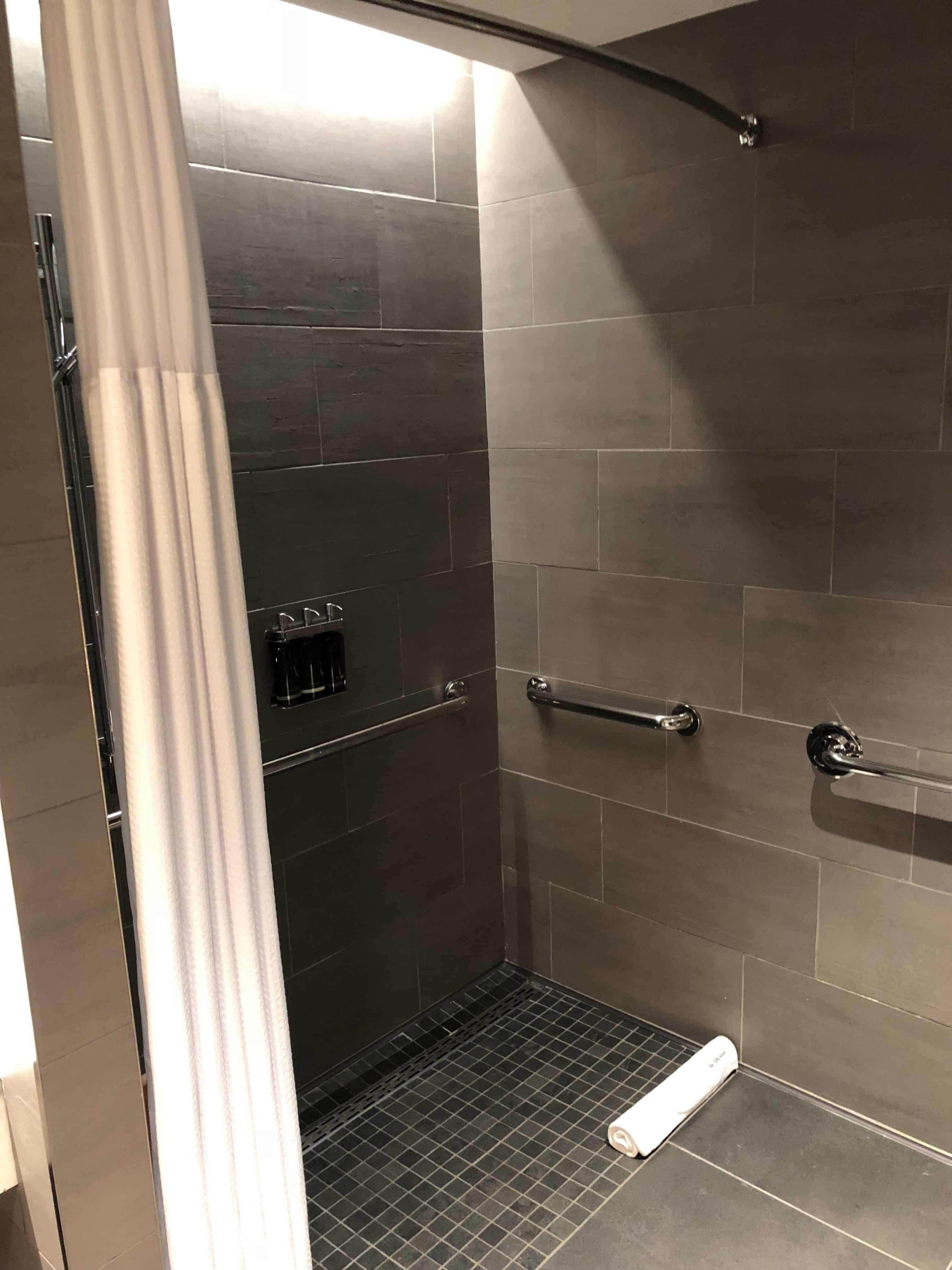 The Polaris Lounge features both a buffet and sit-down dining area that were serving breakfast while I was there. The buffet serves the usual spread of eggs, breakfast meats, yogurt, fruit, and pastries as well as a handful of international options.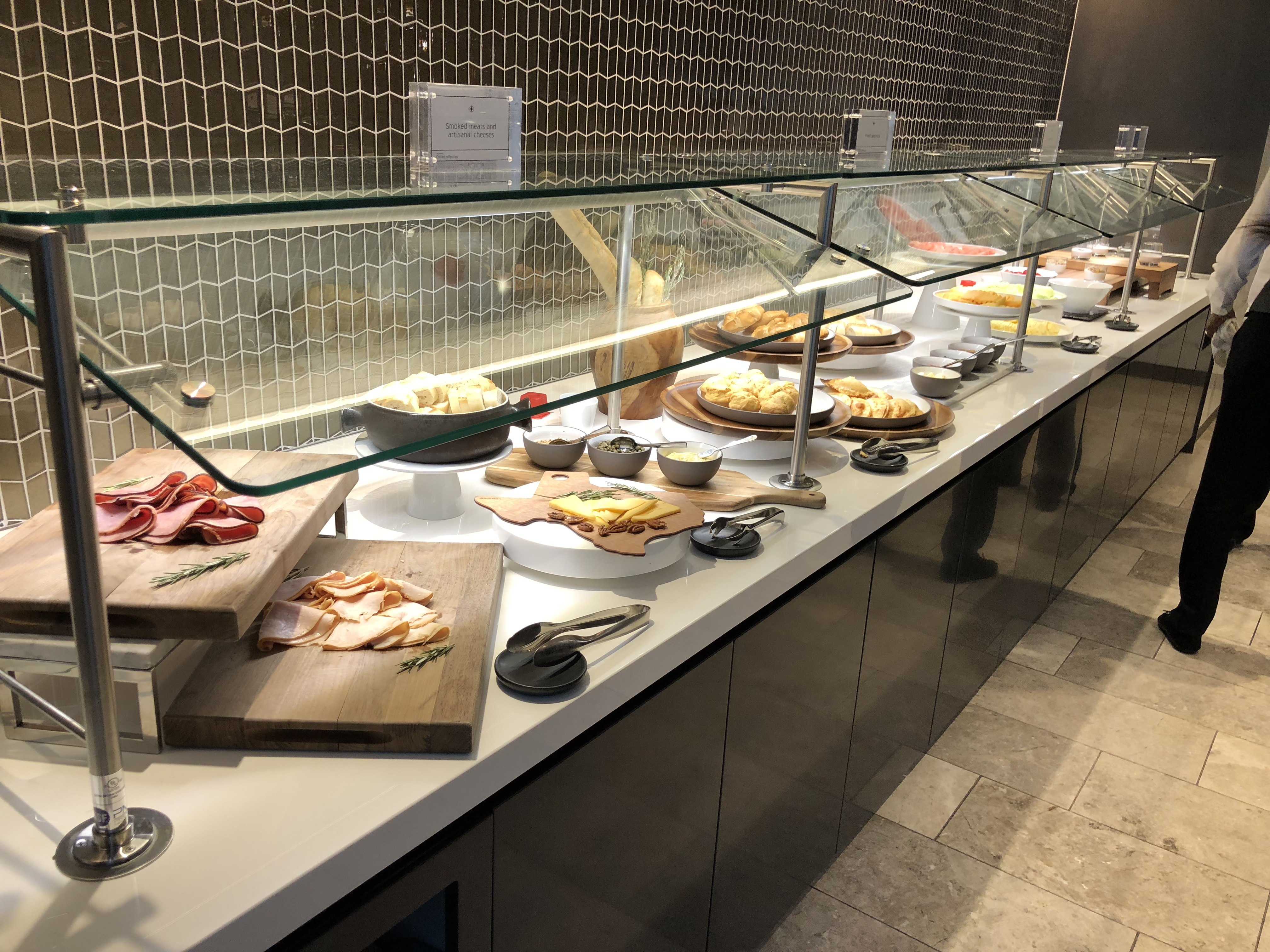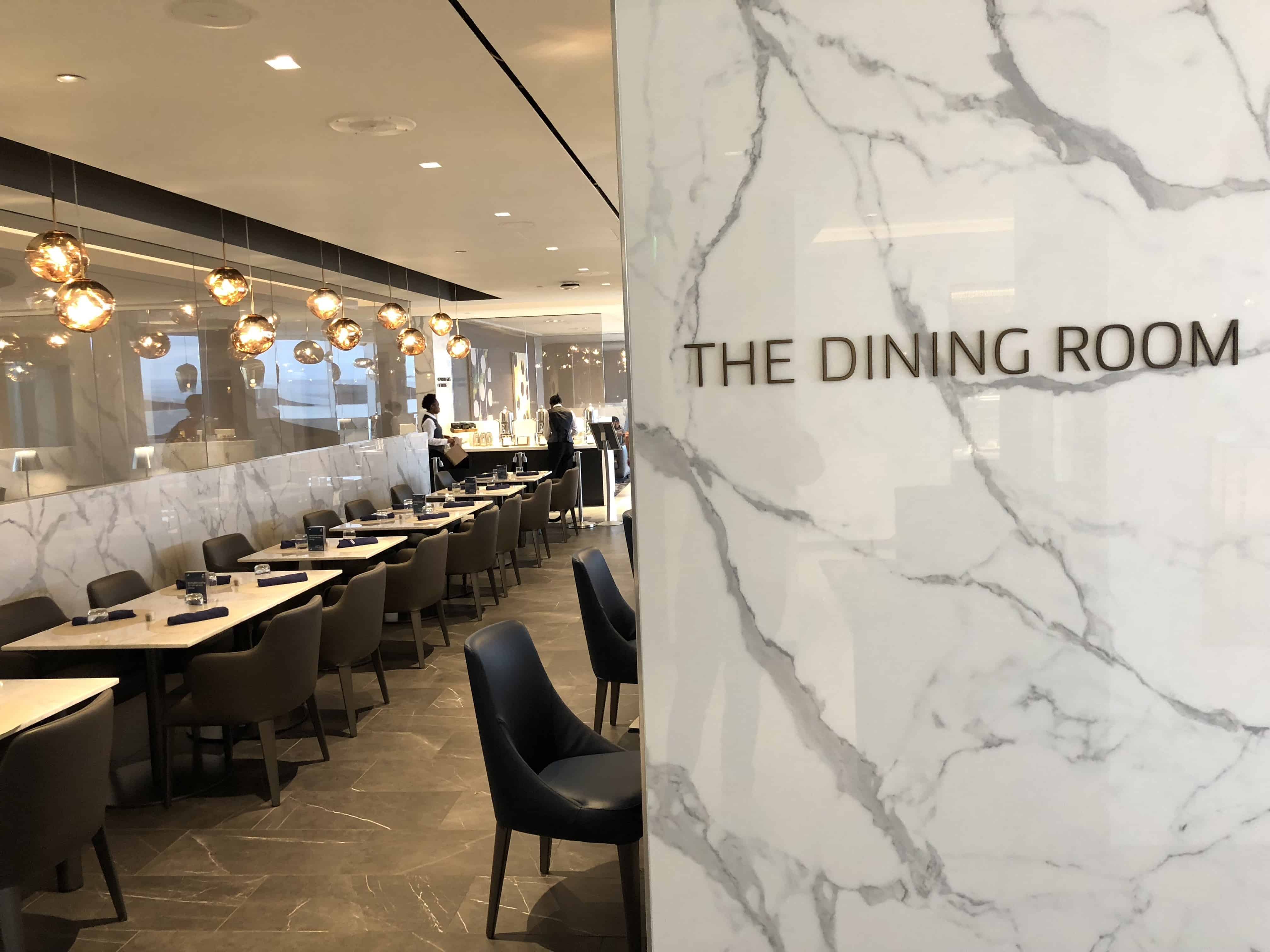 Of course, I didn't want to spoil my appetite so I merely looked at all the food.
Just kidding, I actually sampled items from both the buffet and the dining room. You know, for the accuracy of this review of course.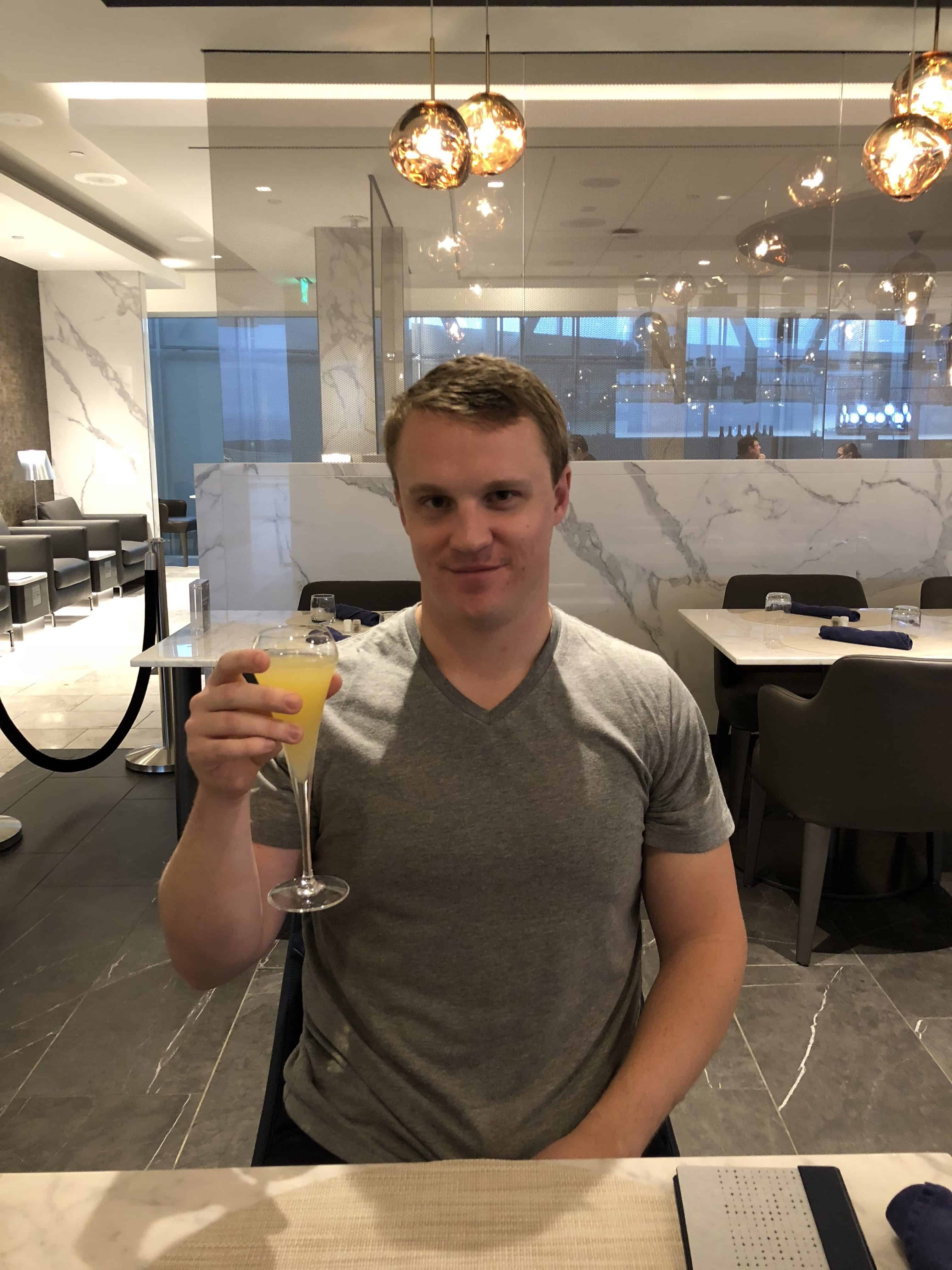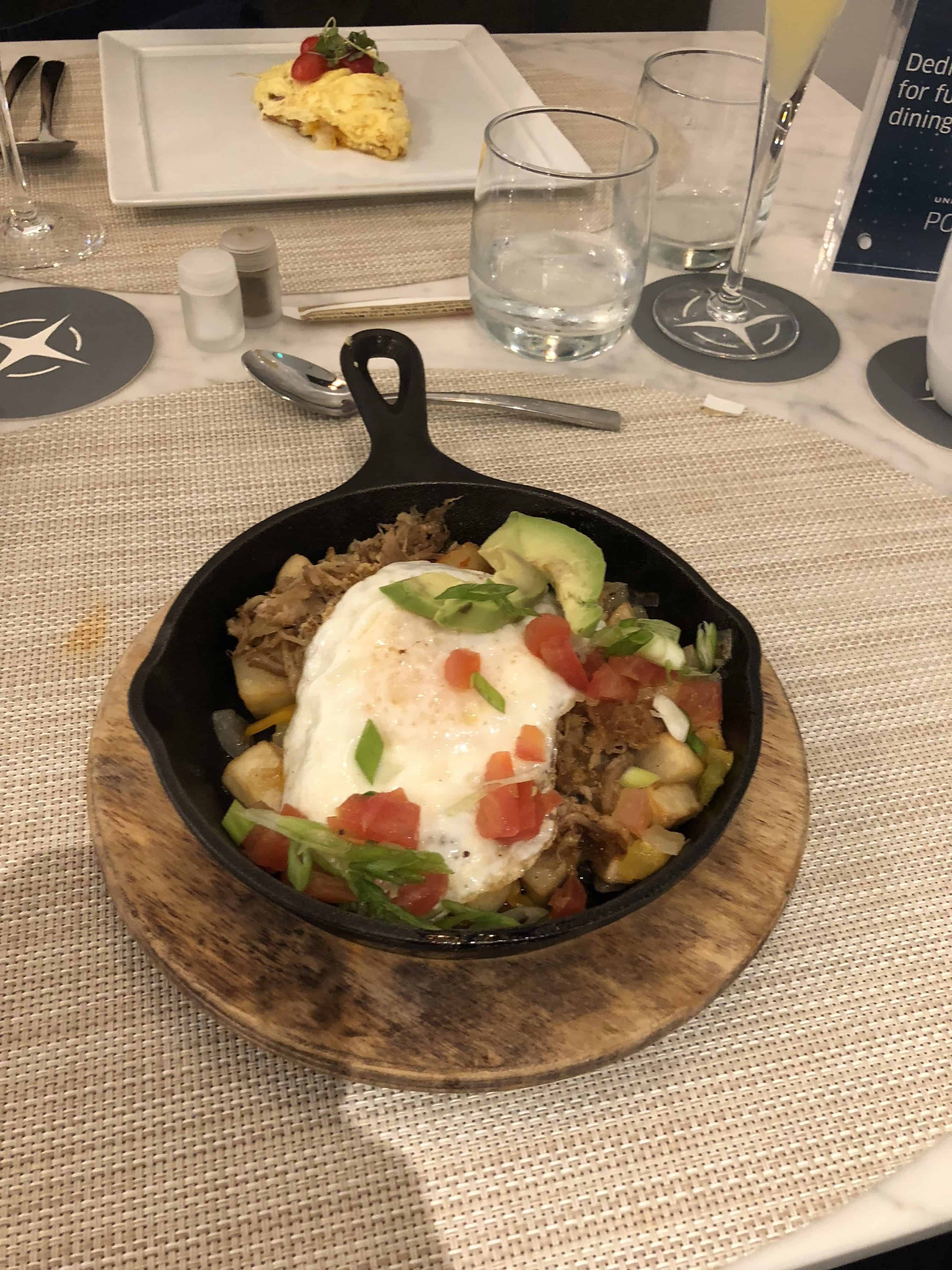 I applied this same logic to my decision on whether to indulge in a cocktail before my flight. It would be negligent of me not to try a couple of them.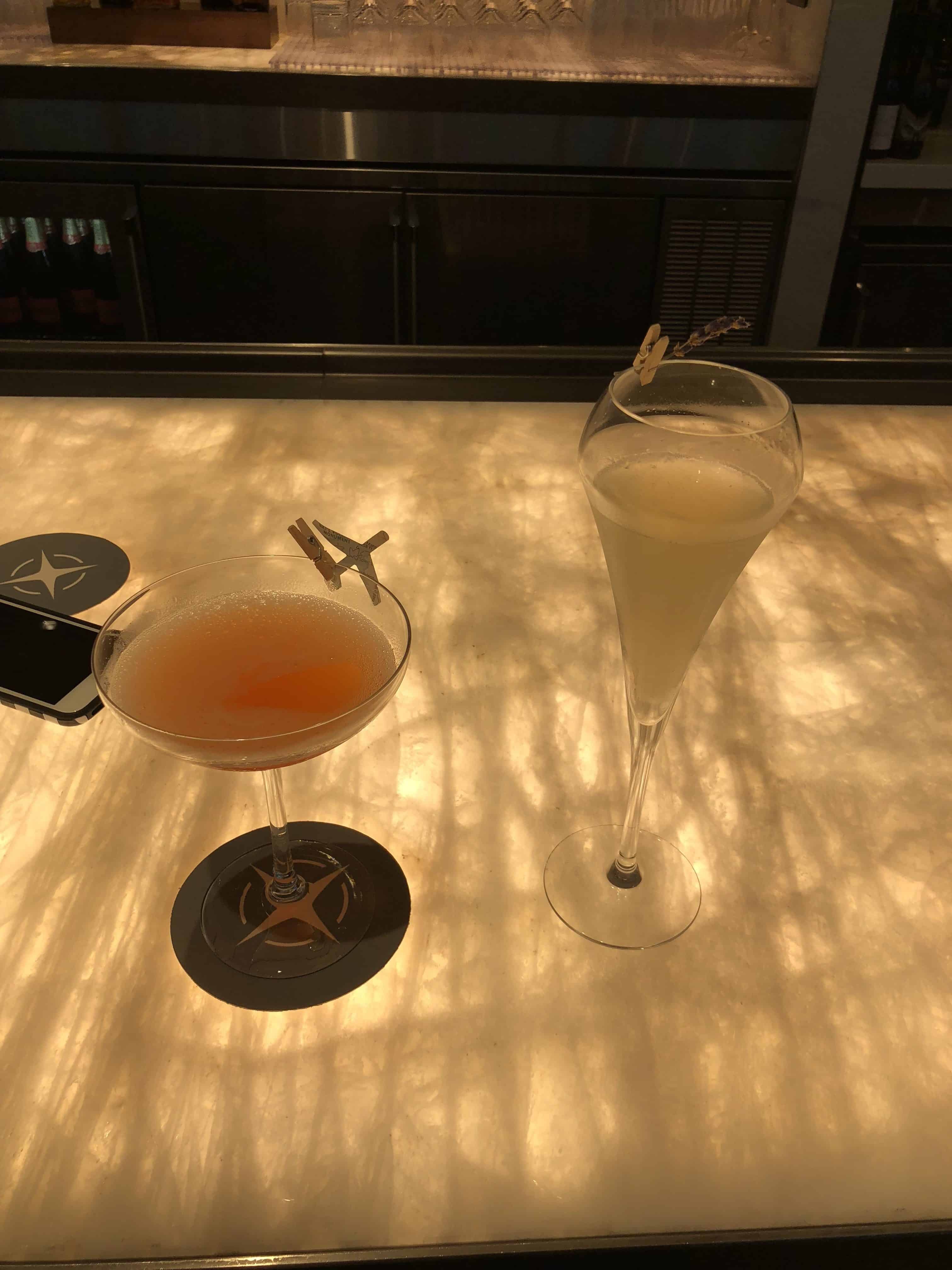 After a couple hours in the lounge, it was time to make our way to the plane for boarding. Which was nearby at gate D4.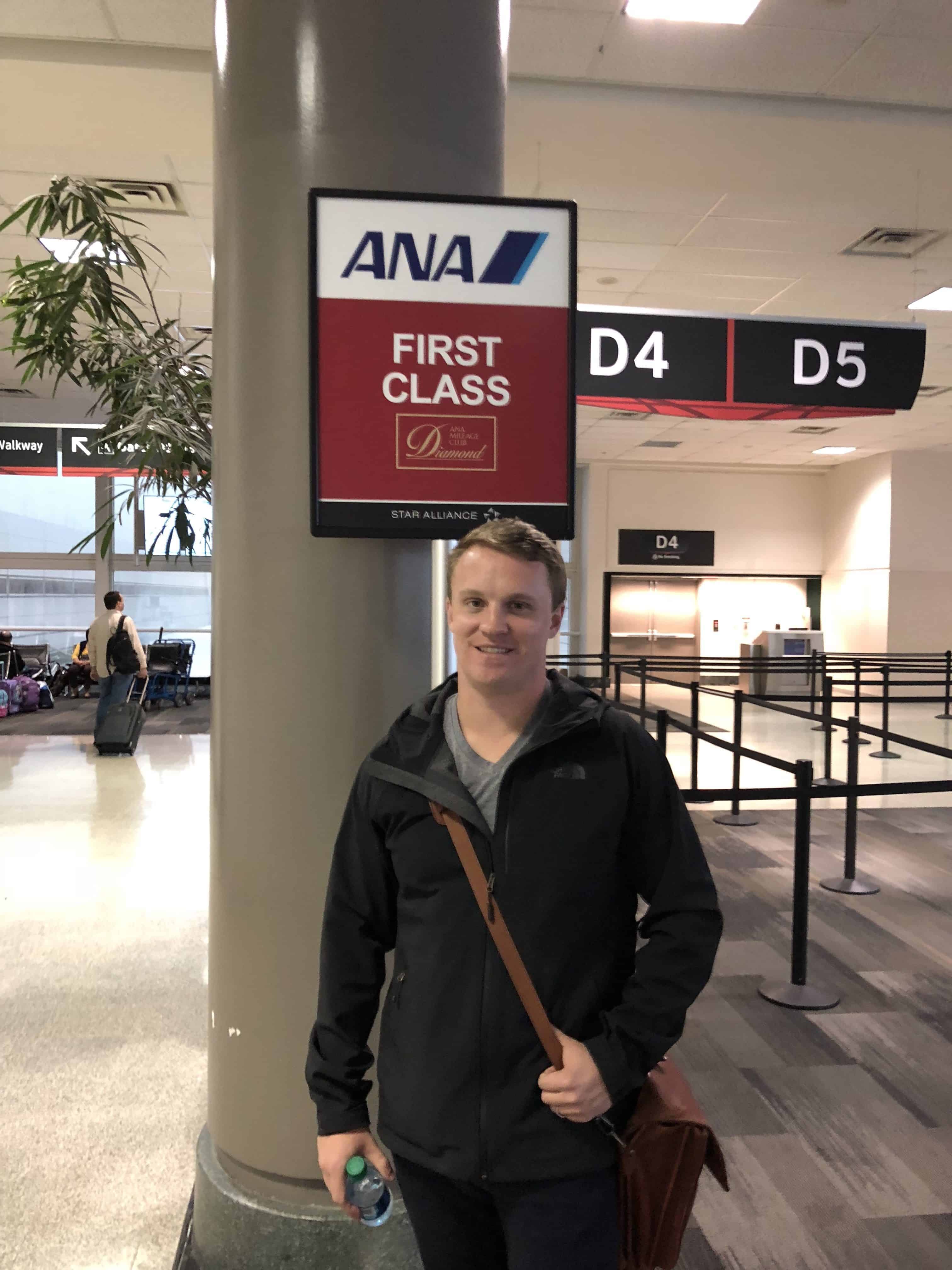 After a 30-minute weather delay, we were ready to board.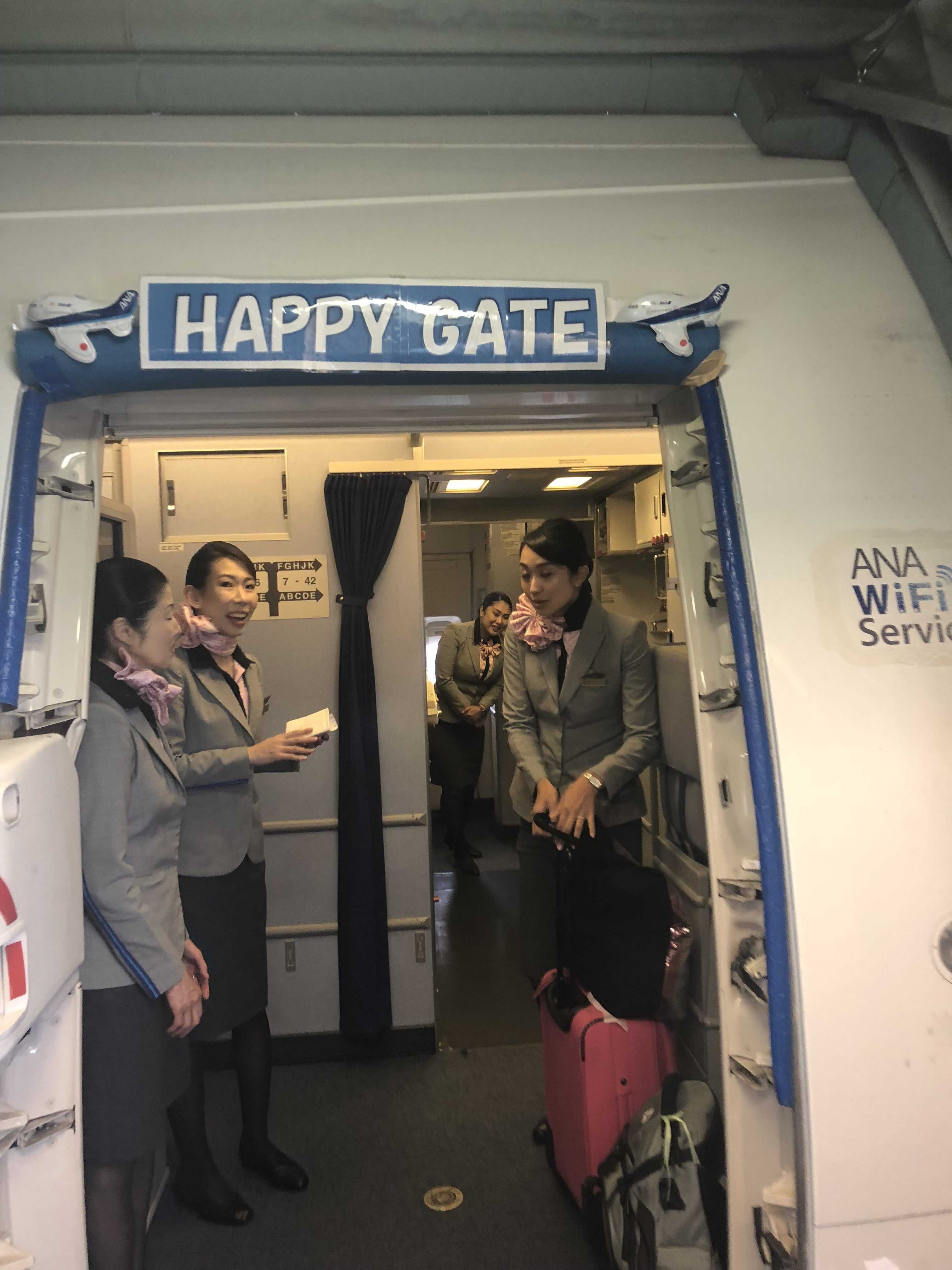 Seat and Cabin
I've always found writing about the physical aspects of a flight to be a bit awkward. It feels as if I am being asked to write a few hundred words about the layout of someone's bedroom.
Sure, I could try to turn on the style and tell you how I think the subtle wood accents in the cabin create a feeling of understated elegance. How the layout of the cabin feels "cozy" and how the lighting impacts my mood.
But the voice in the back of my mind sounds a bit more like "Oh look, here's a mirror. And a drawer. And over there you'll see a bed and a chair".
So in this next section, I am going to let my pictures cover the aesthetics and use my words only to describe what is needed. Feel free to share your feedback in the comments.
Here we go.
ANA's first class cabin has 8 seats that are arranged in two rows of a 1-2-1 configuration.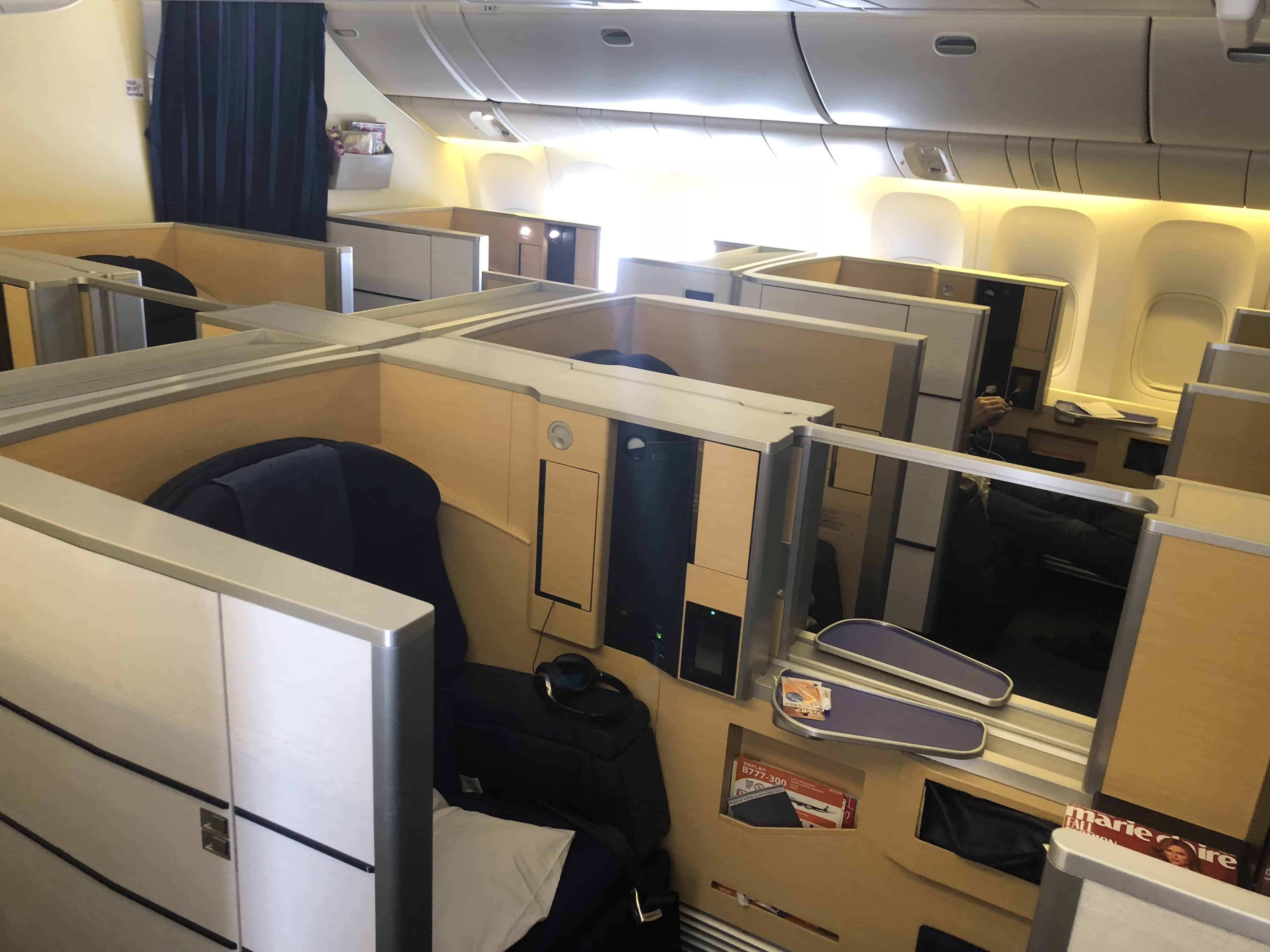 Each seat is its own little "suite" (ANA's term for them, not mine), though they do not have doors to provide full privacy.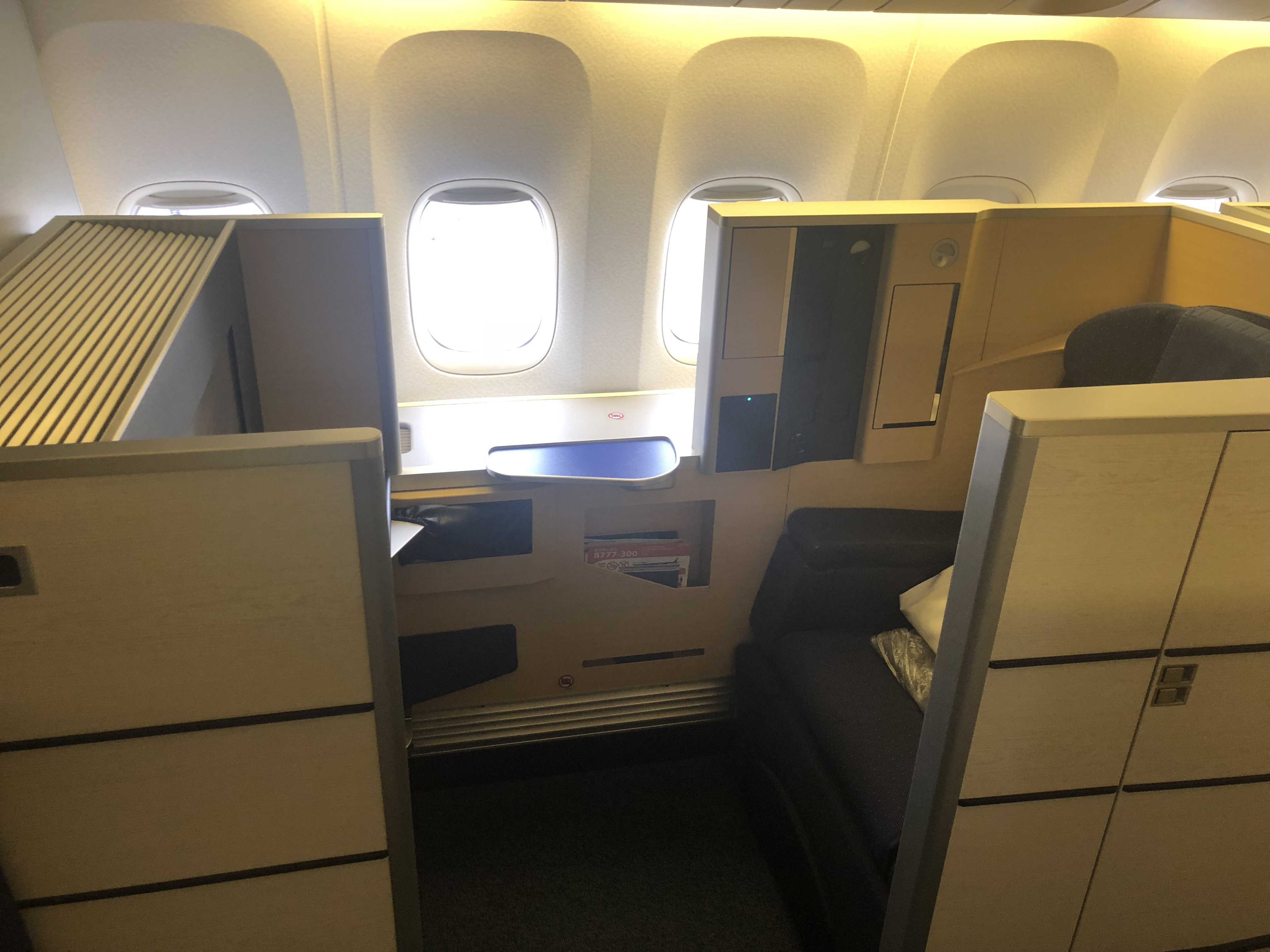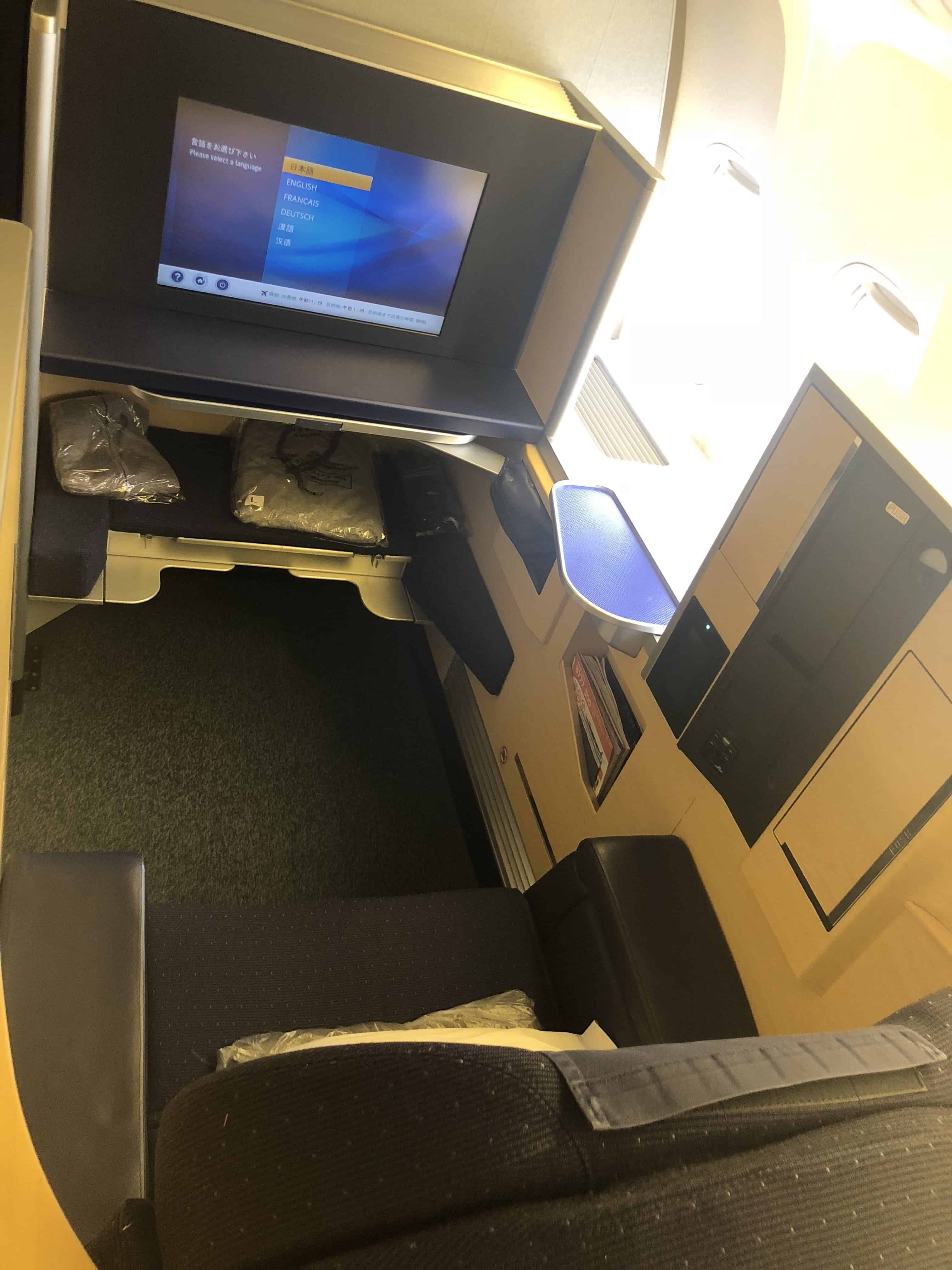 I had originally booked seats 1D and 1G for the two of us, which are two seats in the middle of the plane arranged in the "honeymoon" configuration. The partition between the seats can be lowered if you are traveling with a companion, though the seats sit far enough back that you have to basically do a full sit-up to even look at your traveling companion.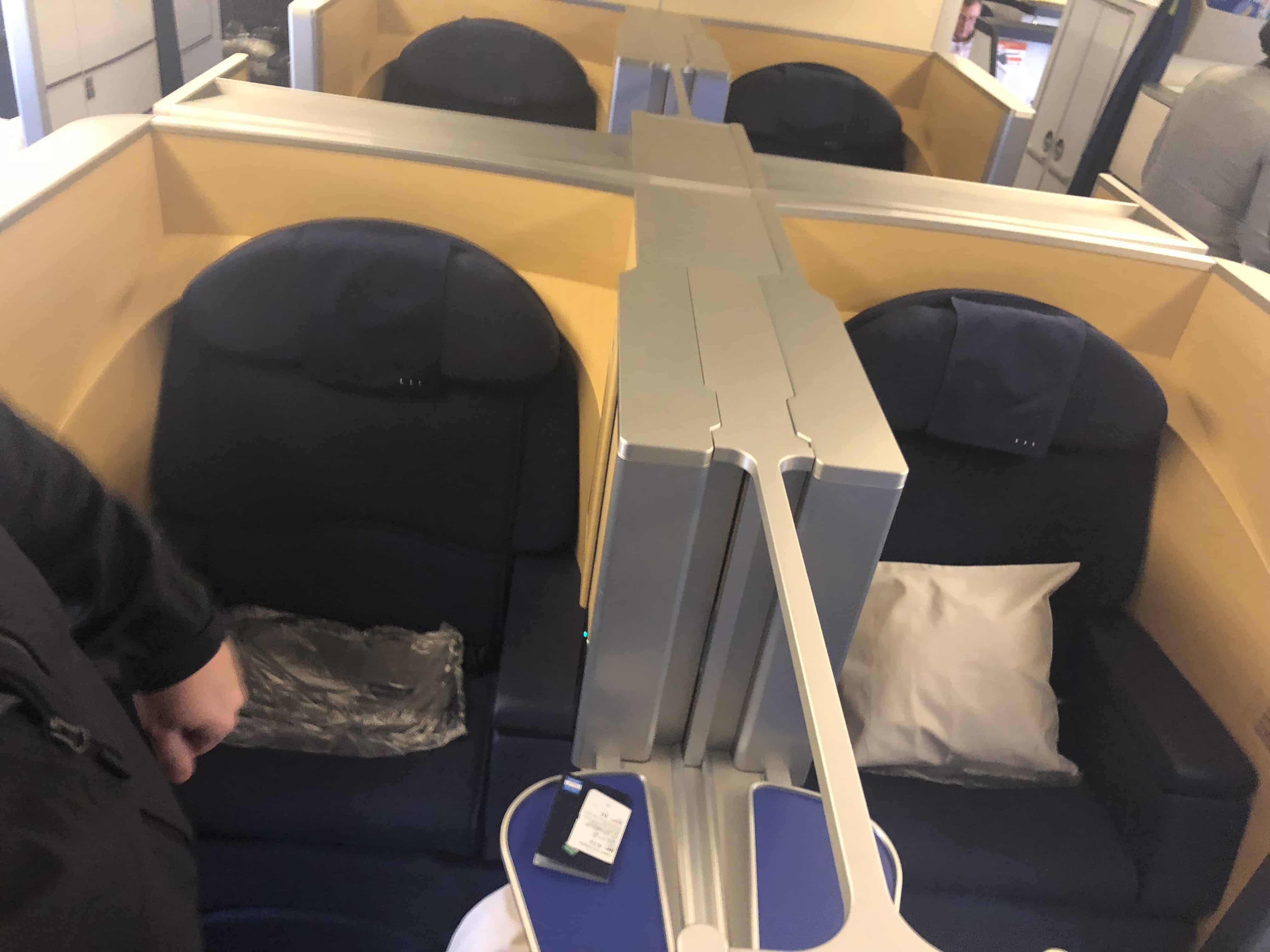 Only three people were scheduled to fly in the first class cabin for this flight so I was offered a window seat instead. I took it and was immediately glad for it.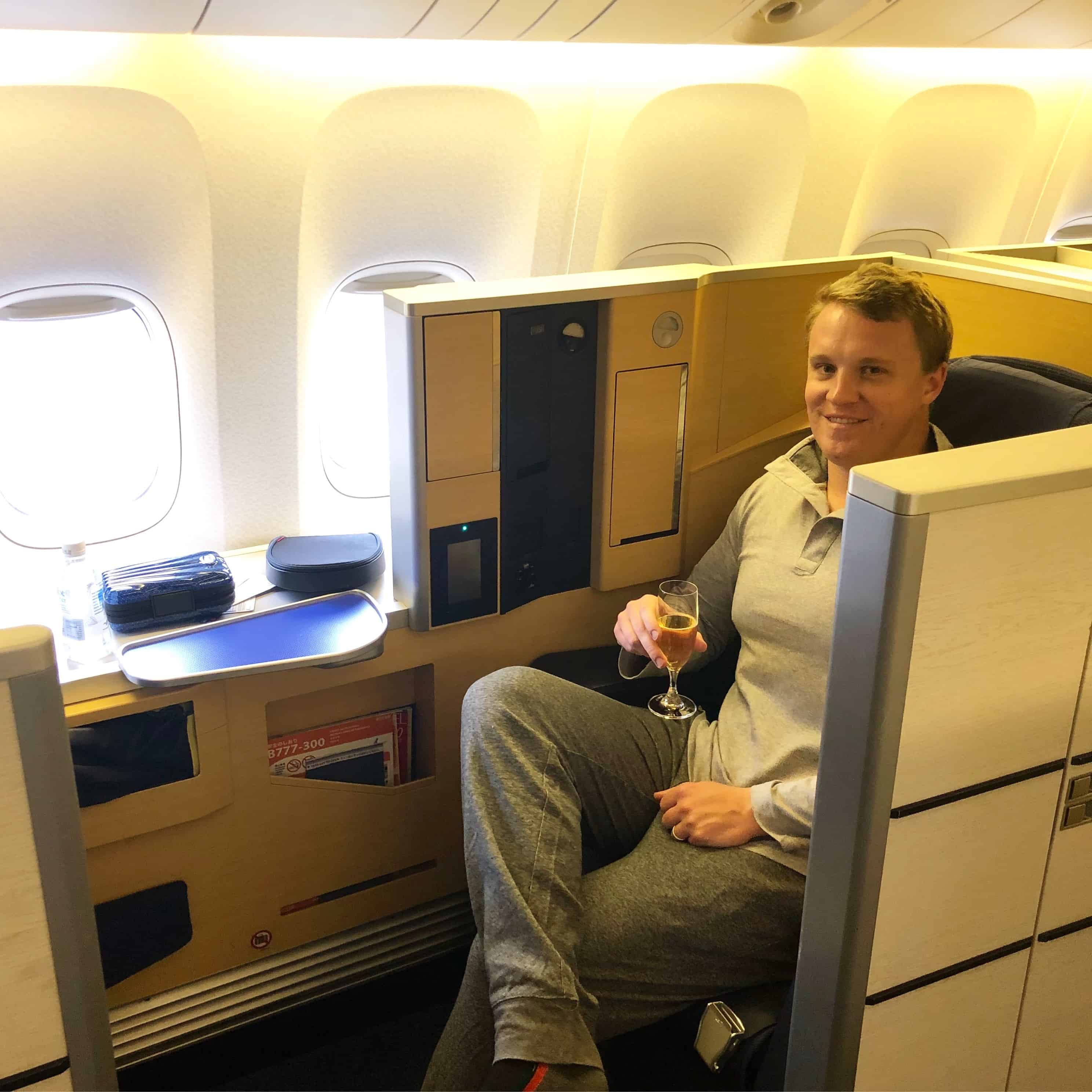 Each passenger in first class is offered a set of pajamas and a zip up sweater. Never one to pass up the opportunity to drink in pajamas, I headed to the lavatory to change prior to takeoff.
Speaking of lavatories, the first class cabin has two of them. One of them is your standard, off-the-shelf airline bathroom and the other is marginally bigger at best.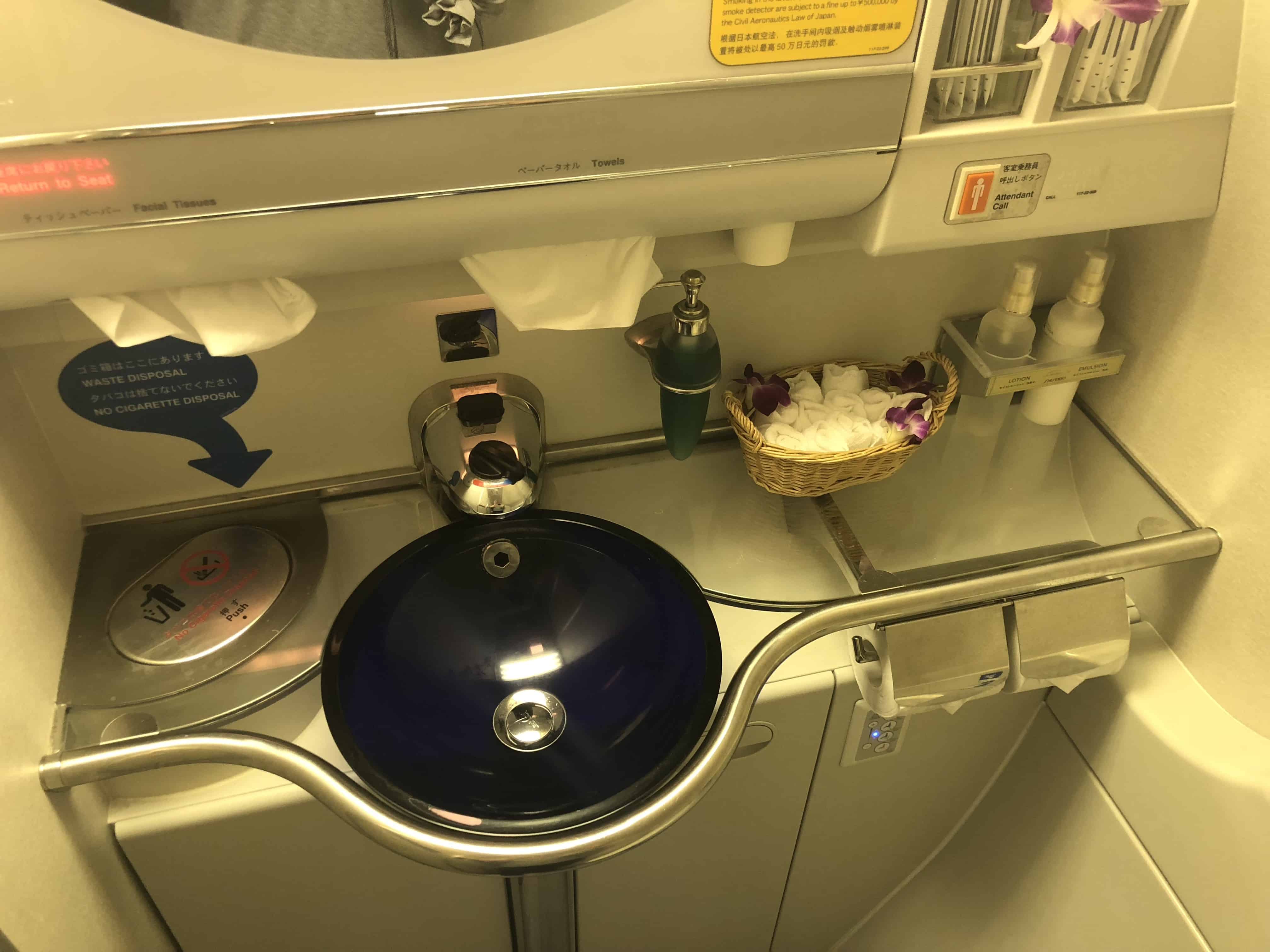 The larger lavatory is stocked with all the usual amenities that you expect to find in a first-class lavatory. Little towels, lotion, face wipes, etc.
It also has a fold down platform to be used when changing clothes. Ideal for keeping your socks dry should there be any liquids on the floor.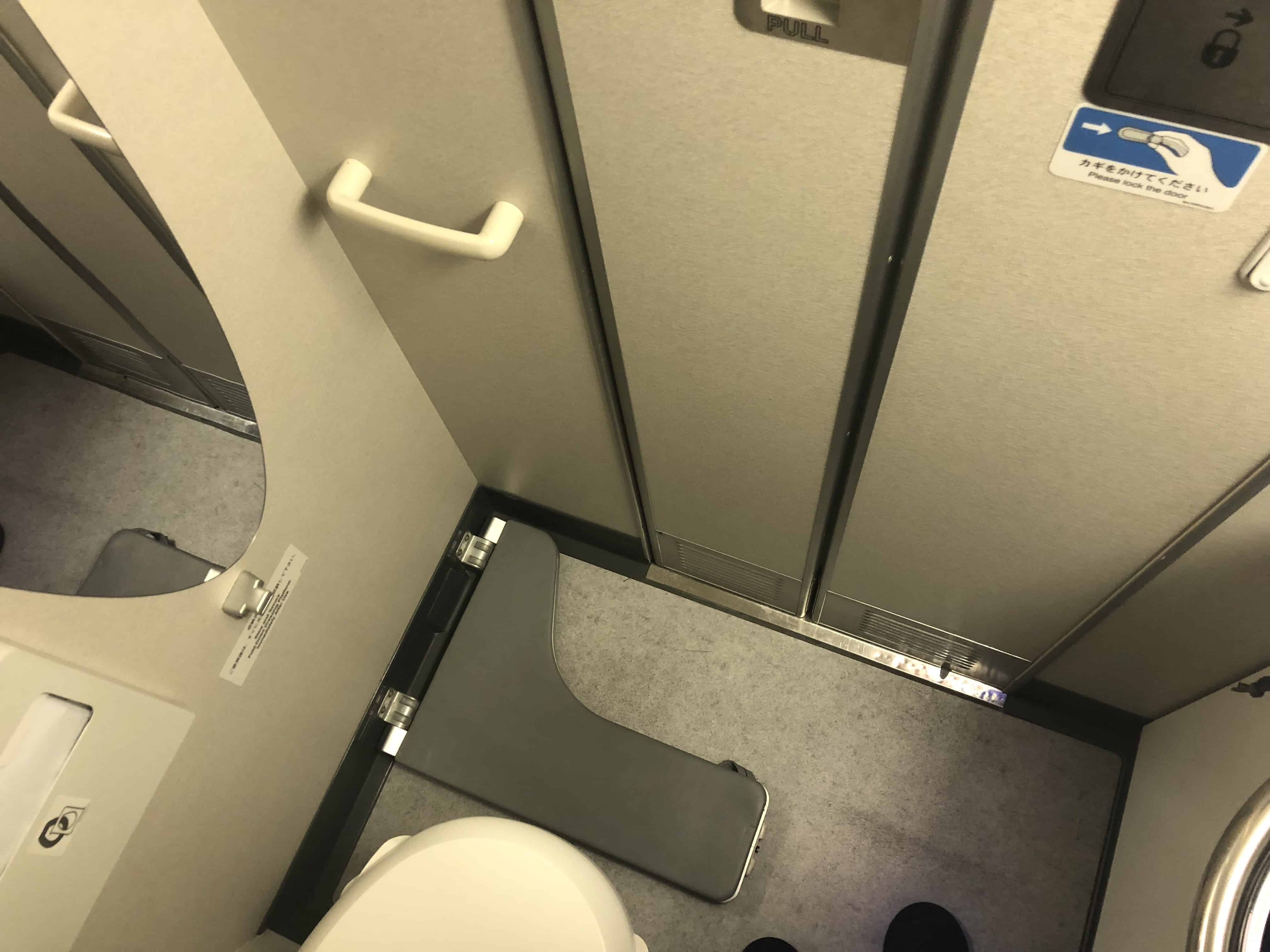 A flight attendant checks the lavatory after each use to ensure everything is clean and in order.
The ANA first class amenity kit comes in a miniature Samsonite suitcase. It contains a toothbrush, toothpaste, eye mask, earplugs, lotion, etc.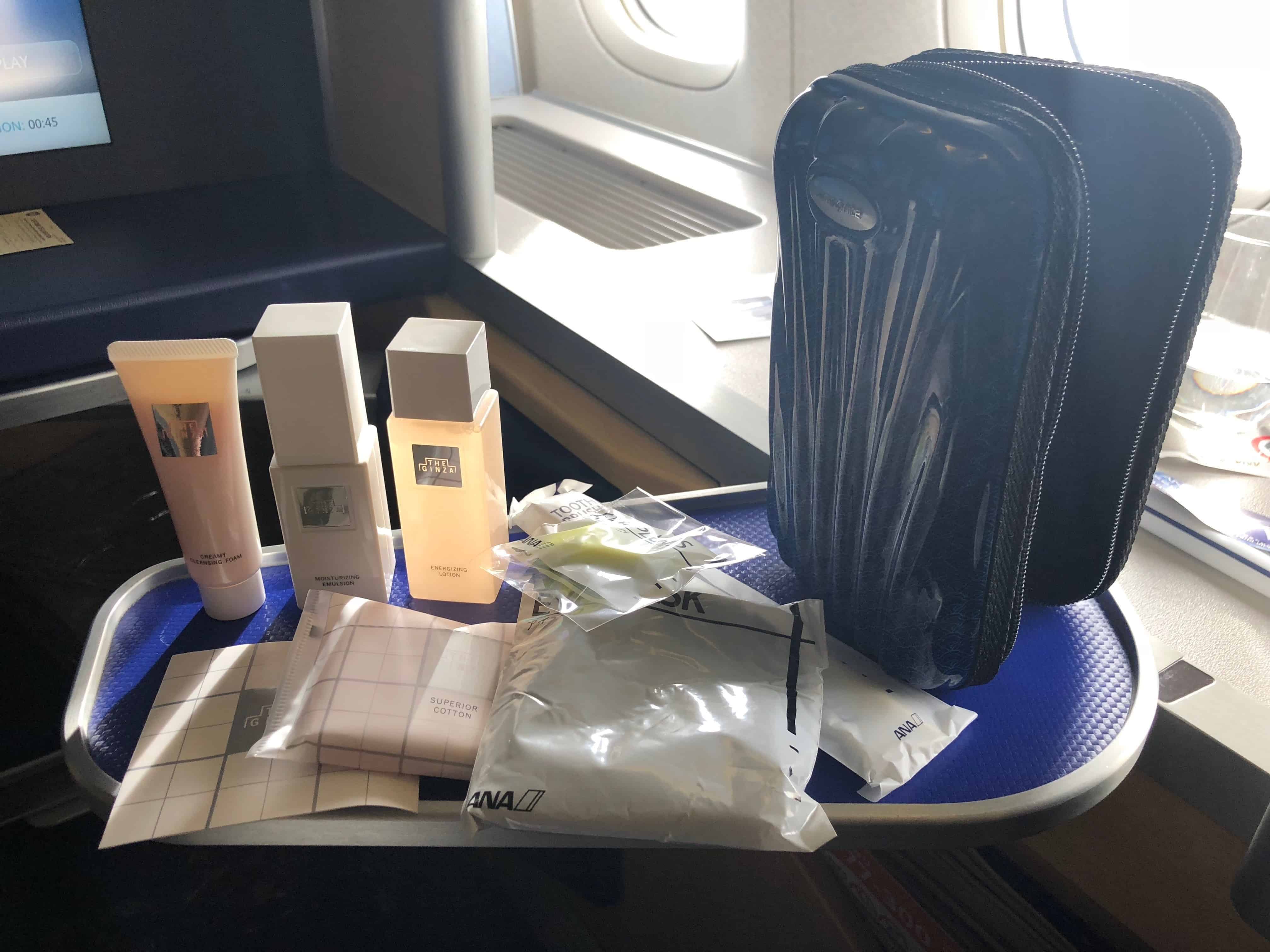 The seat itself feels big, almost like a mid-sized La-Z-Boy chair. At 6'0" tall I had more than enough room to stretch out and make myself comfortable.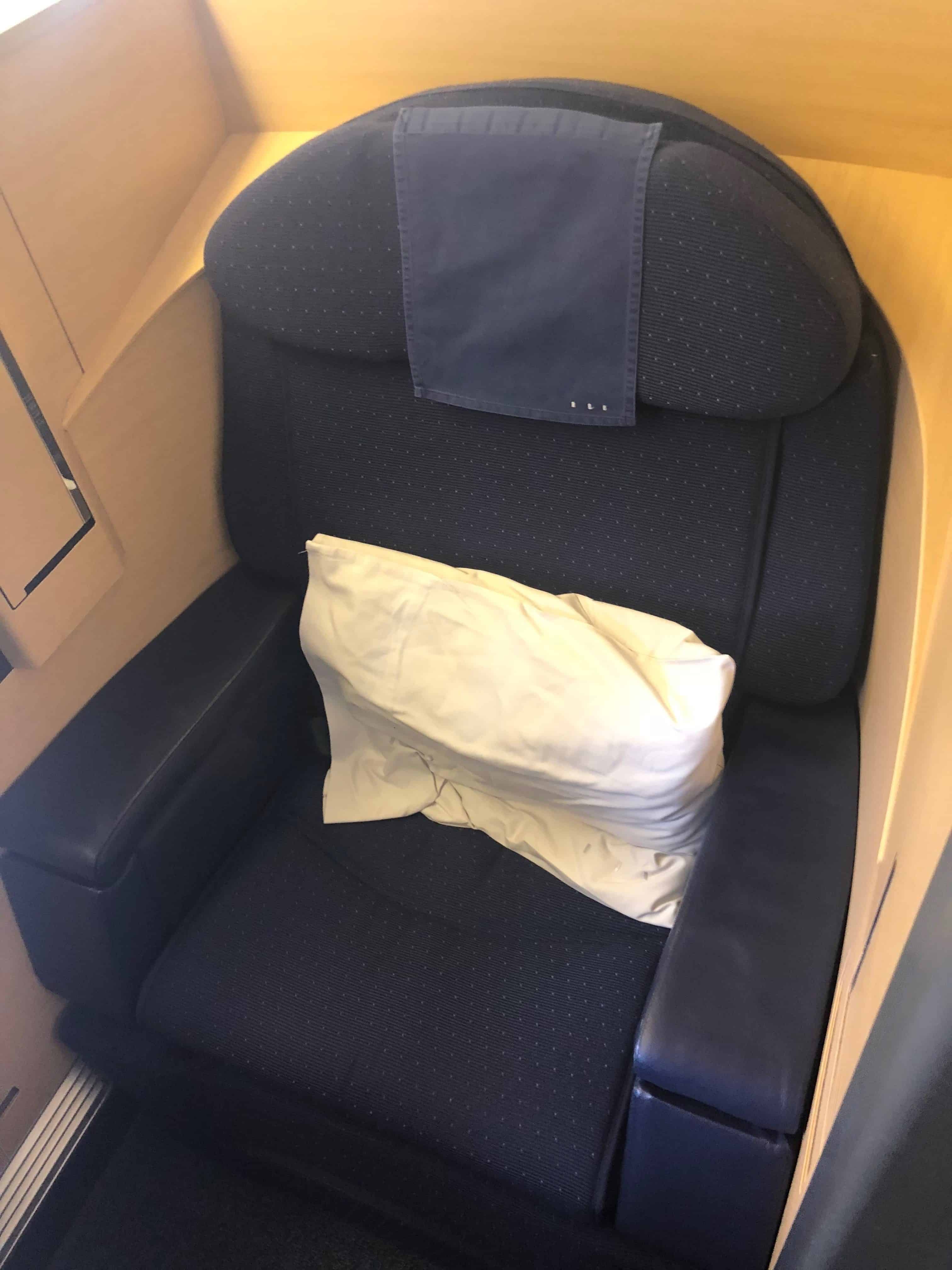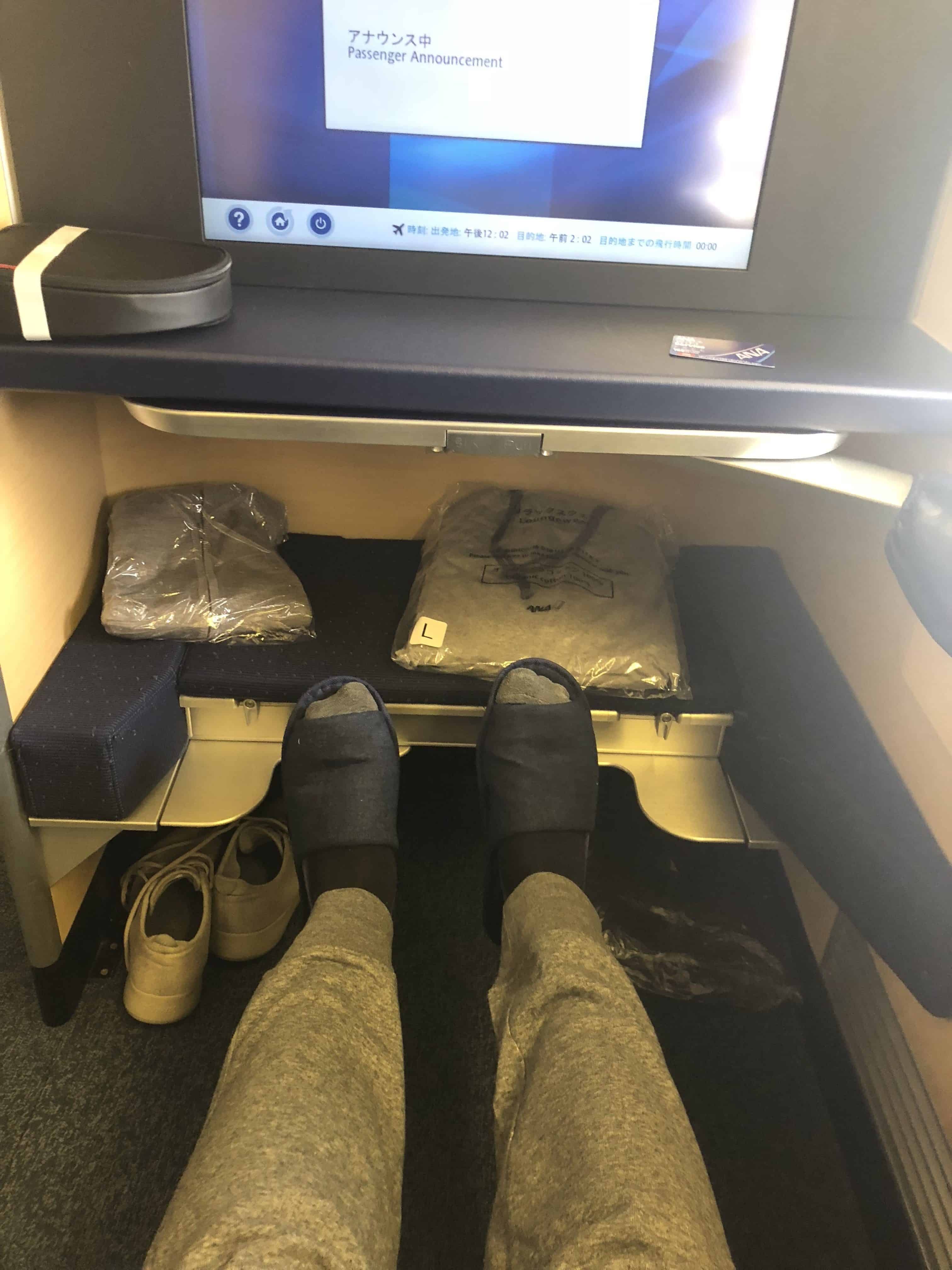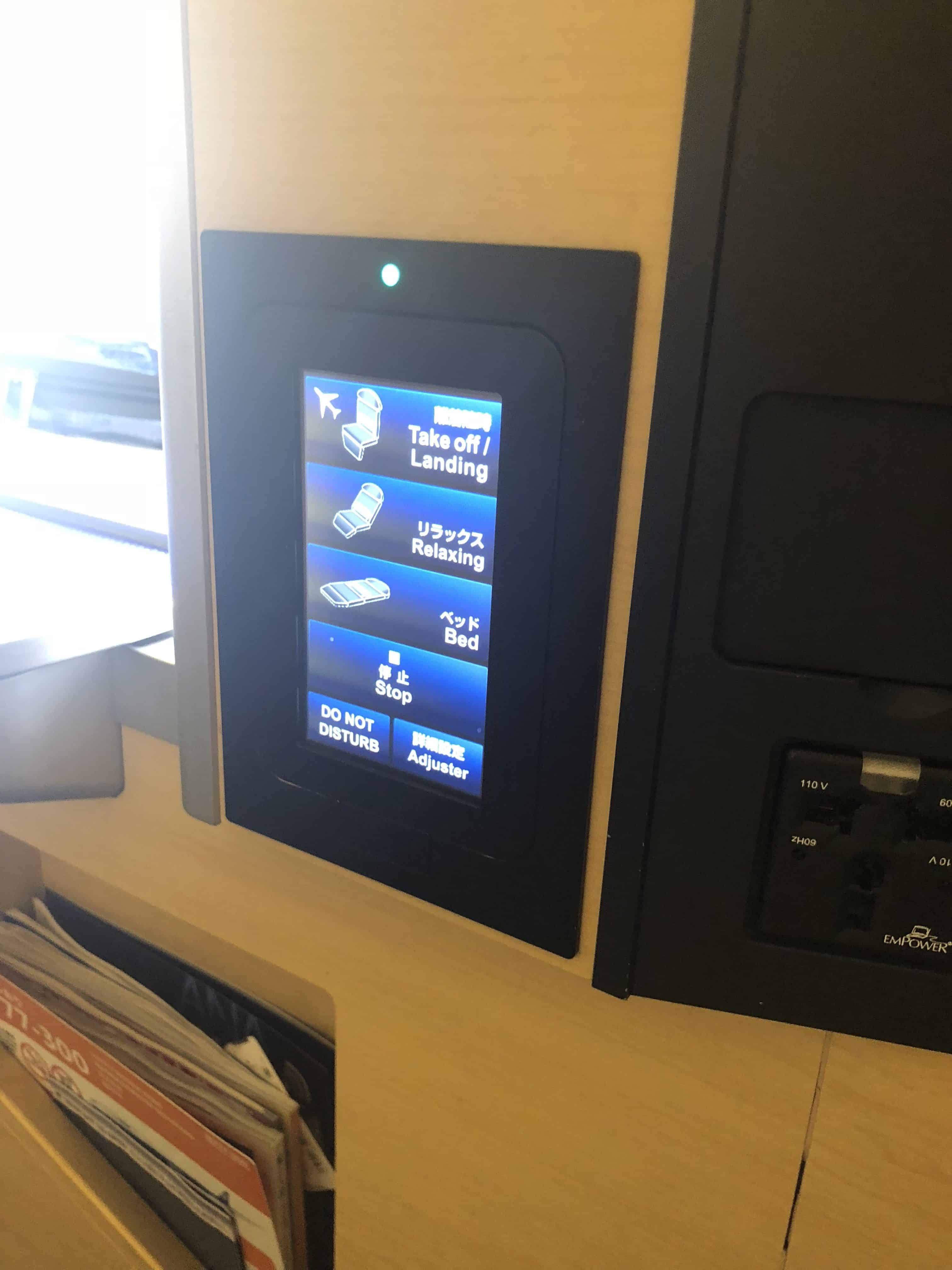 Storage options around the seat are small but intentional.
There are dedicated compartments for a water bottle and even a pair of glasses. Unfortunately, these compartments completely covered two of the four windows next to the seat, limiting your view and the amount of natural light that was coming in to the cabin.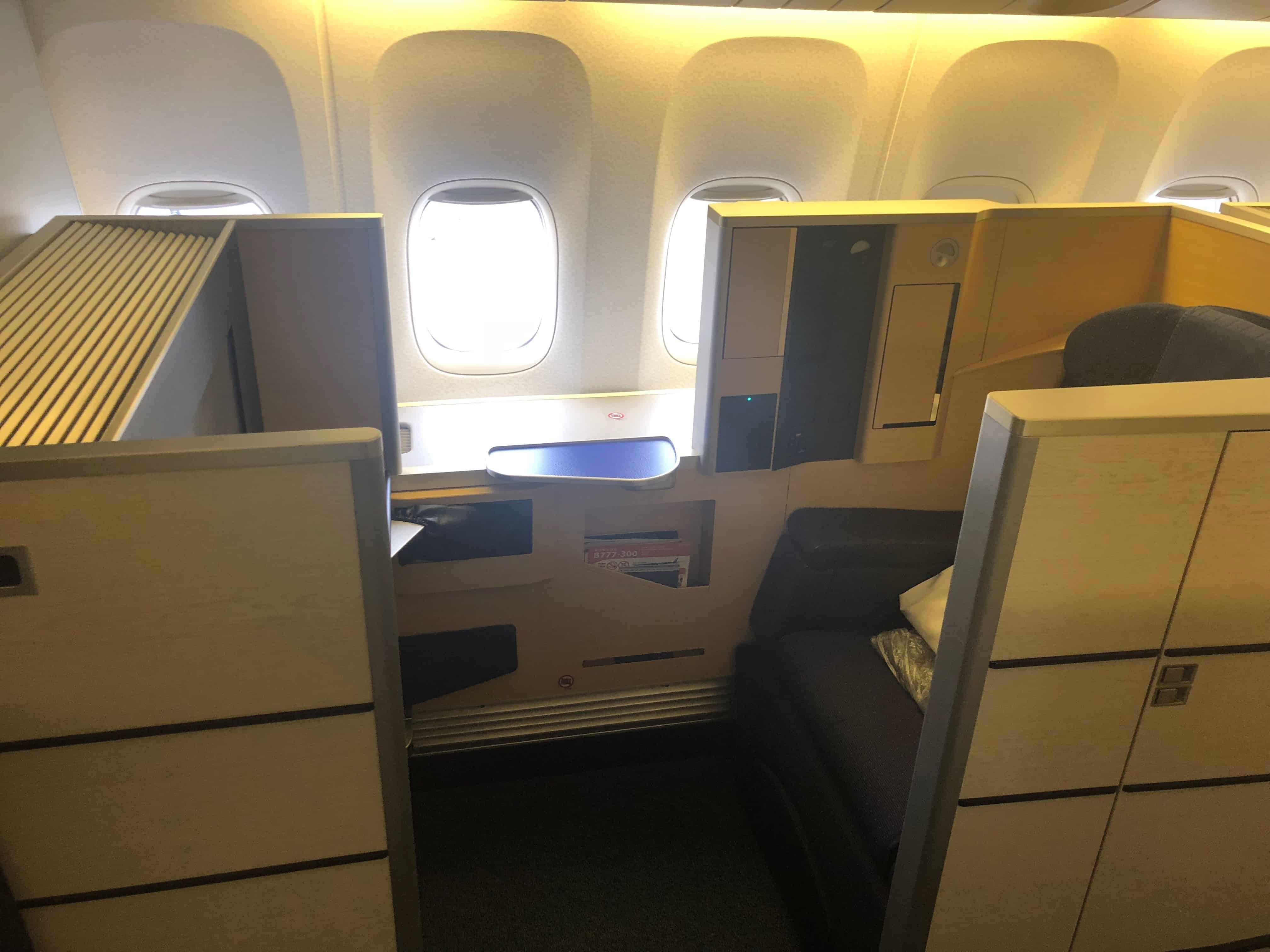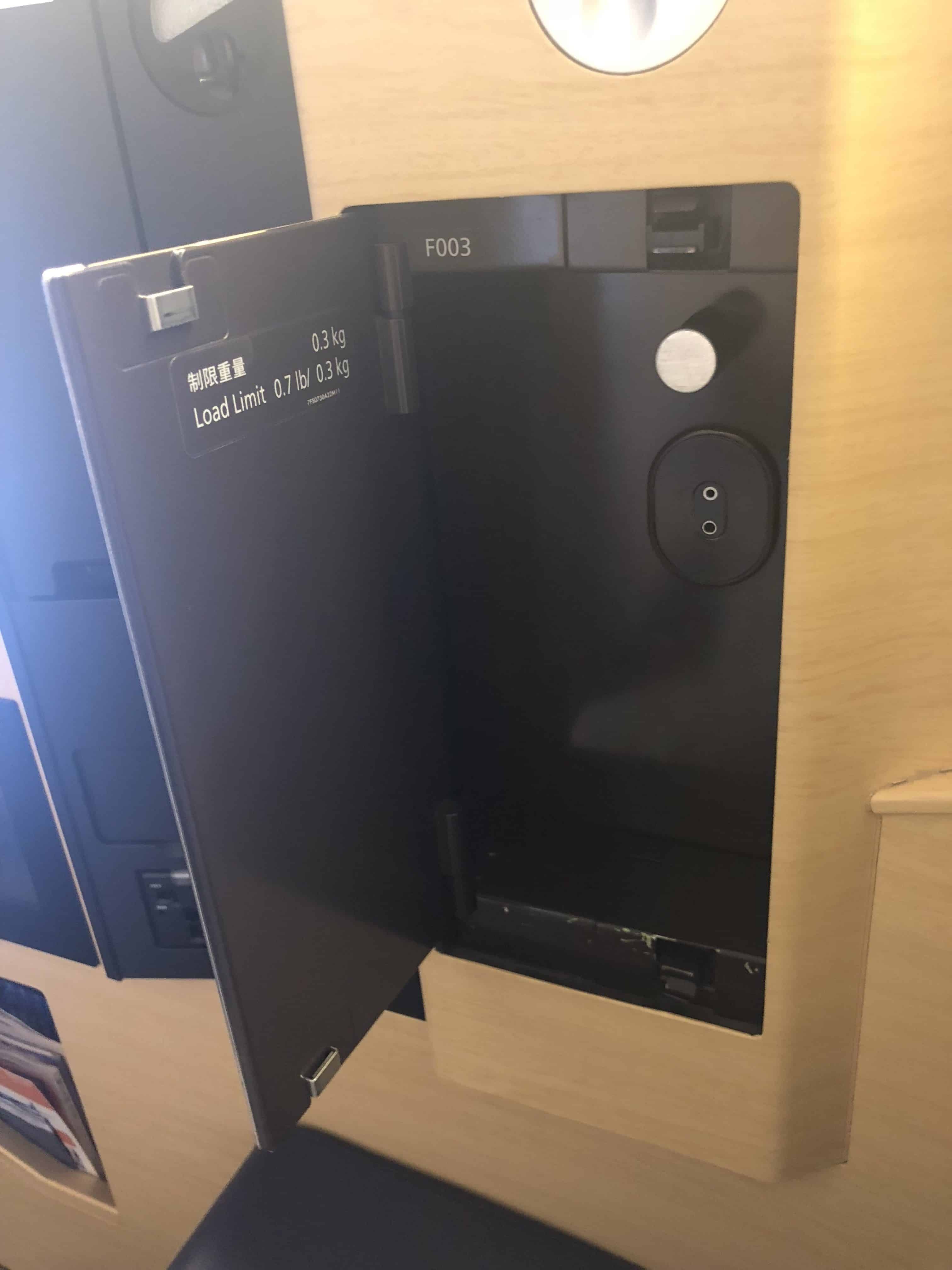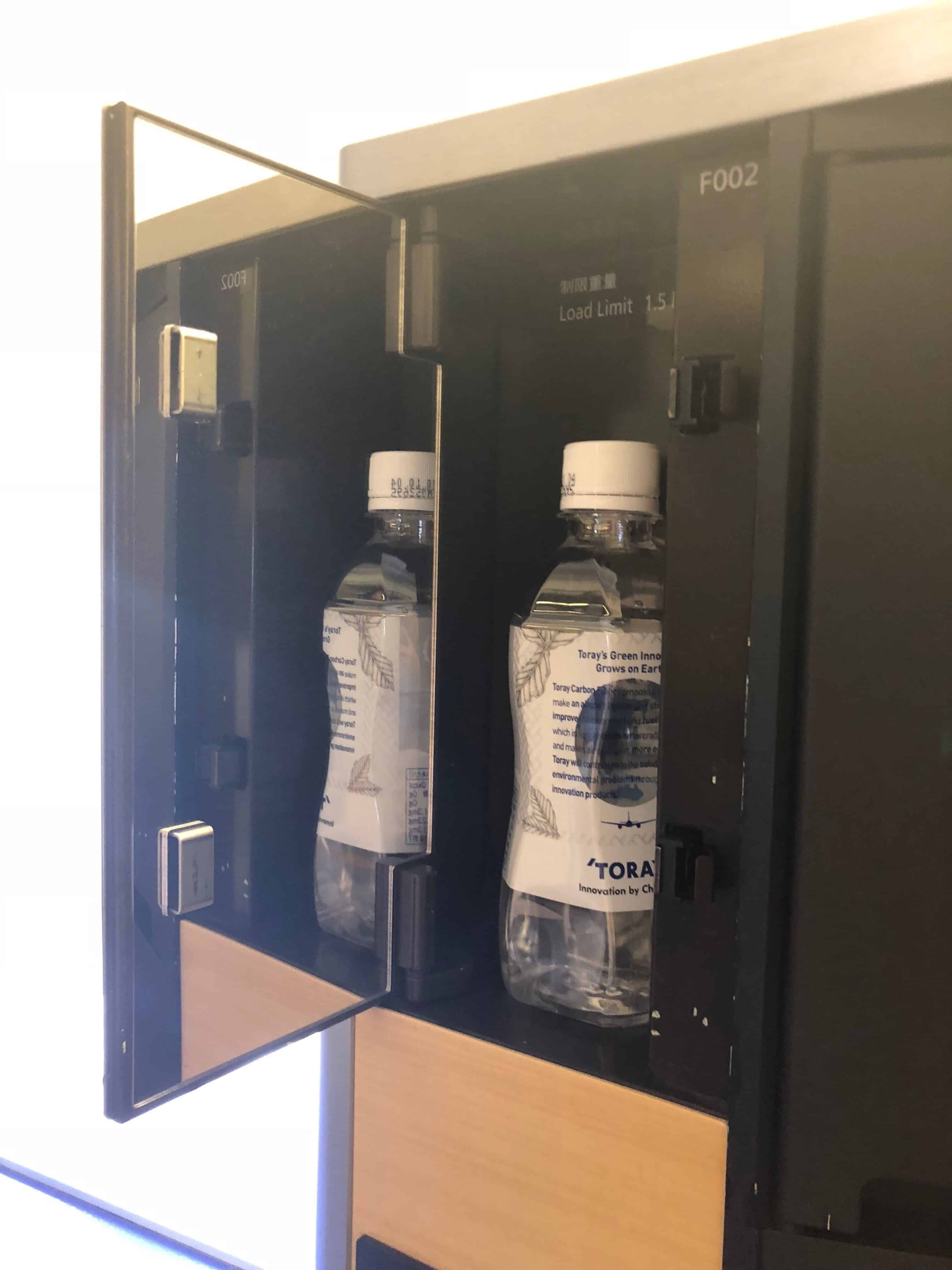 The entertainment system features a large screen but a pretty weak entertainment selection. There were maybe 15-20 movies (in English) to choose from and even fewer TV shows.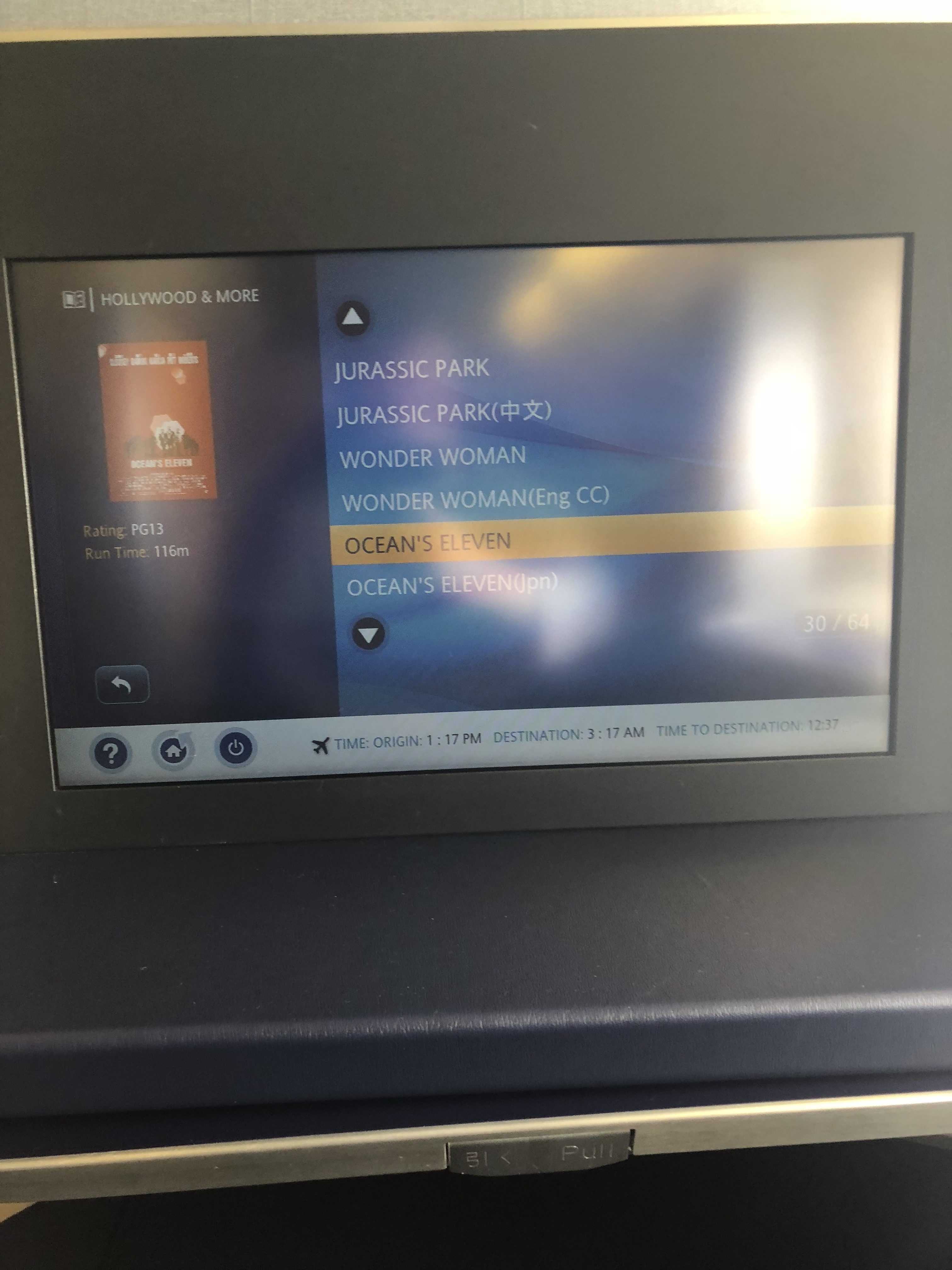 The seat fully reclines into a lie-flat bed that is prepared with a pad, comforter, and pillow upon request. The bed was quite comfortable, and more than wide enough for me to sleep without having to curl into the fetal position.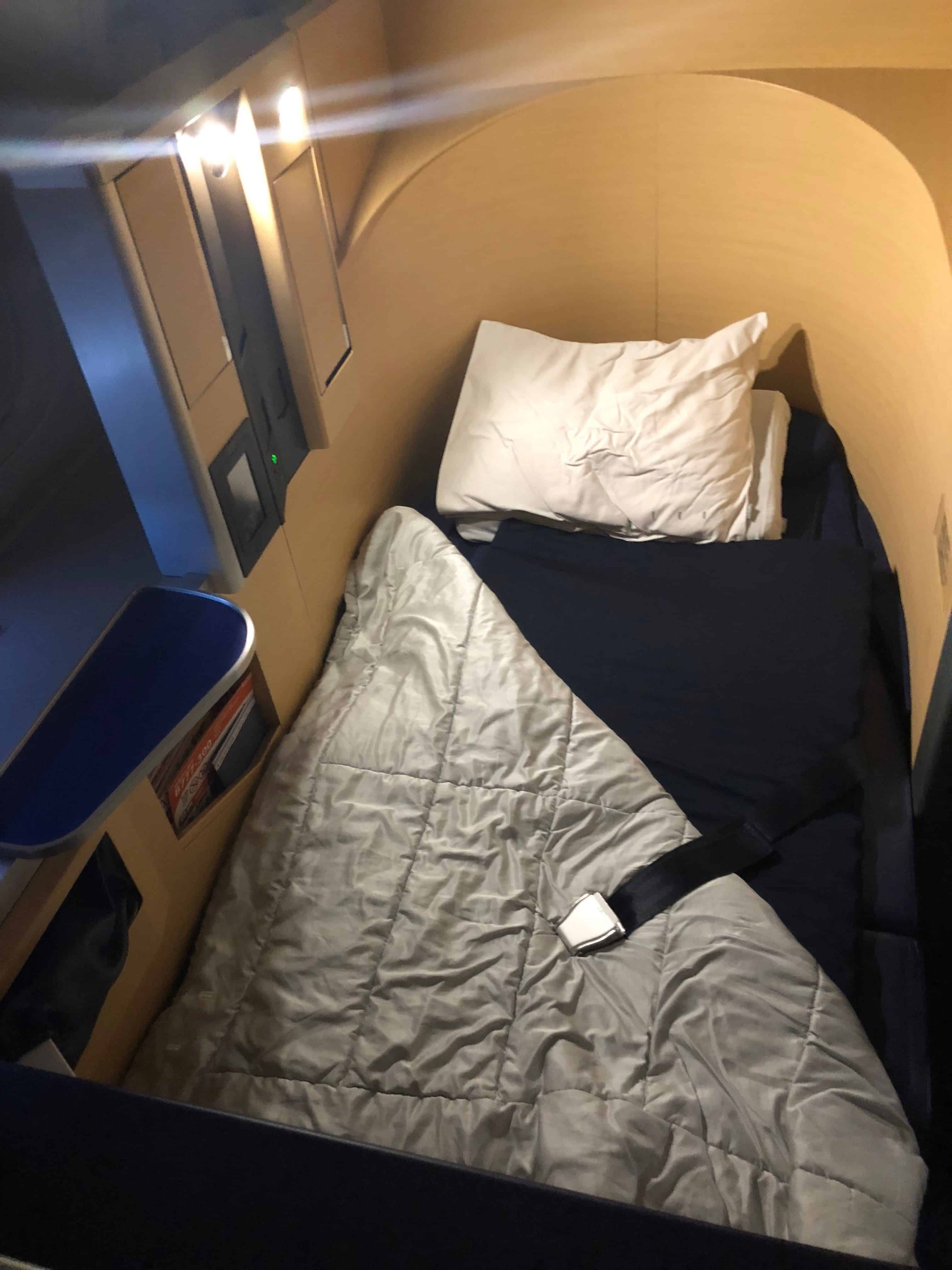 The flight attendants even suggested that I allow them to use one of the empty seats as my bed, saving my assigned seat for when I wake up. Which was a nice perk?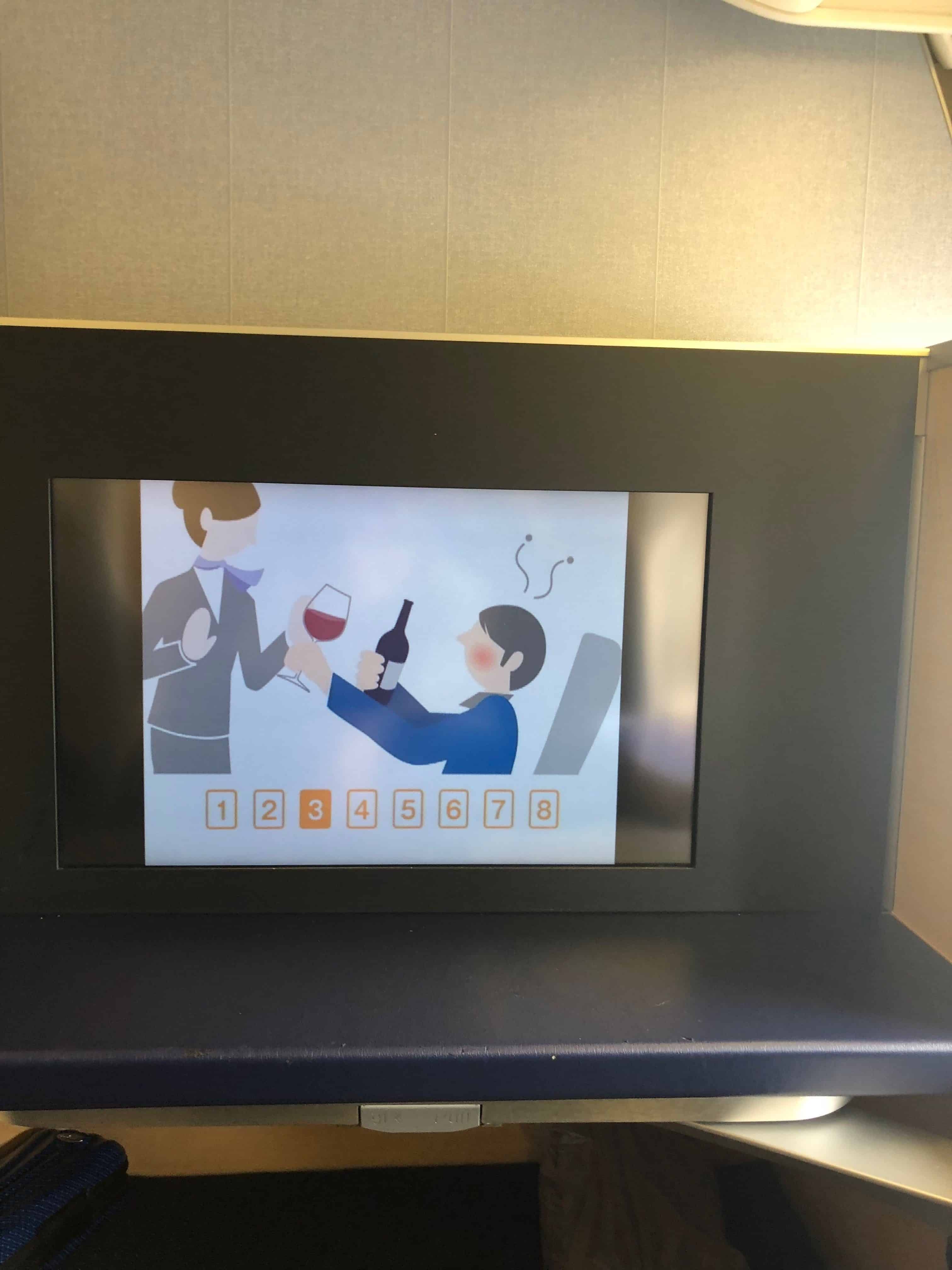 Ok, now for the fun part. Let's talk about food and drink.
Food and Drink
ANA is known for three things that they do incredibly well. Their food, their drink selection, and their incredible service. Let's start with the drink.
The ANA first class drink menu is insane. Here, have a look.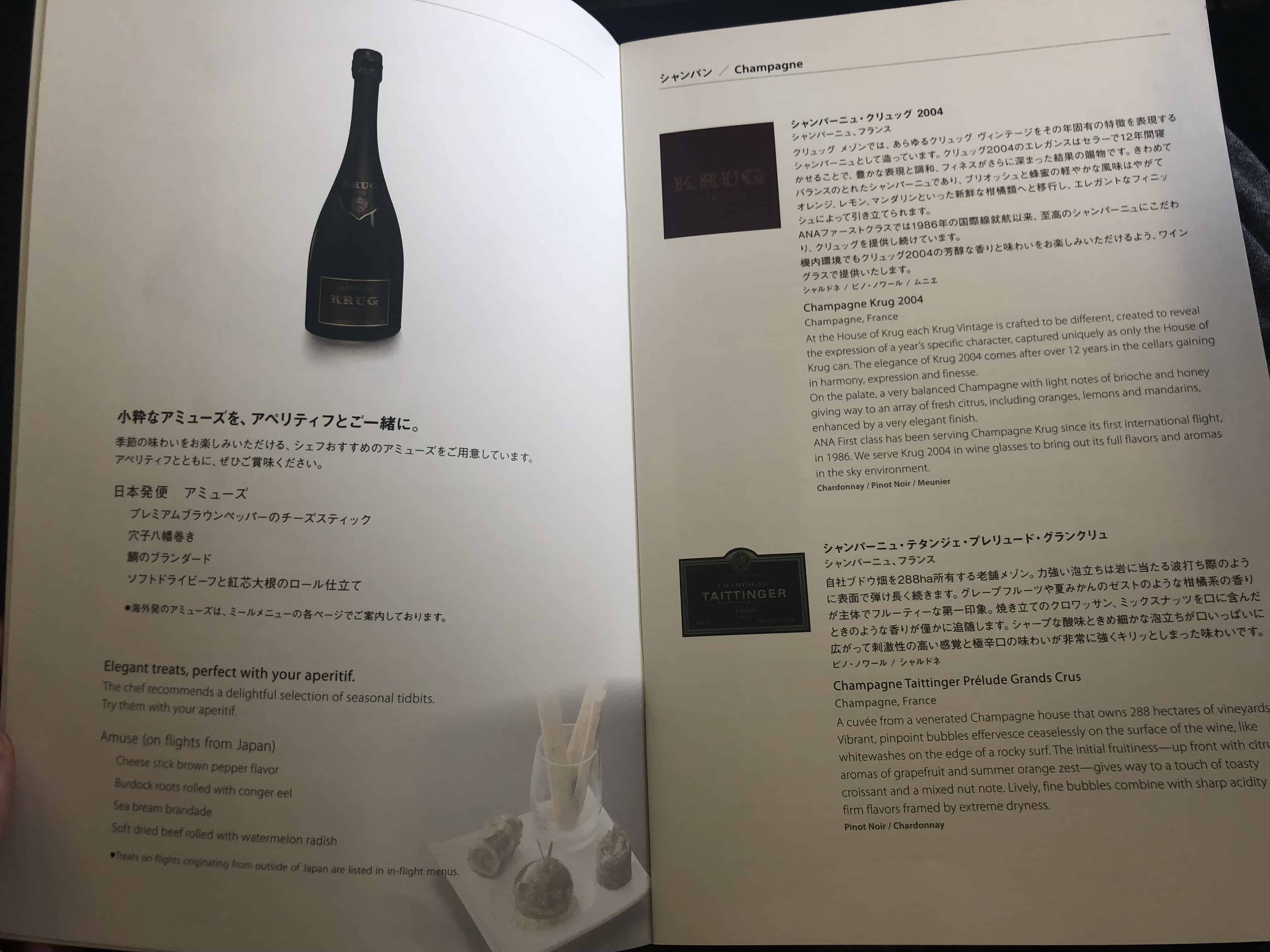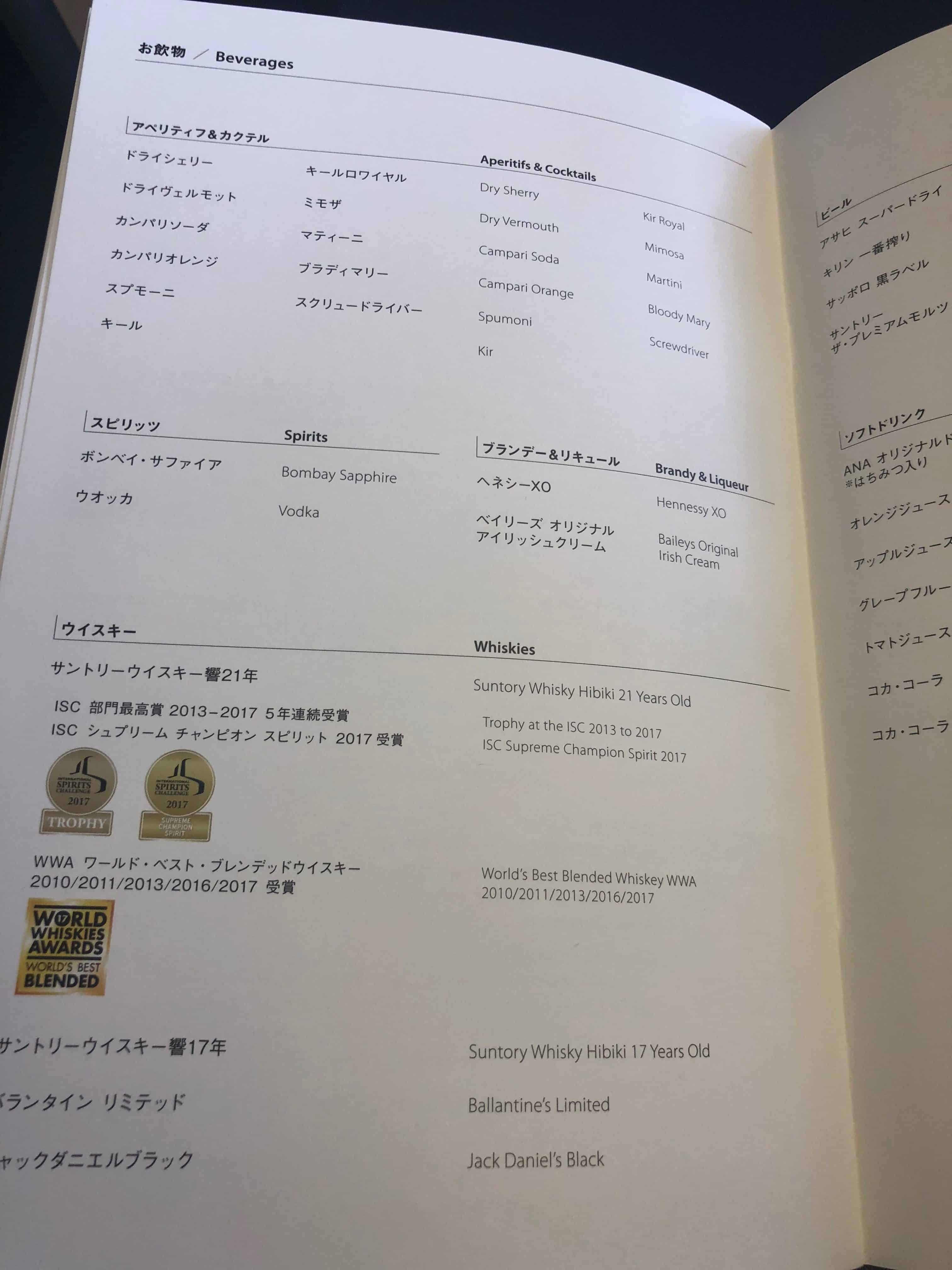 And now, time for a POV tour of Bryce's food and drink consumption over a period of approximately 12 hours.
My flight started out as all proper flights do, with a glass (or three) of champagne.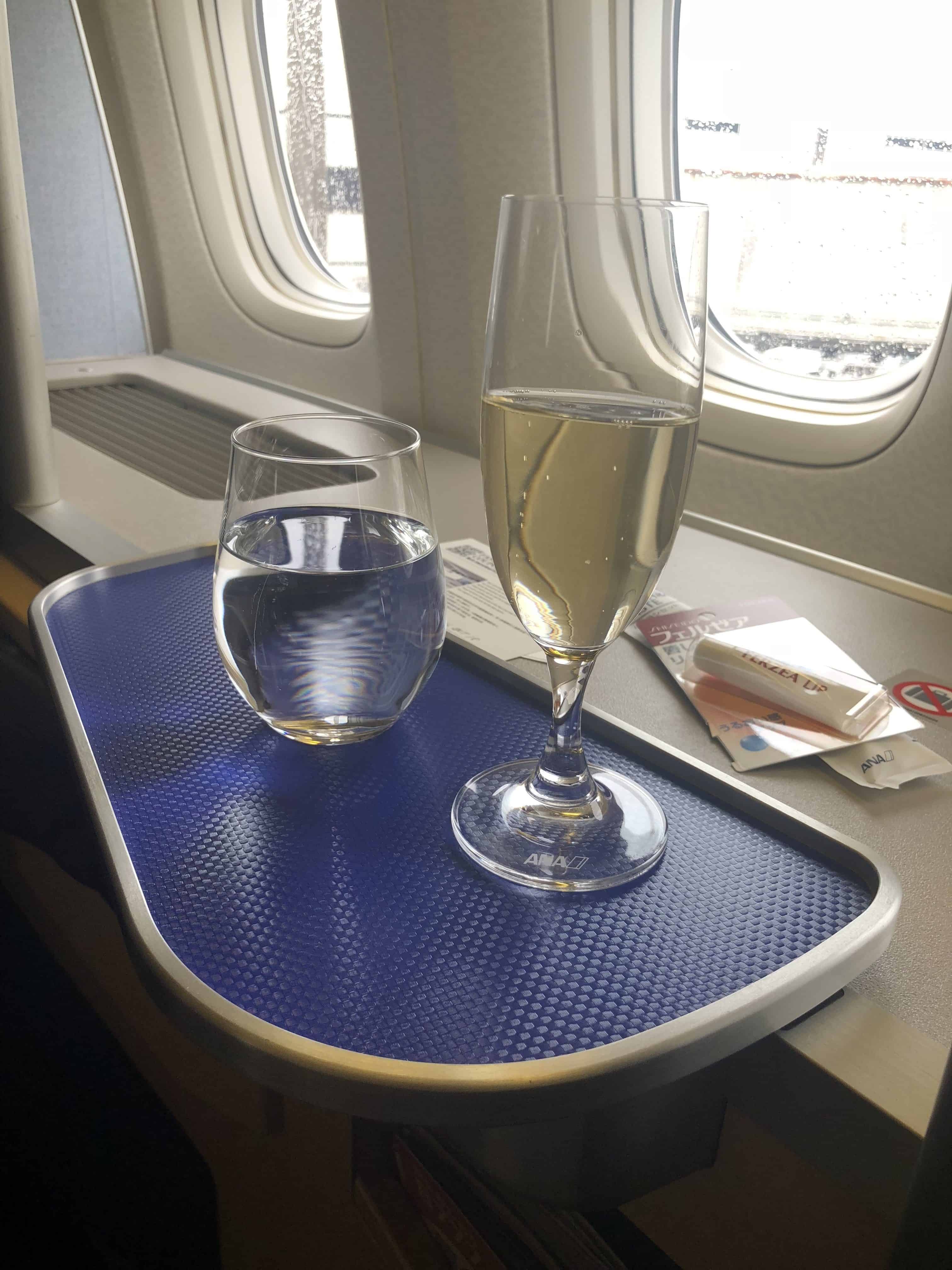 ANA pours 2004 Krug in the first class cabin, which retails for ~$220 per bottle on the ground. Quick boozy math determines that I had at least $150 worth before the first plate of food landed on my table.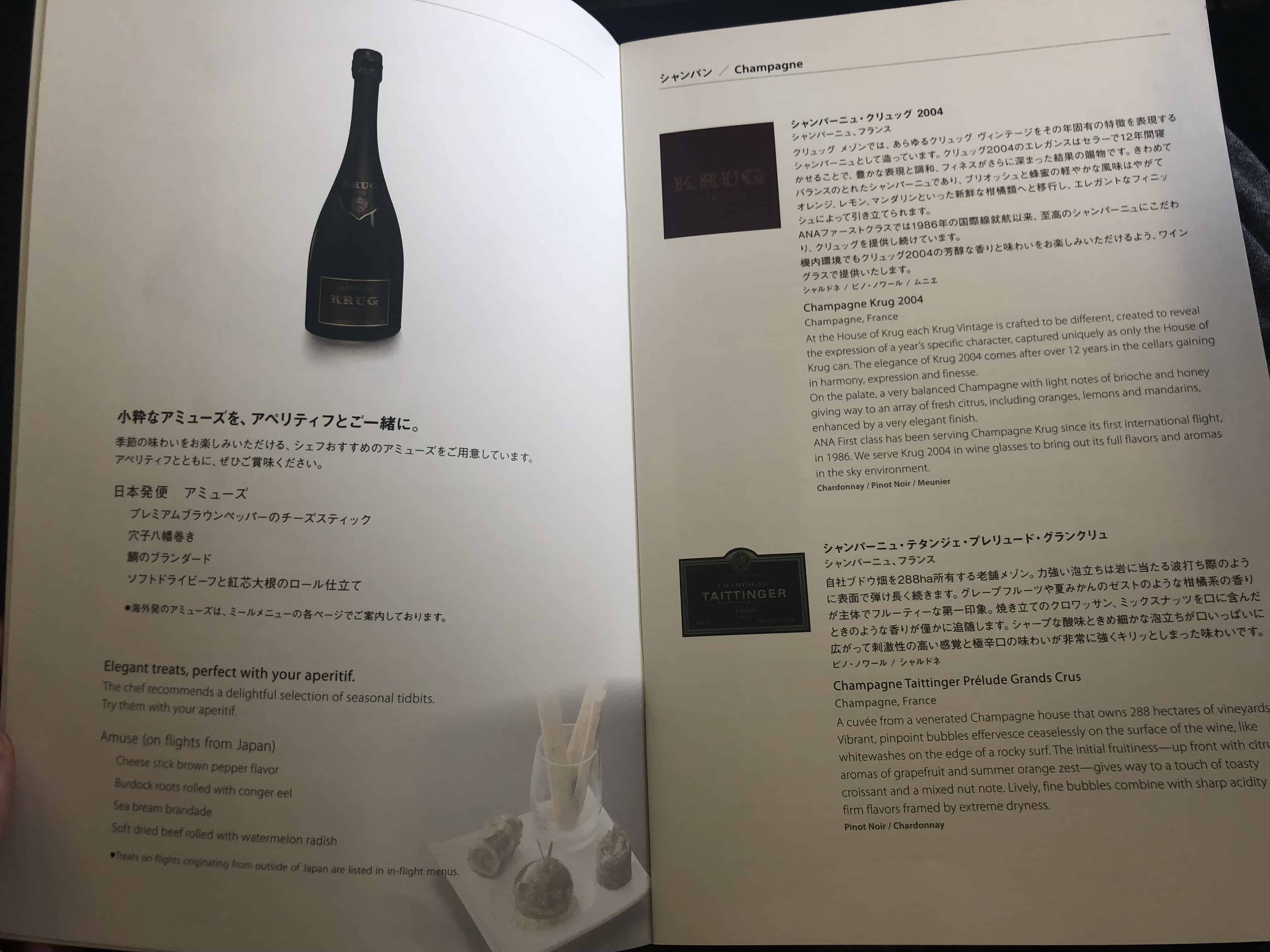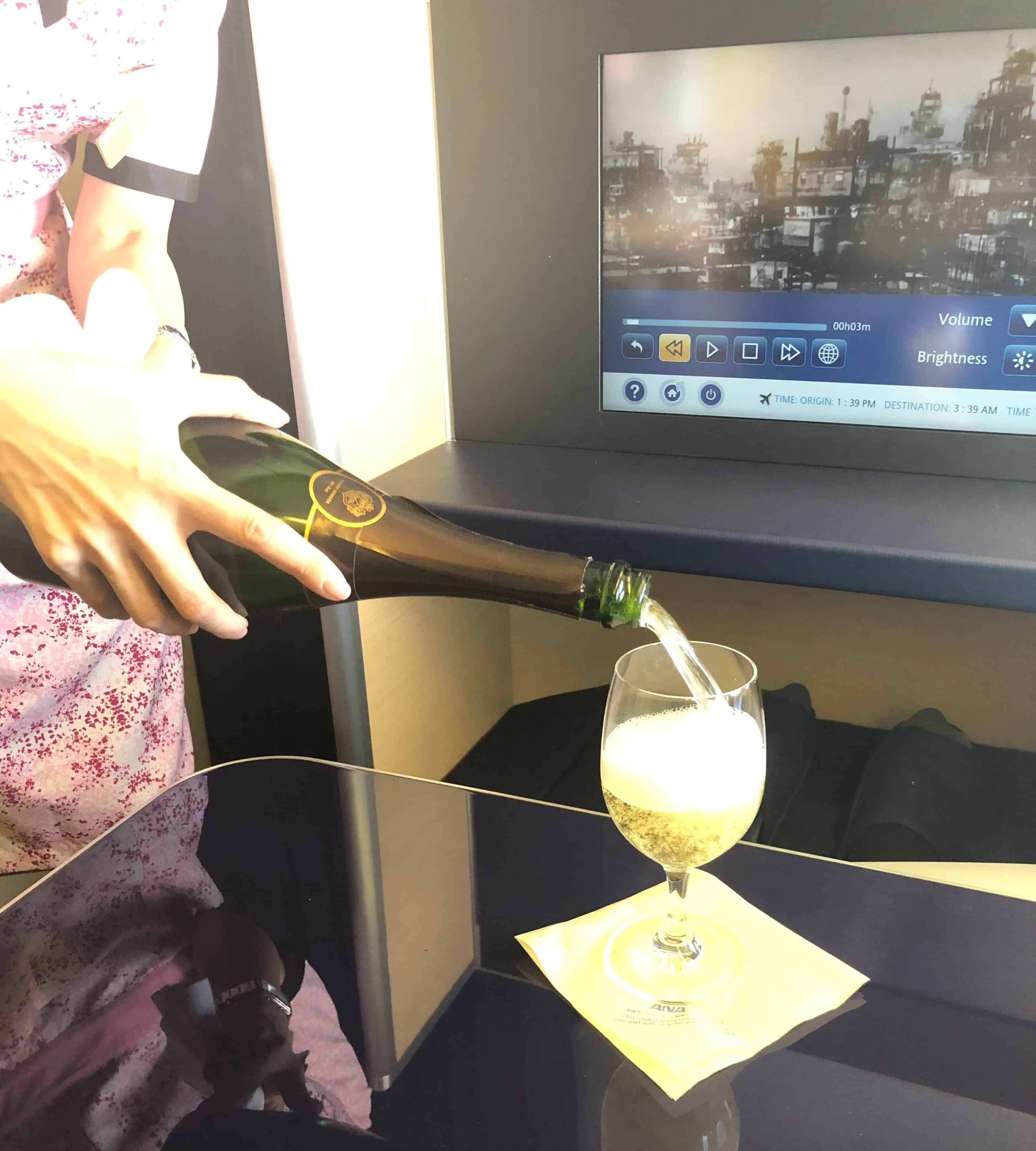 That first plate was the amuse bouche, which consisted of smoked salmon and scallop, roasted beef and caramelized onion, honey-flavored chipotle cream, and three tiny cheese pepper bars. Each of which was fantastic.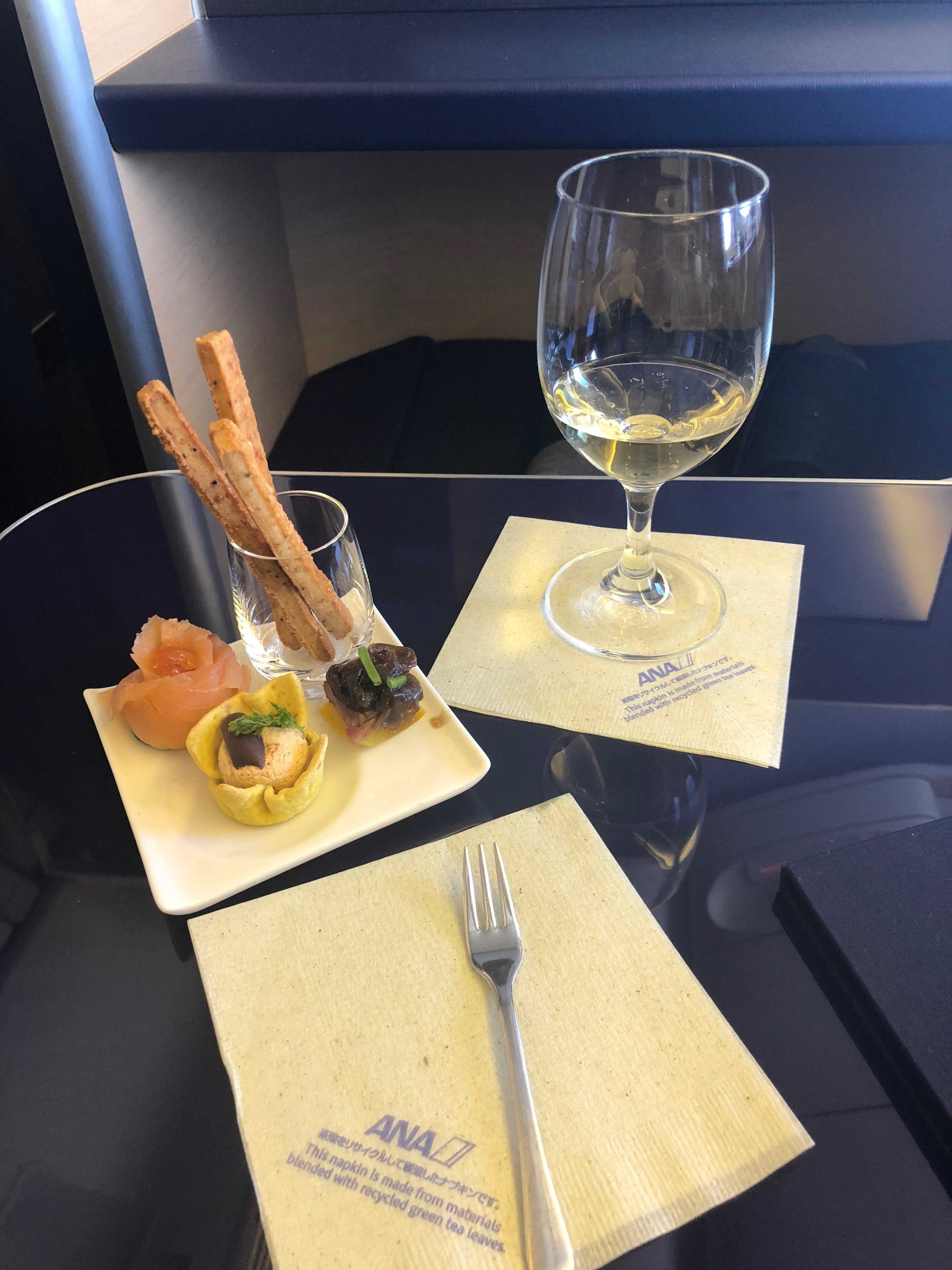 Next, we enter the "choose your own adventure" part of the meal, where each passenger must select either the Japanese Cuisine or International Cuisine.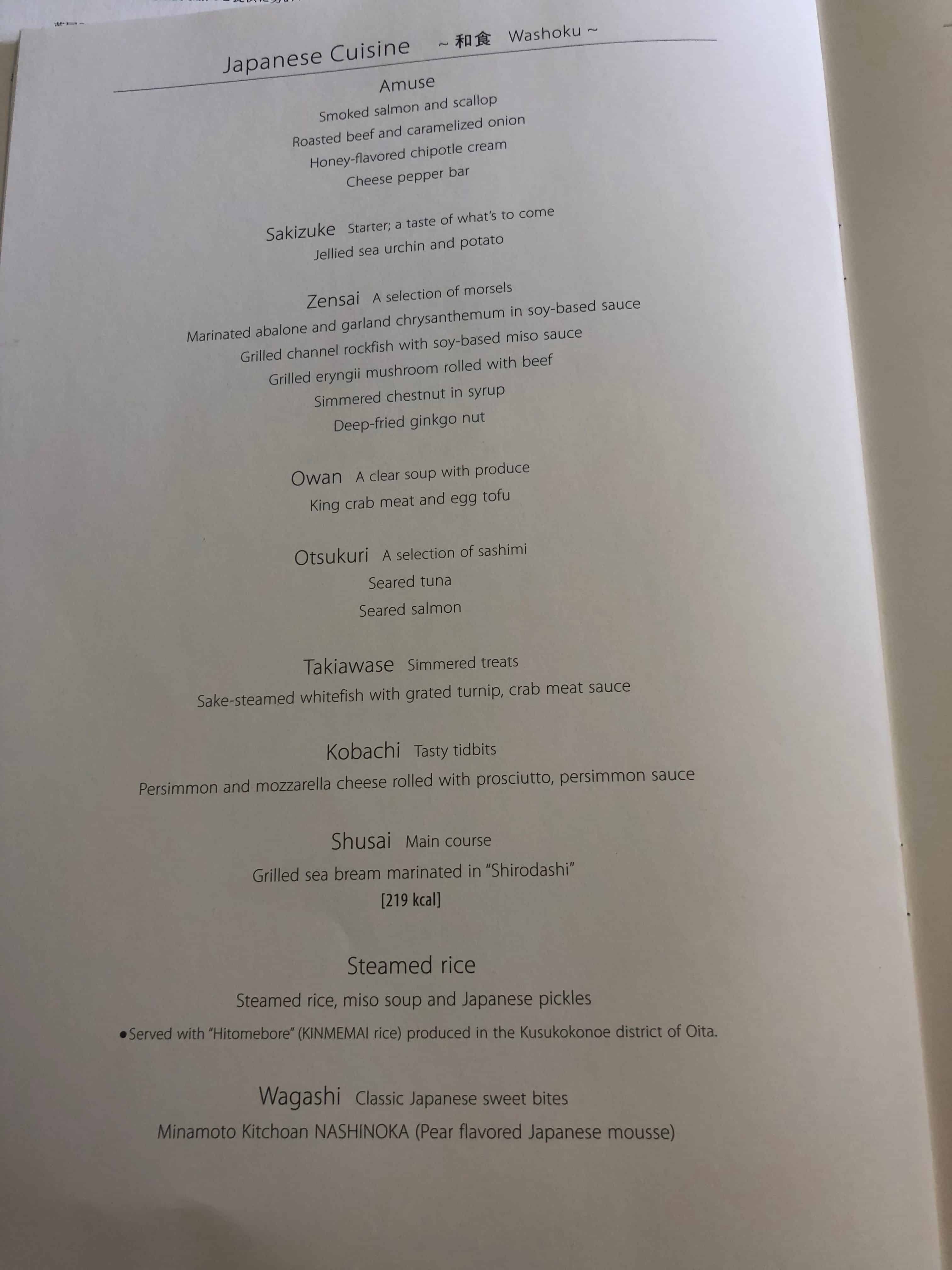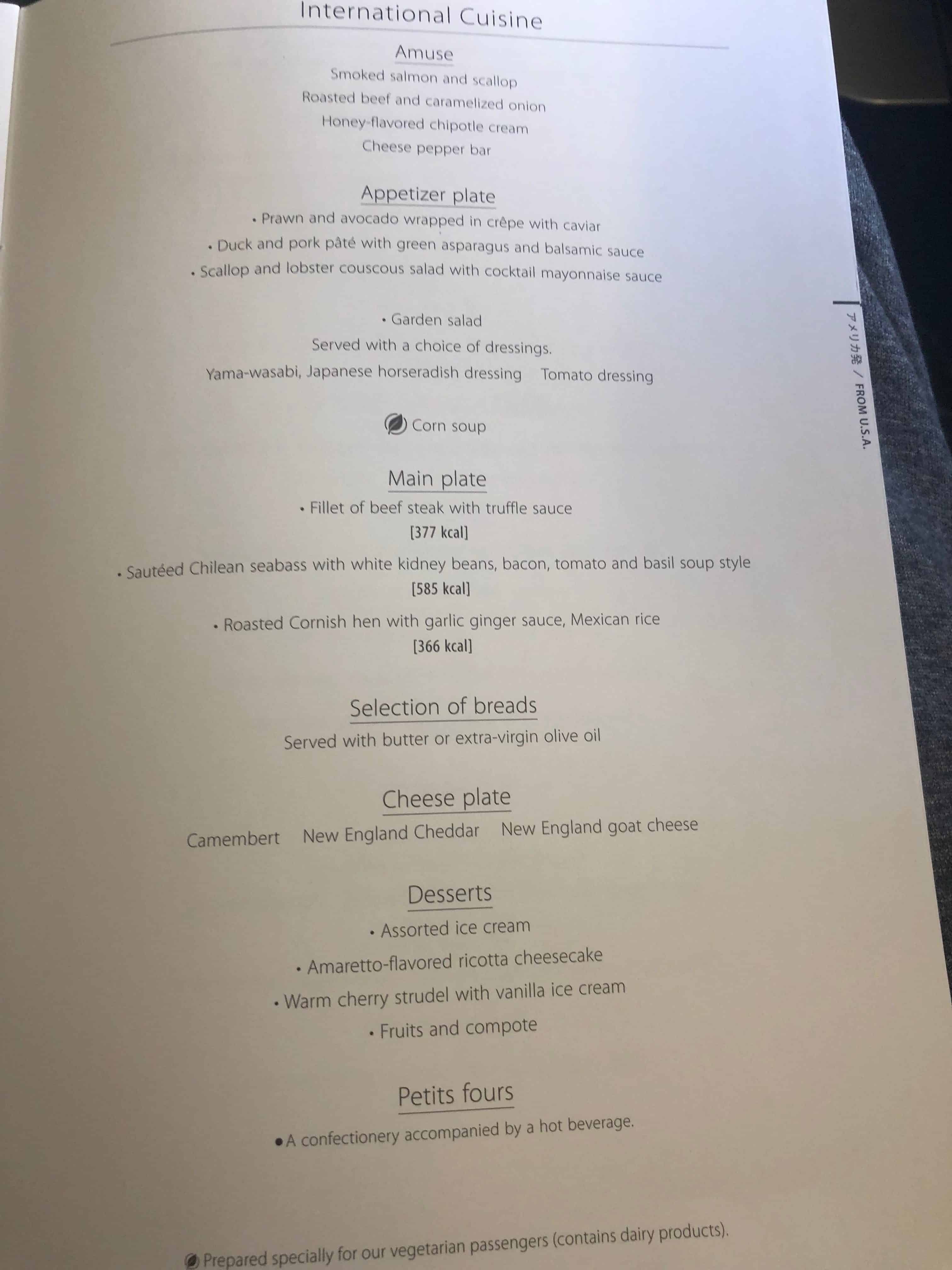 I opted for the Japanese option. But not before downing another glass of that delicious bubbly goodness.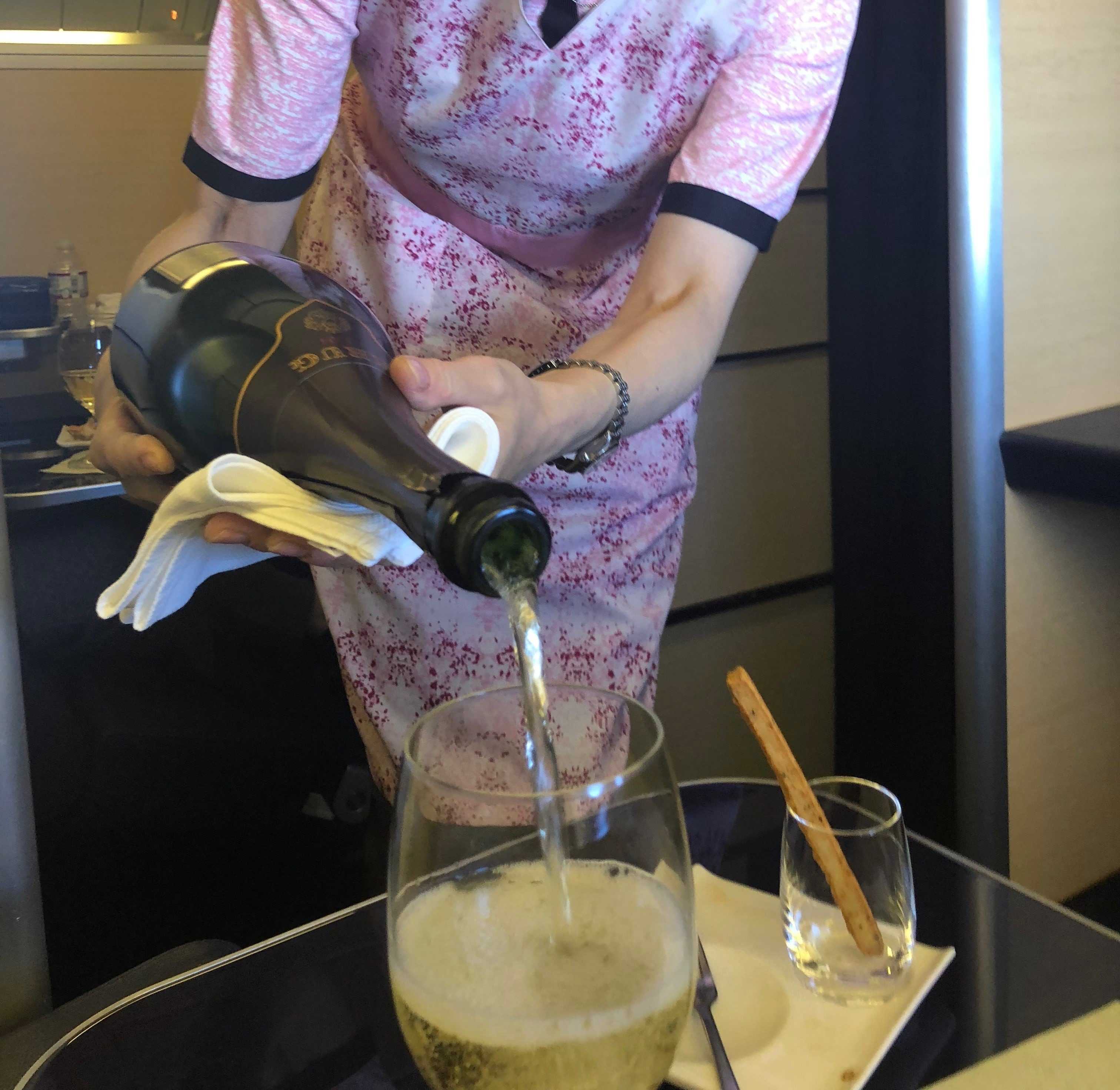 This choice, along with my admission of knowing very little about high-end Japanese food, seemed to please the flight attendants immensely. Each dish was presented to me with a lengthy description of what I was about to eat and how I should go about eating it.
"It makes me happy when you are happy", was repeated to me at least a half dozen times over the course of the meal. Like I said, known for their service.
The first dish was some sort of crab meat wrap, filled with a cream sauce and served with mixed vegetables and caviar.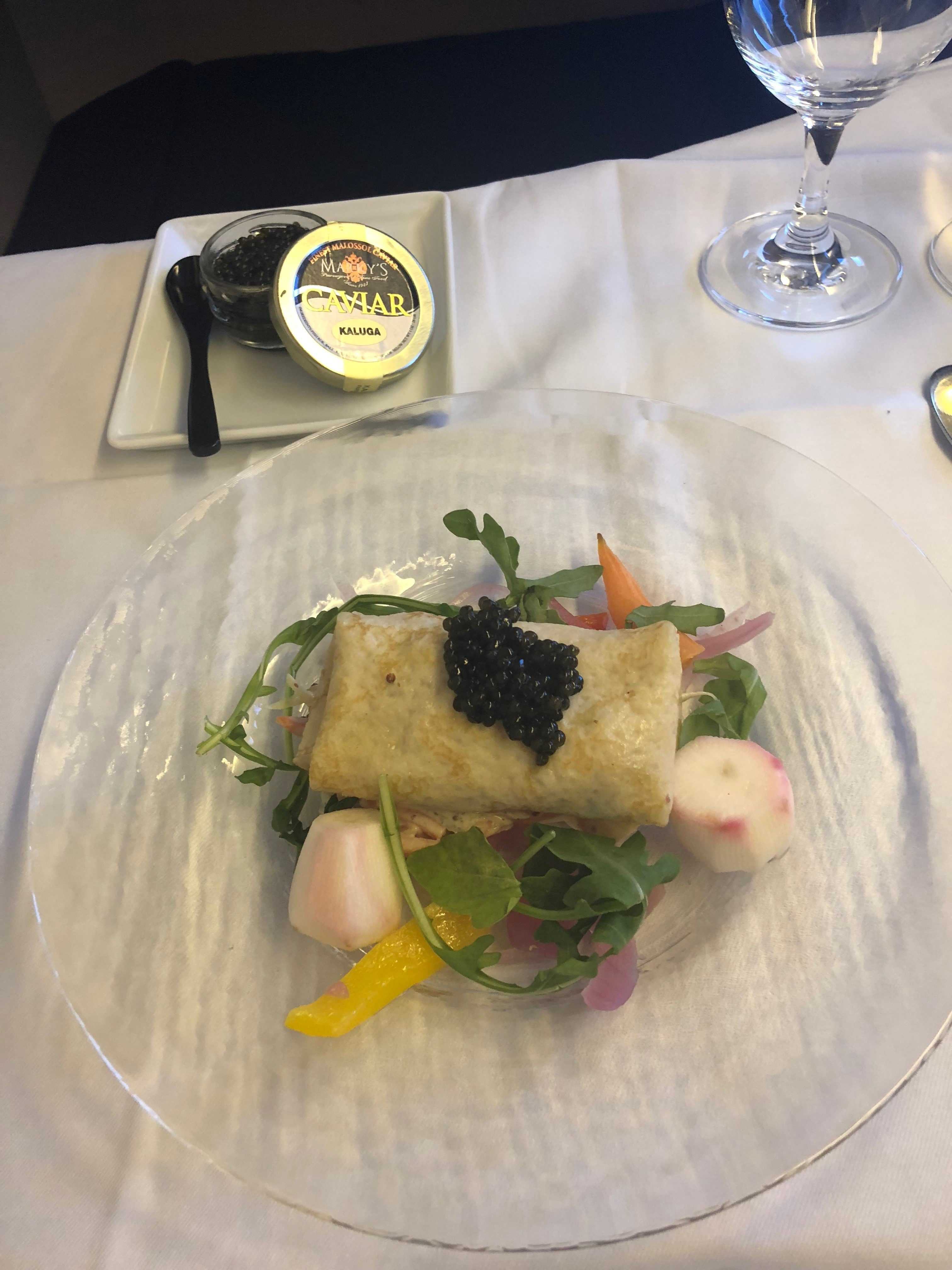 This seemed to deviate from what was listed on the menu, but I wasn't about to complain. There are certainly worse things than champagne and caviar while flying across the Pacific.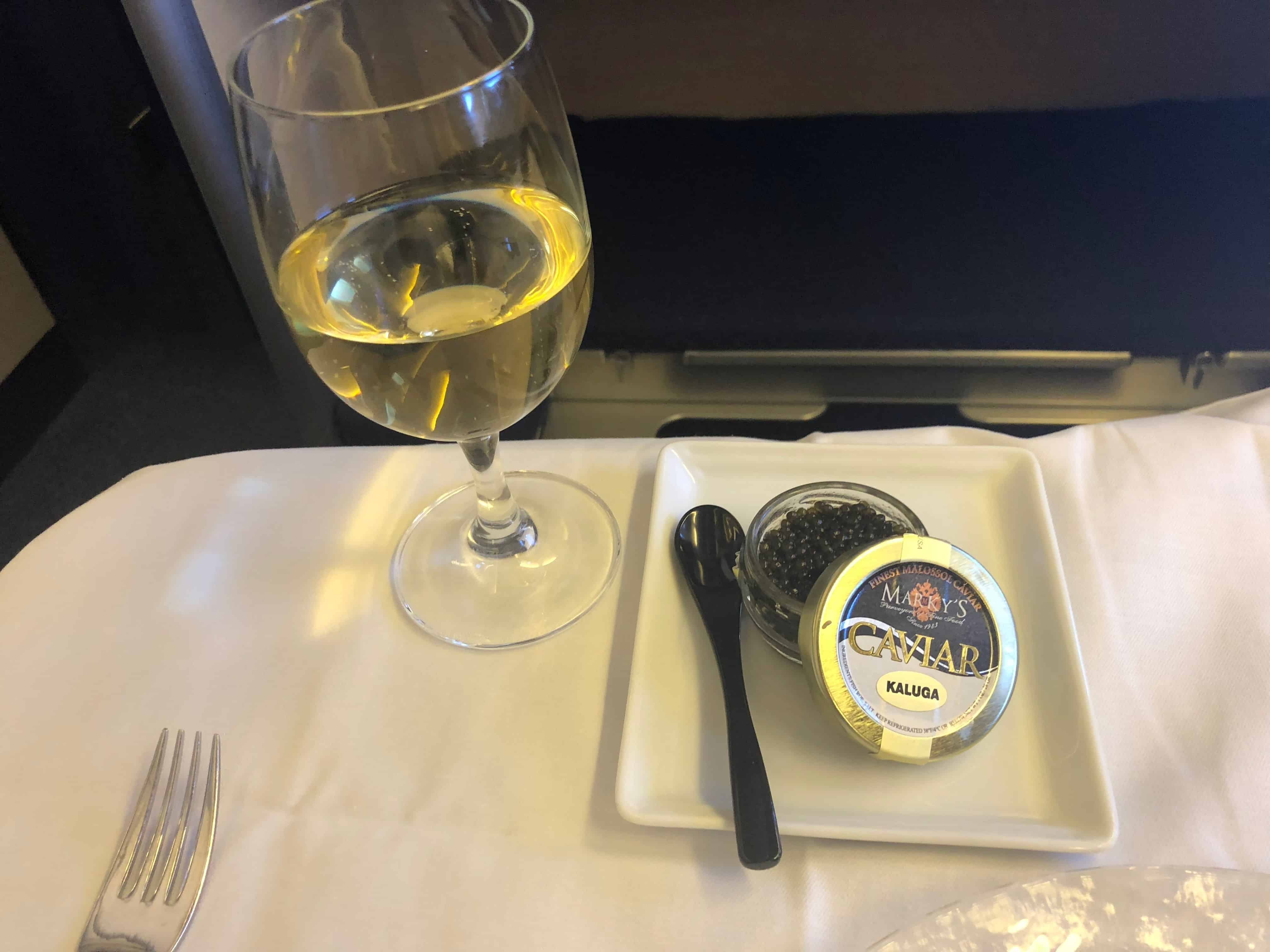 Next up was a fried fish cake with soy sauce. Also not on the menu, but also delicious.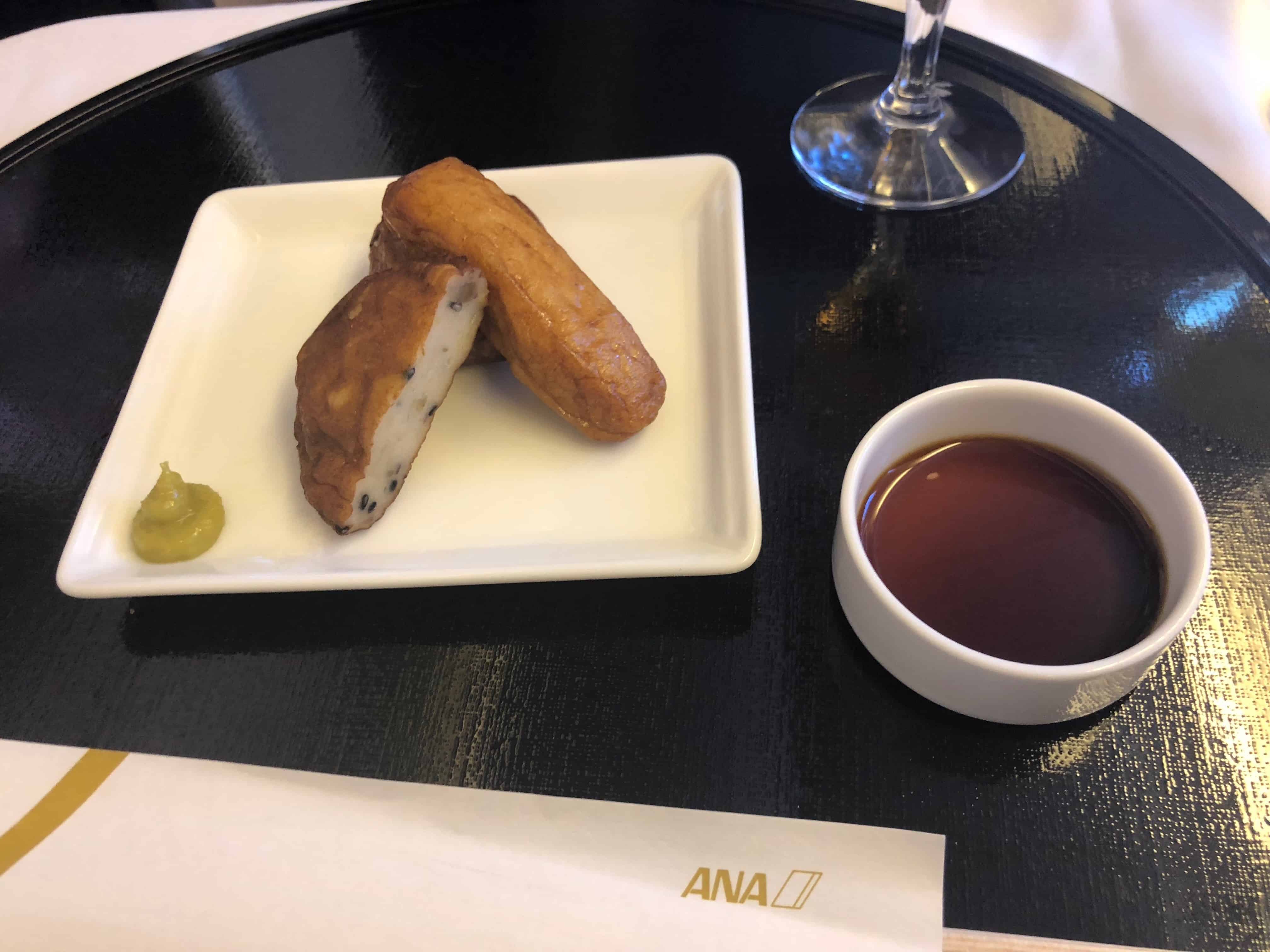 At this point, I decided to make the switch from Krug to the famous Hibiki 21 year whiskey. Which is to ANA first class what popcorn is to a movie theater.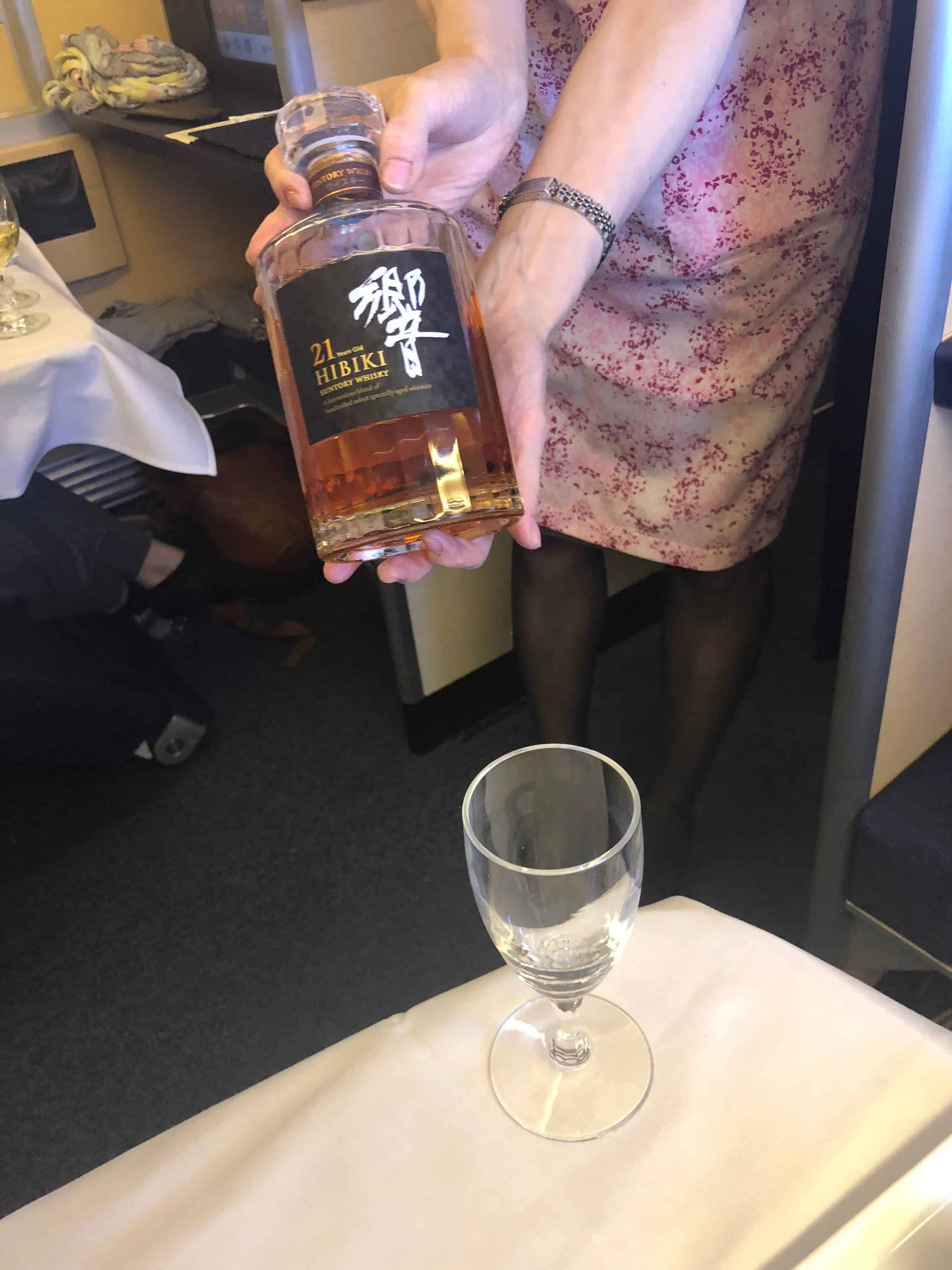 Hibiki 21 retails for ~$350 a bottle on the ground if you are lucky enough to know a guy who knows a guy. Try to buy it online and you'll pay about double that price.
But for those coveted few hours in the first class cabin on ANA it flows as freely as $2 lemon drops at a college dive bar. And I was more than happy to indulge in round after round.
Shortly afterward, I made my first mistake of the flight. I asked one of the flight attendants which sake would be best to try with the next course.
Which prompted a seemingly mandatory (in a good way of course) sake tasting of what she believed to be the three best sakes on the menu.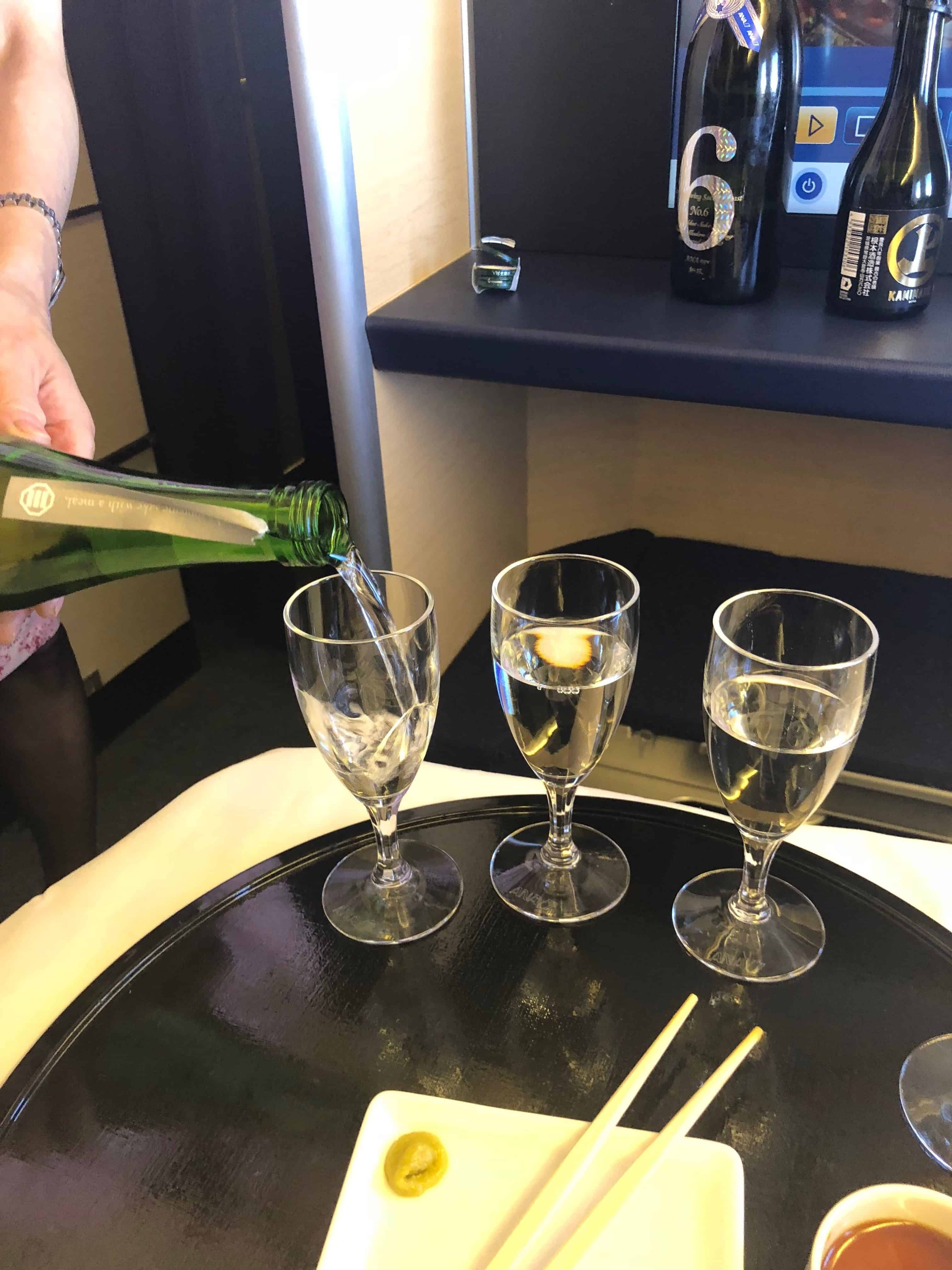 The pours were generous, to say the least. And my impromptu tasting did nothing to stop the flow of Hibiki from its coveted bottle into my glass.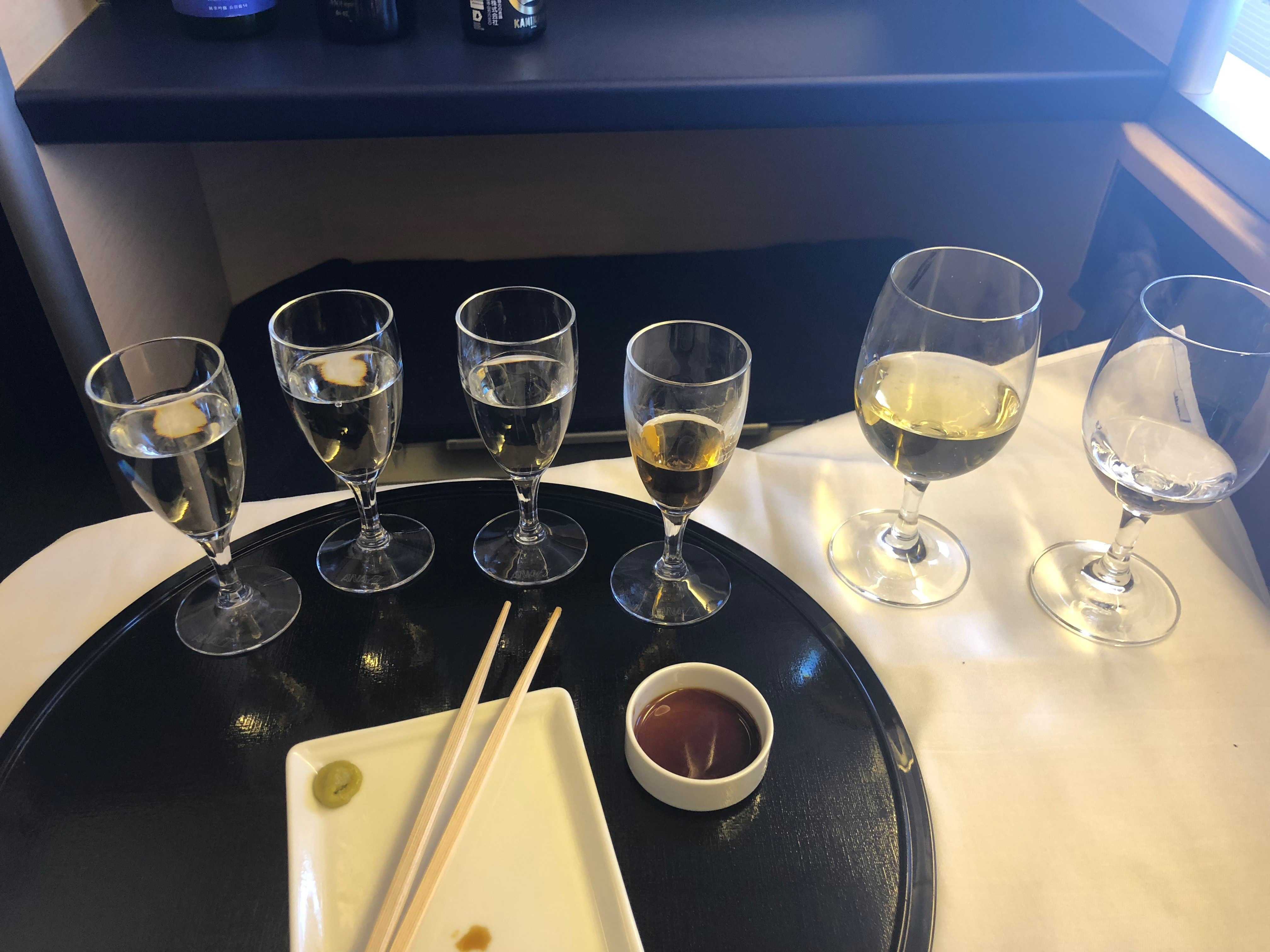 Yes, there are 5 different alcoholic drinks on my table at the same time.
The next dish out took us back on course to what was listed on the menu. Marinated abalone and garland chrysanthemum in a soy-based sauce, grilled rockfish with soy-based miso sauce, grilled eryngii mushroom rolled with beef, a simmered chestnut in syrup, a deep-fried ginkgo nut, and jellied sea urchin with potato.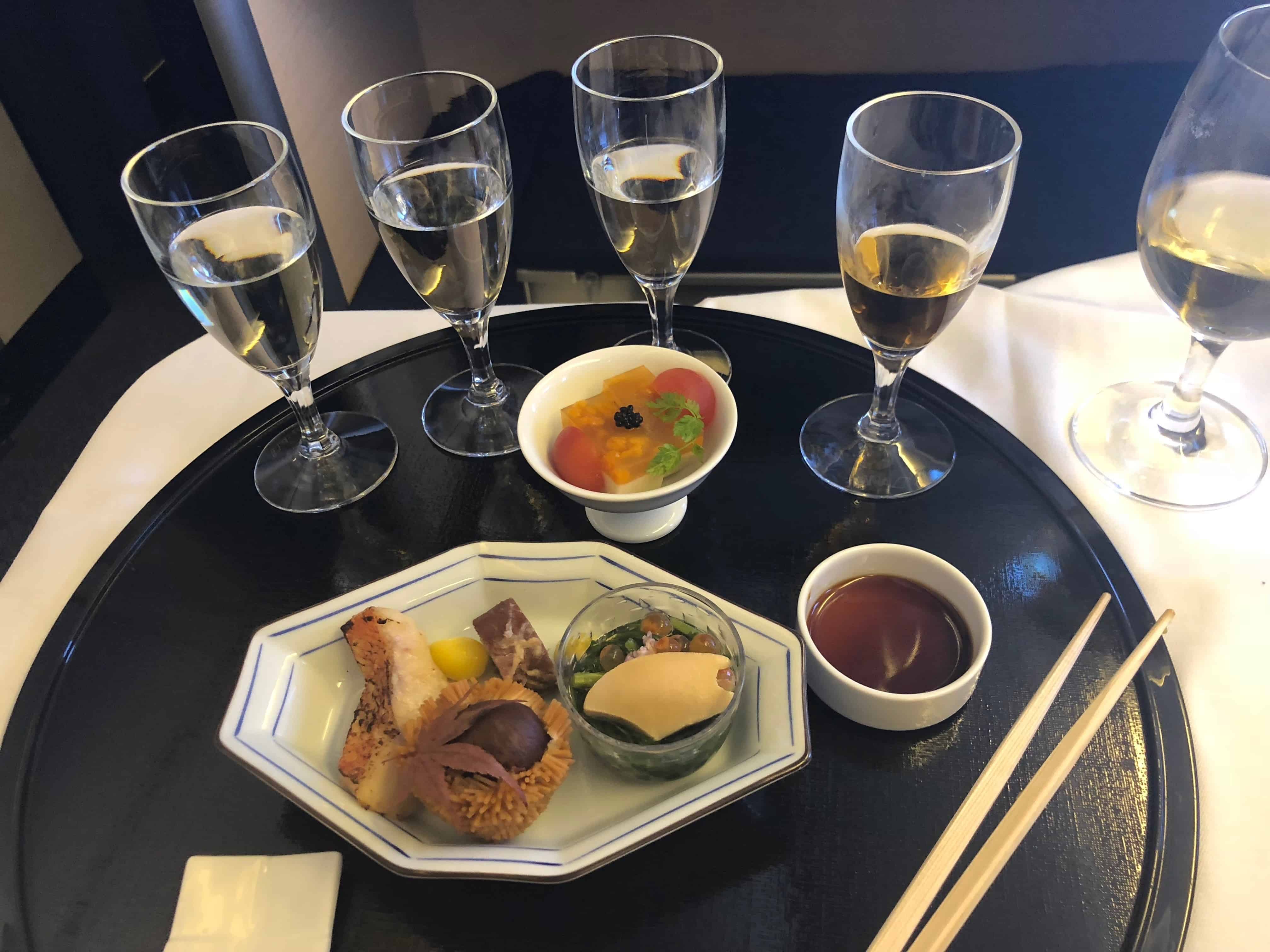 The jellied sea urchin was the one item in the entire meal that I didn't like. Something about the gelatin texture combined with a very fishy flavor was a bit off to my American taste buds.
Everything else was excellent.
Next up was the owan, a clear soup with king crab and egg tofu.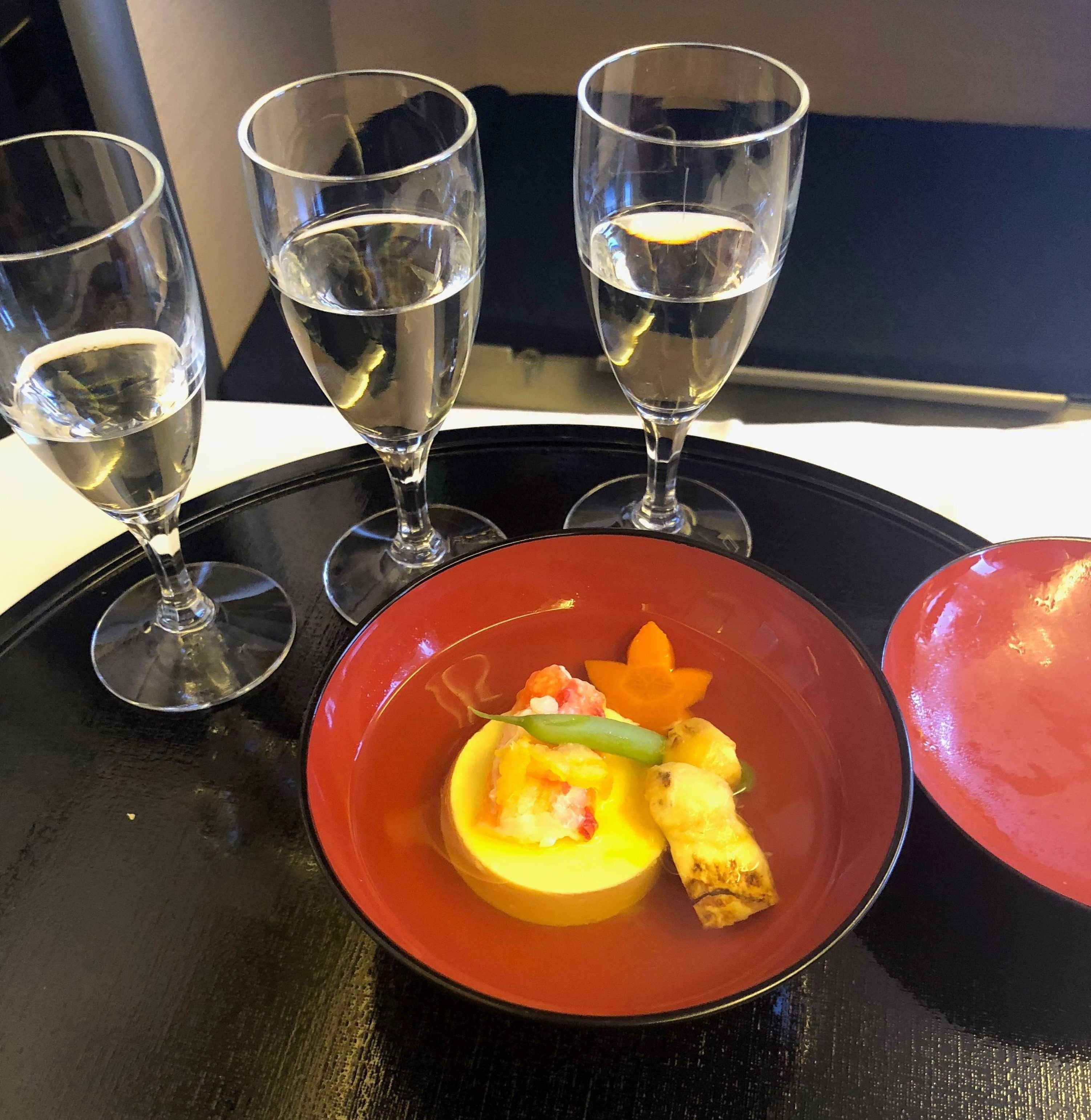 Followed by the beginning of the main course, seared salmon and seared tuna sashimi. As beautiful as it was delicious.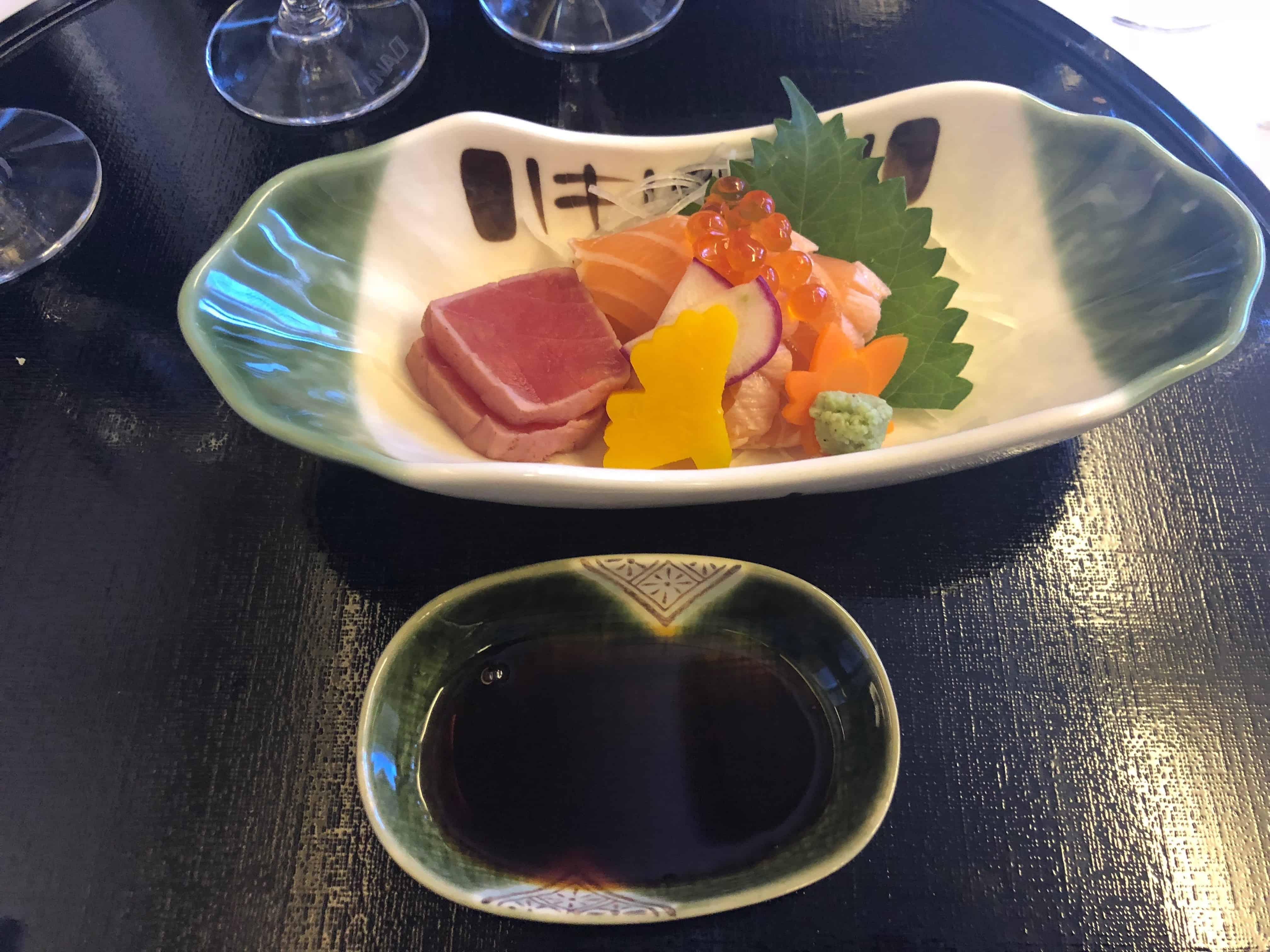 At this point, I was stuffed, but the show continued.
Sake-steamed whitefish with grated turnip and crab meat sauce? Why not.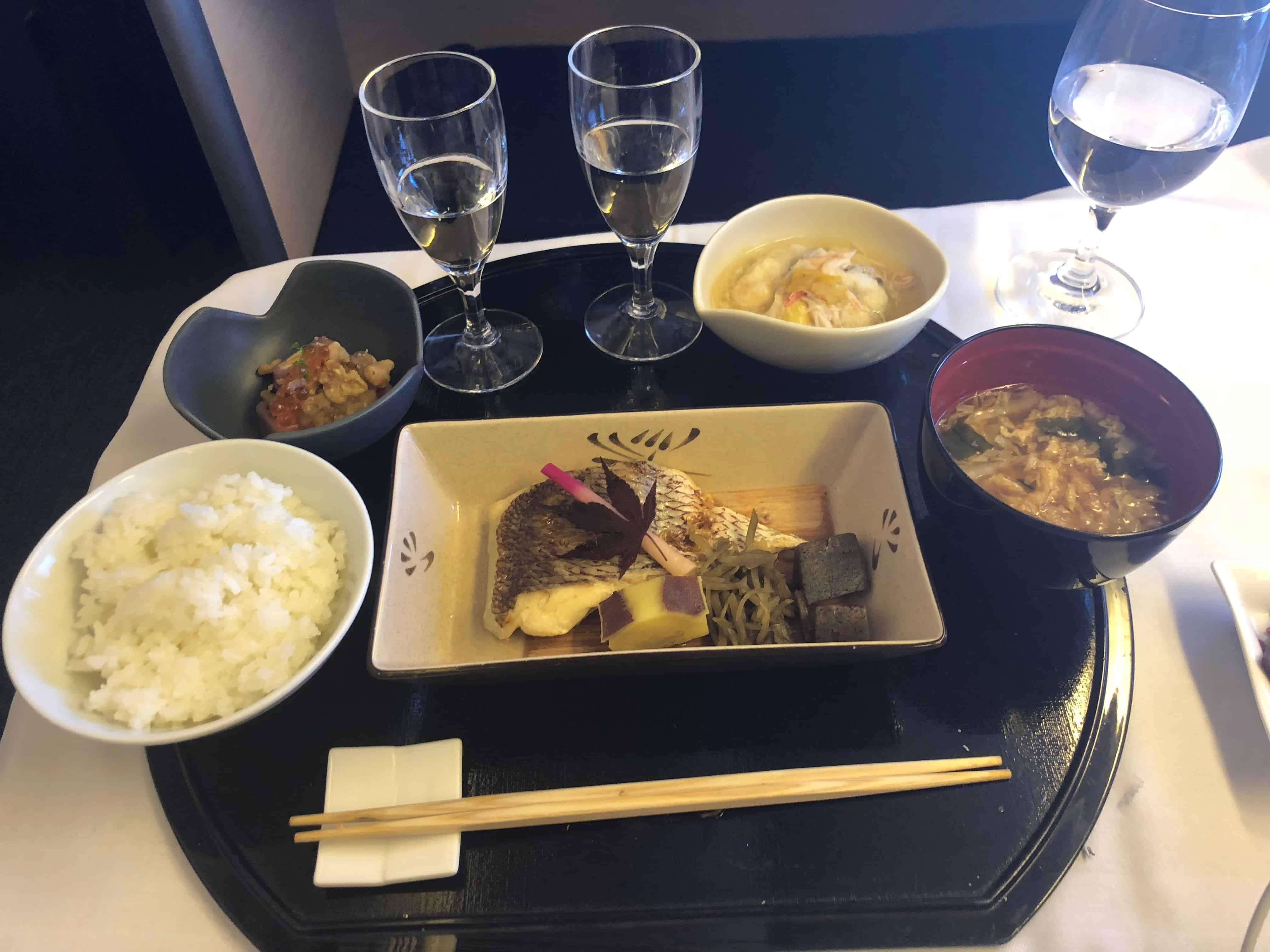 And, go ahead and throw in some steamed rice, miso soup, and Japanese pickles while you are at it.
I passed on the cheese course and went straight to dessert, which consisted of matcha tea and a Japanese sweet pastry. De-licious.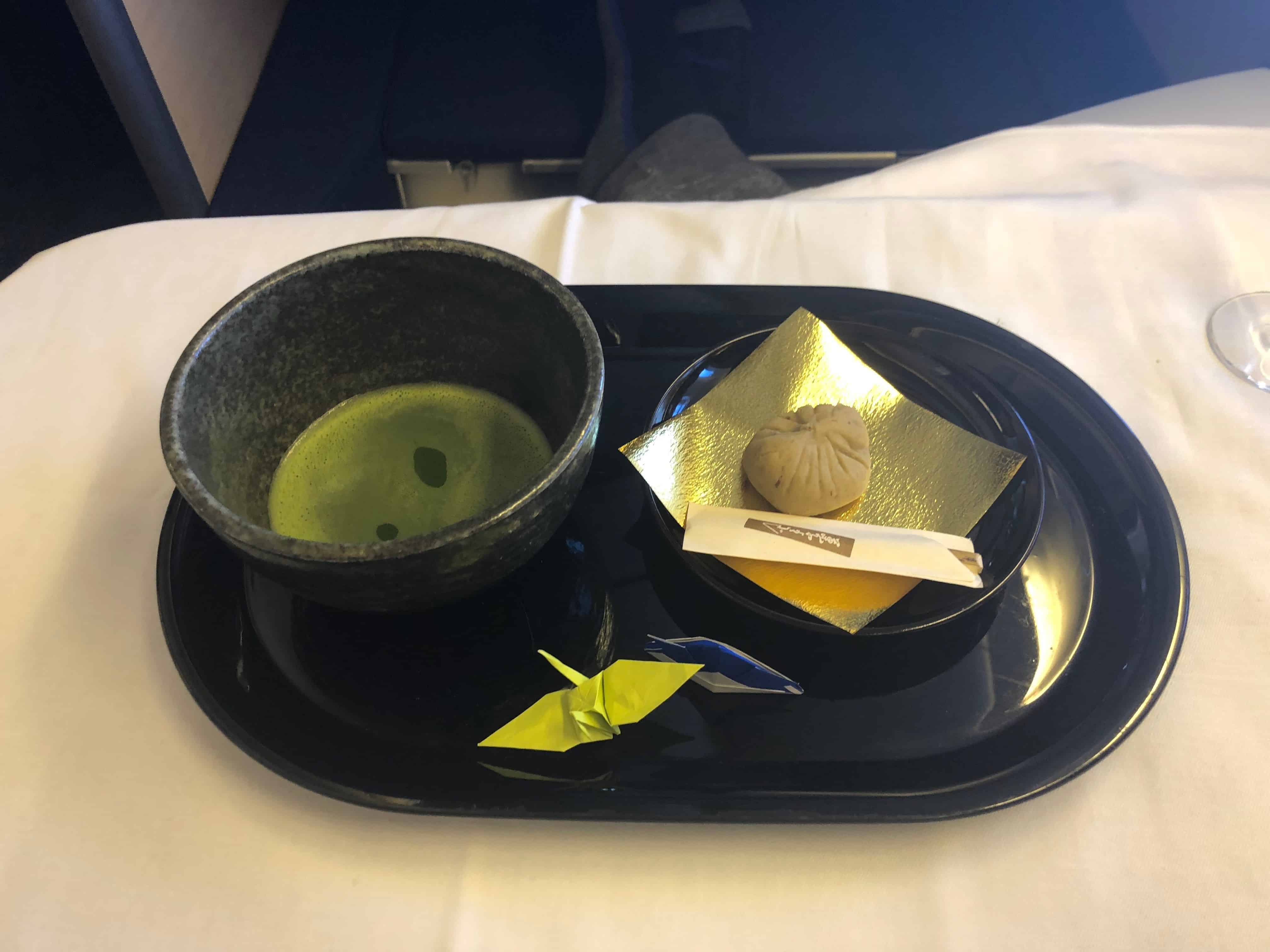 Next up was another impromptu booze tasting. This time with two types of Hibki Whisky, the 17 years and the 21 years.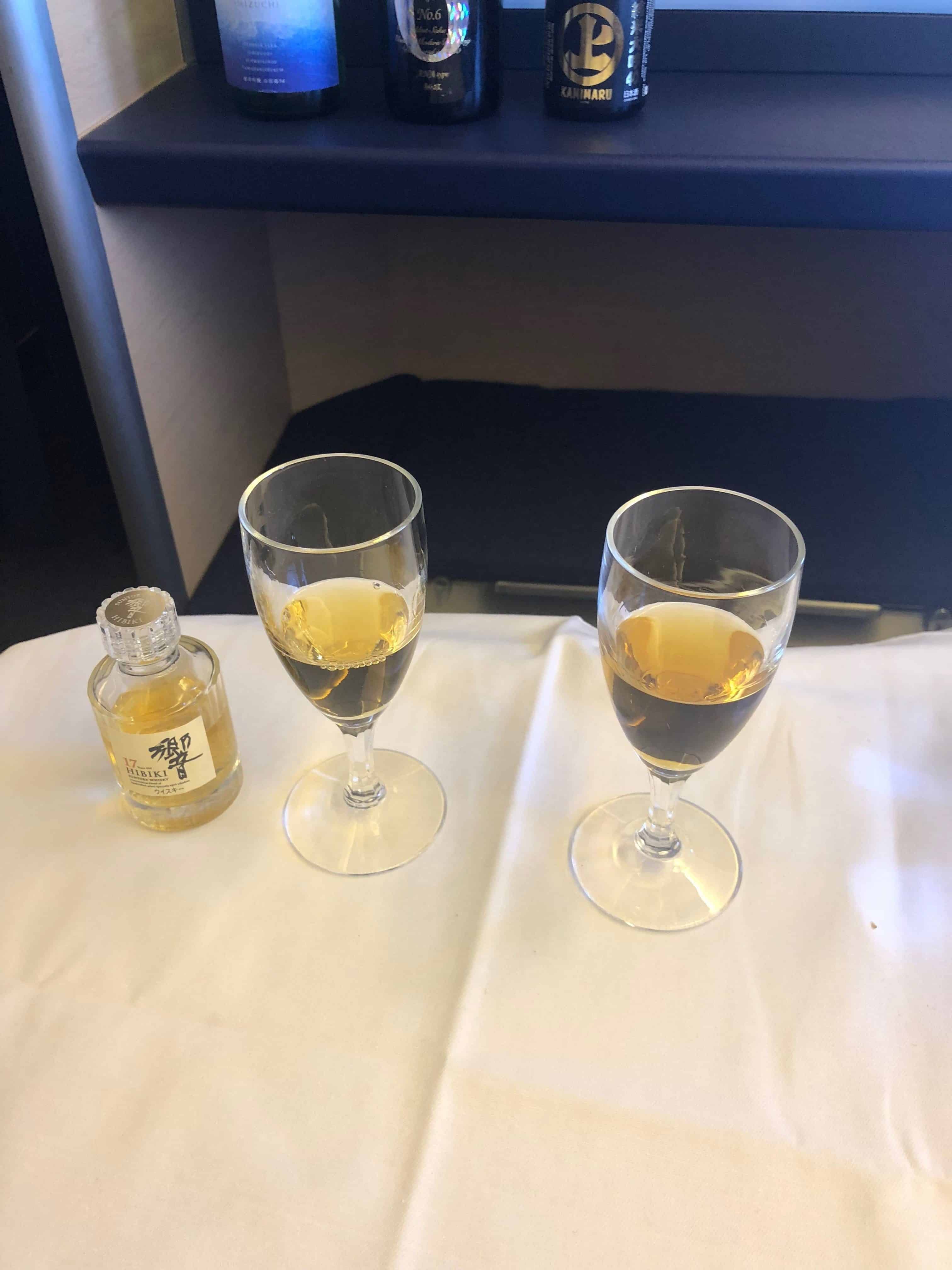 The 21 year was the winner in my book (they set up a blind test for me) but the flight attendants graciously offered to send me on my way with a couple of mini bottles of the 17 years. You know, just in case I happened to get thirsty while in Japan.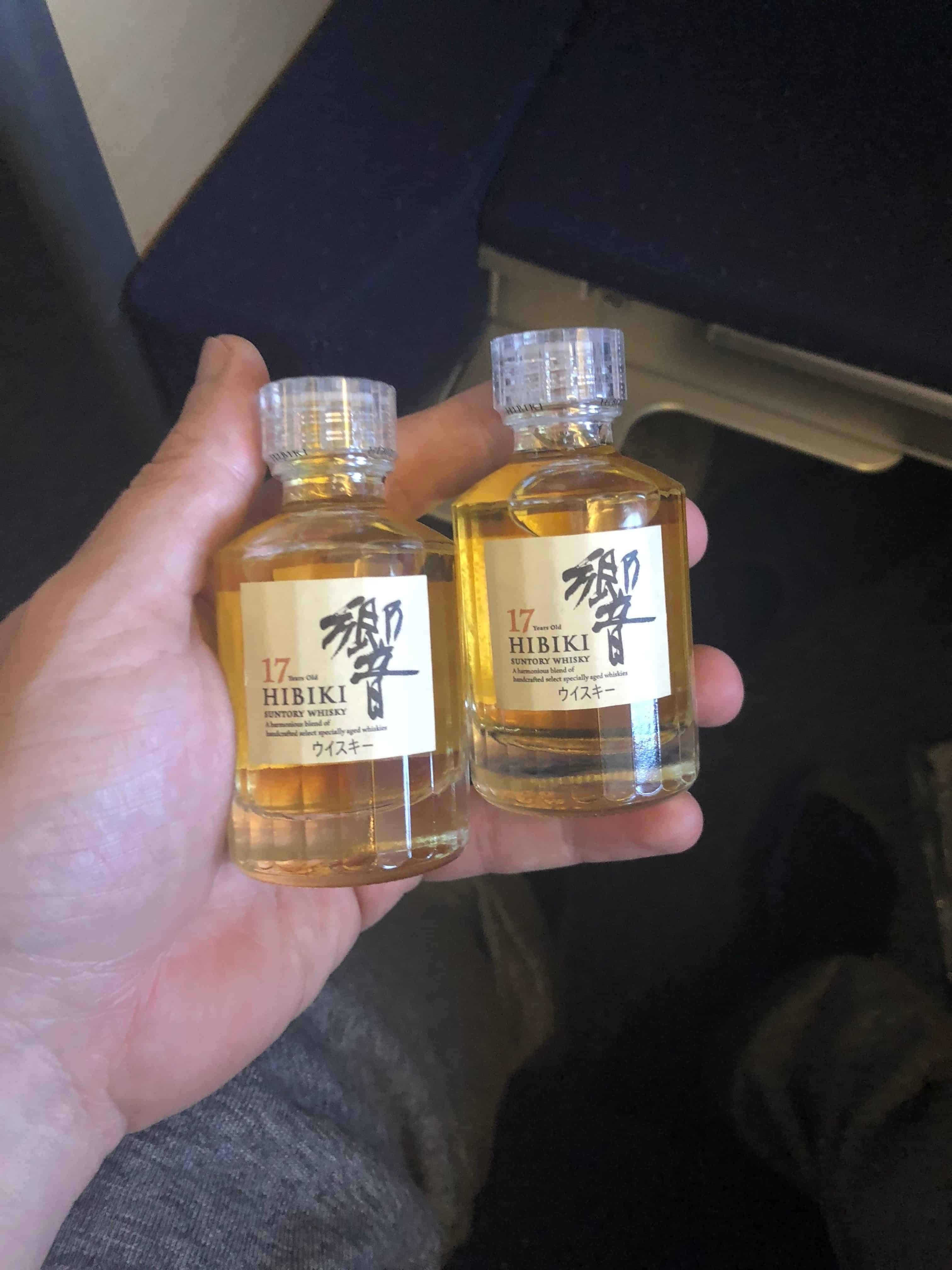 If a 7+ course Japanese meal doesn't make you want to go to sleep, the 4th glass of Hibiki should do the trick. I slowly made my way back to my "bed seat" behind me and fell asleep quickly.
After sleeping for ~5 hours I woke up ready for more. There was only one formal meal served on the flight but I could order off the "anytime snacks" menu at will.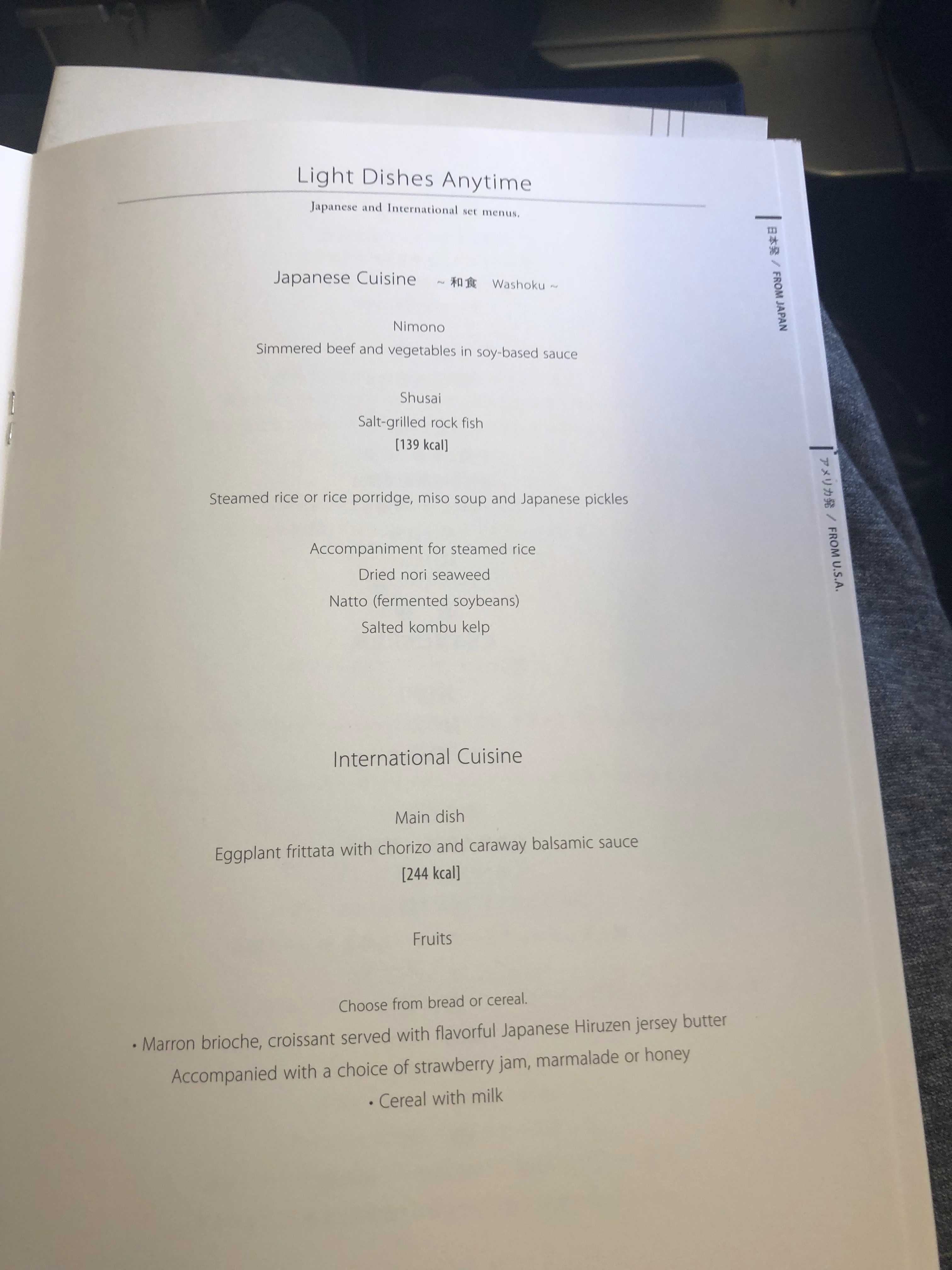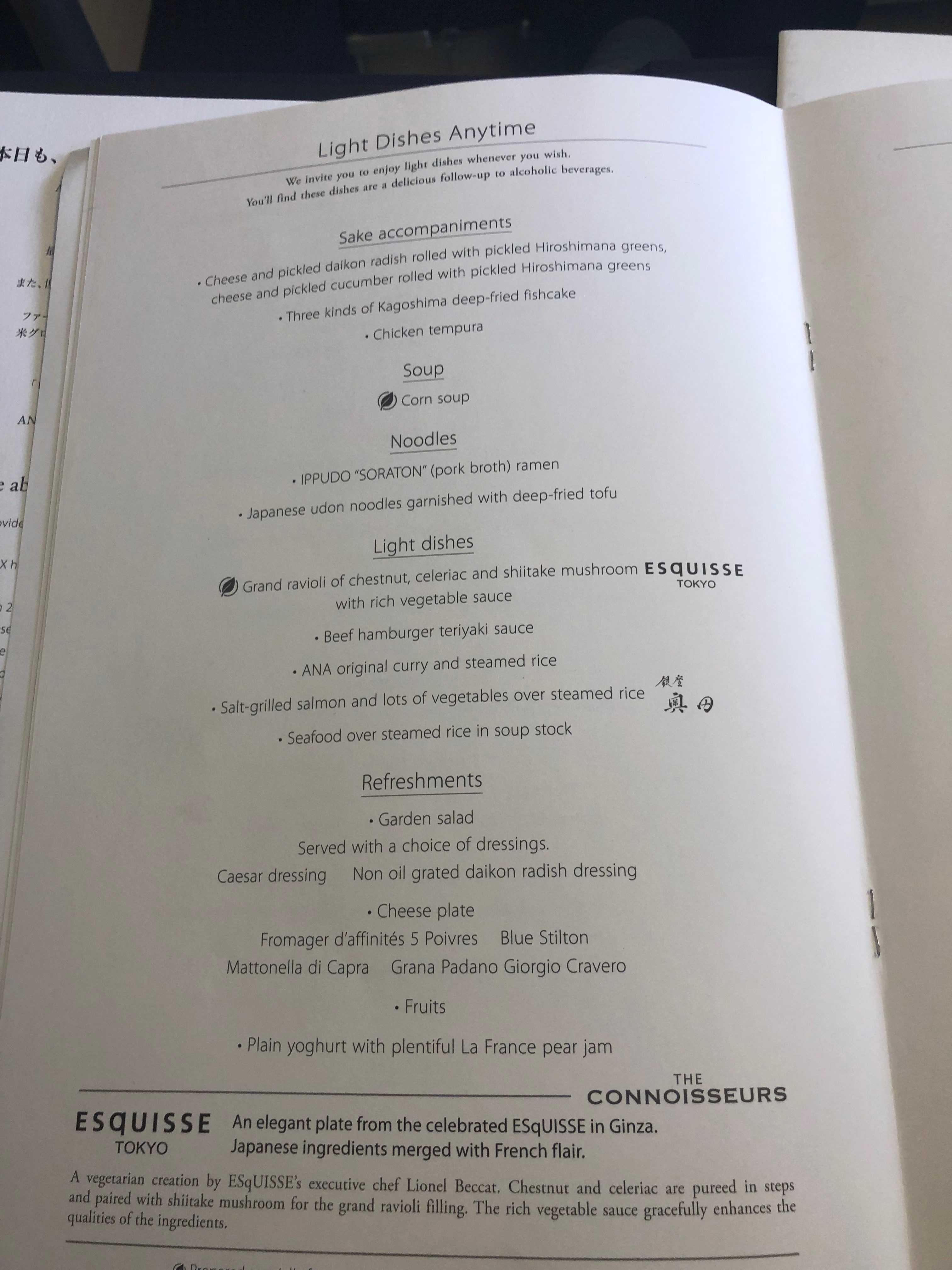 So, I did.
Starting with some ramen. And iced coffee. Yes, this counts as breakfast.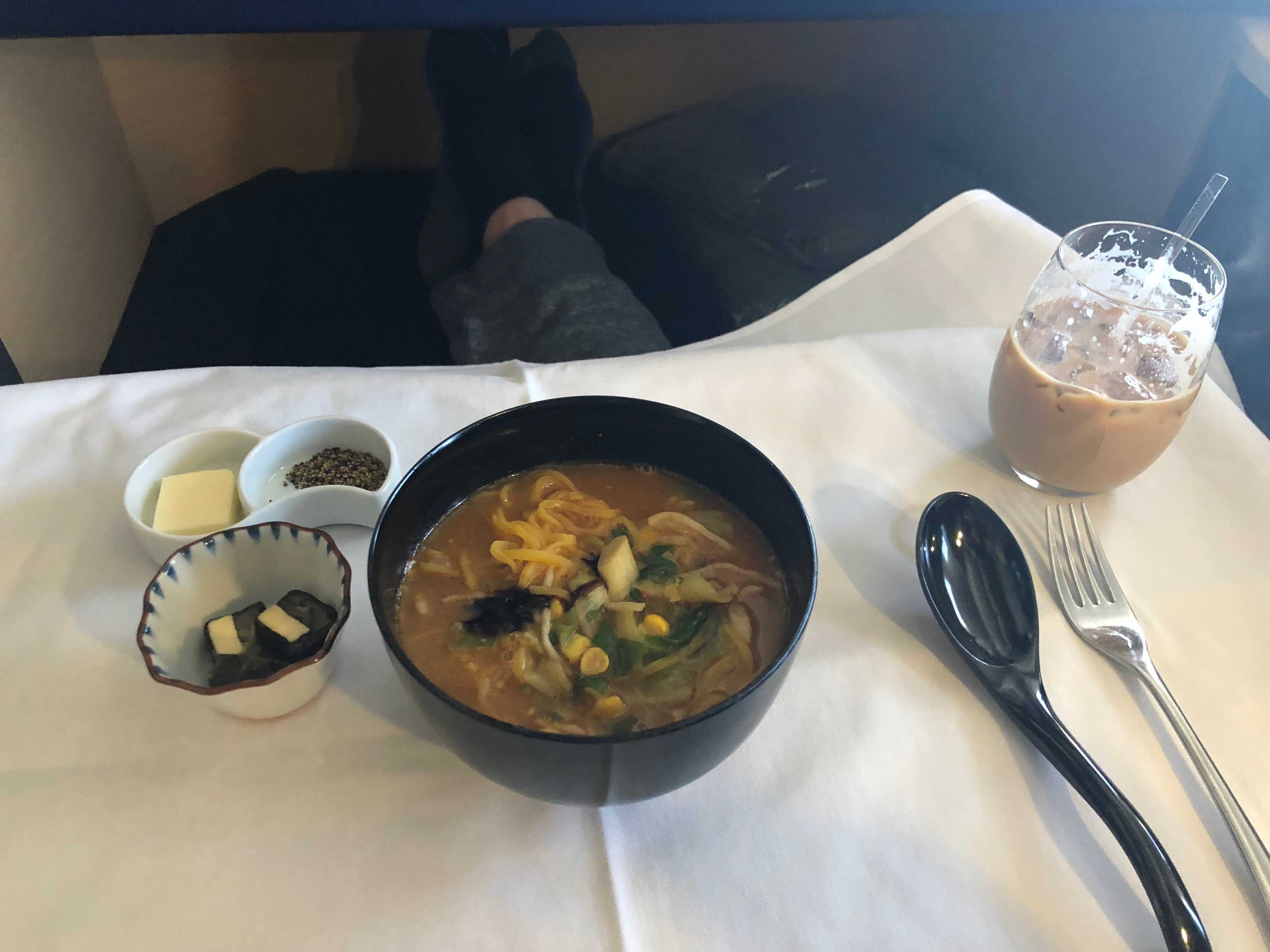 Wait, something is missing.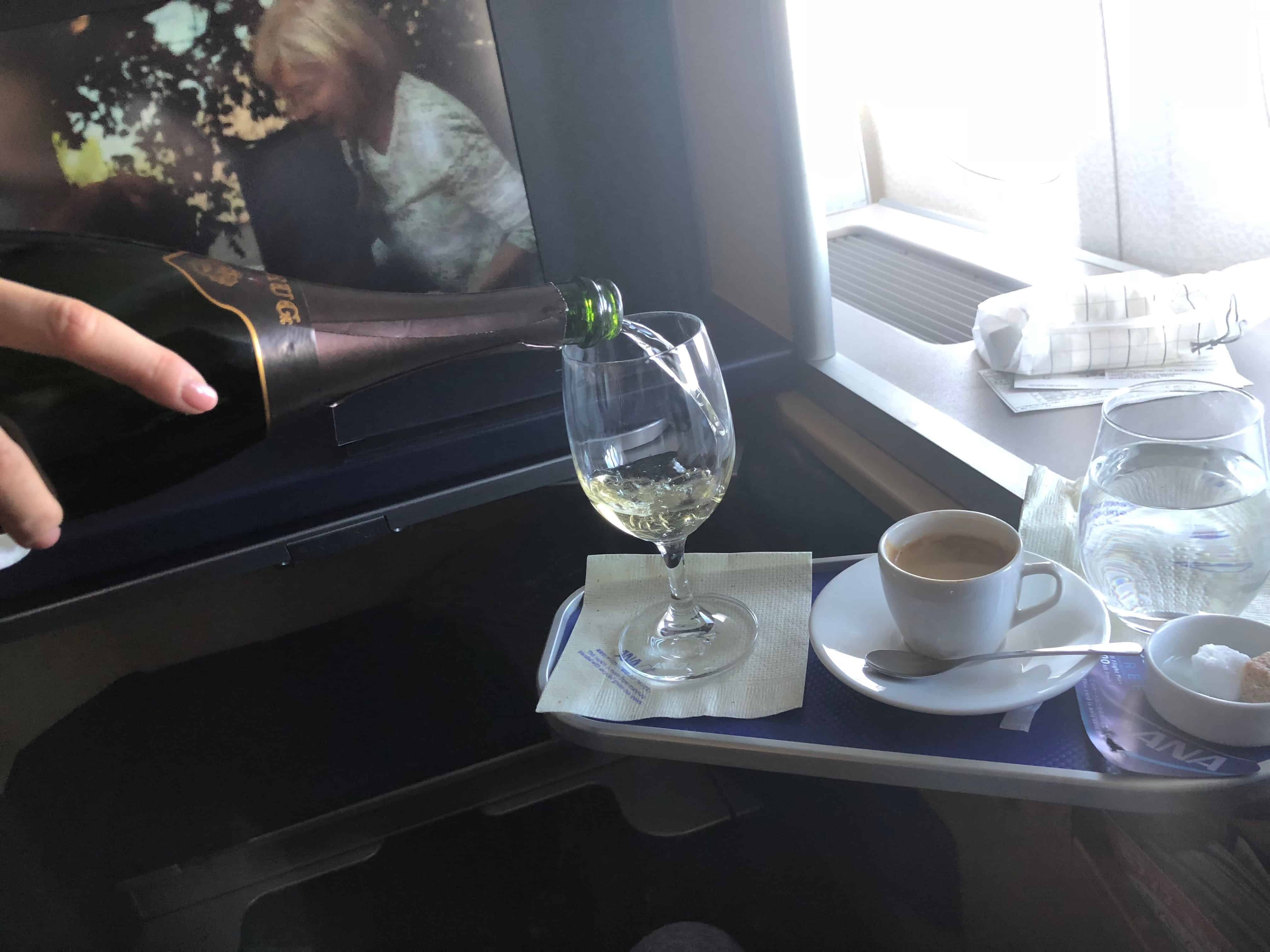 Ah, there we go. Now, this counts as breakfast.
I spend a few more hours watching TV before it was time for "dinner". Which again would come from the anytime menu.
For dinner, I went with the cheeseburger.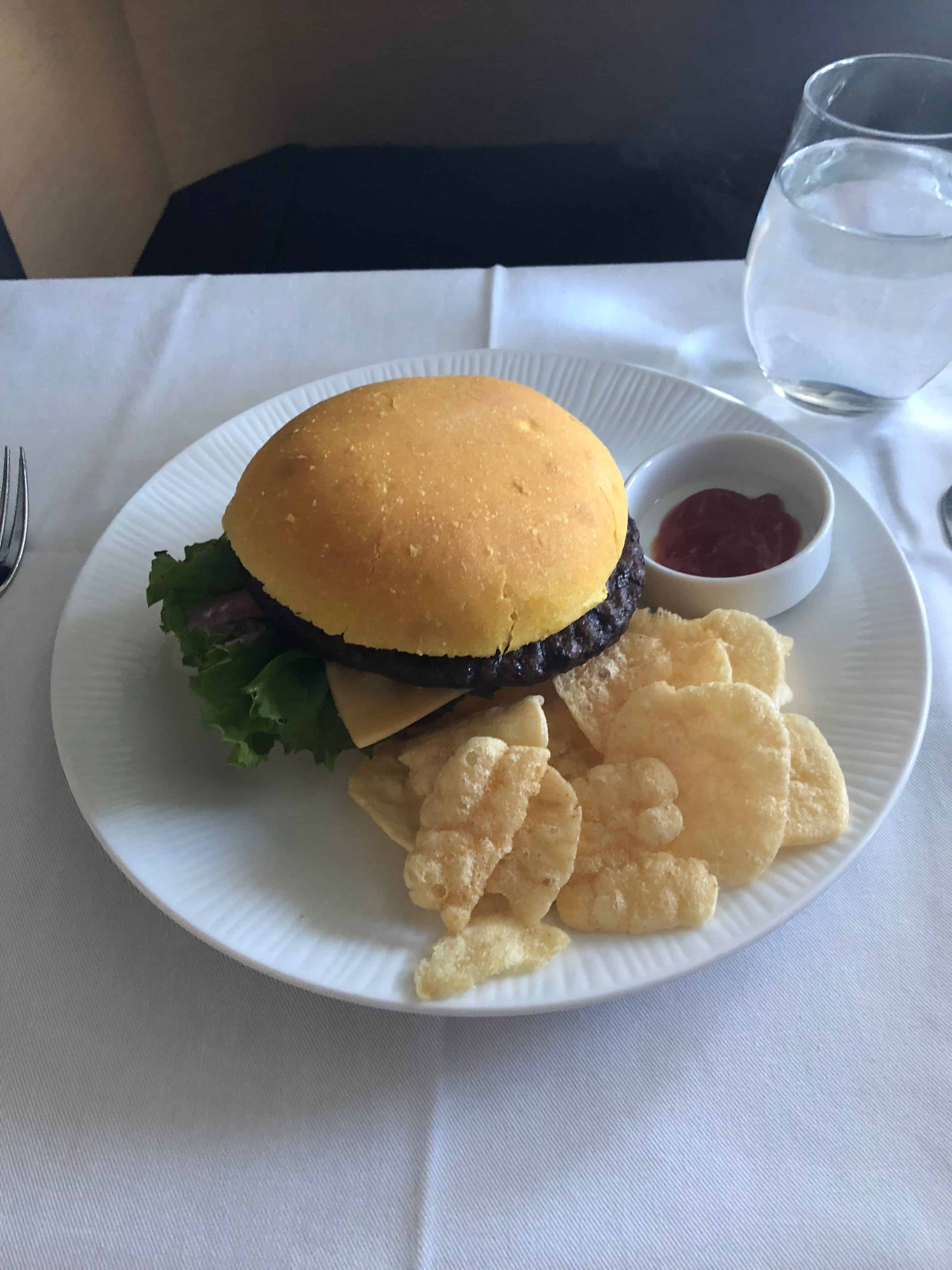 It was the first food item of the entire flight that was just OK. The burger was cooked in a teriyaki sauce, which gave it more of an Asian taste than one would expect from a cheeseburger. I ate about half of it before we began our final descent to Tokyo.
The Service
The ANA first class service was perhaps the best part of this flight. I say that having just downed a bunch of fantastic food and booze.
There were 3 different flight attendants working our side of the plane and each of them was polite and attentive. Striking the perfect balance between the stop-at-your-table-every-3-minutes server and the I-only-come-when-you-ring-the-call-button flight attendant.
It seemed as if they could read my mind and anticipate my every need.
Of course, it didn't hurt that the cabin was more than half empty, but I am quite confident that it wouldn't have mattered anyway.
The more you travel in premium cabin flights and stay in high-end hotels (thanks to points) the more you come to appreciate great service. And ANA, as much as any other company on earth, has great service.
Bottom Line
My ANA first class flight from Houston to Tokyo was easily one of the best flights I've ever taken.
This flight is relatively easy (and cheap) to book with points, has some of the best food and drink in the skies, and features a level of service that few can deliver in the world of travel.
If you're even remotely considering a trip to Japan, or anywhere else in Asia for that matter, you absolutely need to give ANA first class a try.
Happy Travels,
Bryce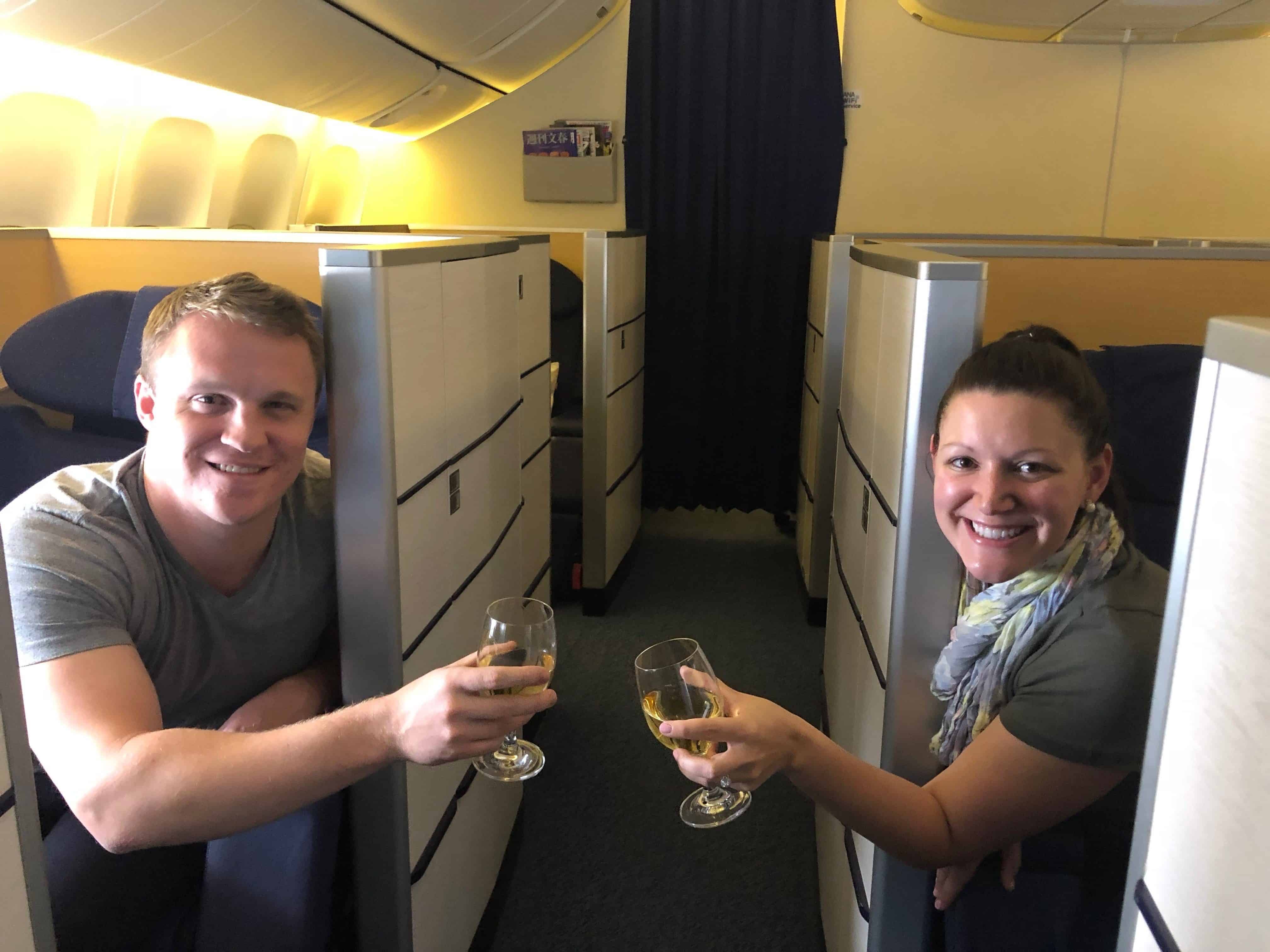 New to the world of points and miles? The Chase Sapphire Preferred is the best card to start with. With a bonus of 60,000 points after $4,000 spend in the first 3 months and 2x points on dining and travel, this card truly cannot be beat!
Learn More