Note: Some of the offers mentioned below may have changed or are no longer be available. You can view current offers here.
Marriott offers a number of credit cards that are issued by both American Express and Chase. Each of these credit cards offers a tremendous benefit that's issued every year on your account anniversary – a free night's certificate. By simply paying an annual fee for your card ranging from $85 all the way up to $450, you'll receive this certificate for a free night.
The free night is good for a single night's stay in any Marriott property up to the value associated with your card's free night. As long as you pay the annual fee, you'll continue to earn the certificate every year.
In this article, we're going to highlight some great uses for these free nights in the US, Canada, and Mexico. It's by no means all-encompassing, but we'll highlight a few properties in each category that have caught our eye. In an upcoming article, we'll explore some international destinations as well.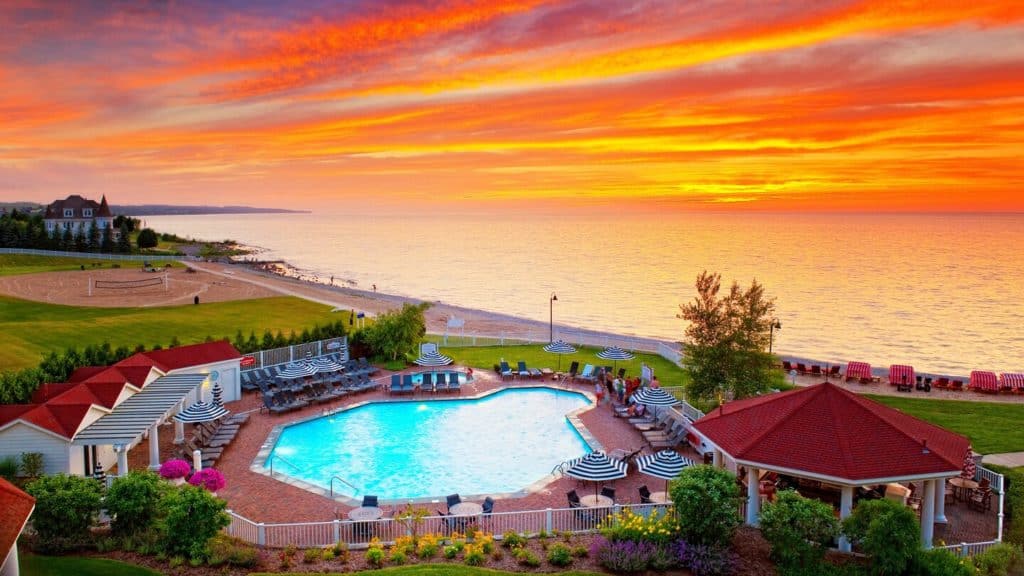 Marriott Cards Offering Free Night Certificates
The following are the Marriott cards issued by both American Express and Chase that offer a free night's certificate:
Marriott Bonvoy Boundless Credit Card – Free night at up to 35,000 points/night
*Marriott Rewards Premier Credit Card – Free night at up to 25,000 points/night
*Marriott Rewards Premier Business Credit Card – Free night at up to 25,000 points/night
*The Ritz-Carlton Rewards Credit Card – Free night at up to 50,000 points/night
Marriott Bonvoy Business American Express Card – Free night at up to 35,000 points/night
Marriott Bonvoy Brilliant American Express Card – Free night at up to 50,000 points/night
*This card is no longer available for application
Additionally, if you're a cardholder of the Marriott Bonvoy Business Amex, you can get a second night up to 35,000 points/night after you spend $60,000 in purchases on your card in a calendar year.
In most cases, at least when used strategically, you'll find that the free night is worth far more than the annual fee you pay for the card, which not only puts you ahead, but allows you to easily justify a spot in your wallet for at least some of the Marriott cards available.
Marriott Award Chart
The current award chart for free night certificates is as follows:
Hotel Category
Off Peak

(Coming Soon)

Standard
Peak

(Coming Soon)

1
5,000
7,500
10,000
2
10,000
12,500
15,000
3
15,000
17,500
20,000
4
20,000
25,000
30,000
5
30,000
35,000
40,000
6
40,000
50,000
60,000
7
50,000
60,000
70,000
8
70,000
85,000
100,000
How Do You Redeem Your Free Night Certificate?
Redeeming your free night's certificate is as simple as booking an award night on the Marriott website:
Log into your Marriott account
Search for properties by utilizing the filtering option on the Marriott search, and limit it to Marriott Bonvoy categories for which you have an eligible certificate.
Find the hotel you want, and then find award availability for your desired dates
Follow the steps to complete your reservation.
On the final page, in the payment options, you'll see a notification that you have an unused free night certificate. You can choose to redeem the certificate or Bonvoy points for your stay. Select the certificate.
Finish your booking. And Voila!
Featured Properties
Once you have your free night's certificate from your respective card, the following are just a handful of recommended properties in the United States, Canada and Mexico we believe are noteworthy. There are definitely some great values to be had at some relatively aspirational properties, and we selected just a small sampling of some of the best properties based on location, amenities, the brand of the hotel and more. Additionally, we also considered the average cash prices for the room type.
Category 4
With 1,252 Category 4 properties in the US, 56 in Canada, and 17 in Mexico, there are no shortage of properties for you to use a free night's certificate that's valid at up to 25,000 points/night. If you're a cardholder of the Marriott Rewards Premier Credit Card or Marriott Rewards Premier Business Credit Card, then the following are properties where you can redeem your certificate.
While you can also use a certificate that's valued up to 35,000 points/night or even 50,000 points/night at these properties if needed, in most cases, you will be sacrificing a tremendous amount of value and should only do in a pinch if needed.
This property used to be a Ritz-Carlton property that has since rebranded, and is now called The Henry, an Autograph Collection hotel. Whether you're in town on business or pleasure, the property is just a stone's throw away from the Ford Motor Company World Headquarters, as well as the Henry Ford Museum and Greenfield Village complex.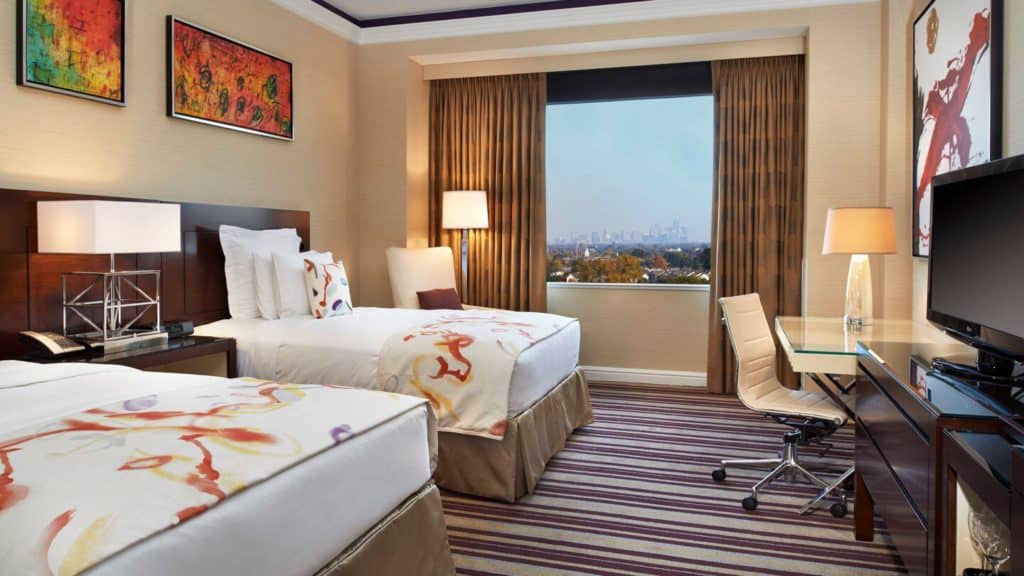 The renovation includes a fascinating mixture of regional touches that highlight the area's automotive history with contemporary interiors that are bright with artwork and unique designs. As a Category 4 property, The Henry is absolutely a mix of luxury and elegance, and a great use of a Category 4 certificate.
Opened in 2003, the Courtyard Middlebury bills itself as Vermont's most unique Marriott property. It's classic New England style architecture and design, complete with its wrap-around porch and fireplace suites, will make you feel right at home any time of the year. It boasts a prime location in central Vermont, allowing you to easily soak up the beautiful colors of fall, hit the slopes nearby during the winter, or enjoying the beautiful long summer days.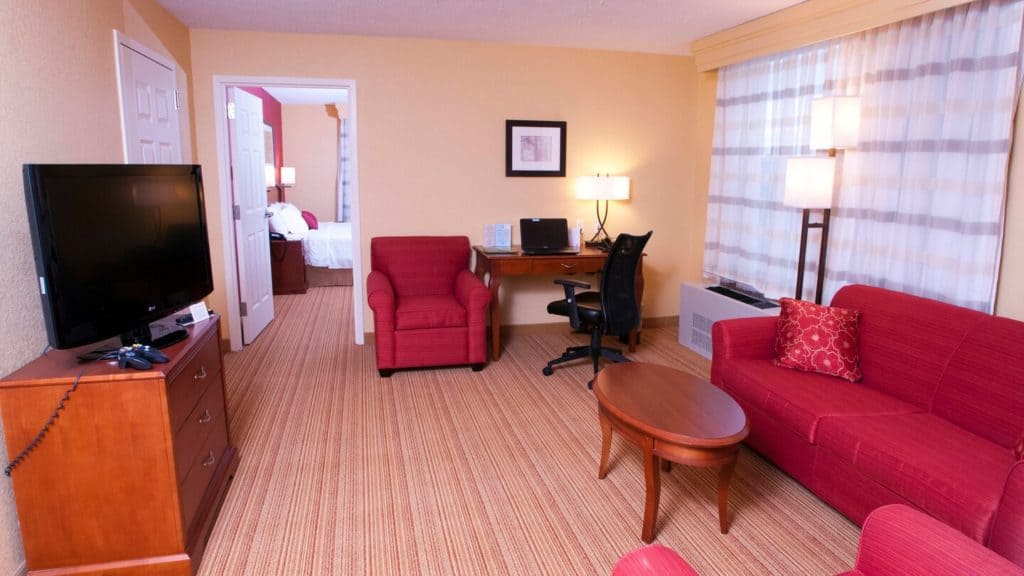 Category 5
There are 745 Category 5 properties in the US, 52 in Canada, and 18 in Mexico. You'll have no trouble finding a place to use a free night's certificate that's valid at up to 35,000 points/night. If you're a cardholder of the Marriott Bonvoy Boundless Credit Card, or the Marriott Bonvoy Business American Express Card, then the following are properties you might consider.
You can also use a certificate that's valued up to 50,000 points/night at these properties if needed, but don't forget that in most cases you will not be maximizing your redemption value, and you should only do in a pinch if absolutely needed.
Located on International Drive in Orlando, Florida, The Castle Hotel is nestled directly in between the entrances to both Universal Studios and Disney World, making it an ideal location if you're heading to any of the amusement parks in Orlando. Disney World, Universal Studios, and the other amusement parts are expensive enough as it is, so being able to use a free night's certificate can help to keep your travel costs down. Note, however, in running sample rate searches, we found multiple instances showing rates of just $85 and $93 per night in July/August/September 2019 and more. This would be an instance in which it does not make sense to use a certificate or even points at all, and rather just pay cash.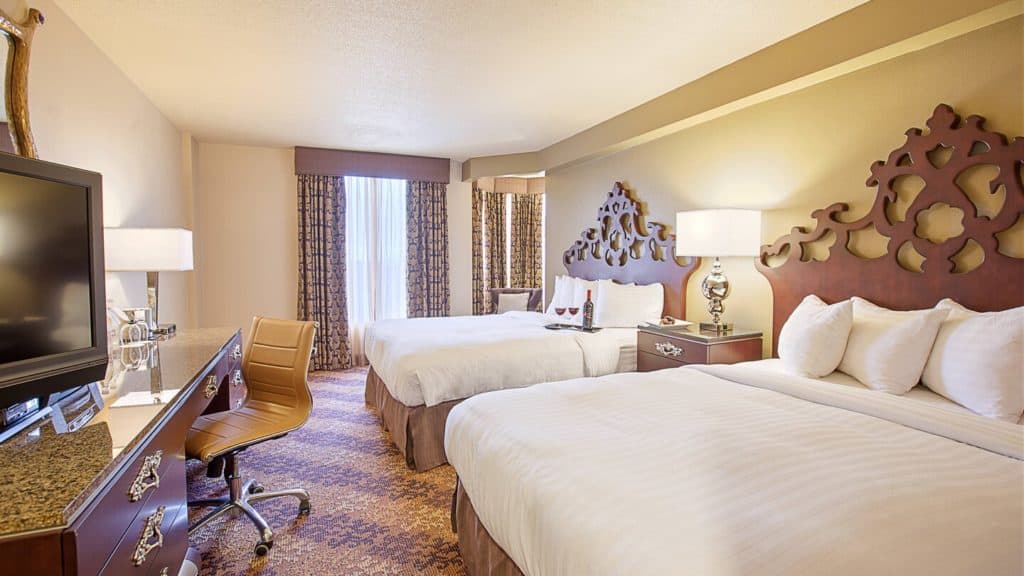 However, rates jump as high as $200 to even $300 in December and beyond, which is a more justified redemption opportunity. Regardless of whether you pay cash or use a free night's certificate, this Autograph Collection hotel will be sure to serve as a great place to stay if you're in the area.
The Gwen opened in 2015 and is formerly the Conrad Hotel located just off the Magnificent Mile in the heart of Chicago. The lobby of the hotel even includes a skybridge to The Shops at North Bridge, a shopping mall that includes famed establishments such as Eataly and Nordstrom. Whether you're in town on business or for pleasure, this hotel could not be more perfectly situated. As a nod to its namesake Gwen Lux, a famed Chicago sculptor, there are sculptures located throughout the lobby and entire hotel.
I've stayed at the Gwen once, and have an upcoming 3-night stay in October, and can personally vouch for this property. The rooms are spacious and well appointed, and have large and luxurious bathrooms. As a Category 5, it's a great use of your free night certificate. Even better, if you're a Marriott Platinum or higher member, they have some incredible suites that are a perfect redemption for Suite Night Awards.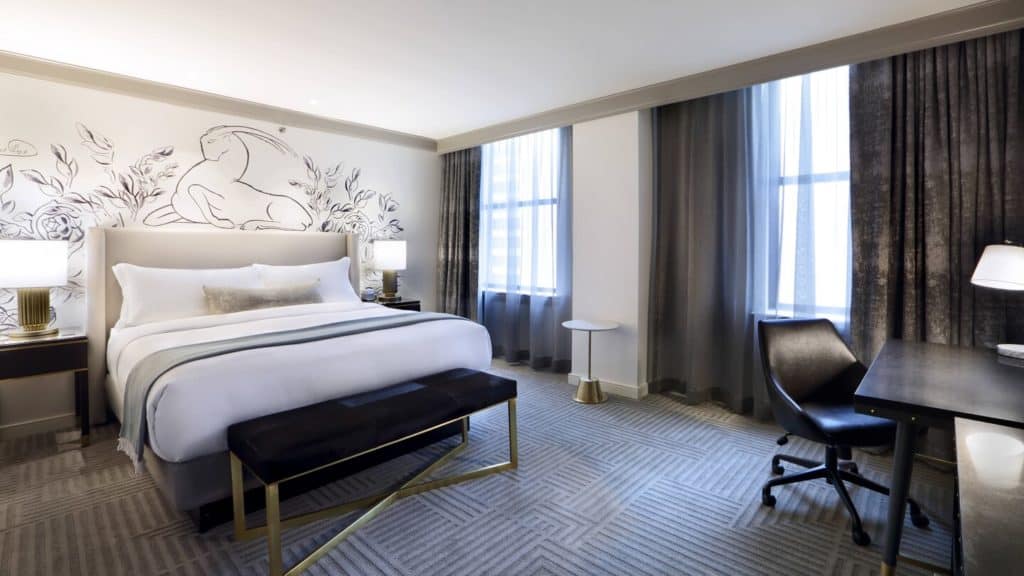 Find yourself in the Twin Cities? Consider using a stay at the Hotel Ivy, a Luxury Collection Hotel located in the heart of downtown Minneapolis. This postmodern hotel complex has been well-preserved and recently revitalized, and is connected to the city's Skyway system – the enclosed pedestrian bridges that allow you to navigate downtown Minneapolis inside during the dead of winter. This hotel is often regarded as one of the top hotels in the city, and to be able to use a Category 5 free night's certificate for your stay is just icing on the cake.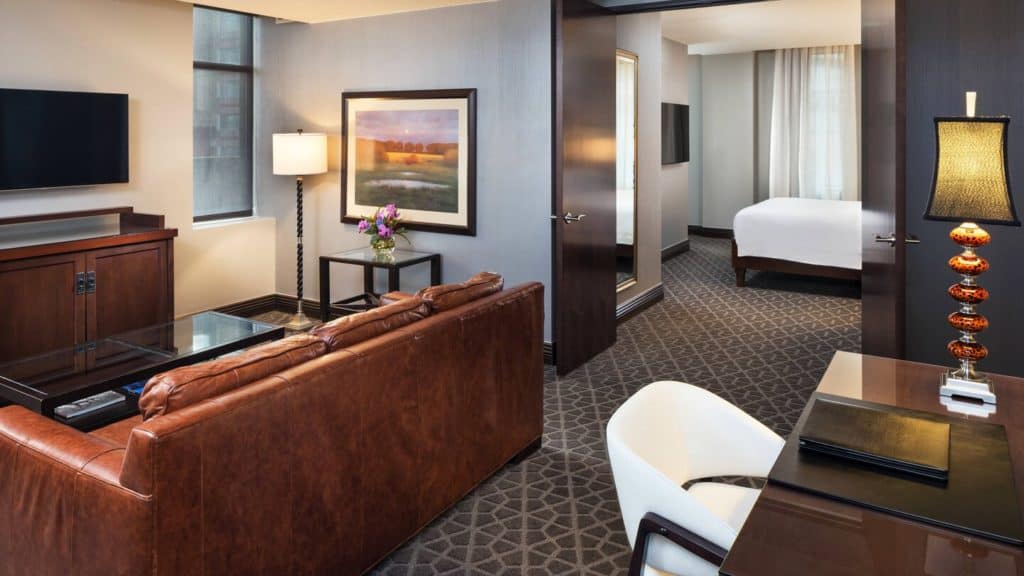 Located on the eastern shore of Mobile Bay just outside the beautifully quaint town of Fairhope, Alabama, The Grand Hotel is one of the better Marriott properties throughout the entire South. Originally opened way back in 1847, The property underwent a $32 million renovation in 2018, and joined the Autograph Collection shortly after. "The Queen of Southern Resorts" has survived the Civil War, hurricanes, fire and more, yet still stands along the Point Clear shoreline. The rooms are spacious and comfortable, and the hotel boasts a decor that perfectly blends modern along with traditional and historical touches. And the grounds are magnificent, boasting a beautiful beach and pool along with the seemingly endless walking paths that meander under the massive mossy oak trees along the shoreline.
I've stayed at the Grand Hotel twice, and both stays were certainly memorable. As a big golfer, the Lakewood Club that's on-site is a part of the famed Robert Trent Jones Golf Trail, and the practice facility is absolutely state-of-the-art. With room rates during summer regularly averaging $300 and even higher, using your certificate at this hotel represents a great value.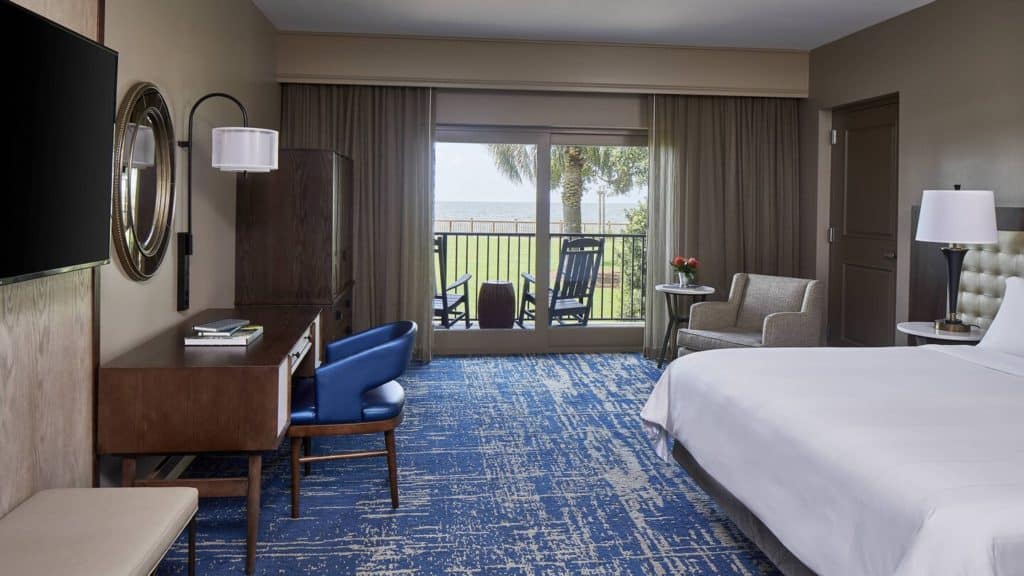 Inn at Bay Harbor, Autograph Collection, Bay Harbor, Michigan
If you haven't had the privilege of visiting Northern Michigan during the summer, then you're missing out on a treat and need to add it to your upcoming travel plans ASAP. Located on the crystal clear blue waters of Lake Michigan, this Autograph Collection hotel has a variety of accommodation options but is potentially best known for it's 4 award-winning golf courses nestled along the shoreline of Lake Michigan with absolutely stunning views around every corner.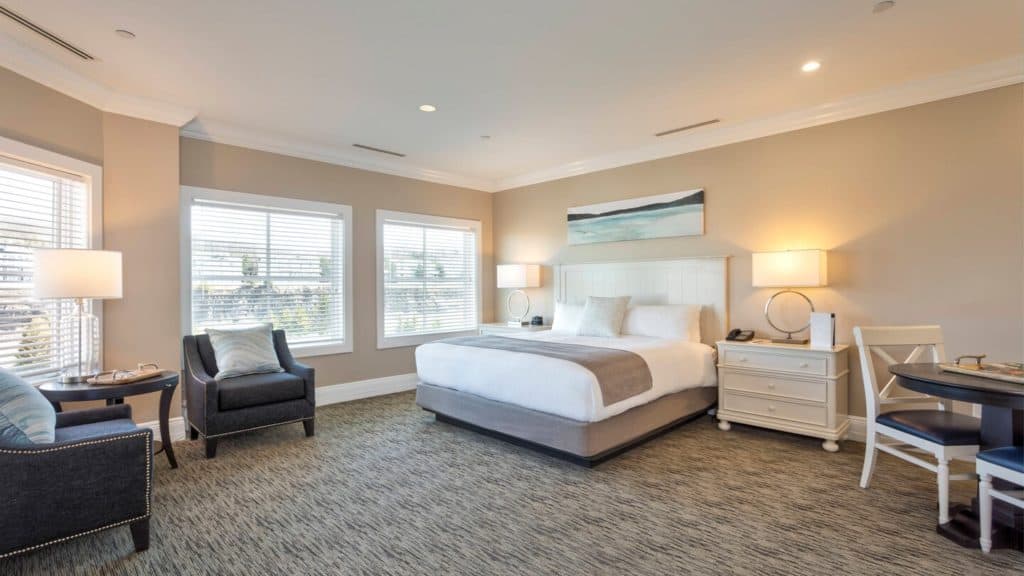 If you're not a golf fan though, between the water spots, biking, or just napping in a hammock on the shore of Lake Michigan taking in the views and vistas, this resort makes for an excellent free night's certificate redemption.
If you're looking at planning a ski trip, The Westin Snowmass could be an absolute steal when redeeming your Category 5 certificate. Cash rates often exceed $300-400 on average during peak season, with a number of dates showing rates as high as $1,159 during peak ski season. But even with those astronomical peak season rates, award availability is often wide open, making this one of the best redemption values on this entire list.
With it's ski-in, ski-out location at the base of Aspen Snowmass, you're right in the heart of over 300 ski trails across Aspen's 4 major peaks. The sprawling mountain-side resort offers spacious rooms with a tasteful alpine decor. A heated pool and hot tub overlooking the resort might be an enjoyable way to end a long day of skiing. And best of all, located right outside the resort just a few hundred yards down the slope is the fantastic ski school program in case your little ones need to learn how to ski.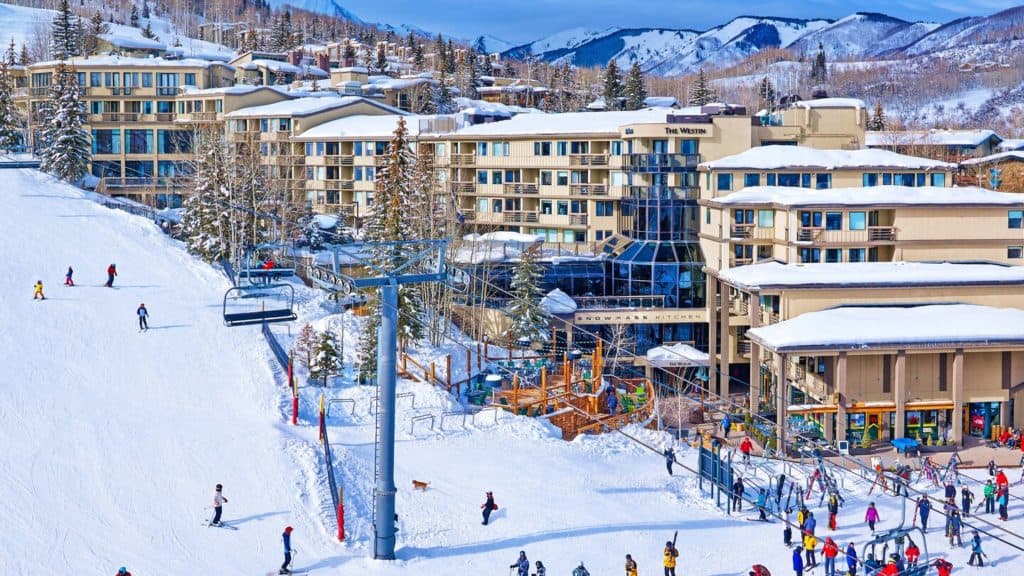 Aruba is a terrific beach destination, and the Renaissance Aruba makes it even better by offering access to a private 40-acre island "Flamingo Beach" that is accessible only by boat. The Renaissance Aruba is made up of two zones – one that's adults-only and the other that is family-friendly. Being able to book a family-friendly hotel in the Caribbean with private island access for a Category 5 free night's certificate? Well, sign me up!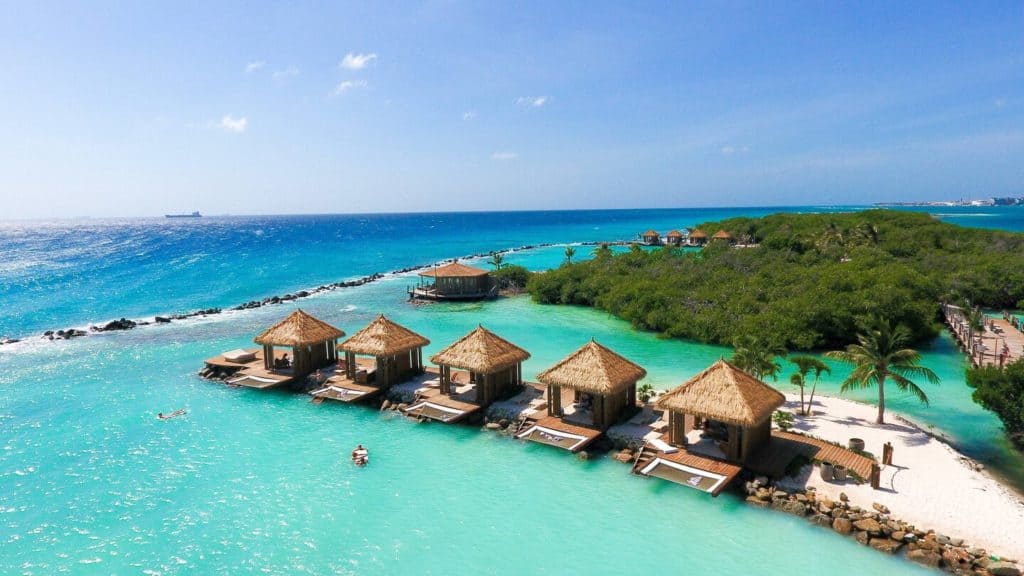 After undergoing a $46 million renovation in 2018, this property joined as a Westin resort. Located just down the beach from its sister property, the Mauna Kea Beach Hotel, the Westin is also located on a beautiful stretch of white sand beach and clear blue water. The hotel boasts tremendous views from almost everywhere throughout the entire resort. The rooms are very spacious and have modern updates and amenities after the renovation.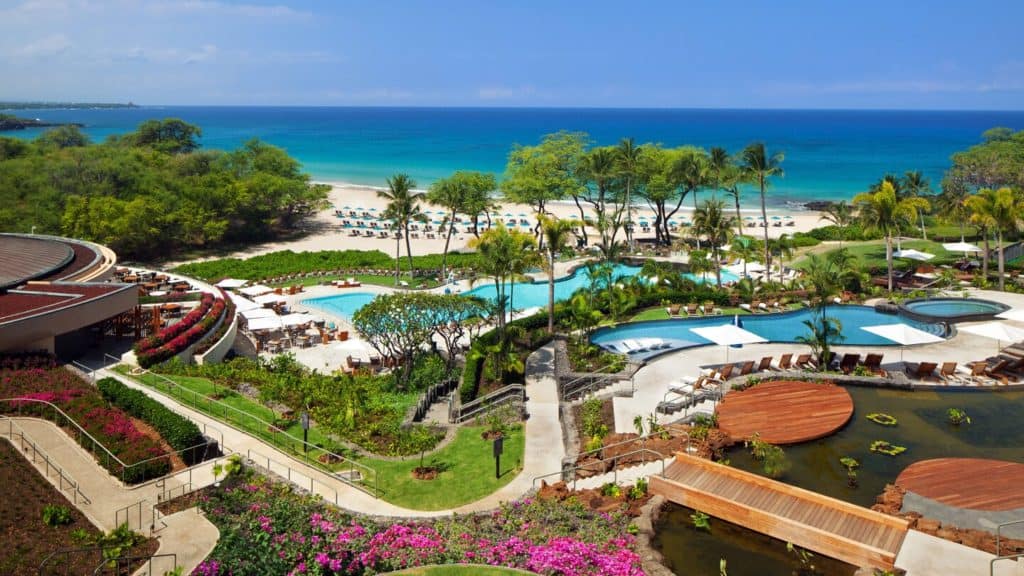 The property is remote enough to feel very quiet and peaceful, but there isn't much other than the on-site shops and restaurants. Fortunately, you're close enough to off-property restaurants and shopping that are just a 10 or so minute drive away. But being just a Category 5 property, it makes a great use of a free night's certificate, especially if you have a Category 6 free night that you can also use at the neighboring Mauna Kea Beach Hotel.
Hacienda, a Luxury Collection Hotel (Santa Rosa/San Jose/Temozon Sur)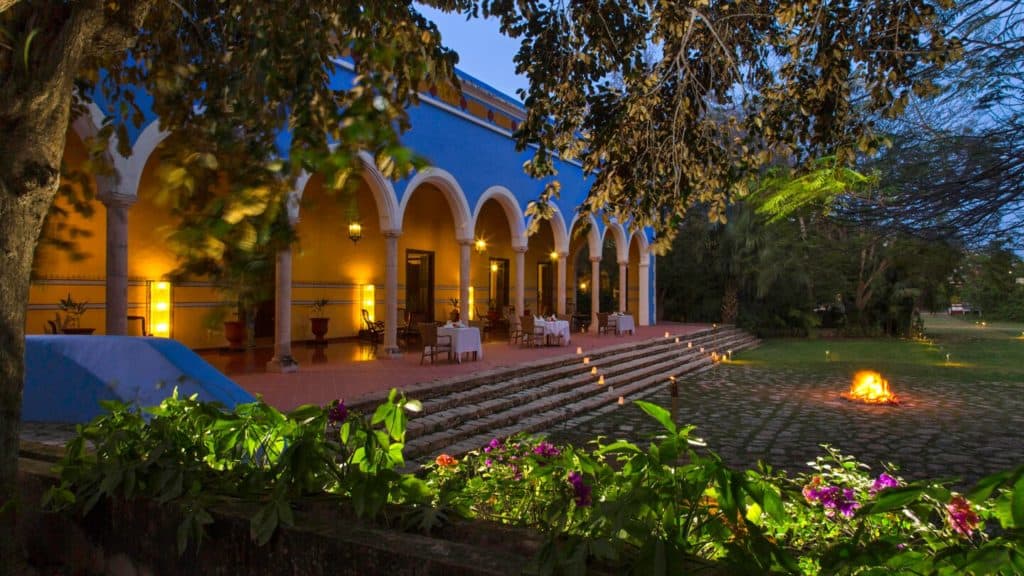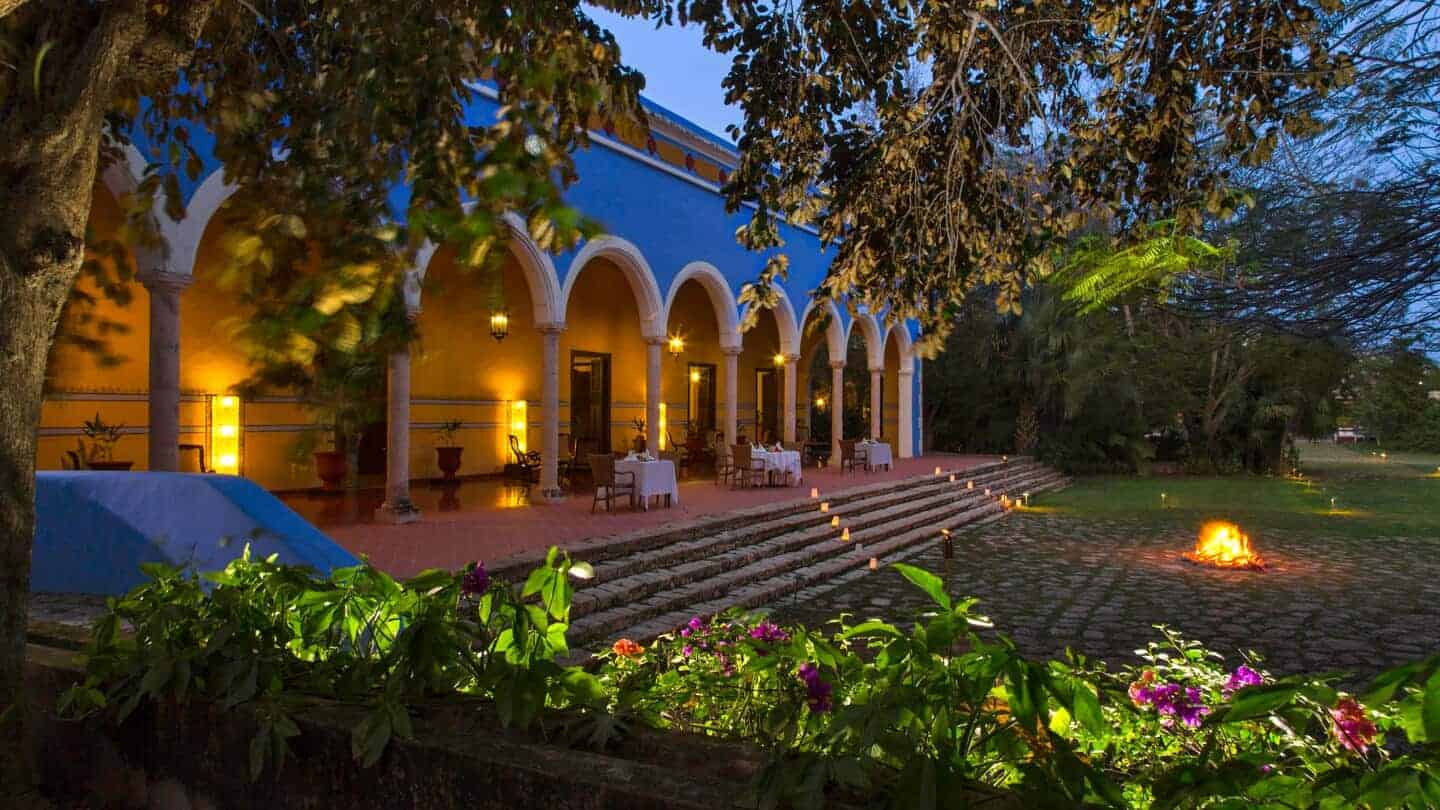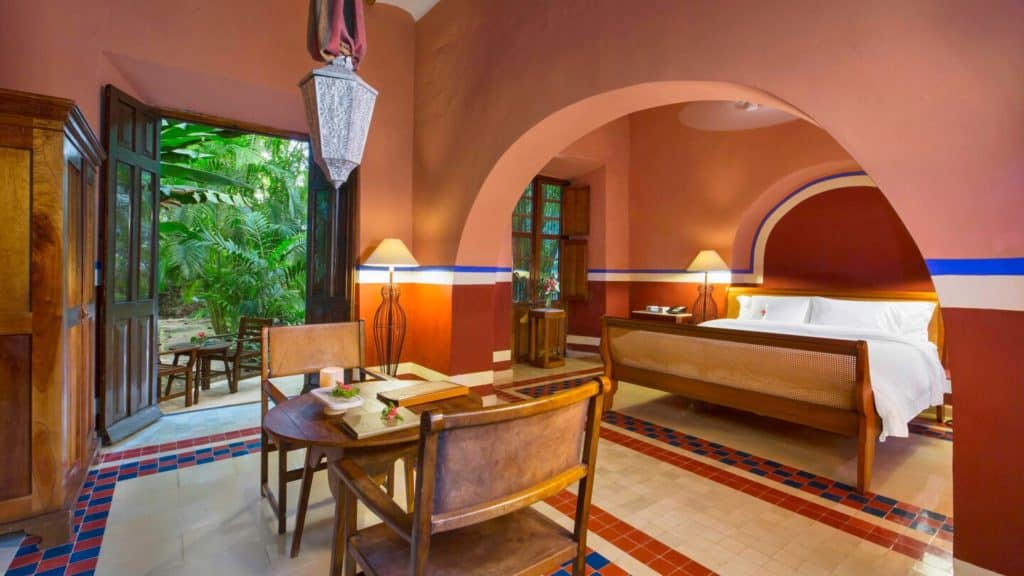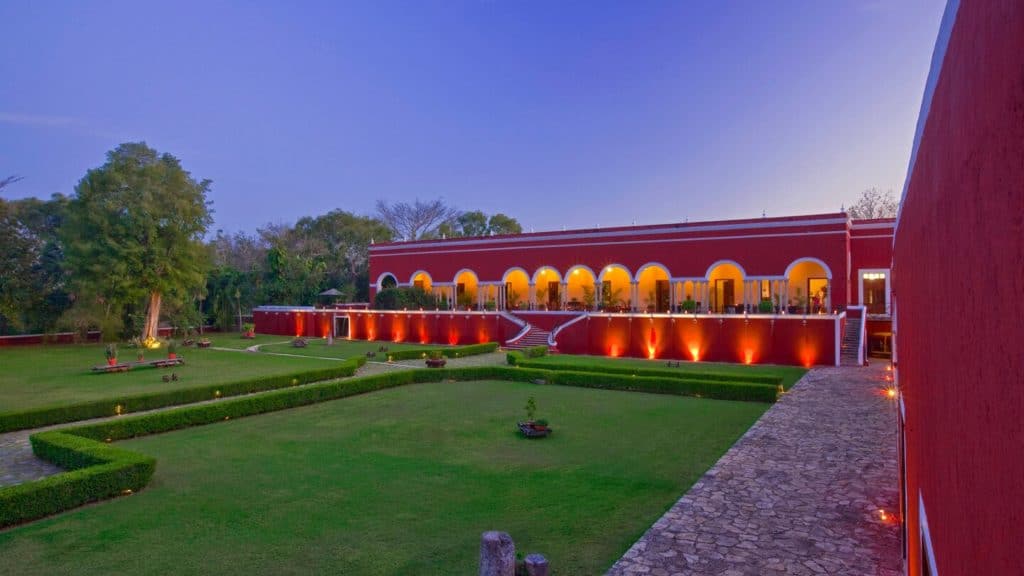 If you're looking for a change of pace for your Category 5 free night's certificates, the 3 Hacienda properties located in Mexico might be just up your alley. Located in Santa Rosa, San Jose and Temozon Sur, each of these properties are located near various Mayan ruins, and offer a unique experience in architecture, design and feel. The Santa Rosa only boasts 11 rooms total, so you'll find it extremely quiet and peaceful. The San Jose offers 15 rooms, again making it peaceful and quiet. And finally, the biggest of the 3 hotels, The Temozon Sur, has only 28 rooms and still feels small and quaint.
Santa Rosa includes a well maintained botanical garden on its grounds. The San Jose property has a very indoor-outdoor living feel with its trees growing within buildings, helping you to feel even more connected with nature. Temozon Sur offers a unique spa experience with its spa that's located in an underground cave. Without a doubt, each of these three properties will offer you a truly unique experience.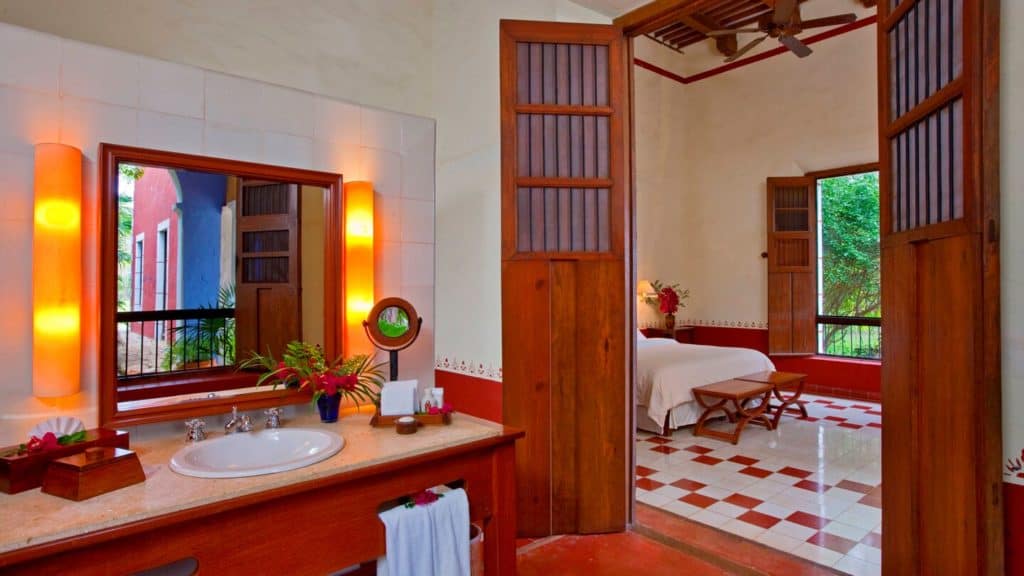 Junior Suite – Bathroom | Hacienda San Jose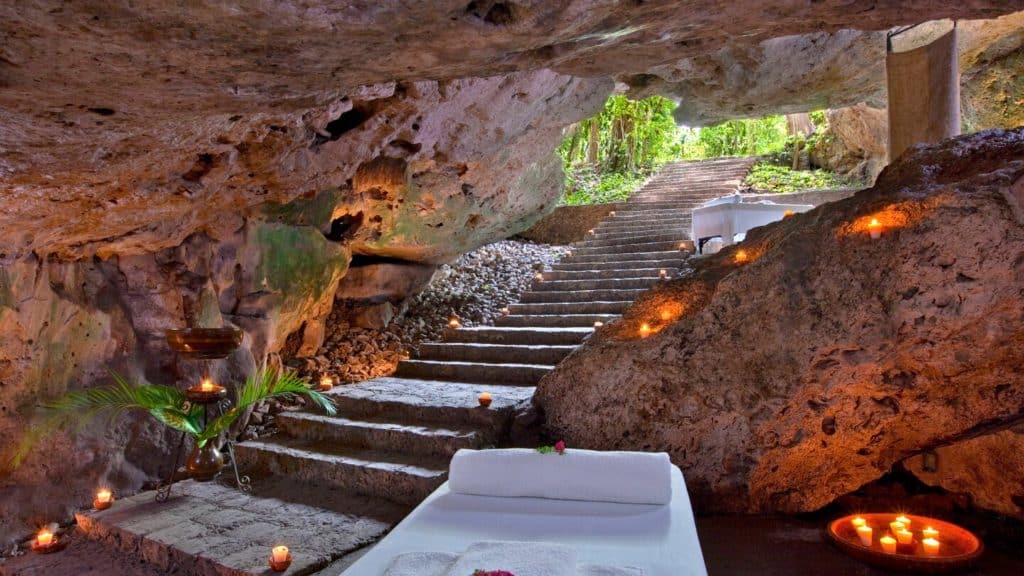 Cave Spa | Hacienda Temozon, a Luxury Collection Hotel, Temozon Sur
Category 6
With 234 Category 6 properties in the US, 12 in Canada, and 10 in Mexico, the quantity of options to choose from is a bit more limited, however, the quality of options is tremendous. With a number of St. Regis, JW Marriott and Ritz Carlton properties to choose from, you'll be staying in luxury thanks to your free night's certificate that's valid at up to 50,000 points/night. If you're a cardholder of the The Ritz-Carlton Rewards® Credit Card, or the Marriott Bonvoy Brilliant™ American Express® Card, then the following are properties where you can redeem a free nights certificate.
This luxurious property opened in the 1960s and is located on the golden Kohala coast of the Big Island of Hawaii. Boasting a white sand and clear blue water beach, this part of the island gets the most sun and least amount of rain, making it a perfect beach getaway. The property joined Marriott Rewards as an Autograph Collection hotel in 2015. I recently stayed here for a week, and will be sharing my full thoughts and review about our stay at Mauna Kea Beach Hotel. It's luxurious, while not being over the top, and fancy while still catering to the traditional old-school nature of Hawaii. The rooms are all spacious, making it comfortable for couples and families alike to enjoy an extended stay. The restaurants and open areas were all more than accommodating. But obviously, the crown jewel is the beach.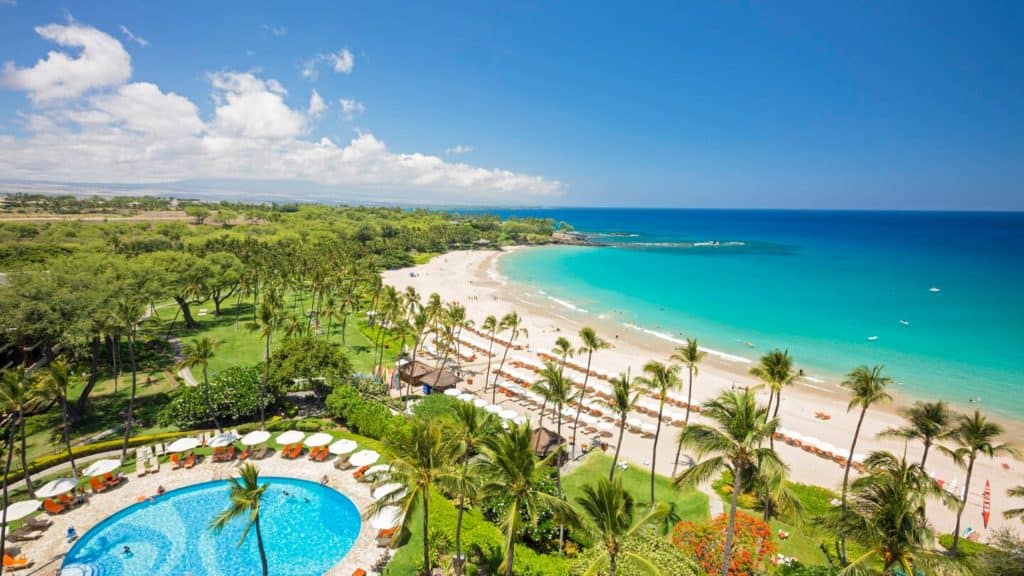 Our rooms averaged about $600 per night during our stay, making it a great use of a Category 6 free night certificate. It's also located about a 10-minute drive away from its sister property, The Westin Hapuna Beach Resort, so if you have a few free night's certificates available, you can certainly stack them for a few nights between the two properties.
Fun Fact: with rooms starting on the 37th floor, the Residence Inn New York Manhattan/Central Park is the highest hotel property in North America! It's located within walking distance of Rockefeller Center, the Broadway Theatre District, Radio City Music Hall, Times Square and Central Park, making it a great home base for exploring New York. And after a long day of exploring the Big Apple, head back to your room and soak up the magnificent views of Central Park. Rooms are on the smaller side, although a good size by New York City standards. Since they are on floors 37-68, they almost all offer sweeping views of New York City in every direction.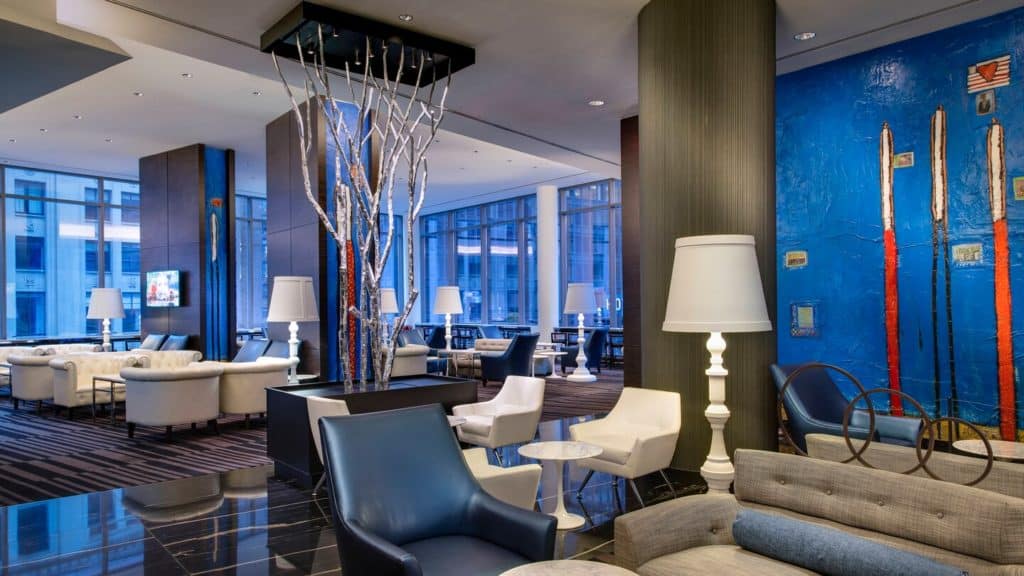 Located in a sanctuary of natural beauty in the middle of the Sonoran Desert, the Ritz-Carlton Dove Mountain is a beautiful resort nested amongst a spectacular backdrop of the Tortolita Mountains. This secluded location offers a tremendous and expansive vista of the surrounding area which is arguably the best feature of this hotel.
It's also a Ritz Carlton, which means that not only are the accommodations top notch, the service is impeccable and the staff will go out of their way to ensure your stay is perfect. And if you're a golfer, then The Golf Club at Dove Mountain will absolutely meet and exceed your expectations as a world-class golf course and facility.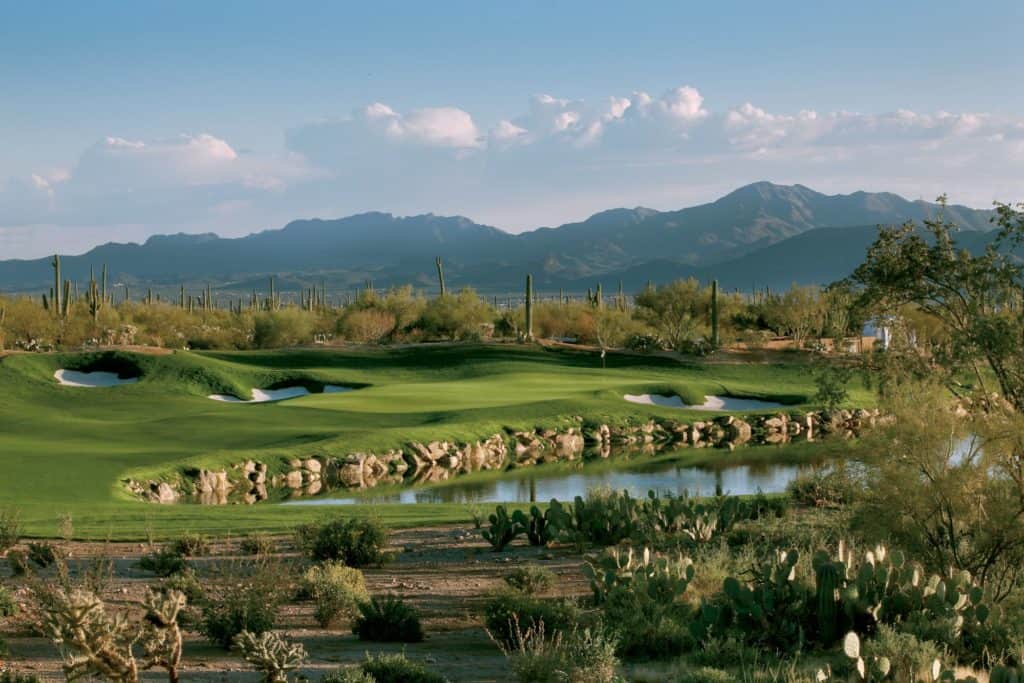 Located just outside of Jacksonville Florida, The Ritz-Carlton Amelia Island is a beautiful and absolutely massive resort that is the most luxurious in the area. Since it's a Ritz-Carlton, you can expect that its service, food and amenities are all going to be top-notch.
The sheer number of activities and amenities offered at this jewel are what set it apart from some of the other Ritz-Carltons. Also, one bonus perk that the hotel offers is a complementary professional 45-minute photography session with an opportunity to receive two free prints or purchase of a photo package.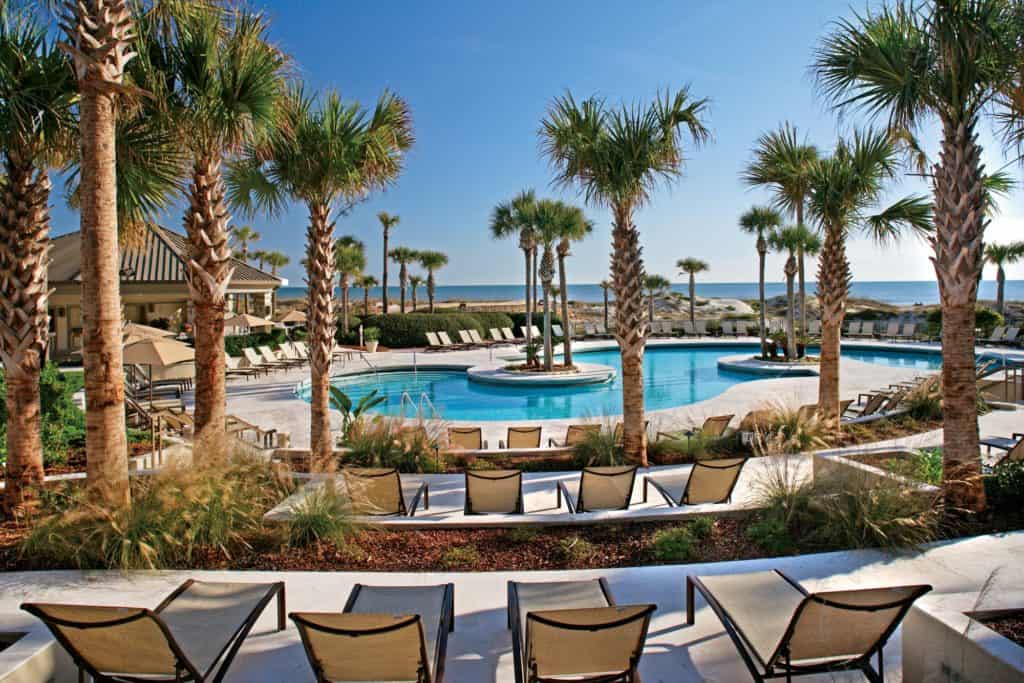 The Le Westin Resort & Spa, in Tremblant, Quebec, is located at the top of Mont Tremblant, which offers incredible skiing and other snow activities during the winter as well as incredible hiking, mountain biking and other outdoor activities in the summer. And Le Westin Resort & Spa is right in the heart of all of the action at the top of the mountain, offering ski-in/ski-out access. It also boasts incredible views of Mont Tremblant and the surrounding area.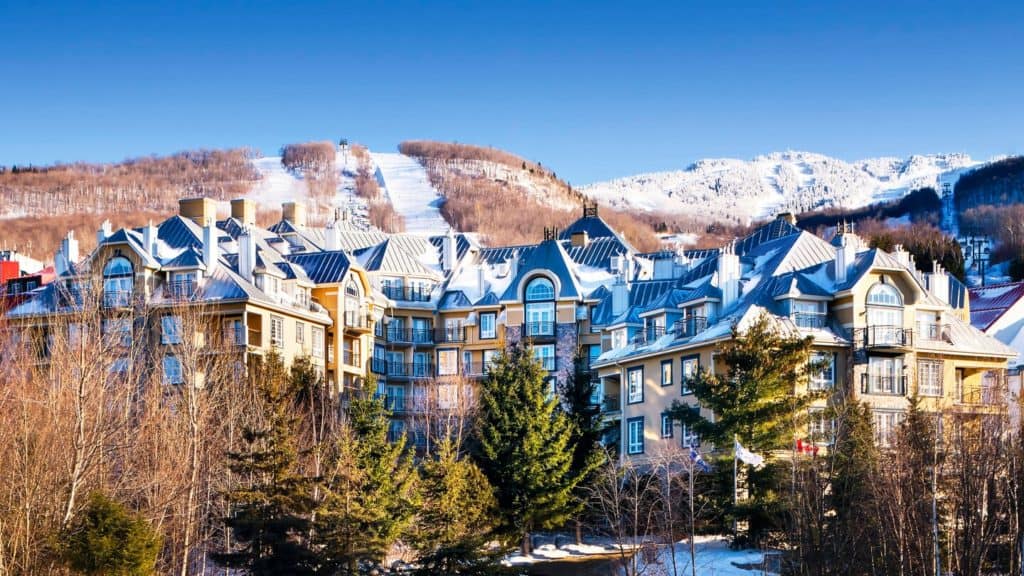 Located in the ritzy Polanco area of Mexico City, the 32-story Cesar Pelli-designed St. Regis Mexico City is easily the most luxurious hotel in Mexico City. The rooms are some of the largest in the city, and feature floor-to-ceiling windows that highlight the spectacular views of Mexico City. And being a St. Regis, the service is top-notch across the board. It should serve as a terrific base for you to explore Mexico City and the surrounding areas.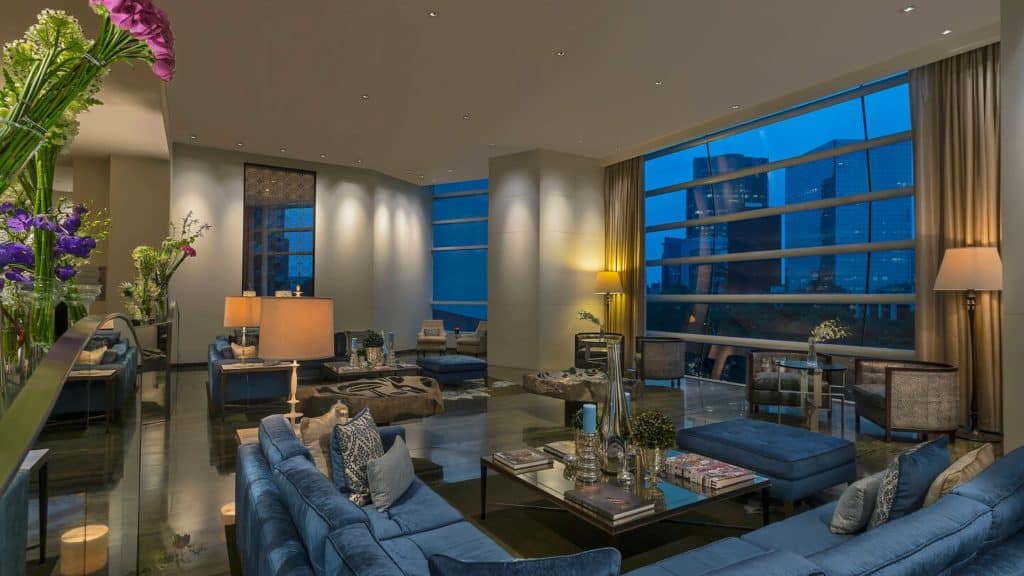 If you find yourself in the Cabos San Lucas area, you'll find a number of places that you can stay from some of the major hotel chains. One you should consider is the JW Marriott Los Cabos. This hotel is located on a beach with crystal-clear blue waters, powdery sands, and tons of sun, making it a great place to enjoy the sun almost year-round.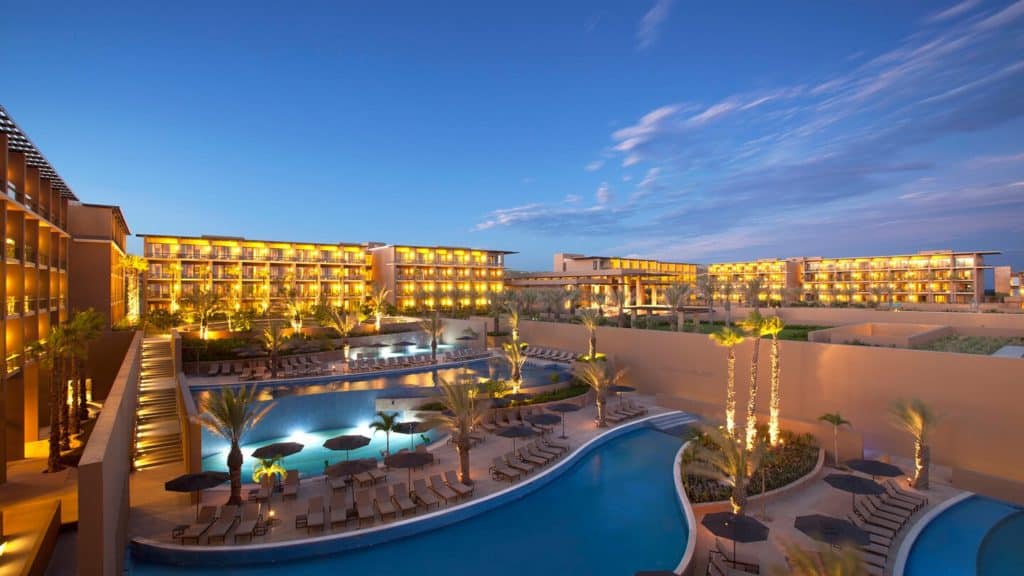 This resort opened in 2015, and seamlessly blends the indoors with the outdoors throughout all of the common areas as well as the accommodations. No matter where you are in the resort, you'll have infinite views of the turquoise waters of the ocean. And being that it's a JW Marriott, as soon as you check-in, you'll be taken care of perfectly.
Final Thoughts
Above, we've highlighted a few select options for redeeming Marriott free night's certificates in the US, Canada and Mexico that offer great redemption values. But with 2,230 properties in the US, 120 in Canada, and 45 in Mexico where you can use the various free night's certificates, there is no shortage of great properties for you to take advantage of.
Everyone will likely value these certificates differently and use them in different ways. Maybe you use them to stay at an aspirational property for a top-notch experience, or maybe you want one more free night without having to dip into your stash of Marriott Bonvoy points, or possibly you value a property for its location and efficiency based on your travel plans regardless of the experience level.
Regardless, time and time again you'll almost certainly extract more value out of the free night's certificate than you pay in an annual fee for the credit card(s), so one or more of these cards should hold a place in your wallet for years to come.
New to the world of points and miles? The Chase Sapphire Preferred is the best card to start with. With a bonus of 80,000 points after $4,000 spend in the first 3 months and 2x points on dining and travel, this card truly cannot be beat! 
Learn more
---
10xTravel is part of an affiliate sales network and receives compensation for sending traffic to partner sites, such as CreditCards.com. This compensation may impact how and where links appear on this site. This site does not include all financial companies or all available financial offers.
Editors Note: Opinions expressed here are author's alone, not those of any bank, credit card issuer, hotel, airline, or other entity. This content has not been reviewed, approved or otherwise endorsed by any of the entities included within the post.