In This Article
Loading table of contents …
Hotel redemptions for families take an extra step or two of due diligence. Here is our how-to guide on booking hotels with points for families and groups of four or more.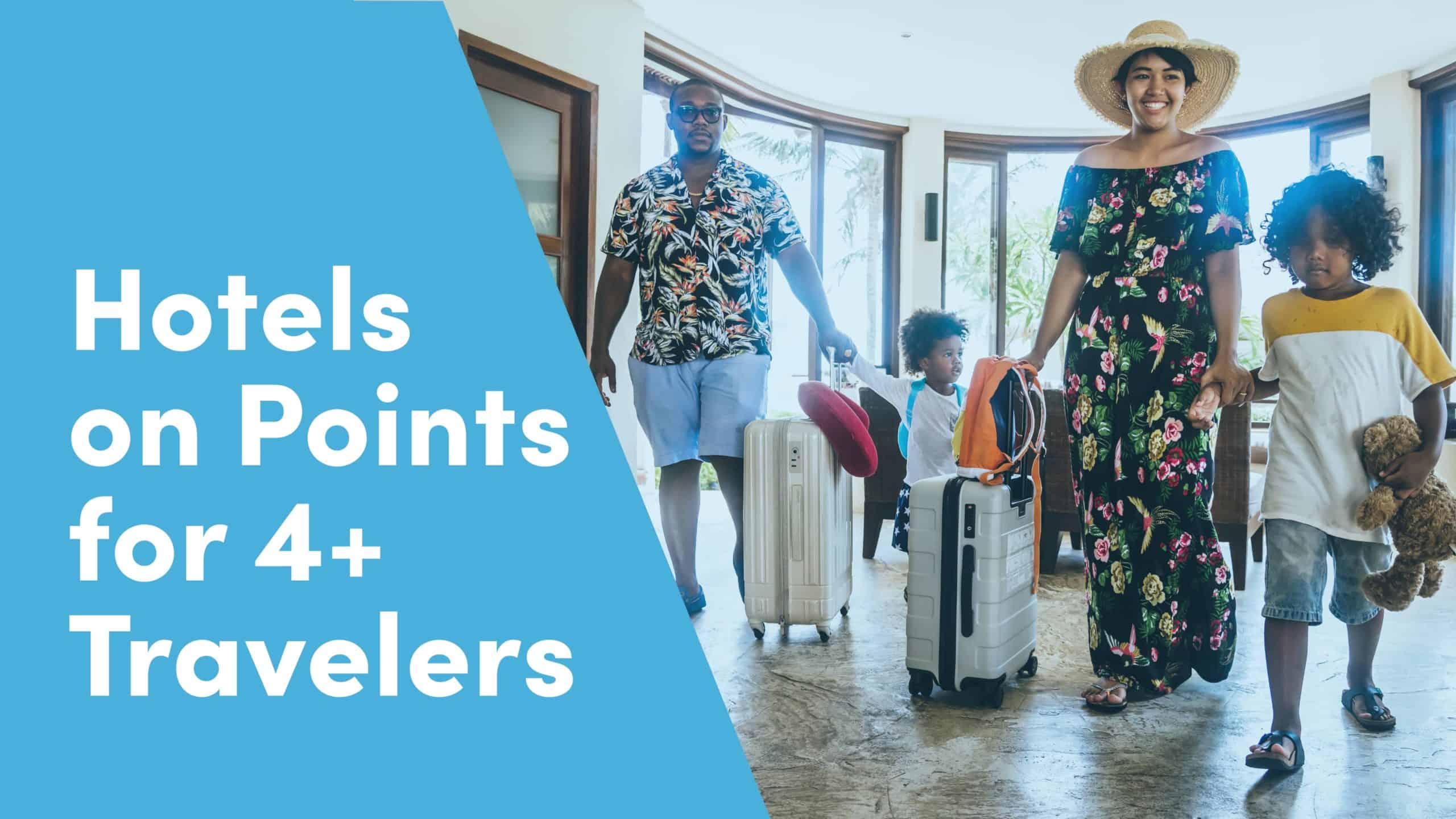 While circumnavigating the globe on points and miles is a blast, it's less fun if you don't find somewhere to lay your head each night. Airline tickets are often the brag-worthy redemption and often the higher-priced item on a travel agenda. However, that doesn't mean booking hotel rooms with points is always easy, especially if you travel with a large group.
Hotel room designs tend to cater towards couples or small families. Booking hotels with points for a family or group of four or more can be a challenge.
This is your how-to guide on booking hotels with points for families and groups of four or more.
Step #1 Research Hotel Options for Your Family
When redeeming points for your family's hotel stay, the first thing you need to do is get a feel for what kind of lodging options are at your destination.
Some destinations tend to have more independent owned, bed and breakfast or boutique hotels. Chain hotels dominate other areas. The options available will determine what type of points you'll use to book your stay.
Do a simple Google search for "hotels in (my destination)" and make a simple list of the hotels that have proximity to where you want to be. If a hotel's quality fails to meet your standards for this stay, discard it. Otherwise keep your options open until the next step.
Make a list or spreadsheet of the various hotels ignoring price for now, since after all, we're using points for our stay!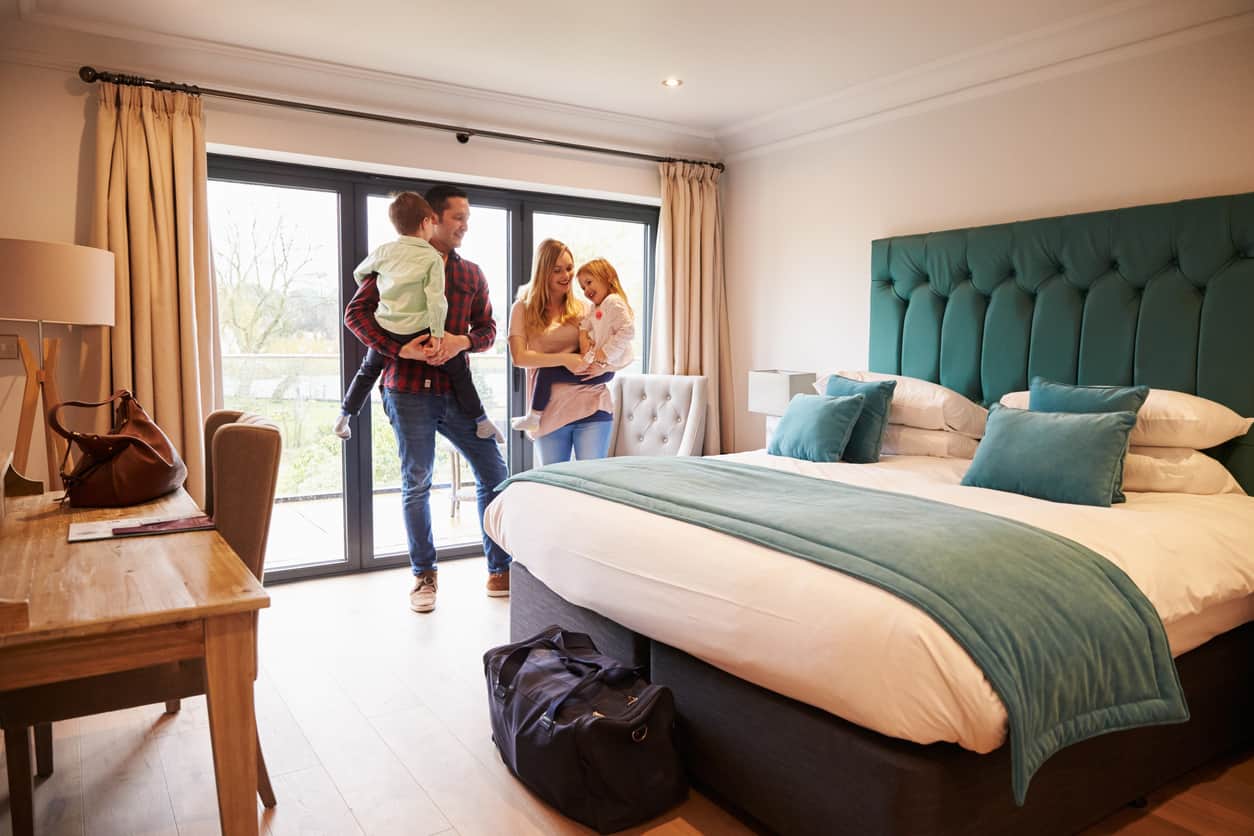 Step #2 Find the Best Hotel Room Layout for Your Family
This step narrows down a lot of the list.
If you are solo or a couple traveling, the world is your oyster. Every hotel 'works' for you. It's just a matter of personal preference, views, accessibility to the city and amenities.
For the family traveler, hotel room layout might be the single most important factor of traveling comfort and sanity.
Take a look at each hotel property and look for rooms that fit your group or family.
A few brands that I like for my family of seven are Embassy Suites, Residence Inn, and Fairfield Suites. Each of these brands often offer one or two-bedroom suites that provide a door between bedrooms and living space. Families, especially those with napping children, benefit greatly from these room set ups. Dividing the hotel room up into a few rooms gives much needed privacy and solitude to a large group.
Highlight the properties that have the best room layout for your family and move on to step 3.
Step #3 Find Which Points to Redeem for Your Family's Stay
Now that you know the best hotels to redeem points for your family's stay, take a look at your points balances to find the best redemption value.
Do you have status with any of the properties? What does that status afford you? What is the probability of an upgrade? Where do you have points that you could use? Do you have time to earn more points for the stay?
If you don't have the points balance for the particular brand you want to stay in, see if now would be a good time to grab that hotel's corresponding hotel credit card. Of course, always be aware of your 5/24 status and don't get a card that doesn't work for your long-term strategy just to complete a redemption.
Analyze your flexible points currencies like Chase Ultimate Rewards Points, American Express Membership Rewards Points, or Citi Thankyou Points. What do you have that may transfer to your hotel brand?
Lastly, take a look at points you may be able to use through a travel portal or erasure strategy. The Capital One Venture Miles and the programs listed above could all work for this strategy.
Determine from here the points you'd most like to use. Remember, we haven't looked at particular costs yet, we're just determining which points we'd most like to part with.
Step #4 Redeem Points for Your Family's Hotel Stay
Now that you've determined which points you'll redeem for your family's hotel stay, let's find our best redemption. There are three main ways to redeem points for a hotel: hotel points redemption, portal redemption or travel credit/points erasure redemption.
Hotel Points Redemption
This is the most straight forward. Log on to the specific hotel brands site and view the room you'd like to book. You may have to select "redeem points" or something similar in order to view the points redemption cost of the room.
Multiply the total cost by 100, this converts your price in dollars into your price in cents. Divide the cost of the hotel room in cents by the cost in points. This will give you your CPP (cents per point) redemption value.
This number is a little deceptive, because not all hotel points are created equal, but it's a decent bell weather to know how much value you're getting out of your hotel point.
If you don't have enough points to complete the hotel redemption for your family's stay, it may be time to earn a new sign-up bonus to complete your stay.
When you don't have time or it isn't the right time to get that hotel program's branded card you may need to transfer points from one of your flexible points programs. If so, determining the CPP for that redemption will be very helpful in determining the best way to book the hotel stay.
If the hotel you wish to stay in doesn't have a points program, don't worry! We have two more ways to redeem points for a hotel stay with your family.
Often, only the 'base room' is available for a points redemption with a hotel's points currency. If you have a status with the hotel chain that makes an upgrade probable and you are traveling in an off-peak time, you may book the base room with points planning on either suffering through the smaller room if you can't get the upgrade, or booking a 'back-up room' at the same or different property if you secure an upgrade to the larger suite. If you book a back-up room, be familiar with the cancellation policies of both hotels well in advance and set a calendar reminder to make the final call.
If you happen to have the specific hotel points in your hotel program account, go ahead and redeem hotel points for your family's stay. That's what they are there for!
But if you are transferring flexible points, continue on.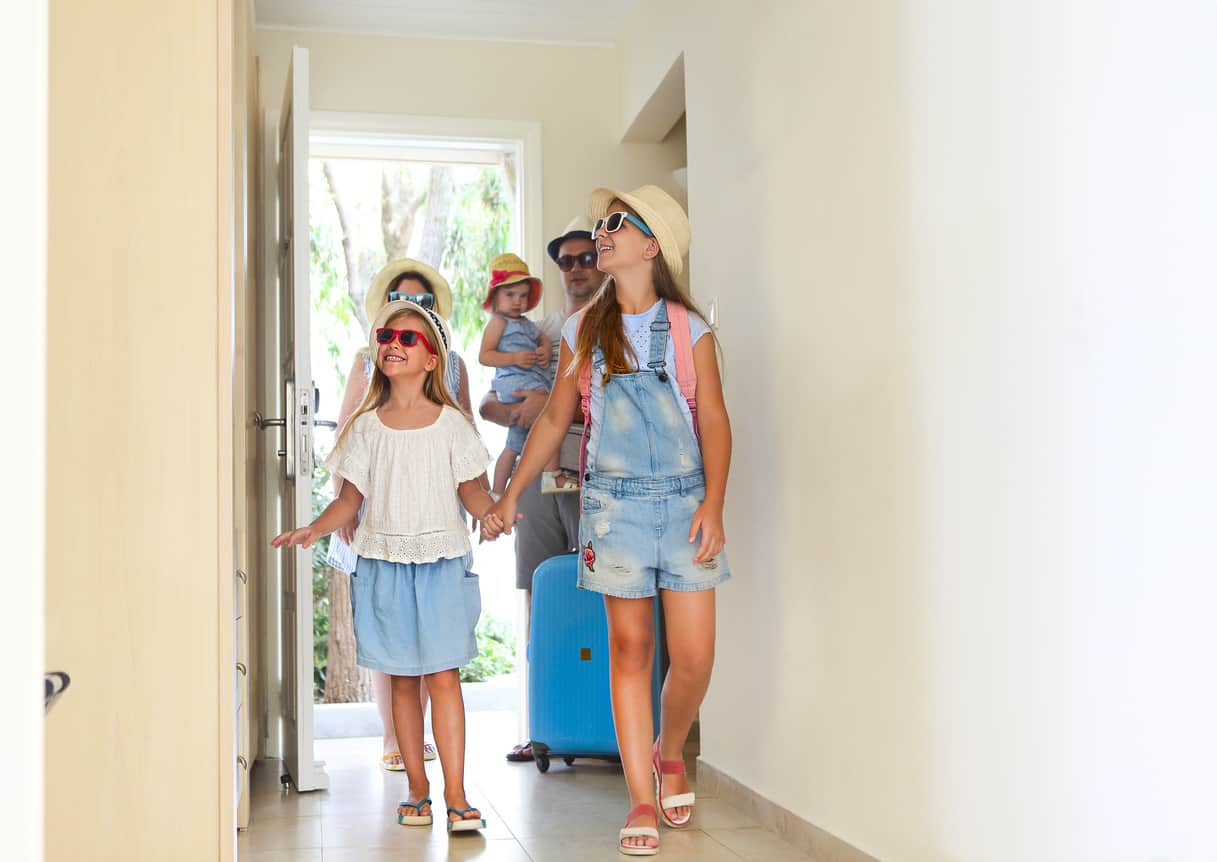 Travel Portal
If you are considering transferring flexible points to a hotel program, you first want to make sure you can't get a better CPP by redeeming through a program's travel portal.
For example, with Chase Ultimate Rewards Points, if paired with the Chase Sapphire Reserve® or Chase Sapphire Preferred® Card, the bump you get in points value from using these cards could provide a better value than a transfer.
Go to the travel portal of the points program you are using and search for the hotel. View the property and specific type of room you are looking to stay in. Note, not all properties are available through the travel portal.
In the travel portal, you will also be able to book any available room, because the travel portal is showing you the cash price through a third-party booking site's engine such as Expedia.
Compare the points needed via the travel portal versus the points you would need to transfer to the hotel's program in order to book the stay.
Most flexible points programs have some sort of point erasure feature that is a fixed cent per point. If the value of your stay exceeds the fixed cash back value of your card, and the points necessary to book are less than if transferred to the hotel program, go ahead and book this hotel redemption for your family.
If you think point erasure may be the best bet, take a look at those options next.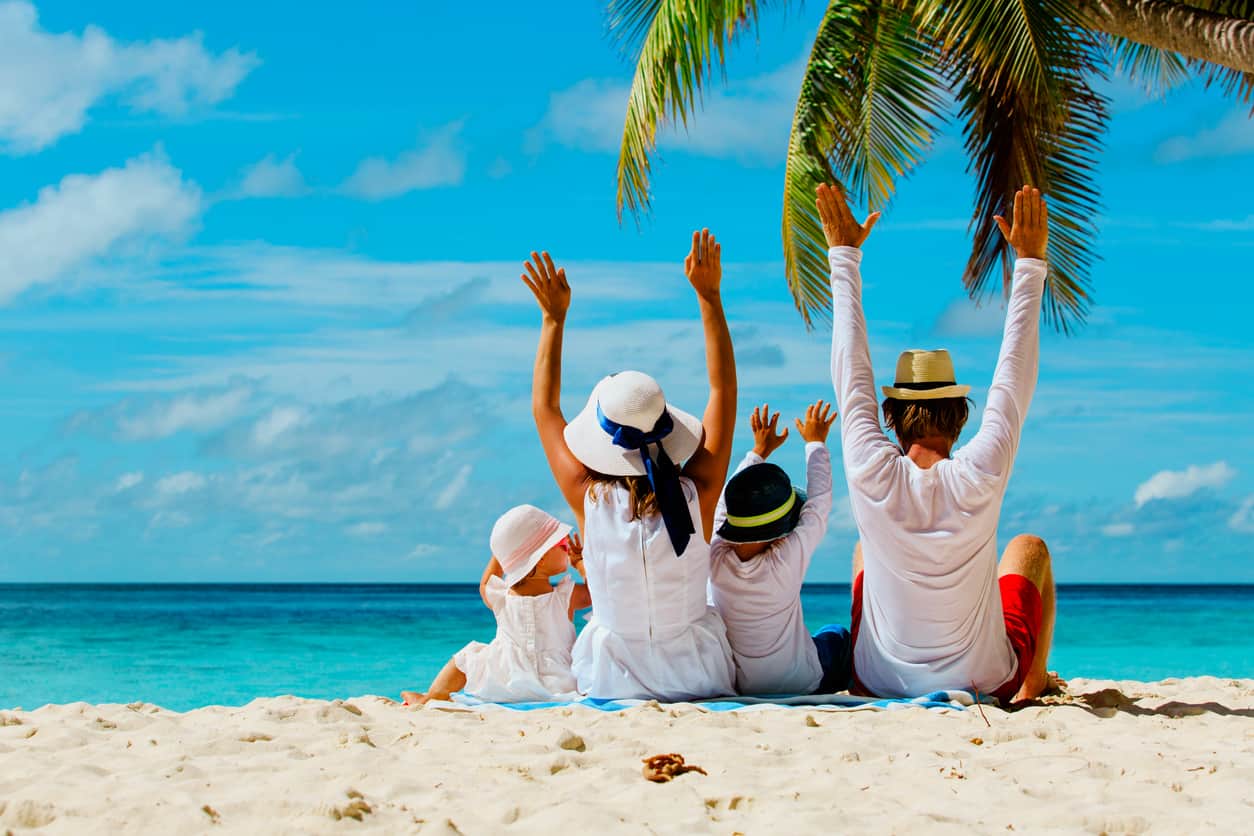 Points Erasure
Points erasure, cash back and travel credit hotel redemptions are a go-to for my family.
Although not the best value for points, being able to erase a charge with points lets me book any property at the best rate I can find and still use my points and miles.
Also, this may be a good opportunity to use a travel or hotel credit available on your Chase Sapphire Reserve® or other card with a travel credit.
This strategy is as simple as finding the best rate on the hotel room you'd like to stay in. You can use sites like Expedia or Hotwire.
You can also use a portal of your favorite airline and 'stack' your points earned while making your reservation. Or you can book directly with your hotel. Make sure to book your stay with the card whose points you want to use.
After booking your hotel redemption for your family, simply log into your credit card account, select the charge for the hotel room for your family or redeem the required number of points for cash to offset your purchase. Keep in mind that often cards have different cash back rates than the redemption rates through their travel portal, make sure you know what the rates are before you make your purchase.
Final Thoughts
Hotel redemptions for families take an extra step or two of due diligence. Unlike traveling solo, getting just a place to lay your head or indulging your own preferences won't do when you're traveling with a family.
Taking the time to find the right room layout for your family and redeeming points as efficiently as possible for that room will keep your family making memories instead of stepping on each other's toes.
New to the world of points and miles? The Chase Sapphire Preferred is the best card to start with.

With a bonus of 60,000 points after $4,000 spend in the first 3 months, 5x points on travel booked through the Chase Travel Portal and 3x points on restaurants, streaming services, and online groceries (excluding Target, Walmart, and wholesale clubs), this card truly cannot be beat for getting started!
Learn More
Cards in This Article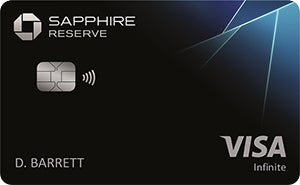 50,000
Chase Ultimate Rewards Points
after you spend $4,000 in 3 months
60,000
Chase Ultimate Rewards Points
after you spend $4,000 on purchases in the first 3 months of account opening.
Editors Note: Opinions expressed here are author's alone, not those of any bank, credit card issuer, hotel, airline, or other entity. This content has not been reviewed, approved or otherwise endorsed by any of the entities included within the post.