In This Article
Loading table of contents …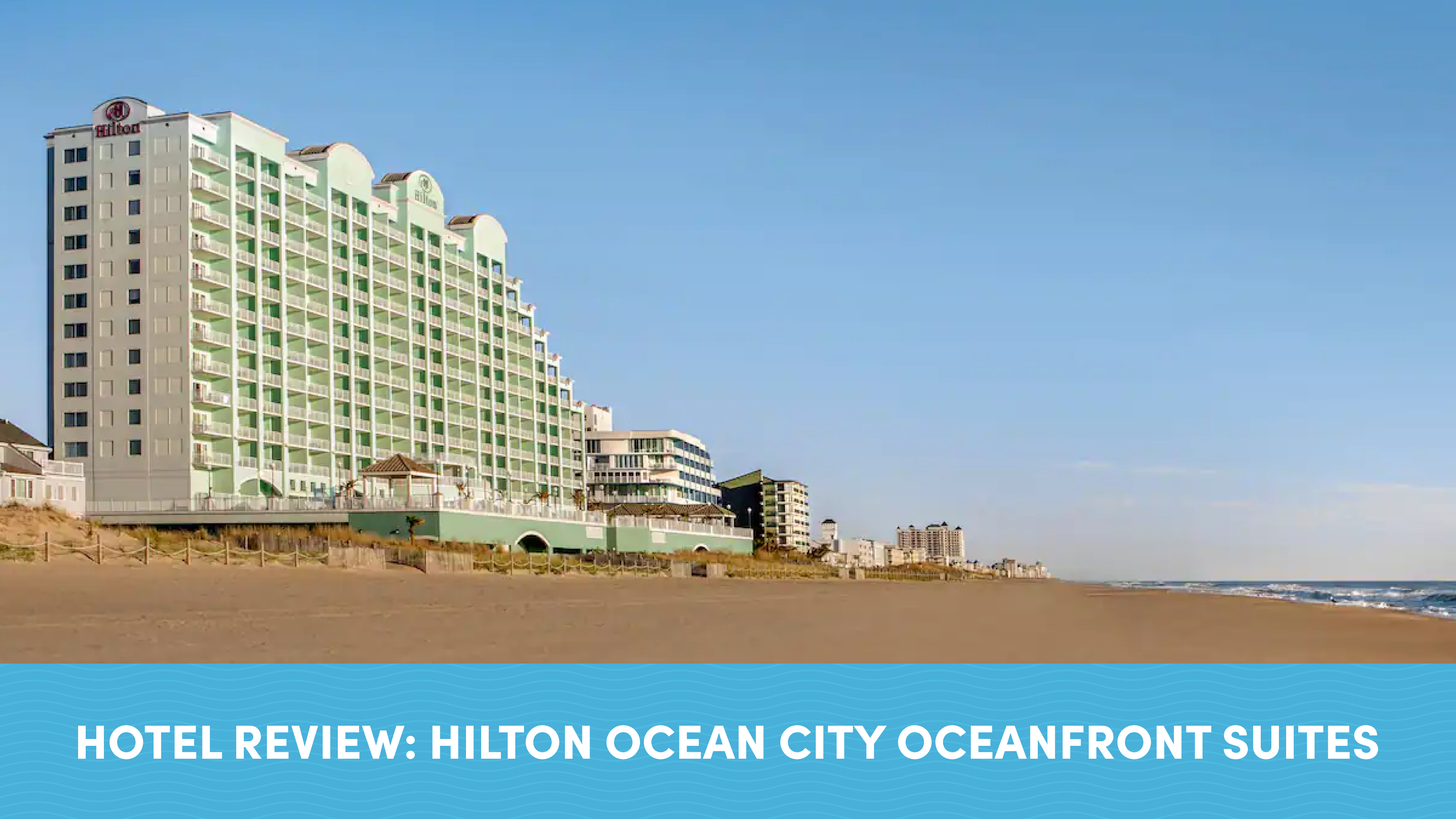 I spent one weeknight at the Hilton Ocean City Oceanfront Suites in September 2022. While the destination and this hotel aren't near the top of my list of places to visit again, I think the Hilton is well-located and offers features and amenities that may work for many travelers.
Overview of Hilton Ocean City Oceanfront Suites
The Hilton Ocean City Oceanfront Suites is a 225-room, 12-floor all-suite property located directly on the Atlantic Ocean beach in Ocean City, Maryland. Suites have a separate bedroom, galley style kitchen, bathroom and living area.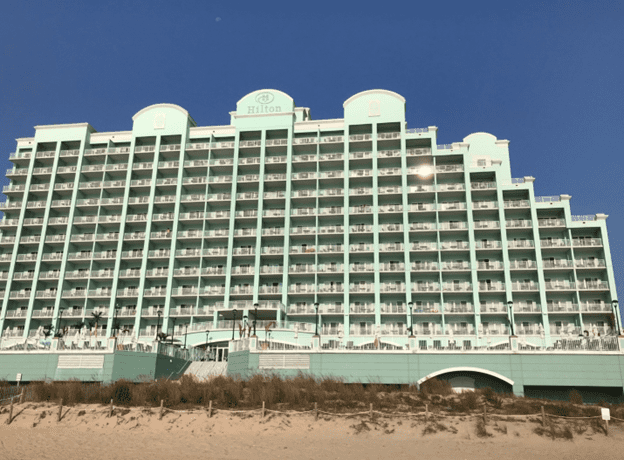 Although Hilton classifies this property as a resort, it seems like more of a beachfront condominium or hotel than a true resort. It's located in an urban area and doesn't have outdoor space beyond the pool deck overlooking the ocean and public beach.
It also doesn't offer amenities or activities that I normally associate with a resort, such as a spa, sports courts, beach service and water sports. The Hilton has some meeting and event space.
Ocean City is a popular destination for families and adults, including people seeking nightlife, and the Hilton appeals to multiple types of travelers. Although Ocean City wouldn't be my recommendation for people seeking a more isolated beach experience, the Hilton is located a few blocks away from the boardwalk on a quieter part of the beach.
How I Booked Hilton Ocean City Oceanfront Suites
The Hilton Honors American Express Aspire Card includes a $250 resort credit each year that can be used at selected properties to cover room rates, food and beverage charges, and other incidental expenses.
If you're not familiar with the Hilton resort list, it's a somewhat random collection of properties. Many hotels that have "resort" in their name aren't on the list, and some hotels on the list don't have "resort" in their name. Furthermore, some properties aren't what people typically think of as a resort. Luckily, the Hilton Ocean City Oceanfront Suites is a participating Hilton resort.
Since I had a resort credit that was expiring soon, I booked a cash rate. With taxes, I paid about $275 for one night, and most of this was covered by the resort credit. Additionally, I earned Hilton points for the stay, which more than offset my out-of-pocket costs.
Cash rates at this hotel vary considerably depending on season, day of week and how far in advance you book. I saw pre-tax non-refundable cash rates at just over $100 per night during the winter and at around $800 for some nights in summer. Weekend nights often weren't available online for single night bookings, so Friday and Saturday night rates could be even higher.
I started looking at this hotel a couple of months before my trip, but rates seemed high for September, which is shoulder season for this area. Rates dropped as it got closer to my travel dates, but I wouldn't necessarily expect the same thing to happen if searching for availability during the summer.
A few things to note about paid rates at this hotel are:
Less expensive non-refundable rates and semi-flexible rates weren't available after the cancellation deadline for the semi-flexible rates. For example, semi-flexible rates for September had a seven-day cancellation requirement and weren't available to book within a week of the stay.
Cancellation deadlines for each rate type vary during the year. The flexible rate during summer and September requires canceling three days in advance, but the flexible rate during winter only requires canceling one day ahead of the reservation date.
The hotel seems to charge credit cards immediately, even when booking a refundable rate. This could be useful for someone who wants to use a resort credit for a stay that occurs after the resort credit's expiration date.
You also can use Hilton Honors points or Hilton free night certificates from credit cards to book rooms at the Hilton Ocean City property.
Free night certificates are issued annually as a benefit of the Hilton Honors American Express Aspire Card or after meeting a spending threshold on the Hilton Honors American Express Business Card (see rates & fees) or the Hilton Honors American Express Surpass® Card (see rates & fees).
It could be valuable to use a free night certificate at this hotel when cash and points rates are high.
You can obtain Hilton points by:
Spending money or getting welcome bonuses on Hilton American Express co-branded credit cards, which include the three cards mentioned above and the $0 annual fee Hilton Honors American Express Card (see rates & fees).
Earning points through Hilton stays or partner earning opportunities.
Buying points through Hilton during periodic sales with a 100% bonus, resulting in a net cost of 0.5 cent per point.
Transferring American Express Membership Rewards points to Hilton, which usually isn't advisable given the relative value of Hilton and Membership Rewards points and the normal 1:2 transfer ratio.
Hilton no longer has hotel categories, and prices for points stays are highly variable.
For searches conducted in early September for single-night stays during October, I saw Hilton Honors points rates for standard rooms ranging from 46,000 points to 90,000 points per night.
Looking more broadly during the year, I saw winter night rates as low as 30,000 points, and standard room award nights topped out at 90,000 points per night, which was the price for most summer dates. Weekend nights generally weren't available for single night bookings.
Some nights only had premium rooms available, and these awards were priced much higher than standard room rates.
Dates with lower cash prices generally had lower points prices. For example, Feb. 1, 2023, is one of the lowest priced nights whether using cash or Hilton points. Cash prices displayed are pre-tax, and the tax rate at this property is 11%.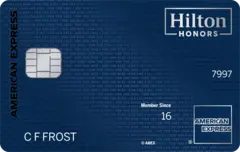 Hilton Honors American Express Aspire Card
Bonus Points
after you spend $4,000 in the first 3 months. All information about The Hilton Honors American Express Aspire Card has been collected independently by 10xTravel. The Hilton Honors American Express Aspire is no longer available through 10xTravel.
Annual Fee: $450 Terms Apply.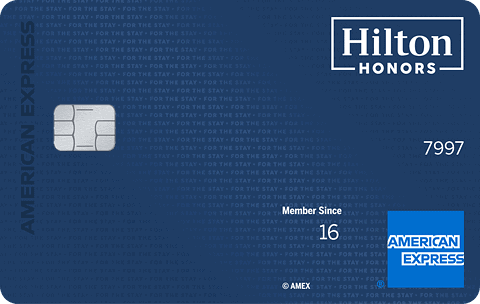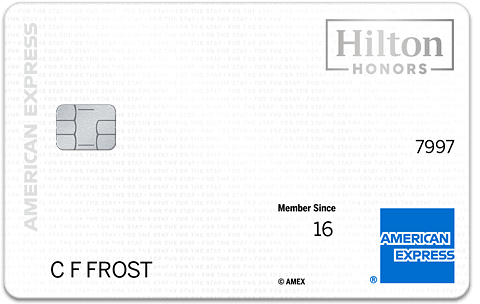 Hilton Honors American Express Card
Hilton Honors Bonus Points
after you spend $2,000 in purchases on the Card in the first 6 months of Card Membership. Offer ends 04/05/2023.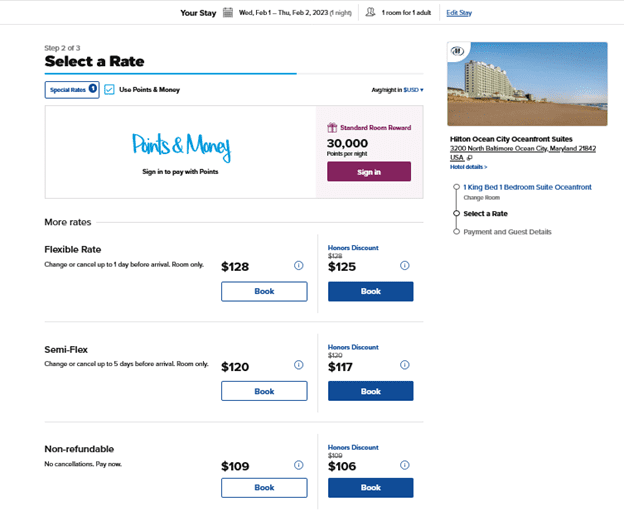 There are different ways to calculate whether using points or paying cash makes sense for a particular stay.
The simpler approach is to use cash rates (room rate plus taxes and fees) and not consider points earned on a paid stay. Using 30,000 points instead of spending $138.75 results in a redemption value of 0.46 cent per point. This is close to the 0.5 per point valuation many people use for deciding whether to use Hilton points or pay cash.
Not surprisingly, July 12 cash and points rates are much higher, but the value of using points increases, since cash prices increase at a higher rate than points prices. For this date, using 90,000 points instead of spending $743 results in a redemption value of 0.83 cent per point.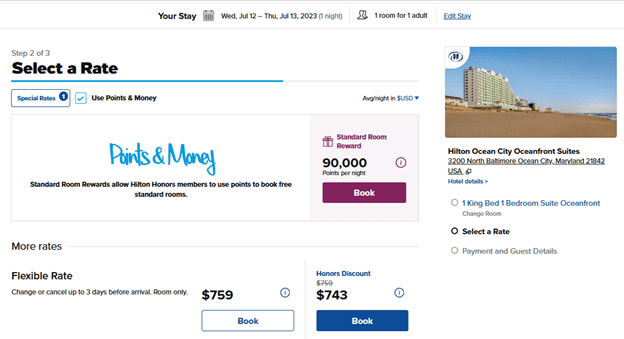 Hilton Ocean City Oceanfront Suites Location
Ocean City is the largest city in Delmarva, and it's filled with hotels, motels, condominiums and apartments as well as restaurants, bars, shopping and other businesses focusing on tourism. Ocean City is located on a long strip of land between the Isle of Wight Bay and the Atlantic Ocean.
The Hilton Ocean City Oceanfront Suites is centrally located in Ocean City at 32nd Street and Baltimore Avenue. It's five blocks from the boardwalk and less than 1 mile from the Convention Center and Jolly Roger Amusement Park. There are multiple restaurants and bars within a few blocks of the Hilton, and there is public transportation (buses) on the main road through Ocean City.
Ocean City also is a good base to explore other Delmarva beaches by car. Heading north from Ocean City, the beaches—in order from south to north—are Fenwick, Bethany, Dewey, Rehoboth and Lewes. These beaches are within about 30 miles of Ocean City.
Best Parts of Hilton Ocean City Oceanfront Suites
Compared to many hotels and resorts in the United States, which price gouge customers with fees on top of high room prices, I thought that the Hilton was pretty fair about not adding these fees. The Hilton Ocean City doesn't charge guests for Wi-Fi or parking and doesn't have a resort fee.
Another feature that I think many people would like about this hotel is that all guest rooms are suites with four separate rooms: bathroom, bedroom, kitchen and living area.
For me, the hotel's location within Ocean City is a positive factor. I like staying right on the beach, so being oceanfront on a miles-long beach is great. I don't like crowds, so I view being a few blocks away from the boardwalk as desirable. I understand that other people prefer to be right in the middle of the action.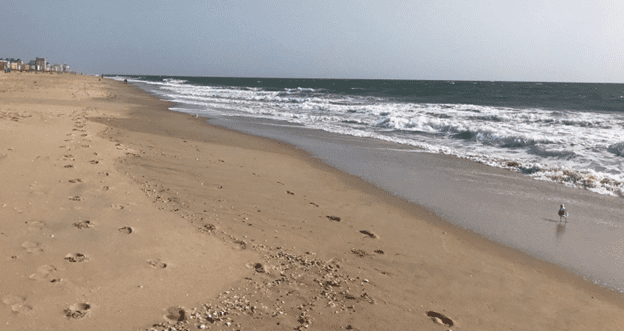 Hilton Ocean City Oceanfront Suites Drawbacks
I found the resort's public areas and rooms to be somewhat dated. I wouldn't make this comment if the hotel was less expensive, but this Hilton property charges around $800 or 90,000 points per night during the summer. I would be disappointed with the hotel facilities at those prices.
I also thought that the lack of outdoor dining was a missed opportunity. The hotel has a restaurant/bar on the pool deck, which overlooks the beach and ocean, but all I saw was a closed window when I was in the pool area during the late afternoon on a 75- to 80-degree, sunny day in September. The main restaurant also lacked outdoor dining areas.
Getting to Hilton Ocean City Oceanfront Suites
As discussed in the trip report introduction, the easiest way to get to Ocean City is by driving. I drove to the hotel from Cambridge, Maryland, which was about an hour's drive.
If traveling to the area by air, it probably still makes sense to rent a car. The nearest major airports, Baltimore/Washington International (BWI) and Philadelphia (PHL), are about 50 miles or about three hours driving distance from Ocean City. The Salisbury (SBY) regional airport is about 30 minutes driving distance from Ocean City and has limited service on American Airlines.
Check-In
I arrived at the hotel around 3:45 p.m., just before the 4 p.m. check-in time.
I parked in the self-parking area, which includes fully-covered, partially covered and completely uncovered areas. There were bellman and luggage carts in the covered parking area near the elevators. The ground level of the hotel is covered parking, and the pool deck is on top of this.
I took the elevator to the lobby level and approached the check-in desk without interacting with any staff. This isn't a complaint since I wasn't seeking any assistance.
The lobby area was functional, but the seating area seemed uninviting. The furniture was kind of tired looking. Across from the desk, there was a Starbucks kiosk.
The front desk staff who checked me in provided efficient service. I gave my name and mentioned my reservation. She confirmed the room type and length of stay, thanked me for being a Diamond member and completed the check-in process. My assigned room was in the same room category I booked, but it was a higher floor room, in accordance with my preferences.
The Hilton employee also explained Diamond elite benefits, which include a $15 per person per night food and beverage credit. The credit can be used at Starbucks, 32 Palm (main restaurant), 32 Palm Lounge and Manana Mode (poolside venue).
Other than the food and beverage credit and two bottles of water in my room, no other Diamond benefits were provided.
On the morning of my departure, I requested a late checkout. Normal checkout time at this property is 11 a.m. I called guest services and asked if a late checkout was possible and was told I could have until 11:30 a.m. I asked if it could be later given my status, but I was told that was the latest time they could offer, since they were sold out for the next night.
The Room at Hilton Ocean City Oceanfront Suites
I booked and was provided a one-bedroom oceanfront suite with two queen beds. The overall feel of the room was a little dated and dark, although some elements had been updated. Everything seemed to be well-maintained and clean.
The layout of the suite was a little unusual, but overall it was functional. The door from the hallway opened into the living area. A galley kitchen was between the living area and the bedroom, and the bathroom was off to the side. There was a balcony with an ocean view accessible through the bedroom.
The living area furnishings included a chest of drawers with television on top, a dining table with four chairs, a sofa, an upholstered chair, two side tables with lamps and a coffee table. The dining table and chairs were too large for the space and were pushed into the corner in a way that made one chair completely unusable. There wasn't a desk in the living area or bedroom, but there was plenty of room to work on a laptop and spread papers out on the dining table or on the coffee table next to the sofa.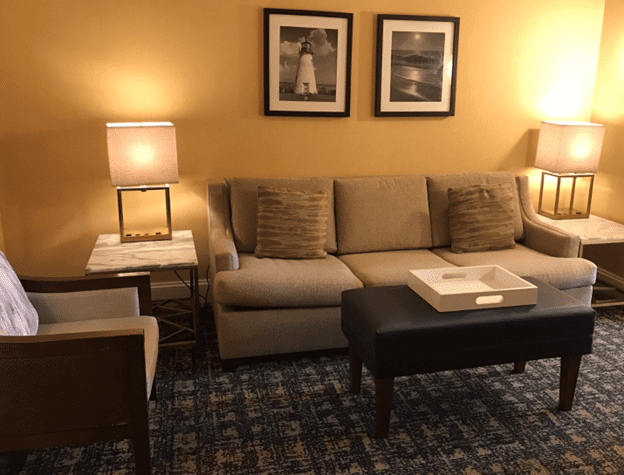 The galley kitchen was well-equipped for a hotel and was more like what I would expect in a condominium or vacation rental property. It contained stainless steel appliances including a full-size refrigerator, range with flat cooktop, microwave oven and dishwasher. It also had an undermount sink and granite counters.
Small appliances included a coffee maker (the small type typical in hotels that use disposable plastic trays with single use filter packs), toaster and blender. The kitchen also contained cutlery, plates, glassware and various cooking and food preparation items. Coffee and tea supplies were provided.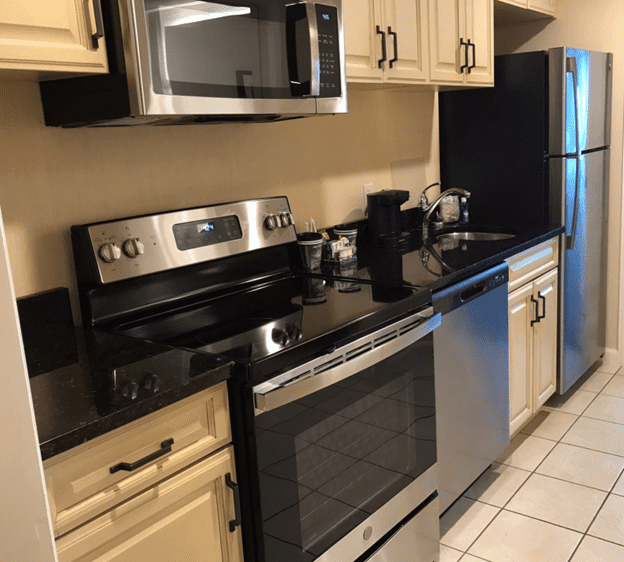 The bathroom contained a vanity with two sinks, toilet and a combination shower and jacuzzi tub. The tub sides were much higher than average, which might make it difficult for some people to get in and out of the tub. Individual use Crabtree and Evelyn toiletries—including shampoo, conditioner, body wash, body lotion and soap—were provided.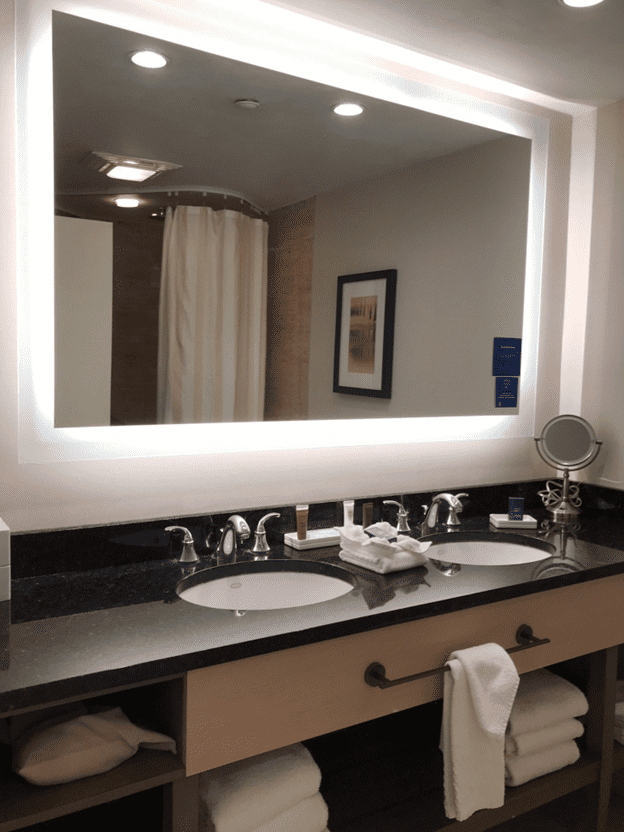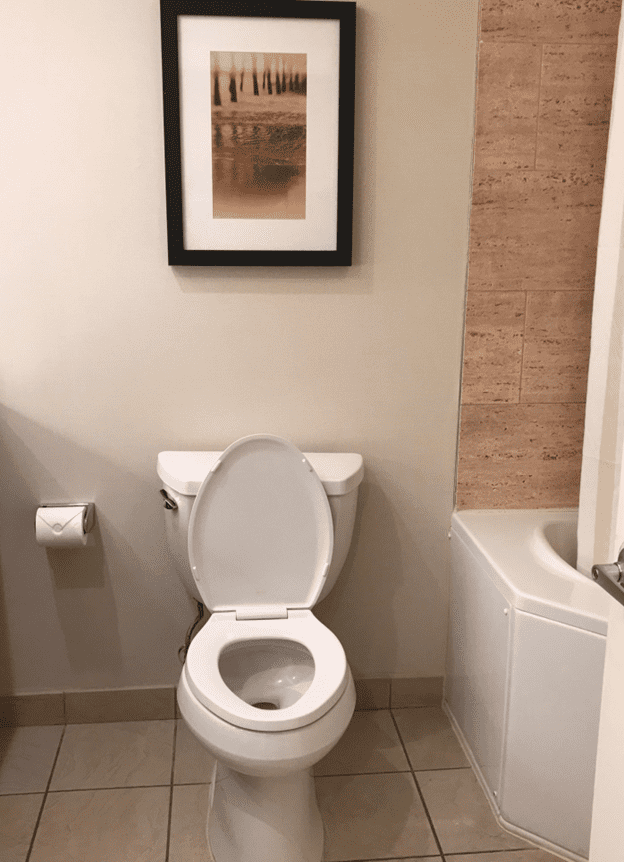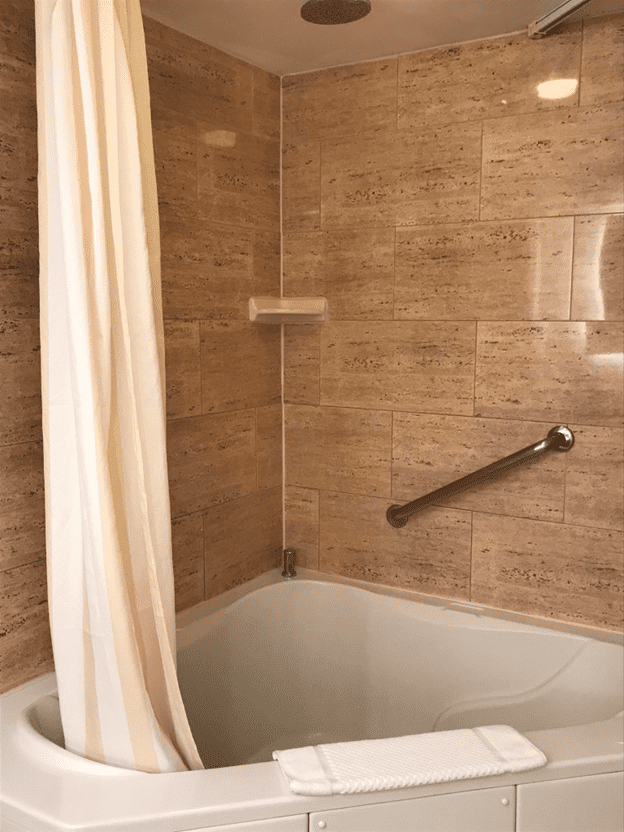 Although my room didn't have this configuration, I saw pictures on the hotel's website with a king bed suite room type that appeared to have the jacuzzi tub in the bedroom. That could present privacy issues for some people.
The bedroom in my suite contained two queen beds, a nightstand, an upholstered chair, a small side table, a mirror, a dresser and a television. The beds were comfortable and had good quality white linens. There also was a safe and luggage stand in the closet.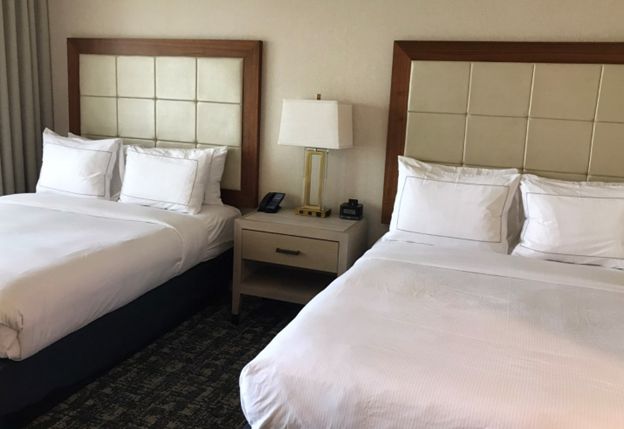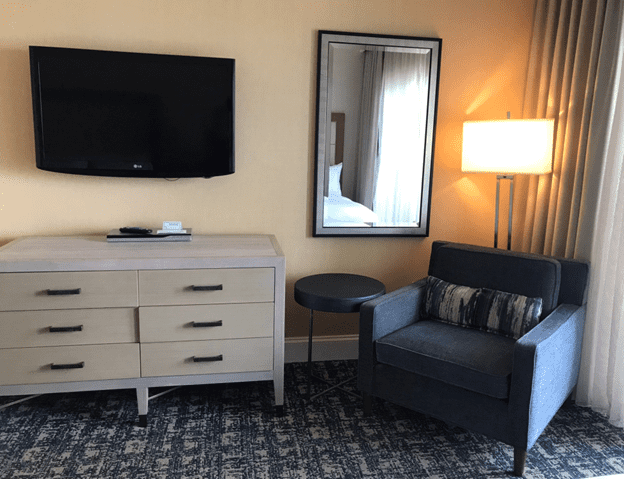 The balcony included a dining table and four chairs and featured an ocean and beach view. Unfortunately, I didn't use my balcony because I saw several large and scary looking flying bugs swarming near the sliding glass door.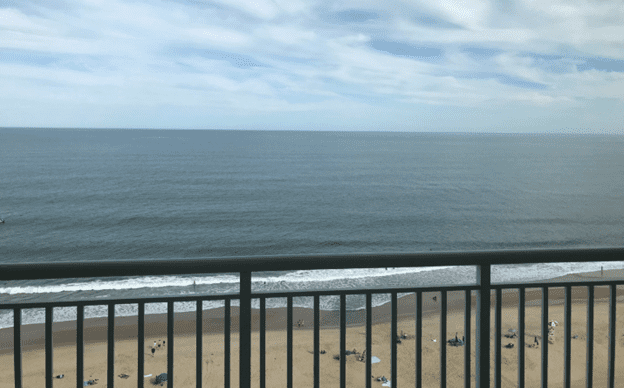 I found the room to be comfortable. The room temperature was easy to control, and there was one central unit for heat and air conditioning throughout the suite. There also was a separate ceiling fan in the living area. I didn't notice any noise from the hallway or from nearby or overhead rooms. There were enough electrical outlets in logical places in the living area.
Food and Drink
The Hilton has the following food and beverage options:
32 Palm: This is the main restaurant, and it's open for breakfast, weekend brunch and dinner. All seating is indoors.
32 Palm Lounge: This is the lunch and evening indoor lounge that also serves food. All seating is indoors.
Manana Mode: This is the bar and restaurant located at the outdoor pool that serves sandwiches, salads, snacks, kid's meals and full beverage service. According to the hotel's website, it's open from 11 a.m. to 5 p.m. I suspect its operations are seasonal.
Starbucks kiosk: This venue is located in the lobby and is open in the morning and afternoon.
Like many restaurants, 32 Palm's hours and menus are online, and guests can scan QR codes to review the menus for both the restaurant and lounge. You can't actually order online, but you can call the restaurant to place orders for pickup or room service delivery.
I ate dinner at the Hilton. I ordered food from 32 Palm and brought it back to my room. I got a mahi-mahi wrap, which came with a choice of sides and cost $15 before tax and tip. It was a large wrap with a huge serving of sweet potato fries, and both tasted pretty good.
I understand that Hilton elite members have mixed feelings about whether Hilton's 2021 change to provide Gold and Diamond members a food and beverage credit instead of free continental breakfast at full-service properties in the United States is a devaluation of benefits or a useful alternative.
I don't feel strongly about this, since unless I'm at an isolated, upscale resort, having breakfast at the hotel isn't important to me. But I think this generally is a negative change for people who like to have breakfast at Hilton hotels. Many properties used to go beyond the minimum requirement of providing a continental breakfast, and with the new system, the food and beverage credit frequently doesn't fully cover breakfast costs.
I looked at the 32 Palm breakfast menu to see what was available for guests choosing to eat breakfast at the hotel:
32 Palm wasn't offering a buffet breakfast during my stay at the Hilton.
The continental breakfast, which includes one pastry and choice of coffee, tea or juice, was $10. After adding tax and tip, this choice would be under the $15 per person food and beverage credit amount.
Most breakfast entrees were $10 to $18, excluding beverages, tax and tip, so in many cases, people would have to pay some portion of breakfast out of pocket.
I didn't look closely at what the Starbucks kiosk offered, but at regular Starbucks prices, the $15 credit would easily cover a beverage and breakfast sandwich or pastry.
There are plenty of alternatives to hotel restaurants when staying at the Hilton. Having a full kitchen provides a great alternative for people who don't want to eat every meal at restaurants. There are multiple food options within a few blocks of the hotel, including fast food chains, delis with takeout, pizza, casual restaurants and bars and more upscale dining.
Amenities
The hotel has three swimming pools—two outside and one inside—and an outdoor jacuzzi. One of the outdoor pools is child-friendly, with waterslides, and the other is more adult-focused.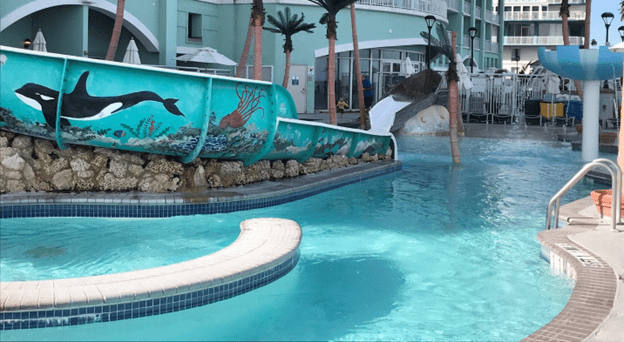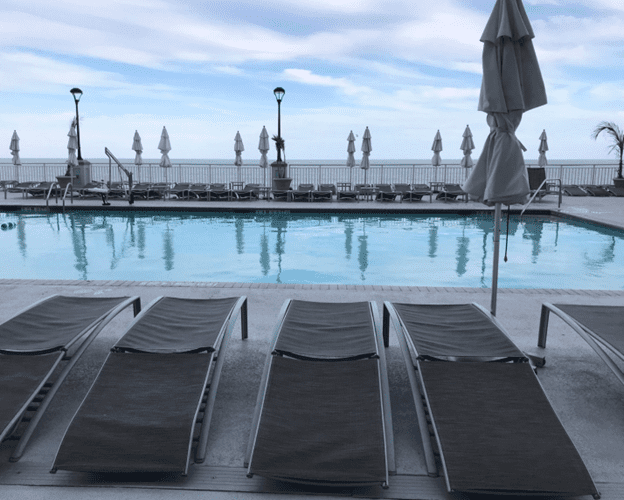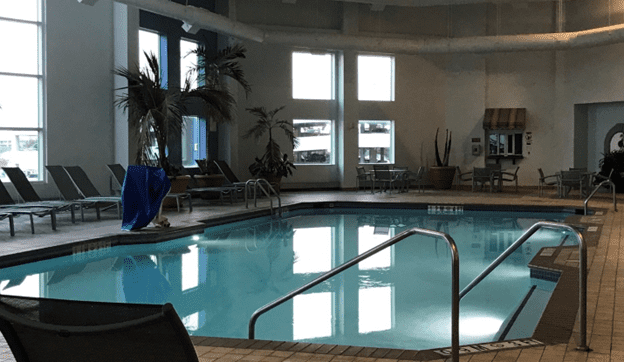 The hotel has direct Atlantic Ocean beach access, but it doesn't provide guests with any beach amenities—such as lounge chairs, umbrellas, or food and beverage service—or water sport equipment. A private vendor rents umbrellas and lounge chairs on the beach in multiple locations in Ocean City, including in front of the Hilton.
The Hilton has a relatively small fitness center with a multi-function weight machine, some dumb bells, three treadmills, an elliptical trainer, a stationary bicycle and some other equipment.
The hotel also has a game room with multiple arcade and video games.
Service
I didn't have any bad experiences with service at the Hilton Ocean City Oceanfront Suites, but I didn't feel like the hotel provided proactive service. When I approached staff with questions or to check in or check out, they were polite.
The hostess at the restaurant wasn't able to answer my question about a menu item, and it took two rounds of her checking with someone else to provide an answer.
In terms of housekeeping, I stayed only one night, and there wasn't evening turndown service. The condition of my room was good when I arrived.
I felt that the property met requirements for recognizing elite status and providing benefits but didn't go beyond that.
Hilton Ocean City Oceanfront Suites Family Friendliness
The location of this hotel is good for families, with an amusement park nearby and the hotel being a little bit away from the boardwalk. Although Ocean City certainly would be more crowded in the summer, the beach near the Hilton was pretty quiet in September.
The suites at this hotel would be a good option for families, since they provide a separate bedroom, living area and full kitchen and are larger than typical hotel rooms. Having two sinks in the bathroom also is useful for families, but the lack of separated spaces in the bathroom and the extremely high tub walls might be an issue for some people.
The game room and pool with waterslides are two kid-friendly amenities at the Hilton.
Since I was at the Hilton on weekdays during the school year, I didn't see many children at the hotel, except for a few at the pool later in the afternoon.
While my experience didn't provide a good basis to estimate the mix of adults to children at other times of year. I'm fairly confident that this hotel would attract many families during the summer and on late spring and early fall weekends when it's warm enough to enjoy the beach. This assumption is based on two factors: my general impression that Ocean City is popular for family travel and specific features of the property, including child focused amenities and suites.
Final Thoughts on Hilton Ocean City Oceanfront Suites
I thought this hotel was fine and could be a good option for a stay in Ocean City. I especially liked that the Hilton was beachfront and provided suites with full kitchens, free parking and no resort fees. Since this hotel can be expensive at certain times of year, I think it's relevant to consider that the property is somewhat dated and lacking in some resort amenities.
Ultimately, perceived value, hotel features and location preferences are different for everyone. At the time of writing, standard room award prices don't exceed 95,000 points per night at most top Hilton properties in the world. Comparatively, the Hilton Ocean City costs up to 90,000 points per night. Personally, I would rather use Hilton points, free night certificates or cash for beach vacations in other locations.
New to the world of points and miles? The Chase Sapphire Preferred® Card is the best card to start with.

With a bonus of 60,000 points after $4,000 spend in the first 3 months, 5x points on travel booked through the Chase Travel Portal and 3x points on restaurants, streaming services, and online groceries (excluding Target, Walmart, and wholesale clubs), this card truly cannot be beat for getting started!
Learn More
Editors Note: Opinions expressed here are author's alone, not those of any bank, credit card issuer, hotel, airline, or other entity. This content has not been reviewed, approved or otherwise endorsed by any of the entities included within the post.