In This Article
Loading table of contents …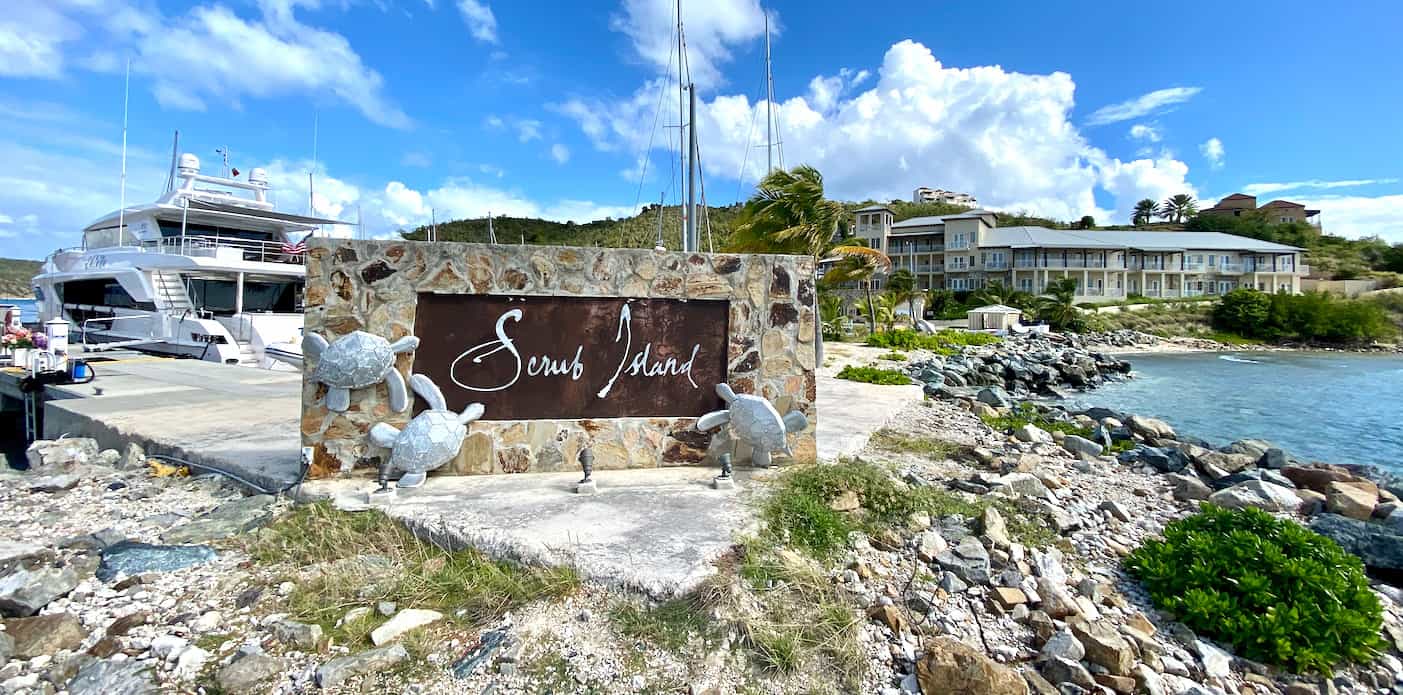 Note: Some of the offers mentioned below may have changed or are no longer be available. The content on this page is accurate as of the posting date; however, some of our partner offers may have expired. You can view current offers here.
Scrub Island Resort, Spa & Marina is part of the Autograph Collection Hotels. It's located just off the coast of the island of Tortola, and is a jewel of the British Virgin Islands (BVI). There aren't many other places in the world where you can use your Marriott Bonvoy points to book a stay on a private island, making Scrub Island a rare destination.
The resort consists of 65 rooms spread out over the island. A majority of them are clustered around the marina, which serves as the epicenter of the resort.
If you're lucky enough to earn an upgrade to a suite or villa, a number of those are privately situated above the main marina area, or on the backside of the island closer to the private beach. Given you're on a private island with 65 rooms total, the suites and villas are essentially doubly private.
Scrub Island and its neighboring islands were in the direct path of Hurricane Irma in 2017, which devastated the entire island of Tortola as well as Scrub Island and others. Some parts of the BVI have been slower to rebuild than others, but Scrub Island has been back up and running at full speed since around October 2018.
Our King Guest Room
We booked a King Guest Room with an ocean view, the standard room at the Scrub Island Resort.
Our check-in process was a bit interesting. After taking the hotel ferry from Trellis Bay, we were greeted by a member of the hotel staff with welcome drinks. They were delicious and refreshing.
We were then given a tour of the property, highlighting the amenities such as the pools, restaurants, exercise room, the grocery store, etc. before being taken to our room. This was a great way to quickly get an overview of the property, and to be able to understand what some of the included amenities are, and where they're located.
Once we arrived in our room, our excitement quickly dwindled.
Full disclosure: I had read a few mixed reviews of Scrub Island ahead of our stay, and was somewhat prepared to find that some rooms in the hotel hadn't been fully restored and refurbished to their pre-hurricane condition.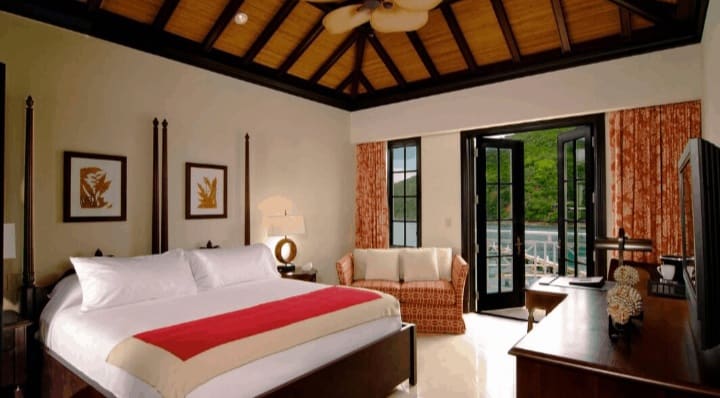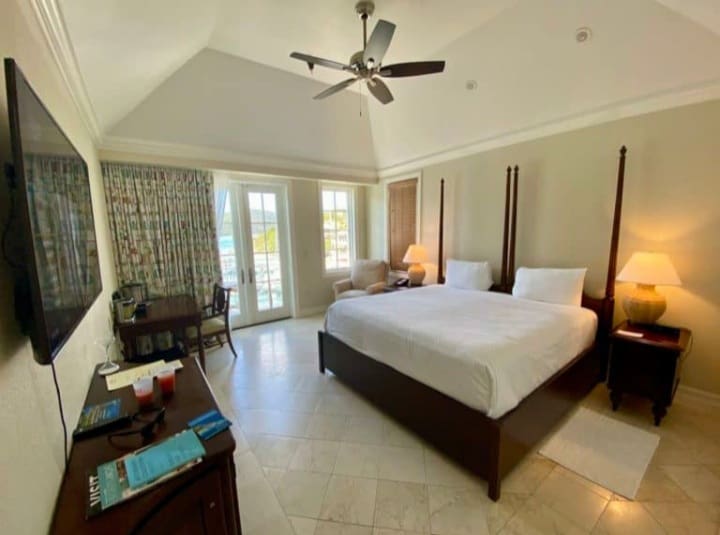 Here's the room we were assigned – nothing on the walls, no decorations or amenities, a broken chair in the corner, and only 2 pillows on the bed and "we'll have to check and see if we have anymore" when I asked for more pillows.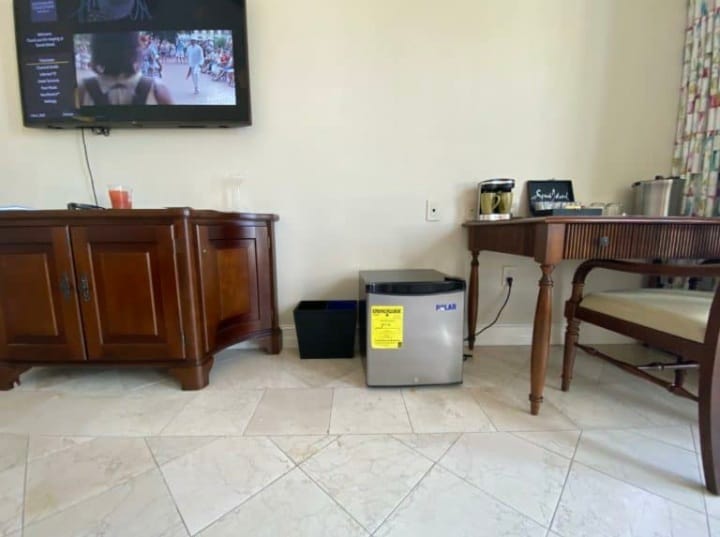 Even better was when we saw the in-room fridge – I think I had the same fridge in my dorm room in college. It wasn't placed in a cabinet to hide it but was instead out on the floor. I found it amusing that it still had the EnergyGuide sticker on it.
What you can't see in the pictures are the missing lightswitch/outlet plates, the broken door handle with paint all over it to the outside balcony, and other cosmetic issues throughout the room.
I didn't like the idea of spending the next 5 nights here. Considering the steep award rates and cash rates, I thought Scrub Island Resort could do better.
We went to the front desk and explained to the manager that we were disappointed in the room as it didn't fit the description. Initially, the manager pressed back that they were completely booked, primarily by Edward Jones, who had booked the entire resort practically for the entire month of February for an employee incentive trip – this was absolutely true.
I pressed back, nicely, but directly, and explained that this wasn't acceptable. Eventually, she finally agreed to move some people who were checking in 2 and 3 days later to other rooms so that we could be accommodated for our entire 5-night stay without having to move.
As a side note, I truly didn't understand why this manager was more concerned about the guests checking in in 2 or 3 days vs. the guest that had just checked in and was already at the resort. I could understand if it were an upgraded room or suite, but for the base level room, this was perplexing to me.
Eventually, they checked us into a better room that more properly met the expected room conditions, and all was well with our accommodations for the remainder of the trip.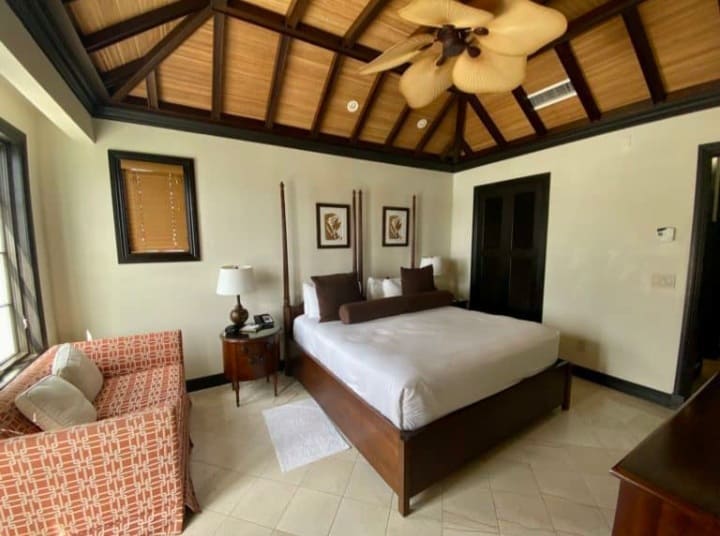 Our room consisted of a spacious bedroom area with a small couch, a small desk workstation, and a large dresser under the TV that consisted of the proper in-room refrigerator, as well as drawers for clothing.
The attached bathroom was large and spacious. It included a shower stall as well as a soaking tub, 2 sinks with plenty of counter space, and a separate water closet.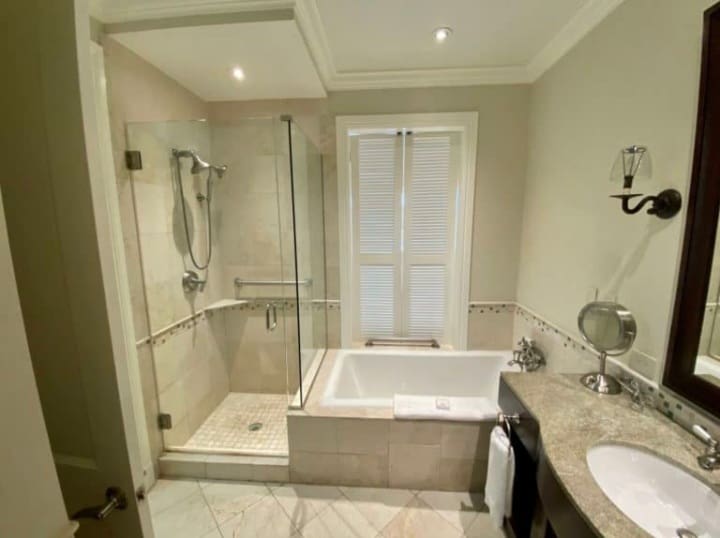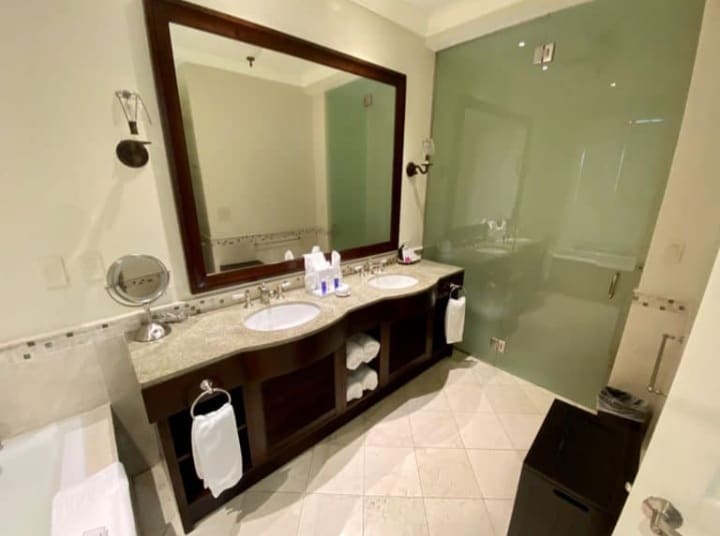 My only gripe with the bathroom was that the shower door did not have a good seal, and every time you used the shower, it flooded the bathroom area as well as the hallway. I'd estimate at least 3-4 gallons of water leaked out every time during a 10-minute shower.
I'm not sure if this was just our room, but we had to use extra towels daily to soak up as much of the water as possible. But even then, with the tile floor, it made it actually sort of dangerous, and I almost wiped out twice forgetting about this as I walked into the bathroom.
Dining at the Scrub Island Resort
Scrub Island has 4 on-site dining options. Cardamom & Co is their signature restaurant, and is by far their most formal.
For no particular reason, we ended up not eating here during our stay. It is the most expensive and the nicest of the dining options on Scrub Island, and after a quick glance of the menu, it's easy to see how dinner for 2 can easily eclipse $200+ with a glass of wine and an entree per person.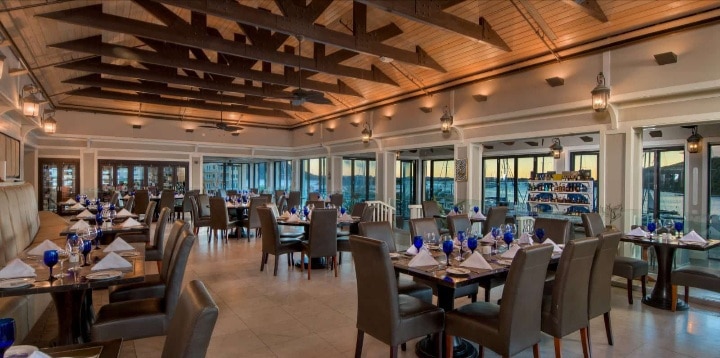 The more casual dining option is Donovan's Reef. Located next to the pool in the heart of the resort, this open-air bar and restaurant is open all day, serving breakfast, lunch and dinner.
As Marriott Platinum elite members, we were given 2 breakfast vouchers for each day of our stay, which were to be redeemed at Donovan's Reef. The breakfast vouchers are essentially a $17 discount on breakfast, which was enough to cover about half of the breakfast entrees on the menu, and also included coffee, juice or tea. The most expensive breakfast entree item is the Steak & Eggs, which cost $24. So at worst, you're looking at $7 for the difference in price. Not bad.
During our stay, we had multiple breakfasts at Donovan's Reef, lunch once, and dinner once. The food was very good, and reasonably priced considering you're on a remote island at a relatively expensive resort in the middle of the Caribbean. Lunch sandwiches and comparable dishes top out at around $20, and dinner entrees top out at around $50, with most being in the mid-$30 range.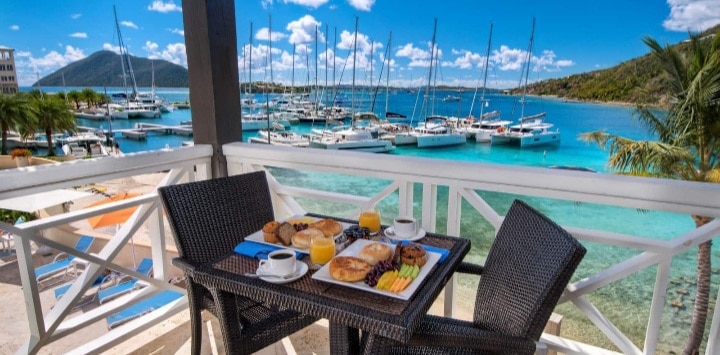 The one challenge we ran into on a few occasions at Donovan's Reef was that the menu description of some of the dishes didn't exactly match up with what was brought out, which complicates things when specific items are ordered due to food aversions and allergies of specific ingredients, and those actual ingredients are included in the entrees.
Fortunately, the staff was accommodating in remaking dishes to better match the descriptions and food aversions/allergies when these issues were brought to their attention.
The One Shoe Beach Bar & Grill is the small, but surprisingly thorough and delicious beach bar located on Scrub Island's North Beach.
On our first day there, we took a look at the menu, expecting to just get drinks, but were pleasantly surprised to find a full kitchen and menu, which ended up serving some absolutely delicious lunch entrees. In fact, lunches at One Shoe were, in our opinion, the best food at the resort.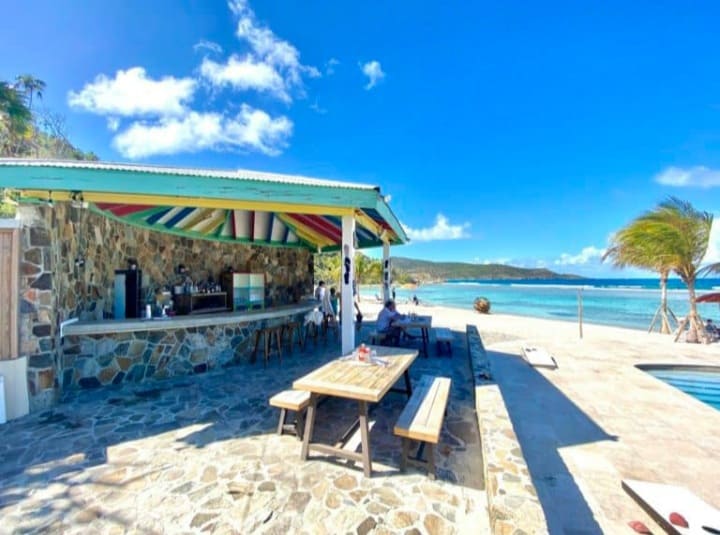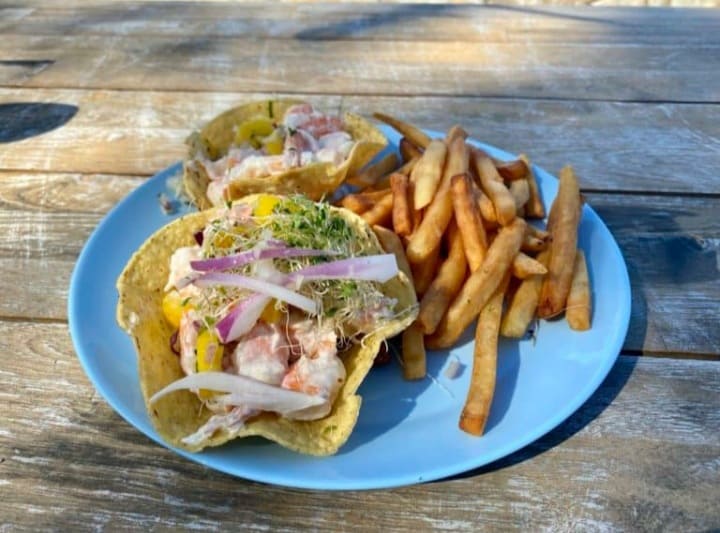 The last and one of the best dining options is the Marina Deli and Market. This market is a surprisingly well equipped grocery stocking more than just the bare essentials, complete with a full service deli serving made to order sandwiches and pizzas.
It primarily caters to all of the boats docked in the marina, but is absolutely open to guests staying at the hotel, and I highly recommend you plan on stocking up on food here during your stay.
If you're traveling to Scrub Island and are looking to cut on food costs, especially as a family, grab a loaf of bread and a pound of fresh Boar's Head deli meat and cheese from the deli, and make sandwiches in your room for a few days during your stay. You'll pay a fraction of what you'd spend eating in the restaurants.
The market's prices are a little bit higher than you might pay at your neighborhood grocery store at home, but to be perfectly honest, they were much more reasonable than I was expecting them to be.
On multiple nights during our stay, we were exhausted after a long day in the sun, and the thought of getting dressed up to go eat at the restaurant wasn't exactly appealing. Instead, we got personal sized pizzas for about $14 each and beers for $3-$4 each, and had a pretty delicious "in-room dining" of our own creation for about $35. Hard to beat!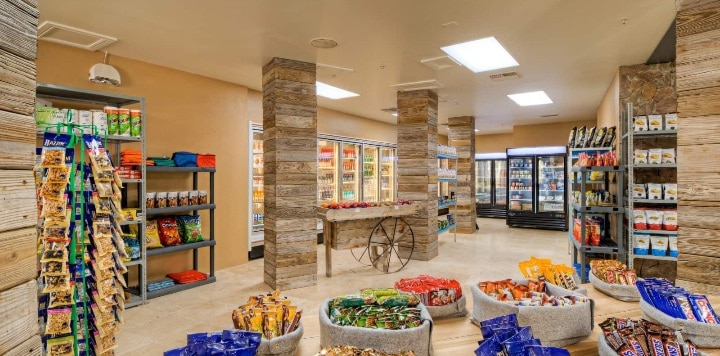 A quasi-bonus dining option to Scrub Island are the nearby bars and restaurants in Trellis Bay, where the Scrub Island ferry picks you up and drops you off. We had a delicious lunch at Trellis Bay Market as a part of our arrival since we had to wait about 40 minutes for the next ferry. This was the perfect amount of time to grab a delicious lunch to help pass the time.
With lunch sandwiches and entrees priced mostly in the $12-15 range, it was comparable to some of the food prices at Scrub Island. But if you were looking for a few cocktails to accompany your food, you'll pay almost half price at some of the local Trellis Bay bars and restaurants compared to at Scrub Island.
Drinks average $8-$10 here, compared to $14-$18+ at the resort, so if you're thirsty, your savings can add up quickly. And since the ferry runs late into the night, you could have a fun night out, and be just a short 10 minute boat ride away from your room.
One thing to keep in mind about dining at Scrub Island, especially at Donovan's Reef, is that service in the islands is just slower. This isn't a knock on the staff, but more just a difference in the "American Culture". Sometimes it took 2 or 3 times to get our tea or water refilled, or we waited about 20 minutes for the bill to come. It can be frustrating initially, but then you have to remind yourself that you're on vacation, and that it's really not a big deal in the grand scheme of things!
One day, we got to the Donovan's Reef right at 7am when they opened. We immediately informed them that we were taking the 8am ferry from the hotel in order to catch another ferry to another island for the day.
They were more than accommodating, and our food was out in about 20 minutes, in more than enough time to enjoy our meal and not feel like we had to snarf it down in order to make the ferry. So if you have a situation like this where you're in a rush, simply inform the staff, and they'll likely have a little more pep in their step!
Scrub Island Resort Amenities
Let's first get this out of the way right away – Scrub Island charges a $30 resort fee per day per person. Yes, you read that right. I've stayed at a number of Marriott resorts around the world, and this is the only property that I've ever experienced a resort fee being charged per person. So if you're a family of 4 squeezing into a room, plan on an extra $120 per day to stay on Scrub Island.
Scrub Island justifies this per person resort fee on their website in a quite comical way – the first item listed that's covered by the resort fee is the airport transfer. In most circumstances, this would be awesome and totally worth it. It's just quite comical to me given how the distance from the ferry terminal to the airport measures just 800 ft by foot, or under .5 miles by road. And no, I'm not exaggerating this – I measured it on Google Maps.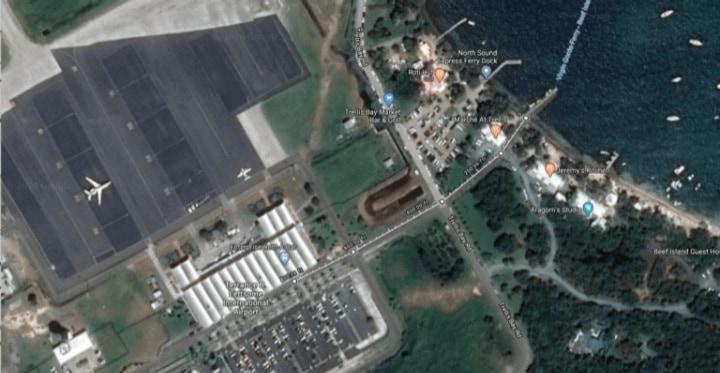 There are a ton of included amenities at Scrub Island that, in my opinion, make the unusual per person resort fee feel somewhat justified.
But, where I have a little bit of beef with the resort is that they didn't seem to go out of their way during our tour to explain some of these options, we sort of had to figure them out on our own, or not at all. I definitely feel like we didn't get to maximize our resort fee by any means simply by just not knowing or being informed of some of the inclusions.
The resort offers one complimentary activity each day, such as a sunset cruise 2 or 3 nights per week, a tour of the island, yoga and more. These daily activities are included in the daily cards that housekeeping brings to your room during daily service so that you can know what's going on during the next day.
We wanted to do the sunset cruise, but on the 2 days it was offered during our stay, we had alternative excursions and plans already made that wouldn't allow us to participate.
The primary coverage of the resort fee is the complementary hotel ferry. This is worth its weight in gold, and would be worth $30 per person per day on it's own.
The usage of Kayaks and paddle boards are included for all guests as a part of the resort fee, and much more.
However, the best perk of the resort is the complimentary golf cart rides to and from the North Beach from the hotel and back. I walked from the hotel to the beach twice, and it was about a 20 minute walk each way. It's not bad overall, but it's surprisingly hilly and a bit more taxing than you might think, so if you're lugging a beach bag, it can wear you out, so having the shuttle back and forth was great.
The main feature of the resort is the marina, since the entire resort circles around it. With that, a number of ancillary services originate from that marina.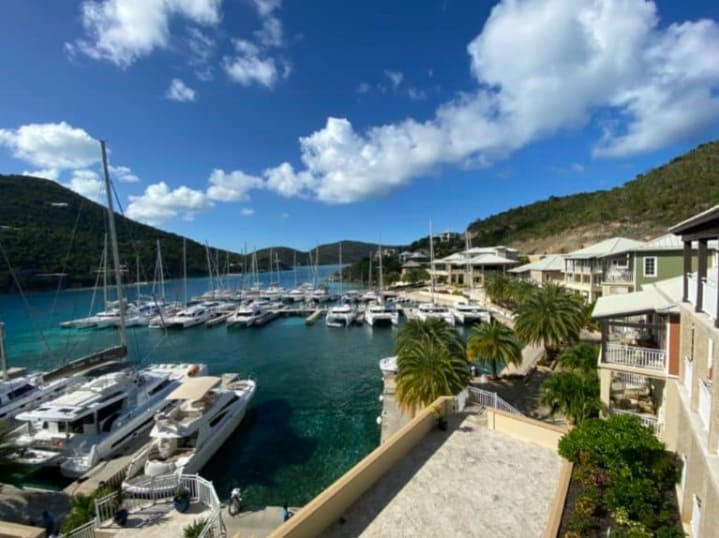 Sailboat charters, fishing charters, scuba diving, snorkeling, and more can all be experienced either through the resort, or the on-site dive shop. As far as I know, none of this was included in your resort fee, and would have to be booked separately.
Scrub Island really designed their pool setup well and with fun in mind. Other than the marina, the pools and greater pool area are the secondary central focal point of the resort, given that both of the main hotel restaurants are on either side of the pool.
There are technically two pools, one upper pool, and one lower pool.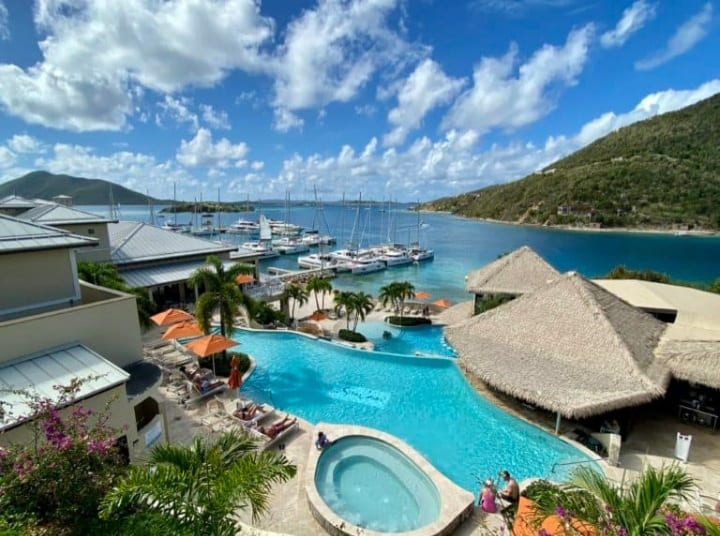 The upper pool has an infinity edge wall that cascades down a waterfall to the lower pool, and has an incredible view of the marina and sunsets. Given the easy access to drinks at the swim-up bar, it's easy to pass a few hours here enjoying a few cocktails.
Don't worry, if you're not in the water, each of the pool chairs and umbrella comes with a call button, allowing you to conveniently order drinks without leaving your seat.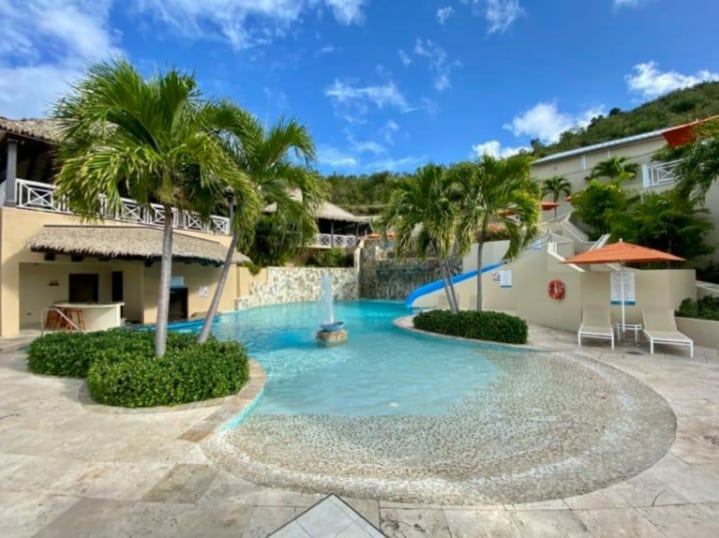 The lower pool has a zero entry slope to enter the pool, and even has a fun waterslide as well as another swim-up bar.
Scrub Island technically has two beaches, the North Beach on the far side of the island, and a small beach below the pools in the heart of the marina.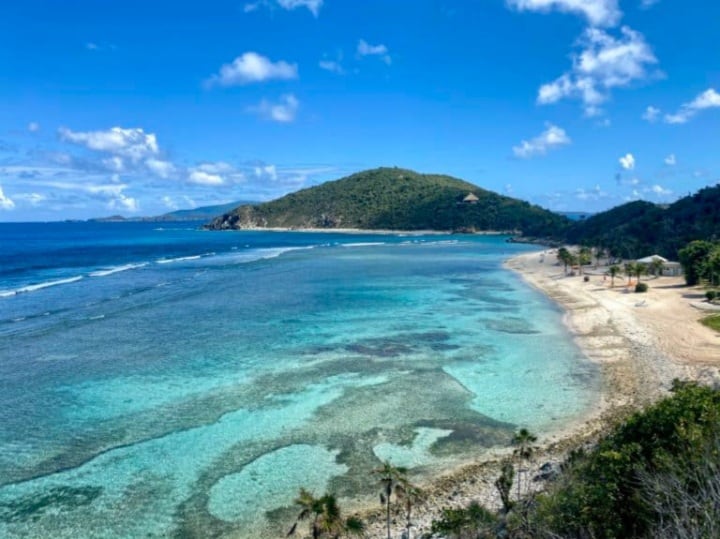 The small marina beach had a few people laying out on beach chairs everyday, but rarely did we see anyone swimming in the water there, even with the water trampoline. I don't know about you, but nothing seems terribly enticing to me to swim alongside parked boats in the marina as who knows what they're putting in the water.
The North Beach is a much better and more traditional beach. I suspect Scrub Island has brought in a number of palm trees after the recent storm to the beach to create shade and seating areas.
North Beach is probably ½ mile long of beachfront, and also includes The One Shoe Beach Bar & Grill, as well as a very small pool. There's a natural barrier reef located a few hundred yards off shore, so there are virtually no waves. However, it's a beautiful sandy beach, but once you get in the water, it's awfully rocky, so I'd suggest wearing water shoes.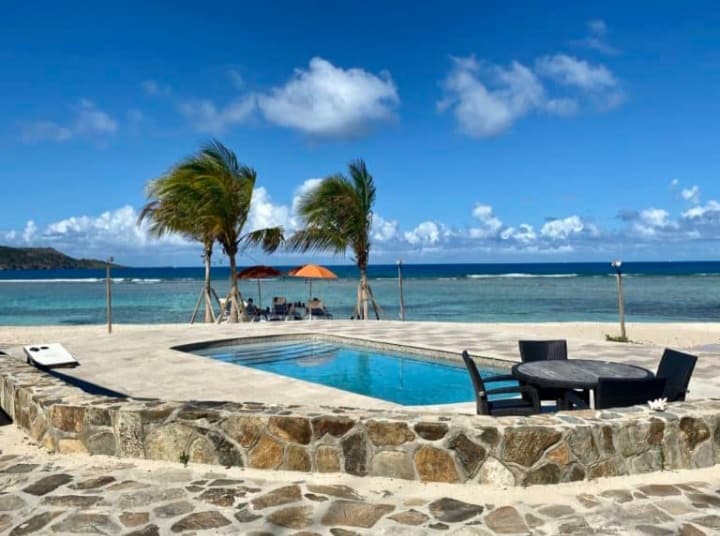 The hotel includes a well appointed fitness center, if hiking up to the top of Scrub Island isn't enough physical activity for you.
And to unwind, you can plan to stop in at Ixora Spa, the hotel's on-site spa. Located in one of the villas on the ocean-side of the resort, it's a full-service spa offering a variety of treatments and services. We didn't partake in the spa during our visit, but we overheard guests discussing their visit to the spa and having enjoyed it.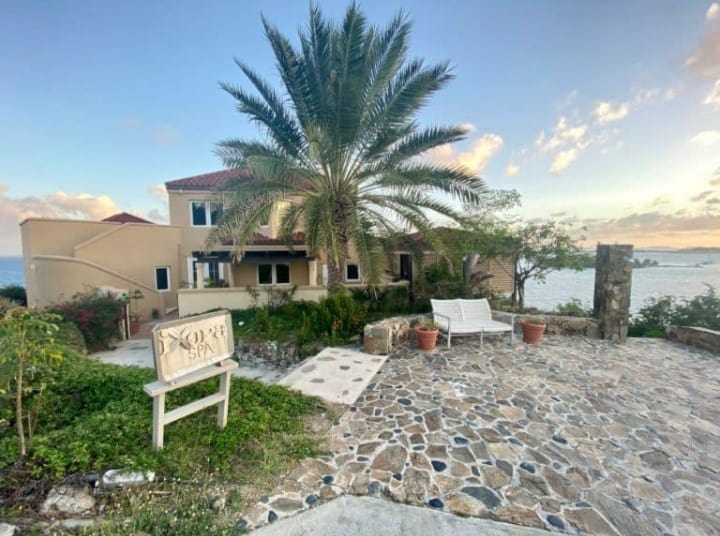 Other Things to Do on Scrub Island
Scrub Island itself is great. But 5 days shouldn't be spent confined to the island alone, especially since you're in the heart of the British Virgin Islands, which offer a variety of things to explore.
Virgin Gorda
Just a 30 minute ferry ride away from right in Trellis Bay is the neighboring island of Virgin Gorda. Famous for The Baths at Virgin Gorda, it's a must-visit island during your stay at Scrub Island. The Baths are a natural attraction that was fascinating – they're part hiking, part cave-exploration, and more as you make your way through giant boulders strewn along the beach.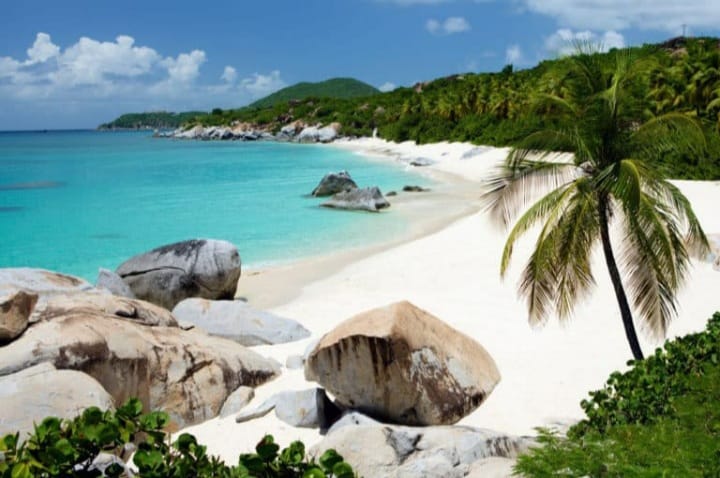 Get there early in the day, or ask the concierge at Scrub Island what the cruise ship schedule is during your stay. You're going to want to do The Baths on a day when there isn't a cruise ship in port as it's a popular cruise excursion destination, and just the nature of having to crawl through boulders, often on your hands and knees, doesn't work well with large crowds. You do need to have some level of physical fitness to be able to make it through the baths, especially since it's about a half-mile hike down from the parking lot to The Baths and beach, as well as back out.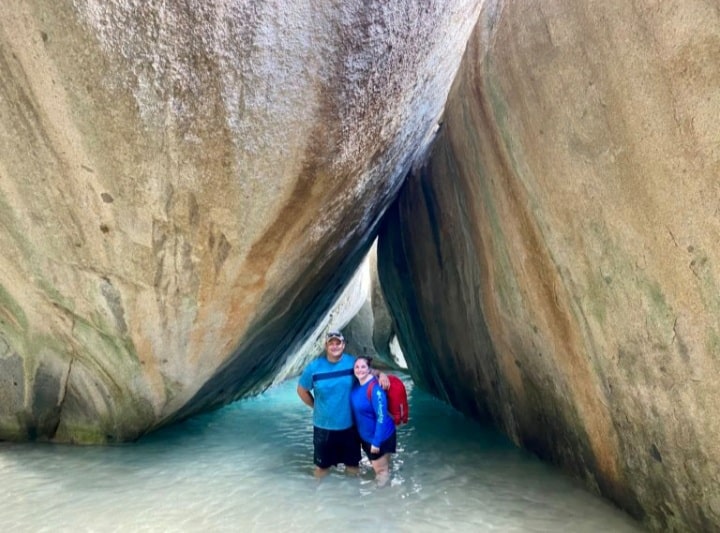 Anegada
A day trip to Anegada was arguably the highlight of our trip to the British Virgin Islands. Anegada is the northernmost island in the British Virgin Islands, and lies some 15 miles from Virgin Gorda and Tortola. It takes about 1.5 hours to get there via the daily ferry service ($50 per person roundtrip). Alternatively, you can fly from Beef Island Airport to Anegada via VI Airlink for about $100 per person round-trip in about 15 minutes. If the seas are the slightest bit rough, I'd consider taking the flight.
Anegada is 15 square miles in size, but only consists of about 250 full time residents. Given the sparse population, the island feels incredibly desolate. But if you're after the truly white sand beaches and clear blue waters, this is the best place in the BVI to get those.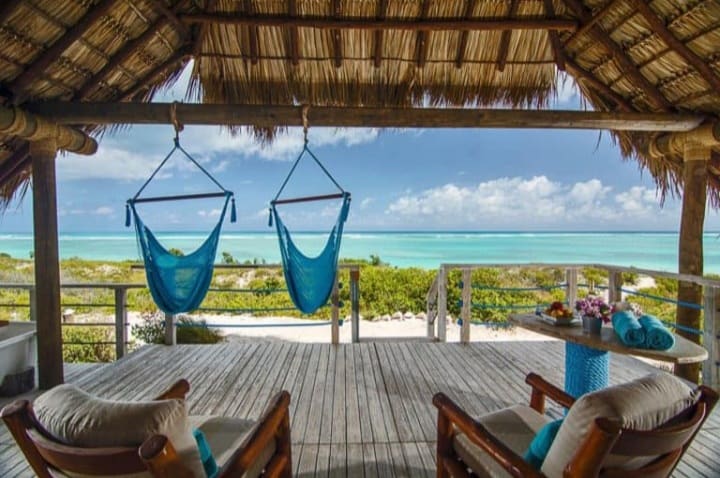 Rent a moped or a car for the day, and explore the island. Be sure to end up at Anegada Beach Club or Cow Wreck Beach – both are immaculate beaches offering great food and drink on the otherwise desolate island. Kenny Chesney has been known to show up at Cow Wreck Beach and play small concerts for the small crowds in attendance.
Anegada is known for their lobster, so be sure to have some at some point during your visit.
Even though the economy is based on tourism primarily, there are hardly ever any people there, so the beaches are generally empty.
A day trip is more than sufficient, but a night at Anegada Beach Club could be an experience as they offer beachfront cottages and palapas that look very enticing!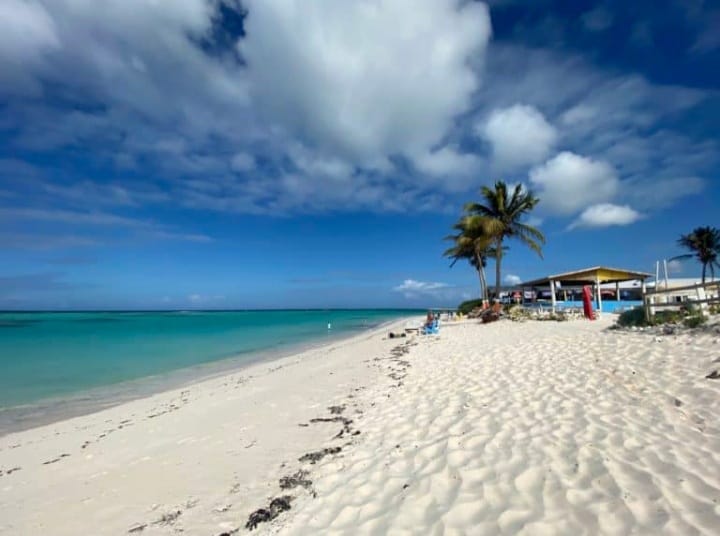 How to Get to the Scrub Island Resort
Scrub Island is located just off the Northeast coast of Tortola in the British Virgin Islands. It's a quick 5-minute ferry ride from Trellis Bay on the complimentary hotel ferry from Beef Island to Scrub Island.
You have a few options to get to the British Virgin Islands from the U.S., but there aren't any nonstop flights.
You can take a flight to San Juan (SJU), Puerto Rico and then take a separate flight covering the 90 miles to Terrance B. Lettsome International Airport (EIS) on Tortola on an airline such as Cape Air, Silver Airways, and InterCaribbean Airways. A number of these smaller airlines codeshare with U.S. airlines, so you should be able to book this as one itinerary and check your luggage through in a number of cases.
You can also fly to St. Thomas (STT) in the U.S. Virgin Islands and then fly from St. Thomas to Terrance B. Lettsome International Airport. Again, a number of these smaller airlines codeshare with U.S. carriers which allow you to book this as one itinerary. If the connecting flights from St. Thomas don't work for your schedule, you can also take an hour ferry ride to Tortola.
The best part about Scrub Island is its proximity to the Terrance B. Lettsome International Airport (formerly known as Beef Island Airport). I'm not exaggerating when I say you can walk from the airport to the dock to pick up the complimentary hotel ferry in about 5 minutes. It's that close, and it's almost comical that the airport arranges complimentary pickup and drop offs from the airport to the ferry dock given its proximity.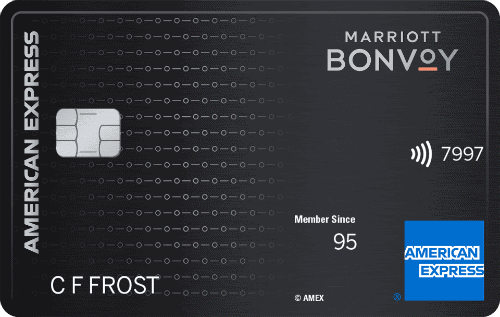 How to Book the Scrub Island Resort
Scrub Island Resort is a Category 8 property in the Marriott Bonvoy program. The standard rate is 85,000 points per night, the off-peak rate is 70,000 points per night, and the peak rate is 100,000 points per night.
We booked our trip to Scrub Island at the end of February 2019, just before Marriott rolled out Category 8 award rates. Knowing that many properties would soon require more points to book, we scoured the list of properties that would be included in Category 8 and settled on Scrub Island.
At the time, we were able to book at the Category 7 price of just 60,000 Marriott points per night. We also took advantage of Marriott's 5th-night free benefit on award stays so we only needed 240,000 Marriott points for the stay.
Cash rates during our stay averaged $753 per night plus an additional $526.50 in taxes and fees, totaling $4,291.50 for the 5-night stay.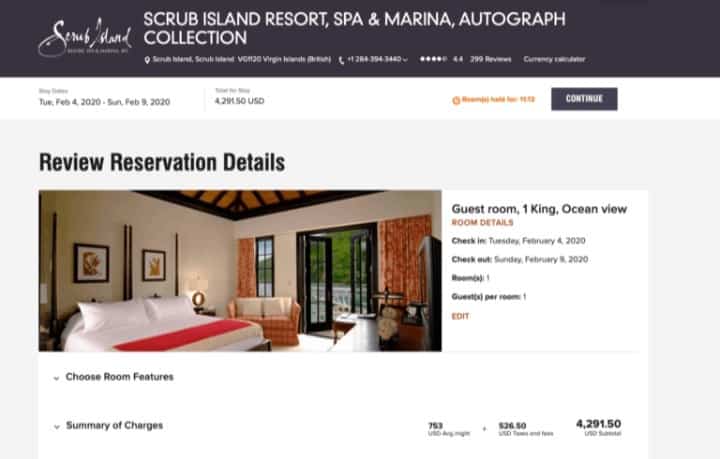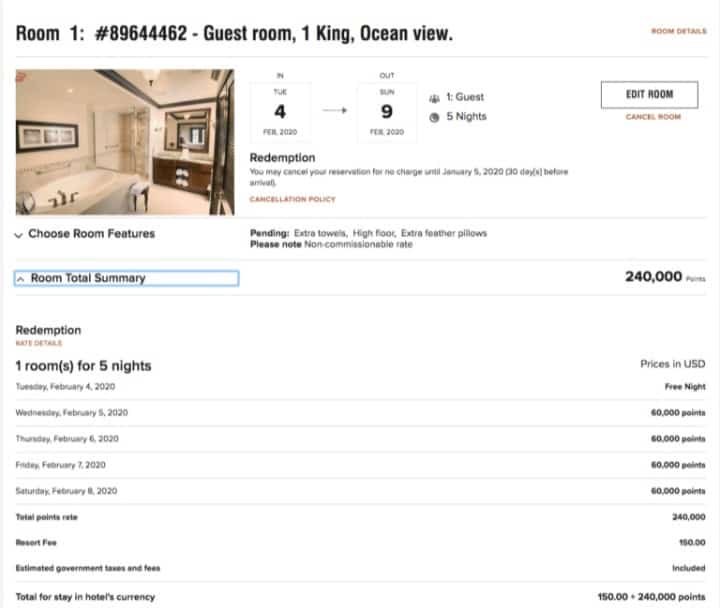 With just 65 rooms, Scrub Island can be an incredible place to redeem Suite Night Awards towards room upgrades if you're a Marriott Platinum or Titanium member.
Scrub Island allows you to use Suite Night Awards to upgrade to the Governor 1 Bedroom Suite. This large one bedroom suite is 1,370 square feet, and consists of a massive balcony overlooking the marina that can serve as an outdoor dining room, a separate living room area equipped with a pull-out couch, 1.5 bathrooms, and most notably a full kitchen with appliances that would make any chef proud.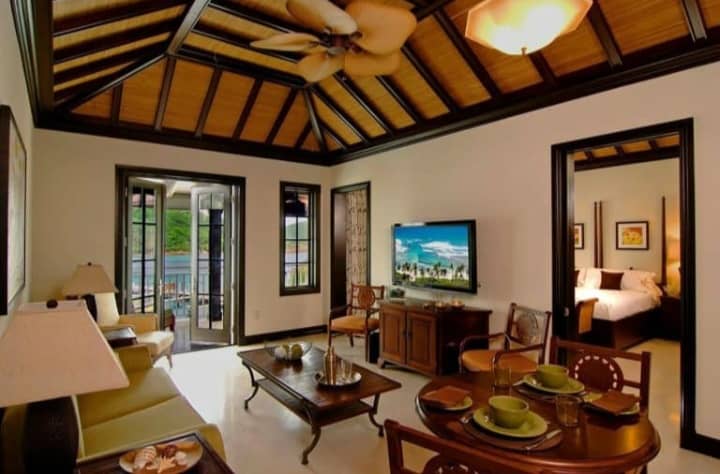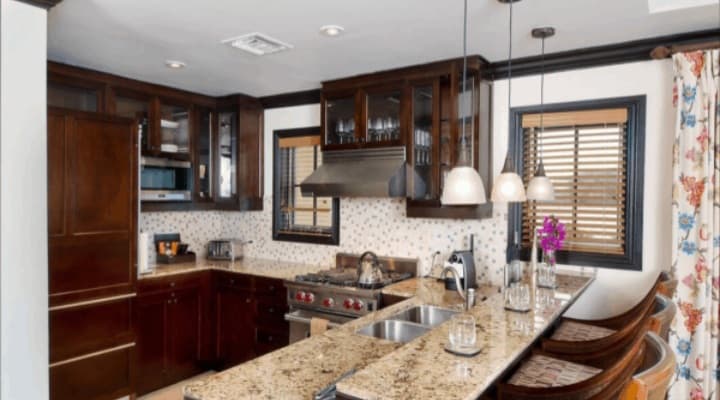 There are also some 2, 3, 4 and 6-bedroom villas available on the island. What's special about these is that they're a little bit separated from the main hotel and marina area, so they're much quieter, and come with their own hot tubs and even pools making them great for groups traveling together.
What's not great is that they're not a great use of points most of the time. See the below example in a cash booking vs. a points booking with a required cash copay:

I'm not sure how often elite members can get upgraded straight to villas. My hunch would be very rarely, and even still you'd have to be a Titanium or Ambassador level elite member.­
Final Thoughts
Being able to book Scrub Island for 60,000 Marriott points per night (or 48,000 points with the 5th night free) made it a very attractive resort and use of Marriott points. Now that it's been bumped up to a Category 8 and requires 85,000 Marriott points per night (up to 100,000 per night in peak pricing), it's a bit harder to justify as a points redemption for most people.
If you're able to find off-peak dates for 70,000 points per night, I'd definitely consider it.
You're certainly not going to feel underwhelmed by your visit to Scrub Island. Its small number of rooms make for a truly intimate experience, which is unlike most other Marriott properties throughout the Caribbean that are large and are on large stretches of beaches with other resorts.
Sun, sand and clear blue water have the makings for a great visit no matter where you go. Its location, and relative ease-of-access are its top selling features.
But Scrub Island itself is not a knock-your-socks off type of destination luxury wise where you might go and just sit and stay at the hotel for your entire stay to enjoy all of its 5-star amenities. It's a Category 8 hotel, but not in a Ritz Carlton or JW Marriott kind of way. You're certainly going to want to look elsewhere for a different resort if you have that in mind.
New to the world of points and miles? The Chase Sapphire Preferred is the best card to start with.

With a bonus of 60,000 points after $4,000 spend in the first 3 months, 5x points on travel booked through the Chase Travel Portal and 3x points on restaurants, streaming services, and online groceries (excluding Target, Walmart, and wholesale clubs), this card truly cannot be beat for getting started!
Learn More
Editors Note: Opinions expressed here are author's alone, not those of any bank, credit card issuer, hotel, airline, or other entity. This content has not been reviewed, approved or otherwise endorsed by any of the entities included within the post.