In This Article
Loading table of contents …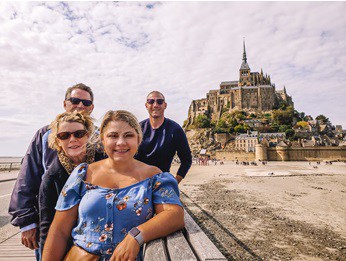 Note: Some of the offers mentioned below may have changed or are no longer be available. You can view current offers here.
By 10xTravel Reader Robert Wells
Enjoy Robert & Amelia's stories from their year-long journey around the world. You can also follow their journey on Instagram.
Read Part 1: Bon Voyage – A Dream Realized
As a popular destination, Paris was an easy decision as a base to start our big adventure. There were multiple  flight redemption options, and as former residents of the city, it served to be a nice place to break into being away from home as opposed to going to a country where we had no familiarity.
As mentioned in the first part of this series, my parents joined us on this trip for the first segment. It was great to explore the country that we lived in for several years as adults together. My dad and I decided it would be "fun" to rent a car that had a manual transmission, because it had been some time since we got to drive one.
We declined the rental car company's insurance since we had collision damage waiver (CDW) coverage just from paying with my Chase Sapphire Reserve. Of course, we immediately backed into a giant plastic parking structure used to block off spots for the rental vehicles as we were leaving the lot. Thankfully, there was no damage to the car, but it still made us glad to be covered.
Unfortunately, our GPS didn't factor in road construction. What should have been a short drive into the city turned into an hour of missing exits. We might still be driving around today if we hadn't put away Google maps and started paying attention to the street signs for detours.
3 Nights in the Normandy Region
We started the trip in Normandy in the town of Rouen, where Joan of Arc was burned at the stake. We stayed at an interesting Marriott hotel built into an old 14th century building It was a great base as Rouen is very walkable and not very large anyway. Thankfully, we had "Professor Dad" to aid in history lessons, as a self-proclaimed Joan Of Arc expert.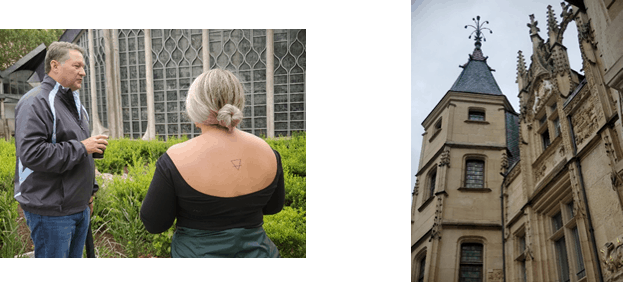 Autograph Collection Rouen
Continuing on, we drove up to Normandy to see the beaches from D-Day and visit the museum there. I was excited to see the beaches as an adult, because I'm sure I didn't give them their proper due as a teenager. It was a very harrowing experience to see crosses as far as the eye could see. On the top of the cliffs above the beaches, there are still war relics including German bunkers where they mounted anti-aircraft guns and a defense against the Allied surge.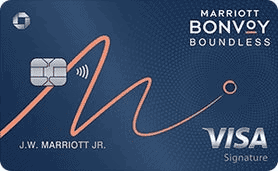 Our last stop was in Mont Saint Michel which was a favorite of mine when I was younger and remains a great memory from childhood. I may have actually put my Gameboy down and paid attention back in the day!
Mont Saint Michel is a walled city with an abbey on the very top and while it's quite a little hike, it's certainly worth the view. What makes this site unique is the fact that special attention has to be paid to the tide as it's off the west coast of France. At high tide, it's an island with water surrounding it, and at low tide, you can walk the entirely around it in the sand.
The area around Mont Saint Michel had very high hotel prices, so I suggested we book an Airbnb in a little town outside of the area. By using my Sapphire Reserve to book, we earned 3x points on the stay and grabbed a small 5% back on the purchase by buying gift cards versus direct through Airbnb.

5 Nights in Paris
After our tour around northern France, we returned to Paris for 5 nights. The city has a plethora of points redemption options as you would expect. And just like any other major city, the closer you are to the action, the more you will pay for it in points or cash.
Given the recent devaluation of the Marriott Bonvoy program and the introduction of peak and off-peak pricing plus the ideas I had in mind for great redemptions on this trip, we chose to stay just outside of the city in La Defense, the business district of Paris at the Renaissance La Defense.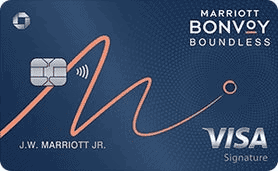 We stayed at the Renaissance La Defense. In my mind, this is a sweet spot for Marriott points in a city that loves being overpriced. We only needed 25,000 points per night and we took advantage of Marriott's 5th-night free benefit that dropped the cost to 20,000 points per night for a total of only 100,000 points.
As a noted Marriott enthusiast, I always look for extra value at a desired property with my Titanium status. Along with the great redemption, we received an excellent free breakfast in the restaurant via buffet or made-to-order food from the menu that we often used as brunch.
Around 5:00 every evening, the lounge offered free drinks and hors d'oeuvres. If we weren't already going out, this could have easily been a light dinner, as there were both delicious hot and cold options.
Alternatively, you could stay at a Courtyard or lower category hotel in a more central location. Those with Platinum and Titanium elite status won't get as many fun perks but the location might be worth it to you.
For those okay with staying outside the city, La Defense is an easy 20-minute Metro ride into the city. The only drawback that comes with this hotel is you lose a little of the "neighborhood charm" of Paris.
In returning to the hotel each evening, instead of walking back to your hotel, you do have to hitch a ride on the Metro back to the business district and be mindful of the time (the last trains are generally around midnight). If you plan to be out late, make sure you check the train schedule or plan alternate transportation.
It's certainly a tradeoff between spending quite a few points and being in the thick of it all or saving tons and staying right outside the city.
Renaissance Paris La Defense
Points Used: 100,000 Marriott Points (With 5th-Night Free Benefit)
Cost Out of Pocket: $0
Cost Without Points: $1,310
The adventures with Dad continued at the hotel at check-in. We approached the desk together and, once an agent was ready, I told him, "you go ahead."
Once another desk opened a puzzled front desk staff member said , "We are so sorry Mr. Wells – we just gave the last suite away to the gentlemen next to you because he is an Ambassador…but you were due for an upgrade."
I mentioned that I had met him before, and I demanded they take away his suite. We all had abit of a laugh at the confusion caused by a pair of R. Wells checking in together.
In the end, they moved us to a suite the next morning. While upgrades are a perk of Titanium status, it's not a given – and it was very much appreciated!
European hotels like Paris are notoriously small, so it was great to have this opportunity to spread out, especially when we needed to sort out our gear for the trip.
Every morning, we enjoyed a wonderful breakfast in the restaurant and took the Line 1 Metro into the city to explore. As this was a reunion of sorts with some of our old neighbors and friends, we did not pack our days with sightseeing activities which allowed us to enjoy a much more leisurely schedule.
Most days, we scheduled a major sight or two since Paris was new to my wife Amelia. On several occasions, we grabbed lunch at a café and then enjoyed some people-watching.
Amelia and I also spent a day to visit my old middle/ high school in the suburbs. It was fantastic to relive a bit of nostalgia and show her part of my childhood. Also, it was sad to see fire damage at Notre Dame.
My family has a small personal attachment to Notre Dame since it was a landmark not far from our neighborhood for several years.
We spent most of our time in the 8th and 17th arrondissements of Paris, and, while not jam packed with tourist attractions, you get a much deeper sense of the true heart of the city. Of course we are partially biased to where we spent many years, but in general we found that not spending our days waddling through the street peddlers selling me another Eiffel tower keychain or waiting 30 minutes to pay exorbitant tourist trap restaurant prices was far more relaxing.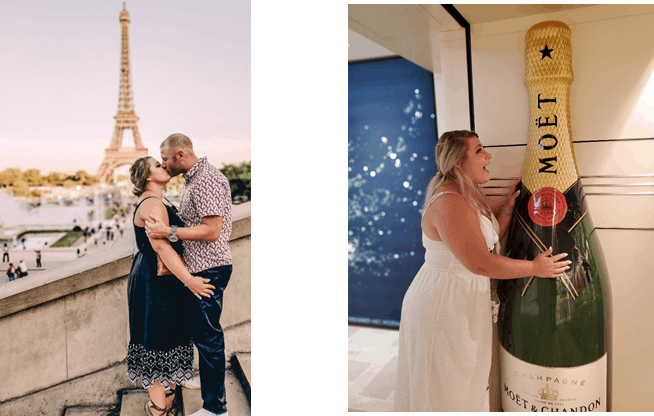 Moving On
After enjoying many great dinners at both old haunts and new, we ended the trip by visiting Epernay, the center of the Champagne region of France, and the home of Moet & Chandon and Dom Perignon. The cellar tours were wonderful, and the samples were very generous pours at the end, providing two completely full flutes to try two different varietals.
We exchanged a late night tearful goodbye with my parents as this was the last time we would see them for almost a year, and after 6 days and five very restful nights in Paris, we took an early train to the south of France to start our 500 mile pilgrimage on the Camino de Santiago.
Next up:
Part 3:  Camino De Santiago – a 35 Day, 500-mile journey through Spain
New to the world of points and miles? The Chase Sapphire Preferred is the best card to start with. With a bonus of 60,000 points after $4,000 spend in the first 3 months and 2x points on dining and travel, this card truly cannot be beat!
Learn More