Note: Some of the offers mentioned below may have changed or are no longer be available. You can view current offers here.
Ever since our family expanded to five, we've limited our major international trips to once a year, but we still have to get our travel fix. That means two things for us: more domestic travel and more travel during school holidays, which can get pretty expensive.
However, you can often book domestic airlines such as American, Delta and United with partner airline programs which can really help keep the costs down. In this post, I'll discuss two bookings I made on US airlines using partner miles and teach you how to do the same.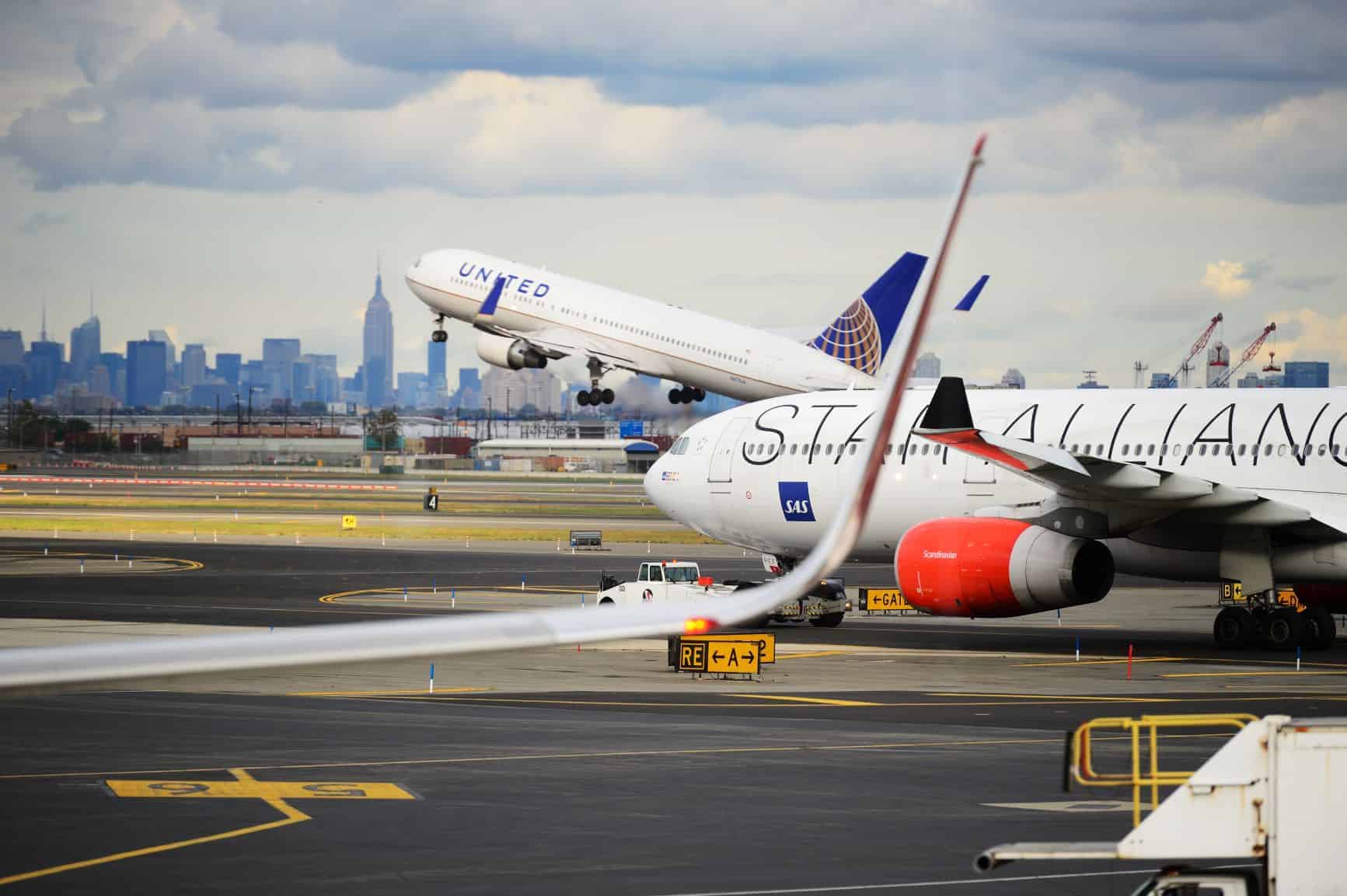 In This Article
How to Book Award Flights With Partner Miles
Before I get to my personal examples, let's talk about how and why you can book award flights with partner airlines.
All airlines partner with other airlines. In practice, what that means is that many times when Airline A opens up award space that can be booked using its own miles, it also opens up that same award space to partner airlines – Airlines B, C, D, etc.
With the three major airline alliances: Star Alliance, Oneworld, and Skyteam, you have a large network of airline partners that you can use your miles for. So for example, you can use Delta SkyMiles to book flights on Delta, Korean Air, Air France, KLM and other Skyteam airlines.
So, in practice, you need to differentiate between two different airlines when you're booking. First, you need to know what airline you plan to fly. Second, you need to know what airline's miles you plan to use to book. Sometimes those two are the same, but sometimes they're different – and that's where you can find a lot of value.
Check out our article on the basics of booking with partner programs for more info.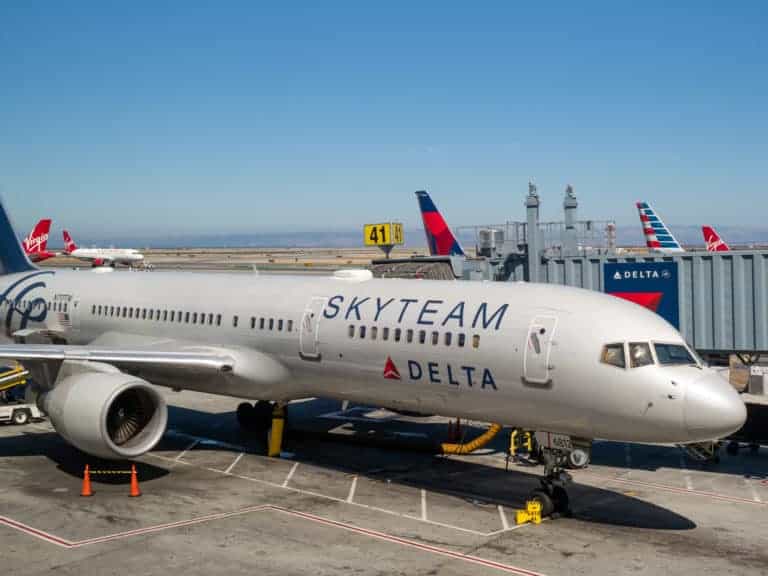 3 Reasons Why You Should Know How to Use Partner Miles
Just because you can do something doesn't mean you should, but when it comes to booking using partner airline miles, there are a lot of great reasons to do so.
Here are three of the reasons I love using partner airline miles.
Avoid Dynamic Award Rates
One of the trends amongst US-based airlines has been a move to variable award pricing, meaning airlines can increase or decrease award rates on a whim. This has made it very difficult to figure out what the saver level (lowest) rate is when booking US based airlines award flights using their own miles.
By contrast, the majority of foreign partner airline programs still use award charts, or at least publish a saver rate. That means as long as an airline is releasing award seats to its partners, you can know exactly how much you'll need to pay using partner miles. Most of the time this results in using fewer miles – a net win overall.
Award Chart Sweet Spots Give Great Value
The second way partner award bookings can save you miles stems from the fact that every award chart has its own "sweet spots" – award prices for certain routes that are cheaper than everyone else. Each airline's award program has its own sweet spots – but the airline you want to fly might not have a sweet spot for the route you want to take.
Knowing which partner can book the same flight for less miles due to that partner offering a sweet spot can save you a lot of miles! A popular example these days is using Turkish Miles & Smiles to book domestic United award flights for 7,500 miles each way – including some flights to Hawaii and Alaska.
Partner Airline Award Bookings Give You the Opportunity to Use Transferable Bank Points
The third way partner airline award bookings provide value is often a function of the miles and points you have in your personal accounts. Say you want to fly on United, a Star Alliance partner. Well, what happens when you don't have enough Chase Ultimate Rewards points to transfer to United?
If you have Citi ThankYou Points you could transfer those to the aforementioned Turkish Miles & Smiles program to book those same United award flights. Alternatively, if you only have American Express Membership Rewards points, you could transfer them to Air Canada's Aeroplan program to book the same flights.
Knowing how to use partner airlines provides flexibility when you're making your award bookings.
How I've Used Partner Miles to Book Domestic Flights
Now that we've discussed the value of using partner airlines miles to book awards, let's look at some concrete examples of how I recently saved a bunch of miles using partner airlines.
Virgin Atlantic Flying Club Miles for Delta Flights
While I generally like flying Jetblue down to Orlando, I found myself looking for flights on Delta for a recent trip with my two kids. Specifically, I was looking for Delta domestic first class seats due to a variety of circumstances which ended up working out perfectly (both for my trip and for the purposes of this article)
Delta was the first to move to variable award rates. While it's still possible to deduce what saver level should be on international flights, it's very tough on domestic flights. However, a common sweetspot I like to take advantage of when it comes to flying Delta is using Virgin Atlantic Flying Club miles for domestic first class.
Virgin Atlantic and Delta are both transfer partners of Amex Membership Rewards so why transfer more Membership Rewards points to Delta in this case?
On top of that, you have to pay an excise tax of $0.0006 per point when you transfer Amex points to US based airlines, including Delta, up to a maximum of $99, further decreasing the value of transferring to Delta.

The sweetest part of using Virgin Atlantic in my case?
When I transferred my American Express Membership Rewards points to Virgin Atlantic, American Express was offering a 30% transfer bonus to Virgin Atlantic so I got even more bang for my buck. It's not uncommon to see transfer bonus promos to Virgin Atlantic but I've never seen one to Delta.
So – how much did I save? Virgin Atlantic charges 22,500 miles and $5.60 per person for a one-way domestic first class award ticket on Delta. On the other hand, Delta was charging around 28,000 Delta SkyMiles and $5.60 for a one-way flight in the same seat.

Since I transferred points from Amex, I normally would have saved a minimum of 16,500 Membership Rewards points and $50.40 (the excise tax). Due to the 30% transfer bonus, I actually saved 36,000 Amex Membership Rewards points.
British Airways Avios for Flights on American Airlines
More recently, I saved a ton of points for some flights over the Christmas holiday. This time I was looking to fly to Charlotte on American Airlines.
Unfortunately, American AAdvantage recently moved to dynamic award pricing. At this time, American still publishes an award chart that shows 12,500 miles one-way for economy and 25,000 miles one-way for business class. However, award rates have been all over the place lately.
If you need a non-stop flight on American, partner program to use is the British Airways Executive Club, which uses a distance-based award chart that contains several sweet spots.
For a flight from Boston to Charlotte, I would need 12,500 American miles for an economy ticket or 25,000 miles a domestic first class ticket (classified as business class).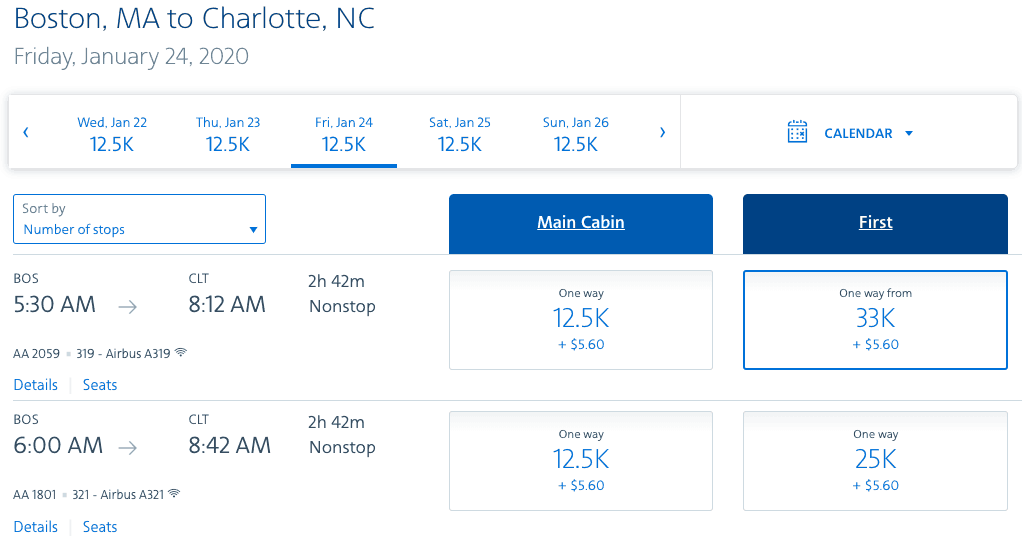 The cost with British Airways? 9,000 Avios for economy or 16,500 Avios for business class! Because I ended up booking flights pretty last minute to Charlotte, only business class was available but I was happy to save 8,500 miles per ticket (times five for my whole family).
If you choose to book via British Airways, keep in mind that you will be charged per segment. So, if you need a connecting flight, you will need additional Avios for that second flight.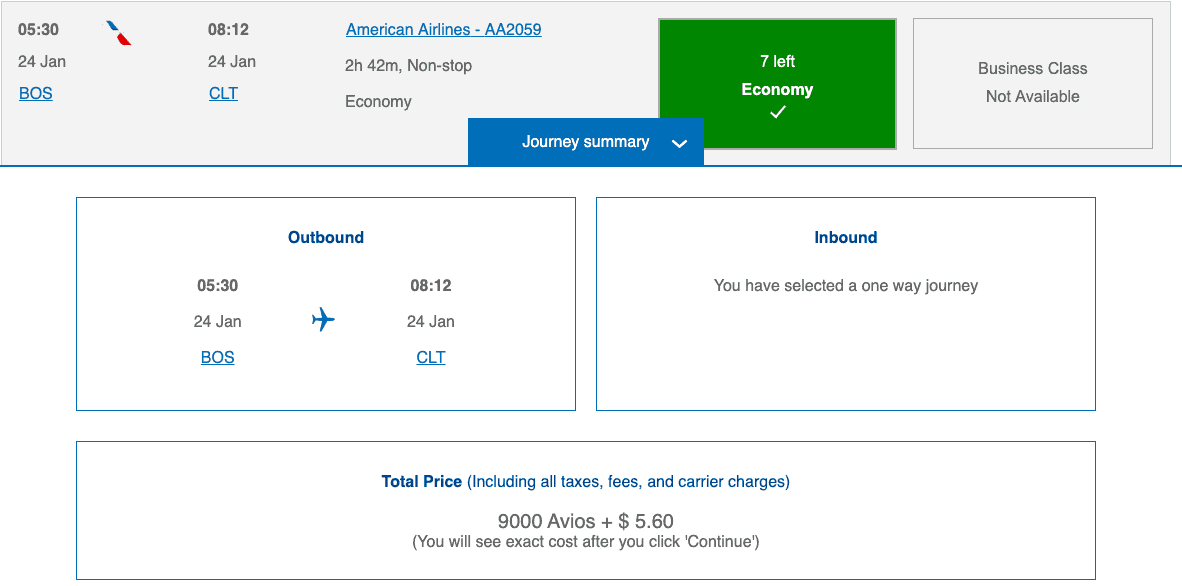 In this example, it's not quite apples to apples, since you can transfer both Chase Ultimate Rewards points and AmexMembership Rewards points to British Airways Avios but you can't transfer any bank points to American AAdvantage. In a pinch, you can transfer Marriott Bonvoy points to American, though.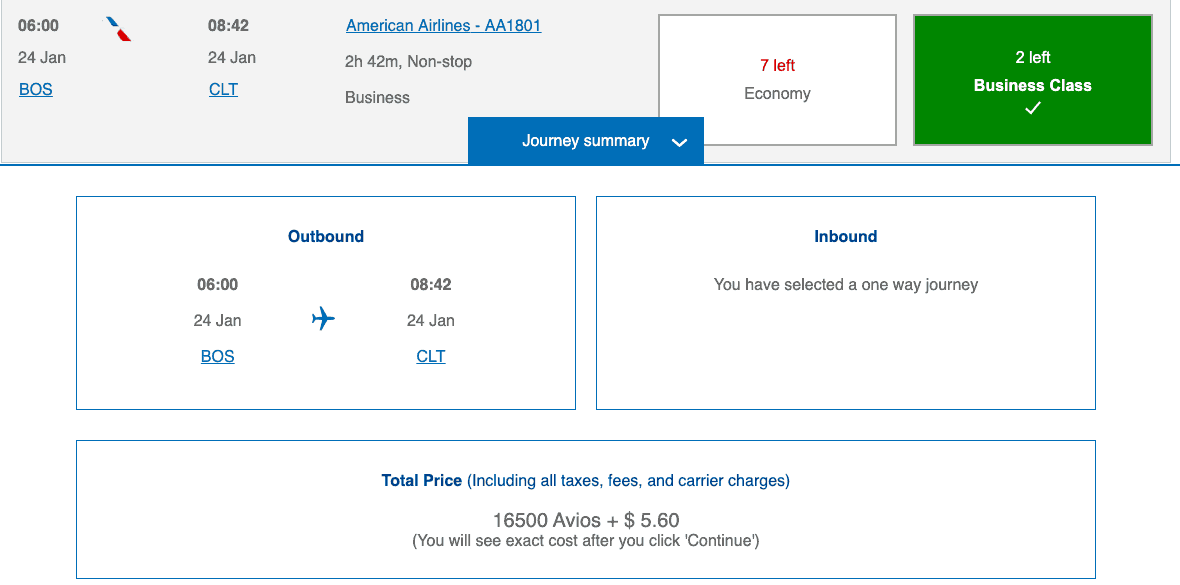 Once again I benefited from an Amex transfer bonus (25% in this case). So, instead of spending 125,000 American miles for the one-way flight I needed, I used 66,000 Membership Rewards points for the same flights.
One thing to note about American Airlines – they have started offering award ticket web specials that can only be booked using American AAdvantage miles – which is a real bummer. So, if you're trying to use a partner to book those flights, you won't be able to.
Other Popular Partner Airline Options
British Airways and Virgin Atlantic are the two partner airlines I use to book domestic award travel the most, but there are a lot of other good options out there.
For United MileagePlus, look to Aeroplan, Singapore KrisFlyer, or Turkish Miles & Smiles.
For Delta, you can also use Air France-KLM Flying Blue miles although there isn't usually the same value there. Korean Air SkyPass can offer value but, like American, the only transfer option is Marriott Bonvoy points.
Finally, I sometimes use Alaska Mileage Plan miles to fly with American or vice versa – but the prices are generally the same. It just depends which miles I have at that time. IMPORTANT: As of March 1, 2020, you will no longer be able to book Alaska flights with AA miles or AA flights with Alaska miles.
Final Thoughts
Booking domestic awards with partner airlines can provide a lot of value and save you miles that you'll be able to use for your next trip. As you can see from just the two trip I took recently, I was able to save a ton of points by utilizing partner programs.
What are your favorite partner airlines to use and what sweet spots do you like to take advantage of?
Let us know your success stories and thoughts in the comments!
---
10xTravel is part of an affiliate sales network and receives compensation for sending traffic to partner sites, such as CreditCards.com. This compensation may impact how and where links appear on this site. This site does not include all financial companies or all available financial offers.
Editors Note: Opinions expressed here are author's alone, not those of any bank, credit card issuer, hotel, airline, or other entity. This content has not been reviewed, approved or otherwise endorsed by any of the entities included within the post.