In This Article
Loading table of contents …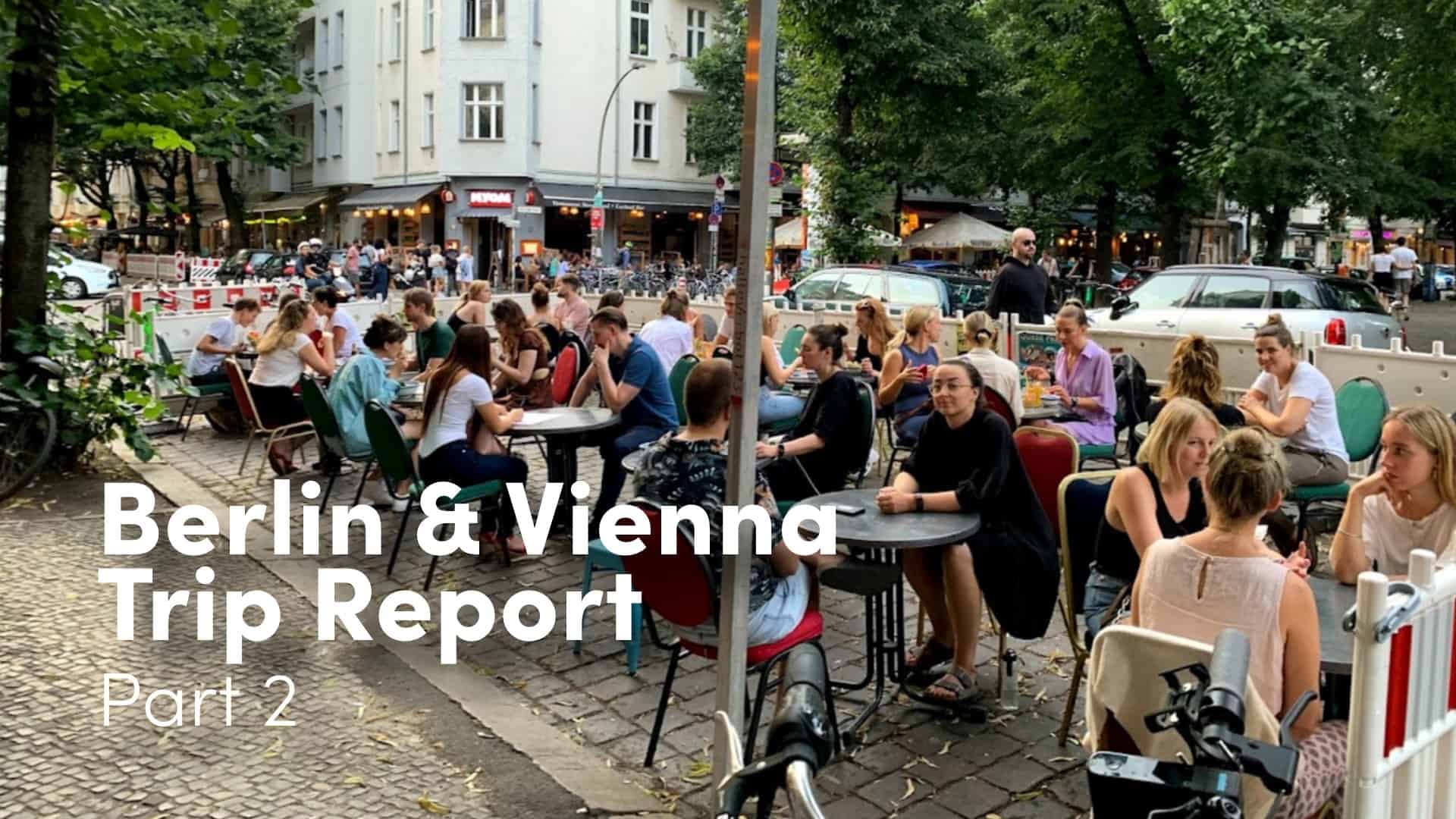 This is part two of my Europe travel report, so if you'd like to read about my experience flying across the Atlantic, head over to the first part where I reviewed the United Polaris, Lufthansa and Air Canada flights. Here I'll talk about my experience traveling in Europe, the COVID restrictions and review my Berlin and Vienna hotel stays.
So what's it really like traveling in Europe right now? In short, it's great! The tourist crowds aren't back yet so you'll hardly see any tour buses or many organized tours. The Europeans, however, seem to be living their lives, with adjustments of course, which include masks on all public transit and inside the shops and museums.
The restaurants are open and people are eating mostly outside. This, of course, is going to change as the weather turns colder and the diners move into the cozy indoor dining rooms. But in August, the locals in Berlin and Vienna were out in droves, enjoying the last couple of weeks of summer.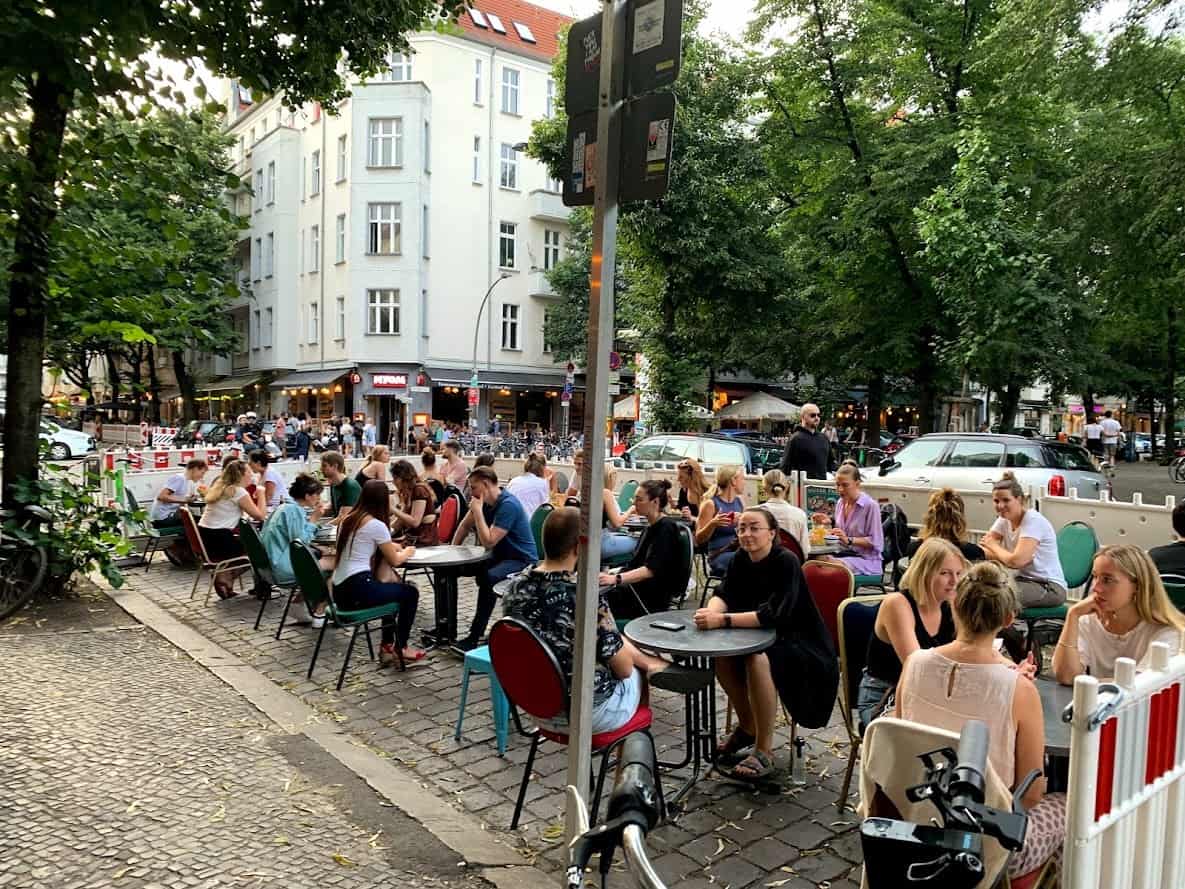 All of this, of course, is subject to change, and the requirements will be different from country to country, so check the local rules before your trip. Overall, we didn't feel like anything was hugely bothersome and it was easy to comply with the rules.
Where to Find a COVID-19 Test for Your Trip Back to the U.S.
There's really no shortage of places where you can get a test necessary for your flight back home. As of right now, you are required to take a rapid COVID-19 test three days before departure in order to be allowed to fly back to the U.S.
You have a couple of options. One is to buy a self-test kit in the U.S. and bring it with you. The test is administered with the online supervision of a proctor who supervises you taking the test, verifies your identity and test results. That seems simple enough, however, online wait times could be long and the tests come six to a box, which could be way more than you need.
Another, and in my opinion, far simpler option, is to get a test locally. Because unvaccinated Germans and Austrians have to present negative tests at many establishments, such as nightclubs and hotels, you'll find the tests basically on every corner. In Vienna, the test costs 25 euro at a pharmacy and a private lab might charge 29 euro for a rapid test. They'll email you the results in a matter of minutes or hours, depending on who's doing the test. Your hotel can also assist you in finding the closest testing location.
On my wanderings through the old town in Vienna, I've even found a place that advertised free rapid tests. I took note of the location and later brought my husband there. The tests are also widely available in Berlin. You'll find English speaking staff everywhere and most websites have an English version as well.
Because I was continuing on to Israel I had to do a PCR test, so with a quick google search in English I found lots of options in the 50 to 89 euro price range.
We had the same experience in Greece in May of 2021, so if you are worried about how to get tested for your flight home, don't be. The infrastructure is there, and the tests are easy to access and are very inexpensive.
COVID-19 Measures in Berlin
Germany didn't have any restrictions on vaccinated U.S. travelers and there were no other requirements. I also haven't noticed any significant restrictions in Berlin. The weather was lovely, so I always ate outside, but restaurants are supposed to ask for your vaccine card for inside seating. Based on my conversations with the locals, this rule was only enforced sporadically. Mask compliance was universal as everyone wore masks inside the shops and on the metro. The hotel did ask to see my vaccine card at check-in, but that's the only time I was asked for it.
The one museum I visited in Berlin didn't ask for my vaccine status.
COVID-19 Measures in Vienna
At the time of my trip, Austria didn't require fully vaccinated travelers to take a COVID-19 test or fill out any additional paperwork. And there was no document check at check in or during boarding. When we got off the plane we were directed into a narrow and incredibly crowded corridor with hundreds of passengers from other flights. This bottleneck was due to the police checking everyone's vaccination (or if you aren't vaccinated, the negative test results) documents.
The COVID-19 measures in Vienna aren't super strict but they were mostly dutifully observed.
We were asked for our vaccine certificates when we checked in at the hotel. An outdoor film festival also asked us to show a proof of vaccination, a negative COVID test or a proof of recovery.
We only ate inside once and were asked for the same thing. I was asked to show my vaccine card a couple of other times, and the picture of the CDC card that I have on my phone was sufficient. The two museums I visited on this trip didn't ask for any documentation.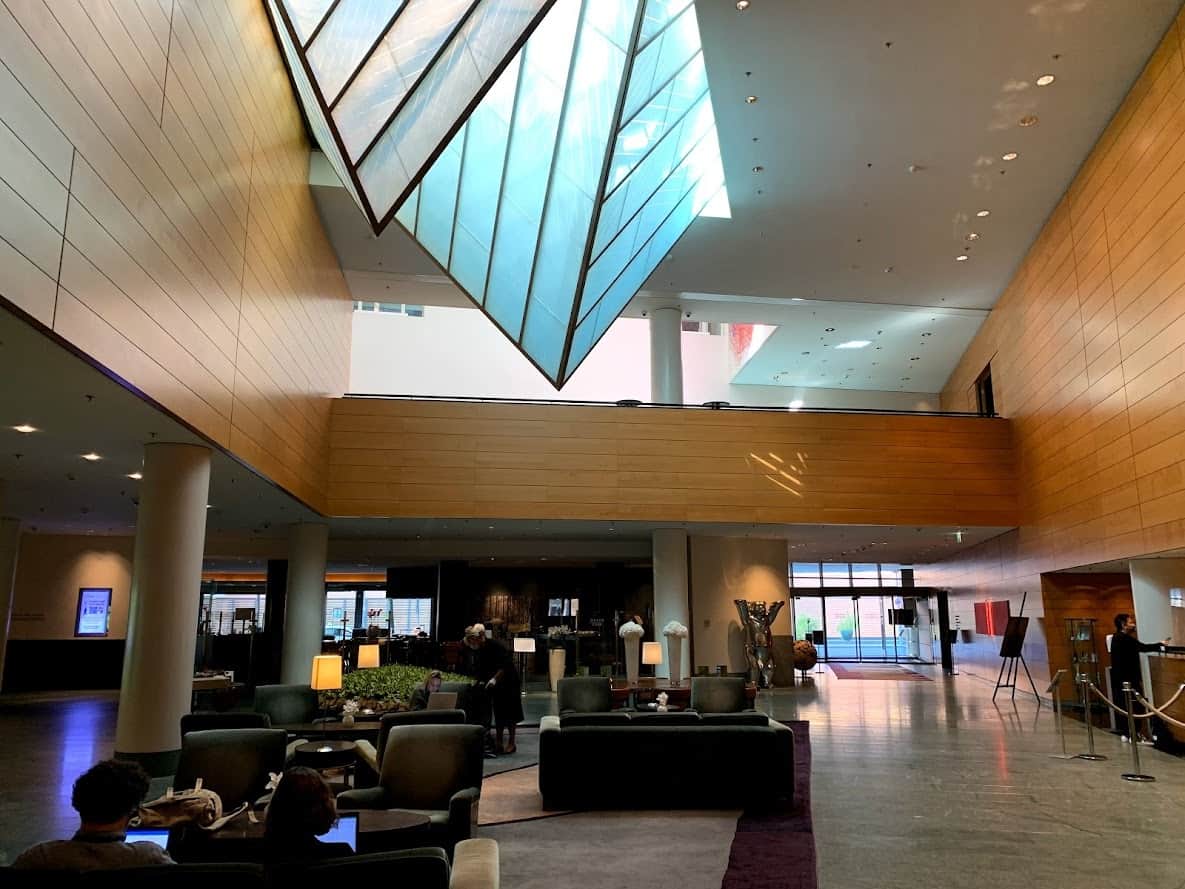 I covered how to get to the hotel from the airport in the first part of my trip report. But to summarize, there's a huge train and underground station Potsdamer Platz just five minutes walk away, or you can grab a cab from the main train station or the airport.
There's really not one bad thing I could say about this hotel. When I come back to Berlin, and I know I will as it's one of my favorite cities, I won't hesitate to stay there again. The hotel was beautiful and modern, my room had a ton of natural light and I liked the clean, modern decor.
The staff were all uniformly friendly and polite and the housekeeping did an excellent job. And they even left a little treat for me in the room!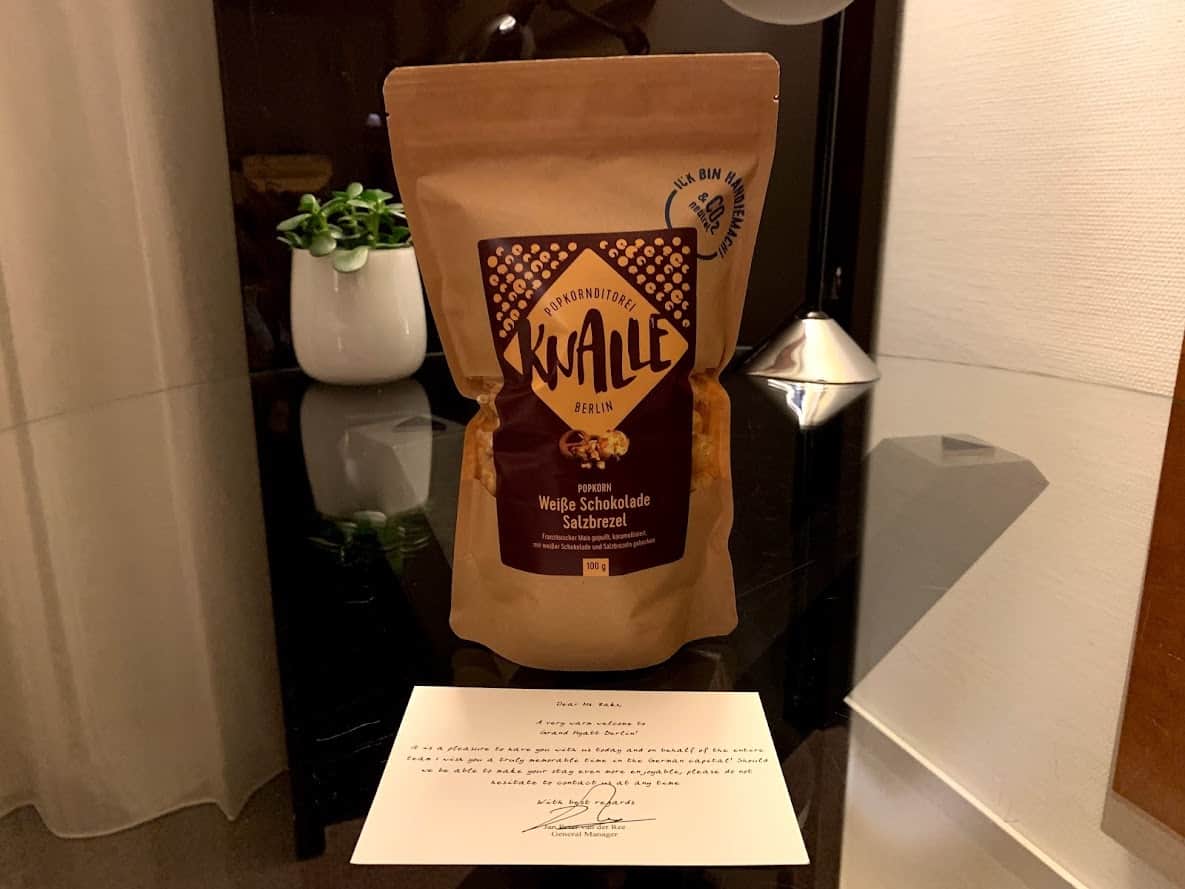 Right now the hotel offers daily housekeeping or they can clean your room every fourth day. I chose daily housekeeping because having someone make my bed, refresh my towels and straighten up the room is one of my favorite things when it comes to hotel stays.
The minibar wasn't stocked, but they could stock it on request. An unstocked minibar is just fine with me, as I often pull stuff out anyway to free up some room for my own snacks and drinks. I did get two free bottles of water a day, one sparkling, one still.
The Grand Hyatt Berlin is a category 4 property and so I booked it with a couple of free night certificates I had in my account and 15,000 World of Hyatt points for the remaining night. I think it's an excellent value, especially if you are a Globalist.
The hotel has a nice indoor pool on the top floor, a big gym and a lovely outdoor terrace with lounge chairs if you feel like getting some Vitamin D on a beautiful summer day. Right now the pool and the gym have to be booked in advance.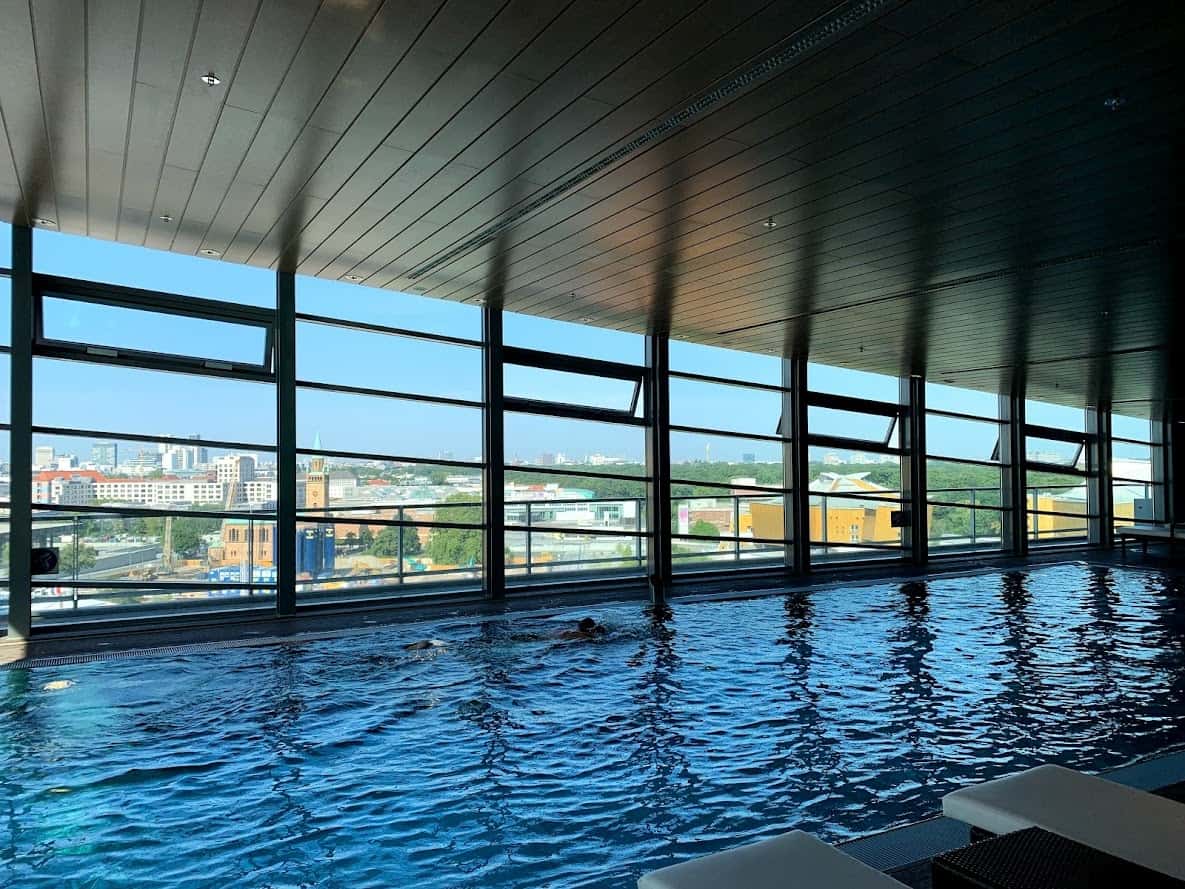 I am a Globalist, so my room was upgraded to a King Club Room on the 7th floor. The room wasn't huge, but had a big bathroom with a huge walk in shower. The bed was very comfortable and came with beautiful crisp white linens and two kinds of pillows (soft and firm). The Europeans really know how to make a good bed!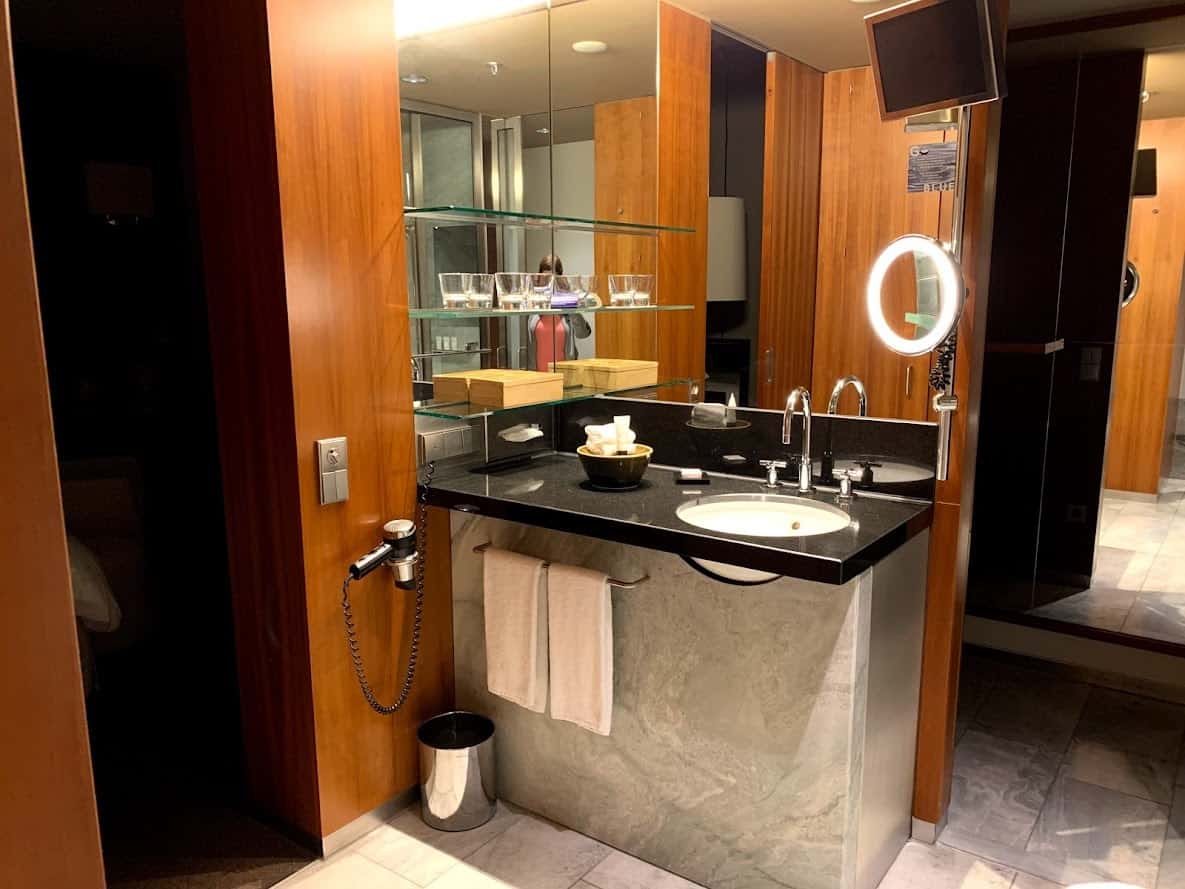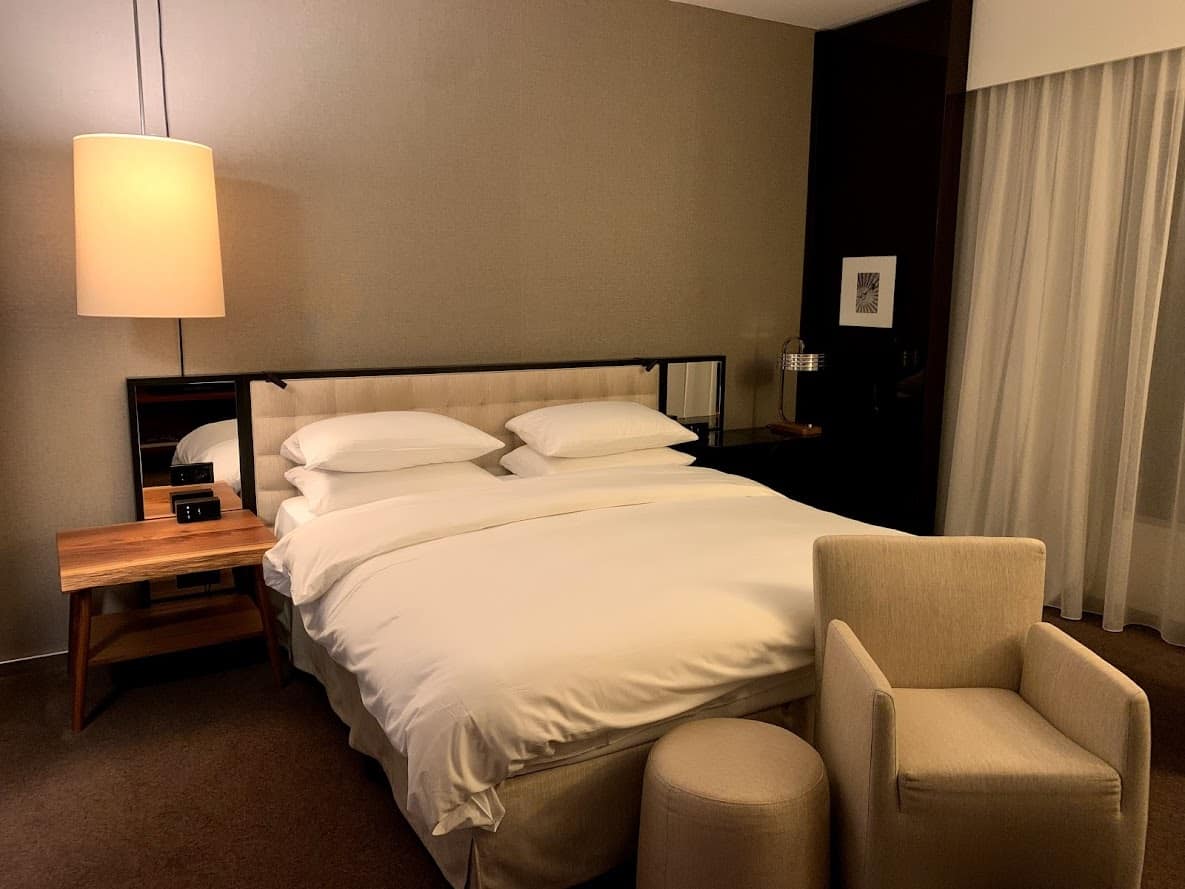 The blackout curtains did indeed block all the light and the air conditioner was whisper quiet. The area around the hotel isn't super busy and gets very quiet at night and the double pane windows block out the noise beautifully. I am very sensitive to noise and light, so these are the first things I always check, and I'd give the sleep quality five stars.
Food at Grand Hyatt Berlin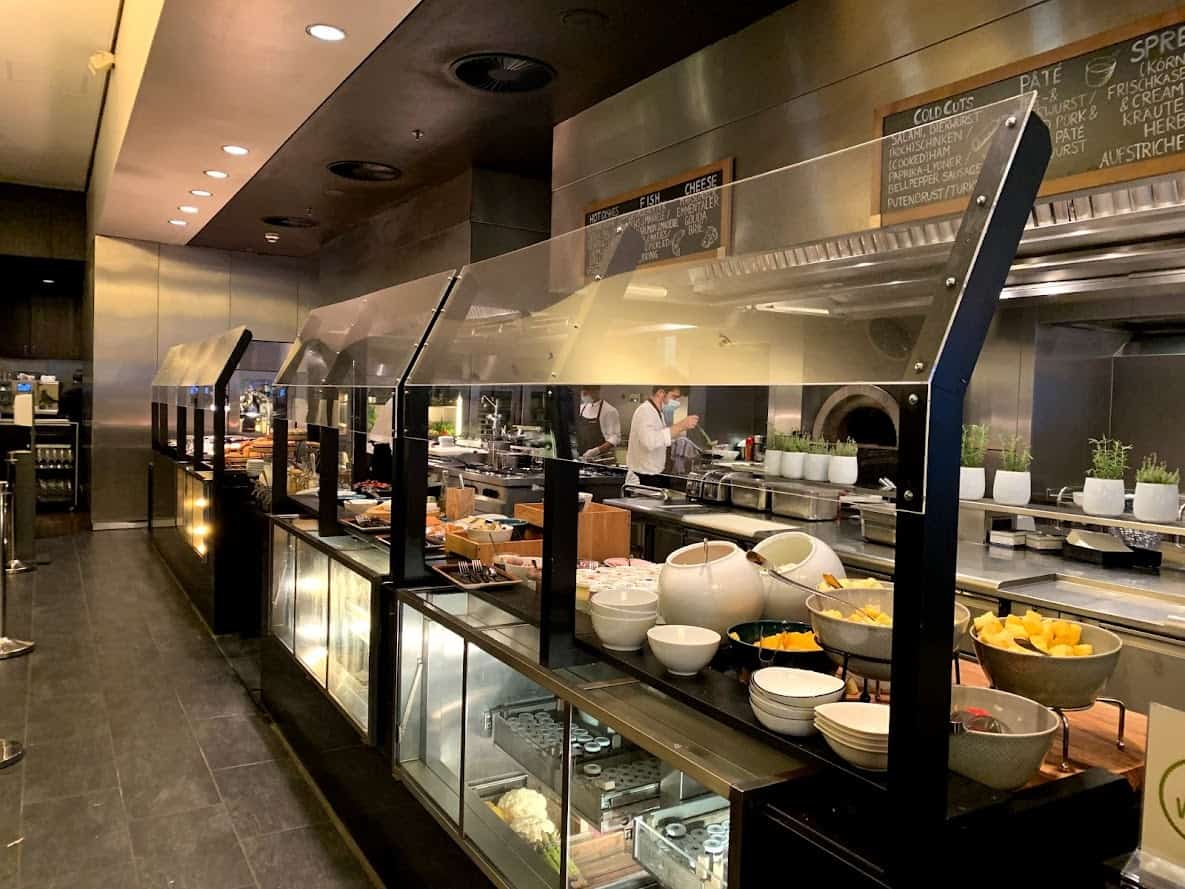 The club lounge is closed, so as a Globalist I had an option of ordering room service for breakfast or going down to the restaurant. I ate breakfast at the restaurant on all the four days that I was there. The food was good, but it wasn't the best breakfast buffet I've seen in Europe. The breakfast was better (and bigger) at the Hilton Berlin when I stayed there two years ago. I wish there was a bit more variety because the food was pretty much the same every day.
There was the standard variety of breads, including a couple of different kinds of hearty European rye bread, cold cuts, yogurt and cooked breakfast items. The hot food wasn't really hot, but they also cooked eggs to order. The weather was perfect, so I ate on the outside terrace every morning. Having a meal outside and watching life go by is one of my favorite pastimes in Europe.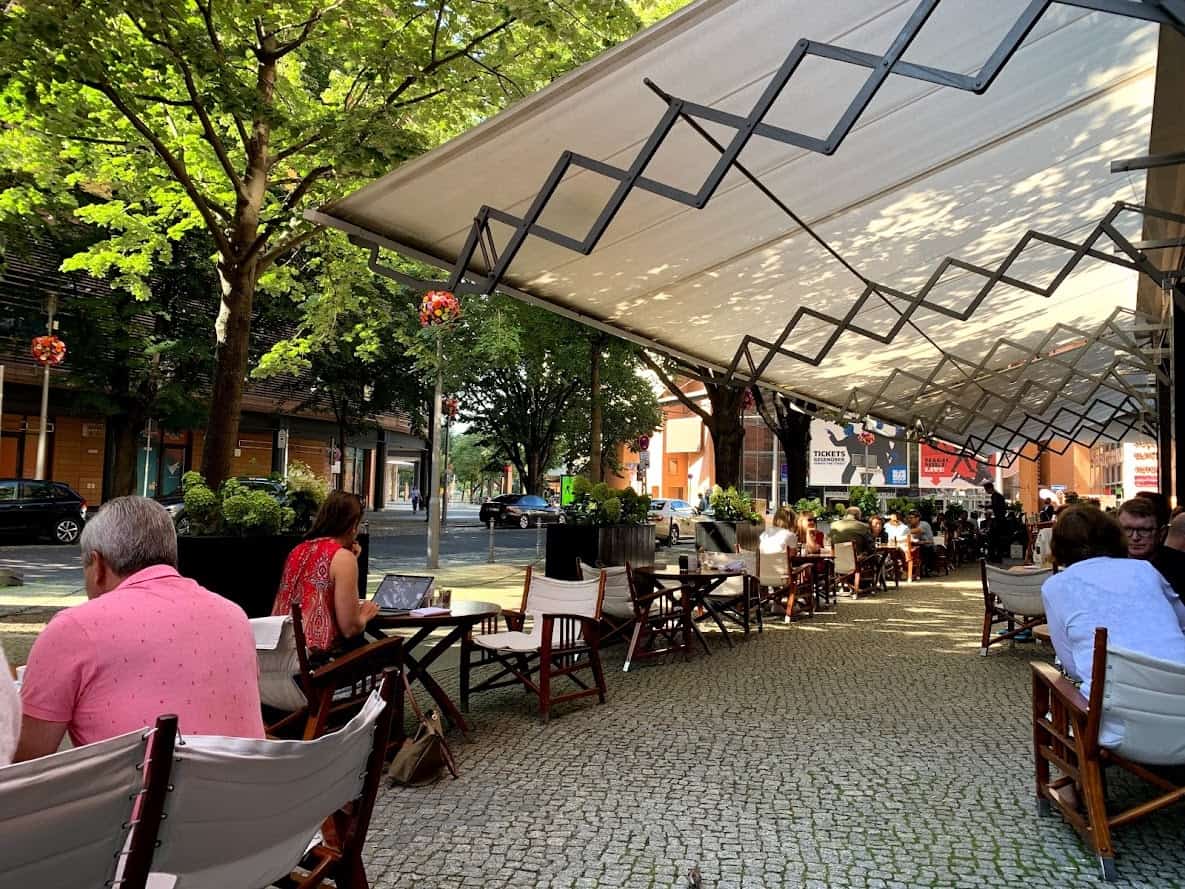 In lieu of lounge access, Hyatt offered afternoon tea and happy hour in their lobby bar. I've stopped by a couple of times during the happy hour to grab some sparkling water and small snacks, but I wouldn't go out of my way to be there during the tea time or the happy hour. There are so many good eats in Berlin, especially lots of great and inexpensive ethnic restaurants, so the lounge food isn't worth the calories.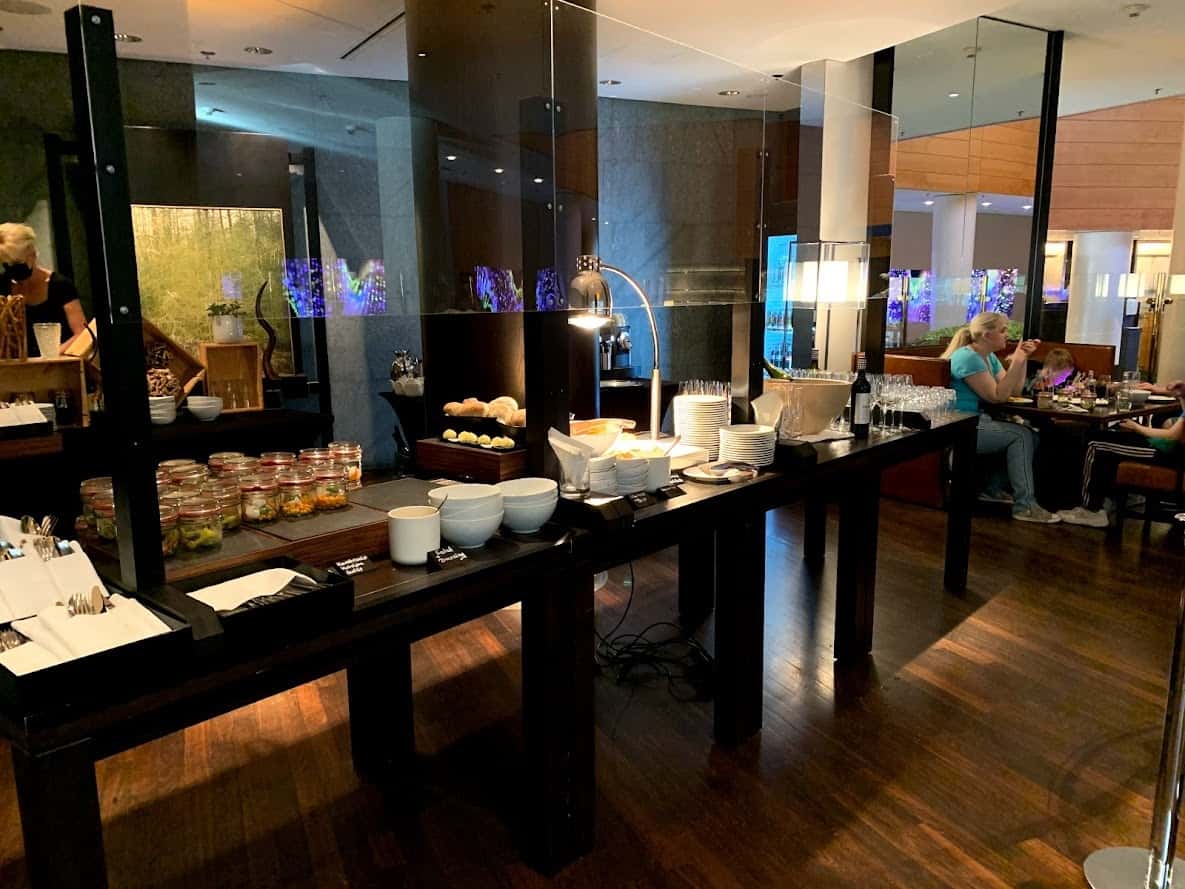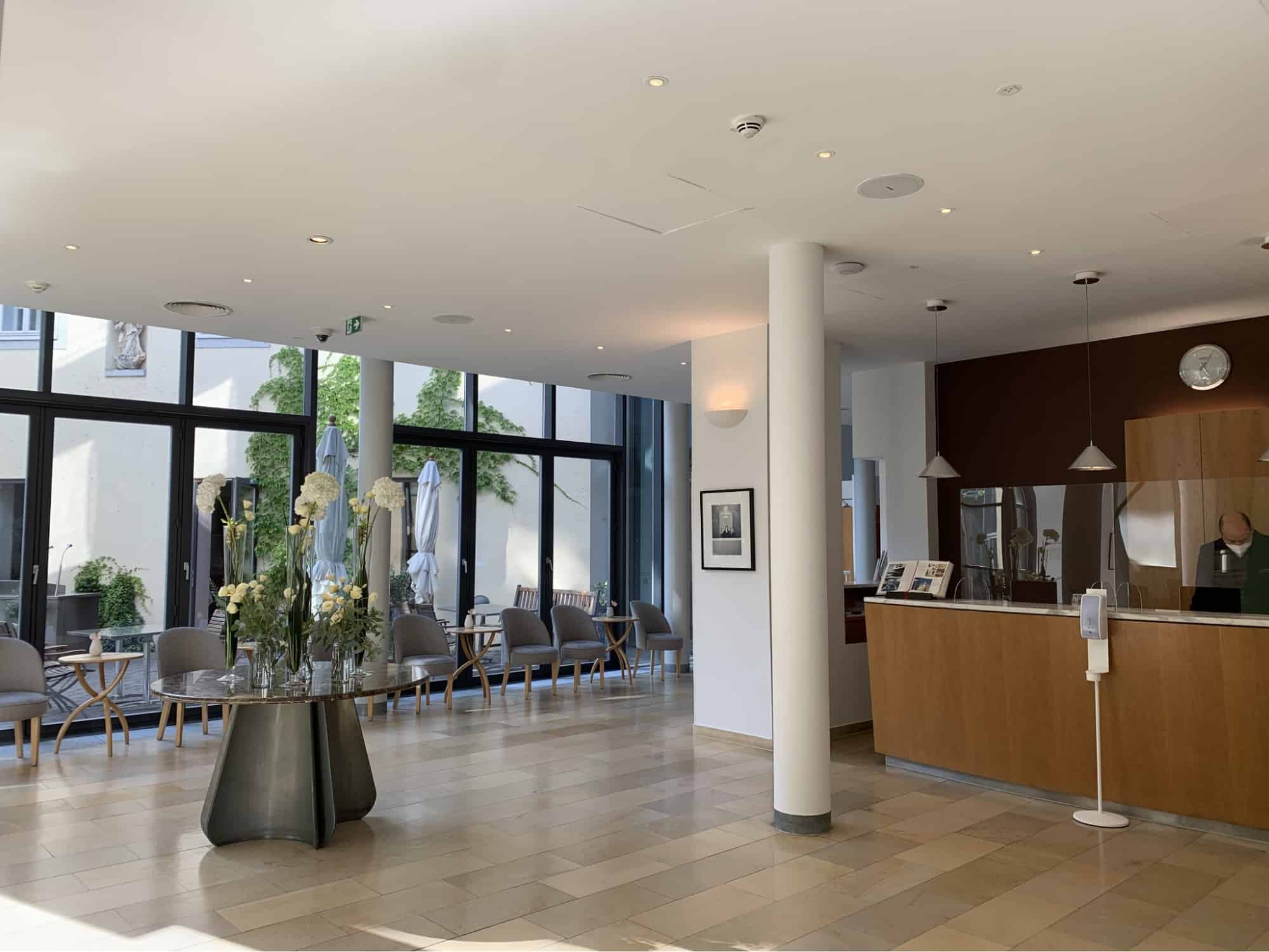 The Vienna airport is only 20-25 minutes outside of the city, but the cab ride can get a bit pricey. There are a couple of airport busses that go into the city, but their schedule was greatly reduced last year and still isn't back to normal, so when I landed in Vienna I took a train to the central train station and then a cab to the hotel. That turned out to be a mistake, as the cabs in Vienna are quite pricey, and my 10 minute cab ride cost me 20 euro. I should've instead taken an Uber from the airport for about 33 euro.
I booked this hotel with Marriott Bonvoy annual free night 35,000 points certificates that my husband and I earned with our Chase Marriott Bonvoy cards. A couple were earned last year and were extended because of COVID-19 travel restrictions, so between the two of us, we had seven certificates.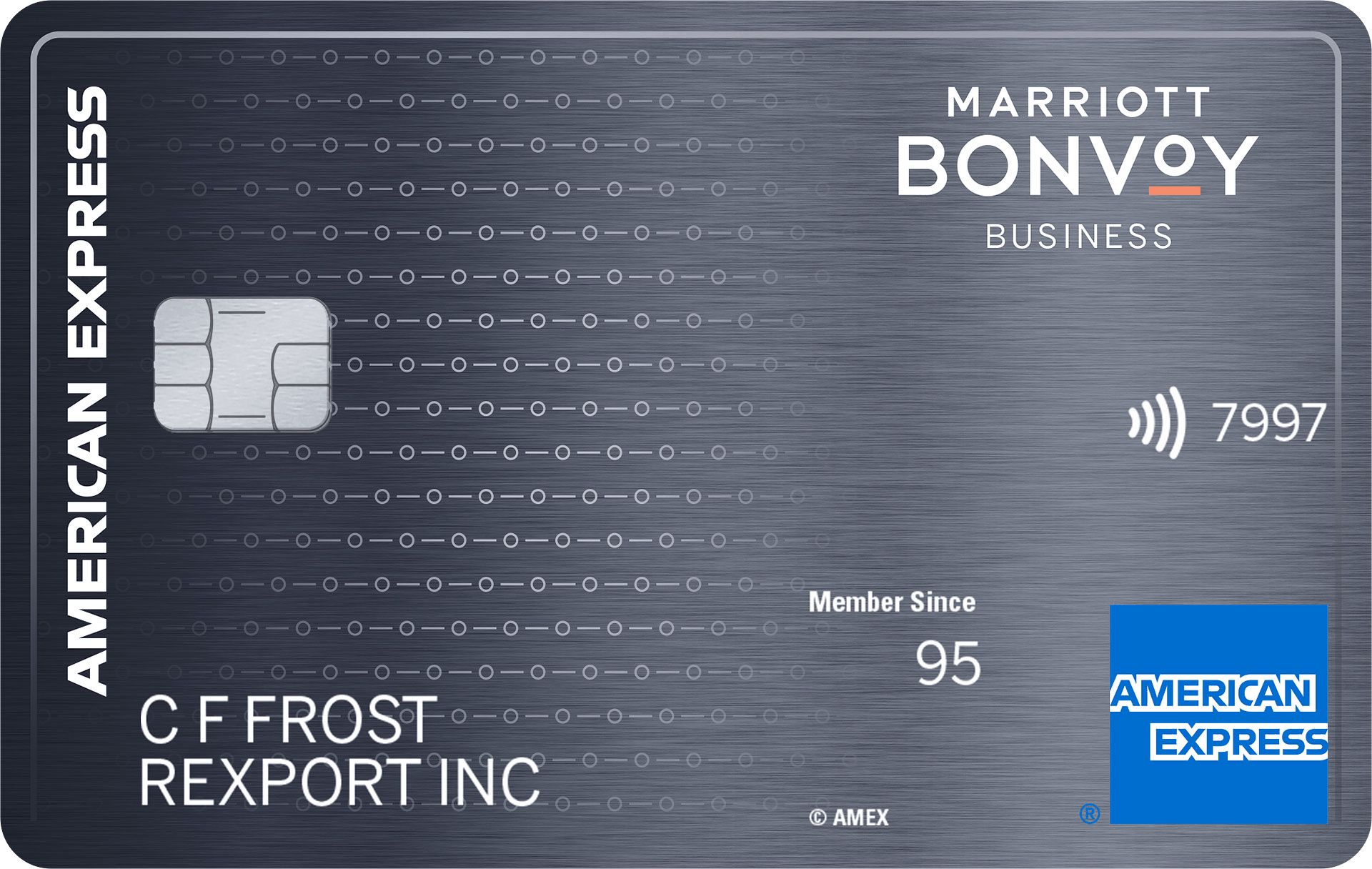 Marriott Bonvoy Business™ American Express® Card
Bonus Marriott Bonvoy Points
after you spend $3,000 in the first 3 months. Plus earn up to $150 back in statement credits on eligible purchases made on your card within the first 3 months.
Annual Fee: $125 Terms Apply. | Rates & Fees.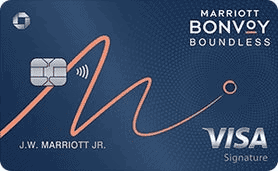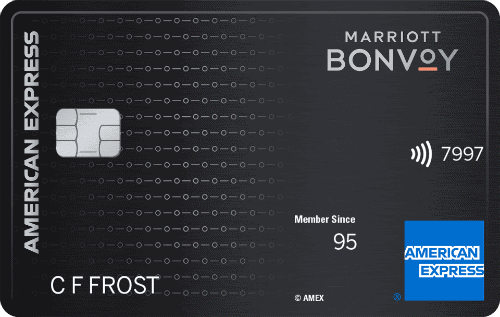 The cash rate was around 120 euro/night, so maybe this wasn't the best redemption, but the certificates were expiring at the end of 2021 and we didn't have other plans for the rest of the year that included a Marriott stay.
DAS Triest is a nice, solid, mid-sized, four star European hotel. The quality of the rooms is a bit inconsistent, as the hotel actually consists of three or four adjoining buildings. There were so many staircases and elevators that I really couldn't tell you how many buildings were joined together to create DAS Triest.
The service was excellent and the front desk staff were friendly, polite and very helpful.
The location of this hotel is perfect. It's close to the Ring, the famous Naschmarket and the Vienna Secession museum. The Vienna Opera house is just 10 minutes away by foot. There's a tram stop right in front of the hotel and the Karlsplatz metro station is also nearby. You could easily get anywhere in Vienna with the help of the city's excellent public transportation system.
You can buy a single ticket, a day ticket or multi day tickets at the metro stations or through the Wien Mobile app. The app is very easy to use and you can buy tickets while you wait at the tram stop. There used to be plenty of ticket machines at almost all the tram stops, but I actually haven't seen any this time around, so definitely download the app and use it to buy tickets.
There is a lovely roof terrace that you can access with one of the building's many elevators.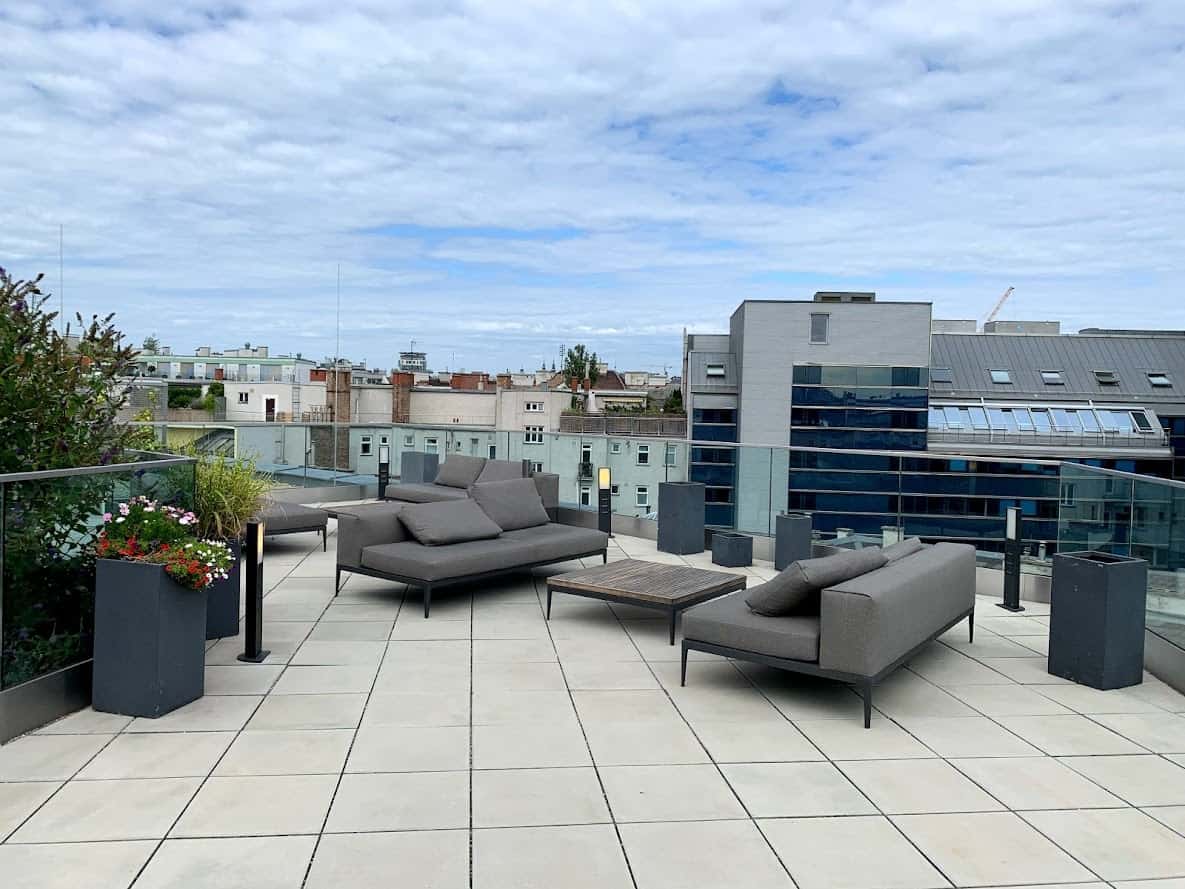 And there's also a gym and a sauna.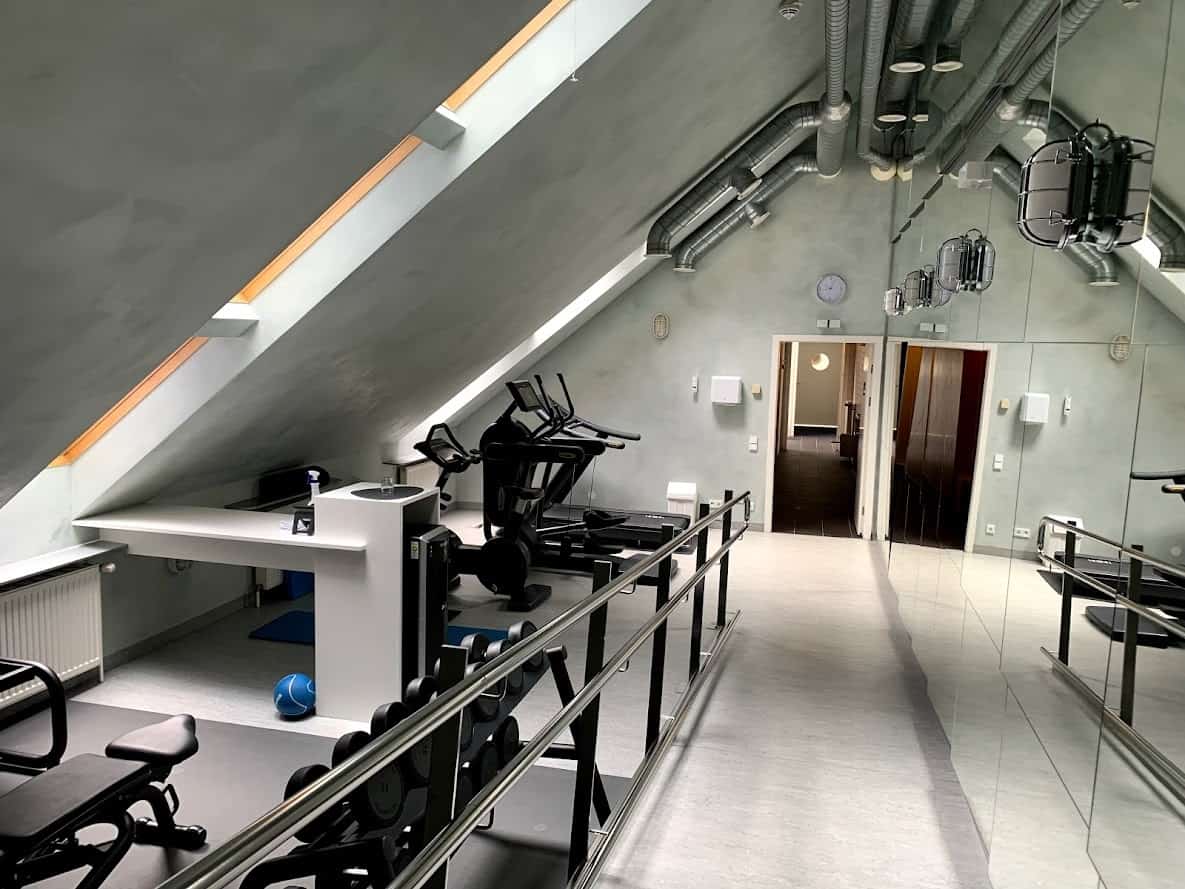 Both my husband and I are Marriott Bonvoy Gold members, thanks to both of us having the Platinum Card from American Express cardholders. Gold status doesn't come with any meaningful benefits and our stay didn't come with breakfast. The breakfast is served in the courtyard, and the setting looks beautiful and quintessentially European, but I can't comment on the food quality. I did see quite a few people eating dinner at the hotel restaurant, so the food there must be pretty good.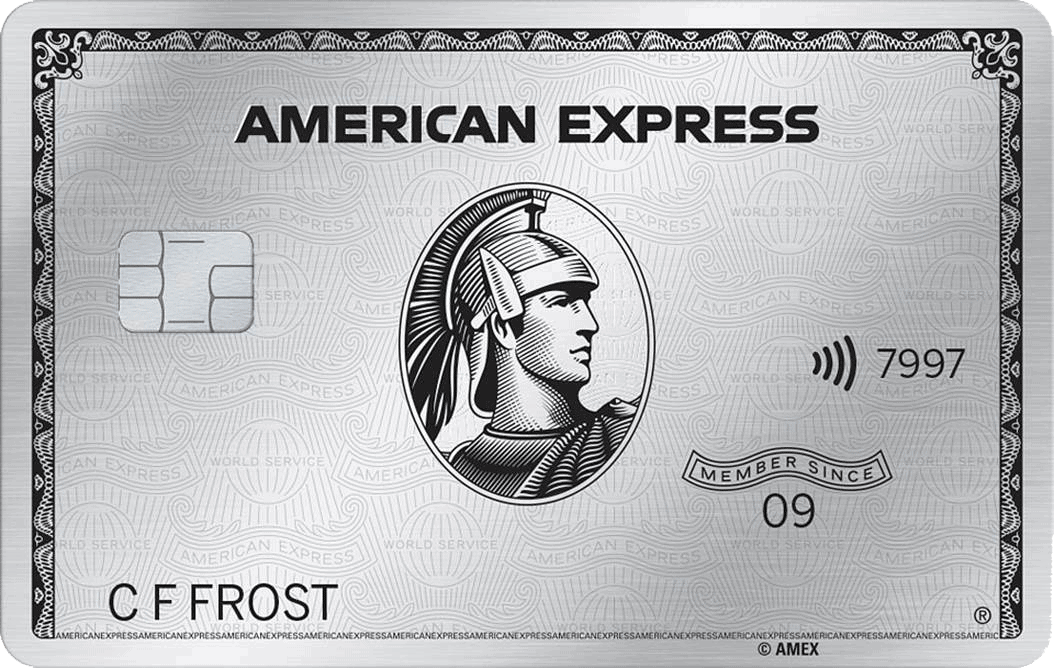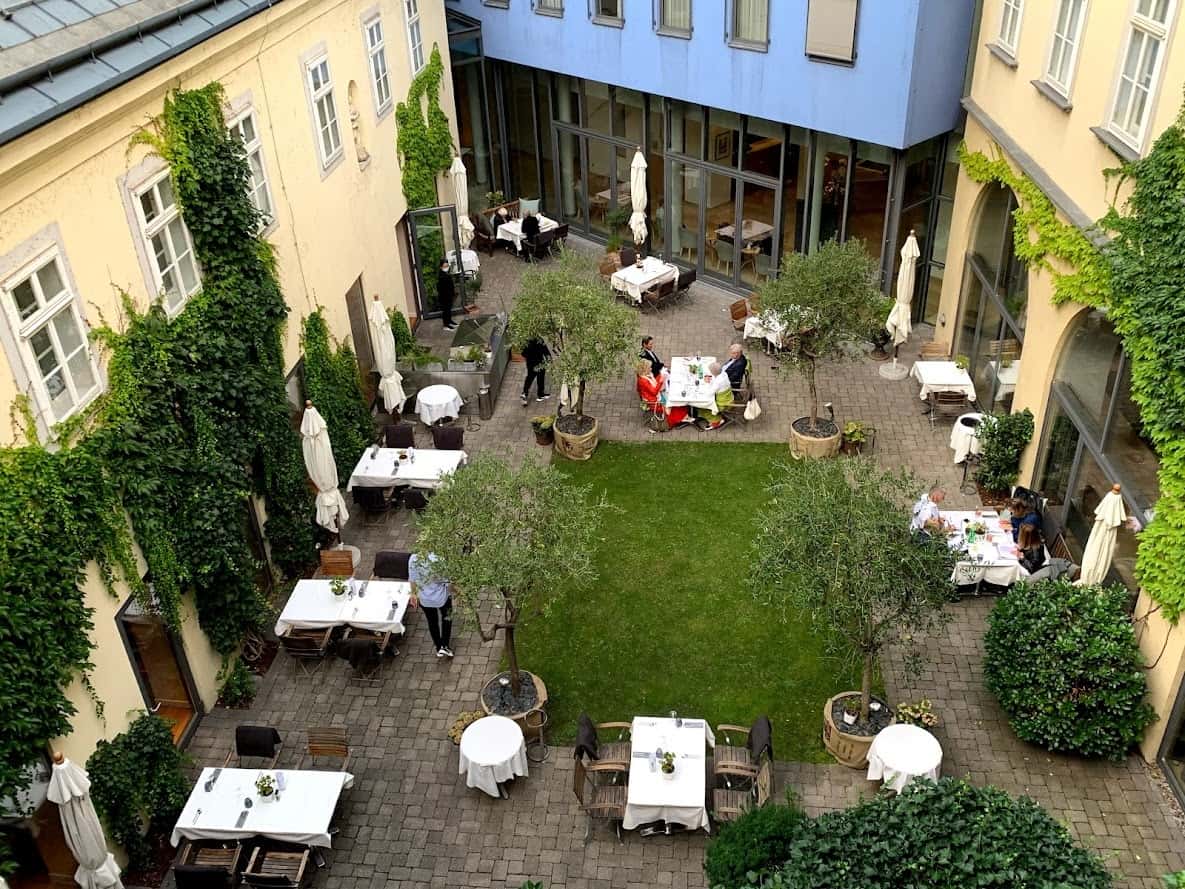 If you want a great, inexpensive meal near the hotel, I highly recommend the Vietnamese restaurant Bep Viet that's practically across the street. It was also open on Sunday when most restaurants in Vienna are closed.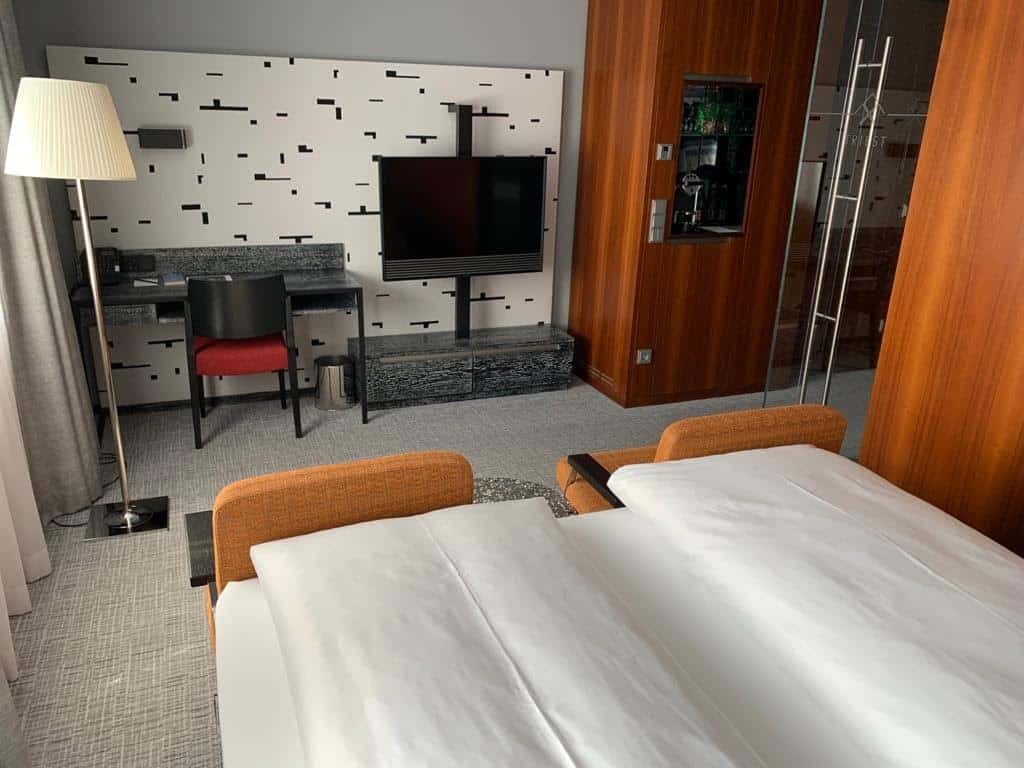 The first room we were assigned was in the smaller building (judging by the size of the hallways) and was clearly very recently renovated.
The shower was fantastic, the air conditioner was very quiet, the bed was very comfortable and the blackout curtains did an excellent job. It was, however, tiny, so the next day we asked to be moved to a bigger room.
Our second room was much bigger, I'd even say huge by the European standards, almost like a suite, with a long hallway and a huge closet, but it was also in the older building. The room was fine, but could use a refresh, especially in the bathroom.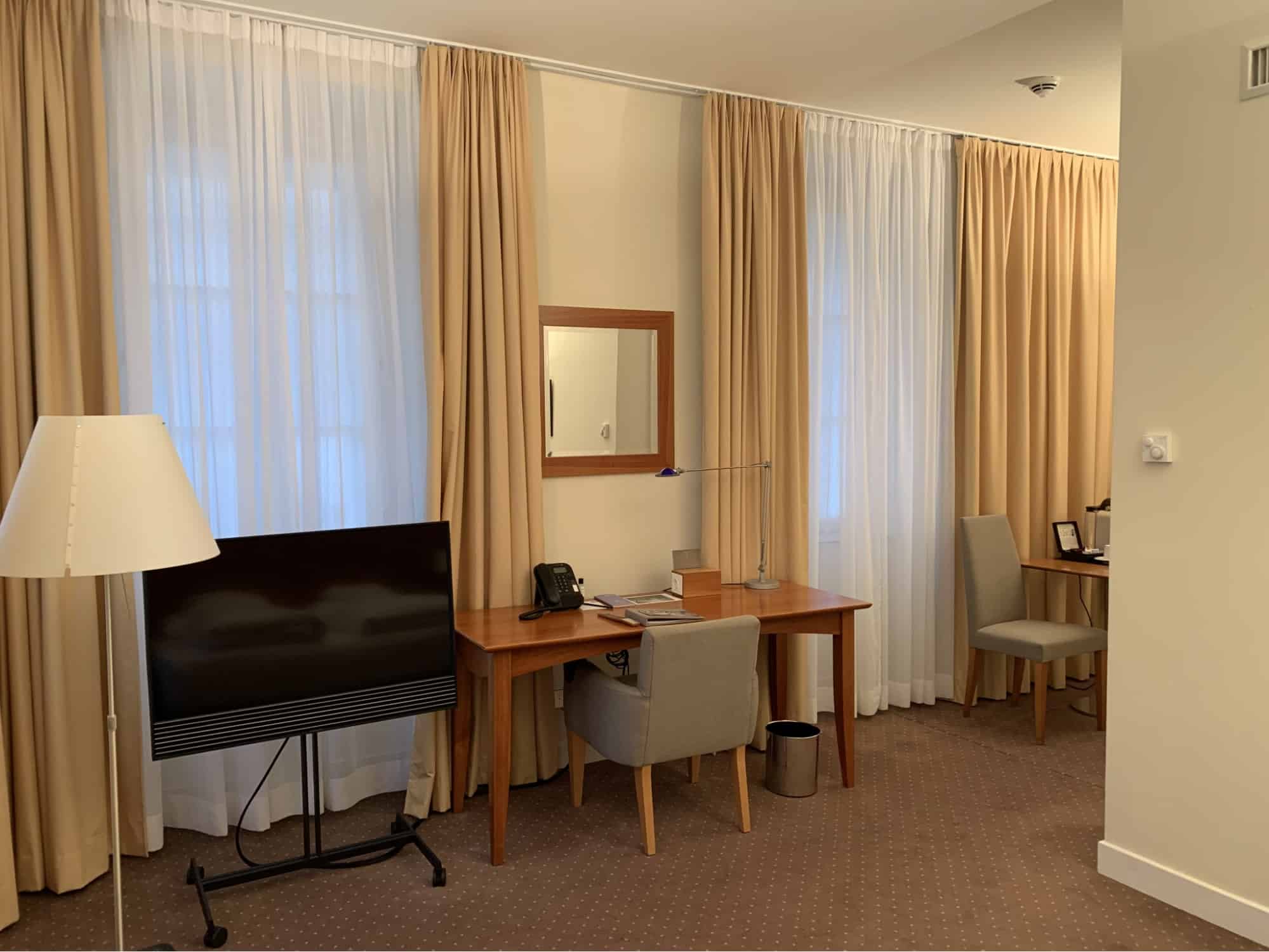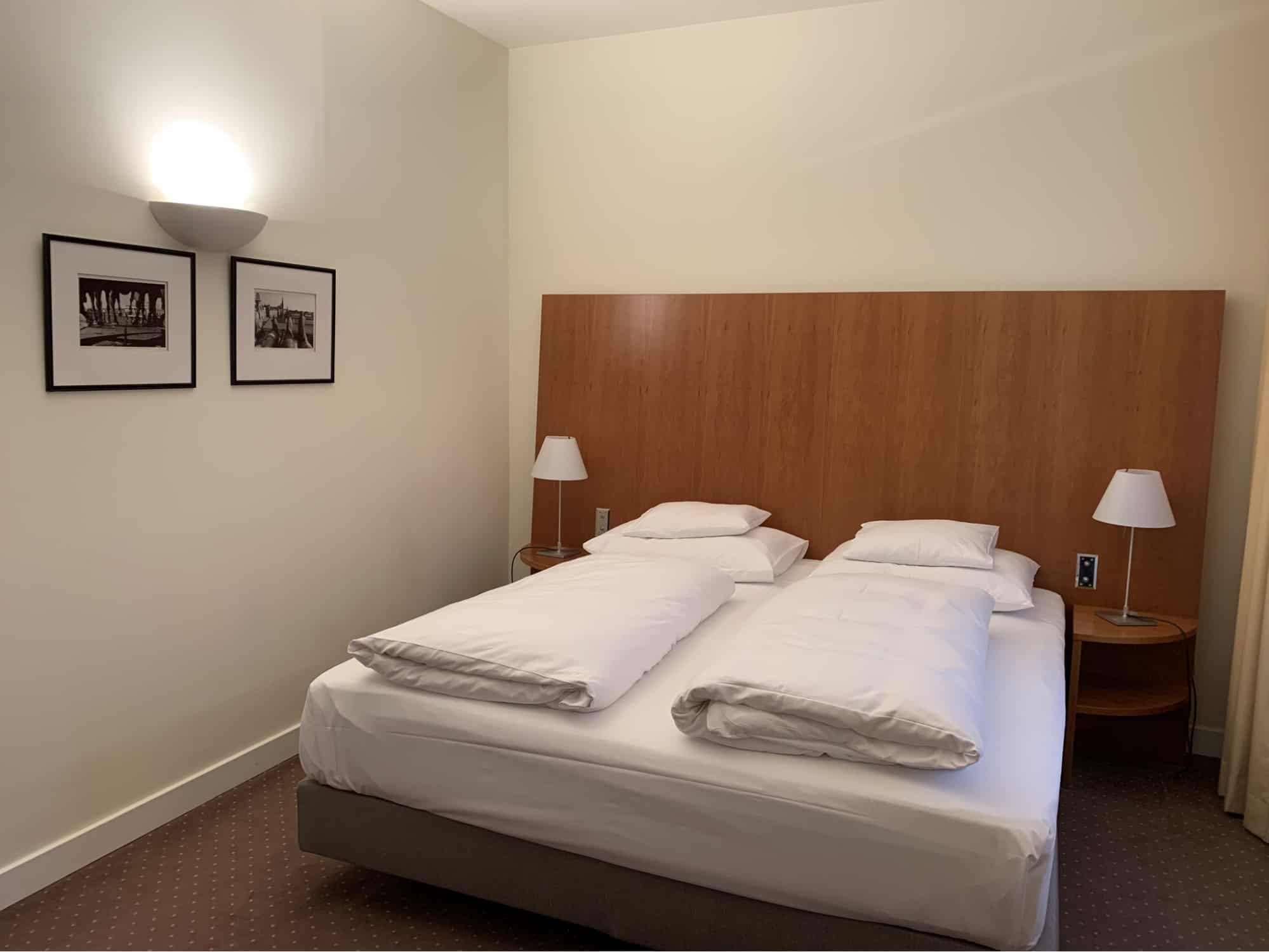 The bathroom was also much bigger, but came with the old-fashioned tub/shower combination. The tiny glass partition didn't do much to stop the water from getting on the floor, and I had huge puddles after every shower.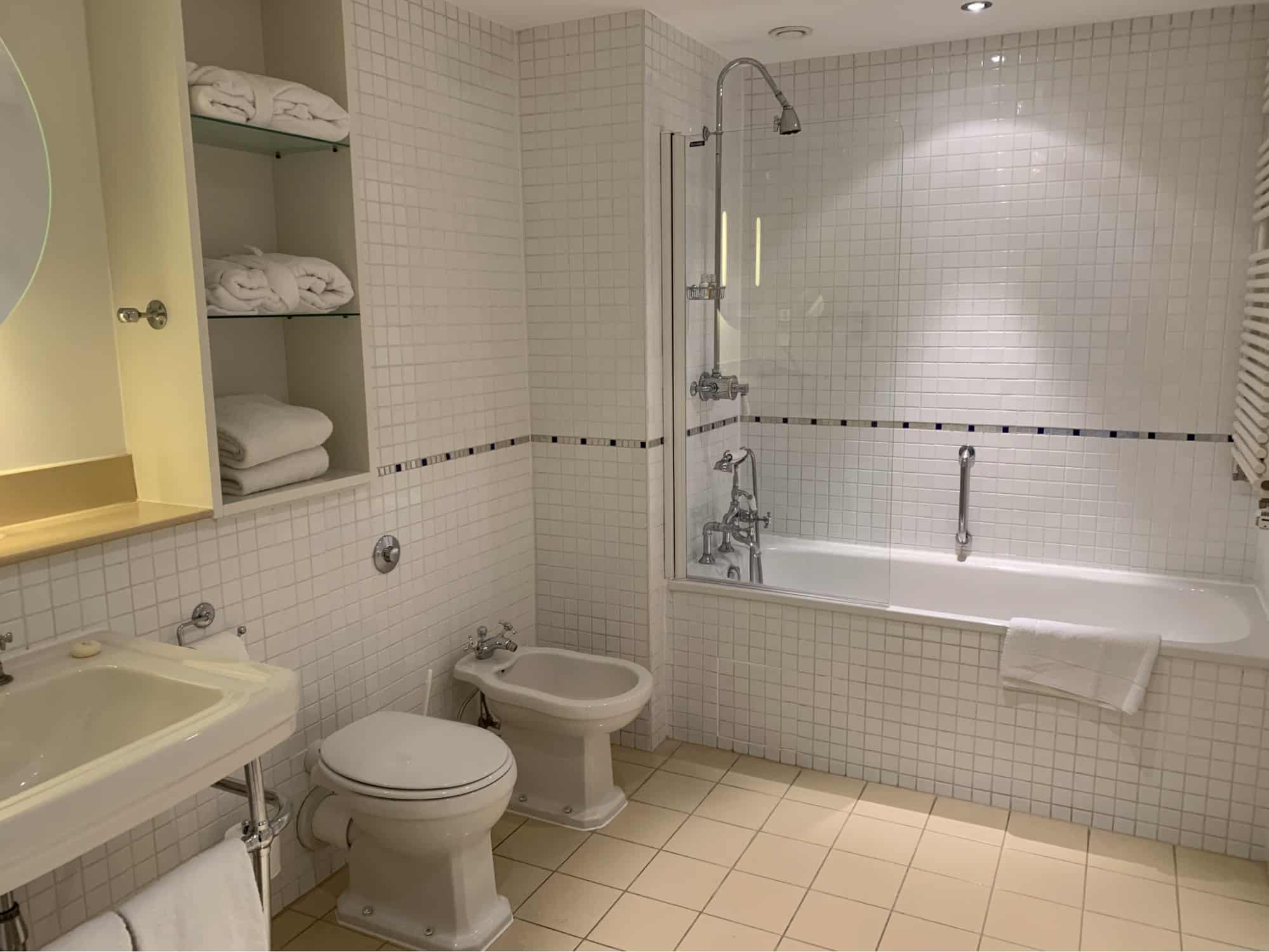 I often wonder if the people who design and build hotel bathrooms have ever taken a shower themselves. It's an easy problem to solve with a glass door or even a shower curtain, but somehow the simple solutions to these kinds of problems elude the interior designers.
Personally, I hate the shower/tub combination and consider it an accident waiting to happen. My hope is that they remodel these rooms soon, and given the size of the room, this could be a real gem.
The housekeeping came in daily and did an excellent job, including cleaning the extremely wet bathroom floor.
The windows faced a lovely courtyard, so the room was quiet, but the curtains didn't block all the sunlight. There were six windows in this corner room, so I understand it's not an easy task, but better quality blackout curtains would have certainly helped.
Both rooms had a Nespresso machine and a fully stocked minibar.
What Not to Miss When in Vienna
There are so many wonderful museums, beautiful palaces to explore and world-class shopping in Vienna, but I'd just mention a couple of our favorite things.
See Klimt Paintings at the Belvedere Palace
I'd skip the Vienna Secession museum since there's not much to see inside and nothing to justify the 9.5 entrance fee. If you like Gustav Klimt though, Belvedere Palace is not to be missed. In addition to the wonderful collection, you can also enjoy the beautiful building and the sprawling gardens. You'll save a couple of euros and avoid standing in line by purchasing your tickets online ahead of time.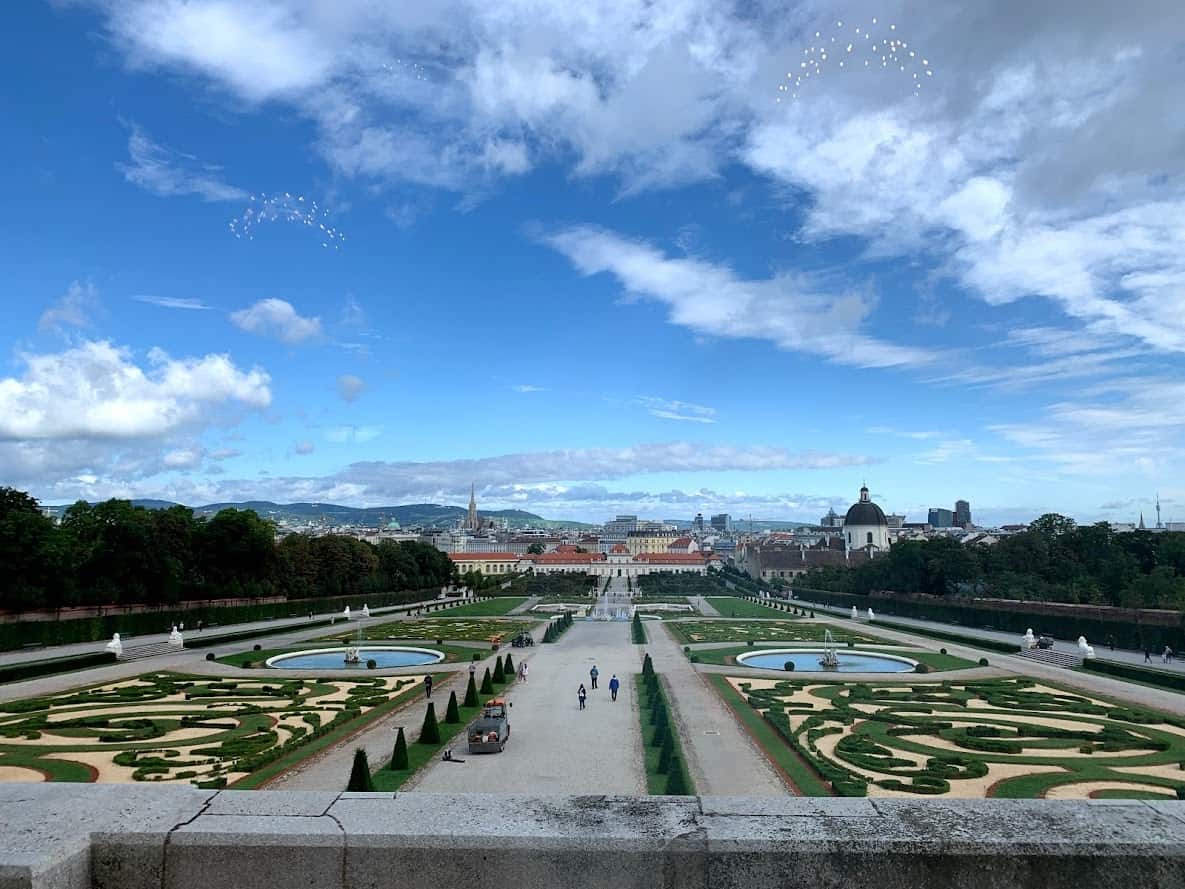 Melk Abbey and the Wachau Valley
Definitely visit the Melk Abbey as a side tour. Get the ticket that covers both the gardens and the abbey itself and you won't be disappointed – it's an absolutely stunning place. It's easy to combine a visit to Melk with exploring the Wachau Valley. Our plan was to take a train to the town of Melk, explore the abbey and then take a boat to the town of Krems an der Donau.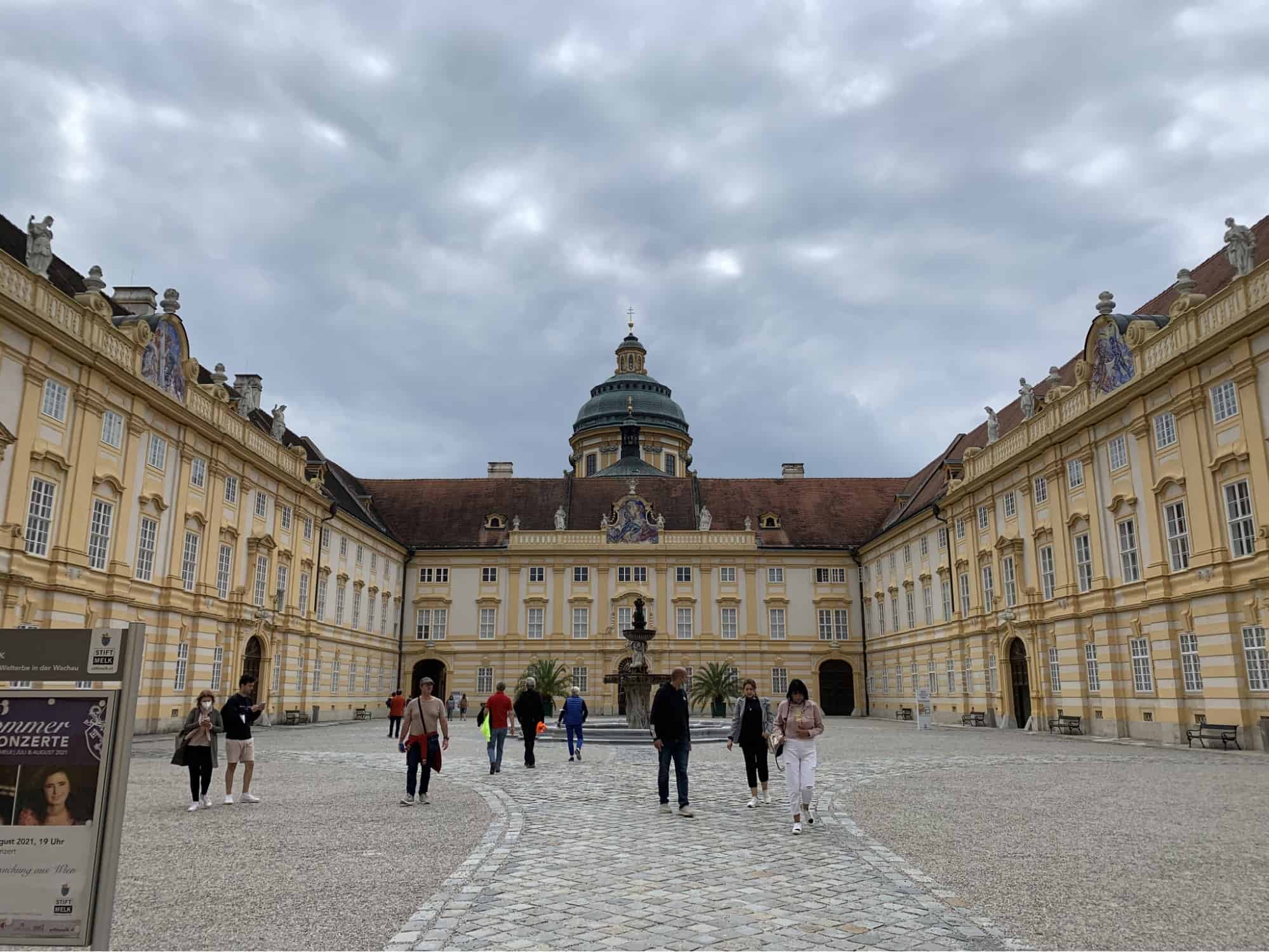 However, we missed the train connection to Melk and instead took the train to Krems. From Krems there's a private scenic train that goes through the tiny picturesque little towns and I highly recommend getting off in Durnstein and exploring this impossibly cute and quintessentially Austrian town until the next train to Krems.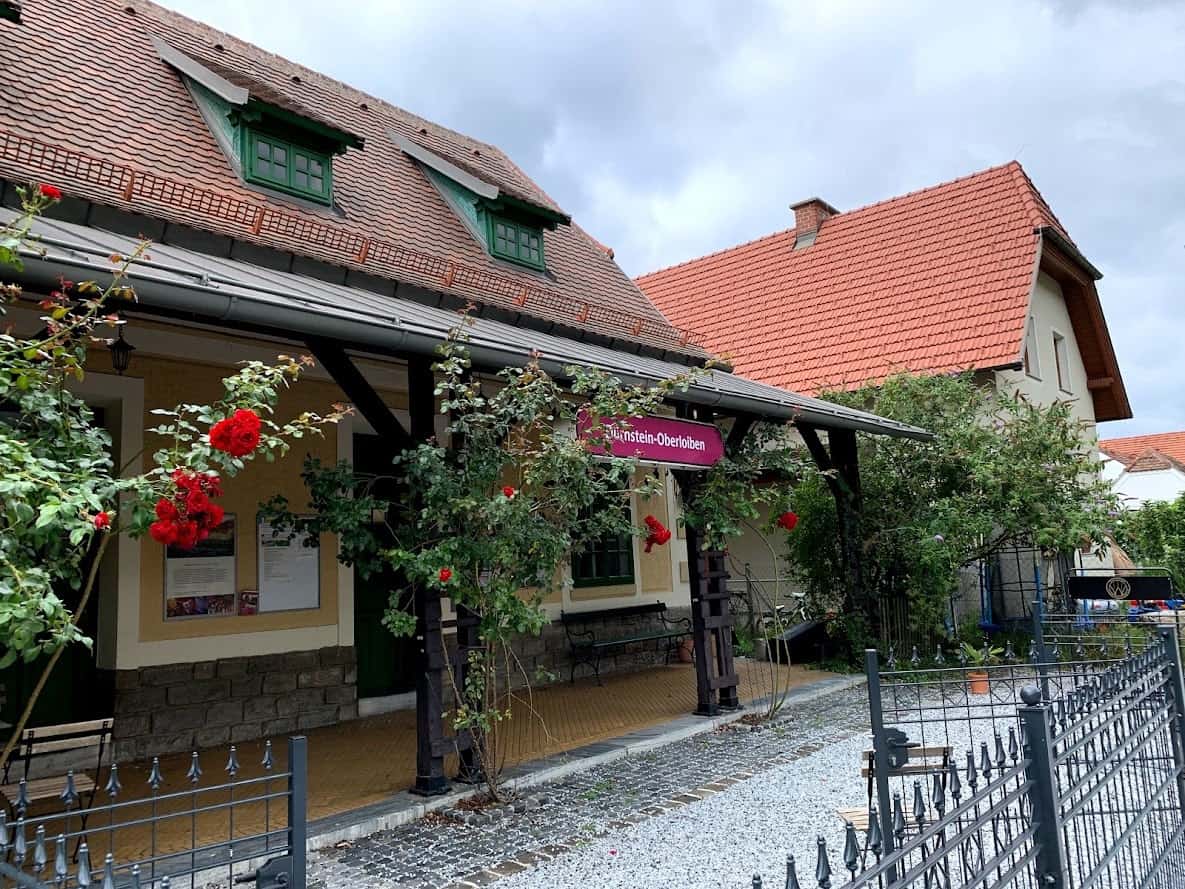 The last station is Melk and, unfortunately, we had to wait for a city bus for about 25 minutes to take us to the town of Melk. But if we'd made it to our train to Melk, as planned, we would've gone to Krems on the boat (the boat doesn't make stops) and missed the charming Durnstein.
The whole area is absolutely gorgeous, and I'd love to come back another time with a rental car and explore all the little towns and villages.
Outdoor Film Festival
If you happen to be in Vienna in July or August, then put the Wien Rathausplatz Film Festival on your must do list. This is a free event that the city stages every year in front of Vienna's majestic City Hall. One of the biggest attractions is actually the food. You can enjoy some really good eats from various Viennese restaurants and bars that set up stalls on the big square in front of the City Hall. The prices are very reasonable and the variety is great too.
We've got some amazing Persian food, and I wished we didn't leave it till our last night in the city and came by just for the food on a couple of other occasions. The movies are actually major music productions, from musicals to operas to symphonies, so you can get a taste of Vienna's famous music scene as well.
Visit a Heuriger
And lastly, a visit to a heuriger, Vienna's answer to a beer garden, is a must. Surprisingly, there are quite a few wineries in the city limits and they all have lovely gardens where you can enjoy the local wine and some unpretentious, traditional and very inexpensive food. Go on a warm summer night and sit outside and you'll be surrounded by locals enjoying all their city has to offer. And yes, it's OK to bring the kids as there's always fresh grape juice available.
We went to Furgassl Huber heuriger with our Viennese friend, but if you ask around, I am sure you'll get lots of recommendations from the locals. And even though these establishments are all located about 30-35 minutes from the city center, it's a breeze to get there with Vienna's excellent public transportation.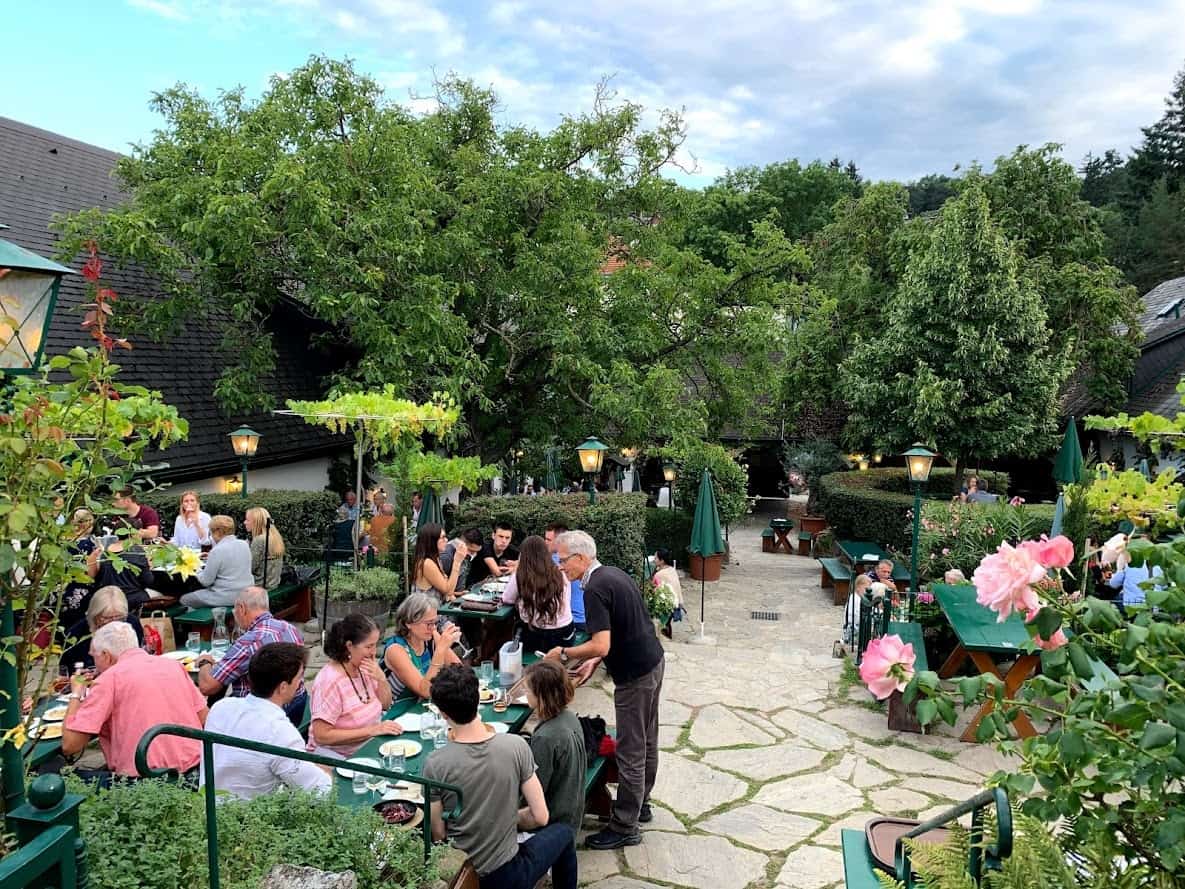 Final Thoughts
I really enjoyed my stay at both hotels. The Grand Hyatt Berlin is a fantastic hotel and a good value for 15,000 points a night or free night category 1-4 certificates. The DAS Triest Vienna is a solid four-star European hotel and a good use for the Marriott 35,000 points free night certificates.
There are no major hotel service cutbacks in Europe, and when they do have to make adjustments to adhere to the new rules, the hotels do it gracefully and provide more than adequate substitutions.
With the travel restrictions changing all the time, it's important to stay on top of all the rules via the official sites. I like the Reopen Europe site for country-specific information. The hotels can provide you with their specific protocols and service updates and I'd recommend reaching out to each hotel so there are no surprises on arrival.
This was a great trip overall, and Vienna and Berlin are two of my favorite European cities that I can visit again and again. I didn't find the COVID restrictions too onerous and the tests needed for return travel to the U.S. are easy to obtain. I am already planning another trip to Vienna to see the Christmas markets, so here's to hoping that we can still visit Europe at the end of 2021!
Travel well,
Anna
New to the world of points and miles? The Chase Sapphire Preferred is the best card to start with.

With a bonus of 60,000 points after $4,000 spend in the first 3 months, 5x points on travel booked through the Chase Travel Portal and 3x points on restaurants, streaming services, and online groceries (excluding Target, Walmart, and wholesale clubs), this card truly cannot be beat for getting started!
Learn More
Editors Note: Opinions expressed here are author's alone, not those of any bank, credit card issuer, hotel, airline, or other entity. This content has not been reviewed, approved or otherwise endorsed by any of the entities included within the post.