Note: Some of the offers mentioned below may have changed or are no longer be available. You can view current offers here.
Editors Note: Two Card Trips is a series of articles that show how you could book a trip using points/miles earned from just two different credit cards. Today's two card trip takes us to Disney World with points earned from the Hilton Aspire and Barclays Arrival Plus
Disney World might very well be the toughest place to use miles and points to reduce costs on your vacation. As they say, the mouse knows his math! The good news is that it is possible to use miles and points for your Disney World vacation. Disney World is one of my favorite places to visit and I always make sure to use miles and points whenever I can to save money.
Whether you love Disney World or your kids do, you'll probably need to make the trek at least once in your life. Let's make things easier with an explanation of how two credit cards can help you get there for less.
If you multiply this plan by 2, you're well on your way to a family vacation to Disney World.
Ready for some magic? Let's take a look at the two cards!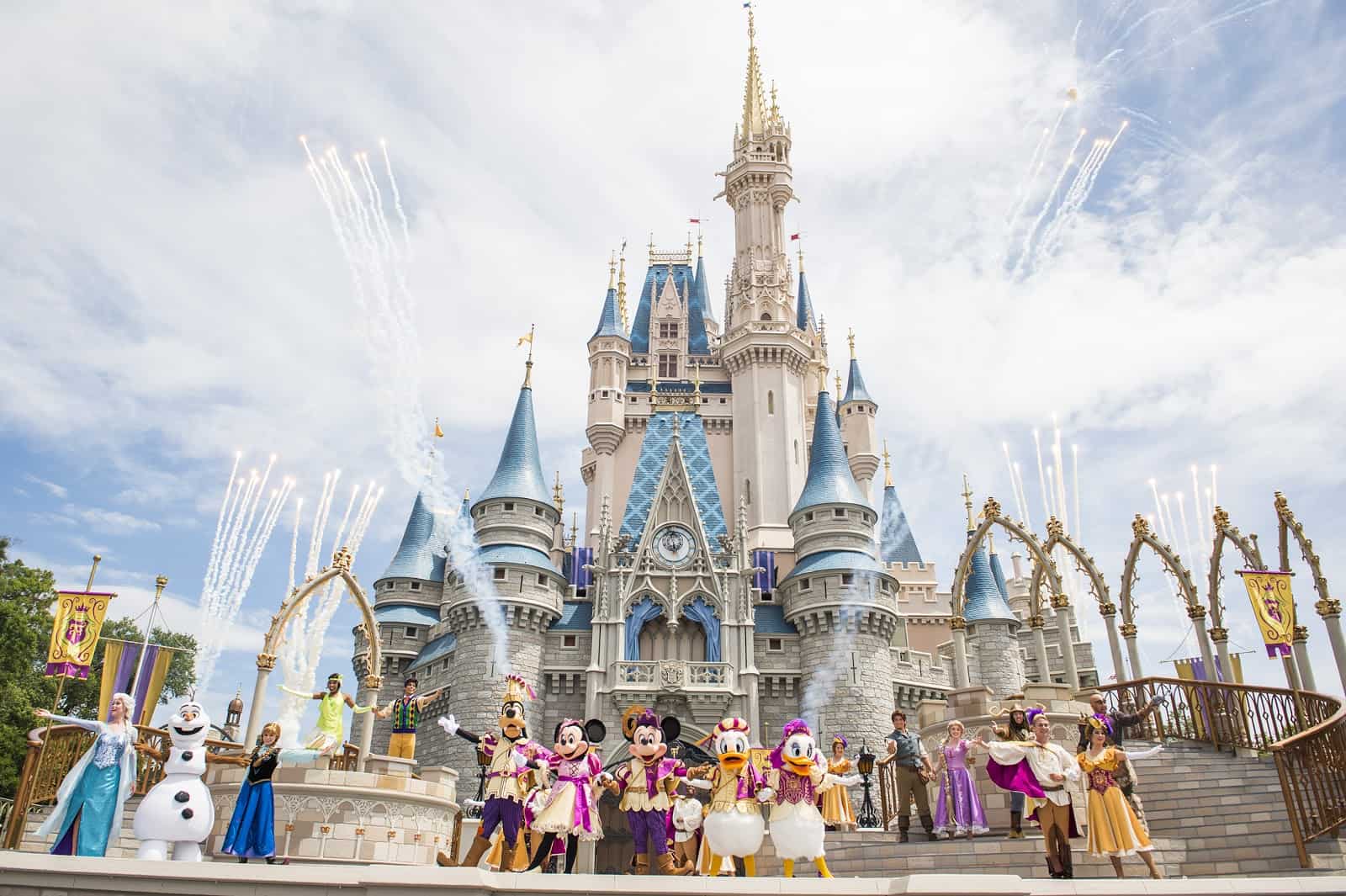 The Two Cards
The two cards we'll be using for your magical Disney World vacation are the Hilton Aspire card and the Barclaycard Arrival+ card. The Hilton Aspire will help you cover your hotels while we'll use the Arrival+ for your flights and hopefully some bonus purchases!
The Hilton Aspire often boasts a 150,000-point welcome bonus after $4,000 of spending in three months. Although it has a $450 annual fee, the fee can be offset by a $250 annual airline credit and a $250 cardmember year Hilton resort credit. The card also comes with a weekend Hilton night certificate. We can use a lot of these benefits to help pay for our trip to Disney World.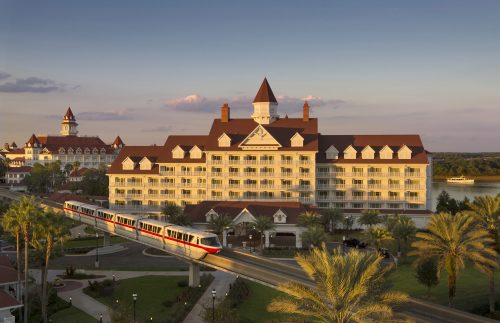 With the Aspire card, you'll earn 14X Hilton Honors points on purchases at Hilton hotels, 7X on travel booked through AMEX Travel and at restaurants, and 3X everywhere else. It also comes with complimentary Diamond status, the highest status at Hilton, and other travel benefits associated with similar premium cards like a Priority Pass Select membership and a Global Entry or TSA application fee reimbursement.
The Barclaycard Arrival+ card currently offers a welcome bonus of 70,000 miles after $5,000 of spending in the first three months. You earn 2X miles per dollar spent and get a 5% rebate on miles redeemed. The 70,000 miles are worth $700 in travel.
10x Travel Tip: If you're worried about Barclays being stingy about approving you for the Arrival+, the same strategy will work with the Capital One® Venture® Rewards Credit Card, although that card currently offers a lower bonus.
Where to stay at Disney World using your Hilton Aspire card
Before we take a look at the hotel options at Disney World, let's take stock of what we have to work with from the Hilton Aspire card. We have at least 162,000 Hilton Honors points (including points earned from spending) from the welcome bonus, a weekend night certificate, and a $250 Hilton resort credit. You should receive an e-mail with the weekend night certificate 8-14 weeks after opening your card account.
In the Disney World area, there are three Hilton hotels at which you can use all three of these money-saving benefits from your Hilton Aspire. The three Hilton hotels where you can use your Hilton points, your weekend certificate, and your Hilton resort credit are the Hilton Orlando Lake Buena Vista, the Hilton Orlando Lake Buena Vista Palace Disney Springs Area and the Hilton Orlando Bonnet Creek.
We found standard room award availability at each of these hotels in July, a season that tends to be busy at Disney World. All three hotels offered rooms at 50,000 Hilton Honors points per night. In fact, when we clicked through, we saw some rooms cheaper than 50,000 points per night, like this weekend in July at Hilton Orlando Lake Buena Vista Palace Disney Springs Area.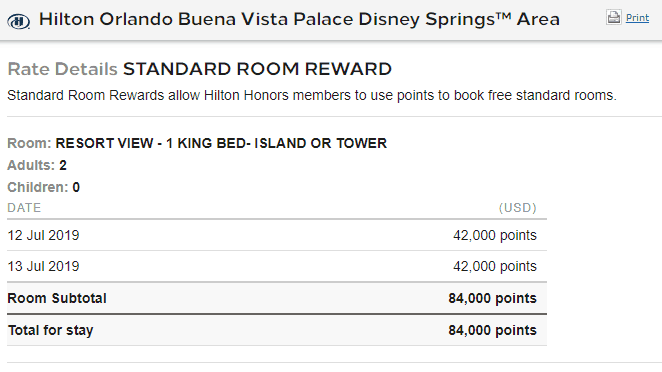 Assuming a rate of 50,000 Hilton Honors points per night, your Hilton Aspire bonus gets you three nights at one of these hotels. What makes that even sweeter is you don't pay resort fees at Hilton when you stay fully on points. But there's more.
If you are staying over a weekend (Fri-Sun), you can also apply your annual Hilton free night to your stay, giving you a fourth night. And finally, Hilton categorizes all three of these hotels as resorts, meaning your $250 resort credit applies! Not only can the credit cover incidentals, but if you attach a paid night to your stay, you'll get reimbursed via the Hilton resort credit. You can get five nights at any of these three hotels without having to pay anything out of pocket!
All three of these hotels have great pools and the Hilton Orlando Bonnet Creek even has a lazy river. But best of all, the Hilton Orlando Lake Buena Vista Palace Disney Springs Area and the Hilton Orlando Lake Buena Vista both offer two major Disney benefits: access to extra magic hours at the Disney parks and the ability to book your Fastpass+ reservations 60 days in advance (as opposed to 30 for other guests). These benefits really give you a leg up when planning your Disney World vacation.
If none of these three hotels interest you, there are plenty of Hiltons in the area offering standard room rates of 50,000 points or less. Some charge as little as 30,000 points per night – an easy five-night stay (six, if you tack on your weekend night).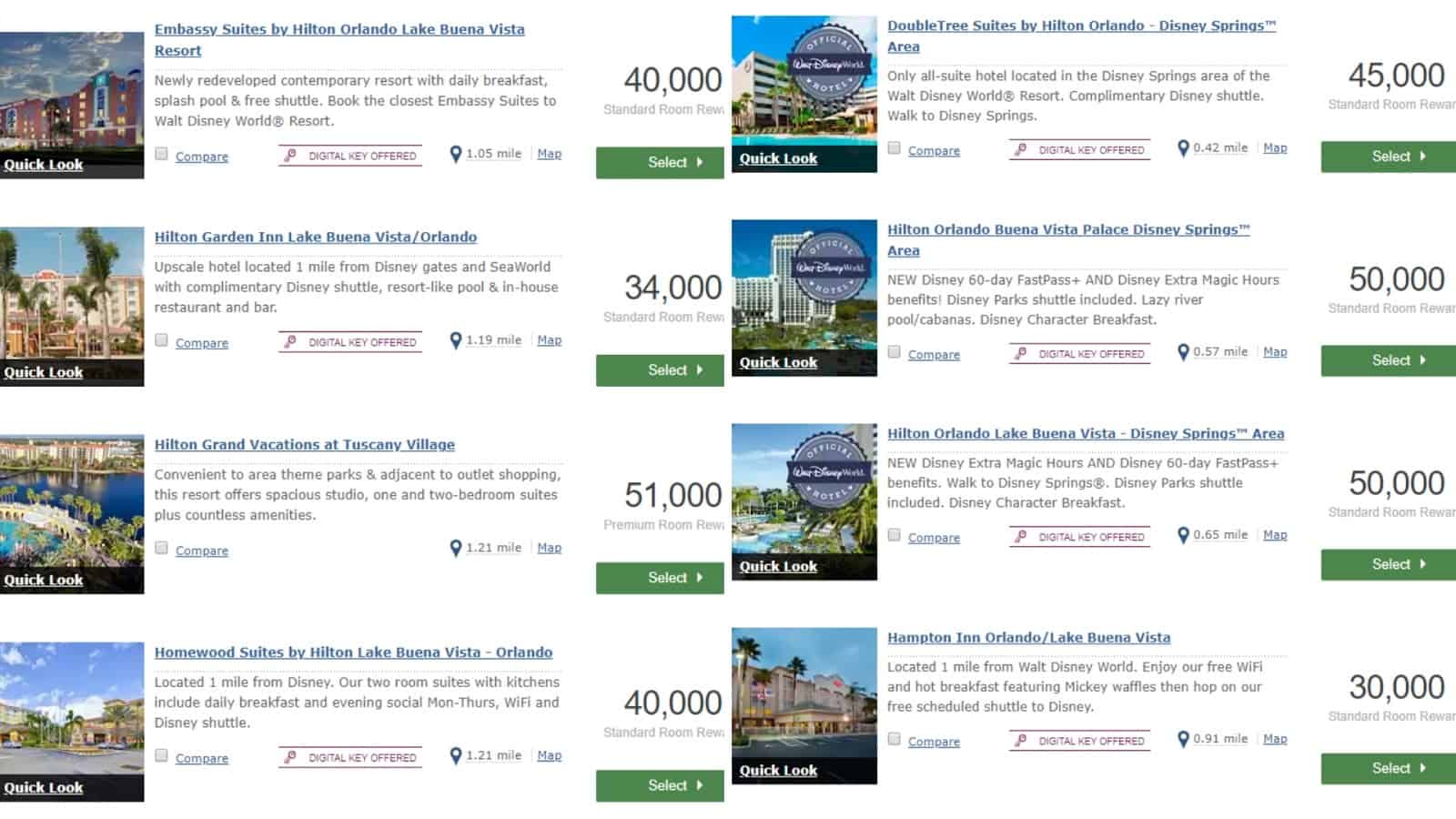 If you want to check out some other hotel options on your trip to Disney, make sure you check out our guide to booking hotels when visiting Disney World.
How to fly to Disney World using your Barclaycard Arrival+ Card
Getting to Orlando by air is pretty straightforward. Most times you'll want to fly into Orlando International Airport (MCO) which services almost all the major airlines. However, if you're flying Allegiant Air you'll fly into Sanford (SFB).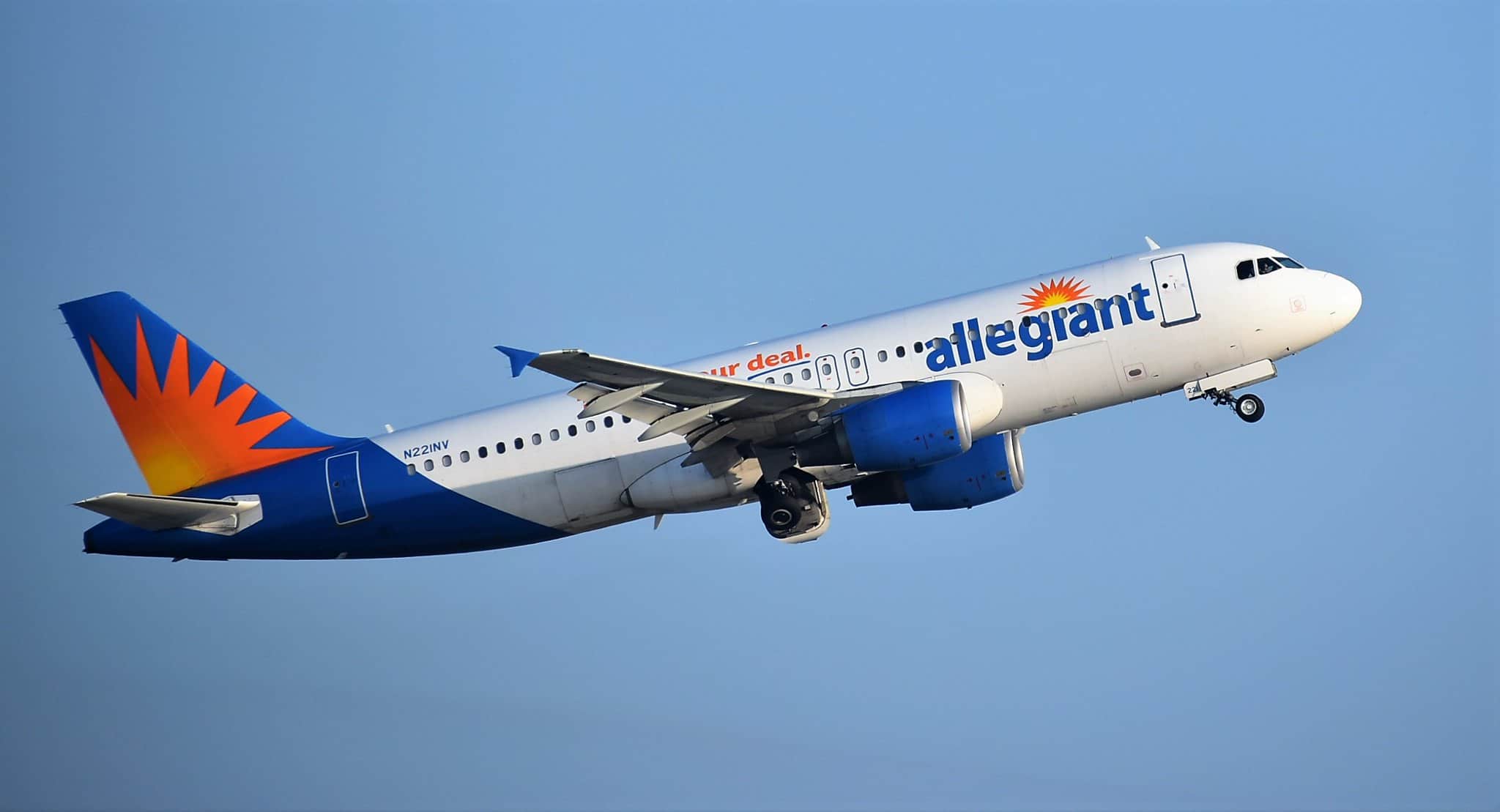 After you meet your Barclaycard Arrival+ card minimum spend, you'll have $800 in rewards to play with for flights. This includes the 10,000 miles you'll earn from your minimum spend requirement. Obviously, the cost of your flights will vary widely depending on where you're flying from and when you're flying. But if you're not flying during peak periods or vacation times, there's a good chance your 80,000 miles will be able to score two round trip tickets from your hometown.
According to the Bureau of Transportation Statistics, the average cost of a round-trip flight to Orlando in the third quarter of 2018 was about $245. That meshes with our general experience as well. Doing some searches for round-trip flights in July, you can see that flights generally are under $300 round-trip.
That means you can book round trip flights for you and a friend and still have some Barclaycard Arrival miles leftover. You'll see why this is important later. If you want to take a family to Disney World, you can always have your partner sign up for a Barclaycard Arrival+ card as well.
Redeeming your Barclaycard Arrival miles for your flights is very straightforward. Any travel charge that costs $100 or more is eligible for a Barclaycard Arrival miles redemption. You can just go into your statement, click redeem miles and choose the charge you want to offset. This is commonly referred to as the "purchase eraser" feature.
Your miles are worth 1 cent each, so as long as the total cost of your flights is under $800, you'll have miles leftover. And don't forget, you can redeem your miles against purchases you made to meet the welcome bonus, too.


Click "Redeem my miles" and then you will see a list of charges you can redeem your miles for as a statement credit. You basically "zap" the purchases away.
Since you're going to Disney World, you're definitely going to want to have some Barclaycard Arrival miles leftover! Read on to find out why.
How to Use Your Leftover Barclaycard Arrival Miles for Disney World Tickets
It's almost impossible to get significant discounts on Disney World tickets. However, you can save a few bucks and redeem some miles for Disney World tickets at the same time if you book through Undercover Tourist.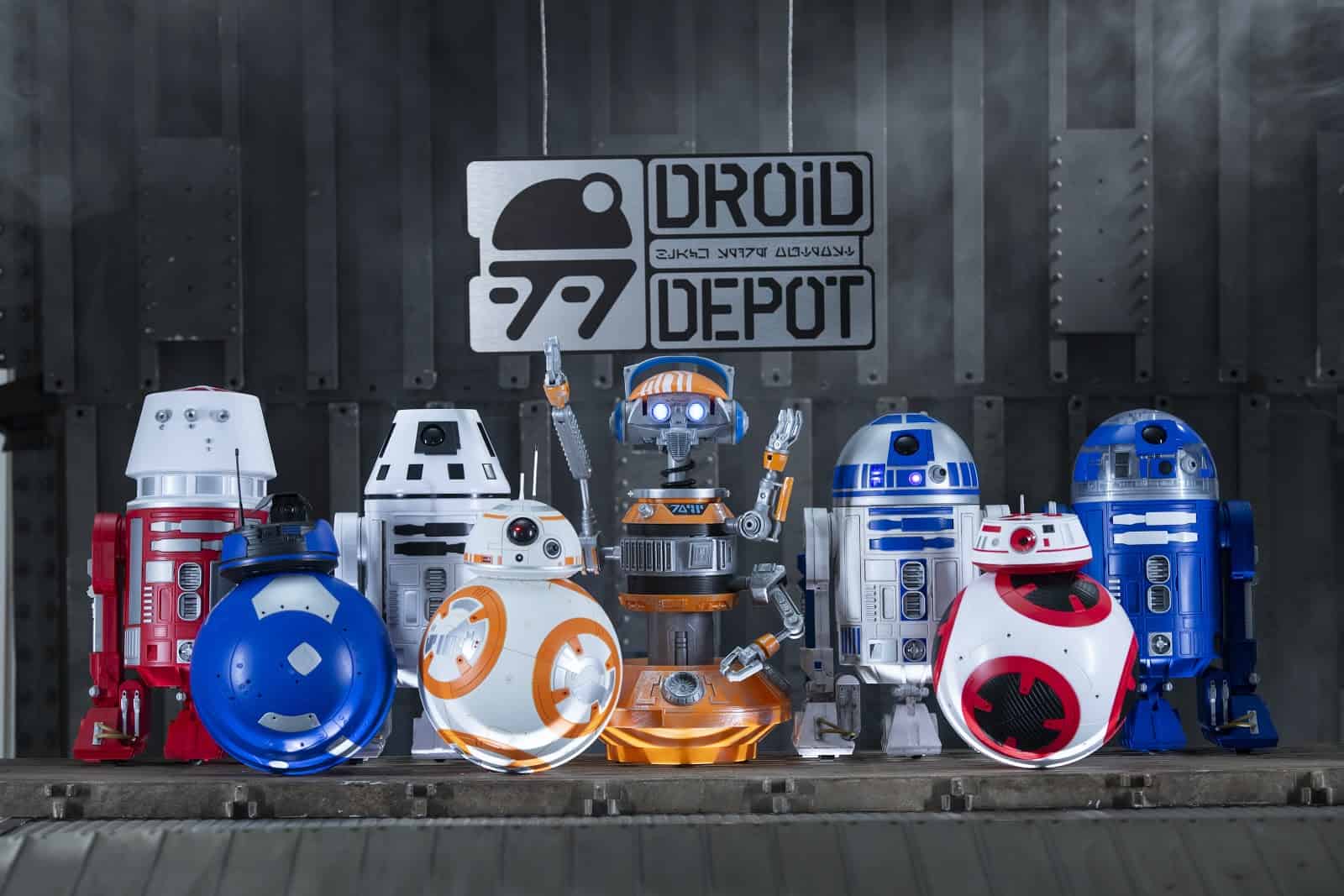 Undercover Tourist is one of the best known Disney ticket outlets. They often knock off a few dollars on tickets. But most importantly, Undercover Tourist codes Disney tickets as "travel" when paying with a credit card. This means that as long as you buy a ticket that costs more than $100, which is basically a given when we're talking about Disney, you can redeem your Barclaycard Arrival miles for the ticket.
That means any miles leftover from your flights can be used to offset the cost of your Disney World tickets. And again, these purchases can be made in the process of meeting your sign up bonus. You can just redeem your miles for a statement credit after you receive the bonus.
We love saving as much cash as possible when going to Disney World, so buying through Undercover Tourist is a great option. Expedia and Orbitz also sell Disney World tickets and should also code as travel, so that gives you two more options.
Final Thoughts
As I said at the beginning, the mouse knows his math, and it can be tough to save money on your Disney World vacation. But with these two cards, you can make a huge dent in how much cash you need to spend on your Disney World vacation. Whether it's for yourself, your partner, or your family, make your mousey dreams come true with this two card trip!
---
10xTravel is part of an affiliate sales network and receives compensation for sending traffic to partner sites, such as CreditCards.com. This compensation may impact how and where links appear on this site. This site does not include all financial companies or all available financial offers.
Editors Note: Opinions expressed here are author's alone, not those of any bank, credit card issuer, hotel, airline, or other entity. This content has not been reviewed, approved or otherwise endorsed by any of the entities included within the post.