In This Article
Loading table of contents …
Pros and cons of buying points to make informed travel decisions.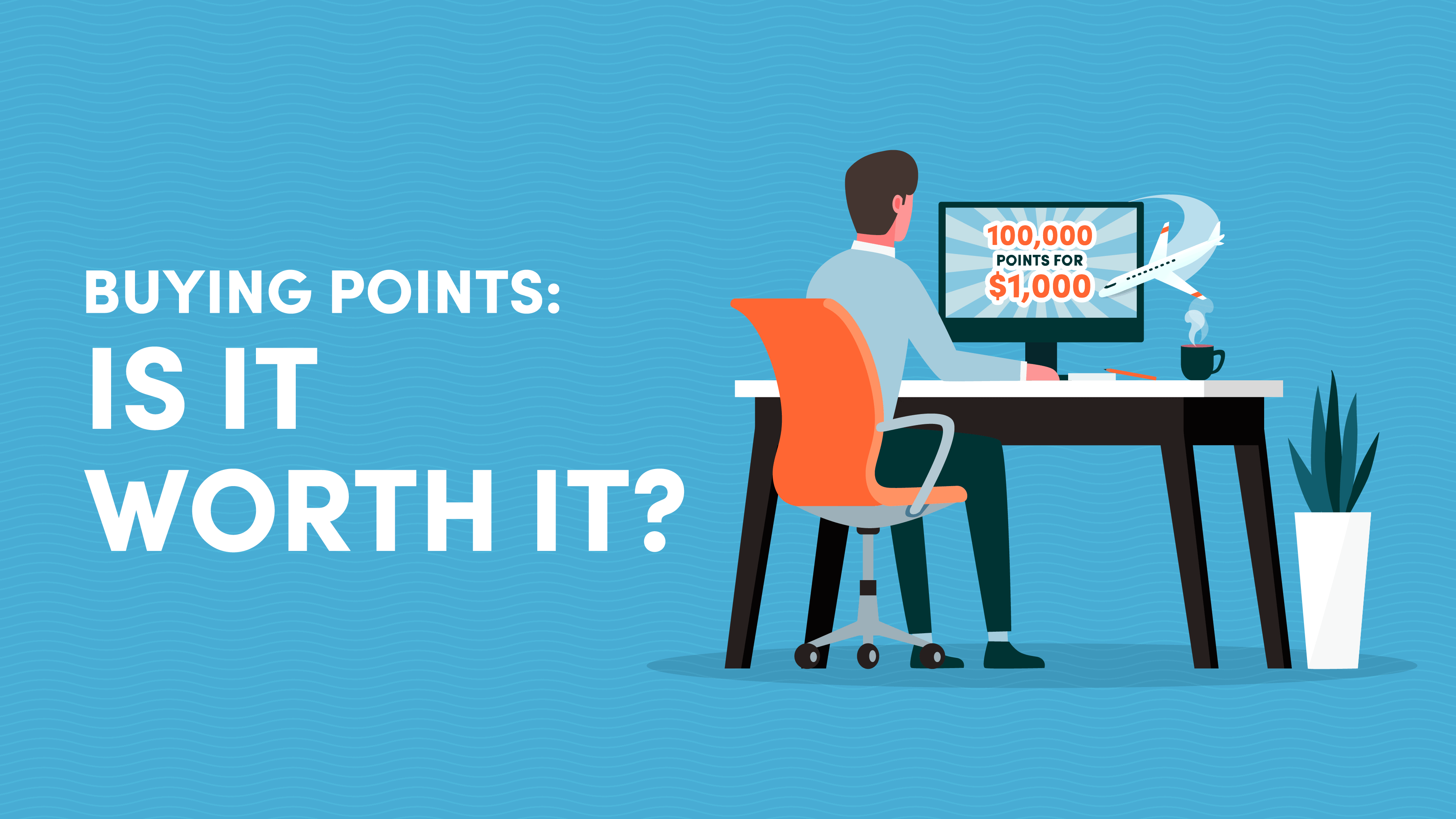 Editors Note: All information about The American Express® Green Card has been collected independently by 10xTravel. The American Express Green Card is no longer available through 10xTravel.
For frequent flyers and travel enthusiasts like us, maximizing the points and miles we earn from our everyday spending is a top priority. However, there's a growing trend in which airlines and hotels frequently entice us with sales to purchase their points.
These "shortcuts" to reward flights and hotel stays can be extremely tempting, but is buying miles really worth it? Let's consider the pros and cons of buying miles and determine whether it's a worthwhile investment or a questionable alternative that may not deliver as expected.
The Case For and Against Buying Miles
Imagine your favorite airline is running a 50% bonus miles sale. Should you take advantage of it? Well, the answer isn't a clear-cut yes or no. Here's a summary of reasons for and against doing so.
Pros to buying miles
It's a shortcut, especially for "hard-to-earn" airlines and hotels. Purchasing miles can be a smart strategy for quickly accumulating rewards with airlines and hotels that have limited earning options.
You can top off your balance for a reward flight or stay. Sometimes you're just a few points short of the required balance for a rewarding flight or hotel stay. Buying points can help you bridge that gap and redeem your rewards without delay.
You can potentially double dip on rewards. Sometimes, buying points codes as travel, a category with bonus multipliers on many credit cards. This can help you double dip on earnings.
Cons to buying miles
You're adding unnecessary spending. Instead of buying points, consider whether it's better to just continue with your regular spending habits and accumulate those points naturally without incurring additional expenses.
There are many alternatives to earning points. Credit card sign-up bonuses and shopping portals provide more cost-effective avenues for accumulating points, often offering better value for your spending.
Rewards are always subject to limited availability and potential devaluations. Finding reward availability on airlines and hotels can be challenging during peak travel periods. Additionally, loyalty programs can undergo devaluations, which diminishes the future value of your points.
Let's go into each pro and con in a bit more detail, then look at a couple of examples of where buying points may or may not be worth it.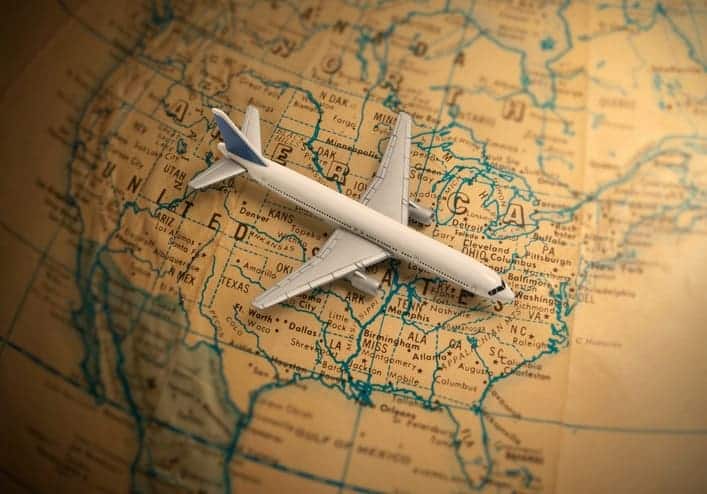 Pro No. 1: Shortcuts
Buying miles offers a convenient alternative to boosting your mileage or points balance, which expedites your path to earning rewards. This enables you to hit the points required for free flights, hotel stays or other benefits that might otherwise have taken a significant amount of time to achieve.
Buying miles makes the most sense when transferring points from other programs isn't an option. For example, if you frequently fly with American Airlines and want to accumulate more AAdvantage miles, purchasing them can help if you don't hold the Bilt Mastercard or collect Marriott Bonvoy points.
On the other hand, if a loyalty program has multiple partners, it may be less practical to buy their miles outright. One example is Air France-KLM Flying Blue. You can transfer American Express Membership Rewards, Bilt Rewards, Capital One Venture Miles, Citi ThankYou Points and Chase Ultimate Rewards to Flying Blue.
Pro No. 2: Topping Off Your Balance
Buying miles can be a sensible choice when you need to top off your balance—that is, purchasing a small number of points to reach the required threshold for a specific redemption. Even if you've been diligently earning miles through various activities, you might still be just short of the necessary total when it comes time to book your dream vacation.
By purchasing a small number of miles, you can quickly bridge the gap and avoid the need for additional spending or travel. However, it's important to carefully consider the cost of the purchased miles and ensure that the value of the desired redemption justifies the expense.
Pro No. 3: Double Dipping
Another advantage of buying miles is the potential to "double dip" on rewards. In addition to the miles you purchase, you can also earn points or miles from the credit card used for the purchase transaction itself.
When you buy miles, make sure you know who is selling them. The majority of loyalty programs sell their points through Points.com. However, some airlines allow you to buy directly from them.
If the airline sells points directly, the purchase can often code as airlines or travel. This is great news, since travel is usually a category that earns bonus miles on many credit cards, including:
The following airlines sell miles directly:
American Airlines
Avianca
British Airways
Delta Air Lines
Con No. 1: Unnecessary Spend
One significant drawback of buying miles is that it involves additional expenditure. For points and miles enthusiasts, the goal is to maximize the value we get from our points and miles without having to increase our spend. Purchasing miles directly contradicts this principle.
While it can be tempting to top off for a luxury travel redemption, it's crucial to evaluate your financial situation and budget as a whole. If you're actively trying to save money or reduce unnecessary expenses, points and miles should be one of the last things on your to-buy list.
Con No. 2: Consider the Alternatives
Why opt for buying miles when there are plenty of alternative ways to earn them? While the most apparent approach is to accumulate airline miles through increased flying, many airlines also offer shopping and dining portals that give you bonuses for using their platforms to make purchases. These portals also offer the opportunity to double dip on rewards, maximizing your earning potential.
In terms of cost-effectiveness, credit card sign-up bonuses remain the most attractive option for earning miles. It's likely that several credit cards are available that offer bonus miles for your desired loyalty program. By meeting the required spending threshold using your regular expenses, you can rapidly accumulate miles without the need to purchase them directly.
Con No. 3: Limited Availability, Potential Devaluations
There's no guarantee that you'll be able to find award space for your redemption, even if you buy miles to top off your balance. The best practice is to always ensure that award space exists before buying the miles. You might even consider contacting the airline or hotel to put your redemption on hold first.
Furthermore, airline and hotel loyalty programs are always subject to potential devaluations. This makes buying miles a challenging decision since the points you purchase today may decrease in value over time, be it in a few years or even just months from now.
Examples and Case Studies: Is Buying Points Worth It?
Now, let's delve into some real-life examples and case studies to examine whether buying points is truly worth it. We'll examine two specific loyalty programs: World of Hyatt and Alaska Airlines.
Example No. 1: World of Hyatt
Let's look at the World of Hyatt program first. Hyatt points are often touted as being one of the more valuable currencies in the hotel space. You can often get great value redeeming points for stays across the entire spectrum of Hyatt properties. But does that mean you should purchase points outright?
Consider a recent promotion Hyatt ran that ended June 2, 2023. During this promotion, customers could purchase up to 55,000 points at a 25% discount:

Normally, World of Hyatt points cost 2.4 cents each. Taking the promotion into account, here are the costs:
Standard rate: 55,000 points x 2.4 cents per point = $1,320
Promotional rate: 55,000 points x 2.4 cents per point x 0.75 = $990
Once the discount is taken into account, the cost of purchasing points goes down to 1.8 cents each.
Now, let's consider the redemption value of 55,000 Hyatt points. The Alila Ventana Big Sur, a Category 8 Hyatt property, is often regarded as one of their most exceptional properties. A Big Sur Suite for one night at this property can go for $1,950 or more.

However, you can book the same room with 56,000 Hyatt points during off-peak periods. Note that this is 1,000 more than we could've purchased from the promotion.

This gives us a redemption value of 3.48 cents per point, which is significantly higher than the cost of purchasing points. At first glance, taking advantage of such a promotion with the goal of making this redemption seems like a great idea.
However, always consider the alternatives. If you're close to the required points balance already, it may make sense to top off your account by buying a few points. However, purchasing all the points outright might not be the most prudent choice. While $990 is considerably less than the cash rate of $1,950, it's still an additional expense.
Instead of buying these miles, consider credit card sign-up bonuses. Notably, The World of Hyatt Credit Card and the World of Hyatt Business Credit Card each offer great bonuses that usually more than cover the cost of one night at Alila Ventana Big Sur.
Additionally, Hyatt is a transfer partner of Chase, meaning that points earned on Chase credit cards can be transferred to Hyatt at a 1:1 ratio.
The bottom line: This is a decent promotion by Hyatt. But unless you're topping off your balance, there are numerous alternative ways to earn a bunch of Hyatt points without having to resort to unnecessary spending.
The World of Hyatt Credit Card
Total Bonus Points
Earn 30,000 Bonus Points after you spend $3,000 on purchases in your first 3 months from account opening. Plus, up to 30,000 More Bonus Points by earning 2 Bonus Points total per $1 spent in the first 6 months from account opening on purchases that normally earn 1 Bonus Point, on up to $15,000 spent.
World of Hyatt Business Credit Card
Bonus Points
after spending $5,000 on purchases within the first three months from account opening. Additionally, earn 15K Bonus Points after you spend $12,000 in the first 6 months.
Example No. 2: Alaska Airlines
Let's look at another example, this time with Alaska Airlines. Alaska is a unique example because it doesn't have transfer partners from the major credit card programs in the United States. Its sole official transfer partner is Marriot Bonvoy, where 3 Marriot Bonvoy points convert to 1 Alaska Airline mile.
Given the lack of travel partners, Alaska Mileage Plan miles are generally considered hard to earn. This begs the question: Does it make sense to purchase miles?
Consider a recent promotion Alaska Airlines ran that concluded on June 26, 2023. During this promotion, you could purchase up to 100,000 points and receive a 50% bonus.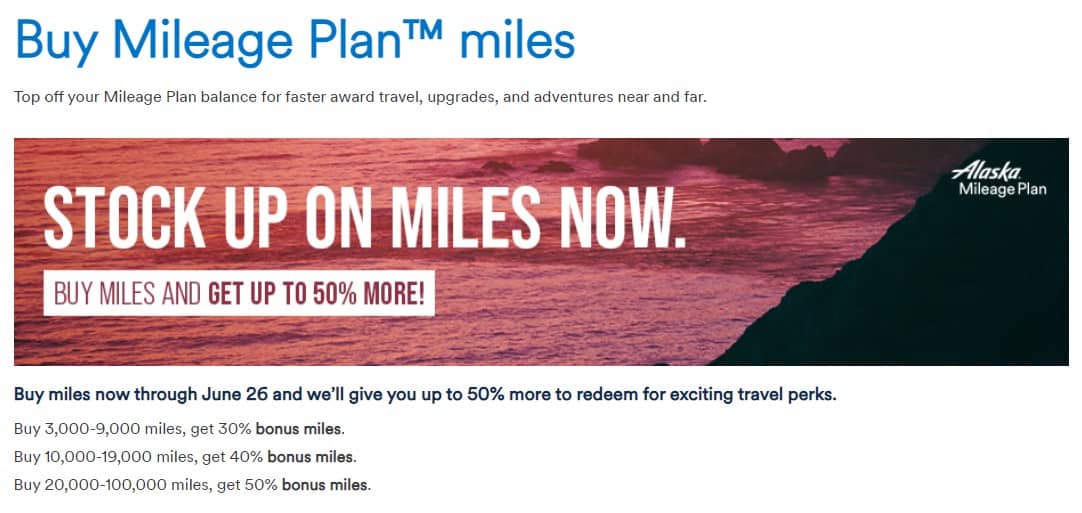 Normally, you can buy Alaska miles for 2.75 cents each. Here are the costs with and without the promotion applied:
Standard rate: $2,750 + taxes = $2,956.25 for 100,000 points (2.96 cents per point)
Promotional rate: $2,750 + taxes = $2,956.25 for 150,000 points (1.97 cents per point)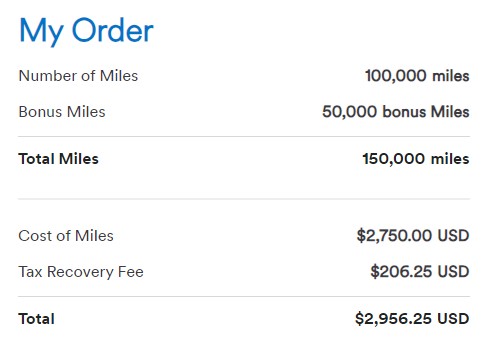 What can you do with 150,000 Alaska miles? One of the best sweet spots in the Alaska program is the first class pricing on Oneworld partner airlines from the U.S. West Coast to Asia. Availability is sparse, but if you're able to find it on a route like Los Angeles (LAX) to Hong Kong (HKG) on Cathay Pacific, it'll cost you just 70,000 Mileage Plan miles one way.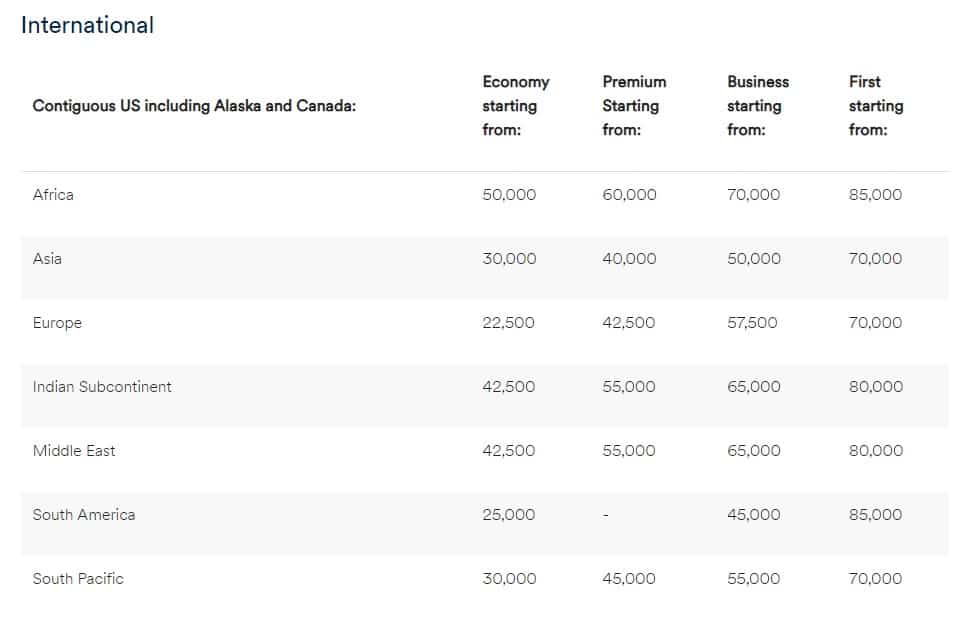 So, with 140,000 miles, you could make this a round-trip journey and have another 10,000 miles left over toward another redemption. The cash price for this trip is a staggering $19,555.

This gives us a redemption value of 13.97 cents per mile, which makes the 1.97 cents per mile we paid for these miles extremely worth it…right?
On paper, it seems so. But remember, you still had to pay $2,956.25 out of pocket. Investing such a substantial sum of money solely on airline miles is still not advisable. Topping off is a slightly different story. If you're just a few thousand miles away from experiencing such a premium product, buying the remaining miles is easier to justify.
Although Alaska doesn't have many transfer partners, there are still alternative ways to earn Mileage Plan miles quickly. Collecting the sign-up bonuses from both the Alaska Airlines Visa Signature Card and the Alaska Airlines Visa® Business Card is a great start.
You can also take advantage of programs like Alaska Airlines Mileage Plan Shopping portal as well as Mileage Plan Dining to earn extra miles on everyday expenses.
Related: The Complete Guide to Airline and Hotel Dining Rewards Programs
Final Thoughts
Buying miles is generally discouraged, even if your favorite loyalty program is having an ongoing promotion. This is because there are usually many alternative ways to earn points and miles through credit card welcome bonuses and your regular everyday spending.
If you do decide to buy miles, we recommend doing so only in specific cases where you're trying to top off your balance. Otherwise, at the end of the day, you're still spending hundreds or even thousands of dollars of extra money, which may not be the most prudent financial decision.
New to the world of points and miles? The Chase Sapphire Preferred® Card is the best card to start with.

With a bonus of 60,000 points after $4,000 spend in the first 3 months, 5x points on travel booked through the Chase Travel Portal and 3x points on restaurants, streaming services, and online groceries (excluding Target, Walmart, and wholesale clubs), this card truly cannot be beat for getting started!
Learn More
Editors Note: Opinions expressed here are author's alone, not those of any bank, credit card issuer, hotel, airline, or other entity. This content has not been reviewed, approved or otherwise endorsed by any of the entities included within the post.