Note: Some of the offers mentioned below may have changed or are no longer be available. You can view current offers here.
Hey Travel Junkies,
The holidays are my favorite time of the year to be involved in the 10xTravel points and miles community. I get to see people use points to see friends and family across the country or celebrating the holidays with a vacation.
Right now, many people are buying last minute gifts for loved ones, creating a great opportunity to meet minimum spends to get new bonuses. I just signed myself up for a few cards that will get me almost 500,000 points this holiday season from welcome bonuses. But, just because you're getting bonuses doesn't mean you should leave points on the table.
Unfortunately, there are very few cards that offer bonus points simply for "shopping online." That means most of your spend will only be earning 1 or 2 points for every dollar spent. If you leave it at that, you're missing out on a ton of points.
Let's look at your online shopping strategy and how you can formulate it to get the most points when shopping online this holiday season and beyond.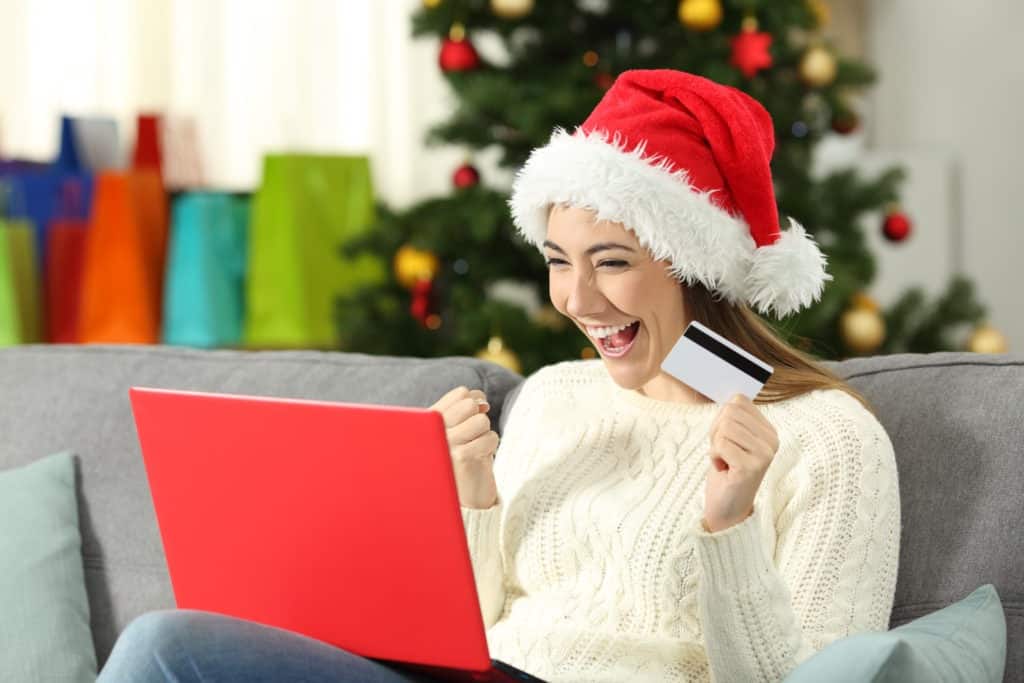 Use the Right Card
The first thing to do to get the most points when shopping online is to use the right card. There's a lot of award programs available, but let's focus on the major transferable programs: Chase Ultimate Rewards, Citi ThankYou Points, American Express Membership Rewards, and Capital One Miles.
To get the most points when shopping online, some cards are better than others. If you're not working on a sign-up bonus, here are the best cards for each program:
Chase Freedom Unlimited or Chase Ink Unlimited Credit Card
Citi AT&T Access Card
Blue Business Plus Credit Card from American Express
Capital One Spark Miles for Business
Capital One Venture Rewards Credit Card
If you want to earn Chase Ultimate Rewards, the Chase Freedom Unlimited and the Chase Ink Unlimited earn 1.5X points on every purchase.
The American Express Blue Business Plus Credit Card earns 2X Membership Rewards on the first $50,000 you spend every year, making it a great card for earning Membership Rewards points.
With either of the Capital One cards, you'll earn 2X miles per dollar on every purchase. The great thing about them is that there's no cap – you'll earn 2X miles on all purchases you make throughout the year. You can transfer Venture or Spark Miles to various airline partners at a 2:1.5 ratio — this means you're essentially earning 1.5X airline miles per dollar.
The card on this list you're probably the least familiar with is the Citi AT&T Access Card. If you're looking to earn Citi ThankYou points, this should be a go-to card if you shop online.
The Citi AT&T Access Card is one of the only cards with a bonus category for online shopping. You'll earn 2X ThankYou points for every dollar you spend online. While Citi doesn't provide an official list of online merchants that will earn 2X, experience shows that popular sites such as Amazon, Best Buy, Target, and Walmart are included. Just remember this is for online purchases only, not in-store purchases.
With these cards, you can be sure to earn more than 1X on all online purchases. All you have to do is decide what points you need to help you book your next trip.
Chase Ink Cash: Staples, Office Depot, Office Max
If you're shopping at an office supply store, such as Staples or Office Depot, you should use the Chase Ink Cash card for your purchases. You'll earn 5X Ultimate Rewards for every dollar you spend. Seriously, who wouldn't want to earn 5X on an iPad?
Prices at these stores aren't always the most competitive, but Office Depot offers a price matching policy where they will match a competitors price within 14 days of purchase. Staples does not offer a price match policy. With a price match, you'll get the item at the same price, but you'll be able to earn 5X Ultimate Rewards instead of 1.5X on your purchase.
Amazon Personal and Business Credit Cards: Amazon
Chase offers an Amazon personal credit card and American Express issues a business Amazon credit card. Both come with a standard and a "prime" version. The cards are linked to your Amazon accounts, so if you have a prime account you'll automatically receive the prime version of the credit card.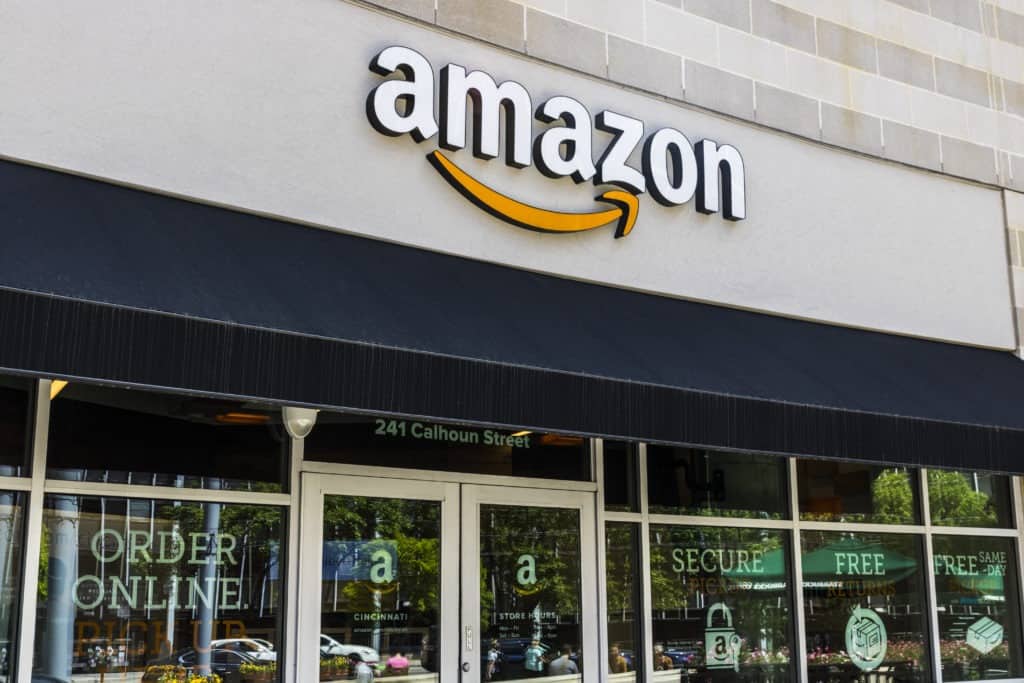 The standard card earns 3% cash back on purchases at Amazon, whereas the prime version earns 5% back. The cash back is earned as Amazon Rewards Points that are only redeemable on Amazon. Although you can't use them directly for travel, it is rare to get a better value than 5% back for each dollar you spend.
If you do want to use the points for travel, you can redeem them towards a gift card for various travel brands on Amazon including Airbnb, Hotels.com and Southwest Airlines.
Double-Dip: Buy Gift Cards Using the United MileagePlus X App
You're already earning at least 1.5X cents per point on your base spend, but you can earn more. The first step is to buy merchant gift cards using the United MileagePlusX App.
Using the app, you can buy gift cards to major retailers such as eBay, Best Buy, and Walmart.com. You'll earn United MileagePlus miles for every dollar you spend. Each retailer has different rates, and they can vary over time. Typically, expect to earn 0.5X to 10X miles for every dollar you spend.
Using the United MileagePlusX App is an easy way to "double-dip" to earn extra points on the same purchase as you'll earn points on your credit card spend and some United miles on top of it.
Let's look at an example: a $500 purchase at Best Buy.
If you went into the store and used the Chase Freedom Unlimited, you would earn 750 Chase Ultimate Rewards points. Instead, if you bought a Best Buy gift card through the United MileagePlus X App, you would earn 750 Chase Ultimate Rewards and 500 United Miles — based on the current MileagePlus X rate. Then you could take the gift card and purchase the TV.
You could then simply use the Best Buy gift card to make the purchase.
Double-dipping like this is a great way to earn extra points. Even if you don't use United miles that often, you'll find them adding up fast. I've earned over 10,000 United miles from the MileagePlus X App this year.
However, the earnings don't stop there…
Use Amex Offers To Get the Most Points When Shopping Online
One of my favorite ways to earn some extra points are using Amex offers to earn extra points when shopping online.
If you haven't used Amex Offers before, you're missing out!
To see your offers, simply go to your account homepage and scroll down until you see the section titled "Amex Offers & Benefits".
You'll see plenty of offers — not all useful — and it's always worth skimming through to see what you can find.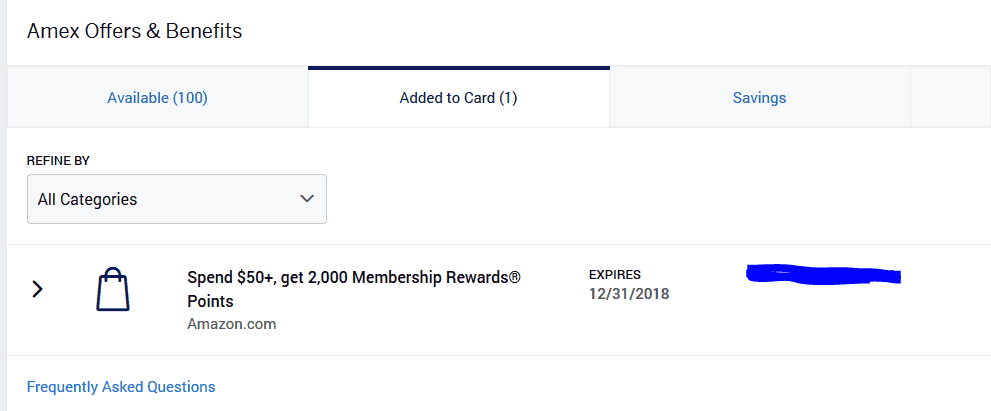 This Amex Offer from Amazon is a great way to earn more points.
Offers will range from shopping to dining, entertainment, and travel. You can sort through by category, but I recommend checking them all out. They trigger automatically, so I often add everyone that I think I might use to my account, just-in-case.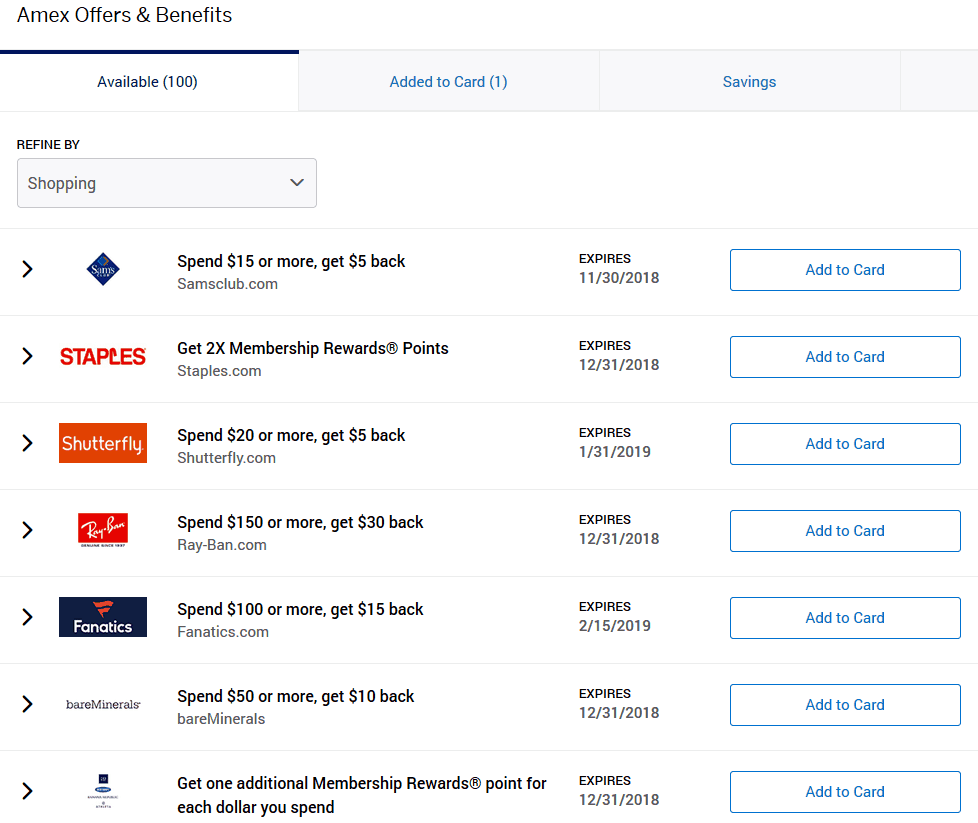 Don't forget other bank offers!
Although Amex offers are the most popular and have the most deals, it isn't the only option out there. Bank of America sometimes has offers for cardholders, and Chase has relaunched offers via there mobile app. So, keep a lookout for these as well to see if you have any good offers on these cards as well.
Shop Through a Shopping Portal
I love my wife, and because she loves me she knows to always ask about shopping portals when shopping online. Why? Because shopping portals are one of the best ways to earn more points when shopping online.
A shopping portal is a website where you click their special link to an online store, and when you purchase an item from the store you earn points or miles. If you dig back into the 10xtravel archives, you'll find an article in which Bryce explained shopping portals.
Quite simply, you sign up, you shop, you earn! In more detail:
Go to the shopping portal of your choice
Create an account, and link it with your loyalty account
Find the retailer you want, click to their website, and complete your purchase
Easy! But, which shopping portal should you choose, and which are available? There's a great tool that I love using to help me make this decision and it's CashbackMonitor.com. With this site, you can search by store and it will show you how many points you'll earn through various portals. Let's look at an example.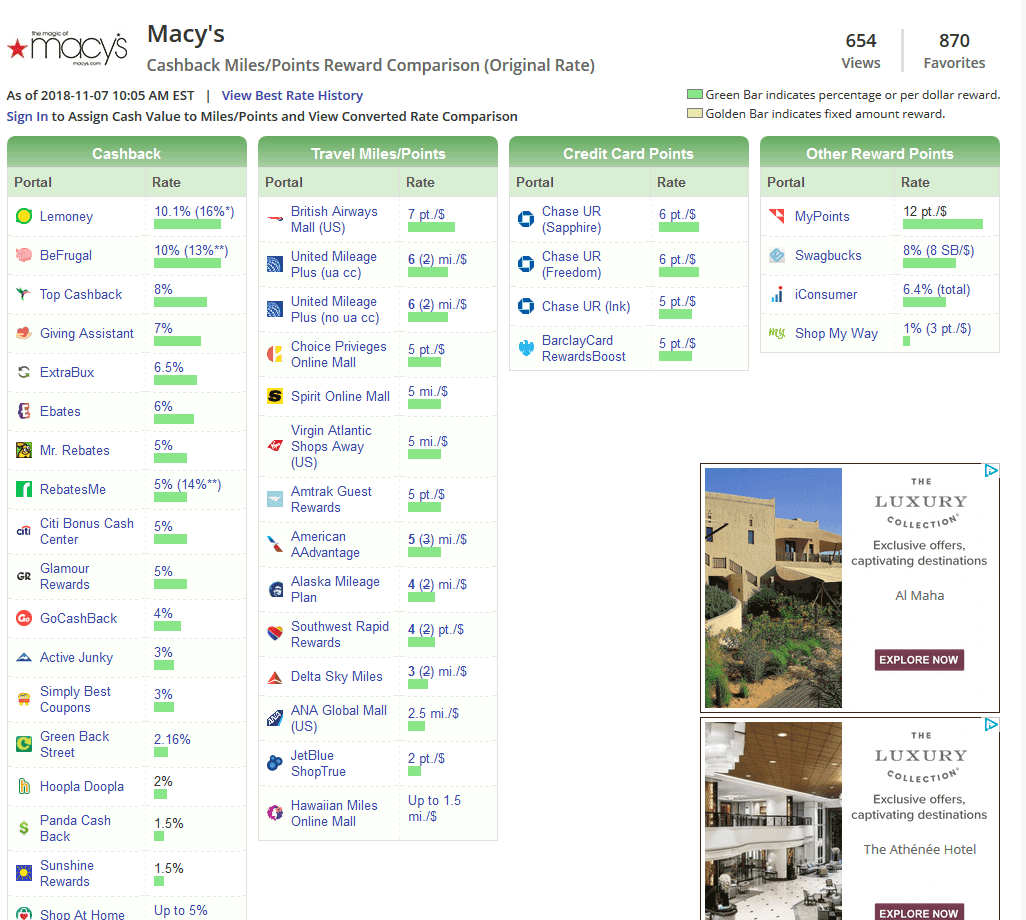 Looking at Macy's, we can see that there are a lot of travel portals available. If you want the most miles, you can use British Airways Mall. However, you may prefer something like the Alaska Mileage Plan shopping portal, given that Alaska miles are harder to earn. Or, you may find Chase Ultimate Rewards valuable – if you have a Sapphire or Freedom card, you'll earn an extra 6X Ultimate Rewards for every dollar you spend at Macy's when you use that portal!
Once you decide, simply click which portal you would like to use, and CashbackMonitor will take you directly to the website.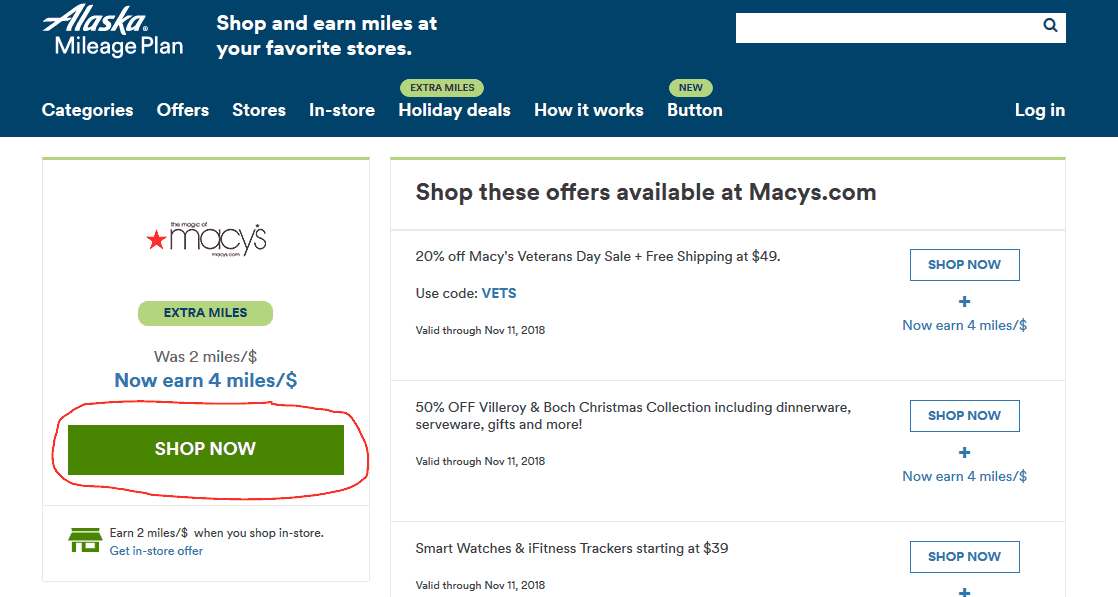 From there, simply click "shop now" and you'll be taken to Macy's website to complete your purchase. In a few weeks, the miles will be deposited into your account. It's that easy!
Stacking Up The Points
Each of these options provides great ways to earn extra points. if you want to take things to the next level and earn even more, you can stack some of these options. Let me show you what I mean.
Right now, you can earn 3X United miles for every dollar you spend on a Macy's gift card in the United MileagePlus X App. Earlier this year, there was an Amex Offer for 1,500 Membership Rewards when you spend $100 at Macy's. CashbackMonitor shows that we can earn 6X Chase Ultimate Rewards for every dollar spent at Macy's. This all adds up fast!
| | | |
| --- | --- | --- |
| Source | Earning Rate | Points Earned on $100 Purchase |
| Credit Card Spend | 1.5X UR, 2X TYP or MR | 150 UR, 200 TYP/MR |
| United MileagePlus X App | 3X | 300 United Miles |
| Amex Offer | 1,500 MR | 1,500 MR |
| Shopping Portal | 6x UR | 600 UR |
If you just went directly to Macy's website and made a purchase, you would earn 150 Chase Ultimate Rewards points or 200 Citi ThankYou Points or Amex Membership Rewards points. When stacking, you can earn that plus 300 United Miles, 1,500 Membership Rewards, and 600 Ultimate Rewards. That's an extra 2,400 points and miles for the same $100 purchase.
Final Thoughts
The best way to earn thousands of points fast is through welcome bonuses. To get the bonuses, you still have to spend money using your credit card. With more people shopping online, you shouldn't leave points on the table when the extra points require only minimal effort to attain.
If you're not working on a sign-up bonus, make sure you're using a card that will earn you the most points possible when shopping online such as the Citi Access card or the Chase Ink Unlimited.
When you shop using the United MileagePlus X App, bank offers, and shopping portals you can drastically increase the amount of points you're earning for every dollar spent online.
With a bit of shopping strategy, you'll be on your way to your next trip faster than ever.
---
10xTravel is part of an affiliate sales network and receives compensation for sending traffic to partner sites, such as CreditCards.com. This compensation may impact how and where links appear on this site. This site does not include all financial companies or all available financial offers.
Editors Note: Opinions expressed here are author's alone, not those of any bank, credit card issuer, hotel, airline, or other entity. This content has not been reviewed, approved or otherwise endorsed by any of the entities included within the post.