One does not have to think long before realizing that there are many parallels between the seemingly opposite worlds of Disney and Las Vegas.
Both are world-class entertainment destinations that draw millions of visitors per year with the allure of bright lights, loud music, fantasy-like vices, and people dressed up in costumes that would be ridiculous if dropped in any other location on earth.
Both have incredible shows, great food, and an endless supply of zombie-like adults who somehow manage to function on less than 3 hours of sleep per night.
And both have dozens of massive hotels to choose from, with huge ranges in price and quality, leaving would-be visitors left guessing where their dollars will best be spent.
Today, we take the mystery out of one of these Disney World Resorts, Disney's Coronado Springs Resort.
Let's get to it.
Booking the Coronado Springs Resort
We booked our stay as part of a package that included park tickets, dining, and a couple of other add-ons so it would be difficult to tell you exactly what we paid per night for the hotel alone. This is not uncommon for anyone staying at a Disney resort and is often a great way to save when compared to booking everything separately.
A quick search on hotels.com will tell you that nights at Disney's Coronado Springs Resort tend to be priced in the upper $200's for standard 2 queen or 1 king bedrooms. Putting it firmly in the middle of the road as far as Disney resort prices go.

I paid for the package using my Chase Sapphire Reserve card to earn 3x Chase Ultimate Rewards Points on the entire purchase.
Another popular option is to book on Hotels.com and pay using a Capital One® Venture® Rewards Credit Card to earn 10x points on your purchase, effectively saving you 10% on your stay.
Overall it can be pretty difficult to use points and miles to visit Disney so plan on paying at least a portion of your trip out of pocket.
Check-In
We were dropped off at Disney's Coronado Springs Resort by Disney's Magical Express, though it would be impossible to miss this resort if you were doing the driving yourself. The main tower looks large enough to have been plucked right off of the Vegas strip and is easily 3x taller than any other building within eyesight.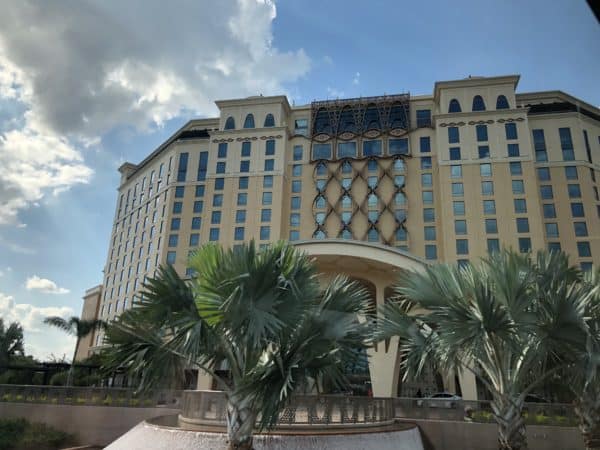 The front desk is inside the main doors immediately to your right. There were only a handful of other people on our shuttle so we were able to finish the check-in process in less than 5 minutes. Though I did notice that longer lines seemed to be relatively common throughout my stay.
Side note: Can someone from the hotel industry please explain why it takes longer than 2 minutes to check in to a hotel? You have all of my information before I arrive, why can I not just show up, swipe my id and credit card, and head to my room in the same amount of time it takes to buy a drink from a vending machine?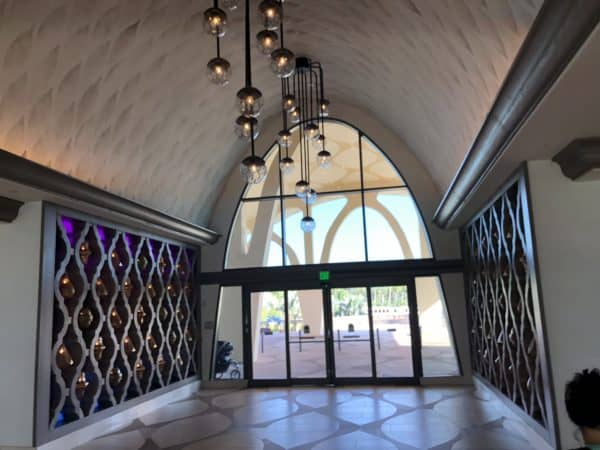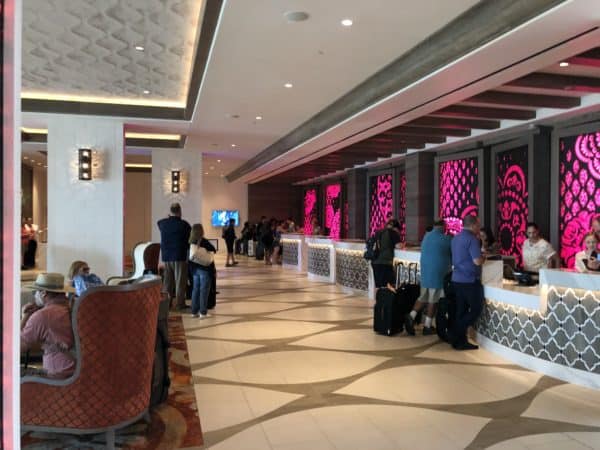 Our room was in the main tower just steps from the front desk so we were able to get from desk to door in less than 5 minutes.
Room
We stayed in a standard room on the 10th floor with one king bed and one "rollaway" bed (an air mattress). Like many rooms on the property, our room had recently been refurbished and looked very much like most other standard hotel rooms I have visited in my lifetime.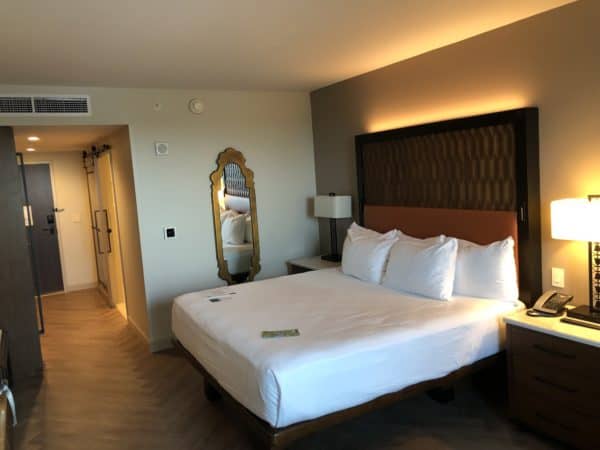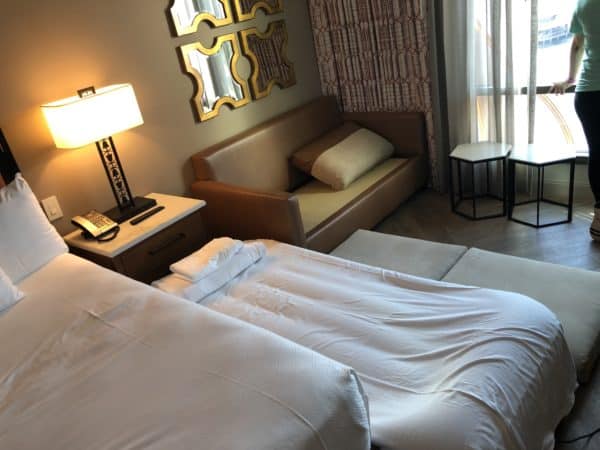 The room contained no obvious branding to indicate that you were staying at Disney World. Not even any of the famous "hidden Mickeys" (that I could find anyway).
There was a large work area/coffee station complete with a Keurig machine and mini-fridge.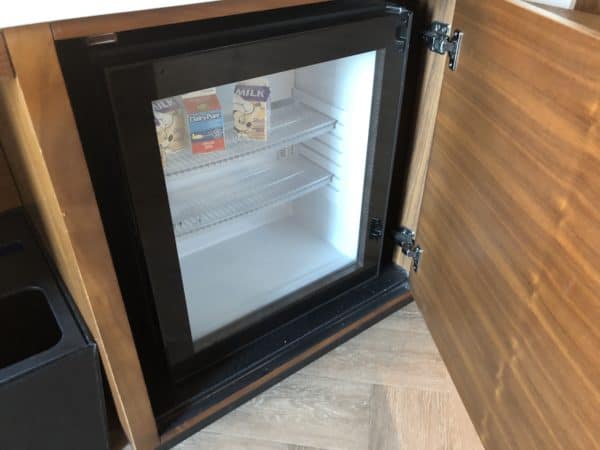 The bathroom was…. a hotel bathroom. Two sinks, one shower, one toilet (in a separate room), all behind a large sliding barn door to conserve space. The lack of a bathtub was not ideal for traveling with a 2-year-old but we made it work.
Everything felt brand new and sparkling clean, which is about all I ever hope for in a standard hotel bathroom.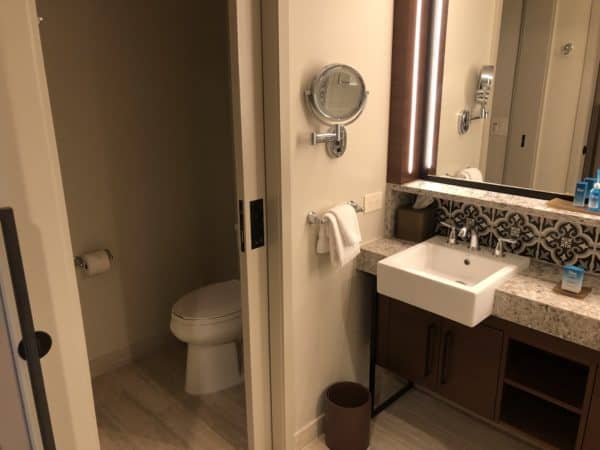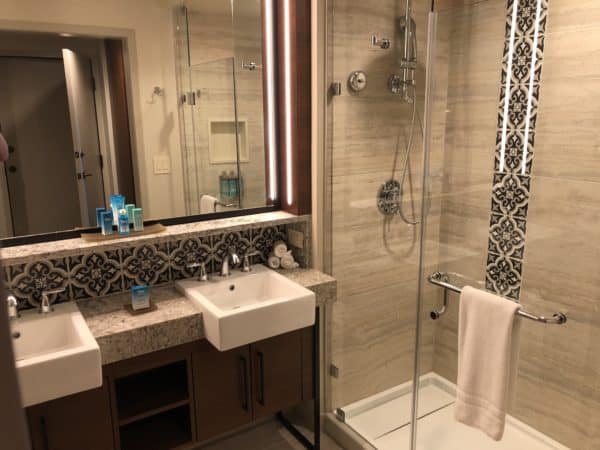 There were amenities that we re-stocked daily. My toothbrush somehow broke in my semi-hard sided checked bag so the mouth wash was a real lifesaver that first night.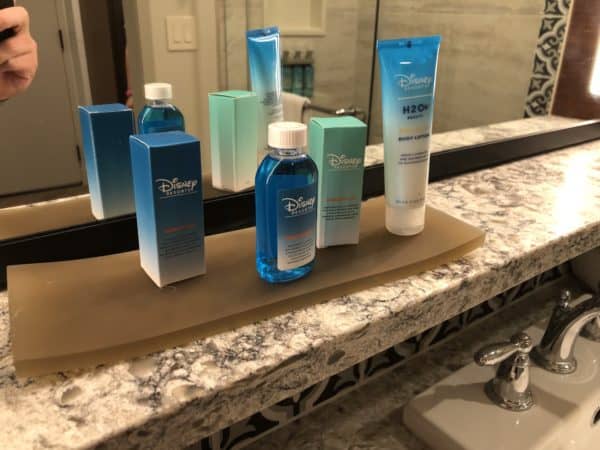 Next, let's talk about some of the downsides of the room. Starting with the mandatory white noise machine that was disguised as a fire alarm speaker.
I'll let my Instagram stories explain this one.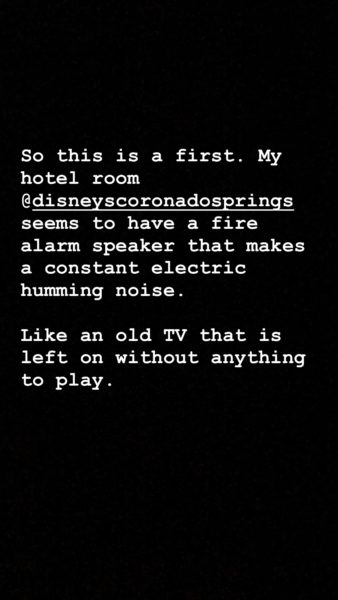 Go ahead and turn your sound on and tell me if you can hear this too.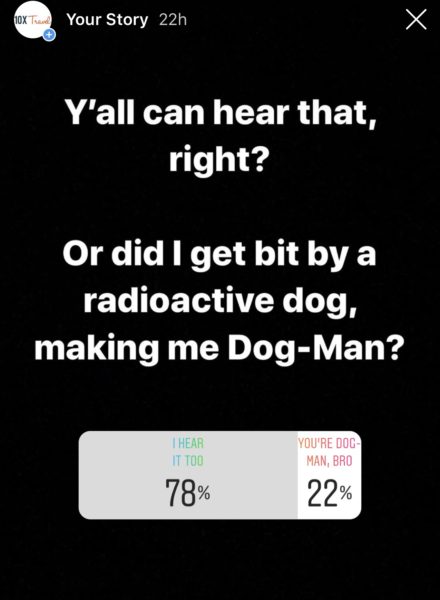 TIL: 22% of my Instagram followers are hard of hearing. Because there was definitely a noise coming out of that speaker.
Next downside, let's talk about the noise from neighboring rooms.
Unlike most other hotel rooms I have visited before, the doors between rooms at Disney's Coronado Springs resort are made of metal (like a fire door leading to a staircase). Which does very little to dampen the noise coming from the room next door.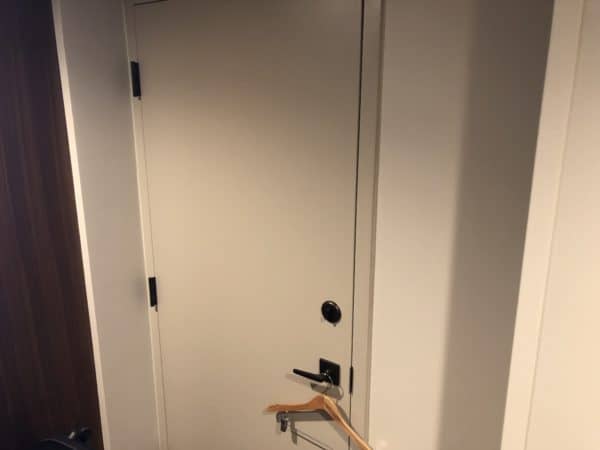 As I am typing this right now I can hear the shower running in my neighbor's hotel room. Not someone in the shower, not people talking in the shower, I mean I can hear the actual water hitting the shower floor. And its louder than the noise made by the shower in my own room.
It's not uncommon to hear noise coming from other rooms when people shout, sneeze, cough, or whatnot. But the metal door setup in this resort made it sound like our neighbors were, in fact, our roommates, despite them being no more noisy than your average hotel guests.
Property
In a word, Disney's Coronado Springs Resort is massive.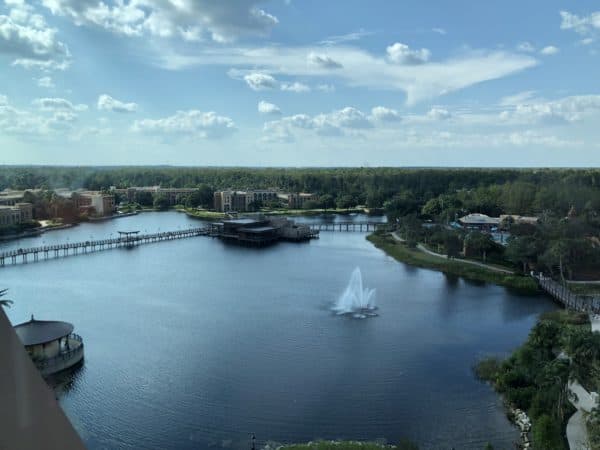 There are at least a dozen different buildings, all built around a lake and connected by paths and boardwalks.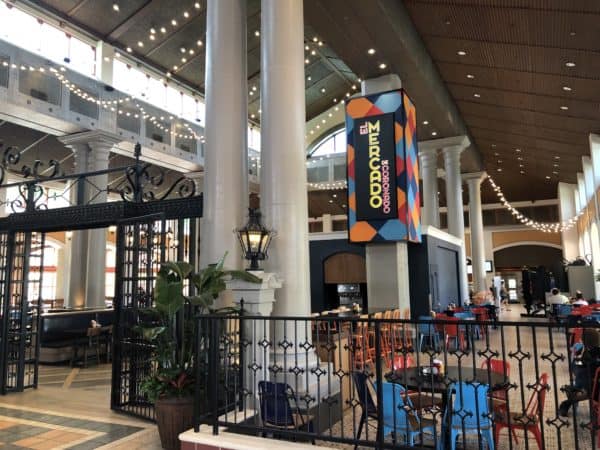 The resort features more than a dozen restaurants on property, ranging from a casual food marketplace to a high-end tapas place.
"The Dig Site" is where you will probably spend most of your time if you are traveling with kids.  It features a large pool, waterslide, sand volleyball court, cabanas, and a splash pad.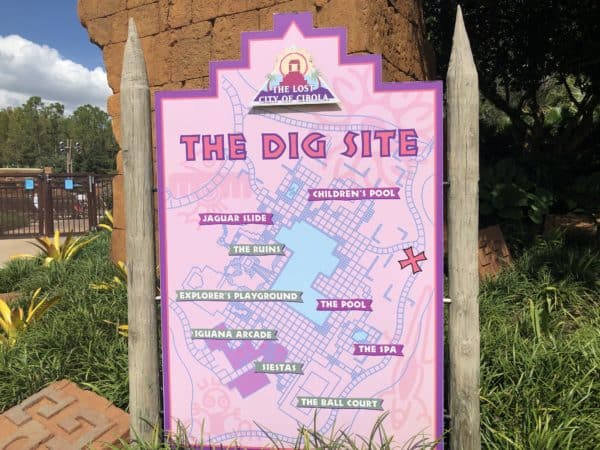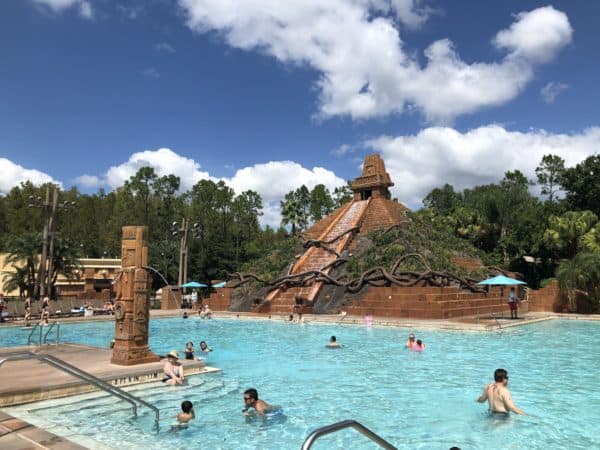 Transportation to and from Disney
There is a bus stop just steps from the hotel lobby that can take you to and from any of the major Disney parks in the area. The video below shows you the distance between the two, starting with the main entrance and ending at the bus stop, which is down a flight of stairs.
Buses come roughly every 20 minutes and it takes ~10-15 minutes to reach any of the parks. We took the bus every day and found it to be incredibly convenient and timely.
The one downside, if you can even call it that, is that the bus makes 3 different stops around the resort before reaching the main tower, where seemingly everyone is trying to get to anyway.
While I am sure there was a lot of thought put into the bus route, it is pretty frustrating to drive right past your hotel (literally less than 100 yards from the door) to make a 10 minute, 3 stop trip around the property.
You know that frustrating feeling of watching your plane fly over your destination airport, only to circle back around and land in the other direction?
This is the Disney Transportation equivalent of doing just that. Except in this scenario the plane is filled with tired, cranky toddlers who are smart enough to realize we just drove past their bedrooms.
Bottom Line
Overall Disney's Coronado Springs Resort is not going to "wow" you, but you could do a lot worse for the price. Especially with the completion of the recent renovations to the main tower.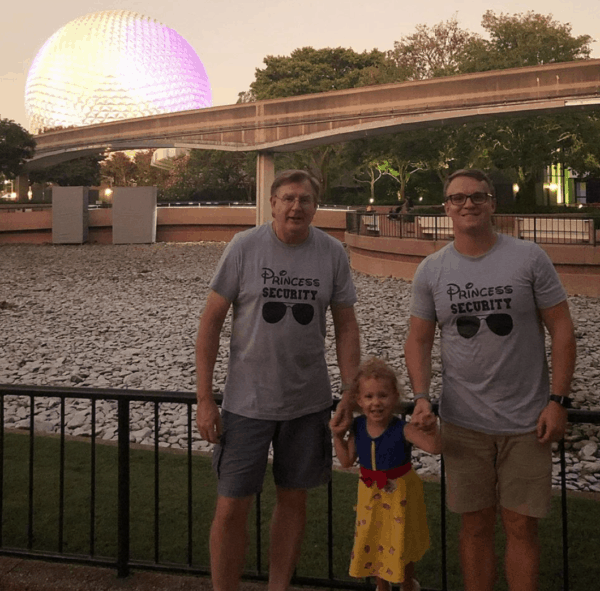 Disney's Coronado Springs Resort is a convenient option for families and business travelers alike, whether paying cash or using points for your stay. I would gladly take my family back on my next visit to Disney.
Happy Travels,
Bryce
---
10xTravel is part of an affiliate sales network and receives compensation for sending traffic to partner sites, such as CreditCards.com. This compensation may impact how and where links appear on this site. This site does not include all financial companies or all available financial offers.