In This Article
Loading table of contents …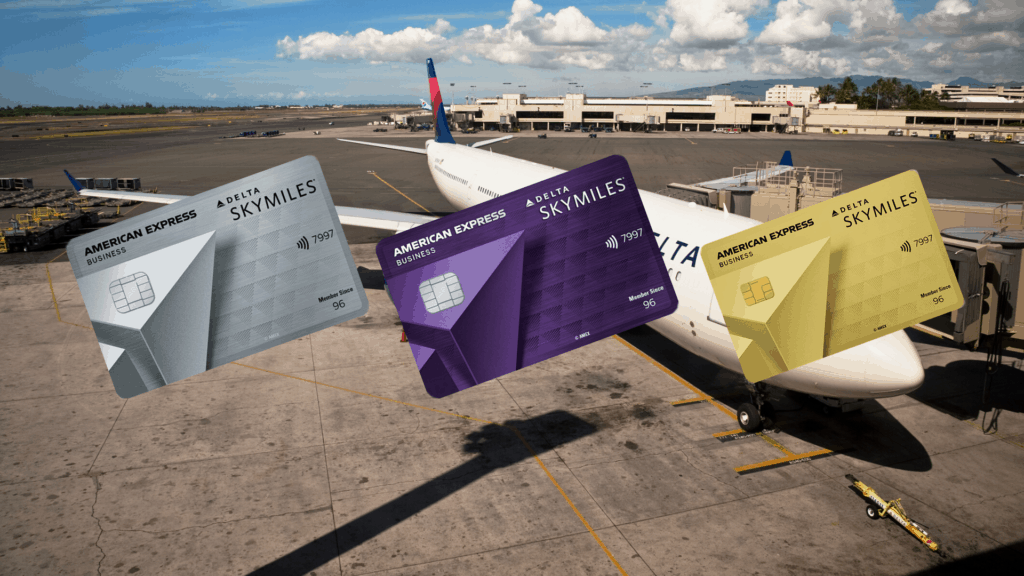 Note: Some of the offers mentioned below may have changed or are no longer be available. You can view current offers here.
I've been known to give the Delta SkyMiles Credit Cards a hard time in the past, but there are some great ways to redeem Delta SkyMiles – even if there are a bunch of terrible ways too. The truth is these cards get a bad reputation because there's a lot of marketing poured into them which means a lot of people open them while they're still too early in their points journey.
If that's you, stop reading. Go read up on the Chase 5/24 rule then check out the best credit cards if you're under 5/24.
For those of you above 5/24, the revamped Delta SkyMiles Credit Cards may be on your radar. If so, there can be a lot to digest when figuring out which card is best for you.
Let's take a deeper dive into these three cards which were revamped in 2020 so you can know which one will be best for you.
Delta SkyMiles Credit Cards from American Express
There are three Delta SkyMiles credit cards available: the Delta SkyMiles Gold American Express Card, the Delta SkyMiles Platinum American Express Card, and the Delta SkyMiles Reserve American Express Card. These are the same cards as before, but with a big overhaul. Since these aren't new credit cards, but just refreshed, if you've had the cards in the past you won't be eligible for a new bonus.
The biggest differences between the different Delta SkyMiles Credit Cards from American Express are their bonuses and annual fees.
On all of the cards, you'll see a new tiered bonus structure which are different than we've seen before. The first tier is a spending tier, while the second is a bonus you'll get after your first renewal date.
| | | | | | |
| --- | --- | --- | --- | --- | --- |
| Card | Annual Fee | Spending Bonus | Spending Requirement | Renewal Bonus | Total Bonus |
| Gold | $0 First Year, $95 After | 60,000 | $2,000 | 10,000 | 70,000 |
| Platinum | $250 | 80,000 | $3,000 | 20,000 | 100,000 |
| Reserve | $550 | 80,000 | $5,000 | 20,000 | 100,000 |
The new bonus structure gives a renewal bonus that you'll receive after your first renewal date. This is like a cherry on top for keeping the card open. This only comes on your first year anniversary, not subsequent ones.
Thankfully, Delta SkyMiles don't expire, so you don't have to worry about the miles expiring in case you are waiting on the renewal bonus to hit before using them, or if you use your spending bonus before the renewal comes and you're left with 10,000 or 20,000 SkyMiles in your account.
Additionally, the annual fees have changed too. On the Gold, you'll have a $0 introductory annual fee your first year and $99 after that. The Platinum's fee is $250 and the Reserve's is $550. Neither the Platinum nor the Reserve waive the annual fee the first year.
Don't write off the Platinum or the Reserve simply because of their annual fees. Next, we're going to dig deeper into some more card benefits that may justify their annual fee for some users.
Delta Amex Bonus Categories
For everyday spending, the Gold has the best earning rates given its annual fee. You'll earn 2x miles per dollar spent at supermarkets and restaurants. You'll also earn 2x miles for every dollar spent on purchases made with Delta.
The Platinum earns the same on everyday categories, but increases the bonus with Delta to 3x miles per dollar. You also get 3x miles per dollar on hotels, which isn't a category available on the Gold.
The Reserve is the weakest of all three for spending categories. It only earns 3x miles per dollar for purchases made with Delta. None of the other categories apply.
Overall, the Gold is probably the best for most everyday users. However, if you're really trying to build up Delta miles through everyday spend instead of bonus spend, you would be better served by getting an American Express Gold Card. It earns 4x Membership Rewards per dollar spent on dining and supermarkets, and you can transfer Membership Rewards to Delta.
The Spending Categories aren't the strongest area of these cards, but they definitely can help add up. There aren't a lot of cards that earn bonus mile on supermarkets, giving the Gold and Platinum an edge over some other cards for daily spend.
What will likely cause the biggest difference for most users are the travel benefits available with the cards.
Delta Amex Travel Benefits
There's a lot of travel benefits available with the refreshed Delta SkyMiles credit cards from American Express. Some benefits are shared between all three cards, but the premium cards have some premium benefits to help justify their higher annual fee structure. Let's start with the shared benefits, and then get into some more premium benefits available on the Platinum and Reserve cards.
Shared Benefits Across All Delta Amex Cards
There are a few benefits that are shared amongst all three cards, so you'll get them no matter which flavor you choose.
You'll get your first checked bag free on any Delta flight. Just be sure to attach your SkyMiles number to your reservation to get your free bag benefit.
With any of the cards, you'll also receive priority boarding in the Main Cabin 1 group. This isn't as great of a benefit as it sounds – Main Cabin 1 is actually the 7th out of 10 boarding groups, but for everyone without an elite status or flying in a premium cabin, it is the highest group you're eligible to board with.
Rental car coverage is available with all three cards—you just have to book the car entirely with your card and waive the collision damage waiver (CDW) offered by the rental company.
Baggage insurance is also offered with all of the cards, but is fairly limited because you have to pay entirely with the card. If you redeem SkyMiles and pay only taxes and fees with your card, you will not be eligible for baggage insurance.
The last shared benefit amongst all three cards is that they all have no foreign transaction fees, which adds value for anyone looking to travel internationally.
These are a lot of good benefits, and it is nice to see options such as rental car coverage being offered even on the Gold SkyMiles credit card. As expected, the more premium cards come with some more premium benefits that you won't receive on the Gold SkyMiles Card.
Delta Sky Club Access (Delta Reserve Card)
Lounge access has typically been restricted to ultra-premium, high annual-fee credit cards. While you won't get any lounge access with the Gold Delta SkyMiles Credit Card, you will get access with the Platinum Card and the Reserve.
With the Platinum SkyMiles Credit Card, you'll have access to Delta Sky Clubs when you're flying on a Delta flight. Access will cost an additional $39 (per person?), but if you're not loyal to Delta, it is a nice perk to have on a $250 annual fee card, and it's one of the only cards with an annual fee under $400 to provide this perk. You can have up to two guests for $39 each as well.
The Delta SkyMiles Reserve Credit Card also comes with some pretty extensive lounge access benefits. Card membership comes with complimentary Delta Sky Club access and two one-time guest passes per year.
Once you've used both the guest passes, you can still bring guests in for only $39 each. This isn't their highest membership level, where you have access to the lounges at all times, but you'll get free access when flying on Delta operated flights.
Delta currently has Sky Clubs at the following airports:
Delta Sky Club Locations
Atlanta (ATL)
Nashville (BNA)
Austin (AUS)
New Orleans (MSY)
Boston (BOS)
New York – JFK (JFK)
Chicago (ORD)
New York – Laguardia (LGA)
Cincinnati (CVG)
Newark, NY (EWR)
Dallas (DFW)
Orlando (MCO)
Denver (DEN)
Philadelphia (PHL)
Detroit (DTW)
Phoenix (PHX)
Ft. Lauderdale (FLL)
Portland (PDX)
Honolulu (HNL)
Raleigh-Durham (RDU)
Indianapolis (IND)
Salt Lake City (SLC)
Jacksonville (JAX)
San Diego (SAN)
Los Angeles (LAX)
San Francisco (SFO)
Memphis (MEM)
Seattle (SEA)
Miami (MIA)
Tampa (TPA)
Milwaukee (MKE)
Washington, DC – Reagan National  (DCA)
Minneapolis – St. Paul (MSP)
West Palm Beach (PBI)
Additionally, you'll have access to American Express Centurion Lounges when you book a Delta operated flight with an American Express credit card. While this may seem to conflict with the Sky Club membership, there are a lot more Sky Clubs than Centurion Lounges in the US.
Having access to both really expands your lounge options, and may give you access to a lounge where you would otherwise be stuck waiting by the gate. Here's a list of the Centurion Lounge locations by airport:
Centurion Lounge Locations
Charlotte (CLT)
Miami (MIA)
Dallas (DFW)
New York – Laguardia (LGA)
Denver (DEN)*
New York – JFK (JFK)*
Houston (IAH)
Philadelphia (PHL)
Las Vegas (LAS)
Phoenix (PHX)
Los Angeles (LAX)*
Seattle (SEA)
London (LHR)*
San Francisco (SFO)
*These locations are expected to open at some point in 2020.
As you can see, there are many more Sky Club locations than Centurion Lounges. Having access to both expands your options to a total of 36 airports across the US, with more being added as more Centurion Lounges and Sky Clubs open up.
The guest benefits can really come in handy as well, especially if you're traveling with someone on your trip.
Delta Companion Certificates (Platinum and Reserve Cards)
If you do want to travel with someone else, the Platinum and Reserve SkyMiles cards come with a companion certificate. The Gold SkyMiles card comes with a travel credit that I'll also include here, since you could use it for a companion.
Starting with the Gold, you'll earn a $100 flight credit when you spend $10,000 on your card every year. This benefit doesn't stack – you can only earn one $100 credit per year. With Basic Economy prices being lower and lower, this is a good way to get a cheap companion ticket somewhere.
The real heavy hitters come on the Platinum and Reserve cards.  The Platinum SkyMiles card comes with a companion ticket for a domestic round-trip ticket in economy after each year of card membership. Given the relatively moderate annual fee of $250, you may be able to get more than $250 in value out of the Platinum year after year.
For those who opt for the Delta Reserve card, you'll receive a companion pass that you can use for Domestic First Class, Delta Comfort+, or Main Cabin. You won't be able to use it if the flight is marketed as Delta One, which is what you'll find on some longer routes such as Los Angeles (LAX) to New York (JFK/LGA).
Both companion certificates are limited to the contiguous 48 states, so no Hawaii or Alaska trips. However, if you live in Alaska, Hawaii, Puerto Rico, or the US Virgin Islands, you can use your certificate to book a ticket to the contiguous United States. You'll just need to have an address on your SkyMiles account in one of these states or territories.
Elite Status Boost
I put the status benefits last, because for most travelers, it doesn't make sense to be chasing status. Unless you're traveling on someone else's dime, you should be flying whatever is cheapest or using whatever miles you have to get you there for next to nothing. That being said, if you are traveling and someone else is paying for it, chasing status can make sense. Choosing the right credit card can help you elevate your status a lot faster.
There are no status benefits on the Gold SkyMiles card, but you'll get a boost on reaching status from both the Platinum and Reserve SkyMiles cards.
With the Platinum SkyMiles Card, you'll earn 10,000 Medallion Qualifying Miles when you spend $25,000 on the card. You can earn this twice per year, up to 20,000 Medallion Qualifying Miles. Meanwhile, with the Reserve Card, you'll get 15,000 Medallion Qualifying Miles for spending $30,000 on the card. With the Reserve you can get this up to four times annually, earning up to 60,000 Medallion Qualifying Miles per year.
Both the Platinum and Reserve SkyMiles cards are eligible for a Medallion Qualifying Dollars Waiver. If you spend $25,000, Delta will waive the Medallion Qualifying Dollar requirement for Platinum, Gold, or Silver Medallion status. If you spend $250,000, you'll receive the waiver for Diamond Medallion Status.
The spending requirements for the Medallion Qualifying Dollar waiver count all your spending across all of your Delta cards, even if you spend it on a Gold SkyMiles card. You just have to have a Platinum or Reserve card to be eligible to receive the waiver.
Upgrade Priority With Delta Reserve
The Delta SkyMiles Reserve credit card has a unique benefit that you won't find on other cards: upgrade priority. Cardmembers will receive priority for upgrades over other Medallion members in your same level and fare class.
No status with Delta? No problem. Even if you don't have status, you'll be eligible for upgrades, but you'll be last in line behind all flyers with status.
American Express Delta SkyMiles Business Cards
In addition to the Delta SkyMiles personal credit cards, American Express also has three Delta SkyMiles Business credit cards. These are branded similarly as Gold, Platinum, and Reserve versions.
There are a lot of similarities between the personal and business versions of the cards, the bonuses are currently the same as on the personal cards and the travel protections are the same. The real difference is in the spending bonus categories.
The Delta SkyMiles Gold Business American Express Card earns the same 2x miles per dollar on restaurants and Delta purchases, but instead of supermarkets you'll earn 2x miles per dollar on US shipping and advertising.
For the Delta SkyMiles Platinum Business American Express Card, you'll continue to earn 3x miles per dollar on hotels and Delta purchases. Additionally, you'll earn 1.5x mile on all purchases over $5,000, up to 50,000 extra miles annually.
Businesses with more spending will get more miles with the Delta SkyMiles Reserve American Express Card. You'll still earn 3x miles per dollar spent on Delta flights, but once you spend $150,000 on your card in a calendar year all future purchases will earn 1.5x miles with no cap.
Other Ways to Earn Delta SkyMiles
Beyond the Delta SkyMiles co-branded credit cards, you can also earn Delta SkyMiles by transferring Amex Membership Rewards points and/or Marriott Bonvoy points.
Generally, the best transfer partner to use is Amex which can be transferred at a 1:1 ratio in increments of 1,000 points. Marriott points transfer at a rate of 3:1 with a 5,000-mile bonus when you transfer 60,000 points.
As Amex Membership Rewards cards (both personal and business) have great bonus categories, you're often better off using them than one of the Delta cards for your everyday spend.
Amex passes on an excise tax of $.0006 per point transferred to domestic partners including Delta, Hawaiian Airlines and JetBlue. The fee is capped at $99.
Beyond credit cards, there are several other ways to earn SkyMiles including Airbnb stays and Lyft rides. In fact, you can earn Hilton points and 10x on Ultimate Rewards points (with the Chase Sapphire Reserve) on Lyft rides.
Final Thoughts on the Delta Amex Cards
If you're still under 5/24 stop. Do not click "apply." Do not enter your info. Do not get one of these cards. There is no "get under 5/24 free" card in this game. If you are over 5/24, then by all means, please proceed to the boardwalk.
While, it might make sense in some select circumstances to get the business version of one of these cards while under 5/24, those circumstances will be rare.
For those of you over 5/24, the welcome bonuses might be compelling, especially when you factor in a free checked bag, lounge access, companion certifications and an expedited path to elite status.
However, If you're looking for a way to earn Delta SkyMiles, Amex Membership Rewards card will likely be a better long-term play. Not to mention, Amex points provide much more flexibility with its other airline transfer partners.
Overall, the refreshed Delta cards now make a more compelling reason to keep the cards longer. Whether you're a seasoned Delta flyer looking to reach a higher status tier faster, or a points and miles enthusiast over 5/24 looking for your next card, you have some options in one of the refreshed Delta SkyMiles credit cards from American Express.
New to the world of points and miles? The Chase Sapphire Preferred is the best card to start with. With a bonus of 60,000 points after $4,000 spend in the first 3 months and 2x points on dining and travel, this card truly cannot be beat!
Learn More
Editors Note: Opinions expressed here are author's alone, not those of any bank, credit card issuer, hotel, airline, or other entity. This content has not been reviewed, approved or otherwise endorsed by any of the entities included within the post.