In This Article
Loading table of contents …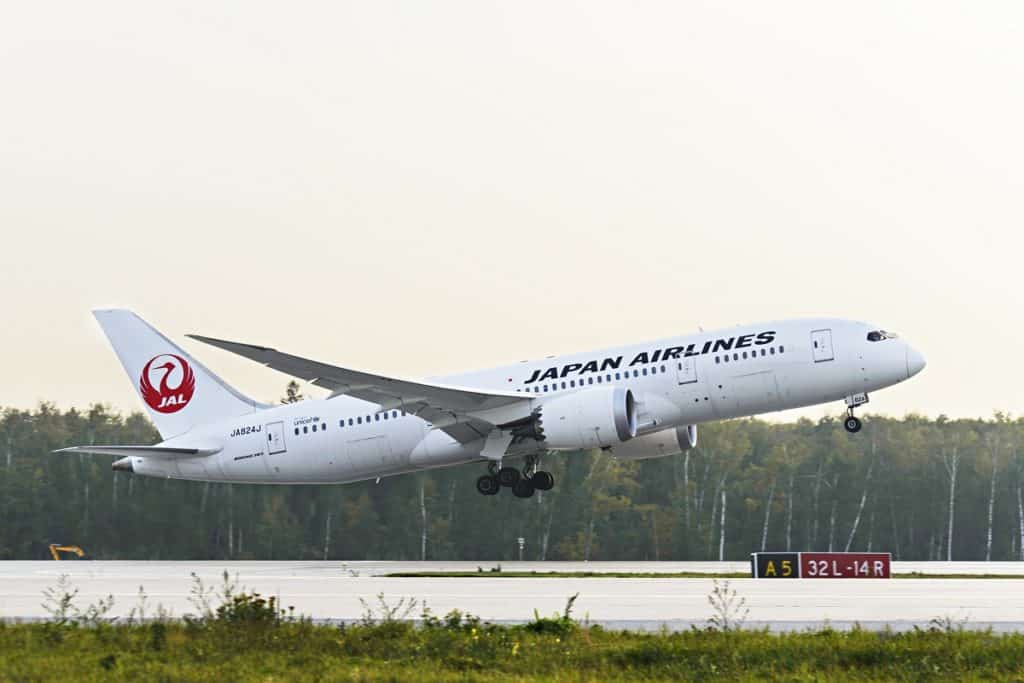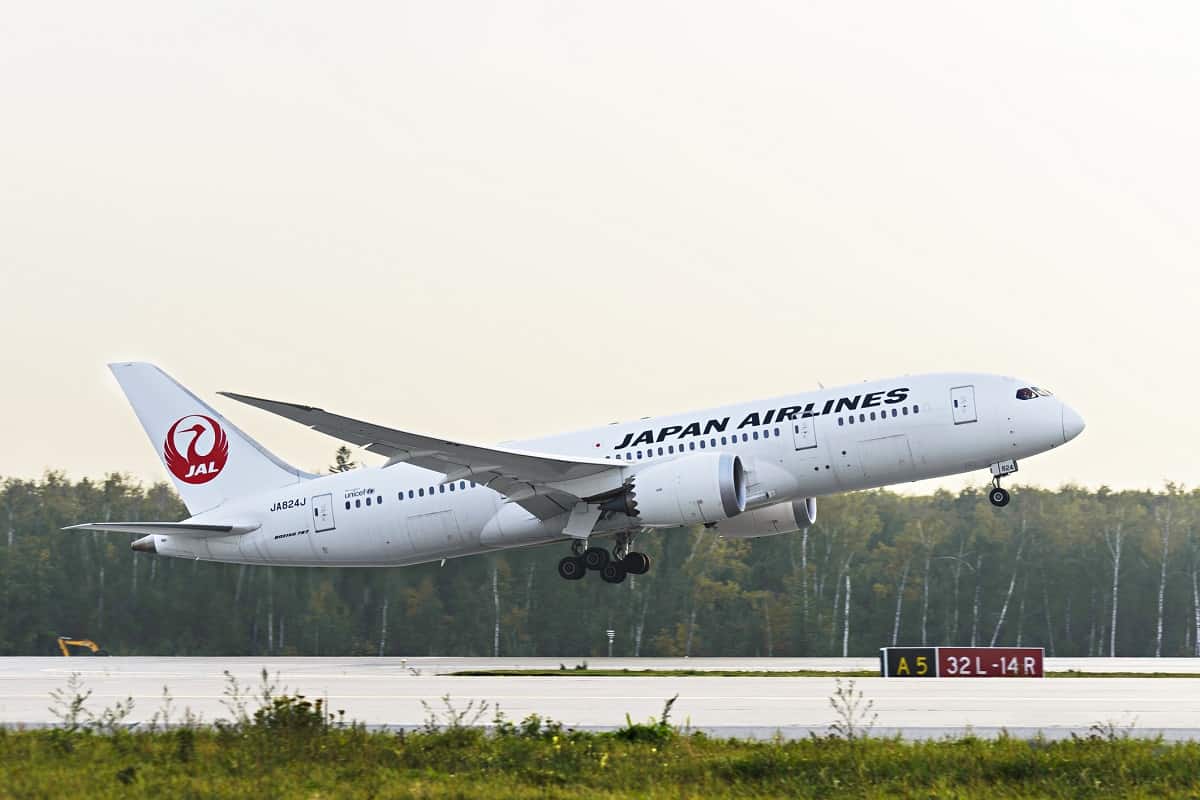 Note: Some of the offers mentioned below may have changed or are no longer be available. You can view current offers here.
My wife and I recently had the pleasure of flying Japan Airlines first class from Tokyo Narita (NRT) to New York (JFK). That's a full twelve hours of the Japan Airlines first class experience. We absolutely loved it and think it ranks with some of the best first class redemptions. Here's what to expect if you get the chance to try it for yourself.
Booking Japan Airlines First Class
As a member of the Oneworld alliance, the most straightforward way to book Japan Airlines first class is through the American Airlines AAdvantage program. The good news is the flight only costs 80,000 AAdvantage miles per person each way.
The even better news is Japan Airlines has pretty decent last minute first class availability. We had to decide between first class or business class and I'm super glad we spent the extra 20,000 miles for first!
We actually found first class award space a few months before our trip, though we originally planned to fly back to Boston (BOS) through Chicago O'Hare (ORD). However, space opened up between NRT and JFK about a week and a half before our trip so we changed our routing thanks to American's generous routing change rules. Remember as long as your origin and destination remain the same you can change your routing for free.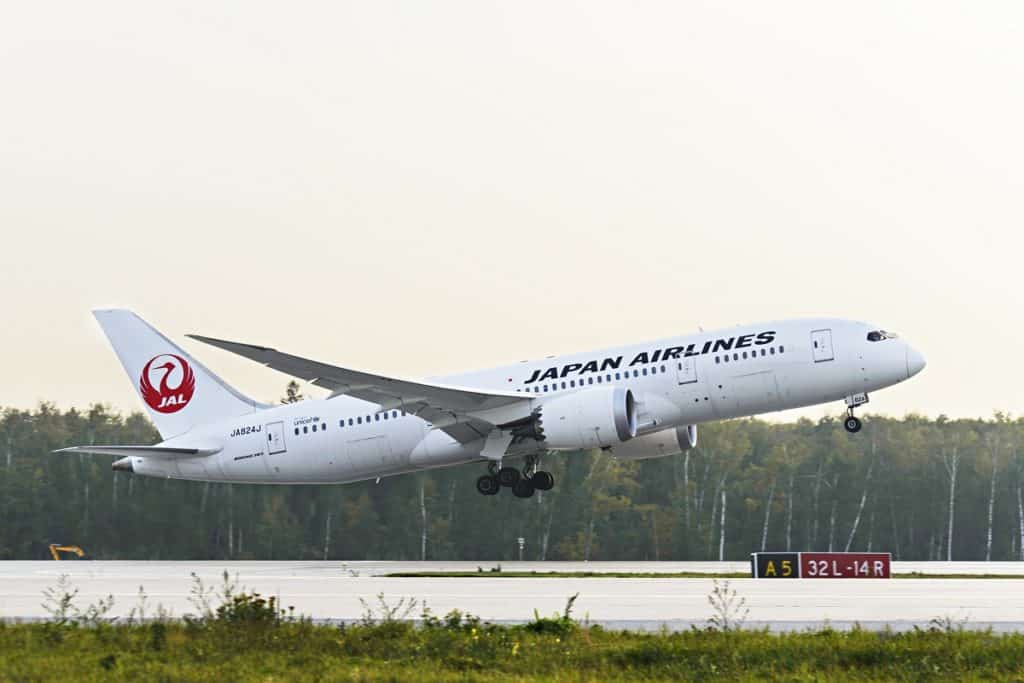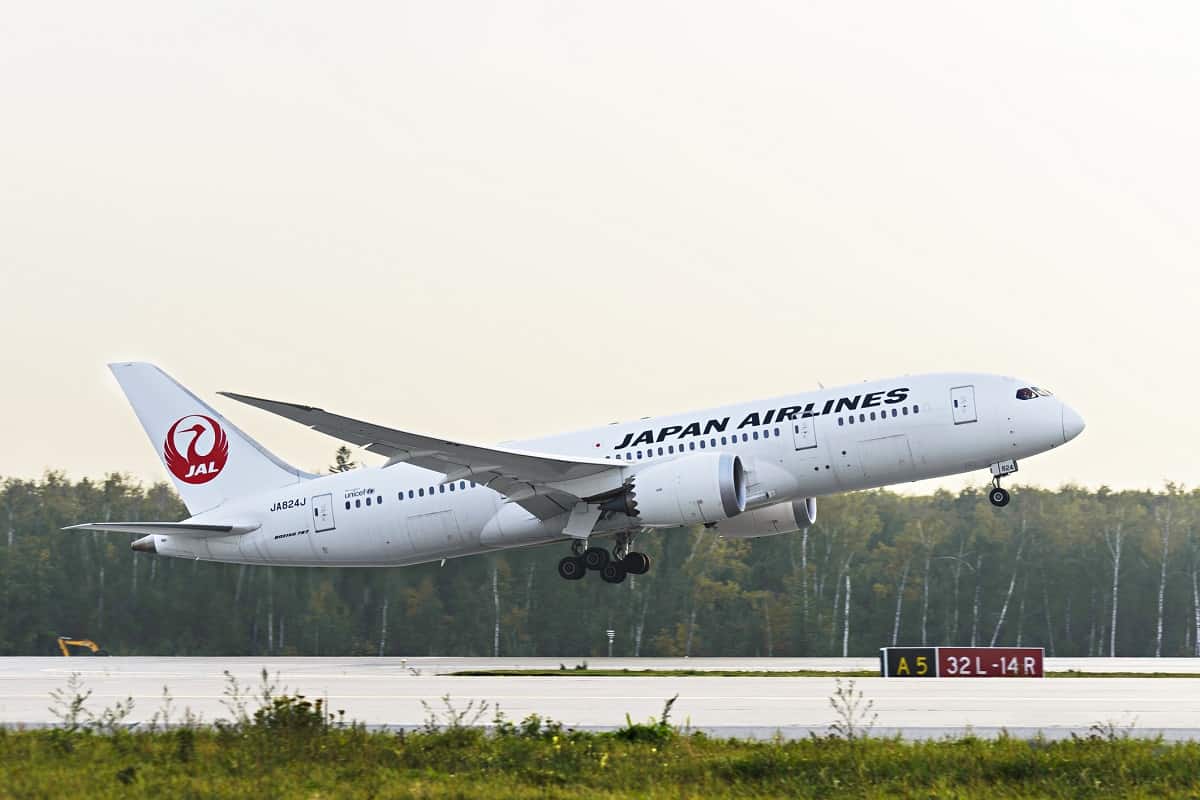 My wife and I earned the AAdvantage miles through the Citi AAdvantage Platinum Select card over a year ago; it was good to finally put them to good use! Another option we considered was using our Alaska miles which would have only cost us 70,000 miles per person. Alaska miles also allow you to include a stopover, but we only had a week so we didn't need that.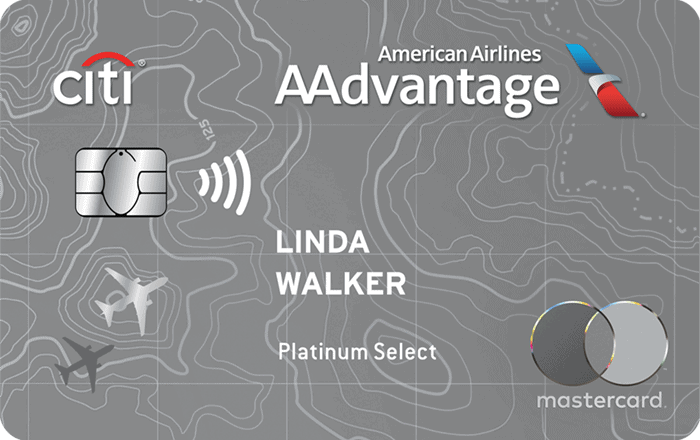 When booking AAdvantage awards, I generally put the awards on a 5-day hold. I needed to call American anyway since you can't book Japan Airlines online, so I put the award on hold and then called back a few days later to complete the booking. Note that you don't need to commit to which account will pay for the flight with miles until you book regardless of what account you used to hold the flight.
Check-in and Lounge
Japan Airlines first class check-in at Tokyo Narita was smooth and easy. Once checked in, we were escorted by the agent to a dedicated priority security screening room. Japan security isn't as involved as TSA here in the United States and we were literally the only two people in the priority screening room. It was an efficient experience that led my wife to say, "That was the easiest security ever."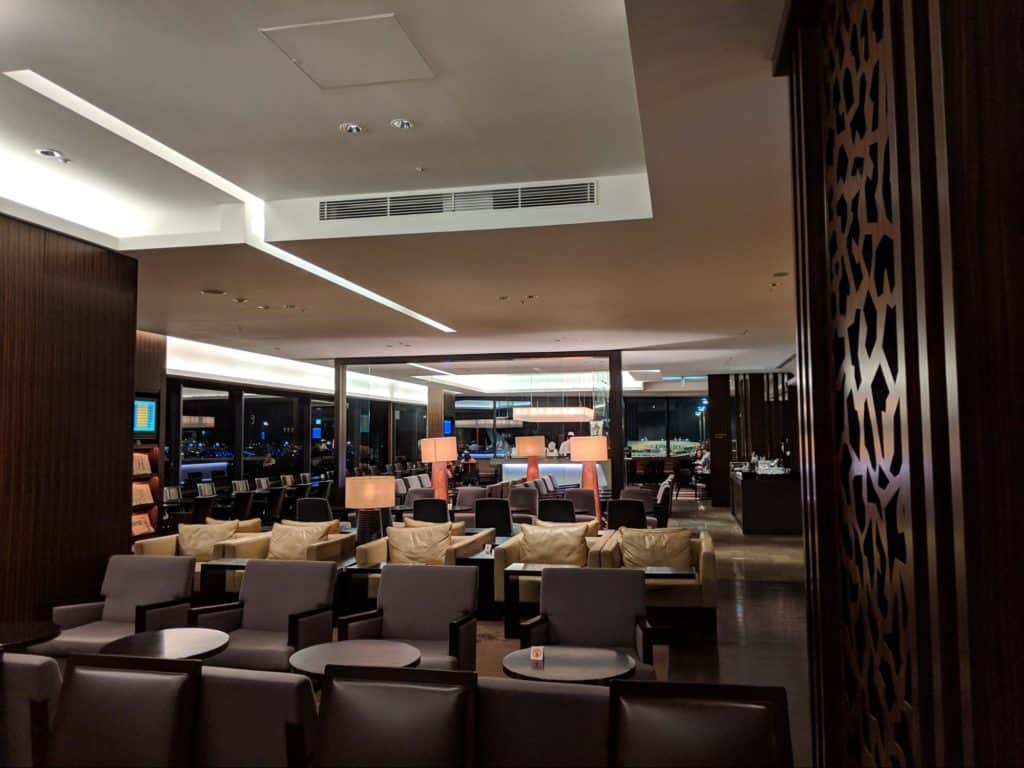 We got through security about two hours before our 7:30 PM flight, so we went to check out the Japan Airlines first class lounge. It was kind of crowded when we got there but had mostly cleared out by the time we boarded at 7:00 PM.
The lounge featured an excellent buffet and a nice selection of spirits. I helped myself to my last bit of Japanese curry and some udon noodles which were a nice way to say goodbye to Japan.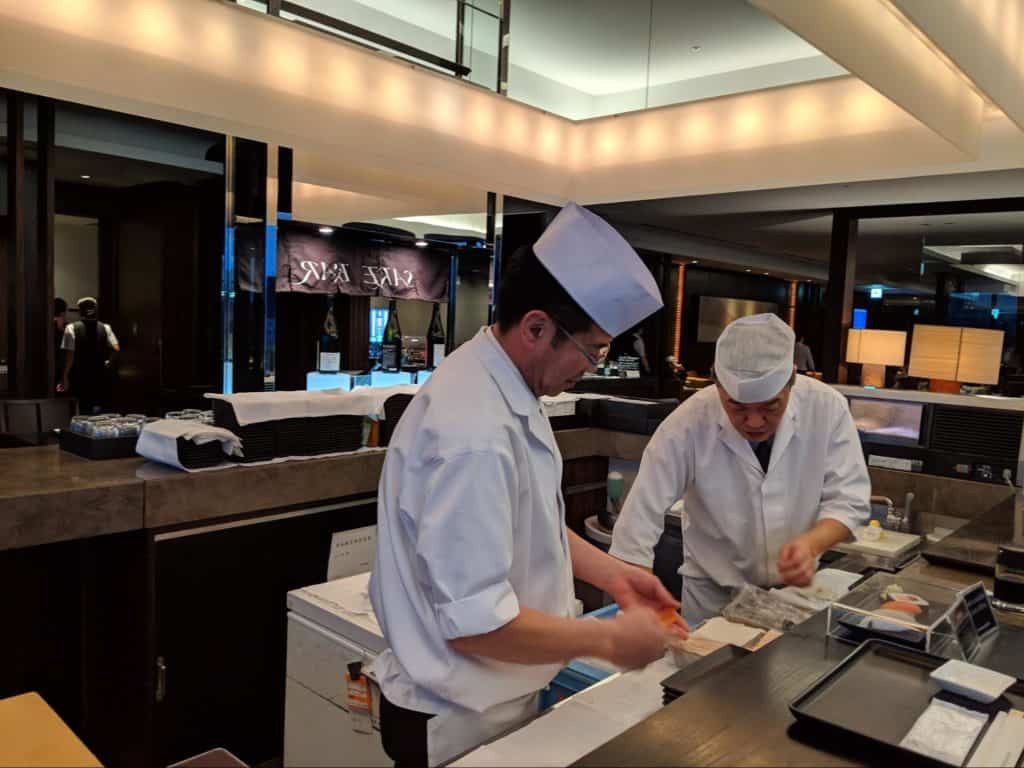 The unique feature of Japan Airlines' first class lounge is handmade sushi. The selection changes each day and you can ask the chefs behind the bar to prepare whichever pieces you'd like. During our visit, the lounge offered salmon, flounder, and futomaki. The sushi was good but far from the best we had in Japan — but I appreciated the effort. I'm never going to say no to salmon sushi!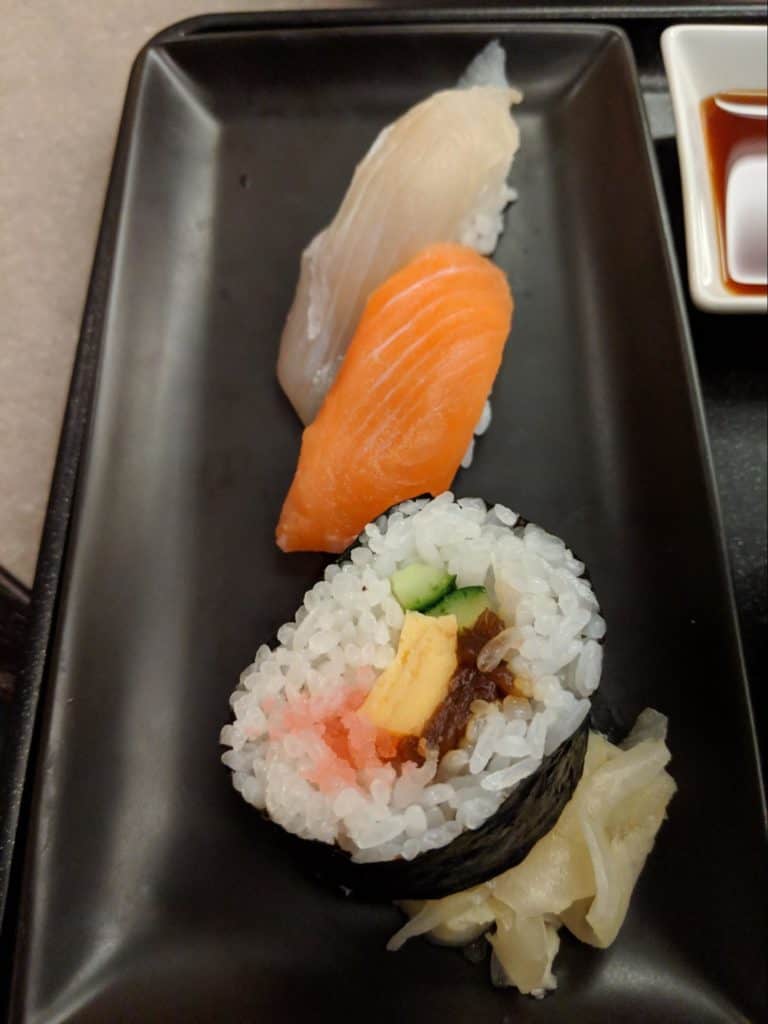 Before I sat down to eat, I put my name on the shower waitlist — the shower attendant gave me a pager to alert me. I waited about twenty minutes to use the shower and was glad to shower since we had had a long last day in Tokyo. The first class lounge had quite a few shower stalls, so even though the lounge was crowded, I didn't wait long. The lounge will provide a toothbrush, shaving kit, etc. if you need them.
After an hour and a half in the lounge, it was time to board!
Japan Airlines First Class Seat And Cabin
As we arrived at our seats, we were given amenity kits and slippers. Although Japan Airlines first class seat doesn't look that impressive, I found it to be incredibly comfortable. Another example of not judging a seat by its cover.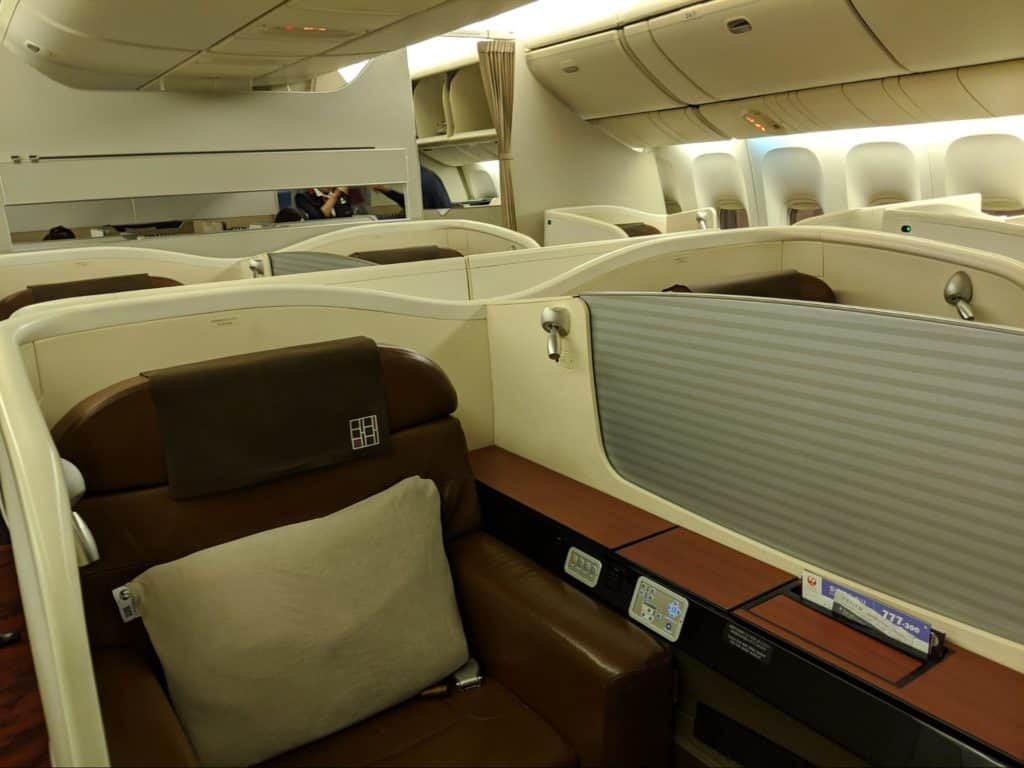 While the seats don't provide a ton of privacy, they feel great for sitting and lounging and feel even better when made into a bed. The flight attendants also lay down a mattress pad – it's one of the best sleeping experiences I've had on a plane. So even though the cabin is more open, the comfortable seat more than made up for that in my mind.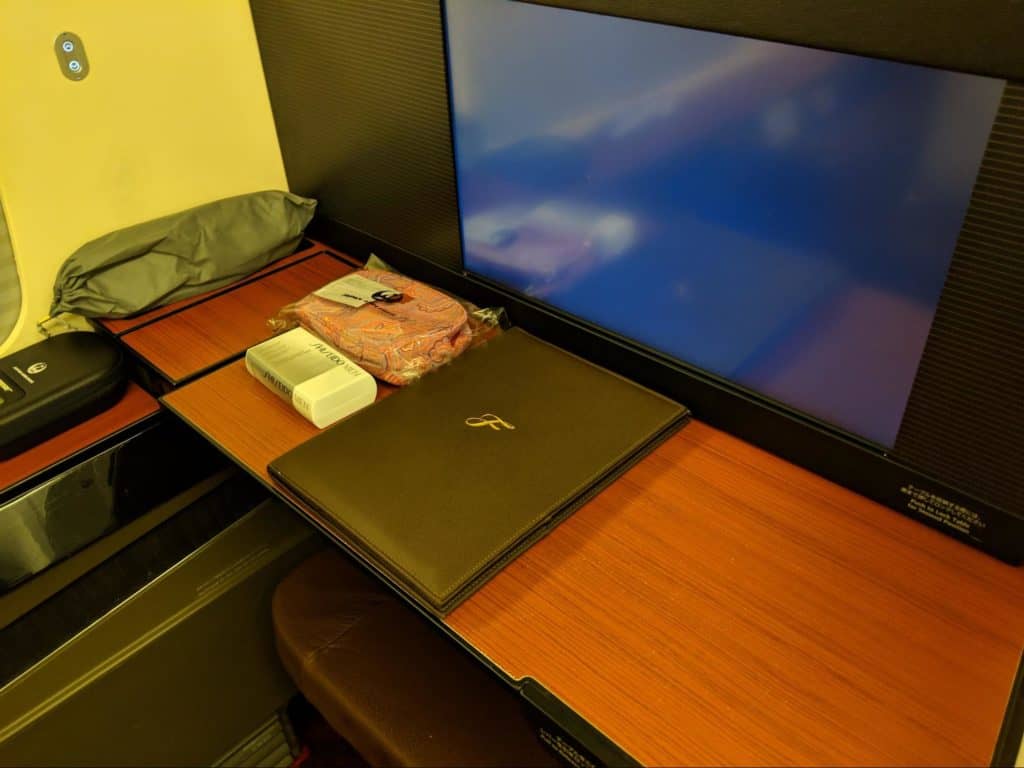 There was plenty of storage in a big compartment that pretty much fit all of my stuff. I appreciated that JAL let us store bags under the footwell which doubles as a seat if you want to take a meal with your traveling companion. I'd say the only downside of the seat's physical layout is the placement of the power outlet which is all the way up by the inflight entertainment screen, a bit too far for my tastes.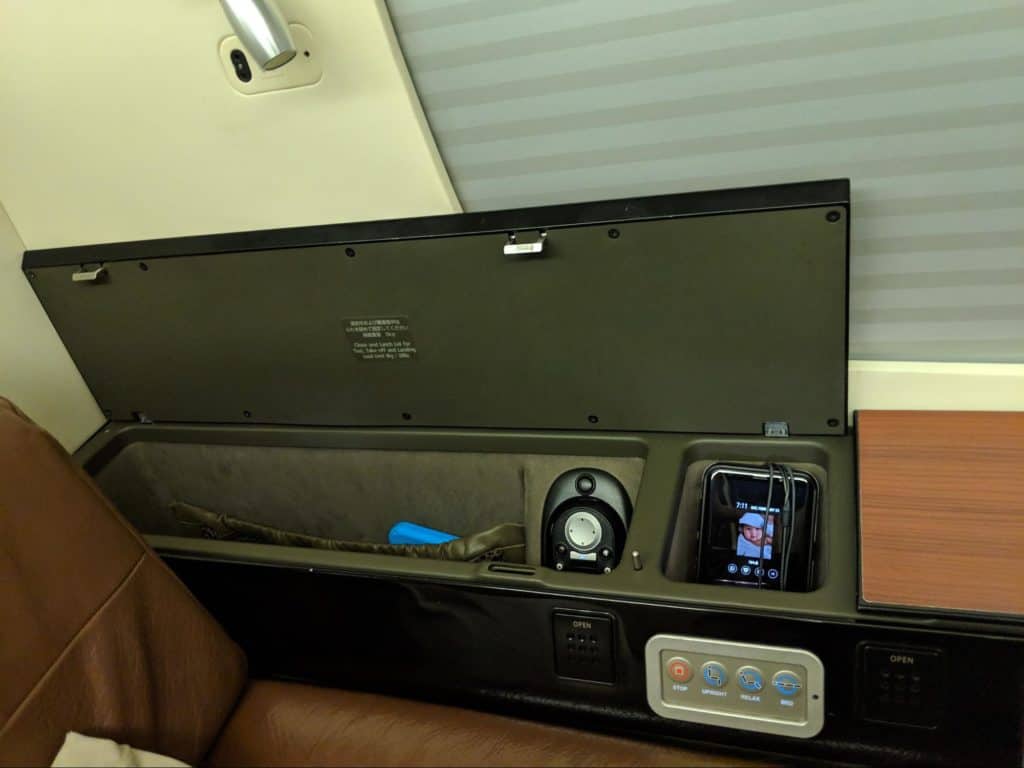 Speaking of inflight entertainment, the large screen was great and easy to see – no contrast issues at all. Unfortunately, there wasn't a huge selection of Hollywood movies (maybe only 10-12 recent movies). I ended up checking out some Japanese films which were a lot of fun to watch. The remote control also was a little finicky and tough to use at times. Not a huge deal but stuff like rewinding got annoying.
One last note about the cabin – it was neither too warm nor too dry, two climates you often run into in the sky. Not sure if Japan Airlines did anything to make it that way, but I really appreciated not overheating while I was sleeping, which happens to me often!
First Class Food And Drink
After we took off, the purser offered us pajamas so I went to change. Again, the pajamas don't look great (all brown?) but they feel wonderful. Pajamas are literally my favorite thing about flying in first class so I was happy to add the JAL set to my collection.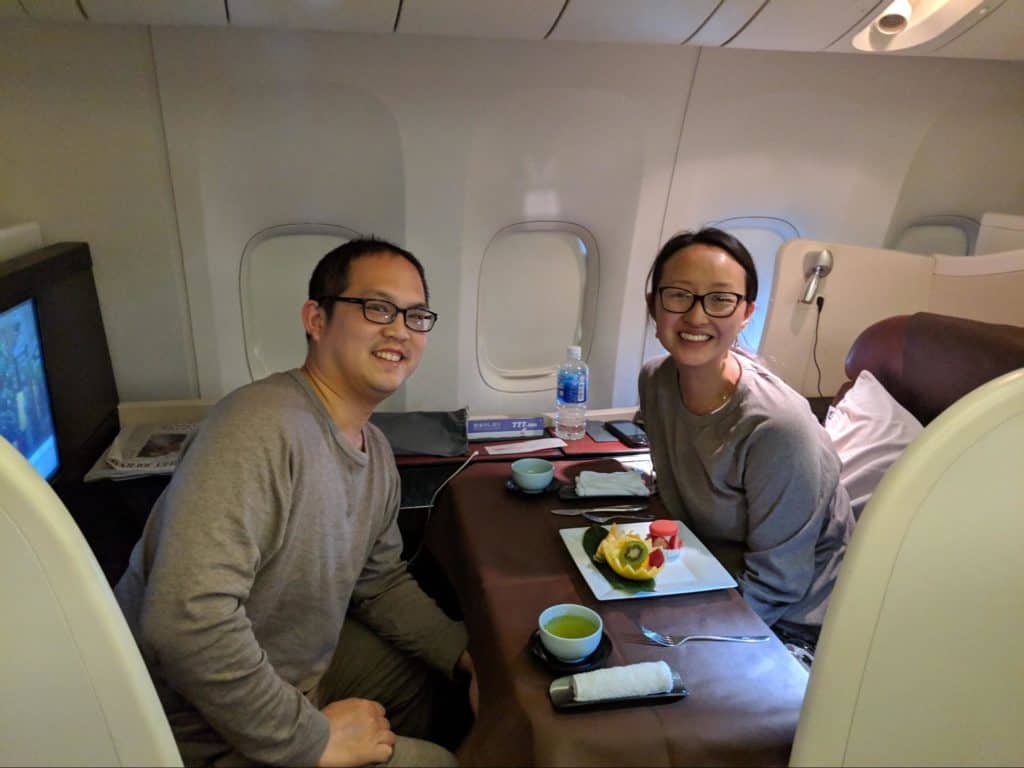 We settled in and it was time for the fun stuff. I'd say the alcohol selection was a real highlight of the food and beverage service. They offer Hibiki 17 and Cristal champagne – both treats we had never tried before. It's a shame I'm a lightweight when it comes to alcohol — unlike this guy — but those two offerings alone really elevated the drink selection.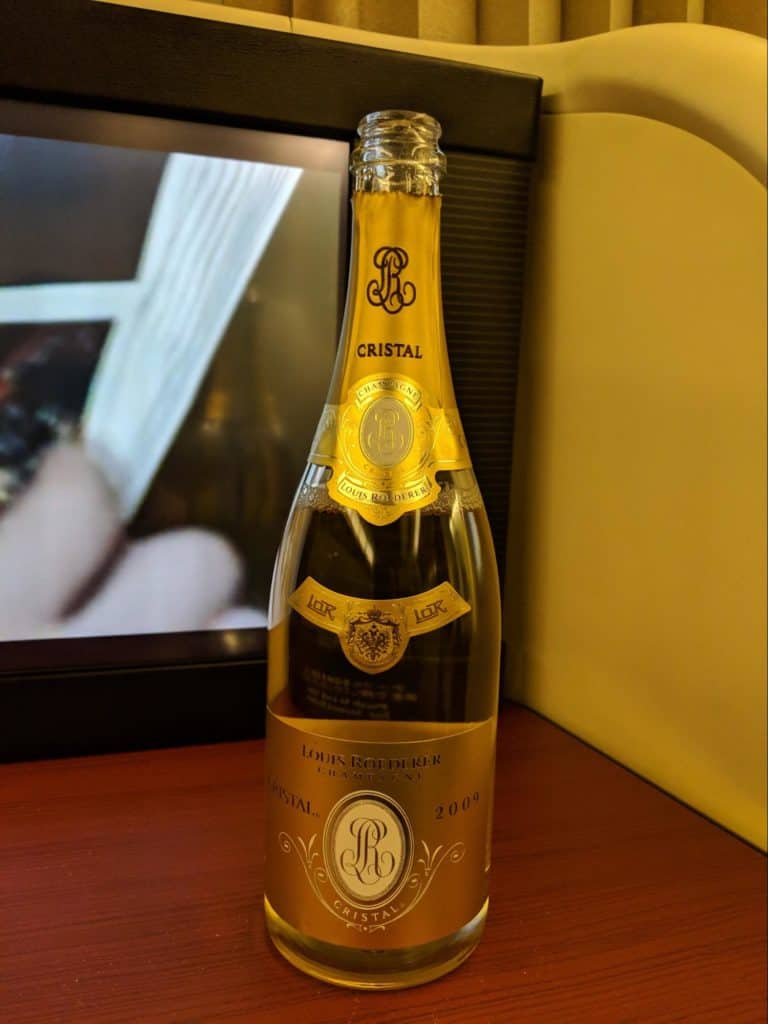 I was a little disappointed with the food at dinner. I'm almost certain this is because I broke my rule of avoiding Western food on Asian carriers and paid the price. Fortunately, my wife loved the Japanese meal. The original plan had been to take dinner together and share but turbulence prevented that. The caviar was also quite nice!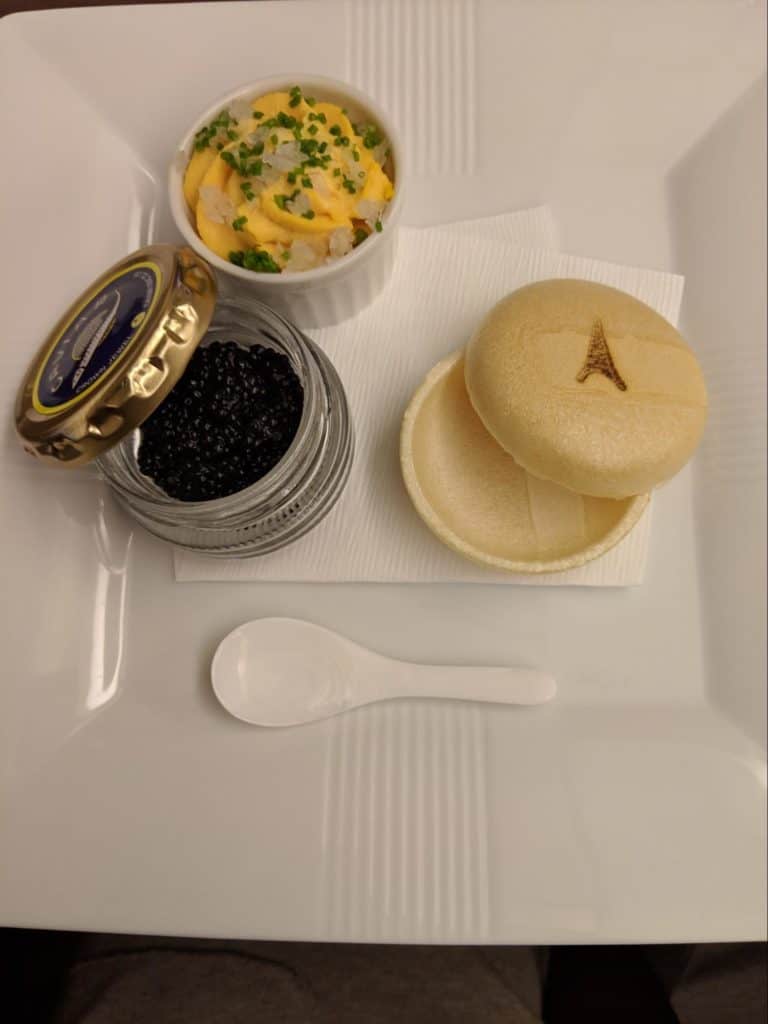 I should have just gotten the same thing as my wife instead of trying to share. Here are some pictures of her Japanese meal.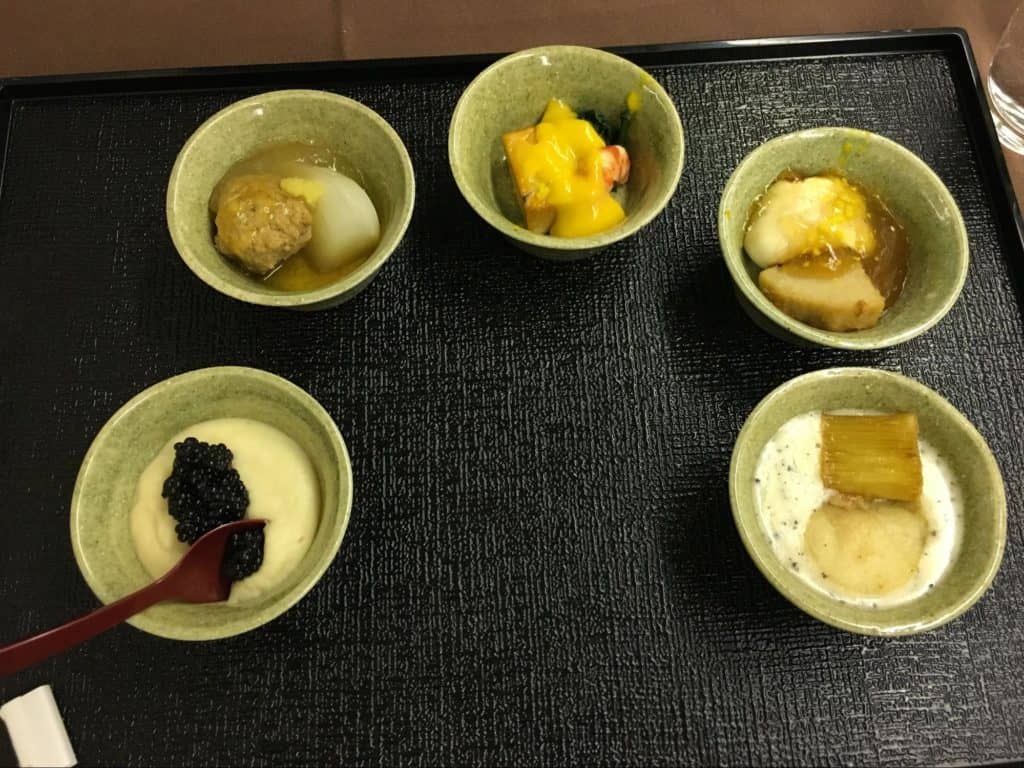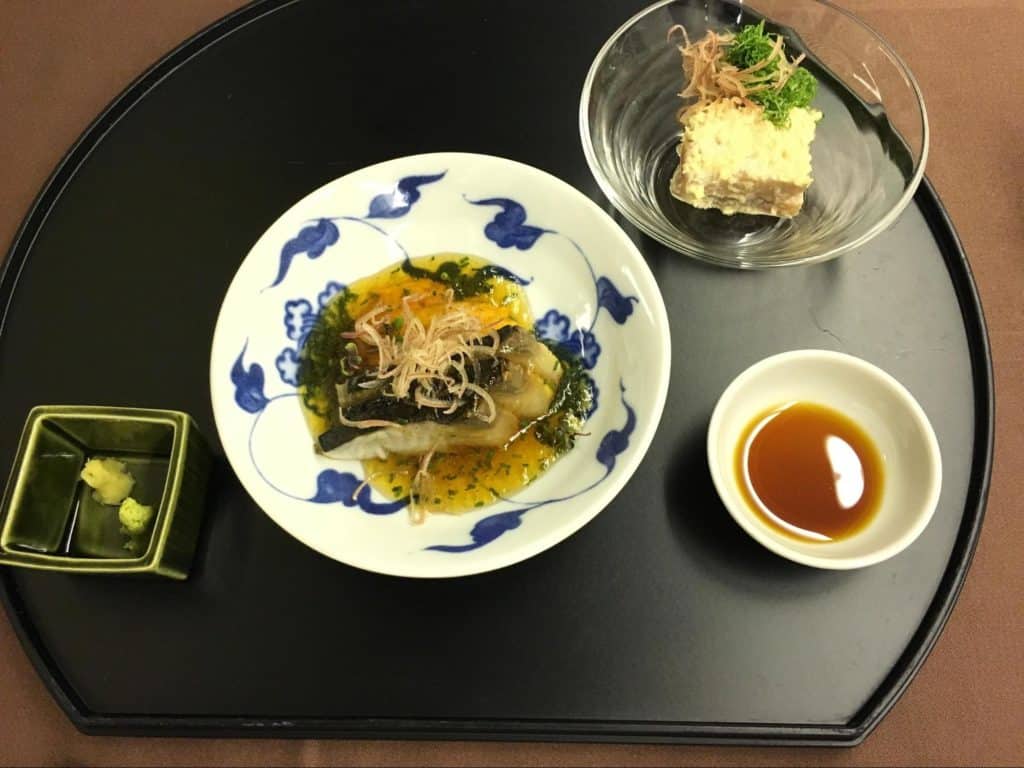 I'm happy to report I chose to eat Japanese food for the snack – ramen noodles and beef curry. Wonderful stuff!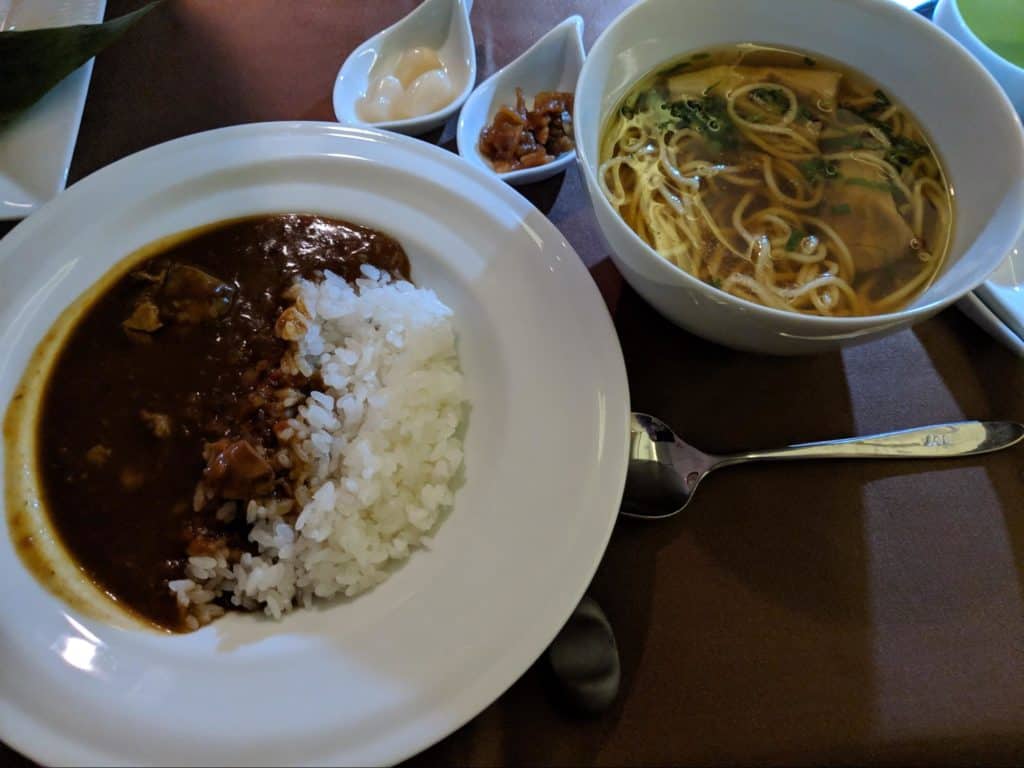 First Class Service
If you've gotten this far, you know our Japan Airlines first class experience was pretty great. But what elevated the experience to amazing was the incredibly hospitable service we received from our flight attendants. Throughout the entire flight, the flight attendants were attentive, thoughtful, and helpful. They attended to our needs without feeling like they were always in our space. It may have been one of the best crews we've ever had the pleasure of experiencing.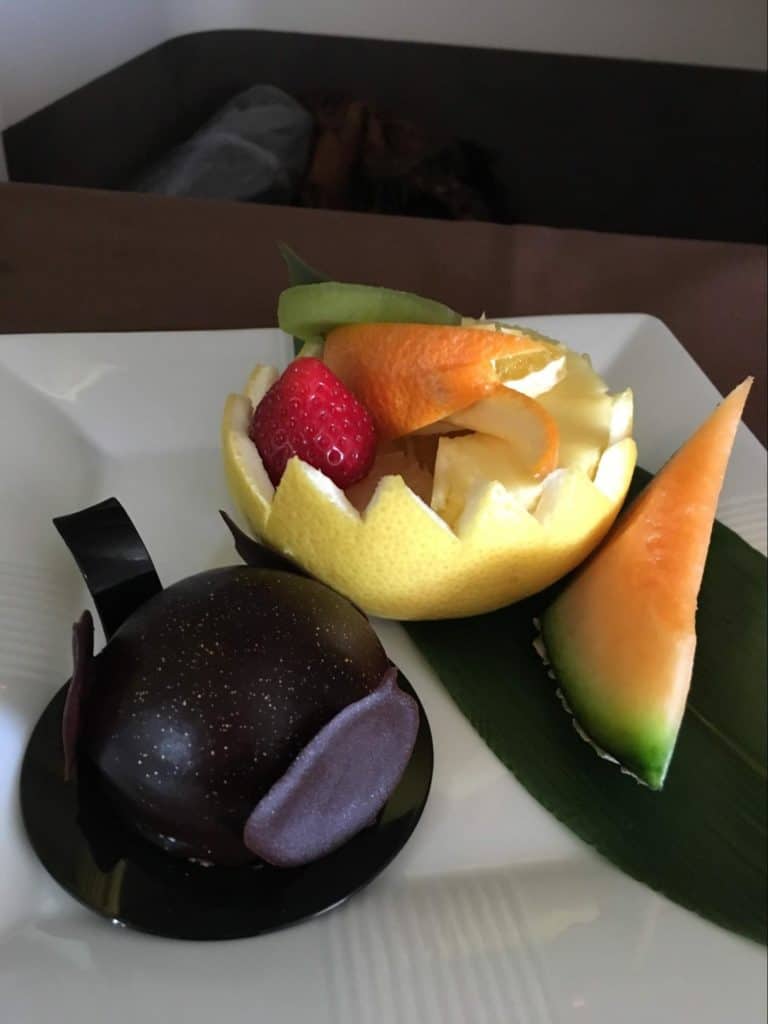 A simple example of the excellent service we enjoyed was when we changed into our pajamas, the purser offered to take our clothes. I gave her my clothes stuffed into the bag that the pajamas came in – but when I got them back at the end of the flight they were nicely hung on hangers. There were little touches like that over the course of the whole flight – Japanese hospitality at its best.
Bottom Line
Overall, we had an unforgettable experience on Japan Airlines first class that felt like a steal at 80,000 AAdvantage miles. I'd love to fly with them again, as it was the perfect way to end our trip to Japan.
We loved Japan so much and we're hoping to get back as soon as possible, so maybe we'll get the chance to fly Japan Airlines first class again. Next time I just hope to change one thing: I think I'll have to try ANA first class to compare the experiences!
New to the world of points and miles? The Chase Sapphire Preferred is the best card to start with. With a bonus of 60,000 points after $4,000 spend in the first 3 months and 2x points on dining and travel, this card truly cannot be beat!
Learn More