The French Leave Resort is located on the long and skinny Caribbean island of Eleuthera, one of the lesser-known outer islands that makes up the Bahamas. At 110 miles long, Eleuthera offers a peaceful and tranquil escape, while being just a short 45-minute flight from the US or 20 minutes from the neighboring island of Nassau.
It's known for its miles of white and pink sand beaches, as well as its small number of hotels in being a somewhat underdeveloped but wonderful tropical destination. If you want to get away from it all, then look no further than Eleuthera.
My wife and I love to visit the Caribbean, and usually, go once or twice a year. Being miles and points junkies like we are, finding and redeeming points in the Caribbean in off the beaten path locations can be difficult.
For the last year or two, while searching for award stays in places that aren't crowded like Cancun, Aruba or the Dominican Republic, time and time again I've seen French Leave Resort popup as a recent addition. I learned that in January 2017 after a recent renovation, French Leave Resort joined the Autograph Collection Hotels, making it a part of the Marriott brand and bookable with Marriott Bonvoy points. After studying the resort, I was determined to book a trip there.
In May of 2018, I was sitting on a large stash of SPG Starpoints that I wanted to maximize before Marriott Rewards and SPG was combined into Marriott Bonvoy in August 2018. I immediately thought of French Leave and started to work on putting my plan in place to get there.
How to Book
When Marriott introduced its annual category changes in March 2019, French Leave Resort jumped from a Category 6 Marriott property to a Category 7. This means that an award night stay now costs 60,000 Marriott points per night, which is definitely a big devaluation for redeeming points for award stays at the resort. But more on that later.
When we booked our stay, it was still a Category 6 Marriott property, meaning that award nights cost 50,000 Marriott points per night. Cash rates for the standard 1 bedroom villa for our dates of travel were $440 per night, plus taxes and fees, bringing a 5-night stay to about $2,400. However, spending 200,000 Marriott points for a stay costing $2,400 didn't get me overly excited when calculating the valuation. So, I decided to keep researching and ran a few scenarios.
After further research of the property, I found that they have 2 2-bedroom villas that include a full kitchen, living room, etc. These are available for award stays for the same number of base points but with an additional upgrade of either points or cash. So we invited my best friend and his wife to join us, we split the cost of the cash upgrade, and planned on having a wonderful 5-day vacation!
After reading lots of data points of successful purchases of 5-night Marriott Hotel + Air Packages, I decided I'd give it a go. I was able to successfully purchase a Category 6 Hotel + Air Package for 250,000 Marriott points, netting me not only the certificate that covered our stay but also 120,000 American Airlines miles. So, if you subtract out the 200,000 Marriott points that the 5-night stay was going cost anyway, it allowed me to basically exchange 50,000 Marriott points for 120,000 American Airlines miles. Not a bad deal in my book and this got me much more excited about our stay valuation wise!
With our trip booked, it was now only a few short weeks until we'd be soaking up the sun on the white and pink sand beaches.
Hotel Location
French Leave Resort is located in Governor's Harbour on the island of Eleuthera, which is almost the mid-point on the 110-mile long island.
Eleuthera has 3 airports – North Eleuthera, Governor's Harbour, and Rock Sound. Your best bet is to fly into Governor's Harbour as it's only about a 15-minute drive from the resort, but you can also fly into North Eleuthera and make the 1-hour drive, or Rock Sound for a 45-minute drive.
Seasonal service from American Airlines (CLT and MIA) is available directly to Eleuthera, but airlines like Bahamas Air, Pineapple Air, Silver Airways, and others fly from places such as Fort Lauderdale, Miami, and Nassau to some of the Eleutheran airports. The French Leave Resort website has a variety of resources to help you get there.
Want to learn more about how to use points & miles to get to Eleuthera? Check out our guide to best ways to fly to the Bahamas with miles and points.
Check-In
The drive from Governor's Harbour Airport only took about 15 minutes. We had hired a driver ahead of time for $32. We had a wonderful driver who also gave us a nice guided tour along with some of the history of the area.
As a bonus, he even let us make a pit stop at the grocery store to stock up on groceries for our stay, which allowed us to make use of the full kitchen in our villa. Just a heads up – groceries are expensive on the island and basically cost double what they cost in the US: a half-gallon of milk is $7.50.
There is only one main road on Eleuthera, the Queen's Highway, that spans the entire island. French Leave Resort is located directly off of the Queen's Highway about 1/2 mile from the downtown area of Governor's Harbour.
Upon arriving at French Leave, we were immediately greeted by Shamario, who was truly wonderful to us during our stay. He invited us into the Governor House — the check-in area for the hotel — and helped us get checked in with delicious complimentary rum cocktails.
While sipping on our rum cocktails and taking in the view of the ocean through the heart of the resort, we were immediately able to tell that the hotel and service throughout our stay were going to be exceptional. We were able to see that the resort grounds were very nicely appointed and well maintained throughout.
Each villa is assigned a golf cart for use around the resort (no cars are allowed except for the check-in parking area). The golf carts seat 4 people and even have a cooler mounted to the back that is refilled with ice upon request.
Even though the resort is small, the golf carts are very helpful when navigating the long and narrow property. Getting from some of the rooms to the pool or the resort's restaurant could easily be a 5-10 minute walk.
The real use for the golf carts is for getting from the villas over to the beach, which is on the other side of the island. It's about 1/2 mile across the Queen's Highway, and is the main reason for the golf carts.
It's a bit disappointing, although certainly understandable, that the golf carts are not allowed to leave the resort, even to visit the nearby town of Governor's Harbour. We had grand plans of taking the golf cart to dinner each night or to use for some nearby exploring, but those visions were quickly squashed upon check-in.
Room/Accommodations
The resort is made up of 14 Bahamian villas, mostly 1-bedroom ones, but there are also 2 2-bedroom villas as well as a new 4-bedroom house that was being built during our stay. The villas are stacked in 2 rows, with one row being oceanside, and the second row being slightly elevated and up the hill a little bit, affording it ocean views.
There are plenty of paths around the resort that can be either walked or used by the golf carts. There's even a waterfront walkway that connects to the big dock that's available for big boats to moor during their stay, but it went unused during our stay. The dock did, however, make for a great place to go and watch sunsets and enjoy the view.
We were assigned to Villa 12, one of the two 2-bedroom villas at the resort. Villa 12 is an approximately 1,200 sq ft 2-bedroom villa that includes a large open living room and full kitchen, and a spacious covered deck offering stunning oceanfront views of Cupid's Cay. Each bedroom is spacious, and has a King bed, large bathrooms and walk-in closets. The living room/kitchen area also includes a large dining table that has seating for 6.
Upon walking into the villa for the first time, you immediately notice how nicely decorated, modern and up to date it is, all while being comfortable and clean.
The kitchen was fully stocked with pots and pans, plates, dishes and flatware, as well as a gas range, microwave, refrigerator, and dishwasher. This was an added benefit for sure (part of why we were ok to pay the cash upgrade for this room) since food and drink on the island and at the resort are so expensive.
However, The most important appliance that was included was a blender for frozen rum drinks, although a Nespresso coffee machine was also included if you're a coffee drinker.
The room did come with a well-stocked minibar, although as no real shocker, the prices were pretty ridiculous. I never will understand who pays $18 for a bag of cashews! On the flip-side, complimentary bottled water was provided each day, and on multiple occasions, we requested more bottles of water that were brought immediately for no extra charge.
Additionally, the housekeeping staff was friendly and very efficient. Our room was spotless and well serviced each day, and they also helped to clean all of the dishes, pots and pans, and more in the kitchen.
Also included in the room was a full washer and dryer, which was another nice addition to ensure we could pack lightly.
The entire villa was filled with light for most of the day, thanks to all of the windows on the sides and back of the villa, as well as the tall ceilings.
Another highlight of the villa was the spectacular covered deck. It included a small table with seating for 4, as well as 2 lounge chairs allowing you to take in the beautiful views and sunsets of Cupids Cay. We spent a good amount of time reading and lounging on the deck during our stay, and the constant breezes of the Bahamas make it enjoyable even on a hot day.
Hotel Amenities
Let's face it – if you're going to the Caribbean to an island like Eleuthera that's a bit off the beaten path, you're looking to do mainly one thing: relax. And it's easy to do that at French Leave.
French Leave offers a number of amenities that help you relax to the fullest, but there were certainly a few highlights.
The main pool area was certainly one of the central amenities of the resort and we spent a good portion of each day in and around the pool just taking in some sun and the beautiful vista. It had an infinity edge that gave way to the calm and clear blue water of the bay.
Plus, with such a small resort, we felt like we had the pool to ourselves most days with at most 2 or 3 other couples in and around the pool. That in itself was one of the main highlights of the resort – time and time again we felt like we had the whole place to ourselves.
A short 5-minute golf cart ride down a sandy road to the other side of the island was French Leave Beach. I have to admit, at first I was a little disappointed that the resort sat on the bay and not the beach, but after getting there and seeing it for the first time, I quickly got over it!
The bay is super calm and relaxing, and a great spot to take in a soothing sunset or enjoy a nice kayak or snorkel. The beach is very private and deserted, but much more rough and choppy waters. It's a seclusion, combined with the beautiful soft white sand beach and turquoise blue water, making it an idyllic spot to rest and relax under the umbrellas and lounge chairs provided by the resort.
Its peace and tranquility can be challenged – the water can be really rough and choppy at times, and the beach was covered in seaweed some days. I'm not sure if this is constant year-round, or just the time of year we were there or specific weather that we experienced during our stay, but it is worth noting. But on the flip side, you'll be challenged to see more than 10 or so people as far as your eye can see on the beach.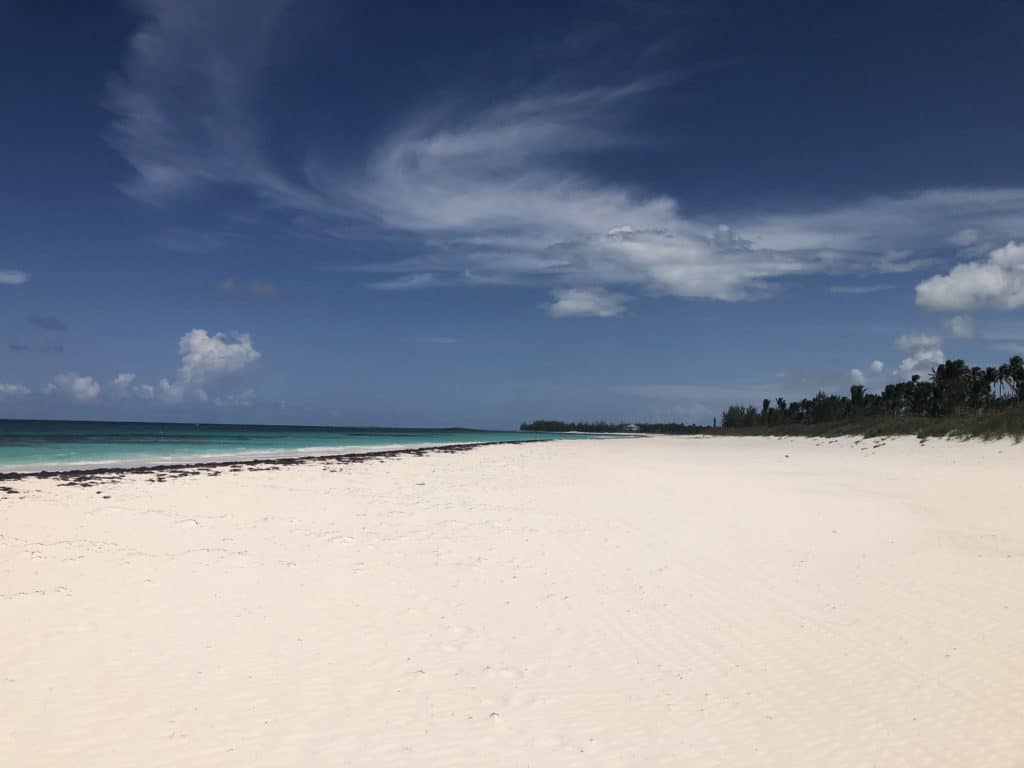 We also enjoyed some of the watersports offered such as kayaking in the bay. They also offer paddle boards and snorkeling gear. It's a short 15-minute kayak ride into town, and since you can't drive the golf carts to town, this made for an excellent way to retrieve some groceries from the grocery store!
One of the better amenities offered at the resort are the iPads that are in each room. On the iPad is a custom French Leave app, and you use that app to communicate directly with the staff. You'll use it to do just about anything at the resort, from requesting ice for your coolers, to making dinner reservations, housekeeping, or ordering food. It was very easy to use tool to get exactly what you needed in a timely manner.
We did have one issue with the iPad app that did end up turning into a bit of a misfortune: they ask you to request an umbrella and chairs for the beach through the app. This way, the beach attendant can get them set up by the time you leave the resort and make the drive on your golf cart to the beach. You can also schedule for a time in the future, so we scheduled on the first full day of our trip to have 4 lounge chairs and 2 umbrellas at the beach starting at 10 am.
We arrived at around 10:20 am and there were no chairs or umbrellas available for us as we had requested. The beach attendant indicated that he had never received our request. It turns out, the app didn't actually notify the beach attendant because there is no wifi at the beach, and what was supposed to happen was that a staff member at the resort would radio the beach attendant the request once it came through, and this process never happened.
So, it was definitely a broken workflow, and didn't allow for us to enjoy a good portion of our day at the beach because they didn't have enough chairs and umbrellas for all of the guests at the hotel, in fact they only had 6 umbrellas and 12 chairs at the time. A "first world problem" for sure, but it was a disappointing way to start our stay, especially as we were led to believe that using the app would make things seamless.
The one surprising amenity that's missing at French Leave is a spa. I imagine that at a resort this small that it may not be economical to operate, but it was still surprising to see. However, with all of the other above amenities, it's easy to experience everything, and maximize your relaxation.
Hotel Dining
Historically, Eleuthera isn't exactly known for being a top culinary destination as there is just an overall lack of restaurants on the island. That's certainly improving over time, and the addition of the restaurant at French Leave Resort has been a welcome addition to the island as it's established itself as one of the best ones on the island.
Unsurprisingly for such a small resort, French Leave has only one full-service restaurant called "1648".
1648 has a beautiful dining space, with seats outside on a partially covered veranda overlooking Cupid's Cay, as well as a cozy interior space with a small number of tables. It's a nice place to eat dinner while taking in a beautiful sunset in what feels like a super private setting.
We ate a few breakfasts and dinners at the restaurant, and at no time were more than 4 or 5 tables in total occupied, both inside or outside. I'm not sure if that's because of the time of year, or just the norm. There were a few people dining who weren't staying at the resort and had come from elsewhere as it's one of the nicer restaurants in the area.
The menu focuses primarily on locally caught Bahamian seafood paired with locally grown produce, but also includes offerings of various grilled meats as well.
During the day, poolside dining is facilitated out of the restaurant as well, although with a different menu. Regularly, one of the staff-members would come by and check on guests to see if any more food or drinks were of interest. However, given the atmosphere and friendliness of the staff, we quickly made friends with our server Rudy and chatted often with him.
It's worth noting again that given the size of the resort, at no time were there more than 8 or 10 people in the pool area at one time, further expanding on the small and intimate experience at the resort.
When it comes to pricing, I felt like the menu items were reasonably priced. Cocktails from the poolside dining were approximately $15 per drink, and sandwiches and small plates range from $15-20 each. Dinner at 1648 included appetizers and salads in the $15 range, and main entrees such as lobster, fish of the day, steak and more range from $35-$45. However, where it really added up and got expensive quickly was the 12% tax and 18% gratuity that was added to all tickets automatically.
We ate breakfast once and dinner twice at 1648 during our stay. We received 2 breakfast vouchers thanks to my Platinum status with Marriott. However, during check-in, I informed the manager that 3 of the 4 of us were actually Platinum members and inquired about getting 2 more breakfast vouchers, which to me seemed like a reasonable request. However, that request was denied.
After eating breakfast at 1648 on the first day and using the vouchers, we realized that the vouchers weren't worth much after all, and furthermore, the staff didn't really understand how they worked, so we ate breakfast in our villa the remaining days and cooked on our own. Essentially, the voucher lists a few select items from the a la carte menu and a drink that were included, and the rest was full price.
Things to Do in the Area
French Leave is located just a short 10-15 minute walk from the town of Governor's Harbour. It's by no means a bustling metropolis, but it has all of the essentials: 2 grocery stores, a delicious coffee shop, a bakery, a few restaurants, a gas station, and a few other stores. It's certainly convenient enough to walk (or kayak as we did) to town to get beer or wine and some food and snacks for your stay at the hotel. This is a must if you rent one of the 2 bedroom villas with the kitchen as it will help you save a ton of money.
Da Perk
Da Perk is a great little coffee shop and cafe right in the heart of Governor's Harbour. Just a 10-15 minute walk from French Leave is all that stands between you and having your morning coffee and pastries while taking in some panoramic views of the bay from right across the Queen's Highway. A great place for a fresh cup of coffee and some reasonably priced breakfast sandwiches to help you start your day, especially if you're headed out to further explore the island.
Tippy's
Your stay in Governor's Harbor will not be complete without a meal at Tippy's. It's a beachside bar/restaurant located about 10 minutes from downtown Governor's Harbor. Be sure to get a reservation as during the busy times, it fills up quickly! It was by far our favorite restaurant, and you definitely should order off of the chalkboard menu that lists the specials of the day as those are the menu items that are based on what's been caught for the day.
Dishes such as Pasta, Lobster, Fish, Cracked Conch, Conch Fritters and pizzas were ordered by our group, and all were absolutely outstanding. Combine it with live music and the breeze blowing right off of the ocean, and you'll be enjoying your meal and stay deep into the night. Be warned though: food in Eleuthera is expensive and Tippy's is no exception – our bill each night for a few cocktails, entrees, appetizer and dessert was north of $275 for 4 people.
Fish Fry
A 15-20 minute walk around the bay through town brings you to the weekly Fish Fry on Friday nights. Complete with live music and local cooking, it's a great place to get off the resort and get some good local food. Though to be honest, I've been to a number of other Fish Fry's throughout the Caribbean, and this one wasn't nearly as good of an atmosphere as some of the other ones, but it could've been because of the time of year we went, or some other unknown reason. Even with that, the BBQ chicken was superb and it's very inexpensive, especially compared to resort pricing or other restaurants. It's a great place to take in the sunset and hang with some locals.
Governor's Harbour Bakery
If you're in town, be sure to swing by the Governor's Harbour Bakery for some incredible freshly baked bread (the coconut bread is incredible!), danishes, donuts, sandwiches and cinnamon rolls (heavenly!). It's a bit off the beaten path more in the neighborhood versus downtown, but you'll be glad you went.
Lighthouse Beach
One of my favorite activities we did during our stay, and by far our most adventurous, was renting a Jeep and driving 2 hours to the southernmost tip of the island to Lighthouse Beach. As previously mentioned, Eleuthera is 110 miles long, but only has 11,000 residents, so a large portion of the island is deserted, and Lighthouse Beach is exactly that.
After driving for 1.5 hours, we turned off of the Queen's Highway onto an unpaved road that would lead us to Lighthouse Beach. Except, it wasn't really even a road, and the next 3 miles would take almost 30 minutes to travel as we did some major off-roading that I thought would snap an axle off of the Jeep at any moment. And being in the middle of nowhere, it would've been a long walk for assistance since we were a few miles from even having cell service!
Once we survived the drive in, it became clear almost immediately how worth it this drive was. Some of the most clear and tranquil blue water and white sand I've ever seen awaited us, and there wasn't a soul in sight. There was one other car about a half-mile away with a family of four, but we basically had this entire end of the island to ourselves. We soaked up the sun, did a little bit of hiking to take in the tremendous views, and just floated in the water. It was incredible.
I highly recommend making a day trip down to Lighthouse Beach if you're on Eleuthera. But, a few precautions:
You're literally in the middle of nowhere with no cell phone service, so take plenty of food and water in case you get stuck.
You absolutely need an SUV, preferably with 4-wheel drive, to survive the road on the way in.
The last gas station is about 20-30 miles before you get in the area. Be sure you have enough gas, or it's a looooong walk.
Glass Window Bridge
About a 45-minute drive NW of Governor's Harbour is one of nature's true wonders and an incredible sight – the Glass Window Bridge. It's the narrowest part of the entire island of Eleuthera, and separates the Bight of Eleuthera (light blue water side) from the Atlantic Ocean (dark blue water side). I had seen pictures of this before and been in awe of it and wanted to see it with my own eyes as well as fly my drone over it to get some cool photos of it, but seeing it in person was even more incredible.
If you fly in or out of North Eleuthera Airport, you'll cross over this on your way to/from the airport to Governor's Harbor, so no need to make a special trip. Unfortunately, on the day we were there, the wind was blowing at 40-50 mph, so I couldn't fly my drone.
Final Thoughts
Our stay at French Leave Resort was terrific. The staff and the service, even with a few shortcomings during our stay, could not have been more helpful, more outgoing, and more friendly. They truly did want to help us have a wonderful stay and do whatever they could to help.
As previously mentioned, it certainly wasn't without a few flaws and hiccups, but the staff, as well as the new General Manager Chuck (who's first day was during our stay actually), went out of their way to make things right. In the end, to make up for the beach issue and one or two other minor issues we had, they ended up comping one night of our room upgrade cost (about $350), one day of our resort fee ($50), and also covered dinner at 1648 on our final night ($300). This certainly more than made up for things and left us feeling even better about French Leave Resort, and the fact that they're working to improve on areas where they can.
The biggest negative about French Leave though is the change from a Category 6 to a Category 7 property. Before, it was a great place to use a free night award like the one you get from the Marriott Bonvoy Brilliant Card from American Express with its free night award worth up to 50,000 points.
But now, at 60,000 points per night required for an award night, it's in the same category as hotels such as the St. Regis, W and Westin in the Maldives, and those are all around much better and more notable resorts. Additionally, depending on the cash rates for staying at the hotel, you may be hard pressed to find a good value for using your Marriott points and be better off paying cash.
I would highly recommend considering French Leave Resort for your next Caribbean getaway, regardless of whether you use points or cash. While French Leave is a part of the Marriott brand family as an Autograph Collection hotel, it feels like a standalone boutique property that is completely different than any other.
This is exactly what Autograph Collection Hotels set out to achieve, so it definitely fits the criteria. But what makes French Leave Resort special is that it's a bit difficult to get to but not too difficult, it's small and quaint, and it's unlike many other properties. All of which combine to make it a great place to unwind and relax.
---
Disclosure: 10xTravel has partnered with CardRatings for our coverage of credit card products. 10xTravel and CardRatings may receive a commission from card issuers.
Opinions, reviews, analyses & recommendations are the author's alone, and have not been reviewed, endorsed or approved by any of these entities. You can read our advertiser disclosure here.