In This Article
Loading table of contents …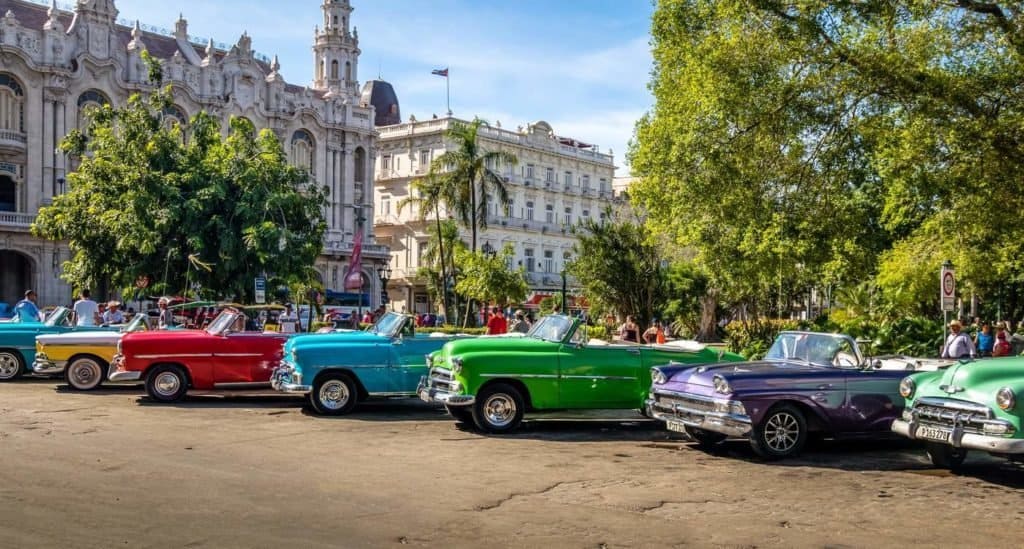 Note: Some of the offers mentioned below may have changed or are no longer be available. You can view current offers here.
Often forgotten in the hustle to get Chase Ultimate Rewards points and even Amex Membership Rewards points is that Citi ThankYou Points can provide big boost to your ability to book award flights.
If nothing else, having Citi ThankYou Points on hand can help you save Ultimate Rewards points and Membership Rewards points for other redemptions. For example, if you want to use Air France-KLM Flying Blue miles or Singapore KrisFlyer miles, you can save your Ultimate Rewards points for Hyatt stays by transferring ThankYou Points instead.
Today we will be looking at the Citi ThankYou Premier, which is currently one of the highest ranked cards on our top list.
Here are the current offer details:
Sign-up bonus: 50,000 Citi ThankYou Points if you spend $4,000 within 3 months
3X on travel including airfare, hotels, rental cars, Uber, Lyft, taxis, public transportation, tolls, parking and even gas stations
2X dining and entertainment including concerts, movie theater tickets and music downloads
1X on all other purchases
$95 annual fee (waived the first year)
For the purposes of the following examples, we're going to make a couple assumptions. First, you will hit the minimum spend requirement to earn the sign-up bonus. Second, that $1,000 of the $4,000 minimum spend will be met with dining and travel purchases.
That means we're looking at 50,000 points for the sign-up bonus, 3,000 points for the unbonused spend and 2,000 points for the spend on travel and dining. That brings us to a total of 55,000 ThankYou Points.
With that, let's get into it! Here's what each member of the 10xT Staff would do with those 55,000 ThankYou Points.
Bryce Conway, Founder
This is an easy one. I'm cashing in my 55,000 Citi ThankYou Points for $550 of Krispy Kreme gift cards.
At ~$0.66 cents per donut my 55,000 Citi ThankYou Points would score me 833 free glazed donuts! That's an absolute steal for just one credit card signup bonus.
Maybe if I'm feeling generous I'll share some of them with the 10xTravel Facebook Insiders.
In all seriousness, please never redeem your points for a gift card. Ever.
Editor's note: Bryce knows his Editor in Chief would fly to Columbus and slap him if he did this.
What I would actually do is start by transferring 35,000 ThankYou Points to Cathay Pacific's Asia Miles program to book a one-way first class ticket on Cathay Pacific from New York to Vancouver.
This is one of the more well-known sweet spots for Citi ThankYou points (and points and miles, in general) and a very popular choice among points and miles enthusiasts. Cathay Pacific's First Class product is known to be one of the best in the sky and you can experience it on this ~5.5 hour flight for just 35,000 miles one way.
You can also book this same flight round-trip in business class for just 50,000 miles. Which is probably a better use of your miles, but makes for a very short and boring piece on how to use them.
Anyway, back to the first class option.
Finding availability is certainly not guaranteed, but doable if you book far enough in advance. The first sample search I ran found one seat on August 31.
You can find space by searching on the Asia Miles site. You'll need to create an account (it's free) to search for award space but once you do that the process is pretty simple. Once you find the space, you can book online.
This of course would leave me with 20,000 Citi ThankYou Points, which I could use for $200 of Krispy Kreme donuts to stuff my face while en route to Vancouver.
Editor's note: Again, he's going to get slapped.
Or, I could transfer all 20,000 miles to Singapore Airlines' KrisFlyer program to book a one-way business class ticket on United from the west coast back to the east coast.
United would normally charge 25,000 miles for this same ticket at saver level, so using 20,000 KrisFlyer miles is a great move here.
Again, availability is certainly not guaranteed but far from impossible. Fortunately, Singapore Airlines now lets you search for Star Alliance partner awards on its website.
Well, there you have it! A first class flight on Cathay Pacific and business class flight on United with just one credit card signup bonus.
Or if travel is not your thing go for the 833 glazed donuts. Promise, I won't judge.
Editor's note: I will judge you.
Julie Szpira, Contributor
In March 2016, American Airlines adjusted their award chart, and it was not for the better. Prior to that, you could book a one-way business class ticket from Mainland U.S. to Europe for 50,000 American AAdvantage miles, and a first class ticket was 62,500 AAdvantage miles.
Deciding whether to fly business or first class can be tough decision, but since the upgrade from business to first was only 12,500 miles, splurging for first class was often a good choice.
Well, American Airlines must have realized that people liked these redemption options, so they decided to devalue their award chart. The business class redemption increased to 57,500 AAdvantage miles (which isn't horrible) and the first class award increased to 85,000 AAdvantage miles. That increase requires 36% more miles than the old award. Yuck!
You're probably thinking, "Who cares about American Airlines? I'm here to learn how to use Citi ThankYou points, and you can't even transfer ThankYou points to American Airlines!"
That's true. However, they can be transferred to Etihad Guest program, and from there be used to book flights on American Airlines.
Most U.S.-based fliers are not familiar with the Etihad Guest frequent flyer program, as they are not part of one of the major airline alliances, so booking partner awards is a little bit tricky.
Etihad Guest has different redemption charts for each airline partner. The award charts across different partner airlines are not standardized, but Etihad Guest provides a solid booking option for premium cabin flights to Europe operated by American Airlines.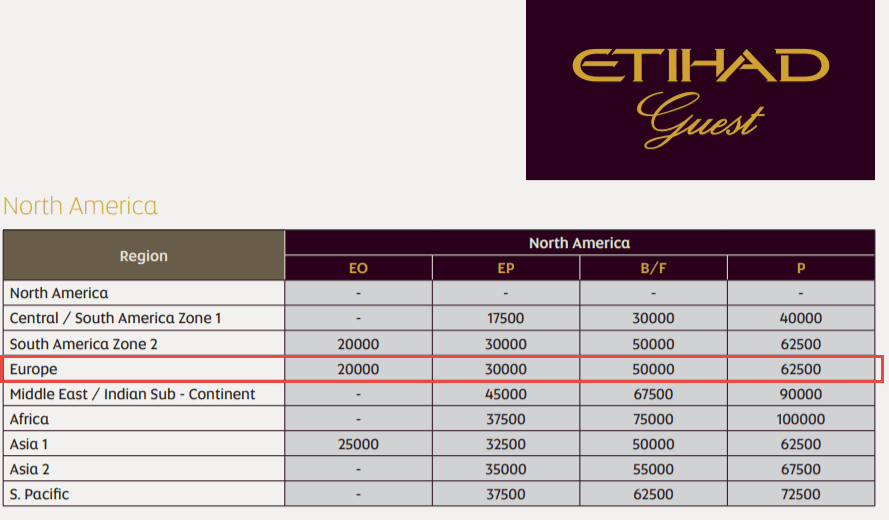 The economy redemptions are 20,000 miles for off-peak dates (from October 15th-May 15th), and 30,000 miles for standard awards. Since those rates are pretty much in line with the redemptions offered by American Airlines' own frequent flyer program, I would just use AAdvantage miles if I were booking an economy award.
The redemption that makes my eyes sparkle is the business class award for 50,000 Etihad Guest miles. The taxes and fees on these awards are reasonable and are generally in line with the fees charged directly by American Airlines.
When booking, you would search for SAAver level availability on American's site then call Etihad Guest at least 24 hours before departure to book your flight. It is kind of a pain in the butt to have to pick up the phone and call, but since you are saving a substantial amount of miles, it is definitely worth the hassle!
Also, the Etihad Guest call center reps are quite good at what they do. You can reach them at 1-877-690-0767.
If you want to fly first class, you're only 7,500 ThankYou Points from the necessary 62,500.
Business class awards to South America and Asia can be booked for 55,000 miles or less. If you want to fly American Airlines business class, using Citi ThankYou points transferred to Etihad Guest can save a considerable amount of miles over using AAdvantage miles!
Caroline Lupini, Contributor
Citi ThankYou Points transfer to some pretty awesome partners. One of my favorites, especially for "weird" redemptions is Avianca LifeMiles.
I recently used LifeMiles to fly from Havana, Cuba to San Salvador, El Salvador for only 11,000 miles and about $30 in taxes and fees for a non-stop flight. The cash price of that flight was over $300, and the next best mileage cost was 12,500 United miles for a flight with a connection.
With 55,000 ThankYou Points, you could get 5 of these flights to explore the Caribbean and Central America!
Now, flying from the Caribbean to Central America may not be something you ever do, but LifeMiles have other awesome uses too! A couple of my other favorites are (all redemptions are one-way):
North America to Southern South America for 30,000 LifeMiles in Economy Class
North America to New Zealand for 40,000 LifeMiles in Economy Class
Avianca LifeMiles also allows cash+miles bookings. You need to have at least 40% of the miles required for the award booking, and you can buy the miles to make up the additional 60%. LifeMiles doesn't have a fixed cost per mile when you're buying miles, but know that the sweet spot is buying between 44% and 58% of the miles needed for a ticket.
When you're buying the number of miles within this range, LifeMiles charges only 1.5 cents per mile, which is a pretty decent price if you must buy miles.
As always, make sure buying miles is really the way to go.
John Tunningley, Contributor
One of the sometimes overlooked transfer partners for all major programs (including ThankYou Points) is Virgin Atlantic. They have some pretty hefty surcharges on some of their awards, a search engine that makes it difficult to search certain routings for points redemptions and are often seen as having poor value partner bookings.
All of that said, there are definitely some great uses of Virgin Atlantic Flying Blue miles and one of the better bookings they offer is for their premium economy from some popular northeast airports to London/Manchester for only 17,500 + $183.90.
This offer is available from Boston (BOS), Newark (EWR), New York (JFK), and Washington Dulles (IAD) and has great availability without an outrageous surcharge. This means that by using a portion of the bonus gained from signing up for the Citi ThankYou Premier card, you and your significant other (or a friend) could get across the Atlantic in comfort.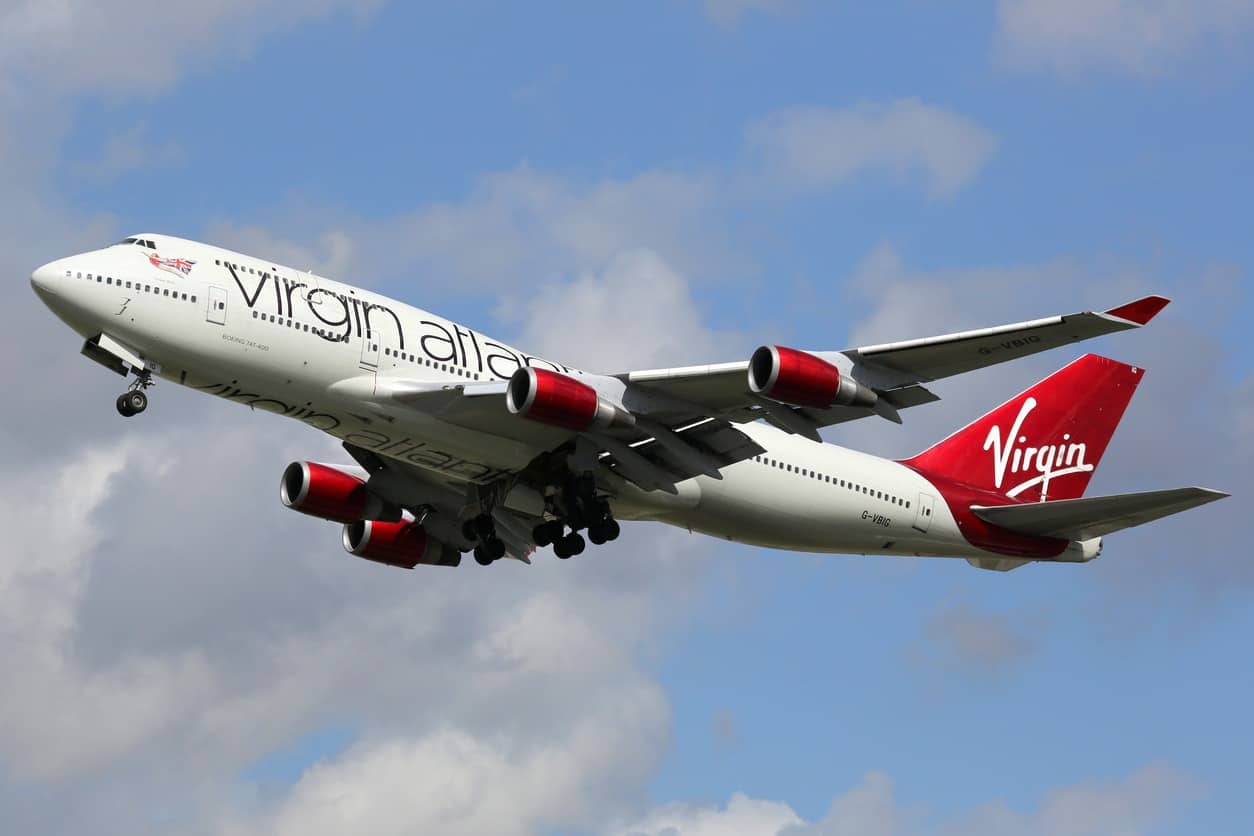 Unfortunately, the return flight has a some hefty taxes and fees and will cost you the same 17,500 Virgin Atlantic miles plus £328.71 which is approximately $439. My personal suggestion would be to take someone with you to the UK and book a return flight with a different program.
Travis Cormier, Contributor
A lot of people know Turkish Airlines for its amazing lounge in Istanbul (IST), but most people have never used its Miles & Smiles award program. There's a few sweet spots in the award chart, but there's one in particular that gets my interest: Central Asia.
In the Miles & Smiles program, Central Asia includes Afghanistan, Bangladesh, India, Kazakhstan, Kyrgyzstan, Nepal, Pakistan, Tajikistan, Turkmenistan, Uzbekistan.
What makes this such a sweet spot is the inclusion of India in the Central Asia region. Getting to India on miles is often one of the more expensive redemptions out there, but not when you use Miles & Smiles.
You can travel in business class one-way on Turkish Airlines or Star Alliance partners for only 52,500 Miles & Smiles to India. That's a steal when you compare it to other award programs out there.
Citi ThankYou Points transfer 1:1 in increments of 1,000 to Turkish Airlines Miles & Smiles program, so you would need to transfer 53,000 to book this award.
There are some caveats to this that make it a little more difficult. You have to fly on the same carrier the entire way. That can mean you're travelling often over 24 hours on Singapore Airlines, or other Star Alliance carriers.
You can transit a third region to get to your destination (which is virtually always necessary to get to India), and you won't be charged extra points unless the third region costs more than your destination. You're also allowed a stopover, so you could extend your stay in the third region for no extra cost.
The biggest annoyance is if you want to book a Star Alliance Partner ticket, it has to be issued in person at a Turkish Airlines ticketing office. Although, there are some reports that you can call the Toronto office and have it issued over the phone.
Finally, you should expect carrier-imposed surcharges on these tickets. But at such a discounted points rate to India, it may still put you ahead compared to other programs out there.
Spencer Howard, Editor in Chief
On June 1, 2018, Air France-KLM Flying Blue launched its new award program. Rather than having a standard region-based award chart in which all awards from U.S. airports to Europe (and all other regions) would require the same number of miles, it can now vary quite a bit based on your origin and destination.
Additionally, Flying Blue is mimicking Delta in opening up more award space at variable rates which means some ungodly high redemption rates. Fortunately, there are some nice sweet spot redemptions if you can find saver level space.
One of my favorite options is a one-way business class flight to Israel. From airports such as JFK, Chicago O'Hare (ORD), Los Angeles (LAX) and IAD, you can book a business class award for 53,000 miles one-way. In fact, this is 9,500 miles less than the 62,500 miles it used to require.
As usual, taxes and fees will be a bit steeper if you book award flights on Air France and KLM, but flights on Delta will be quite low. Even if KLM and Air France, are your best options, for a business class ward at this redemption rate, I think you'll find the taxes and fees will be worth it.
To book, you can search award space on either Air France or KLM's site. Unfortunately, in an extremely customer-unfriendly move, Flying Blue has removed the flexible date search so you will have to search one day at a time. Even with this hurdle, if/when I decided to book an award to Israel, there's a good chance this is how I'm going to book.
Bottom Line
As you can see, Citi ThankYou Points provide options for all kinds of award flights. Whether you want to get a taste of Cathay Pacific first or business class on a transcontinental, hop around the Caribbean, fly business class all the way to India or Israel or be comfortable (or pampered) on a trip to Europe, the Citi ThankYou Premier Card can help you get there.
Now, all you have to decide is how YOU would use 55,000 ThankYou Points!
Happy Travels,
The 10xT Team
New to the world of points and miles? The Chase Sapphire Preferred is the best card to start with. With a bonus of 60,000 points after $4,000 spend in the first 3 months and 2x points on dining and travel, this card truly cannot be beat!
Learn More
Editors Note: Opinions expressed here are author's alone, not those of any bank, credit card issuer, hotel, airline, or other entity. This content has not been reviewed, approved or otherwise endorsed by any of the entities included within the post.