Note: Some of the offers mentioned below may have changed or are no longer be available. You can view current offers here.
Editors Note: Some of these credit card offers have changed. Please visit 10xTravel.com/credit-cards for a list of up-to-date offers.
Hi Travelers,
[Thanks to your survey responses, we changed the way that we do Reader Success Stories here at 10xT. We will now be featuring much more detail so that YOU can pull of these exact same trips.]
Today I have another amazing reader success story that I would like to share with you about a dream honeymoon to London and Paris.
This one needs little introduction so let's get right to it.
Take it away, Emily!
—————–
On August 25, 2014, my now husband proposed to me.  Within 5 days, we knew we wanted to go to London and Paris for our honeymoon, and we knew we wanted to save money by using points/miles.  
Thanks to reading Bryce's book and blog, I had dabbled in the points/miles game for the previous year leading up to the proposal.  I had taken a couple free domestic flights but I hadn't delved into hotels or international flights.  
My fiancé had not done anything with points/miles yet.  With our wedding set for October 17, 2015, we began the process of earning the right points and miles to book our honeymoon in London and Paris!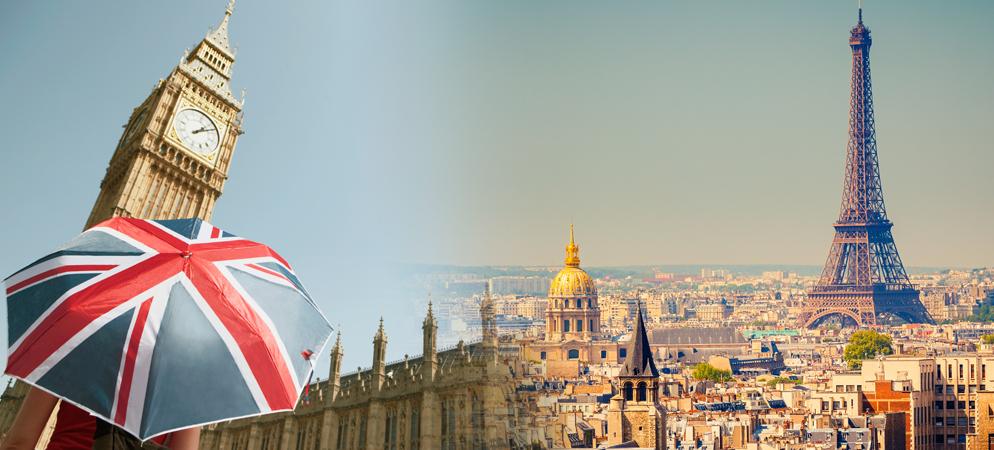 We reached out to Bryce with some question about our specific trip and he walked us through some of the pros and cons of each type of rewards to use.  After talking it over with by fiancée we decided to go with United miles because of their amazing flexibility and low taxes and fees on award flights to Europe.
We each opened a United MileagePlus Explorer Card, which was offering 50,000 bonus miles at the time, and earned the bonus after each spending $2,000 in 3 months. Not a bad start!
Bryce also informed us that Chase Ultimate Rewards points transfer 1:1 to United with zero fees, which was incredibly helpful to putting together our trip. My fiancée decided to grab a Chase Sapphire Preferred card to earn an additional 40,000 points that could be transferred to United.
I already had the Chase Sapphire Preferred and had used some of my bonus points for domestic flights on Southwest (who is also a transfer partner of Chase Ultimate Rewards).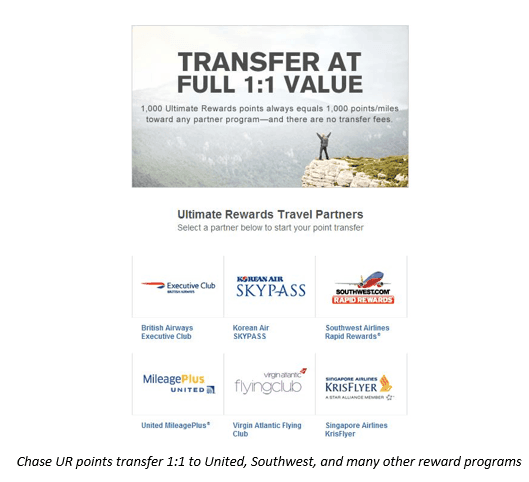 However, the Sapphire Preferred is my everyday card so I had accumulated additional points just from my normal spending habits.  All told we each earned a little over 90,000 United miles each with very little work.
The minimum spending requirements on each of these cards were not easy but we were able to meet them by shifting some of our bills around and using a couple of spending tricks that we read about online. With the points in the bag, we were ready to book our flights!
When we began our honeymoon endeavor we had hoped that we would have enough United points to book business class tickets. Although we had enough points to book saver-level business class tickets, United did not have any availability left for the dates that we were hoping to fly. Bummer! This happens sometimes in the points and miles world.
We made it up to ourselves by booking an entire row (3 seats) for ourselves. It's not business class, but the extra space certainly makes for a more enjoyable flight!
We paid just 90,000 United miles and $16.80 for the 3 one-way tickets to London. The cash price of our itinerary was a staggering $5,838.90.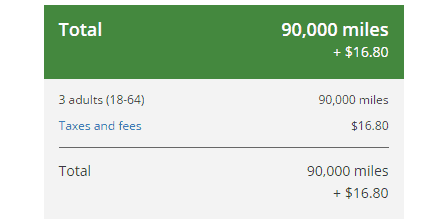 Our flights home (3 seats again) were also 90,000 miles and $16.80 for a $9,529.50 itinerary.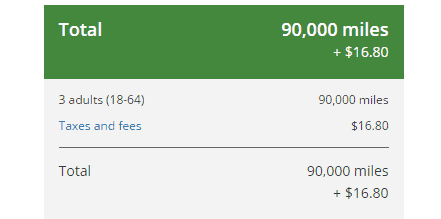 With our flights all set, we were ready to look at hotel options.
We got in touch with Bryce again and he was able to walk us through some of his favorite hotel options (points wise) in London and Paris. Bryce specifically recommended The May Fair in London and the Park Hyatt – Vendome in Paris.
Both of these hotels were 5 star properties that went for upwards of $500 per night. Certainly more than we were looking to spend cash wise, but we would be happy to book them with points.
My fiancé and I both opened Club Carlson Premier Rewards Visa Signature cards to earn points that could be used at the May Fair. At the time the Club Carlson card was offering a bonus of 50,000 points after first purchase, which we each earned after using our cards just one time.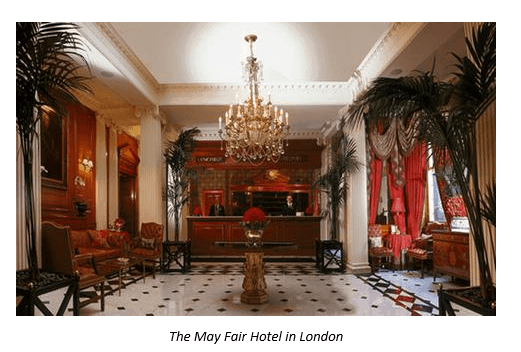 Another major perk offered by the Club Carlson card was the Bonus Award Night, which gives you a free night on any award booking of at least two consecutive nights. This effectively created a "buy one get one free" opportunity for Club Carlson properties booked with points (Bryce note: this perk has since been discontinued). Which meant that our 50,000 points were able to book one reward night at the May Fair and get the second one free.  
My fiancé and I each booked consecutive 2-night reservations at the May Fair and then called the hotel to combine the reservations (So we didn't have to move rooms in the middle of our stay).
This gave us 4 free nights at one of the best hotels in London for a grand total of $0 out of pocket! The cash price for our reservation would have been €316 per night, which is $334.

We stayed in London for 5 nights, which meant we needed one more hotel night to add to our stay at the May Fair.  We certainly didn't want to pay the $334/night to extend our stay so we used the Chase Ultimate Rewards portal to find a different hotel that we could book with my fiancé's left over Sapphire points.  
I'll spare you the details, mostly because we ended up in a hotel that is no longer listed on Ultimate Rewards (probably because of the abysmal conditions of the room).  
Good news though, when we returned home from our honeymoon Chase agreed to give us back the 25,000 points we redeemed to stay there.
Next, we got to work on the Park Hyatt Paris.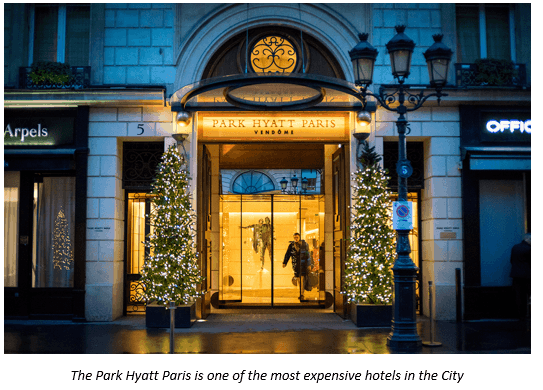 My fiancée and I each opened the Hyatt credit card, which was offering a signup bonus of 2 free Hyatt nights after just spending $1,000 in the first three months. We again moved a few bills around to meet the spending requirement and earned a total of 4 free Hyatt nights with very little work.
Just as we did at the May Fair, we each booked separate reservations at the Park Hyatt Paris and called to combine the reservations.  While on the phone we mentioned that we were visiting for our honeymoon and the hotel gave us a free suite upgrade with complimentary champagne and chocolate covered strawberries! Wow!

Not accounting for the free upgrade, our stay would have cost about €730 per night (~$775). Not bad!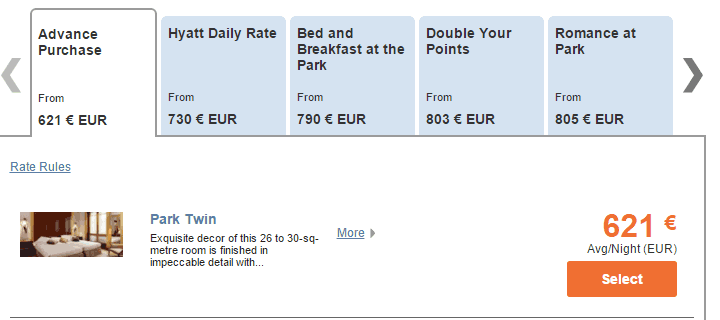 The Park Hyatt Paris was amazing to say the least and we are already dreaming about going back.
That's it! Round-trip flights to London/Paris and 9 hotel nights for next to nothing out of pocket.
There was one hiccup however. On the first flight of our honeymoon United gave away our extra seat on an overbooked flight.  We reached out to United when we got home and got back 30,000 points for that screw up.  I'll be using those free points for my best friend's wedding in June!
Overall, we spent about $300 each in credit card annual fees and about $300 in taxes/fees for our reservations. The flights alone would have been more than $14,000.  Four nights each in two of the best hotels in the cities we visited would have been another $5,000+.  
We also spent about $200 for our EuroStar train ticket from London to Paris.  So, all in, we spent about $1,200 for a $20,000+ honeymoon.  
We never could have had this dream honeymoon without knowing how to use points/miles and we are certainly grateful that we did! Thanks Bryce!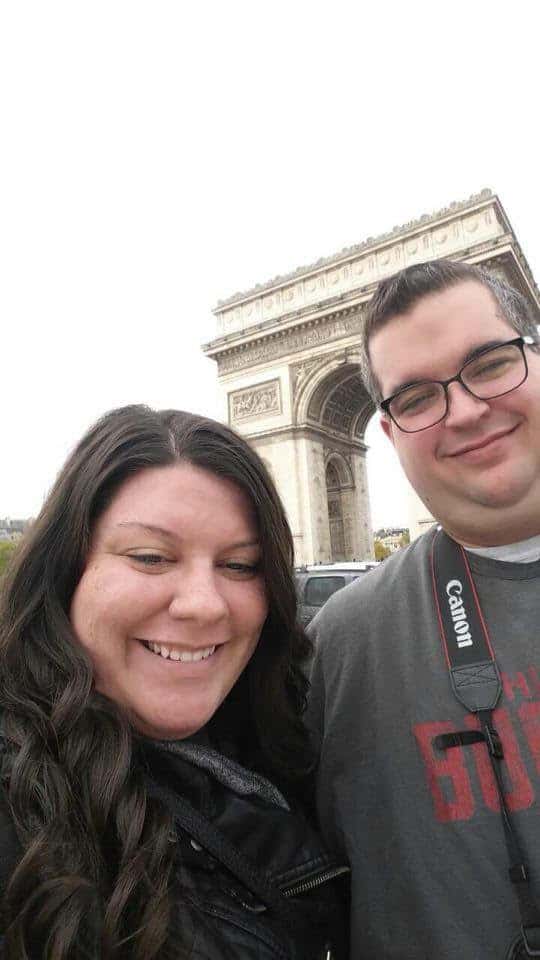 Happy Travels,
Bryce
Images: Winspireme.com, Rgbstock.com, Thesilverspoon.com, Paris.vendome.hyatt.com
---
10xTravel is part of an affiliate sales network and receives compensation for sending traffic to partner sites, such as CreditCards.com. This compensation may impact how and where links appear on this site. This site does not include all financial companies or all available financial offers.
Editors Note: Opinions expressed here are author's alone, not those of any bank, credit card issuer, hotel, airline, or other entity. This content has not been reviewed, approved or otherwise endorsed by any of the entities included within the post.