Note: Some of the offers mentioned below may have changed or are no longer be available. You can view current offers here.
If you're looking for a weekend getaway that really has it all, Austin should be on your radar. Austin is a city that has a little bit of everything.
You can spend some time outdoors at one of the many parks around the city, or get out into the gorgeous Texas hill country. You'll be able to grab some great food and drinks, and maybe even a great concert.
You could easily spend way more time in Austin, but its central-ish location in the country means it isn't more than 3 to 4 hours away from most major areas in the US, making it an easy to get to spot for a short or long weekend.
Let's take a look at some options for a weekend getaway, ranging from budget options to luxurious wellness resorts. And I'll share with you some of my favorite things to do and places to eat in one of my favorite cities in the US.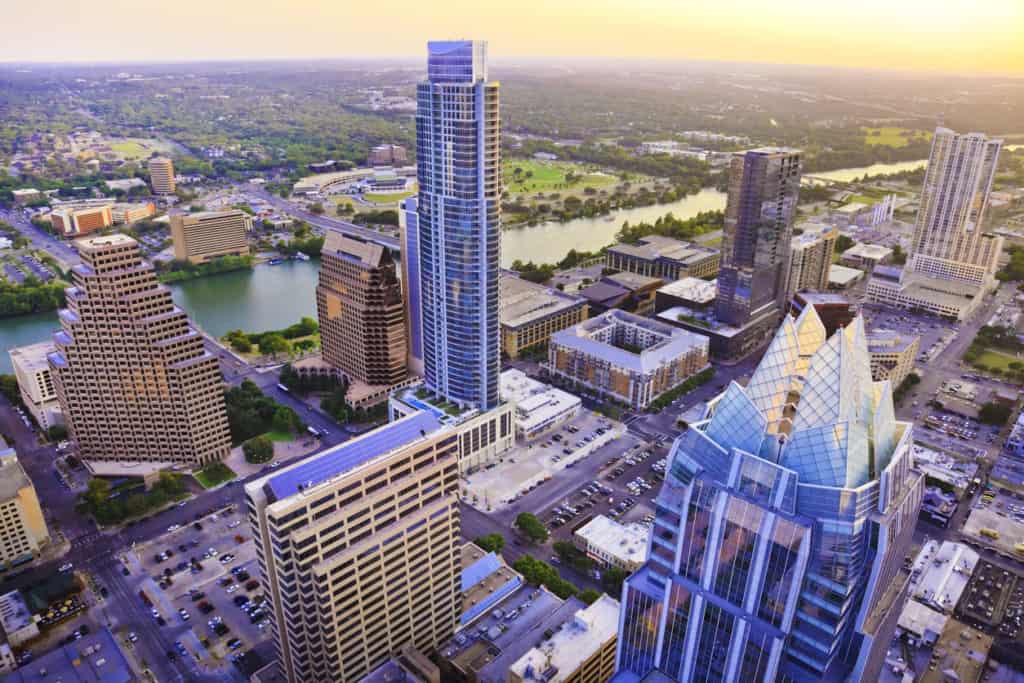 How to Book Flights to Austin With Point and Miles
One of the biggest challenges with getting to Austin is that it isn't a major hub for any airline. This means many routes to Austin will include a connecting flight. Austin's Bergstrom International Airport is continuing to grow along with the city, and more flights are added every year, but without being a hub, it may require a connection at another major airport.
Southwest Airlines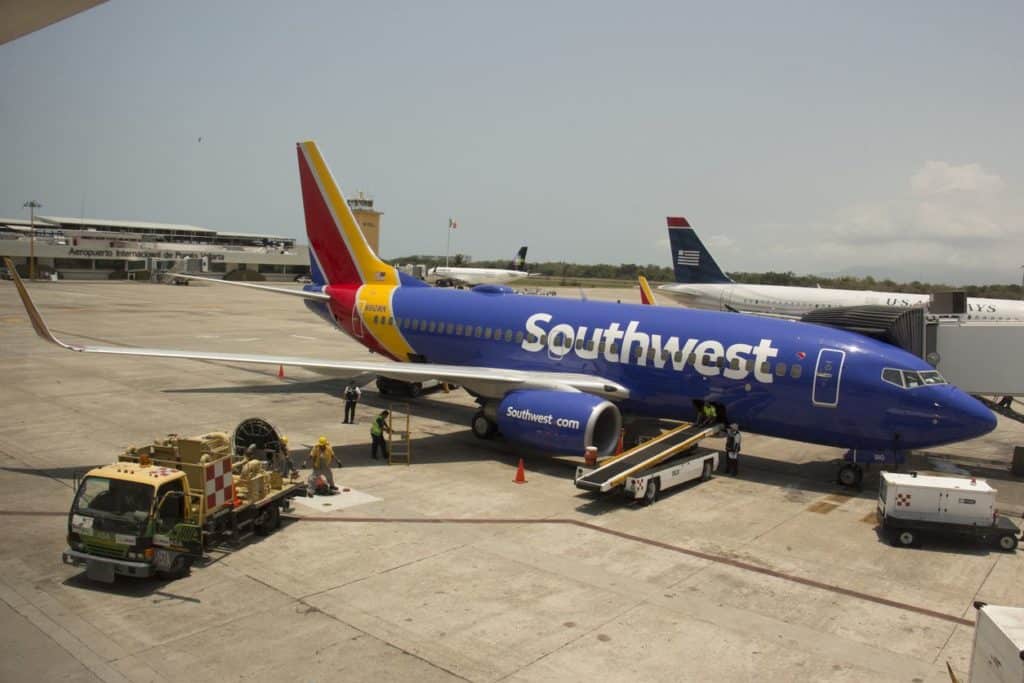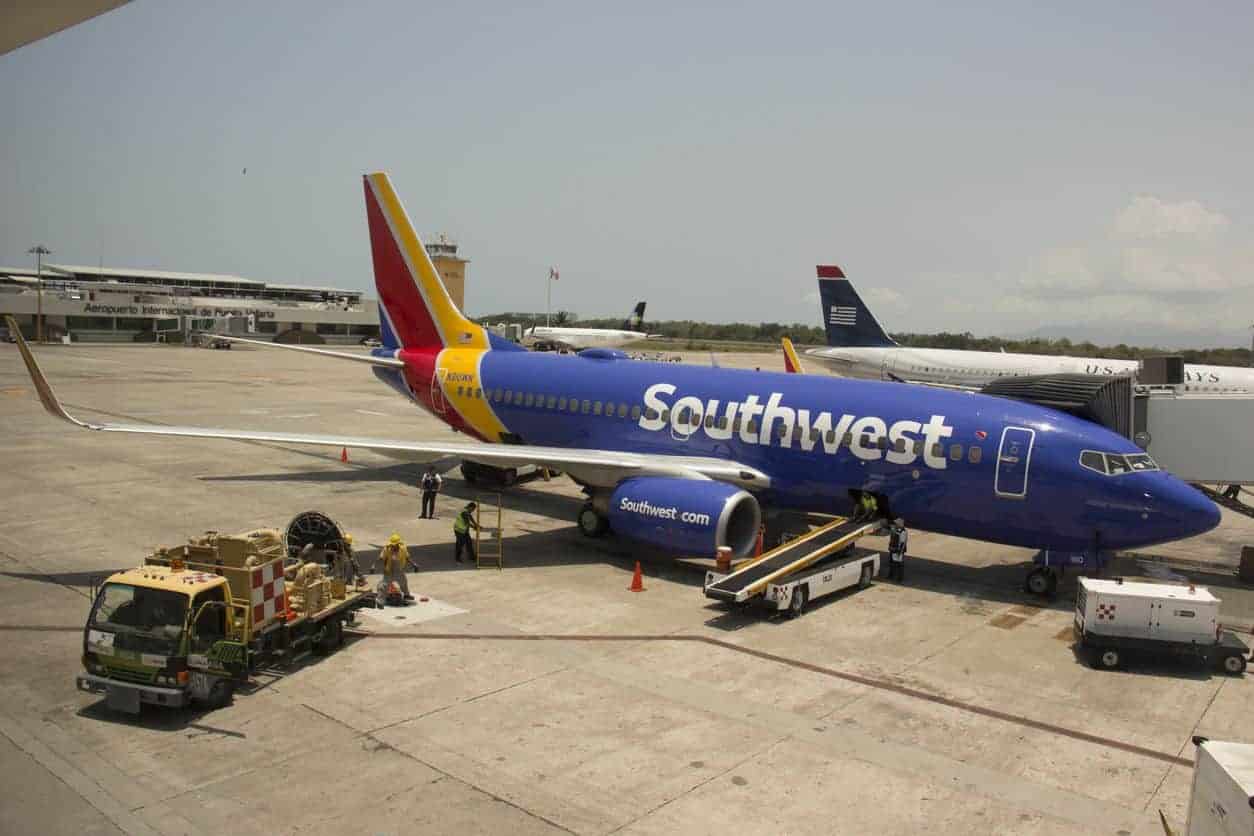 If you're traveling with someone, Southwest is one of your best bets. Currently, Southwest operates 25 nonstop flights to Austin from airports all over the US. If you have the Southwest Companion Pass, this makes Austin an especially great option for a weekend getaway with your companion.
American Airlines
Another great option to get to Austin is using British Airways Avios to fly American Airlines. After Southwest, American Airlines operates the most routes to Austin for a major U.S. carrier. With ten routes across the US to Austin, flying with American Airlines is a great option.

Avios are great to use for American Airlines' short-haul flights in the U.S. Most flights to Austin will cost only 9,000 Avios one-way and $5.60 in taxes and fees. Keep in mind, British Airways prices per leg, so if you have to connect, it will cost a few more miles, but if you're able to fly nonstop, you can really stretch your miles farther.
Spirit Airlines
For a third and final option, look no further than Spirit Airlines. Spirit flies nonstop to Austin from 13 cities. While you should avoid Spirit's own award program, their low fares can be booked through the Chase Travel Portal. If you have the Chase Sapphire Reserve, you can get 1.5 cents per point. Even at one cent per point, you may struggle to beat Spirit's low fares.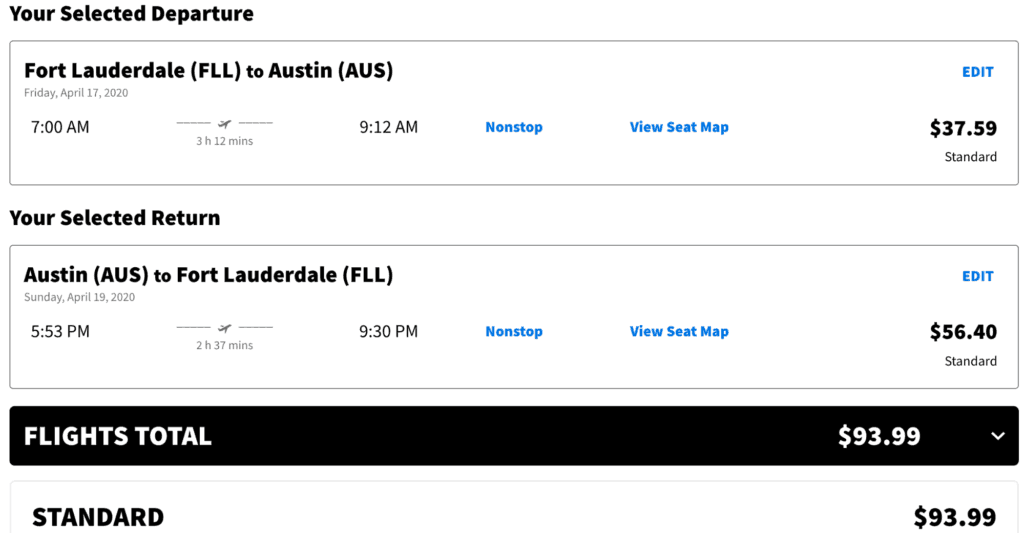 On my first attempt, I pulled up this $93.99 fare on Spirit's website from Fort Lauderdale (FLL). No deep digging required. In the Chase Travel Portal, this flight would only cost 9,399 points! If you have a Chase Sapphire Reserve, you would only spend 6,266 points. You likely won't get much better than that with any airline's award program.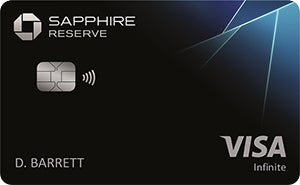 50,000 Chase Ultimate Rewards Points after you spend $4,000 spend in 3 months
Learn more
Where to Stay in Austin With Points and Miles
Getting there is only half the trip! You have to have a place to stay. Austin has had a lot of growth over the past few years, and this leaves its hotels a bit all over the place.
Some ol' reliable hotel brands really aren't all that great, despite having a solid location (I'm looking at you, Sheraton Austin). New options have been popping up all over the place, so there are some fantastic places to stay for not a lot of points.
Budget Options
If you're looking to stretch your points as far as possible, Hyatt has some great options right in downtown Austin.
For only 12,000 Hyatt points per night, you can stay at the Hyatt House Austin/Downtown. It has a prime location for downtown events, and access to Austin's vast green space. Weekend nights in summer run around $250 per night.
You can also stay at the Hyatt Place Austin Downtown. It requires 15,000 points per night, and is one of my go-to options when visiting Austin. Weekend nights in summer also cost around $250, making 15,000 points a great way to stay at a prime location.
One of my favorite ways to stay at either Hyatt property in Austin is to use my annual free night certificates from the World of Hyatt credit card. This is why I usually end up at the Hyatt Place, since it requires more points. The Hyatt House is newer, having opened in 2017, so it should offer an equally great place to stay for your points. Both have a great location for whatever you're looking to do in Austin. Photo Courtesy: Hyatt.com
Mid-Range Options
If you're looking for a bit more than a comfortable place to lay your head, turn towards Marriott. Marriott has a large footprint in Austin, but not all of their hotels are equal. Some have been there… a long time, and are a bit overpriced for what you get.
These next two options really shine. They're relatively new, perfectly located, and you'll feel like you're getting some of the best Austin has to offer.
If you want a more exclusive experience, the JW Marriott and The W Austin will give you what you're looking for.
Both are category 6 hotels, meaning you'll need 40,000 points for off-peak awards, 50,000 points for standard awards, and 60,000 points for peak award nights. If you're looking to transfer points to Marriott, check the cash rates before transferring. Both run around $300-$350 per night over the summer, so you typically will be able to get them for fewer points by booking through a transfer portal.
If you want to use transfer partners, stick with Hyatt and stay at The Driskill, an Austin classic. Be warned, the hotel is rumored to be haunted. This historic hotel is a slight departure from the more utilitarian options you'll find me suggesting, but it is well worth a look at only 20,000 World of Hyatt points per night! Trust me, you won't be disappointed.
Luxury Options
For travelers looking for a truly luxurious weekend getaway, you'll need to venture outside of downtown out to the hill country of Austin. Don't worry, you won't be more than about 15 minutes away from all there is to do in the heart of the city, but you'll be able to enjoy the majesty of Texas.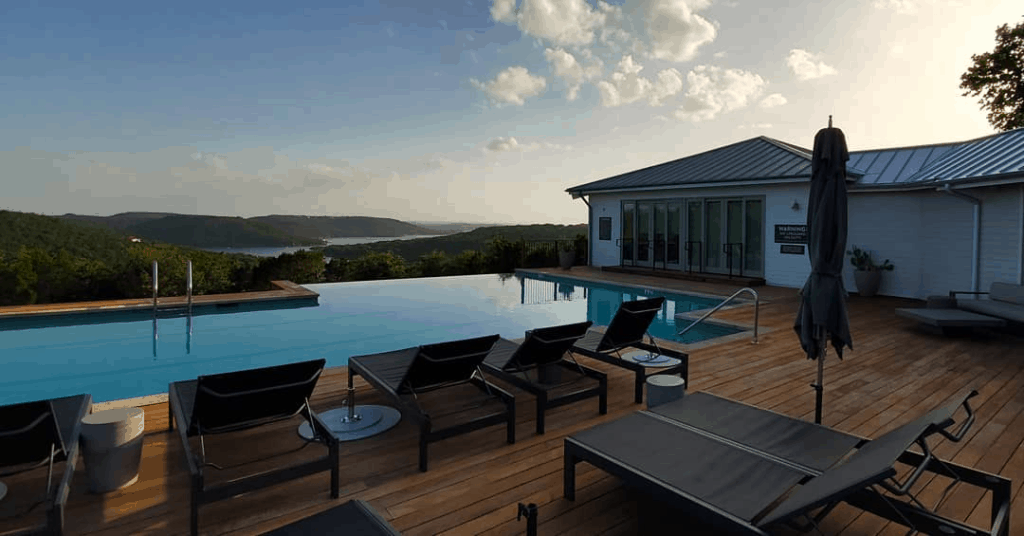 Miraval Austin's pool and hill country views are hard to beat!
If you want pampering, great food, beautiful views, and unspoilt experiences, you can book a stay at the Miraval Austin.
Miraval is an all-inclusive wellness resort, including select activities. You can easily stay a weekend here without venturing into the rest of Austin, but I'd recommend getting out at least once to experience more of what Austin has to offer! However, you can enjoy plenty of free activities here where you get to experience some of Austin such as beekeeping, kayaking on Lake Travis, or horseback riding through the countryside.
Stays at Miraval don't come cheap. You can redeem 45,000 World of Hyatt points per night for one person. Additional guests cost 20,000 points per night. This rate covers your room, all meals and non-alcoholic drinks, plus $175 resort credit per person per night.
Summer nights for two people can run $1,000 or more. Keep an eye out for promos – Miraval and Hyatt sometimes offer 50% of your points back meaning that for 2 guests, it would only cost 32,500 points per night after the points rebate.
Having been to Miraval Austin, I have to say it was well worth the points and I would definitely return! It makes for a great weekend getaway to Austin in itself.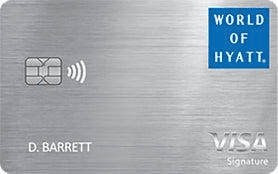 25,000 points after $3k spend in 3 months, another 25k points after $6k total spend in 6 months
Learn more
3 Things You Should Do in Austin
There's so much to do in Austin, it's hard to narrow it down to just three things. I lived in Austin for about 5 years, so decided the best way to recommend what to do should include the things I took guests to whenever visiting.
Austin has a great food scene, and some of the best nightlife in the country. What really sets Austin apart from other cities is the sheer amount of green space to enjoy. Going to Austin without experiencing the outdoors is missing the Austin experience. Here are three must-do activities in Austin with one common theme: get outside!
Bats!
One of Austin's major downtown thoroughfares, Congress Street, is home to a unique and must see urban phenomenon.
Along Congress Street is the Congress Street Bridge which is home to approximately 1.5 million bats. More bats live under this bridge than people live in Austin!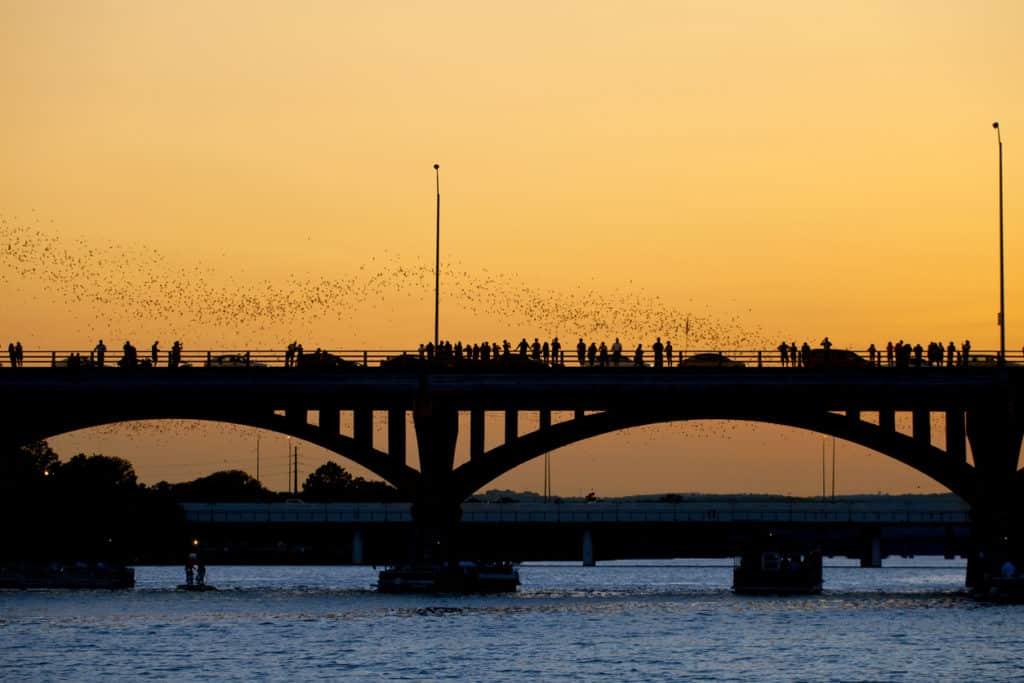 People watching bat leaving the Congress Ave bridge at sunset in Austin, Texas.
From late spring through early fall, visitors line the grassy areas near the bridge to witness the nightly bat migration. As the sun sets, you get to witness the flight of these millions of bats as they head out at night.
Grab a cooler full of your favorite beverages, and make an event of it. Show up early if you want a place to sit, and enjoy the time socializing under the Texas sunset to catch a view of the bats.
You can also join one of the boat tours operating from the boat dock near the Hyatt Regency to get a good view of the bats as they take flight.
Austin Parks
The enjoyment of the outdoors cannot be complete without a stop at one of Austin's parks. You can easily escape the city rush and get lost in one of the many parks Austin has to offer.
There are three in particular that I would recommend, based on what you're looking to do.
For those looking for a great hike, head to the Austin Greenbelt. You'll find plenty of outdoor activities here: mountain biking, hiking, and even rock climbing if you're so inclined. If you want to really feel out of the city, this is the place to be.
If mountain biking is more your speed, rent a bike from Barton Spring Bike Rentals and head a bit north to Walnut Creek park. The trails are prime for biking, and range from beginner to advanced rider. Just be sure to take plenty of water with you! You won't find any stops to refill along the trails, but you're never too far from the parking lot.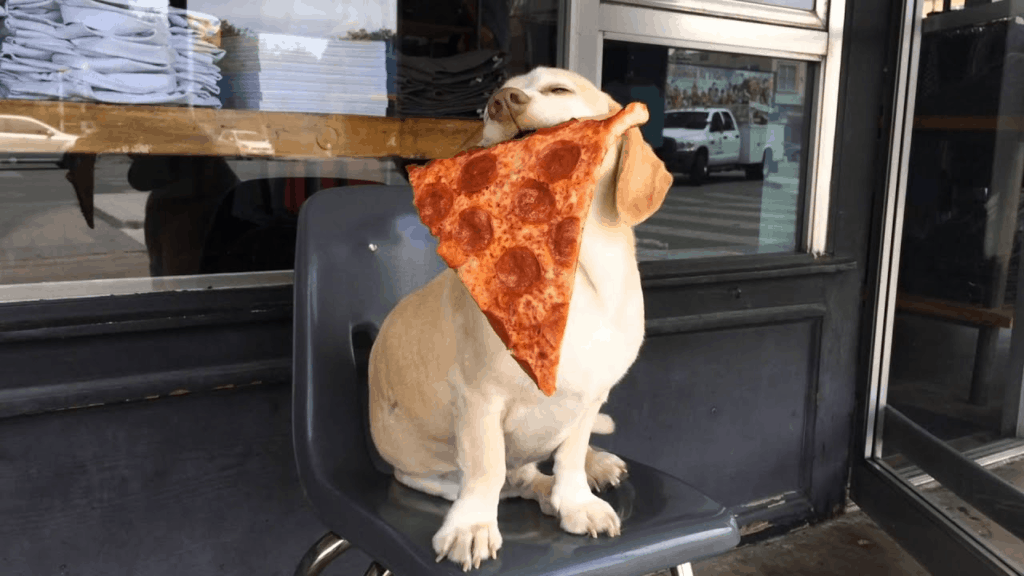 Sid the Pizza Dog is an Austin Native who loves to hang out at Zilker Park
To just experience the outdoors with some locals, Zilker Park is a great place to lay down a blanket, have some snacks, and just enjoy being outdoors. If you are travelling with your furry friend, keep an eye out for Zilker Bark! You may be able to get some great pictures of your pup enjoying the outdoors. If you're really lucky, you may even get to meet Sid the original pizza dog.
Mount Bonnell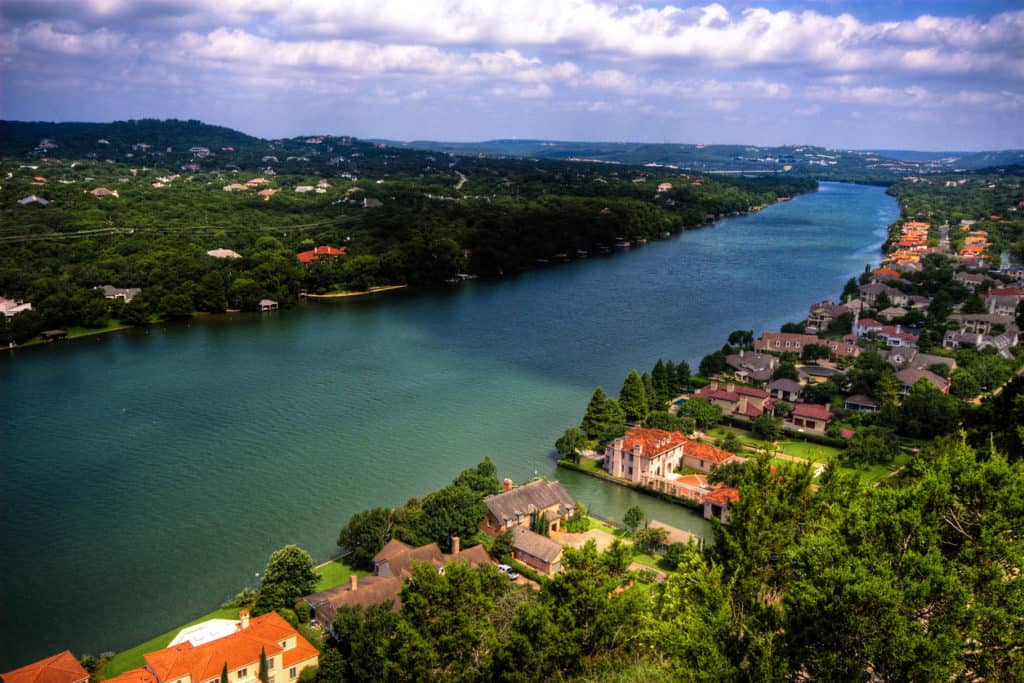 This is the gorgeous view from Mount Bonnell in Austin, Texas. The view faces west and you can see the Loop 360 Bridge in the background. Some of Austin's most sought after homes line Lake Austin below.
A getaway to Austin is incomplete without experiencing the great views at Mount Bonnell.
Mount Bonnell is Austin's highest peak. You'll drive (or Uber) up some winding roads to get there, but your trek isn't done. You'll have to go up over 100 steps to get to the top, but when you do, you'll be gifted with some of the best views the city has to offer.
There are some shorter trails around, and I'd encourage you to walk around them. You'll get different views at different spots. These hikes are not too serious though – you can leave your hiking boots at home. Just don't forget your sunscreen and water.
80,000 Chase Ultimate Rewards Points after you spend $4,000 spend in 3 months
Learn more
Favorite Food Stops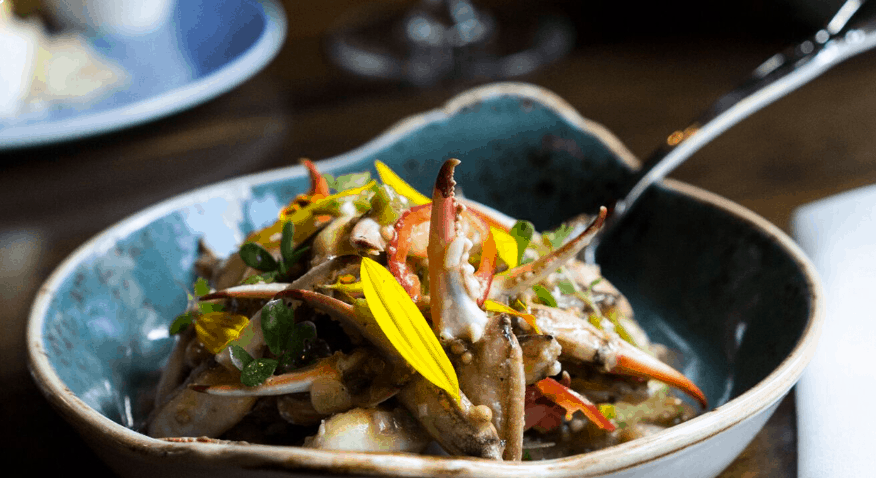 A trip to Austin is incomplete without enjoying some of the local food, and there's more than just BBQ. Here are some of my favorites that I'd recommend you check out when you're in town:
Salty Sow
Fixe Southern House
Uchi
La Barbecue
Contigo
Barley Swine
The Peached Tortilla
Hopdoddy
Franklin Barbecue
There's plenty more to list, but for a weekend getaway, any choice from this list is sure to please!
How to Earn Points for Your Weekend Trip to Austin
For solo travelers, or those looking to use a stash of points you already have, Chase Ultimate Rewards will go far for your Austin trip.
Booking through the Chase travel portal lets you redeem your ultimate rewards for anywhere from 1 to 1.5 cents each. If you go all out on a low-cost carrier like Spirit, a $100 ticket will require anywhere from 6,700 points to 10,000 points per person.
All of the hotels I mentioned above can be booked with Chase Ultimate Rewards as well. Chase is the only bank program that transfers to Hyatt, while both Chase and American Express transfer to Marriott.
If you're under 5/24, the Chase Sapphire Preferred Card is a great card for getting started. Small business owners should look towards the Chase Ink Business Preferred Credit Card which typically has a somewhat higher bonus than the Sapphire Preferred.
What I love so much about planning a weekend getaway to Austin is that you can do it with just one sign-up bonus. If you earn the standard 60,000 point bonus (currently 80,000 point bonus) from the Sapphire Preferred card, you could book your flights through the portal on a carrier like Spirit and have plenty left for your hotel. If travelling with two people, that leaves 40,000 points for a hotel. You can transfer 36,000 points to Hyatt and stay 3 nights at the Hyatt House Downtown.
One card, one weekend, one awesome getaway to Austin!
Final Thoughts on a Weekend Getaway to Austin
Austin makes for a great weekend getaway with plenty to do, plenty to see, and plenty to eat. You can easily enjoy a full weekend in Austin with the sign-up bonus from just one card. There's great weather year-round, so whether you're looking to escape a northern winter to a more mild climate, or just eat some of the best BBQ in the country, you're sure to have a weekend as big as Texas.
New to the world of points and miles? The Chase Sapphire Preferred is the best card to start with. With a bonus of 80,000 points after $4,000 spend in the first 3 months and 2x points on dining and travel, this card truly cannot be beat! 
Learn more
---
10xTravel is part of an affiliate sales network and receives compensation for sending traffic to partner sites, such as CreditCards.com. This compensation may impact how and where links appear on this site. This site does not include all financial companies or all available financial offers.
Editors Note: Opinions expressed here are author's alone, not those of any bank, credit card issuer, hotel, airline, or other entity. This content has not been reviewed, approved or otherwise endorsed by any of the entities included within the post.