Hi Travel Junkies,
Remember that time your plane was delayed, your gate was overflowing with annoying travelers, and you sat on the ground contemplating how many Auntie Anne's pretzels it would take to be happy again?  
Yeah, I've been there. (The answer is 4. It takes 4 soft pretzels to feel whole again)
The worst part is, you probably walked by a few of those mysterious airport lounges and wondered what it would be like to be a part of the "in-crowd" (and if they hand out free soft pretzels inside).  
Well, today is your day.
Today, I'm going to give you the rundown of how airport lounges work.
What are they?  

Why are they awesome?  

How can you gain access?  

And do they actually have soft pretzels inside?
Let's start with the basics.
What Are Airport Lounges?
Put simply, airline lounges are very comfortable places to spend time in an airport.
Most of them feel a little bit like libraries. They're usually quiet, filed with tons of comfortable seats and desks, and have free Wi-Fi.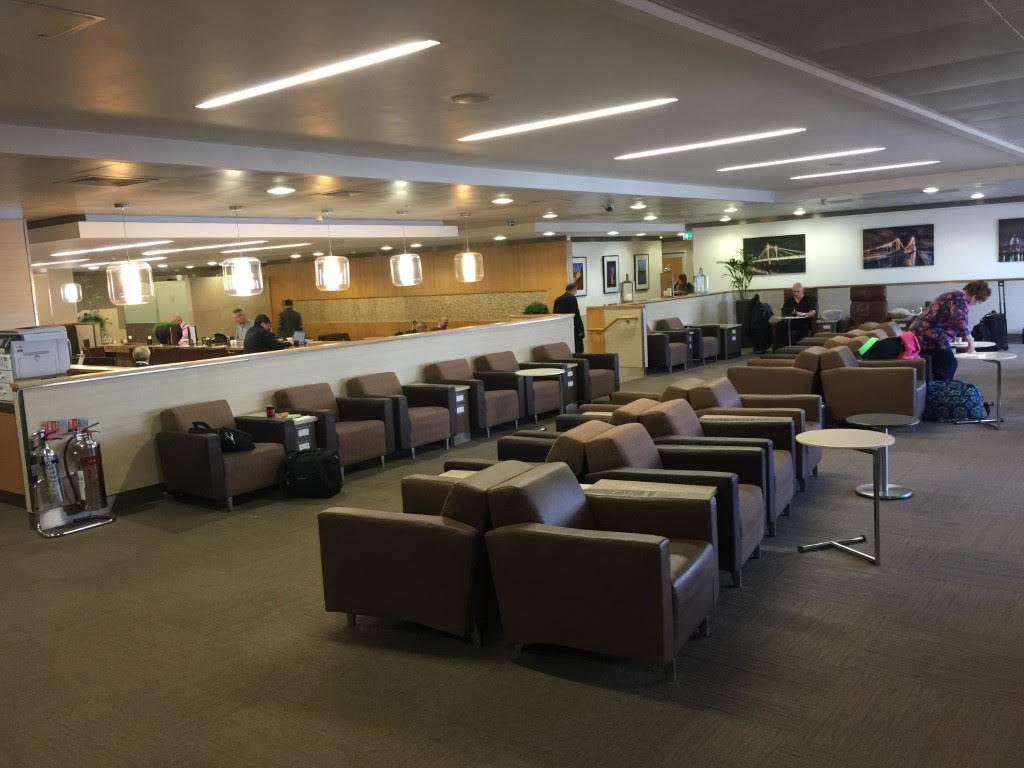 Admirals Club – London Heathrow
Oh, and one more thing.
Almost all of them have a bar. Which typically has complimentary beer, wine, and cocktails.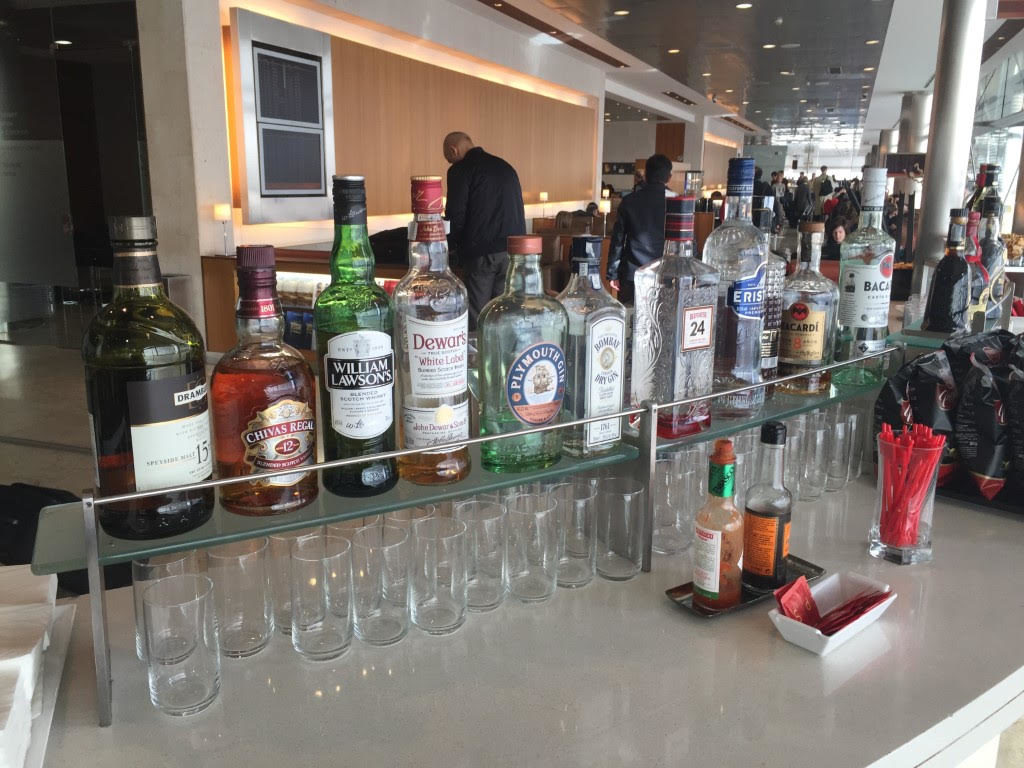 Iberia Lounge – Madrid
More on that in a bit.
Let's take a look a few of the other fantastic amenities offered by airport lounges.
Why Are Airline Lounges So Great?
1) Quiet comfortable space
At their foundation, airport lounges provide a quiet and comfortable place to do whatever it is you do to pass the time.  
Whether you want to get some work done, take a much-needed nap, or catch up on social media – you will be sitting in a comfortable chair with plenty of space to stretch out and relax.  
And best of all, there won't be a kid throwing Cheetos at the back of your neck (yeah, it's happened).  
2) Amenities for work or play
Whether you need to check your work email or respond to that craigslist add about free kittens, airport lounges keep you online.  
Most lounges provide free Wi-Fi, desktop computers, power sources to keep you charged up, printer/fax machines for those of you who actually still use fax machines, and all the other amenities you need to stay occupied.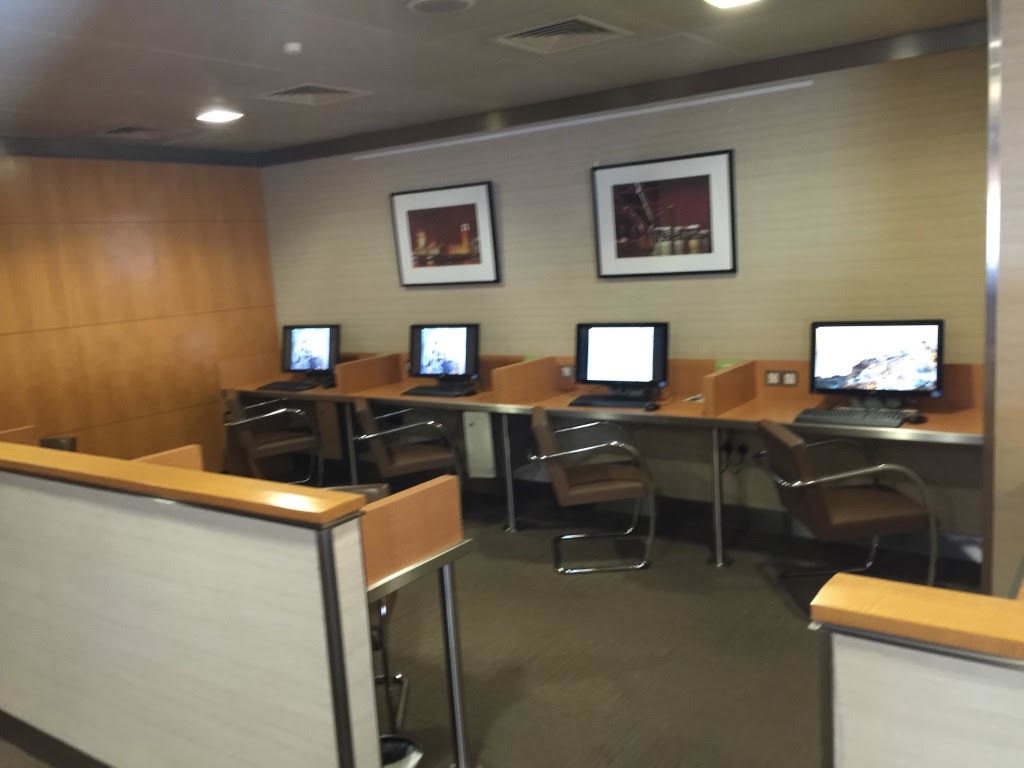 Admirals Club – London Heathrow
3) Premium customer service
Many airline lounges are staffed with airline-affiliated employees who are equipped to help you with things like changing reservations, flight delays, changing seat assignments, tracking baggage, checking flight connections, and anything else you might need help with.  
In my experience the employees in lounges are almost always more friendly and competent than their service desk counterparts.  
And best of all, there is almost never a line to talk to these individuals.
Many times they will also announce departing flight times, just in case you've overindulged at the complimentary bar and lose track of time.
4) Food, beverage, and entertainment
Speaking of overindulging, most lounges provide an open bar stocked with all the beer, wine, and liquor you can get your clammy, jet-lagged hands on.
You heard that right, an open bar to help ease the pain of travel.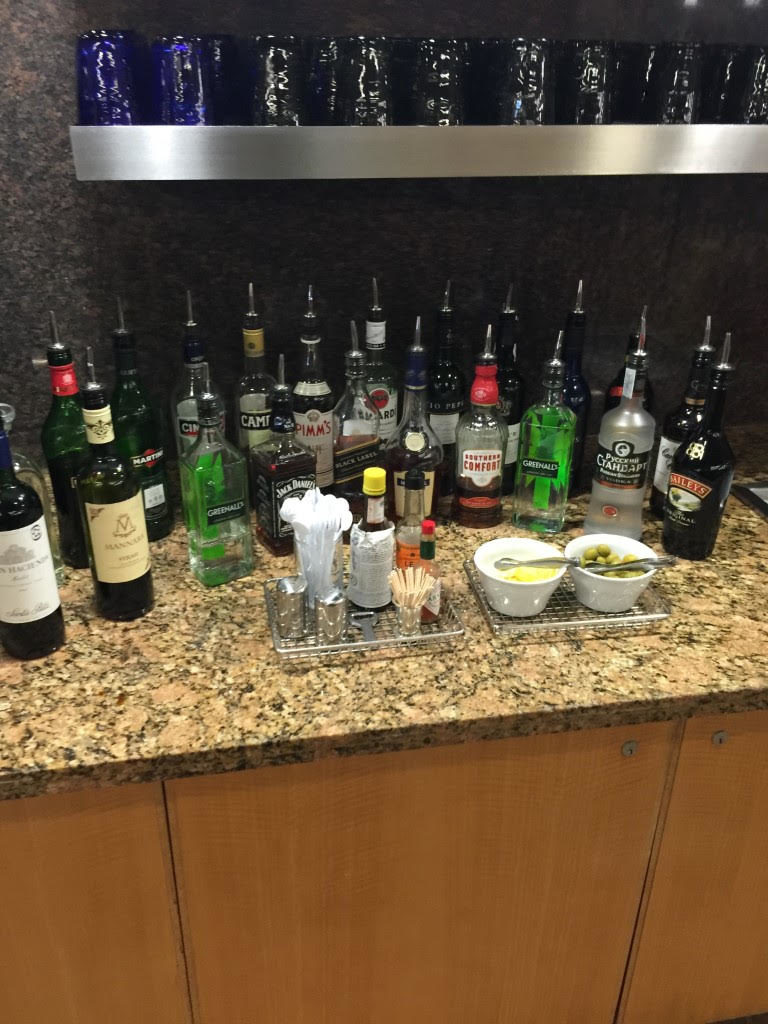 Admirals Club – London Heathrow
And there's even food, ranging from the basic nuts and cheese to extravagant buffets. And yes, they typically have soft pretzels.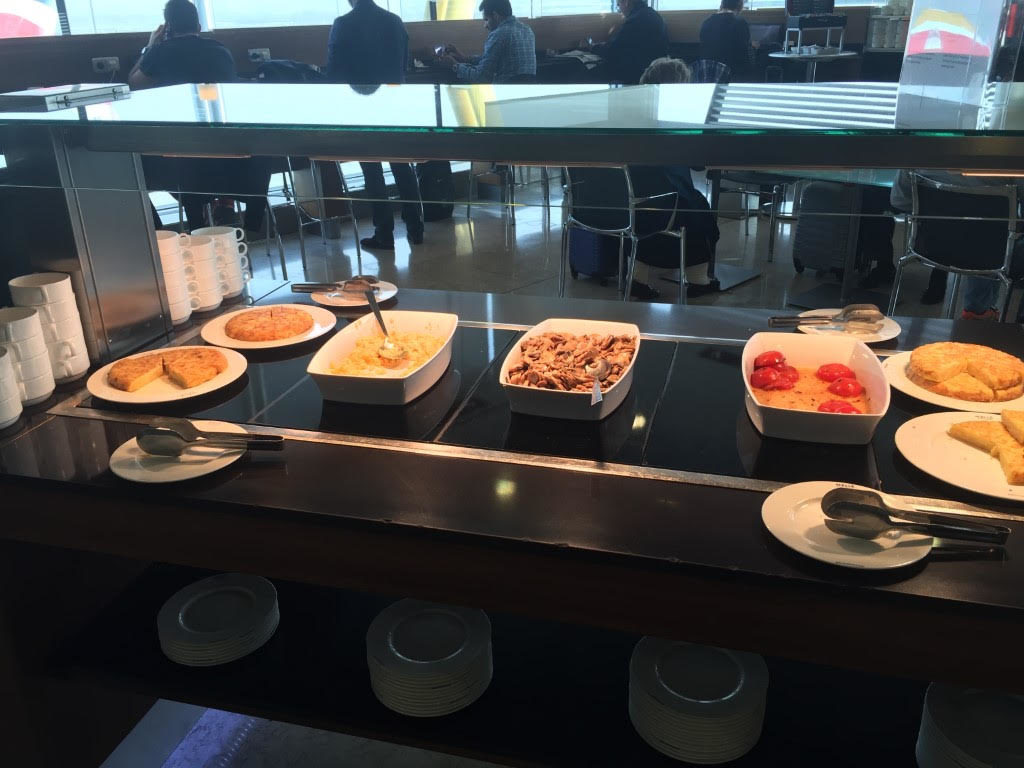 Iberia Lounge – Madrid
You can also expect simple entertainment like TVs, newspapers, magazines, and some soft music.  
How Can You Gain Access to Airport Lounges?
Okay, enough of the flirting.  
If a comfortable chair and open bar don't sound more appealing than a child throwing Cheetos at you then I'm not sure we can be friends anymore.
(Just kidding……maybe)
Here are 4 ways that you can access airport lounges.
1) Elite flyer status
Having elite status with an airline will typically let you access that airline's airport lounges free of charge. Many times you can even bring guests with you (trust me, they'll love you forever if you do).
Unfortunately, earning status with an airline is not as easy as it once was. And it is virtually impossible to shortcut this process.  
The only way to earn this coveted status is to earn a lot of "butt in seat" miles, which are earned by actually flying that particular airline.  
2) Flying on a first or business class ticket
Almost every airline in the world offers complimentary lounge access to passengers flying on first or business class tickets.  
I was able to enjoy this perk last week on my trip home from Austria. My first class AA ticket gave me free access to the Iberia Lounge in Madrid, which was one of the better lounges I've had the pleasure of visiting.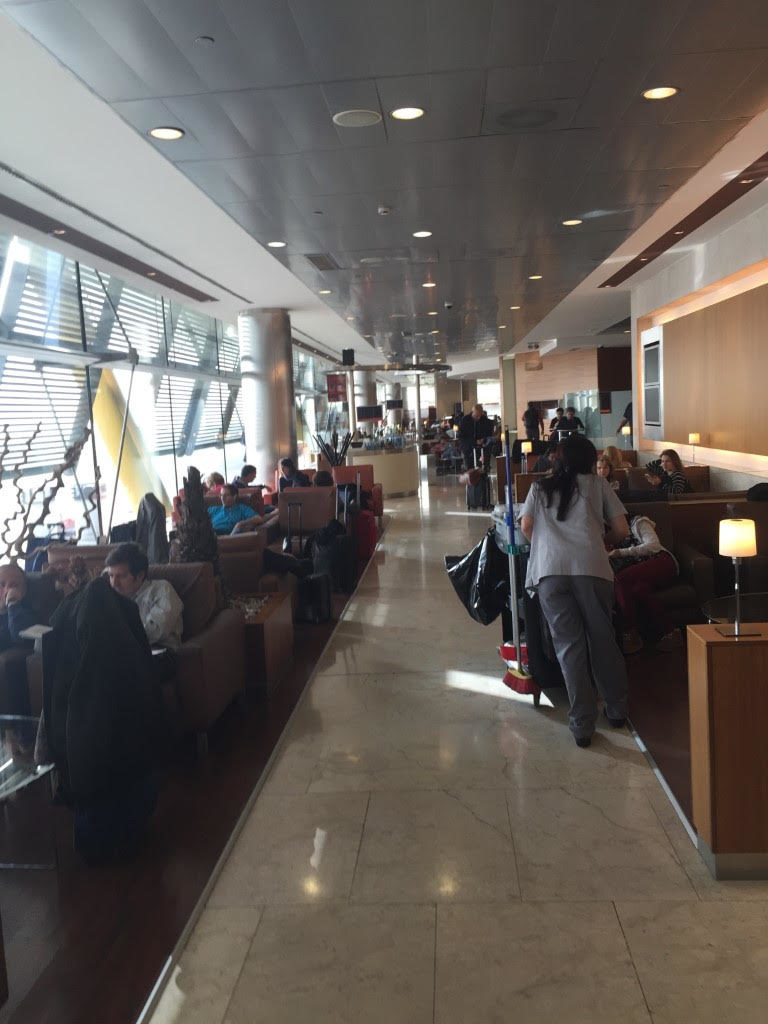 Iberia Lounge – Madrid
The same rule does not always apply to domestic flights, though it never hurts to ask.
Each airline has their own set of rules so a few minutes of research can be the difference between sharing an armrest or sprawling out over three chairs – your call.
3) Buy your way in
When all else fails, you can just buy your way in to airport lounges. There are two ways to do this.
Airline lounge memberships typically cost between $400 and $500 per year and provide unlimited access to a particular group of lounges, regardless of which airline you are flying.
You can also buy lounge access using frequent flyer miles, though the valuation is usually terrible.
Unless you are a hard-core traveler I wouldn't recommend buying a lounge membership.
Many airlines will also have the option of a day pass, which will typically set you back about $50 per visit. 
Three years ago I would have told you that a day pass is a terrible waste of money.  
But after dozens of trips both with and without lounge access I am now convinced that day passes are worth the investment for any layover greater than 3 hours.  
Especially when you consider the fact that you'll likely spend $50 on a mediocre lunch and 2 beers in the terminal.
Here's an insider tip: you can purchase day passes to many airport lounges on eBay for as little as $5.
Simply search "X Airline Lounge Day Pass" and you'll find dozens of them for sale.
Just make sure to read the T&C's and watch out for expiration dates before you buy.
Credit cards that offer lounge access
And last but not least, let's talk about my favorite way to access airport lounges – credit cards.
Many premium credit cards offer complimentary lounge access for cardholders and a few of their guests. Here are a few examples (this is not an all-inclusive list):
– The Citi /AAdvantage Executive World Elite MasterCard comes with Admirals Club Membership for the cardholder and up to 2 traveling guests. This gives you access to more than 50 Admirals Club locations worldwide, regardless of which airline you are flying.
– The Citi Prestige Card gives complimentary Admirals Club access for cardholder and up to two traveling guests when traveling on American Airlines. Note that access is different from membership. You have to be flying on American Airlines to take advantage of this perk.
– The Platinum Card from American Express gives cardholders access to the Centurion Lounges at Dallas, Vegas, NYC, Miami, Seattle, and SFO. Centurion lounges are perhaps the most luxurious lounges in the game, featuring hot buffets, micro-spas, and a premium bar with custom made cocktails.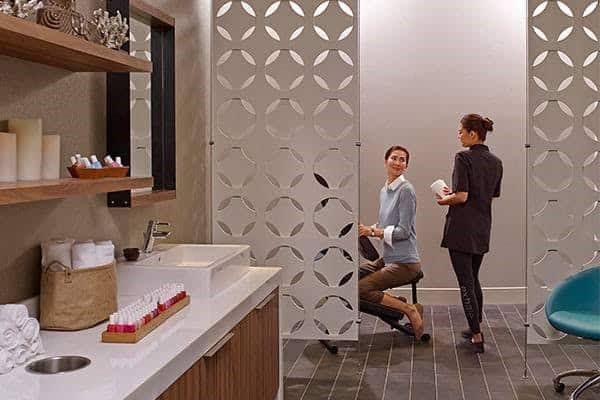 Centurion Lounge Spa – Miami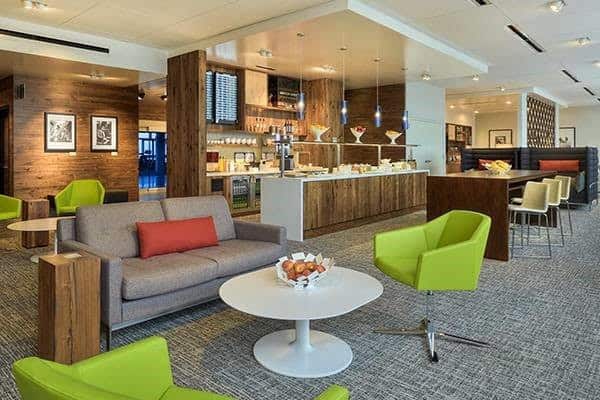 Centurion Lounge Bar – Seattle
The Bottom Line:
Like many things in life, airport lounges seem ridiculous until you try them.  
Take advantage of some of these simple ways to access airport lounges and you'll find that layovers can become an enjoyable part of your next vacation.
Happy Travels,
Bryce  
Photo: TheCenturionLounge.com 
---
Disclosure: 10xTravel has partnered with CardRatings for our coverage of credit card products. 10xTravel and CardRatings may receive a commission from card issuers.
Opinions, reviews, analyses & recommendations are the author's alone, and have not been reviewed, endorsed or approved by any of these entities. You can read our advertiser disclosure here.