In This Article
Loading table of contents …
Let's dig deeper into Capital One Venture Miles and how to use Capital One Travel to book flights, hotels and car rentals.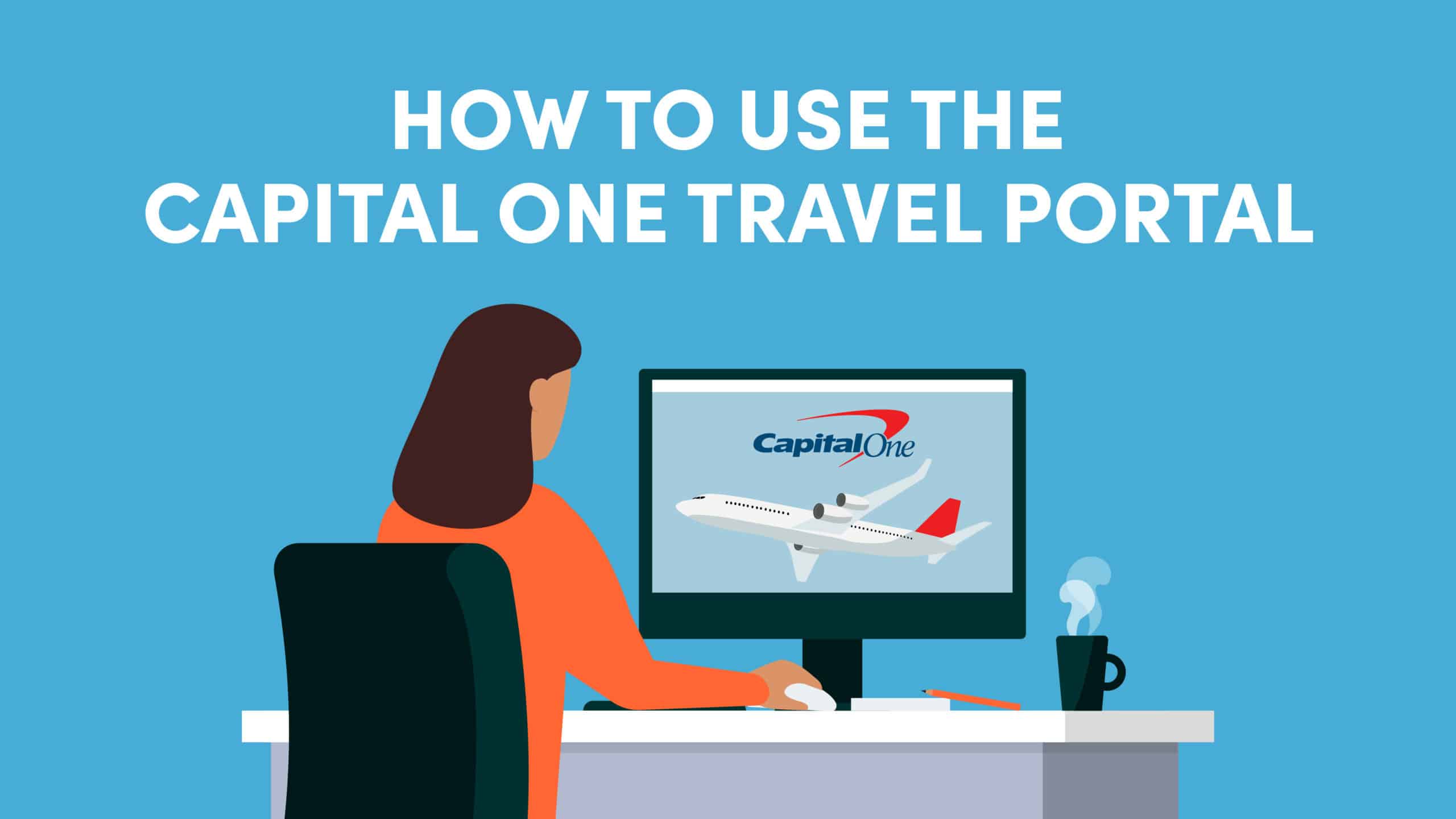 Note: Some of the offers mentioned below may have changed or may no longer be available. The content on this page is accurate as of the posting date; however, some of our partner offers may have expired. You can view current offers here.
There currently are four credit card issuers in the United States that offer true flexible currency rewards programs: American Express Membership Rewards, Capital One, Chase Ultimate Rewards and Citi ThankYou Rewards.
While programs such as Bilt Rewards or Marriott Bonvoy have points that are transferable to partners, their scope is more limited compared to the financial institution's flexible currency programs.
Although Capital One was the last of the four issuers to implement flexible currency rewards, the issuer has become competitive in this space.
Capital One has the Capital One Venture X Rewards Credit Card, and since 2021 added transfer partners, improved transfer ratios and expanded cardholders' ability to combine rewards between Capital One credit cards. In late July 2022, Capital One launched the Spark Travel Elite business card, with similar features to the Venture X card.
Flexible currencies refer to points or miles that can be used for multiple types of redemptions, which may include:
Cash back or statement credits
Gift cards or merchandise
Travel, including flights, hotels and car rentals, through a portal or travel center
Activities, experiences and event tickets
Points or miles transfers to airline or hotel partners
While many points and miles enthusiasts focus on maximizing value by transferring flexible currencies to partner programs and using these programs to book flights or hotels, other uses can be a valuable component of your overall redemption strategy.
Let's dig deeper into Capital One Venture Miles and how to use Capital One Travel to book flights, hotels and car rentals.
How to Earn Capital One Venture Miles
The primary way to earn Capital One miles is through new card welcome offers and spending on specific credit cards. The following personal Capital One credit cards earn Venture Miles:
Capital One VentureOne Credit Card
The following business cards earn Spark Miles, which have the same value and can be used like Venture Miles:
Capital One Spark Miles Select for Business Card
Capital One Spark Travel Elite Business Card
Cashback rewards earned on other Capital One cards may be combined with and converted to miles. This capability exists for Quicksilver and Savor personal cards and Spark business cards that earn cashback rewards.
What Capital One Miles Are Worth
Transferring (Capital One calls this "converting") miles to partner airline or hotel loyalty programs usually is at the rate of 1 Capital One mile to 1 unit of airline or hotel loyalty program currency. Once transferred, points or miles can be redeemed within the partner program for greater value.
For two common uses, each Venture Mile or Spark Mile is worth 1 cent. This applies to redeeming miles through Capital One Travel and getting reimbursed for eligible travel purchases paid for with your credit card.
For other uses, Capital One miles may have a value of less than 1 cent each, but the details vary depending on which Capital One credit cards you have. As a general rule, you should avoid redeeming Capital One miles for less than 1 cent each.
Poor uses, for cardholders who only have travel rewards cards that earn miles, include:
Redeeming for cash back at 0.5 cent each
Buying certain gift cards, such as Amazon, at a redemption value of 0.8 cent per mile
Applying rewards to "Shop with points" on Amazon at a redemption value of 0.8 cent per mile
Redeeming through PayPal at 0.8 cent each
Redeeming for experiences through Capital One Entertainment at 0.8 cent each
How to Maximize Value by Using Multiple Cards
Leveraging bonus categories on different Capital One credit cards is a great way to earn miles at the highest rate. Each credit card has some bonus categories that earn more miles or a higher percentage of cash back than the card's regular rate.
Base earning rates for non-bonus spending are:
2X miles for Venture X and Venture
1.25X miles for VentureOne
1.5X or 2X miles for different Spark miles products
1.5% cash back for Quicksilver and QuicksilverOne% cash back for Savor and SavorOne
1% to 2% cash back for different Spark cash products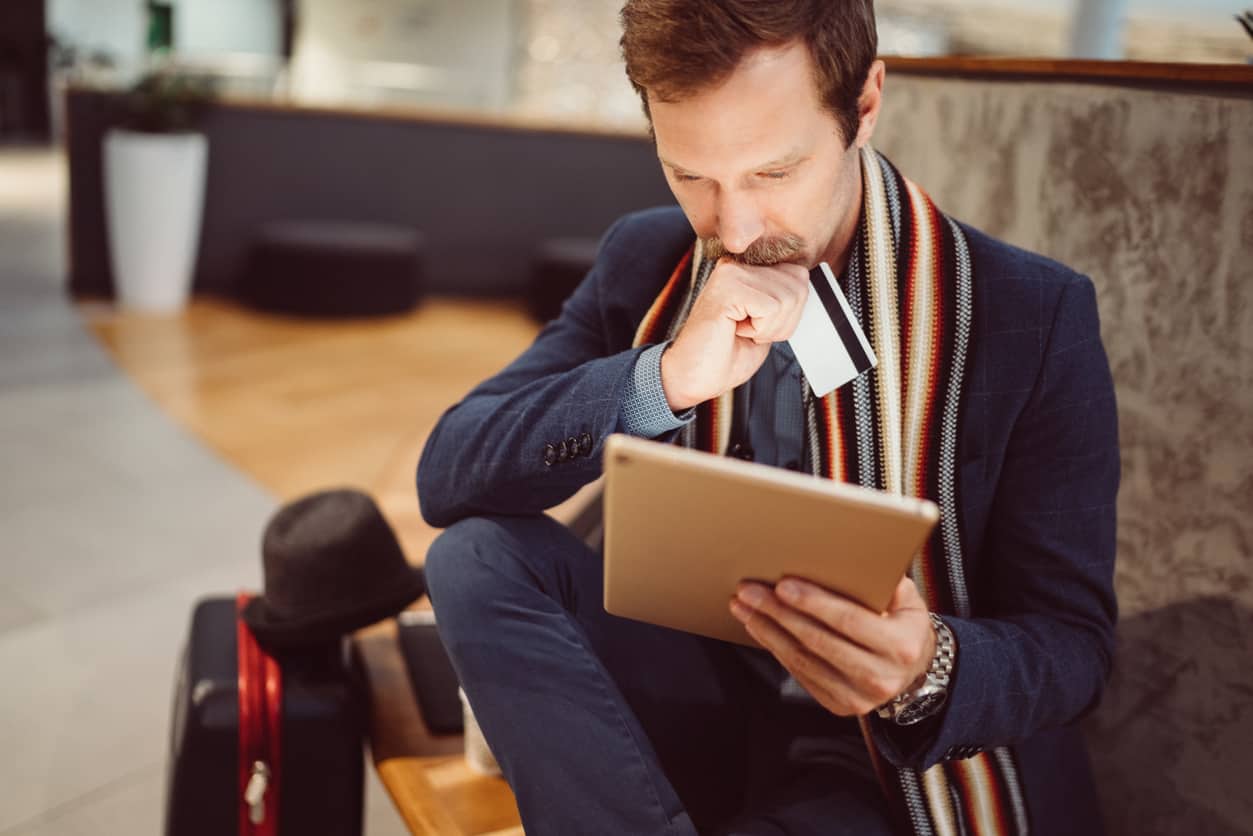 Purchases through Capital One Travel earn miles or cash at an increased rate:
10X miles on hotel and rental car bookings and 5X miles on flights with the Venture X card
5X miles or 5% cash back on hotel and rental car bookings with other Capital One cards (including Quicksilver, Spark, Venture and VentureOne)
Bonus categories on other cards include:
4% cash back on dining, entertainment and popular streaming services and 3% cash back at grocery stores with the Savor card
3% cash back on dining, entertainment, popular streaming services and grocery stores with the SavorOne card
To maximize your earning potential with multiple cards, spending should be split based on the card's bonus categories. For example, if you have a Venture X and a Savor card:
Use Venture X for Capital One Travel purchases and other purchases that aren't bonus categories for your other cards.
Use Savor for purchases on dining, entertainment, popular streaming services and grocery stores.
With cashback cards, there's another step to maximize miles earned. You must convert cashback rewards to miles. Capital One allows an individual who has cards that earn cash back and cards that earn miles to "Move Rewards" online from the cashback card to the miles card. Cash rewards convert to miles at a 1:1 ratio, where $1 in cash rewards becomes 100 miles.
Although not formally documented, it's been reported on multiple points and miles sites that Capital One allows consumers with separate credit card accounts to combine rewards. The ability to share rewards between two different cardholders' accounts must be initiated by calling Capital One.
When to Use Capital One Travel
Capital One Travel is accessed through a portal and used to book flights, hotels and car rentals. It works like other online travel agencies (OTAs), such as Orbitz or Expedia, and is available to Capital One rewards credit card holders in the United States.
There are advantages and disadvantages to using OTAs. Some apply to all third-party travel portals, and others are specific to Capital One Travel.
General Online Travel Agency considerations
Many experienced travelers prefer booking directly with travel providers unless there's a compelling reason to use an online travel agency (OTA). Using an intermediary instead of booking directly with the travel provider can make it more difficult to get support if there's a problem, change or cancellation.
For example, hotels may consider bookings through an OTA to be the lowest priority, which could increase the chance of getting a bad room or no room at all if the hotel is oversold. More generally, you may find yourself going back and forth with the travel provider and the OTA to handle changes or cancellations.
One situation in which it might be beneficial to book through an OTA is when it's difficult to book directly. For example, some small, independent accommodations (especially outside the U.S.) may not have a secure reservations website, but they may be available to book through an online travel agency. Similarly, there may be travel provider websites where it's difficult to pay with a U.S.-issued credit card.
It also can be beneficial to use a travel portal associated with a bank's flexible currency program when you want to use points or miles to book travel, but the airline or hotel doesn't have awards available, the award price through the loyalty program is high or award flight routings are inconvenient.
Unfortunately, these situations are becoming more common due to high travel demand, loyalty programs using variable award pricing and airlines limiting award availability on more desirable flights.
If you book a flight with points or miles through a portal, the airline views it as a revenue booking. This may allow you to select more convenient flights that are not available for award bookings, since airlines are hoping to fill the plane with paying passengers, and earn loyalty program rewards.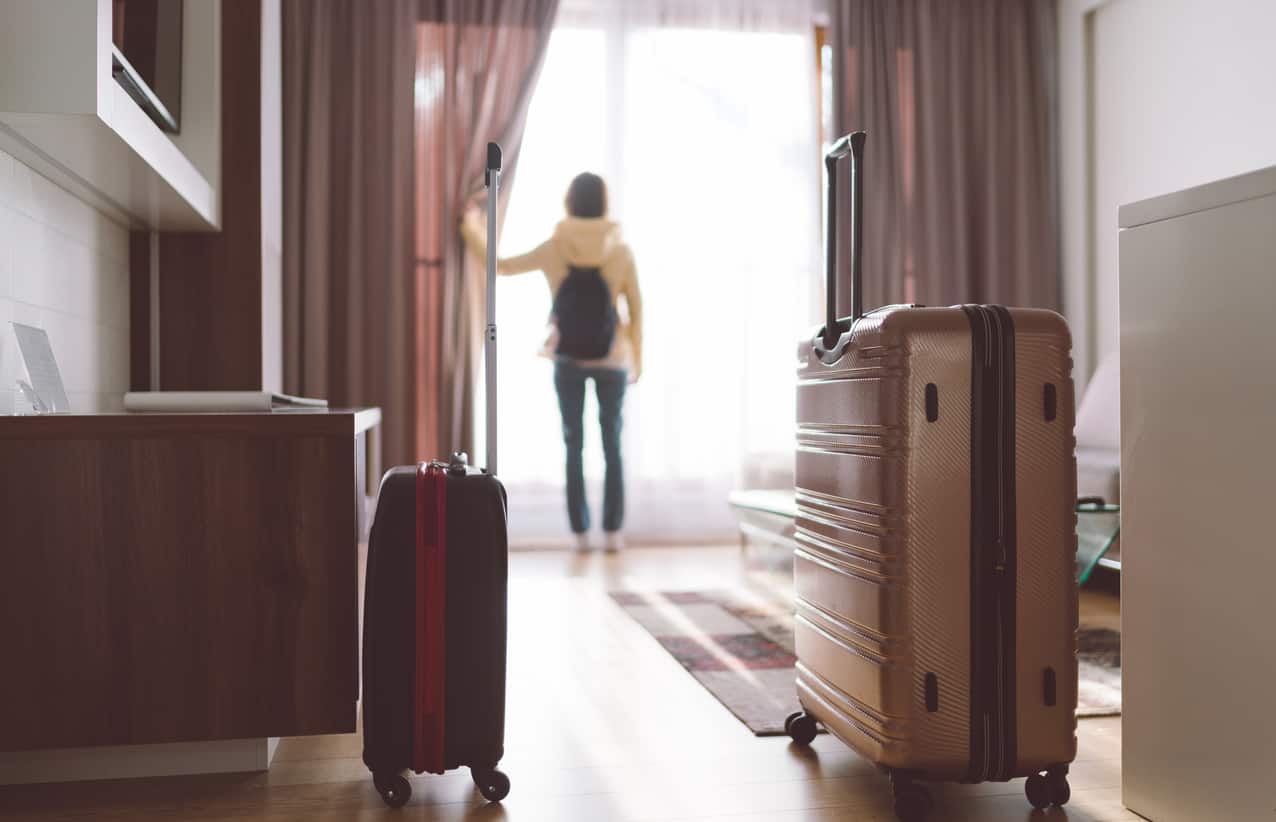 Capital One Travel considerations
Let's discuss some situations in which you may consider booking through Capital One Travel.
The most obvious reason to use Capital One Travel is to obtain the $300 travel credit available on the Venture X credit card, which is valid only on travel purchased with the Venture X Rewards card through Capital One Travel. If you hold the Venture X card, make sure to spend $300 through the portal each year (based on your card anniversary date) to get this credit.
If you don't have a Venture X travel credit to use, does it make sense to book through Capital One Travel, either paying with miles or your credit card?
The decision process is somewhat different for Capital One compared to other banks. There are two reasons why it might be less compelling to redeem miles through Capital One Travel compared to other bank portals:
Capital One miles are worth 1 cent each when redeemed through the portal, not 1.25 or 1.5 cents like through Chase Ultimate Rewards.
Capital One allows cardholders to use miles to get reimbursed for travel purchases (anything that codes as "travel") charged on eligible credit cards at the same rate at which they can redeem miles through the portal.
Given that you can book flights, hotels or car rentals through Capital One Travel, the next consideration is which types of bookings are most or least advantageous. There are several variables to consider, and each person's situation is different. Key variables include:
Elite benefits: When booking flights through Capital One Travel, you can add your loyalty program information to the reservation and get the same mileage earning and elite benefits as booking directly with the airline. In contrast, hotel bookings through portals rarely earn points, and loyalty program members usually don't get elite benefits that they would get by booking directly. If elite benefits and earning points in loyalty programs are important to you, it may be better to book flights instead of hotels through Capital One Travel.
Cost: Most of the time, flight pricing is consistent across booking channels, while hotel or car rental pricing often varies. Hotels and car rental agencies have many special rates and discounts that can be used when booking directly but usually aren't available when booking through a portal. Additionally, on direct bookings, travel providers may offer bundled rates that include additional services or benefits but aren't available through the portal. For example, some low-cost airlines offer a discounted package (that may include checked baggage, seat selection and food) only when booking on their website. Similarly, hotel websites sometimes offer special packages that include things like parking, meals, airport transfers or credits to be used at the hotel and/or bonus points.
Maximizing rewards earnings: As discussed above, Capital One Travel is a spending category that earns bonus miles or cash back compared to the regular earnings rate for each credit card. For Venture X cards, you earn 10X miles on hotel and rental car bookings, and 5X miles on flights. Other cards earn 5X miles or 5% cash back for hotel or rental car bookings.
While there is no one-size-fits-all answer about whether to use Capital One Travel, we recommend that you consider cost, elite benefits (if applicable), rewards earnings and other trade-offs associated with booking through an online travel agency.
How to Use Capital One Travel
There are two ways to access Capital One Travel. This direct link to Capital One Travel takes you to the sign-in page. Enter your Capital One account credentials to log in on the initial screen.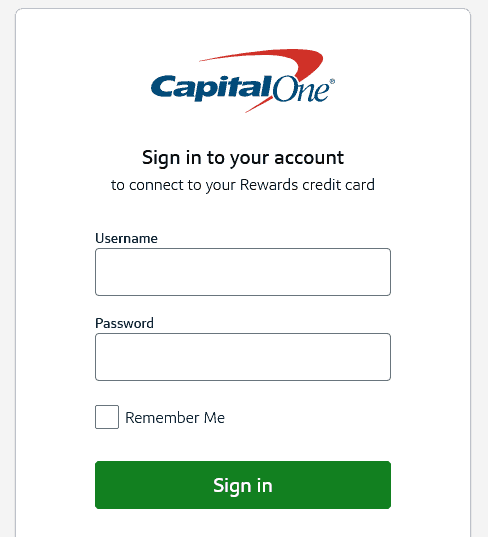 Alternatively, you can access the portal through your Capital One online account. This also is the way to access other online functionality, such as moving rewards, erasing travel purchases or initiating miles transfers to partners.
Follow these steps:
Click the button for "View Rewards" in the tile labeled "Explore Rewards & Benefits."
Select the desired credit card account when prompted and click on "View Account."
Scroll down to see the different options for using and managing rewards.
Select "Book a Trip" to begin booking through Capital One Travel.
Note that options available and their order may be different depending on which credit cards you have. The example below is for a Venture X cardholder. Options besides "Book a trip" are discussed briefly at the end of this section.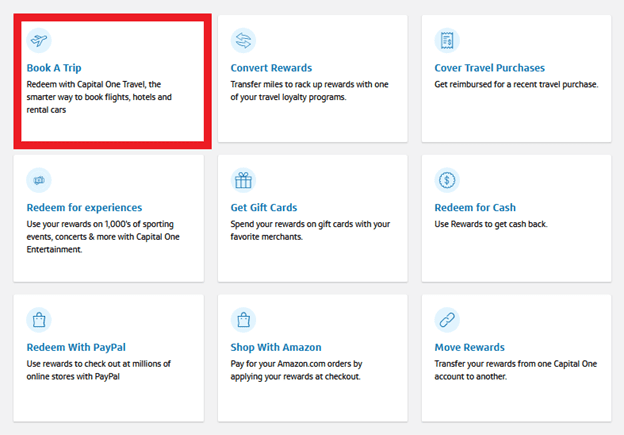 You can pay for travel bookings made through Capital One Travel with miles, your Capital One credit card or a combination of the two.
When redeeming Venture Miles through Capital One Travel, the number of miles required is determined by multiplying the cash price by 100. That means a flight costing $500 requires 50,000 miles.
Capital One Travel offers price matching within 24 hours of booking a flight, hotel or rental car. If you find a lower price on another site, you can get a refund for the difference by calling 844-422-6922 to submit a price match claim with the customer support team.
The first screen displayed after logging into Capital One Travel is the Hotels search page. To search for flights or car rentals, click the link for these choices near the top of the screen.
Flights
The Capital One Travel portal uses Hopper technology for flight searches. Hopper's platform has some interesting features, including price prediction, price watch and price drop protection.
Capital One Travel's questions about finding the best prices discusses how price protection works. Basically, Capital One Travel provides free price drop protection if you purchase a flight when recommended. After purchasing the flight, Capital One Travel continues to monitor the price, and if it goes down, you get a refund for all or part of the price difference.
In addition, Capital One Travel offers fee-based options to allow customers to freeze the price of a flight for a limited period before purchasing or to cancel for any reason. With the latter option, the buyer receives a partial refund (typically 70% to 90% of the ticket price) if they cancel the flight.
The flight search screen is displayed below. The ability to conduct a multi-city search isn't supported.

The example below is for a flight from Syracuse, New York, to Las Vegas searched a little more than three months in advance. When selecting dates, the calendar view shows which dates have higher or lower prices.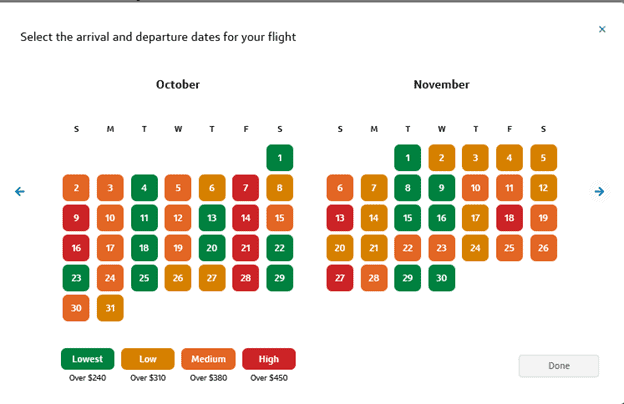 For selected travel dates of Nov. 2 to Nov. 8, Capital One Travel recommends waiting for a better price. The portal offers price watch and price freeze options, but price protection isn't offered since Capital One Travel doesn't recommend booking now.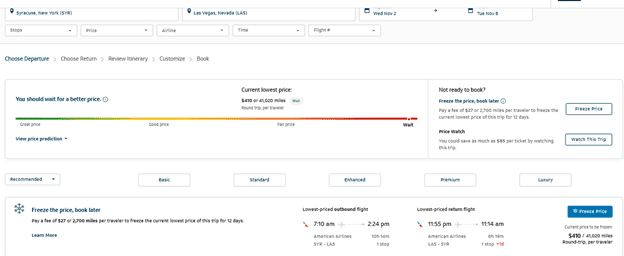 You can see additional guidance on the projected best time to book by expanding "View price prediction." In this case, the suggested time to book is before Sep. 5, and prices are expected to drop from $410 to $329.

The search tool also provides filtering and sorting capabilities. The example below is sorted by "Price" (low to high), and "Standard" is selected to exclude basic economy fares.

Hotels
We searched for hotels in Las Vegas for the same travel dates as the flights.

Like with other hotel search engines, results can be filtered and sorted to narrow down options. For example, the default sort of "Recommended" can be changed to price or star rating. Filters are available for rating, price (user defined range) and other features.

Under "More filters," the following options are available. You can search for a hotel by name (or partial name), but you can't search for all hotels within a particular chain.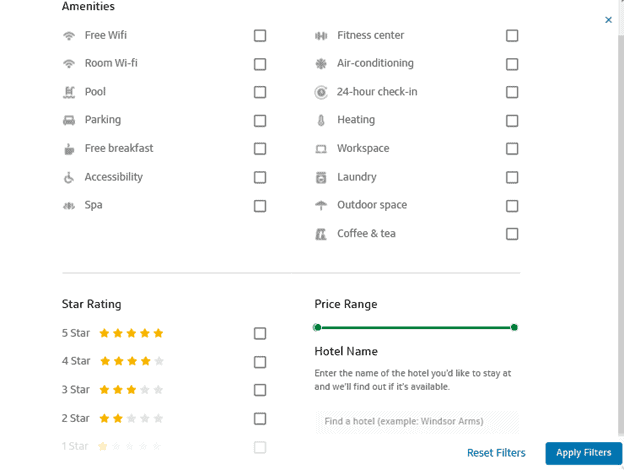 Car Rentals
When searching for car rentals, you enter the basic information including pickup and drop-off location, rental dates and times, and driver's age.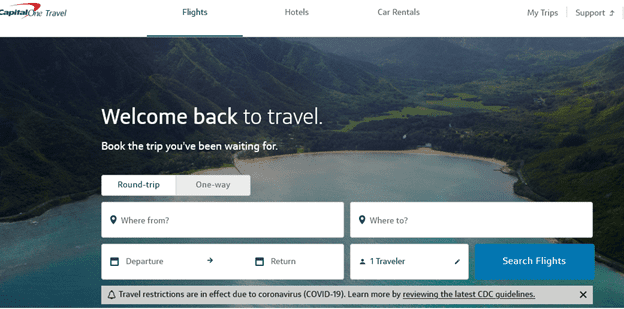 Results can be refined by filtering on the following criteria: car type (small, medium or large), price, company, specifications (air conditioning, automatic transmission and unlimited mileage options) and cancellation policy.
The results below are filtered to show only medium size cars and refundable rates.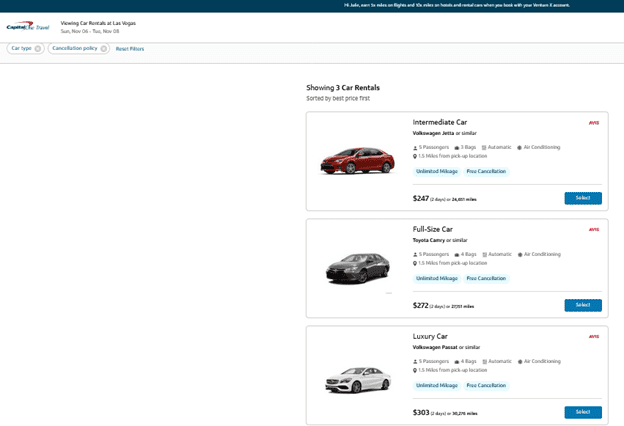 Related Functionality Outside Capital One Travel
Capital One Travel isn't used for booking activities or events or redeeming Venture Miles for other supported uses. Instead, the functionality described below is accessed through your Capital One online account.
Convert rewards: This option is used to transfer miles to a partner airline or hotel loyalty program.
Cover travel purchases: This option displays a list of eligible purchases made on your credit card and indicates how many rewards miles are required to reimburse the charge.
Redeem for experiences: This option redirects to the Capital One Entertainment site, which can be used to book "Cardholder Exclusives" and other events in the following categories: sports, music and comedy & theater.
Get gift cards: This option presents a screen where you can select and purchase merchant gift cards.
Redeem for cash: This option allows you to redeem miles for cash back, either as a statement credit or check, but at a poor redemption value of 0.5 cent each.
Redeem with PayPal: This option allows you to use rewards to pay through PayPal. Redemption rates are 1 cent per mile for cashback cardholders, but travel rewards cardholders can redeem miles for just 0.8 cent each.
Shop with Amazon: This option allows you to use rewards for purchases at Amazon, and redemption rates are the same as with PayPal.
Move rewards: This option is used to combine rewards from different accounts with the same owner.
We recommend avoiding any redemption choices that provide less than 1 cent per mile in value.
Final Thoughts
There are situations where booking through Capital One Travel makes sense. For example, Venture X cardholders should spend $300 annually through the portal to obtain the annual travel credit.
In some cases, it might require fewer miles to book through Capital One Travel compared to booking directly through loyalty programs. Booking flights through the portal also may allow you to book more desirable options that airlines aren't offering as award flights.
For other scenarios, redeeming Capital One miles through other methods is preferable. Transferring miles to partners typically offers greater value, especially if booking business or first-class flights. Using Venture Miles to reimburse travel purchases provides solid value and appeals to many people because of its flexibility and simplicity.
New to the world of points and miles? The Chase Sapphire Preferred® Card is the best card to start with.

With a bonus of 60,000 points after $4,000 spend in the first 3 months, 5x points on travel booked through the Chase Travel Portal and 3x points on restaurants, streaming services, and online groceries (excluding Target, Walmart, and wholesale clubs), this card truly cannot be beat for getting started!
Learn More
Editors Note: Opinions expressed here are author's alone, not those of any bank, credit card issuer, hotel, airline, or other entity. This content has not been reviewed, approved or otherwise endorsed by any of the entities included within the post.