When it comes to points-earning credit cards, Chase is one of the major players. They have some of the best cards to hold and some solid bonus offers but, unfortunately, some of the toughest restrictions as well.
Chase has many rules for credit card applications. Some of these are documented in the card offer terms and conditions while others are not made public by Chase. Fortunately, these unwritten rules are well documented.
Whether written or unwritten, all of these rules apply when you are looking to get a new credit card from Chase and the sign-up bonus that comes along with it.
Most people are well aware of the 5/24 rule. For those who aren't, the Chase 5/24 rule stipulates that you won't be approved for specific Chase credit cards unless you have opened less than 5 new credit cards in the past 24 months.
If you want to read more about this rule and which cards are affected, check out our guide to the Chase 5/24 rule.
Now, let's take a look at the other rules that might catch you off guard if you're not careful.
30-Day Limits
In addition to looking at your last 24 months of approvals to limit your cards, Chase also wants to make sure you don't get too many new cards from them in a short period of time.
With personal credit cards, Chase will not approve you for more than 2 new Chase cards in a 30 day period. This is a rolling 30 days, so once one of your new cards falls outside that time frame, you are good to go for your next application – you aren't guaranteed to be approved, but this restriction won't stop you.
For business cards, Chase is a bit more strict. They will allow you to get just one new Chase business card within a 30-day time frame.
You'll notice that we specified that Chase is looking at how many of their cards you have opened in this 30-day window. Unlike the Chase 5/24 rule, which takes into account cards you have opened from all banks, this rule is focused on Chase cards, specifically.
Overall, Chase has gotten pretty strict with their business card approvals, so even if this rule wasn't in effect, you probably wouldn't have much luck getting many more than this.
24 Month Bonus Exclusion
Chase has a 24-month rule on all of the cards they offer, specifically to prevent people from getting the card and earning the bonus over and over and over again.
The one exception to this rule is the Chase Sapphire products, which require 48 months between bonuses.
The exact wording from Chase is "This product is available to you if you do not have this card and have not received a new cardmember bonus for this card in the past 24 months."
This is pretty clear and easy to remember. Also, rather than hiding it somewhere deep in the fine print of the terms for a bonus offer, they put it nice and large, right on the main page for the application. Although we aren't too happy about the rule, at least they don't try to hide it.
Chase Sapphire Card Restrictions

Rules on the Sapphire family of cards are even more strict than the rest of the Chase cards.
Earlier this year, Chase added a new restriction that is specific to their Sapphire family of cards. This includes the Chase Sapphire Reserve Card and Chase Sapphire Preferred Card and is designed to keep people from earning sign-up bonuses from both cards — the Chase Sapphire Card is also included in this rule, but there aren't applications available for the card at this time.
When the Chase Sapphire Reserve Card was launched, it came with a 100,000-point bonus. At that time, assuming they qualified under all of the other rules, someone who had a Chase Sapphire Preferred Card could also open a Chase Sapphire Reserve Card.
Well, Chase thought that was a little too generous to let you earn sign-up bonuses for both cards so quickly, so they added the limitation that you can not hold more than one Sapphire card at a time.
To apply for a new one, you have to cancel your old one first. This rule slows down the points earning and makes us choose whether we want the 2x or 3x bonus category earn rate and which perks we want from one of the Sapphire cards.
Higher Bonus Match
Although there is not a record of 100% success with this technique, many people have reported that Chase is willing to match you to a higher bonus offer if you recently got a new credit card and then the bonus went up — we have seen this work up to but not beyond 90 days from approval.
The easiest way to get this match is to sign in to your account and send a secure message to Chase. Let them know when you got the card and what the points bonus was at that time. Also, include what the points bonus is on the new offer.
If the points gods are smiling on you that week, within a few days you should get a response from Chase saying that they are going to add the extra points to your account to match the new higher offer. Be sure to say thanks!
Points for Authorized Users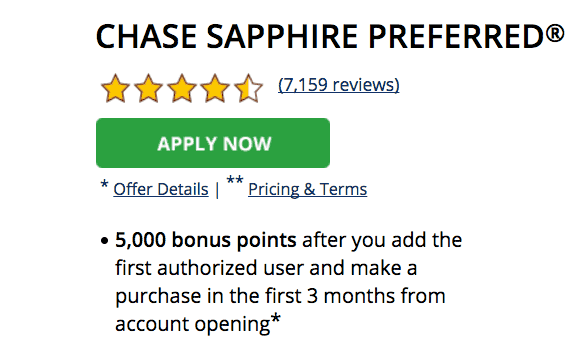 As part of the initial sign-up bonus offer, the Chase Sapphire Preferred offers an extra 5,000 points for adding an authorized user and making a single purchase.
Chase regularly provides a points bonus for adding an authorized user to your card account. Sometimes this offer comes after you have the card, but often it is included in the initial bonus terms when you sign up for the card.
With a usual bonus of 5,000 points after just a single purchase, this is a great way to up your signup bonus quickly and easily. Unfortunately, the bonus points are usually limited to a single authorized user per card account. You can't add 10 of your friends for a quick 50,000 points.
For that one person you need to get you the points though, Chase makes it super easy to add an authorized user. They just ask for a name and address.
Remember, in the end, you are responsible for any charges your authorized user makes, so be sure you only add someone you can trust.
Bottom Line
Don't try to get more than 2 personal cards within 30 days. It won't work.
You can't get more than one bonus on the same card within 24 months. Don't worry, there are lots of other cards out there.
If you want to get more than one Sapphire card and their sign-up bonuses, you're out of luck.
For extra points, be sure to ask for a match to higher offers and add an authorized user.
Follow these rules, remember to check your 5/24 status, and you'll be on your way to some fun travel.
Adventure Awaits!
Jeff
---
Disclosure: 10xTravel has partnered with CardRatings for our coverage of credit card products. 10xTravel and CardRatings may receive a commission from card issuers.
Opinions, reviews, analyses & recommendations are the author's alone, and have not been reviewed, endorsed or approved by any of these entities. You can read our advertiser disclosure here.