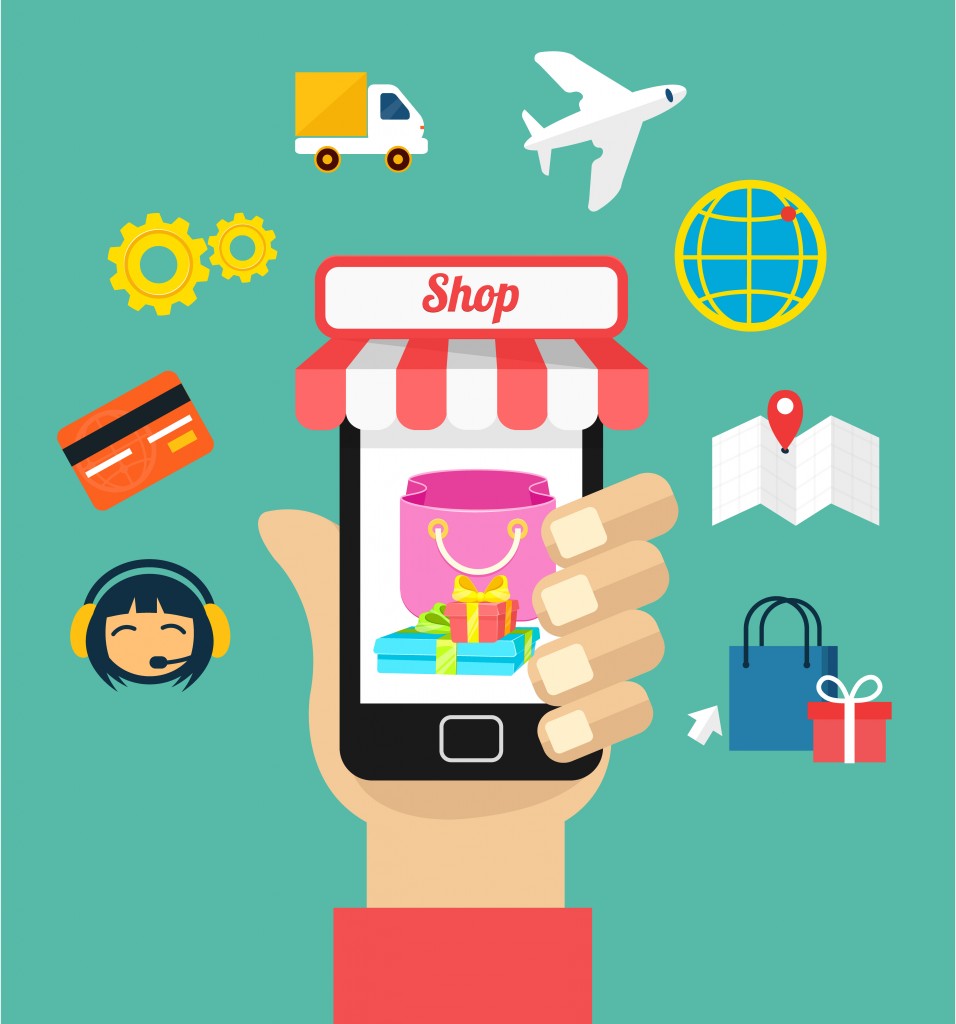 When something is too good to be true, it scares me.
(Ironic coming from a guy who spends an inordinate amount of time convincing people that traveling can be done for next to nothing)
So when I first heard about shopping portals I remember thinking, "there's no way clicking through a portal could be that beneficial, can it really be that easy?"
The answer is: YES.
At the foundation of award travel is maximizing points/miles on every dollar you spend, and using shopping portals is one of the simplest ways to earn additional points/miles for money you are already spending.
Today, I'm going to show you that shopping portals are not too good to be true.
I'm going to walk through what they are, how they work, and where you can find them. By the end of today's post shopping portals will be like that rich uncle who slides money in your wallet when you're not looking (wait, I want an uncle like that).
What are shopping portals and how do they work?
Okay, let's start from the top. What exactly is a shopping portal?
A shopping portal is a third-party website that offers you an incentive for shopping at various retailers through their portal.
When you shop through their portal they receive a small commission on any purchase you make and give you points or miles as a reward.
Think of it like your friend buying you a beer in exchange for using their Uber code. It's a win-win for everyone involved.
Like I mentioned earlier, I am pretty skeptical of these sorts of arrangements without knowing why it benefits each person involved. So let's take a look at what everyone has to gain here.
You receive points/miles for shopping through the portal

The retailer gets additional business when you buy something

The airline gets revenue from selling points/miles to the portal

The portal receives a cut from the retailer from what you purchased
Boom. Everyone's happy.
How to use a shopping portal
Sounds great, so how do you use these glorious shopping portals?
I'm glad you asked.
All you need to do to take advantage of shopping portals is to start any online shopping search at the airline shopping portal of your choice.
(Google "X Airline Shopping Portal" to find them)
You'll need to create an account on your first visit so the portal knows where to credit the points. This should take no longer than 60 seconds.
Then simply find the retailer that you would like to shop with, click the link to redirect to their site, and complete the purchase as you normally would. The portal will track your purchase and award you points/miles based on the amount you spend.
Easy, right? Let's review.
Go to the shopping portal of your choice

Create an account on the portal and link it with your airline loyalty account

Use the portal to find the retailer and product you want and complete your purchase through the portal link that pops up
Okay, now let's take a look at a few major airline shopping portals: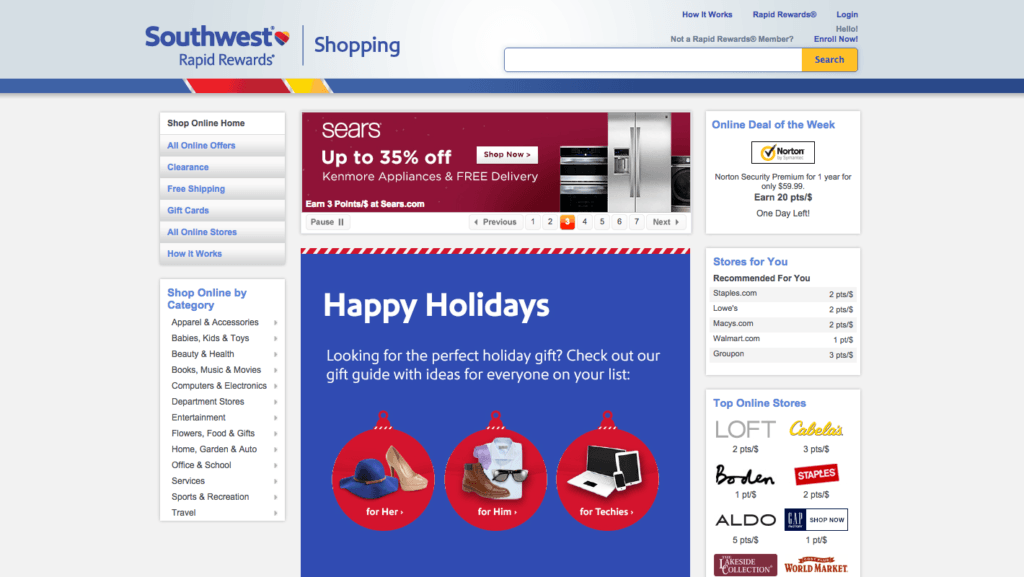 Southwest has a straightforward and easy-to-use shopping portal. From the homepage, simply login (or enroll if this is your first time) and enter your Rapid Rewards information to get started.
How it works:
Search
Use Rapid Rewards Shopping to find participating online stores, offers, or products.
Shop
Click on a store, offer, or product and complete your purchase at the store's website.
Earn
The points you earn from shopping will be posted to your Rapid Rewards account.
---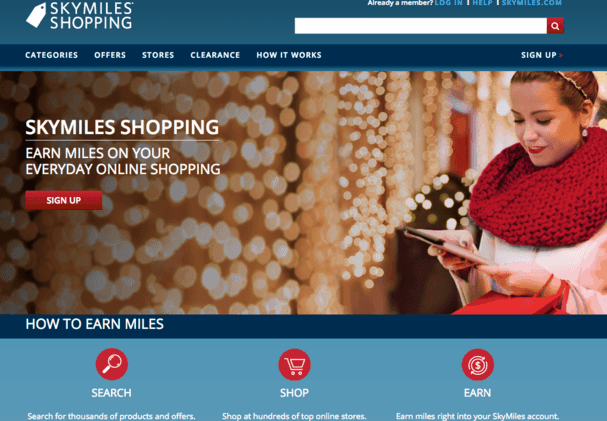 Run by the same third party provider as Southwest, Delta's shopping portal has a simple-to-use navigation and familiar searching system.
You will need to use your Delta SkyMiles account to sign up and then you will be ready to start earning miles for shopping through their portal.
How it works:
Search
Visit SkyMiles Shopping, login, and browse the participating online stores featuring thousands of deals and millions of products.
Shop
Click on the desired store and you'll be taken to their website. Shop as you normally would.
Earn
Once you make a qualifying purchase, you will receive the credited miles on your SkyMiles account. You will also receive an email usually within 5 business days confirming the miles earned for the purchase.
---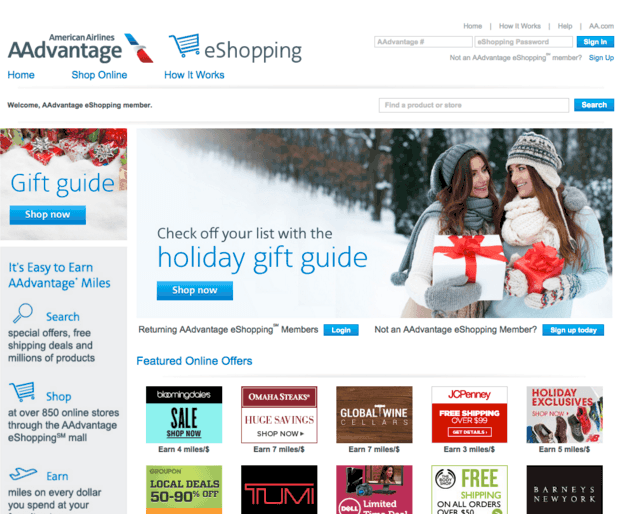 The American Airlines shopping portal is user-friendly and intuitive. If you already have an AAdvantage account, you'll need to use your frequent flyer number to sign up for an account to begin shopping.
How it works:
Sign Up
Registration is easy, fast and free. All you need is some basic information and your AAdvantage number to start shopping and earning miles.
Shop
Always start shopping at the AAdvantage mall where you can find whatever you need at over 850 online stores! Click on any product, offer, or store and you'll be taken to the store's website to make your purchase.
Earn
As soon as the store confirms your purchase, you will be credited the miles you earned on your AAdvantage account and will be sent an email to let you know.
Redundant? Yes.
But hopefully this demonstrates just how easy shopping portals can be.
---
Additional information and important reminders
Hopefully, now the process of using shopping portals is straightforward and easy to understand. Here are a few additional thoughts for important information and reminders:
You must click through the link on the portal's site and then make a purchase from the page that pops up.

Do not navigate away and come back later

, you may miss out on the points/miles for your purchase.

Make sure you have

cookies enabled

in your browser for the retailer's site. This will allow the portal to track your purchase and award you points/miles. Sometimes your computer will want to block a site that the portal is trying to pull up for you to shop on (simply adjust your cookie settings before moving forward).

Shopping portals provide a great way to keep your miles/points from expiring (see

How To Make Sure Your Miles/Points Never Expire

)

Only use promotions or

promo codes found on the portal

. If you use other promotions, the purchase could become ineligible for points/miles.

Gift Cards

. Read the restrictions for each merchant, many won't count gift cards as eligible purchases for earning points/miles. Although you can't generally purchase gift cards through these portals, you can still use gift cards to pay for the purchase.

The points/miles earned through these shopping portals is in addition to those earned on the credit card you use, and

you can use any credit card you want

. So feel free to take advantage of any category bonuses or opportunities to reach a minimum spend.
Final Thoughts
If you're like me, you do all of your shopping online (and in your pajamas).
You might as well take advantage of shopping portals to get a little close to that next free trip.
Happy Travels,
Bryce
---
Disclosure: 10xTravel has partnered with CardRatings for our coverage of credit card products. 10xTravel and CardRatings may receive a commission from card issuers.
Opinions, reviews, analyses & recommendations are the author's alone, and have not been reviewed, endorsed or approved by any of these entities. You can read our advertiser disclosure here.